Let's be honest! The best pink cocktails are a sight for sore eyes and a fusion of tantalizing flavors. From creamy and fruity to fizzy and everything in between, this pink concoction compilation has what it takes to suit your desires.
Whether it's for a girls' night out, Valentine's Day dinner with your special someone, or simply a happy hour by the pool, these delightful cocktail recipes won't disappoint! Most of these delights can be prepared with simple ingredients at your disposal.
I'm proud to say that I've dug out the best solid, well-balanced, and attractive cocktails for your next boozy treat in today's boozy journey!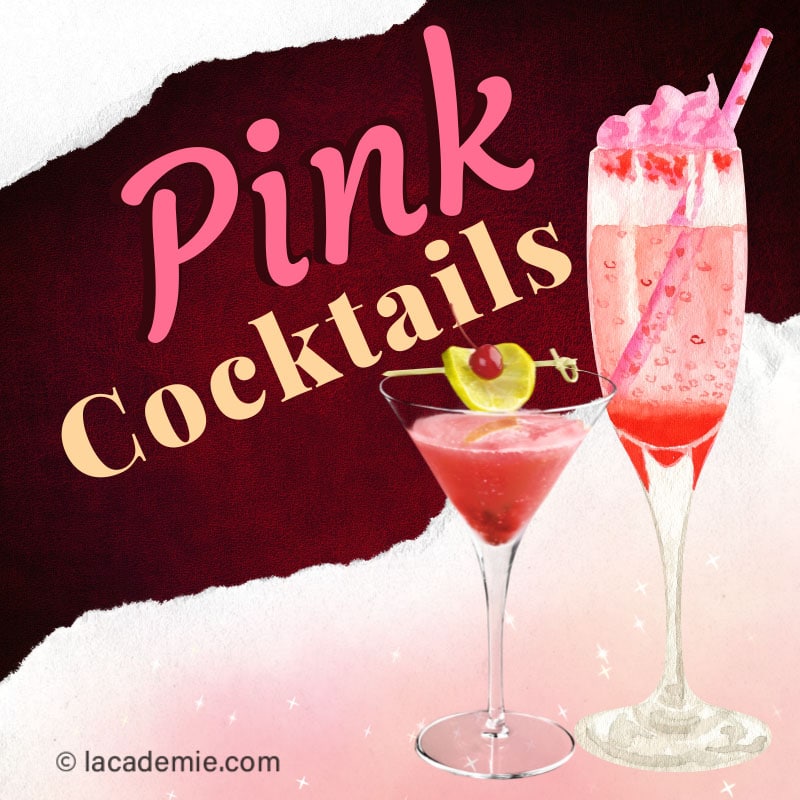 Exciting Facts About Pink Cocktails
Visually speaking, it's proper to say that pink cocktails are second to none. These tantalizing concoctions are destined to win hearts even before anyone has a sip. Be it pink wine drink, whiskey, or vodka drinks, they always stand out on the table with their elegant yet bold look.
The key to creating the gorgeous color lies in some pink or red-colored ingredients such as strawberry, raspberry, and pink-colored liqueurs. Another way to add an easy rosy hue is by incorporating artificial colorings.
With their eye-catching appeals, pink beverages are the top-notch choices for many occasions. Drinkers often serve it at Valentine's Day dinner, girls' night out, get-togethers, and summer parties with friends.
22 Best Pink Cocktails That Looks As Good As They Taste
When it comes to enjoying mesmerizing pink cocktails, it's safe to say you're never short of choice. Indeed, these tried-and-true beverages own a special place in the hearts of drinking enthusiasts for how eye-catching and irresistible they are in terms of flavor.
Total time: 5 minutes
Perhaps one of the most popular among drinking aficionados, the Fig Sidecar is destined to impress. That's right! Picture a deep, sophisticated purple with subtle rosy brown hints of pigs blending nicely with the delicate yellow hue of simple syrup, and you have this drink!
Flavor-wise, the Fig Sidecar is citrusy, sweet, and subtle, yet with a pungent taste on the nose provided by some Cognac. You can tell that this delightful Cognac cocktail is a beautiful riff on the classic Sidecar, which often has lemon juice and orange liqueur.
Although it's a primary fall cocktail, you can quickly whip up a glass to warm your spirit up any time of the year. This drink makes the perfect get-together treat for Thanksgiving and Christmas. You'll want an extra dash of cinnamon for the holiday spirit!
Total time: 5 minutes
There's nothing more instantly recognizable than a Cosmopolitan, or Cosmo, for short. Thanks to cranberry juice, it's so easy to identify with an all-natural, brush-pink appeal that instantly wins drinkers' hearts. Plus, it's always served in a Martini glass.
While this tasty vodka cocktail is a dispute, there's no denying that it rose to fame in the 1990s. Featured as Carrie's favorite drink on HBO's "Sex and the City," the Cosmo was praised as the pinnacle for girls' night out and continued to be a modern classic.
Triple sec and vodka come together at the base of this classic. Meanwhile, a dash of freshly-squeezed lime juice set a tart tone for the whole drink. For a final touch on the appearance, a slice of lime on the rim is the classic way to go!
This pink classic boasts the perfect balance of sweetness and sourness. It packs a decent punch without being overwhelming on the vodka taste. A good time in one glass, Cosmopolitan is the go-to for a boozy party.
If you're a newbie to the timeless Cosmopolitan, here's how to whip it up!
Total time: About 5 minutes
It's proper to say that Lava Flow feels like a beautiful marriage between the Pina Colada and Strawberry Daiquiri. Indeed, this dreamy drink looks and tastes like summer by the pool.
Visually speaking, the boozy Hawaiian treat is created with two separate layers of cocktails in pink and white that run over each other. As a result, this easy yet tasty mixed drink has a beautiful lava effect and an intertwined flavor unlike anything else you've had.
Lava Flow is a tropical cocktail at its finest in terms of flavor. From the ribbons of tart strawberries to the richness of cream of coconut and the sweet, fruity pineapple juice, it's the kind of beverage that makes you dream of the blue oceans and sandy beaches.
Total time: 15 minutes
Margarita is undoubtedly no stranger to any drinking aficionados. This version combines fresh watermelon, Tequila, and simple syrup based on the classic recipe. Nice and super-easy, this tasty cocktail will be your next favorite!
Along with the simple syrup, the juicy watermelons act as a sweetener. Therefore, the redder the fruit is, the tastier the cocktail. A squeeze of lime juice and some orange bitters are a great addition to create an extra flavor dimension for this timeless tequila cocktail.
This recipe is also easy to adapt to your liking. If you don't know how to preserve your watermelon, you can add it more to the cocktail, as it helps reduce the boozy feeling. In contrast, extra lime juice, or even a pinch of salt, can mellow out the sweetness.
Soon enough, you'll find yourself sipping on this fruity beverage all summer long!
The best Watermelon Margarita recipe is at your disposal!
Total time: From 3 minutes to 5 minutes
If you're keen on more than just a bottle of red wine, Pink Lady is the cocktail to wine and dine right on Valentine's Day! At first glance, this delightful blushing drink is destined to catch eyes. But there's more to this timeless drink than its look.
While the true origin of this cocktail remains ambiguous, most sources credit it as a creation during the Prohibition era. Most folks believe it was a solution to the cheap gin that marked the age.
This quintessential cocktail isn't sweet like other summer cocktails despite its vivid pink hue. Its flavor is a sophisticated blend of gin, unaged apple brandy, and lemon juice. Grenadine is also added to enhance the color and sweeten the drink.
Total time: From 10 minutes to 15 minutes
A tall glass of Strawberry Mojito is just what you need to beat the heat this summer! This gorgeous pink concoction is a mixture of white rum, strawberries, and mint leaves. A bit of soda is often poured on top before serving.
When done correctly, this well-loved strawberry cocktail has all the elements to quench the summer thirst. It's so fizzy, minty, and carries just a note of sweetness. For those who are a massive fan of timeless rum cocktails, this Strawberry Mojito recipe easily tops your go-to list.
As soon as the strawberry season rolls around, whip up a big batch of this drink and share it with your mates and loved ones. The easiest way to add some class to the cocktail is with some pretty little mint sprigs and, occasionally, slices of fresh strawberries!
Here's how you can perfect your Strawberry Mojito making skills!
Total time: 10 minutes
This good-old Paloma cocktail is a fun and effortless happy hour drink. It's all about two ingredients: grapefruit soda and Tequila. Depending on your desire, you can choose to use red or pink grapefruits to give the drink a lovely brush of color.
One of the main attractions of this unique grapefruit cocktail is the mixture of sparkling water and silver tequila. The honey syrup's sweetness balances out the spicy, warm notes. The addition of grapefruit doesn't only color the drink but also gives off a tangy sweetness.
From start to finish, this grapefruit cocktail can be ready in just 10 minutes, making it a dream come true for party-throwers. However, if you're sipping it on a warm afternoon, you might as well add an elegant touch to it. A lovely sea salt rim will get the job done!
Total time: From 5 minutes to 10 minutes
As its name suggests, Pink Bikini Martini is sexy and delectable. The combination of amaretto and raspberry lemonade results in a stunning pink color that makes it an instant hit in the neighborhood, not to mention how easy it is to prepare!
Featuring coconut rum, this timeless Martini cocktail delivers a creamy tropical flavor with sweet and vanilla notes. The drink gets some richness and a good taste of almond from the amaretto, giving you an unforgettable mouthfeel after one sip.
Refreshing and bursting with flavors, Pink Bikini Martini will send you to a summer beach without having to leave your couch. To make it even more of a summer delight, don't hesitate to finish with a scoop or two of orange sorbet. You'll keep coming back to this drink!
Total time: From 3 minutes to 5 minutes
There's no better method to round out a fabulous meal than an equally tasty post-dinner drink. If you're often craving for a cocktail dessert, Pink Squirrel is just the ticket to satisfying your taste buds!
The story of this drink started in the early 1940s in Bryant's Cocktail Lounge, Wisconsin. At this time, it was a mega-popular supper-club treat and became famous in the following decades. Though it's lost some popularity, it's still worth a place in any drinker's repertoire.
Pink Squirrel features two unique liqueurs: creme de cacao and crème de noyaux, blended in with heavy cream. Nice and easy, you'll be surprised at just how delicious the drink is. Many folks have described it as the heavenly mixture of almond and chocolate.
Don't miss this Pink Squirrel delight if you're keen on a pink drink!
Total time: 5 minutes
You know it's an easy recipe when all the ingredients can be counted on one hand! Jam is, without a doubt, one of the simplest ways to add a boost of fruitiness to your drink. Plus, it's an easy and absolutely tasty gin cocktail that you whip up and enjoy any time of the year.
As its name implies, gin, jam, and some lemon juice form this versatile drink – the better the jam, the tastier the cocktail. Therefore, if there's a homemade jam in the kitchen, don't be shy to use it for this fantastic drink.
With a simple drink, you can customize it with different jam flavors to suit your desires. Like other fruit juice drinks, this cocktail needs shaking vigorously to distribute the fruit evenly.
Total time: 5 minutes
Do you love the incredible Margarita but are ready to try something lighter? I've got what you need! This pink lemonade riff on the classic recipe will allow you to enjoy its flavors rather than the alcohol taste itself.
Since this Margarita is made with pink lemonade, it boasts an eye-catching rose-colored appearance, just what your girl nights needed! For this refreshing lemonade cocktail treat, you'll need some white tequila and an orange liqueur like triple sec.
In terms of flavor, Pink Lemonade Margarita is all you can ask for in a summer drink. It's fizzy, minty, refreshing, and with a note of sweetness. It's fun to tuck in a fresh mint sprig for that elegant look that your guests will love!
Total time: 2 hours 25 minutes (Including cooling time)
Unlike the many bartender-crafted drinks, this super-simple beverage can be made without a hassle, no matter how experienced you are with cocktails. With just three main ingredients on hand, you can get yourself a delicious and alcoholic treat!
This pink-colored cocktail gets its bittersweet and juniper-like flavor from a combination of gin and tonic water. On the other hand, strawberry syrup introduces a lightly sweet and tartness that sets the tone for the drink besides adding a gorgeous color.
The best thing about this boozy treat? If you have strawberry syrup ready in your fridge, you can serve the drink immediately to quench your thirst. Plus, don't be shy to enjoy your favorite happy hour drink with some ice cream on top, especially during the hot summer!
Total time: 5 minutes
Another concoction that marked the Prohibition era, Mary Pickford Cocktail, is in line with the classics. This basic version of it features pineapple juice, rum, and Maraschino cherries. The vibrant pink color is often elevated with a Maraschino cherry on top.
Legend has it that this tried-and-true cherry cocktail was created in the early 1920s in the famous American actress's honor while she was working on a film in Havana, Cuba. Although Vanity Fair's reports revealed no such trip, the story's still a fun theory to tell.
When it comes to the flavor, the Mary Pickford drink yields a beautiful tropical blend, ranging from sweet to fruity, and a lovely hint of cherry. It also has a kick from the rum, perfect for an afternoon happy hour after a day's work.
If you're a seasoned drinker, know how to make Mary Pickford!
Total time: 2 minutes
At first glance, this pretty-in-pink cocktail can't be more attractive! Staples of the back bar, Cointreau L'Unique, and tequila pair up to create the base of this show-stopping Cointreau cocktail. If you don't have this high-end spirit, feel free to use other orange liqueurs!
The addition of egg white is quite an adventure, yet super fun to mix, considering it requires shaking. But don't expect your assembly to turn "eggy." Instead, this surprising element adds a silky, rich, foamy texture for a satisfying mouthfeel.
All in all, Pink Passion boasts a complex blend of sweet, tart, and citrus flavors all in one glass. While this recipe calls for a Nick and Nora glass, other drinkware like a highball glass is also suitable for this drink.
Total time: About 5 minutes
Take your boozy parties to the next level with this Raspberry Mint Tequila Smash recipe. A fun twist on the good old smash cocktail, this refreshing version stars Tequila, mint leaves, and raspberries as the show's stars.
This summer drink has all the flavors perfectly intertwined in each sip when adequately mixed up. It's potent, fruity, and minty at the same time to completely quench your thirst. For drinkers who love a more powerful punch, replacing Tequila with bourbon often does the trick.
This crazy-delicious cocktail rises to the top every time the summer fruit season rolls around, so keep this recipe in your back pocket. It's endlessly customizable, which means you can toss almost any of your favorite summer fruit into this beloved cocktail!
Total time: 20 minutes
Refreshing summer drink with a kick! With a bit of bourbon, a can of soft drink, and some ice cubes, you can have yourself a slushie for adults only. Plus, being so simple with just four ingredients to shake up, this slushy cocktail will have you hooked all summer long.
This fresh twist on the oldie-and-goodie Southern drink hits the spot every time. Sweet, refreshing, and with pleasant notes of vanilla and caramel, this frozen and delicious cocktail is simply the perfect thing to sip on when you're trying to beat the summer heat.
Typically, folks serve this frozen cocktail in a frosty glass with a straw. A cherry or two is also utilized for elevating its pink, reddish-colored appearance. I recommend making a big batch because both you and your guests will be coming back for seconds and thirds!
Total time: 5 minutes
Regardless of how you feel about pink cocktails, you'll want to keep this Clover Club recipe around! As far as the origin of this delight goes, it's already gained a big reputation before the Prohibition age as a famous gentlemen's club drink.
With a bright pink and frothy appeal, this cherished cocktail easily owns a special place in the heart of drinking aficionados. But don't let its gorgeous look fool you! Packed with gin, egg white, and raspberries, it's a pretty bitter drink once imbibed exclusively by men.
The rich, creamy, and silky texture will leave your taste buds happy from the first sip. The tart, sweet flavors with an intense taste of berry and citrus are genuinely the perfect summer thirst quencher.
Egg white is the key to creating the signature frothy finish. But if you're not fond of this element, you can still whip up the drink with aqua faba instead. Based on this basic recipe, don't be shy to tweak it to suit your taste, be it a touch of mint or vermouth!
Master the classic Clover Club cocktail with this tutorial!
Total time: About 5 minutes
What's better than a fruity summer punch that makes you wish you were watching the sunset on a Californian beach? This well-loved Cherry Rum Punch is guaranteed to be a hit at your next summer party.
The drink boasts a fabulous blush-pink color, starring Maraschino cherry juice and pink lemonade. The combination also yields a sweet, tangy, and somewhat candy-like flavor complemented by the fruity overtone of ginger ale.
You're going to love how effortless this boozy recipe comes together. Shake up a single serving or a big batch to accommodate your guests. This cocktail will hit the spot, whether it be a house party, girls' night out, or Valentine's Day dinner with your special someone!
Total time: 5 minutes
Despite its misleading name, the Prickly Pear Margarita doesn't contain any fruit from the pear family. The term "prickly pear" refers to another type of fruit that resembles pears in terms of shape and size.
Being the drink's main attraction, prickly pear lends an all-natural, gorgeous pink hue that looks like it came from artificial dyes. This show-stopping cocktail also features Tequila and triple sec, an easy way to create complexity in its flavor profile.
This unique Margarita is a delightful harmony of sweet, tart, and fruity flavors regarding the taste. You can serve this versatile drink on any occasion, be it Cinco de Mayo, Taco Tuesday, or simply a happy hour by the pool.
Spice up your happy hour treats with this unique Prickly Pear Margarita!
Total time: From 5 minutes to 8 minutes
If you're looking for a wintry season cocktail, this Pink Gin Fizz recipe might be what you desire. You'll need some gin, cranberry juice, and soda water to prepare this concoction. One sip is enough to keep you coming back for more with this fizzy treat!
Judging from the look, you may expect the drink to be quite sweet. But there's so much more than that in a single sip, ranging from tart to sweet and gently bitter. For a better balance in flavor, some drinkers also toss in a touch of lemonade or Prosecco.
If you don't have any cranberry juice in your kitchen, fret not because there are tons of ways to give this cocktail its bright pink hue. Raspberry liqueur or muddled fruits are both perfect for replacing them. Make sure to tweak the portion of each element, and you're good to go.
With a drink this elegant, the key is to keep your garnish simple. A slice of lemon will get the job done without being overwhelming on the visual. This drink is worth trying for any pink cocktail enthusiast, taking little to no time!
Total time: 20 minutes
This Rosé Sangria is where a combination of summer produces Rosé and orange liqueur. If Rosé isn't at your disposal, dry and crisp alcohol like white wine works perfectly. Not only is its vibrant color a sight for sore eyes, but this cocktail feels like fireworks in your mouth.
Flavor-wise, the freshness and fruitiness of Rosé go down wonderfully with watermelon and strawberries. Meanwhile, orange liqueur offers a delightful and fruity taste that resembles a bitter orange.
While this pretty-in-pink Sangria seems like the ultimate fit for summer, I suggest having it any time you'd like. You can double or maybe triple the recipe and serve it at a get-together or cookout party. Soon enough, this cocktail will be everyone's topic of the conversation!
Total time: 1 hour 10 minutes (Including resting time)
Sometimes, all you crave is an alcoholic drink with the nostalgia of childhood sweet treats. And when these times arrive, the Pink Starburst Cocktail is just the ticket to take a trip down memory lane. Attractive but not frivolous, this cocktail is sure to hit the spot!
Combining regular vodka and whipped cream vodka, the flavor profile of Pink Starburst is a vibrant blend of sweet, rich, and slightly spicy flavors. A touch of Sprite lends itself to a frizziness that makes this drink even more party-pleaser.
Better yet, this recipe includes chewy Starburst candies. You can always toss them in the mixture to create a lovely happy hour treat. And when you do, a golden tip is to allow the candies to dissolve together with the spirit for about 24 hours for best results!
There's A Pink Cocktail For Every Occasion!
Nothing soothes the eyes like a gorgeous pink concoction. Indeed, if you're planning to impress your guests at the next party, these eye-catching drinks can guarantee a win at first glance.
Some occasions just call for a pink beverage, such as a weekend night-in with your girls or a cheerful antidote to that high-octane feeling of the holidays. Or maybe you just fancy yourself a classy boozy treat for relaxing?
Whatever the case, whipping up a quick glass of pink-colored cocktail is so worth it! I hope that you've been able to pick out some delicious cocktails that you enjoy. Keep these recipes in your back pockets, and let your friends know all about these lovely delights!
Nutrition Facts
1 servings per container
---
Amount Per ServingCalories245
% Daily Value *
Total Fat 5g

8

%
Cholesterol 186mg

62

%
Sodium 79mg

4

%
Potassium 71mg

3

%
Total Carbohydrate 14g

5

%

Dietary Fiber 0.1g

1

%
Sugars 9g

Protein 6g

12

%
---
* The % Daily Value tells you how much a nutrient in a serving of food contributes to a daily diet. 2,000 calories a day is used for general nutrition advice.