Who doesn't love a glass of the best lemonade cocktails when the temperature begins to rise? You might be surprised at how the most delicious spiked beverages are so simple to prepare. Fruity, flavorful, and full of flavors, these gulpable refreshers are meant to steal the show!
I've included the best lemonade concoctions of many flavors in this cocktail guide. This way, there's at least a drink for whatever mood or occasion, be it Valentine's Day dinner, a Christmas cocktail with your loved ones, or a happy hour treat after work.
While many of these fantastic and easy cocktail recipes require a minimum of ingredients at your disposal, others call for a trip to the local liquor store or supermarket. Either way, choose a concoction that perfectly suits your preferences.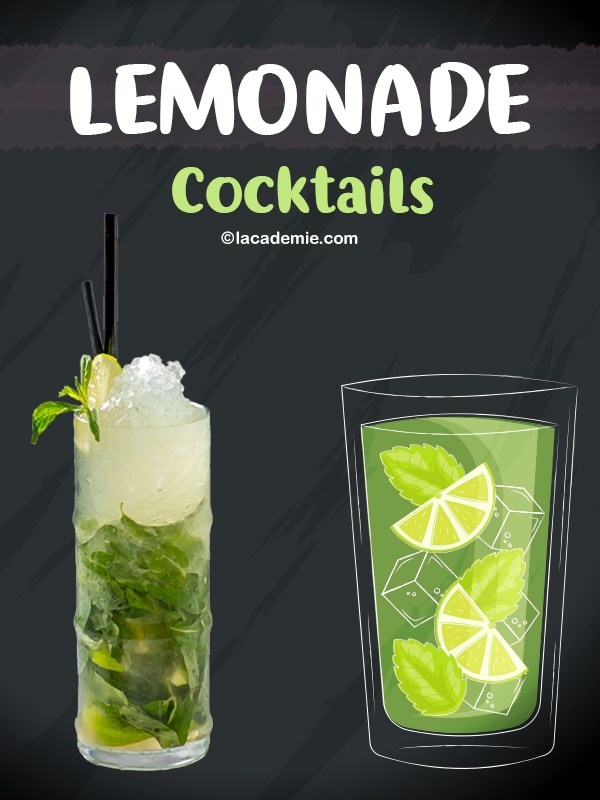 Fun Facts About Lemonade Cocktails You've Never Noticed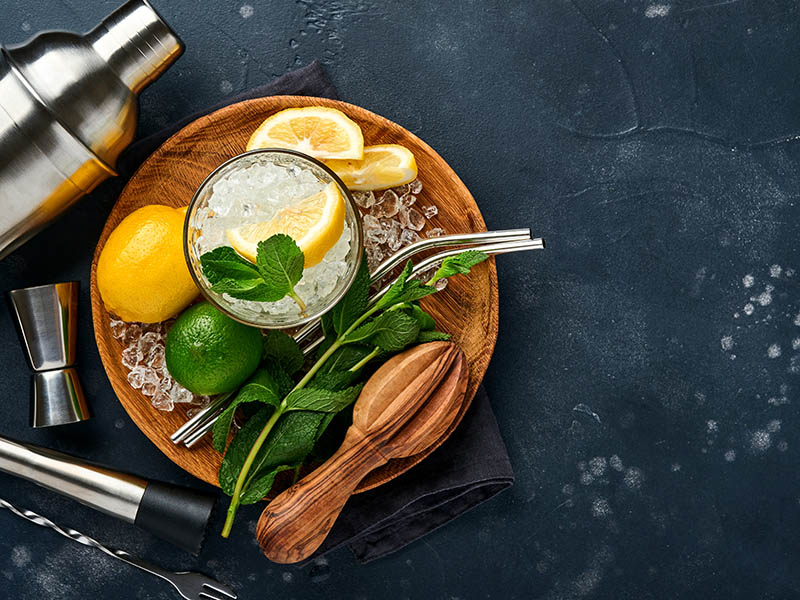 Having a lemonade cocktail is a craving any drinker has when the temperature climbs. But are you sure that you've known everything about these beverages? Here's a deep dive into the sphere of lemonade cocktails that the drinking enthusiast in you will love.
Lemonade is the pinnacle of summer's thirst quencher with different kinds. For example, although their names are quite similar, lemonade and pink lemonade have several differences. So, look carefully at the label before choosing!
Lemonade also serves as a versatile ingredient in drinks of all seasons. The perfect blend of sweetness and tartness makes it a great match with alcohol.
With a classic citrus-based drink like lemonade cocktail, other elements often incorporated into the recipe include mint, basil, and fruits like strawberry and blueberry. The options are endless!
In terms of alcohol, you can use spirits such as vodka, bourbon, tequila, etc. Of course, fresh homemade lemonade is the ultimate choice to achieve the best quality and flavor preferences. For a festive drink, pink lemonade is often used to create an eye-catching color.
The 22 Best Lemonade Cocktails To Add To Your Drinking Canon
The hot weather is here to stay. And there's always time to prepare some of the best lemonade cocktails to keep cool and hydrated in the summer.
With plenty of hot weather during the summer months, a glass or two of Spiked Lemonade can be a complete game-changer. Although bourbon is the perfect pair for lemon juice in this recipe, don't be shy to experiment with other spirits like vodka and gin.
For this classic bourbon cocktail, start with heating the sugar and water to make a simple syrup. Then, add lemon juice, bourbon, and a lot of ice to a small pitcher. The touch of lemonade and club soda is tossed in towards the end to create a lightness and fizziness.
Essentially, the key behind the perfect Spiked Lemonade is, in fact, homemade lemonade. But if you're in a rush to serve a thirsty crowd, store-bought gets the job done. Sweet, sour, and refreshing, this easy cocktail is meant to win hearts!
Nothing screams summertime like a good old slush. But this delight has a boozy twist to it: vodka! Twenty minutes, four main ingredients, and a quick spin in the blender are all it takes to make this heaven-in-a-glass come to life.
Flavor-wise, this appetizing vodka cocktail combines the sweet, juicy, and fruity notes of fresh strawberries with the sweetened, lemon-flavored lemonade. Vodka seamlessly supports the abundance of summer flavors at the base without any unpleasant alcohol flavor.
An excellent alternative to ice cream, this five-ingredient cocktail allows you to alleviate the summer heat like a kid again. I suggest serving the slushy in a pretty and tall glass to showcase its vibrant red color for a simple happy hour treat.
Strawberry Lemonade Vodka Slush is as easy!
Summer basil isn't exclusively for tomato salads. It's also an excellent addition to a hot day's happy hour. Its peppery, fresh, and slightly bittersweet flavor enhances the drink's depth and creates a desirable vibrant green shade.
A combination of vodka, lemonade, and basil leaves create the base of this cocktail. Flavor-wise, it's so smooth, sour, and sweet, with delicate notes of spiciness. Finally, the stunning green-colored cocktail is topped off with seltzer to boost tasty excitement.
A basil sugar rim with some lemon wedges is the classic way to go when it comes to presentation. For those leaning towards a non-alcoholic treat, simply omit the vodka and end up with a drink equally delicious.
If you'd need more reasons to make this spiked lemonade recipe, the basil leaves are loaded with vitamins, minerals, and essential oils. Therefore, whipping up this summer delight once in a while is ideal for optimal health.
Lemonade and vodka go hand-in-hand, especially on those hot summer days. Its eye-catching pink shade, given by pomegranate juice, makes the drink an excellent addition to weddings, bridal showers, or Valentine's Day dinner with your special someone.
When perfectly executed, this excellent cocktail results in a tangy and acidic flavor that's both light and refreshing. Mellow in taste yet pleasant to drink, vodka proves one of the best matches for lemonade.
Since this recipe is so simple, it's customizable to your liking with other elements, such as lime juice or a sugar rim for presentation. If pomegranate juice isn't your type, fret not; alternate it with some cranberry juice in a pinch!
Here's a quick tutorial for first-timers trying Pink Vodka Lemonade Cocktail!
Honey and lemonade make an exceptional pair in cocktail heaven. This classic Southern cocktail calls for a few familiar ingredients that any drinker stocks in their home. For those who prefer a tasty mocktail recipe, all it takes is to ditch the bourbon!
This assembly results in such a refreshing mouthfeel. Some good honey lends itself to a depth in goodness, which perfectly elevates the balance of sweetness and tartness in Simply Lemonade. Next thing you know, this lemonade cocktail will be your favorite thirst quencher.
On the other hand, bourbon gives off strong and pleasant notes of caramel, vanilla, and oak to boot. Last but not least, let a sprig of mint float around in your glass for a stunning visual effect.
Like the "real" mermaids, this gorgeous cocktail is a sight for sore eyes. What sets the Mermaid Lemonade apart from the rest is the ombré effect in two stunning shades of blue. As exquisite as it looks, this gorgeous and tasty rum cocktail is a breeze to recreate.
This unique lemonade is like nothing you've ever tasted from the first sip. Thanks to blue curaçao, the drink has a distinct bittersweet taste, which is the ideal pairing with the light-bodied and soft flavors of white rum.
The well-kept secret to achieving this drink is to start with ice, then blue curaçao, white rum, and another layer of ice. Finally, lemonade is the perfect final touch to its flavor profile, which is very much a blend of great sweetness and tartness.
In the cocktail world, citrus fruits are rosemary's best friends. This Rosemary Vodka Lemonade concoction proves that point and is a remarkable addition to any drinker's collection. For a children-friendly version, simply ditch the vodka!
Freshly squeezed, lemon juice has a purely sour and tangy taste, mellowed out by a dash of sugar. This lemonade cocktail is pretty straightforward. If you'd like a more decadent version, try turning it into a ginger beer-flavored cocktail with a touch of ginger beer.
Aromatic, minty, and mildly savory, rosemary is meant to smooth out the combination of vodka and lemonade. However, because of its strong flavor, two sprigs are often enough to bring out the flavor without overwhelming other elements of the drink.
This summer, keep cool with the refreshing Rosemary Vodka Lemonade!
Did you know that pear and elderflower vodka are a match made in cocktail heaven? That's right. For those who haven't heard of elderflower, the delicate blossoms come from the Elder trees, a species native to Europe, and signify that summer has arrived.
This recipe incorporates Absolut Pear & Elderflower Juice Vodka. But if you don't have this particular drink, simply mix pear juice with elderflower vodka. The result displays an outstanding balance between the pear and elderflower with the sweet, bold, and juicy tastes.
Visually speaking, this summery drink's lovely bubbles and golden tint are enough to conquer any drinker. You'll want to enjoy this drink in a Coupe glass to display its stunning visual. Trust me; it will not be the last time you whip it up!
Undoubtedly, Spiked Blueberry Lemonade is the pinnacle of a summer's boozy party, under the blue sky and the hot days. Crisp, refreshing, and incredibly tasty, this immensely popular cocktail takes just five minutes to get on the table.
Taking center stage, freshly squeezed lemon juice delivers a solidly bitter and sour flavor. Next, a handful of blueberries is the key behind that dark purple shade and the sweet, citrus-like taste. Finally, some simple syrup is used to balance things out.
Easy as a summer breeze, this vodka cocktail can be converted into many servings at once, so you can serve a large number of guests. Better yet, it keeps well in the fridge for up to 2-3 days, so you can come home to an ice-cold treat ready to go!
If you've had a hard time preparing the Spiked Blueberry Lemonade, try this recipe!
Essentially the spiced-up version of the classic lemonade, Cajun Lemonade is the perfect choice for a summer pool party. The secret behind its unique spiciness is a splash of hot sauce adjustable to your preference.
In terms of flavor, this lemonade cocktail has a unique spiciness that's enough to kick your taste buds without being overwhelming. At the alcoholic base, citron vodka and light rum come together, resulting in a mellow, subtle, and smooth flavor with hints of sweetness.
With this recipe alone, you can make eight cups of Cajun Lemonade in one sitting. What are you waiting for? Gather your family and friends in a fun party to celebrate the hot summer days ahead!
Lynchburg Lemonade cocktail gets its name from a town of the same name, which is home of the Jack Daniel's distillery. However, it was invented in 1980 by Tony Mason, a bar owner in Huntsville, Alabama.
Of course, one of the starring roles is Jack Daniel's Tennessee Whiskey. The spirit goes down wonderfully with lemonade, creating a clean and crisp mouthfeel. Other elements include triple sec, lemon-lime soda, and a touch of lemon juice.
At its finest, this delightful whiskey cocktai delivers a beautiful alcoholic taste that doesn't overwhelm the zesty lemon flavor. Don't hesitate to prepare a big pitcher for the next tailgate or backyard barbecue party.
Although primarily considered a mild cocktail, the Lynchburg is known to knock the senses out of you more straightforwardly than you may expect. Therefore, it's best to stick to the standard shot of 1 1/2-ounces each time.
The simplest Lynchburg Lemonade cocktail is right at your disposal!
Whether you're catching up with your friends at a get-together or enjoying the sunshine by the poolside, a glass of Sparkling Spiked Lemonade is guaranteed to succeed. This refreshing delight combines ripe peaches and icy lemonade into a foolproof thirst quencher.
Featuring lemon juice, sparkling water, and large peaches, it's no surprise this incredible peach cocktail offers a fruity and compelling mouthfeel. Besides the delicate and floral taste, peaches can also be sliced and make peach rings to elevate their fun appearance.
Fresh peaches and simple syrup play a vital role in the cocktail's sweetness. Therefore, if you're a sweet drink fan, opt for supermarket peach purée and adjust the amount of sugar. The world is your oyster!
You may crave a good old wine cocktail as the summer temperature climbs. When the craving hits, this Pink Rosé Lemonade is one of the top-notch options, both in flavor and ease of making. It calls for just three ingredients and little to no fuss.
Nothing feels better than sitting on the rooftop deck, sipping on a light and gulpable refresher. With a good-quality bottle of Rosé, its visuals and flavor portray the essence of summer, with primary flavors ranging from floral to fruity with crispy tasting notes.
In addition, featuring club soda, this pretty-in-pink cocktail recipe has a lovely effervescence, which greatly compliments the main elements. As for the Pink Lemonade Frozen Concentrate, you can easily taste the real lemons from the first sip.
It's safe to say that this concoction proves how the most stunning cocktails turn out to be the simplest. Because this recipe alone yields about 8 to 20 servings, hosting a cocktail party has never been easier.
Pretty and delicious; the Pink Rosé Lemonade is a dream for any drinker!
Light yet potent! This Pineapple Lemonade Sangria is a delicious and straightforward mixed drink of Chardonnay, frozen lemonade, and tons of fresh fruits. Fizzy, fruity, and full of flavors, this recipe will evoke the feelings of the best summer ever.
The drink's centerpiece, Chardonnay, is one of the world's most famous white wines. And you'll understand why the second it touches your taste buds. Crisp, rich, and oaky, it turns a regular fruity punch into an elegant cocktail that you can serve for special occasions.
I love this concoction because it can be made in advance. By sitting in the fridge overnight or longer, all the elements can better meld together, delivering top-notch flavor. Before serving, top off with a dash of lemon-lime soda for that bubbly mouthfeel.
In the world of cocktails, whiskey and honey are, without a doubt, a powerful couple. When combined, whiskey's brightness elevates the smoothness of love. What's more, the two bring out the other's natural sweetness.
On paper, Whiskey Lemonade With Honey is a relatively simple recipe. Homemade lemonade is especially the best for flavor preferences and quality. However, if time's not on your side, a store-bought version gets the work done.
On an important note, honey is best mixed warm, so you can heat it using the microwave or double boiler if necessary. The tried-and-true way to enjoy this drink is on ice, with a few slices of lemon and a sprig or two of mint floating on top.
Besides its flavor profile, this Whiskey Lemonade With Honey also has some health benefits!
True to its name, this Raspberry Lemonade Cocktail features a raspberry-flavored cocktail at its base, flavored by lemonade concentrate, with grenadine for a lovely light red shade. Club soda is also indispensable for creating beautiful bubbles in this perfect party treat.
Ready in just five minutes, it's an effortless cocktail you'll want to keep in your back pocket. One thing to remember about this recipe is that it's meant to produce 43 pounces at one. So if you're preparing just one serving or two, make sure to adjust it as needed.
At its best, this delightful cocktail harmonizes sweet and tart flavors. Bursting with citrus flavors, it feels like summer captured in one glass. I love this recipe for its simplicity. But don't be fooled; it could knock the sense out of you, so drink responsibly!
An effortless cocktail recipe that turns gin and grenadine into a drop-dead gorgeous pink refresher. Be it New Year's Eve, Valentine's Day dinner, or a simple happy hour treat; this Pink Gin Fizz Cocktail has what it takes to keep your needs met.
You can't go wrong with the assembly of lemon juice, gin, and soda water. Flavor-wise, this impressive gin-based cocktail is subtly-flavored, aromatic, and sweet without being cloying on the taste buds. While this one is London dry gin, you can also replace it with pink gin.
What sets your Pink Gin Fizz Cocktail apart from the rest might just be the presentation, which calls for a simple sugar rim. Grenadine works excellent in making your sugar rim pink, but simply opt for lemon juice instead if you prefer a clear version.
Lemonade cocktails don't get much easier than this. The well-loved London Lemonade Cocktail calls for just three main ingredients: Bulldog gin, freshly squeezed lemonade, and a lemon wheel for garnish.
To explain its name is not difficult at all. The word London refers to the city with which its base spirit, gin, has a longstanding association. These days, you can experiment with the basic recipe with other types of spirits like vodka and Russian Lemonade.
Taking just five minutes of work, this libation is something you can rely on regardless of the occasion. Be it a rainy, gloomy day or as the mercury begins to rise. You can always top the glass off with a lemon wheel for an elegant touch of presentation.
Just because the drink is simple doesn't mean it's dull. The lemon's citrus and tart flavors blend in nicely with the juniper taste of gin, resulting in a fresh and smooth mouthfeel.
Get a taste of the exquisite London Lemonade with these easy directions!
Meet your new favorite cocktail pairing: ginger and mint! This reliable duo is destined to kill two birds with one drink. Additionally, the cocktail features cranberry juice, which doesn't only bring out a gorgeous deep and bright red color and a tart and sweet blend.
To whip up this refreshing mint cocktail, you'll need to simmer honey, mint, and ginger slices for about five minutes. The mixture is then blended with vodka to give it a good booziness, but it's optional if you want a mocktail variation.
But the flavor profile and ease of making are not all why this cocktail will be your new favorite. Each of its primary elements offers tons of benefits in many parts of your body, some of which include the digestive system, antioxidants, and brain functions.
An excellent variation of the cherished Moscow Mule, this toothsome strawberry-centered cocktail mixes the festive spirit of the holidays and the summery vibes. What's more, the fresh lemon slices and berries will enhance its beautiful appearance to boot.
The recipe starts with muddling the strawberries. Next, it's mixed with a sugar mixture and lemon juice. As for the alcohol, some Prairie Organic Vodka lends the cocktail a luscious, rich, and creamy flavor with a smooth finish.
This Strawberry Lemonade Moscow Mule is so easy to make and fills a whole pitcher. Therefore, don't be shy to gather your friends and neighbors for this festive cocktail party. Farmer's market enthusiasts, this one's for you!
If you didn't think Fireball whiskey and grenadine would go well together, this cocktail would make you reconsider your expectations. Combined with pink lemonade, a summer staple, it's something you'll guzzle down in a minute.
As soon as you take a sip, the hot cinnamon flavor will instantly give you a summery vibe. In addition, the kick of cinnamon is also in the perfect balance with the cherry taste of grenadine.
This classic Fireball Pink Lemonade is a versatile cocktail that you can count on any time of the year, be it summer, spring, or winter. Also, don't hesitate with your ideas when mixing this cocktail! Toss in some pineapple juice or lime juice if you like!
Flowers that you can drink? Who wouldn't love a floral and aromatic cocktail during those sultry summer days? In this spiked lemonade concoction, freshly squeezed lemonade combines with simple lavender syrup to create the most delicate summer cocktail.
With five ingredients, this twist on the classic lemonade brings out a boozy, elevated, and subtle flavor profile. Now, a simple lavender syrup may sound intimidating to many folks. But fret not; a few simple steps are all it takes to bring it to life successfully.
It looks, smells, and tastes good, but this delight also has some attractive health benefits to offer. The star of the show, lavender, is proven to have a calming effect without sedating, which can relieve anxiety, thanks to natural alcohol called linalool.
Lavender Lemonade Cocktail – the most floral concoction you've ever tasted!
When Life Gives You Lemon, Make Lemonade Cocktails!
Finally, I hope you've discovered a fantastic new lemonade cocktail that suits your liking. Fruity, colorful, and delicious, these summery drinks are great for throwing a boozy cocktail party without much hassle.
If you find this cocktail round-up helpful, I'd appreciate your experiences with these drinks in the comment box. Also, don't forget to let all your friends and coworkers know about this excellent list!
Nutrition Facts
1 servings per container
---
Amount Per ServingCalories162
% Daily Value *
Total Fat 0.1g

1

%
Sodium 6mg

1

%
Potassium 31mg

1

%
Total Carbohydrate 7.3g

3

%

Dietary Fiber 0.1g

1

%
Sugars 7.3g

Protein 0.1g

1

%
---
* The % Daily Value tells you how much a nutrient in a serving of food contributes to a daily diet. 2,000 calories a day is used for general nutrition advice.