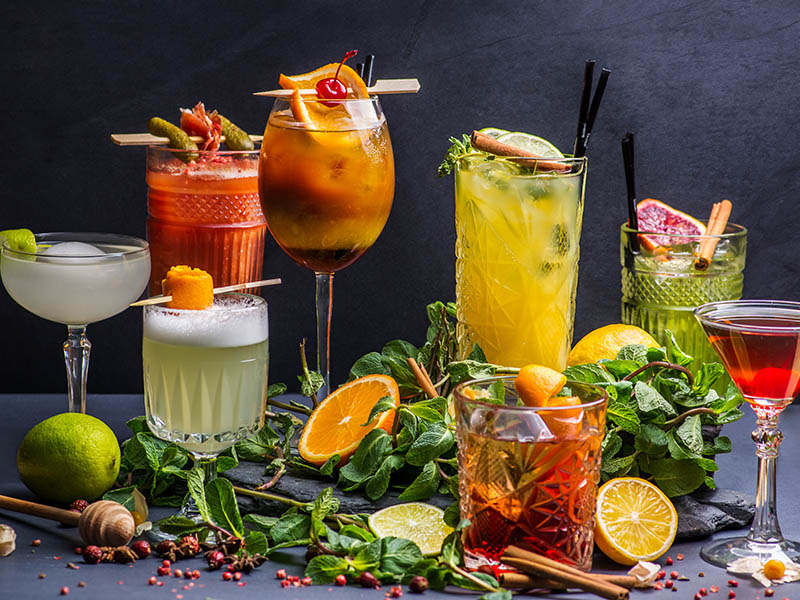 The world's most popular cocktails are diverse. From the classic ones to some twisted versions, these amazing cocktail ideas have received tons of love from countless diners. These recipes vary by region, yet they are a significant part of any cuisine.
As mixed drinks made with alcoholic elements (e.g., wine, spirit, beer, etc.), juice, syrup, flavorings, cream, or more, these treats offer perfect harmonizations in flavors and textures, creating beautiful pictures in glasses.
So are you ready to explore the world of cocktails through these best-loved drinks? If yes, let's dig into this post to learn more.
What Are The Cocktail Style In Different Continents/Countries?
First, why don't you start your journey with an overview of cocktails in various countries and continents? Each place has distinctive characteristics, creating different styles of alcoholic drinks.
Therefore, it is not easy to capture the whole picture of their cocktails. Some of them look simple; some are colorful, but I promise they are all special that you might want to try these drinks.
For easier understanding, I have divided this overview into 5 main continents: Americas, Europe, Africa, Asia, and Oceania. Wait no further; keep rolling down the page to begin your cocktail journey with me.
In Americas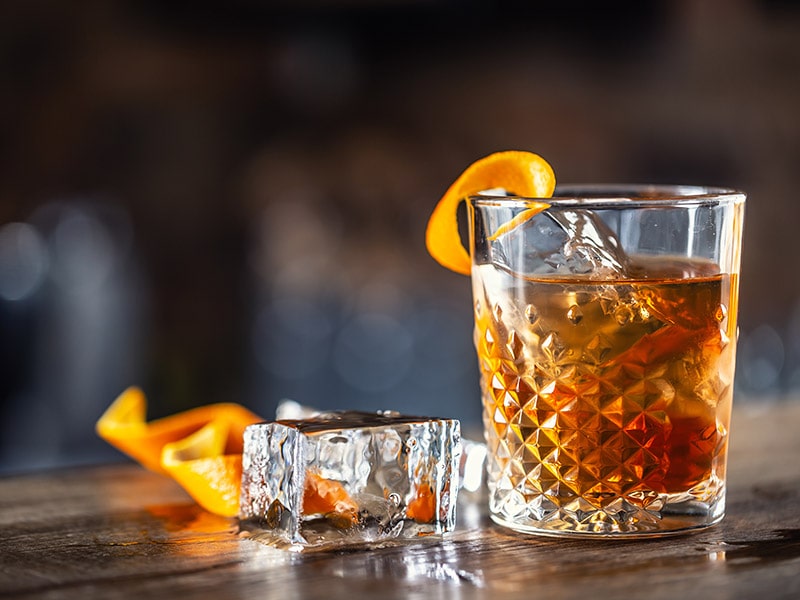 Can you name any famous in the Americas? If you are new to this type of beverage, particularly on this continent, you should grab a note and write down a few names that I am about to introduce here.
To be more specific, I also group them into 2 main areas based on their geography.
North America
American-style cocktails are abundant, and many of them are Bourbon-based ones. What is bourbon, by the way? It is an American whiskey mainly made with corn (accounting for 51%). Combined with other ingredients, it is hard to forget the flavor of these American treats.
Furthermore, if you want to try the most famous Canadian cocktail, you should save Caesar on your list since this is an official cocktail in this country. And if you love tequila, you should try some cocktails in a Mexican theme since this place is home to this blue-agave plant liquor.
Central and South America
Now, let's fly to Central and South America to explore the locals' wonderful mixed alcoholic drinks, especially Brazil and Cuba. These 2 countries are indeed paradises for many refreshing yet unique drinks.
In particular, Caipirinha is the most iconic cocktail in Brazil that includes a local distilled beverage named Cachaça. Speaking of Cuban-based cocktails, Mojito is one of the best drinks for summer that you can find in many countries, let alone in Cuba.
In Europe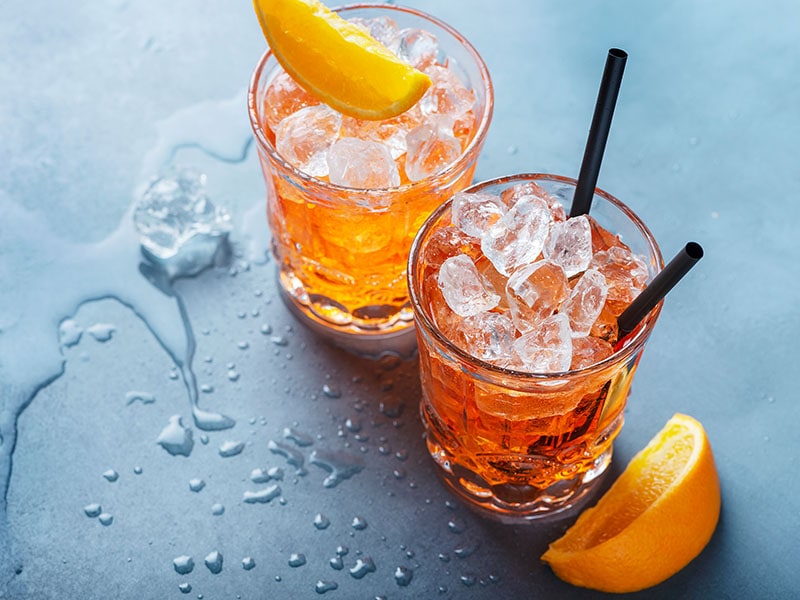 Similarly, here are 5 separate areas in Europe with various tasty cocktail recipes that I want to share with you. I will not cover all countries in these regions except some significant ones, so make sure you will not miss anything.
Central Europe
Germany is famous for its beer. Therefore, it is not hard to find a lot of German-style cocktails containing beer. And they are something that you do not want to skip when traveling to this country.
East Europe
Regarding East Europe, cocktails in Russia offer many best ideas to mix their national alcohol – vodka and turn it into various vodka-based beverages. However, do not assume White Russian is a Russian-origin beverage. It has this name since vodka is the main ingredient in the recipe.
South Europe
South Europe is another famous region with many mixed alcoholic drinks. Some of the best examples here are Spain's cocktail drinks or Italian-themed cocktails.
With the close association with red wine, you can spot many red wine beverages to prepare their common alcoholic drinks. Another Mediterranean country, like Greece, also shares some similarities in Greek-style cocktails with the main ingredient being wine.
North Europe
If you are looking for a drink to sip on Patrick's day, festive cocktails of Irish are one of the best choices. It can be Irish Negroni, Irish Coffee, Irish Maid, and more.
This country is also home to Irish whisky and Guinness beer that you can easily find as ingredients in many exotic mixed alcoholic drinks.
West Europe
Like other regions in Europe, the western areas, especially France, have a huge love for these beverages. Like their culinary culture, French-themed cocktails have an elegant appearance with super-pleasing flavor.
In Africa
Many African drinks have a long history, like tea, beer, and spirit. But speaking of their cocktails, there are not too many options.
However, you might want to sip on the Springbokkie – a significant cocktail of South Africa. And I am pretty sure that you will be stunned by its distinctive fruity and light peppermint flavor of Amarula (cream liqueur) and Crème de menthe (mint-flavored alcoholic drink).
In Asia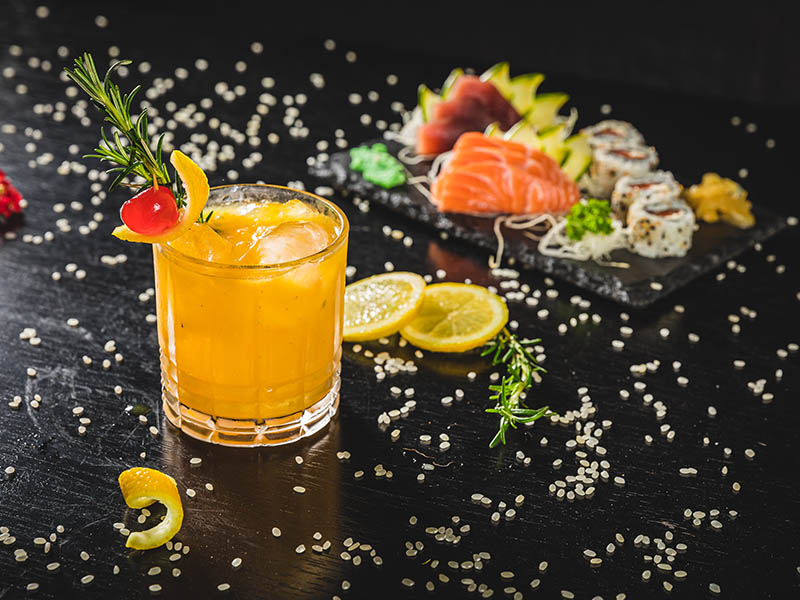 Cocktails in Asian countries convey other insightful information that features their centuries-old drinks. Besides, the harmony of these ingredients in their alcoholic treats is mesmerizing, from East to West, from South to Central Asian.
East and West
In East Asia, Japanese-style cocktails use various traditional ingredients like sake (Japanese rice wine), matcha (green tea), and citrus fruit (yuzu) to create many drinks with different tastes.
There are also many wines and distilled drinks in West Asia so that the locals can create their own cocktails that carry the characteristics of these countries. Overall, they will not let you down.
Central and South/Southeast
Actually, non-alcoholic drinks are more famous in Central Asia. However, beer and wine still have certain popularity in this region, but it might be hard to find Central Asian-themed cocktails.
Conversely, if you love bursting-of-flavor drinks, Indian cocktail recipes might be your best bet. In case you can visit Southeast Asia, especially Singapore, do not miss the Singapore Sling – a gin-based drink in the country.
In Oceania
Oceanian-inspired cocktails vary based on country. However, cocktails in Hawaii might be the most popular ones with a tropical vibe since they combine alcohol (e.g., rum, vodka, blue curacao), fruit, and a bit of ice to blow away the heat of summer.
List Of 55 Must-try Cocktails With High Recognition Globally
Let's move to the next part, which is also the key section of this article. Whether you are a cocktail lover, it will not cost anything to gain more knowledge about these drinks. Who knows, you might want to switch your career to a bartender after reading this post.
So sit tight and read on!
6 Most Famous Vodka-Based Cocktails
As mentioned above, vodka is a national distilled spirit of Russia. It plays an important role in making various vodka-based cocktails around the world.
Overall, vodka is a clear liquid with an alcoholic content of 40 to 50%. This alcohol also comes in plenty of varieties with a wide array of flavors. Therefore, the below recipes might call for different styles of vodka.
Total time: Only 5 minutes
Bloody Mary is a renowned cocktail with red color and a luscious flavor comprising mainly vodka, tomato juice, Worcestershire sauce, lime/lemon juice, etc. Hence, you can find it hard to describe the exact flavor of Bloody Maryl since it is too complex.
Generally, no cocktail can beat Bloody Mary if you need a spicy, savory, and salty drink. Thanks to the creativity of humans, you can enjoy it in various varieties, such as the Virgin Mary, the Red Snapper, The Michelada, and more.
The origin of this beverage is unclear. A French bartender – Fernand Petiot, claimed Bloody Mary was his invention in the 1920s, while New York's 21 Club also proved it is a cocktail of a bartender named Henry Zbikiewics.
In the USA, people normally enjoy Bloody Mary in the morning or for brunch. Surprisingly, people also choose it as a hangover cure since it contains vegetables and spices like celery and black pepper, which provide vitamins and electrolytes to ease the hangover.
The best way to enjoy it is in a highball glass (or hurricane/flared pint glass) with ice. The common garnishes of Bloody Mary are celery stalks and olives. But feel free to add shrimp, sausage, or bacon to make this drink more outstanding.
Check here to grasp some ideas for making the best Bloody Mary.
Total time: Approximately 3 minutes
Unlike other cocktails, Moscow Mule is normally served in a copper mug, making it one of the easiest recognition cocktails. Moreover, the copper material will extend the cold temperature so you can enjoy it better on hot summer days.
However, if you want to make them at home but do not have a copper mug on hand, please use regular glass. They will not change any texture or flavor of this drink.
Of course, the main ingredient of Moscow Mule is vodka, but it is also a tasty cocktail with ginger beer. With only 3 simple ingredients (containing freshly squeezed lime also), you can easily prepare them yourself effortlessly.
Do not forget the ice since this drink requires a lot of ice, making it one of the most refreshing cocktails on Earth. Plus, the appearance of ginger beer also balances other ingredients, so if you need something sweet, gingery, and a little bit spicy, go for Moscow Mule.
Total time: Around 4 minutes
Do not be alarmed by this beverage's name Sex On The Beach is a fun and fruity treat that you can reward yourself on any vacation or hot afternoon. Though the alcohol percentage of this cocktail is not too high, you might feel a bit tipsy after a few drinks.
The first thing that makes this drink a must-try one is its appearance. They normally come in an ombre color of red and orange from peach schnapps, cranberry, and orange juice. That's why its main flavor profile is fruity, light tartness, and sweet (but not too overwhelming).
Some cannot recognize the vodka taste in this drink, so if you are a beginner, you can start with this mixed drink. What's better, you do not even need a professional tool to make it. Just mix ingredients in your glass with ice, then stir them. Some cherries for garnishing are also preferable.
Total time: 5 minutes
Canadian cocktails are amazing, and the best example here is Caesar. Featuring vodka, Clamato juice (a mixture of clam and tomato juice), and Worcestershire sauce as main components. Caesar also has a red-orange color but is lighter than Bloody Mary.
Traced back to 1969, Walter Chell – a restaurant manager, created this drink in Calgary (Alberta). Caesar is an inspired version of Bloody Mary, but instead of using normal tomato juice, Walter used Clamato juice to create a distinctive spiciness.
But how has Caesar become the Cadian favorite cocktail with more than 350 million consumed annually? Simply, this is a flavorful drink with a mild note of sweetness along with a spicy flavor. Additionally, it is so simple to make at home if you already have these ingredients.
Remember to garnish with a salted rim, celery stalk, or a lime wedge. Lastly, another advantage of the Caesar is you can make them in bulk and serve them later since they can be stored and last well for a long time.
Total time: 5 minutes
The last (but not least) cocktail with vodka as a base is Lemon Drop Martini. Invented in the 1970s, Lemon Drop Martini is a drink made by Norman Jay Hobday in California. Thus, you can spot them on the beverage menu in many American bars.
As the name suggests, besides vodka, lemon juice will offer a lemony and sour taste in every sip of this cocktail. But thanks to the syrup, triple sec, and simple syrup, they create a perfect balance of sweetness and tartness with strong hints of citrus fruit.
People regularly serve this drink straight up with strained ice. Refreshing, festive, and very easy to make, nothing can stop you from chilling with a glass of Lemon Drop Martini.
Let's make a glass of Lemon Drop Martini to forget all of your trouble!
Total time: 5 minutes
Is there anything better than sipping a sweet-and-tart Cosmopolitan with an appealing bright red-pinkish color after a hard-working day?
As a big fan of cocktails with triple sec (French orange-flavored liqueur), this classic treat also offers a pleasant taste of vodka (choose your favorite brand), cranberry juice, and lime juice. And regardless of gender, Cosmopolitan will make you fall in love right from the first try.
No one is sure about Cosmopolitan's origin, but its popularity is unquestionable, especially in the 1990s. Until now, there are many Cosmopolitan variations that you can find in many bars, clubs, or on the internet.
In order to make it by yourself, you will need a cocktail shaker, then mix all ingredients into this tool and shake for more than 10 seconds. This drink normally comes in a martini glass with a small wedge of lime on the rim.
Some Famous Cocktail Ideas With Gin As A Base
Cocktail ideas with gin never get old. They are packed full of flavors and pleasant to make your day much better. What's even better? You do not have to be a professional bartender to make them. In love yet? Keep scrolling to find out!
Total time: Around 5 minutes
The traditional Gimlet contains gin and Rose's lime juice. However, you can use any available type of lime, as long as they are freshly squeezed for better flavor. The gin and lime juice ratio varies, but generally, it might need 2 to 4 parts of gin to go with 1 part of sweetened juice.
In fact, if you use Rose's lime juice, you can skip the sweetened ingredient like simple syrup since this juice is sweet enough to balance the flavor. On the other hand, people can also use vodka to make Vodka Gimlet.
The root of Gimlet is unknown. In 1930, The Savoy Cocktail Book mentioned the mixture of gin and lime juice and had been known as the first public Gimlet recipe.
Total time: 3 to 5 minutes
Dry Martini is one of many well-liked cocktails with vermouth, and dry vermouth is the indispensable ingredient with a ratio of 2:1 (gin: dry vermouth). In this recipe, I also use a few dashes of orange bitters to enhance the complex flavor.
Dry Martini is one of the most iconic cocktails in the world. Though no one knows the exact origin of this drink, many believe it derives from the Martinez created in San Francisco in the 1860s. However, Martinez's recipe normally requires more ingredients than this simple Martini.
Additionally, Dry Martini should be stirred, not shaken. So with around 20 to 30 seconds to stir, you can mix all ingredients better with ice. Then strain it into a martini cocktail glass to serve straight up. Lemon peel or green olive is the best idea to make it more attractive.
Total time: 5 minutes
Since I already mentioned Martini, let's talk about its precursor – Martinez. Obviously, gin is the main star in this recipe as well. Still, unlike Martini, which uses dry vermouth, this one calls for red (sweet) vermouth and other components like Maraschino liqueur and orange bitter.
You can find Martinez as a basic cocktail with various variations, let alone Martini. Some of them go with Curacao (a sweet liqueur made from the dried peel of citrus fruit) instead of Maraschino.
Overall, with a sip of Martinez, the rich flavor with a bitter bittersweet from its ingredients is something that gets you hooked.
Similar to Martini, you do not need a shaker to mix it. Just simply add all ingredients to a mixing glass, then stir in around 20 seconds before straining it to a chilled glass. It is acceptable to top your treat with a twisted orange zest or put them on the rim.
Wanna know more about the story of Martinez and how to make it? This instruction will help you.
Total time: About 5 minutes
Here is another classic yet straightforward cocktail idea to try at home – Tom Collins. This recipe was first introduced in the world-renowned cocktail book "The Bartenders' Guide" by Jerry Thomas (a founder of American mixology) in 1876.
It is a mixture of gin, lemon juice, sugar syrup, and carbonated water (I use club soda in this case). People usually serve it in a Collins glass over ice cubes (in the bartender term is On the rocks).
Citrusy, refreshing, and a bit fizzy, Tom Collins is something you will need on a sunny day. Moreover, it carries some herbal notes of the gin, making it one of the most famous gin-based cocktails.
Remember to garnish your drink with cherry and lime. The contrasting color of these 2 fruits will turn your humble beverage into a work of art.
Total time: About 5 minutes
Looking for a strong cocktail to relax and forget all of your worries? Try Bee's Knees. With 3 simple and easy-to-buy ingredients like gin, lemon juice, and honey syrup, you are all set to turn your kitchen into a minibar.
Citrus notes from lemon and herbal hints from gin never go out of date. When mixing them together, you will have a mildly sweet drink with an attractive light yellow color for your happy hour on a warm day.
You can make honey syrup by yourself too! Add an equal ratio of water and honey into a small bowl, then heat it in a microwave until you can stir honey into the water.
How about its history? This drink was created in Paris in the 1920s by bartender Frank Meier. It is a famous Prohibition Era cocktail, and according to prohibition-era slang, Bee's Knees means "the best".
Total time: Only 5 minutes
Gin and Tonic is a highball cocktail with 2 main stars: gin and tonic water. So if you need a budget-friendly drink to chill right at your home, do not miss this one.
The bitterness of tonic water paired with the gin creates a refreshing treat with a light-flavored profile. It is also easy to throw together too!. With a lot of ice, Gin and Tonic can be an ideal drink for a summer party, and they can go well with any food.
Overall, it is a delicate drink served with a slice of lime or lemon as garnishing. But you might find some versions come with herbs or other fruits as well.
There are several ways to make Gin and Tonic, but here are the 3 best methods to make the finest ones.
Total time: Approximately 5 minutes
Another classic gin-based cocktail is the Clover Club. Tangy, fruity flavor with a velvety texture that creates a beautiful pink-colored cocktail, it will make all girl's nights more delightful.
Clover Club recipe appeared in the New York press in the 1900s with gin, lemon/lime, grenadine (pomegranate syrup), and egg white as the main components. But in this recipe, I use raspberry syrup instead of grenadine.
Why do people call it the Clover Club? Its name was taken after a gentleman's club in Philadelphia where many politicians, lawyers, and writers would love to hang out.
To make this drink, you have to "dry shake" all ingredients in a shake and shake them without ice. Then you will add ice and shake the mixture one more time. It will help your drink create a nice foam before adding ice cubes.
6 Mesmerizing Cocktails With Tequila
If you are on the "tequila" diet or want to make some bad decisions (just kidding), these below tequila-based cocktails will save your day.
Total time: 5 minutes
A classic Margarita with tequila, lime juice, and orange liqueur has always been many people's favorite. Even if you are not familiar with any cocktail, you can still recognize this one because it is normally served with a salted rim and a piece of lemon wedge on the rim.
One more characteristic to recognize Margarita is the glass. Though people can serve it in many types of glasses, the best one would be in a traditional margarita glass with a unique appearance that you might have seen in shrimp cocktails before.
Additionally, there are many ways to prepare it. You can shake the liquid mixture with ice (like this recipe) or without ice. To prepare it for hot days, try blending it with ice to create a frozen margarita.
The basic Margarita never gets old to make your occasion more enjoyable.
Total time: 3 to 5 minutes
When the weather is getting hotter, why don't you try some Paloma? With a touch of grapefruit juice along with other main ingredients like lime juice and tequila, Paloma provides mixed tastes, including sweetness, sourness, and mild bitterness.
This sharp Paloma brings out the best citrus flavor of grapefruit to kick off the heat of your summer day. It would be better to make at home since you can taste and adjust the flavor until satisfied.
If this drink is too strong, leave them at room temperature for minutes so the ice can melt. You can either use a highball glass or a lowball whisky glass to serve it. But do not forget to add a lime (or grapefruit) wedge for garnishing.
Total time: 5 minutes
Need a drink with low calories? There you are – Tequila Sunrise. Originating in California in the 1970s, this cocktail has become a famous drink in the USA thanks to its citrusy and bright flavor.
Moreover, the color of this drink is magnificent, with a vibrant red and orange hue resembling a sunrise color, hence the name.
I know many versions of Tequila Sunrise contain a lot of sugar, but let me show you how to enjoy this drink at its finest, even if you are on a diet.
This is one of my favorite cocktails with orange juice, but first, ensure you use fresh juice and quality grenadine syrup. But you do not need a cocktail shaker in this recipe. More convenient, right? And guess what, you do not even need to stir the mixture either.
It is extremely easy to make; just pour tequila, juice, and syrup, then garnish it with a slice of orange and cherry.
Total time: 5 minutes
If you live in (or have been to) Austin, Texas, you must have heard about Mexican Martini. Why? Because it is the most well-known cocktail here, including orange liqueur (Cointreau), tequila, fresh orange, and lime juice.
Mexican Martini is a Margarita but served in a martini glass. Salty and zingy, this tasty mixed drink also has a special ingredient to make it more special, which is olive brine. Opt for the high-quality one to increase the quality of your beverage.
On the other hand, the sweetness of Cointreau can balance the tartness of lime juice. If you ask for a sweeter alcoholic drink, adding simple syrup is totally fine!
Total time: Around 5 minutes
If you want to create a perfect Tequila Sour, you should use Reposado or Anejo tequila to have a deeper flavor for your drink. Frothy, sweet, and tart, all these characteristics can stimulate your taste bud right from the first sip.
Plus, the appearance of egg white creates a silky smooth texture for your Tequila Sour, upgrading it to a whole new level of tastiness. As it calls for this ingredient, you have to dry shake without ice first to form a frothy texture on the top.
Then you can add ice and shake again. Serve it straight up with an orange peel for more appeal.
Tequila Sour will leave you speechless with its overwhelming deliciousness.
Total time: 3 minutes
The Brave Bull is a perfect combination of 2 wonderful products from Mexico: Kahlua (coffee liqueur) and tequila. That's it! With only 2 ingredients, you can enjoy a simple drink with a slightly sweet hint of coffee and an earthy note from tequila.
Moreover, this one is a tequila variation of Black Russian. You can use any type of tequila, but it has to be the one with the finest quality. From my experience, I usually go with Blanco tequila (e.g., Corazón Blanco or Corralejo Blanco tequila).
Most Brave Bull uses a 2:1 ratio for tequila and coffee liqueur. Therefore, it is pretty strong that you need to consume an appropriate amount to avoid getting drunk.
Whiskey-Based Cocktails – The Magic In A Glass
Many say that you cannot buy happiness, but if you make a glass of cocktail with whiskey, that is pretty much the same thing. Hard to believe? Check these 7 ideas, and you will understand why.
Total time: 3 to 5 minutes
As its name refers, Old Fashioned is one of the oldest styles of cocktails. In Kentucky, a gentlemen's club claims this drink is their bartender's invention. However, other stories disapprove of it; that's why no one can be sure of the Old Fashioned exact origin.
In general, whiskey, sugar cube, and bitters are essential things to make up a classic Old Fashioned. By using a muddler, a bartender will start with muddling bitters and sugar until the mixture is dissolved. Then add whiskey and ice and stir them to balance the whole flavor.
Regarding its flavor, Old Fashioned is a spirit-forward drink with a strong taste of whiskey. And if compared to Manhattan – another whiskey-based cocktail, this one is sweeter and simpler.
Are you ready to master your bartender skill? This demonstration might be the one you need for a flawless Old Fashioned.
Total time: About 5 minutes
Starting from a Manhattan Club in New York, the Manhattan is an invention of Iain Marshall in the 1870s. But other people also believe this was a cocktail normally served in the Manhattan region.
Regardless of where this drink was born, Manhattan is a significant beverage in New York. It is a concoction of whiskey, sweet vermouth, and bitters.
People traditionally use rye whiskey to prepare this drink, but please feel free to use bourbon, Canadian whiskey, Tennessee whiskey, or blended whiskey as they are all acceptable.
This is also a strong drink with a mellow sweetness and bitterness. You can also sense a light herbal undertone when sipping this drink.
Total time: 10 minutes
It sounds like coffee, but no, this is an amazing coffee-based cocktail that you do not want to miss on your St. Patrick's day. It is fairly easy to pull off at home with a few simple ingredients.
Of course, you will need strong hot coffee and Irish whiskey to make it. With sugar and thick cream on the top, Irish Coffee offers a satisfying sweet flavor (but not too sweet) with a strong taste of coffee. So in case you are a coffeeholic, you might want to try this cocktail right away.
There are various Irish Coffee variations worldwide, but they are best served hot in an Irish coffee mug.
Total time: 3 minutes
If life gives you a lemon, make a cup of Whiskey Sour (or Bourbon Sour). Do not assume that this drink has a strong sour taste; Whiskey Sour carries a hint of vanilla and caramel in the whiskey that can balance the tart flavor of lemon juice.
Plus, using fresh-squeezed fruit is a must since the store-bought one might decrease the quality of your drink. Lime is also an excellent substitution if you do not have a lemon on hand.
The ideal way to prepare this mixed drink is by shaking and serving it straight up or on the rock (over ice). For garnishing, maraschino cherry and an orange slice are traditional ingredients to make your treat look more colorful.
Total time: Maximum 5 minutes
Though the popularity of Bobby Burn is not as much as Manhattan or Old Fashioned, it is still a favorite choice of many individuals. The original recipe for this cocktail was published in the 20th century with the name "Bobby Bodacious", then altered to "Bobby Burns" later.
However, there was a debate regarding its name as many argue this drink is named after a Scottish poet – Robert Burns.
Generally, this is a balanced drink with Scotch whisky, sweet vermouth, and Benedictine (France herbal liqueur). Throw them together to create a complex and rich alcoholic beverage.
Please do not skip twisting a lemon peel over the cocktail glass for aromatic oil before dropping it into your beverage.
Total time: Around 5 minutes
The reputation of New Orleans' cocktail has spread around the world thanks to Sazerac. It is a classic combination of rye whiskey, Peychaud's bitters, and sugar cubes to create a well-balanced beverage.
Many folks think this is one of the oldest American cocktails. There are also various variations with different ingredients based on people's preferences. However, to create a correct Sazerac glass, you should remember that shaking the mixture is a big no-no.
Instead, use an old-fashioned glass and fill it with ice to chill first. Then combine all components in a cocktail shaker and stir well before straining the drink into a chilled glass. And after dinner is a perfect serving time for Sazerac.
Watch and learn how to prepare a wonderful Sazerac at home!
Total time: 2 minutes
The next whiskey-based mixed drink is Mint Julep. This is a South American specialty (especially in Kentucky Derby) that contains bourbon, mint leaves, and sugar (or syrup) served with crushed ice.
This freshening mint cocktail has a strong scent and lingering cool effect from the leaves; therefore, adding Mint Julep to your summer drink is necessary. To get the finest taste of mint leaves, you must use a muddler to muddle them before pouring the alcohol.
It is a sweet and boozy drink that brings out the best refreshing feel. In reality, Mint Julep is pretty similar to Mojito. However, instead of using rum, Mint Julep asks for bourbon.
Brilliant Cocktails Made With Rum As A Base
Rum is a clear liquor made from sugar cane. Based on their styles and grades, rum can be light, dark, or golden.
Plus, creating cocktails including rum is a common way to maximize your pleasantness regarding enjoying a beverage. Here are some basic but famous recipes to ensure it.
Total time: 5 minutes
When talking about Cuban cocktails, Mojito is the top choice. Simplicity, tastiness, and refreshing are the main traits that make Mojito so famous, especially in the summertime.
It is hard to find a bar or restaurant that does not serve Mojito, but it would be better if you make them at home with a few simple ingredients. Besides rum, fresh mints play an important role in boosting the freshness of this drink.
Obviously, a muddler will do the job of muddling the mint leaves so they can release their fragrant oil. But do not use too much effort to press them. In case you do not have a muddler, use the back of your spoon as a substitution for this tool.
The versatility of Mojito is another advantage. You can enjoy it in "on the rock" style, or blend it with ice to transform your drink into a frozen treat so the heat of summer days will no longer be a problem.
Total time: Around 5 minutes
Zombie is a cocktail derived from Tiki culture in America. Born in 1934, it is a creation of Donn Beach – an American businessman. The tale of its name is an interesting story. As it has a high alcohol level, this drink can turn you into a zombie and walk like it if you drink too much.
The original Zombie calls for 3 different types of rum, including Jamaican dark rum, Demerara rum, and Puerto Rican gold rum. There is the addition of fruit juice and apricot liqueur to infuse the smooth fruity flavor. Nevertheless, it is still a strong beverage that you should be aware of.
Therefore, in Donn Beach's restaurant, the bartender only serves 2 Zombie for one customer. You can find the cocktail in various places with other variations, but try Zombie at Don the Beachcomber restaurant for the best and most original one.
Total time: Around 5 minutes
What is the best 4th-of-July cocktail? I am confident to say that Piña Colada is the correct answer. Though it is a Puerto Rico-based drink, Piña Colada's popularity in America is undoubted.
Not only that, this tasty treat can fill the tropical vibe in your kitchen, thanks to the mixture of coconut milk (or cream), pineapple and lime juice, and of course, rum.
Two basic ways to prepare it are blending or shaking with ice. However, to maximize the coldness and refreshment of your treat, choosing the frozen-style cocktail is the best idea.
Also, it is an effortless drink since the blender will do most of the job in creating a creamy, sweet, and thick beverage. For the highest consistency in creaminess, you should use frozen pineapple cubes instead of fresh ones.
When it comes to rum-based cocktails, the Piña Colada is hard to overlook.
Total time: 5 minutes
Daiquiri captures an excellent balance of sweet and tart with only 3 components: decent light (or white) rum, sweet syrup, and fresh lime juice. It is also one of the freshest cocktails to chill with your family or friends.
It is believed to be a Cuban-origin cocktail in the 1800s and was later adopted popularly in the USA, especially in frozen forms (e.g., Virgin Strawberry Daiquiri, Banana Daiquiri, etc.). However, its classic version is not a frozen one.
People normally shake and strain this drink by a shaker before serving it in a glass. And the recipe I introduce here is the traditional style of Daiquiri which you do not need a blender to make.
Moreover, Daiquiri does not usually come with garnishing. But a lime wheel or twisted lime peel on the rim is no harm at all.
Total time: 5 minutes
Mai Tai sounds like a Thailand-based drink. Actually, this one is also a key cocktail in American Tiki culture created by Victor Bergeron in 1944. Regarding its name, Mai Tai derives from the Tahitian word "maita'i", meaning excellent.
This cocktail's ingredients vary; overall, its base is rum along with Curacao liqueur, orgeat, and lime juice. And this mixed drink is a strong one with a moderately tart, slightly sweet, and citrusy taste.
A quick tip to float rum on the top is you should slowly and gently add it over the ice. Opt for the back of a spoon to ensure that. Lastly, you can serve it in various sorts of cocktail glasses, like tiki, old-fashioned, or rock glasses.
Total time: 5 to 10 minutes
Ti' Punch is a traditional drink of French Caribbean islands (Martinique and Guadeloupe) with a flavorful taste that is not too difficult to drink. This Caribbean-style cocktail is a true crowd-pleaser, including dark or light rum, sugar cane, and lime juice.
You might skip the boiling part of sugar and water if you use sugar cane syrup. If you make it right, you will have a flawless combination of tartness from the lime, sweetness from sugar cane, and grassiness from rum.
Ti' Punch is an ideal apéritif to start or finish your meal. You can enjoy it with or without ice. In reality, the locals usually forgo the ice in French Caribbean areas.
Quick fact: Ti' Punch means small punch.
Total time: 5 minutes
Dark 'N' Stormy is a significant dark rum cocktail in the world that primarily includes rum (for "Dark") and ginger beer (for "Stormy") served in a highball glass with a small lime slice on the rim.
So if you are fed up with the Moscow Mule cocktail, replace vodka with dark rum to make this amazing beverage.
The origin of Dark 'N' Stormy is hazy. Some legends claim this is a Bermuda-origin drink in the late 1800s. In the USA, Gosling Brothers company – a rum manufacturer, trademarked this name in 1991 to imply the murkiness of the storm like the color of dark rum.
It features a funky taste with a hint of spice, caramel, and vanilla from dark rum and ginger beer. Different variations use other ingredients, such as lime juice (like this recipe), apple cider, and bourbon.
A unique and funky flavor of Dark 'N' Stormy will surely boost your mood!
Brandy-Based Cocktails With 5 Well-Liked Recipes
Several cocktails come with brandy, but the following ideas are the top 5 popular ones among many cocktail lovers. Check them out now!
Total time: 5 minutes, approximately
The history of Sidecar is unknown as many argue this is a beverage deriving from Harry's New York Bar in Paris, while others claim this one is a Buck's Club's creation in London. No matter its exact origin, Sidecar is a joyful drink.
The appearance of brandy, triple sec, lemon juice, and sugar compliment each other's taste, creating an ideal balance of sweet and sour with a strong note of fruity flavor. If you have tried Whiskey Sour, imagine this is a lighter and fruitier style of Whiskey Sour.
However, ensuring the proper ratio of ingredients is not too easy due to the variable sweetness of different liqueurs, as claimed by many bartenders. But do not worry! As long as you stick with this recipe, your drink will come out perfectly.
Total time: 5 minutes
Pisco Sour is a national cocktail of Peru and Chile. Particularly, it was created by Victor V. Morris – an American bartender who moved to Peru to work. So what is in the Pisco Sour?
First, Pisco is the name of the grape brandy in Peru and Chile. There are differences between Peruvian Pisco and Chilean Pisco in terms of alcohol proof, flavor, color, etc. In this recipe, the Peruvian style is what I choose,
By mixing it with egg white, lime juice, syrup, some drops of bitters, and other ingredients, now, your beverage is ready to enjoy. Silky, bitter yet sweet, and a bit sour, a complex-flavored Pisco Sour is worth trying.
Besides, egg white creates a nice foamy texture to the cocktail, but if you are concerned about using raw food, try other non-egg foaming agents, like Fee Foam or aquafaba (chickpea water).
Total time: 5 minutes
Another New Orleans cocktail specialty that you need to know is Milk Punch. This drink highlights the simplicity in terms of ingredients and appearance. And its popularity has spread strongly since the middle of the 18th century.
At first glance, you might assume Milk Punch is a milky sweet smoothy, especially when you use a blender to blend all components. In reality, you can also combine brandy, sugar, and ice to shake in a shaker, then serve it cold with milk.
Finally, a dash of grated nutmeg will fulfill the perfection of your beverage, which is excellent for a cocktail idea in the fall. Nowadays, Milk Punch is a certain drink on various New Orleans holidays, or you can enjoy it along with breakfast in New Orleans style.
Brandy Milk Punch – a classic New Orlean cocktail is an ideal twist with an unmistakable sweet kick.
Total time: 3 to 5 minutes
If you love Manhattan, you should give this Brandy Manhattan a shot. As a variation, this cocktail tastes as good as the original version. Most components in this drink are similar to Manhattan, except swapping whiskey for brandy.
It provides a sophisticated twist on the classic style. Obviously, the flavor profile is altered fairly since brandy is normally sweeter than whiskey. And some of you might find it a better choice than the traditional Manhattan.
Making this cocktail is a breeze without the support of a shaker. And the last step is topping it with high-quality maraschino cherries for the best-chilled drink.
Total time: About 5 minutes
Do not have whiskey to make Old Fashioned? How about Brandy Old Fashioned (aka Wisconsin Old Fashioned)?
Apparently, this cocktail is a prominent drink among Wisconsinites. It could be sweet or sour, depending on the ingredients. Either style you choose, it starts with muddling fruits, sugar, bitters, and grenadine to optimize their flavors.
Do not skip the garnishing part. You can customize it based on your creativity, but my ultimate garnish option, in this case, is cherries.
How Many Cocktails With Wine Have You Tried?
Where are you, wine lovers? This section will cover 7 well-known recipes made with wine in various styles, such as red wine and champagne. So do not skip this part; otherwise, you might regret it later.
Total time: 2 minutes (excluding chilling time)
When it comes to a simple champagne cocktail, the first idea that might pop up in your mind might be Mimosa, right? Indeed, it is the simplest and most traditional way to enjoy orange juice mixed with champagne.
You do not need to estimate or calculate the amount of these 2 ingredients as Mimosa requires the same ratio.
However, you can still depend on your preference to adjust the proportion with 2 parts of wine and 1 part of juice, or vice versa. However, it might turn into Buck's Fizz, which I will explain later.
You are able to skip the ice part as well, but chilling your wine and juice priorly is important for the most enjoyable cocktail. Put them in the fridge a night before to create a super cold and bubbly drink. Or you can cool the glass for a faster solution.
With only 2 ingredients, Mimosa is ready in a blink.
Total time: Around 5 minutes
What is your well-loved French-style cocktail? Mine is French 75 – a drink dating back to World War I served in a New York Bar in Paris by Harry MacElhone. And due to its strong kick in flavor, it resembles the strong power of a French 75 mm gun, hence the name.
In French, the locals call it Soixante Quinze (meaning seventy-five) to refer to the drink. Many individuals believe it is a similar version of the Tom Collins cocktail without carbonate water. Instead, French 75 uses champagne to create a bubbly beverage.
It is a refreshing, citrusy, and sweet mixed drink that can become the finest cocktail addition to your brunch. Ensure you have a shaker to combine and mix all components (except champagne).
Then shake them vigorously and strain the mixture into a champagne glass. The last part is topping your drink with champagne and stirring again. Serving it with a twisted lemon (or orange) peel is ideal too!
Total time: 15 minutes (excluding chilling time)
Sangria is a famous Spain and Portugal-origin cocktail made with red wine and fruits (like lemon, lime, grapes, blueberries, or other fruits).
In this recipe, I also use other alcoholic additions like brandy and Cointreau to make it more perfect. This is a cold (or chilled) beverage so you might need around or at least 4 hours to chill your drink before serving it.
Get a pitcher and prepare a big batch of Sangria; mix all ingredients and stir them to blend. If you do not like a strong cocktail, you can add more orange juice.
Total time: 5 minutes
If you want to bring an Italian summer vibe to your party, Aperol Spritz is the proper answer. Starting from Italy, nowadays, it has gained huge popularity in other countries, like the United States.
At first glance, the cocktail owns a vibrant golden orange color like the sunset. Moreover, this bubbly drink owns a light and fruity flavor that can dress up as an extra-refreshing drink.
This beverage is a fool-proof Aperol cocktail idea to try out. For your information, Aperol is a bitter Italian apéritif with orange color). With champagne (or Prosecco – an Italian white wine), and soda water, all together create a masterpiece.
To make it less boozy, you can add more soda and decrease the amount of Aperol and Prosecco. Or, if you need a less-bitter drink, reducing the ratio of Aperol and adding more Prosecco is a perfect solution.
Total time: 2 to 5 minutes
The first thing to note about this drink is Buck's Fizz and Mimosa are 2 different cocktails despite the same ingredients.
Mimosa regularly uses equal amounts of champagne and orange juice, while Buck's Fizz asks for a double proportion of champagne, making it stronger in alcoholic flavor than Mimosa.
In this recipe, I use sparkling wine – Prosecco, in place of regular champagne. Of course, its flavor is still awesome to heat your party.
And do you know that Buck's Fizz is 4-year older than Mimosa? It was created by Malachy McGarry bartender in London in 1921, whereas the Mimosa was born in Paris, France.
Total time: 10 minutes
Italy seems to be cocktail heaven with many delicious ideas. And Bellini is one of the best examples to prove this statement. Originating in Venice, Bellini – a peach-based cocktail has received much adoration around the world, especially in New York.
Particularly, it was an invention by Giuseppe Cipriani (from 1934 to 1948). Due to Bellini's distinctive pink color, he named this beverage after a painting by Giovanni Bellini – an Italian painter.
So what makes up this beautiful treat? Besides peach puree, Bellini is a great Prosecco cocktail. White peach is the best type to make this drink, but do not fret if you cannot buy this fruit because you can replace it with yellow peaches or peach nectar.
For more information, people used to make it with cherry or raspberry juice to create a pink hue. But generally, this drink is a refreshing summer cocktail with a fruity and sweet flavor.
What tricks to have a superb Bellini? Click here to learn more!
Total time: About 5 minutes (excluding chilling time)
What was your first impression of Kir Royale? Its bright red hue, right? Indeed, this classic French cocktail is my favorite way to go with champagne and crème de cassis (a liqueur made from blackcurrant).
With only 2 ingredients, it paints a red picture in a tall champagne flute with an insanely delicious taste. Fruity and slightly sweet are the main flavors of Kir Royale, and they are best to enjoy before dinner.
In addition, it will not cost an arm and a leg to prepare this drink since there is a wide array of economical champagne out there. And crème de cassis is rich enough to increase the quality of your drink, even if you choose the cheapest champagne.
For the finest treat, chill your champagne in the fridge before serving. A couple of fresh raspberries (or blackberries) is preferable to garnish your drink.
More Cocktails With Other Alcoholic Ingredients
The last section is about the harmony of various alcoholic ingredients in a cocktail glass. You might find some of them contrasting to others, but it is the beauty of it. They blend and complement each other to create a tasty drink with a flavor that you can hardly forget.
So what are they? Keep reading and explore.
Total time: 5 minutes
Do not mistake Americano for a coffee drink this one is better with a touch of alcohol. And despite its "American-like" name, Americano is an Italian cocktail that first appeared in a Milan bar in the 1860s.
It is also a cocktail with Campari and sweet vermouth; hence, you can feel the significant bittersweet flavor of Campari and the spicy yet lightly sweet of vermouth. Moreover, this drink is bubblier and brighter in flavor with a splash of soda water.
This cocktail also has a stunning look with a bright red-orange hue that can upgrade your aperitif (an alcoholic beverage served before a meal) both visually and in appetite.
Moreover, if you replace soda water with gin, you will have Negroni – another perfect idea I will introduce later.
Total time: 2 minutes
If you love coffee liqueur like Kahlua, I bet this drink will leave you speechless. This is the White Russian – a buzzy, milky, and super delicious cocktail comprising vodka, heavy cream, and Kahlua.
If you have tried Black Russian, imagine White Russian is a creamy version of the black one with the addition of cream. And though they have "Russian" in their name, neither drink's root is from Russia.
On the other hand, if you are a big fan of Irish Coffee, you might also love this beverage. Making this drink is very straightforward as you only need to pour all ingredients into a glass with ice, then top it with a layer of cream.
In case you want to thicken the cream, shaking it before pouring it over your treat is the best option. If you need a dairy-free drink, use coconut milk in place of cream.
Total time: From 5 to 10 minutes
The brilliant combo of vodka and coffee liqueur, once again, has been highlighted through this cocktail named Espresso Martini. But it is not a true martini since there is no gin or vermouth in its component list.
Instead, strong espresso, vodka, and coffee liqueur shine in this cocktail. Some versions, like this recipe, come with Bailey's Irish cream, but the traditional recipe does not require this ingredient. Instead, the classic one uses simple syrup to add sweetness.
This is not a centuries-old drink either. In fact, Espresso Martini appeared in the late 1980s in London. Slightly sweet, creamy, and easy to pull off, what else can you ask for a pleasant drink with a sensational coffee taste?
Total time: 5 minutes
B-52 (aka Bifty or Bifi) features a layered cocktail made with coffee liqueur, Irish cream, and Grand Marnier. It might look fussy, but making it is not too challenging. A small tip to ensure a layer is separate from each other is to use a spoon back and slowly pour the ingredients over it.
What's more, they still come out tasty even if you fail at layering these ingredients. B-52 has a strong hint of caramel with a few orange notes. It is a perfect beverage to enjoy after dinner, like a dessert.
In addition, the layers vary based on different ingredients. That's why you can spot other versions with distinctive names like B-51, B-53, B-54, etc. You can even find a flaming version of B-52, including a small flame on the top of a cocktail glass.
B-52 is a familiar layered beverage that you can quickly make at home.
Total time: 5 minutes
Another class but famous mixed drink that you can show off your bartender skill with your guests is Between The Sheets. This is a little twist of the Sidecar with the appearance of rum.
Thus, it also calls for cognac, orange liqueur like triple sec, and lemon juice. Regarding its origin, Harry MacElhone in Harry's New York Bar in Paris is the owner of this ideal cocktail.
Between The Sheets offer a bright, citrusy, and tangy taste that you might want to do again and again. What's better, it is not hard to remember the ratio of each ingredient since all alcoholic components share the same amount with 3/4 ounces of fresh lemon juice.
Total time: 3 minutes
Caipirinha is a national cocktail of Brazil featuring cachaça (hard liquor made from sugar cane), lime, and sugar. But you do not have to travel to Brazil to enjoy this drink because nothing can challenge you to prepare it at home.
With a sip of Caipirinha, you can sense the summer vibe on the beach since it has a strong citrusy and mild sweetness. But ensure you drink it with the appropriate amount because it is also a potent beverage.
Since it does not require a shaker, you can create a bulk of it for a big party. Start by filling your large glass with lime fruit and sugar, then pouring the liquor and stirring until the mixture is dissolved. Easy peasy, isn't it?
Total time: Approximately 5 minutes
Negroni is an Italian cocktail combining the same amount of gin, Campari, and vermouth. If you need an idea to serve as an aperitivo (an alcoholic drink served before or after a meal), this ruby-red drink is what you are looking for.
Making Negroni at home cannot get easier since you only have to stir all components with a bar spoon in a glass, pour the mixture over ice (on the rock style) and garnish it with a small orange slice.
Speaking of Negroni's flavor, it is an ideal choice if you are not too into a sweet mixed drink. In particular, they feature as a herby, bitter, and fruity drink with a well-balanced yet deep flavor profile.
Besides, you can use any type of gin, but it would be much better if you go for sweet red vermouth in this recipe.
Total time: Around 5 minutes
Similarly, Long Island Iced Tea is not simply a beverage with tea. It calls for various types of alcohol like gin, rum, vodka, and triple sec, so it is clear that this one is a potent drink. In this version, I try to make it healthier by using keto-friendly ingredients.
Most of its ingredients are low-carb, making it a brilliant cocktail for a keto diet. Still, instead of using regular cola, I choose diet coke and erythritol (keto sweetener) to indulge in my drink without worrying about gaining weight. But why do people call it iced tea?
Long Island Iced Tea has a similar amber color as iced tea. Fresh and bright is what I found in tasting this drink; however, after a couple of it, you can easily get boozy due to its high alcohol content.
Long Island Iced Tea, unlike its name, contains no tea yet features a potent taste.
Total time: 3 to 5 minutes
Making the Last Word is fairly simple since all ingredients have the same ratio, composing gin, maraschino liqueur Chartreuse (herbal liqueur from France), and fresh lime juice.
What first impresses you about this cocktail is its light green color due to the green Chartreuse. Not only that, its taste is sharp and herbal with a balance of sourness and sweetness.
However, the Last Word's flavor might vary since it also depends on the gin variety. Some versions also use another liquor as a base. Like Bee's Knees, the Last Word is a Prohibition-era cocktail. For more specific, it was first served at the Detroit Athletic Club.
Total time: Around 2 minutes
The last one which surely enchants you is Vieux Carré. Once again, New Orleans seems like a home to many highlight drinks in the cocktail world. Founded in the 1930s, Vieux Carré was the finest invention of Walter Bergeron – a bartender in a hotel located in this city.
Plus, this mixed drink features a crosscurrent of various potent components like rye whiskey, cognac, and vermouth with some dashes of aromatic bitters. Therefore, you can find the perfect combination of sweet, bitter, and boozy tastes in just 1 glass of Vieux Carré.
It is best enjoyed straight up in a glass with a simple lemon peel for garnish. Today, you find this humble treat around the world, not only in New Orleans.
The World Of Cocktails – "To Infinity And Beyond"
When in doubt, have a cocktail! Indeed, these drinks seem to be my stress release therapy, and I believe many of you have the same thought.
Whether you sit at the bar to enjoy a cocktail or make it yourself, this kind of beverage can benefit both your mental and physical health as long as you drink it reasonably.
And finally, I hope this article has broadened your knowledge about the world of cocktails, especially the most popular ones. If you find this post insightful, your shares and likes are highly appreciated. Thank you for your time and support!