You need the best cocktail books to make cocktails even better. Today I have for you all the options you need. Now, the preparation of legendary drinks is not only reserved for professional bartenders anymore.
Many experts, authors of best-selling books, want to spread the profound value of mixed drinks to everyone. You will create a lovely bar at home and enjoy a special cocktail prepared by yourself. The following 18 cocktail books are the way to do just that.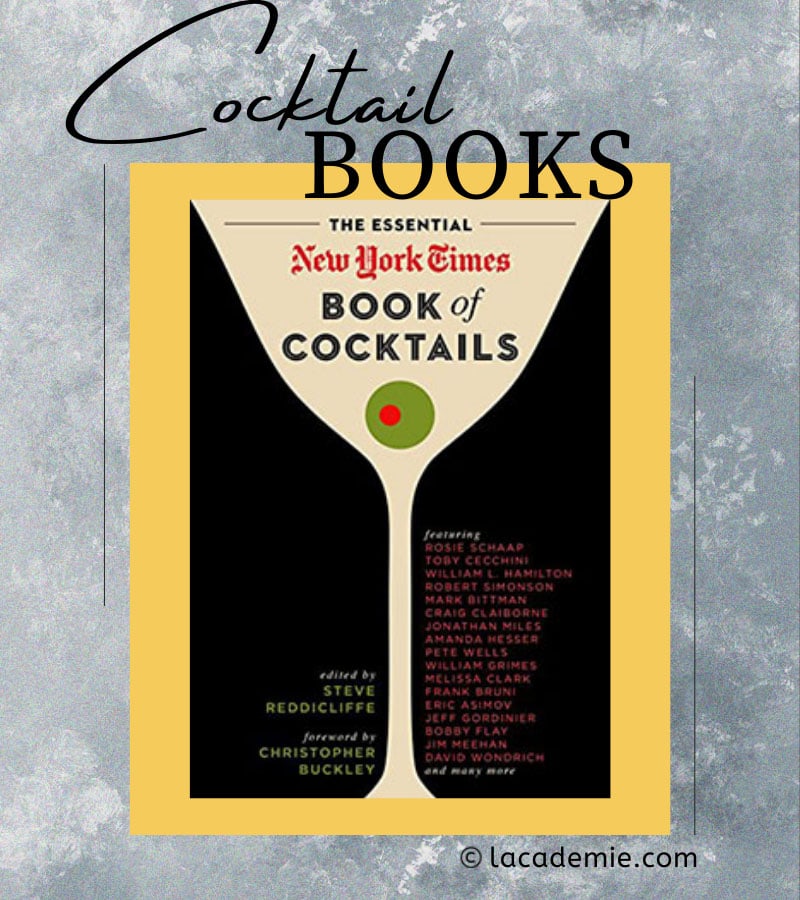 The History Of Cocktail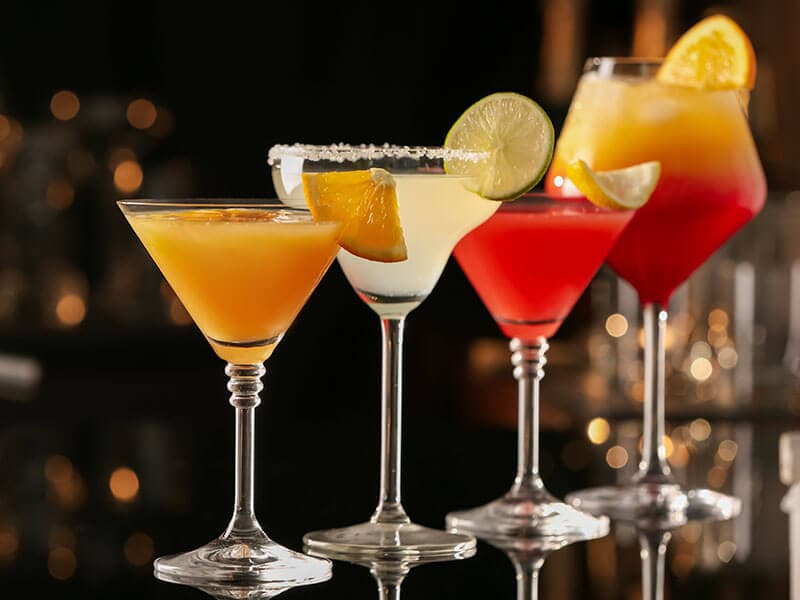 Around 1806, the word cocktail first appeared in American magazines. It is a drink mixed with alcohol, flavoring, and fruit juice. They impress from taste to style. This is the very first foundation of this beverage, the classic cocktail of America.
Gradually, with the talent and creativity of the world's best bartenders, the mixed drinks become new, outstanding, and loved. You will have relaxing moments at the bar with beautiful and delicious cocktails.
Classy and elegant – today's cocktails retain their original flavors with creative variations. Best of all, this concoction immerses your soul in refreshing, relaxing sounds. After hours of stress at work, holding a cocktail you made yourself in hand, it must be a precious moment to be spread!
What Are The Best Cocktail Books In 2022?
If you don't know what cocktail book to buy to level up your bartender skills, I have for you 18 titles written by the best bartender experts ever. Let's take a glance:
18 Must-Buy Cocktail Books For Every Cocktail's Lovers
The detailed reviews with all pros and cons of the 18 best cocktail books this year will definitely guide you to be the most excellent bartender!
1. The Ultimate Bar Book: The Comprehensive Guide to Over 1,000 Cocktails (Cocktail Book, Bartender Book, Mixology Book, Mixed Drinks Recipe Book) by Mittie Hellmich and Arthur Mount
(Best Of All Times)
---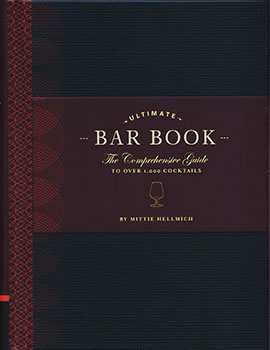 Shop now at Amazon
Shop now at Barnes And Noble
Shop now at Walmart
Shop now at Waterstones
Shop now at Thriftbooks
---
Do you want to enjoy the day off with a classic cocktail at home? Whether you're new to bartending or a professional bartender, The Ultimate Bar Book has the right guide.
The book shares classic and innovative recipes. Some drinks are very new and attractive in both appearance and taste. The author of the recipes is Mittie Hellmich, a mixologist, editor of the Oregonian, and illustration by Arthur Mount.
This book provides interesting information on the origins of classic drinks. Tips on various concoctions and great recipes to help you complete your favorite beverage. The book has many illustrations, from which you will choose the right type of glass and attractive decoration.
Pros
History and origin of classic concoctions
Complete technical preparation of cocktails, alcohol, and drinks
Precise formula, easy to succeed at the first time
The illustration clarifies how to decorate and choose the right type of glass
Specific information about the types of utensils and how to use them
Maximize use of supporting ingredients such as syrups, gelatin shooters
Cons
Should use a larger font size
2. The Art of Mixology: Classic Cocktails and Curious Concoctions by Parragon Book
(Best Classic)
---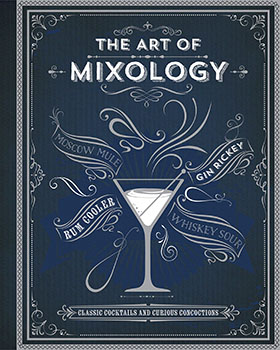 Shop now at Amazon
Shop now at Barnes And Noble
Shop now at Target
Shop now at Walmart
---
Start a new experience by making your own creative cocktails. Entirely handcrafted and uncomplicated, The Art of Mixology is the place to go. You will be the bartender for the night party, with 200 attractive recipes.
Traditional and modern, at the same time, the recipes provide step-by-step instructions for making the perfect cocktail. Each item is suitable for a different occasion: party, anniversary, date. Mixing and decorating techniques are fully provided for beginners.
This is an edition from Parragon, the publisher of many exciting books. With complete peace of mind, you can complete your 'home bartender' task with this publication.
Pros
Simple recipe, step-by-step instructions
Illustrations help to give ideas for how to decorate the drink
Basic terminology of dispensing
Artistic book cover
Cons
Need to be more apparent when presenting information about ingredients and tools
Some places use inappropriate fonts
3. The Drunken Botanist by Amy Stewart
(Best Tequila)
---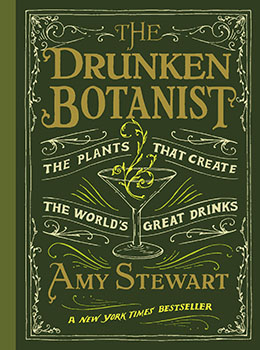 Shop now at Amazon
Shop now at Barnes And Noble
Shop now at Walmart
Shop now at AbeBooks
---
Since ancient times, people have used nuts, herbs, flowers, and fruits to ferment into attractive drinks, today's cocktail. Amy Stewart has delved into the uniqueness of classic bartending culture. She brings readers a beautiful book called The Drunken Botanist.
You will learn about diverse cool tequila blends, corn bourbon, and sugar cane rum. Each cocktail is a fermentation process with interesting differences.
The book gathers a lot of information about the origins of spirits, cocktails, and classic drinks. You feel like you can taste their unique flavor through each word.
The book also includes 50 recipes that are easy to make at home. Amy also shares gardening techniques and growing valuable plants and herbs. An award-winning author with numerous books on nature research, Amy Stewart will help you elevate your understanding of bartending.
Pros
Useful information about the culture and history of drinks
The recipes are detailed, and the procedure is simple
Knowledge of ingredients, fermentation, and distillation techniques
Ingenious, inspirational stories about the value of wines
Cons
Need to add some illustrations
Font size should be a little bigger and clearer
Take a look at the quick review of The Drunken Botanist by Amy Stewart to see how unique it is!
4. Death & Co: Modern Classic Cocktails by David Kaplan and Nick Fauchald
(Best For Beginners)
---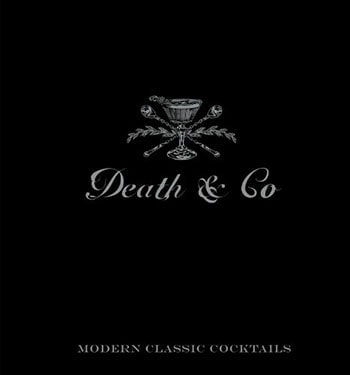 Shop now at Amazon
Shop now at Barnes And Noble
Shop now at Death And Company Market
Shop now at Ebay
Shop now at Walmart
---
Death & Co is a bar founded by bartender David Kaplan. Since its establishment in 2006, this place has become famous for its exceptional wines and cocktails.
That's why they published the book Death & Co – where they share with you the secret to making the bar's signature drinks. This is the definitive guide from one of the highest-profile of the contemporary craft cocktail movement.
Co-authored by writer and editor Nick Fauchald, the book is based on inspirational stories and philosophies. There are clear instructions and vivid illustrations. The book contains an endless source of inspiration for beginners with the art of concocting.
The book offers 500 favorite cocktail recipes. The book also fully instructs all basic and complex preparation techniques, so beginners can easily access and level up. Classic cocktails to modern, creative wine glasses are ready for you to experiment with.
Pros
The basic theory of mixing alcohol and cocktails for beginners
Valuable notes on choosing to buy materials and utensils
Recipe selection with favorite dishes
Illustrate information with charts for easy understanding
Beautiful artwork and clarifying the recipe
The story of losing is interwoven with energy
Cons
There should be specific categories of ingredients
Some ingredients are little known and hard to find
Let's run through every page of Death & Co: Modern Classic Cocktails!
5. Smuggler's Cove: Exotic Cocktails, Rum, and the Cult of Tiki by Martin Cate and Rebecca Cate
(Best For Tiki Cocktail)
---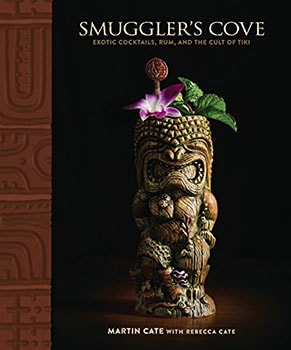 Shop now at Amazon
Shop now at Barnes And Noble
Shop now at Walmart
---
The Smuggler's Cove bar tells the world the anecdote of Tiki in a modern breath. Here you can feel the strange taste of different wines and cocktails. It was the creative work of Martin Cate – the expert bartender and Rebecca Cate – who opened up the idea for Martin.
That creativity comes closer to you with Smuggler's Cove of the same name. The dynamic tiki world will make you feel like you've reached a fairyland. It includes 100 thoughtful, step-by-step recipes for you to make at home.
Create your attractive rum cocktails with an unforgettable taste. The history of Tiki, a novel brewing technique, is shared. Once again, the legendary Tiki stepped out into the world with all great creativity.
Pros
The history of Tiki and concoctions opens your eyes
Innovative recipes following new trends
The book is beautifully presented, and the layout is easy to follow
Specific information about the origin of ingredients and raw materials
Many dishes, from simple to complex, for you to choose from easily
Cons
Use some terms that aren't common to everyone
Some ingredients are hard to find
6. Booze & Vinyl: A Spirited Guide to Great Music and Mixed Drinks by André Darlington and Tenaya Darlington
(Best With Cocktail And Music)
---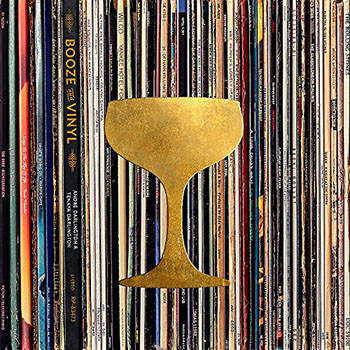 Shop now at Amazon
Shop now at Walmart
Shop now at Barnes And Noble
Shop now at Wild Cat Gift And Party
---
Classical music and delicious cocktails – why not? André and Tenaya Darlington bring readers that beautiful moment with Booze & Vinyl.
André and Tenaya are co-authors of many best-selling books on culinary and bartending. They bring readers 70 classic recordings with unique mixing instructions. All monotony seems to be forgotten because of the art in taste and words.
With a thoughtful design, the book is a collection of recipes for wines, types of vinyl, and cocktails from classic to modern. Information about historical events is cleverly integrated. Brilliant photos and artful graphics will make you excited.
Pros
New recipes and easy to make at home
Inspirational accompanying music
Helpful information about related events
Beautiful cover design, eye-catching illustrations
Cons
In some places, the background is darker, making it difficult to see the text clearly
7. Cocktail Codex: Fundamentals, Formulas, Evolutions [A Cocktail Recipe Book] by Alex Day, David Kaplan, and Nick Fauchald
(Best For Home Bar)
---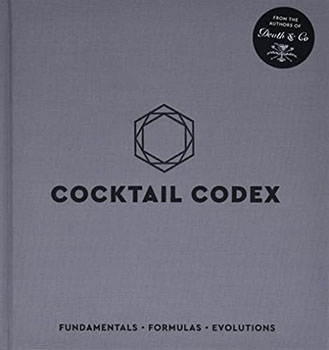 Shop now at Amazon
Shop now at Walmart
Shop now at Death And Company Market
Shop now at Barnes And Noble
---
The art of crafting cocktails is actually not that complicated. Just based on six basic cocktails, you can create countless wonderful variations. That's the message from the Cocktail Codex by authors Alex Day, David Kaplan, and Nick Fauchald.
With practical experience right at the restaurant they own, Alex and David capture customers' tastes. They cooperate with writer Nick Fauchald, opening the big door to making cocktails at your home bar.
Whether shaking or stirring, the technique of each step is detailed. You will learn how to substitute ingredients to create your own creative cocktail. The descriptive language is easy to understand for both amateurs and professionals.
Pros
Highlight the basics of cocktails for home bars
Rich creativity with variations
How to communicate easily to understand and create excitement
Classic and modern brewing technologies updated
Vivid, beautiful illustrations
Cons
The unit of measurement may be a bit complicated
Some of the ingredients are quite rare
Discover all the special things in the Cocktail Codex book with this review!
8. Liquid Intelligence: The Art and Science of the Perfect Cocktail by Dave Arnold
(Best With Pictures)
---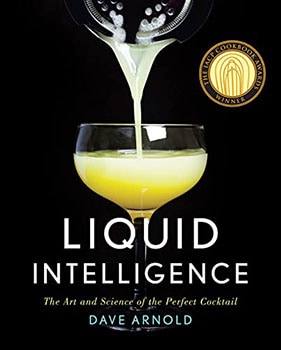 Shop now at Amazon
Shop now at Walmart
Shop now at Barnes And Noble
Shop now at Target
---
The core of a good cocktail is the intersection of its ingredients. Writer and food scientist Dave Arnold has painstakingly explored the happenings behind each concoction. He shares great insights into cocktails and how to create them through Liquid Intelligence.
Owning a bar equipped with many new technologies, Dave specifically teaches techniques using advanced tools and machines.
This book contains 450 unique photos that open your eyes to classic cocktails and many new drinks. Combining ingredients to create a nutritious drink is also a breakthrough in Liquid Intelligence.
Dave does amazingly detailed research on the textures of cocktails. From there, he opened up his understanding of the nature of flavor in each drink. There are also 120 recipes focused on decoration, down to the details of each stone and sugar bead.
Pros
Many beautiful photos help clarify the appearance of the drink decoration
Recipes from classic to modern for you to choose from easily
Techniques for using specific tools
Introduction of modern machines to support the preparation
Tips for combining ingredients to create unique flavors
Towards many nutritious dishes for health
Cons
Some recipes require elaborate techniques
Some components are quite expensive
Listen to author Dave Arnold talk about his Liquid Intelligence Book!
9. The Bar Book: Elements of Cocktail Technique (Cocktail Book with Cocktail Recipes, Mixology Book for Bartending) by Jeffrey Morgenthaler, Martha Holmberg, and Alanna Hale
(Best For Bars)
---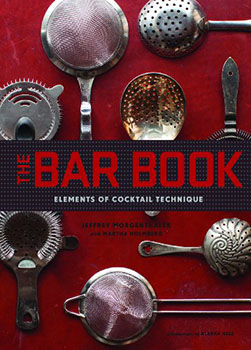 Shop now at Amazon
Shop now at Target
Shop now at Barnes And Noble
Shop now at Walmart
---
It will be remarkable if you treat your family to a dinner party with a new cocktail. That's easy to do with all the instructions in The Bar Book. Author Jeffrey Morgenthaler will help you set up a bar at home!
A veteran bartender and favorite blogger, Jeffrey teamed up with food author Martha Holmberg to share 60 craft cocktail recipes. Attached to each recipe is a specific illustration of how to make it from Alanna Hale.
The book layout is arranged to be easy to search and select. Even if it's your first time as a bartender, you'll quickly master basic techniques such as squeezing the fruit, choosing ice and catalysts, and setting up cups.
Creative mix-and-match tips open up new possibilities for your home cocktail. The author explicitly introduces the macgyver centrifuge – extremely useful in making cocktails!
Pros
Specific step-by-step instructions for beginners
Books are divided by index, and it is easy to choose the right dish
All basic to advanced techniques in preparation and decoration
Illustrations make it easy to follow
Cons
Some of the ingredients are expensive and little known
Some recipes take a long time to complete
10. Meehan's Bartender Manual: [A Cocktail Reference and Recipe Book] by Jim Meehan
(Best For Bartenders)
---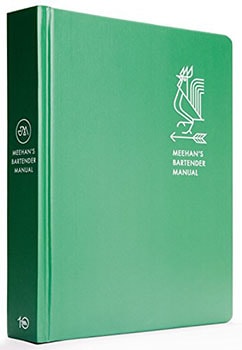 Shop now at Amazon
Shop now at Barnes And Noble
Shop now at AbeBooks
Shop now at Kobo
---
If you're passionate about bartending and want to stick with it, you'll get all the instructions from Meehan's Bartender Manual. It's helpful for you as the book provides all the basics about bartenders and cocktails.
Managing a bar doesn't have to be difficult with all the impressive cocktails and overflowing hospitality in this interesting cookbook. You will find specific instructions on cocktail and spirits preparation techniques.
100 sharing classic cocktails for both pros and amateurs. Suggestions on menu creation and bar design are also essential for those about to start a business.
The author is Jim Meehan – a bartender with many award-winning books on bartending. From working experience at famous bars in New York, he shares the art of conquering diners.
Pros
Formulas from simple to complex
Specific instructions on all basic and advanced techniques of preparation
The secret to establishing and managing a bar from the author's own experience
The art of conquering diners
Great illustrations
Cons
Some ingredients are hard to find
Some recipes can only be made at professional bars
11. Imbibe! Updated and Revised Edition: From Absinthe Cocktail to Whiskey Smash, a Salute in Stories and Drinks to "Professor" Jerry Thomas, Pioneer of the American Bar by David Wondrich
(Best Whiskey)
---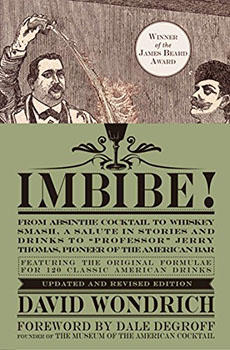 Shop now at Amazon
Shop now at Barnes And Noble
Shop now at Rabble Books And Games
Shop now at Walmart
---
The history of cocktails made in America is a wonderful story. Inspired by that, the editor David Wondrich researched and published the history of cocktails. That knowledge makes him stand out in the world of classic cocktails in America.
After years of researching craft cocktails, he publishes Imbibe in a spirit that is both classic and innovative. There are 100 cocktail recipes based on the old quintessence.
The book also combines and mixes techniques to create new dishes that are extremely stimulating to the taste buds. This cocktail book will take you on a tour of the glorious past of the American cocktail, from the attractive absinthe cocktails to whiskey smash.
Compared to the first edition in 2007 with the James Beard award, the new edition is more detailed with groundbreaking formulas. The records of cocktails and the history of spirits in the 19th century are more impressive through artistic photography.
Pros
The recipe is both classic and contemporary, easy to choose
New flavors through careful research
Beautiful artistic color photos
Useful references about the origin of American cocktails
Humorous tone inspires reading
Cons
Some technical terms are a bit difficult to understand
12. The Savoy Cocktail Book by Harry Craddock
(Best For Cocktail Decoration)
---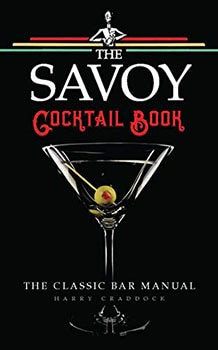 Shop now at Amazon
Shop now at AbeBooks
Shop now at Barnes And Noble
---
White Lady is a drink that once stormed the London elite. This is the invention of Harry Craddock – cocktail master at the Savoy Hotel. The Savoy Cocktail Book is his work after years of summarizing the legendary cocktail.
The book provides full information on classic cocktail-making techniques. The presentation and service of the cocktail are clearly explained. With more than 750 recipes, The Savoy Cocktail Book takes you back to the chic style of the 30s.
The book has illustrations and step-by-step instructions. The spiral format of the book makes it convenient to use. The Savoy Cocktail Book is like a work of art in both form and taste with a prominent cover design.
Pros
Beautiful cover design, easy to use
Offers signature classic cocktail recipes
The technique of combining luxurious flavors
Useful notes for cocktail decorations
The art of serving customers
Cons
Should have more information about ingredient ratio
Mainly classic cocktails, so there's not a lot of variety
Let's go back in time and discover how Harry Craddock created The Savoy Cocktail Book!
13. The Aviary Cocktail Book by Nick Kokonas, Allen Hemberger, and Grant Achatz
(Best For Display)
---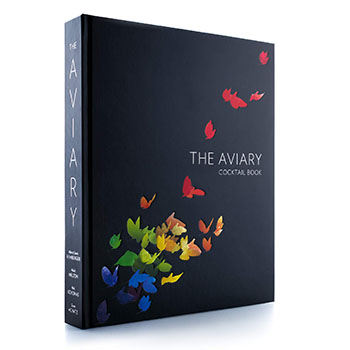 Shop now at Amazon
Shop now at AbeBooks
Shop now at Thrift Books
Shop now at Ebay
---
When it comes to impressive cocktail books of the 21st century, The Aviary Cocktail Book has to be mentioned. This is a true work of art from cover to page. You'll be overwhelmed with the large-format illustrations for each page.
Massive at 12″x10″x2″, the book is a beautiful anthology of delicious cocktail recipes to display at your bar. Over 440 pages, the authors share state-of-the-art mixing techniques to help you know how to do it at home.
The book is written and published by celebrity chef Grant Achatz and Nick Kokonas, with Allen Hemberger taking care of the perfect visual effects. The product arrives in you as an affirmation of the cocktail of the 21st century: elegant and luxurious!
Pros
Impressive, well-organized book presentation
Large, clear, artistic image
Innovative formulas that follow the trend
Specific instructions on techniques from easy to difficult
Cons
Requires some pretty expensive tools for the preparation
Some ingredients are hard to find
Advanced techniques are a bit confusing for non-experts
Meet the author of The Aviary Cocktail Book to see how they make up this piece of art!
14. The Essential New York Times Book of Cocktails: Over 350 Classic Drink Recipes With Great Writing from The New York Times by Steve Reddicliffe
(Best With Recent Cocktail Trends)
---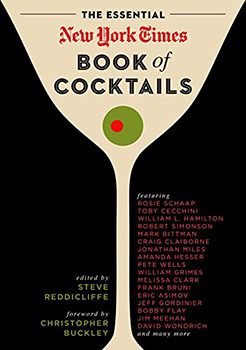 Shop now at Amazon
Shop now at Barnes And Noble
Shop now at AbeBooks
Shop now at Walmart
---
The New York Times brings you over 350 classic and modern cocktail formulas in this informative book. The columnist Steve Reddicliffe provides you with all the secrets of this special beverage. This book unlocks all the history of the new cocktail trends.
There is a wide range of recipes you will definitely love, such as the classic martini, negroni, manhattan, and many new generation variations. With his unique writing style, Reddicliffe collects all the outstanding cocktail formulations from bartenders all over the country.
Throughout this book are hundreds of specific recipes you love, such as Irish-style cocktails, Bloody Marys, and more. The author arranges the cocktail recipes according to their types for your best access. You can also learn all the useful tips to organize, stock, and run your bar.
Pros
Recipes collected from bartenders everywhere
Contain both classic and modern cocktail recipes
Divide into different sections according to cocktail types
Hundreds of cocktail variations to choose
Useful tips on how to arrange and run the bar
Cons
There should be a general index to look up recipes easier
15. The Craft of the Cocktail: Everything You Need to Know to Be a Master Bartender, with 500 Recipes by Dale DeGroff and George Erml
(Best For Craft Cocktail)
---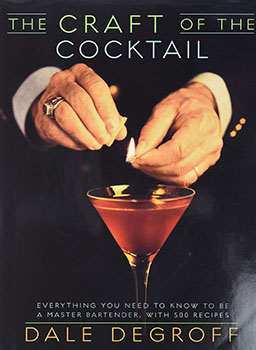 Shop now at Amazon
Shop now at Walmart
Shop now at Barnes And Noble
Shop now at Ebay
---
Cocktail making is an artistic and creative craft. When you master the techniques and master the use of tools, you will create a great cocktail in both shape and quality. Dale Degroff conveys that message through The Craft of the Cocktail.
A detailed instruction book on how to combine ingredients and prepare tools. The key techniques for making delicious cocktails are conveyed through 500 recipes. You are also provided with helpful glossaries and menu suggestions for your bar.
Author Dale DeGroff is a bar operator, consultant, and teacher on craft cocktails. He talks about the history of cocktails as a perfect crystallization of wine, juice, and the bartender's soul.
Illustrated with outstanding color photographs from the legendary photographer George Erml, the book is a true work of art from form to content.
Pros
Beautiful, artistic book presentation
Vibrant color photos for inspiration
Sharing basic to advanced techniques
Specific instructions on choosing materials and tools
Explanation of technical terms
Suggest different types of drinks, how to decorate and manage the bar
Cons
The font is a bit small
Should arrange the recipe by ingredients instead of alphabetically
16. The Essential Cocktail Book: A Complete Guide to Modern Drinks with 150 Recipes by Megan Krigbaum
(Best Modern)
---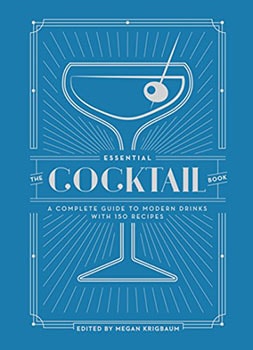 Shop now at Amazon
Shop now at Barnes And Noble
Shop now at Target
Shop now at Walmart
---
The classic cocktail has always had a strong place because of its precision and balance. On that basis, the bartenders have developed many new dishes.
The editor and writer Megan Krigbaum brings together the foundation of old-fashioned brewing techniques in The Essential Cocktail Book.
As an editor at PUNCH and Food and Wine, Megan captures the tastes and desires of diners. The book covers everything about making cocktails and wine.
You'll know which drink to choose for an aperitif, the true glass for cocktails with whiskey base, and the age-standard daiquiri finishing techniques.
Books are a valuable resource for home bartenders and skill enhancement for professionals. 150 recipes with photo instructions for each step and decoration. The book also provides a proud history of classic concoctions.
Pros
Useful information about the origin and history of cocktails
Recipes with illustrations make it easy to follow
Easy to choose the right dish with the classic and modern sectional layout
Answer any questions about preparation techniques, how to use ingredients and tools
Cons
Some of the ingredients are confusing for beginners
17. The Joy of Mixology, Revised and Updated Edition: The Consummate Guide to the Bartender's Craft by Gary Regan
(Best Creative)
---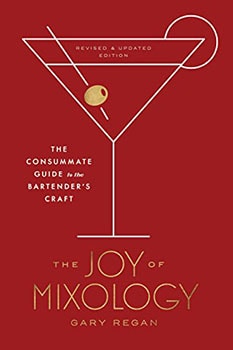 Shop now at Amazon
Shop now at Barnes And Noble
Shop now at Thrift Books
Shop now at Vital Source
---
The book The Joy of Mixology was published in 2003 as a spark for mixology lovers. And after 15 years, author Gary Regan released a new edition of The Joy of Mixology, Revised and Update Edition.
Gary adds enhanced recipes based on the original with experience from seminars as a judge for cocktail competitions. His cocktails are a lively intersection of taste and soul.
The book updates completely new ingredients and follows that many different cocktails are born. The author overhauled every recipe of the last decade. They come out fresh in taste and memorable in their making.
The author's playful and liberal instructions give you an enthusiastic spirit with a passion for mixing. The book has many useful tips on bar experience and historical information.
Pros
Updated with completely new ingredients
Well-rounded knowledge of basic cocktails
Some effective concocting tricks
Expressions that are easy to understand and remember
Details on how to combine modifiers, sweeteners, amount of ice
Easy-to-understand glossary
Cons
Some ingredients are hard to reach
18. Tiki: Modern Tropical Cocktails by Shannon Mustipher
(Best Tropical)
---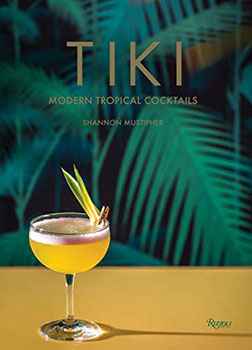 Shop now at Amazon
Shop now at Walmart
Shop now at Barnes And Noble
Shop now at AbeBooks
---
The Caribbean tiki cocktail is a refreshing and romantic drink. In contemporary times, Tiki continues to explode on a classic basis. These delicious recipes come to you through Shannon Mustipher's "Tiki: Modern Tropical Cocktails".
She is a cocktail consultant with extensive research into spirits, rum, and cane liquor. With contributions from talented mixologists Nathan Hazard, Brother Cleve, Laura Bishop, and Ean Bancroft, over 90 recipes have been delivered to your bar.
The author shows how to soak and defatted brandy and break the flavor with rum and liqueur. Besides, there are instructions on how to effectively use fresh fruit juice, make your own syrup, and exploit the flavors of gin, white wine, and delectable vodka cocktails.
A master of rum, Shannon spreads refreshment and grace with every page. Before satisfying your taste buds with tiki cocktails, you will be visually satisfied with the beautiful images of Noah Fecks accompanying each recipe.
Pros
Drinks created from the author's actual experience
Techniques for using and combining wines properly
Refreshing taste typical of the Caribbean
Easy to understand with illustrations accompanying the recipe
Cons
Some hard-to-find spirits
Herbs and regional specialties are not popular
FAQs
The world of cocktails has more charming secrets than you think. Let's discover more about cocktails to know how interesting this beverage is!
My Top Pick
The myth of the cocktail is a long journey. But it is a beautiful experience when you try to go back in time and find the most quintessential drinks.
You'll find that truth in The Ultimate Bar Book: The Comprehensive Guide to Over 1,000 Cocktails by Mittie Hellmich and Arthur Mount, a work that highlights the uniqueness of the cocktail legend.
The wonderful combination of flowers, fruits, seeds, and herbs has existed since time immemorial. The stages of fermentation and extraction are entirely manual. That is the foundation, the original for the art of bartending today.
Now spread the cocktail spirit by sharing this article with everyone if you find it helpful! And don't forget to leave a comment for me to know your favorite cocktail book right now!