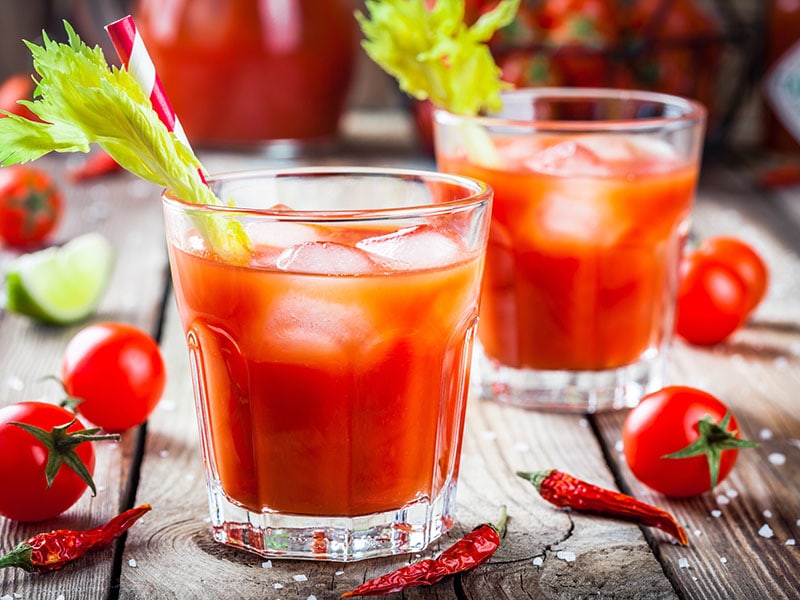 The list of simple cocktail recipes is plentiful. Some of them might only ask for a few ingredients without using any bartender tool, but cocktail making is the art of mixology to create various awesome beverages that pack a punch of flavor.
It does not matter if this is a weekday or weekend; you can totally turn your kitchen into a minibar after reading this post. Indeed, these most well-known cocktail ideas are easy to follow, but they are fancy enough to make you feel like a professional bartender.
So grab your cocktail essentials and show off your skills to impress others. I bet you will leave them speechless.
The Best Cocktail Ideas For Everyone (Even Beginners)
There are many ways to cheer yourself up. If cooking is not your priority, how about making cocktails? These easy-to-make mixed drinks are wonderful remedies for trouble, worry, or even heartbreak. And it would be better if you could prepare it yourself.
Within around 2 to 10 minutes, a homemade yet tasty cocktail is ready to serve!
Total time: 3 minutes
Mojito is an authentic cocktail from Cuba, particularly in Havana. This summery South American drink is famous for its extra-refreshment, fizziness, and citrusy made with white rum, mint, soda, and lime juice.
You might not even recognize the appearance of rum, so it is extremely easy to drink, especially for those who do not like the alcoholic flavor. The making process of Mojito is straightforward, but instead of using simple syrup, I choose naturally honey sweetener.
If you want to make it for a single serving, you need a cocktail shaker to mix all ingredients. But it is also hassle-free to make a drink for a crowd with one pitcher. And regardless of how many serving, muddling mint leaves to release their oil at first is a must.
Besides a homemade version of Mojito, this instruction also shows you the pro and expert methods if you want to master this drink.
Total time: 5 minutes
Another classic but popular cocktail is Margarita. This signature drink with a salted rim and a piece of lime on the rim is a great recipe for those who are new to cocktail-making. Why? Because it only asks for 5 minutes (or even less) to make it.
Tequila, orange liqueur, and lime juice are 3 items to make a classic Margarita. Regarding orange liqueur, there are various options such as Cointreau (like this recipe), Grand Marnier, or Triple sec. Either of them works fine for a flawless Margarita.
You can find several ways to serve it, like on the rocks or frozen style. In this recipe, I choose the most basic form – on the rocks. Shake up the drink in a shaker, but if you do not have it, you can stir all ingredients in a glass. Extremely easy, right?
Total time: 5 minutes
Ideas of ginger beer cocktails are rarely out of style. In this recipe, instead of traditional Moscow Mules with ginger beer, lime juice, and vodka, I will add a little peachy twist to your drink with 360 Georgia Peach vodka.
Moscow Mule is incomplete if you do not serve it in a copper mug. The benefit of using this mug type since copper can retain the cold temperature of the cocktail inside it. Therefore, no matter how hot of a day, this Peach Moscow Mule is a true savior.
This treat strikes a perfect combination of fizzy, lightly spicy, with strong notes of peach and ginger to create a unique drink. For better results, add some fresh peaches and lime slices to the cocktail and enjoy!
Total time: 2 minutes
What is your favorite cocktail with Campari? Mine is Americano. Dating back to the 1860s, Gaspare Campari created this drink and served it in his bar – Caffè Campari. It has become a popular culture after the James Bond series since Americano is his favorite drink.
Besides Campari (Italian alcoholic liqueur), this red-colored cocktail also includes sweet vermouth and soda water.
Since this drink only calls for a few ingredients, you should use the best-quality ones to fully enjoy the strong bittersweet with some herby notes in Campari and vermouth's slight spiciness and sweetness.
Americano is relatively low in alcohol content; it is suitable for light cocktail nights or brunches. For more information, a highball glass, Collins glass, or old-fashioned glass is typical drinkware for this beautiful drink.
Total time: Around 5 minutes
B-52 is a typical straight-up cocktail. This cocktail is well-known for its layered appearance, comprising coffee liqueur (as Kahlua), Irish cream (usually Bailey), and Grand Marnier (a type of orange liqueur).
This is a classy treat that you can enjoy as a post-dinner cocktail, or you can enjoy it any time you want. Moreover, B-52 usually comes in a shot or sherry class.
Unlike other drinks, you do not shake or stir the ingredients to make B-52. Instead, you have to "build" the layer and keep it separate from each other.
To do it properly, the back of a spoon will do the job. Gently and slowly pour the liquid over a utensil so one layer will not affect others, then you will have a perfect homemade drink.
How to layer separate ingredients in the B-52 shot like a pro? Check here for more detail.
Total time: 10 minutes
Many Mexican cocktails are full of flavors and refreshments. And Paloma is one of the greatest examples. This amazing cocktail with tequila, grapefruit juice, soda, and lime juice (optional) offers a sweet and sour balance with a bit of bitterness.
Paloma also has a sophisticated yet elegant look that you do not need any tool to create. When ingredients blend in a tall glass with ice, they already paint a light pink color on your drink. And similar to other tequila-forward beverages, you can rim the glass with salt.
Until now, the origin of Paloma is still unclear. Some attribute that this is a creation of Javier Delgado Corona – a bartender legend in Mexico. And in Spanish, Paloma means "dove".
Total time: About 5 minutes
The recipe of coffee cocktails has always thrilled me; therefore, if you have the same hobbit as mine, Espresso Martini is a perfect choice. Need a post-dinner drink to chill? Save this recipe to your list!
Besides espresso and vodka as main components, coffee liquor is also essential. Traditionally, Espresso Martini normally uses Kahlúa or Tia Maria, but in this one, I prefer to go with a coffee liquor that is not too sweet, like Caffe del Fuego or Mr. Black Coffee.
This drink will awake all of your taste buds with its smooth creaminess and strong coffee flavor. Plus, If you want your drink cooler and more refreshing, chilling liquors and espresso in the fridge before using is ideal.
Quick fact: Though it has "martini" in the name, Espresso Martini is not a true Martini cocktail since there is neither vermouth nor gin in its recipe.
Total time: Around 3 to 5 minutes
Black Velvet cocktail is an interesting combo of stout (commonly Guinness beer) and Champagne with an intriguing flavor that you might find hard to resist.
The drink was made by a bartender in a London club in 1861 to express sadness for Prince Albert's death. However, today Black Velvet no longer has the mourning meaning so you can enjoy it on any occasion.
Making this mixed drink is trouble-free since you only need to combine 2 main ingredients in the same ratio. But please pay more attention while pouring the beer if you want to have a stunning layered drink with a sparkling base and black stout on the top.
In this recipe, I also use a teaspoon of creme de mure (blackberry liqueur) to enhance the flavor of this cocktail. Last but not least, a cherry on top is crucial for an appealing look.
Total time: Only 2 minutes
You might guess the flavor profile of this drink right from its name. That's right! Whiskey Sour has a sour taste that is more prominent than sweetness. Many assume its flavor is pretty similar to lemonade tart.
Indeed, the main component in Whiskey Sour is freshly-squeezed lemon juice along with whiskey and syrup. If you want to upgrade the cocktail, a dash of egg white will surely create a rich foam and creaminess.
And remember, if you use egg white in any cocktail, you should dry shake the components without ice first in 60 seconds to create a nice foam, then add ice and shake again in 30 seconds. If you are concerned about the salmonella in raw eggs, skip this component.
Total time: 2 minutes
Cosmopolitan (or Coso) has spread its popularity since the 1990s. It was a stylish trend after the television series Sex and the City. Therefore, if you need a drink for girl's nights, Cosmopolitan might fit all of your requests for the finest beverage.
First, this is a lovely pink-colored cocktail comprising vodka, cranberry juice, triple sec, and fresh lime juice. Tangy, sweet with a vodka kick, everything is blended to create a light and fruity beverage. And if you use low-calorie cranberry juice, your cocktail is even healthier.
In addition, Cosmopolitan normally comes in a tall martini glass, confusing this drink as a type of Martini. For a better visual, garnishing it with cherry or orange peel is a brilliant idea.
Total time: Approximately 5 minutes
Even if you are totally new to the concept of mixed drinks, I bet you have heard about Martini before because it is one of the most famous cocktails in the world. In short, Martini is a cocktail comprising gin and dry vermouth with green olives or twisted lemon peel for garnishing.
The regular proportion of Martini is very straightforward with 2 parts of gin for 1 part of vermouth. There are various versions of Martini with different ratios. For example, if you prefer Dry Martini, decrease the amount of vermouth.
Some versions use vodka instead of gin as well. On the other hand, they can be either shaken or stirred, but one thing to be sure about Martini is its intense flavor with a boozy aftertaste.
Classic Martini is an effortless drink that everyone can whip up at home!
Total time: 5 minutes
My first impression of Tequila Sunrise is its color. As the name suggests, it has a perfect ombre color of orange (from orange juice) and bloody red (from grenadine syrup), resembling the color of sunrise.
The main star here, obviously, is tequila. However, the original Tequila Sunrise used to contain soda water, tequila, lime juice, and creme de cassis (sweet liqueur from blackcurrants). Today's recipe, in fact, is similar to the 1970s version that was created in California.
What is the best thing about this cocktail? It is a non-stirring and non-shaking cocktail, which means you do not need to own any bartender tool. Simply fill your cup with ice first, then tequila, orange juice, and grenadine syrup, respectively.
Garnish it with a small orange slice and cherry. Now, a bright, boozy, and citrusy drink that tastes like a sunrise kiss is ready to enjoy!
Total time: 5 minutes
The Old Fashioned cocktail is one of the oldest-known cocktails developed during the 19th century. According to cocktail historians, a Louisville gentlemen's club – Pendennis Club, claims this drink was their invention in 1881.
With this root, Old Fashioned has officially chosen this drink as Louisville's official cocktail. So what is in this classic treat? If you are a whiskey lover, you might have heard of Old Fashioned before since this is a whiskey-forward cocktail with a sweetening agent and bitters.
Regarding sweetener, traditional Old Fashioned goes with sugar cubes. People typically muddle it with bitter and a couple of dashes of water (optional). In addition, you can use any type of whiskey you like, but for the best outcome, bourbon or rye whiskey is the top option.
Do not forget to top your drink with an orange peel. It might be a strong drink, but Old Fashioned is sweeter than Manhattan – another cocktail including bitter that I will introduce later.
Total time: Around 2 minutes
The word "julep" generally refers to a sweet-flavored drink that people especially use in medicine. But in this case, Mint Julep is a mildly sweet drink but boozy enough to blow your mind away.
It is a basic cocktail with bourbon as a base. Associating with Southern American cuisine, particularly Kentucky Derby, Mint Julep also calls for mint leaves, sugar/syrup, and crushed/shaved ice, creating a refreshing beverage that you do not want to miss in the summertime.
Unlike Mojito, you do not have to muddle fresh mint leaves. Filling all ingredients and gently stirring them in a glass is enough. However, to increase the minty scene with its lingering cool effect, you can rub the leaves around the glass rim before putting them into your drinkware.
Total time: Around 5 minutes (excluding chilling time)
What is your favorite fall cocktail? If you still hesitate in choosing the final answer, let me introduce my go-to one – Fall Sangria. In reality, you can create a bulk of it to enjoy on any holiday since this drink will not ask you any professional bartender skill.
It is also an ideal cocktail consisting of Grand Marnier, red wine, chopped fruits, and other components. Moreover, Sangria is a well-loved drink among many tourists in Spanish bars and restaurants, despite the fact that the locals do not drink this cocktail much.
Plus, this one is hard to fail, allowing you to make this drink at home. And please note that the key success of Sangria is blending the flavor of fruit and alcohol. Therefore, after mixing all ingredients in a big pitcher, let them chill in a fridge at least 3 hours before serving.
Total time: 5 minutes
Bloody Mary is a flavorful French cocktail including vodka, tomato juice, condiments (Worcestershire and Tabasco sauce), and spices. Though the ingredient list of Bloody Mary is longer than most recipes here, you will be stunned by how they can complement each other amazingly.
Seriously, who would imagine an alcoholic drink that includes condiments and spices? You can feel the saltiness, spiciness, and savoriness in every sip of the beverage, making it a delightful cocktail for brunch or any weekend party.
And it would be a pity if there was no garnish for Bloody Mary. Ideally, a lime or lemon wedge is sufficient. But if you want to make it look like a mini art in a glass, pickles, celery sticks, and olives are preferable.
As a quintessential brunch, Bloody Mary is a must-try cocktail idea!
Total time: Approximately 3 to 5 minutes
Daiquiri – a rum-based cocktail, highlights the simplicity since there is nothing much to prepare. Lime juice, light rum, and sweetener, that's it! And this is one of six basic beverages on the list of The Fine Art of Mixing Drinks.
In reality, you will see a lot of variations of Daiquiri, and many of them are frozen cocktails. However, the purest version of Daiquiri is a straight-up cocktail, served in a glass without ice to emphasize the nice blending and balance of sweet rum and sour citrus fruit juice.
In order to get the best quality from lime, use a hand-squeezer or your hand to juice it. The juice and oil from the fruit can increase the outcome of your cocktail. On the other hand, using quality ingredients is non-negotiable.
Total time: 5 minutes
Another mixed beverage with a typical red color is Negroni. In Italy, this drink is also a classy way to start a meal (called apéritifs). Still, you can also enjoy it after your meal (as digestifs).
With 3 components: gin, sweet vermouth, and Campari, a bitter and crisp drink will entertain your palate. It is also a no-hassle drink that everyone can make because all ingredients share the same ratio.
There are 2 ways to serve it: on the rocks or straight-up style. For the first one, you should combine the elements in a glass filled with ice, then stir well to mix them. If you want to serve Negroni straight-up, remember to strain the mixture into a chilled glass.
Total time: Around 3 minutes
Speaking of Asian-themed cocktails, Singapore Sling was created in Singapore by bartender Ngiam Tong Boon in the early 1900s. The original name of this cocktail is Gin Sling, which "sling" refers to a drink made from water, spirit, sweetener, and flavorings from North America.
Overall, this is a gin-forward cocktail with other ingredients like orange liqueur (I use Grand Marnier in this case), Bénédictine, Angostura bitters, juices, and more. So it carries a delightful fruity punch and is quite easy to consume.
In fact, Singapore Sling has different versions. Their recipes might be similar, but according to David Embury (writer of Fine Art of Mixing Drinks), he has never seen any two Singapore Sling cocktails that are alike.
Total time: 5 minutes (excluding cooling time)
In 1915, French 75 was born in the New York Bar in Paris by Harry MacElhone. And its name is inspired by the French 75-mm field gun to imply the powerful kick of this drink.
Champagne, gin, lemon juice, and syrup are the main elements in French 75. All together deliver a bright, boozy, and citrusy flavor that is much stronger than Mimosa – another champagne-style cocktail.
It is also a bubbly drink best served in a champagne flute. Additionally, you need a cocktail shaker to mix a drink; shake well for around 20 seconds before straining the mixture into a glass. Finally, garnishing it with a twisted lemon peel is the ultimate idea.
Total time: About 5 minutes
Another flavor bomb in the cocktail world that you should not miss is Hurricane. This treat is one of the most well-loved drinks in New Orleans. Who cannot love an alcoholic beverage with fruity and sweet alcoholic flavors like Hurricane, right?
At first glance, this Hurricane recipe caught much attention due to its bright orange-reddish containing citrus juice, dark and white rum, and grenadine. The best part is that you do not need a special tool to make it, just combine everything in a pitcher and stir well.
Normally, people would love to enjoy it in a tall, curvy glass. But if you travel to New Orleans, do not be so surprised when you see some versions come in disposable plastic cups because New Orleans's law forbids public drinking from glass drinkware.
Total time: Around 3 to 5 minutes
Gimlet can come in various variations, but the classic recipe is a gin-based one. It is a simple cocktail with only 3 ingredients: gin, freshly-squeezed lime juice, and simple syrup. Ensure you use a high-quality gin to bring out the best cocktail.
Of course, Gimlet is also easy to whip up. Mix all components in a cocktail shaker and strain this mixture into a martini class. The tanginess and sweetness in every sip of Gimlet will stun you.
So how do people call it Gimlet? This cocktail's name is still in debate. It might derive from a drilling tool to imply the "penetrating" feeling when a drinker tries this beverage. Others also believe it is named after a surgeon who infused lime into gin to prevent scurvy.
Total time: 3 minutes
Tom Collins seems to be the ideal drink to imply that you do not need a fancy cocktail to enjoy. Made with simple ingredients yet packed with an exceptionally refreshing taste, it is a perfect summertime treat. Tom Collins can still be your favorite spring, fall, or winter drink if desired.
Including gin, lemon juice, syrup, and soda/sparkling water, this 3-minute cocktail tastes like spiked lemonade with boozy and herbal hints from gin. People normally serve it with ice and garnish the drink with a lemon slice and cocktail (or fresh) cherry.
Speaking of Tom Collins' history, it first appeared in the famous cocktail book of Jerry Thomas (a father of American mixology) in 1876.
However, there are some arguments regarding its true root. Plus, you might find several similar versions, like John Collins, Juan Collins, etc., including different ingredients.
Total time: 3 minutes
Another mixed drink recipe that you can make in a snap right in your home is Vodka Gimlet. Instead of using gin in the purest Gimlet, you only need to swap it for vodka to make this beverage. Easy peasy, right?
Compared to a version with gin, this simple vodka-based cocktail features a smoother taste with a nice balance of sweet and tart. To make it more enjoyable, you can throw a vodka bottle in the fridge to chill before mixing it with lime juice and syrup.
Ideally, serve it in a cocktail stemmed glass with a small round top. On the other hand, a martini glass is also a great substitution in this case.
Total time: 5 minutes
When it comes to Caribbean cocktails, Yellow Bird is the top choice, thanks to its delicate look and perfect balance of sweet and sour taste. As the name suggests, this drink owns a vibrant yellow color made from Galliano liqueur, white rum, orange liqueurs, and lime juice.
Until now, the myth of Yellow Bird's name is unclear. Some argue it is named after a Haitian song called Yellow Bird, while others think this name is related to the golden color of the Galliano liqueur of Italy.
But regardless of its history, this one is an excellent beach cocktail that you can whip up in 5 minutes. There are two main ways to serve Yellow Bird, including on the rocks and straight-up. Use a cocktail shaker to ensure your drink comes out cold and flavor-blended.
Total time: Around 10 minutes
Seeking a cocktail idea to celebrate Christmas? Search no more because Peppermint White Russian is the ultimate answer. It is similar to basic White Russian, comprising coffee liqueur (Kahlúa), cream, and the main star – vodka.
To enhance the Christmas theme, I use peppermint-flavored vodka and peppermint candy with vanilla frosting to garnish the rim. Besides, the appearance of cream coats the white color of the drink, creating a snowy winter scene in a glass.
Sweet and more balanced flavor, Peppermint White Russian is truly an interesting twist on a classic style.
Fun fact: White Russian is not a Russian-origin cocktail. The drink has this name since it has a close association with vodka – a famous spirit in Russia.
Total time: 5 minutes
Created in 1934 by Donn Beach, Zombie is a significant cocktail in Tiki culture. This is a strong alcoholic beverage with a nice blend of 3 sorts of rum, fruit juice, bitters, etc.
The flavor of Zombie varies since they have many variations. If you want to taste the most original one, you have to order it from Donn Beach's restaurant.
After 1 to 2 drinks, it can make you walk like a "zombie". That's why one customer can only buy a maximum of two Zombie in his restaurant.
The recipe I introduce here might not be an original one, but it still is an ideal and potent Zombie punch to enjoy at home.
Total time: 4 minutes
Here is a must-try cocktail to celebrate Valentine's day with your beloved one. Pink Lady is a vintage beverage traditionally including gin with an appealing pink color (from grenadine syrup) and a thick foam on top created by egg white.
It is not only beautiful, but Pink Lady is also delightful to enjoy with its sweet and sour flavor. However, the recipe that I suggest here is a double-spirit one, in which I also add Apple Brandy to enhance the fruit note with warm depth in every sip.
Preparing this Pink Lady is also a breeze since you just need to combine all components and ice, shake them in a shaker, and then strain it into a cocktail glass. That's all!
Ready to wow your boyfriend/girlfriend on Valentine's day? Check here and learn how to make the flawless Pink Lady.
Total time: 5 minutes
Another basic cocktail recipe that emphasizes the sophisticated mixology is Manhattan. It is a long-history drink believed to have been created in the mid-1870s in New York.
The primary alcohol content in Manhattan is whiskey (commonly bourbon or rye). So choose any whiskey that fits your taste bud. But if you need a spicier version, rye whiskey would be better than bourbon.
On the other hand, the appearance of sweet vermouth can offer a subtle sweetness with spiciness and can go well with complex-flavored angostura bitters. Lastly, a cocktail cherry completes this holiday-themed cocktail, so do not skip this ingredient!
Total time: 5 minutes
Mimosa is an elegant champagne cocktail that you can enjoy on many special occasions. For example, it could be a beautiful cocktail for New Year's Eve, or you can also serve it for brunch since this is a light drink.
Sparkling wine and orange juice are 2 key ingredients in Mimosa to offer a bubbly and not overly-sweet drink. Plus, the ideal ratio to mix them is 1:1, but you can customize it based on your preference.
In case you want to upgrade your Mimosa, a touch of orange bitters and Grand Mariner can do a fine job of stunning your guests. It is time to grab a pitcher to make a bulk Mimosa!
Total time: About 5 minutes
What is the finest frozen cocktail for hot summer days? My answer is Piña Colada. Indeed, this drink can bring a tropical atmosphere to your kitchen (or minibar) since it features the cream of coconut, pineapple juice, and rum.
As it is a blended drink, you should prepare a blender to make this drink so it can have a smooth and thick texture. Blend them in around 10 seconds. If your Piña Colada is watery or thin, you can add more ice. Very straightforward!
If you prefer a non-frozen style, you can use a cocktail shaker and shake all components with ice in around 15 seconds. Either way, do not forget to put a pineapple wedge or cherry for garnishing.
Total time: 2 minutes
Grasshopper is a gorgeous cocktail idea with green color, and it can make your holiday more unforgettable. So how come it has this color? The green derives from crème de menthe – a sweet alcoholic drink with mint flavoring.
Crème de cacao (chocolate-flavored liqueur) and cream are important components of Grasshopper, all of which have equal proportions. For more information, crème-style liqueurs are sweeter than other liqueurs since they have higher sugar content.
Therefore, Grasshopper tastes like a chocolate-mint milkshake with the richness of the cream. It is a decent post-dinner drink that you should add to your Irish cocktail menu, especially on St. Patrick's Day.
And to make your Grasshopper look like a fine-dining treat, opt for chocolate shavings to garnish the rim of the glass.
Total time: 5 minutes
Many mixed drinks use a high level of sweetener, so let me introduce my favorite low-carb Mai Tai to fit your list of keto cocktails. Mai Tai is a rum-based alcoholic beverage including 2 types of rum. In this recipe, I use white and spiced rum.
Keep in mind that all syrups you use in this keto drink must be sugar-free to create a 0-carb treat. When combining all ingredients, you will have a citrusy and slightly tart-and-sweet drink with a strong rum note.
Regarding its history, Mai Tai was an invention by Victor J. Bergeron in California in 1944. And it is one of some signature cocktails in Tiki culture.
Quick fact: Mai Tai means "good" in the Tahitian language.
Total time: 2 minutes
Nothing can get easier than this popular cocktail with Crown Royal whiskey and coke. Crown Royal (aka Seagram's Crown Royal) is a Canadian whiskey brand and has become one of the top sellers in the USA market.
Moreover, this whiskey comes in various types with different flavors. To create the best Crown and Coke, you should not use peach-flavor Crown Royal because it might overpower the overall taste.
In short, with only 2 minutes of preparation and 2 easy-to-buy ingredients, this beverage delivers a brilliant balance of sweetness of cola and fruity, vanilla, and oaky hints from the whiskey. Lastly, squeeze a lime wedge to enhance the flavor. Or you can use it to garnish.
Total time: 10 minutes
Irish Coffee has always been my top-rated cocktail for Thanksgiving or St. Patrick's day. Warm, hearty, and sweet with an intense coffee note, it excellently fulfills your dinner as a post-meal drink.
For more specific, it features Irish whiskey, hot fresh-brewed coffee, sugar, and cream, which is best suited for hot serving. However, adding ice is also acceptable if you prefer a non-classic one.
And to make sure the cream can float on the top, you should slowly pour this component into the alcoholic coffee mixture by using the back of a spoon. Additionally, whip the cream to reach the desired thickness, but it should still be thin enough to pour or run off your spoon.
Your winter will be much better if you prepare a cup of Irish Coffee to enjoy with your family (except children, of course).
Total time: 5 minutes
It cannot get classier and easier than a glass of Gin and Tonic. Technically, you might already know what you should prepare from the cocktail's name. So let's talk a bit about its origin first. Interestingly, it is an invention of Presidency armies in the Indian subcontinent to prevent malaria.
They believe quinine – a bitter compound in tonic water, can treat malaria. But because of its unpleasant bitterness, they mix it with other ingredients like gin, lime, sugar, etc., hence the birth of Gin and Tonic.
Nowadays, this beverage has become one of the signature drinks you can find in any restaurant or bar/club. The gin and tonic water ratio varies based on your taste preference or the glass size. Normally, a highball glass or rock class is the typical drinkware for the cocktail.
In this recipe, I also use a rosemary sprig and sugar-coat it to turn my simple treat into a fancy one. But if you prefer the basic style, a lime wedge is enough!
Total time: 5 minutes
Sazerac is a typical cocktail asking for absinthe. Originating from New Orleans, this simple yet powerful drink was acknowledged as an official cocktail of this city in 2008.
Besides absinthe, Sazerac is a mixture of rye whiskey (or cognac), Peychaud's Bitters, and syrup. That's why it tastes similar to whiskey but with a few notes of bitterness and sweetness. Typically, the best way to serve Sarerac is straight-up without the ice.
Moreover, the preparation technique usually asks for 2 glasses. You need to rinse the first glass with absinthe, then mix the remaining ingredients in another glass. Give them a good stir in around 30 to 45 seconds before straining the mixture to the glass with absinthe.
Total time: 3 minutes
Are you searching for a guilt-free cocktail with low calories? Here is a straightforward beverage with a stunning orange look called Aperol Spritz. And it was the 9th top-selling cocktail in 2019, according to the Drinks International website.
Many cocktail recipes with Aperol (Italian bitter apéritif) normally contain many calories, but this recipe only has 152 calories per serving. In addition, this Italian-origin cocktail is very easy to drink with low-in-alcohol content that is unlikely to make you drunk.
Bittersweet with light herby and orange hints, it is a good way to refresh your mind, making them a favorite aperitif – an alcoholic drink served before a meal in Italy.
Total time: Around 5 minutes
Long Island Iced Tea sounds like a non-alcoholic drink with tea, doesn't it? But it is not the case. In contrast, this is a fairly strong beverage that includes 5 types of liquors (tequila, white light rum, triple sec, gin, and vodka).
These liquors use the same ratio so they will not overpower each other. It is also a flavorful cocktail made with coke. Mixing it with other components creates a color resembling an iced tea hue.
Overall, this cocktail is ideal for your summer party. However, drink it reasonably; otherwise, Long Island Iced Tea can knock you down due to higher alcohol content.
Here is a secret to making the best yet dangerously boozy drink – Long Island Iced Tea.
Total time: 5 minutes
Can you feel the tropical breath from the name of this cocktail? Indeed, Malibu Bay Breeze is a fun drink that infuses the best tropical vibe into every sip of it. Colorful and boozy, what else makes them should be your new go-to mixed drink?
First, Malibu Bay Breeze is a variation of the Bay Breeze cocktail, but instead of vodka, this version is a combination of coconut rum, pineapple, and cranberry juice served with a lot of ice.
Second, it is so easy to throw together. This one is a layered drink so you can create it without a shaker. But to form perfect layers, pineapple and coconut rum mixture should be at the bottom since they contain more sugar content, creating higher density.
In contrast, unsweetened cranberry juice is the greatest choice to ensure this layer can float on the top. Also, it can balance the overall sweetness in the cocktail.
Have You Found One Favorite Cocktail Idea (Or More) To Try Yet?
The above recipes are not only classy cocktails with huge popularity around the world; they are also easy to throw together in a snap, no matter if it is a whiskey, tequila, vodka, or gin-based drink.
In reality, there are endless ways to prepare a cocktail since it has various variations. You can also alter the ingredient's proportion based on your preference if you make them at home. And the ideas I have introduced here can be a smooth start for you.
So, do you like this article? If yes, please click like or share it with your beloved people who also love cocktail-making. And please do not be shy to share your experience or opinion in the comment part. Thank you and enjoy!