Nowadays, Cuban drinks have gradually been ingrained in its local culture and cuisine. The demand for these beverages has grown in several nations worldwide, so you can easily find and buy them outside of this lovely country.
However, if possible, you should try all these drinks out while eating the local delicacies and enjoying the scenery of Cuba. Trust me; they will taste much better this way.
In the sections below, I will show you the most popular national drinks of Cuba. So take out your notebook, and let's get started!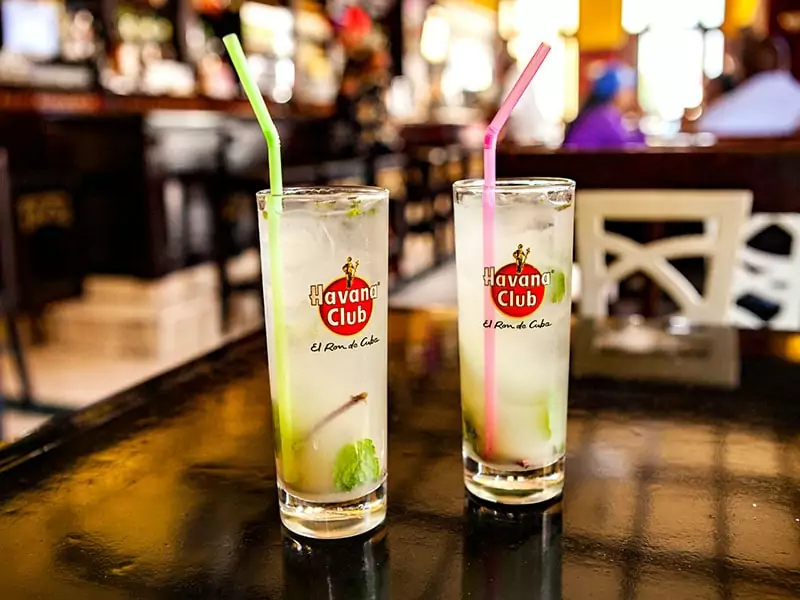 Cuban Non-Alcoholic Drinks
If you're looking for a refreshing non-alcoholic beverage to pair with your delicious Caribbean recipes this section is perfect for you. Give it a read and learn more about your options!
1. Café Cubano
Non-alcoholic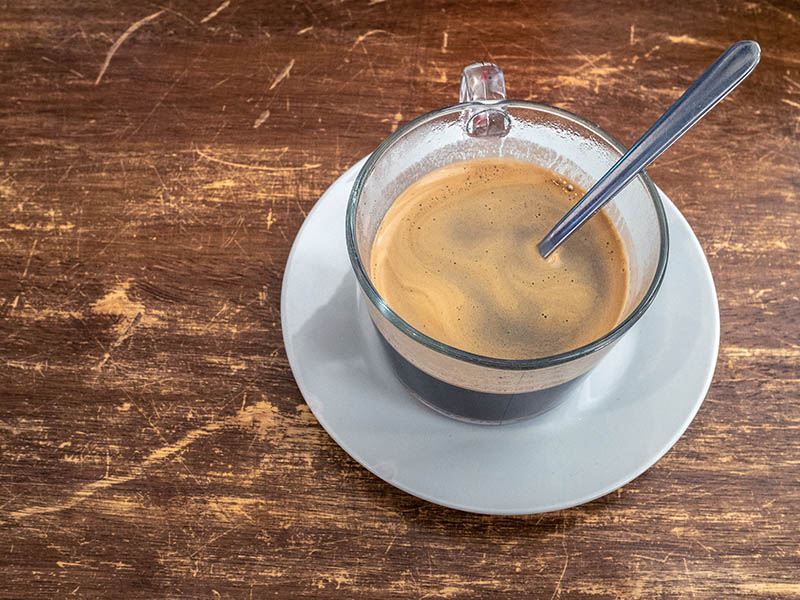 Let's start your day like a local with a cup of Cuban espresso! Café Cubano is a delicious pre-sweetened coffee drink made with demerara sugar and the most robust drops of espresso. Sometimes, locals will use this name to refer to other espresso-based beverages.
Local bartenders usually use an electric espresso machine to make this stunning Cuban-style coffee, although using the Moka pot is the most frequent method.
Since the sugar is added and hydrolyzed during the coffee-making process, this drink tastes much sweeter and somewhat more viscous than regular coffee.
In Cuba and Cuban-American communities, notably in Miami, Tampa, and the Florida Keys, drinking Café Cubano is a common social and cultural practice.
Try this drink at: Any coffee shop or restaurant around Cuba.
2. Coconut Water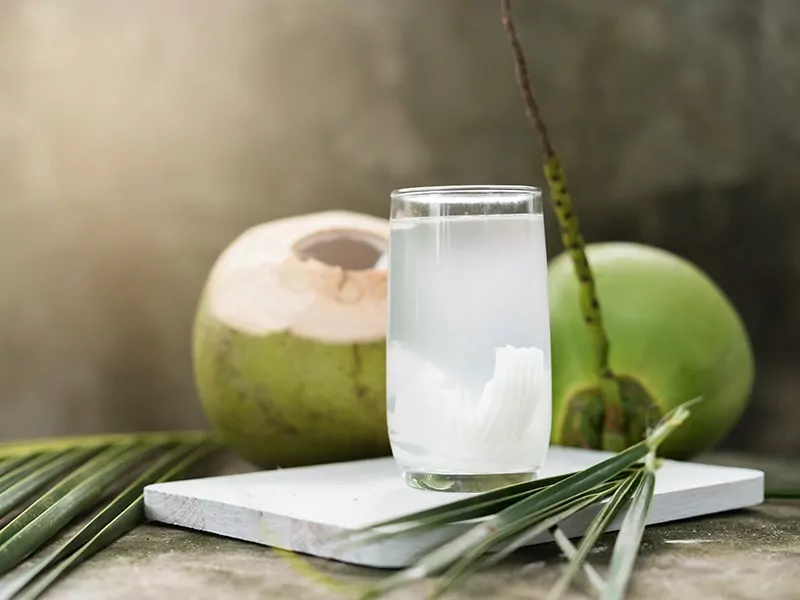 If you're planning a vacation to the beach destinations in Cuba, be sure to buy a fresh coconut and enjoy! The cold and energizing juice from this iconic Cuban fruit will definitely put you in a better mood during a hot summer day.
The most exciting thing about Cuban coconut water is the addition of rum. Just for $1, the beachside vendors will gladly spice up your coconut drink with some Cuban rum.
If you want to keep it non-alcoholic, you can also ask for lime juice. The tanginess of citrus complements the fresh and sweet coconut water very well.
Try this drink at: The beachside vendors or restaurants near Cuban beaches.
3. Fanta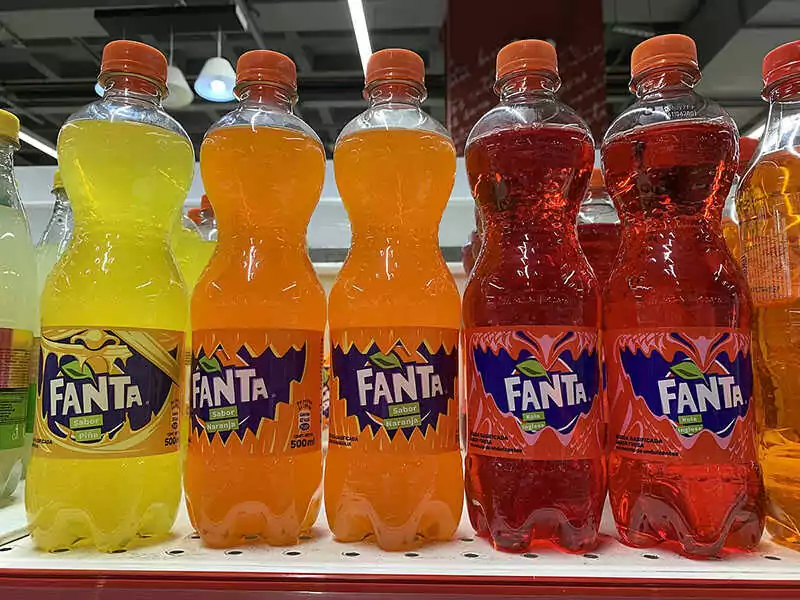 If Coca-Cola is America's favorite soft drink, the Cubans have Fanta! Fun fact: Fanta was invented as an alternative to Coca-Cola when it was outlawed in Cuba in 1962. Some even call this Fanta the "anti-American soft drink".
Originated in Germany, Fanta is an orange-flavored carbonated soft drink. Besides the iconic orange flavor, it also comes in grape, mango, cherry, and other fruit-based options.
Refreshing, fizzy, and delicious, Fanta really earned its spot as the go-to soft drink in Cuba. You can find Fanta in almost every nation in the world, so give it a try when you can. Who knows, Fanta might become your new favorite soft drink.
Try this drink at: Any supermarket, convenience store, coffee shop, or restaurant around Cuba.
4. Materva – Soft Drink
Non-alcoholic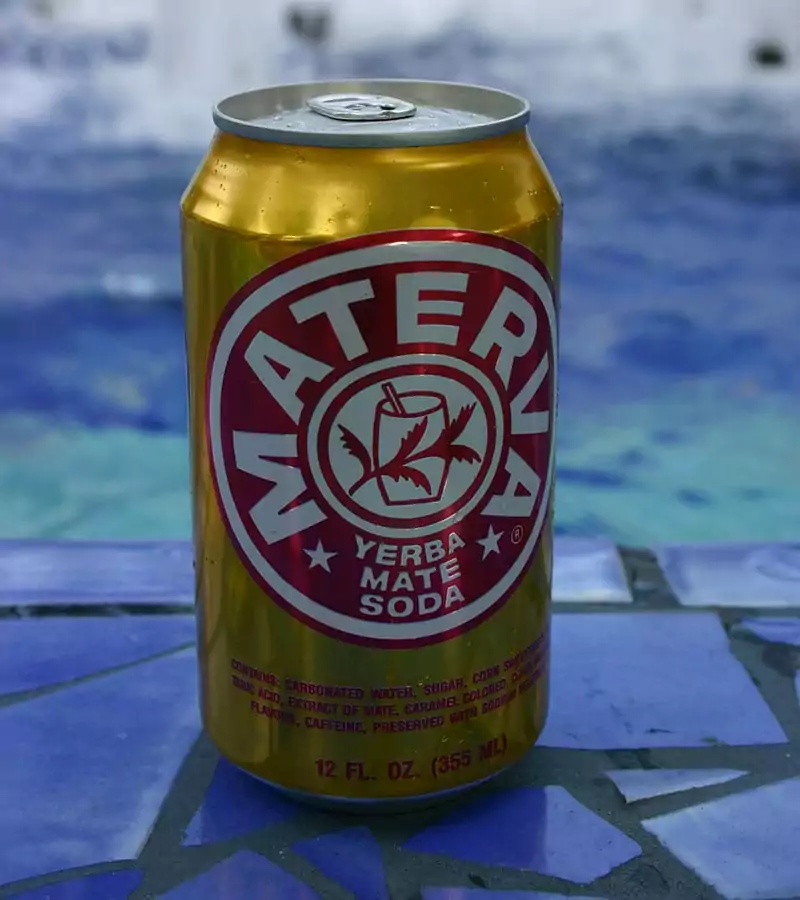 While Fanta is a modern and trendy refreshment in Cuba, Materva is usually considered a nostalgic drink. Many locals consider Materva a standby Cuban soda and a significant part of Cuban cuisine. Politicians in Miami even use the drink to signify Cuban-ness.
This drink contains a special ingredient called Yerba mate, a type of herbal tea. However, instead of tasting like bitter tea, Materva's flavor is similar to ginger ale or cream soda.
This mate-based soft drink was first made and marketed in Cuba. The company of Materva was formed in Matanzas in 1920, and it quickly became a nationwide famous brand. However, this popular soft drink was no longer manufactured in Cuba.
Try this drink at: A few supermarkets and convenience stores in Cuba.
5. Batido de Trigo – Wheat Milkshake
As wheat farming plays a big part in the Cuban economy, dishes made with this ingredient are commonly found in Cuban cuisine.
Puffed wheat cereal is a wonderful creation; besides being a tasty treat, it can be turned into Cuban's one-of-a-kind drink – the famous Batido de Trigo.
Batido de Trigo, or wheat milkshake, can be made from puffed wheat cereal, whole milk, and sugar or sweetened condensed milk. The ingredients are blended together nicely and can be served with a scoop of ice cream as an afternoon treat.
The locals here love to enjoy Batido de Trigo with Cuban's afternoon tea alongside Cuban side dishes like Cubanos, Pastelitos, or Croquetas. Overall, this drink brings a warm sense of nostalgia to generations of Cubans.
Try this drink at: Many coffee shops or restaurants around Cuba.
Cuban Alcoholic Drinks
Now that I have covered the most well-known and well-loved non-alcoholic drinks in this country, let's move on to the fun boozy beverages! The Cubans are famous for their passion for cocktails, as you can tell from this long list of local cocktails. Take a look and learn more!
6. Mojito – Mint Cocktail
Alcoholic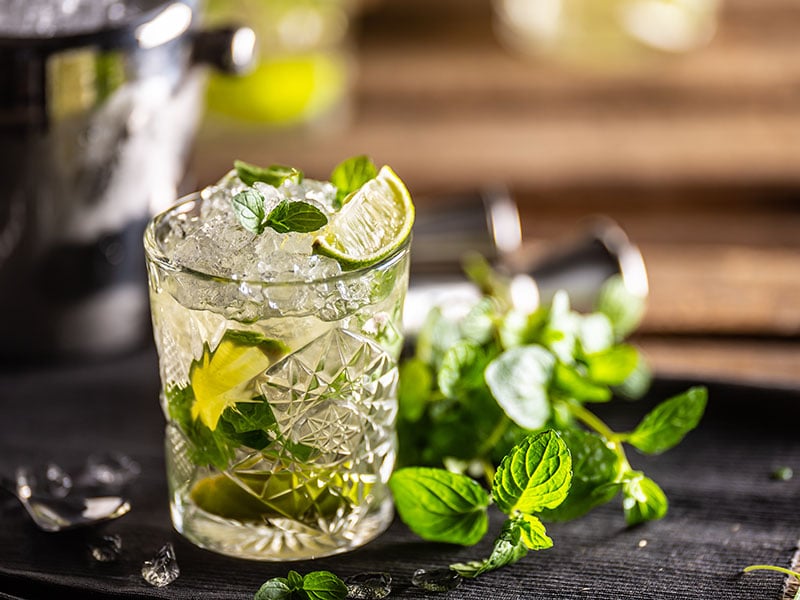 Similar to any other local cocktail, Mojito is white rum-based. Besides this key ingredient, it also contains lime juice, sugar cane juice, soda water, and Yerba Buena (a local mint).
This traditional Cuban highball is possibly the most well-known cocktail in this country.
While the exact origin of Mojito is still under debate, most people believe this drink originated in Havana, Cuba.
The name of this drink, on the other hand, is derived from a lime-based Cuban seasoning called Mojo. However, some locals claim that this name stems from the Spanish term "mojadito", meaning "a little wet".
This sweet, refreshing, and herbaceous cocktail is undoubtedly a must-have in this country, especially Havana. So remember to try it at least once during your visit.
Try this drink at: Any bar, pub, and restaurant across Cuba. I highly recommend the La Bodeguita del Mundo restaurant if you're visiting Havana.
7. Cuba Libre – Rum and Coke
Alcoholic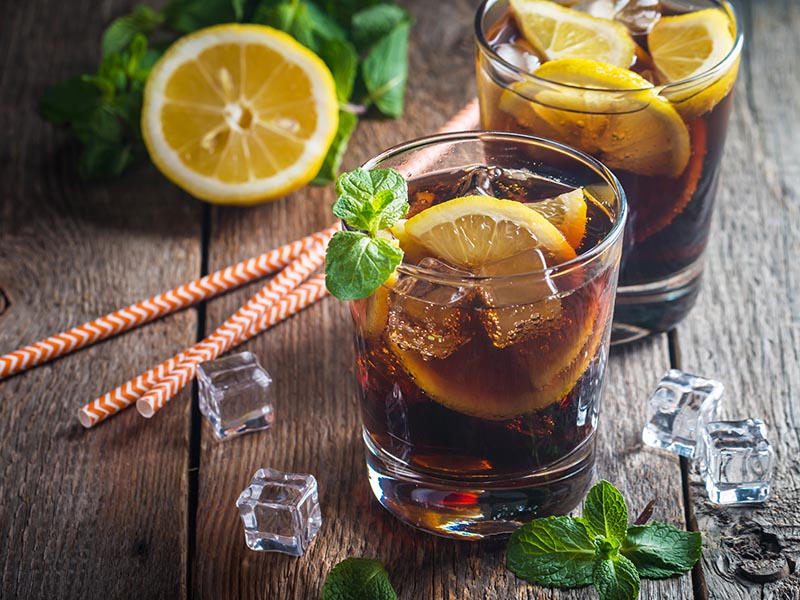 Rum and Coke, often known as the Cuba Libre, is a highball drink made with cola, rum, and lime juice over ice. The drink was formerly considered unusual, but it is now popular worldwide.
Traditionally, this Cuban recipe calls for Coca-Cola and Bacardi rum. However, since it's challenging to have both of these ingredients, people now make the cocktail with a variety of rum and cola brands.
Although the actual origin of this drink is still unknown, it was most likely first prepared in Havana in the early 1900s. This is around the time when Coca-Cola was first brought into Cuba from the United States.
As I mentioned earlier, Coca-Cola is largely unavailable in Cuba due to the prohibition of American products importation in 1962. So now, most bartenders will use Cuban-made cola to make this drink.
Try this drink at: Nearly every bar and pub in Cuba, especially Havana.
8. Culto a la Vida
Alcoholic
Culto a la Vida is a signature Cuban cocktail that originated from Havana. The drink is created from cranberry juice, lime juice, sugar, and dark rum. The ingredients are mixed together and served in a long drink glass with cube ice and lime wedge.
Most cocktails in Cuba use white rum due to its smooth taste. However, dark rum is more robust in flavor and has a stronger kick, perfect for fruity cocktails such as Culto a la Vida. So if you're making this at home, don't substitute dark rum with white rum to keep its original strong flavor.
Try this drink at: Many bars and pubs in Cuba. You can also make it at home.
9. Cojito
Alcoholic
Cojito is the Cuban reinvention of the famous mojito. The C in Cojito stands for coconut, which comes from the coconut-flavored rum in the drink. Besides the coconut rum, this recipe also calls for white rum, lime juice, mint, and sparkling soda water.
To make this drink, local bartenders will first mix mint with lime juice. Then, they will add rum and top it with crushed ice and sparkling soda. The drink is then served in a highball glass with extra mint and lime as garnish. The rim of the glass can sometimes be covered with shredded coconut.
Try this drink at: Every bar, pub, and restaurant in Cuba. You can also find it in many restaurants in the United States, the British Virgin Islands, and even Laos.
10. Daiquiri
Alcoholic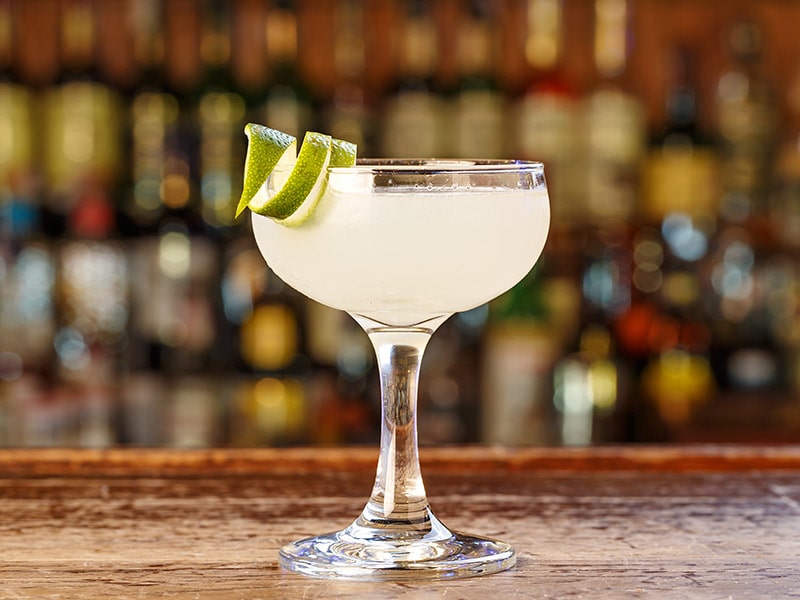 When people talk about popular Cuban cocktails, Daiquiri will definitely be one of their top picks. The origin of this drink may be traced back to the La Floridita in Havana. So if the capital of Cuba is your travel destination, you must go to this bar to try this specialty.
This classic cocktail uses rum, sugar, and fresh lime juice. Daiquiri also has many variations, and the most popular one is a delectable frozen cocktail known as Frozen Daiquiri (made with finely pulverized ice).
This drink has the same name as an iron mine and a beach near Santiago de Cuba. Legend has it that an American mining engineer named Jennings Cox invented Daiquiri during the Spanish-American War in the late 1900s.
Try this drink at: Any bar, pub, and restaurant in Cuba. However, the finest spot to drink Daiquiri is at the La Floridita in Havana.
11. Bacardi
Alcoholic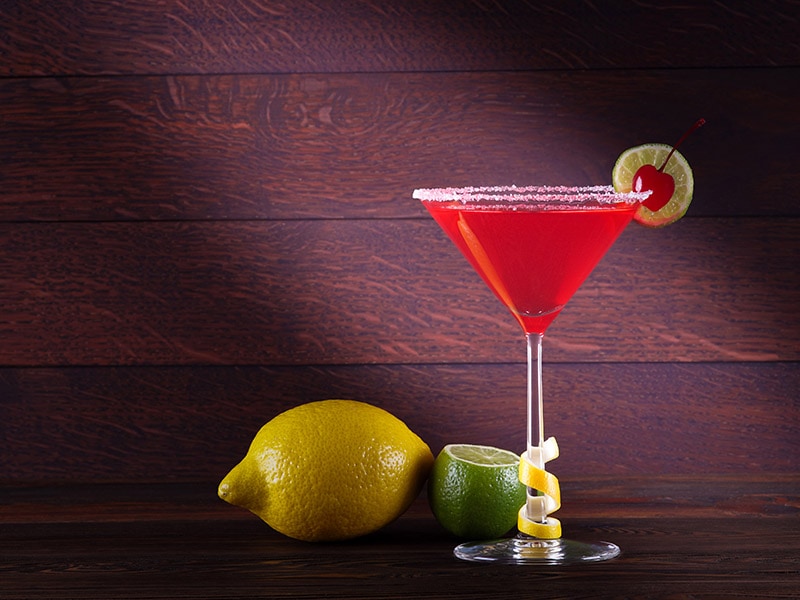 Craving something sweet and refreshing? Bacardi cocktail will be the perfect choice for you! This traditional alcoholic drink contains rum, sugar syrup, grenadine syrup, and fresh lime juice. A real Bacardi cocktail must be made with Bacardi Superior Rum.
In Cuba, the locals usually serve this cocktail as a pre-dinner drink. It usually comes in a cocktail glass decorated with a lime wheel.
People didn't use grenadine syrup to make Bacardi cocktails back in the day. The Grenadine version of this drink actually originated in the US, but the Cubans also started to add grenadine syrup in their original recipe since this drink will taste identical to Daiquiri without it.
Try this drink at: Nearly every bar and pub in Cuba.
12. Piña Colada
Alcoholic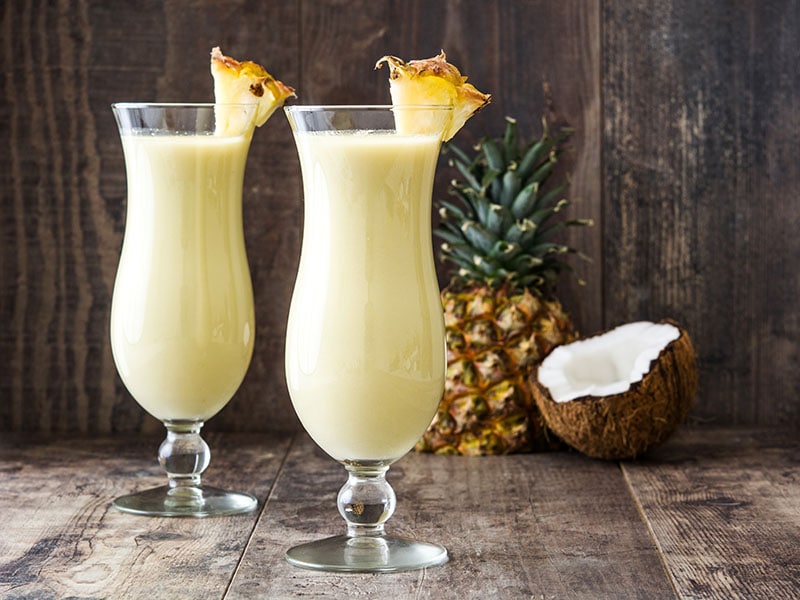 Like coconut water, Piña Colada is the perfect refreshment during your visit to the beach destinations in Cuba. Just think, what can be more satisfying than lying on the beach while sipping on a glass of delicious Piña Colada?
Piña Colada has made its appearance in many bars and pubs worldwide. But drinking this cocktail while admiring the scenery of Cuban beach is a whole different experience.
This fruity cocktail is typically prepared with Havana Club white rum, coconut cream, lime juice, and pineapple juice. Sometimes, this drink will come with a pineapple wedge and maraschino cherry as a garnish.
The birthplace of Piña Colada is at the Caribe Hilton Hotel in San Juan. A bartender at this hotel made this iconic in 1954 and its fame started to spread from this point on.
Try this drink at: Bars, pubs, and restaurants across Cuba, especially the ones near the beach.
13. Saoco – Coconut Cocktail
Alcoholic
If you love the coconut taste of Piña Colada, you should give Saoco a try too! Made with local ingredients like fresh coconut water, Havana Club rum, and lime, this cocktail is delicious, refreshing, and affordable.
Due to poverty, the enslaved people in Cuba had to be resourceful of the local ingredients in the past. They came up with this recipe since every component is cheap and readily available, making it an accessible thirst quencher for many locals at the time.
Try this drink at: Beachside bars, pubs, and restaurants across Cuba. You can also make it at home for cheap.
14. El Presidente
Alcoholic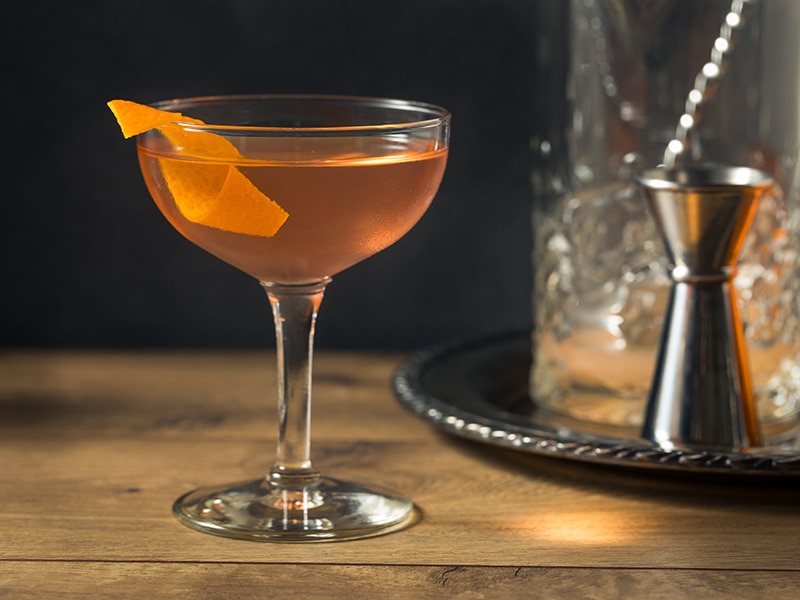 El Presidente got its interesting name after former Cuban President – Gerardo Machado, who was in office from 1925 to 1933. As the President was very well-liked, a Cuban barman created a drink inspired by him.
However, another theory suggests that this cocktail is named after Mario Garcia Menocal, the President of Cuba from 1913 to 1921. Overall, the true origin of this drink is still unclear.
This Cuban cocktail contains dark rum, vermouth blanc, grenadine, and orange liqueur (usually Curaçao). The locals often serve this drink cold with ice and garnish it with cherries or orange peel. Every bar in Cuba has its own recipe for this drink.
Try this drink at: Bars and pubs in this country.
Here is how you can make and drink El Presidente, enjoy!
15. Cubanito – Bloody Mary
Alcoholic
Cubanito is the Cuban rendition of the famous Bloody Mary. As expected with Cubans' obsession with rum, this alcohol is also one of the primary ingredients for this cocktail.
To make Cubanito, you will need tomato, lime juice, Havana Club rum. The local bartenders will also add some Worcestershire sauce or hot sauce to give the drink a bit of a kick.
Similar to Bloody Mary, Cubanito is considered one of the cures for hangovers. Locals also love to drink this delicious cocktail as an appetizer at a Cuban house party.
Try this drink at: Nearly every bar and pub in Cuba.
16. Havana Loco – Orange Cocktail
Alcoholic
Here's another white rum-based cocktail that I know you will love: Havana Loco! Havana Loco is very similar to the Screwdriver cocktail. However, this Cuban alcoholic highball drink uses Havana rum and freshly squeezed orange juice instead of using vodka like Screwdriver.
The zesty orange juice works amazingly well with the boozy rum, making it the perfect energy booster at any time of the day. Cubans usually enjoy a glass of Havana Loco during breakfast with their morning coffee. Many locals also like to drink Havana Loco around the clock.
Try this drink at: Many bars, pubs, and restaurants in Cuba.
17. Canchanchara
Alcoholic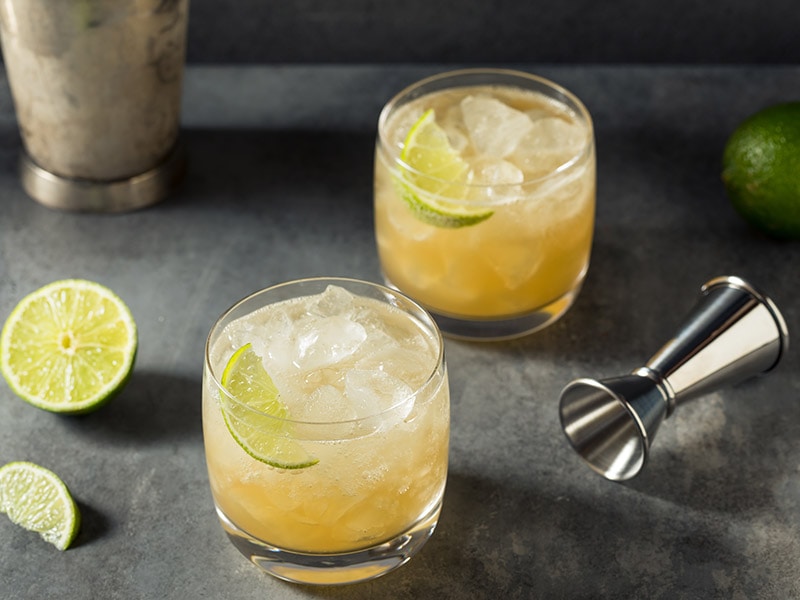 Canchanchara is perhaps the oldest traditional beverage, dating back to the Cuban independence fights against Spain. Although the Cuban fighters used to drink Canchanchara hot to stay warm, it is now served chilled with ice.
This IBA official cocktail calls for sugarcane aguardiente, fresh lime juice, honey, or molasses. In Trinidad, where Canchanchara is created, locals usually serve this drink in a clay bowl. In Havana, this drink will come in a regular glass.
Try this drink at: Many bars and pubs in Havana and other Cuban regions.
18. Hotel Nacional
Alcoholic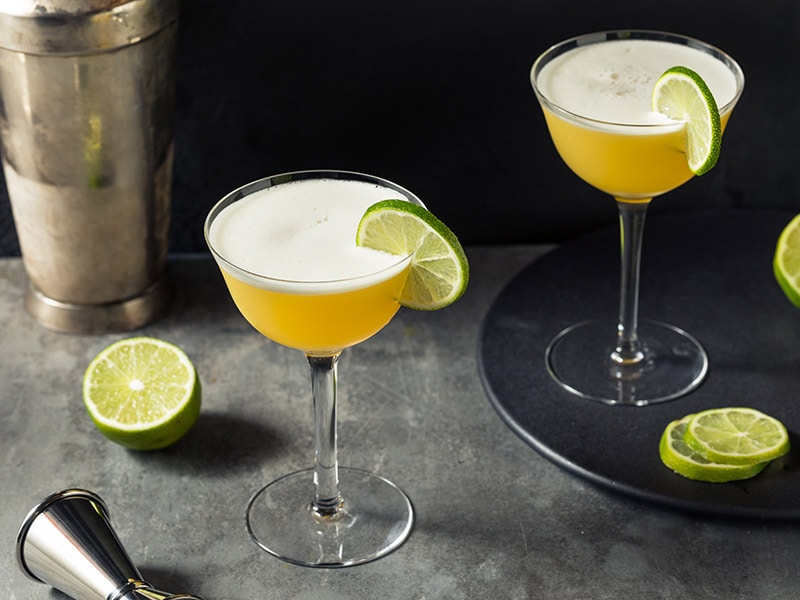 This drink is named after a famous Havana hotel that first opened its doors in late 1930: Hotel Nacional. Set on a rock overlooking the Malecon, this hotel is still one of Cuba's greatest cocktail destinations.
This hotel specialty contains white rum, apricot brandy, simple syrup, fresh pineapple juice, and lime juice. Some bartenders will use aged rum; however, the outcome will be less vibrant if you use a darker rum.
Try this drink at: Many bars and pubs in this country. I highly recommend trying this drink at its birthplace – Hotel Nacional of Havana.
19. Cuban Breeze – Vodka Cocktail
Alcoholic
Although rum is an irreplaceable ingredient in many cocktail recipes in Cuba, there are still a few delightful vodka or brandy-based cocktails. Cuban Breeze is a famous example. This crowd-pleasing truly embodies a gorgeous island paradise.
Cuban Breeze Cocktail is a tasty tropical cocktail made with vodka, amaretto, and pineapple juice. If you don't have pineapple juice, you can substitute it with lime juice, lemon juice, or orange juice to give it an ocean-worthy taste.
Try this drink at: Many bars and pubs in this country.
20. Carta Blanca – Rum
Alcoholic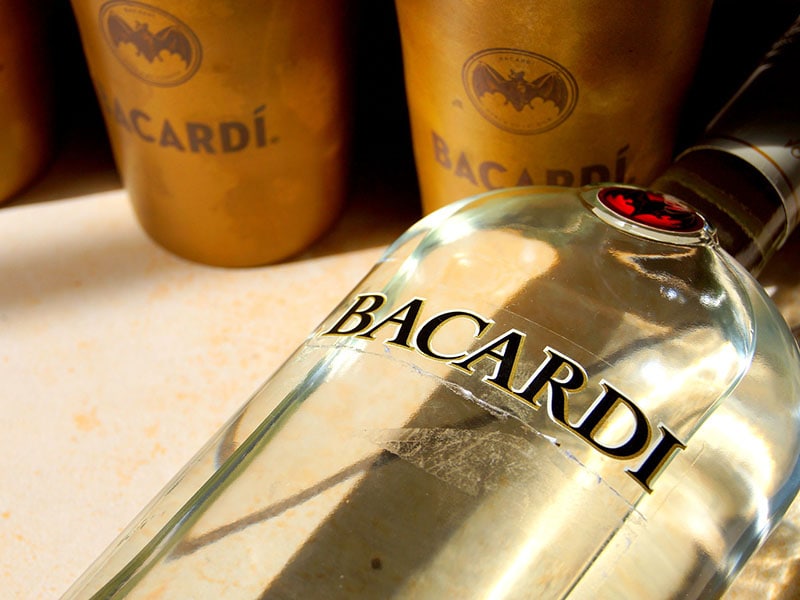 As you can probably tell from the last section about Cuban cocktails, the people here love their rum. And among all the Cuban rum brands, Bacardi Carta Blanca receives the most attention.
Carta Blanca is an oak-aged white rum created by Bacardi. Founded by a Spanish immigrant named Facundo Bacardí Masso, this company was the first institution in Cuba to develop such refined and sophisticated rum.
This light alcohol has a slight vanilla and almond taste and provides a smooth mouthfeel. This is created by the double charcoal filtration and the oak aging process.
Ever since its creation, Carta Blanca has become the standard for good Cuban rum, and it is still considered one of the country's most iconic drinks.
Try this drink at: Nearly every liquor store or supermarket around Cuba.
21. Crema de Vie – Egg Nog
Alcoholic
Crema de Vie, also known as cream of life, is a typical drink during Christmas time. Locals usually enjoy this drink after dinner along with various Cuban desserts.
This calorie-dense drink is made with condensed milk, evaporated milk, egg yolk, syrup, vanilla, and white rum. Locals usually make big batches and bring them to parties during this time.
People often compare Crema de Vie with the festive spiced egg nog in the UK, and the Cuban version probably came about as a result of Spanish conquerors mixing Cuban rum with their native nog.
Try this drink at: Although Crema de Vie is available in a few Havana restaurants, locals prefer making it at home.
22. Cuban Beers
Alcoholic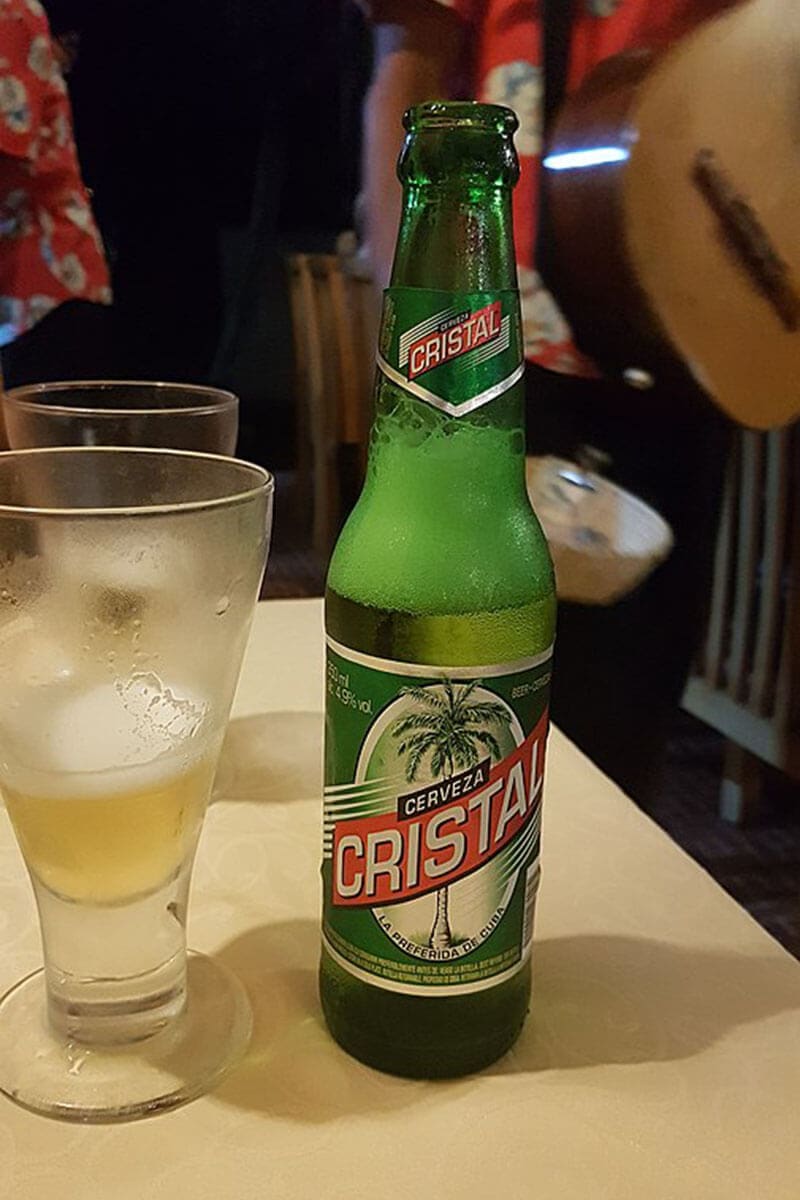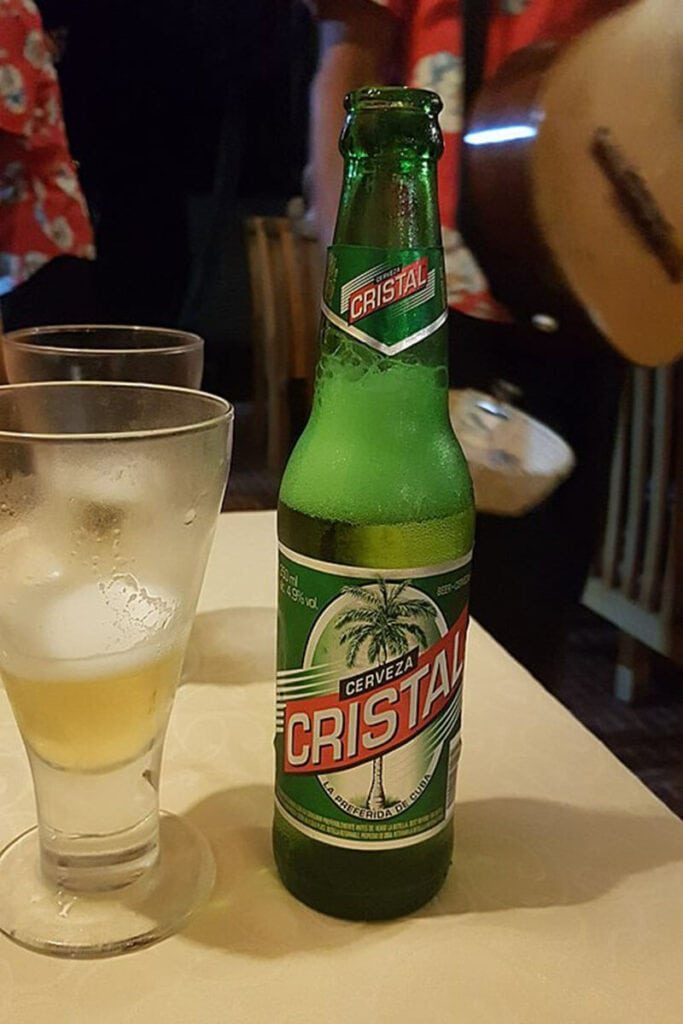 Besides all the delicious rum-based drinks, Cuban beers also deserve some attention! Although Cuban beers are not as well-known as vibrant cocktails, this drink is deeply ingrained in their culture.
There are two most popular beer brands in Cuba: Crystal and Bucanero. Crystal is a lighter beer that tastes quite similar to Presidente. Bucanero, on the other hand, is a somewhat darker beer with a more robust taste. Both of them are delicious and unique in their own ways.
Try this drink at: Nearly every bar, pub, restaurant, and supermarket in Cuba.
---
Congrats, You Are Now A Cuban Drinks Expert!
And there you have it, folks, the most delectable and worth-exploring drinks in Cuba. I hope that my suggestions today somehow convinced you to pack your bag, travel to this beautiful country, and learn more about Cuban cuisine.
Have you ever had Cuban foods before? If yes, which one is your favorite? If not, which of the dishes above do you look forward to the most? Tell me all about that in the comment section below!
Also, remember to show your support by liking and sharing this article with your friends and loved ones. Thank you so much, and I wish you all the best!