Puerto Rican drinks are well known to many people because it's refreshing and delicious. That is why you should give these drinks a try, besides just discovering the local Caribbean cuisine in the area on your next trip.
Some of you will instantly recall Piña Colada as one of the staple drinks when someone mentions Puerto Rico. But there's more to it as you will uncover more traditional drinks of Puerto Rico. These drinks can be made with or without alcohol.
That's why you should keep on reading, and you may find something that suits your taste. Now let's get the show on the road.
Amazing Puerto Rican Drinks With Alcohol That You Should Not Miss
Puerto Rico is famous for its rum, so it should not be a surprise to see many drinks utilize this Caribbean special alcohol. The island has various Caribbean drinking recipes and cocktails that will surely satisfy your next vacation.
Here are some of the most iconic alcoholic drinks in Puerto Rico for you to try on your next visit to the island.
Must-Try Traditional Puerto Rican Alcohol Just For You
Commonly, the locals of Puerto Rico will distill or use fermentation to create various types of alcohol. The island's geography blesses it with a tropical climate, making for abundant choices of ingredients.
You can find most of the ingredients to make Puerto Rican drinks are available and native to the island.
1. Pitorro (Distilled Rum or Moonshine Rum)
Alcoholic
Traditionally, Pitorro is distilled sugarcane or molasses, often referred to as Puerto Rican moonshine. The spirit is made by infusing hazelnuts or fruits to gain flavors.
Pitorro can be quite potent for beginners since it has a high level of alcohol content (100 proof or greater). Pitorro has a sweet taste to it. In Puerto Rico, it's a great drink to warm you up or a good mixer for other cocktails.
In the past, it was not easy for you to lay your hand on a bottle of Pitorro because this spirit was only popular with the locals. However, legal Pitorro has begun to appear around the market, so it should be easier to find one at a grocery store in Puerto Rico.
Fun fact: Take note to yourself that if you see a local house in Puerto Rico distilling Pitorro, there's a high chance it could be illegal. Since Puerto Rico has no regulation over Pitorro production, the alcohol received a banning order from the authority.
Where to find: You can only purchase Pitorro in some local Puerto Rican grocery stores or restaurants.
Uncover the culture behind the Pitorro distillation process right here.
2. Bilí (Fermented Rum With Quenepas)
Alcoholic
Bilí originated from a small island of Puerto Rico called Vieques. The main highlight of Bilí is the quenepa, which is often abundant in the summer. Quenepa is a type of small limes that grows on the Spanish lime tree (another name is mamoncillo trees).
The drink is sweet, delicious, and people find it to be a great Caribbean appetizer for a drinking party. To make Bilí, the locals use rum, cinnamon, and brown sugar to create the mixture's base. It then will be left fermented for around a month in a dark place.
Where to find: You will find Bilí often served on the island of Vieques.
3. Medalla Light Beer
Alcoholic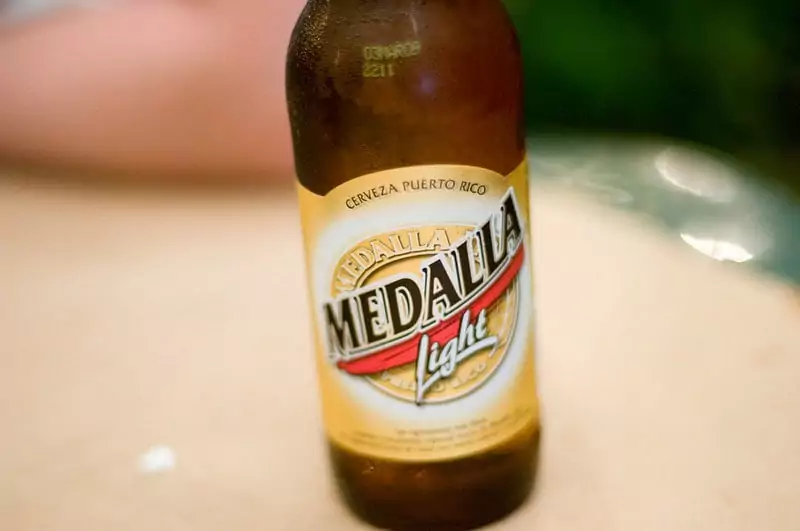 Picture yourself lying on a beach in Puerto Rico with a cold bottle of light beer cracked open. It sounds amazing, right? There's a huge chance that you will enjoy the Medalla light beer when you're in Puerto Rico.
As the only mass-produced type of beer in Puerto Rico, Medalla is a lager-style beer mainly brewed in Mayagüez. The beer has already established itself in the US as one of the favorite American drinks.
Medalla will taste like carbonated water and have a bit of sweetness on your tongue. However, the signature flavor of Medalla light beer is its malty flavor.
Where to find: You can find Medalla light beer at any convenience store, bar, or club across Puerto Rico.
4. Don Q (Puerto Rican Rum)
Alcoholic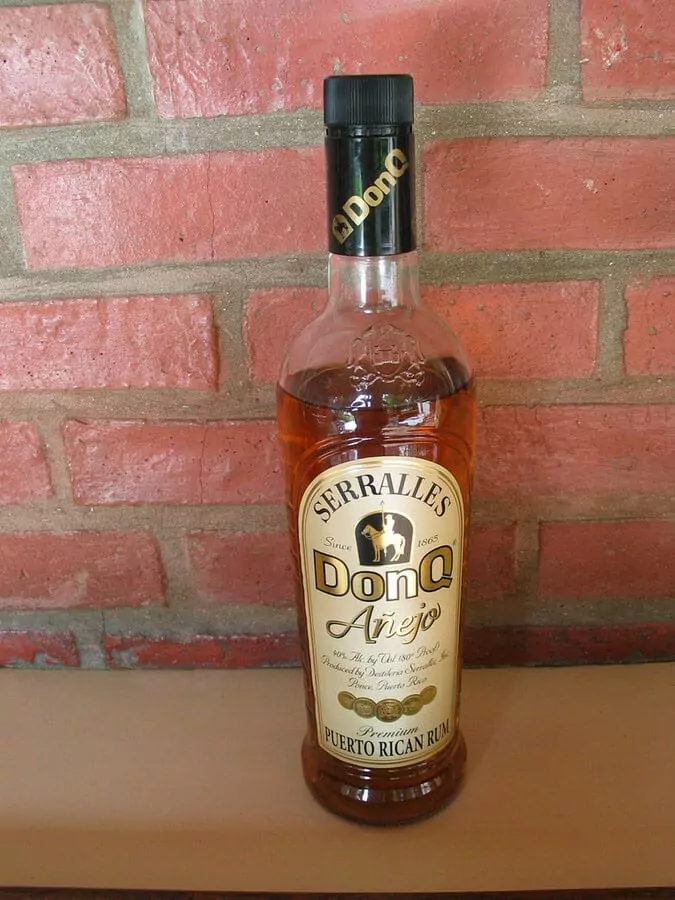 Perhaps you're looking to enjoy a purer form of Puerto Rican alcohol. Then Don Q is the perfect option for you. It is famous amongst locals to use in a variety of cocktails thanks to the complex and strong flavor. You will find Don Q appear in many tasty Puerto Rican recipes for drinks.
People list Don Q as amber rum, distinct by its gold color and transparency. Don Q is made in the Destilería Serrallés in Ponce and often aged more than 3 years before serving the public.
Where to find: Don Q is famous around the world in Puerto Rico, so it should be easy for you to find it at any bar, club, or liquor store.
Take a look inside the process of creating the famous Don Q rum right here.
8 Puerto Rican Cocktails For You To Discover On The Island
You can't say that you have traveled to Puerto Rico without trying these iconic cocktails. So here are some of the most popular cocktails you can have while having a wonderful vacation on the island.
Alcoholic
It will be rude if you don't mention Piña Colada when it comes to Puerto Rico. A staple drink of the nation and made famous worldwide, Piña Colada first made its world debut in 1954 when a bartender by the name of Ramón "Mochíto" Marrero in San Jose created it.
The original Piña Colada recipe only requires 3 ingredients: pineapple juice, rum, and coconut cream. The term Piña Colada is a combination of Piña (meaning pineapple) and Colada (meaning strained). When combined, it means strained pineapple juice.
Piña Colada's signature sign is in the pineapple wedge that is put on the rim of the glass for garnish. Also, the cocktail will frequently have whipped cream and a cherry on top for extra style. For kids who look to enjoy Piña Colada, you can remove the rum from the recipe.
After many cultures around the world adopted the cocktail, Piña Colada has variations that use different types of liquor. Your bartender will often blend or shake the cocktail with ice before serving. You can even turn it into an irresistible frozen cocktail.
In the US, Piña Colada has become one of Americans' favorite recipes for parties.
Where to find: Piña Colada appears at bars or clubs in Puerto Rico.
Piña Colada is a frosty cocktail that fits any party or vacation.
Alcoholic
If you're a fan of rum, then you will surely fall in love with Chichaíto. You will most commonly encounter this drink when you're hanging in the south of Puerto Rico locals. For people who can't handle licorice, you can add honey and lemon to reduce the licorice intensity.
This traditional Puerto Rican recipe will require you to mix equal parts of white rum with anise-flavored liqueur. Typically, the locals will prefer using Palo Viejo rum. You will then need to shake the mixture with ice to create a sweet and smooth shot.
But don't get carried away by the sweetness because you will soon feel the effect of the rum after a couple of shots. There are other variations of Chichaíto where you can add coconut cream (Chichaíto de Coco) or Nutella (Chichaíto de Nutella) to switch up the flavor.
Where to find: Locals will pour Chichaíto in shot glasses and serve it. You can find The drink in the South of Puerto Rico.
Alcoholic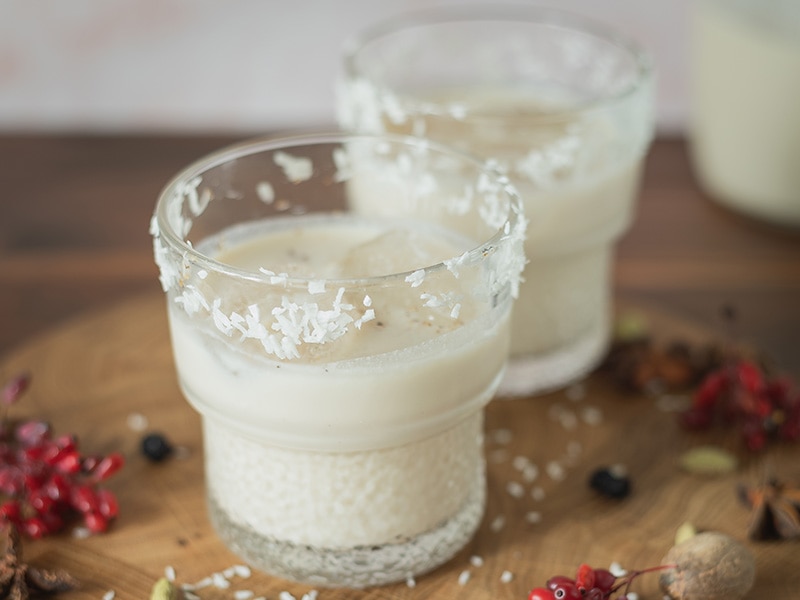 Although you can find this drink around the Caribbean, Puerto Rico is the home of Coquito. In Spanish, the drink's name means "little coconut", though the true origin of the Coquito is still up for debate. If you love eggnog from American cuisine, then Coquito will suit your taste buds.
Classic Coquito has 4 ingredients: coconut rum, Puerto Rican rum, coconut milk, and sweetened condensed milk. In Puerto Rico, the locals often serve Coquito in small shot glasses after dinner. Sometimes you can see locals use Pitorro to replace the rum.
People around the world describe Coquito as having some similarities to eggnog. Besides the 4 main ingredients, the locals will also add some nutmeg, vanilla, cinnamon, and clove while simmering the mixture on the stove until it becomes thickened.
If you have a chance to travel around the Caribbean area, you will see people drink Coquito during the Christmas holidays. It's a traditional Puerto Rican dessert that dates back to the 1900s. Each family has their recipe for Coquito, and it can be used as a gift.
Where to find: During the Christmas season, you will find Coquito at any store in Puerto Rico, sold as gifts.
Replace your boring eggnog with Coquito for this holiday season.
Alcoholic
People who know about Chi Chi often refer to it as a close cousin of Piña Colada since it utilizes the original recipe of the Puerto Rican staple cocktail.
Instead of using rum, you can mix vodka and pineapple, coconut milk, and cream. People often serve the mixture in a hurricane or poco glass with a cherry on top as garnish.
Since vodka is neutral in taste, it doesn't overwhelm other flavors from the pineapple juice or the coconut cream. However, Chi Chi is not famous globally, and people gradually forget it.
Where to find: You will find Chi Chi still served in pubs and bars of Puerto Rico.
Alcoholic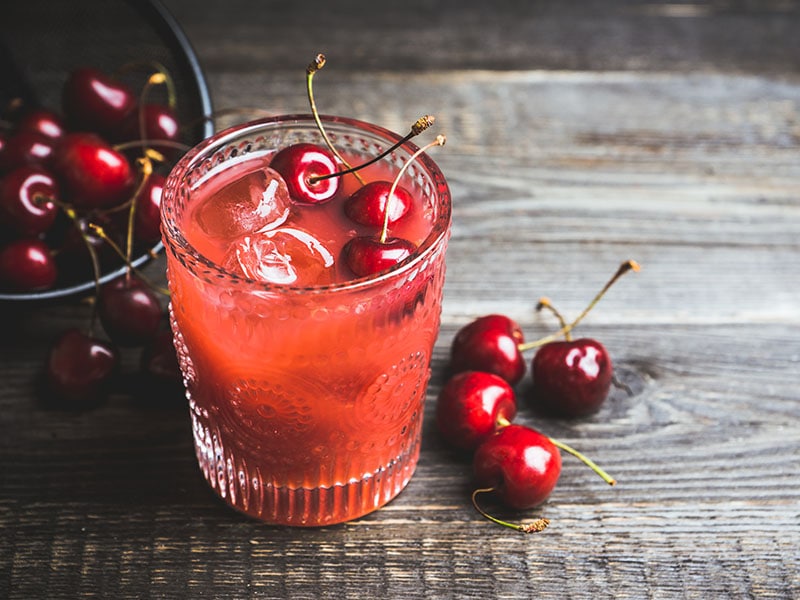 Are you looking for a light, refreshing cocktail at a Puerto Rican bar? Then try something new like spiced cherries. It's really simple to make this cocktail when all you need is to mix spiced rum with cherry soda. You can get fancier by garnishing the glass with a cherry.
The base of this cocktail, spiced rum, can have various flavors. This is because spiced rum is infused with different ingredients like orange peels, brown sugar, spices, molasses, caramel, and vanilla.
Where to find: You can order spiced cherry at different bars in the Caribbean to experience the difference in flavors.
Alcoholic
There are many variations to the original Piña Colada recipe. Adding Amaretto to the mix of Piña Colada greatly elevates the cocktail's flavor profile.
Amaretto is a liqueur made from almonds, giving the spirit a rich and nutty flavor. When mixed with coconut cream and pineapple juice, Amaretto enhances the rich taste of the Piña Colada.
Although it's just a small twist to the Piña Colada recipe, the changes in flavor are significant. It's better to enjoy Amaretto colada as a sophisticated drink rather than a quick shot at a party.
Where to find: At bars or clubs in Puerto Rico.
Discover how you can fix a quick glass of Amaretto Colada right at your home.
Alcoholic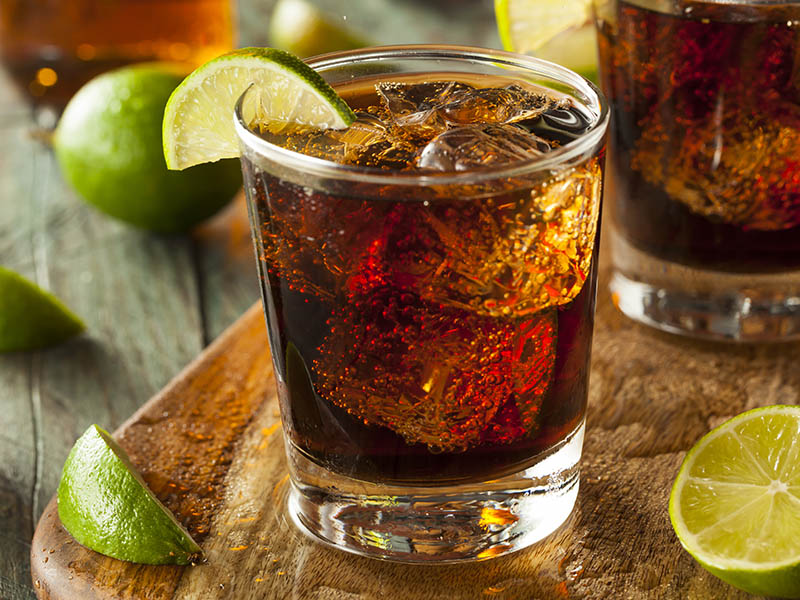 The direct translation of Cuba Libre is "freeing Cuba". The drink's origin dates back to Havana in the 1900s when the Spanish – American war ended, which led to the independence of Cuba. The drink's purpose is to memorialize the Cuba Liberation Army battle cry.
Traditionally, you can order Cuba libre without the lemon juice, or you can even add gin to the mixture for recipes in the early time. When served, Cuba libre will often have a slice of lime as a garnish on the glass's rim.
You will find Cuba libre is easy to make since it's just a combination of rum, coca-cola, and lime. However, the Caribbean people often use Don Q rum to be the base of the mixture.
Where to find: You will be able to find this drink in Puerto Rico bars or clubs.
Alcoholic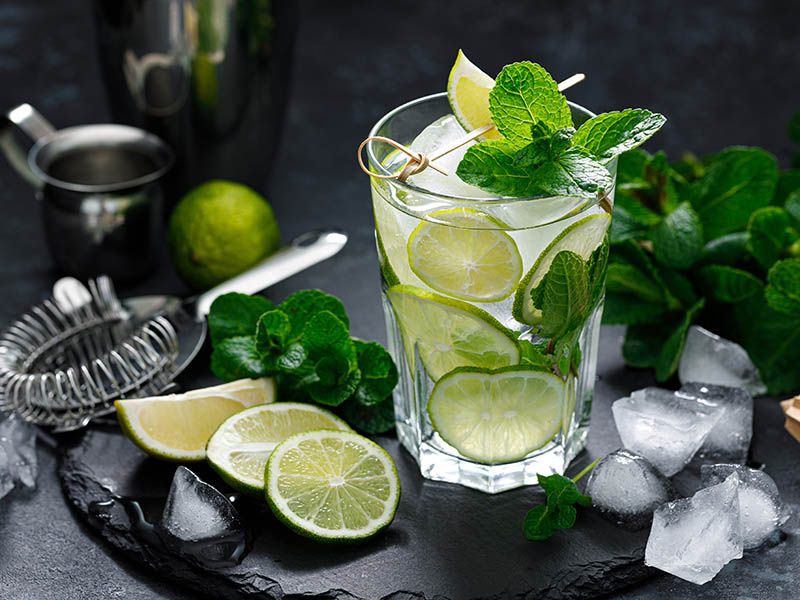 A national drink of Cuba, the Mojito, was invented in Havana, although there are still many debates about its exact origin. At first, sugarcane water was in place to sweeten the Mojito instead of today's sugar water.
To prepare a traditional glass of Mojito, you will need to muddle some mint leaves so the oil can infuse with the mixed sugar water. After that, you can add lime juice, rum, and soda water to the mixture.
Mojito has a refreshing taste to help you stay fresh in the summer heat. The sweetness of sugar water, the freshness of mint, and slightly citrus flavors mix well with the sweetness of rum.
It's best to enjoy a Mojito with ice to enhance the refreshing feature of the cocktail. Mojito is often topped with chipped ice, so the glass would cool faster. You will need to pay attention to the ice since it could dilute the cocktail and ruin your experience of a good Mojito glass.
Where to find: Mojito is easy to find at any bar or club in Puerto Rico.
Tasty Puerto Rican Non-Alcoholic Drinks For All Ages To Enjoy
If you're looking for some non-alcoholic beverages to satisfy your thirst in the Caribbean, then don't miss these famous drinks from Puerto Rico. These drinks are free from alcohol, so you and your kids can enjoy them as well.
13. Coco Frío (Cold Coconut Water)
Non-alcoholic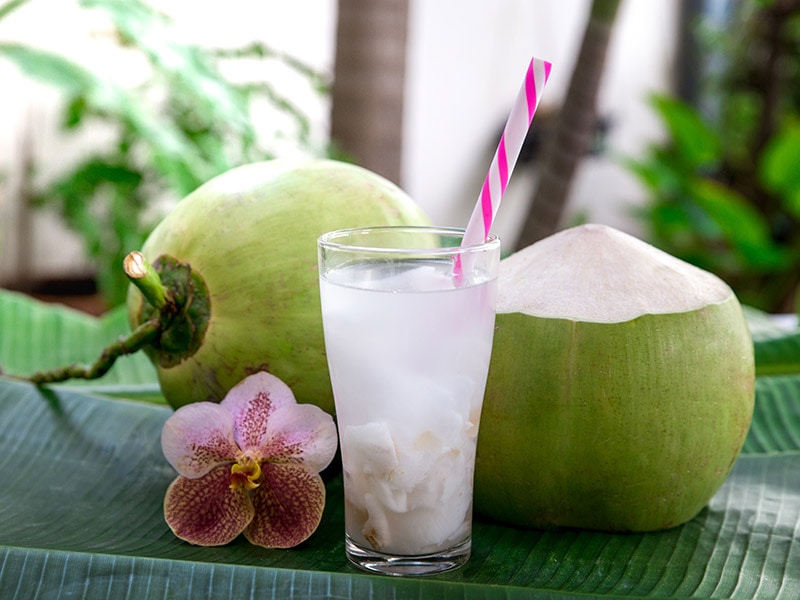 If you happen to drive down the road to grab some lovely Puerto Rican street treats, there's a high chance you will encounter some stands selling coconut water as a refreshment. Coconut water is rich in minerals and high manganese, which are essential to your body.
The vendors often offer extra alcohol like vodka, rum, or whiskey to your coconut. After finishing your coconut water, you can ask the owner at the stand to cut open the coconut so that you can eat the sweet and juicy meat.
The locals will soak green coconuts in an ice container to keep the coconut water cool and refreshing, so it's always ready to serve. There's nothing better than the feeling of taking some sips from a coconut while enjoying the tropical breeze blowing through you.
Where to find: At food stands and vendors in Puerto Rico.
Non-alcoholic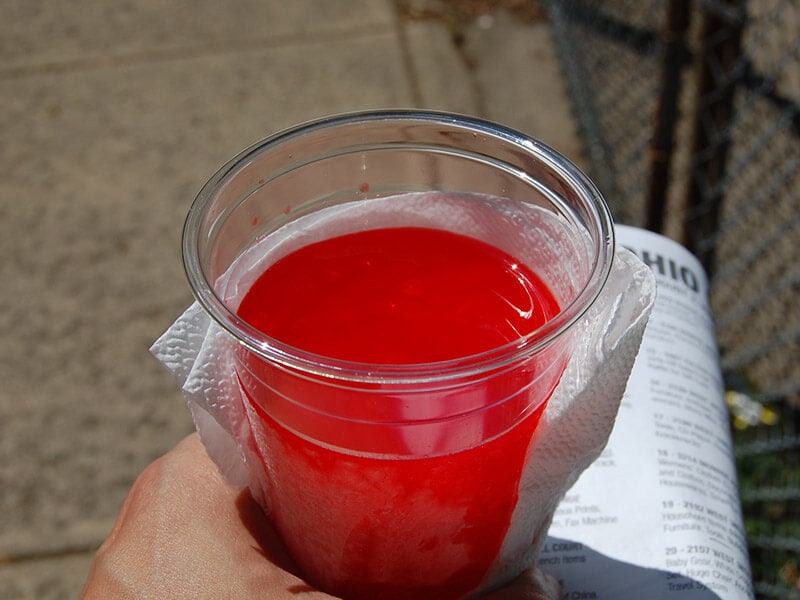 Are you looking for a different way to freshen up yourself with something cold and slushy? Limber is the go-to food in Puerto Rico on hot summer days.
It is essentially frozen tropical fruit juice. The most popular method to eat Limber is to squeeze the cup, so the ice cream pops out, and then you can start enjoying the flavorful treat.
Thanks to the tropical climate, Puerto Rico has an abundance of tropical fruits, making the flavors only limited by the availability of the fruits. People often sell Limber as a frozen or slushy mixture that will instantly cool you off from the tropical heat.
Kids on the island of the Caribbean love this small and sweet Caribbean dessert for its natural fruity flavor. The sweet and fruity flavors are what keep children coming back for more. It quite resembles a popsicle in the US, but it doesn't have a popsicle stick instead.
Where to find: You can find it at grocery stores across Puerto Rico.
Learn how to make Limber right at your home to beat the heat.
Non-alcoholic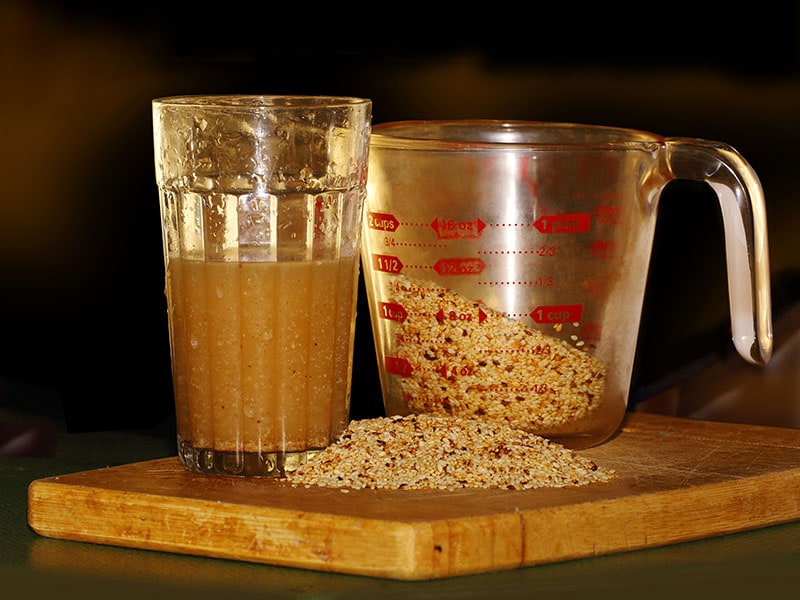 Horchata is a plant-based type of drink. In Puerto Rico and El Salvador, the locals use the sesame seed to create Horchata De Ajonjolí.
You will first need to roast the sesame seeds, then soak them in water mixed with a bit of milk. Then other ingredients such as vanilla, clove, and cinnamon are good additions to improve the overall flavor. Finally, you will need to strain the concoction to remove any impurities.
It's a great drink that will instantly work its magic by cooling you off. If you feel like the tropical heat is taking a toll on you, then Horchata De Ajonjolí is an enjoyable drink to let off some of that steam.
Where to find: At local stands or vendors in Puerto Rico.
Non-alcoholic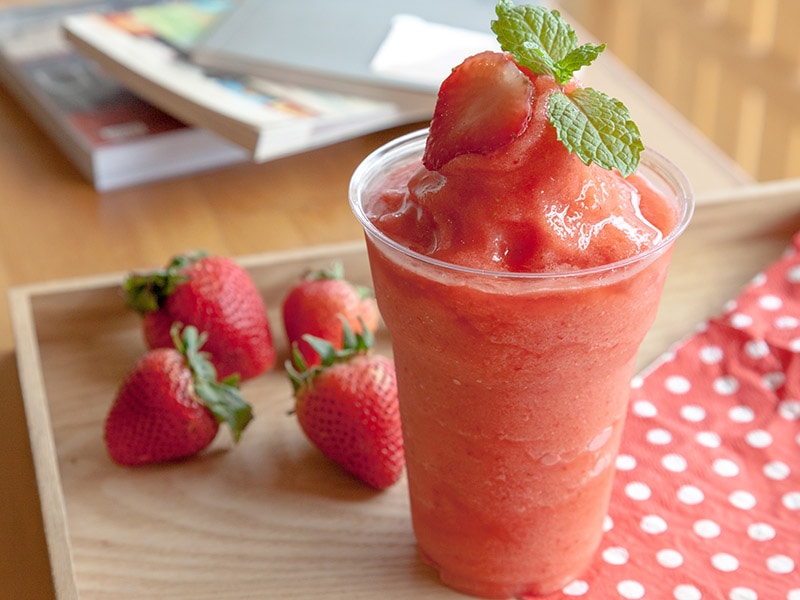 Frappé is a blended drink with fresh fruit from the tropical area of Puerto Rico. The origin of the drink is in Greek, which saw Frappé as a blended coffee. People in the US see Frappé as a fantastic American dessert with coffee and chocolate.
In Puerto Rico, the locals replace coffee with ice cream for a creamier texture when blended with local fruits. Some recipes even incorporate whipped cream on top to enhance the creaminess and richness of the drink.
Thanks to the lush environment, which contains an array of fruit options, you will be able to pick out whatever fruity combinations to go with your creamy drink.
Where to find: At local café stores in Puerto Rico.
Non-alcoholic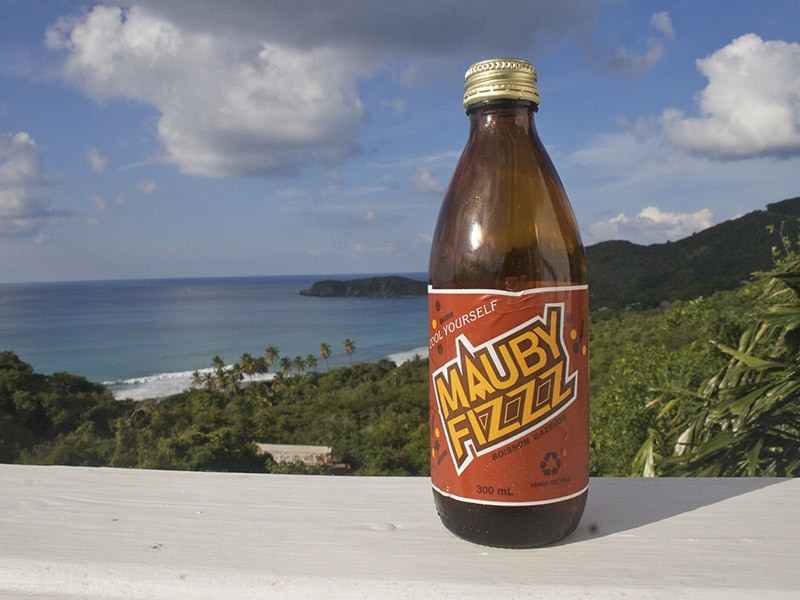 Mavi or Mauby is made by boiling the Mavi tree bark to extract its flavors. The mixture will proceed through a fermentation process. Sometimes, people add spices, fruit, or ginger to create different flavors.
Although Mavi is a non-alcoholic drink, this beverage will taste similar to beer thanks to the fermentation process of the tree bark mixture. Mavi is initially sweet and will leave a bit of bitter aftertaste.
The locals on the island often purchase Mavi as pre-made syrup and then dilute it using water, according to customers' requests.
In other parts of the world, root beer is the official name of this drink. There's also an alcoholic version of root beer, where people will add sugar to the fermentation process. You will often find Mavi being sold at stores around the island.
Where to find: At local stores or vendors on the Puerto Rican island.
18. Malta(Puerto Rican Carbonated Drink)
Non-alcoholic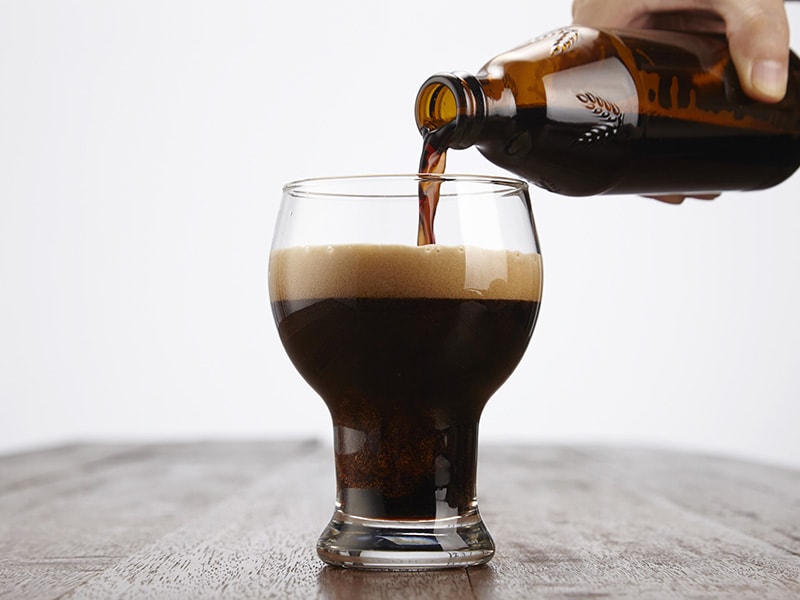 Malta is made similar to how beer is created. The drink is made from water, barley, and hops, with the addition of caramel or corn color in some areas to give Malta a yellow-ish color like beer. However, the drink is only considered a carbonated drink and contains no alcohol.
Despite Malta having a smell and flavor that resembles beer, it won't make you tipsy no matter how much you drink it. In America and America, Malta is mixed with condensed milk or evaporated milk to create a much creamier concoction to enjoy.
Where to find: You can grab a bottle of Malta from Puerto Rican street vendors or local stores.
19. Café Con Queso (Puerto Rican Cheese Coffee)
Non-alcoholic
If you think coffee is normal in Puerto Rico, think again because Café con Queso will change your mind when Puerto Rican locals add cheese to their coffee.
The coffee is grown in Puerto Rico, and locals will often grind the beans to a coarse powder to brew coffee. Cafe con Queso is a mix of strong espresso with chocolate, sugar, milk, and asiago or pecorino romano cheese.
The milk, cheese, and hot chocolate combination gives the coffee a unique creamy and nutty flavor. The hint of saltiness from the cheese will complement well with the overall flavor profile of the coffee.
Where to find: Cafe con Queso appears in many coffee shop menus in Puerto Rico.
Recipes To Make Puerto Rico Traditional Drinks.
If you're planning to prepare some tropical drinks to beat the heat, then I got your back. Here are 3 recipes from the Puerto Rico island that will surely satisfy your thirst.
If you have some spare sesame seeds lying around and don't know what to do with them, you can try making sesame Horchata. A rich and nutty drink that has great nutritional value. The ingredients are simple, so you could fix a simple glass of sesame milk whenever you want.
Ingredients: Sesame seeds, cinnamon, star anise, clove, water, sweetened condensed milk, and vanilla extract.
Step 1: First, you will need to toast around 200 grams of sesame seeds for 8-10 minutes until you can smell the nuttiness from your pan.
Step 2: Start adding in seasonings (1 stick of cinnamon, 4 whole cloves, 1 star-anise) and soak the toasted sesame seed in 1.5 liters of water for at least 3 hours.
Step 3: Use a blender to make a puree out of your ingredients.
Step 4: Place a towel over your bowl to strain and extract milk from the puree mixture.
Step 5: Use the blender to mix the sesame milk mixture with 1 can of condensed milk and ½ teaspoon of vanilla extract.
Step 6: Put the milk into the refrigerator to cool, and then you can start enjoying your outcome.
Discover how you can make sesame horchata from scratch right at home.
There are endless ways for you to mix and mash pina colada. The lava flow is a type of pina colada that I would like to introduce. If you want milkshakes, this is the cocktail that will satisfy you.
Ingredients: strawberries, light rum, coconut rum, pineapple juice, coconut cream, banana, a slice of pineapple for garnish, and chipped ice.
Step 1: Start adding 1 ounce of light rum and coconut rum to the blender with 2 ounces of strawberries.
Step 2: Blend your mixture and pour it into a mixing glass.
Step 3: Rinse the blender, then start adding a banana, 2 ounces of pineapple juice, 2 ounces of coconut cream, and a cup of chipped ice.
Step 4: Blend the mixture until it reaches a smooth consistency.
Step 5: Start pouring both of the blended mixtures into a glass and watch as the red of the strawberry rises to the top of the glass.
Step 6: Put the pineapple slice on the glass as garnish.
Are you looking for something different for your eggnog? Then try out Coquito. It has a similar texture to eggnog but tastes much better and is simpler to make.
Ingredients: evaporated milk, condensed milk, coconut cream, rum, vanilla extract, and cinnamon.
Step 1: Start adding to the blender 1 can of evaporated milk, 1 can of condensed milk, 1 can of coconut cream, half a cup of Don Q, ½ teaspoon of vanilla extract, and a pinch of cinnamon.
Step 2: Start blending the mixture for 1-2 minutes.
Step 3: Pour into a glass bottle and transfer into a fridge to chill.
Step 4: Pour the chilled Coquito into small shot glasses and serve.
Are you still craving that Coquito flavor you have in Puerto Rico? Then try recreating that flavor now.
What Drinks Will You Try The Next Time?
You can easily find these Puerto Rican drinks at any bar, except for some unique spirits rarely made. If you're looking to spice things up for your next party, I recommend trying some Puerto Rican drinks.
The fun thing about these drinks is adding your twists to create a unique experience and flavor. Even if throwing a party isn't your intention, the Puerto Rican cocktail like the Pina Colada is still an amazing experience for your night.
Do you have any more drinks that you want to share with me? Let me know what you think about these Puerto Rican drinks in the comment below. Thank you for your attention to this article.