Puerto Rican foods always stimulate the curiosity of tourists when coming to this beautiful island nation. They want to experience firsthand the flavors and quintessence of incredible Puerto Rican cuisine.
Before tasting them in person, you need to prepare a list of famous and typical Puerto Rican dishes. It will help you get the basics and a first look at the dishes before trying them. Let's read this post to get all the helpful information.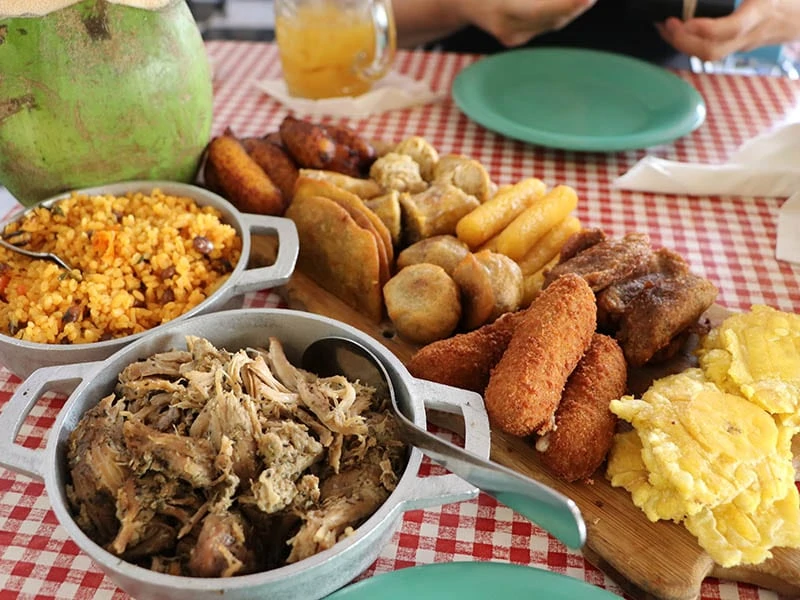 You will feel hungry after a trip to explore the scenic spots when traveling in Puerto Rico. Therefore, starchy foods are what you need most right now to recharge and relieve hunger quickly.
1. Arroz con Gandules – Rice with Pigeon Peas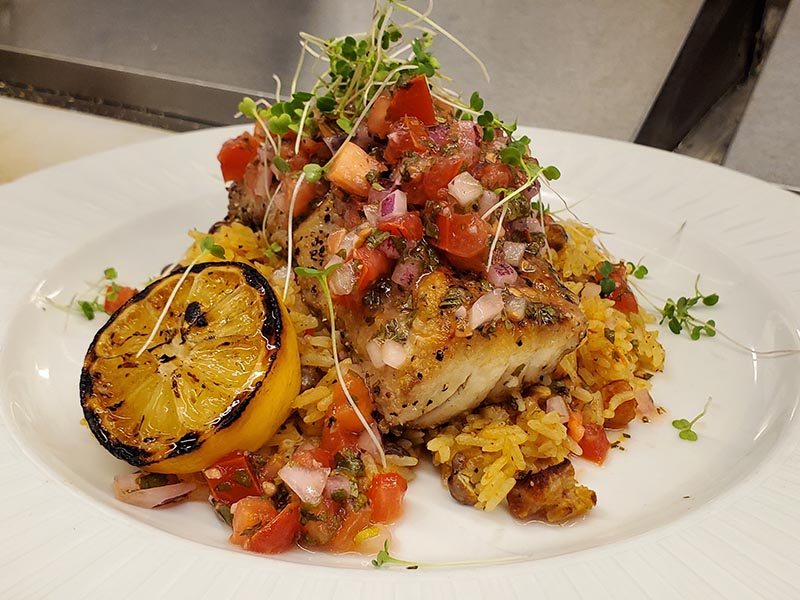 There is nothing better than enjoying this Puerto Rican lunch dish during your next trip. Arroz con Gandules is an old recipe and is associated with the country's wet-rice agriculture history.
It has been around since the 16th century when Puerto Rico adopted rice cultivation. Moreover, Puerto Ricans call it mixed rice because it makes use of available foods and is cooked with two or more ingredients.
The chef will cook white rice with pigeon peas and sofrito to add distinctive color and rich flavor. This food is an essential component in special occasions such as Thanksgiving and Christmas.
2. Arroz Mamposteao – Rice and Stewed Beans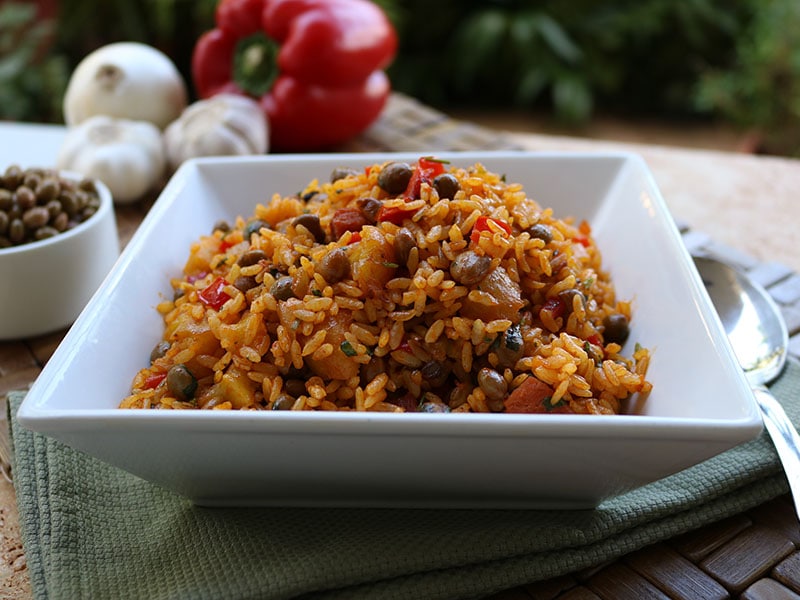 You will go crazy with this attractive dish with the combination of white rice and red kidney beans. However, the key ingredient that makes this food so appealing is sofrito, made with onions, garlic, peppers, and cilantro. It will make the rice more flavorful.
Rice is an indispensable element in the daily life of Puerto Ricans. This particular recipe is the result of changing the white rice and making use of leftover stewed red beans. Today, this food is favored by many restaurants in Puerto Rico.
3. Quesitos – Cream Cheese-Filled Pastry Twist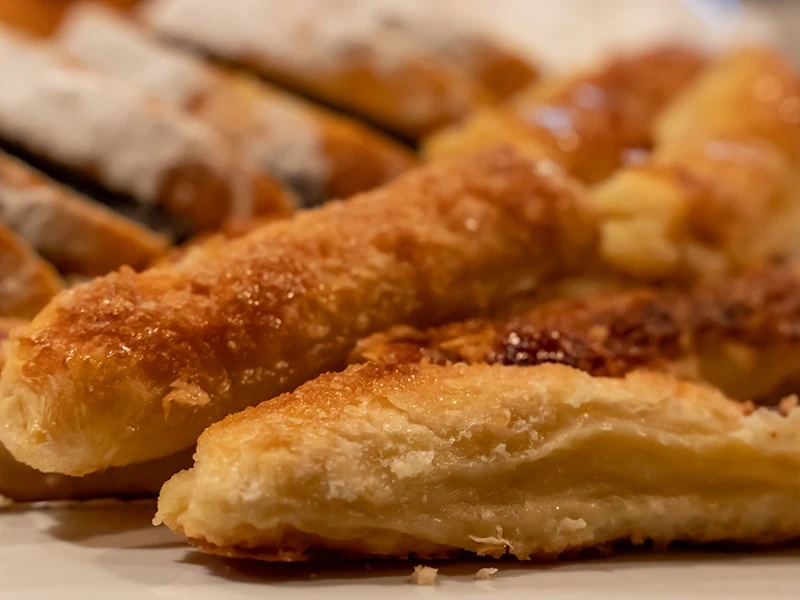 There is no explicit claim about the origin of this delicious pastry. However, there are many views that European colonists brought to Latin America and the Caribbean when they colonized these lands.
This flaky dessert has a distinctive sweetness with a honey-covered exterior and a cheese-filled interior. This food is Puerto Ricans' favorite choice to sip on with a cup of coffee in the morning.
4. Pastelon – Plantain Lasagna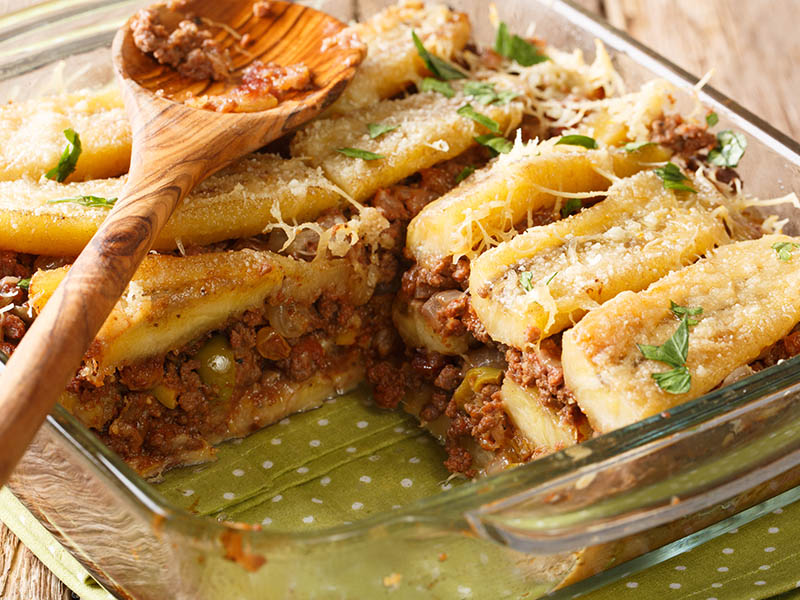 Pastelon will be the great Puerto Rican breakfast dish you have been looking for. It is a typical food of Puerto Rico and the Dominican Republic. You will feel the sweetness of ripe plantain and the salty taste of seasoned ground beef in this food.
New York City, where the Italians and Puerto Ricans clashed, is the home of this food beginning with the letter "P". You can choose another variation as the plantain will be made into lasagna pasta sheets and combined with eggs and semolina.
If you are a vegetarian and want to eat Pastelon, you can choose its vegetarian version. Meats will be replaced with mushrooms and various vegetables.
5. Tostones – Fried Green Plantain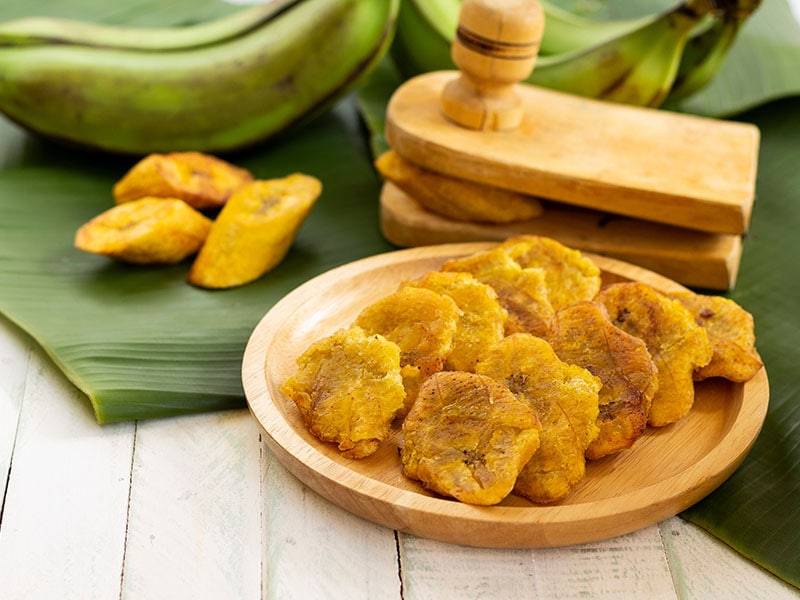 Plantain is native to Southeast Asia and was brought to the Caribbean in the early 16th century. Tostones are known as deep-fried green plantain, invented by the Dominican Republic. The "T-something" name of this food takes after the Spanish word "toston" for fried dishes.
The chef will fry the plantain until it has an eye-catching golden color and a satisfying crispness. It tastes better when served with mayo-ketchup sauce. Another variation is made from breadfruit and is called Tostones De Pana.
6. Platanos Maduros – Fried Sweet Plantain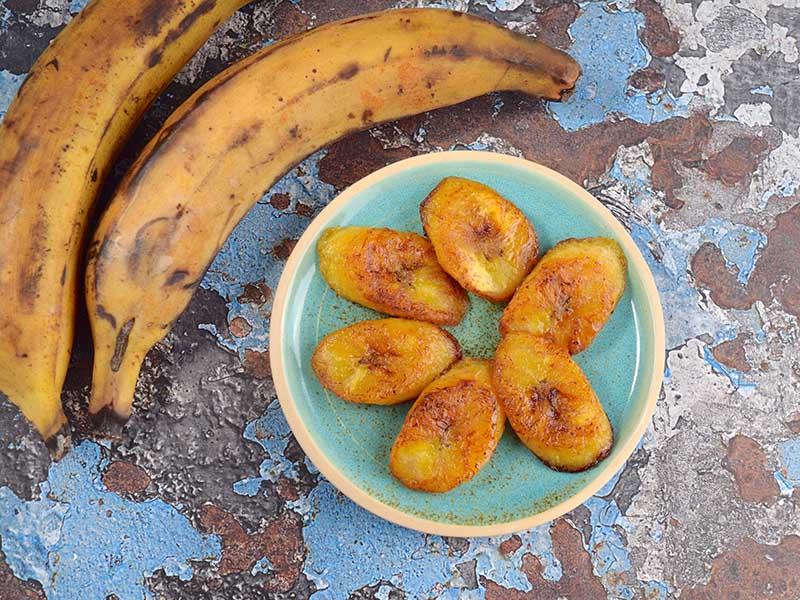 You will be immersed in the seductive sweetness of Puerto Rican Platanos Maduros. This food is not only popular here but also in Cuba and other Caribbean countries. It is a product of Indian cuisine, and Spanish colonists brought it to the Caribbean.
The food is a healthy option as ripened plantains are fried in vegetable oil. It is pretty similar to Tostone, but do not confuse them. Plátanos Maduros will have a milder sweetness and less crunch and firmness than Tostone.
It is time to taste incredible Platanos Maduros right now.
7. Aranitas – Plantain Fritter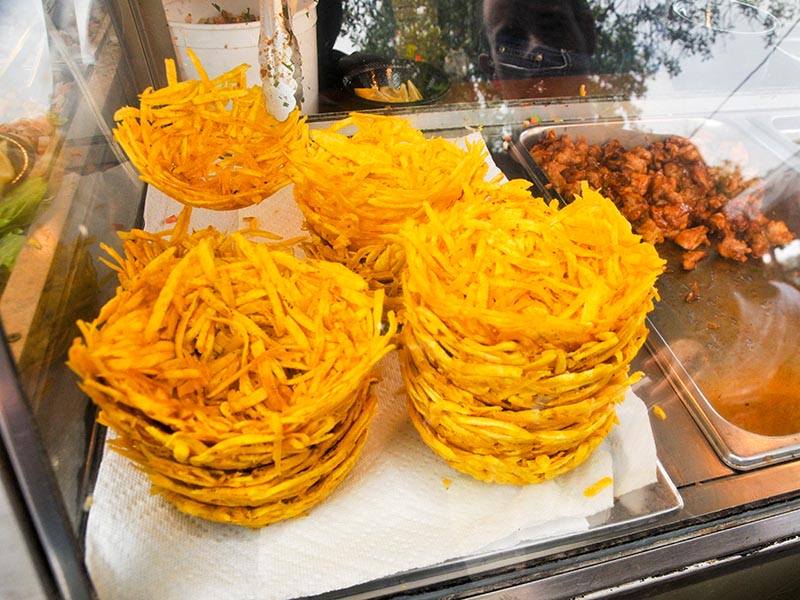 Aranitas is another excellent recipe made from the plantain of Puerto Rican cuisine. Its name means "little spiders", but do not be afraid because there are no spiders in the food. Its small protruding legs look like spiders, hence the name Aranitas.
Actually, these fried green plantains are shredded and deep-fried with cilantro and garlic. The food has an eye-catching yellow color, like French fries. When you order this food, you will be served with a delicious garlic sauce.
8. Mofongo – Mashed Fried Plantains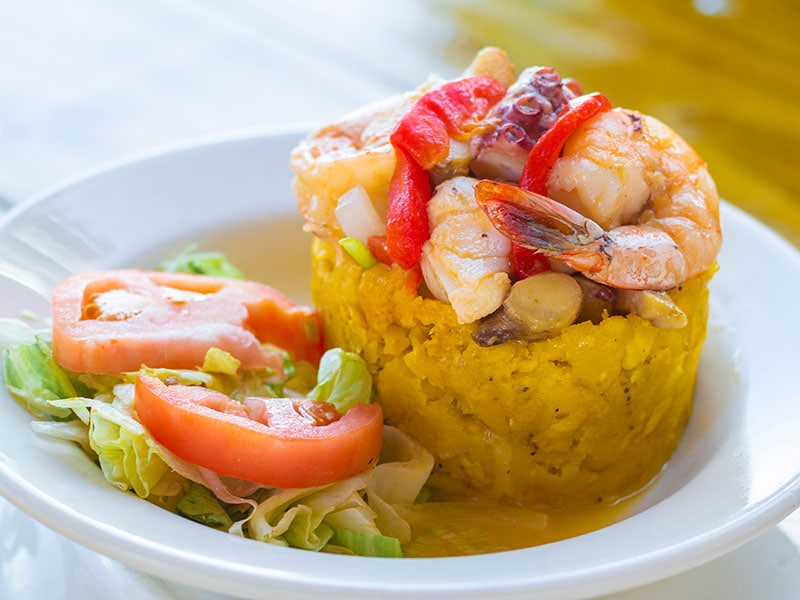 It would be a huge miss if Mofongo were not on this list. Plantains are its main ingredient, but they will be mashed and marinated with olive oil and garlic before frying. The flavor will be more varied with the appearance of meat and shrimp.
This savory dish was born from the Angolan way of mashing starchy foods. It is native to Central and Western Africa and was introduced to Puerto Rico in the 1500s when African slaves arrived.
9. Rellenos de Papa – Stuffed Potatoes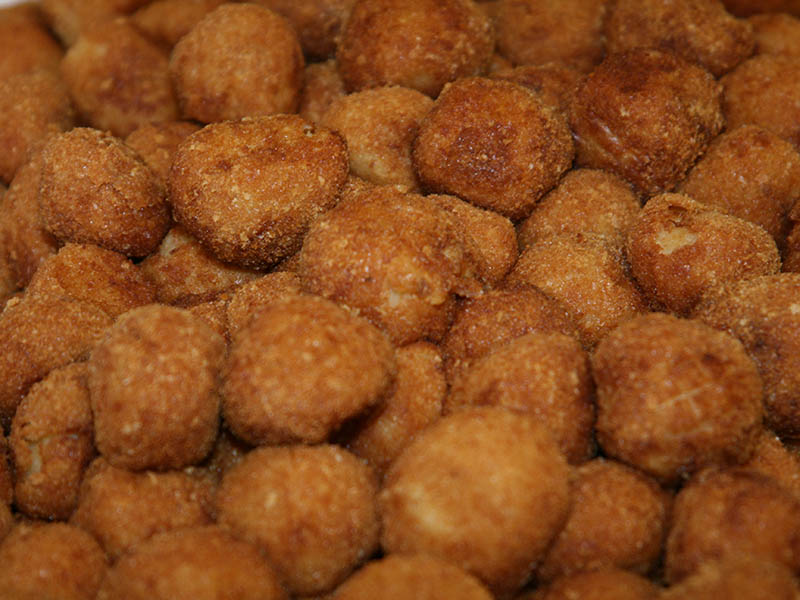 Potatoes are a common ingredient in American cuisines. In Puerto Rican, people often use chopped potatoes to eat with soup. Rellenos De Papa is a recipe where potatoes play an essential role.
This dish is a variation of the croquettes of Latin American cuisine. The chefs will stuff a mixture of ground beef, adobo, sofrito, and other seasonings into mashed potatoes and fry them in hot oil until a nice golden brown color is achieved.
10. Bistec Encebollado – Steak and Onion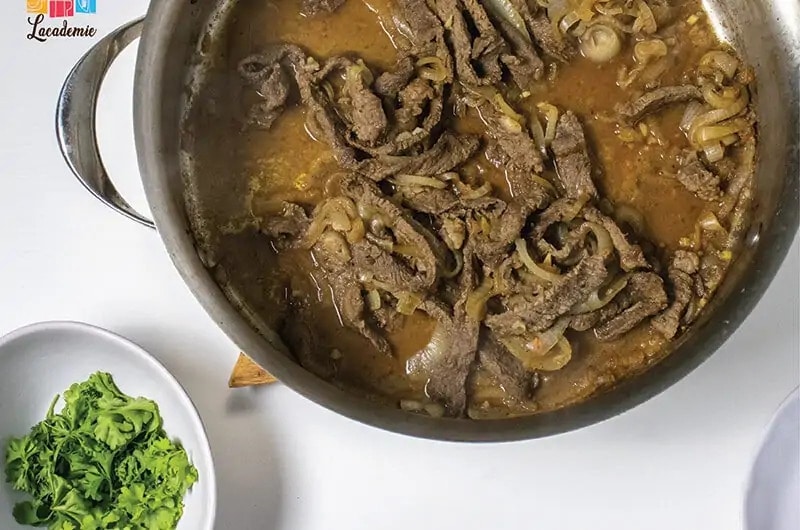 If your favorite food is steak, you need to try Bistec Encebollado. It is a simple yet delicious recipe for home cooks, containing steak, onion, and seasonings. In fact, "bistec" means "steak" in Spanish.
The most important step in this recipe is marinating. After mixing sliced beef with seasonings, you should spend at least 30 minutes letting it rest in the fridge so the flavor can blend.
For serving, you can enjoy it with beans or lentils, steamed fluffy rice, or sprinkle some herbs on the top to make the dish more appealing.
11. Pollo Guisado – One-Pot Chicken Stew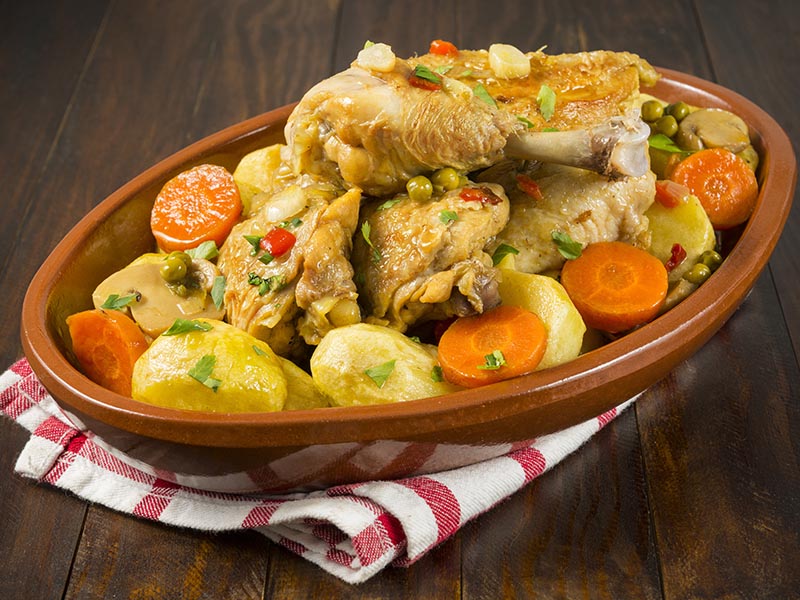 Your Puerto Rican dinner dishes cannot be complete without this scrumptious Pollo Guisado. The chicken will be stewed for a certain amount of time with sofrito, achiote, adobo, and other spices until the right softness is reached.
The types of vegetables will depend on individual preferences. This signature recipe originated in Puerto Rico and spread to the cuisine of the Dominican Republic, Cuba, and other neighboring countries. It appears regularly in the daily meals of Central and South America.
12. Pinchos Morunos – Pork Kebab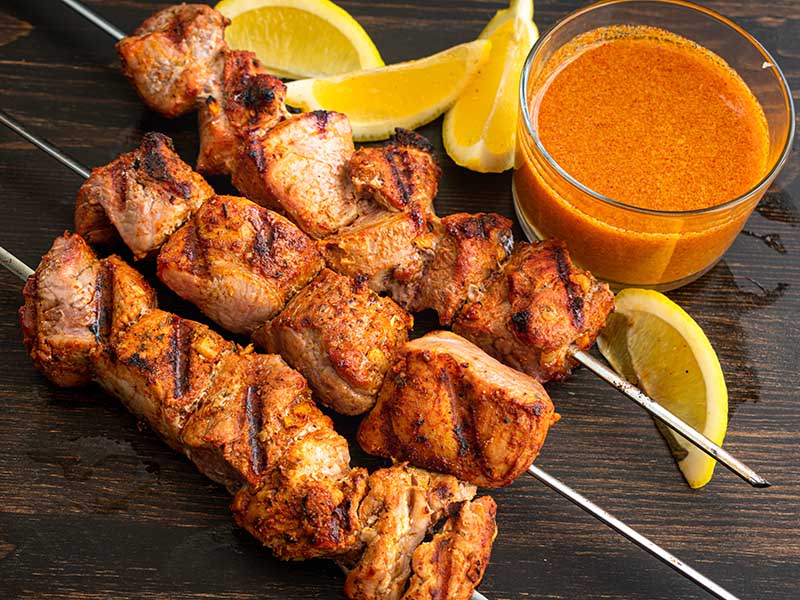 Pinchos are one of the many famous dishes of Spanish cuisine. Unlike the Pinchos version that is somewhat like the Spanish Turkish Kebab, pork, chicken, or beef is skewered on sticks and grilled over charcoal for the Puerto Rican version.
In particular, Puerto Ricans have combined fresh plantain or mashed dried plantain to add more flavor to this food. It is a popular fruit in this country.
13. Bacalaitos – Codfish Fritter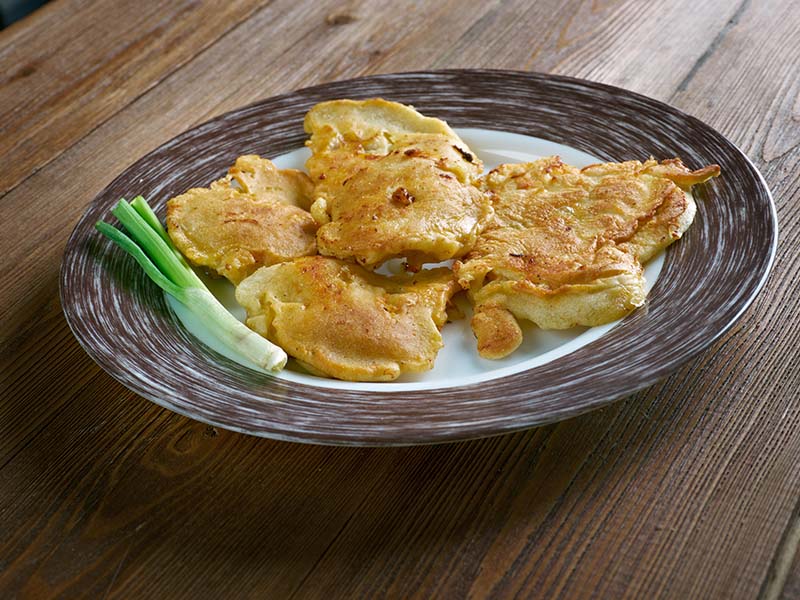 Bacalaito or salted codfish fritter is a typical snack or appetizer from this gorgeous island nation. In particular, it appears at many beaches to serve tourists and at festivals in Puerto Rico. Don't miss this Puerto Rican street delight when you're in the country!
It is native to Africa and was present in Puerto Rico when Spanish explorers arrived. The main ingredient of this food is codfish, and you will feel the crispy outside and the chewy and tender inside when biting cod fritters.
14. Chicharrones – Fried Pork Rinds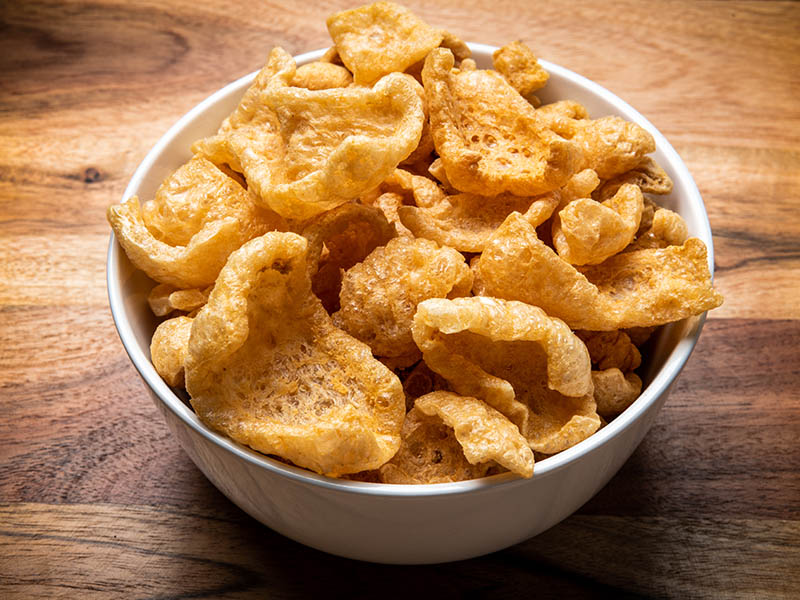 Chicharron is a food that is not only famous in Puerto Rico but also popular in many other countries in Latin America as well as the world. This crunch and stimulating fried pork rinds originated in Spain and spread to many places.
Because of its popularity, there are many different variations of Chicharron. The city of Bayamon is known as the "city of Chicharron" because it is the largest producer of Chicharron in Puerto Rico. You can find Chicharron in fried rice in this country.
15. Empanadillas – Puerto Rican Dumplings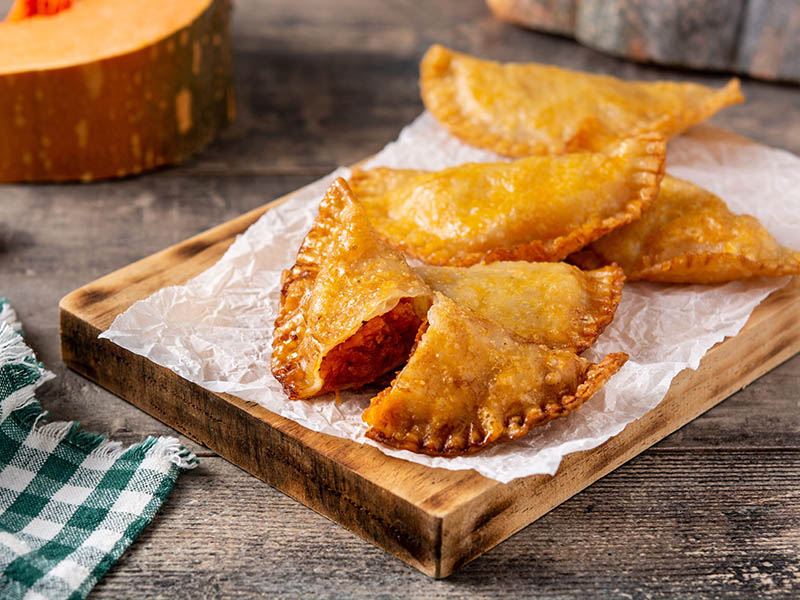 Empanadillas are many variations of the Empanada dish that originated in Spain. This recipe is a specialty of Galicia in Northwest Spain. A cookbook called Llibre del Coch published in 1520 in Catalan records the recipe for Empanadas with seafood filling.
Puerto Rico's Empanadilla comes in various fillings, from savory to sweet. The outer dough is a combination of flour, eggs, and larb. This dish usually has a unique red or orange color and has a beautiful nutty flavor.
Although it is similar to Empanadas, the Puerto Rican version has a thicker crust. Its two main seasonings are Sofrito and Achiote. Sofrito is a combination of onions, garlic, olive oil, and coriander. Achiote uses nutty, sweet, and earthy spices.
16. Alcapurria – Dough Fritter And Meat Filling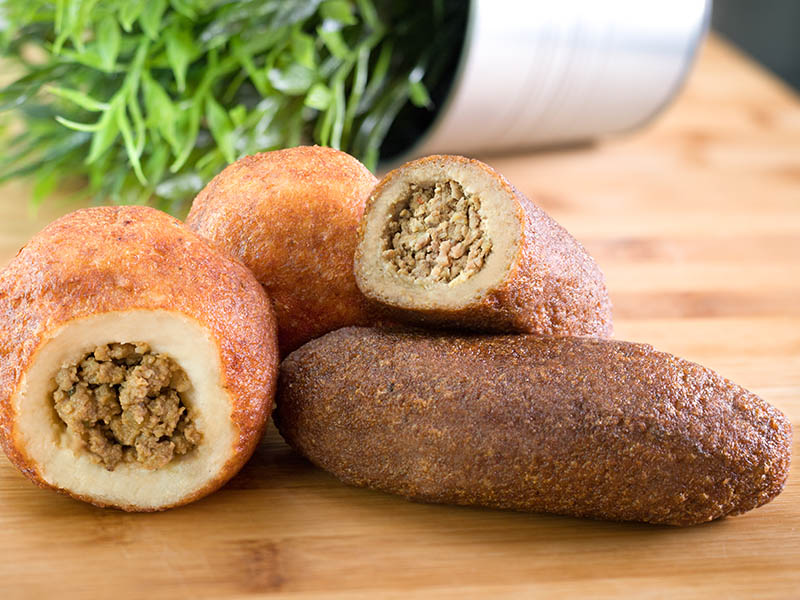 Alcapurria is an irresistible Caribbean appetizer that always appears on the table of Puerto Ricans. This dish is made up of two main parts including the dough layer and the meat filling. Grated bananas are the main ingredients that make up the dough.
There are many different variations of this wonderful dish. You can opt for a version with a masa made with green plantain and squash. You can change the taste with crab meat of sausage filling.
17. Pernil Asado – Roasted Pork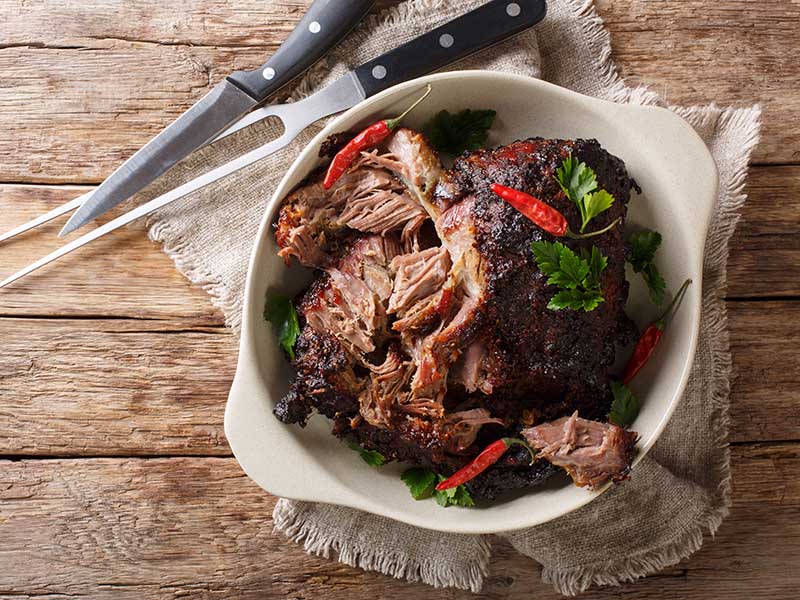 The most commonly eaten meat food at Christmas in Puerto Rico is Pernil Asado. You can easily find this food at the mountainside of Cayey in the Lechoneras of the Guavate region. This food is also popular in Cuba with its Cuban sandwich and Venezuelan version.
Chefs often use pork shoulder to prepare this food. The pork will achieve great tenderness when it is slow-cooked for a few hours, and the rind is perfectly crispy.
18. Morcilla – Blood Sausage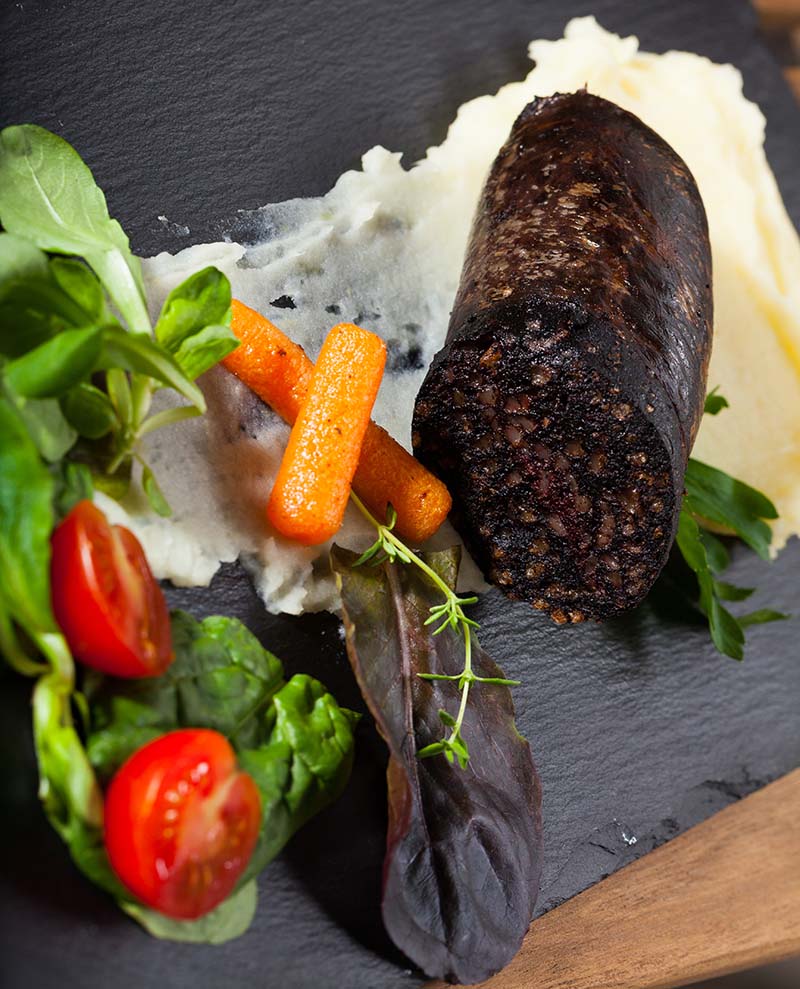 If you like blood sausage, Morcilla is a dish you should not miss. It is native to Spain and was introduced to Puerto Rico during the colonial period. In Spain, blood sausage in different regions has various historical meanings.
If you enjoy Andalusian blood sausage, you are eating remnants of the Middle Eastern regime in Spain. The Northern version of Morcilla will bring a new world vibe. The unique flavor of it is perfect to accompany it when drinking wine.
After trying Morcilla, don't forget to give other countries' variants some love, too. For example, Verivorst is a blood sausage in Estonian cuisine made from pig's blood and an array of spices. You can find this dish during Christmas celebrations.
19. Coquito – Puerto Rican Eggnog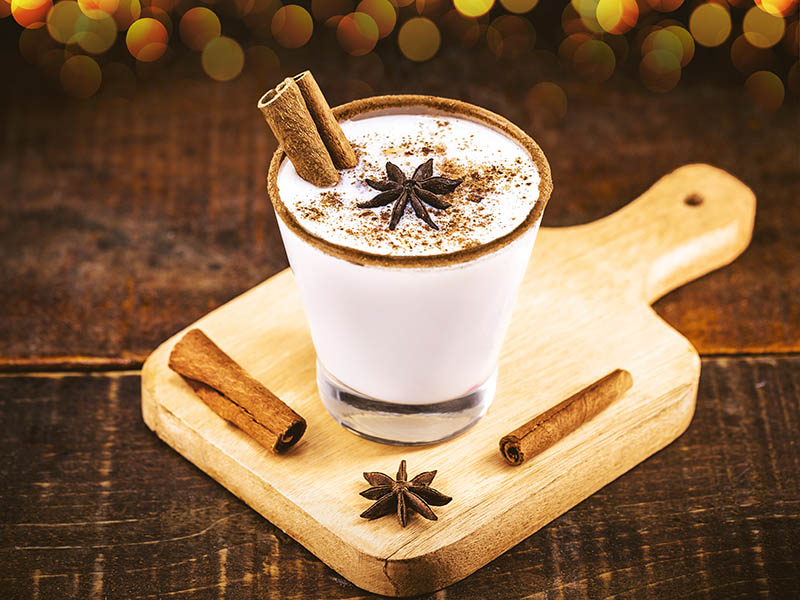 If you are going to Puerto Rico for Christmas, a Coquito is something you should not miss. This delicious coconut dessert is pretty similar to the famous eggnog, but it contains coconut instead of egg. Moreover, Nutella and pistachio are also added to enhance the taste.
Many argue that it was brought to the Caribbean by the Spaniards when they colonized the area. It was created when the Spaniards added rum and coconut cream to eggnog. Today, it has become a well-loved beverage in Dominican and many Caribbean countries.
Coquito comes in many different variations with countless substitutes.
It is time to enter the dessert paradise of Puerto Rican cuisine. You will have the chance to indulge in the incredible flavors of sweet and refreshing desserts in this section.
20. Tres Leche – Milk Cake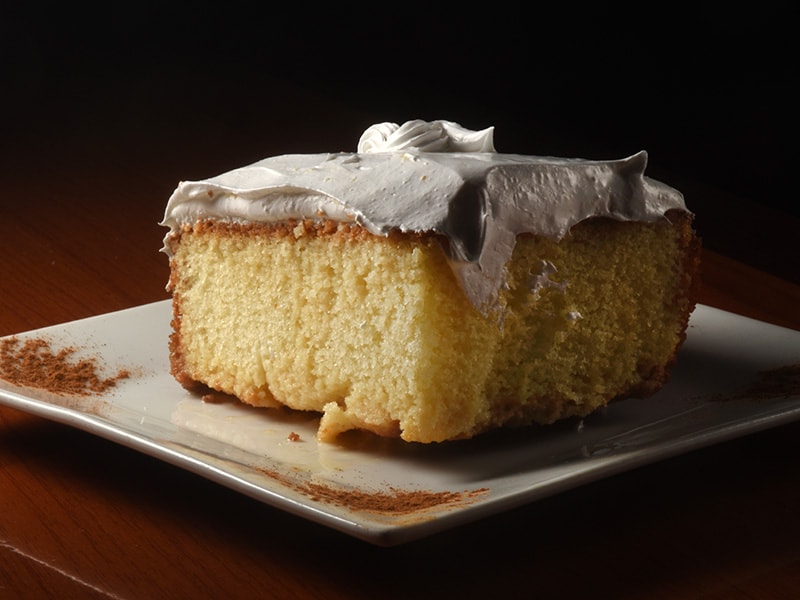 If you are looking for an excellent Puerto Rican dessert, I highly recommend ordering Tres Leches immediately. It is a signature sponge cake with a wonderfully spongy texture and a smooth whipped cream topping.
A little coconut milk will bring the island flavor to the dish. If you want more taste, you can buy a Coquito Tres Leches cake which contains 3 types of milk and rum. This food was born when the recipe for soaked-cake dessert was invented in Mexico in the 19th century.
This is the result of the cultural exchange of European and American cuisines. It appeared on Nestle milk cans in the 1940s, and it became more widely known. Nestle established many subsidiaries in South American countries to produce this cake in the 1930s.
21. Bizcocho De Ron – Rum Cake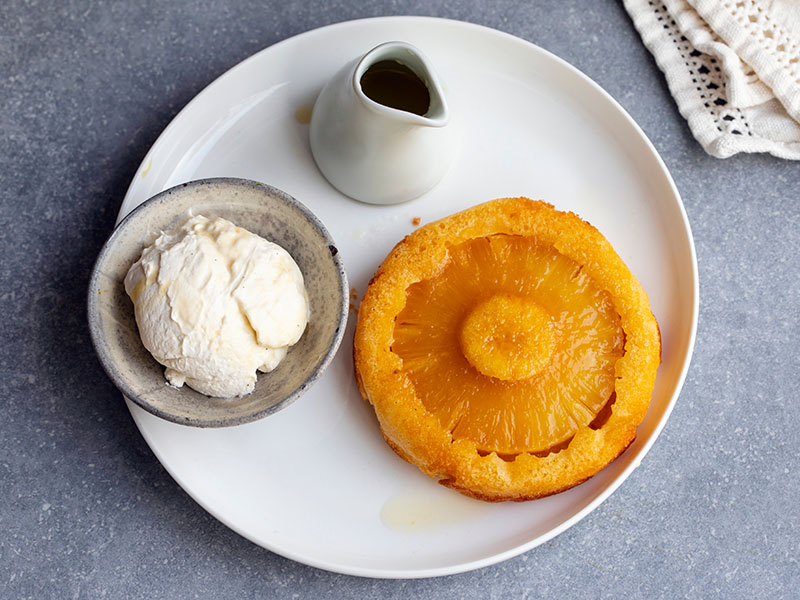 Rum cake is an essential dessert recipe for special occasions in Puerto Rico. It is a combination of fruit, such as pineapple, apple, raisin, and so on, rum, and a little ice cream. This food is prevalent in all countries in the Caribbean.
Bizcocho de Ron is a common name for rum cake in Puerto Rico. These fantastic cakes appeared in the US in the 1970s. In particular, you can get drunk if you overeat rum cake since its alcohol content is more than 5 percent.
22. Arroz Con Dulce – Sweet Rice Pudding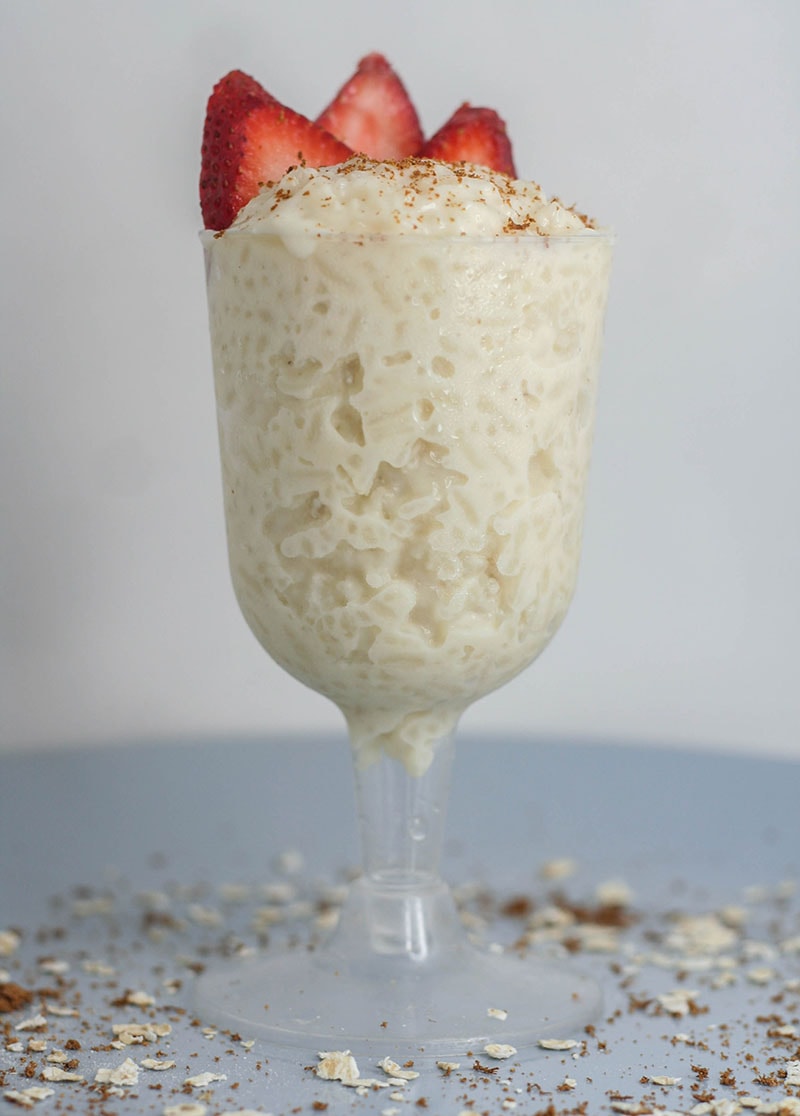 You will regret skipping this sweet Arroz con Dulce of Puerto Rican cuisine. It is a form of rice pudding with a silky texture and nutty flavor. In particular, coconut milk brings a new breeze to the fantastic food.
Originally, rice pudding was a delicacy for royalty and the rich as imported rice was expensive. Royal chefs created this food for kings and queens on special occasions. It was not sweet at first, and it was not until the 15th century that sugar was added.
23. Majarete – Corn Pudding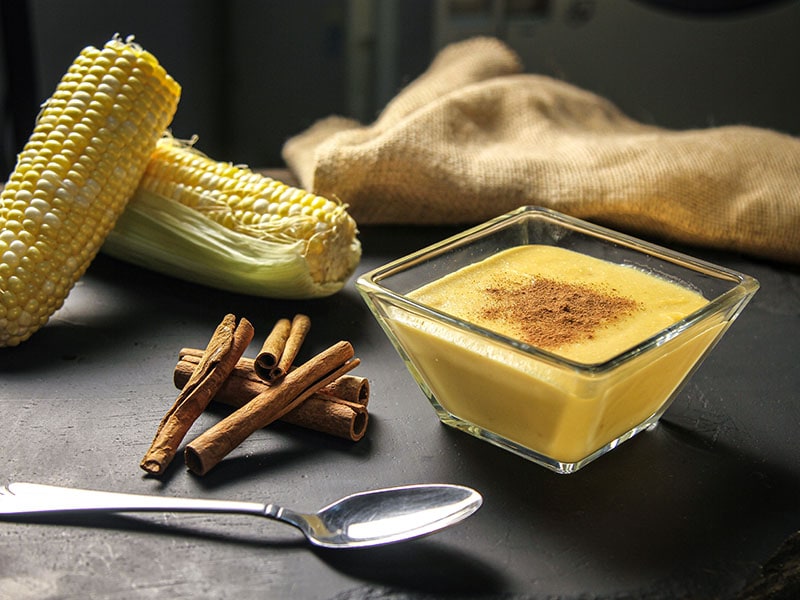 It is time to refresh your taste buds with this sweet and silky majarete. It is a popular type of corn pudding in Puerto Rico, the Dominican Republic, and Cuba. This dessert is said to have originated in Venezuela during the colonial period.
The appealing and natural taste of corn will awaken your taste buds. Not only that, the appearance of coconut milk enhances the flavor and fatness of this scrumptious dessert. Therefore, do not miss the chance to try it.
24. Pastelillos de Guayaba – Guava Pastries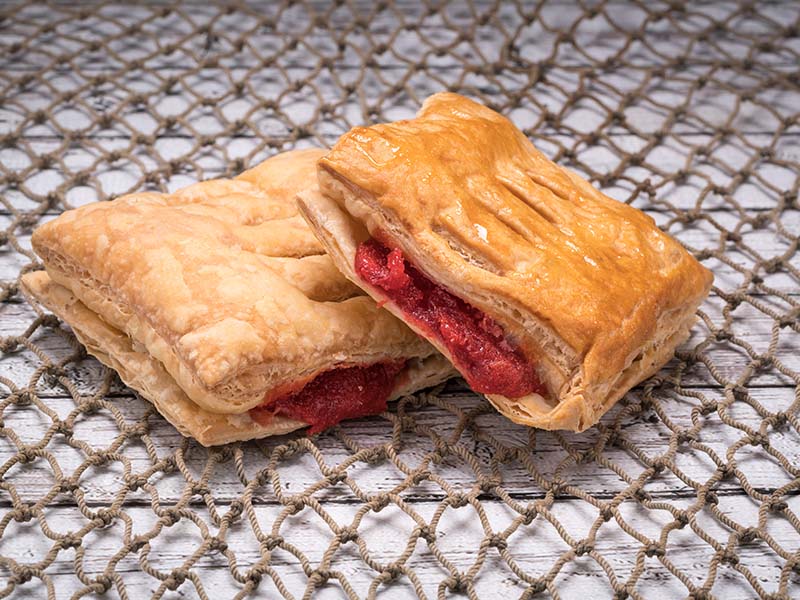 Pastelillos De Guayaba has always been the favorite choice of Puerto Ricans for festivals or essential celebrations. Moreover, bakeries in Puerto Rico also commonly sell this food. The outer pastry dough layer will wrap the sweet guava paste filling.
This food is the pride of Puerto Rican cuisine. Unlike today's version, the original Pastelillos De Guayaba did not have cheese. To make the guava paste, the guava is peeled and seeded before being ground and cooked to make paste.
25. Flan de Queso – Cheese Flan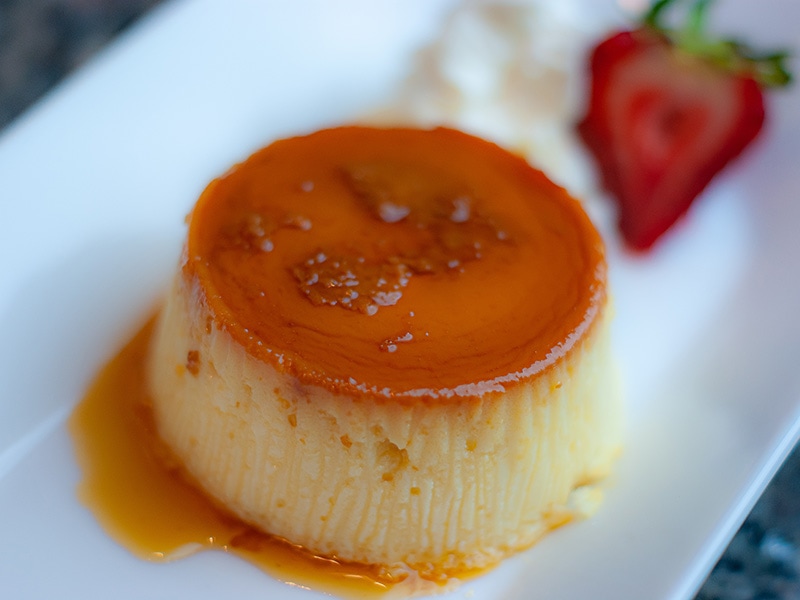 Flan originated in the Roman Empire when they raised chickens and collected eggs. The Romans combined eggs with cream to make a custard, known as "flado". Originally, flan was made according to savory dishes with meat and fish.
Versions with honey and caramelized sugar are made. Gradually, it was developed with the addition of citrus fruits and almonds. The sweet Puerto Rican version of Flan De Queso is a well-known dessert in the Caribbean region. The locals consider it a must-have for Thanksgiving.
26. Pan de Mallorcas – Sweet Bread Rolls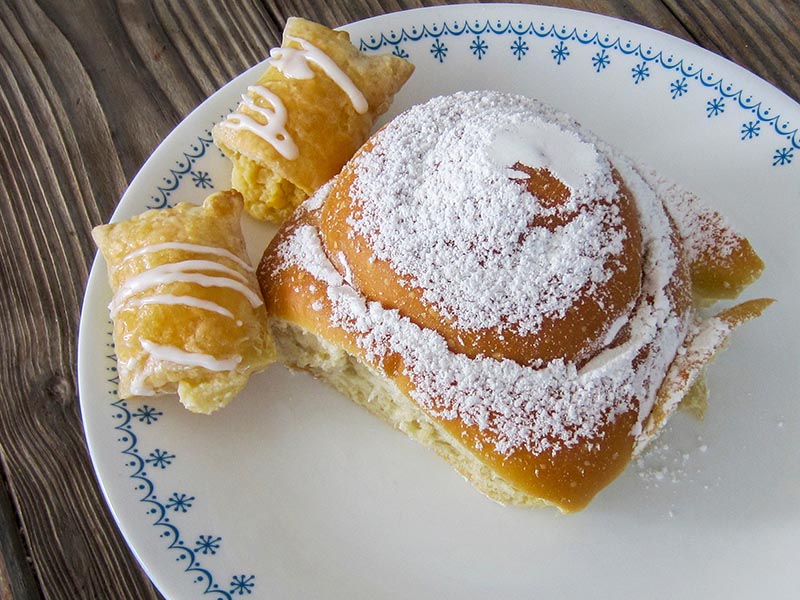 Many tourists choose Mallorca as a sweet dessert when coming to Puerto Rico. This pastry is a traditional dessert of Spanish food culture and is popular in many European countries. This recipe was introduced to Puerto Rico by the Spaniards.
These cakes have a rather characteristic spiral shape and are made of powdered sugar. You can go to a bakery to enjoy this food with the best taste. There are some variations when it is eaten with butter or combined with ham, eggs, and cheese.
27. Brazo Gitano – Swiss Rolls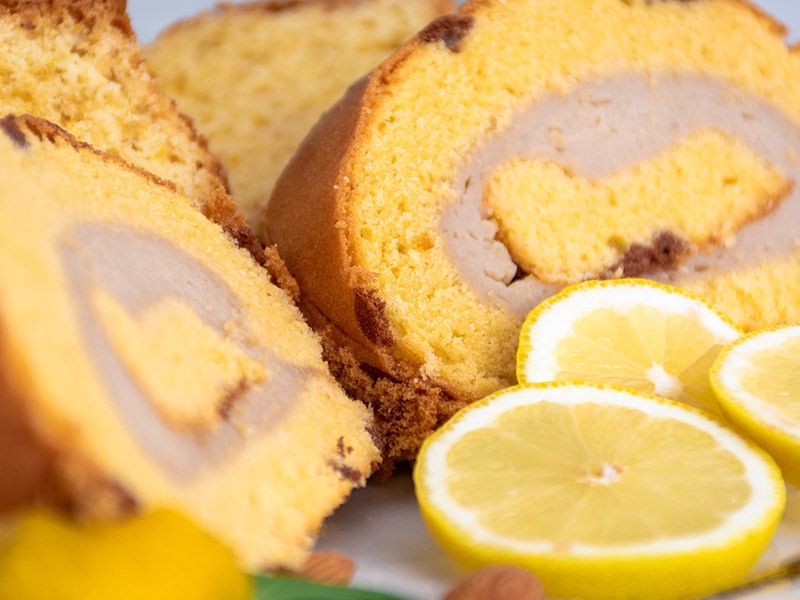 Brazo Gitano is tied to the history of Puerto Rico and was brought to the island during the Spanish colonial era. A Spaniard named Enrique Franco Rey is said to have first created this food in Puerto Rico in 1850.
Its name "Brazo Gitano" means "gypsy arm". It is a sponge cake roll with guava jelly inside. The surface of the cake is covered with a layer of confectioner's sugar. Sweetness is the dominant flavor of this dessert.
---
It is time to satisfy your taste buds with the great Puerto Rican food on this list. I have had great culinary experiences here, and now it is your turn. Delicious dishes are waiting for you to discover. Let's go!
Before you go, do not forget to share this article so that more people know about these excellent foods. Also, your contributed ideas are precious to me, and I look forward to seeing them in the comments section.