What are your initial thoughts when it comes to foods that start with T? Tomatoes, tacos, and tequila are often brought up first in the conversation. I'm here to tell you that the list is much longer than that.
It's time to stand out from the crowd with unique foods that have T in their names. Keep reading, and you will be surprised by what you can find in this article.
Who knows, maybe you will even find a new addition to your daily shopping list.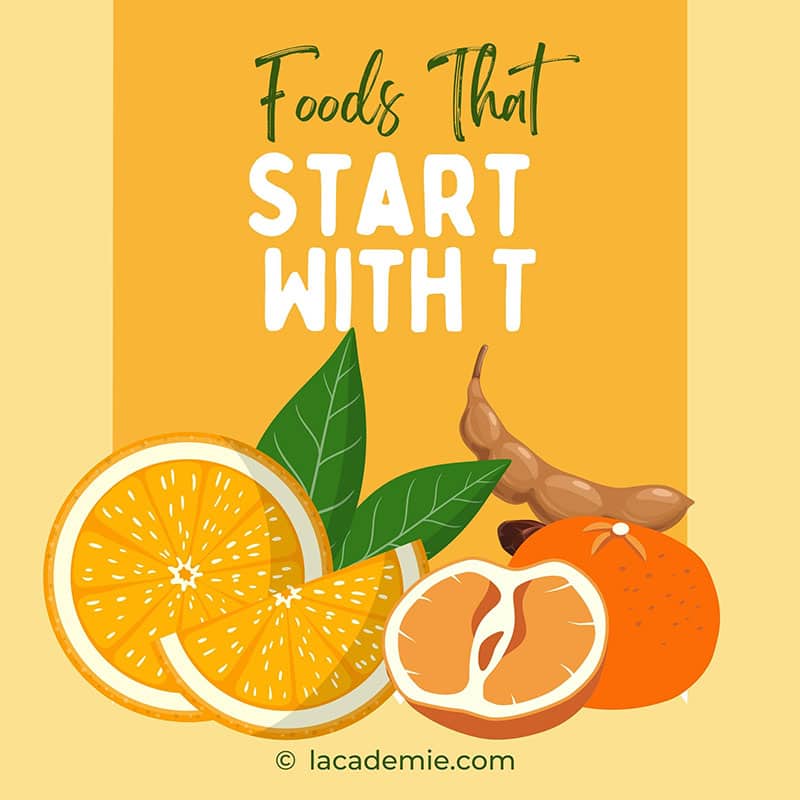 Ultimate List Of T-starting Foods (And Dishes)
Before digging into details, you can check this list to find out how many item you have (or have not) known before.
Fruits
Tomato
Tangerine
Tamarind
Texas Persimmon
Thimbleberry
Tart Cherry
Topaz Apple
Tamarillo
Tayberry
Vegetables And Herbs
Thyme
Taro
Tapioca
Tarragon
Truffle
Turban Squash
Turnip
Triticale
Tabasco Peppers
Tigernut
Tomatillo
Main Dishes
Tagliatelle
Tacos
Tabbouleh
Tempeh
Tempura
Trout
Tuna
Turkey
Tripe
Tofu
Terrine
Timbale
Tourtiere (French-Canadian Meat Pie Recipe)
Torpedo
Tofurkey
Tamale
Tetrazzini
Tilapia
Turbot
Tom Yum Soup
Appetizer, Side Dishes, And Snacks
Tortilla
Tapenade
Tandoori
Taquitos
Tostada
Tater Tots
Drinks
Tequila
Tea
Tisane
Desserts
Tart
Taffy
Tiramisu
Turnover
Torte
Trifle
Tanghulu
Toffee
Tres Leches Cake
Turkish Delight
Condiments And Spices
Teriyaki
Tabasco
Tahini
Tamari
Turmeric
Tekka (Miso Condiment)
Tkemali (Sour Plum Sauce)
Toum (Lebanese Garlic Sauce)
Tomato Sauce
Truffle Oil
Tzatziki
Treacle
Fruits
1. Tomato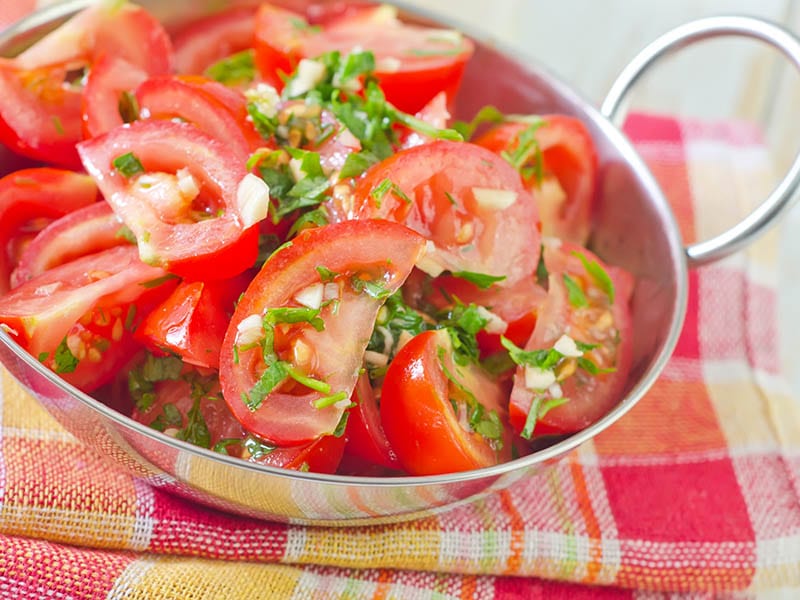 Often misinterpreted as vegetables, tomato is actually a fruit with T at the beginning of its name. Every region in the world has its very own variety of tomatoes, with approximately 10,000 varieties that can vary in size, color, and flavor.
These edible berries from the nightshade family can thrive both in gardens and containers. With their tangy, not sour taste, a pinch of salt can bring out their flavor. Rich in lycopene, these juicy gems are fantastic for your heart.
These bright red fruits carry 95% water content, making them a good choice for dishes such as salad, soup, stew, pizza sauce, chili, bruschetta, or simple roasted tomatoes.
They also contain folates, vitamin C, vitamins B and E, and potassium. Your eyesight also benefits from the lutein and other antioxidants in tomatoes and potentially prevents cancer (1). Enjoy them raw in salads, burgers, salsas, and sandwiches, or eat them straight for a burst of flavor.
2. Tangerine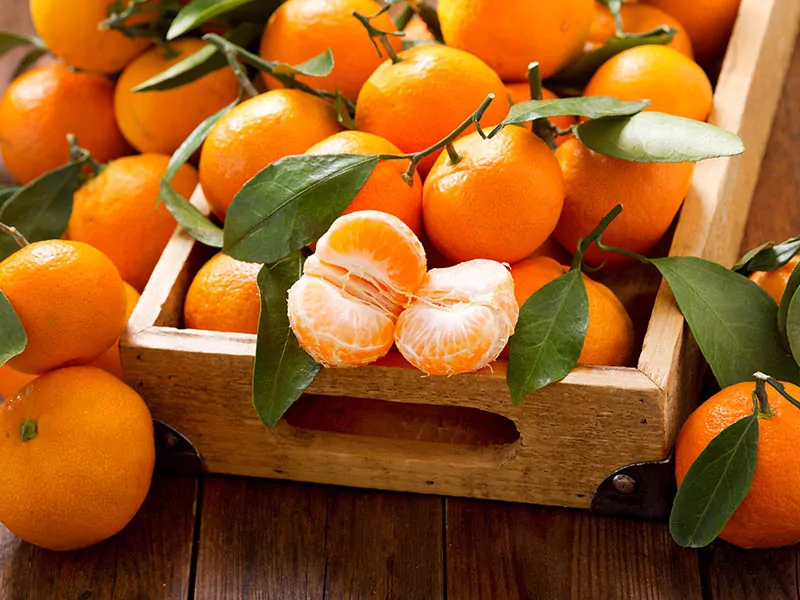 Mostly found in South Africa or America, tangerines have a bright orange color to their skin when ripe and green when the fruit is underdeveloped.
Tangerines come from a subgroup of mandarins that are distinct from oranges. They are usually available in most grocery stores with small, loose-skinned, and easy to peel. Offering a sweeter and stronger flavor than oranges, tangerines are packed with fiber and vitamin C.
Among the sweeter varieties are honey and murcott tangerines. Named after the city of Tangier, these pocket-sized snacks are perfect for satisfying your sweet tooth. Commonly, people can enjoy tangerines as they are or mix them with orange juice to create a more flavorful drink.
3. Tangelo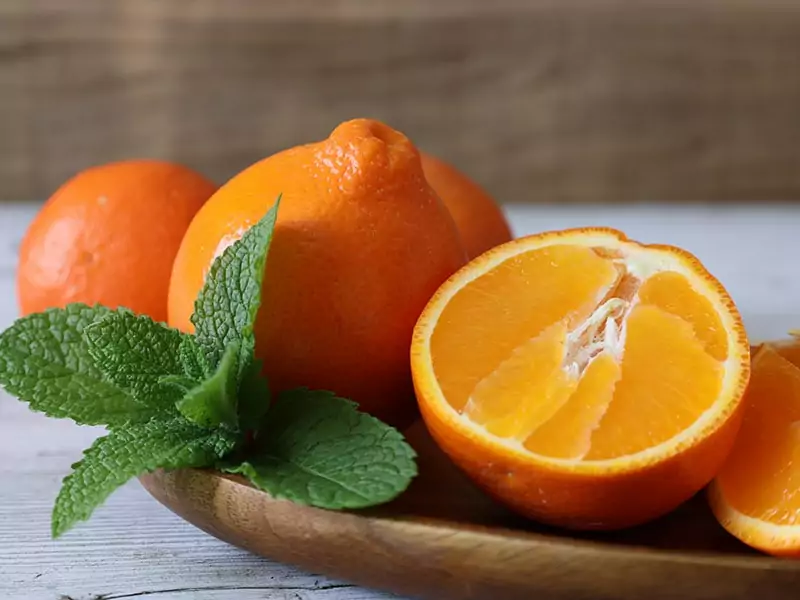 Here is another variety from the citrus group: Tangelo is a cross-species of tangerine with either grapefruit or pomelo. It is typically around the size of a regular orange to a large grapefruit. However, many people love it for its sweeter and more fragrant zest than any original citrus species.
Cultivated mainly in Florida, they have distinctive bumpy skin, bright orange color, and a knob on one end. These seedless fruits boast a loose rind that peels easily, revealing high fiber and vitamin C content.
The juicy, tart, and tangy flavor of tangelo is perfect for salads and salsas or be in place for orange juice and zest. Tangelos shine in cocktails, marmalades, marinades, smoothies, and sauces.
4. Tamarind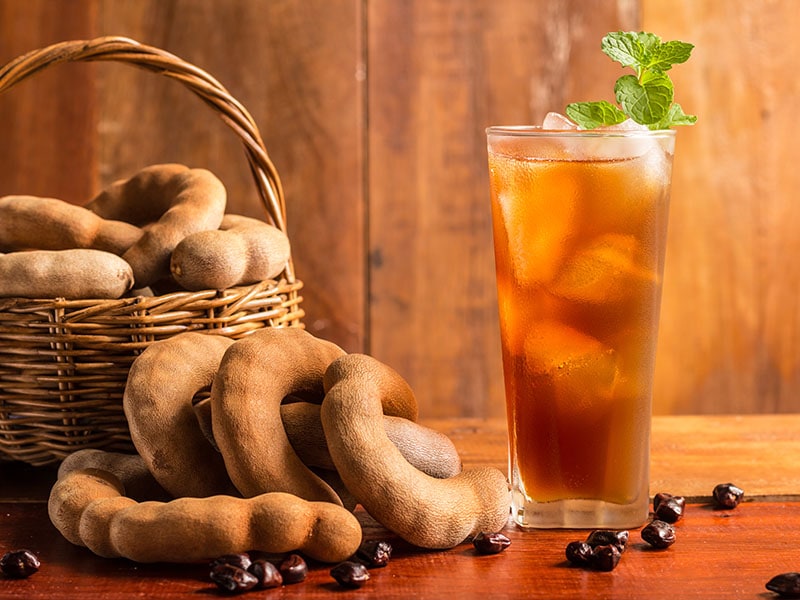 A type of fruit that has its meat divided into many small pods, tamarind is widely grown in Africa and tropical regions like India and Pakistan. The fruit is brown when ripe and light green when it's underdeveloped.
Tamarinds usually grow in bean-like pods on hardwood trees, with the edible pulp surrounding the seeds becoming sweeter as it ripens, reaching a sweetness similar to bananas. However, unripe tamarind is quite sour.
This fat-free fruit is packed with fiber, vitamins, minerals, and amino acids (2). Additionally, its natural sugar content makes it high in calories. Furthermore, tamarind also supports heart health and staves off diabetes.
The fruit is a versatile ingredient in curries, chutneys, drinks, sauces, marinades, and candies. You might be surprised that it's a key component in Worcestershire sauce and is often enjoyed with fish or rice.
Make your own Tamarind paste for Thai cooking.
5. Texas Persimmon
These small and lime-like fruits are a descendant branch of the Persimmon family. Native to Texas, Oklahoma, and some states of Mexico (Chihuahua, Coahuila, Nuevo León, and Tamaulipas), the Texas persimmon often produces fruit from July to September.
The most striking feature of the fruit is its black color when it's ripe. The fruit is described as sweet, and its flesh can be consumed fresh from the tree.
Explore a new type of fruit, the Texas persimmon.
6. Thimbleberry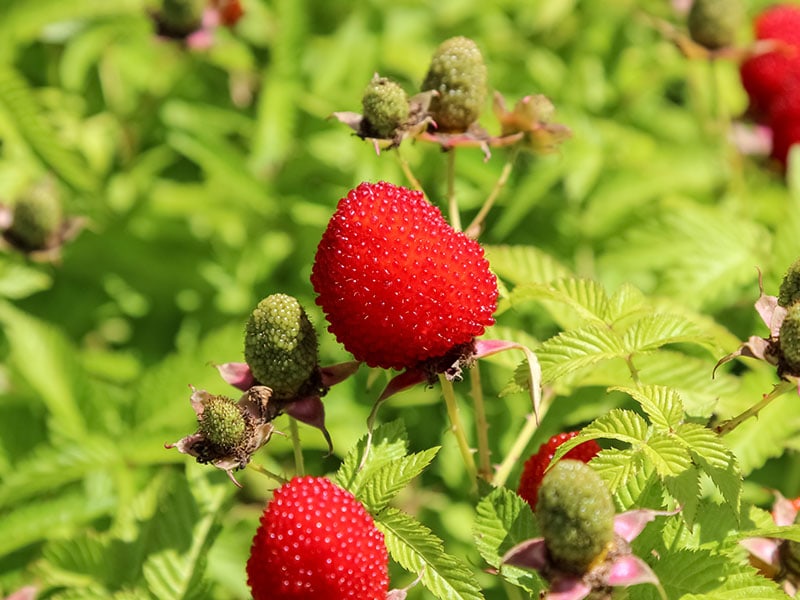 Another name for this berry is "redcap". This berry species is a part of the Rubus family, native to the North American region. The redcaps are finger-knuckle size and display bright red when fully ripe.
Thimbleberry can often be found in wild areas and is often made into jam or jelly. The berry has a distinctive tart-sweetness, making it completely different from any other berry you've tasted before.
7. Tart Cherry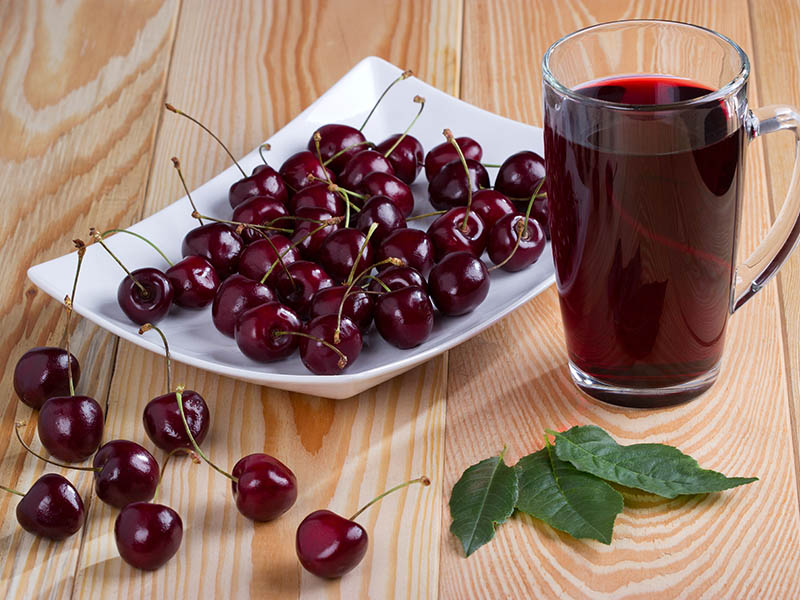 Resembling regular cherry varieties by the dark red color, this smaller type is often made into juice to enjoy. You can find these tart cherry trees growing across the U.S and Canada.
Tart cherries, especially the Montmorency variety, stand out from sweet cherries in terms of taste. While eating them raw or fresh is unusual, they're perfect when dried or canned as pie fillings.
It's highly recommended to try this if you're on a diet. Containing around 20 times more vitamin A than sweet varieties (3), tart cherries can also supplement health products. But that's not all – these little gems are believed to offer anti-inflammatory and heart-healthy benefits.
8. Topaz Apple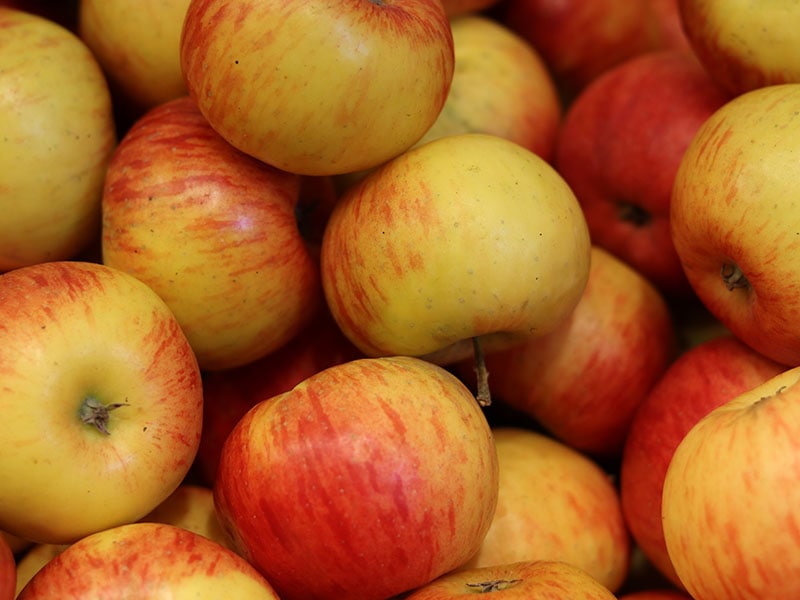 Originated from the Czech Republic in the 1990s, Topaz apple has high resistance to diseases and is often favored by farmers for the tree's consistency in bearing fruit.
The apple, when ripe, will mostly have a signature red and partly yellow in some areas. Its texture is described as crunchy and flaky, with a bit of acidic flavor to it. Topaz apple is a healthy snack or can be used to make a salad as well.
9. Tamarillo
Tamarillo is an edible fruit that is cultivated in areas with warm climates. The fruit bears a resemblance to plum tomatoes but has a red, gold, or amber color when fully ripe.
Tamarillos, also known as tree tomatoes, may look similar to their distant cousin, the tomato, but they have their own unique characteristics. With smooth skin and juicy flesh, peeling off the skin before eating is common.
Try cutting a tamarillo in half, sprinkling sugar on top, and scooping out the flesh – just like a grapefruit! You can find edible flat seeds, larger than tomato seeds, inside of the fruit. Tamarillos are ideal for chutneys, smoothies, salsas, and hot sauces with its sweet, tangy profile.
The "tree tomato", a fruit that can replace tomato in your next salad.
10. Tayberry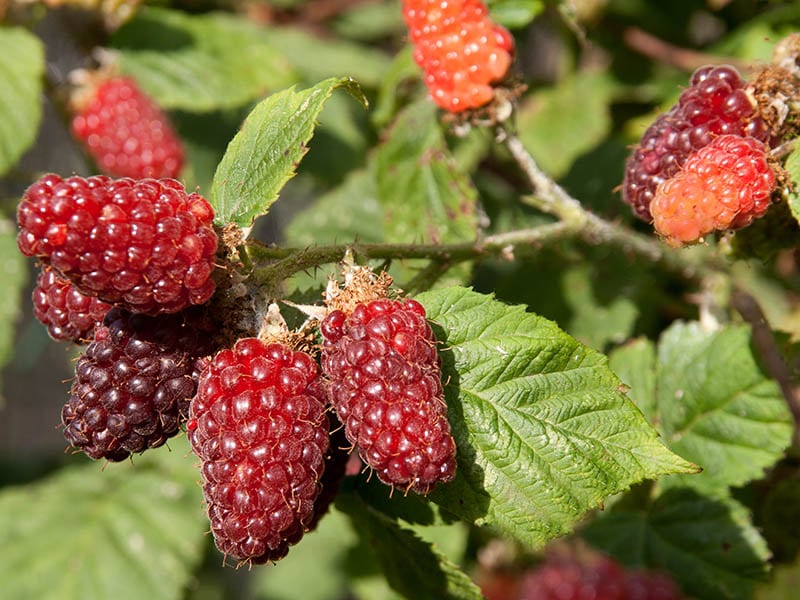 Named after the Tay River, Tayberry was first developed in Scotland. It possesses a sweeter taste and a similar flavor to raspberry.
The fruit is like an elongated version of a regular raspberry. If you're looking for a new topping for your cereals or an ingredient to your pie, then the tayberry is a solid option, thanks to its berry-like flavor and enhanced sweetness.
Vegetables And Herbs
11. Thyme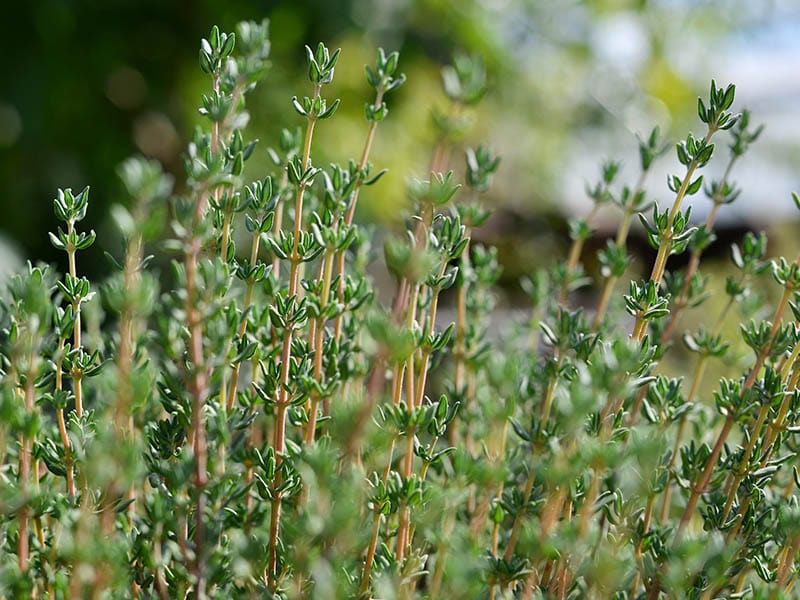 Being a member of the Thymus genus, thyme is known for its aromatic flavor. Thus, people often use it as an additive in cooking.
From a member of the mint family and closely related to oregano, thyme is a versatile herb with tiny leaves on its stem. You might find it an ornamental item when combined with other herbs, like in herbes de provence, or used as a substitute for basil, marjoram, or rosemary.
As a common pantry staple, thyme adds a woodsy, sharp grass and floral touch to dishes in many cuisines. It also has medicinal properties, such as treating respiratory problems.
Historically, the Egyptians used thyme for embalming, while the Ancient Greeks added it to baths and burnt it as incense. Today, you can even find thyme in mouthwashes such as Listerine!
People also use thyme to disinfect fungi and bacteria infections in some areas (4). However, the herb is more commonly used as a means to cure coughing and loss of hair.
12. Taro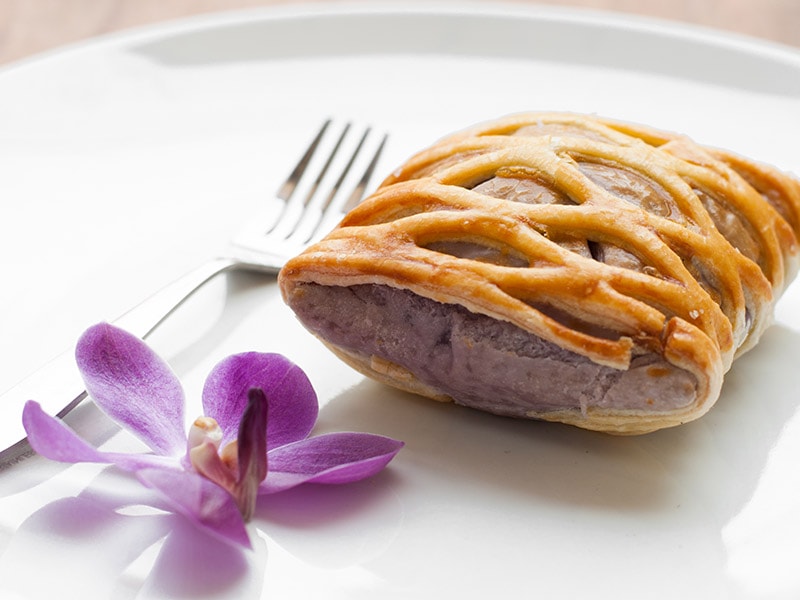 Also known as eddo or dasheen, taro is a plant with both edible roots and leaves native to the Southern Asia region. It has a dark brown color on the outside and a starchy texture on the inside when unearthed. Tarot is normally enjoyed after being boiled and dipped in sugar to improve flavor.
The tuberous root usually thrives in tropical regions with white flesh that's starchy and mildly sweet, quite like a potato. What sets it apart is its richer, nuttier flavor, similar to sweet potatoes.
Packed with fiber, vitamins, and minerals, taro is fantastic for heart health, blood sugar levels, and a robust immune system (5). Plus, it's a champ at absorbing spices and marinades, making it a favorite ingredient in various dishes.
Learn more on how you can cultivate Taro by yourself.
13. Tapioca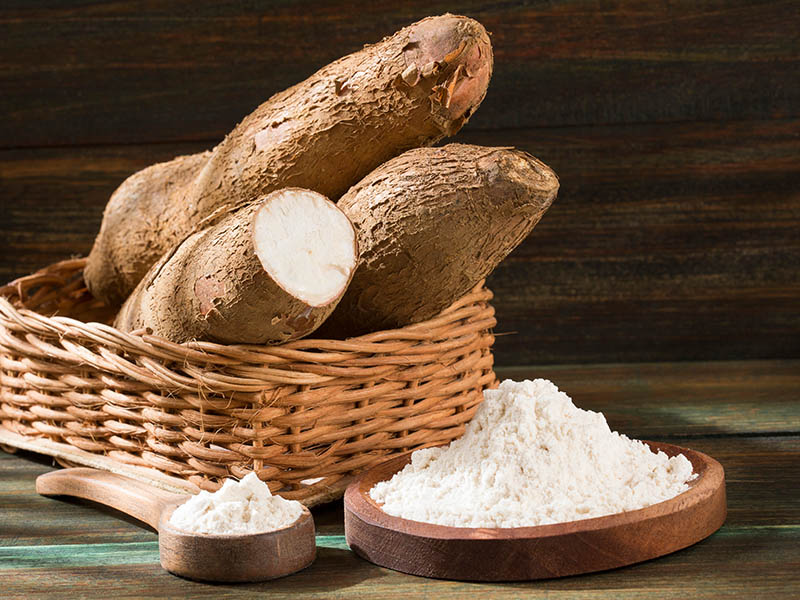 Tapioca is made from the cassava root by extracting the starch from the cassava root. It can often be found in the West Indies, Central and South America.
Tapioca is a gluten-free starch with a neutral flavor, making it a fantastic thickener for various dishes. It's often found in gluten-free flour blends and can be used in sweet and savory recipes, such as soups, gravies, sauces, candies, puddings, and desserts.
The extracted starch will be used to thicken the liquid mixture, giving your dish a sauce-like consistency. If you're a fan of boba tea, you'll recognize those gummy tapioca pearls that make the drink so enjoyable.
14. Tarragon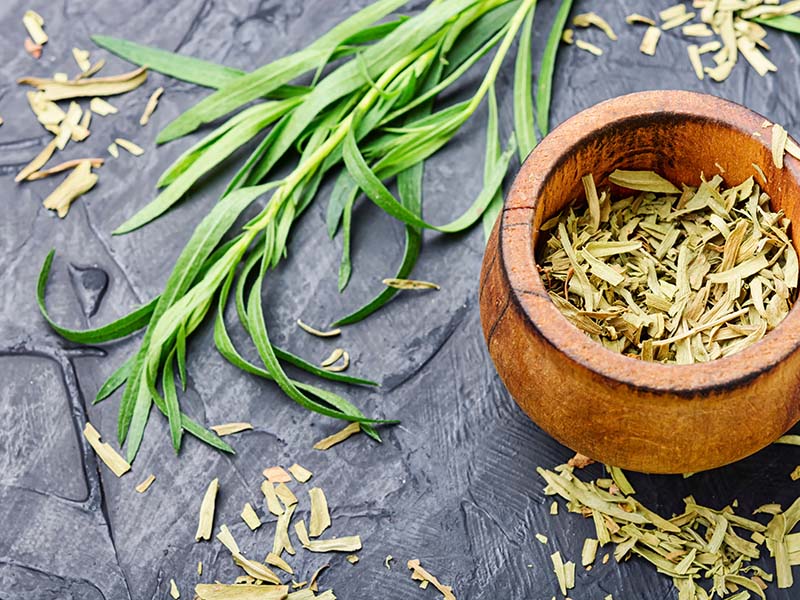 Tarragon is a species that belongs to the sunflower family. It can often be seen in cold climate areas like Siberia. The herb is often used as a flavor enhancer.
Tarragon is a leafy green herb with a signature bittersweet flavor combining mild vanilla and sweet aniseed. The herb is a favorite in French cuisine for enhancing salad dressings, chicken, fish dishes, and sauces.
The taste of tarragon is described as a subtle licorice flavor with a citrus hint similar to an anise aroma. It also pairs exceptionally well with fish and poultry; you can find it fresh or dried year-round in most grocery stores.
Typically, tarragon will be added in the process of cooking. The herb is well-known for dealing with indigestion, nausea, and insomnia (6).
15. Truffle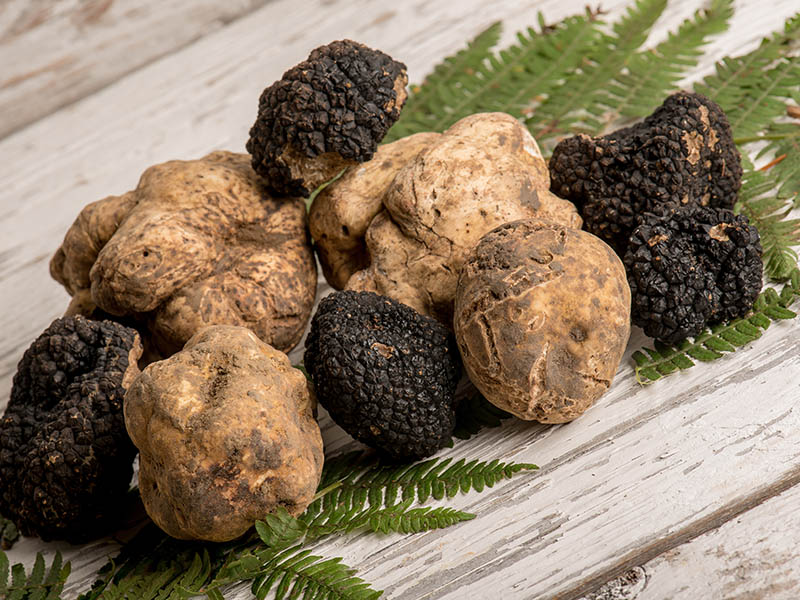 One of the most luxurious ingredients in cooking, truffle mushroom is difficult to cultivate and often collect in the forest under oak, hazel, or beech trees.
Truffles originating from the Tuber genus in the Tuberaceae fungi family are a gourmet delight! Their earthy, musky flavor makes them perfect when grated or thinly sliced over salads, pasta, or gourmet loaded fries.
Famous for their high price, truffles can surprise you with their deep flavor and a slight garlic aroma. These sought-after fungi can be incredibly pricey (up to $4,000 a pound!).
Growing near tree roots, female pigs once hunted truffles, but dogs are now the preferred truffle hunters. Truffle oil and truffle butter, made by infusing olive oil or regular butter with truffles, offer a more accessible taste.
Discover the reason why wild truffles are so expensive.
16. Turban Squash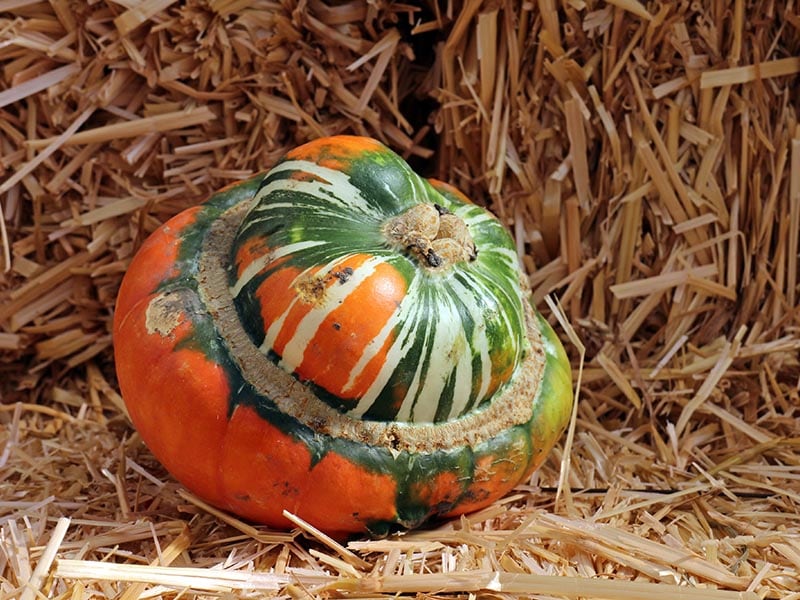 While turban squash may look like it came out of a sci-fi product, this Turkish squash is a native species to Central and North America.
This heirloom variety of winter squash can weigh up to six pounds and gets its name from its unique turban-like shape. Although it can be challenging to cut or peel, its nutty, smooth taste is worth the effort.
The squash is said to have a nutty flavor and is commonly found ripe when the skin turns deep orange. You will find turban squash served widely in casseroles, chilis, salads, curries, pasta dishes, or stew.
Quite similar to pumpkin, Turban squash is a versatile option for substituting other winter squashes. You can steam, roast, bake, or puree turban squash for pies and quick bread. Plus, it's a great source of vitamins A and C, calcium, and potassium (7).
17. Turnip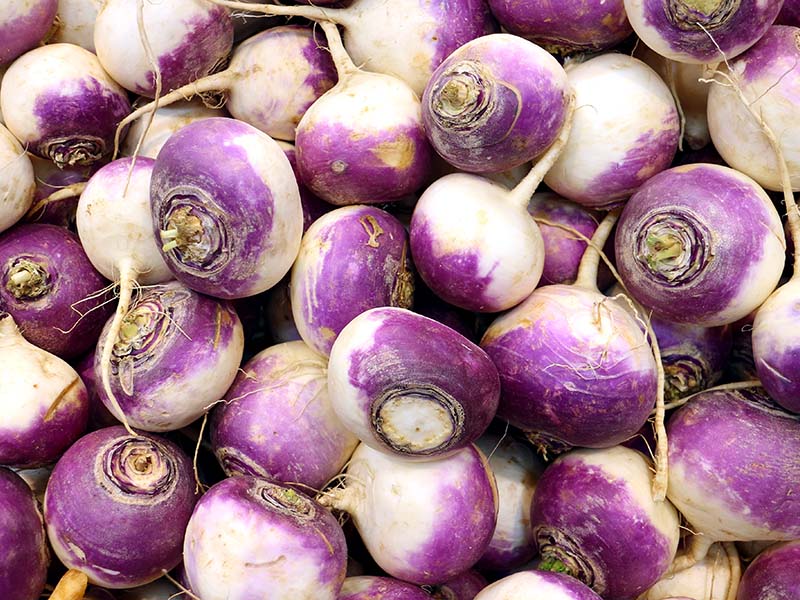 Turnip is a root-type vegetable of the Brassica Rapa species that often grows in mild climate areas. Despite being underground, the root displays a white and purple color.
Turnips are edible tubers related to napa cabbage and bok choy, but they're often confused with potatoes. These root vegetables are closely related to radishes or mustard, with both the root and leaves being edible. You can roast, bake, mash, or eat them raw.
Young turnips can be consumed raw. If you know the right ways to preserve your turnip, its flavor will remain sweet and a bit spicy. Once cooked, they have a milder flavor, similar to potatoes.
Older, larger turnips require peeling and may have a bitter aftertaste. Rich in vitamins A, C, and folate (8), turnips make a great low-carb potato substitute. Fun fact: in some regions like northern England, Scotland, Ireland, and Canada, "turnips" refers to rutabagas, a vegetable with larger roots!
18. Triticale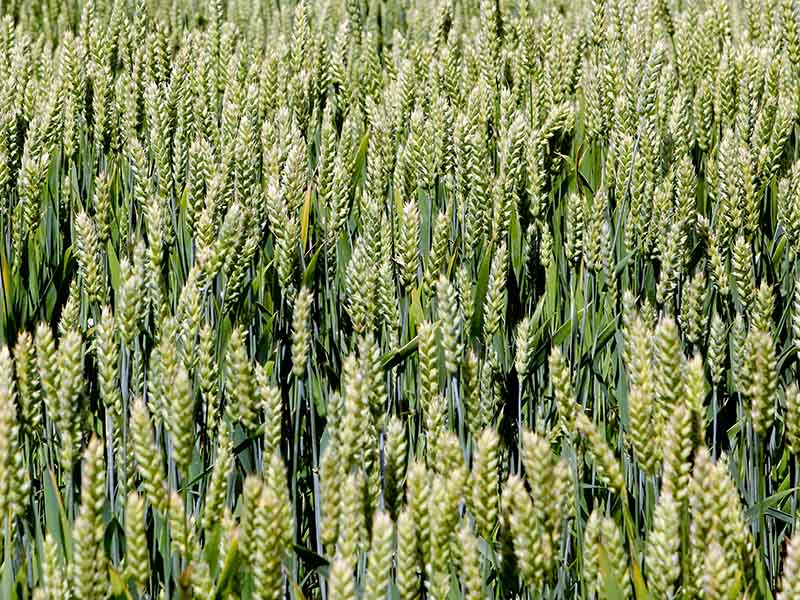 Germany and Scotland were the 2 first countries in the 19th century to give birth to Triticale, a hybrid plant between wheat and rye.
Triticale is a cereal grain you might not have encountered yet, as it's mainly found in specialty markets. This versatile grain comes in various forms, such as whole berries, flour, cereal, bread, flakes, or crackers.
You can use it to create porridge or baked goods. What makes triticale special are its health benefits, which include promoting digestion, supporting heart health, and increasing metabolic rate and energy levels (8). Additionally, it even prevents asthma, diabetes, and skin conditions.
Triticale is mostly used as food for other livestock and appears in cereal as a substitution for wheat. You won't be able to find whole-grain triticale in the market because it is usually grounded into flour for easier uses.
19. Tabasco Peppers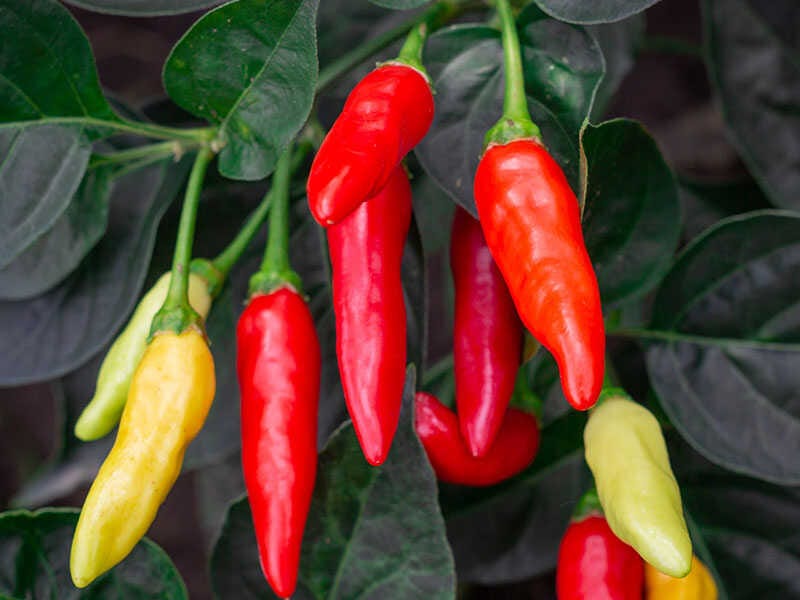 Tabasco peppers, a chili variety from the Mexican state they're named after, are part of the Capsicum Frutescens species. They're quite pungent, with a heat level of 30,000 to 50,000 Scoville Heat Units (SHU), making them 6-10 times hotter than jalapenos.
These peppers start as pale yellowish-green, then transition to yellow and orange, and finally ripen to bright red. You might recognize the name, as Tabasco peppers are famously used in the iconic Tabasco hot sauce! Their popularity is only after jalapenos.
20. Tigernut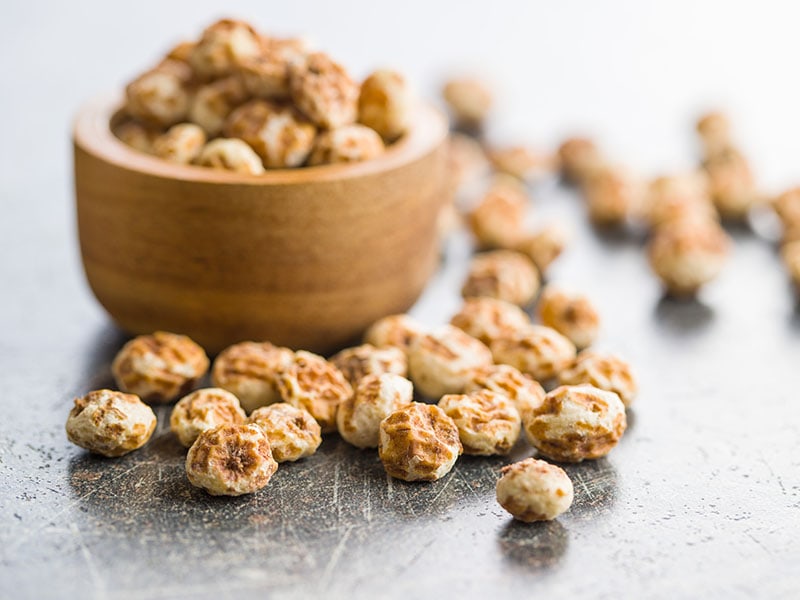 Tigernuts, despite their name, are actually small root vegetables from the yellow nutsedge plant (Cyperus Esculentus) instead of being a nut. These marble-sized, chewy tubers commonly taste like a mix of almonds and pecans.
They're known to reduce blood sugar spikes while being a gluten and dairy-free option. Tigernuts are a nutritional powerhouse with fiber, plant-based protein, vitamins C and E, calcium, and magnesium (10).
Try germinating or roasting them to enhance their antioxidant levels and nutrient absorption! You can enjoy tigernuts raw, roasted, boiled, soaked, or even in flour, oil, and milk forms.
21. Tomatillo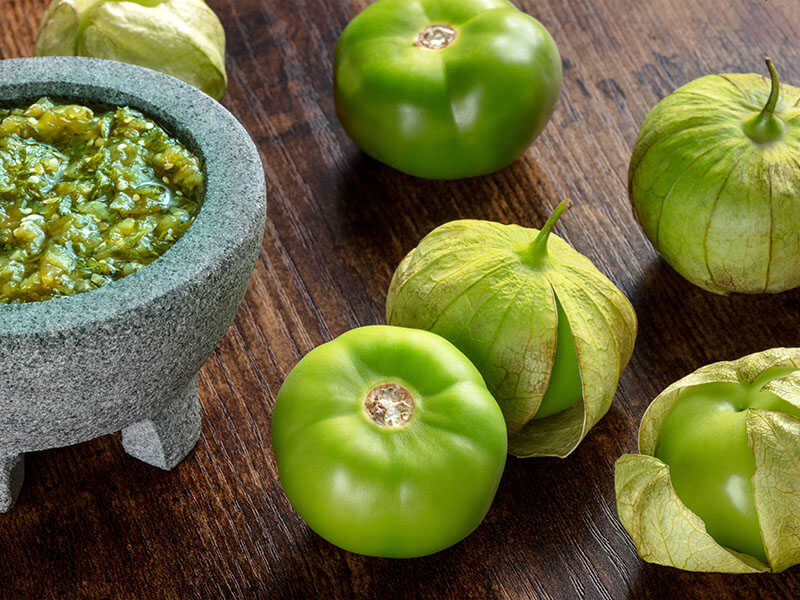 Tomatillos, sometimes called Mexican husk tomatoes, Mexican ground cherry, or large-flowered tomatillo, have been a staple in Mexico since the pre-Columbian era. They're especially delicious when cooked into dishes like the popular salsa verde.
Mostly grown in the Mexican states of Hidalgo, Morelos, and the highlands of Guatemala, these green fruits might resemble unripe tomatoes but have a distinct flavor. You can savor them raw or try them roasted, grilled, or sautéed.
Main Dishes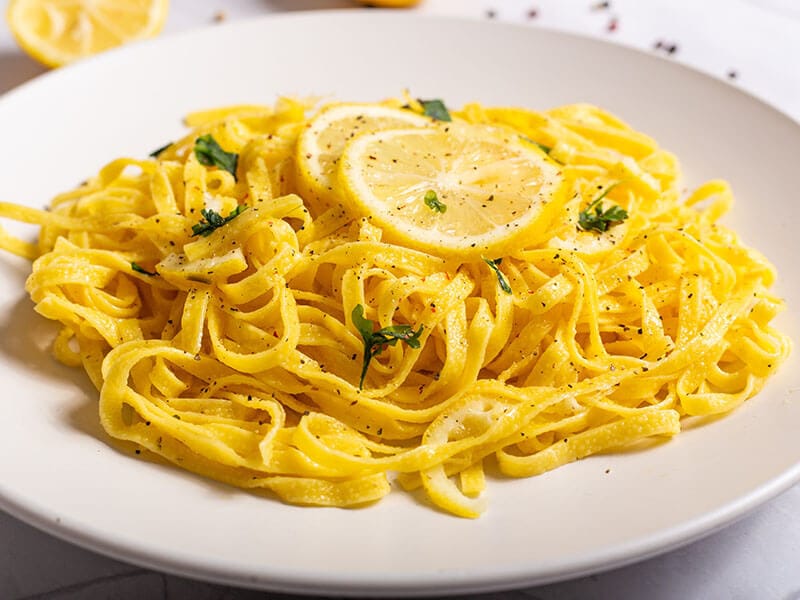 Tagliatelle is a type of flat Italian pasta, which can be used in many traditional Italian dishes. Its long and flat ribbon-shaped pasta might remind you of its cousin, fettuccine. Each pasta strain is flattened out at around 6mm wide.
Traditionally, tagliatelle pasta is made of eggs and flour. The rough texture of the pasta suggests the pasta is best served along with viscous sauces. It's traditionally served with meat sauce, creating a mouthwatering and satisfying dish.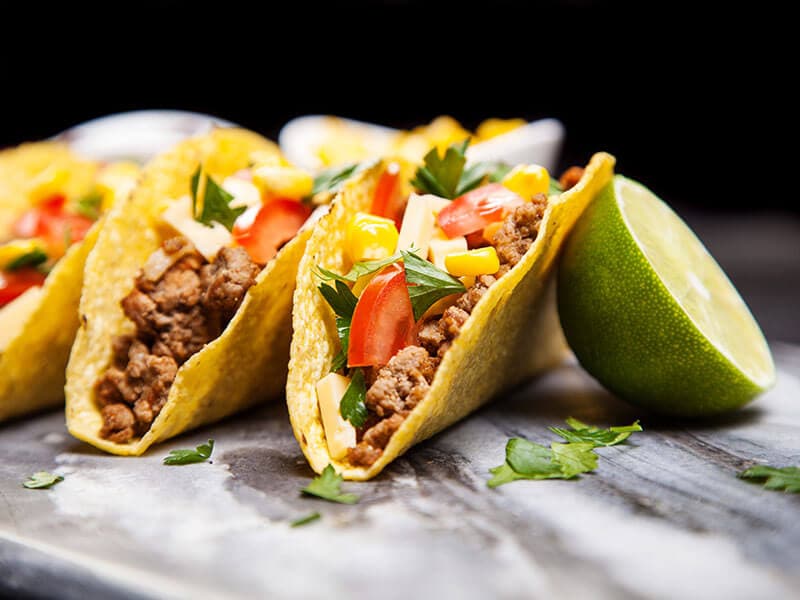 One of Mexico's most staple dishes, Taco is a combination of wheat tortillas and various fillings. The tortilla will be grilled on a pan or open fire for better texture.
Tacos come in so many delicious varieties, from street and soft tacos to crispy and chicken tacos. They're incredibly versatile and can be enjoyed on the go or savored alongside a side of rice and beans.
Fillings can range from any type of meat mixed with sauce and lettuce for garnish. People around the world love tacos for their diversity.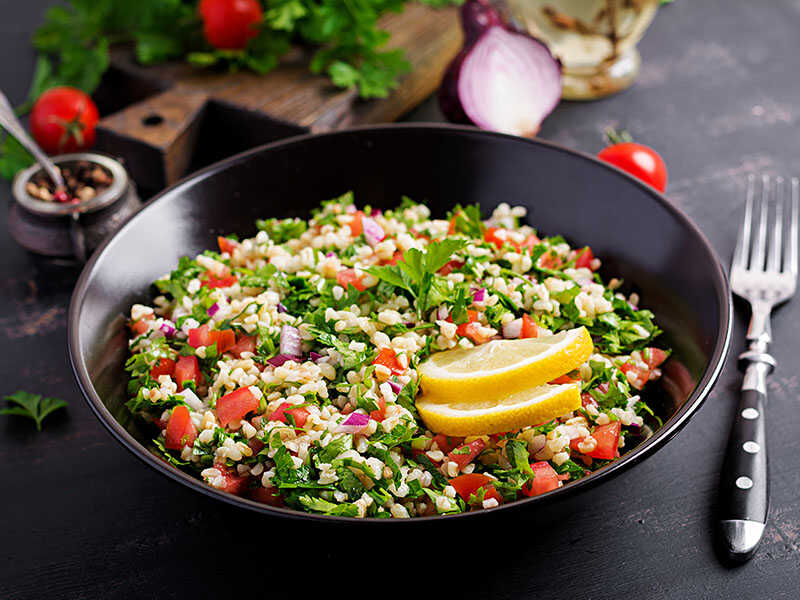 Tabbouleh is a type of salad full of chopped-up parsley mixed with onion, bulgur, tomato, and mint. The strong fragrance of parsley is the highlight of the salad but it could be challenging for people who hate parsley.
You will encounter this dish in the Mediterranean region and other Arabian countries. Normally, tabbouleh will be mixed with olive oil, lemon juice, and salt for a flavorful salad mixture.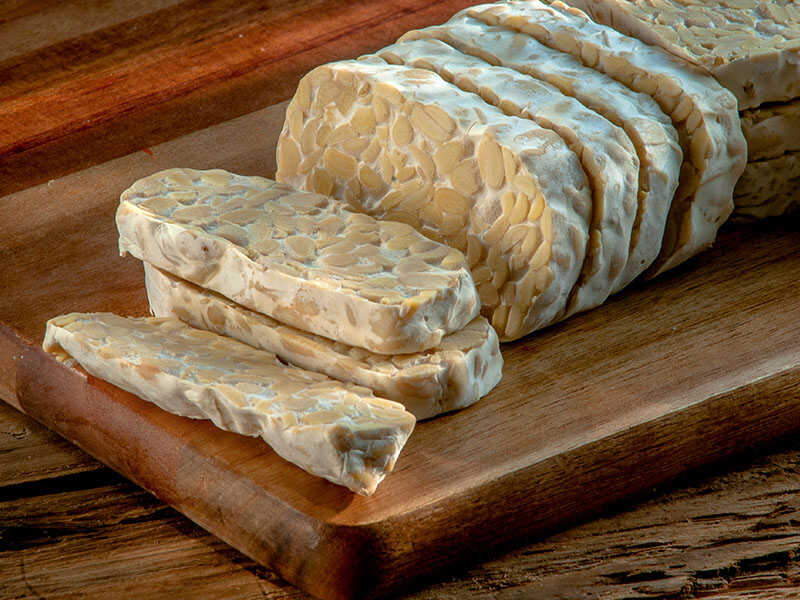 Compared to tofu, tempeh is considered a much healthier option. This traditional Indonesian treat is made by adding a fungus called Rhizopus oryzae to soybeans to kick-start the fermentation process.
With its nutrient-dense profile and cake-like consistency, tempeh offers a tasty alternative to tofu. This versatile food has a unique flavor reminiscent of mushrooms, making it a delightful addition to various dishes.
Thanks to its texture, vegetarians can use tempeh as a reliable substitution for meat.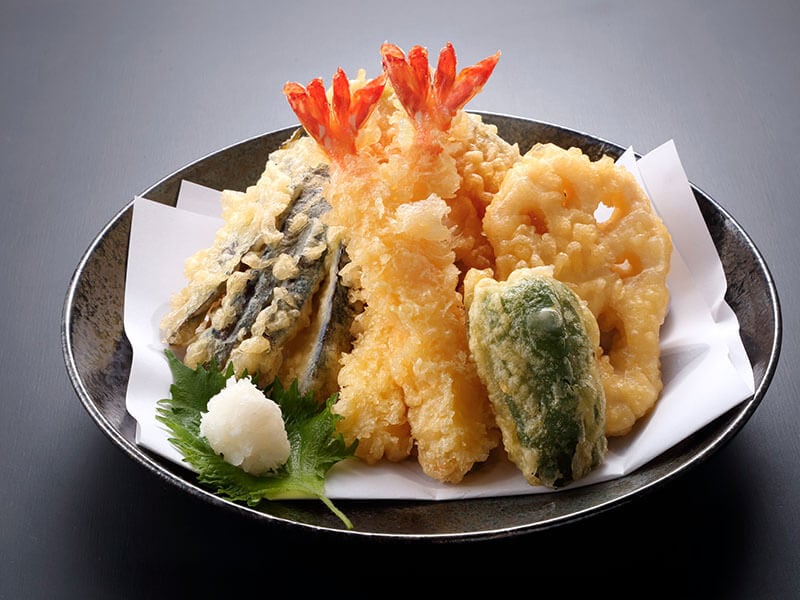 Tempura, a general term for fried dishes, is a staple in the Japanese art of cooking. Most commonly, seafood and vegetables will be covered in egg wash and flour to create a unique crunchy texture.
Tempura is often served with teriyaki sauce or Japanese soy sauce as dipping sauces. You may think that tempura is plain because the flour is often unseasoned. However, the dish is served with sauces to add to the flavor.
In fact, you can also enjoy these treats as an appetizer!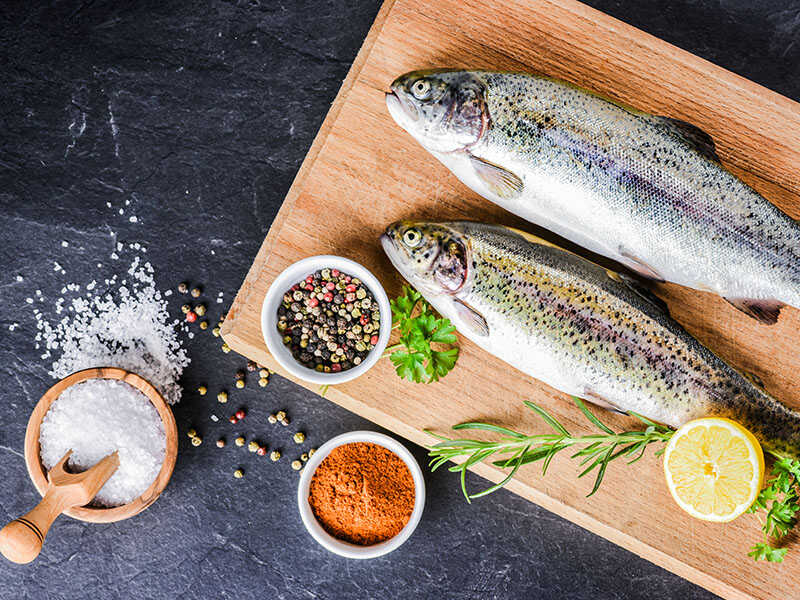 Many people often mistake trout and salmon because of their similarities in meat, texture, and flavor. But trout is a tasty freshwater fish, closely related to the salmon family. This flavorful fish is full of vitamins and low in pollutants like mercury.
However, trout and salmon are separated by many differences, one of which is their living habitats. Trout only live in freshwater environments, while salmon is a saltwater type of fish.
There are many ways to process trout, but the simplest way to retain all the trout flavor is to wrap it in aluminum foil and grill it over a fire.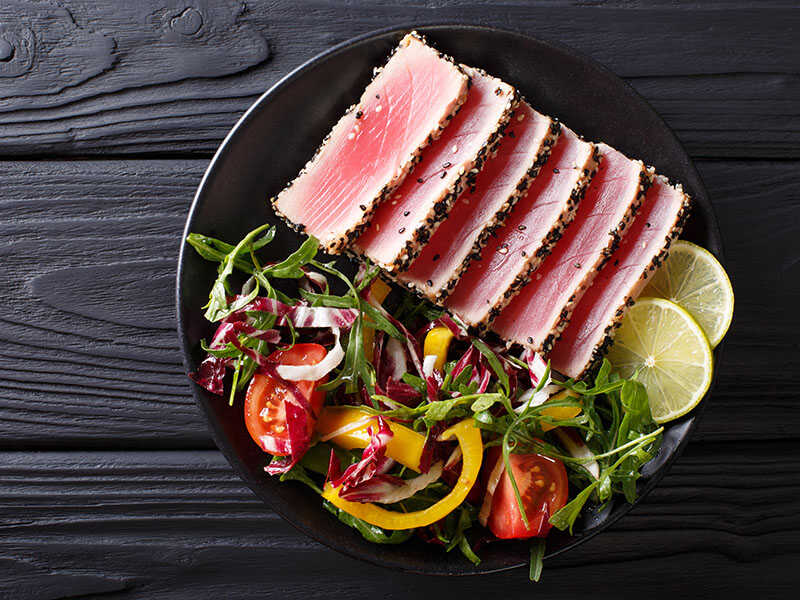 Often referred to by fishermen as chicken of the sea, tuna is a saltwater fish that has a firm meat texture. The most outstanding feature of tuna is in its red meat, which can be eaten raw as sushi or sashimi in Japanese culture.
Tuna provides a great array of nutrients like iron, vitamins, potassium, selenium, and omega-3 (11). Don't be intimidated if you're not used to raw tuna because sashimi is perfectly safe to enjoy.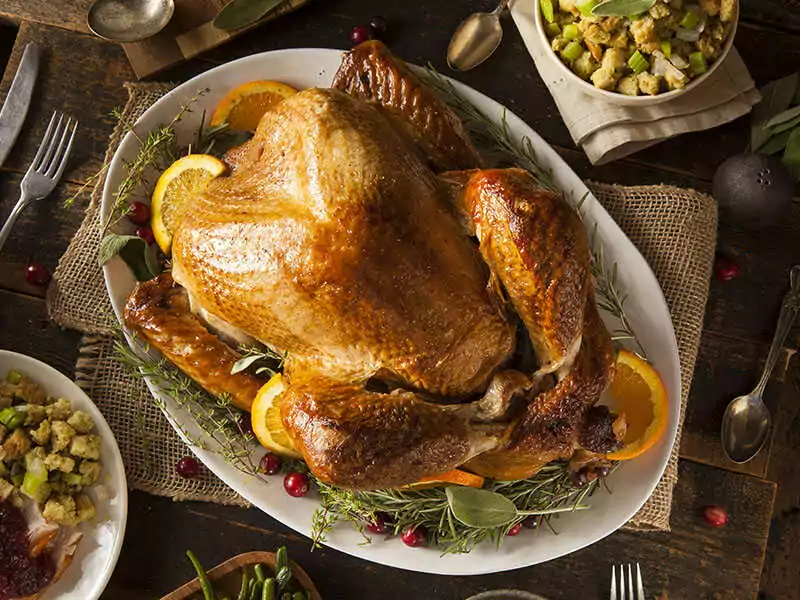 The most iconic dish of every Thanksgiving, turkey is a type of poultry native to North America. On average, a turkey will be 3 to 4 times heavier than a chicken, which makes it a very big bird to handle.
In terms of nutritional values, turkey meat has similar benefits and characteristics to chicken. Turkey is often intertwined with chicken meat to create various textures for the dish.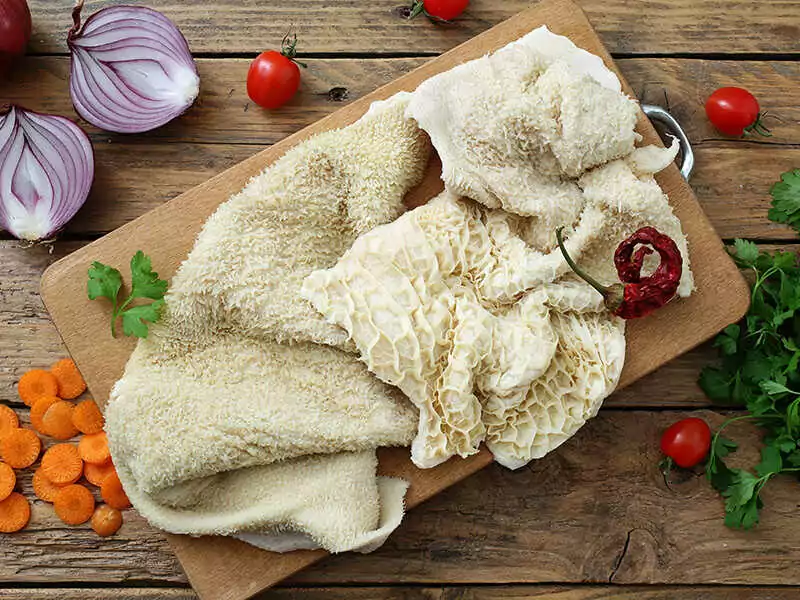 Tripe is the stomach of farm-raised animals. Although it's not common to see tripe in European cuisine, it is a very popular choice in Asian countries.
Tripe is not a common sight in US grocery stores or restaurant menus, but it's a nutritious option for adventurous eaters. This unique ingredient is low in calories and high in protein, calcium, iron, and vitamin B12.
Because the inner structure of the tripe looks similar to a beehive, it's good at soaking up sauce or can be marinated for hours to intensify the flavor. If you're familiar with liver, then you will most likely love tripe because it has the same flavor and chewy texture.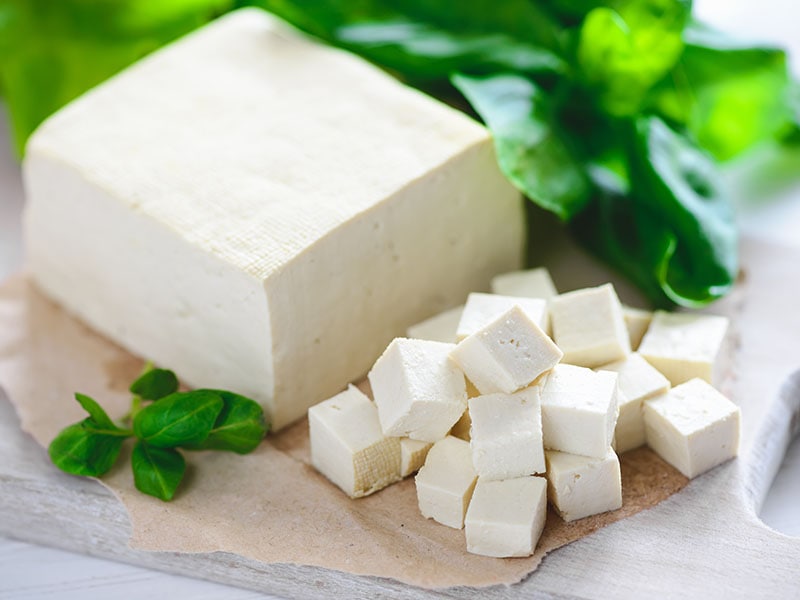 The tofu was first made in China by adding coagulant substances to boiled soybeans. Tofu has spread all over the world as a solid choice for vegetarians.
Tofu is the result of pressing condensed soy milk into solid blocks, much like how cheese is made. Its high protein content and richness in vitamins and minerals provide essential amino acids while remaining low in calories.
Many people have known tofu for its renowned mild flavor. This taste helps it get implemented in many cooking styles and adopted in numerous culinary cultures. Including tofu in your diet may help reduce the risk of heart disease, cancer, and diabetes.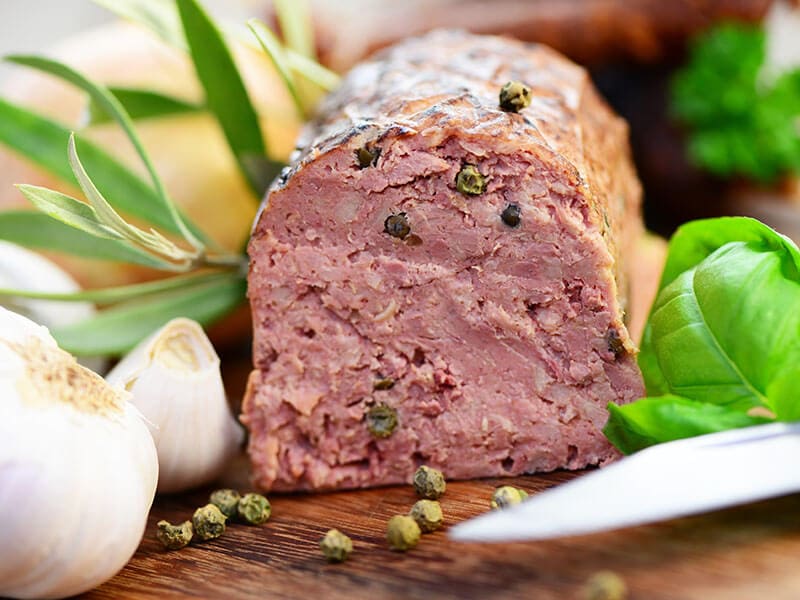 Adopted by the French, meatloaf has been redesigned to fit in with the country's cuisine with the name terrine. It includes ground meat, seafood, boiled eggs, vegetables, and some seasonings.
Terrine can be served at room temperature and enjoyed with some slices of bread. Terrine is not to be confused with pate because the texture of terrine is much chunkier with meat.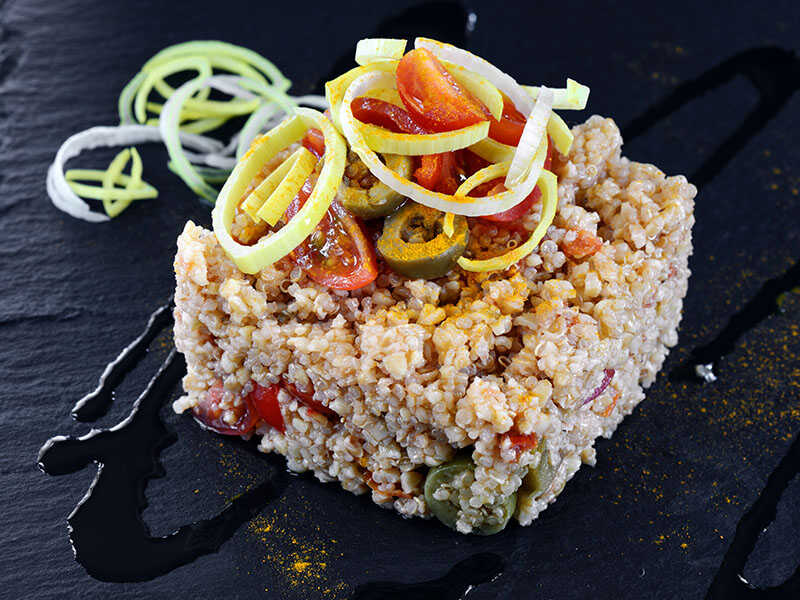 Timbale is a favored French dish with a thick crust made out of pastry sheets or bread. The stuffing inside contains various vegetables, ground meat, and tomato sauce. Then people will bake it in the oven before serving it.
With its origins in the French word for "kettledrum", Timbale is a culinary term with a dual meaning. It refers not only to the delicious food cooked inside that pan but also to the pan used for baking.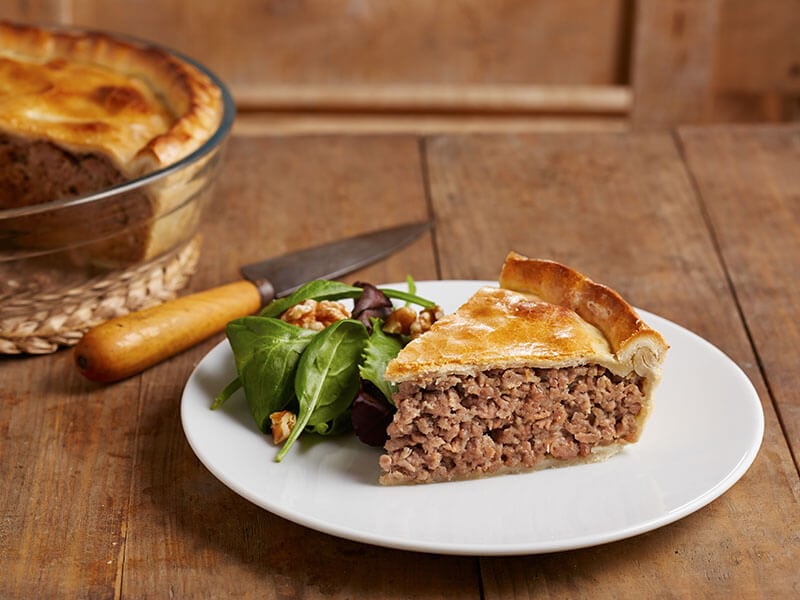 Invented in Quebec, Tourtiere is a French Canadian version of a pie with meat filling. The stuffing consists of minced pork or beef and potato.
It is usually accompanied by pickled beets or sweet and sour sauces when serving. It is one of Quebec's customs to have tourtiere on New Year's Eve as a form of celebration.
Numerous versions of tourtière can be found across diverse Franco-American localities and Canada, as well as within individual families.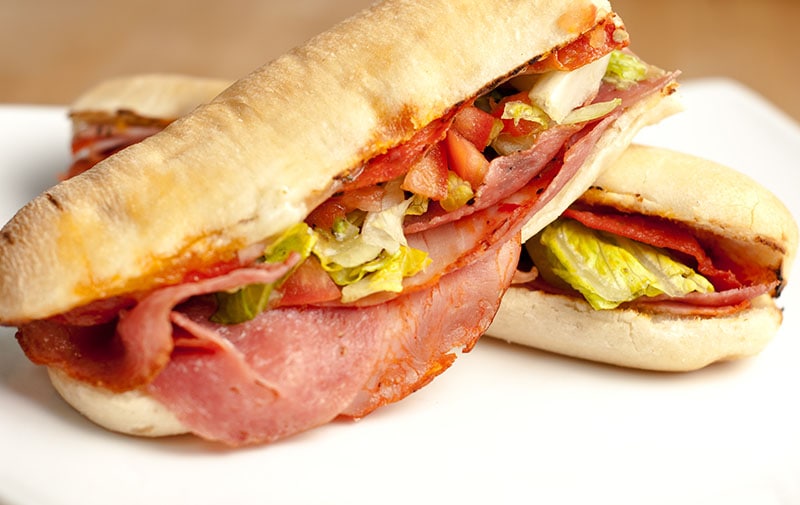 The torpedo sandwich is a long bread stuffed with varieties of ham, meat, and provolone. Records of the torpedo date back to the late 19th to mid-20th centuries, and Italian workers were the first to invent it. In most areas today, people prefer to call it a Sub-sandwich.
There are now many variations of the sandwich with different types of fillings around the world, but it still retains its signature long bread.
36. Tofurkey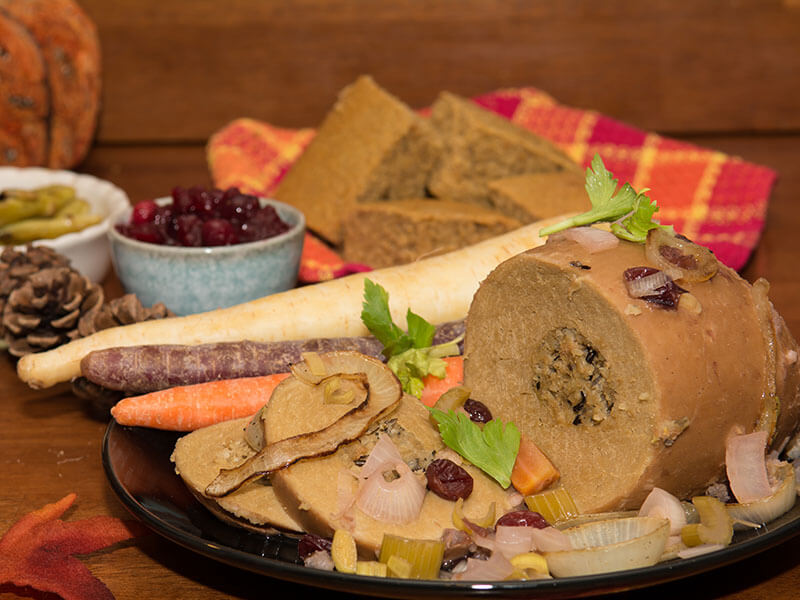 Tofurkey is a delicious plant-based meat substitute, perfect for vegetarian or vegan Thanksgiving celebrations. Made from either tofu or seitan, this tasty alternative is stuffed with grains or bread and flavored with a savory broth.
Herbs and spices add that extra touch, making it a satisfying centerpiece for the holiday table. UnTurkey, one of the pioneering Tofurkey products in the USA, was created by San Francisco's Now & Zen Bakery before ceasing production in 2006.
37. Tamale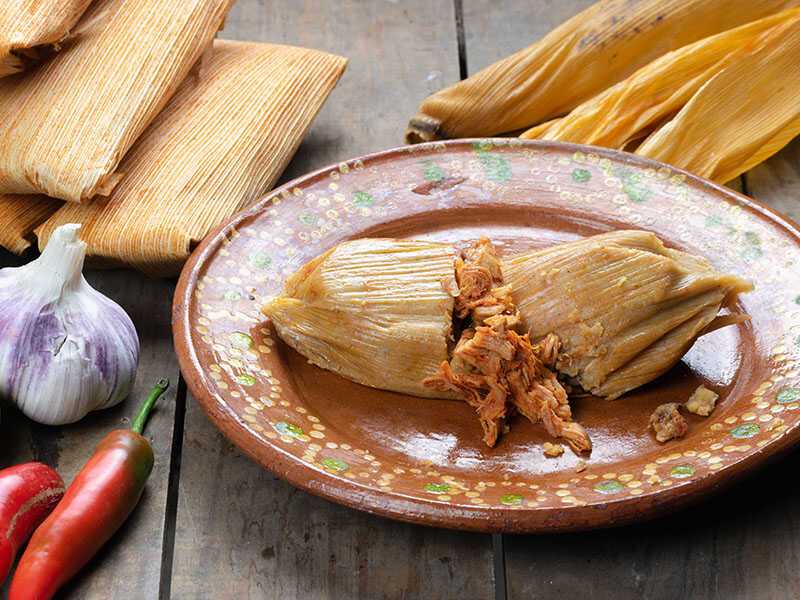 Tamales are a cherished Latin American dish with their origins dating back to Mesoamerica around 8000 to 5000 BC. With fillings that vary by culture, you'll find tamales stuffed with pork, slow-cooked meats, fruit, cheese, or vegetables.
Vegetarian options are also available, using tofu, veggies, beans, or cheese. In addition, tamales have been embraced by numerous cooking styles across Mexico alongside Central and South America. Each tamale used masa dough with meat and steamed it within a corn husk.
38. Tetrazzini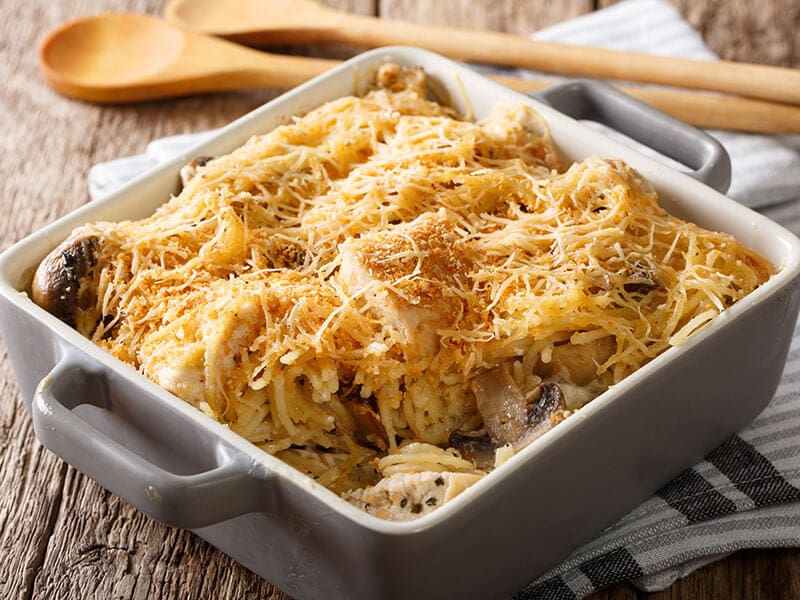 Tetrazzini is an Italian-American comfort food creation that pays homage to the Italian opera star Luisa Tetrazzini. This heartwarming dish combines pasta, chicken or turkey, mushrooms, and a creamy cheese sauce.
You'll discover numerous versions of Tetrazzini out there, some featuring seafood, bell peppers, or peas.
39. Tilapia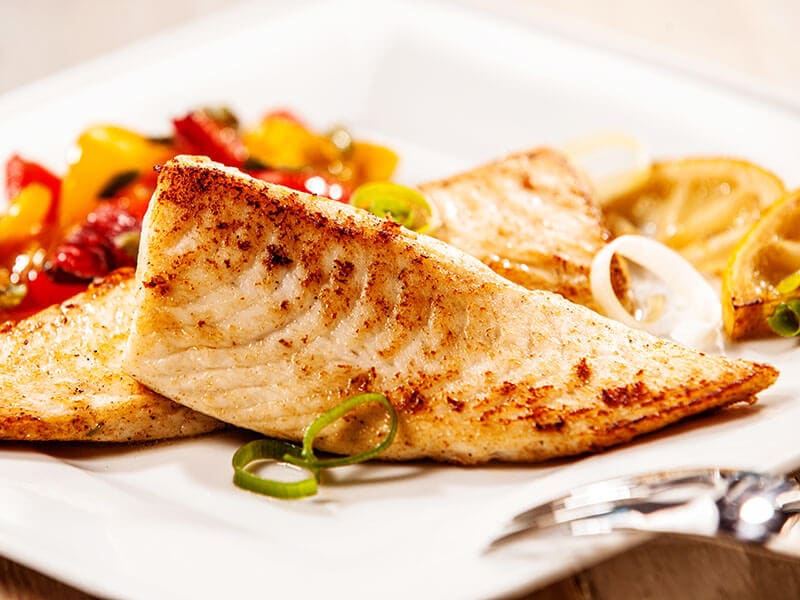 Tilapia secures its spot as the 4th most consumed seafood in the US. With a mild flavor and sweetness, it's a great choice for those not into fishy tastes. This inexpensive and widely popular fish is often farmed for its speedy growth.
The fish is brimming with protein, vitamins, minerals, and vitamin B12, which helps make DNA, maintain the nervous system, and produce red blood cells. Low in fat, saturated fat, omega-3 fatty acids, calories, carbohydrates, and sodium, it's also a rich source of phosphorus.
40. Turbot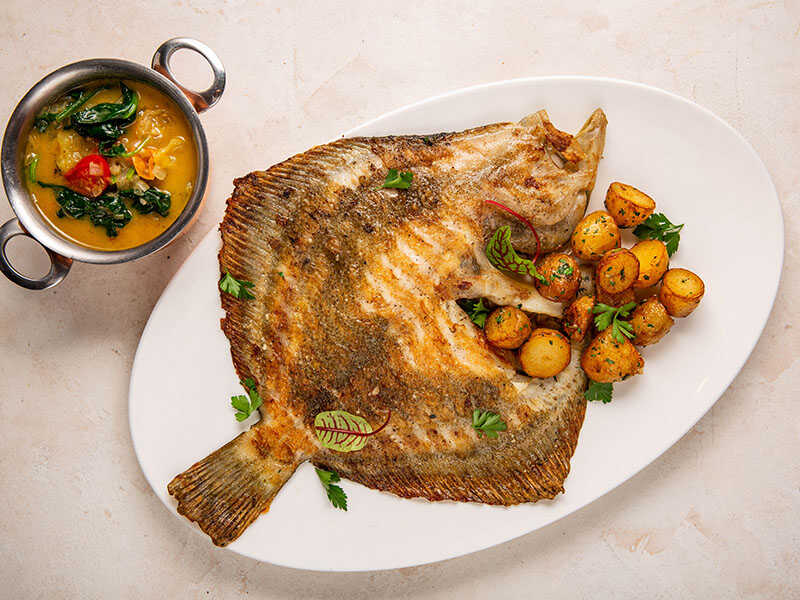 Meet Turbot, the "king of the sea," is a relatively large flatfish belonging to the Scophthalmidae family. Known by various names like brat, breet, britt, or butt, this fish is famous for its mild flavor and firm meat.
Typically, you'll only come across this exquisite fish in the finest restaurants, as supermarkets don't stock this prized catch. With a limited worldwide supply of wild-caught Turbot, it's among the most expensive fish on the market and can be cooked in diverse ways.
41. Tom Yum Soup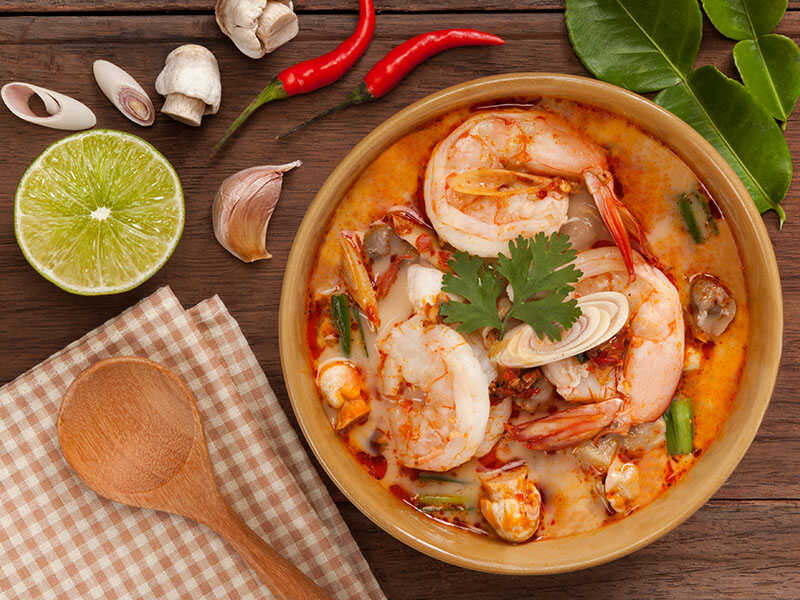 Tom Yum soup is a tantalizing Thai creation that perfectly balances hot and sour flavors. This soup is anything but ordinary when loaded with shrimp and mushrooms. Additionally, it contains an aromatic blend of lemongrass, galangal, and makrut lime leaves.
While it's usually spicy, you can adjust the heat to your preference. Often accompanied by rice, Tom Yum soup not only pleases your taste buds but also offers potential health benefits like lowering cholesterol and boosting your immune system.
Appetizer, Side Dishes, And Snacks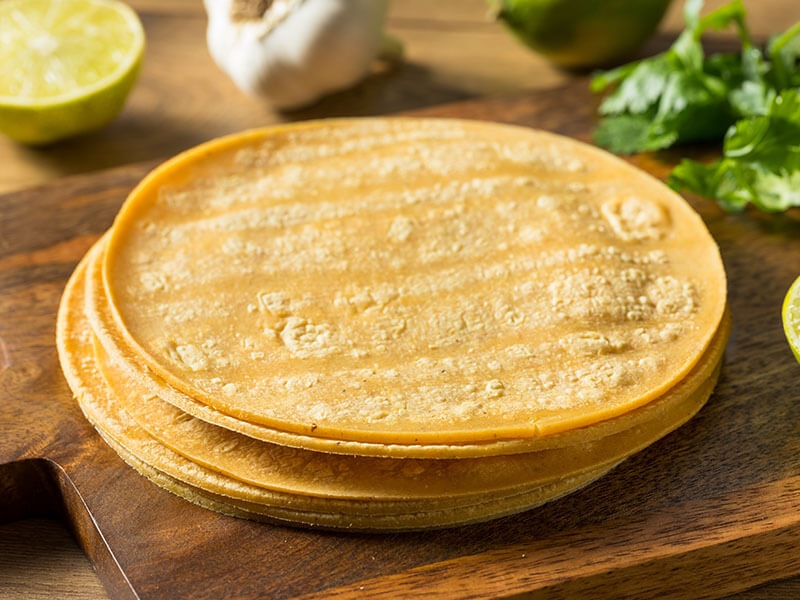 Another staple food of Mexico, the tortilla, is made out of cornmeal or wheat flour. After kneading, the dough will be flattened out into circular shapes.
Before serving, tortillas are often pan-fried or grilled and mostly appear in dishes like burritos and tacos. Most Mexican dishes can incorporate tortillas to go with the sauce or as a base for other dishes that have fillings. They also transform into crispy tortilla chips or add heartiness to tortilla soup.
As a staple in Latin American cuisine, tortillas are particularly well-known in Mexican dishes. These versatile flatbreads come in an impressive range of mouthwatering recipes, including burritos, tacos, enchiladas, fajitas, and quesadillas.
43. Tapenade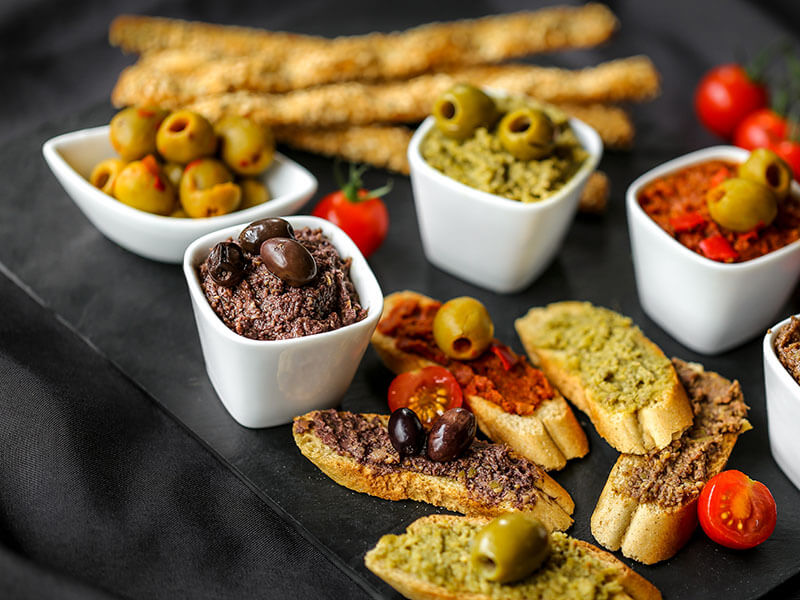 Tapenade is a mouthwatering paste or spread that's gained popularity worldwide. Originating from France, this versatile condiment blends the bold flavors of black olives, anchovies, and capers.
It's fantastic as a sauce for meats like pork, chicken, steak, and seafood (such as shrimp and mussels). The French especially adore using tapenade as a flavorful spread on bread or even as a pizza topping.
44. Tandoori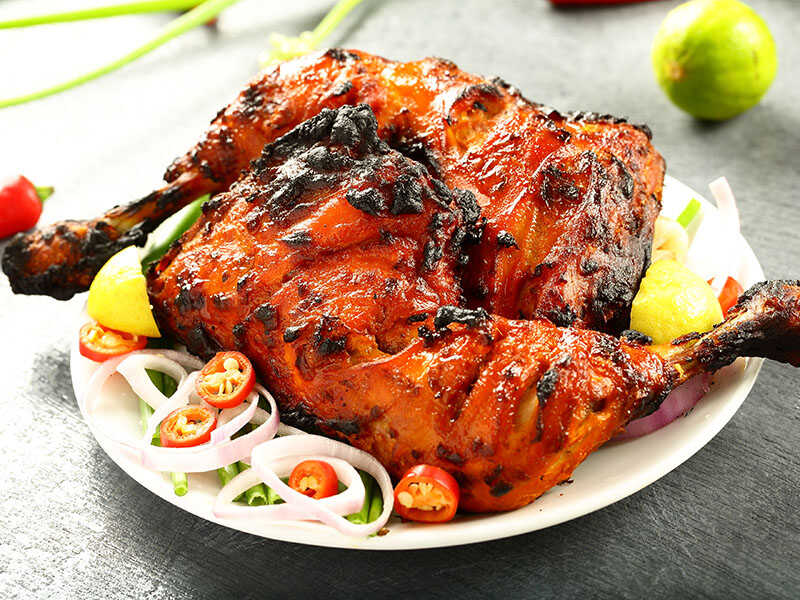 Tandoori dishes are a true gem in Indian cuisine for their unique cooking method in a clay oven. Marinated in aromatic ingredients like garlic, cumin, ginger, and yogurt, the meat becomes tender and flavorsome.
Chicken is the star in many tandoori recipes, but you'll also find mouthwatering options with lamb and Reshmi. Although not too spicy-hot, tandoori dishes can pack a punch if you're new to Indian seasonings.
45. Taquitos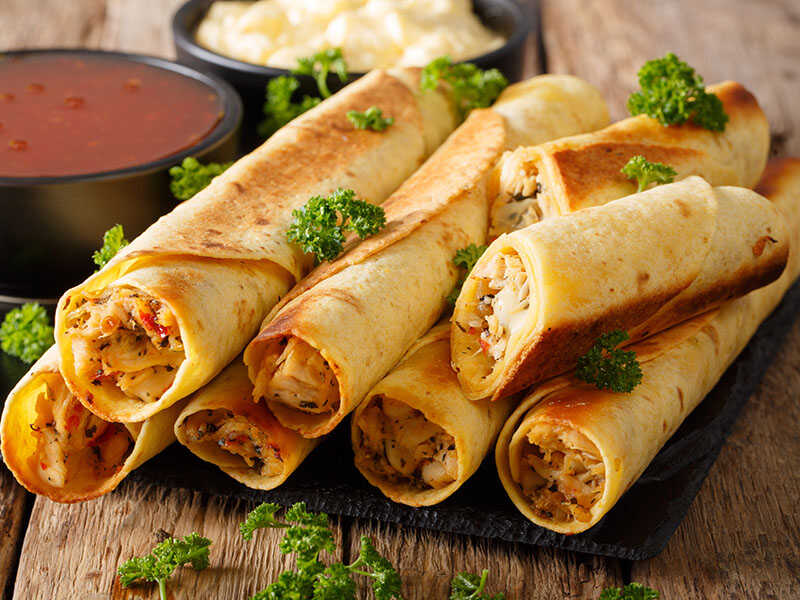 Taquitos are a scrumptious Tex-Mex creation that combines soft tortillas filled with savory ingredients like shredded beef, chicken, or cheese. Once rolled, they're deep-fried to crispy perfection.
Although they're similar to Mexican Flautas, taquitos have their own charm. These versatile bites can be snacks, appetizers, or even meals. Don't forget to dip them in sour cream, guacamole, or salsa, and pair them with a side of rice and beans for a true Tex-Mex experience!
46. Tostada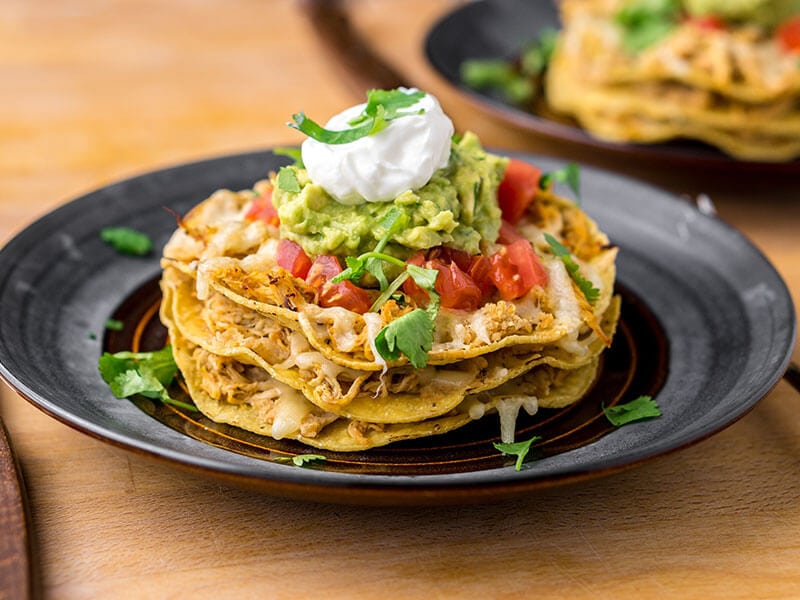 These delightful staples in Mexican cuisine that go by the name Tostada features a toasted tortilla base with endless topping possibilities. Think of them as crispy, flat tacos that can be customized to your heart's desire.
You can enjoy tostadas on their own or use them as a base for other scrumptious foods. Often served as appetizers or "botanas," people often cut them into small triangles for dipping into salsa, guacamole, beans, cream, cream cheese, or even paired with chile con queso.
47. Tater Tots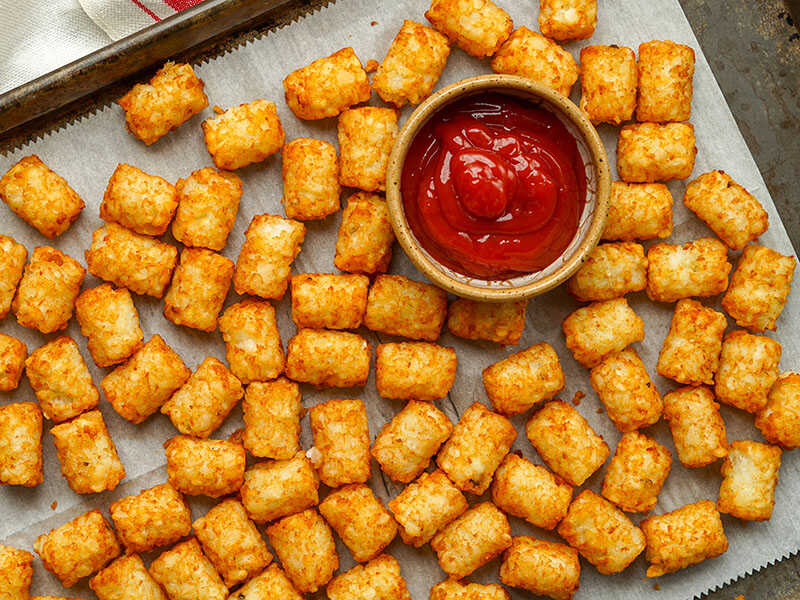 Invented back in 1953, tater tots have become a classic American favorite. You can find them at restaurants, concession stands, food trucks, and grocery stores.
These fast foods are created by shaping shredded potatoes into small cylinders and frying them to golden perfection. Tater Tots are a popular side dish, and in case you're curious, "Tater" is just a playful, shortened version of "potato."
Drinks
48. Tequila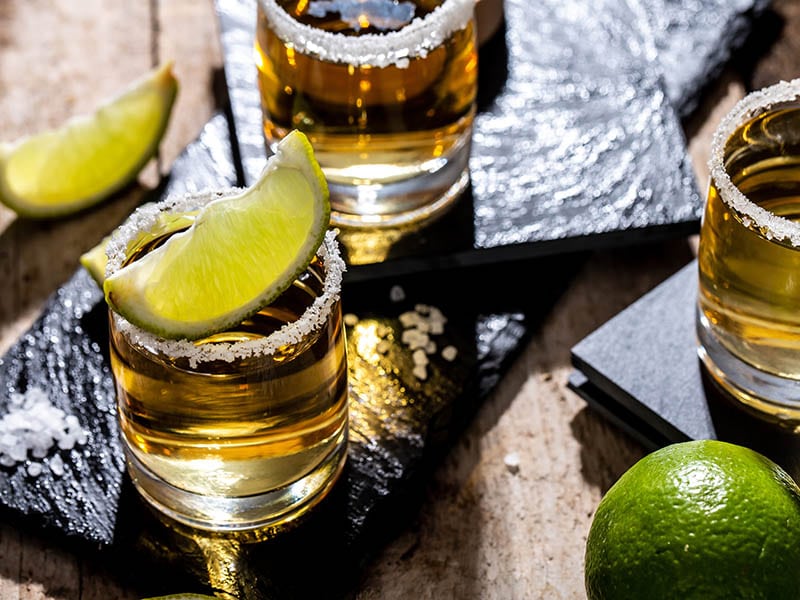 This has to be the most well-known liquor in the world. Tequila is made from the distillation of blue agave plants to extract its sugar content. Tequila is often used in many cocktails and often has a fruity, sweet, and earthy flavor to it.
Fun fact, the name Tequila is only used for alcohol that originated from the state of Jalisco and some towns of Guanajuato, Michoacán, Nayarit, and Tamaulipas. Any other alcohol that may have a similar flavor but is produced outside of the state will have to be called mezcal.
Discover how Tequila is traditionally made in Mexico.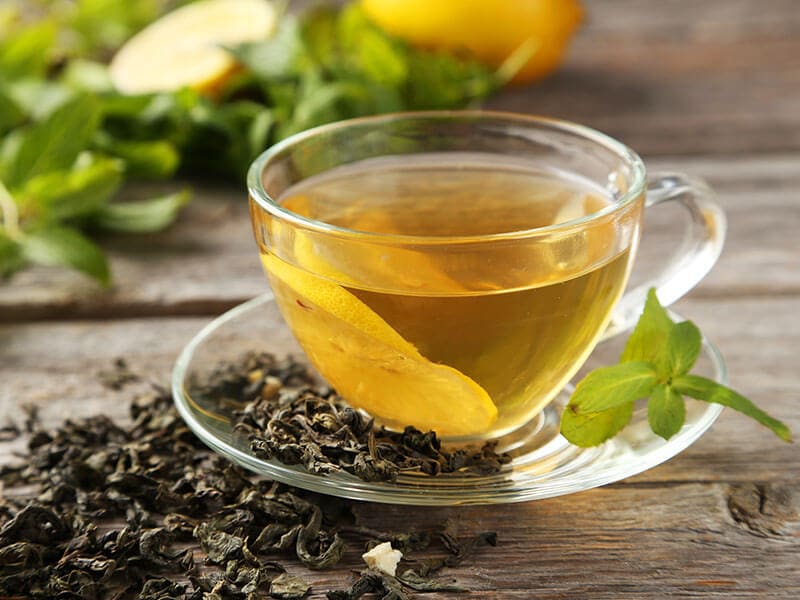 Another simple drink, yet it is loved around the world. Tea was first invented in China by pouring hot water over dried tea leaves. The drink has a soft aroma and is best enjoyed warm.
Created by steeping Camellia Sinensis leaves in hot water, tea is a simple yet addicting beverage. Despite having over 3,000 varieties, they all come from this one plant!
Tea falls into six main categories: black, green, Wulong, white, pure, and dark. There are countless ways to enjoy tea – steaming hot, iced cold, sweetened, with a twist of lemon, or even a dash of milk.
Though many countries have various kinds of tea, its core characteristic is an aromatic drink with many health benefits. Drinking tea is believed to aid you with insomnia and improve your mood a lot.
50. Tisane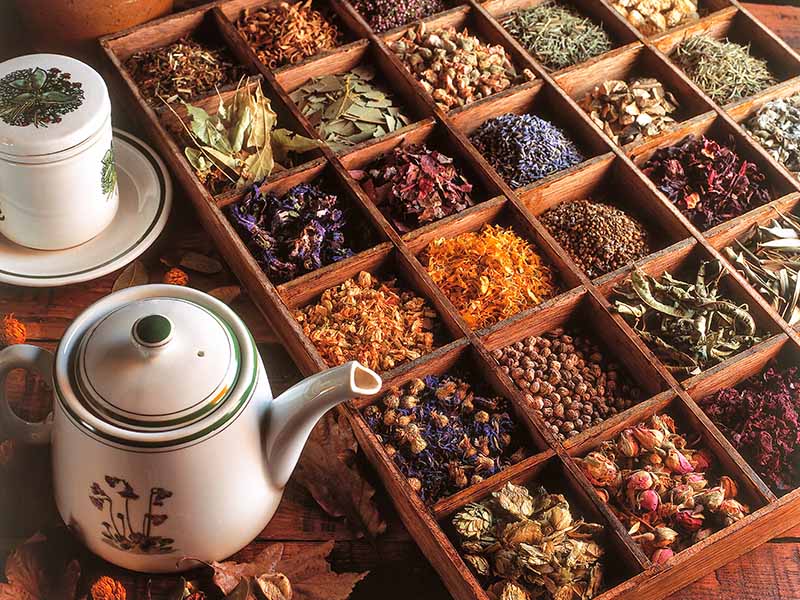 Tisane is a different version of tea that doesn't involve true tea leaves in the mixture. Instead, the tisane mixture is composed of herbal materials with fragrant, dried leaves for flavor.
This soothing and therapeutic herbal infusion is nearly always caffeine-free. Its charm lies in the carefully chosen herbs, which offer various medicinal properties. If you're having difficulty sleeping or feeling exhausted, the tisane can help you alleviate all those problems.
Desserts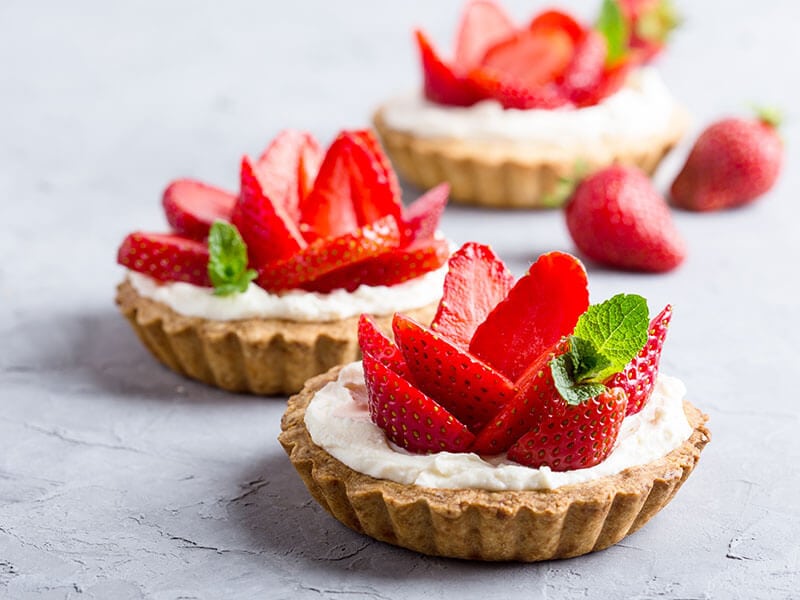 The tart was first made as a dessert in France. Tarts are like pies, but with a twist – they don't have a top crust.
These delicious desserts come with a thicker, crumbly bottom crust and various mouthwatering fillings like cream and fruits, chocolate ganache, or egg custards.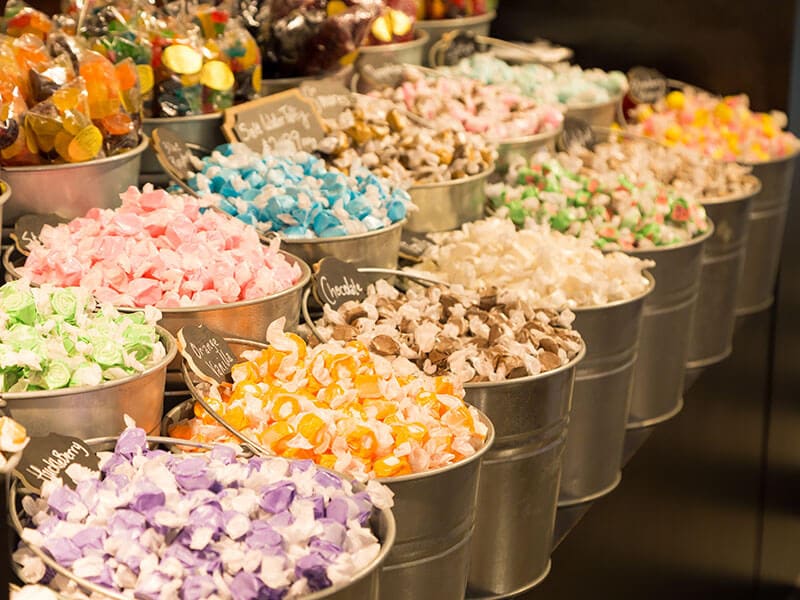 Taffy, commonly known as Laffy Taffy (the company that made taffy), is a type of soft candy produced in America. The candy has a high sugar content mixed with cornstarch and butter.
The candy is a sticky and sweet treat with its roots in the US. It's so popular that you can spot it at almost any grocery store or gas station. The production process involves boiling sugar and pulling it by hand or machine into long strings before folding it back on itself.
With a wide selection of flavors and colors, taffy never ceases to be a fun and tasty treat for everyone. People who tasted taffy before described it as salty, chewy.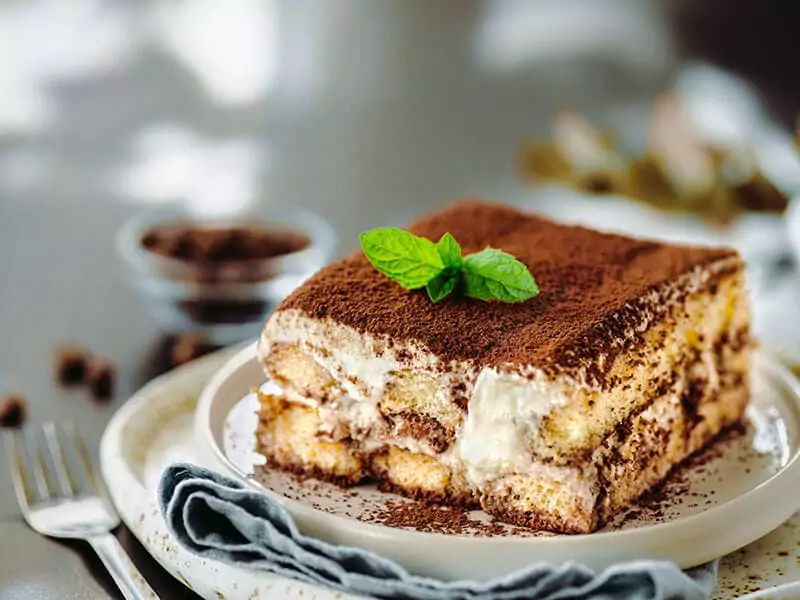 Thanks to its robust and unique coffee flavor, Tiramisu has become an Italian sweet dish popular worldwide.
In the past, some tiramisu recipes even had Marsala wine and rum in the mixture to enhance the flavor. Today, some tiramisu will include Brandy (a type of distilled wine) to give the cake a distinctive taste.
There are some features, such as rich cream and the bitterness of coffee, that the cake needs to have for it to be called tiramisu.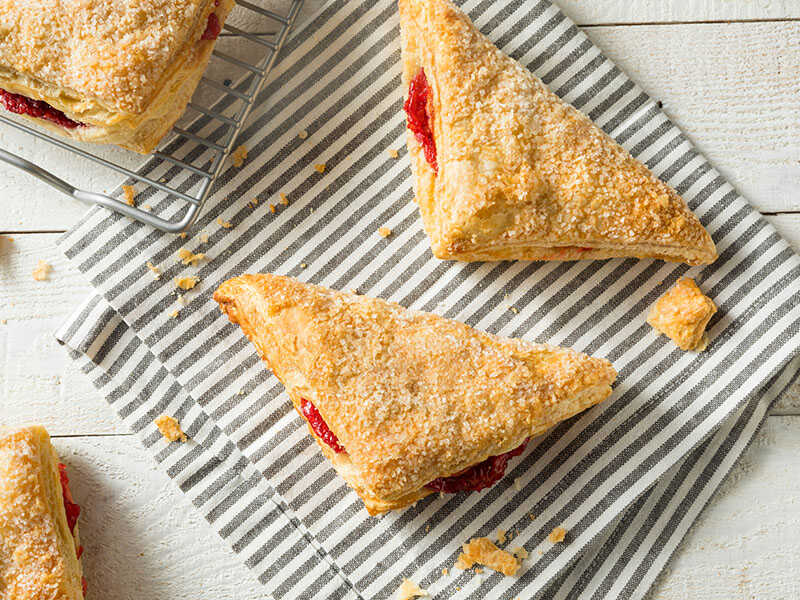 Often distinguishable by its triangular shape, turnover is a type of pie made by combining the crust of puff pastry with the sweet and sour of fillings. Turnover often has apples or jam for filling and is baked before serving.
Turnovers are versatile pastries, perfect for breakfast, snacks, or desserts. They're popular picnic items and come in both sweet and savory varieties.
The sweet ones usually have custards, fruit, or sweet cheeses, while the savory ones contain meat, vegetables, and cheese. Fun fact: a calzone is actually a type of turnover.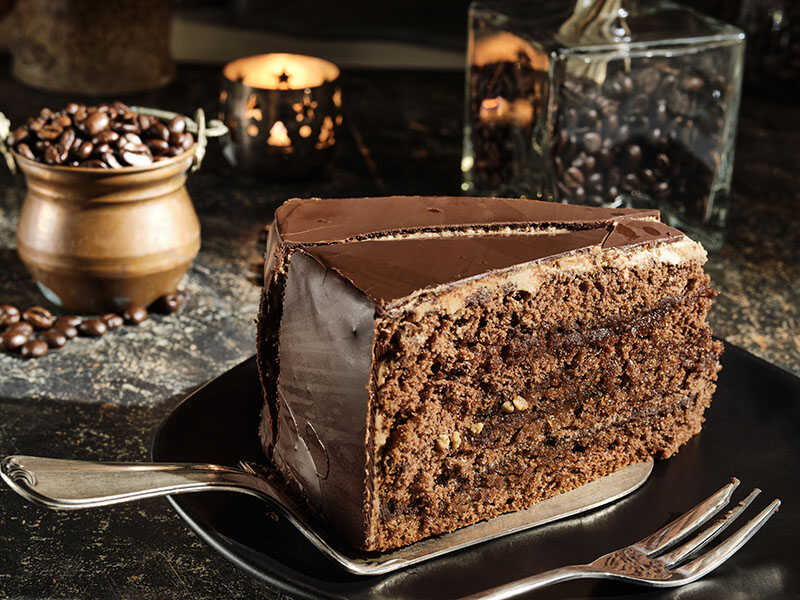 Torte is an Austrian cake that requires little to no flour to make. Instead, the flour is replaced with groundnut (or breadcrumbs) and eggs. People described the cake as rich and has multiple layers to it.
Torte is made by placing thin layers of cakes over each other, with whipped cream between each one. It is popular in Austria since it doesn't require too much extensive knowledge about baking to make.
56. Trifle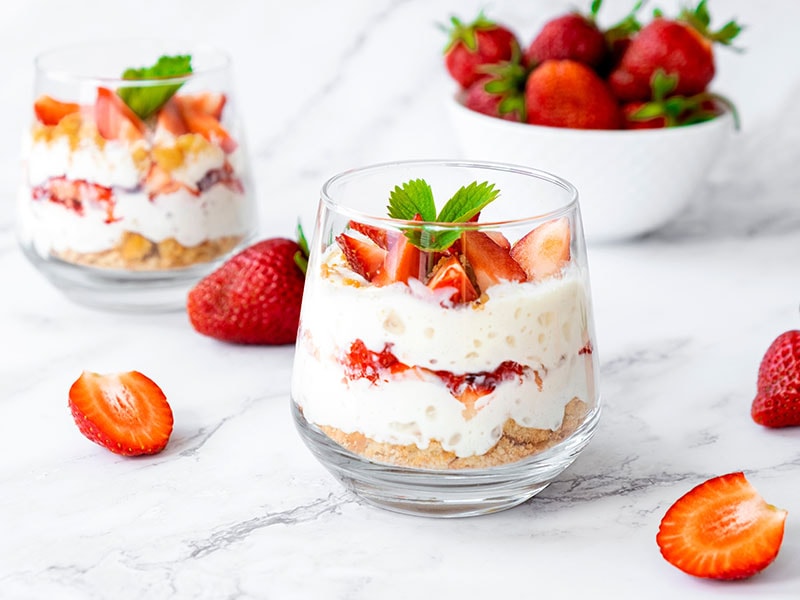 Hailing from England, Trifle is a dessert first showing up in cookery books during the sixteenth century. It's a luscious mix of layers, combining cake, fruit, and custard, with Americans often opting for pudding instead.
The flavor possibilities are endless, as you can mix and match fruits, puddings, and cake flavors. Some trifles even include alcohol like port, punsch, raisine wine, or curaçao. In Scotland, a similar dish called "tipsy laird" incorporates Drambuie or whisky.
57. Tanghulu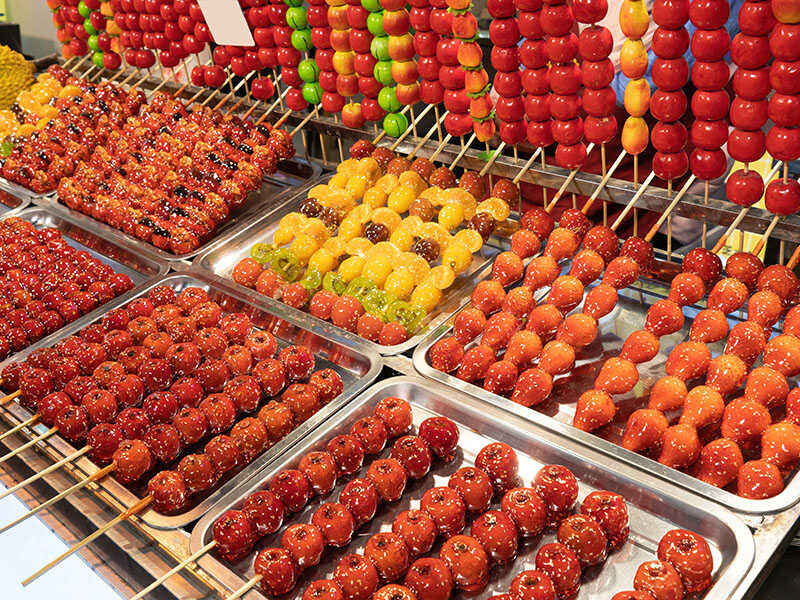 Tanghulu, also known as bingtang hulu, is a mouthwatering candied fruit snack from Northern China. It's made by dipping fruits like hawthorn berries in sugar syrup and skewering them on bamboo sticks.
Although hawthorn berries are the traditional choice, strawberries, grapes, and kiwis are other popular options. This tasty treat is incredibly popular and is frequently presented to kids on Chinese New Year, symbolizing happiness.
58. Toffee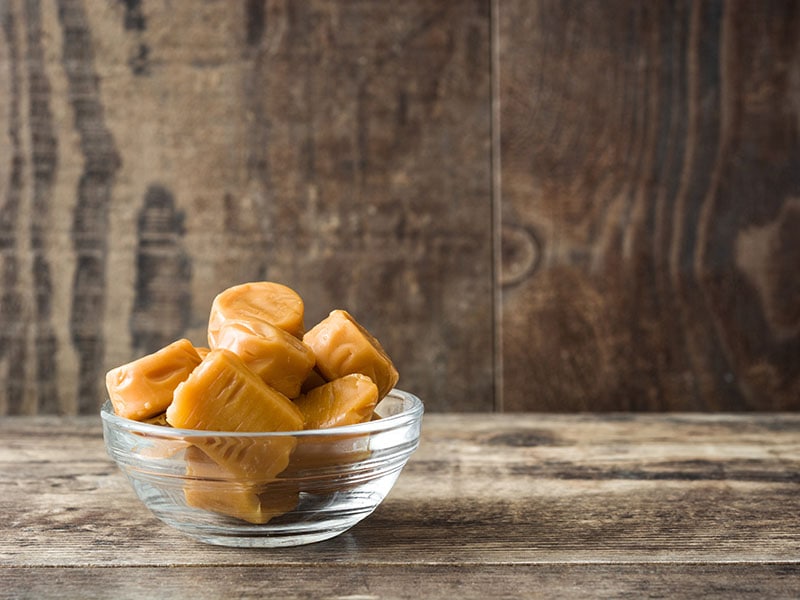 Toffee is a hard candy created by caramelizing sugar or molasses with butter and sometimes even flour. This blend combines the flavors of caramel and butter beautifully. When making toffee, it's not uncommon to mix in nuts or raisins.
Some toffee varieties even cook butterscotch at a higher temperature for longer to achieve the same effect. In some cases, toffee also makes a fantastic topping for ice cream or other desserts. One particularly popular variant in the United States is English toffee.
59. Tres Leches Cake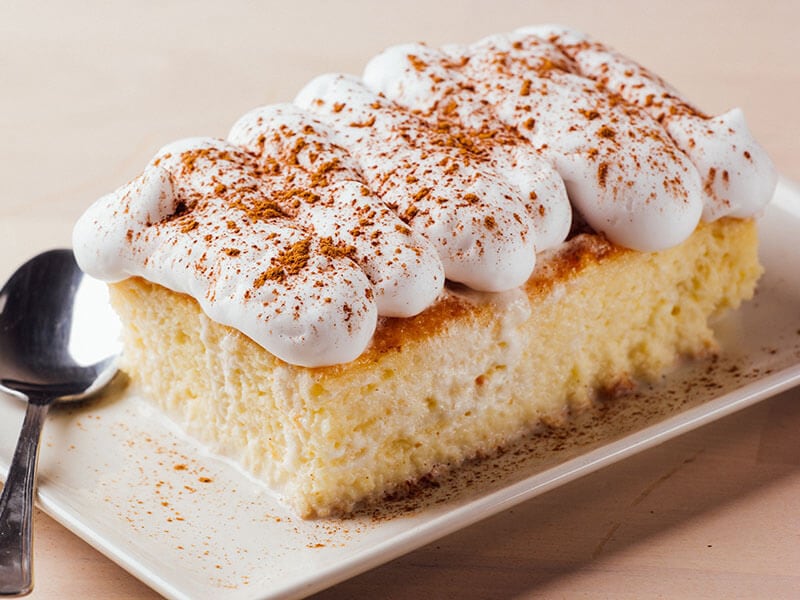 Tres Leches cake is a traditional Latin American dessert that almost any Mexican bakery, restaurant, or taqueria always has. With just the right balance of sweetness and a hint of cinnamon, Tres Leches cake is an unforgettable delight.
This crowd-pleasing treat, whose name translates to "Three-Milks" cake, is a moist and dense sponge cake soaked in a blend of heavy cream, sweetened condensed milk, and evaporated milk. A light and fluffy whipped topping adorns the cake, adding to its rich texture.
60. Turkish Delight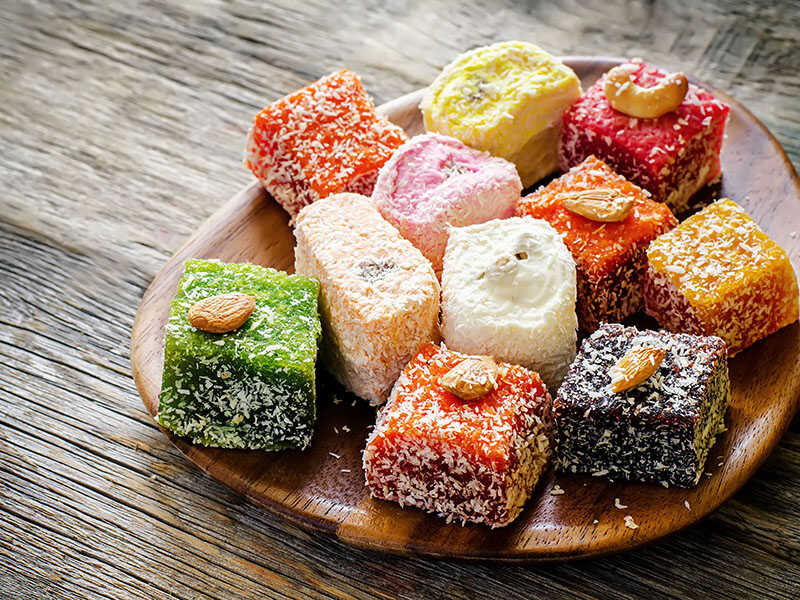 This gel-like candy with a history dating back to Narnia is Turkish Delight, with a super-sweet treat similar to gumdrops.
The treat gained popularity when a British traveler discovered it in the 19th century and gave it its new name, "Turkish Delight", when he couldn't remember its traditional name, Lokum.
Once a well-kept secret in Turkey, the treat consists of sugar, water, cornstarch, and flavorings. Also, this delightful confection comes in traditional flavors like rosewater, lemon, and orange.
For a more luxurious twist, you might find Turkish Delight with chopped pistachios, dates, walnuts, or even dipped in chocolate.
Condiments And Spices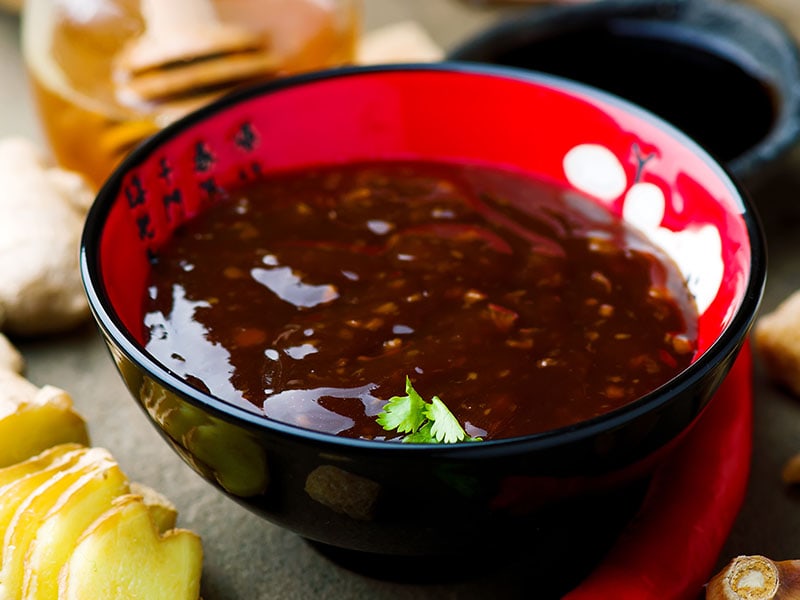 Teriyaki is believed to be invented in the 1700s in Japan. It is made by combining a mixture of soy sauce, honey, brown sugar, garlic, ginger, and mirin. Teriyaki is most commonly known for its sweetness and salty taste with a thick consistency.
While originally a Japanese cooking technique, teriyaki is now known to many Americans as a sweet and salty sauce. It's versatile and can feature in various ways, such as a dipping sauce, a burger topping, or for stir-frying dishes.
The world has become much more familiar with teriyaki than ever as it's often used to marinate or glaze meat for BBQ. If you're short on time, store-bought bottled teriyaki sauce is a popular choice that can help you whip up a flavorful meal with ease.
Learn how to make Teriyaki chicken for your next meal.
62. Tabasco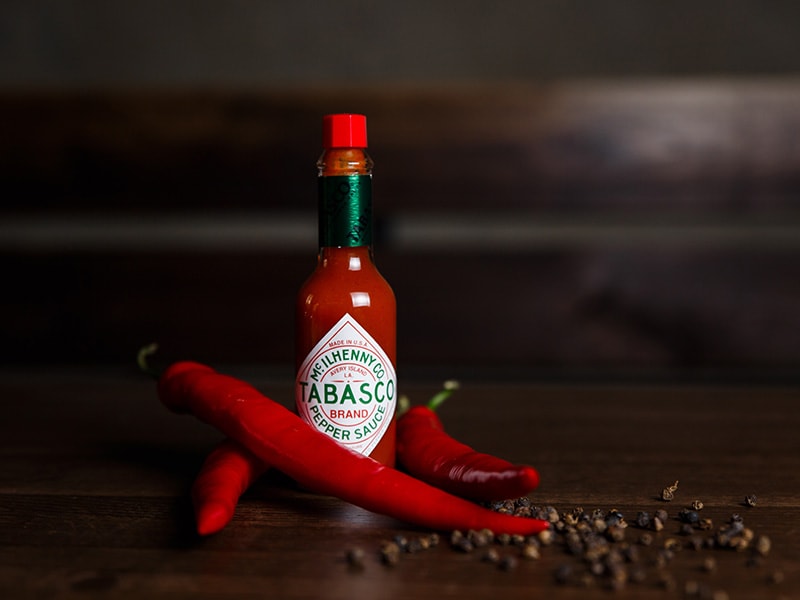 Tabasco or hot sauce is an American type of chili sauce known for its aggressive spiciness.
Because it's made from pure pepper, it is suggested that people should only use a little of the sauce every time to avoid any side effects like nausea or shivering due to overconsumption.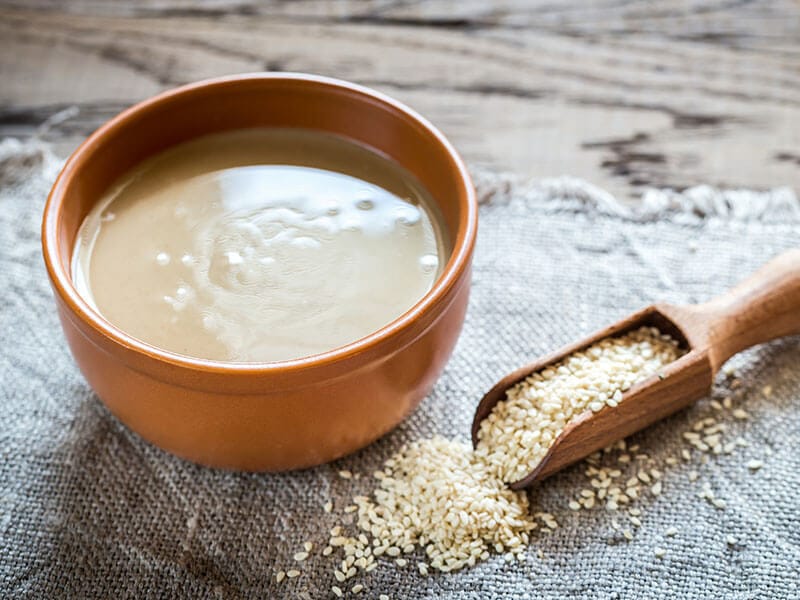 The sauce is made by grounding sesame seeds into a paste consistency, which is then mixed with a bit of oil and salt for flavor. This Middle East condiment has a silken consistency with an earthy and nutty taste, making it different from peanut butter.
Tahini is a tasty ingredient in hummus and baba ghanoush. You can drizzle it on falafel to elevate the flavors or create the delicious tarator sauce. Not just for savory dishes, tahini can even be incorporated into banana bread, adding a unique twist to this classic dessert.
Nowadays, most restaurants use tahini as a part of their salad dressing recipes, which helps bring out the refreshing flavor of vegetables. Tahini is especially versatile, so you can add it to enhance any meal.
Learn how to make Tahini by yourself at home.
64. Tamari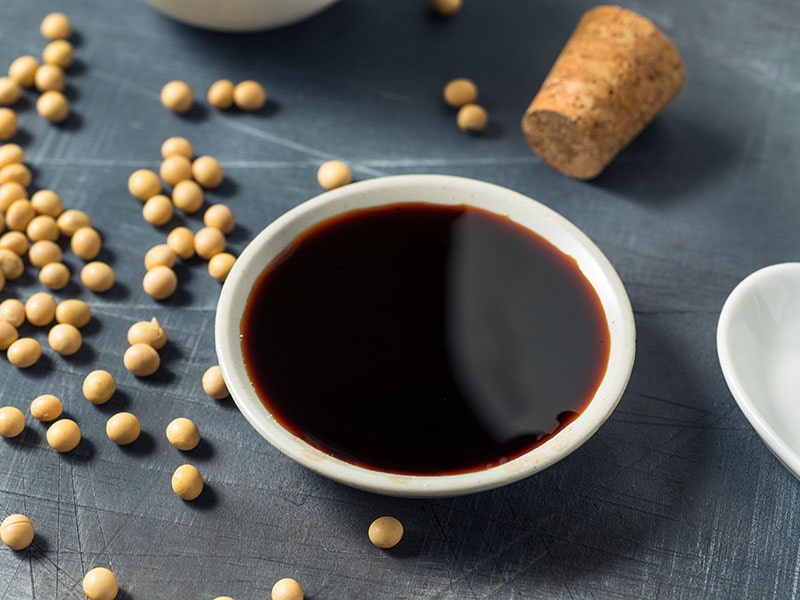 Tamari is a type of soy sauce made in Japan. It has a very thick consistency which sets it apart from Chinese soy sauce. Due to its umami flavor, people tend to use tamari to marinate or add it to stir-fried dishes.
Tamari is a vegan and gluten-free alternative to soy sauce. These two condiments share a similar taste!
However, tamari comes from the liquid drained from miso paste, while soy sauce results from fermenting and brewing soybeans with wheat. The key difference is that soy sauce contains wheat.
65. Turmeric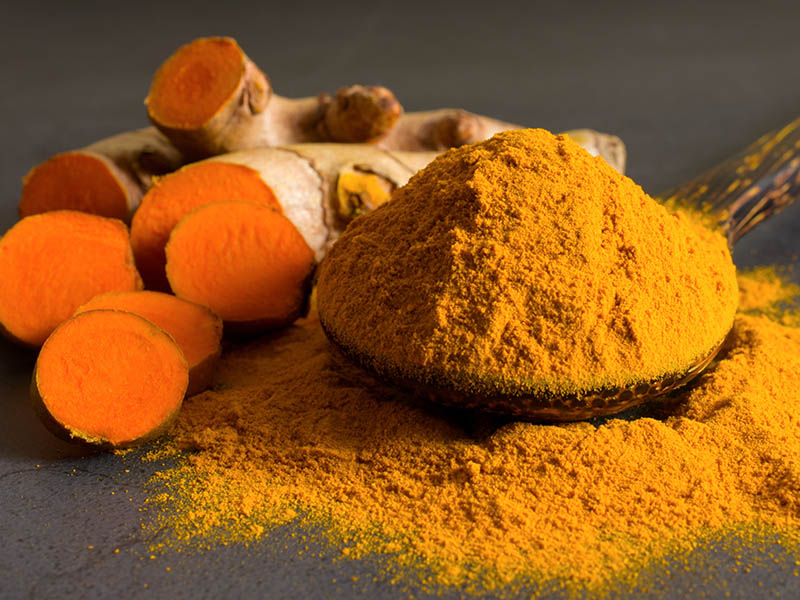 The root of the turmeric plant is like a close cousin of ginger. However, turmeric root has a much more vibrant orange and is often crushed into powder to serve many purposes.
This well-loved household spice is from the root of the Curcuma Longa plant in the ginger family. The vibrant spice is a key ingredient in curry powder, giving curry its signature yellow color, and has some fantastic health benefits.
Turmeric powder has many health benefits, including weight loss and preventing hair loss. Known for its anti-inflammatory and antioxidant properties, turmeric is a versatile and beneficial addition to your spice cabinet. If you have a sore throat, mix honey with turmeric tea to ease the pain.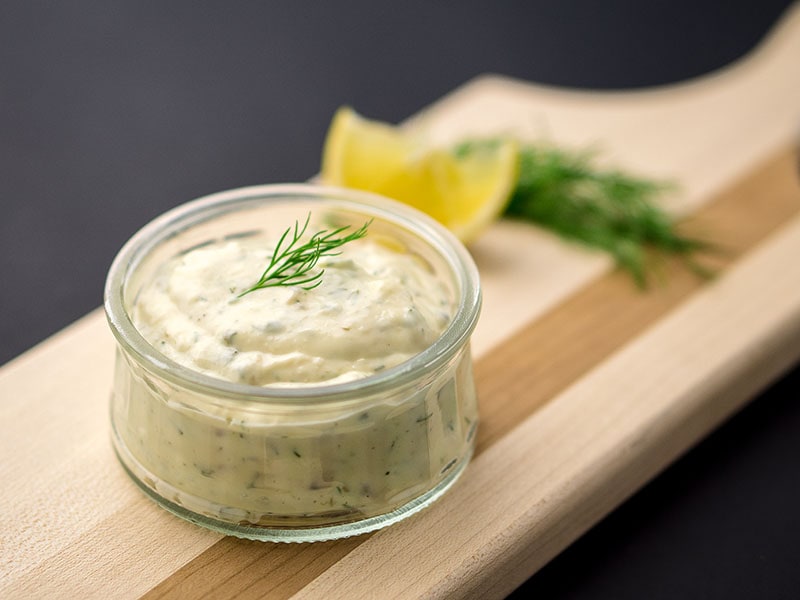 Tartar is made with a base of mayonnaise sauce mixed with pickles, lemon juice, and herbs. People described tartar as savory, sweet, and creamy.
The sauce is often served alongside fried fish or seafood. You will easily encounter Tartar sauce in most restaurants along the North American coast, where it's served as a dipping sauce for any food.
You can effortlessly tailor it to your taste by incorporating a bit of mustard or Worcestershire sauce!
Learn how to make your very own Tartar sauce.
67. Tekka (Miso Condiment)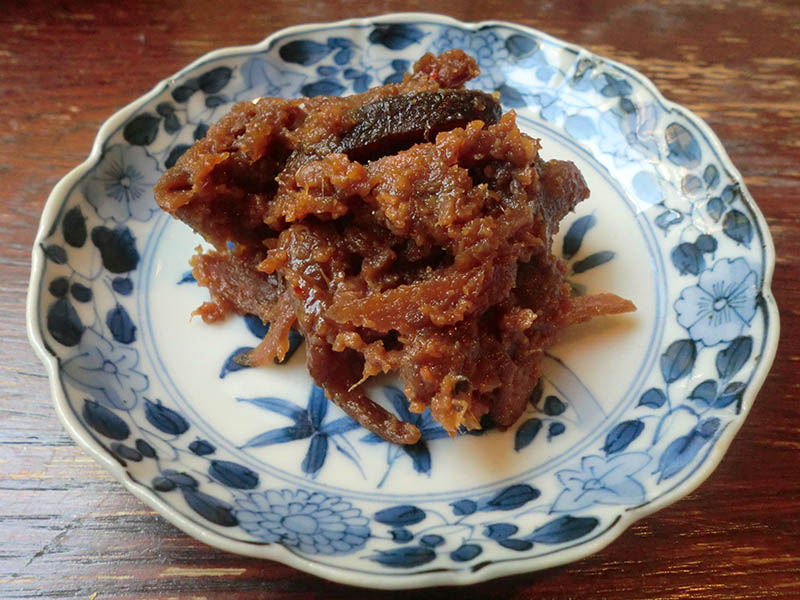 Tekka is a Japanese condiment commonly used in miso soup. Traditionally, Tekka is made by boiling various roots for a long time to create a concentrated powder.
Tekka is often sprinkled over dishes in other parts of the world to create an umami flavor. You don't always need to mix Tekka with hot water to use because it can be added directly to your dishes.
Create your first miso soup by adding Tekka.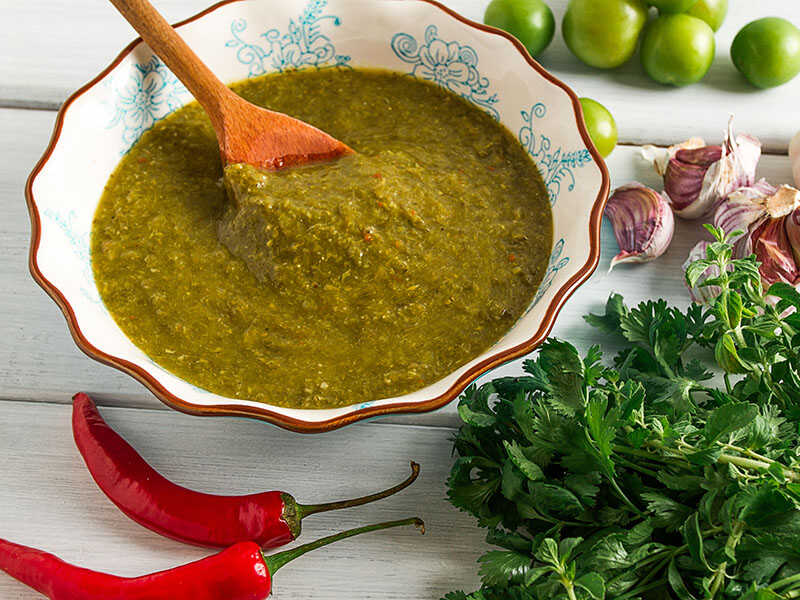 More commonly called "Sour Plum Sauce", Tkemali is made from various plum types mixed with salt and sugar to extract more flavor from the plum. Then, it will be added with some garlic, chilies, dill, and finely chopped parsley.
Sour Plum Sauce is well-known in Georgia (where it originated) and is often used to pair with grilled meat to keep the meat moisturized.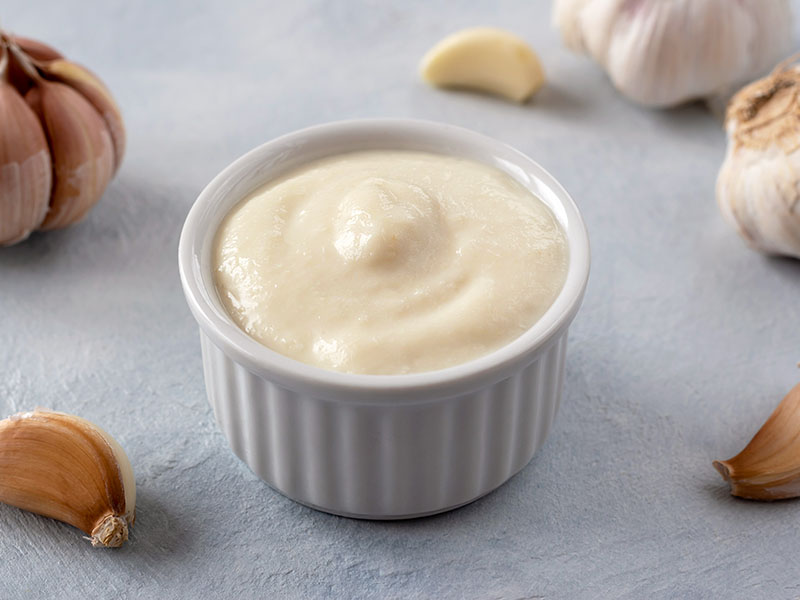 Made in the Middle East region, Toum is created by mixing ingredients with finely ground garlic. The consistency of garlic will need to be paste-like for the mixture to work. Other ingredients of Toum include lemon, salt, and oil.
Toum is often used to marinate the meat before grilling. The garlic will infuse inside of the meat and create an aromatic flavor of smoked garlic.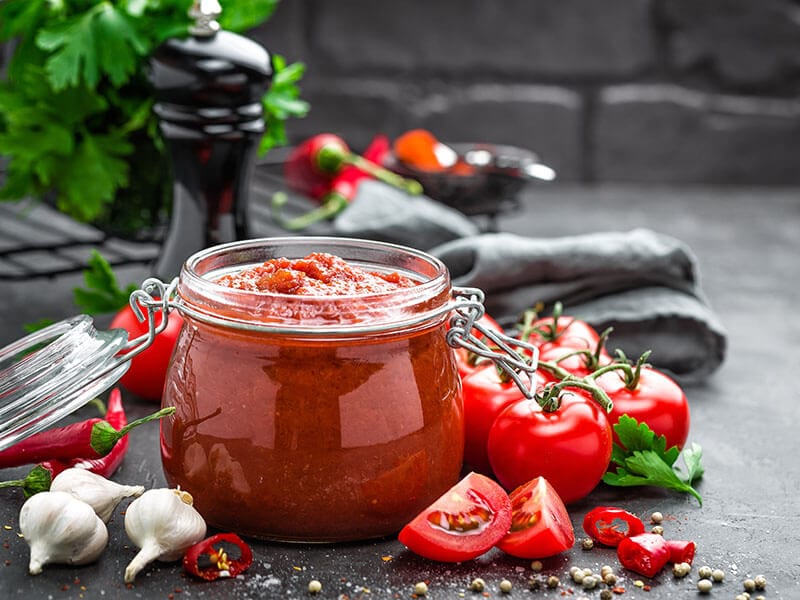 A tomato sauce mixture consists of chopped-up tomatoes simmering with a bit of oil until the sauce becomes thickened. Then you can start adding seasoning to taste.
Tomato sauce is often served to enhance the sweet and sour flavor of the dish. Additionally, people often introduce minced pork or beef to tomato sauce to soak up the flavorful sauce.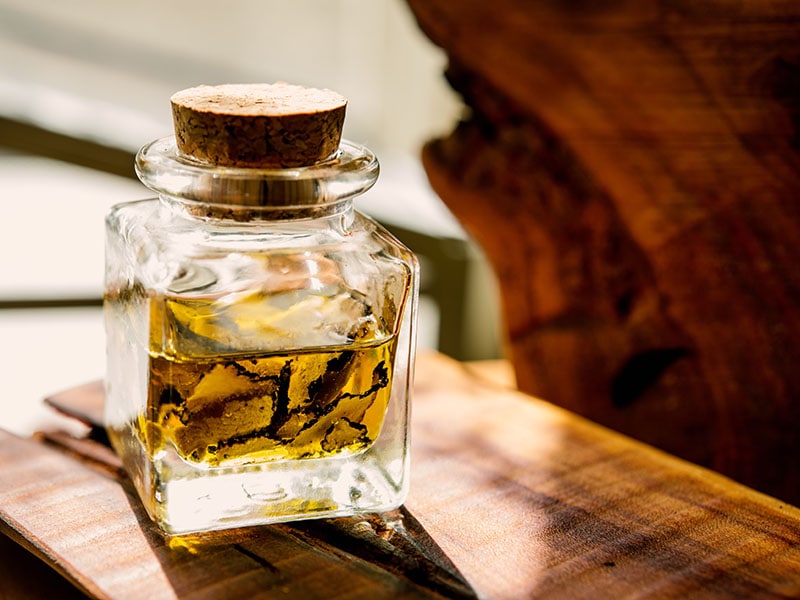 To earn high-quality truffle oils, people have to soak truffles in premium olive oil to infuse the mushroom's earthy flavor into the oil. This product is a flavor enhancer for different dishes, such as salads.
Truffle oil is quite a luxury item, mainly due to the scarcity of its star ingredient, truffles. These rare and seasonal fungi take many years to cultivate and are notoriously hard to grow, not to mention their short shelf life.
As a result, truffle oil is typically used sparingly as a finishing oil to add a touch of elegance to your dishes.
Elevate your salad with homemade truffle oil for dressing.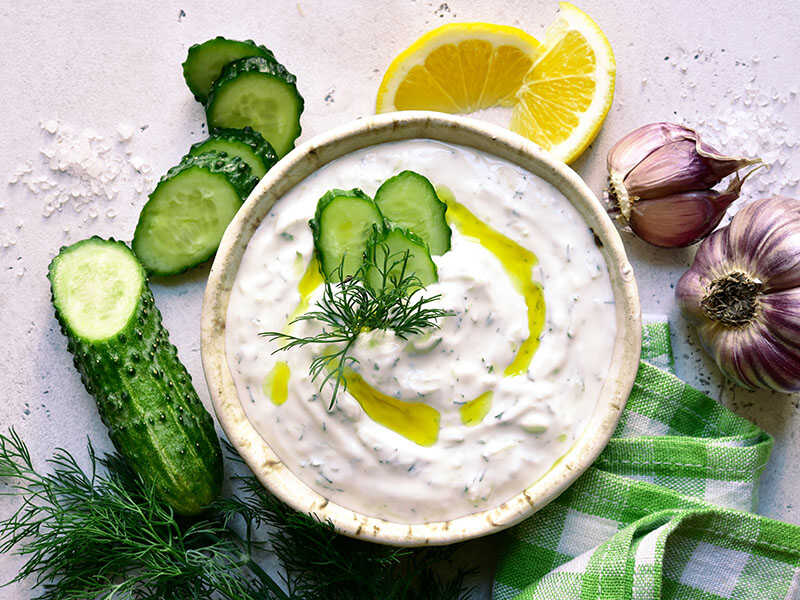 Sour, creamy, and has a little garlic scent, tzatziki is a sauce that is made in Greece. The sauce is mainly composed of Greek yogurt. Some areas will combine with sliced cucumber for extra crunchiness. In some areas, extra virgin oil will be added to enhance the fragrance of the sauce.
Typically, people use tzatziki as dipping for many dishes like salad or spread for sandwiches. If you're a fan of creamy food, this is a sauce you cannot miss.
73. Treacle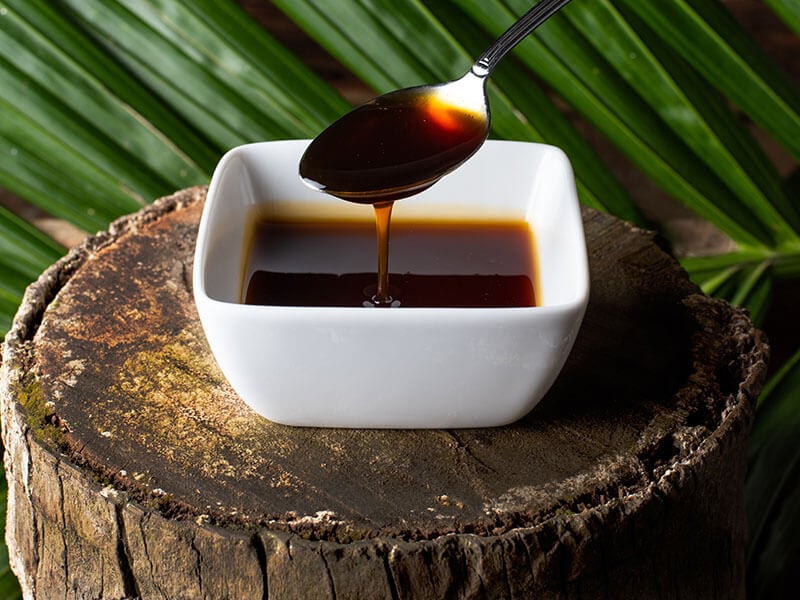 Treacle is a British sweetener made from pale cane syrup, a byproduct of the sugar refining process after boiling the sugar. If you ever need a substitute, molasses makes a great alternative.
There are two main treacle varieties: light and black. Light treacle, also known as golden syrup, has a milder taste, while black treacle is thicker, stronger, and more similar to molasses. It's a popular ingredient in many British desserts but not as common in the US.
FAQs
The List Of T-Named Foods Is Now In Your Hand
I hope you've enjoyed exploring these tantalizing foods that start with the letter 'T.' It's truly amazing how many tasty options exist, from truffle oil to treacle. I encourage you to step out of your culinary comfort zone and try some of these delightful dishes for yourself.
If you've discovered any new favorites or have other tasty 'T' foods to recommend, please leave a comment so I can learn about them. Also, you may share this article with others so they can diversify their menu picks for the weekend.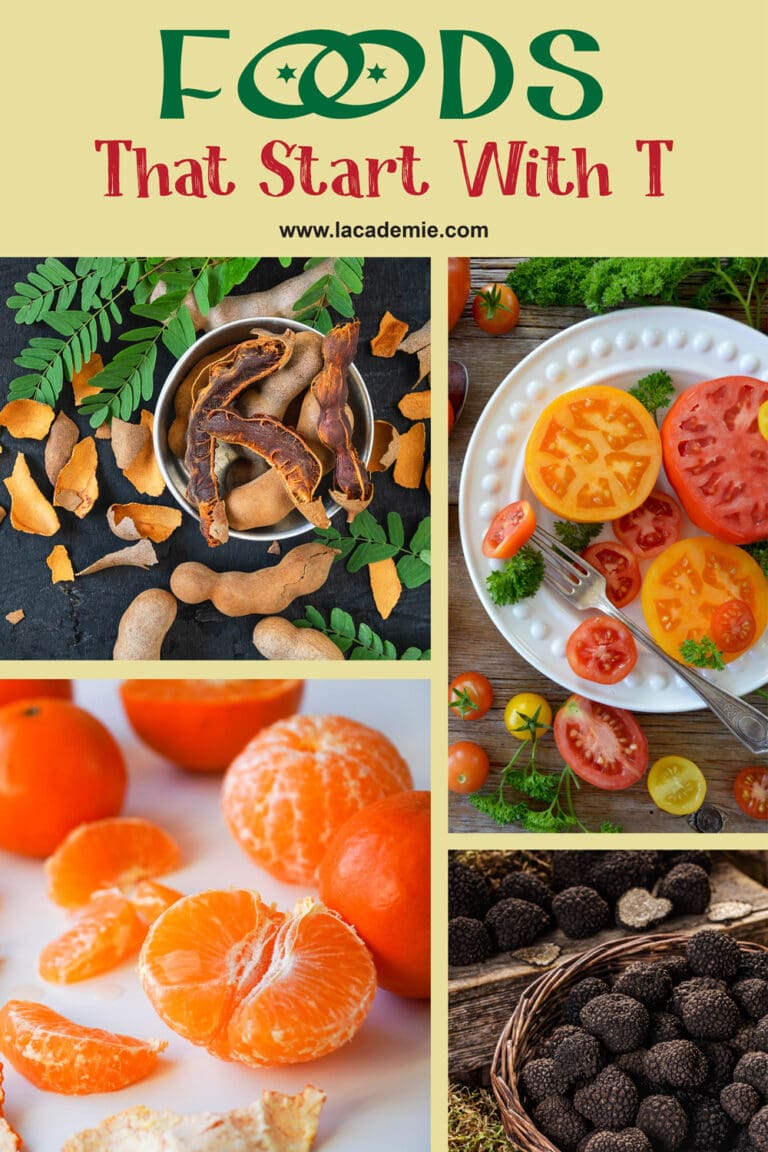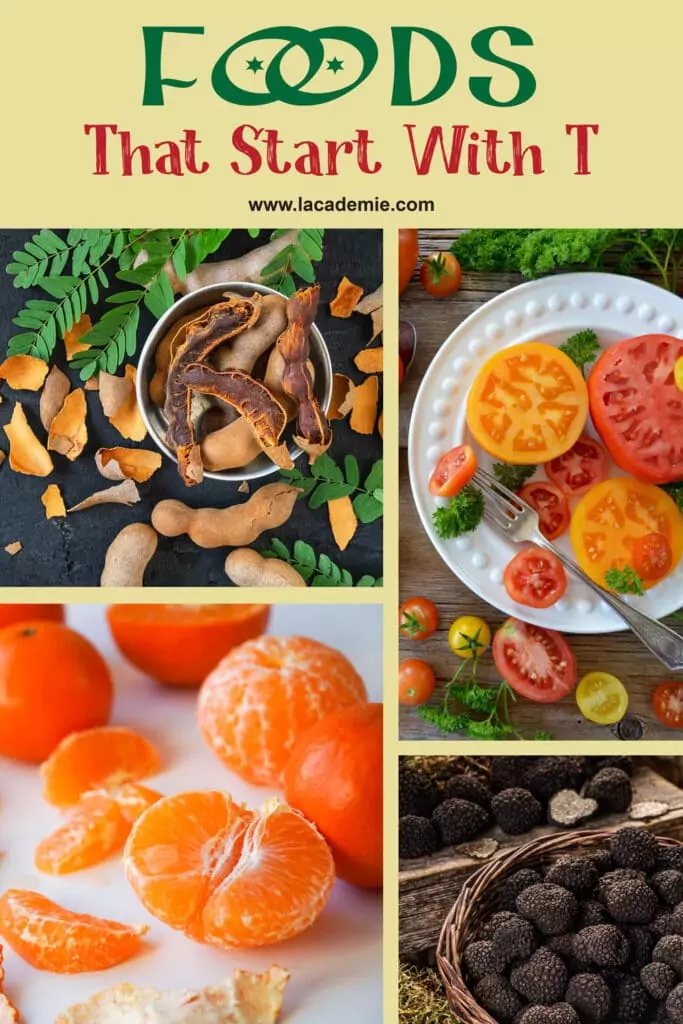 References
The Health Benefits of Tomatoes (2021). webmd.com.
Health Benefits of Tamarind (2022). webmd.com.
10 Health Benefits of Tart Cherry Juice (2023). healthline.com.
Adam K., Martyna P., Sylwia S., Agnieszka B., and Izabela F. (2020). Thymol and Thyme Essential Oil—New Insights into Selected Therapeutic Applications.
7 Surprising Benefits of Taro Root (2018). healthline.com.
https://www.rxlist.com/tarragon/supplements.htm
Turk Turban Squash (2023). niu.edu.
Health Benefits of Turnips (2021). webmd.com.
Triticale (2023). doctorsbeyondmedicine.com.
6 Emerging Health Benefits of Tiger Nuts (2022). healthline.com.
Fish, tuna, fresh, bluefin, raw (2006). fdc.nal.usda.gov