What are your initial thoughts when it comes to foods that start with T? Tomato, tacos, and Tequila are often brought up first in the conversation. I'm here to tell you that the list is much longer than that.
It's time to stand out from the crowd with unique foods that have T in their names. Keep reading, and you will be surprised by what you can find in this article.
Who knows, maybe you will even find a new addition to your daily shopping list.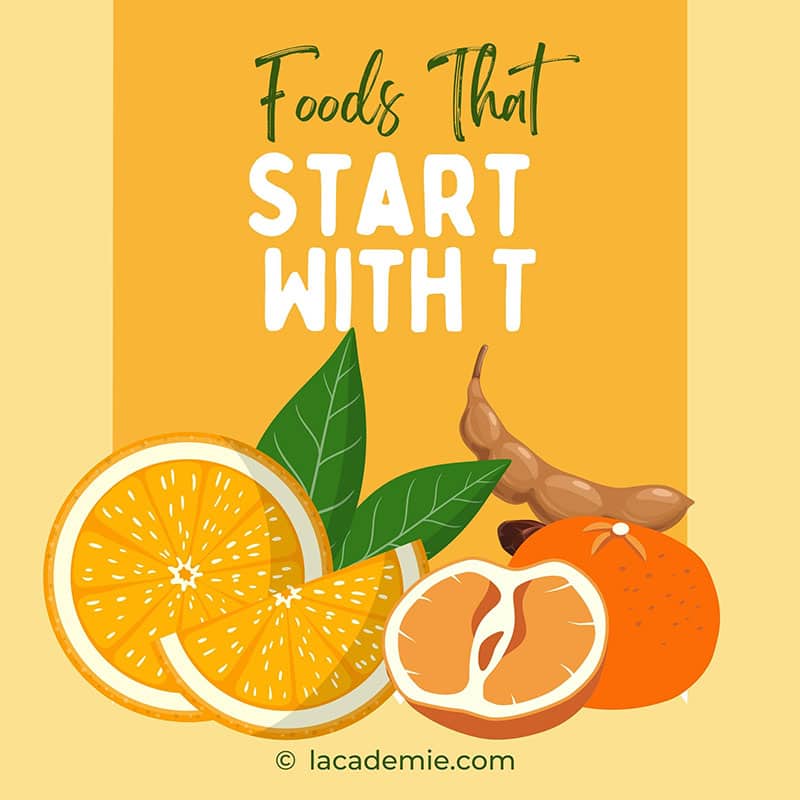 Top 10 Fruits That Start With T
You may think of tomatoes as your only option. But here I have more fruits with T at the beginning of their names for you to explore.
1. Tomato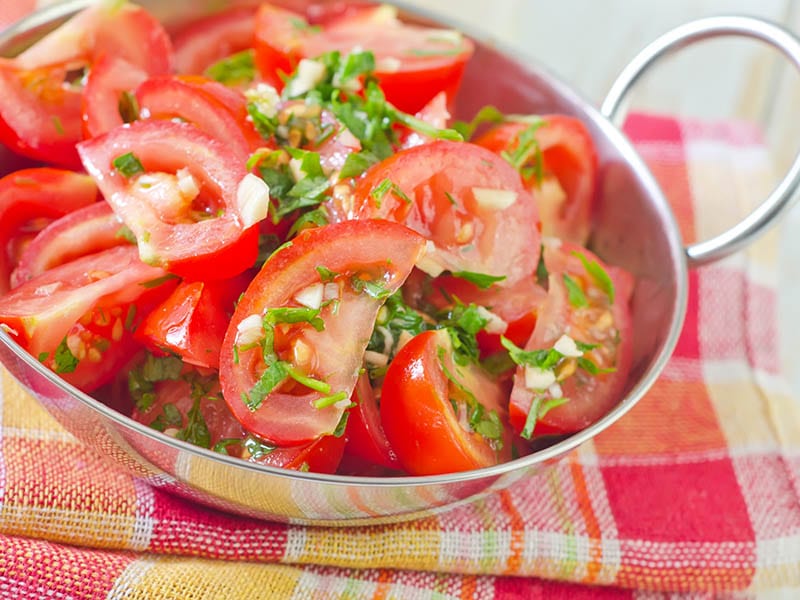 Often misinterpreted as vegetables, tomato is more on the side of fruits. Every region in the world has its very own variety of tomatoes with approximately 10,000 varieties.
These bright red fruits carry 95% water content, making them a good choice for dishes such as salad, juice, or tomato soup.
2. Tangerine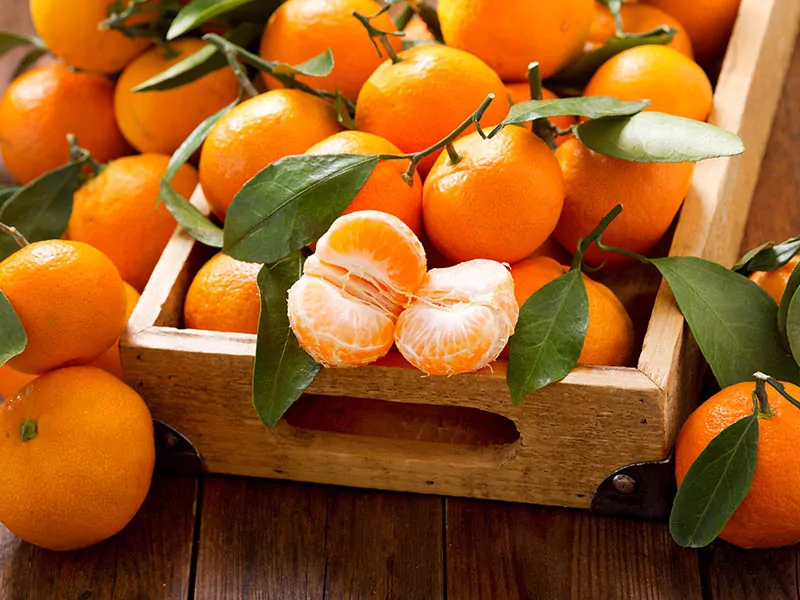 Mostly found in South Africa or America, tangerines have a bright orange color to their skin when ripe and green when the fruit is underdeveloped.
There's also another species of this delicious T-something fruit in Asia with similar features, but it goes by the name Mandarin to differentiate the region distinction.
Commonly, people can enjoy Tangerine as they are or mix them with orange juice to create a more flavorful drink.
3. Tangelo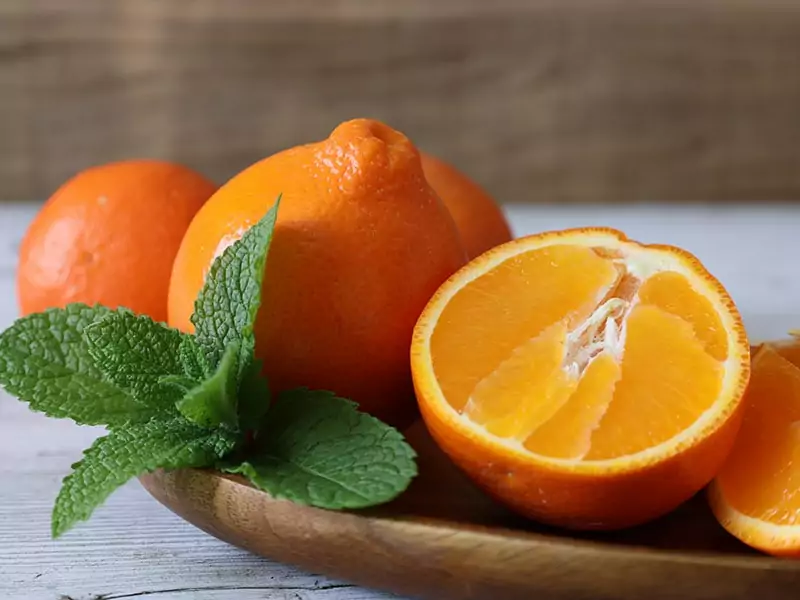 Here is another variety from the citrus group: Tangelo is a cross-species between grapefruit and Asian mandarin orange. It is typically smaller than a regular orange. However, many people love it for its sweeter and more fragrant zest than any original citrus species.
4. Tamarind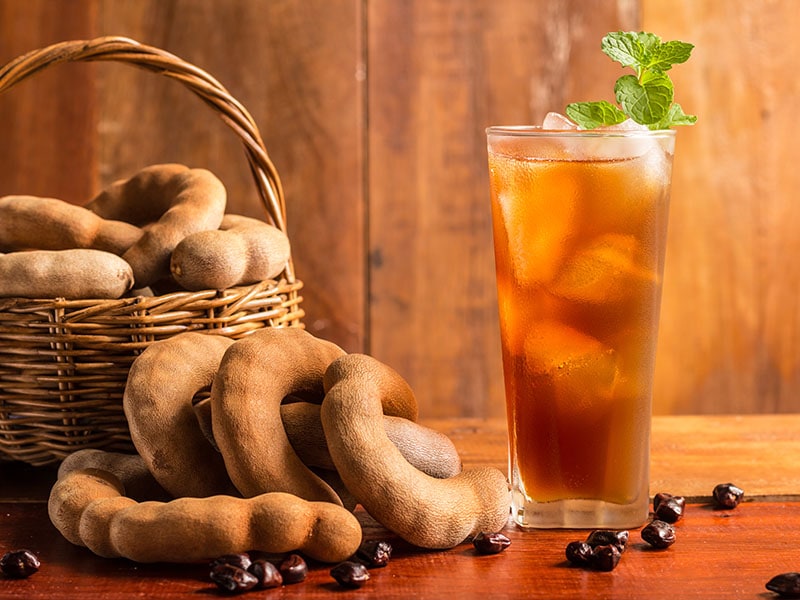 A type of fruit that has its meat divided into many small pods, tamarind is widely grown in Africa and tropical regions like India and Pakistan. The fruit is brown when ripe and light green when it's underdeveloped.
Thanks to the high level of sweetness and sourness of tamarind, people worldwide would typically use this acidic feature in both cooking and making drinks.
Make your own Tamarind paste for Thai cooking.
5. Texas Persimmon
These small and lime-like fruits are a descendant branch of the persimmon family. Native to Texas, Oklahoma, and some states of Mexico (Chihuahua, Coahuila, Nuevo León, and Tamaulipas), the Texas persimmon often produces fruit from July to September.
The most striking feature of the fruit is its black color when it's ripe. The fruit is described as sweet and its flesh and can be consumed fresh from the tree.
Explore a new type of fruit, the Texas persimmon.
6. Thimbleberry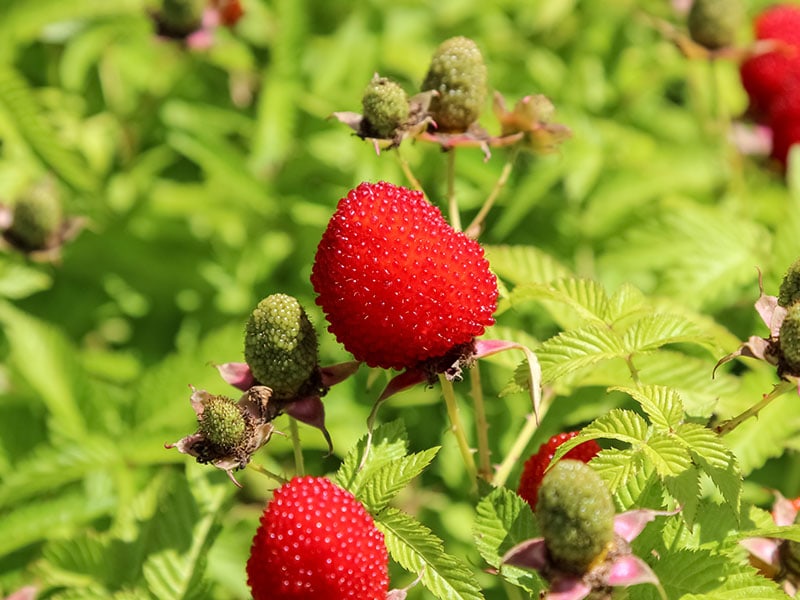 Another name for this berry is "redcap". This berry species is a part of the Rubus family, native to the North American region. The redcaps are finger-knuckle size and display bright red when fully ripe.
Thimbleberry can often be found in wild areas and is often made into jam or jelly. The berry has a distinctive tart-sweetness to it, making it completely different from any other berry that you've tasted before.
7. Tart Cherry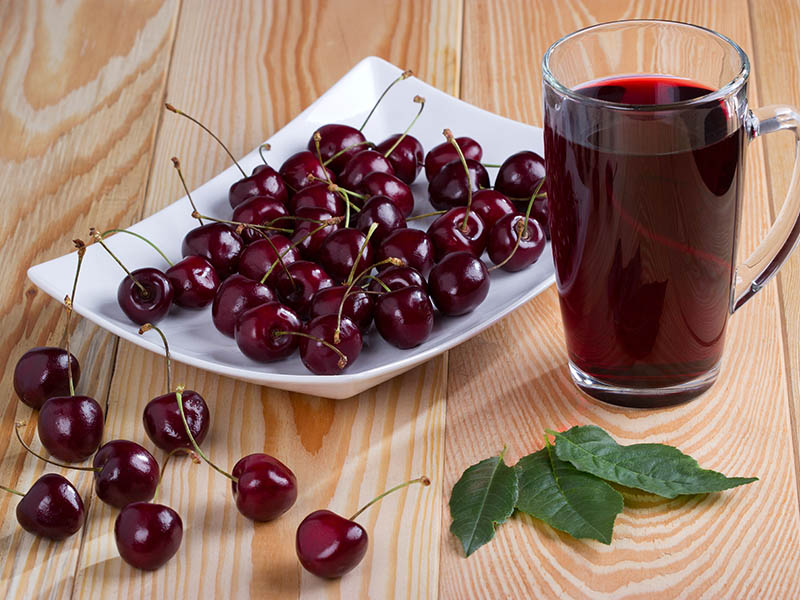 Resembling regular cherry varieties by the dark red color, this smaller type is often made into juice to enjoy. You can find these tart cherry trees growing across the U.S and Canada.
It's highly recommended that you should try this if you're on a diet. Containing 19 times more Vitamin A than blueberries, tart cherries can also be found as a supplement in health products.
8. Topaz Apple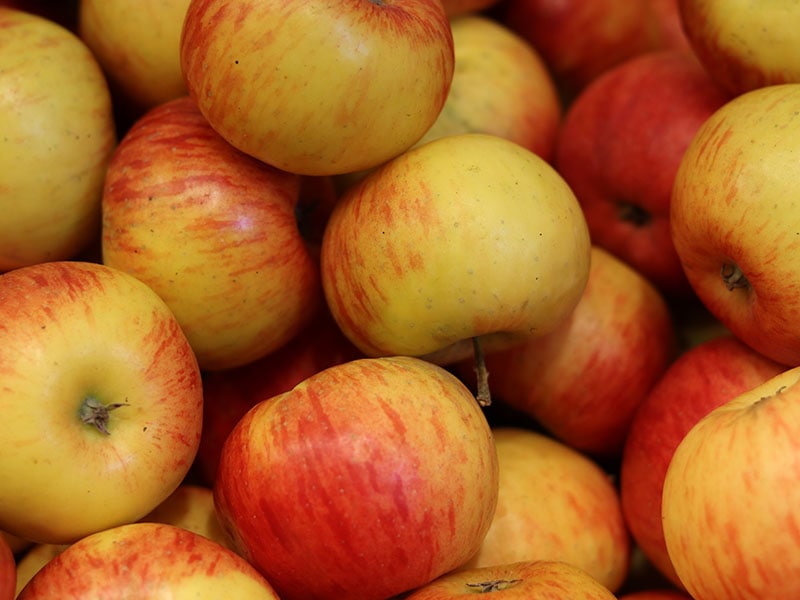 Originated from the Czech Republic in the 1990s, Topaz apple has high resistance to diseases and is often favored by farmers for the tree's consistency to bear fruit.
The apple, when ripe, will mostly have a signature red and partly yellow on some areas. Its texture is described as crunchy and flaky, with a bit of acidic flavor to it. Topaz apple is a healthy snack or can be used to make a salad as well.
9. Tamarillo
Tamarillo is an edible fruit that is cultivated in areas with warm climates. The fruit bears a resemblance to plum tomatoes but has an orange or purple color when fully ripe.
The flavor is described as sweet and tangy. People often use the fruit as a substitution for tomato in salad dishes.
The "tree tomato", a fruit that can replace tomato in your next salad.
10. Tayberry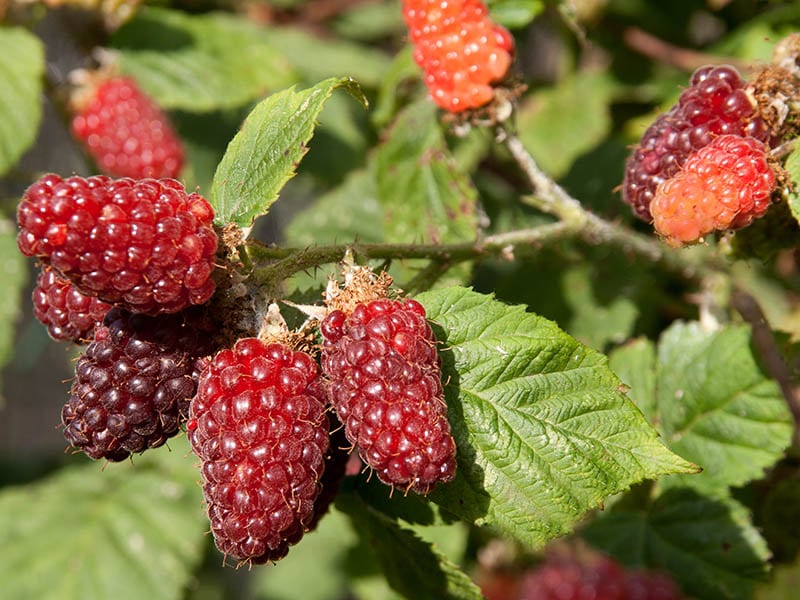 Named after the Tay river, Tayberry was first developed in Scotland. It possesses a sweeter taste and similar flavor to raspberry.
The fruit is like an elongated version of regular raspberry. If you're looking for a new topping for your cereals or an ingredient to your pie, then the tayberry is a solid option, thanks to its berry-like flavor and enhanced sweetness.
Top 8 Useful Vegetables And Herbs That Start With T
These 8 vegetables and herbs are interesting and serve as an excellent substitution for medicinal treatments.
11. Thyme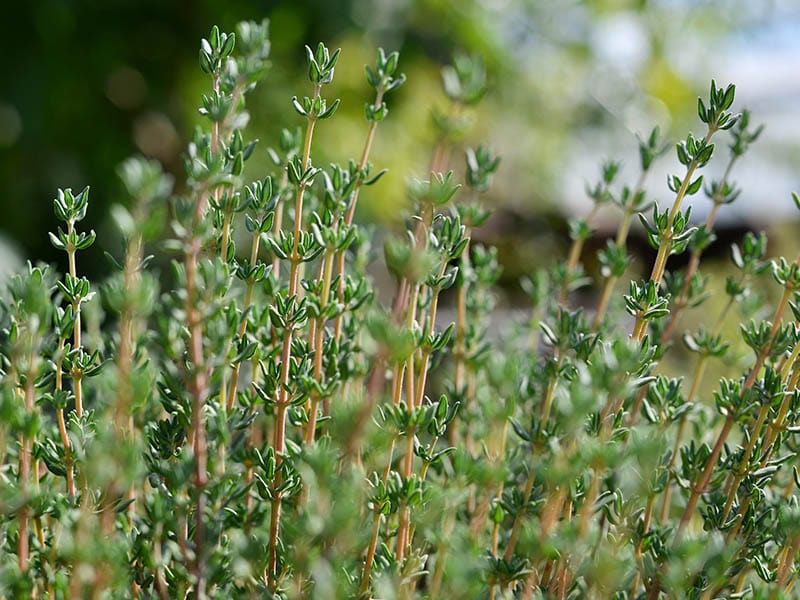 Being a member of the Thymus genus, thyme is known for its aromatic flavor. Thus, people often use it as an additive in cooking.
People also use thyme to disinfect fungi and bacteria infections in some areas. However, the herb is more commonly used as a means to cure coughing and loss of hair.
12. Taro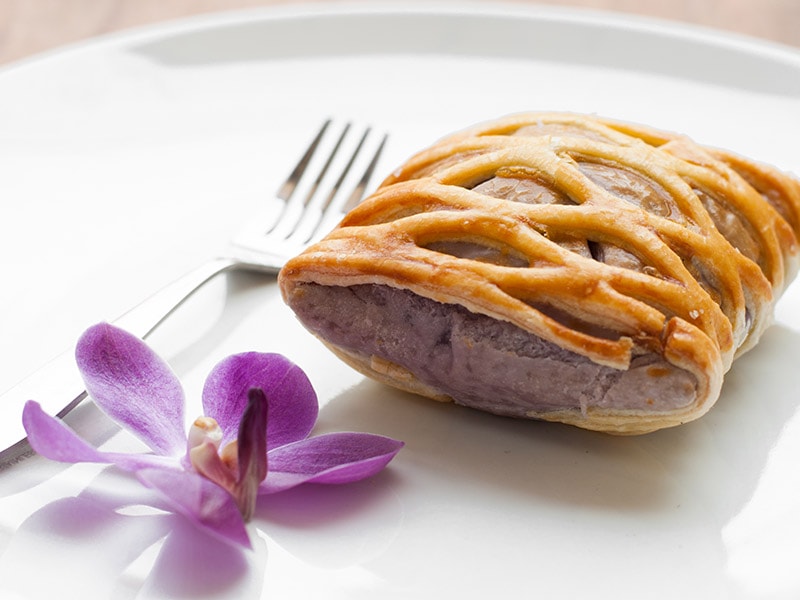 Also known as eddo or dasheen, taro is a plant with edible roots native to the Southern Asia region. It has a dark brown color on the outside and a white starchy texture on the inside when unearthed. Tarot is normally enjoyed after being boiled and dipped in sugar to improve flavor.
Learn more on how you can cultivate Taro by yourself.
13. Tapioca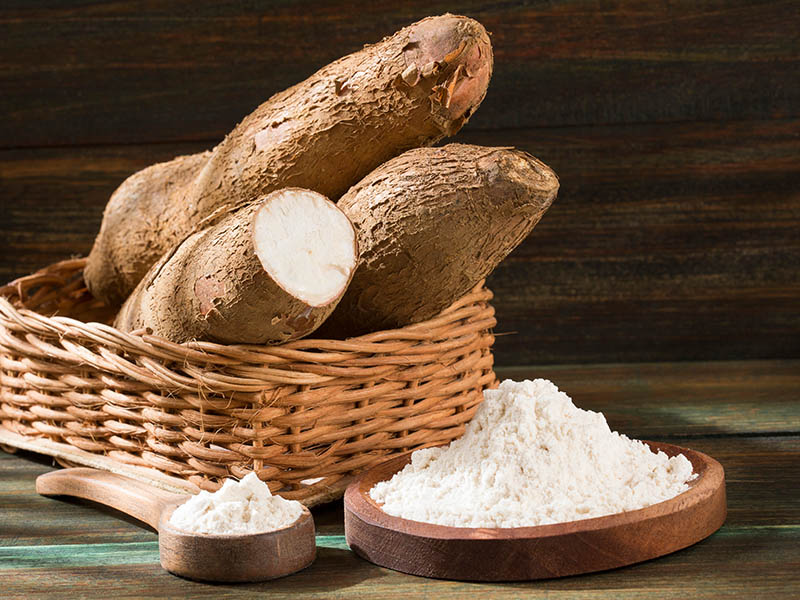 Originated from the cassava root, tapioca is made by extracting the starch from the cassava root. It can often be found in the West Indies, Central and South America.
The extracted starch will be used to thicken the liquid mixture, giving your dish a sauce-like consistency.
14. Tarragon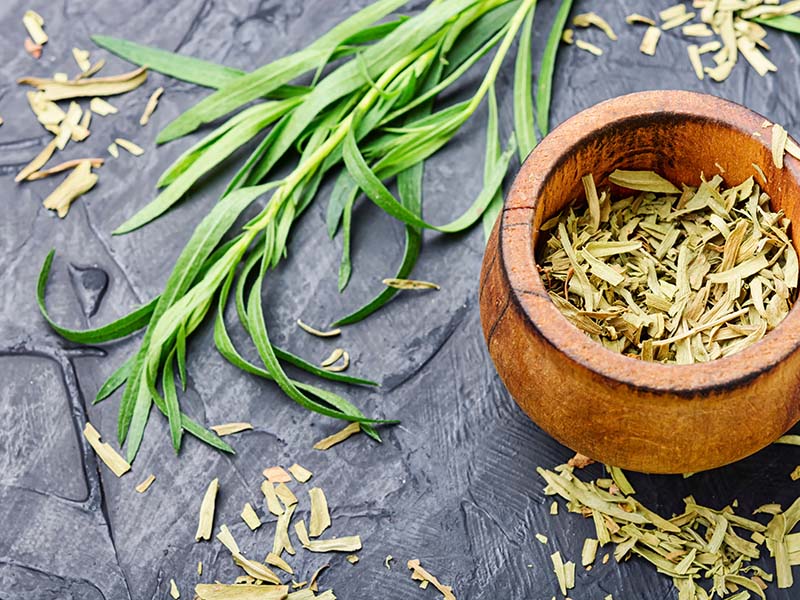 Tarragon is a species that belongs to the sunflower family. It can often be seen in cold climate areas like Siberia. The herb is often used as a flavor enhancer.
Typically, tarragon will be added in the process of cooking. The herb is well-known for dealing with indigestion, nausea, insomnia, and vomiting. The taste of tarragon is described as pungent and similar to licorice.
15. Truffle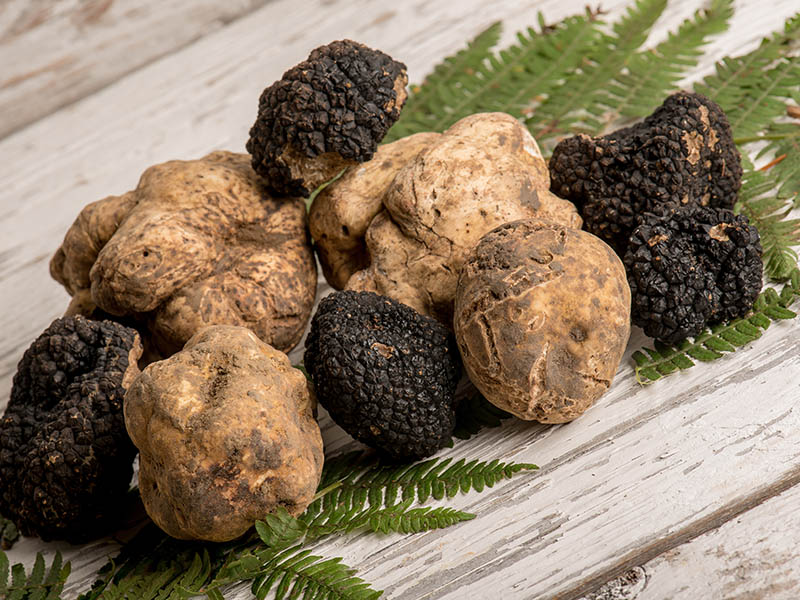 One of the most luxurious ingredients in cooking, truffle mushroom is difficult to cultivate and often collect in the forest under oak, hazel, or beech trees.
Famous for their high price, truffles can surprise you with their deep flavor and a slight garlic aroma. You mostly find them in several fancy, sumptuous dishes or truffle oil.
Discover the reason why wild truffles are so expensive.
16. Turban Squash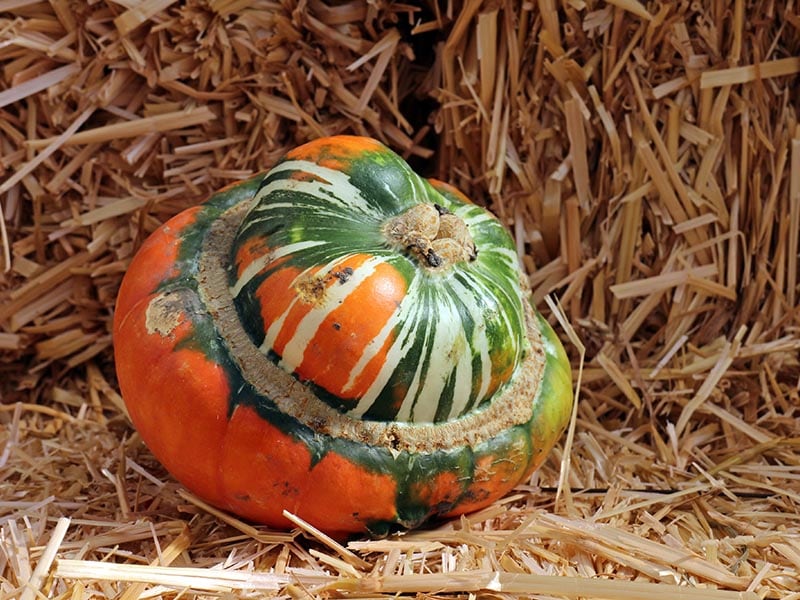 While turban squash may look like it came out of a sci-fi product, this Turkish squash is a native species to Central and North America.
The squash is said to have a nutty flavor and is commonly found ripe when the skin turns deep orange. You will find turban squash served widely in soup or stew.
17. Turnip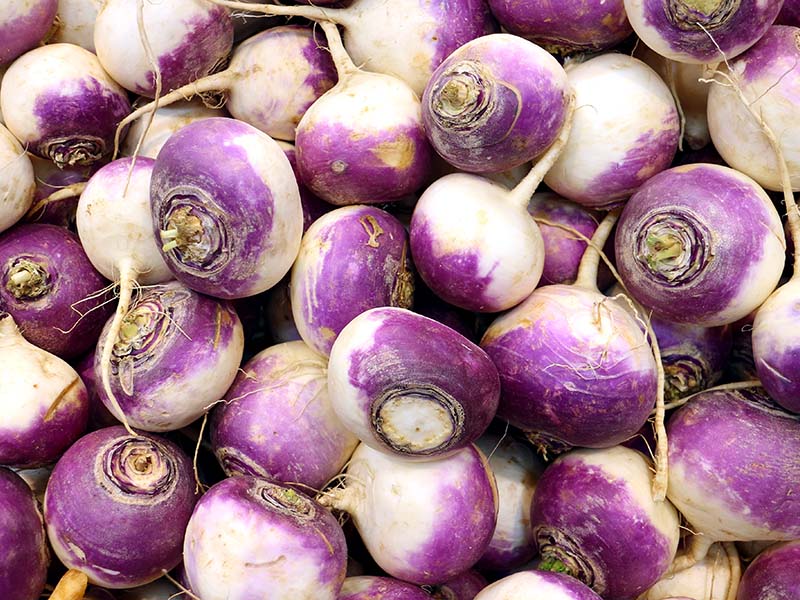 Turnip is a root-type vegetable that often grows in mild climate areas. Despite being underground, the root displays a white and purple color.
Young turnips can be consumed raw. If you know the right ways to preserve your turnip, its flavor will remain sweet and a bit spicy. When cooked, turnips will have a nuttier or earthy flavor and are usually served in a soup.
18. Triticale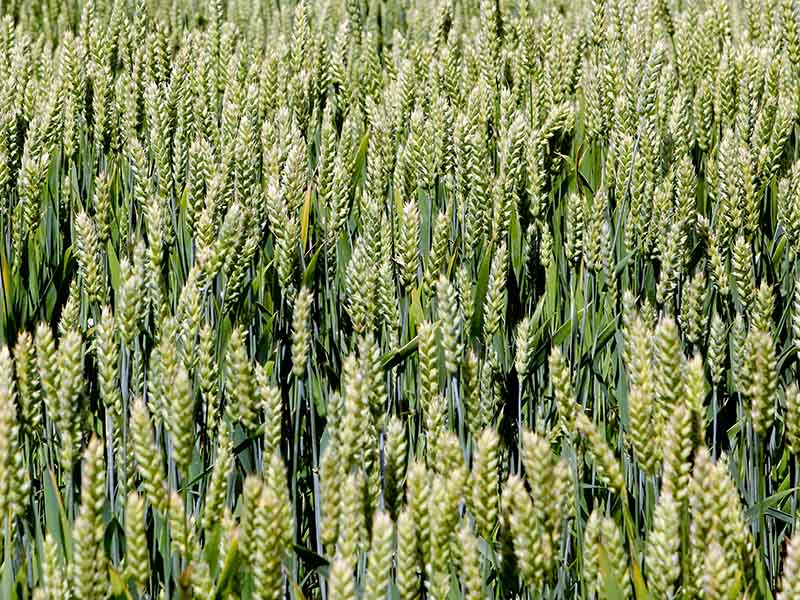 Germany and Scotland were the 2 first countries in the 19th century to give birth to Triticale, a hybrid plant between wheat and rye.
Triticale is mostly used as food for other livestock and appears in cereal as a substitution for wheat. You won't be able to find whole-grain triticale in the market because it is usually grounded into flour for easier uses.
14 Main Dishes Beginning With T For You To Try
Are you having friends over at your house? Then impress them by treating them with these 19 main dishes that start with T.
Tagliatelle is a type of flat Italian pasta, which can be used in many traditional Italian dishes. Each pasta strain is flattened out at around 6mm wide.
Traditionally, tagliatelle pasta is made of eggs and flour. The rough texture of the pasta suggests the pasta is best served along with viscous sauces.
One of Mexico's most staple dishes, Taco is a combination of wheat tortillas and various fillings. The tortilla will be grilled on a pan or open fire for better texture.
Fillings can range from any type of meat mixed with sauce and lettuce for garnish. People around the world love tacos for their diversity.
Tabbouleh is a type of salad full of chopped-up parsley mixed with onion, bulgur, tomato, and mint. The strong fragrance of parsley is the highlight of the salad but could be challenging for people who hate parsley.
You will encounter this dish in the Mediterranean region and other Arabian countries. Normally, tabbouleh will be mixed with olive oil, lemon juice, and salt for a flavorful salad mixture.
Compared to tofu, tempeh is considered a much healthier option. This traditional Indonesian treat is made by adding a fungus called Rhizopus oryzae to soybeans to kick start the fermentation process.
Thanks to its texture, vegetarians can use tempeh as a reliable substitution for meat.
Tempura, a general term for fried dishes, is a staple in the Japanese art of cooking. Most commonly, seafood and vegetables will be covered in egg wash and flour to create a unique crunchy texture.
Tempura is often served with teriyaki sauce or Japanese soy sauce as dipping sauces. You may think that tempura is plain because the flour is often unseasoned. However, the dish is served with sauces to add to the flavor.
Many people often mistake trout and salmon because of their similarities in meat, texture, and flavor.
However, trout and salmon are separated by many differences, one of which is their living habitats. Trout only live in freshwater environments, while salmon is a saltwater type of fish.
There are many ways to process trout, but the simplest way to retain all the trout flavor is to wrap it in aluminum foil and grill it over a fire.
Often referred to by fishermen as chicken of the sea, tuna is a saltwater fish that has a firm meat texture. The most outstanding feature of tuna is in its red meat, which can be eaten raw as sushi or sashimi in Japanese culture.
Tuna provides a great array of nutrients like iron, vitamin B6, potassium, selenium, and iodine. Don't be intimidated if you're not used to raw tuna because sashimi is perfectly safe to enjoy.
The most iconic dish of every Thanksgiving, turkey is a type of poultry native to North America. On average, a turkey will be 3 to 4 times heavier than a chicken, which makes it a very big bird to handle.
In terms of nutritional values, turkey meat has similar benefits and characteristics to chicken. Turkey is often intertwined with chicken meat to create various textures to the dish.
Tripe is the stomach of farm-raised animals. Although it's not common to see tripe in European cuisine, it is a very popular choice for Asian countries.
Because the inner structure of the tripe looks similar to a beehive, it's good at soaking up sauce or can be marinated for hours to intensify the flavor. If you're familiar with liver, then you will most likely love tripe because it has the same flavor and chewy texture.
The tofu was first made in China by adding coagulant substances to boiled soybeans. Tofu has spread all over the world as a solid choice for vegetarians.
Many people have known tofu for its renowned mild flavor. This taste helps it get implemented in many cooking styles and adopted in numerous culinary cultures.
Adopted by the French, meatloaf has been redesigned to fit in with the country's cuisine with the name terrine. It includes ground meat, seafood, boiled eggs, vegetables, and some seasonings.
Terrine can be served at room temperature and enjoyed with some slices of bread. Terrine is not to be confused with pate because the texture of terrine is much chunkier with meat.
Timbale is a favored French dish with a thick crust made out of pastry sheets or bread. The stuffing inside contains various vegetables, ground meat, and tomato sauce. Then people will bake it in the oven before serving it.
Invented in Quebec, Tourtiere is a French Canadian version of a pie with meat filling. The stuffing consists of minced pork or beef and potato.
It is usually accompanied by pickled beets or sweet and sour sauces when serving. It is one of Quebec customs to have tourtiere on New Year's Eve as a form of celebration.
The torpedo sandwich is a long bread stuffed with varieties of ham, meat, and provolone. Records of the torpedo date back to the late 19th to mid 20th centuries, and Italian workers were the first to invent it. In most areas today, people prefer to call it a Sub-sandwich.
There are now many variations of the sandwich with different types of fillings around the world, but it still retains its signature long bread.
Another staple food of Mexico, the tortilla, is made out of cornmeal or wheat flour. After kneading, the dough will be flattened out into circular shapes.
Before serving, tortillas are often pan-fried or grilled and mostly appear in dishes like burritos and tacos. Most Mexican dishes can incorporate tortillas to go with the sauce or as a base for other dishes that have fillings.
Top 3 Drinks That Start With T
The following drinks are not only refreshing but could also have fantastic health benefits for you.
34. Tequila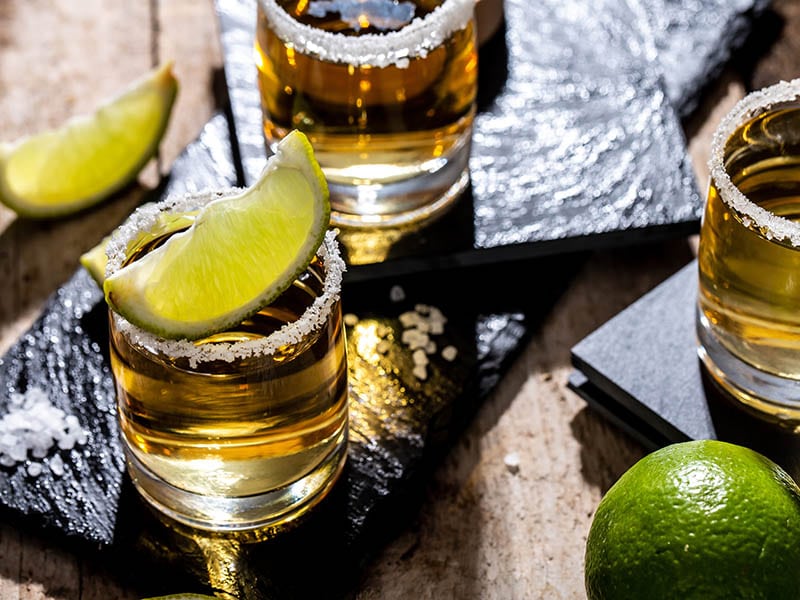 This has to be the most well-known liquor in the world. Tequila is made from the distillation of blue agave plants to extract its sugar content. Tequila is often used in many cocktails and often has a fruity, sweet, and earthy flavor to it.
Fun fact, the name Tequila is only used for alcohol that originated from the state of Jalisco and some towns of Guanajuato, Michoacán, Nayarit, and Tamaulipas. Any other alcohol that may have a similar flavor but is produced outside of the state will have to be called mezcal.
Discover how Tequila is traditionally made in Mexico.
Another simple drink, yet it is loved around the world. Tea was first invented in China by pouring hot water over dried tea leaves. The drink has a soft aroma and is best enjoyed warm.
Though many countries have various kinds of tea, its core characteristic is an aromatic drink with many health benefits. Drinking tea is believed to aid you with insomnia and improve your mood a lot.
36. Tisane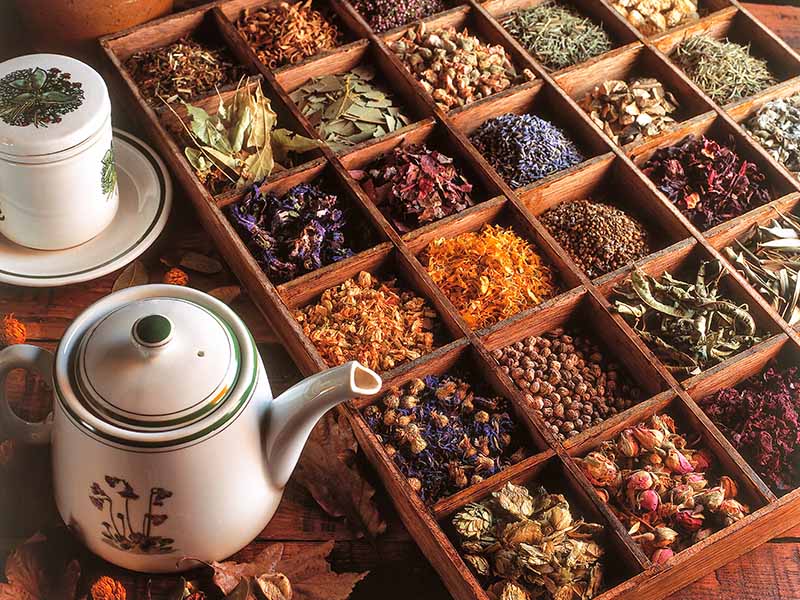 Tisane is a different version of tea that doesn't involve true tea leaves in the mixture. Instead, the tisane mixture is composed of herbal materials with fragrant, dried leaves for flavor.
If you're having difficulty sleeping or feeling exhausted, the tisane can help you alleviate all those problems.
5 Delicious And Flavorful T-Something Desserts You May Not Have Thought Of
Try these amazing sweet desserts that will make you crave even more. Keep scrolling to find what suits you most.
The tart was first made as a dessert in France. The dish has a base made out of pastry and covered with fillings (mostly cream or sweet and sour jam). The topping of the tart is usually berry-types of fruit.
Taffy, commonly known as Laffy Taffy (the company that made taffy), is a type of soft candy produced in America. The candy has a high sugar content mixed with cornstarch and butter.
People who tasted taffy before describing it as salty, chewy, and possesses an array of flavors to choose from.
Thanks to its robust and unique coffee flavor, Tiramisu has become an Italian sweet dish popular worldwide.
In the past, some tiramisu recipes even had Marsala wine and rum in the mixture to enhance the flavor. Today, some tiramisu will include Brandy (a type of distilled wine) to give the cake a distinctive taste.
There are some features such as rich cream and the bitterness of coffee that the cake needs to have for it to be called tiramisu.
Often distinguishable by its triangular shape, turnover is a type of pie made by combining the crust of puff pastry with the sweet and sour of fillings. Turnover often has apples or jam for filling and is baked before serving.
Torte is an Austrian cake that requires little to no flour to make. Instead, the flour is replaced with groundnut (or breadcrumbs) and eggs. People described the cake as rich and has multiple layers to it.
Torte is made by placing thin layers of cakes over each other, with whipped cream between each one. It is popular in Austria since it doesn't require too much extensive knowledge about baking to make.
Top 12 Condiments And Spices Beginning With T To Add To Your Cupboard
Some of these condiments and spices may be familiar to you but keep reading. You will uncover something you haven't heard about yet.
Teriyaki is believed to be invented in the 1700s in Japan. It is made by combining a mixture of soy sauce, honey, brown sugar, garlic, ginger, and mirin. Teriyaki is most commonly known for its sweetness and salty taste with a thick consistency.
The world has become much more familiar with teriyaki than ever as it's often used to marinate or glaze meat for BBQ.
Learn how to make Teriyaki chicken for your next meal.
43. Tabasco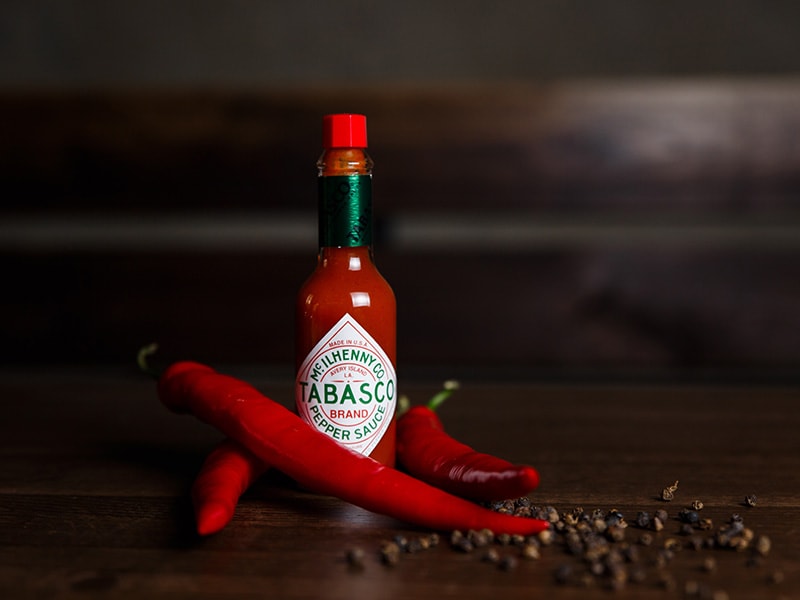 Tabasco or hot sauce is an American type of chili sauce known for its aggressive spiciness. Because it's made from pure pepper, it is suggested that people should only use a little of the sauce every time to avoid any side effects like nausea or shivering due to overconsumption.
The sauce is made by grounding sesame seeds into a paste consistency, which is then mixed with a bit of oil and salt for flavor. This Middle East condiment has a silken consistency with an earthy and nutty taste, making it different from peanut butter.
Nowadays, most restaurants use tahini as a part of their salad dressing recipes, which helps bring out the refreshing flavor of vegetables. Tahini is especially versatile, so you can add it to enhance any meal.
Learn how to make Tahini by yourself at home.
45. Tamari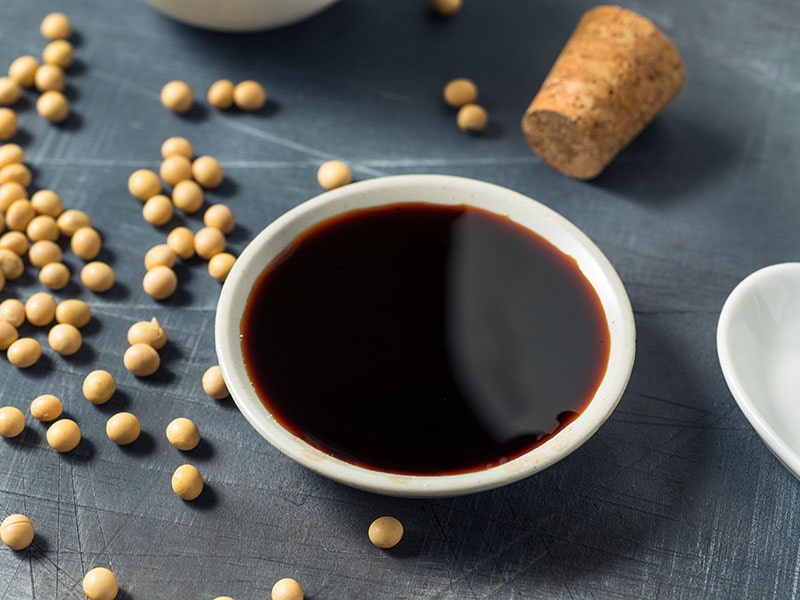 Tamari is a type of soy sauce made in Japan. It has a very thick consistency which sets it apart from Chinese soy sauce. Due to its umami flavor, people tend to use tamari to marinate or add it to stir-fried dishes.
46. Turmeric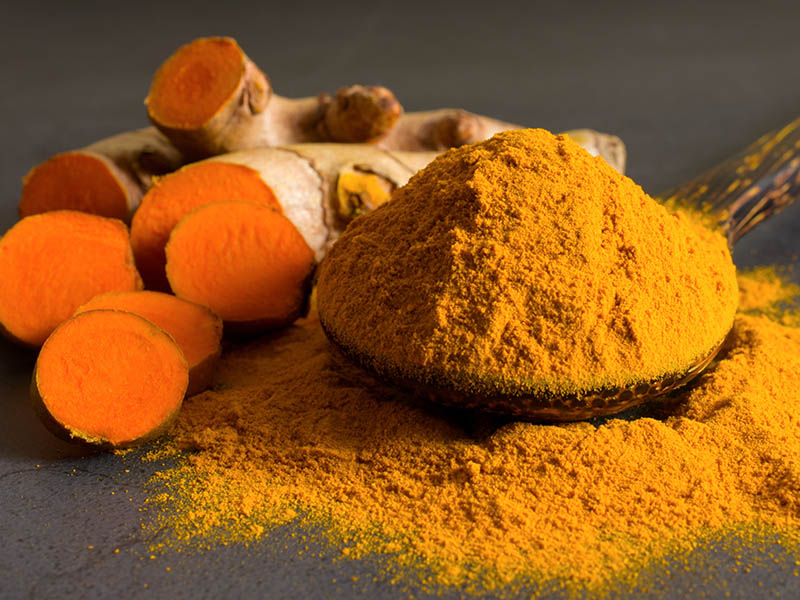 The root of the turmeric plant is like a close cousin of ginger. However, turmeric root has a much more vibrant orange and is often crushed into powder to serve many purposes.
Turmeric powder has many health benefits, including weight loss and preventing hair loss. If you have a sore throat, mix honey with turmeric tea to ease the pain.
Tartar is made with a base of mayonnaise sauce mixed with pickles, lemon juice, and herbs. People described tartar as savory, sweet, and creamy.
The sauce is often served alongside fried fish or seafood. You will easily encounter Tartar sauce in most restaurants along the North American coast, where it's served as a dipping sauce for any food.
Learn how to make your very own Tartar sauce.
48. Tekka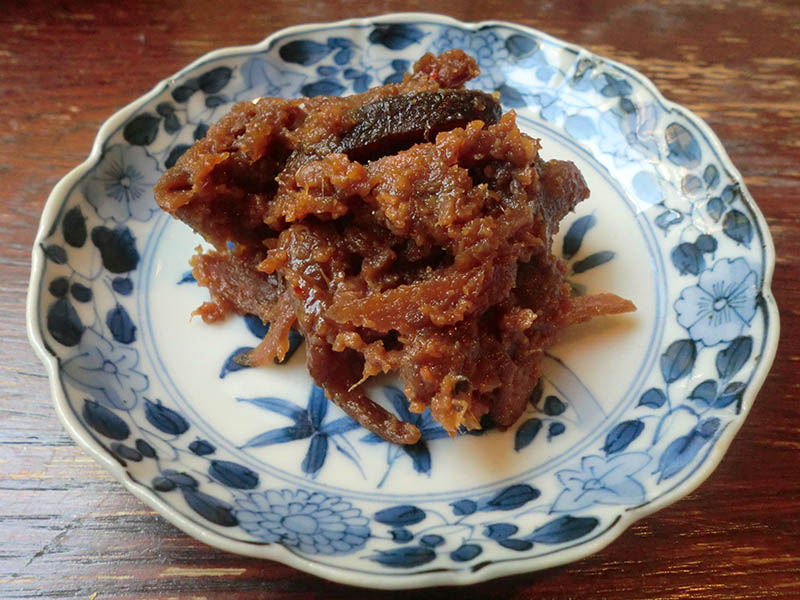 Tekka is a Japanese condiment commonly used in miso soup. Traditionally, Tekka is made by boiling various roots for a long time to create a concentrated powder.
In other parts of the world, Tekka is often sprinkled over dishes to create an umami flavor. You don't always need to mix Tekka with hot water to use because it can be added directly to your dishes.
Create your first miso soup by adding Tekka.
More commonly called "Sour Plum Sauce", Tkemali is made from various plum types mixed with salt and sugar to extract more flavor from the plum. Then, it will be added with some garlic, chilies, dill, and finely chopped parsley.
Sour Plum Sauce is well-known in Georgia (where it originated) and is often used to pair with grilled meat to keep the meat moisturized.
Made in the Middle East region, Toum is created by mixing ingredients with finely ground garlic. The consistency of garlic will need to be paste-like for the mixture to work. Other ingredients of Toum include lemon, salt, and oil.
Toum is often used to marinate the meat before grilling. The garlic will infuse inside of the meat and create an aromatic flavor of smoked garlic.
A tomato sauce mixture consists of chopped-up tomatoes simmering with a bit of oil until the sauce becomes thickened. Then you can start adding seasoning to taste.
Tomato sauce is often served to enhance the sweet and sour flavor of the dish. Minced pork or beef will also be put in tomato sauce to soak up the flavorful sauce.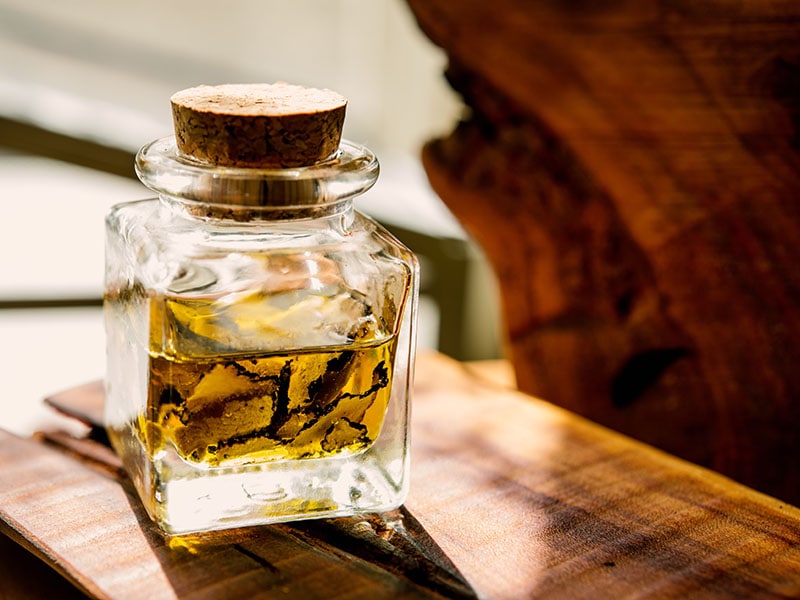 To earn high-quality truffle oils, people have to soak truffles in premium olive oil to infuse the mushroom's earthy flavor into the oil. This product is a flavor enhancer for different dishes, such as salads.
Elevate your salad with homemade truffle oil for dressing.
Sour, creamy, and has a little garlic scent, tzatziki is a sauce that is made in Greece. The sauce is mainly composed of Greek yogurt. Some areas will combine with sliced cucumber for extra crunchiness. In some areas, extra virgin oil will be added to enhance the fragrance of the sauce.
Typically, people use tzatziki as dipping for many dishes like salad or spread for sandwiches. If you're a fan of creamy food, this is a sauce you cannot miss.
The List Of T-Something Foods Is Now In Your Hand
Give one of these foods a try, and don't be afraid to add them to your grocery list the next time you go to the supermarket.
Do you find this article helpful? Are there any foods that start with T that you wanted to add to the list? Place your answer in the comment section below! I would love to read more of your opinions.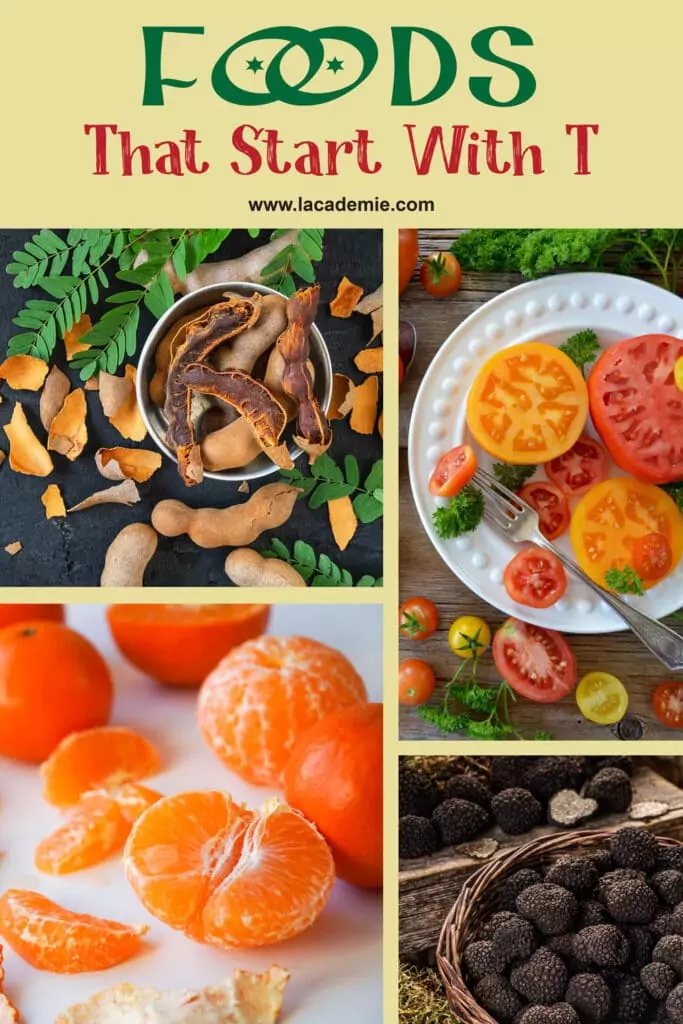 Foods by The Alphabet
Foods That Start with T (You are here)