If you love good food, this warm and hearty traditional Bistec Encebollado will make you feel like being in seventh heaven. I've created my own take on this irresistibly savory Puerto Rican recipe that will send your taste buds on a flavor journey.
In addition to the excellent flavor, its versatility is another plus point. Served with rice, this beef and onion dish makes for a lovely dinner or lunch dish. Bistec Encebollado is also a great option when cooking for a large number of people. Learn this recipe, and you will feed the crowd easily!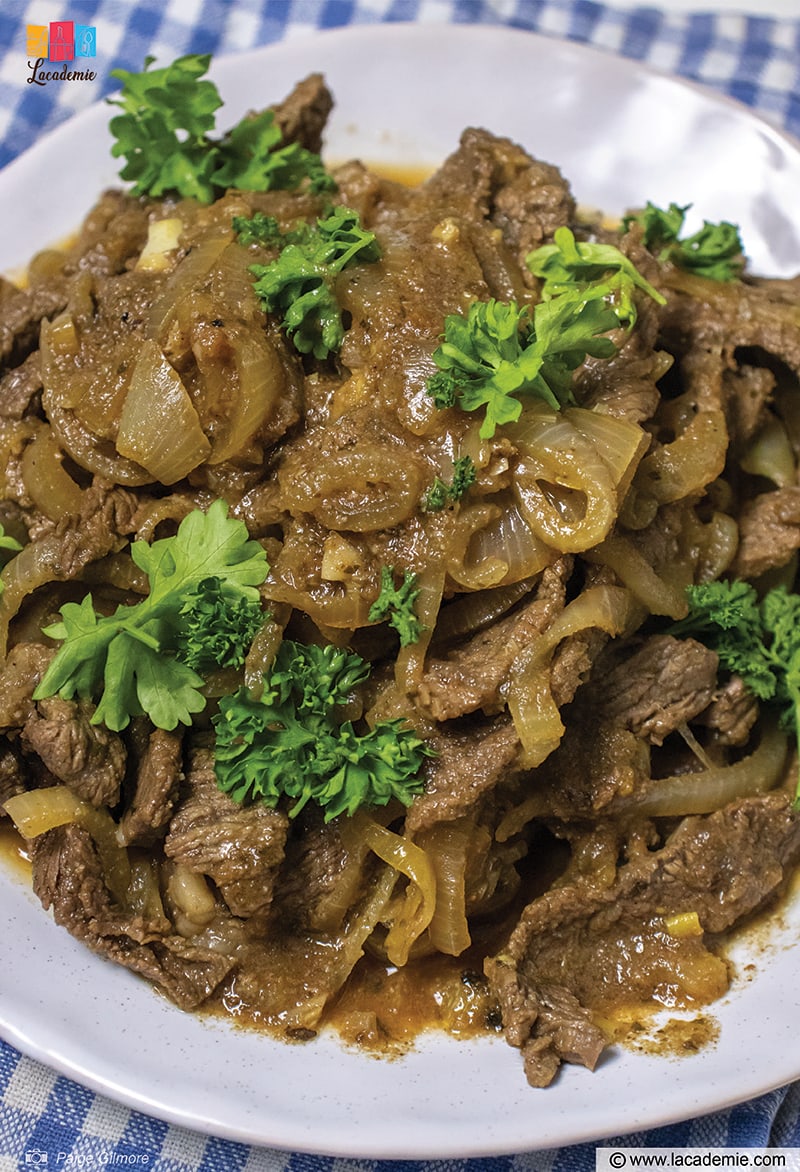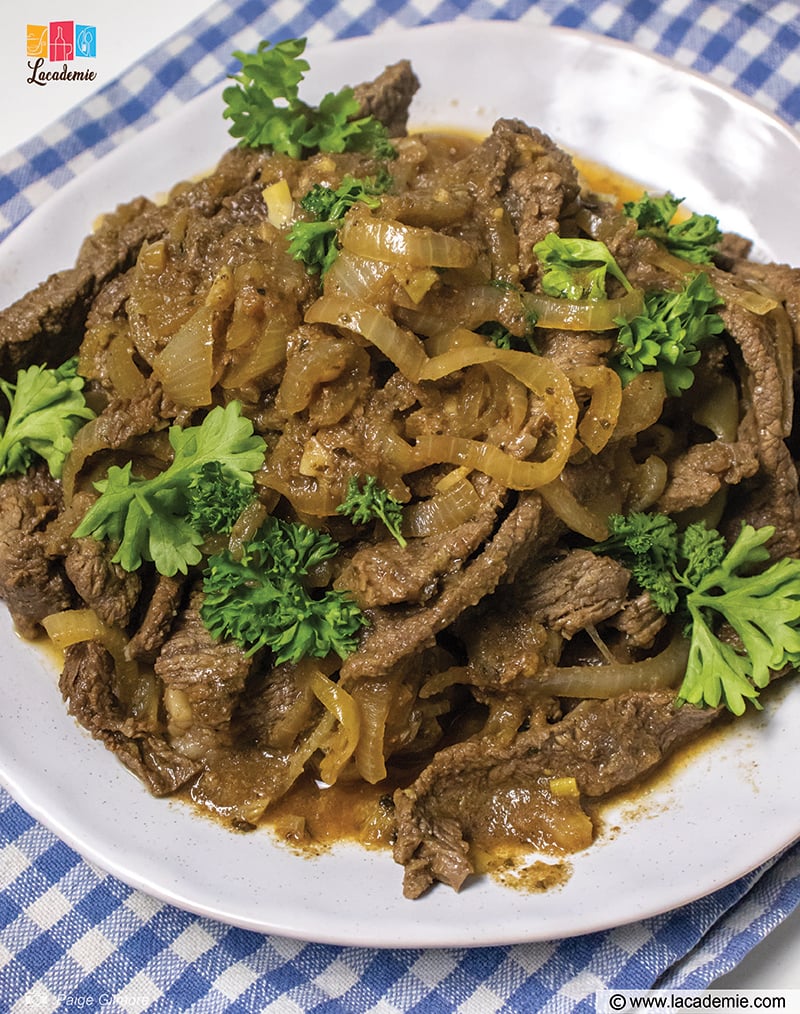 What Is Bistec Encebollado?
Bistec Encebollado is a traditional Puerto Rican dish consisting of beef cheek steaks marinated in the local version of sofrito sauce (a mixture of aromatic spices such as onions, cilantro, garlic, red pepper, etc.)
Then, the beef and onions are stewed in the savory sauce base. The end result is a tender and flavorful meal.
It is extremely famous comfort food in Puerto Rico. And thanks to this recipe, this dish will be the latest addition to your menu. Cooking Bistec Encebollado is child's play, but its flavor will charm countless adults. Let's scroll down and learn how to bring the exotic Latin feel to your kitchen.
Tools
While Bistec Encebollado is relatively simple to cook, having an efficient set of tools will make your task easier. You will need the following things:
Large ovenproof skillet pan with lid: You're going to sear the beef in the skillet first before cooking it in the oven. Therefore, the skillet has to be ovenproof as well.
Chopping board: to cut the beef.
Sharp knife: to cut the beef.
Bowl: to hold the beef during the marination process.
Cling wrap: to cover the bowl while you're marinating the beef. You can replace it with a lid, but using something disposable with raw meat will be more hygienic.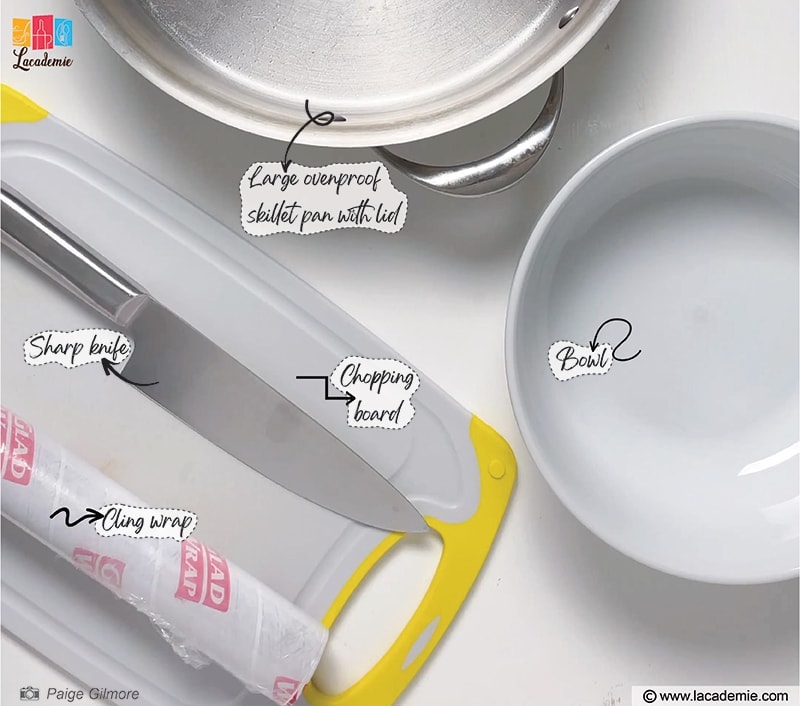 Ingredients
By now, you probably know that beef and onions are the souls of any Bistec Encebollado recipe. But in order to awaken the full extent of its deliciousness, you'll need more than that. Here is the full list of what you should prepare.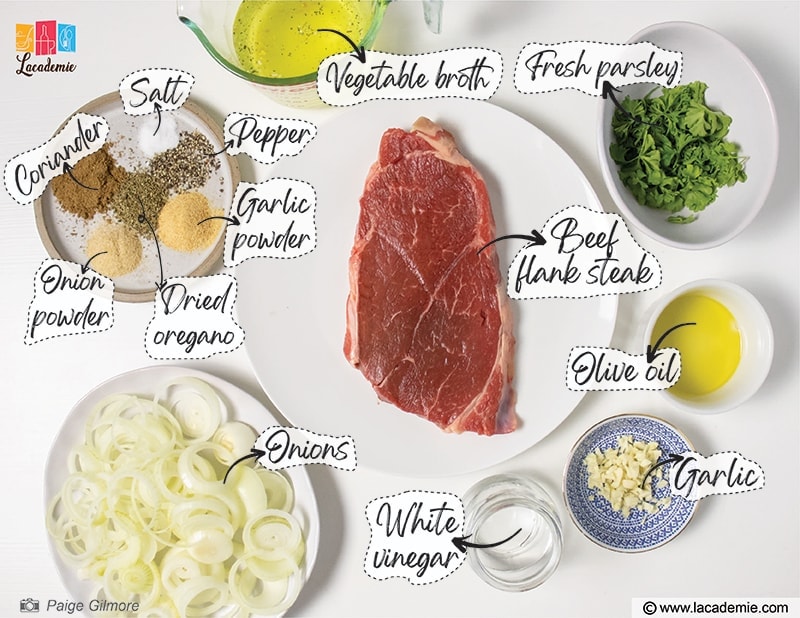 Beef flank steak: This is the best cut for this recipe, though you can also utilize skirt, cube, or sirloin steak. An interesting fact: Bistec actually means "steak" in Spanish.
Olive oil: helps to give the beef an even sear before the main cooking. You can also opt for types of oil with a higher smoking point, such as avocado or sunflower oil.
Onions, garlic, and onion powder: They are very important ingredients to create the authentic flavor of Bistec Encebollado. They also form the backbone of Puerto Rican sofrito.
White vinegar: an essential ingredient to tie together all the flavors.
Oregano and coriander: supplies earthy Puerto Rican flavors to the dish. They are also part of sofrito.
Vegetable broth: adds savoriness to the sauce base. It is acceptable to use beef broth instead for a richer taste, but you should choose this choice to lower the calorie count.
Fresh parsley: diversifies the color as well as improves the aroma of the dish.
Salt and pepper: to taste
How To Make Bistec Encebollado
It's time to deal with the crux of the matter: how to cook Bistec Encebollado at home. The answer is simply a series of several straightforward steps that you're about to read.
Step 1: Prepare And Marinate The Beef
Thinly slice your beef with a sharp knife and add to a bowl. Then, add garlic powder, onion powder, garlic, oregano, coriander, and white vinegar to the bowl. Stir everything together and cover the bowl with cling wrap.
Place it in the refrigerator for at least 30 minutes. Make sure that you leave the meat to soak in the marinade long enough for it to really infuse the flavors. If possible, you can let the meat marinate for several hours.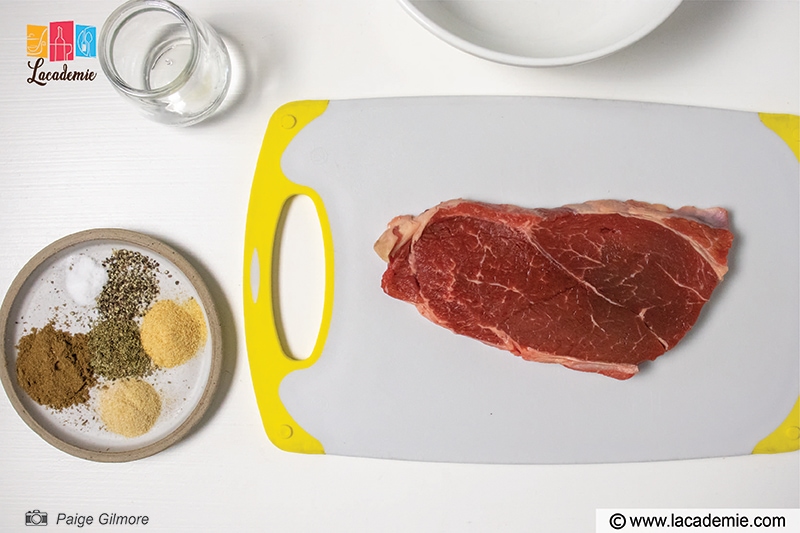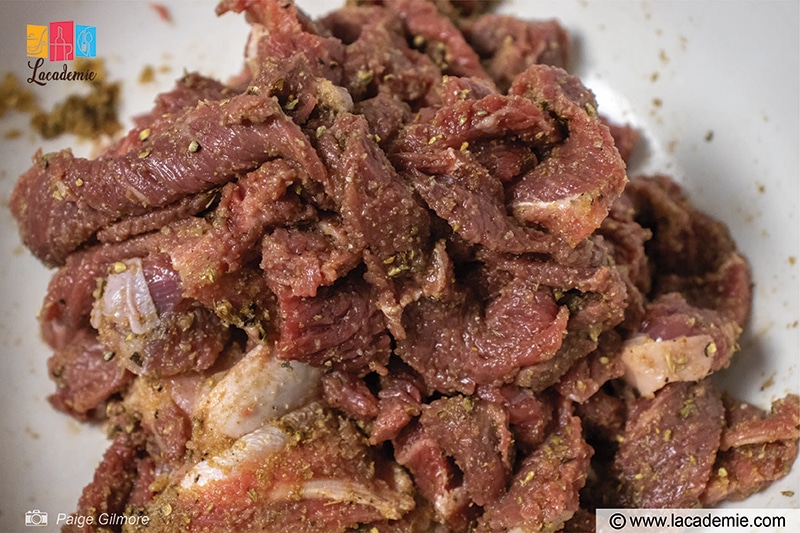 Step 2: Sear The Beef
Preheat the oven to 375°F (190°C). While waiting for it to heat up, place a skillet on medium to high heat on a stovetop and add olive oil. Sear your beef slices for 2 – 4 minutes on each side until golden brown.
Step 3: Cook The Bistec Encebollado
Add onions, vegetable broth, and seasoning to the beef before covering the skillet. Transfer it to the preheated oven and cook for 30 – 40 minutes.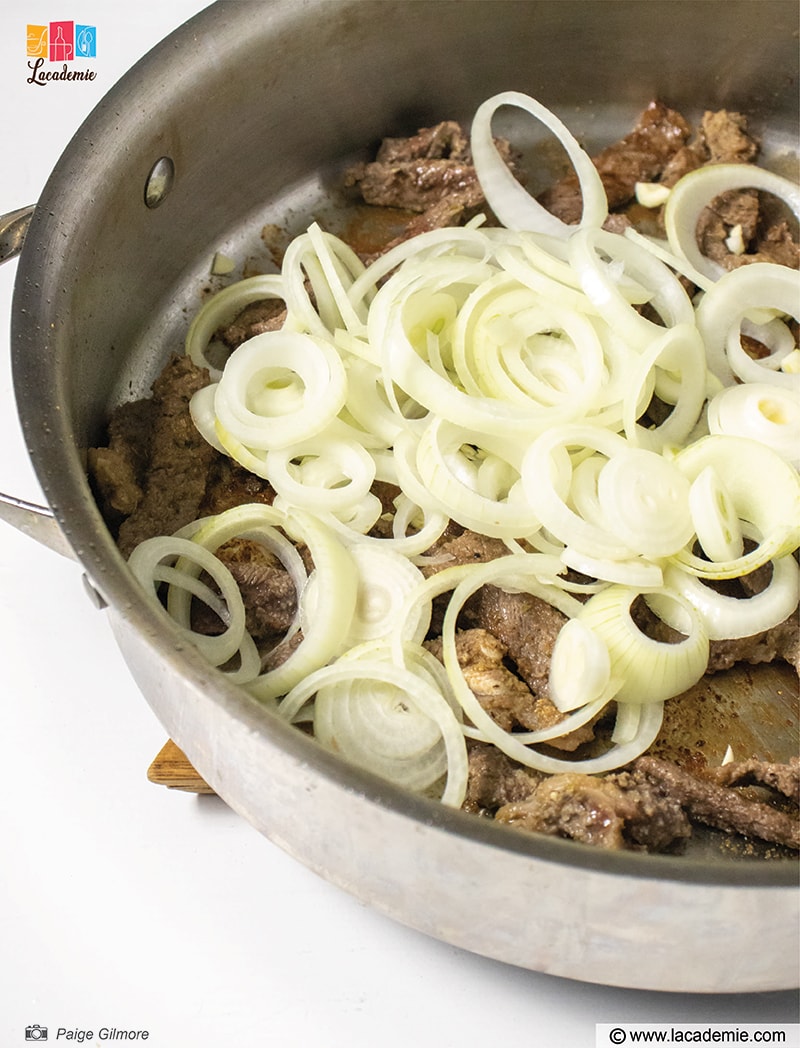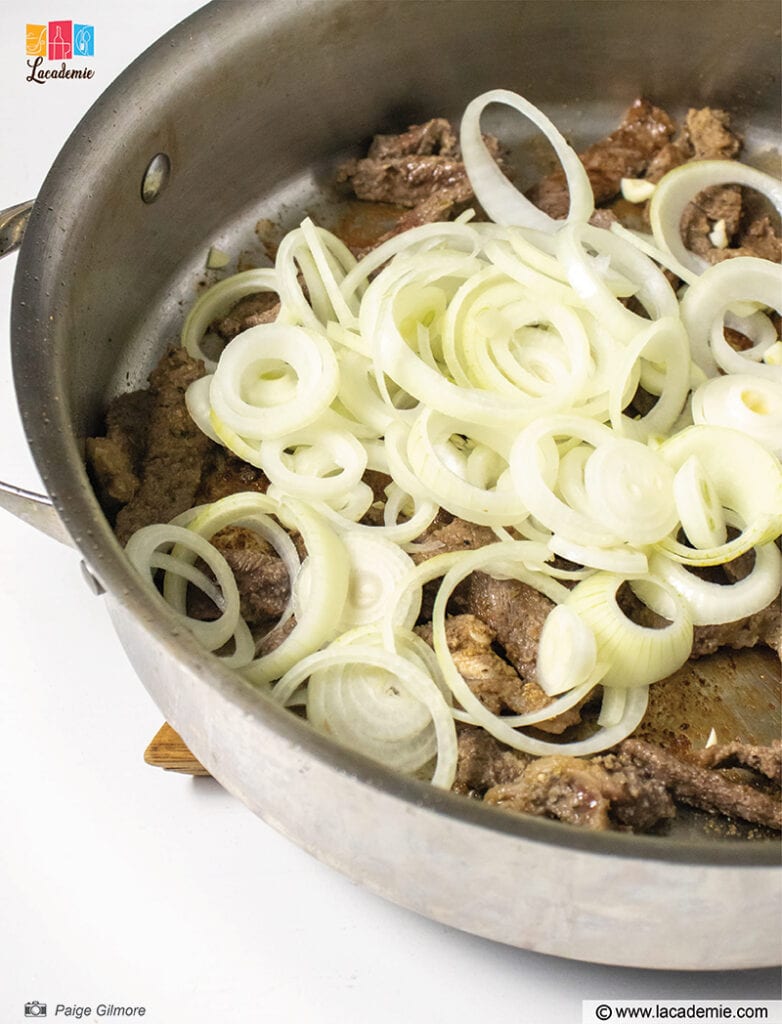 Get the skillet out and remove the lid to check. If the dish is a little watery, place it back in the oven without the lid for another 5 – 10 minutes.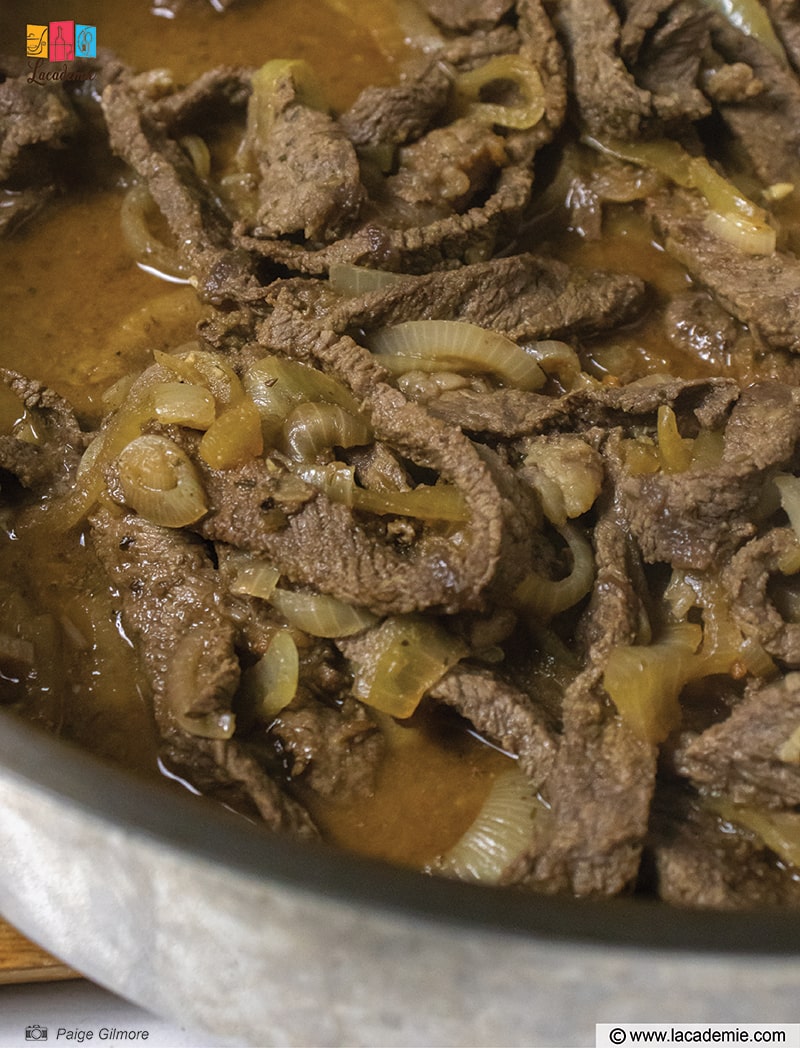 Step 4: Serve Your Bistec Encebollado
Once your Bistec Encebollado is cooked to your liking, sprinkle chopped parsley leaves and serve hot with your favorite side of vegetables or rice. Enjoy!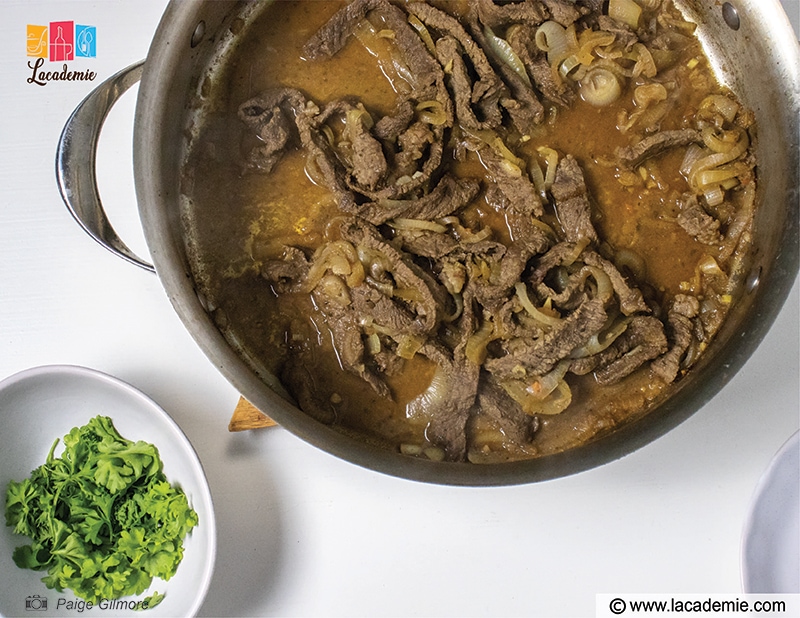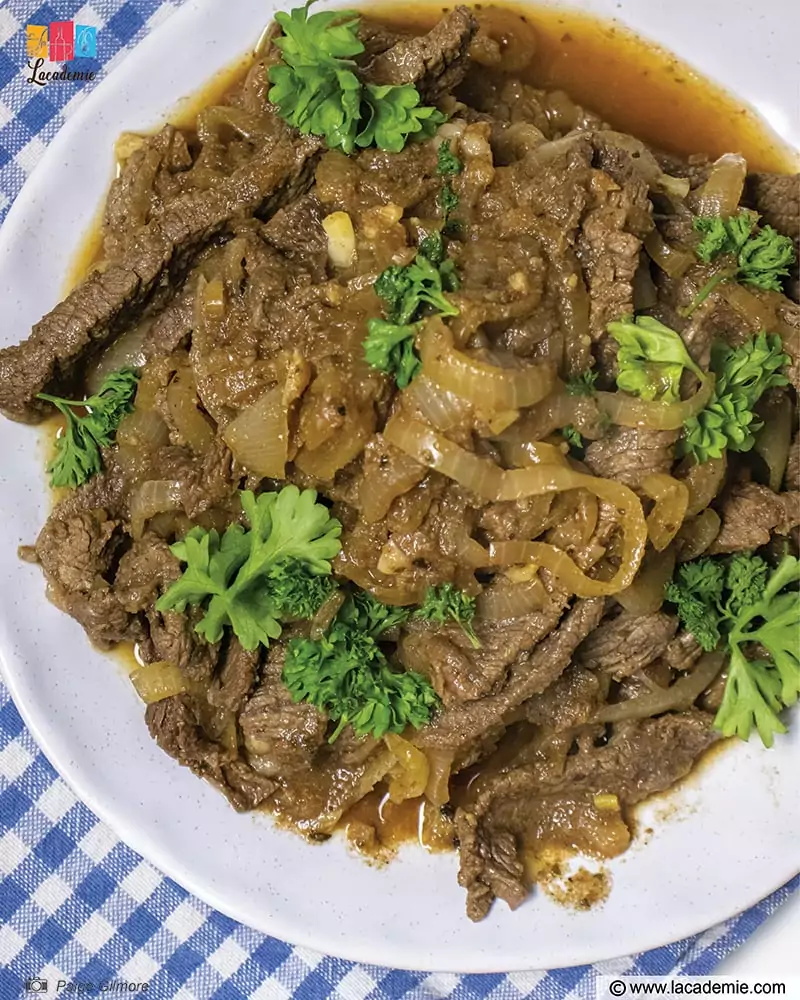 What To Serve With My Bistec Encebollado?
Bistec Encebollado is a warm and flavor-packed dish that you can enjoy with anything. However, the following options are my favorite ways to serve this wonderful Puerto Rican dish.
Rice: Fluffy rice is the traditional carbohydrate to serve alongside Bistec Encebollado in its home country.
Sauteed onions: I love onions, and I think there is nothing wrong with serving this onion-infused dish alongside more fragrant onions.
Beans and lentils: They are other traditional Puerto Rican side dishes that go well with beef. You can enjoy them for extra fiber and substance.
Herbs: My favorite pick is fresh parsley which will add much more color and liven up the plate.
Storing Bistec Encebollado Is So Easy
Besides helping you marinate the beef, the fridge is an excellent way of storing your Bistec Encebollado. When it has completely cooled down, you can put your food in an airtight container and stack it somewhere in the fridge. Your food will stay in good condition for 3 – 4 days.
Even better, you can store Bistec Encebollado in the freezer (with a suitable bag or container) for about 3 months. Remember to reheat your beef carefully before eating it as well as refraining from freezing leftover beef for a second time.
Bistec Encebollado: Bring The Warmth Of Puerto Rican Cuisine To Your House!
Are you sick and tired of the mundane beef stew you're so familiar with? Are you after a savory beef and onion dish with a lot of flavors that will stimulate all of your senses? If your answer is yes, this Bistec Encebollado recipe is your dream come true.
There is no need for sophisticated kitchen utensils and pans, making this recipe a breeze to cook and clean up. I've made sure that the flavor range keeps the sofrito sauce and bistec to its traditional Puerto Rican roots, creating a delicious dish for you to try.
Follow my recipe and tell me about your result in the comment section. If you have any new ideas to contribute, please don't hesitate to do so. And feel free to share this post with everyone around you to spread the popularity of Puerto Rican foods. Many thanks!
Nutrition Facts
4 servings per container
---
Amount Per ServingCalories292
% Daily Value *
Total Fat 11.1g

17

%
Cholesterol 101mg

34

%
Sodium 271mg

12

%
Potassium 663mg

19

%
Total Carbohydrate 9.4g

3

%

Dietary Fiber 2g

8

%
Sugars 3.8g

Protein 36.9g

72

%
---
* The % Daily Value tells you how much a nutrient in a serving of food contributes to a daily diet. 2,000 calories a day is used for general nutrition advice.