Puerto Rican desserts are the country's hidden charm. You may want to come to Puerto Rico because of its long, glamorous beaches with various fascinating festival activities, but the thing that stays in your heart is its cuisine. Furthermore, by being a tropical country, desserts are their pride.
This archipelago was famous for its sugar industry for a long time, especially during the Spanish – American War. Hence, many sweet delicacies, including desserts, were born and made this country a famous destination for the sweetaholic club!
The ingredients to make Puerto Rican's desserts are mainly tropical fruits from the Caribbean like pineapple, guava, and coconut, together with only classic components like vanilla, caramel, sugar, milk, egg, and bread.
Believe it or not, read till the end! I bet that you can easily instantly make at least five dishes among several delicacy recipes.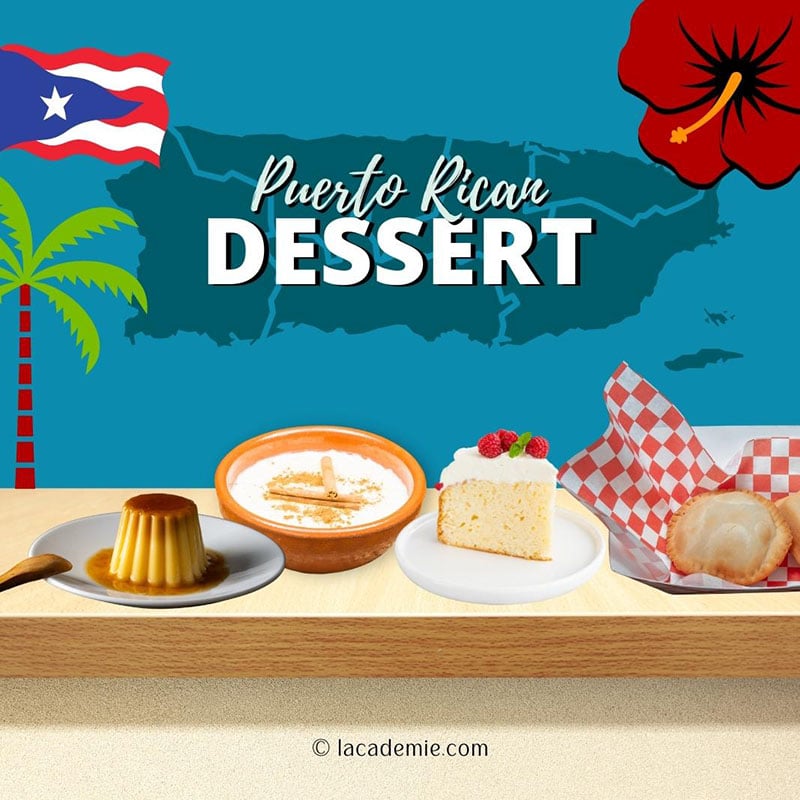 My Best Puerto Rican Desserts List
In my sharing about Puerto Rican desserts below! You will see how diverse the dessert cuisine of the Puerto Rican people is, but all are made from a few familiar main ingredients. There will be creamy puddings with tropical flavors, crispy or puffy bread, cakes, cookies, and, last but not least, beverages. All of them are preferred to be served as delicious options to end a meal on the island.
Creamy Puerto Rican Flan and Puddings
1. Tembleque
2. Arroz Con Dulce (Puerto Rican Rice Pudding)
3. Flan de Queso
4. Budin de Pan
5. Flan De Calabaza (Pumpkin Flan)
Crunchy Pastries and Bread
6. Guava Pastelitos
7. Mallorca Bread
8. Quesitos de guayaba (Puerto Rican Cream Cheese-filled Pastries)
Puerto Rican Cakes
9. Dulce de Coco
10. Pineapple Rum Cake
11. Panetela
12. Tres Leche
13. Guava Cheesecake
14. Brazo Gitano (Guava Roll Cake)
15. Polvorones
16. Besitos de Coco
17. Mantecaditos (Shortbread Cookies)
Puerto Rican Frozen Desserts And Beverages
18. Coquito
19. Limber
20. Piragua
21. Limber De Nutella
Creamy Puerto Rican Flan and Puddings That You Cannot Miss
Making from main ingredients like milk, coconut, and cinnamon, Puerto Rican Pudding gives your taste a memorable experience.
Tembleque can be considered an iconic dessert made with coconut. In some recipes, aside from regular spices like sugar, cinnamon, and cloves, they even use both coconut milk and coconut cream to enrich the flavor.
You can also find this dish in many other Latin American countries or Southeast Asia, where coconut milk is popular. Tembleque is usually served at Christmas, but now you can find it any time around Puerto Rican.
From my point of view, this tembleque has a creamy and rich taste and has a signature sweetness and aroma of fresh coconut milk. You may find a hint of mild flavor in some versions, which means they use kosher salt in the recipe. Tembleque should be served right after getting out of the fridge to ensure a fresh experience.
It is an effortless traditional dish; just follow these simple steps:
This specialty from Puerto Rican cuisine is made by cooking short-grain rice with lots of sweet components like coconut milk, vanilla, sugar, cloves, and cinnamon. Then commonly mixed with dried golden raisins and sweetened coconut flakes.
This saccharine pudding is like loose oatmeal meets custard, but instead of the repetitive whole-grain taste, it is sweet and tastier.
Arroz con Dulce is a traditional dish for holidays or for someone in your family under the weather, which means even when you just look at it, you know there is something pleasant happening.
A quick 6-minute guide to create this ultra-creamy and Christmas classic! Watch this video:
Flan de Queso, or you can call it Cheese plan, is a phenomenal culinary option in Puerto Rico. The dish was first born in Spain, then brought over to this archipelago and became an integral part of Latin culture.
You will mostly see them within the Thanksgiving seasons, and it can be in any Puerto Rican's dinner. However, you do not need to wait until the end of the year; just come to a Puerto Rican coffee shop to order or make it by yourself at any time.
The original Fan de Queso is a plan with cheese, full-flavored with a rich, creamy taste. You can also find many other flavors of Plan de Queso like chocolate, coconut, or Nutella. Above all of these, the original Puerto Rican style is my addict.
The Budin de Pan (or you can call it Puerto Rican Bread Pudding) is a bread dessert that's very popular in Puerto Rico and the rest of Latin America.
The two heroes of this dish are bread and raisin. The texture of Budin de Pan is tender, creamy with crunchy edges, while the flavor is spiced with cinnamon, sweet, and buttery with caramel sauce.
Budin de Pan is common because it is delicious, easy to make, and not expensive. It is a friend of every mom. You can make it from your leftover white bread or stale sandwich loaf from yesterday.
The Budin de Pan recipe is right here, feel free to make delicious treats for your beloved ones! Watch this video:
Pumpkin plan is best for a year-end season or family gathering dinner. Rich and creamy, this dessert can capture anyone's heart.
The creamy texture with a beautiful yellow to brown color and a strong aroma of this flan will remind you of happy moments. The combination of caramelized sauce, creamy and fatty taste of milk and cream, and the signature pumpkin spice will last very long in your mouth. However, the pumpkin ingredient makes the texture not as smooth as usual.
Pumpkin flan can be called Flan de Calabaza.
Easy And Flaky Pastries And Bread For Perfect Desserts
It's a bit soft, crispy with the fresh bread smell, then adding some fillings that stand for Puerto Rican tropical cuisine, that's what I want to say about their pastries and bread.
Guava Pastelios is a type of puff pastry made with guava paste. Its other names are: Guava Pastry, Pastelillos De Guayaba or Guava Turnovers.
Guava is a signature fruit that represents Puerto Rico. The Puerto Ricans use guava a lot in their cuisines because of its unique fruity taste. And these recipes are even loved by lots of foreigners.
Guava Pastelitos tastes like usual jam-filled pastries. What appeals to me is the combination between the soft and chewy guava page and the crispy pastry. The pie will have a perfect balance between sweetness, creaminess, and crunchiness with an added-in cream cheese version. Also, the signature flavor of tropical guava makes it worth a try.
Man de Mallorca – Mallorca bread is a popular treat found in all Puerto Rico streets. This bread is served as a breakfast or a dessert in coffee shops.
Mallorca bread is an easy-to-make bread covered with powdered sugar. Its soft and supple texture is the key to success. My tip for making this bread is that you should care when choosing the flour. The best option is unbleached flour, which creates the most delicate bread.
Order a piece of Mallorca with a cup of coffee or tea. Then you will know how to enjoy a morning like an authentic Puerto Rican: First, enjoy the sweetness and full of butter flavor of this bread. And then the bitterness from coffee or tea will light up your day immediately.
Mallorca bread: soft, squishy, and easy to make at home! Watch this video to know how to make Mallorca Bread:
As you may realize, people in Puerto Rico love enjoying different guava varieties. They have various desserts made from this delicious paste; one of these is Quesitos de Guayaba (or you can call it Puerto Rican Cream Cheese-filled pastries).
Quesitos is a cigar-shaped pasty (some say it looks like a folded handkerchief) puffed with guava paste and luscious sweet cream cheese and covered under dusted ground white sugar.
The texture is balanced between the crips, flaky crust outside and the soft, creamy cake filling inside. Furthermore, the taste is sweet, fatty but on hold with the taste of the bread. I cannot think of anything better than that.
Puerto Rican Cakes That Match Your Festive Meals
Puerto Rican cakes are mostly fruity-flavored cakes that can freshen your taste right after the first bite. And since they have a fruity flavor, they are very addictive!
If you are a fan of coconut and everything from them, you cannot miss this Dulce de Coco.
The fudge has no standard shape – sometimes it is spheres, squares, like a tart, or just a heaping mound. The combination between the thick texture and the crunch for coconut is appealing.
You can serve Dulce de Coco as a puffed pastry filler alone, or with fresh cheese, queso fresco, or simply enjoy it alone.
Coconut desserts always bring a vibe of freshness from tropical seas. It is both delightful and flavorful. Just think about rice crispy pie, but this is a softer version with the crushed coconut simmered in milk at the base. What is the aroma of this fudge? I think it is called "satisfying".
Pineapple rum cake has two layers. One is the light sponge cake soaked with dark, delicious rum, staying at the base. The other layer is dried ring-shaped pineapple on the top, soaked in rum for months.
I'll never get bored with the Caribbean fantastic sweets, especially the hero from this land: pineapple rum cake. The sourness and sweetness from pineapple combined with the custard flavor from the sponge makes people crave more, not to mention the rum aroma!
Alcohol is never the easy part, even though rum is the common ingredient in cooking. This ingredient will depend much on your personal preference. Secondly is the signature scent from pineapple and its juicy texture.
Jump right into a How-to video for the most decent pineapple rum cake ever! Watch this video:
When cream cheese meets tropical guava fruit, it is called Panetela. You can call it by its full name Panetela de Guayaba y queso (Guava Cake with cream cheese).
This unique dessert is a perfect combination between cream cheese coffee-flavored cake and a guava pastry. From the bottom, there is dough that, after baking, it will become quite dense. Then comes with a layer of chewy guava paste and slices of cream cheese.
I have to mention that Puerto Ricans are craving guava paste with cream cheese. They are born for each other.
Secondly, about the taste. How do I say? It is a butter crumb cake outside but soft, bittersweet, and cheesy on the inside. Not too sweet, not too bland, not too limp and watery, not too dried and stiff. It is well-balanced. That is what makes it desirable.
This is a glorious treat for yourself. "Milk cake" is what you can call it. Tres Leche has two main parts: the base and the top. Tres Leche's base is an ultra-moist sponge cake soaked up with a mixture of coconut and milk. Does it sound amazing already? What's more, on the top of it is a thick layer of whipped cream with decorative fruits – strawberry is a common one.
For afar, Tre Leches looks like a regular birthday cake but full of coconut aroma. For me, Tre Leche brings me a memory of exciting days going around the beaches during festivals.
By using coconut milk, the cake gives you a signature tropical memory of Puerto Ricans. It is delightful with fresh fruits on top. The fruit to serve should be juicy and has a sour flavor to balance the sweetness of the cake, for example, strawberries, grapes, or cherries.
Cheesecake lovers can not miss this sweet treat full of delicious cream cheese. This cake has multiple layers with a perfect combination of flavors.
The base is the cookie crust, then comes a thin layer of guava paste, a thick layer of cream cheese filling, and finished by a tangy sour cream layer on the top. Sometimes you may find people put guava paste on top for decoration purposes
Guava cheesecake balances the tart, creamy, rich, fluffy, smooth of a standard cheesecake and the guava paste's uniquely sweet and fruity flavor. This is a perfect ending for a Puerto Rican dinner.
Brazo Gitano Puerto Rican version is a rolled sponge cake with guava filling inside. Let me describe to you how wonderful this cake is.
There are two main parts of the cake: the sponge cake and guava paste. As a finish, the cake is usually topped with powdered sugar or grated coconut flakes, making it look genuinely dedicated. Hence, this is also one of the classic Christmas desserts.
A good Brazo Gitano has a soft and moist texture. The taste is creamy, buttery, sweet, and has a fruity flavor from guava paste.
Easy Puerto Rican Brazo Gitano recipe for you right here! Watch this video:
If you want to make some simple Puerto Rican desserts at home, I recommend trying Puerto Rican cookies. Delicious, quick, and easy for anyone!
If you come to Puerto Rico during Christmas Eve, you will see Polvorones everywhere, seriously.
"Polvo" or Polvorón" is Spanish for dust, originally metaphors for the way you dredge the granulated sugar on top of the cookies, as well as the way that debris falling of from your hand when you are eating it.
The well-baked Polvorones is the one that melts right in your mouth at your first bite. The cook can add some soft fruit paste in the middle of the cookie-like guava paste for added tropical flavor and create a perfect union for the eating experience. You will love the soft and chewy jam as well as the tough and crunchy cookie.
These cookies are crisp, tender, and buttery. The top scent will rely on what is your sprinkles. Cinnamon is a warm and relaxing scent or guava paste – a tropical aroma or even simply sugared coated without any scent except for buttery.
They call it "coconut kisses". The dish has no standard shape; you can make it in spheres, squares, or rich mounds of sweetness.
There is a subtle coconut flavor throughout your scent when you enjoy this dessert. Imagine that you are eating macaroons, but it is the Puerto Rican version. Besitos de Coco has a crunchy cover to hide a surprisingly soft and moist texture inside. You can enjoy this with a glass of milk.
Besitos de Coco recipe is quick and easy for everyone. You can drizzle over melted chocolate or sprinkle some chopped nuts over for an extra touch. It is worth having a jar of these coconut kisses at home.
An easy Besitos de Coco recipe to learn within 2 minutes! Watch this video to know:
This is Puerto Rican Guava Thumbprint Cookies. This cookie is known initially as a shortbread cookie because it does not leave an agent or egg in the dough.
If you live in a homestay or local hotel in Puerto Rico, you may get offered these delicious Mantecaditos.
This recipe is simple and easy to make. It looks like our regular cookies, with the flavor of the rich butter and an almond note following. You can find them as plain cookies or cookies with sprinkles on top.
Puerto Rican Frozen Desserts And Beverages That Cool Down Your Heat
Besides dishes, Puerto Rican people love to have frozen desserts or beverages around their meals. Due to its tropical climate, the frozen desserts and beverages there are very fresh and cool.
Coquito in Spanish means "little coconut" and is a well-known drink in Puerto Rico.
This frothy appetizer dessert drink is similar to eggnog, but with Puerto Ricans' favorite fruit as a base – coconut. Coquito is a national drink and a healing pill for cold, rainy seasons.
There are six ways to make a coquito: Old School Coquito, Quick Coquito, Quick Vegan Coquito, Vegan Coquito, Vegan-Virgin Coquito, Virgin Coquito. These recipes can make with or without eggs, depending on your desire for the creamy and rich taste level.
For me, Coquito is a kind of sweet alcohol but much better and more addictive. It is milky sweet with a coconut scent, has around 9 percent ABV with a warm vibe by the cinnamon aroma. You know you love to sip and savor this slowly when reading a book or chatting with friends.
Learn how to make authentic Puerto Rican Coquito now! Watch this video:
Limber is a Puerto Rican frozen treat similar to an "Italian Ice" dessert dish but Limbermilk.
Mainly, this drink is a frozen fruit juice with coconut milk. You can define various flavors of Limber based on the flavors of the fruits. A limber contains coconut milk, juice from tropical fruits like pineapple, raspberry, or mango, and Limber sweetened seasonings like sugar, honey, chocolate, coconut milk, or maple syrup.
This dessert is named after Charles A. Lindbergh, the first pilot to fly across the Atlantic Ocean. When he visited Puerto Rico, the locals gave him frozen fruit juice, which he liked. They gave it the name Limber in his honor since then.
It is sweet, fresh, calm, and fruity. It is fantastic! Limber can bring refreshment to your taste and also your brain up right at the first spoon. The flavor will depend on the primary fruit used in the Limber. This treat is a capsule for your tiredness during those hot days.
Find out how to make a fresh and cold Puerto Rican limber from natural coconut with few steps. Watch this video:
While Limber is a frozen fruit treat with coconut milk, Piragua is purely frozen with a fruity taste. It is a dessert having shaved ice with fruit-flavored syrup on top.
The dish is simple and shared worldwide, but it tastes way better under the sunshine of Puerto Rico.
It is made from ice and syrup, so the taste depends on what syrup you choose, from essential os lemon, grape, strawberry, to the more exotic mango, pineapple, or coconut. All you need to do is ask the sellers.
This delicious ice cup tastes like a chocolate hazelnut fudgesicle, ideally for a summer afternoon!
Limber de Nutella is a unique version of limber that uses Nutella, condensed milk, and whole milk in the ingredients. You can freeze it in any mold you want, but the traditional mold is a plastic cup so that you can pop it out like an ice cream cone to enjoy.
Let me show you a detailed instruction to make a creamy and decadent frozen Limber de Nutella for hot weather.
Have You Got Something For Your Own?
I do hope you can save at least five dishes for your following dessert menu. You can save it to your collection so you can try it when you have a chance to visit this magnificent archipelago, or you can instantly bring a tropical climate to your dinner with your homemade version.
The ingredients are easy to find, so I do not see any reason to hesitate if you like that dish.
What is your most picked dessert? Furthermore, if you have never known about this country's cuisine, please tell me your thoughts after reading this article. I will come back soon! Que tenga un buen día! It means Have a good day!
Nutrition Facts
6 servings per container
---
Amount Per ServingCalories439
% Daily Value *
Total Fat 31.6g

48

%
Sodium 118mg

5

%
Potassium 349mg

10

%
Total Carbohydrate 42.1g

15

%

Dietary Fiber 3g

12

%
Sugars 29.4g

Protein 3.1g

6

%
---
* The % Daily Value tells you how much a nutrient in a serving of food contributes to a daily diet. 2,000 calories a day is used for general nutrition advice.