There are dozens of different types of guava. At first glance, you will see no differences among a bunch of them. Yet guava is anything but boring; this fruit has a lot of stories to tell. It will take days to talk about all the varieties, so here I will introduce you to a few.
During this post, I will walk you through everything about guava and how to eat it, ranging from familiar types to rare varieties you have hardly heard of. Follow along with me to choose your favorite.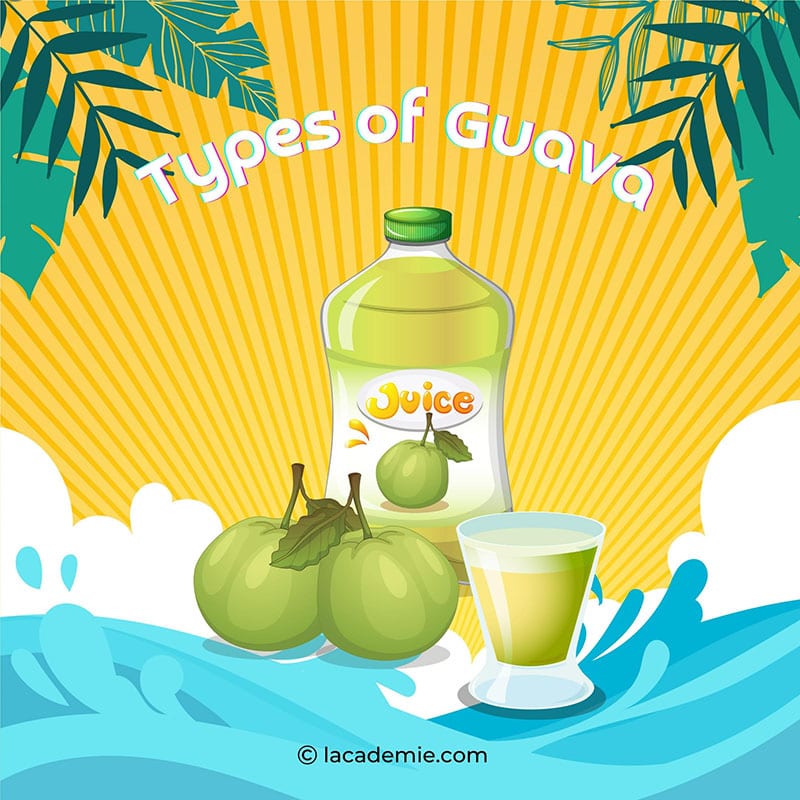 White-Fleshed Types – Most Common Guava Varieties
It's safe to say that the white-fleshed version is the most popular among other guava varieties. Compared to other siblings, white guavas possess considerably more vitamin C and are sweeter.
| Name | Tree Height | Time to Pick | Taste |
| --- | --- | --- | --- |
| Tropical Whie | 20 feet | Year-round | Sweet |
| Mexican Cream | 12 - 30 feet | Year-round | Sweet |
| China White | 12 - 20 feet | Year-round | Sweet |
| Sweet White Indonesian | 6 - 25 feet | Year-round | Sweet and sour |
| Giant Vietnamese | 12 feet | Year-round | Sweet and less sour |
| Cas/Costa Rican | 20 - 35 feet | December - February June - August | Sour |
| White Indian | 20 - 22 feet | Late winter - early spring | Sour or sweet |
| Apple Seedless | 6 - 32 feet | Year-round (Malaysia) September - November | Sweet |
| Egyptian Yellow | 20 - 40 feet | Fall and winter | Sweet |
| Allahabad Safeda | 19 - 30 feet | Year-round (except May and June) | Sweet |
| Lucknow-49 | 10 -12 feet | Year-round (except May and June) | Sweet and sour |
1. Tropical White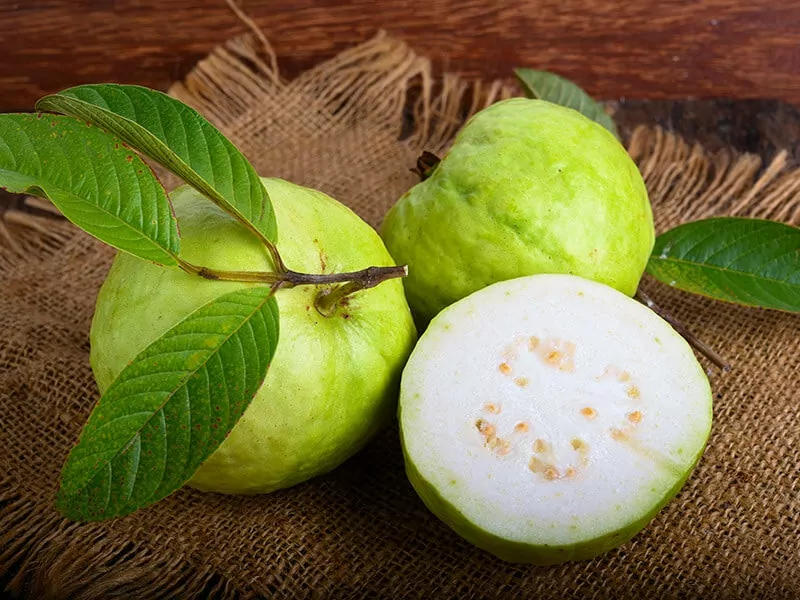 The Tropical White guava originates from Southern Mexico, widely grown throughout the Pacific tropics and Asia. The plant is suitable for growing in subtropical climates and soil with relative humidity, not too wet or too dry.
However, it can still tolerate temperatures around 22°F. USDA Zones 9 to 11 are ideal to grow this type of guava. With a height of 20 feet at maturity, Tropical White can be the perfect edible hedge for your garden.
You may know that different guavas have different ripening signs. With this one, its skin will change to a yellowish-green color to cover the sweet, creamy flesh inside.
The heavy producer begins to bear fruit early in life, at one year old specifically. Moreover, the fruit is large and heavy, 3 to 4 inches in diameter.
The ripe fruits are ready to harvest all year long in Florida, and the two largest crops are August to October and February to March.
Tropical White guavas are much larger with edible seeds compared to other siblings. Besides, the sweet and slightly acidic pulp and the strong aroma will leave you with no disappointment.
Have you ever seen Tropical White guava? Find out here!
2. Mexican Cream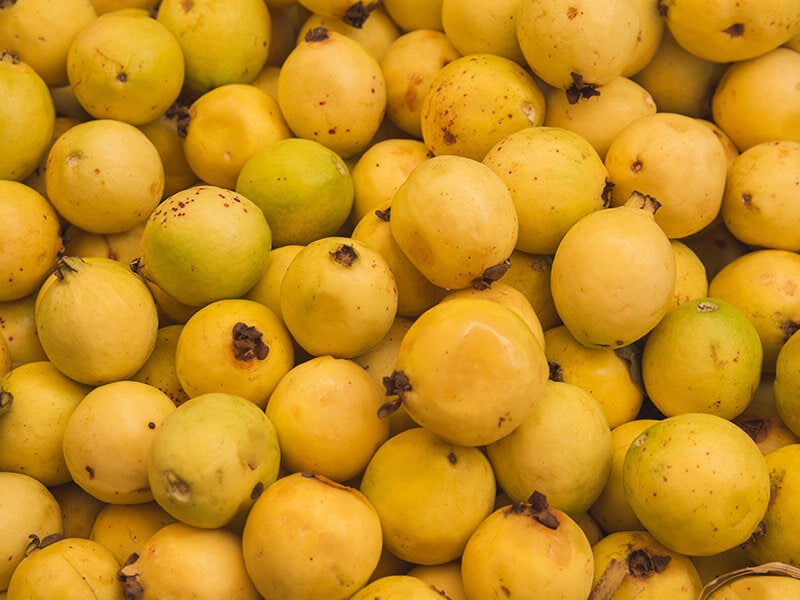 Do you know that another name for Mexican Cream is Tropical Yellow? As the name suggests, this variety of cultivation happens widely in Mexico and Central America. A Mexican Cream tree can live up to 40 years.
The maturing trunk can grow up to 30 feet tall but is usually kept at a height of 12 feet for ease of harvesting. Additionally, the ripe fruits are available all year round in warm tropical climates. Yet, the harvest will begin in the fall in Southern California.
When ripe, the rind matures to yellow with a red blush. You can expect the 1,9-inch fruit awaiting on the branches. Plentiful small and chewable seeds are in the middle of the thick white pulp.
Just as its name implies, Mexican Cream flesh is thick and sweet, with a creamy texture. The fragrance of the fruit is like pineapples getting married with passion fruit.
The fruits do well in the production of beverages and smoothies. Apart from that, Mexican Cream is also an ideal candidate for desserts. The combination of the guava paste and cream cheese brings out a wonderful treat: Bocadillo con Queso of Mexico (guava paste with cheese).
3. China White
This pear-like fruit goes by various names, such as Thai guava, Taiwan guava, Asian guava, and Apple guava. Maybe you have come across it in a local Asian market.
In the US, you can grow this perennial tree in zones 10 to 11. The average mature size is 12 to 20 feet in height and 8 feet in width. This heavy-bearing tree provides results in the first or second year of planting.
Moreover, add this item to your snack time because the white-fleshed fruits are available all year round. The China White trees produce large fruits, weighing about a pound, with sweet pulp inside. As the fruit matures, the fruit emits a pleasant aroma and its skin turns from green to yellow.
Like all guavas, you can eat this bite-size fruit fresh off the tree, semi-ripe, or processed. Also, China White is an excellent choice for ornamental purposes. The tree's ideal height is suitable for the landscape.
4. Sweet White Indonesian
As its name suggests, this highly productive plant comes from Indonesia. The Indonesian white belongs to the evergreen shrub. You can grow this plant outdoors if you live in zones 9 – 11.
The ripe fruit varies from 0.7 to 1.3 pounds featuring a yellowish-green skin, therein lies pinkish-white and creamy flesh. You can enjoy these sour-and-sweet fruits from the very first year.
And remember to prune them regularly to limit the growth of the trees. At the same time, light pruning gives the plant a solid base to bear the additional weight when the harvest season comes.
Local people love having this sweet cultivar for snacks. In addition, Sweet White Indonesian is useful medicinally when the leaves and fruits are used to treat certain cardiovascular diseases.
5. Giant Vietnamese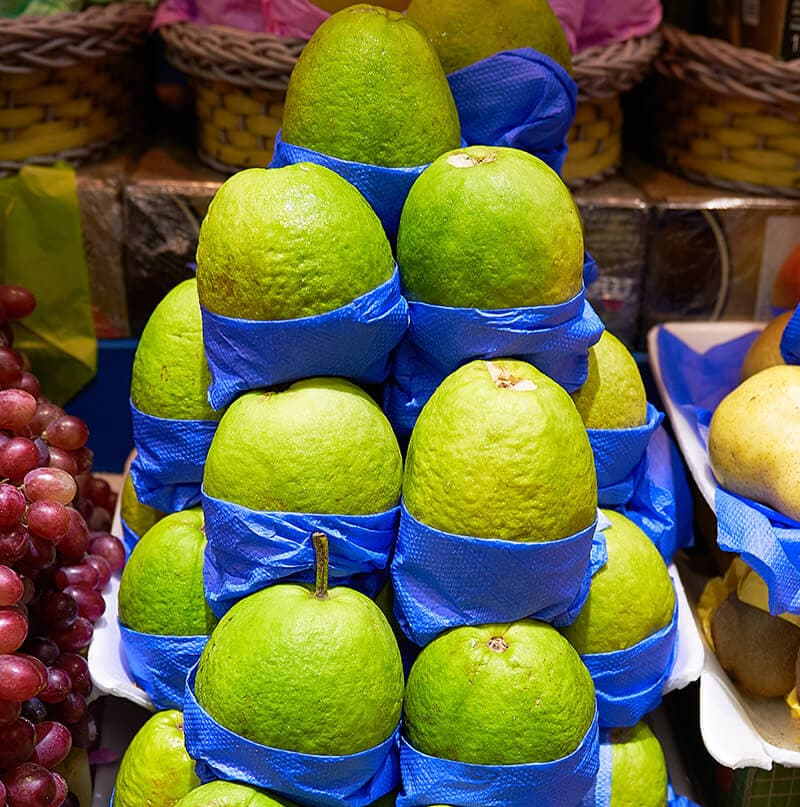 Among the varieties of guava, the Giant Vietnamese (Oi Xa Li) has the largest size. You may be familiar with other names such as Bangkok giant or Asian giant. This is a productive plant native to Asia.
The ideal planting area for this cultivar is USDA zones 10 – 11. The giant Vietnamese can reach 12 feet tall at maturity and prefers warmer climates. When spring calls, white flowers are in full bloom.
Like other siblings, these ripe fruits are ready to harvest all year-round, and the first crop begins early, in year 1 or 2 of planting. The fruit is round in shape and possesses a less sour and more mellow taste than its cousins, which may be boring to a few people.
Sometimes fruits can reach the size of a softball and weigh between 1.8 to 2.7 pounds. Due to their large size and high in vitamins and nutrients, Giant Vietnamese guavas are often used to make juice and drinks.
6. Cas/Costa Rican Guava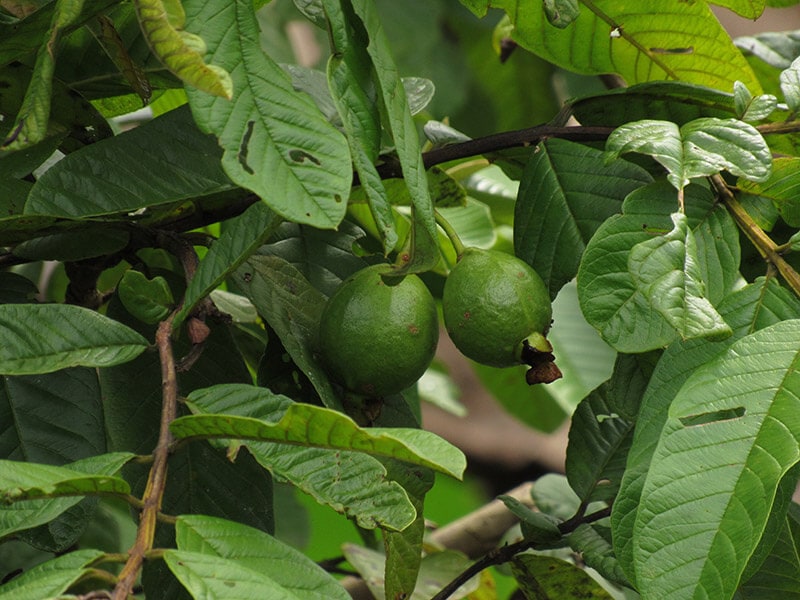 The Costa Rican guava, or Cas, is a small tree indigenous to Central and South America. It is a staple in the culture and cuisine of Costa Rica. The golf ball size fruit is lime green when young and turns yellow as it ripens in the fall. Fruits typically scale 1 ¼ to 2 ½ inches long.
Coming from tropical climates, Cas guavas are less tolerant of cold and prefer high temperatures. This shapely tree has a height of 20 to 35 feet when mature.
With that said, this variety is an excellent addition to your backyard. It will cover a corner of your garden with white flowers and a sweet fragrance in midsummer. Does it sound tempting enough?
Typically speaking, the flavor is what makes Cas guavas stand out. While the appearance is no different from common guavas, it still delivers a distinctive flavor. To be more specific, the tartness is reminiscent of passionfruit and pineapple.
Since Cas guavas tend to be tart, this variety is often used to make juice or cooked rather than as a snack out-of-hand. I promise you will get hooked on the juice from the first taste.
The cultivar bears fruit all year round, but the largest crops will occur from December to February and again from June to August.
7. White Indian
The White Indian guavas endemic to Florida bear prolific yields of small to medium fruits at about 2 to 3 inches in diameter. This evergreen tree is also widely cultivated in India and California.
Unlike its brothers, White Indian does not bear fruit year-round, but only in late winter and early spring. Likewise, the scent of ripe fruits, which is a mix of pineapple and banana, will make you feel like you are wandering in a tropical garden.
I can't help but warn you that the larger-than-normal seeds are annoyingly hard. However, in return, its flesh is soft and melting, with the flavor varying from mildly sour to sweet.
Compared to other guavas, the White Indian is the most cold-hardy. Cold-tolerant crops grow even with the degree of frost. Therefore, if you live in a region prone to frost, this may be a great plant for you. The maturing tree is about 20 to 22 feet in height.
Do you know what a White Indian guava tastes like? Check out now!
8. Apple Seedless Guava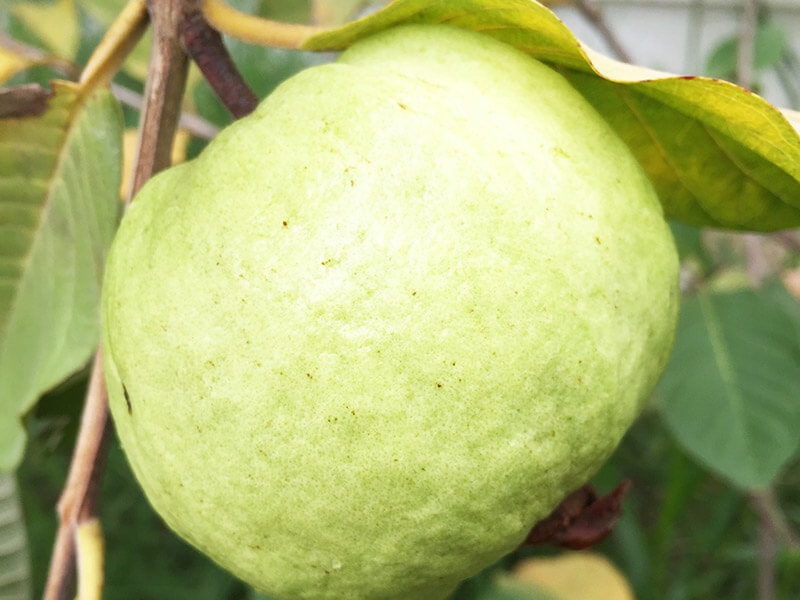 The seedless guava, or Apple Guava, originated in India and Southeast Asian countries such as Thailand and Indonesia. When autumn arrives, the pronounced temperature change between day and night increases the sweetness of the guavas.
Fruity and vigorous growing trees range from 6 to 32 feet at maturity. Whereas, medium-to-large guavas typically scale 1.9 to 3 inches long. This plant offers an aromatic pulp with a mixed flavor of peach, lime zest, and passion fruit.
This type of guava ripens in bunches from September to November or all year round in its native Malaysia. The seedless flesh acquires a firm and crispier texture than other guavas. Seedless guavas are often sweeter than the seeded ones.
Thanks to being seedless, this cultivar is often eaten fresh out of hand or mixed with salads with other ingredients. Ripe seedless guava can still ripen after leaving the tree, so you can keep it at room temperature until it reaches your desired ripeness.
Besides, this plant is popular in Asian countries not only because of being a snack item but also for medicinal uses. The seedless guava can help strengthen the immune system and treat digestive problems.
9. Egyptian Yellow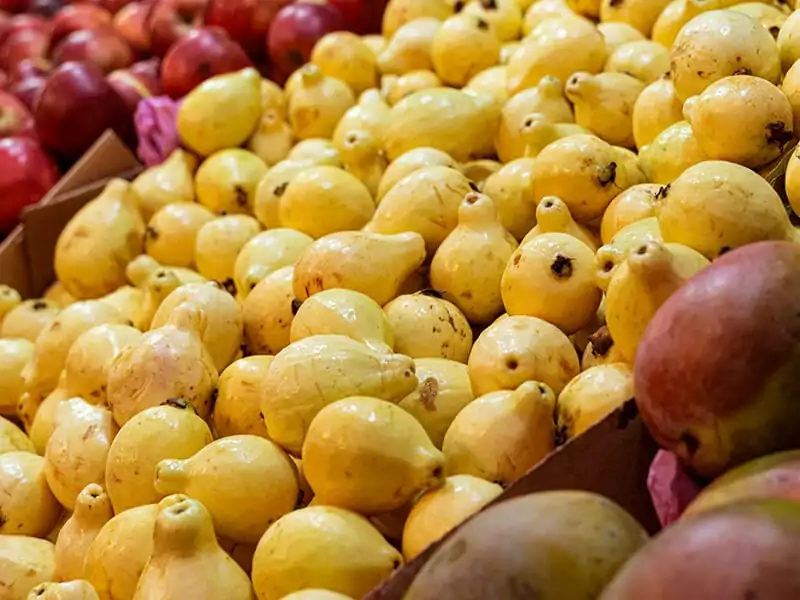 Unsurprisingly, this highly productive plant from Egypt is well suited to the subtropics as the warmer climates are ideal for flowering and fruiting. The tropical plant has spread through Hawaii and many Caribbean islands.
One point to note is that if you plant the guavas from seeds, its growth rate will remain slow in the first few months, then accelerate shortly later. A fully grown tree is up to 20 – 40 feet in height. The yellow fruit has an average size of 4 inches long.
The bloom season happens in spring and summer. Therefore, its fruiting period occurs 60 to 90 days after flowering. The sweet and juicy white flesh will bring an amazing experience to each bite.
Egyptian Yellow guavas are often used in shampoo products due to their fragrance. Otherwise, the plant may add a lovely display to your house as it can become a large bonsai.
To have a successful large crop, water and fertilize your trees regularly. Fresh and juicy guavas await you after two years of planting. They are suitable for raw consumption or processing into preserves.
The tropical plant is sensitive to cold spells, so move your plant indoors if the temperature drops below 30°F. Similarly, keep an eye on these trees because they are susceptible to any kind of insects
10. Allahabad Safeda
Of all the guava kinds available in India, it's safe to assume that Allahabad Safeda is the most famous and sought-after. Also, it is the progenitor of many cultivars in India, such as Kohir Safeda.
This famous guava is available in more than 30 nations worldwide. If you want to grow it in the US, Safeda is hardy in zones 9 to 12. Guava cultivation often happens throughout the year in its native countries (except during May and June), and Allahabad Safeda of India is no exception.
A full-grown trunk is 19 to 30 feet in height. The Allahabad Safeda trees possess horizontal branching habits and broad crowns.
However, this heavy-bearing plant is susceptible to wilt, while branches are brittle and break easily. As they mature, the mild green skin covers the white flesh inside with scattered seeds. Noticeably, the outer peel is incredibly soft.
Fruits are usually round in shape and not very large. Take one bite of a Sefada guava, and your mouth will fill with a pleasant sweetness. This variety is suitable for both raw consumption and further processing.
11. Sadar/Lucknow-49
The Lucknow-49 or Sardar is a guava cultivar coming from India. The tree of this variety will grow up to 20 or 30 feet.
Like other tropical guavas, Lucknow-49 provides a bountiful supply of ripe, round-shaped guavas when the season comes. The shiny greenish-yellow skin is fairly thick, while the seeds are firmer than of Allahabad Safeda.
Furthermore, fruits appear to be large and meaty, about 5 inches in diameter and at 1.4 – 1.9 pounds in weight. The pear-shaped guava has a sweet-tart flavor and a rich aroma that will creep into every corner of your house.
One more thing to add is that this cultivar gives a large yield, up to an average of 317 pounds per tree. Lucknow-49 should come first to your mind when you think of tasty and nourishing fruit. Considering that small fruit contains 130 mg of vitamin C/100 g of pulp.
And yet, it is also viewed as a diuretic and stomach tonic; a remedy to treat inflammation, and kidney and urinary tract infections. Remember to recharge your energy with this healthy snack.
Pink-Fleshed/Red-Fleshed Guava – Sweet and Aromatic
Next, let's move on to a more eye-catching color: pink. Special features of these pink varieties are the fragrant aromatic and sweet taste. They are viewed as the sweetest of all guava types.
| Name | Tree Height | Time to Pick | Taste |
| --- | --- | --- | --- |
| Hongkong Pink | 30 - 40 feet | Year-round | Sweet |
| Ruby Supreme | 10 - 20 feet | Year-round | Sweet |
| Allahabad Surkha | Not found | Mid-December to mid-January | Sweet |
| Barbie Pink | 5 - 15 feet | Year-round | Sweet |
| Latit | 5 - 30 feet | Year-round (except May and June) | Sweet and sour |
| Beaumont Guava | 3 - 16 feet | Fall and winter | Sweet and sour |
| Red Malaysian | 10 - 30 feet | Fall to early spring | Sweet and slightly sour |
| Red Indian | 8 - 12 feet | Year-round | Swett |
12. Hong Kong Pink
The Hong Kong Pink guava is indigenous to Tropical America. If you have a chance to travel to Hawaii, you will find this plant growing like wild flora along the roads of this island.
This 30-to-40 feet tree is also well-suited for growing in USDA zones 9 to 11. The cultivar was originally bred in Hawaii from a seed grown in Hong Kong.
When mature, the round fruit changes from green to yellow or red and weighs between 0.3 and 0.5 pound. Hong Kong Pink bears fruit after one year of growth. You can expect the ripe fruits available all year long.
The pink flesh has a sweet to medium sour flavor with a smooth texture and only a handful of seeds.
13. Ruby Supreme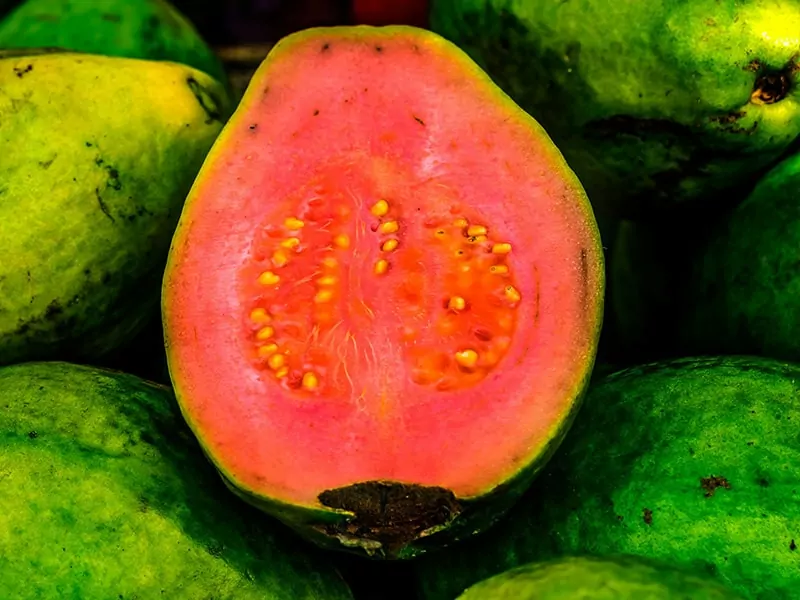 I'm not going to lie. Ruby Supreme (or Homestead guava) is my favorite variety, and I will tell you why. It is a crossbreed of the "Ruby " and "Supreme" variety, a legacy of G. D. Reyhle, who first introduced it at the Tropical Research and Education Center in 1945.
The vigorous growing tree can mature to a height of 10 to 20 feet and a width of 15 to 20 feet. The Ruby Supreme guava is always the top choice for novice gardeners because it is one of the easiest fruiting plants to grow.
Guava in general, and Ruby Supreme in particular, are heat-loving plants. Therefore, the amount of fruits the trees produce is proportional to how much sun and warmth they receive. The high-yield cultivar can produce 40 – 70 pounds of fruits per year.
The baseball-sized fruit turns yellow on the exterior and delivers a fragrant aroma at the state of ripeness. Meanwhile, the thick pink flesh inside is extremely sweet.
Ruby supreme guava can be eaten raw or made into juice or jelly. This species develops flowering and fruiting year-round in cycles lasting from 60 to 90 days.
Save some tips to grow Ruby Supreme here. Try it in your garden!
14. Allahabad Surkha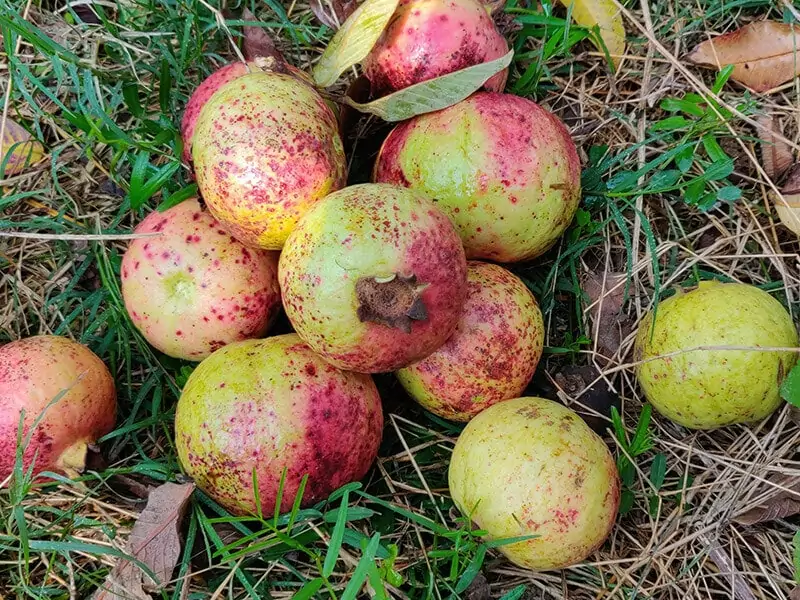 Serious-minded guava lovers must have heard about this variety. Allahabad Surkha receives much love in its home country of India. In a more general sense, Indians believe that this guava is a divine fruit and a "heavenly delight" for anyone who has opportunities to enjoy it.
The guava has an apple-shaped exterior and juicy pink flesh inside, which is different from other varieties in India. Do you know that "surkha" means "red" in Hindi?
This type of guavas is abundant in Allahabad and Uttar Pradesh. Along with other varieties from India, Allahabad Surkha harvest occurs from mid-December to mid-January.
It is a remarkable assortment of enormous sizes with sweet and strongly flavored pulp. Fruits are appealing in red color. By the sixth year of growth, this variety can yield about 264 pound per tree.
15. Barbie Pink
As its name indicates, the Barbie Pink is the giant pink-fleshed guava that originated in Florida. The easy-to-grow cultivar has been on the favorite list of home growers ever since. If you live in USDA zones 9b to 11, this plant is a great choice for you.
The young, fast-growing tree can produce fruits from the first year, both in the ground or the pot. Fragrant white flowers bloom throughout the year leading to all-year-round fruiting. Young fruits first appear as small, green, and berry-like.
Mature fruits hanging on low branches make them easy to pick. Along with the scattered small edible seeds, the pink pulp is sweet and thick, ideal for eating right off the tree. It is suitable for both the table and the kitchen such as making filling for cakes or other desserts.
Besides, the leaves can be processed into Guava Leaf tea. All you need to do is steep rinsed leaves in boiling water and drink up while still hot. As for the fruits, you can use its pulp to make into jams, jellies, or in baking dishes.
Moreover, you can grow Barbie Pink trees in containers or on the ground. After two or three years, a newly planted tree can be as tall as 15 feet in a large pot or on the ground. Whereas, light pruning will help the tree keep the height of 5 – 6 feet while grown in the pot.
Don't miss the chance to enjoy this Barbie Pink guava tasting and see the fruit with your own eyes!
16. Latit
Say hello to another guava variety from India. You can say that Safeda and Sardar own the lion's share in the Indian guava market. Though, slowly but surely, the Latit has entered the industry and established its name through increasing annual consumption.
The Latit is a selection of high-yield varieties in India, developed by the Indian Council of Agricultural Research (ICAR). A mature tree is up to 5 to 30 feet tall.
Like other Indian guava cultivars, Latit can produce fruits throughout the year. The fruit of this type has saffron yellow shading with a red tinge, typically scaling in 0.4 pounds. Significantly, Latit can reach a yield of 220 pounds per plant every year.
Pink-fleshed fruits are round in shape and bring out a balanced taste between acidity and sweetness. Jam of this guava variety is a heavenly delight to a sweet tooth.
17. Taiwan Pink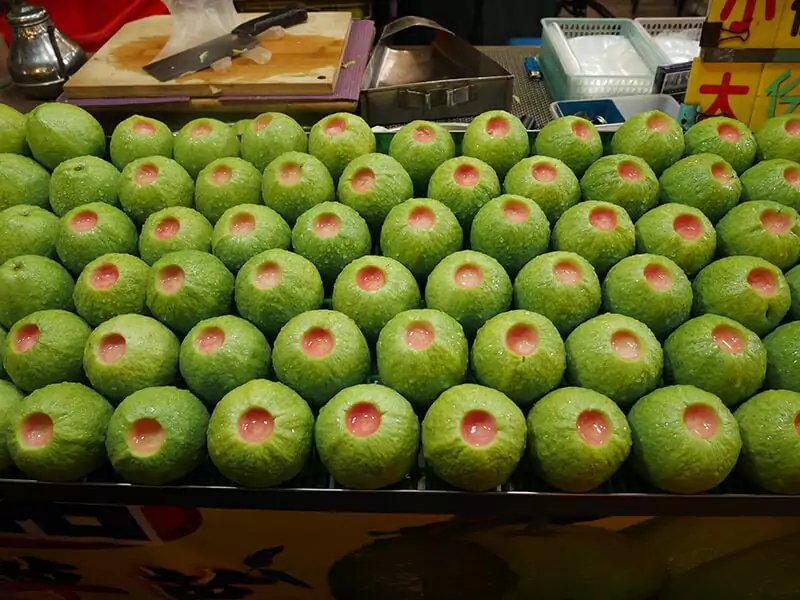 I believe the name of this plant already tells you where it comes from. These nutritious fruits are originally from Taiwan. They are often referred to as superfruits. The slender trunk has an average height of 10 feet with green to red-brown bark.
Following two or three years of planting, the first crop will be ready. In return, the heavy-bearing tree will produce fruits all seasons, hence an excellent candidate for commercial farming.
Fruits ripen when the skin turns yellow. And, the weight of Taiwan Pink ranges from 0.4 to 1.3 pounds per fruit. The pink pulp has a sweet taste and a pleasant tropical aroma. Interestingly enough, the leaves are also edible.
The Taiwan Pink can serve all the purposes as other varieties. You can enjoy it fresh or with salad, smoothie, or juice.
18. Beaumont Guava
If you ask me what the number one commercial guava in Hawaii is, Beaumont is my answer. The plant is a Hawaiian native, derived from fruits found in Halemanu, Oahu.
This evergreen tree is fast growing with wide-spreading canopies. The heavy producer can tolerate temperatures as low as 26°F . It can reach 3 to 16 feet in height.
Ripe, round-shaped fruits are available through the fall and sometimes in the winter. They are about 0.5 pounds in weight with pink flesh.
One thing to be aware of is that the pulp has a fair amount of seeds. However, don't let those tiny seeds bother you and miss out on the decent mix of sweetness with a mild sour taste.
The signature aroma of this variety will make you think of other tropical fruits such as passion fruit, watermelon, and mint. Beaumont guavas are more suitable for processing than eaten raw. They are often used in the production of juices.
Come on guava lovers! I know you can't resist this Beaumont Guava taste test.
19. Red Malaysian/Thai Maroon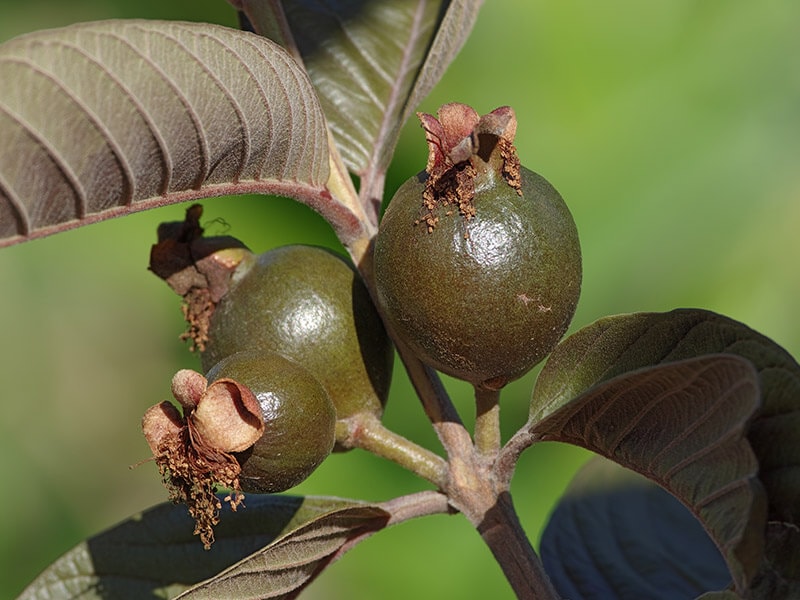 The Red Malaysian guava also goes by other names such as Thai Maroon or purple guava. Native to Southern Mexico to Central America, this variety is a mainstay in tropical regions such as Asia, Africa, and Pacific Islands. Its height is about 10 – 30 feet.
Also, in the blooming season, this plant will produce pinkish-purple flowers with pompoms of stamens, which are completely different from the white flowers of other varieties. In the United States, you will see the red fruits dangling from branches from fall to early spring.
Meanwhile, the highly prolific tree bears fruits multiple times a year in their native Southeast Asia. It is a guava cultivar with medium to large size spherical fruits, with pinkish-red flesh. Underneath the surface, the inner pulp encases many hard yet edible seeds.
The taste of Red Malaysian is sweet and sometimes slightly acidic with a pleasant aroma. An average ripe guava can grow up to 3.1 – 3.9 inches in diameter and is best to be consumed fresh.
See how gardeners grow and harvest red Malaysian guavas in the desert here!
20. Red Indian
Much to my amazement, this specimen doesn't come from India. The Red Indian guava variety is indigenous to Florida. Particularly, the cultivar first appeared in Dade County, Florida in 1946.
It's well-known that guava crops grow and flowers bloom year-round. However, note down this my friends, the main harvest periods in Florida are August – October, and February – March.
This type of guava produces medium to large fruits with a strong and sweet-scented odor. Fruits are round in shape and slightly flattened at the base and apex, featuring red with pink blush skin. Red Indian pulp has a medium thickness and brilliant red color.
Its large number of seeds can be a minus point. Nevertheless, don't let those tiny seeds prevent you from enjoying this delicious guava. The sweet flesh offers top-notch quality. It's best to consume a Red Indian fresh out of hand.
Yet you can make it into drinks or other dishes. Likewise, the leaves and bark are useful in many ailment treatments. At a relative height of 8 to 12 feet, Red Indian trees can be utilized as ornamental plants. The golden guavas will add pops of color to your tropical garden.
Other Types of Guava That You May Have Not Heard About
Below are a few unique varieties of guava that you might not have heard about. Some of them don't even belong to the guava genus, Psidium. Scroll down and discover interesting facts about these wonderful fruits.
| Name | Tree Height | Time to Pick | Taste |
| --- | --- | --- | --- |
| Wild Guava | 49 - 65 feet | June - July | Not recommended |
| Pineapple Guava | 15 - 25 feet | October - December | Tart |
| Guinea Guava | 3 - 10 feet | Year-round | Sweet |
| Strawberry Guava | 3 - 16 feet | Year-round | Sweet |
| Lemon Guava | 6 - 15 feet | August to March | Sweet and sour |
| Detwiler | 6 - 14 feet | September to November | Sweet |
21. Wild Guava
Before discussing this assortment, I have to emphasize that there are many wild guavas in nature, edible and nonedible. And here I will point out details about the inedible one.
Wild Guava trees, or Careya Arborea, are endemic to the Indian subcontinent. Their English names include Ceylon oak or patina oak. This specimen grows in the forests of India and shares certain similar features with common guava, thus the name wild guava.
Nonetheless, Careya Arborea is not a part of the Myrtaceae and Genus Psidium families. Wild guavas are medium-sized, about 49 to 65 feet tall per grown tree. The leaves turn red when the cold season comes, followed by yellow flowers that become green fruits.
You can pick up the ripe fruits in June and July. They are large and contain plenty of mildly poisonous seeds. Yet, other parts are useful. Flowers and leaves are used as salad greens in Thailand. Meanwhile, Indians utilize the bark and the sepals of flowers to treat coughs and colds.
22. Pineapple Guava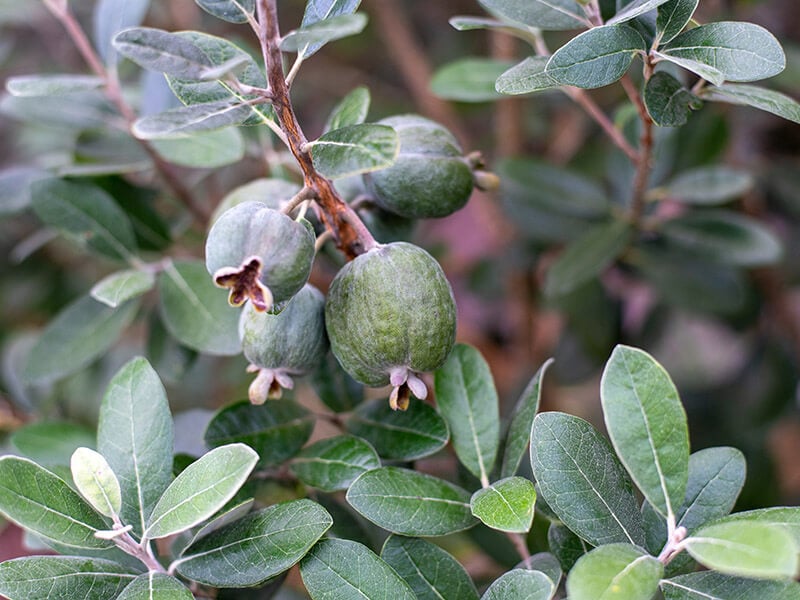 Although this variety is not in the same genus as tropical guava (Psidium guajava), it has many similarities with common guava. Pineapple guava (Feijoa sellowiana) is a handsome evergreen plant, endemic to Brazil, Paraguay, Argentina, and Colombia.
Its purple and white flowers put on a fabulous show in May. And yes, they are edible. Enjoy them right off the tree, add them to salads, or make iced tea. Anyway, the fruits appear from fall to winter, especially from October to December. They give off a floral scent even before ripening.
The pineapple guava flesh is thick, juicy, and creamy white, similar to a pear texture. Additionally, the fruit has a sweet and tropical flavor reminiscent of banana rather than pineapple. Some say that the taste is a combination of pineapple, apple, and mint.
Apart from raw consumption, Its flavorful fruits are ideal for the production of beverages or canned products such as jams, purees, and jellies.
What's more, the tree is up to 15 – 25 feet tall but has a wider canopy than lemon guava. Along with its compact size, Feijoa is a great choice for your home garden.
All you need to know about growing and harvesting pineapple guava is here.
23. Guinea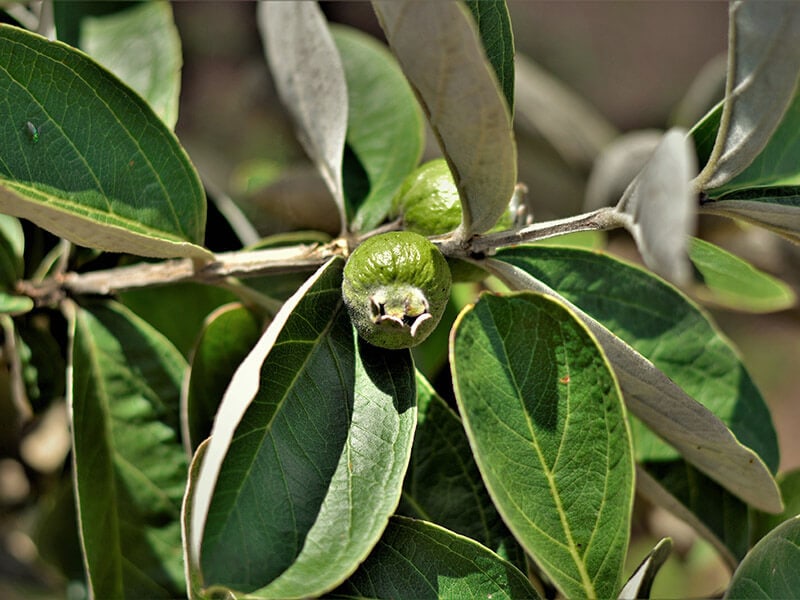 The Guinea variety (Psidium guineense) is also a species of guava. It goes by many names such as Castilian guava, sour guava, or Brazilian Guava. This cultivar is native to the Americas and spread through Mexico, Argentina, and the Caribbean. Its cultivation also occurs in India.
Guinea is a fairly slow-growing variety with a height of 3 to 10 feet, sometimes up to 23 feet. What will also be of interest is that the bark and leaves are likely in gray shades.
Guinea guavas are sweet and similar to strawberry flavor, but they can be bitter sometimes. You can enjoy the berries raw or preserve them. The fruits are available all year in tropical climates. Meanwhile, the fruiting season happens in the late winter through early spring in subtropicals.
You can take advantage of other parts of the plant for medicinal uses. Costa Ricans use the leaves extract to cure common colds. Similarly, the root extract can be utilized to treat diarrhea in Brazil.
On the other hand, this cultivar wood is harder than other guava types. Therefore, it is often used to make objects such as tool handles or beams.
24. Strawberry Guava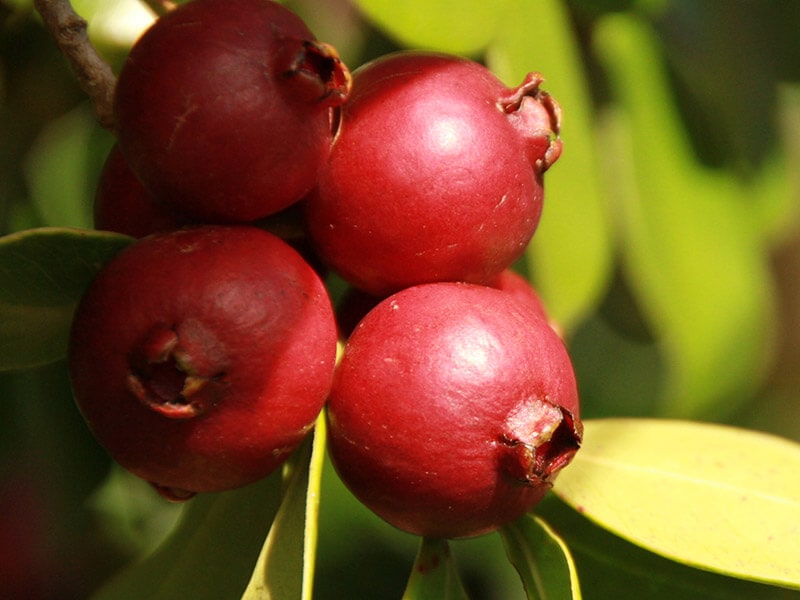 The strawberry guava (Psidium cattleianum) is indigenous to southeastern Brazil. Over time, it is variously known as Cattley guava, cherry guava (US), guayaba (Japonesa), and Waiawi (Hawaii). Due to their different names, some people might confuse guava and guayaba with guanabana.
The small tree is a sub-variety of the Peruvian Guava. In Brazil, full-grown trees can range from 3 to 16 feet in height. The handsome look of the plant provides a colorful display to your landscaping. Its size is well-suited for small spaces like home gardens.
White flowers blossom in spring, followed by fruits that mature in summer. Fruiting may happen throughout the year in some tropical regions.
Unripe berries first appear to be light green and small. As they ripen, the color develops to maroon, pink, and dark red. The cherry-size guavas have a sweet and strawberry-like flavor. Besides the fruits, Hawaiians also use the tree as firewood for smoking meat.
Despite such merits, strawberry guava has become an invasive species and a threat to other species in Hawaii. Since their first arrival on this island in 1825, the berries have had no natural enemies to control their growth like in Brazil.
It's time to unveil the infamous strawberry guava. Learn more now!
25. Lemon Guava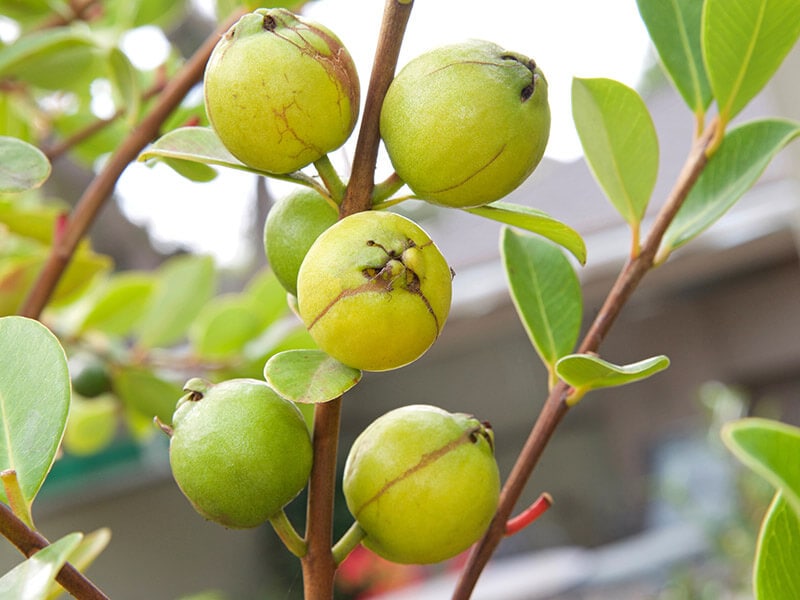 Like strawberry guavas, the lemon guava is different from common guava. It belongs to the yellow-fruited variety of Psidium cattleyanum. Other common names include yellow cherry guava, yellow cattley guava, or yellow strawberry guava.
The variety is endemic to coastal areas of Eastern Brazil and nearby locales. However, it is adaptable to other regions including Hawaii and the Caribbean islands.
Regarding harvesting, the trees start to produce fruits from summer to winter (August to March) after 3 to 6 years of planting. A mature trunk may reach up to 6 to 15 feet, and some can be as tall as 40 feet.
As you must have guessed, they ripen when the outer skin matures from green to yellow. Its golden fruits appear at the size of a lemon, about 1 – 1 ½ inches in diameter.
The pale yellow pulp is a perfect blend of sweet and sour. On that note, many people describe it as a cross between passion fruit and lemon. Fruits are tasty right off the tree. Yet, people often use them to add flavor to drinks or desserts.
Have you ever wondered about the lemon guava's taste and appearance? Check it out!
26. Detwiler
Detwiler is the only known yellow-fleshed guava. This unique cultivar first came to the scene in Southern California. It is a subtle blend of red and white guavas. In effect, the features of this variety, such as texture, flavor, and size, bear a resemblance to those two species.
Like other cousins growing in California, the flowering of Detwiler occurs in springs. Accordingly, the fruiting happens from September through November.
When mature, the outer skin changes to greenish-yellow covering the yellow to salmon flesh. Fruits are round in shape and carry a pleasantly sweet taste, about 3 inches in diameter.
In general, Detwiler guavas can be eaten raw or processed. Also, people often turn these 6-to-14 feet trees into shelterbelts in gardens. Many parts of the plants such as leaves, fruits, and bark are beneficial to treat various diseases.
Choose Your Favorite Guava Variety!
As you can see, guava is an interesting plant, with a lot of diversity in color, shape, and taste, not to mention that the fruit contains numerous vitamins and minerals that are beneficial to health. Remember to add it to your daily diet.
By the way, have you finished choosing your favorite variety yet? Tell me your choice in the comments. And don't forget to share this article widely to let your friends know more about amazing fruit.