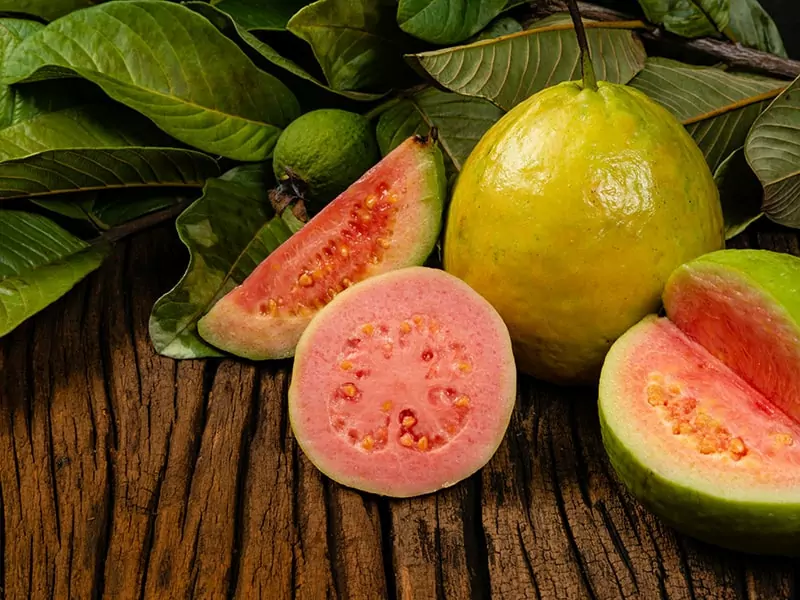 What does guava taste like is something you have probably wondered once or twice when you see this fruit in the past. Guava is not as popular or widely available as other fruits. However, with its vibrant colors and good reputation, no wonder many are so curious about the taste.
Guava can be a familiar fruit for some and a step out of the comfort zone for others. Those who have tried it will tell you how much they love this fruit and everything made from it. Read this article to find out all the reasons why you should make this fruit a part of your meal.
The Irresistible And Unique Taste Of Guava
Guava has been known to taste like a unique combination of other aromatic fruits, like pears, strawberries, and mangos. It can offer a mildly floral scent with different levels of sweetness, depending on its type. When unripe, however, it can be quite tangy and sour.
What Is Guava?
Guava is a tropical fruit native to the Caribbean, South America, Central America, and Mexico. It is round and a relatively hard fruit. The exterior is usually yellow or light green, while its flesh can be white, deep red, or vibrant pink (1).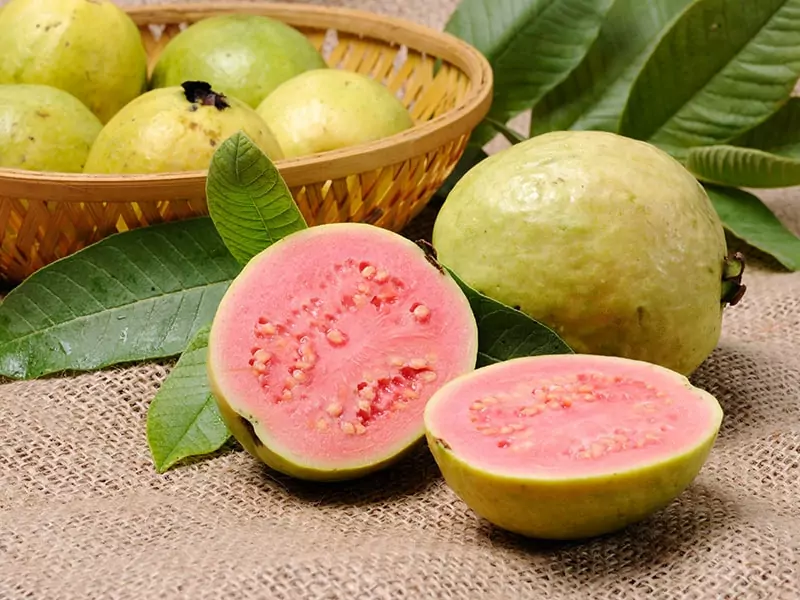 Guava has become an increasingly popular fruit recently, not just in tropical regions, but all over the world. Perhaps this is because of the familiar yet exotic taste it has, or maybe it's because of all the diverse ways you can enjoy it. Whatever it is, guava truly is something worth trying.
Many people wonders the differences between guava, guayaba, and guanabana. While guava and guayaba are pretty much the same thing, guanabana is a different cultivar of fruit.
What Does Guava Taste Like?
The main attraction with guava is not only with its taste but also its incredible scent and texture. This wonderful combination is the main reason why it is adored by fruit lovers everywhere.
Guava's Texture At Different Stages
The texture is one of the trustworthy signs to show your guava's ripeness. When unripe, it can be pretty tough and dry. Generally, guava is a firm mixture of an apple and a pear. The riper it is, the softer it gets. Most pink and red guavas can be quite dense and creamy.
The Various Flavors Of Guava
Overall, guava has a sweet taste with a mildly pleasant fragrance. However, the level of sweetness may vary from one type to the other. Here is a list of different types of guava and what they taste like, from popular ones to less common variations.
| Characteristics | Color | Texture | Flavor | Uses |
| --- | --- | --- | --- | --- |
| Pink Guava | Green outside but turns yellow when ripe, pink inside | Soft like a pear, maybe smooth or coarse | Sweet with a very vibrant aroma | Eaten raw or used in most cooking recipes, especially desserts |
| White Guava | Green exterior that turns yellow when ripe, white inside | Bumpy on the outside, inside similar to apple and pear | A bit more sour with sweet notes, strong scent when ripe | Eaten raw or added into most food & beverages |
| Yellow Guava | Yellowish on the outside, off-white on the inside | Creamy and dense | Sweet, with aromatic notes of pineapple and passionfruit | Mostly used to make sauces, syrup, and marmalade |
| Strawberry Guava | Burgundy exterior with creamy white inside | Smooth skin and chewy flesh | Sweet, fruity flavor with tangy notes | Mostly eaten raw, but can also be used in most cooking recipes |
| Lemon Guava | Golden yellow skin and insides when ripe | Soft and jelly-like flesh | Tangy and sweet with citrus scent | Can be eaten both raw and cooked with other foods |
| Red Malaysian Guava | Mixture of red and purple exterior, bright pink on the inside | Glossy, bumpy skin with soft flesh | Mildly sweet and highly aromatic | Mainly used to decorate but can also be eaten |
Tropical Pink Guava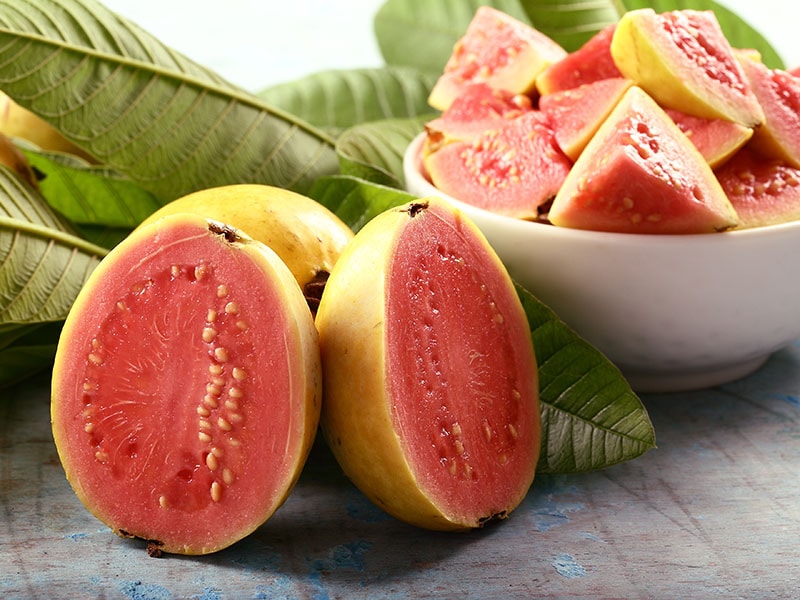 This guava is typically green on the outside but turns a bright yellow when ripe. In terms of taste, it has a very vibrant scent accompanied by a mildly sweet flavor. You can use it for almost anything, from turning into exotic Hawaiian sweets and topping salad to jam and syrup.
White Guava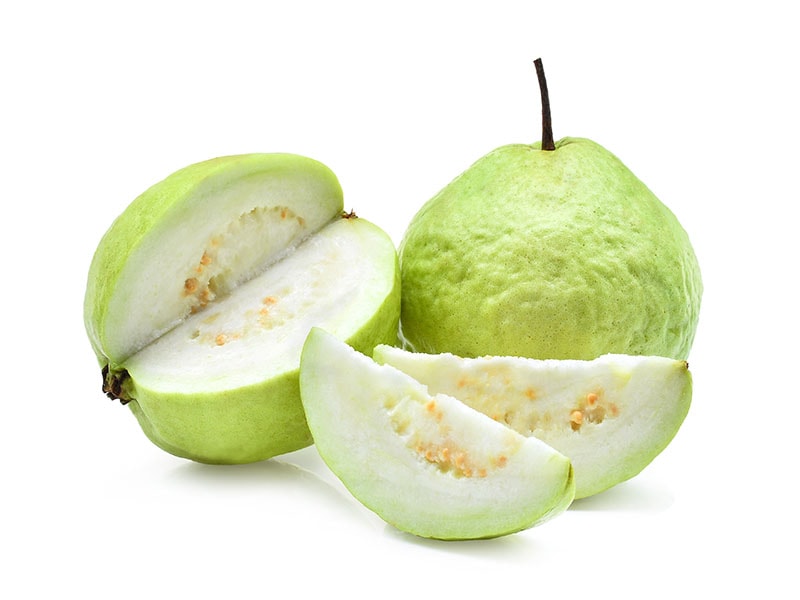 The white guava usually has a slightly bumpy green, sometimes yellow skin, and white flesh. It is sourer than red and pink guavas, with a hint of sweetness and intense aroma. When fully ripe, its flesh is very firm and a lot juicier than other types of guavas.
Tropical Yellow Guava (Mexican Cream)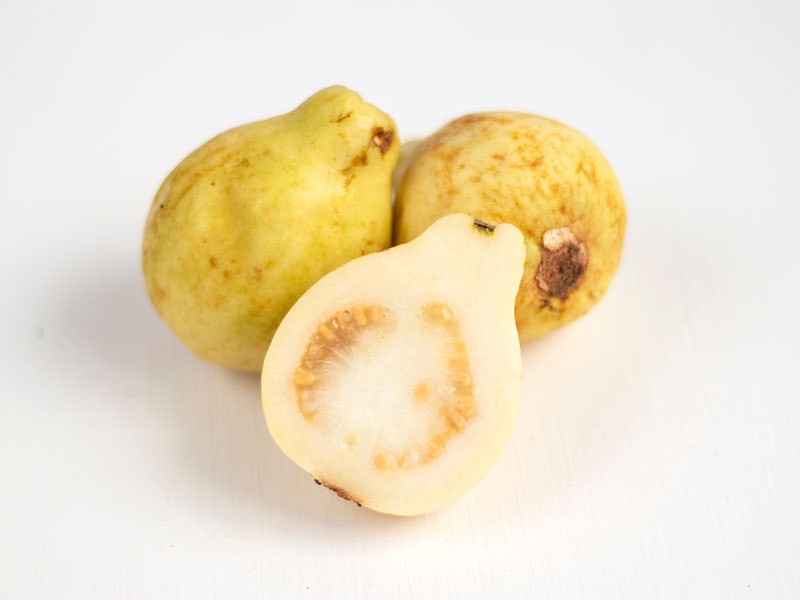 Yellow guava is considered to be the sweetest guava type as it will remind you of how passion fruit tastes, with a hint of pineapple. This fruit that starts with "Y" has yellowish-green skin and a creamy white inside. It's mostly used to make sauces and marmalade due to its sweet taste.
Learn all the fun facts as well as how to eat this guava. Watch this video to know more:
Strawberry Guava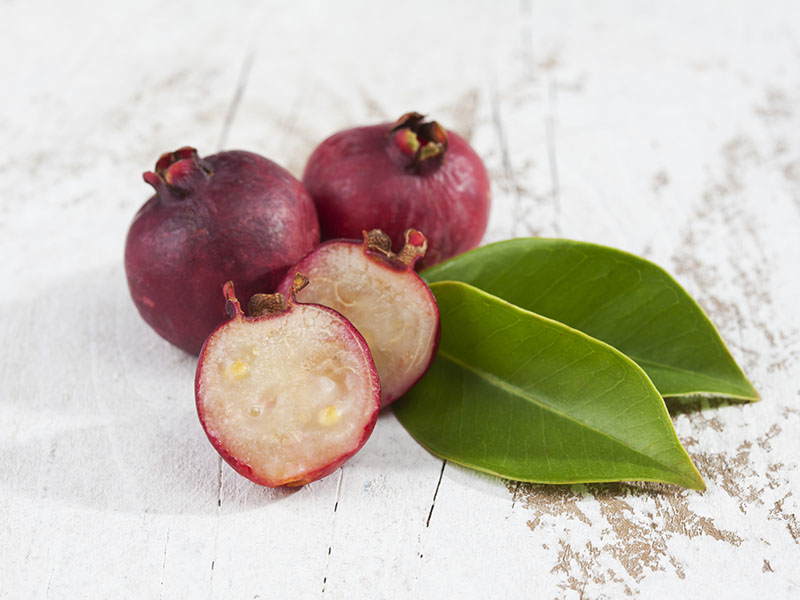 As you can tell from the name, this guava contains a hint of strawberry in its mixture of regular aromatic sweetness and zesty sour taste. Native to South America, this guava can be used for almost any culinary purpose, from eating raw to making juice, jam, jelly, or puree.
Lemon Guava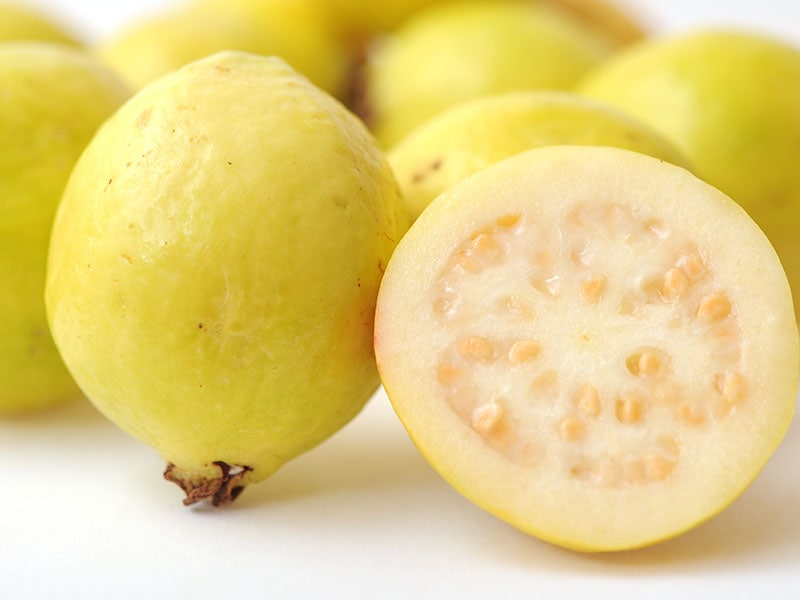 Just as the name suggests, this guava tastes like a balanced mixture of tangy lemon and sweet guava, although the scent is much more citrus, like lemon. Even on the outside, it also resembles a lemon with its small size while both the skin and flesh are yellow.
Red Malaysian Guava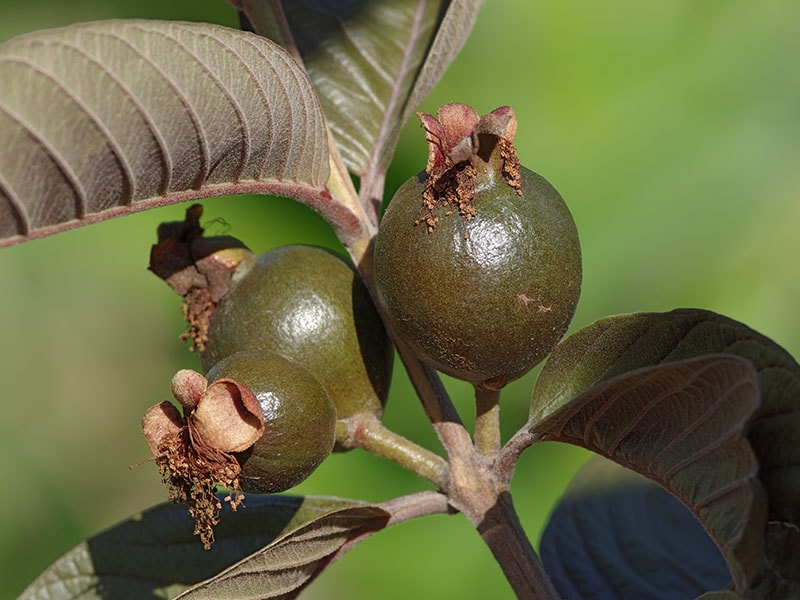 Unlike other types of guava, this one is mainly used for decoration. It has glossy and bumpy skin with very tender flesh. When ripe, its skin is dark red, and the center is a bright magenta. You can also eat it because it does have a mild sweetness; however, it is not very flavorful.
Where And How To Buy The Right Guava
As the cultivation of guava becomes increasingly popular, it is not as much of a rarity as it used to be anymore. You can buy it at a few grocery stores or Asian farmers' markets. Since guava is a tropical fruit, you are much more likely to find it in places with warm climates.
Depending on when you want to eat it, you can pick your guava accordingly. Choose ones that are soft and slightly tender with smooth skin if you plan on having them soon. If not, you can pick a less ripe fruit to let it sit at home. Try to avoid those that are too hard or have too many brown spots.
Watch this video to know more:
The Best Ways To Eat Guava
For those who live in Latin America, guava is no stranger to the everyday meal. You can find various instructions about guava and how to eat it: juice, sauces, desserts, main courses, or salads. Let its exotic sweetness and addicting aroma bring an incredible twist to your dish.
Eat Raw Guava
Everything about the guava is edible. You can cut the fruit into small slices and enjoy it as it is. Many also make it a bit more interesting by sprinkling some salt and chili over it to contrast the sweetness. Be sure to rinse it carefully and check for worms before you eat, however.
Make Guava Beverages
This is a refreshingly quick way to enjoy this delectable fruit. All you need is a juicer or a blender, a few extra ingredients, and you can have a perfectly nice beverage to enjoy. The choices are endless, from simple juice and smoothie to sophisticated cocktails.
Turn Into Jam & Sauces
Guava's delicate mixture of sweet and sour flavors allows it to bring a unique tropical twist to any dish it comes in. Introduce guava to your dish by turning it into jams or sauces. It's great to go on any pastry as jam or glazed over some grilled foods as a barbecue sauce.
Make Guava-Based Desserts
The sky's the limit on desserts when it comes to guava. Anything that you normally make with your favorite fruit, you can try with guava. For the summer, make some ice cream or popsicles. You can also make some cake, pudding, energy bars, bread, tarts, and so many more.
Add Guava Onto Your Favorite Dish
What better way to take your dish to the next level than using raw guava as a topping? Grate or chop a few slices to put them into your favorite salad, coleslaw, or yogurt bowl. Just a few simple extra steps, and you can find a brand new way to enjoy your daily meal.
Top Five Guava Recipes You Can Make In No Time
Here are some toothsome recipes using guava you can make for yourself and your loved ones. You will be surprised by how fascinating your dish is with this added fruit.
What feels more like a holiday than some Caribbean sweet recipes with a combination of refreshing and mouth-watering tropical fruits. This smoothie recipe is a delicious mixture of sweet, sour, and tangy, like summer in a glass.
Put a slight tweak on the classic mojitos recipe, and you can have some fun drinks for your get-together. It has a balanced mixture of guava sweetness and a refreshing minty flavor to keep you cool all summer.
This jam is a simple way to bring some new and magical flavors to your familiar dishes. From toast, sandwiches, shortcakes to any creamy dessert, nothing is off-limits. All you need is a few basic ingredients to make this recipe.
Most bakeries serving classic Cuban sweets will place this dessert on their menu with pride. Its crunchy and flaky texture is complemented wonderfully by the naturally sweet scent of guava, which always leaves you craving for more.
Guava salad is full of possibilities and potentials. There are so many ways you can combine guava with different veggies and fresh fruits. Try out some new combos this week and see what exciting dish is waiting for you.
Three Easy Ways To Quickly Ripen Your Guava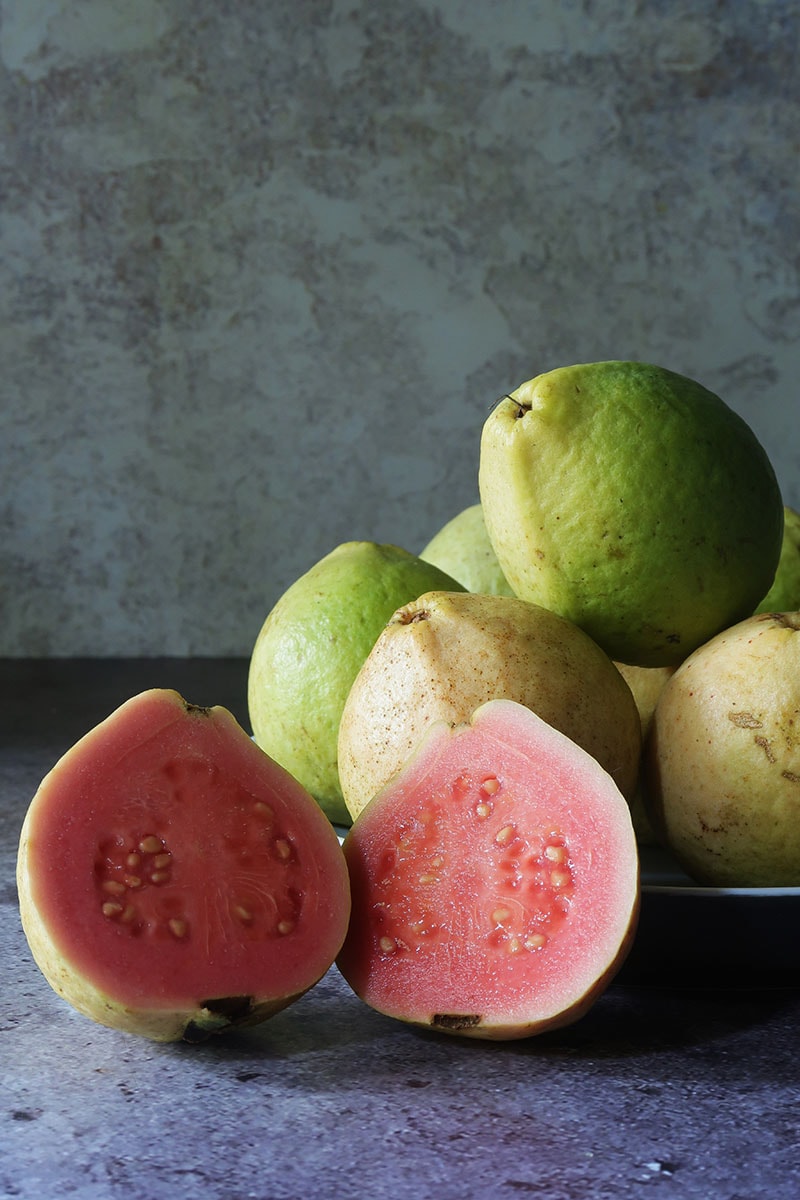 It is usually advised to let guava become fully sized and semi-ripe before harvesting it from the tree. However, if it is still green when picked, it can continue to ripen with some quick home methods.
Let It Sit On The Counter At Room Temperature
Make sure your house doesn't have any fruit fly infestation to protect your guava when they start to ripe. This should take around 2-6 days; all you need to do is let your guava sit in a cool place away from the sun. Remember to keep an eye on it while you wait, or it might be overripe.
Put Your Guava In Rice
Uncooked rice can be a very good medium for trapping ethylene, a gas that fruits expel when they are ripe. You can quickly ripen your guava by washing it first and then leaving it to ripen in rice over a night or two. This process can be shorter than you expect, so be sure to check often.
Let It Ripe In A Paper Bag With Other Fruits
This method's purpose is also to trap the ethylene gas mentioned above. However, it can happen a lot quicker because you will be sealing it in a paper bag with other already ripe fruits, like an apple or a banana. This process should only take a day or two.
Storage Methods To Keep Your Guava Fresh
In order to decide on the best way to lengthen guava's life span, you should first look at what stage it is in. Unripe and ripe guava require different storage methods to keep them fresh for the longest amount of time.
Unripe to Semi-Ripe Guava
If your guava is still firm upon purchase, try any of the above-mentioned methods to ripen it faster. When wrapped in tight plastic or a paper bag and stored in the fridge, it can last for about a week. You can also cut it into slices and freeze it for up to 8 months.
Ripe Guava
Guava has a pretty short shelf life and is overripe easily, so try to keep it sealed in a plastic or paper bag when you place it in the fridge. The longest you can keep it, sliced or unsliced, is from between 2 – 4 days.
For long-term storage, first, make a syrup from the skin of the guava. Then slice the flesh into oval shapes and submerge it in the syrup. Keep the mixture inside an airtight container or a plastic bag and freeze it for up to 8 months.
FAQs
While it may have gained significant popularity in the few recent years, guava can still leave you curious with some questions regarding health issues. Read below to see if yours are included.
Try Some Guavas And Expand Your Fruit Horizon!
Guava is a wonderful tropical fruit that tastes and smells absolutely amazing. It is diverse in every possible way when it comes to cooking, leaving you with so much room to experiment. Not only that, but it is also very healthy and good for you.
Get your hands on this delightful fruit now and see for yourself why many people love it so much. I can assure you; there is no wrong way to eat a guava. If you have tried or plan on trying this fruit soon, let me know what you think. Thank you so much for reading.
References
En.wikipedia.org. 2021. Guava – Wikipedia. [online] Available at: <https://en.wikipedia.org/wiki/Guava>.
WebMD. 2021. Health Benefits of Guava. [online] Available at: <https://www.webmd.com/diet/health-benefits-guava#1> .