Do you want to know "what does passion fruit taste like?" If you love tasting a new flavor and add more fruits to your favorite list. You indeed should not skip this gift from tropical zones.
Passion fruit has become popular worldwide and widely used in innumerable dishes, either savory, desserts, or salad dressings. In this article, I will tell you plenty of information regarding this food starting with "P" that can blow your mind!
Are you curious now? Let's go deeper!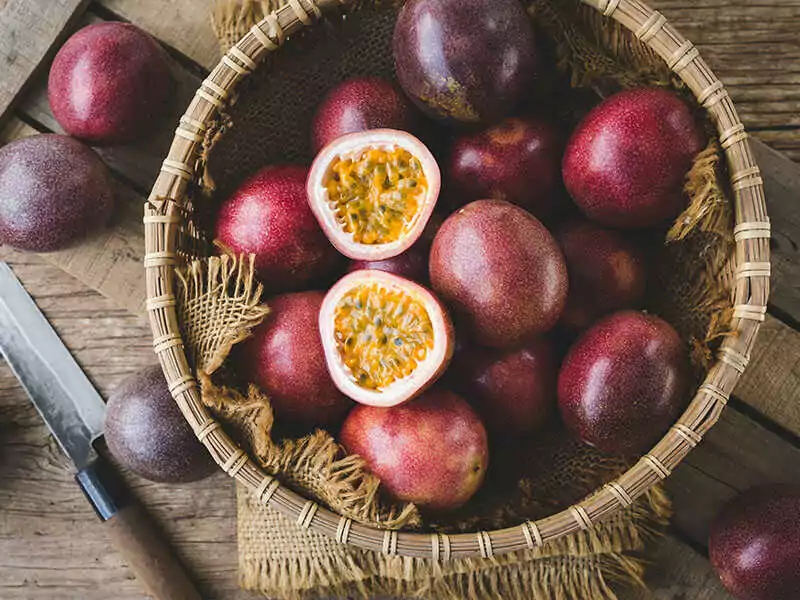 Passion Fruit – A Taste That You Can Not Forget
When you go to any sweet shop or coffee shop, you will find an option of passion fruit flavor. The taste is so easy to eat and so popular that it can apply to many dishes.
To describe it detailedly, passion fruit has jelly-like yellow flesh covering its black seeds and the sharp citrusy tart balances with the sweet taste. Its tastes can also remind you of pineapple or yellow kiwi.
If I can find a bottle of passion fruit perfume or mist at any store, I will definitely buy it. The exotic refreshing smell of passion fruit can remind you of the sunny tropical beach and even be that powerful to up your mood on a gloomy day.
Passion Fruit And The Stories You Might Not Know
Passion fruit is a type of berry from the Passifloraceae, and the fruit's name also has that origin. Passion fruit has an oval and round shape, thick, bitter skins which sometimes are not edible, and transparent jelly-like flesh covering its crunchy edible black seeds.
Its juicy flesh can be juiced or savory dishes to bring a beautiful citrusy flavor. The fruit now is so prevalent globally and can be grown anywhere, especially in tropical and subtropical environments. (1)
How Many Types Of Passion Fruits Do You Know?
You might be most familiar with purple passion fruits, but actually, there are many more types of them, and their colors range from red, purple, yellow, and green. In today's article, I will briefly introduce to you the five most popular types of them:
Purple Passion Fruit
Golden Passion Fruit
Banana Passion Fruit
Granadilla
Sweet Granadilla (Sweet Passion Fruit)
Giant Granadilla (Giant Passion Fruit)
You might have the other names of passion fruit in your mind since there are more than 50 types of passion fruits around the world and these five genera of them are more affordable.
Passion Fruit 101 – Passiflora Showtime!
Have you heard the names of these passion fruits below? If not, it's time to scroll down and take some notes!
mins and unforgettable taste
| Types Of Passion Fruits | Appearances | Flavor And Aroma | Best Used For |
| --- | --- | --- | --- |
| Purple Passion Fruit | Tennis ball size, purple skin, wrinkle when ripe, yellow to orange flesh | Citrusy aroma, sharp sweet-tart flavor | Sauces, dressings, syrups, jams |
| Golden Passion Fruit | Oval shape, yellow to orange skin, orange-ish flesh | Sweet, acidic, floral scent | Sweets, sauces, dressings |
| Banana Passion Fruit | Banana-like, reddish-orange flesh | Robust orange-like aroma, less sour | Perfect for sweets |
| Granadilla | Oval shape pointed at the stem, yellow skin, white flesh | Sweet, grapefruit bitterness, no scent of acidic | Eating raw or fresh toppings for sweets |
| Sweet Granadilla | Hard yellow skin, white-yellow flesh | Sweet, very juicy, and robust aroma | Eating raw |
| Giant Granadilla | 3 times bigger than the purple, green to yellow-green skin, white flesh, thick pulp | A gentle pear-like scent, sweet, mildly acidic | Mix with other fruit in fruit salads or smoothies |
1. Purple Passion Fruit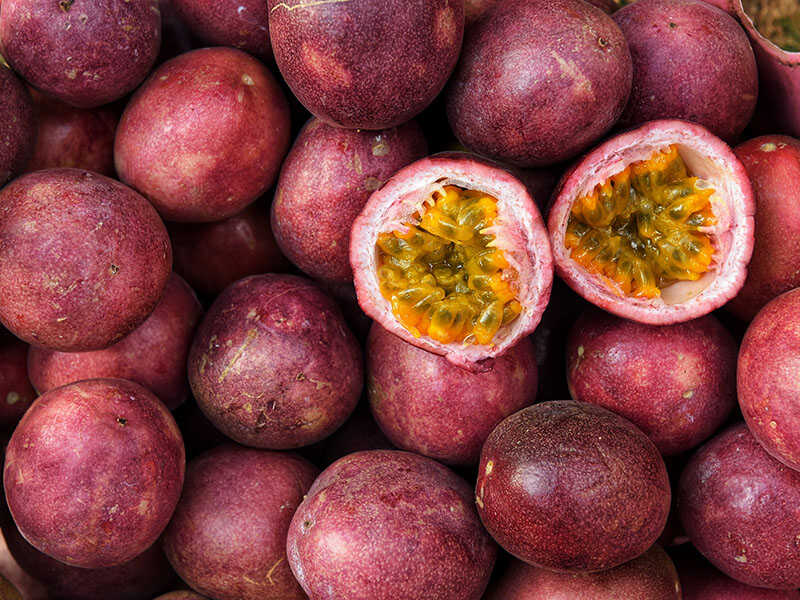 You can find purple passion fruit in any grocery store and also be familiar with its taste. Its size equals a tennis ball with smooth, waxy, purple skin when it is young and getting wrinkles when it is ripe.
You can find many other variants like Misty Gem passion fruit ( the tastiest variants, has orange or yellow pulp, tangy-sourness, and guava-like taste) or Sweetheart (deep purple skin, very sweet), Panama's or Australian Purple and so on, all tasty!
The white, spongy part under the skin is not edible. Tastes of the purple passion are a solid sour and sweet; its citrus flavor is quite pronounced; it is aromatic and relatively less succulent of the varieties on this list.
Therefore, purple passion fruit is perfect to be used as fresh, for sauces or salad dressings' ingredients. When mixed with other tropical fruits, it can turn into a flavorsome smoothie for your birthday breakfast menu. Purple variety can also go well with creamy ingredients.
2. Golden Passion Fruit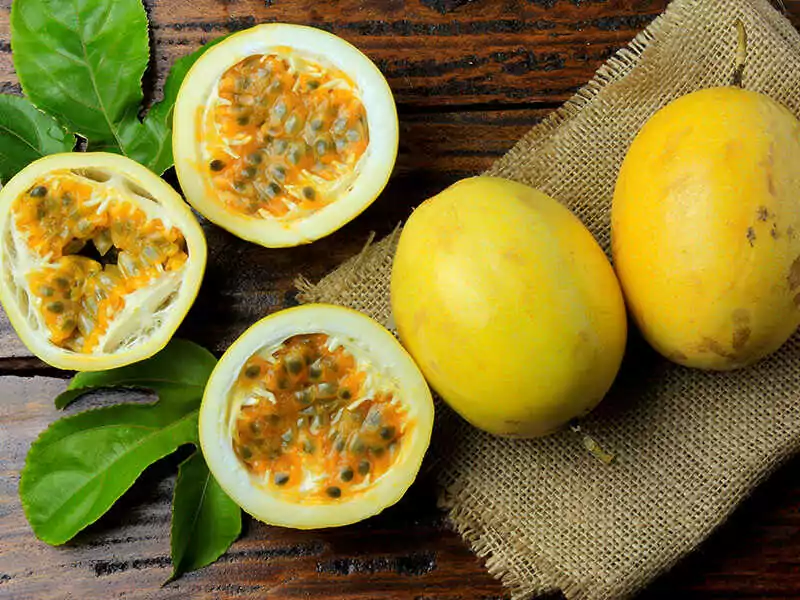 Yellow passion fruits or golden passion fruits have that name because their skins usually range from bright yellow to pinkish-orange. These fruits beginning with "Y" are the hybrid of purple passion fruit and sweet passion, believed to have originated from Australia.
Their skin colors are lighter or darker depending on the soil qualities and other factors where they are grown. The ripe yellow passion fruit will have its gelatinous flesh (with seeds) separated from the white membrane.
Then you just need to open them and quickly "pour" them into a bowl without using a spoon to scrape. The interior has an orange-ish color and a combination of sweet, acidic, and mild floral notes, perfect for sweets as toppings or ingredients in summer salads.
Its pulp is also edible and you can take out the flesh to make some bite-sized desserts like mochi, which taste even much tastier. Cooking this sweet-tart pulp up and making jams, syrups, sauces from it also makes my mouth water.
3. Banana Passion Fruit
Just like its name, the fruit has a banana-like appearance with a passion fruit interior. Banana passion fruit's skin color ranges from greenish tone to light yellow. It is available around the year, but it's best to harvest this fruit in spring and fall.
You should cut your fruit in half lengthwise; the beautiful orange jelly-like flesh will appear. Banana passion fruit has a long oval-shaped, more robust orange-like aroma and is less sweet and acidic than purple. Its pulp is also edible and tastes a little tangy and sour.
The taste of this fruit is perfect for sweets. They use it in various sweets, desserts, and drinks. As banana passion fruits originate from Hawaii, they are indispensable in your Hawaiian food party. Remember to take out the seeds because they are super bitter.
4. Granadilla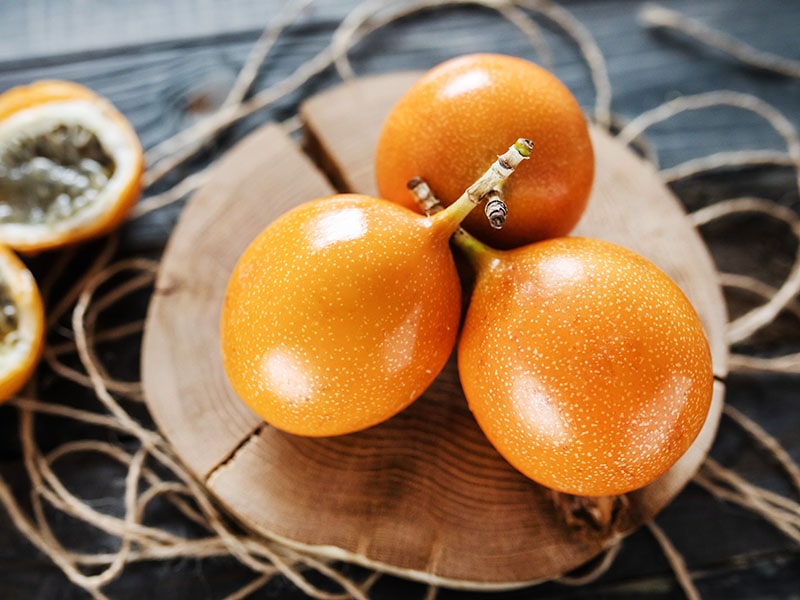 Granadillas represent the whole different genus of passion fruit, which is also called "granadilla". They have been grown and developed in South and Central America since ancient times.
This passion fruit has a significant characteristic compared to the other passion fruits as they are all sweeter and have minor sourness. You might also find a hint of grapefruit bitterness from them.
You might be confused between this type of fruit and yellow passion fruit; their difference is the flesh. While yellow passion fruit has yellow or orange-ish jelly flesh, the granadilla and other variants have white creamy transparent flesh and grey edible flat seeds.
Granadilla is often used fresh rather than put in sauces or being an ingredient for savory dishes like purple passion fruit. It and its "granadilla" siblings have high sugar content and are usually used in sweets as toppings like luscious cakes and creamy curds.
5. Sweet Granadilla (Sweet Passion Fruit)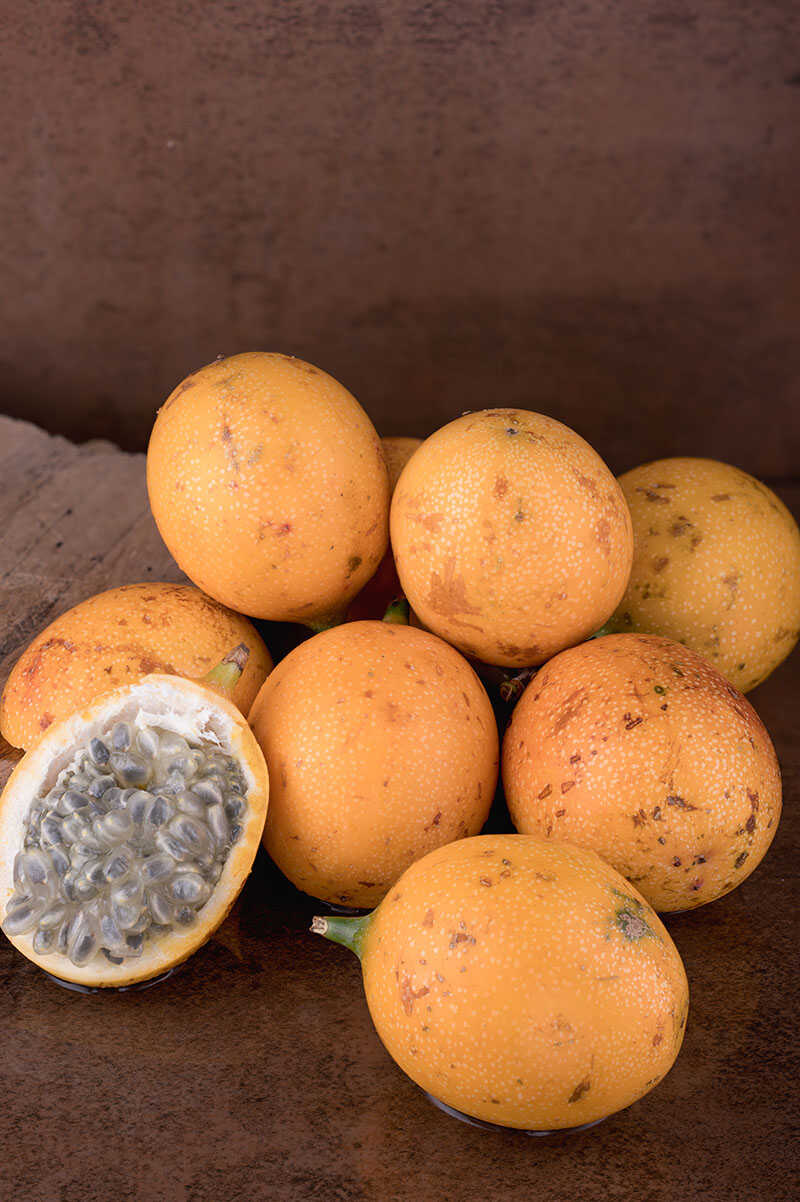 Sweet granadilla is sometimes called sugar fruit. It also has a round, oval shape like purple and yellow passion fruit and is bigger than the purple and banana ones. Its skin is quite hard, and you can easily crack and open it with bare hands.
Sweet passion fruits are easily found in Mexico, South Peru, Central America, and so on. You can also find them in Hawaii, heaven for tropical fruits.
This type of granadilla is personally my favorite. Sweet granadilla has white-yellow transparent flesh, super juicy, mucilaginous, sprightly, and aromatic flavor. Just taste it once, and you can never stop!
The best way to enjoy this fruit's flavors is to eat it as is. Or you can mix it with egg white and whipping cream to one of the most fascinating Brazilian desserts: passion fruit mousse. Another way is to add a bit of sugar and condensed milk and enjoy it with shaved ice.
6. Giant Granadilla (Giant Passion Fruit)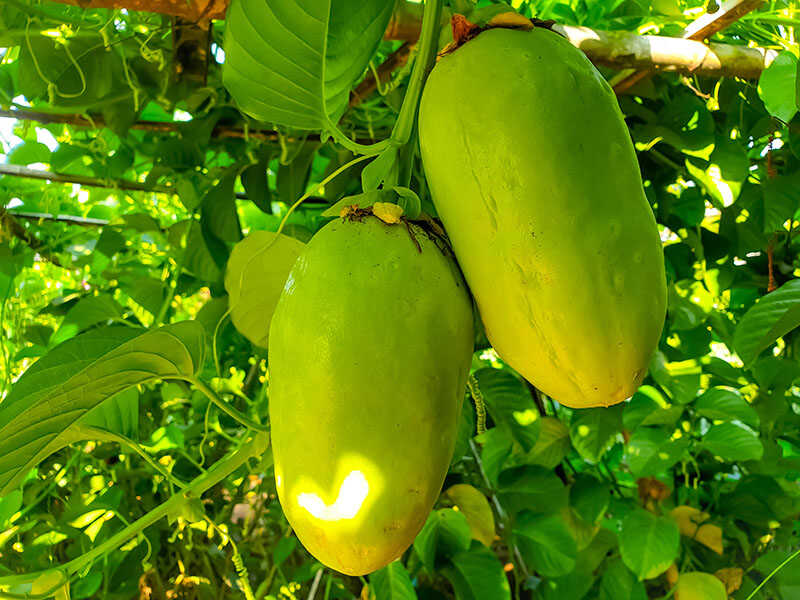 You may think that this fruit has a rough appearance, but it is actually one of the mildest passion fruits. When the summer comes, it emits such a gorgeous strawberry, melon-reminiscent, and citrusy scent; you can tell that it is ripe and ready.
This papaya-size passion fruit taste is difficult to describe. Its flavors include the mellow and mild sweetness of the pear; the edible white pulp has a melon texture and guava-like taste. Its peel is also edible, but you should peel it before eating.
The taste of the arils is the most flavorful part; they bring a mild acidity, which can please you if you are not a fan of the sharp sourness of the normal purple one. When the fruit is unripe, you can still eat it like vegetables.
Giant granadillas are recommended mixed with other tropical fruits like mango and papaya. One amazing example is how people corporate this passion fruit in various guava recipes, both savory and sweet dishes. Or you can use it in fruit salads or smoothies to enhance their flavors.
Still wondering what giant passion fruit tastes like? This review will help!
Massive Health Benefits Of Passion Fruit
Not only are they tasty, but passion fruits are also a pack of nutrients and can effectively support your health. In the below sections, I will tell you why you should add passion fruits to your diet.
1. Boost Your Immune System
The immune system has always been a vital mechanism of the body. When you have good immunity, you will have the ability to defend against diseases from minor to dangerous.
Passion fruits, which are good sources of vitamins A, C, and other essential minerals and antioxidants, can help you. These compounds can help you reduce cellular stress and prevent inflammation which usually links to heart problems and Alzheimer's.(2)
2. Provide a Tremendous Amount of Fiber
Your body needs fiber. You can never ignore fiber since it is crucial to the digestive system, keeping the gut healthy and avoiding bowel disorders, and preventing other diseases. Fortunately, the pulp of some types of passion fruits is a perfect source of dietary fiber.
Eating an appropriate amount of fiber a day can also help to reduce cholesterol in your blood and support regulating your blood flow. If you feel bored with other vegetables, you can consider passion fruit to refresh your taste.
Since passion fruits are good sources of fiber and help reduce the excess cholesterol (3) in your blood vessels, they have the ability to prevent heart-related problems.
3. Help With Your Diabetes
Passion fruits have a low glycemic index (GI) which is specifically suitable for people having diabetes. Some studies even found several compounds inside the crunchy black seeds of passion fruits can help with insulin sensitivity.(4)
A healthy insulin sensitivity rate helps you avoid many fatal diseases, and obviously, diabetes is one of those.
Overall, consuming passion fruits daily or weekly will bring many health benefits to you and barely have any side effects. If you are not allergic to passion fruit, you should include it in your diet.
Surprising Tips To Pick The Best Passion Fruit Can Blow Your Mind
If you don't know how to choose the best passion fruit to put into your cart, then you probably should read these valuable tips. Follow these tips, and you won't have to waste time choosing bad passion fruits anymore.
Wrinkles On The Pods
This tip is specially used with purple passion fruits since this type has the most noticeable skin changes between the unripe and ripe processes. When they are unripe, their skins tend to be smoother and also a bit tough to squeeze.
Other types, such as sweet passion fruits, pods are even more stretched as they ripen. Therefore this tip should not be applied with others besides purple passion fruit.
Colors – Purple, Green, And Yellow
The two types of passion fruit that can be eaten green and ripe are banana passion fruit and giant granadilla, so you don't need to make sure that they are fully ripe to eat them the best.
For more information, a fully ripe banana passion has banana-yellow skin, making them look like a banana. And a ripe giant granadilla will turn from light green into yellow-green skin.
With the purple passion fruits, if you see their skins have evenly purple color distributed, those are already perfect for consumption. With golden and sweet passion fruits, you should choose those fruits which have orange or yellow skins.
Feeling The Heaviness
The heavier the fruits are, the juicier they are; that common tip also works with passion fruits. This is because when they are ripe, they will contain more juice and moisture inside their flesh. Therefore they will be heavier than themselves when unripe.
You can use this tip with all five types of passion fruit above.
Gentle Shaking
The next tip is to shake your fruits. Gently shake your fruit and hear carefully. If you can feel liquid and pressure inside, the fruits load yummy juicy flesh and are ready to use. Try it with all five types, and it will still work.
Gorgeous, Strong Fragrance
Last but not least, you should also notice their smells. The less delicious passion fruits emit very light or no fragrance at all. Conversely, the nicely ripe passion fruits are robust with a citrusy aroma, and you can even feel the scent of sweetness. This tip is also usable with all types.
Tips that are not applied will forever be theories. So, let's try my suggested tips some days and share your precious experiences with me!
How To Store Passion Fruit
If you are a fan of passion fruits and buy a lot of them but don't know how to keep them for a longer time, now I will show you how to keep your passion fruit properly.
| Storing Places | Fruits' Condition/Methods | Available Storing Time |
| --- | --- | --- |
| Room Temperature | Unopened/ Opened | 2 weeks or more/ Less than 2 hours |
| In The Cool Compartment | Unopened / Ziploc bags | Up to 1 month |
| In The Cool Compartment | Opened / Ziploc bags | 7 to 10 days |
| In The Freezer | Opened /Ziploc bags | 6 months |
| In The Freezer | Opened/ Ice cube trays | 6 months |
At Room Temperature
It depends on how ripe your passion fruits are before storing. If they are medium-ripe, they can stay at room temperature for 2 weeks, unopened. The date can be longer if your fruits are unripe.
If you open your fruit, you have to keep them in the fridge. Your opened passion fruits will not last at room temperature for more than 2 hours.
In the Fridge (Cool Compartment)
After you open the passion fruit, you should put their flesh into a Ziploc bag and put them into the cool compartment. They will be fresh for a week or 10 days in that condition.
The other option is to put the whole fruits into the fridge, remember to put them into Ziploc bags to prevent dehydrating, and your fruit will last up to a month.
In the Freezer
You can have two ways to keep your passion fruits inside the freezer. After taking all the flesh out of the fruits, you can put all their flesh into a Ziploc bag or put them in an ice cube tray.
I prefer using the ice cube tray because it will be easier to take the "iced passion fruit cube" out of the tray than take them out of the Ziploc bags. And remember to put on the labels to check the day. Your frozen passion fruit will be available for up to 6 months.
Which one do you prefer? It's more like how you want to use your fruits, so you can choose any methods that fit your purpose.
Simple Steps To Prepare Your Passion Fruit
Passion fruits are one of the easiest fruits to deal with. You can either eat their seeds together with their flavorful flesh or strain them out by using a fine sieve for some particular recipe which only needs juice.
Besides, I still have some notes about how to take their flesh out of the pulp for certain types you might want to know.
Golden Passion Fruits: Easy to use a spoon to scoop them out; the white membrane of the golden passion fruit might stick to the flesh, but you can still easily take them off by hand.
Banana Passion Fruits: Using a spoon to take it out, but their flesh is harder to be scooped out, so you might need to use more force.
Sweet Granadillas: You can pour their flesh out quickly when they are fully ripe and don't need a spoon to help.
Passion Fruit Recommended Recipes For A Foodie
Passion fruits are frequently used in various dishes, from savory to sweets. If you're running out of ideas for your tropical-inspired dinner, the recipes below could be your mood-saver.
Your tropical-inspired menu cannot miss cocktails, and passion fruit is just so perfect for a drink like that. This easy-making Classic Hurricane Cocktail recipe can bring you the iconic refreshing taste of the summer. It is such a perfect welcome drink to start your tropical party!
Need a guide to make your drink? Stick in and see more!
A perfect tropical dinner will start with an excellent appetizer, and I suggest this Scallop Carpaccio With Passion Fruit recipe. This recipe doesn't need to use heat to process, all fresh ingredients included.
Imagine within just a small bite, and you can feel the taste of fresh scallop, the perfect slight sourness, and the sweetness of passion fruit blend so well with the signature aroma of balsamic vinegar. You should definitely try this recipe once in your life!
Mentioning passion fruit, you and I must discuss how perfect they are as an ingredient of salads' dressings. Therefore, this Passion Fruit Vinaigrette recipe is my suggestion for your ideal dressings list.
You just need no more than 5 minutes to have a delicious mixture ready for your salads. Try it for once, and you will want to drizzle it onto everything, not only salads.
Step-by-step how to make a perfect Passion Fruit Vinaigrette! Watch this video:
Let's move to the main dish this time. I have suggested a scallop dish for appetizers, so I think the main course will make sense with another seafood dish. Grilled Passion Fruit Shrimp Skewers, just a name can remind you of a beautiful sunny day on the beach.
All the flavors, spicy, sour, a bit salty, and an attractive sweetness from passion fruits and the main ingredient, shrimp, can give you an unforgettable experience. You can also try other variants with some different types of seafood.
A sweet dessert from passion fruit will be the perfect ending to your tropical-inspired dinner. As I mentioned, passion fruit is very suitable for sweets, especially those using frosting or cream. Try this Passion Fruit And Coconut Cream Parfaits, and you won't regret doing it.
FAQs
I am now moving on to the Ask-and-Answer section! Do you have any other concerns about passion fruits? Don't hesitate and take a look!
Do You Know How To Enjoy Passion Fruit Now?
Have you found the answer to your question "What does passion fruit taste like?" yet? I would love to know what you get. Today I have introduced you to many interesting things about passion fruits, not just limited to their tastes.
You now have a fair amount of information about passion fruits, including their popular varieties, health benefits, tips to choose perfect fruits at stores, and several fabulous ideas of dishes with passion fruits as an ingredient.
I feel great that I could help you, so if you have any questions or suggestions, feel free to ask and share them with me. Loving is sharing, isn't it?
References:
En.wikipedia.org. 2021. Passion fruit (fruit) – Wikipedia.
Medicalnewstoday.com. 2021. Passion fruit: 8 benefits and nutrition.
Raleigh Medical Group, P., 2021. Increase Fiber to Decrease Cholesterol – Raleigh Medical Group. [online] Raleigh Medical Group.
Healthline. 2021. Everything You Want to Know About the Low Glycemic Diet.