Has this thought ever come to your mind: What does feta cheese taste like? Feta cheese is considered one of the best cheeses around the globe, and if you're wondering about its taste, you've come to the right place!
Here in this very post, I will provide you with very detailed descriptions of the flavor of feta cheese and its varieties. Furthermore, you will get to know its texture, exquisite dishes to serve with feta cheese.
Moreover, you can also know other solutions to replace feta cheese when it is not available. But now, let's head into the quick answer to find out what it tastes like.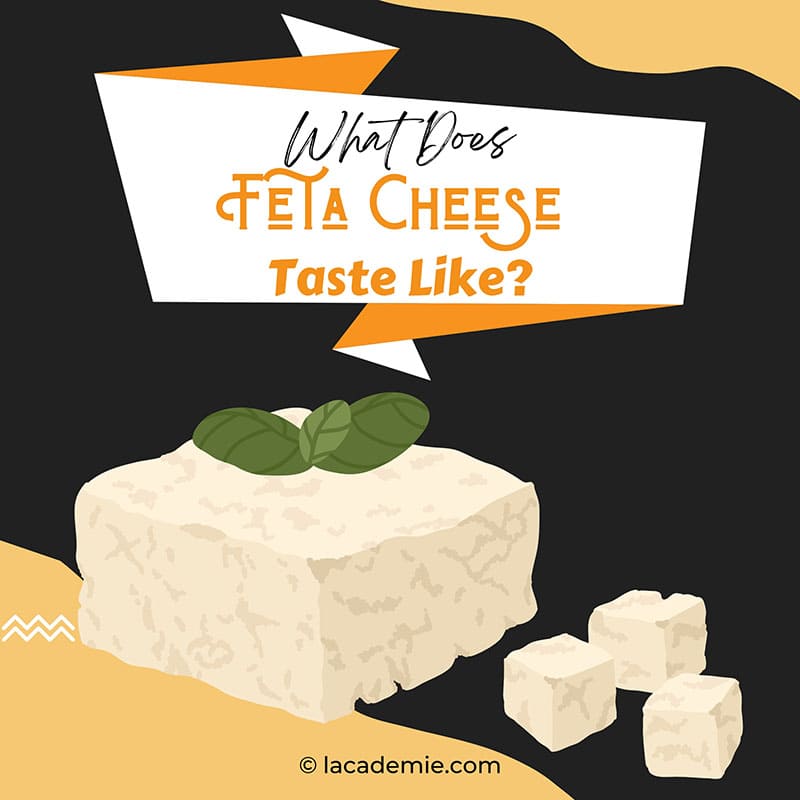 What Does Feta Cheese Taste Like?
Indeed, feta cheese has always been on the list of top tasty cheeses in the world!
The taste of feta cheese varies from country to country, and it also depends on various factors, such as the technique and the ingredients to create this unique treat. Therefore, it's hard to sum up the taste of feta cheese in just a few sentences.
Generally speaking, feta cheese is hugely flavorful. Creamy, salty, and tangy are the most recognizable characteristics of this cheese. Some people also discover that there's a citrus note aftertaste, but it's relatively bland.
There are several layers of flavor hidden inside this incredible cheese. The more you let it sit in the solution, the stronger this "flavorful" can get. 12-months-old feta cheese is often described as rich, peppery, and "hard".
If you have used multiple types of feta cheese, you must have noticed the differences. Sheep's milk feta cheese tends to have the boldest taste due to its uniquely rich and buttery flavor. Goat's milk feta is milder, while the US version is somewhat sour.
The Most Concise Definition For Feta Cheese
Feta cheese is a signature Greek cheese. "Feta" also means the unique method that people use to produce feta cheese in Greece.
Feta cheese is either made from sheep's milk or a combination of sheep's milk and goat's milk. Other feta-style cheeses may include cow cheese, but these are not regarded as "genuine" feta cheese.
This cheese is left to ferment in a brine solution. The amount of time it takes to make feta cheese is anywhere between 2 months to a year. The longer you leave it there, the better it will absorb the solution and strengthen its taste.
And if you wonder if feta cheese can be spoiled or not, the answer is yes, they still can go bad if you don't know how to store them properly.
You can store them in your cabinet, or in the fridge. If you are unsure about freezing feta cheese, luckily, it is another good way to extend their shelf life. In fact, their shelf life is varied based on their types, like block, crumbled, drained or undrained cheese.
Can you believe that you can actually make this dairy product at home? Feta cheese is not only easy but also super quick to make!
5 Gorgeous Varieties Of Feta Cheese And Their Taste
Feta cheese is considered white cheese. Its texture can generally be described as crumbly and slightly creamy. The higher the percentage of goat's milk in the product, the more crumbles it will contain.
Not only Greece but several other countries also produce feta cheese. Each variety differs in its texture, flavor, and components, based on their geographical locations. Let's check out five of the most common types of feta cheese in the world:
| Varieties | Ingredients | Texture | Taste |
| --- | --- | --- | --- |
| Greek feta | Traditionally made from sheep's milk. Sometimes mixed with goat's milk. | Crumbly, creamy. | Rich, briny, and tangy. |
| US feta | Made from goat's milk and sheep's milk. Sometimes it includes cow's milk. | Mushy, torn apart easily. | Zest and citrusy. |
| French feta | Mostly made with sheep's milk. | Firmer but not as crumbly as Greek feta. French goat's milk feta cheese is a little bit drier. | The mildest of all: considerably tender and creamy. French goat's milk feta cheese is slightly tangier. |
| Bulgarian feta | Made entirely from sheep's milk. | Creamier than Greek feta cheese but still firm. | The saltiest variety with a highly tangy taste. |
| Israeli feta | Often made from sheep's milk. | Smooth, creamy. | Has a superior and full range of flavors. |
Not only does feta cheese taste good, but it is also very beneficial to your health. Feta cheese is most well-known for its high calcium content, which is very good for your bones and teeth.
Moreover, feta cheese is loaded up with valuable minerals, vitamins, and other nutrients. It can help you reduce the risk of having diabetes and improve your general immune system. However, you shouldn't consume too much feta cheese if you need to reduce salt intake.
Take Your Meal To A New Height With These Fantastic Feta Cheese Dishes!
Feta cheese can be highly versatile when it comes to culinary purposes. Whether you enjoy eating the cheese on its own or creatively pair it with other dishes, you will still be able to feel the irresistible deliciousness of feta.
Here are some of the ideal dishes that I recommend trying with feta. Of course, there are a ton of recipes out there for you to experience, but believe me, the below combos are super divine!
Raw/baked feta cheese: Feta cheese is yummy enough to be served alone. You can try baking it and sprinkle various seasonings to emphasize its flavor more. Paprika, hot chili, fennel, cumin…can work really well besides salt and pepper.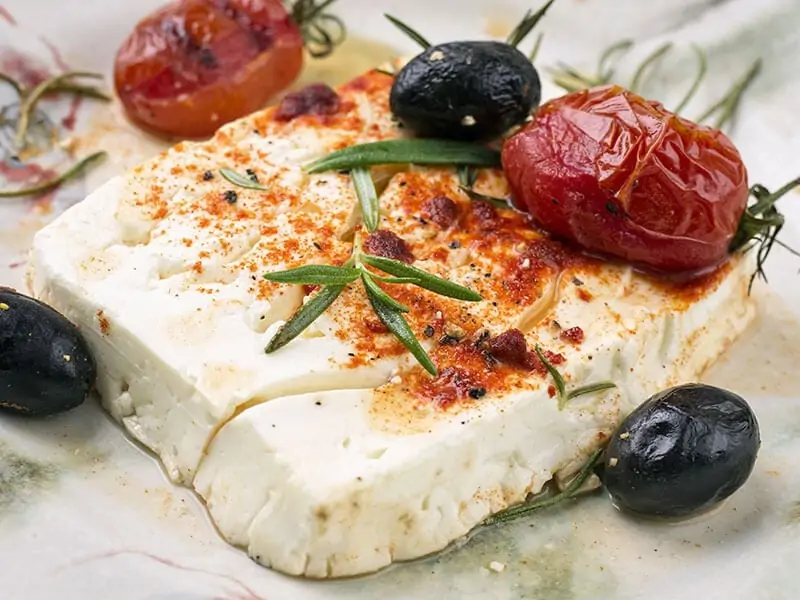 Vegetables: Feta cheese pairs perfectly with any of these fiber-rich foods. Just eat it alongside tomatoes, olive oil, and herbs. Or toss it into many decent recipes, such as cheesy mashed potatoes or healthy salads.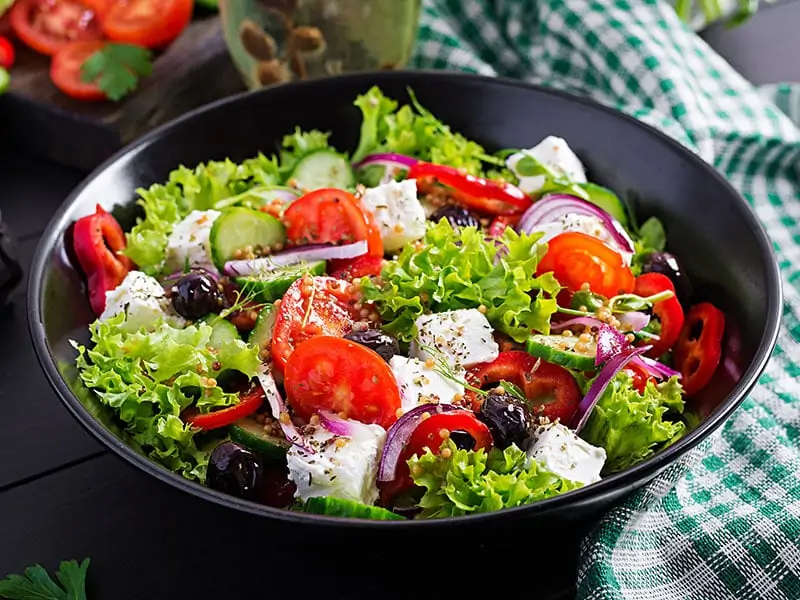 Fruits: You can use feta as a magnificent side dish when enjoying fresh fruits. The rich, fatty taste of this cheese complements the natural sweetness of fruits significantly.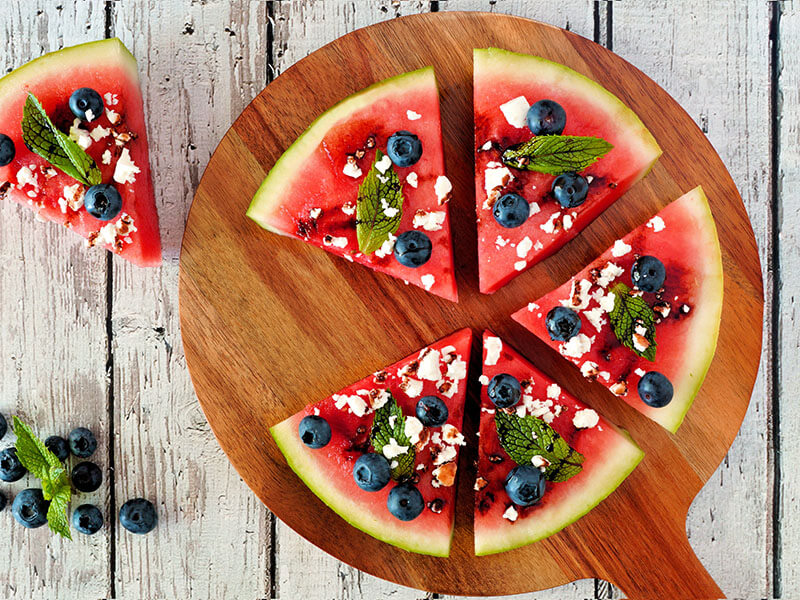 Desserts: Many mouth-watering cake recipes call for feta cheese. You can also replace almost any white cheese with feta when it comes to desserts. It will definitely create a unique and tasty twist.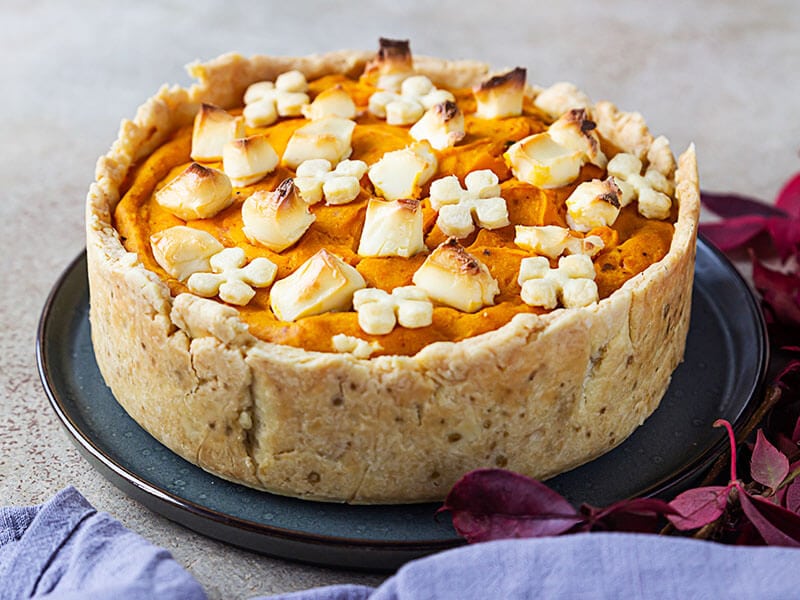 Pasta: This is a typical idea for your Italian night. And feta cheese is such a fantastic addition to your pasta! Just a minimal amount of this cheese will maximize the yumminess of this Italian cuisine.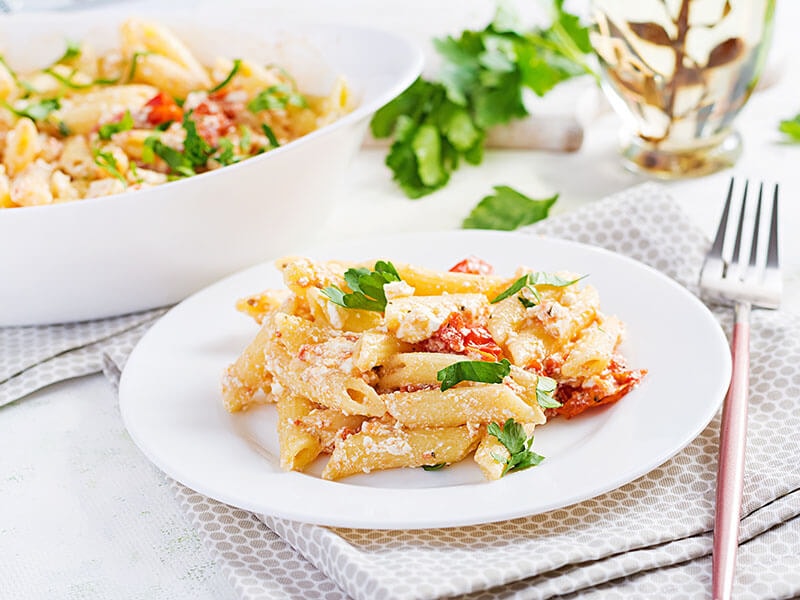 Catch up on the world's latest trend with this fantastic baked feta pasta recipe.
Omelets: Are you bored of eating regular omelets? Then don't hesitate to add feta cheese as a complementary flavor to your eggs because this is insanely addictive!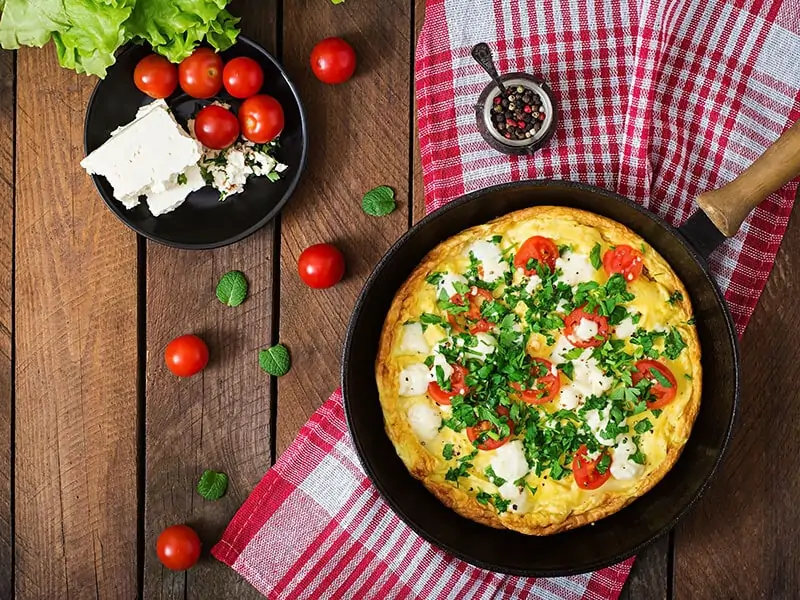 Pizzas: Top your wonderful pizzas with this exceptional feta cheese! What could be perfect than the combination of the two great foods?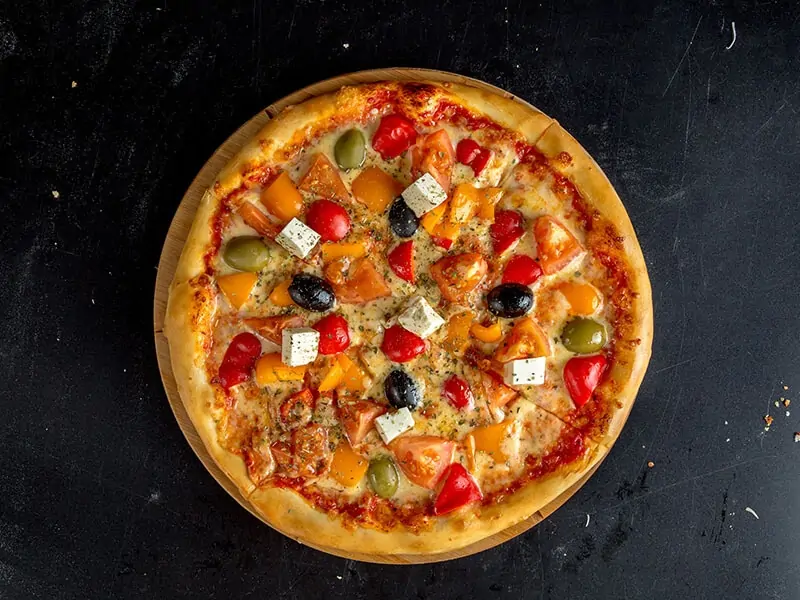 Learn how to make feta cheese pizza at home with this amazing recipe!
Meat: Western people have been using feta cheese to give the umami boost for their meaty cuisines since ancient times. Combining feta with meat and roasting them in the oven is an excellent way to deliver the succulent, flavorful roundness of the dish.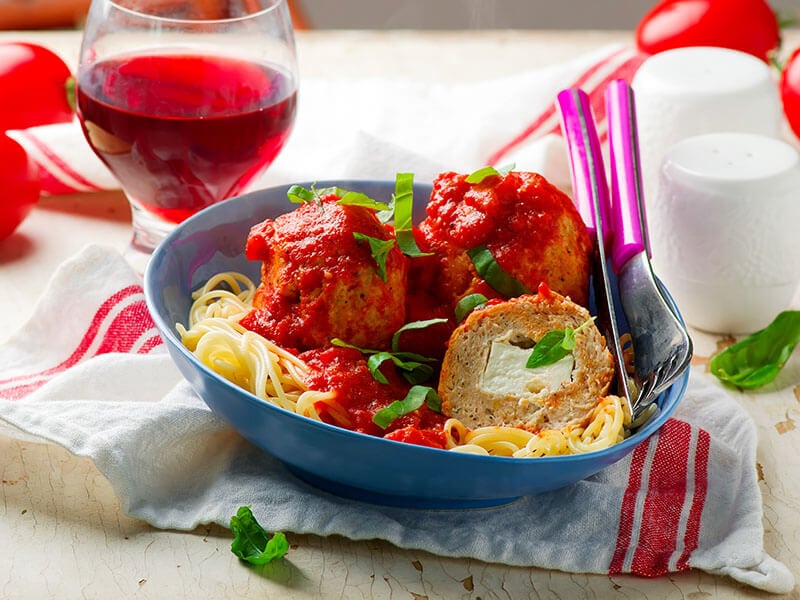 Sandwiches/Bread: Cheese and white bread are just meant for each other! You can simply spread the cheese on your sandwiches/bread and season them with herbs and spices. Or grill the bread on high heat to enhance the intense flavors.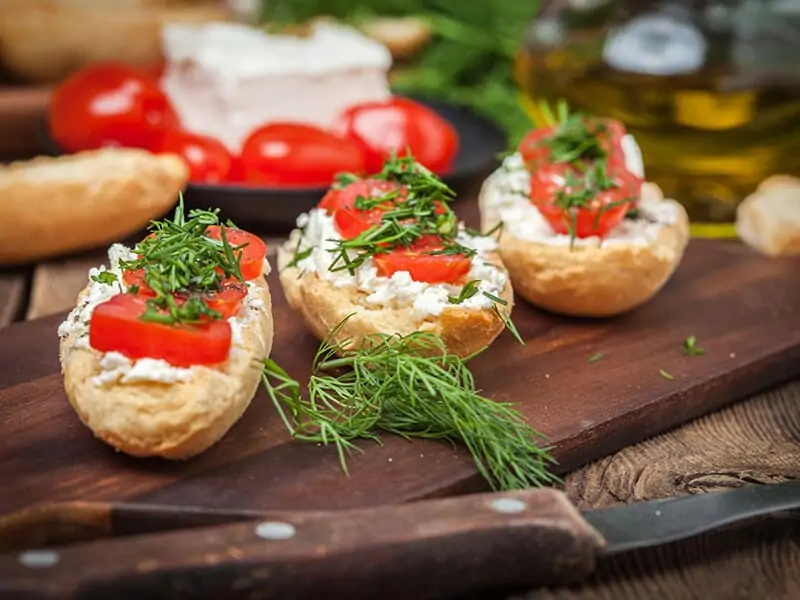 Warning: You should avoid using feta cheese for pregnant women. Some feta cheese brands make their cheese from pasteurized milk, while others do not! Hence, women should stay away from this dairy product during pregnancy for safety purposes.
6 Wholesome Ideas To Substitute For Feta Cheese
When it comes to feta cheese substitutes, there's a wide variety of options for you to choose. Each alternative stands out from the rest due to its unique flavor and look. Therefore, let's see which one is the best, according to your personal preferences!
1. Ricotta Cheese:
This cheese resembles feta cheese most about the crumbly texture. If you want magnificent cheese crumbles on your salad, this is your to-go option!
You can include ricotta cheese in cooking recipes like feta as well, but the flavor will be sweeter and milder. If you're not really into the tangy taste of feta cheese, try switching to ricotta.
In case you want to reserve your cheese for longer use and don't know whether to freeze your ricotta cheese, fortunately, they can freeze well in the freezer.
However, you may want to increase the amount of salt in your recipes a bit, as ricotta is not considerably salty.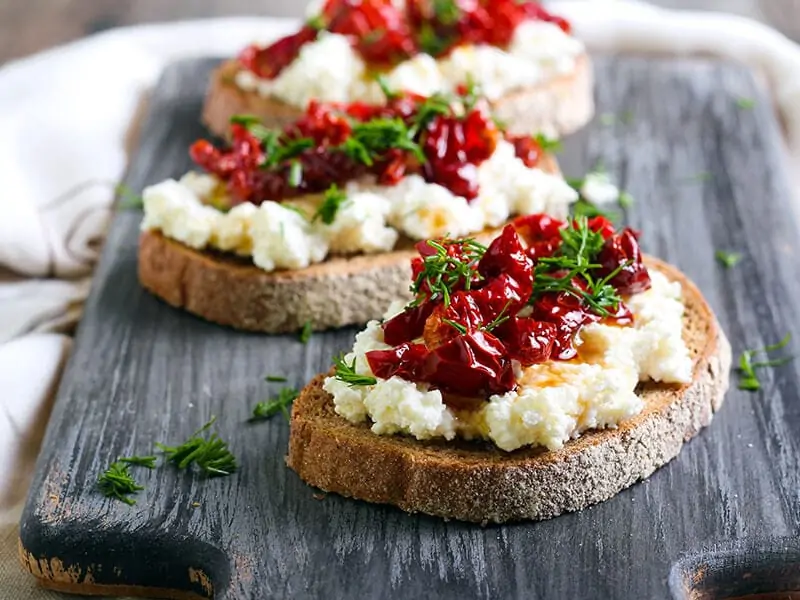 2. Halloumi
Halloumi cheese is my favorite food starting with the H letter. This Greek cheese is also made from sheep's milk and goat's milk. Therefore, there are certain similarities between halloumi and feta cheese, regarding the appearance and flavors.
The taste of halloumi can be described as mellow. People consider Halloumi "mild feta cheese", which lacks the rich and buttery flavor of feta cheese, but still remains slightly tangy, salty, and bitter.
Halloumi is a semi-hard cheese. It's perfect for roasted and grilled dishes, such as grilled sandwiches and roasted vegetables.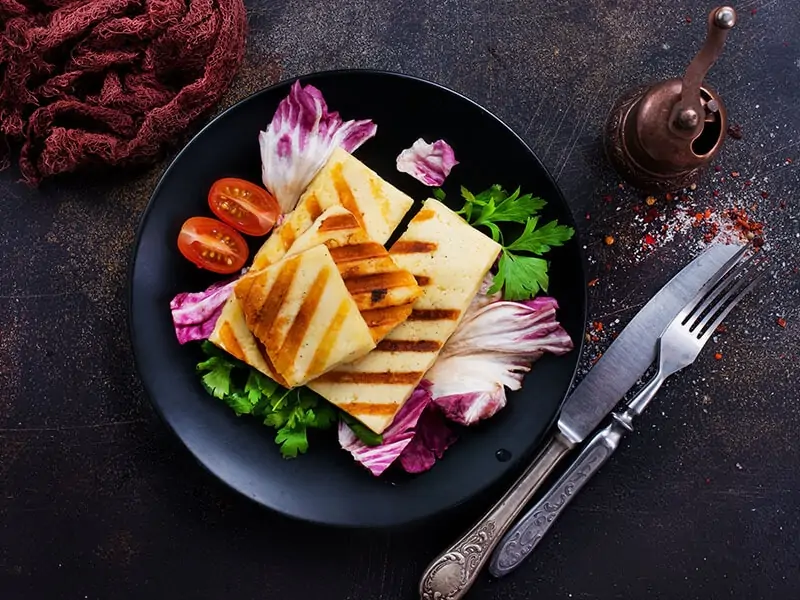 3. Goat Cheese/Chèrve
Here is another stunning alternative for you to try with salad and bread recipes! Goat cheese is obviously made from goat's milk, and hence it has a crumbly texture. However, goat cheese is somewhat softer than feta cheese.
Is it possible to freeze goat cheese? Yes, it is. Similar to the above cheeses, you can store your goat cheese in the freeze to extend their shelf life too!
Goat cheese's flavor is intense because it's tart and "goaty". However, feta cheese has a zestier and sharper taste than goat cheese.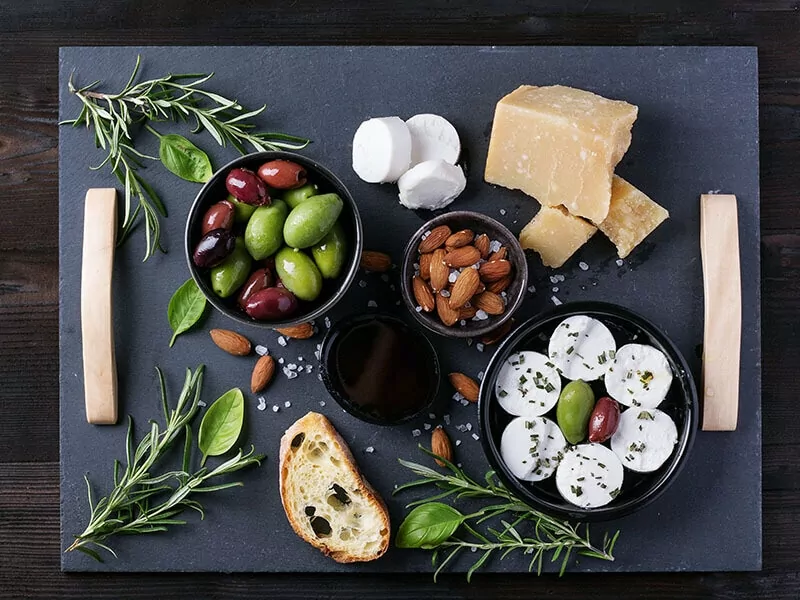 4. Salad Cheese
Salad cheese, also referred to as "imitation feta", is a feta-style cheese made with cow's milk. It delivers a fresh, watery feeling. Its texture is smoother and creamier than feta.
Some people think that salad cheese is delicious, as it is sweet, mild, and not really briny. However, salad cheese receives many bad reputations because it is not the authentic feta cheese but is often sold under the name "feta".
5. Queso Fresco
This kind of cheese comes all the way from Mexico. As it means "fresh cheese" in Mexican, queso fresco is a springy, moist, and curd-like cheese, thanks to its crumbly texture. And it's 100% made from cow's milk or with a certain amount of goat's milk mixed in.
Queso fresco's taste is very appealing: milky, sour with a tangy kick to it. Therefore, this is an ideal candidate if you want a lighter substitute for feta cheese in salsa or taco recipes.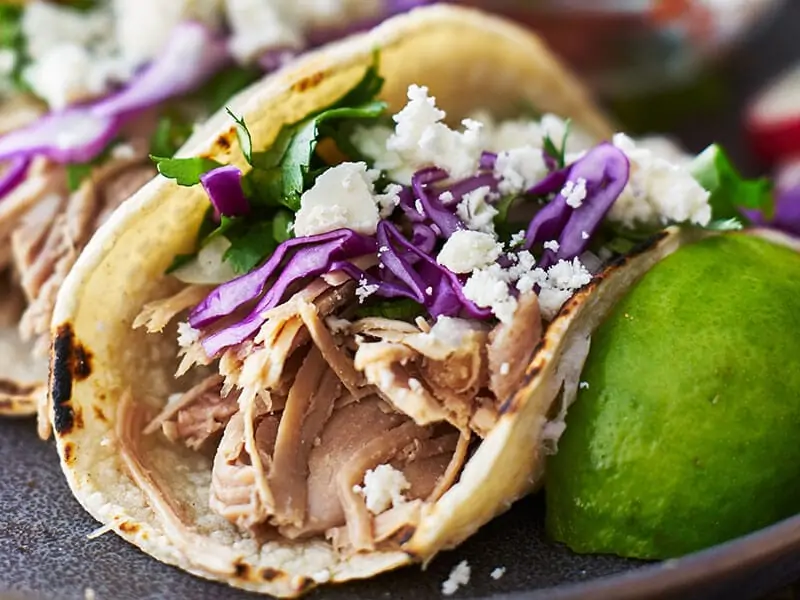 6. Mozzarella
Easy to melt and crumbly are the two shared characteristics between feta cheese and mozzarella. Nevertheless, mozzarella is not tangy and salty. Hence, you should use this cheese in place of feta cheese in certain recipes only, such as pizza.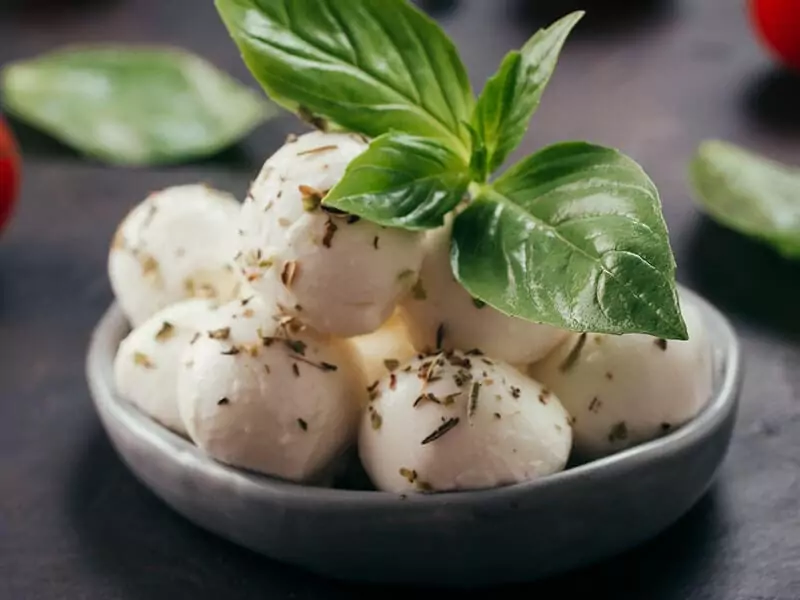 How to create your very own mozzarella at home with this phenomenal yet straightforward method!
FAQs
There are some other questions related to feta cheese that I've received lately. I hope that my answers are helpful and informative to you!
What Do You Think About The Taste Of Feta Cheese?
I hope my post has solved all your wonders about feta cheese's flavor. In case you've eaten feta cheese many times, do you find that feta cheese tastes like what I wrote? In your opinion, does it taste bad or good?
If you have any other descriptions or questions about the taste of feta cheese, please feel free to comment below. I'm always here to reply to you. Please share my post with the people around you so they can get a lot of valuable information. Thank you!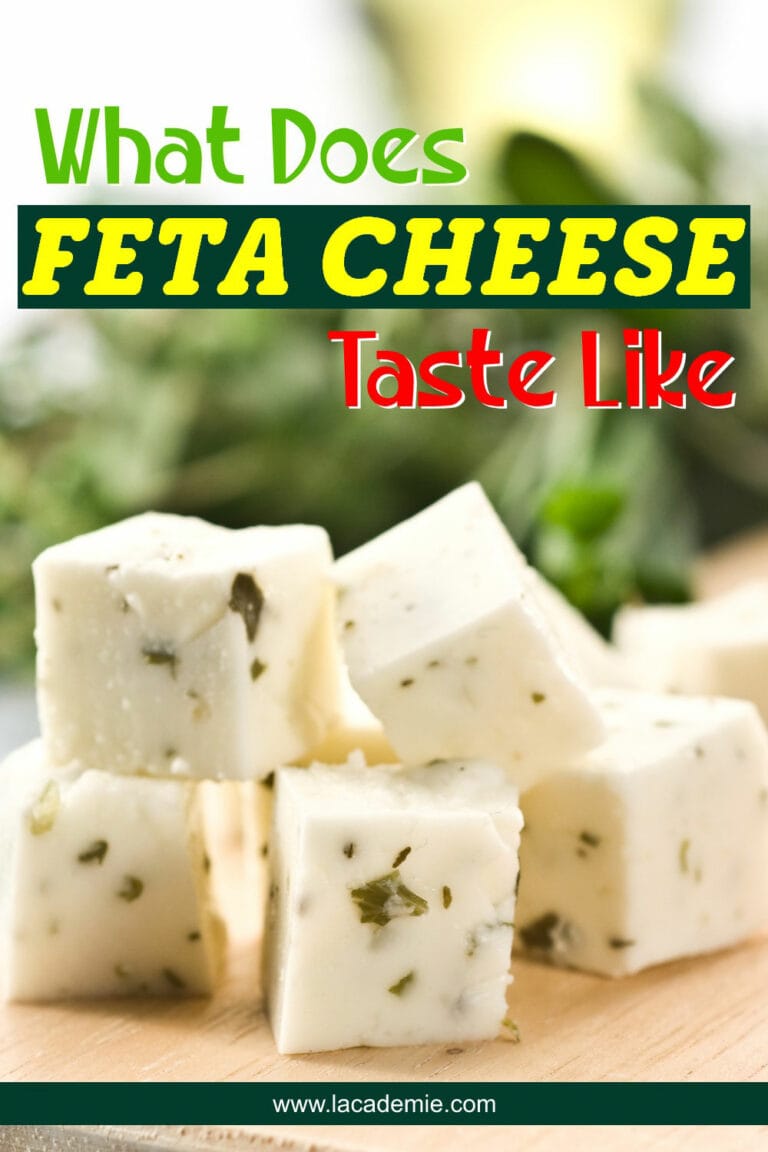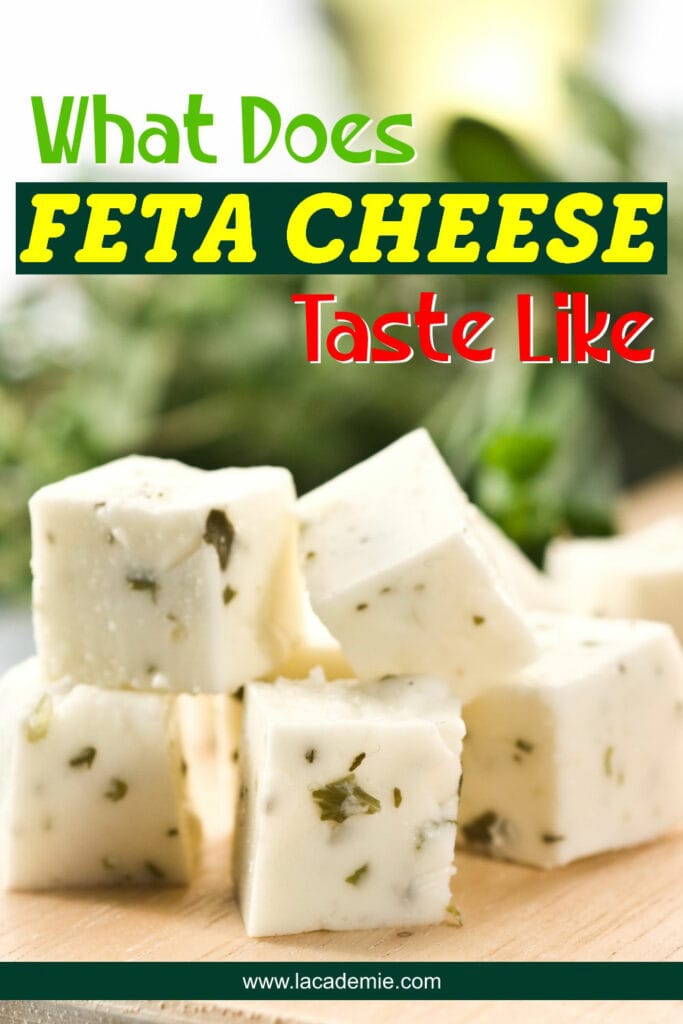 Reference
Rezac, S. et al., 2018. Fermented Foods as a Dietary Source of Live Organisms. [online] Frontiers. Available at: <https://www.frontiersin.org/articles/10.3389/fmicb.2018.01785/full>.
The Court of Justice upholds the name 'feta' as a protected designation of origin for Greece. 2005. Press corner. [online] Available at: <https://ec.europa.eu/commission/presscorner/detail/en/CJE_05_92>.