So, you are wondering: "Is cheese gluten-free"? It's because you are a cheese lover, but recently, you decided to follow a new diet like a gluten-free diet. Or even worse, you have Celiac disease. Don't be panic! This post will give you enough information to answer your question.
And even if you are not having Celiac disease or any type of intention to follow the gluten-free diet, it is still very informative to be prepared with wisdom because you know, Celiac disease can develop at any age (1). So let's skip the pep talk and dive right into the tea!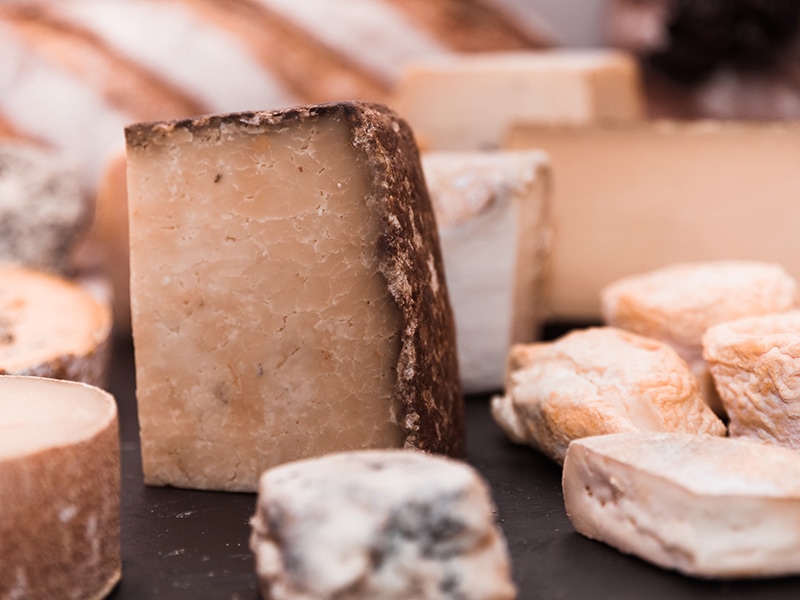 An Overview Of Cheese And Gluten-Free Diet
Before starting any topic, it is better to know your allies and opponents. What is cheese? What is a gluten-free diet? I will address the matters one by one, so you can understand your query with a more objective perspective.
Sure That Cheese Is Great, But Does It Contain Gluten?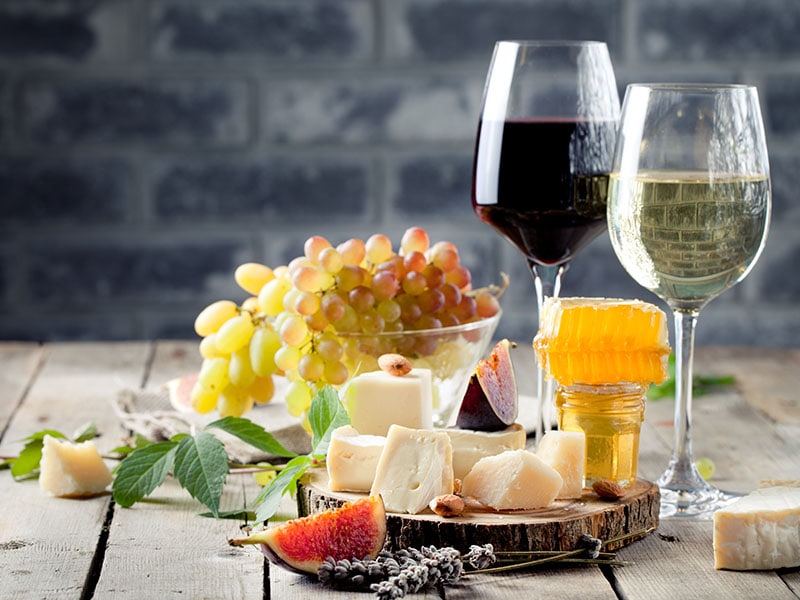 Cheeses, from the cooked pressed like Cheddar to the fresh type like Mozzarella, are all attractive in their own ways with their creamy taste and pungent, seductive smell. After over 4,000 years of existence (2), cheese has not only been a favorite, a culture, but also a lifestyle.
People said that this flavorful food was first made when an Arabian merchant traveled across a desert with a sheep's stomach pouch full of milk on his camel. After a day full of heat and with rennet from the pouch, the curd was formed from that milk.
That cheese nowadays is known as fresh cheese, and it is one of the eight categories of cheese that the modern world knows based on moisture and aging (3). That is why cheesemaking includes two main ingredients – milk and enzymes.
Cheeses' tastes are distinguished mainly by their ages and the environment where they are aged. In addition to cows' milk, there are also variants of cheese made from goat milk or sheep milk, which develop a different taste.
Overall, cheese doesn't include gluten components, but some cheesemakers put other ingredients in their crafts to mark their unique flavors. And sometimes, these "additions" contain gluten.
Gluten-Free Diet Is Not Just "A Trend"
Since the world developed so many health and cultural standards, people have brought up so many diets to follow suit. The keto diet is for losing weight; the vegan diet is for animal lovers; among these popular diets, the gluten-free diet has an honorable stand.
The gluten-free diet is mostly for people diagnosed with Celiac disease or gluten sensitivity. Some other people claim it can help them improve health and lose weight, but there has not been enough evidence to support the statement.
People with these immunity disorders can have symptoms like diarrhea, abdominal pain, and headache when they consume gluten. Long-term consequences are cancers like small intestine cancer or small intestine lymphoma.
Since these diseases are autoimmune disorders, they are genetic and common among the population (4). People of all ages can one day develop reactions from eating gluten-containing food, and there has been no scientific proof to explain why and how.
Gluten is a type of protein found in wheat, rye, barley, oats, and some other grain sources (4). It can also be used as an additive for enhancing consistency, like in ketchup or hot sauce.
It is unlikely to say that there's gluten in cheese, but there are some special cases when the manufacturers put ingredients like wheat starch in their cheese. Therefore, there is a possibility that cheese contains gluten and can affect people who can't tolerate that evil nutrient.
Safe Cheese For People With Gluten-Free Diet
Since cheeses are made of milk and enzymes, they are essentially gluten-free, so the more traditional the cheese is, the more guaranteed you can feel. Let me introduce you to some products you know you can joyfully consume!
Cooked Pressed Cheese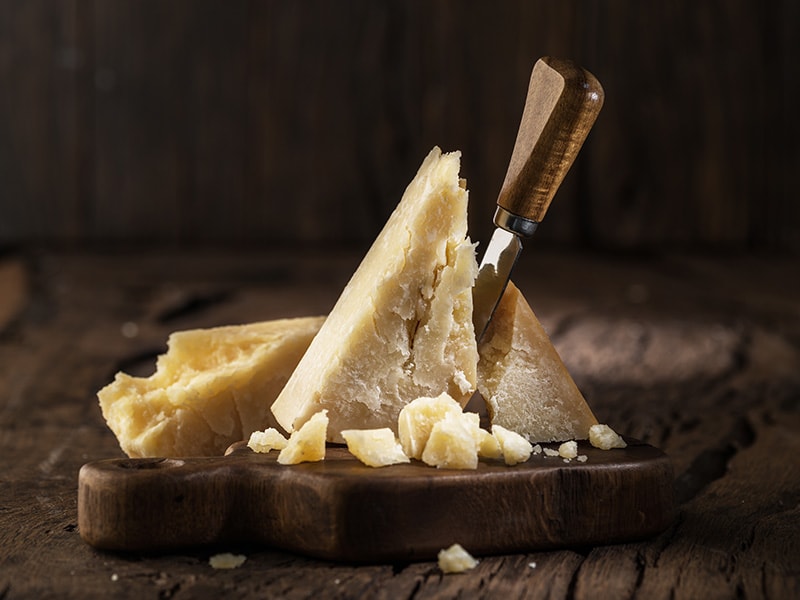 Cooked pressed cheese is the classic of classic foods, even though they're not the kind of cheese that was first invented. Made of milk and enzymes, they are totally gluten-free.
Cooked pressed cheese is basically produced following two big steps: cook and press. First, milk with added enzymes will be simmered at low heat until curd forms. Next, these curds will be collected and pressed to expel all the moisture. Final products are usually like big wheels.
Most classic cooked pressed cheeses like Parmigiano-Reggiano or Cheddar are totally gluten-free. You can eat them with fresh figs as a snack in your standup party, or you can shred them, and they can be used in many dishes like mac-n-cheese or grilled cheese sandwiches.
Bloomy Rind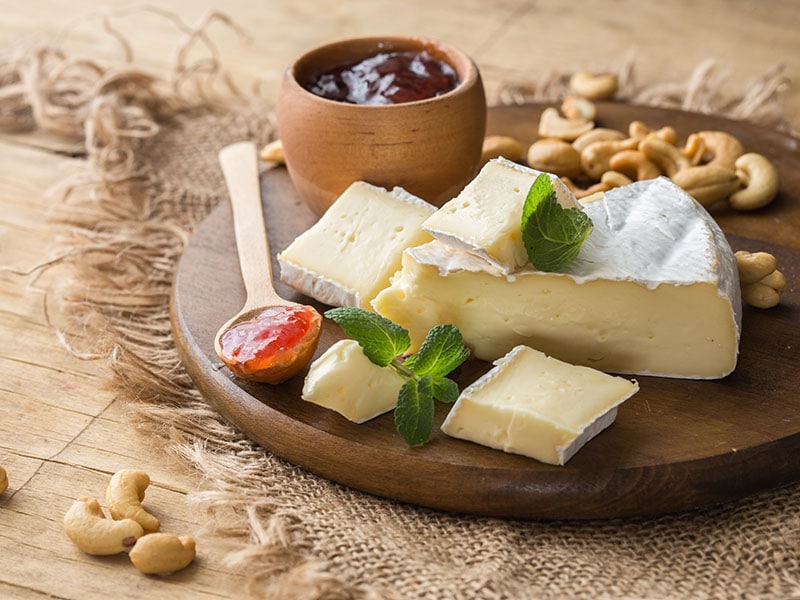 Bloomy rind is a beautiful category of cheese with soft, white looking and mild, buttery flavor. You can easily recognize their fluffy rind or wrinkle rind on the outside, and these molds are totally edible.
Bloomy rinds like Brie, Camembert, or Coupole are gluten-free. Their bloomy rind molds are unlike blue cheese molds, and people don't use bread or starch to help grow mold on these cheeses like how they do with blue cheese.
Wine And Brine Washed-Rind Cheese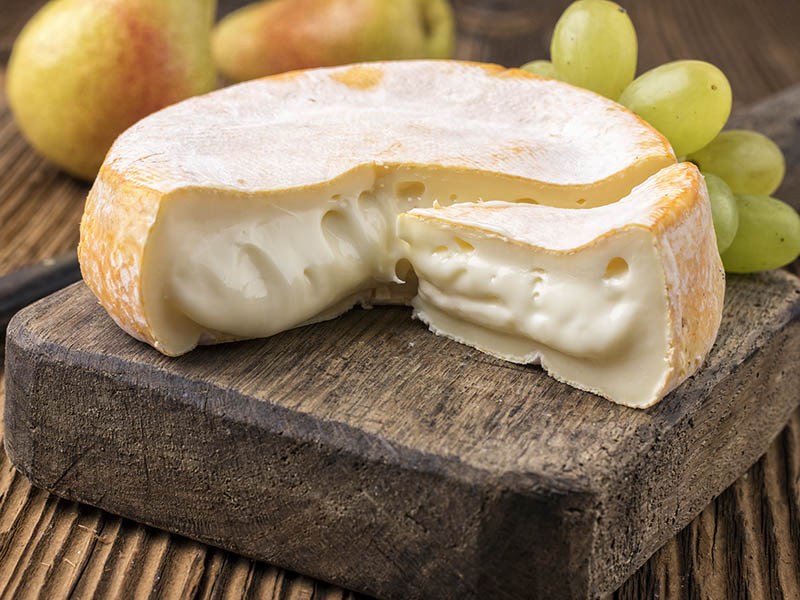 Washed-rind cheeses are famously stinky. Basically, "washed-rind" is an extra step where the cheesemakers wash their unripened cheese with flavored liquid. This step will then culturize a special environment for bacteria to develop scent or stink, to be more specific.
Washed-rinds, but not those that are washed with beer, are absolutely gluten-free. Cheesemakers can wash them with saltwater or wine, herbs, or spices.
They are so artisanal and fancy that only some specific cheese stores have them on their aisles. Therefore, it is not a bad idea to choose these wonders for a treat on a special occasion.
Fresh Cheese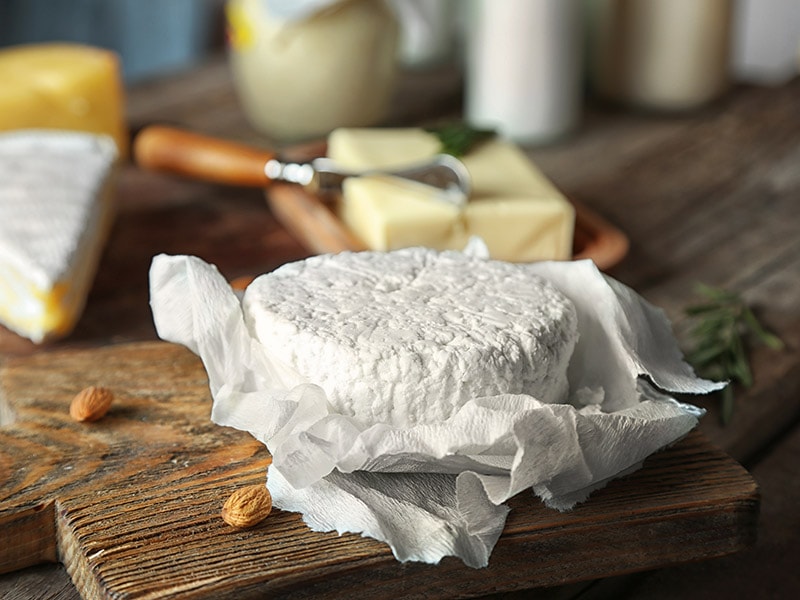 Fresh cheese is just too painfully simple and cute to be passed by if you are a cheese fan. They are mostly gluten-free like Mozzarella, Provola, and Chevre but some of these cheeses in this category can be added gluten for their consistency (like cottage cheese or Labneh).
Learn everything about cheese and how to serve them with other foods.
Cheese Products That Is Potentially NOT Gluten-Free
And now you have been fully armed with knowledge about two big targets – cheese and gluten-free. "Know your enemy" – people said so, and now, allow me to address some specific names that you wanna be wary of.
Blue Cheese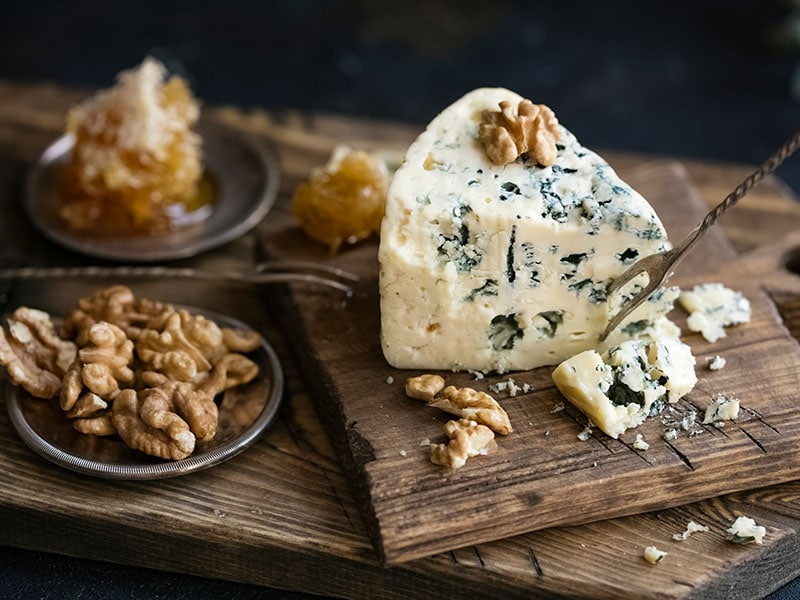 Blue cheese is termed by the fact that they have veins of blue spore on them. Those spores are Penicillium roqueforti. Cheesemakers let them grow on cheese to adding flavor, and they usually sprinkle rye starch on cheese to provoke this process.
So far, there has been no report about people eating first-rate blue cheese then being hospitalized, but rye starch is 100% gluten-containing. Besides rye starch, artisans tend to scatter bread starch on their cheese to grow mold, and bread starch is also not gluten-free.
With all of these potentials, people should be wary that many blue cheese types could have a certain amount of gluten, and it brings no harm to read the label carefully. After all, it's better to be safe than sorry.
Beer-Washed Cheese
As I mentioned earlier, washed-rind cheese is soaked with liquid during its making process. Cheesemakers can wash them with beer or brine mixed with beer. Beer, which is used for cheese washing, is 100% not gluten-free; therefore, this makes beer-washed cheese can be jeopardized for people who can't handle gluten.
Beer-washed cheeses are handcrafted, and for that reason, they are uncommon. You can only find these cheeses at homemade cheese stores. But if you want to show your appreciation to yourself or someone with Celiac disease, maybe beer-washed cheese might not be a good present.
Cottage Cheese Or Farmer Cheese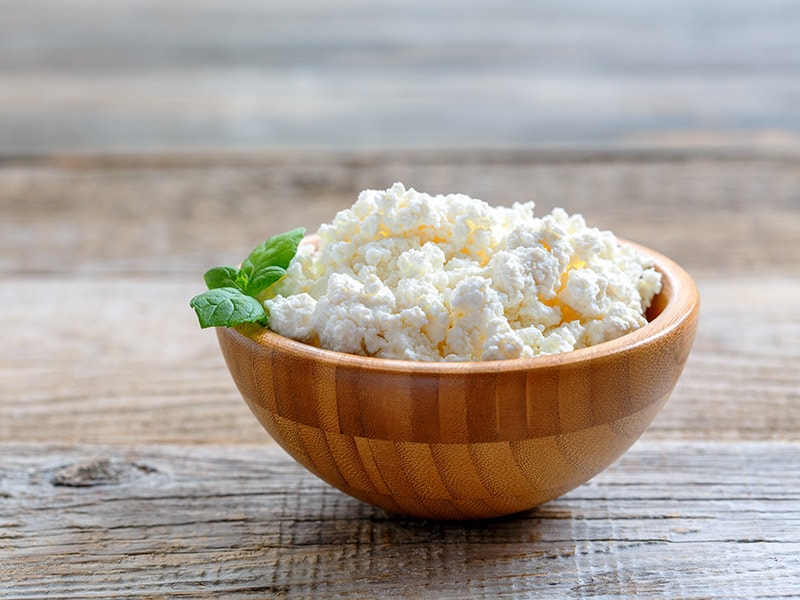 This is the most simple type of cheese that you can make at home. Cottage cheese is not aged nor pressed. They simply are the curd part when you cook milk with some acidic additions. Cottage cheese has a distinct flavor that you won't ever forget after tasting.
Some industrial cheese products are cooked in a big pot, and the outcomes are often small containers of white cream. During the making process, people can add gluten additives so the cheese can form a more gooey texture.
Since cottage cheese is so easy to make, why don't you craft one at home? It is totally gluten-free when you can control the input of the process. Just with some time and effort, you can enjoy your homemade gluten-free cottage cheese.
Cottage cheese is simple so just try to make a gluten-free one for your own. You might like that one more than those in the store.
Dairy-Free Cheese
You know, Lactose Intolerance is found associated with Celiac disease. So you not only need your cheese to be gluten-free but also dairy-free. Now, this is a hard gluten-free cookie to bite.
Besides all of the above cheeses, dairy-free cheese is also an individual that you want to keep an eye on its label since some of them are made with flour or starch. And flour is not always gluten-free, as well as with starch.
So for your case, it is necessary to see both "Dairy-free" and "Gluten-free" pop up on the label or to make sure you see "potato starch" in their ingredients list (because potato is utterly gluten-free).
Shredded Cheese Or Any Other Processed Cheese Products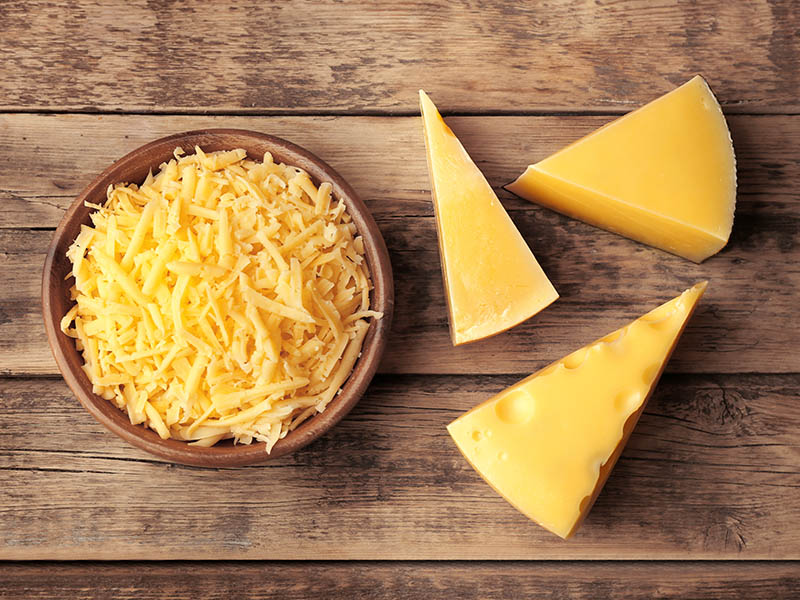 The factory usually puts wheat starch in packaged shredded cheese to keep these strings separated. There are still some brands of shredded cheese that use potato starch or gluten-free starch for this purpose but if you are unsure about it, reading the label is one of the solutions.
Other processed cheese products like cheese spreads or cheese dip can have gluten for consistency enhancement. Gluten can also exist in cheese powder which is regularly served with fried fries or popcorn, or that bowl of mac-n-cheese in your fridge.
My advice will be "make your own cheese products". For dip cheese, you can buy a piece of Cheddar then melt it to make a bowl of nacho queso. Same with shredded cheese, you can just shred that piece of Cheddar by a cheese grater.
Contaminate Your Cheese With Gluten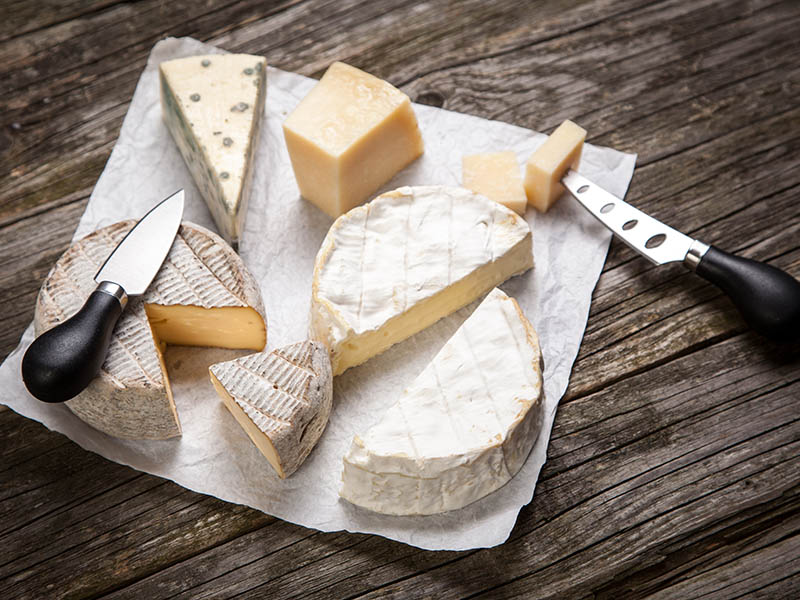 Even if it's unintentional, there's a small chance that your cheese can have some gluten on it from the cheesemaker's tools. It is not because their equipment is dirty or because they are unhygienic. This happens when the store is busy, and it is hard to focus all the time.
So, it would be very nice to mention your medical condition with the cheesemonger (in this case, it is your gluten sensitivity) before they cut your cheese with the same knife that earlier cut someone else's bread.
Some Advice For Cheese Fans With Gluten-Free Diet
After a pretty long journey about cheese origins and how gluten can make you spend all of your time after dinner in the bathroom, now it's time to prevent your body from consuming gluten by using some of these tips.
Just Ask For An Extra Action
A small thing like asking the cheesemonger to wipe their knife before cutting your cheese out of a big wheel can actually save you some time from crying with a stomachache. As I said earlier, it is possible that cross-contamination can happen, and you probably don't want that.
Sure, that guy might be grumpy or slightly mad because you doubt his hygiene standard. But I promise that with a smile and an explanation, the cheesemonger will be glad to sanitize his tools for you.
How To Read Product's Label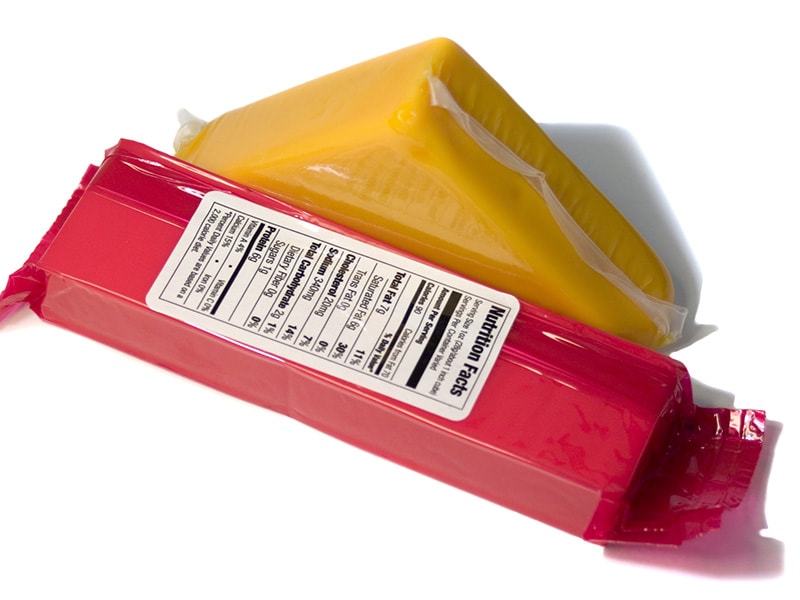 Apparently, most products nowadays have pretty neat and "fulfilling" labels that enlist all of their components, but sometimes you are so confused by those tiny and huddling words. Here's the thing, it is not that time-consuming and dead-boring if you know what to find on a label.
Typically, gluten is added for either more flavor or as additives to increase the consistency, so what you would like to look for are terms like "wheat", "barley", "rye", or "oats". But it is common to see gluten go around with a "natural flavor" dressing. In this case, you can see "grain derivatives" next to the term in parenthesis.
Other names that you wanna be careful with include "triticale", "spelt", "malt", "Kamut", "farina", "wheat berries", "wheat starch", and "farro". They are grain source products that totally have gluten.
The biggest "Yes Sign" you want to see whenever you buy your cheese is a great "gluten-free" label with the bold and catchy font. According to US-FDA Labeling Rules, a product can only be labeled "gluten-free" if they are not:
Containing naturally not gluten-free grains;
Processed to remove their gluten content entirely;
Having gluten amounts higher than 20 parts per million (ppm).(5)
And after spending five minutes standing at the aisle with your shopping cart, yet you are still not sure if that piece of cheese is fine for you to consume, then you know, sometimes it's okay to let things go for a better future.
This is where a gluten-free person guides you on how to read food labels.
Are There Any Cheese Brands Gluten-Free?
You know what cheese you should use but let's think practically, which brands should you choose? Here's a list of products that you can feel safe consuming.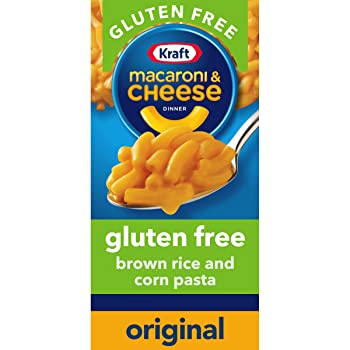 You are probably a fan of mac-n-cheese. Luckily, Kraft has a perfect product for you. The product includes gluten-free pasta and cheddar cheese. The price is also very reasonable for a box of 12 packs.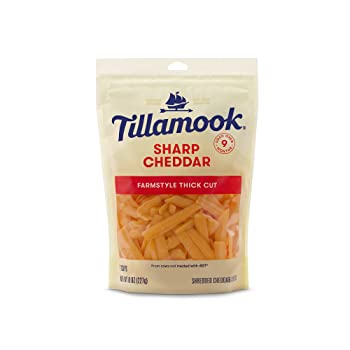 Tillamook has confirmed that they use potato starch to prevent caking instead of other gluten-containing starch. Tillamook has a long history of selling cheese in America, and their understanding of their customers is very well-known.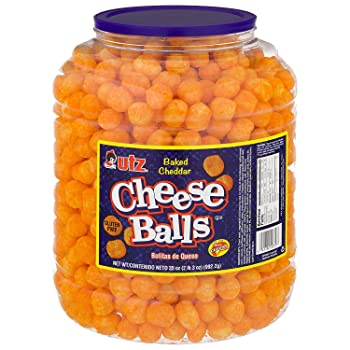 If you are into cheese balls, then here you are, a jar of tasty gluten-free cheese balls from the Utz store. With over 10,000 five stars reviews, you don't have to doubt its quality.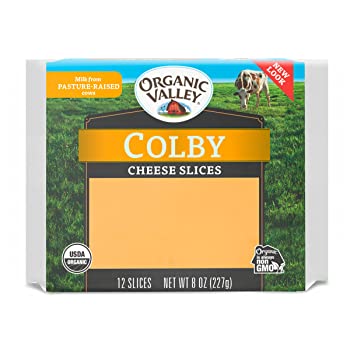 Organic Valley has declared that all of their products, except cottage cheese, are gluten-free. They are a typical slice of cheese that you can't skip when you want to have a burger or class sandwiches.
Gluten-Free Dishes And Of Course, They Are Also Cheesy
Phew…that is a pretty long journey about gluten and cheese. It's time for some last line break, so how about learning some gluten-free dishes that can make your stomach grumble just from thinking about them.
Let's go for classic grilled cheese sandwiches. Most grilled cheese sandwiches at fast-food restaurants are not gluten-free, and you need to do an act for yourself – make your own gluten-free grilled cheese sandwiches.
Imagine that cheesy burn and crunches in your mouth. What a perfect breakfast!
You know what? An American soul food dish like baked mac-n-cheese is also not a bad dinner for your family. And you can make this creamy dish in just 30 minutes.
We have had our appetizer and our main course. Why don't you take a piece of gluten-free cheesecake for your dessert? Cheesecake is just genuinely classic sweet comfort food. I mean, how can you resist a piece of cheesecake?
After a whole menu, how's about making a jar of munchies for your hungry tummy? I know you want that jar. Here's the recipe to make some mouthwatering biscuits so you can enjoy them while watching Netflix at night.
Yes! I heard you! We need some nachos in our life, so here are four different cheese dips that you can discover and make so you can have a football night with your mates. Not only for nachos, but you can also dip your taco or fries in them. How convenient!
FAQs
I bet you still have some questions in your mind, and this part is where I can cover some of your botherations.
Cheese Is Gluten-Free!
And that is the final answer to today's question. Overall, it is still better for you to know what you put inside your body. Reading the label carefully and calling the manufacturers (if it's necessary) are survival skills for you or your beloved ones with the gluten-free diet.
I hope that you have all the answers you want to know about cheese and gluten-free. If you find this post helpful, it will be very great to share the post with your family and your fellows. Thank you, and have a nice "cheesy" day!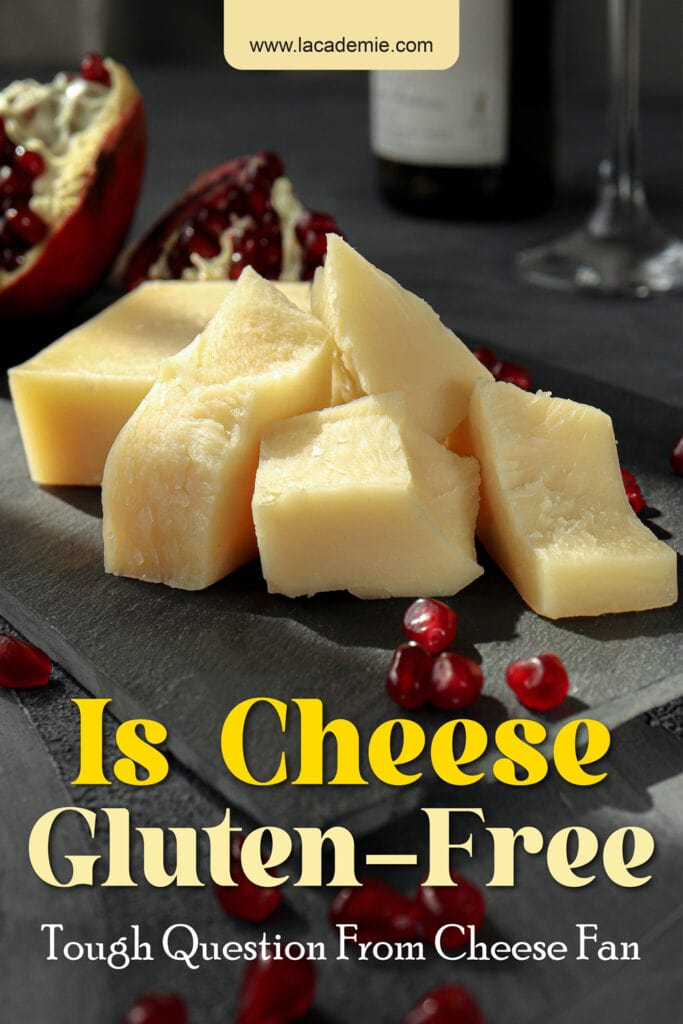 References
nhs. uk. 2022. Coeliac disease.
IDFA. 2022. History of Cheese.
Gobbetti, M., Neviani, E. and Fox, P., 2018. Classification of Cheese. The Cheeses of Italy: Science and Technology, pp.55-60.
Mayo Clinic. 2022. The good news is that you don't have to go grain-free…
Celiac.org. 2017. Food Label Reading Guide.