Cottage cheese doesn't seem familiar, so I guess you're wondering, "what does cottage cheese taste like"? We've heard a lot about Mozzarella cheese, Cheddar cheese but cottage cheese? What is it? How does it taste?
If you want to know all about this cheese fellow, maybe you have reached the exact place! I will be your guide on the journey to the Cottage Cheese World!
Also, I will take you to the Land of Secrets to see how cottage cheese is made, how it tastes, some of its health benefits, as well as how to eat it properly.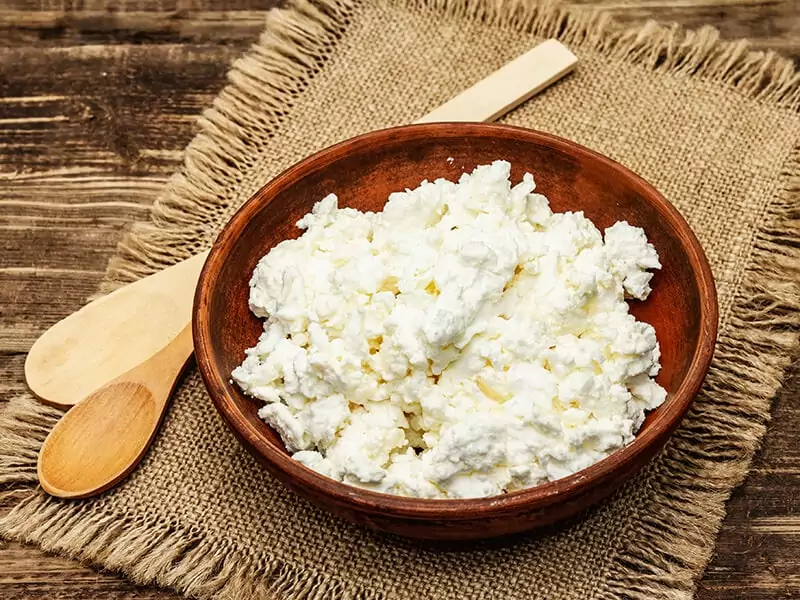 First of all, let me satisfy your wandering curiosity:
What Does Cottage Cheese Taste Like?
Cottage cheese may taste odd to some people, but in general, it has a creamy and slightly salty flavor. Following this, it somewhat resembles and can duplicate the ricotta cheese's flavor if you have ever tasted the latter cheese and need it at the moment.
The milk fat also plays an important role in modifying the taste of cottage cheese. Low- or reduced-fat ones usually taste sourer than the high-fat ones. That's why if you are looking for some cottage cheese's replacements, you'd better pay attention to the content of their milk fat.
That's just the tip of an iceberg! More and more information about this unique cheese is waiting for you to discover. Hold my hand and I will get you to the Secret Land of Cottage Cheese!
Cottage Cheese – A Special Child Of Cheese Family
First of all, let me introduce you to this member of the Cheese family. It is a type of cheese that has a special texture and taste.
What Is Cottage Cheese?
Cottage cheese is a white, soft kind of cheese with a milky, salty taste and a creamy, soupy texture. It's a simple, fresh cheese curd product, which is special for the long-lasting shelf life because it doesn't have an aging process.
Many people aren't really into cottage cheese because of its smell and texture. Also, its taste is considered as an "acquired taste" because people usually don't like the brackish taste at first, which is both slightly sweet and salty at the same time.
However, some people get more and more into its taste since they have been used to it. The more you eat, the more it melts on your tongue. It also contains a lot of nutrients that are good for your health. And it has a very low-calorie content, which is perfect for your diet.
The texture and taste of cottage cheese depend on the manufacturers and products. It may have diverse tastes and types based on the size of cheese curds inside.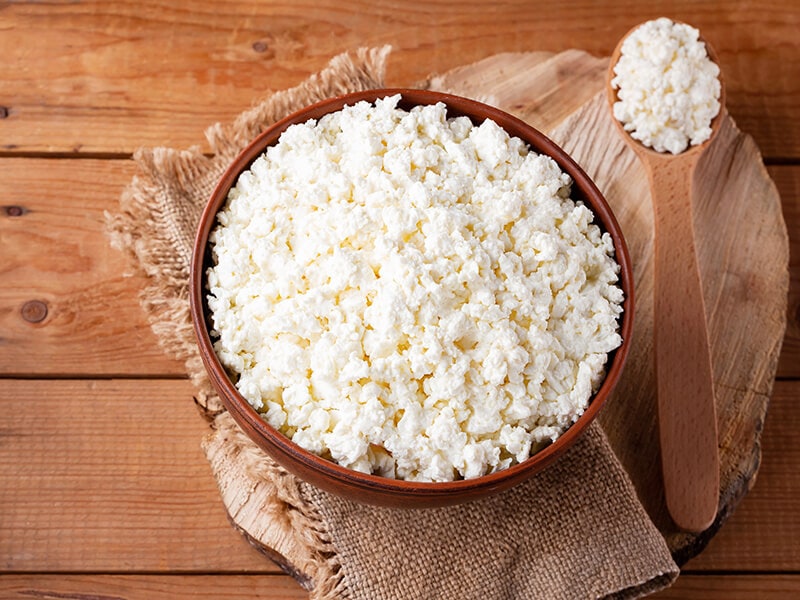 The Process Of Making Cottage Cheese
There is a significantly large amount of curds in cottage cheese that directly affect its texture. Therefore, it doesn't contain a firm or smooth texture like many other types of cheese, which is why people don't really like eating it raw.
Cottage cheese is made of cow's milk and rennin, like any other cheese. The cheesemaker will add rennin to form milk into cheese curds. Rennin also helps create a bacterial culture in the milk and separate the liquid from the whey.
The key stage to distinguish cottage cheese from others is adding cream as a dressing to the curd grains to make them thicker. After the cheese curds are formed, they are sliced into pieces, cooked for some more minutes, and pressed subtly to eliminate more whey.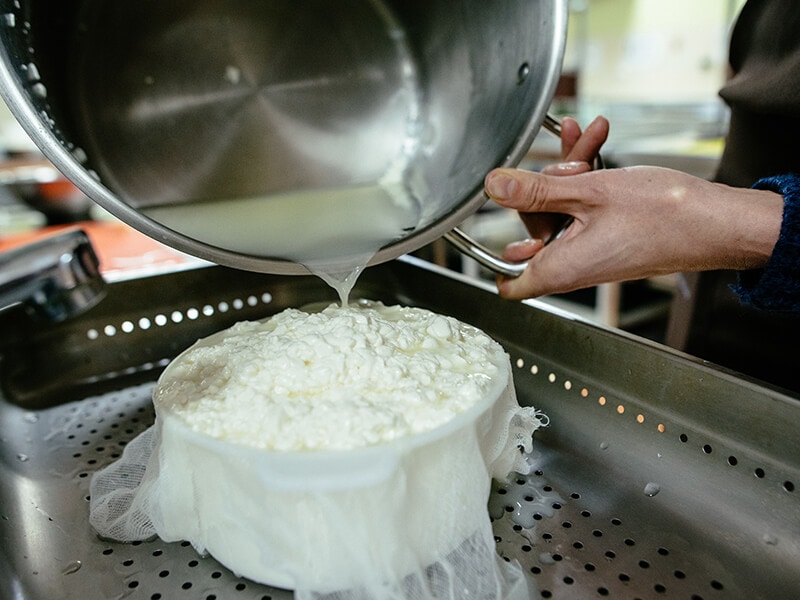 The curds are then washed and added with more additives. According to specific manufacturers and brands, these additives may vary to get a unique taste. Cream, salt, starch or others will be added to the curds on this final stage.
Therefore, store-bought cottage cheese doesn't taste the same in every brand. If you want to get this cheese's original, pure taste, you should probably make it at home.
It's very easy to make yourself some homemade cottage cheese! Watch this video to know:
Health Benefits From Cottage Cheese
Cottage cheese is a nutritious food that is super high in nutrients while being really low in fat and calories, particularly if you consume low-fat or nonfat cottage cheese.
A Brilliant Pack Of Protein
Protein surprisingly takes up to 70% of the calories in cottage cheese. With a very high percentage of protein, it actually consists of very low-fat content, as I stated in the previous section.
Low-Calorie Content
With a cup serving of reduced-fat cottage cheese, only about 183 calories with approximately 5 grams of fat are found. Every serving provides 30% of the daily phosphorus and sodium requirements.
Therefore, this cheese is really healthy for your diet meals to help you lose weight.
An Excellent Source Of Vitamins And Minerals
A lot of vitamins can be found in cottage cheese such as vitamins A, B1, B3, B6, and especially vitamin B12. Abundant minerals also take place in this kind of cheese like calcium, selenium, potassium, and magnesium.(2)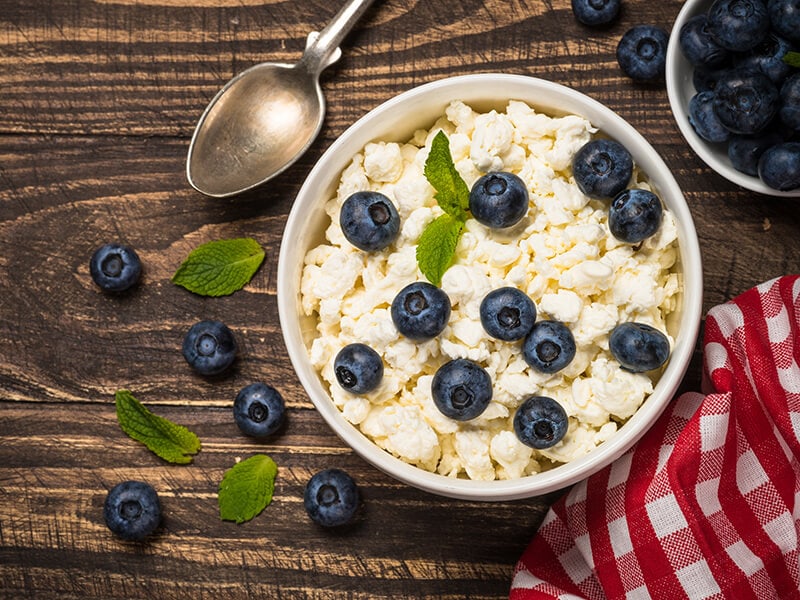 Learn some more nutrient facts of cottage cheese here!
Does Cottage Cheese Taste Good?
The raw cottage cheese may not taste so good to make everyone love it at first bite. Some fall in love with it immediately, but many don't really like it.
Because of the great curds content, cottage cheese seems to contain an unfamiliar texture from other types of cheese. It isn't smooth or dense enough to make a firm wheel of cheese like Dutch cheese does. It has a soft, creamy but separated texture.
Cottage cheese has a very subtle flavor with a slightly salty taste. Cottage cheese tastes just like ricotta cheese, but it has a lot more curds. The higher the fat content in cottage cheese, the milkier its taste. Low-fat cottage cheese tends to taste sourer than regular one.
Cottage cheese may taste odd at first, but if you get used to it or know the proper way to eat it, this cheese will blow your mind away! For example, use this cheese to make your tart, and you'll have a beautiful British dessert for your breakfast.
Check the next part to see some recipes to go with cottage cheese!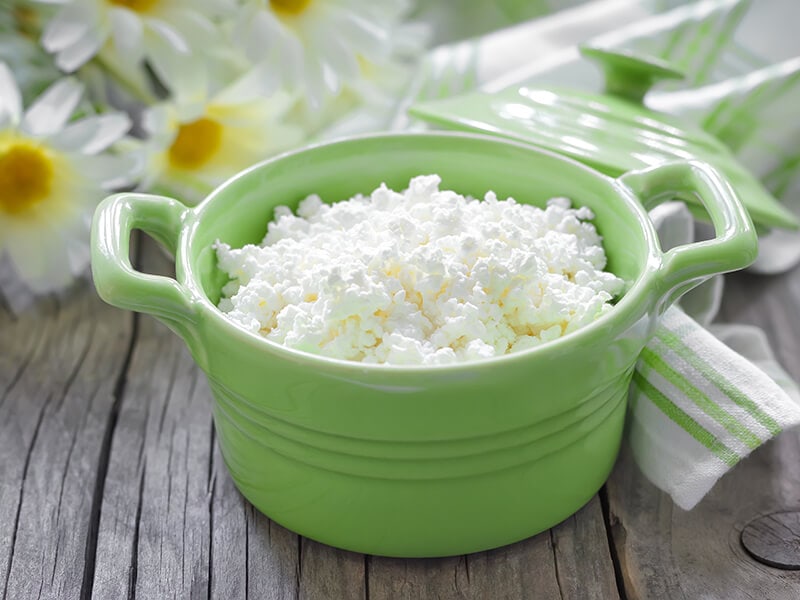 Types Of Cottage Cheese
Cottage cheese products vary based on milk fat percentage. The one with the highest milk fat content is also the creamiest of them all. They are basically divided into three types: regular, low fat, nonfat/dry curd.(1)
| Cottage cheese type | Fat content | Texture | Flavor |
| --- | --- | --- | --- |
| Regular/ Creamed | 4% | Creamiest, dense | Milkiest |
| Low-fat/ Reduced-fat | 0.5 - 2% | Dense | Neutral, milky |
| Nonfat/ Dry curd | Below 0.5% | Dense | Very mild, sour |
Regular/ Creamed Cottage Cheese
Regular cottage cheese, or creamed cottage cheese for the cream added at the final stage, must contain at least 4% milk fat to deserve the name. A half-cup serving of this cottage cheese type consists of approximately 110 calories and 5 grams of fat.
As a matter of fact, regular cottage cheese has the creamiest texture of the three types, thanks to the highest (4%) milk fat content.(1)
Low-Fat/ Reduced-Fat Cottage Cheese
Low- or reduced-fat cottage cheese doesn't require any specific milk fat content. The percentage of fat in this cheese can be somewhere between 0.5 and 2.
The low-fat cottage cheese with 2% fat content has about 90 calories, 20 of which are from fat, per ½ cup serving. The one with 1% milk fat can also include 90 calories per half-cup serving, but only 10 come from fat.(1)
Nonfat/ Dry Curd Cottage Cheese
Nonfat cottage cheese, also known as fat-free or dry curd cottage cheese, contains less than 5% of milk fat in its ingredients. Opposite to your thoughts, it also has a dense consistency and texture like other types of cottage cheese.
Per cup serving of nonfat cottage cheese accounts for approximately 80 calories, of which 0-5 are from fat.(1) It has the lowest fat content in all three types, so it contains the mildest and sometimes sour flavor to tell.
How To Tell If Cottage Cheese Is Bad?
Commercial cottage cheese always consists of a best-by date on the package. The expiration day is usually two weeks from manufacturing day, but it can last for 3-5 days after that day. If you open the container, you may have 5-7 days to finish it before it goes bad.
These days above are when you leave your cheese at room temperature? But how about freezing cottage cheese to keep it for a longer time? Well, while the answer may vary based on your storage method, all in all, your frozen cheese can last about three months.
Here are some of the most apparent signs telling that your cottage cheese may be spoiled and need to get rid of right away.
It Smells Weird
The first test is to smell your cottage cheese. Sometimes, it may have some sour smell when the milk fat content is low, but if the smell is more sour than usual, it must be a sign that your cheese is rotten. Throw it away no matter what when any strange odors appear.
It Has A Layer Of Water On Top
If you find a layer of water on top of the cottage cheese container, and the rest of the cheese is almost solid in texture, then you should discard it because it may get spoiled. A little water is accepted, but there should not be too much water in your cheese.
It Consists Of Mold And Discoloration
Considerably check the container or the surface of your cottage cheese to see whether any molds or discoloration shows up in the cheese. If there does, toss all of it into the bin.
Don't ever think of taking out the parts with molds and eating the rest as nothing happens! The moldy parts of cheese will affect the whole and eating it may cause some bad health risks. Be careful with all of the suspicious signs of cottage cheese.
Best Recipes To Go With Cottage Cheese
If you don't really get into cottage cheese, try to change the way you consume it! You may be surprised by the fact that when you prepare this cheese in other recipes, it will turn out to taste delicious and may even change your mind on this! Here are my top five recipes:
If you are a fan of desserts or sweet things, turn your cottage cheese into a lovely dessert! I have a special dessert recipe for you! A delicious one with coconut, bananas, some optional nuts, and chocolate chips, and of course, cottage cheese.
These parfaits are easy to make and don't take you too much time, only about an hour. This sweet dessert is also packed with nutrient benefits that are good for your brain. Also, it can be a wonderful breakfast for your family.
Is it awesome to have a delicious and nutritious dessert without including too many calories? Try to make this sweet but still healthy parfait! Here is an ultimate recipe only for you!
If you don't fall for the texture, try blending it into a smoothie! This will not only make it healthier but the fragrance and taste of the fruits also make cottage cheese more enjoyable for you.
If you've never tried a cottage cheese smoothie, surprise yourself by making it. The cottage cheese adds a very creamy and luscious texture to the smoothie, as well as a ton of protein and vitamins, leading to a smoothie that tastes like an exquisite treat.
Try to make a strawberry cottage cheese smoothie at home! Watch this video:
The cheese blends well into savory dishes but does not change the dish's taste a lot due to its mild flavor. You can have cottage cheese as an ingredient for your savory meals. Check out one of the best recipes for pasta sauce here!
Alfredo contains a lot of butter, cream, and cheese. Since cottage cheese replaces the normal one in this recipe, it is still rich and creamy but lower in calories and fat. With the pasta, this healthier version of alfredo will be a stunning dish that can blow your mind!
Try to make some pancakes using cottage cheese as one of the main components! I'm sure that you will not be disappointed! In fact, you can find this recipe in the list of renowned Russian sweet treats under the name "Syrniki".
These high-protein, low-fat pancakes are made with some easy ingredients, available in your kitchen. They taste excellent because of their crisp edges, soft, delicate interior, and slightly sweet taste. Serve with a sprinkle of maple syrup!
Besides pancakes, waffles are also a great choice! These waffles with cottage cheese are soft and moist, having a distinct texture from regular waffles due to cottage cheese and eggs. This would be ideal for a yummy and healthy breakfast!
You can serve these waffles with only maple syrup, or add more berry fruits such as strawberries, blueberries, raspberries, etc. to enjoy the best taste!
Do You Still Hesitate To Taste Cottage Cheese?
People around me always show their hesitation when it comes to this kind of cheese. They must have heard a lot about its different taste and texture. But I believe more than just a distinctive flavor, cottage cheese is a delicious and very special type of cheese.
With many tips and recipes to serve with cottage cheese, I believe that if you change the way you eat this cheese, you will be into it a lot! Try my recommendations, it may help!
How about you? Have you ever eaten cottage cheese? How do you feel when tasting it? Do you consider it as a required taste? Tell me about your feelings and experiences on having this particular kind of cheese in the comment section! Can't wait to see your sharings!
References
COM. 2021. Types of Cottage Cheese Milk Fat | Livestrong.com. [online] Available at: <https://www.livestrong.com/article/547216-types-of-cottage-cheese-milk-fat/>.
2021. Cottage Cheese: Are There Health Benefits?. [online] Available at: <https://www.webmd.com/diet/health-benefits-cottage-cheese#1>.