What does blue cheese taste like? If you are new to blue cheese, this is the most crucial thing you should know. And I'm glad to be the one who helps you with it. I will give you a detailed review of the taste of blue cheese so that you can decide whether it fits your appetite.
Blue cheese's taste is what you want to know. But you should know more about it than just the taste. I will share with you the information about its shelf life, storage, and more. You will need it in the future.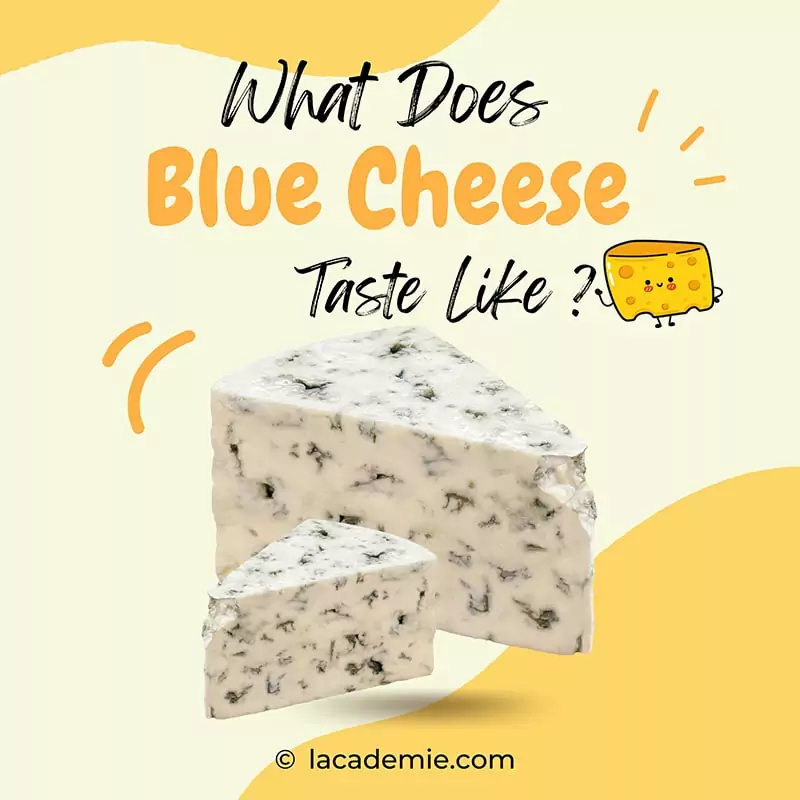 Let's Warm Up By Some Key Information About Blue Cheese
Here is some essential information about blue cheese that you need to know. It has very interesting characteristics, which will fascinate you. Explore now!
Where Does Blue Cheese Come From?
Blue Cheese is also called blue mold cheese, bleu cheese, and Roquefort. Do you think the name sounds strange? Shouldn't mold cheese be thrown away? Not really. This blue cheese is an exception. People make it by adding a mold called penicillium roqueforti. (1)
This amazing cheese takes root in a small town called Roquefort in France around the 7th century. Nowadays it has many varieties across countries and regions. I will talk about them more in the next section.
Characteristics
Milk is the main ingredient of blue cheese, just like other notable varieties of cheese. It can be made from cow's milk, ewe's milk, goat's milk and sheep's milk. What makes it special is the blue or green veins spread all over the cheese.
The color of blue cheese is often white or yellow, depending on the milk people use to make it. It is very thick and quite creamy and crumbly.
Health Benefits
Blue cheese has a lot of health benefits. It contains a high amount of calcium, which helps to boost your bone health and prevent obesity. In addition, it contains a substance called spermidine. This substance has the ability to improve cardiovascular health.
Also, blue cheese provides an excellent amount of protein for your body. (2)
A Comprehensive Guide On Blue Cheese's Taste
That is enough for the preliminary knowledge about blue cheese. Now, it's time to begin to talk about its flavor. Get yourself ready!
What Does Blue Cheese Taste Like?
I will describe the wonderful taste, scent, and texture of blue cheese to you in a second. After knowing them, you can hardly stop yourself from trying them.
Taste
In general, blue cheese is sharp, tangy, piquant, salty and spicy. It also has some metallic notes. The moldy part is quite nutty and the rest is milky.
The degree of each flavor varies across varieties. Some are very strong and intense while some can be mild and do not have much flavor. For beginners, blue cheese tastes a little bit more salty. But when you are more familiar with it, it will taste distinctively delicious.
Aroma
The scent of blue cheese is very strong. It is sharp, pungent, and stinky. Because of the mold, sometimes people describe that it has a "funky" odor. But that smell is not unpleasant once you get used to it.
Texture
Blue cheese is very thick, dense, fudgy, mouth-meltingly tender. It does have a creamy and smooth consistency like other cheese despite the presence of veins of blue mold.
There are two forms of blue cheese, namely the wedge form and the crumbled form. Both are widely used depending on its function in the dish.
In addition, blue cheese is also divided into creamy blue cheese and crumbled blue cheese. Creamy blue cheese is moist and velvety while crumbled blue cheese has a lesser amount of moisture.
What To Do With Blue Cheese
There are a lot of ways that you can make tasty dishes with blue cheese. You can enjoy it as it is or use it to make savory dishes.
If you eat blue cheese raw, you can pair it with jam, pear, fig, roasted almonds, apples, honey, and wine. Each variety has its own suitable companion. I will go into it right in the next section.
Blue cheese is used in a wide range of savory dishes. First, it is a fantastic ingredient to make soup, gravy, and dipping sauce because of its rich taste and creamy texture. You can also serve it as a burger spread. Crumbled blue cheese often goes with salads and pizza.
What Do Varieties Of Blue Cheese Taste Like?
As this becomes common, many blue cheese varieties are developed in various European countries. Up to date, there are 6 named varieties. Look at the table below for a brief comparison.
| Varieties | Origin | Texture | Taste | Serving |
| --- | --- | --- | --- | --- |
| Roquefort | France | Semi-hard, quite moist and crumbly | Tangy, sharp, and pungent | Apples, walnuts, and wines |
| Castello Traditional Danish Blue (Danablu) | Denmark | Smooth and creamy | Mildly pungent and sharp, slightly bitter | Walnuts, pear, and citrus fruit |
| Double Cream Blue Cheese (Castello Double Crème Blue) | Germany | Smooth and creamy | Sharp and salty | Red wine, grapes, and honey |
| Gorgonzola | Italy | Soft and crumbly | Mild, buttery, and slightly sweet | Pasta, pizza, risotto |
| Stilton | England | Creamy and crumbly | Buttery, rich, and strong | Walnuts, honey, and apple |
| Cabrales | Spain | Smooth and creamy | Spicy and salty, sometimes acidic | Fig, jam, honey |
Roquefort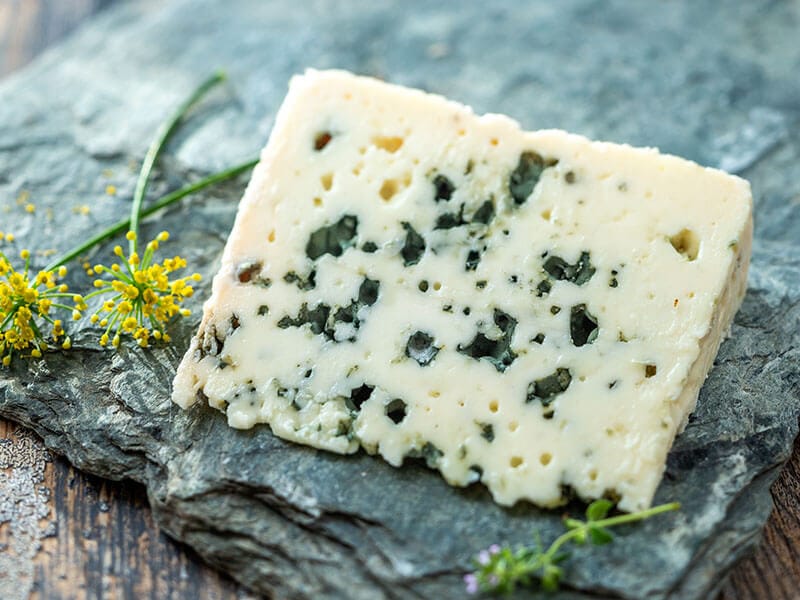 The original and most well-known one, Roquefort is the classic French version that gives rise to other varieties, despite the differences between Roquefort and blue cheese. It's made using sheep's milk. It has a semi-hard and crumbly texture. The inside is quite moist.
It has a tangy and pungent taste with some bitter notes from the moldy part. Yet it is stronger and more complex than that. It has some sweet notes that are similar to burnt caramel and sharp notes from the blue mold. You can eat Roquefort along with apples, walnuts, and wines.
Castello Traditional Danish Blue (Danablu)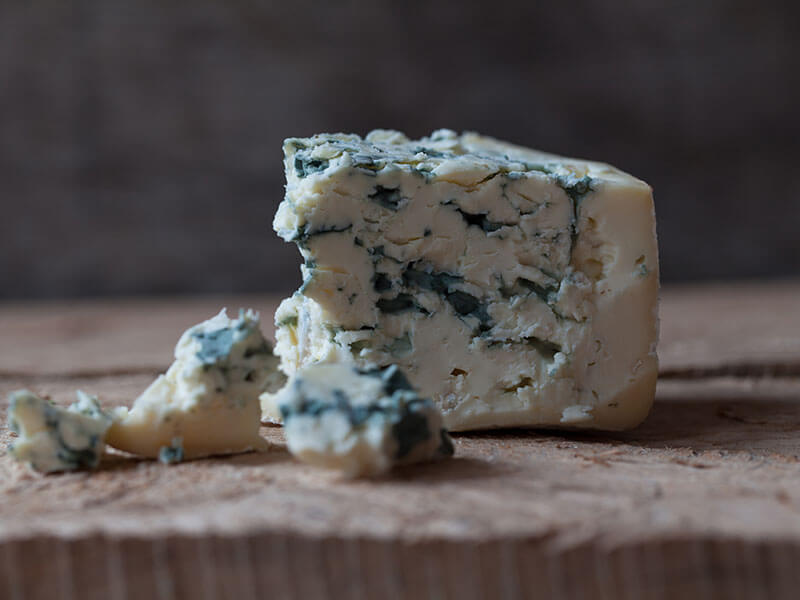 Danish blue cheese is one of the mildest varieties. It is for absolute beginners. The Danish make it using cattle's milk. It has a smooth and creamy texture. Its mild flavor is suitable to serve with walnuts, fresh berries, pear, and citrus fruit.
In detail, it is also pungent and sharp. Yet it is at a mild level and is not too overpowering. You will also find it slightly bitter. To make it taste even milder, pair it with pasta or steak sauce.
Double Cream Blue Cheese (Double Crème Blue)
This creamy blue cheese tastes even milder than the Danish variety. As a beginner, you should try this variety. It is smooth, buttery, and very creamy in texture thanks to the high amount of cream. It will literally melt in your mouth.
And the taste is milky and slightly sharp and salty. It is not very intense. So don't hesitate to taste it! While enjoying double cream blue cheese, serve it with grapes, and honey. Also, don't forget a cup of red wine.
You can also add it to salad, pizza, and soup or slice it and top on crackers and bread. Putting it on the cheese platter is also a great idea.
Gorgonzola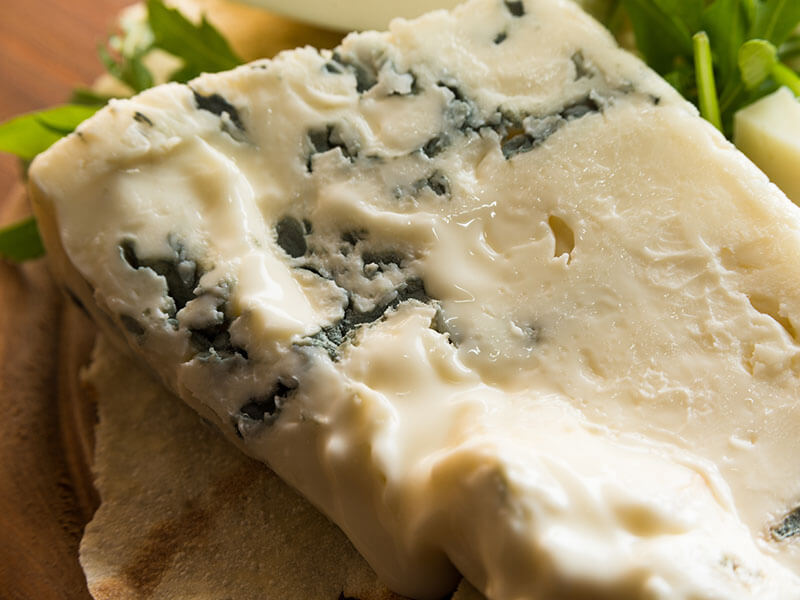 Gorgonzola is a famous Italian variety of blue cheese. It is creamy when young, but becomes soft and crumbly overtime, which is ideal for topping on salads, pasta, pizza, and risotto. It is also a very mild variety.
The taste is salty, buttery, and earthy with some hints of sweetness provided by cow milk. Thanks to its taste, you can easily tell the differences between Gorgonzola and blue cheese. It's hard to miss the signature flavor of Gorgonzola cheese.
This variety has three other subvarieties, which are classified according to age. Gorgonzola Bianco is briefly aged. It is creamy, soft and has a mild and buttery flavor.
Picante takes more than 1 year to age. It has a hard texture and is often served as a spread in pizza and as a sauce in pasta and risotto.
Gorgonzola Dolce is the most popular variety. It is soft in texture. You can serve it with figs and pears or use it as a spread. It often matures in 60 days.
Stilton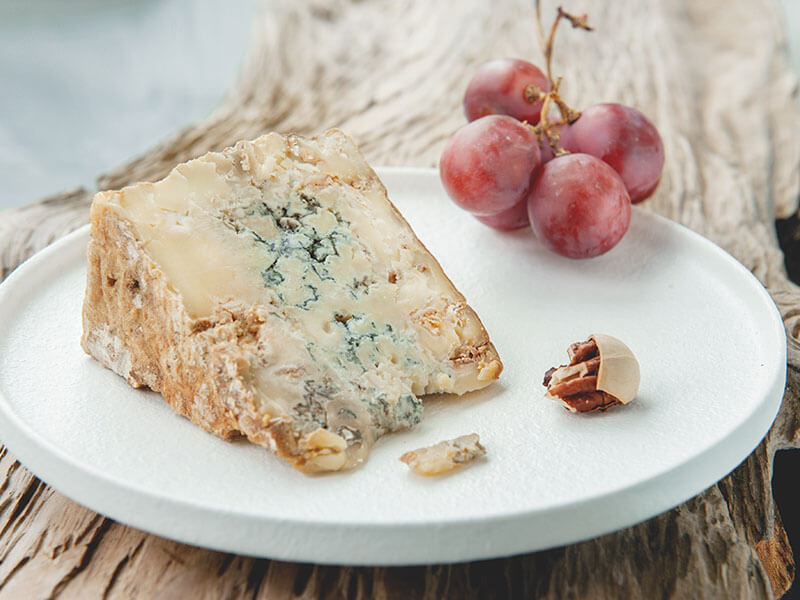 This English variety is rich and strong in flavor. It has a buttery, salty and nutty taste. You will also feel some spicy undertones when tasting it. Its agreeable taste makes Stilton one of the best candidates for blue cheese alternatives after Gorgonzola.
Regarding texture, it is both creamy on the outside and crumble on the inside. You can pair it with honey, walnuts, and apples.
Cabrales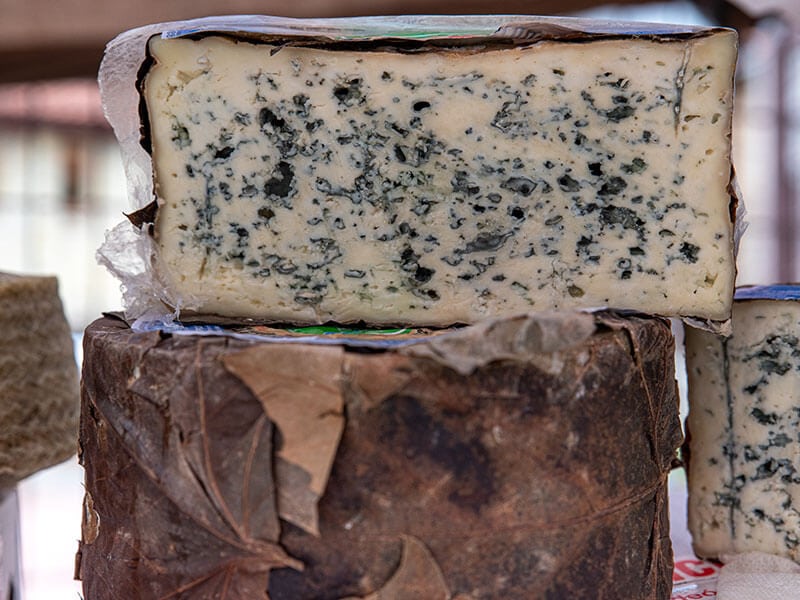 Cabrales comes from Spain. Its taste is quite different from other varieties. It has a spicy and salty taste. Sometimes, it comes with some acidic notes, which can be paired with sweet food such as honey, jam, and fig. Cabrales is smooth and creamy in texture, like most varieties.
This variety is normally made with cow's milk. But people also make it by combining cow's milk with goat's milk, sometimes with sheep's milk as well, resulting in a stronger and spicier blue cheese.
Let's find out what these varieties of blue cheese taste like!
Try These 4 Best Blue Cheese Recipes Today!
Given the distinctive taste of blue cheese, are you curious about what kind of dishes you can make with it? Grab blue cheese produced with the highest quality to add to these 4 signature blue cheese recipes that are both delicious and easy to make.
One of the most popular dishes that is made from blue cheese is blue cheese dressing. This dressing can be served as a salad dressing or a dipping sauce. And this homemade version is way better than take-out.
This dressing is creamy, tangy, and crumbly. The elegant white color makes it even more appealing.
Blue cheese dressing is so easy to make. Never miss it!
This is another sauce that you can make with blue cheese. This recipe specifically calls for Gorgonzola. So if you have already picked it as your favorite, this sauce is a must-try dish.
Gorgonzola sauce has a gorgeous velvety texture. It is also rich, herby and slightly acidic. If you serve it with meat dishes, pasta, and veggies, it will taste even more delicious.
The creamy texture of blue cheese can not go wrong with soup. And cauliflower is the perfect vegetable to pair with it.
I can hardly describe how I love this warm and smooth soup. Cauliflower is nutty and sweet while blue cheese is tangy and salty. Everything comes together creating a lovely and delicious soup.
In need of a tasty appetizer for your party? Try this blue cheese stuffed mushroom recipe! These adorable and flavorful mushrooms stuffed with creamy and cheesy sauce will disappear from the table in a second.
You just need at most 45 minutes to make this dish. What are you waiting for?
The most detailed blue cheese stuffed mushroom recipe is right here.
How Long Does Blue Cheese Last?
Like other cheese, blue cheese has its own shelf life, which I have already provided to you in the table below. Keep this information in mind when you buy blue cheese.
| Types of Blue Cheese | Pantry | Fridge | Freezer |
| --- | --- | --- | --- |
| Unopened Blue Cheese Wedge | 2-3 hours | 1-2 weeks after the sell-by date | 6-8 months |
| Opened Blue Cheese Wedge | 2 hours | 2-4 weeks | 6-8 months |
| Unopened Blue Cheese Crumbled | 2-3 hours | 3-4 weeks after the sell-by date | 6-8 months |
| Opened Blue Cheese Crumbled | 2 hours | 1 week | 6-8 months |
First, it is important to note that every kind of blue cheese does not last long at room temperature. Unopened blue cheese can last for 2-3 hours unrefrigerated, depending on how high the temperature is. Once opened, it can only last for at most 2 hours.
Refrigerating blue cheese is a very good way to keep it in good quality. If you refrigerate unopened blue cheese, it will stay good even for a couple of weeks after the sell-by date. When you open it, consume it within 4 week for the wedge form and 1 weeks for the crumbled form.
To store it even longer, you should freeze it. Any kind of blue cheese can be frozen for 6-8 months.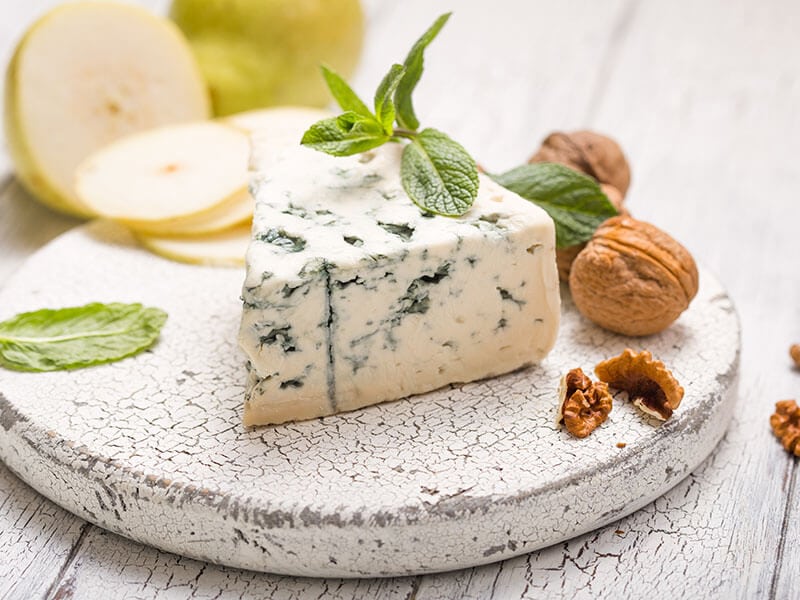 Storing Blue Cheese Takes Only A Second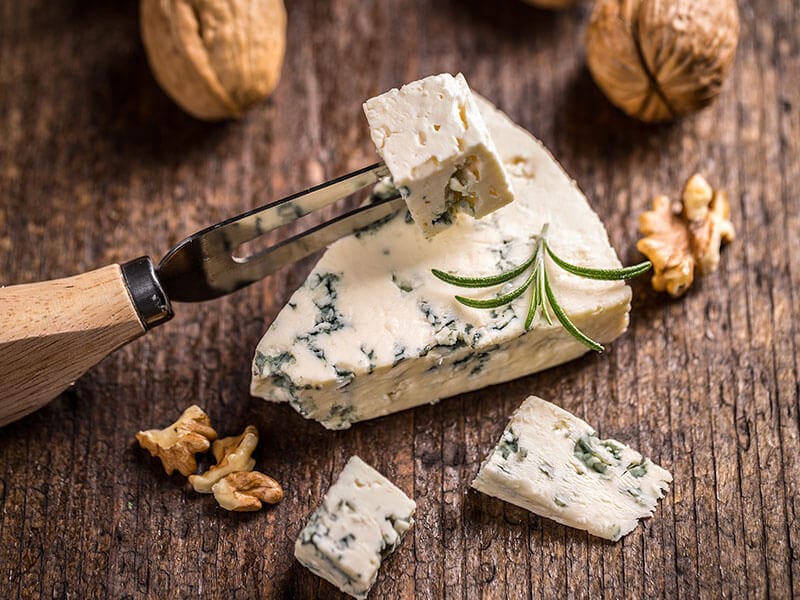 Normally, you cannot eat blue cheese in one sitting. So knowing how to store it properly is very important. Keep in mind these tips to make blue cheese last as long as it can.
Fridge
I highly recommend that you store blue cheese in the fridge, so that it is available anytime you need. For unopened blue cheese, it is best to store it in the original package. If you have opened it, use wax paper, parchment paper, freezer paper to wrap it before refrigerating.
For a big wedge of blue cheese, it is better to cut it into smaller parts before wrapping. Make sure you don't wrap it too tight. You should place blue cheese far away from other cheeses. Otherwise, the mold may affect their quality.
The ideal temperature to store blue cheese lies between 46°F – 55°F, thus making the crisper drawer in your fridge the perfect place to store it.
Freezer
Freezing blue cheese is also a good way to keep it. You should wrap it with one or two layers of plastic. Then put it in a freezer bag and squeeze out as much air as possible. Frozen blue cheese is likely to develop freezer burn. So you should wrap it very carefully.
Remind yourself of the date you put the blue cheese in by writing the current day on it. I always use this tip.
You must know these wonderful blue cheese storing tips.
When Does Blue Cheese Go Bad?
Since blue cheese is already moldy, it is not easy to tell when the mold is safe and not safe to eat. But with this guide, you can do it.
Look
Blue cheese always looks moldy. But if it is more mouldy than usual and the mold is gray instead of blue. There is a high chance that it is already spoiled. In addition, once the cheese turns green, yellow, or brown, it's time to toss it.
Smell
Spoiled blue cheese often has an ammonia-like and very funky odor. If your blue cheese has a similar smell, discard it. It is not safe to eat anymore.
Taste
If you are not sure about the quality of your blue cheese, you can taste it a little bit so see whether its flavor has changed. Spoiled blue cheese has an unusually strong flavor and more bite. Toss it if you cannot endure its taste.
Texture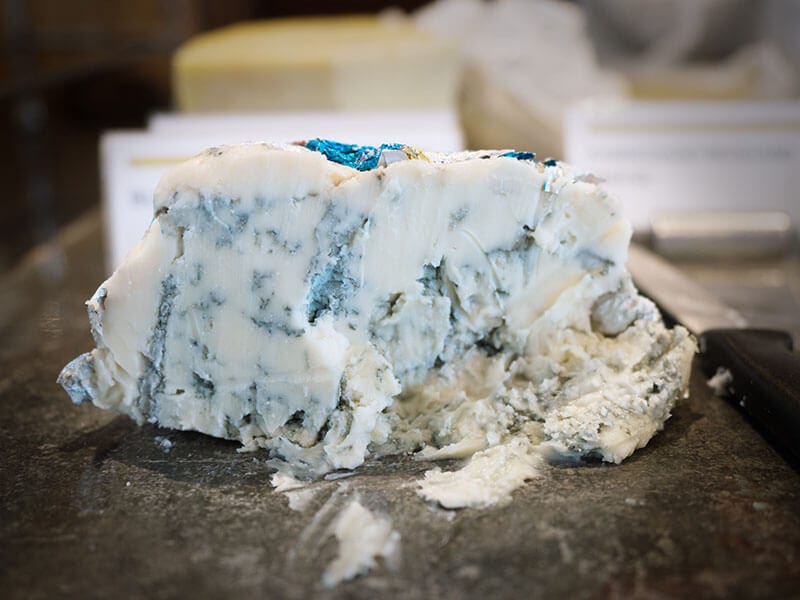 Good-quality blue cheese is quite smooth and firm to the touch. On the other hand, spoiled blue cheese is often dry and hard because it has lost its creamy texture. It can also be misty and greasy. When your blue cheese has these signs, it is best to throw it away.
FAQs
If there is something you've not found in the main content, you will find it here. These are the questions that are most commonly asked about blue cheese. Read to expand your knowledge even more.
Blue Cheese Will Steal Your Heart!
Although people usually do not love blue cheese after tasting it for the first time, many consider blue cheese as their go-to cheese after trying it several times more. I did hate it when I first tasted it. But now it has become my favorite. I hope that you will love it, too.
With all of the information about the taste, storage, and recipes, you're now a master of blue cheese. Share this article for other people who haven't tried blue cheese. I am sure that they will thank you a lot for introducing this delicious and healthy cheese.
If you have any other questions or anything else about blue cheese, don't hesitate to leave some comments.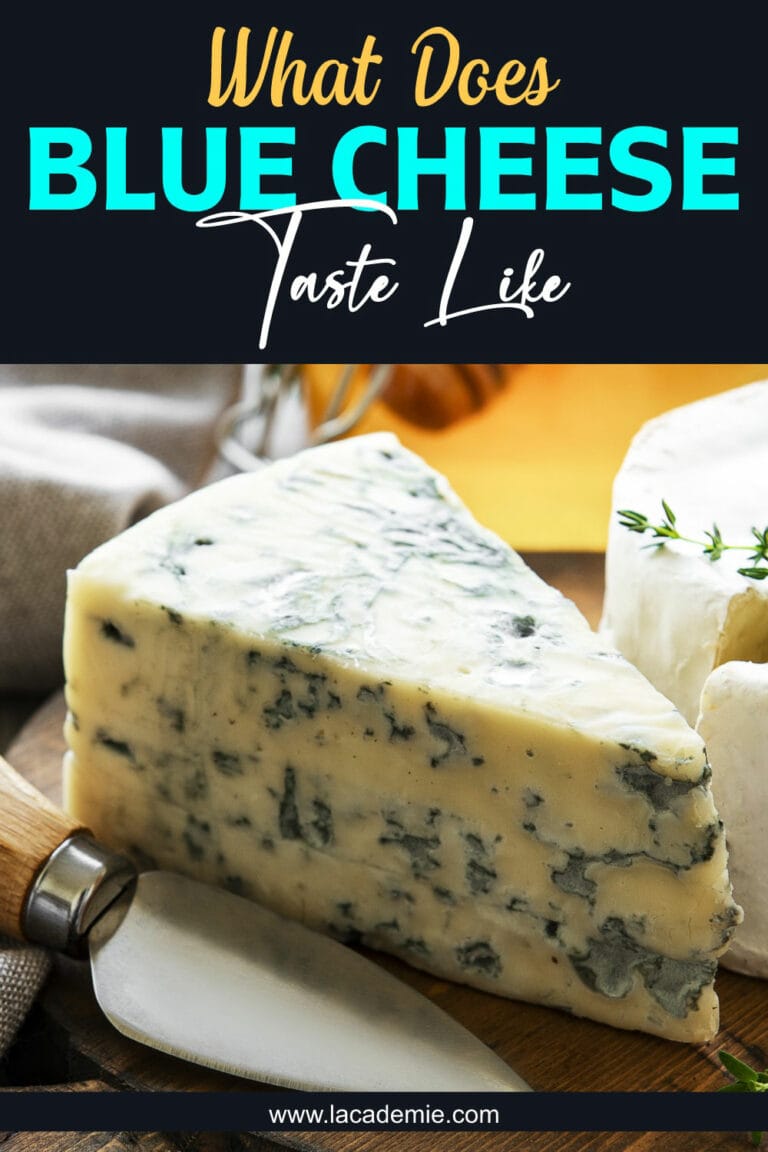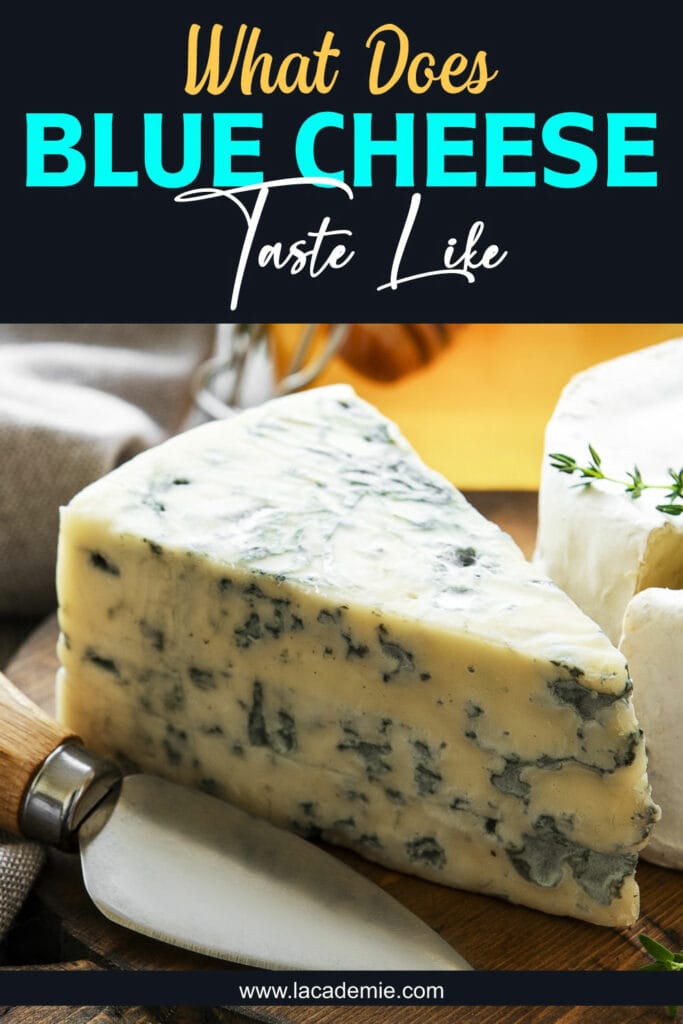 References
En.wikipedia.org. 2021. Blue cheese – Wikipedia.
WebMD. 2021. Health Benefits of Blue Cheese.