Speaking of Roquefort vs. blue cheese, I used to think all blue cheeses were named Roquefort. Roquefort has been familiar since I was a child for its characteristic blue veins. However, now I realize that blue cheese includes many types of cheese with different origins and ingredients.
So what exactly is Roquefort, and how is it different from blue cheese? It can be so similar and so contrasting at the same time! Join me to learn about them through this post to have the most suitable application for your recipes!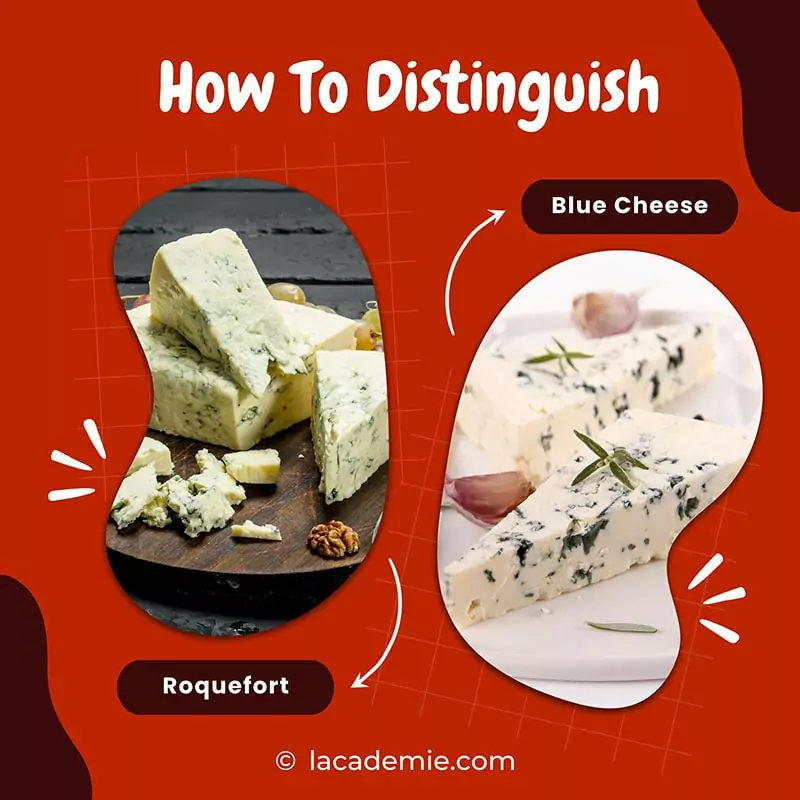 Definition of Blue Cheese and Roquefort Cheese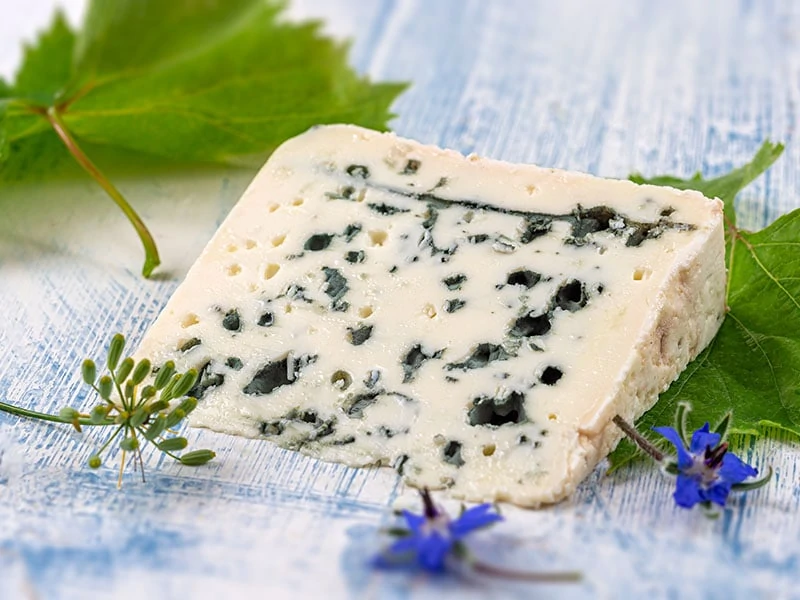 Blue cheese is a broad category, indicating the kinds of cheese with blue veins or spots throughout the whiteness. These types of cheese come from different places all over the world.
According to the specific types, blue cheese can be made from cow, goat, or sheep's milk with the Penicillium mold(1). The results can differ depending on the type of milk and cheesemaking process.
On the other hand, Roquefort is actually one type of blue cheese. Roquefort may be the first and the oldest blue cheese that has been generated.
It was first produced in Southern France by Lacaune sheep's milk and the culture of Penicillium roqueforti mold. Roquefort is also the most well-known blue cheese in the world now.
General Comparison: Blue Cheese Vs. Roquefort Cheese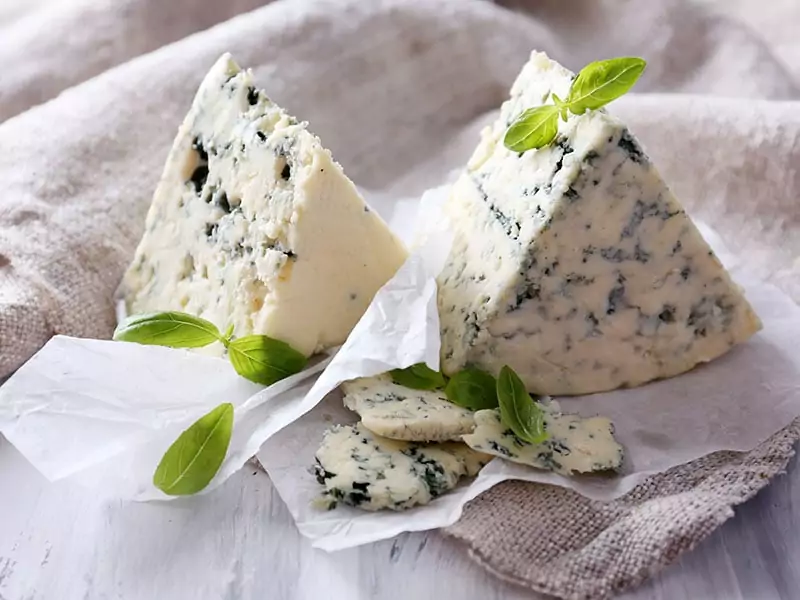 The comparison table below will show you all the stand-out information about these two confusing varieties of cheese. Find out quickly what are the main differences between them:
| Comparison Factors | Blue Cheese | Roquefort Cheese |
| --- | --- | --- |
| Category | A broad category | A type of blue cheese |
| Appearance | Blue, blue-green or bluish spots and veins running through the white skin; usually have no rind | Blue or blue-green mold streaks run through the white skin; no rind |
| Ingredients | Made from different kinds of milk like cows, sheep, goats, or their combination; and certain Penicillium mold strain | Fresh unpasteurized raw Lacaune sheep's milk and Penicillium roqueforti mold |
| Taste | Different depending on each type, range from salty to sour, usually sharp, bold, and tangy, pungent, distinct odor | Strong, sharp, tangy, salty, pungent, butyric acid, very strong odor |
| Texture | Semi-soft, crumbly, and creamy | Quite moist, spreadable, easily broken into pieces |
| Origin | France, Italy, England, etc. | Roquefort-sur-Soulzon, France |
| Producing Process | Pasteurize and solidify raw milk, aging with penicillium mold in 60 to 90 days | Coagulate ewe's milk by rennet, aging with Penicillium roqueforti mold for 3 to 10 months |
| Nutrition Information (per 100g) | 353 calories, 2.34 g carbs, 28.7 g fat, 21.4 g protein | 5% calories more, 17% carbs less, 7% fat more, 1% protein more |
| Culinary Uses | Salad dressing, dip or sauce, cheese plate, pair with fruit and nuts, sandwiches, burgers, or pizza | Salad dressing, topping, pies and tarts' filling, accompaniment for dry red wine, pasta, and quiches, best with red wine, walnuts, apples |
Appearance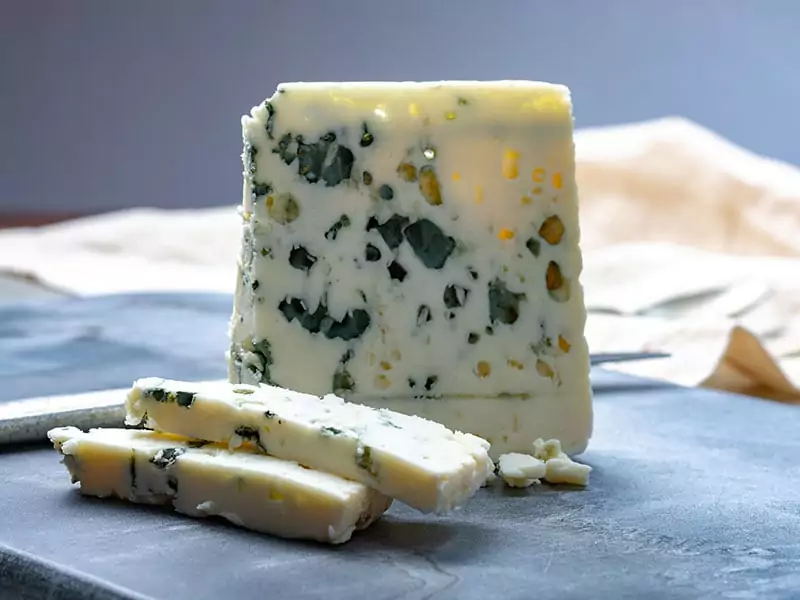 Blue cheese is always characterized by blue, blue-green, or bluish spots, and veins stretch through the creamy white skin. It looks like beautiful porcelain with natural green motifs depicted on a pure white background.
As one type of blue cheese, Roquefort also inherits this trait, having the signature marbled veins and spots of blue mold. Most blue cheeses have no rind, and this also applies to Roquefort.
Ingredients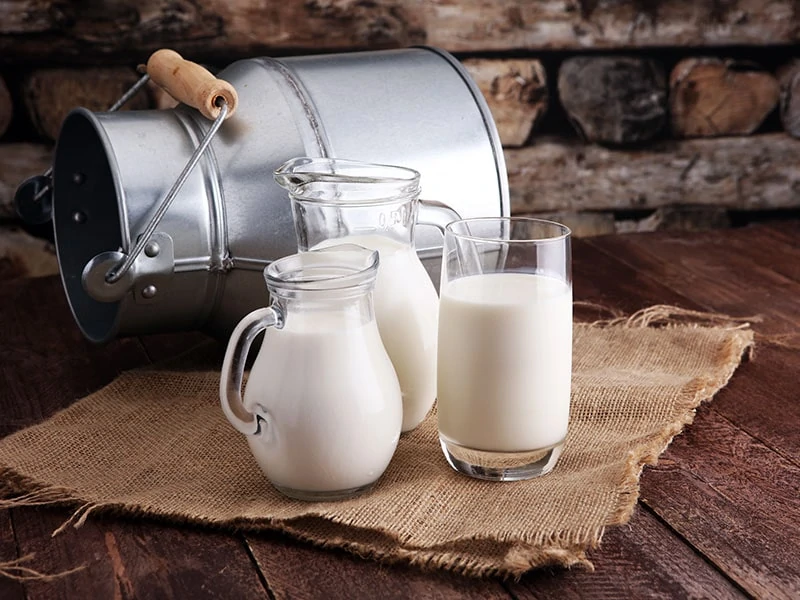 Blue cheese has many types, and they can be made from different kinds of milk like cows, sheep, goats, or even a combination of these milk. Due to that, different tastes and textures will be created for each kind of blue cheese and make them both diversified and unique.
In addition to milk, there is an important ingredient that is indispensable to create the blue veins of blue cheese, which is a specific strain of Penicillium mold. This mold grows in caves with suitable temperature, air, and humidity conditions.
Speaking about Roquefort, this blue cheese is mainly made of ewe's milk. To make the real Roquefort, people use fresh unpasteurized raw Lacaune sheep's milk. These ewes must be grazed and fed on grass, cereals, and fodder.
For Roquefort, Penicillium mold is also needed to create the blue veins. The mold to make this cheese, Penicillium roqueforti, is only grown in the specific caves of Roquefort-sur-Soulzon village.
Different Taste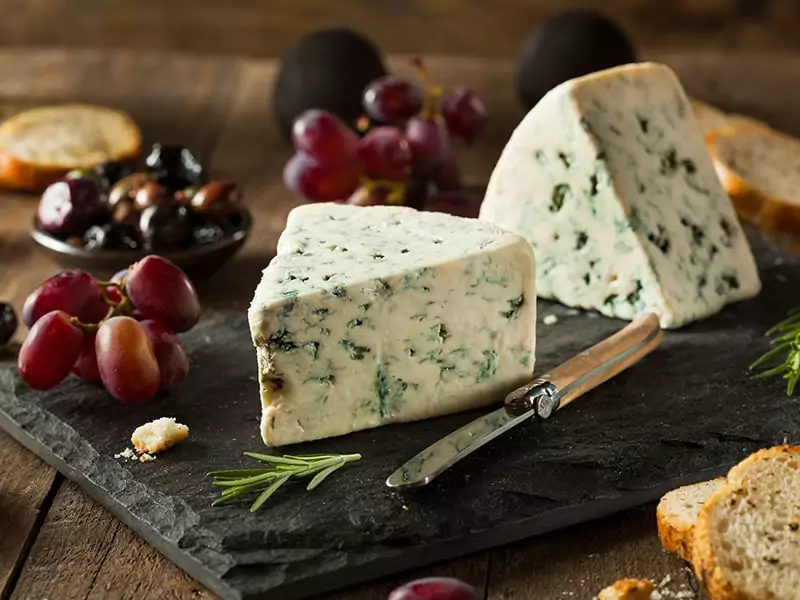 If you once tried any kind of blue cheese, you would know it is not for everyone. In general, blue cheese has a signature sharp, bold, and tangy flavor. The smell is also pungent with a distinct odor (like a foot odor). The taste can range from sour to salty, mild to sharp according to different types.
The hinge on the milk used, the amount of whey retained, the type of mold used, and the environment, blue cheese can have many varying tastes which reflect the specific characteristics of its ingredients. Thanks to that, you can distinguish each kind of blue cheese.
Among all kinds of blue cheese, you can say that Roquefort has the most robust and intense taste. True Roquefort has a distinctive sharp, tangy and complex flavor, mostly in the blue veins with a salty exterior. Along with the characteristic pungent and aromatic fragrance, you can notice an unmistakable taste of butyric acid.
Different Texture
Depending on each type, the texture of blue cheese can be changed. However, most of them have a notable semi-soft, crumbly, and creamy texture. Meanwhile, Roquefort cheese is quite moist, so it is spreadable and easily broken into tiny pieces.
Origin
Blue cheese was first made in France back in the 7th century. There was an exciting story: a cheesemaker forgot a half-eaten piece of cheese in a cave. After he turned back, the mold had covered all the cheese and converted it into blue.
Throughout history, different varieties of premium blue cheese have been created in many countries. The origins of the most famous blue cheese are France (Roquefort cheese), Italy (Gorgonzola cheese), and England (Stilton cheese).
Roquefort was created in 1070 AD at Roquefort-sur-Soulzon, a Southern French village. This oldest blue cheese is named after this village.
Until now, Roquefort has a protected EU designation of origin. That means only blue cheese made in Roquefort-sur-Soulzon by the milk of the Lacaune sheep is really Roquefor.
Take a tour around the country of Roquefort – the Roquefort-sur-Soulzon!
Different Producing Process
The fermenting procedure of Roquefort and blue cheese is quite different compared with other cheeses.
How Is Blue Cheese Made?
In general, the process for making blue cheese follows these steps:
Pasteurize and solidify raw milk by adding a starter culture to turn the lactose into lactic acid
Coagulate the milk by adding an enzyme called rennet
Cut the coagulated curds to release the whey
Drain the whey off the curds to form them into individual blocks
Sprinkle penicillium mold over the cheese curds
Poke the cheese curds with steel rods for oxygen circulation to help the mold grow
Add salt to prevent spoilage
Leave the cheese for aging in 60 to 90 days
The making process of blue cheese is described in detail here!
How Is Roquefort Cheese Made?
Roquefort is made similarly to general blue cheese. However, there are some differences you can notice:
Add rennet to the ewe's milk within 48 milking hours
Heat the milk in a large vat to ferment the liquid milk into curds
Cut the curds carefully into small cubes to release the whey
Drain the whey off the curds and salt them
Keep the vat of cheese for a few days before aging it in the cave
Pierce the cheese thoroughly with a metal rod to encourage spore growth
Age the cheese in the cave for 3 to 5 or even 10 months
Discover the best method to make famous Roquefort blue cheese!
Different Nutrition Information
Roquefort has slightly higher calories, fat, and protein (3) than blue cheese, while the carbs content of the blue cheese is higher (4).You should also concern the sodium information in Roquefort since it is pretty high compared to general blue cheese.
| Nutrition Content (per 100 g) | Blue Cheese | Roquefort Cheese |
| --- | --- | --- |
| Calories | 353 | 369 kcal |
| Protein | 21.4 g | 21.5 g |
| Fat | 28.7 g | 30.6 g |
| Carbs | 2.34 g | 2 g |
| Sodium | 1150 mg | 1810 mg |
| Calcium | 528 mg | 662 mg |
Different Culinary Uses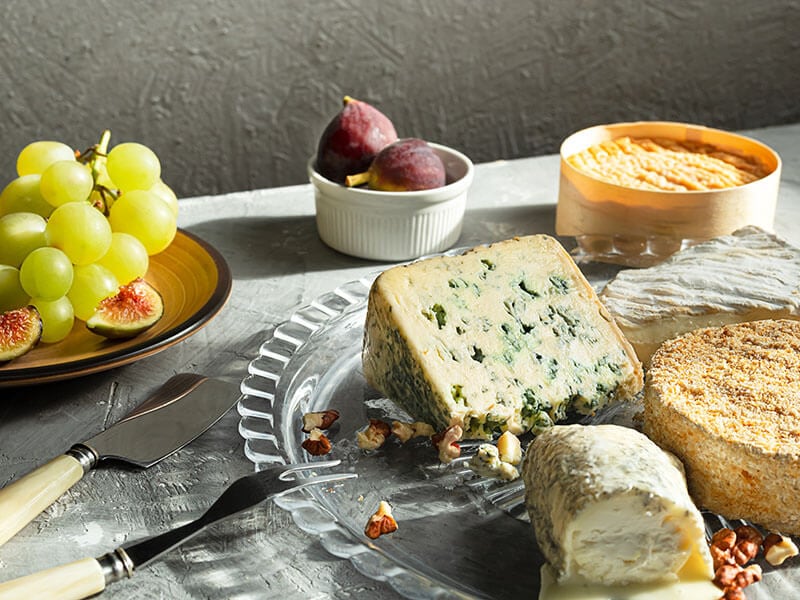 With its signature taste, blue cheese makes the best taste, like a salad dressing, dip, or sauce. It will be suitable for a cheese plate.
Another good idea is serving it as an appetizer with fruit and nuts. You can pair blue cheese with sandwiches, burgers, or pizza or spread it on crackers and bread.
About Roquefort, this cheese has the sharpest taste among the blue cheeses to serve as a stand-out salad dressing or topping.
It makes a particular flavor as pies and tarts filling and also goes well with pasta and quiches. Roquefort cheese also is an excellent accompaniment for dry red wine.
Find out some flavorful recipes to make with your blue cheese and Roquefort cheese right below:
Enjoying your steak with the signature blue cheese sauce will help you reach the finer points! The beefy, juicy, and fatty taste of steak cannot be any better paired with the cheesy and creamy blue cheese. Your party will not be completed without this recipe!
Get this recipe to make your super easy blue cheese for steak!
Enhance your regular mashed potato to the next level with the characteristic taste of blue cheese! The creamy texture of both ingredients goes so well with the fatty taste and the fragrant seasonings.
There is no doubt that Roquefort is the best cheese for your dressing! It makes up a signature blue flavor that stands out on every table. The sharp taste of Roquefort combined with fresh vegetables creates a scrumptious dinner time!
Make a creamy and cheesy Roquefort dressing for tonight's dinner!
Make the best version of walnut shortbread with some Roquefort! This is an elegant appetizer for any luxurious party. The beautiful appearance, the crunchy texture, and the cheesy-nutty taste generate the best combination ever!
Specific Comparison: Roquefort Vs. Other Blue Cheese Varieties
So besides Roquefort, what are the other common types of blue cheese? And how are they different from the popular Roquefort? I will show you all the distinct characteristics of them below:
| Comparison Factors | Roquefort | Danish Blue (Danablu) | Maytag | Gorgonzola | Stilton |
| --- | --- | --- | --- | --- | --- |
| Taste | Sharp, tangy, butyric acid, salty, strongest smell | Mild | Rich, salty, savory finish, pungent odor | Salty and earthy | Complex, rich, subtle sweetness, salty, and nutty finish |
| Texture | Crumbly, slightly moist | Semi-soft and creamy | Firm, moist, slightly crumbly, cream-like | Either soft, crumbly, or firm | Semi-soft, crumbly, loose, creamier with an increasing taste |
| Origin | Southern France | Denmark | America | Italy | England |
| Made from | Sheep milk | Cow milk | Skimmed cow milk | Unskimmed cow's milk, goat's milk, or combine both | Pasteurized cow milk |
| Aging period | 3 to 10 months | 8 to 12 weeks | 4 to 6 months | 3 to 4 months | Approximately 9 weeks |
Learn more about different types of blue cheese with their own features!
Danish Blue (Danablu)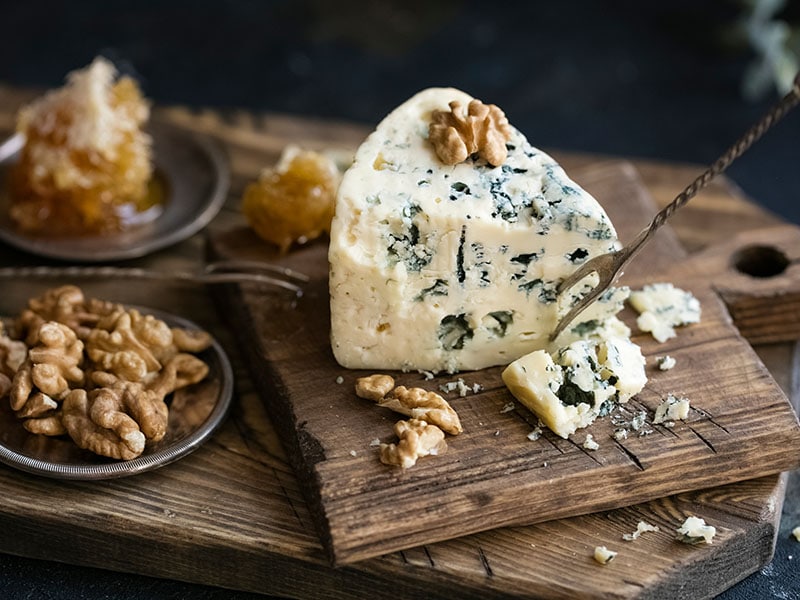 A Danish cheesemaker first generated this type of blue cheese. It appeared in the early 20th century to mimic Roquefort cheese. Therefore, Danish blue cheese looks so similar to Roquefort.
However, Danish blue is semi-soft and creamy, while Roquefort is moister and more consistent. Besides, it is a bit milder when compared with the sharp taste of Roquefort.
Moreover, Danish blue is made from cow's milk, while Roquefort is produced from sheep's milk. You can buy Danish blue cheese in drum, wedge, or block form.
To make Danish blue cheese, people do the needling process during the curd phase. By this procedure, Penicillium Roqueforti mold is added deeply into the curd's channels.
Then, the curd will be aged in a dark environment like a cave for 8 to 12 weeks – much faster than the Roquefort aging process.
Maytag
This blue cheese is one of the most famous American cheese types. Unlike the features of the classic white American cheese, this is named after Maytag Dairy Farms – where it is produced. The manufacturer aimed to make a similar cheese as the famous Roquefort.
This kind of blue cheese has a rich and salty taste with a savory finish. It also has a pungent odor that may be even stronger than Roquefort. The texture of Maytag is firm, cream-like, a bit moist, and slightly crumbly when compared with Roquefort.
To make Maytag blue cheese, people separate the cream from the skimmed cow milk or fresh Iowa farm milk to this day. Maytag is usually round-shaped by hand-forming. They age the cheese from 4 to 6 months in a controlled cool-temperature and high-humidity cave.
Gorgonzola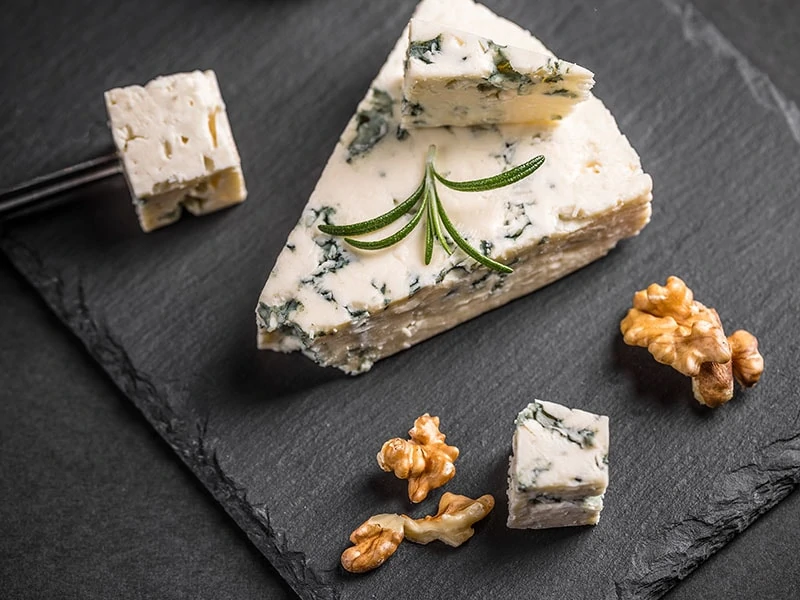 Gorgonzola has its name from the Gorgonzola town of Italy, making Gorgonzola a famous Italian cheese variety. People usually make this cheese with unskimmed cow's milk. Sometimes, they can also use goat's milk or combine both.
The texture of Gorgonzola can be either soft, crumbly, or firm. This depends on the aging period. Gorgonzola is considered to be the mildest blue cheese with some salty and earthy notes – contrasting with the sharp taste of Roqueforti.
Gorgonzola can be infused with traditional Penicillium glaucum, Penicillium roqueforti, or lactic acid to create blue-green veins, which explains why many tend to compare Gorgonzola cheese with blue cheese. It is made by warming the milk with the mold spores to form the curds.
This needs to be aged at low temperatures for usually between 3 to 4 months. The longer you wait, the more consistent it will be.
Stilton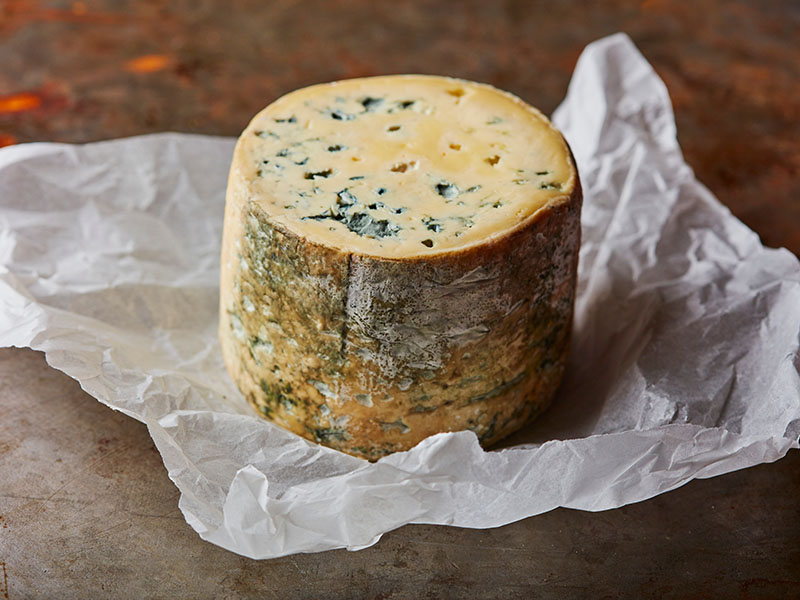 This British blue cheese has the signature cylindrically shaped. It is never-pressed and has extraordinary blue veins diverging from the center. Moreover, you can recognize it by the unique crust and the very distinctive vein pattern.
Silton has a semi-soft, crumbly, and loose texture, which is creamier by the increasing aging time, quite similar compared with Roquefort.
Besides, its flavor is somewhat complex and rich with notes of subtle yeasty sweetness. Adding to this is the salty, nutty finish that is pretty comparable to Roquefort. Stilton is an ideal replacement for blue cheese in many recipes.
This British cheese is made from pasteurized cow milk mixed with rennet and mold. It goes through a draining process without pressing the molds but rather rotates regularly as the cheese ripens. Then, the cheese will be aged for a minimum of 9 weeks before being ready to use.
Discover how traditional English Stilton blue cheese is made!
FAQs
Are you looking for more information about these exciting cheeses? Discover all in the questions and answers below:
Try Some Distinctive Recipes With These Blue Cheeses!
I am pretty sure that you now have a clear sight of these two blue sorts of cheese. And with the specific taste, texture, and other characteristics of both two, you can use them for practical purposes to create the best recipes ever!
Do not hesitate to share this post so that no one will be confused about Roquefort and blue cheese anymore! And remember to leave a comment about your experience with these distinctive cheeses!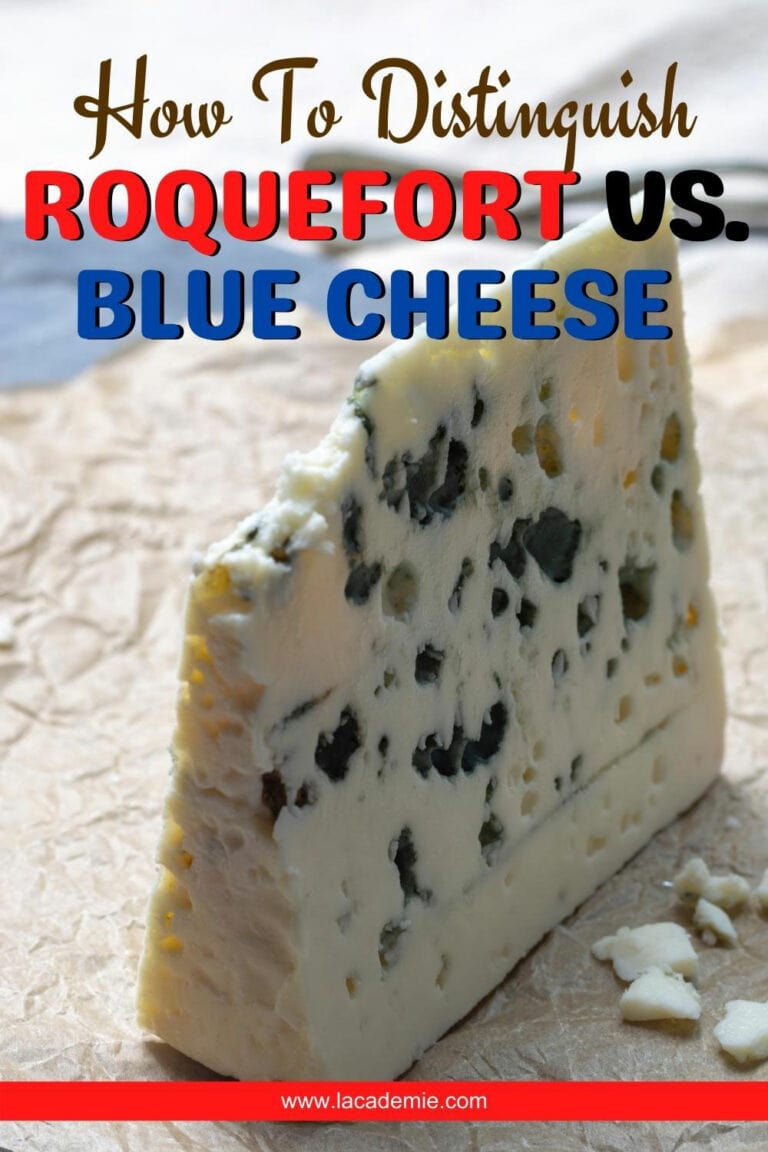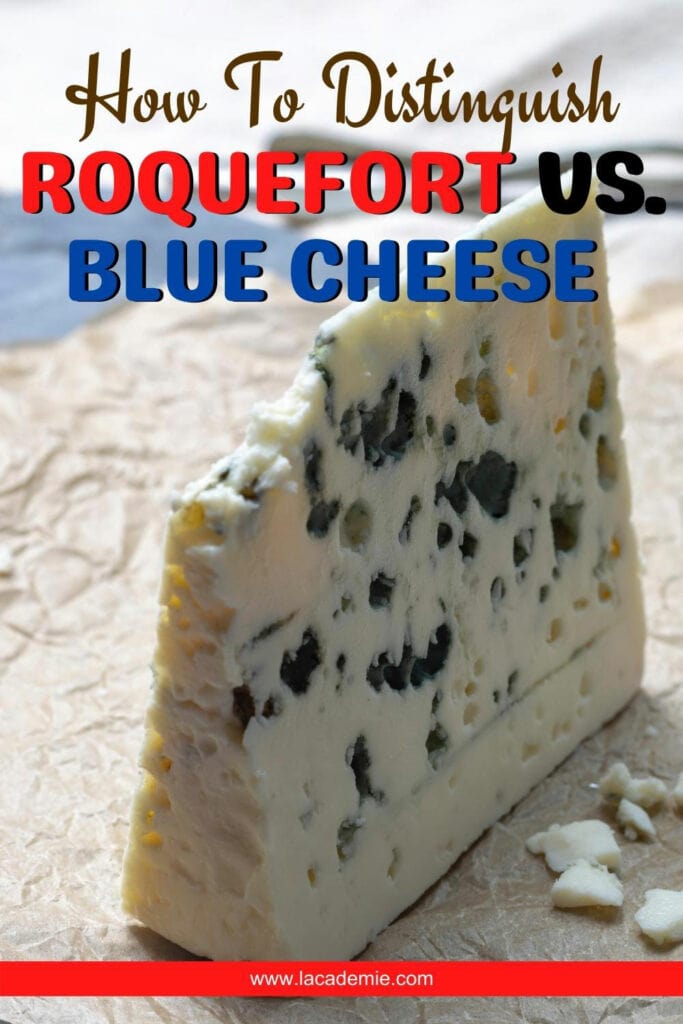 References
En.wikipedia.org. 2021. Blue cheese – Wikipedia.
En.wikipedia.org. 2021. Roquefort – Wikipedia.
2021. [online] Available at: <https://fdc.nal.usda.gov/fdc-app.html#/food-details/171250/nutrients>
2021. [online] Available at: <https://fdc.nal.usda.gov/fdc-app.html#/food-details/172175/nutrients>