Freezing ricotta cheese can be a controversial issue. Some people advise you to discard the leftover ricotta cheese, while others say that you can freeze it. So, have you known what to do with uneaten ricotta cheese? Throwing it is wasteful, but keeping it might be tricky, too.
Do not worry! In this article, I will make it clear about whether you can freeze ricotta cheese or not. If yes. How?
So, Can You Freeze Ricotta Cheese?
Yes, you can. If the ricotta cheese is stored well in the freezer at 0F, it can last up to 6 months for consumption. While its flavor is kept well during the preservation, its texture is damaged by frost.
However, storing and cooking tips in this post will help you deal with freezing ricotta cheese better.
Below, you will find particular direction to freeze and use your ricotta cheese appropriately:
Freezing ricotta cheese alone;
Freezing ricotta cheese with other dishes;
Thawing ricotta cheese;
What Is Ricotta Cheese?
Ricotta cheese is known as a by-product from the production of other kinds of cheeses such as mozzarella or provolone. To be more specific, cow milk is separated into two different parts – solid and liquid- during the process of producing cheese.
The solid part, which is called curd, will be pressed to create firm cheese. The liquid one is whey that contains mostly water and just a little curd. The whey will be re-cooked and drained to create a fluffy and white texture. That is the ricotta cheese.
While many people say that ricotta resembles feta cheese's flavor and texture, I don't really think that is the case. While feta cheese does resemble feta in texture, it somewhat differs in flavor. Ricotta cheese has a creamy and sweet flavor that goes well with different dishes.
For instance, ricotta can be spreaded onto sandwiches and combined with mushroom for a fulfilling side dish that goes well with corn chowder, and other rich, creamy soup. Anyone that has tried out ricotta can all agree that this cheese is a great addition to everyone's kitchen.
Ricotta cheese is a favorite ingredient for lasagna, salads, pasta sauces, and cheesecakes. It can be consumed alone or combined with other cold and hot foods.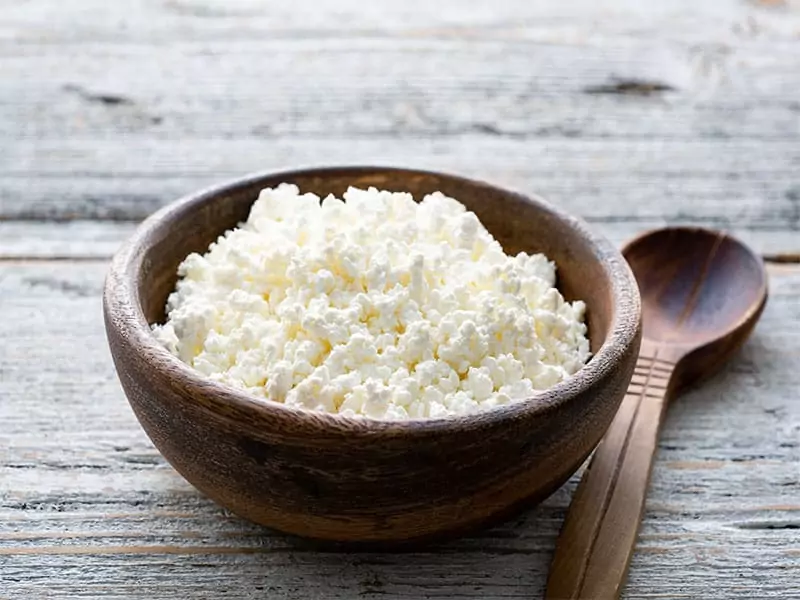 Why You Need To Freeze Ricotta Cheese
It is not easy to preserve ricotta cheese, and cheese manufacturers also admit this truth. They encourage consumers to eat ricotta cheese at once and as soon as possible.
However, it is possible to preserve this fresh cheese when you can not consume all the ricotta cheese you bought. In addition, throwing it away is not a good idea. Like other kinds of cheese, to prolong the ricotta cheese's shelf life, you can freeze it.
Though, the frozen cheese may make you unsatisfied. It is because when being frozen, the cheese texture will change despite still keeping its original taste.
The whey becomes ice and separates from the curd. In addition, under the effect of frostings, the cheese texture is also damaged.
That's why I always suggest finishing ricotta cheese ASAP rather than freezing it. When there's no ricotta cheese around in your fridge, there are still plenty of replacements for ricotta cheese you can try that taste just as tasty. On the other hand, frozen ricotta might be quite unappetizing.
Frozen ricotta cheese is still completely suitable for recipes that require cooking like sauces, pasta, pizza, soups, lasagna…
However, as for lasagna, ricotta cheese is required to be accompanied by eggs. I'll go into why ricotta cheese for lasagna needs eggs on another occasion. However, for now, the general gist is that ricotta cheese, frozen or not, requires egg for a stable texture.
However, you need to keep in mind that when being frozen, the texture of ricotta cheese will change, making it drier and crumbier, although it may still retain its original flavor.
As you can see, not every cheese variety is suitable for freezing. That's why you'll see people wondering if cream cheese is a freezable food, or whether it's wise to freeze goat cheese, etc. Keeping cheese fresh is certainly not easy as it appears to be, huh?
How To Freeze Ricotta Cheese?
To maximize the effectiveness of cheese preservation in the freezer, you need to spend a little time in preparation steps. However, I believe you will be satisfied with the result if you strictly follow what I instruct you below.
Freezing Ricotta Cheese Alone
If the cheese is still in its sealed package or container, you just need to note the expiration date on it and then put the package or container of cheese in the freezer.
However, if it is leftover ricotta cheese, you should make some proper preparation before freezing it.
1. In A Large Amount
When you want to use the frozen ricotta cheese for the next big meal, freezing it in large portions is a good option to save you lots of time in freezing preparation steps.
Step 1: Stirring the cheese well with a spoon to make sure the whole cheese can be frozen evenly.
Step 2: Put the cheese on some paper towels in order that the cheese's water content can be drained off and absorbed by the towels.
You should do this step carefully to ensure that most of the water content is extracted from cheese, which will reduce ice forming that seriously affects the texture of frozen cheese.
Step 3: Divide the cheese into different portions in which every portion meets enough the amount of cheese that every single recipe calls for. Next, place the cheese portions into airtight freezer-safe containers or freezer bags.
If you want to extend the cheese's preservation time for up to six months, you use plastic wrap to cover the cheese well and not let it expose air to prevent the effect of frosts in the freezer, which decides the effectiveness of cheese preservation.
After that, you put them in freezer containers or bags.
Step 4: Note the date on the bags or containers to know how long you should preserve the cheese for future safe use. Finally, put them in the freezer.
2. In A Small Amount
Freezing small portions of cheese allows cheese preservation to work more effectively. Moreover, it is also convenient to defrost and consume the right amounts of cheese your recipes require while still keeping the rest frozen.
Just apply the below steps to freeze small amounts of ricotta cheese.
Step 1: Stir the cheese evenly with a spoon.
Step 2: Prepare some paper towels to cover the stirred cheese and drain off its water content.
Step 3: Fill the cheese into an ice cube tray. Do not make full ice cubes with cheese because the cheese will expand more when being frozen.
Step 4: Cover the whole ice cube tray with plastic wrap and put it in the freezer
Step 5: When you need to use the cheese cubes, remove them from the ice cube tray. You can also transfer the frozen cheese into sealed freezer bags, note the expiration date on them, and keep storing them in the freezer.
In step 3, you can also spoon the cheese and put each small amount into plastic wrap. After that, you twist the wrap to press the cheese and release all inside air.
Finally, you collect the wrapped cheese and place them into freezer bags before transferring the bags to the freezer.
Freezing Ricotta Cheese With Other Dishes
Another way to store leftover ricotta cheese is to use it to prepare dishes and then freeze them. This creative method will give you better results than freezing the cheese by itself.
You can apply this to recipes of tortellini, lasagna, manicotti, cannelloni, or gnocchi.
To freeze different dishes with ricotta cheese, you can follow these steps for proper preservation:
Step 1: Divide your dishes into small or large parts that will be easily thawed out and served for your quick meals later.
Step 2: Wrap each part individually with wax paper or plastic wrap.
Step 3: Place all of them in freezer bags and put them in the freezer.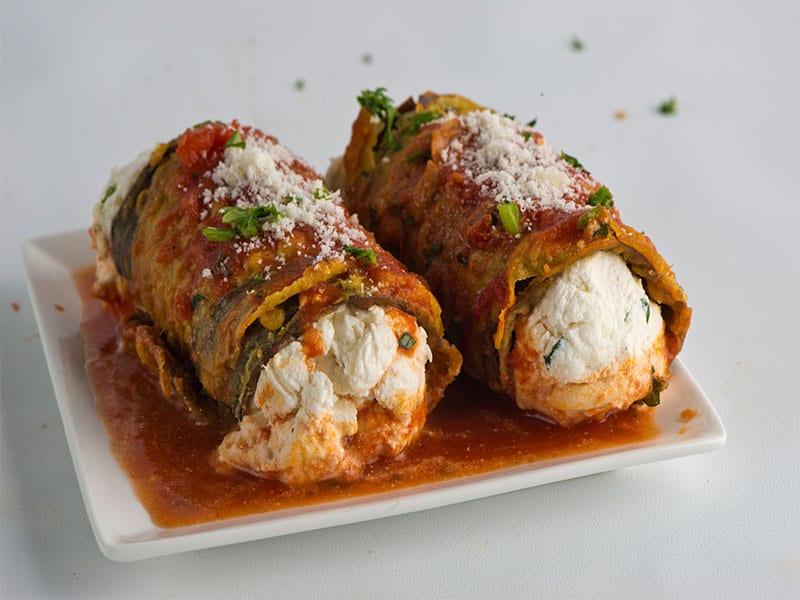 How To Thaw Ricotta Cheese?
The best way to defrost frozen cheese is to put it in the refrigerator, which allows the cheese to thaw gradually. However, you need more information than that to get safe and delicious ricotta cheese after thawing it.
Thawing Ricotta Cheese Alone
You should not place the frozen cheese at room temperature to thaw it because this is an ideal environment for bacteria to infest the cheese and make it spoiled. More seriously, if you consume this poor-quality cheese, it will harm your health.
It takes about 6 hours for the frozen cheese to be defrosted completely, but the thawing time also depends on how large your cheese portions are.
However, if you leave the frozen cheese in the fridge longer than you should, the cheese texture will ruin even more seriously.
In order to save time for thawing cheese, you can prepare a bowl of cold water, put the frozen cheese bags or containers in it, and then place the bowl into the fridge.
The feature of better heat conduction of water compared to the air will work effectively in shortening defrosting time.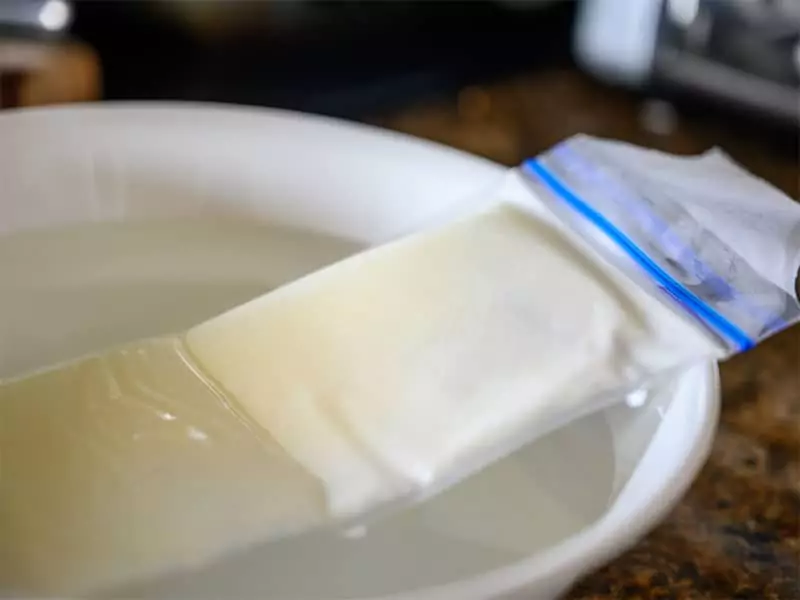 In addition, if you are going to cook a dish with frozen ricotta cheese on the stove, just put the frozen cheese in your food and stir it over the heat stove until it is completely thawed.
When the cheese is thawed out, you will see a layer of water on its top. You just need to pour out the water and use a spoon or a hand mixer to mix the cheese.
The result will be a creamy and soft cheese texture, but actually, you can not make the cheese fresh as it used to.
You can store the defrosted cheese for good use within two days in the fridge. If you can not consume all of the cheese during this period of time, just throw it away and never think of freezing it again!
Thawing Dishes With Ricotta Cheese
To thaw the frozen dishes, you also put them in the refrigerator, like defrosting frozen ricotta cheese. If you see the defrosted dishes lose most of their water content, you can add some water to them and then reheat them in an oven or a microwave.
When using an oven to reheat the dishes, you use aluminum foil to cover them and then put them in the oven. With the microwave, you cover the dishes with the microwave-safe wrap before placing them in the microwave.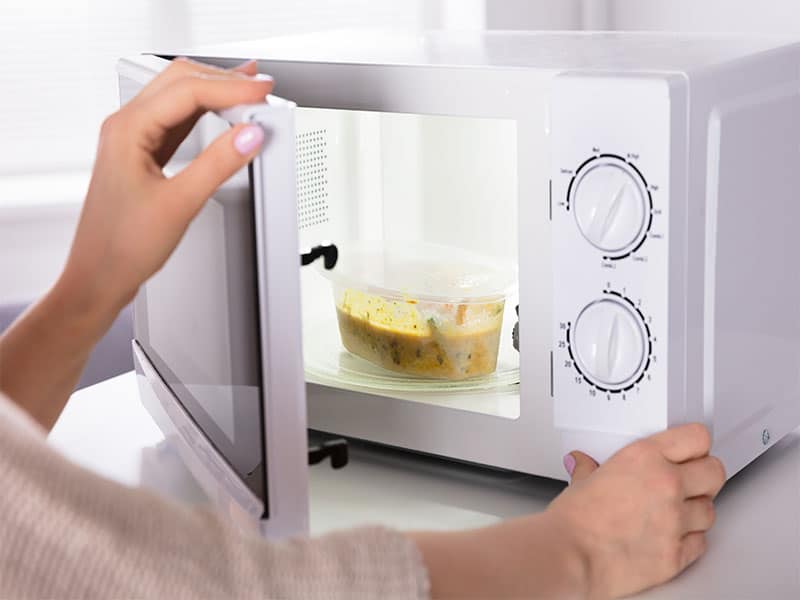 Notice In Using Frozen Ricotta Cheese
After the frozen cheese is defrosted, the most changed part is its texture, making it lose the freshness. You should not use it in cold or uncooked recipes because the changing texture of cheese will be easily noticed when it is in your mouth, which can not bring you a tasteful meal.
Instead, the fat of cheese should be melted in cooked dishes to reduce the prominence of its damaged texture. In addition, the cheese texture will be mixed with other ingredients and seasonings, which helps you not realize you are eating the previously frozen cheese.
The thawed ricotta cheese works better in some dishes such as lasagna, cookies, stuffed pasta, pound cakes, or cakes pizzas rather than ice cream or cannoli filling that needs the freshness of the cheese.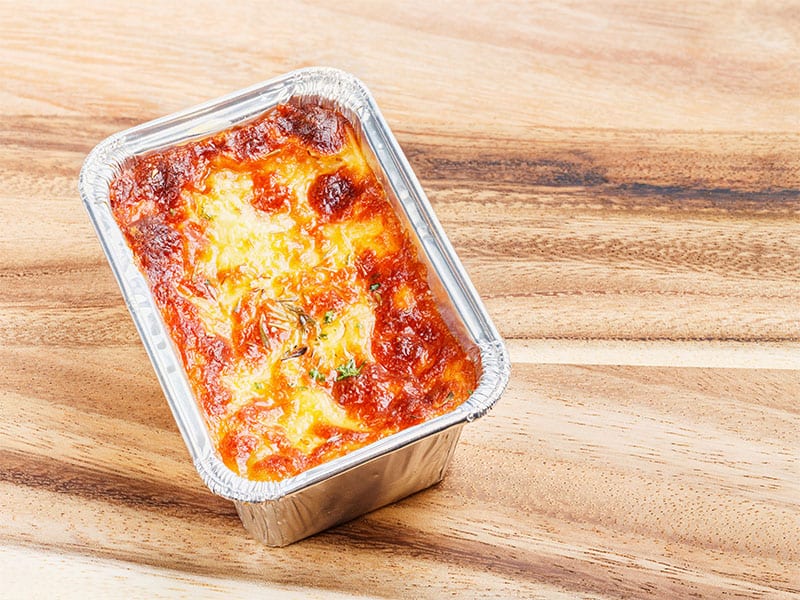 FAQs
It seems not easy to deal with ricotta cheese. Therefore, I offer you some common questions relating to cheese preservation along with specific answers from me.
You Can Do More Than Freezing Ricotta Cheese!
Although you can apply the freezing methods I showed you to freeze ricotta cheese effectively, I encourage you to purchase enough ricotta cheese for your needs to enjoy the fresh and buttery flavor of new ricotta cheese and minimize the amount of the leftover cheese.
If you have any ideas or experiences of freezing ricotta cheese, you can share them with me and everyone in the comment section. If you find my post helpful, give me a share as an encouragement for the next informative articles.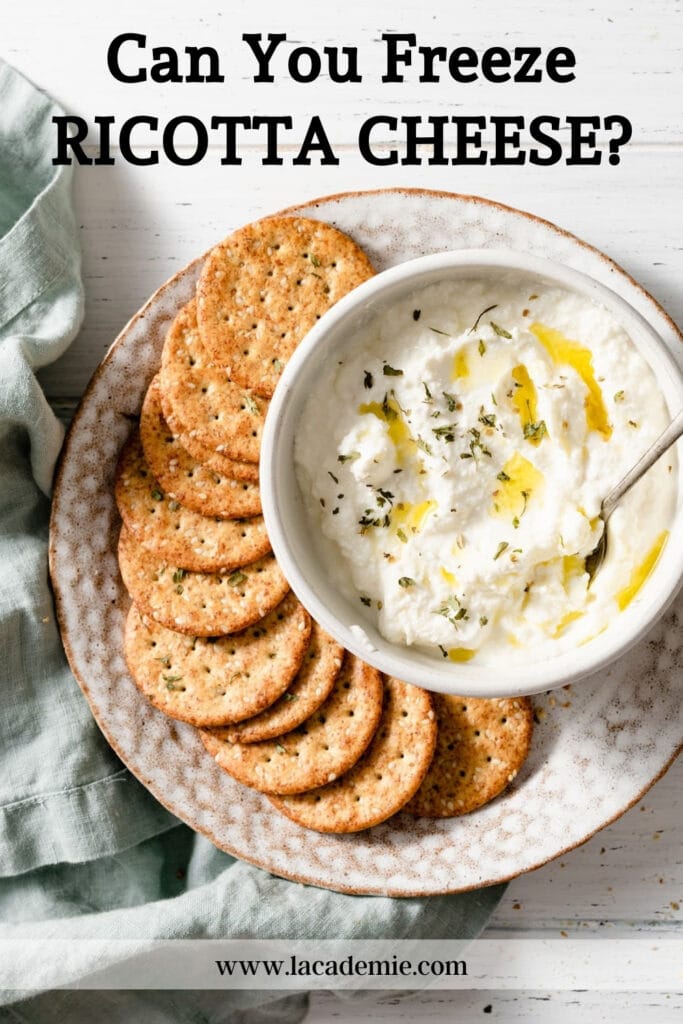 References
1. Refrigerator and Freezer Storage. UNL Food. (2020, November 9). https://food.unl.edu/refrigerator-and-freezer-storage.
2. Food Safety and Inspection Service. Freezing and Food Safety | Food Safety and Inspection Service. (n.d.). https://www.fsis.usda.gov/food-safety/safe-food-handling-and-preparation/food-safety-basics/freezing-and-food-safety.