Do you know what to serve with corn chowder?
Corn chowder is the favorite dish of many people. This food brings cozy feelings and is very good for your health, especially eating in the morning and dinner.
However, I think it is not enough with only corn chowder. That is why I am here to accompany you!
This time, I will bring you many perfect combinations with corn chowder. Check them now!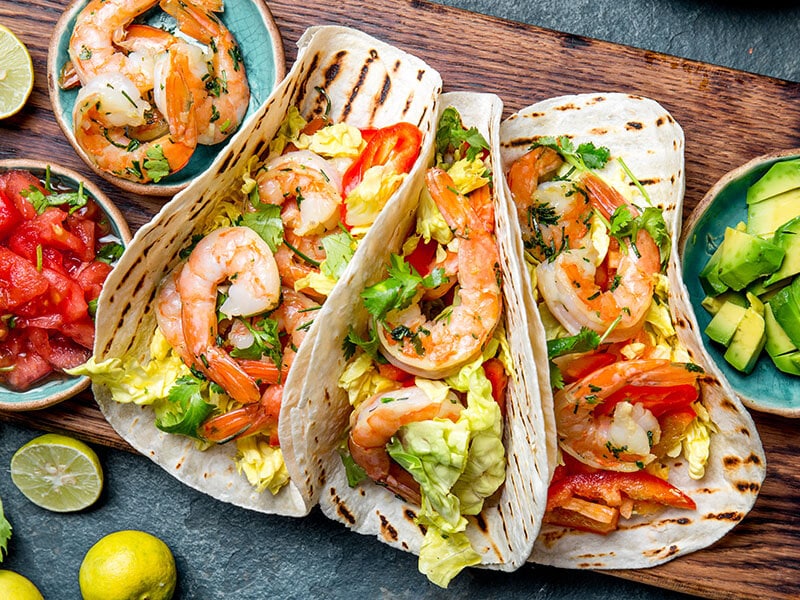 What To Serve With Corn Chowder? Try My Inspired Ideas
Deciding what to serve with corn chowder is not a simple task, I think. Not everything is perfect for corn chowder, so you should consider it before making any dishes with corn chowder for your meal.
Good news for you! I have 19 ideas here which can meet your demand.
Breads
Ham, Potato, And Cheese Quiche
Dinner Rolls
Buttermilk Biscuits
Grilled Cheese
Apple Pie
Apple Crisp with Ice Cream
Potato Pancakes
Vegetable
Bean and Kale Salad
Black Bean Quesadillas
Salad
Sauteed Veggies
Mushroom Ricotta Open-Faced Sandwich
Meat And Seafood
Smoked Sausage
Grilled Salmon
Jalapeno Poppers
BLT
Shrimp Tacos
Cheesesteak Stuffed Peppers
Loaded Cornbread
Now, I will show you everything with these incredible foods that go along with corn chowder!
Delicious Sweet And Tasty Side Dishes To Stir Up Your Meal
Skip the salad, meat, and seafood; this is the part for sweet and lovely food. You can eat these foods separately but combining them with corn chowder always works well. Give them a try!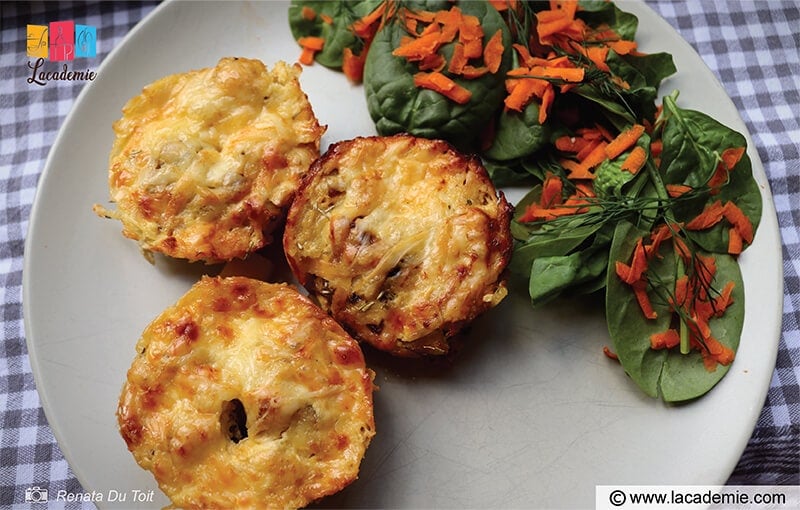 Let's move to a favorite French food, quiche! When I found out the information about this food, there were many choices and creative ways for a perfect quiche.
I often follow the traditional way by baking the pie crust with everything needed to cook a quiche dish. However, you can have an exciting experience with some different ingredients, maybe with seafood.
Moreover, you can replace meat with vegetables, such as mushrooms, bell pepper, etc., as an option for a more healthy quiche with corn chowder.
Dinner rolls are kinds of bread rolls that have various types of bread. I think the name "Dinner roll" is just an informal way of calling.
Once pairing Dinner Rolls with corn chowder, I am sure you will think differently because of their lovely flavor.
If you are a person who loves slightly sweet bread, I highly recommend you to eat it along with chow powder one time in your life. Just looking at my favorite recipe, you will want to make this lovely meal immediately.
Are you looking for a breakfast idea? Try delicious buttermilk biscuits with corn chowder!
I am a girl inspired by biscuits, so sometimes, I eat buttermilk biscuits at my snack time.
After baking your soft biscuits, you can add almost all the different things you like to complete your meal. My choices are usually to put butter on the top of them or decorate with some slices of hams. And of course, put a corn chowder next to my dish!
Who are fans of cheese? I have a "double fatty level" idea for you: grilled cheese with delicious corn chowder.
Many kinds of cheese can be used for this dish, such as cheddar, sharp, mozzarella, etc. A trick for you is to add some mayo to your sandwich when toasting to give it a crispy texture and more beautiful color.
Try to imagine the sweet flavor of your favorite grilled cheese sandwich with a corn chowder bowl, and I assure you it will make you satisfied.
Come with me and learn how a famous chef cooks grilled cheese. You can see this video to know more:
You may wonder what an all-so-familiar British sweet treat is doing here? The answer is yes, I'm going to serve it with corn chowder.
Some of you may not think apple pie is one of the most suitable side dishes. But, this is the truth!
There is no limit to creating an apple pie! When you make any apple pies, make sure you have prepared a perfect bottom crust and baked it before adding other ingredients.
On my own, I will eat apple pie with corn chowder and vanilla ice cream.
Another ideal choice for you with corn chowder is apple crisp with ice cream. It is considered an element to finish your perfect meal. Apple crisp has another name which is apple crumble.
Everything you need to do for tasty apple crisp is to chop your favorite apples and then bake them with brown sugar, rolled oats. Ice cream is not so important, but your meal will be more remarkable with a scoop of delicious ice cream.
If you do not have any idea for dessert tonight, try apple crisp now!
Classic potato pancakes with corn chowder? Are you surprised?
I believe that potato pancakes are easy to make and combine perfectly with other foods in a meal.
For a perfect flavor, I suggest you add some zucchini and even try new kinds of salsas.
However, the most important thing about this dish is the apple sauce, so don't forget this sauce to keep the classic taste of potato pancakes.
5 Healthy Dishes To Eat With Corn Chowder
Firstly, I will begin with four foods that have vegetables as the main ingredients. These dishes are not only beneficial for health but also do not lose much time and effort. Let
Bean and kale salad is one of those breakfast foods you can enjoy for your dinner as well when you are busy. If you add toasted bread with your loving sauce into this salad, the bread crunches will look like "perfect puzzle pieces" with the softness, sweetness of corn chowder.
The bean in the dish has been stewed before mixing with salad. Plus, you can add lemon and parsley to enhance the flavor and decoration.
If possible, you should add some Vermont maple syrup to make your Bean and Kean tastier and more beautiful.
Quesadilla is a familiar food that many Mexicans use as an accompaniment in their meal. A factor that makes me like this food is a variety of easy recipes and ingredients preparation.
Besides the basic ingredients, I never forget an essential one, my favorite cheese! I use corn chowder as a kind of sauce to dip my Quesadilla before enjoying it.
Moreover, you can add green chilies and a bit of tabasco to raise the spicy level of Quesadilla.
Plus, some people also put cheese on the top of the dish to enhance the fatness level. Try it to feel the new food world around you.
This easy Quesadilla with a lot of cheese makes me have to "visit" my kitchen again. You can see this video to know more:
Salad is a familiar side dish and can be used with many foods, from usual to creative dishes.
Hot, creamy corn chowder and salad are versatile pairings for breakfast, snacks, or even night meals.
Simply chop lettuce and mix it with the seasonings that you often use, such as mayonnaise, chili powder, and so on.
Add some slices of avocado and other kinds of fruit to finish it more flavorful.
The corn chowder with saute veggies is the best healthy meal, fewer calories but still provides enough essential nutrients. Sauteed veggie side is effortless to make and does not take a lot of time.
I think broccoli or cauliflower will be the best choice for this combination. Besides that, you can use tomatoes as additional ingredients if you are a tomato lover!
In case you do not like sauteed veggie, another simple choice for you is to steam it and serve it with corn chowder.
Does your house have mushrooms and Ricotta cheese? Why don't you make a special dish with these available ingredients? That is a mushroom Ricotta open-faced sandwich.
The primary key to this food is the crunch of the sandwich after toasting. You can use any mushroom you like or have at that moment.
Its taste may contrast with your fat corn chowder, but you will feel amazing when eating two dishes in your meal.
Top 7 Meat And Seafood Recipes To Go With Corn Chowder
Are there any ideas about meat or seafood dishes to go with corn chowder?
To answer your question, I want to share the six best recipes that include everyday dishes like grilled salmon or new recipes, cheesesteak stuffed peppers.
Now, go with me and find out.
Not only a creamy dish but corn chowder is also considered a great "sauce" to use with smoked sausages. All kinds of smoked sausage work well in this situation, and I just wonder what taste of sausage you like.
I often prefer Andouille or Cajun because its taste is a bit savory and spicy. In contrast, some of my friends like the sweet taste of sausage, so they choose an Italian one. But, remember that the kind of sausage does not matter. Make this quick, easy meal now!
How about cooking some dishes with your griddle for a filling meal? When talking about seafood which is good for health, I immediately think about salmon.
Salmon is rich in Omega-3 fatty acids, provides proteins for your body, and contains low calories.
The spice I prefer to use is very simple with salt and olive oil. In addition, the best way to cook this grilled salmon is to cover it with foil before grilling to avoid the flesh becoming dry or getting overcooked.
It is not difficult to lose weight with grilled salmon, so make it with corn chowder now!
You should consider Jalapenos Poppers to pair with corn chowder because of its quick and easy way-making. With a few easy ways to keep jalapenos fresh, you can always have delicious jalapenos in your fridge to whip up a quick and easy side dish for your corn chowder.
Find in your kitchen all ingredients to make special Jalapenos Poppers. Then, stuff these ingredients and fry them, so easy, right?
Cream cheese and cheddar brings savory tastes, and it will be perfect with the fatty flavor of corn chowder. Furthermore, you can show off your creativity by serving Jalapenos Poppers in various ways.
BLT is a famous sandwich dish with three primary ingredients, including bacon, lettuce, and tomato.
As usual, I eat only BLT for my meal. But, everything changed when I had a chance to combine it with a hot corn chowder dish.
The salty taste of bacon and crispy toasted sandwich brought me an unforgettable feeling, so I started to eat that combination after that try.
Making a BLT is very easy, and I often choose it for my "hurry" breakfast and lunch. Plus, you can put a cooked egg into your BLT to make it more wonderful.
Would you like to go along with me to "visit" the Mexico area with amazing spicy foods in this section? Shrimp taco is a popular food of Mexico that brings this country's culture to many nations globally.
The taste of shrimp tacos is very complex, and it's not easy to describe the feeling when you eat it. I believe that you will have a lively dinner when enjoying this spicy, complicated dish with your creamy corn chowder.
You can marinade breaded shrimps with Cajun spice when making these tacos to explore new Mexican tastes.
This is a new recipe with stuffed peppers! You will begin with your peppers and roast beef, and of course, don't forget to cover it with any cheese you like. I have two suggestions for you: cheddar and provolone cheese.
Moreover, you can use shredded chicken or minced pork instead of beef as the main ingredient.
Try it! The smooth, lovely flavor of corn chowder with the robust taste of peppers will be an excellent combination
I often make cheesesteak stuffed peppers because I am a cheese lover! You can see this video to know more:
Load cornbread works well in many foods, including corn chowder. I have to say the warm feeling of this pairing will make you happy during the whole day, especially in the winter.
Cornbread is a famous food of South Americans and many people around the world, and there are many creations to cook a tasty loaded cornbread.
If you have not baked any cornbread before, it is better to apply the classic recipe to save the taste. Otherwise, you can add green peppers, a bit of spice to explore the new flavor.
Try to eat corn chowder with loaded cornbread, and you have to compliment this suggestion.
Get More Amazing Experience With Corn Chowder
These ideas are the best answers to the question of what to serve with corn chowder.
Corn chowder is a traditional American dish, and you can find this sweet food in most American meals. In addition, many people like to eat corn chowder for the whole year.
Corn chowder is excellent, healthy food, but it quickly makes people feel bored if just eating this only dish in meals. So, expanding your menu and experimenting with more flavors that can be eaten with corn chowder is always exciting.
I hope to bring more valuable information and ideas to you. Last but not least, if you have any different food which suits corn chowder, comment on it for me, I am glad to see your sharing!
Nutrition Facts
4 servings per container
---
Amount Per ServingCalories770
% Daily Value *
Total Fat 48.5g

74

%
Cholesterol 106mg

36

%
Sodium 1363mg

57

%
Potassium 1126mg

33

%
Total Carbohydrate 54.3g

18

%

Dietary Fiber 3.6g

12

%
Sugars 12.7g

Protein 32.6g

64

%
---
Calcium

773

%
Iron

3

%
Vitamin D

8

%
* The % Daily Value tells you how much a nutrient in a serving of food contributes to a daily diet. 2,000 calories a day is used for general nutrition advice.