Are you concerned with what to serve with gyros? Do you want a truly Greek meal or simply a delicious lunch? Whatever your appetite is, my top 21 side dishes of gyros will make you satisfied.
People often think of these classic Greek street treats as sandwiches stuffed with meat, tzatziki sauce, onions, tomatoes, feta cheese, and some greens. Gyros often serve as a quick meal. However, it is not impossible to make a fulfilling meal with them. Read on to get some wonderful ideas!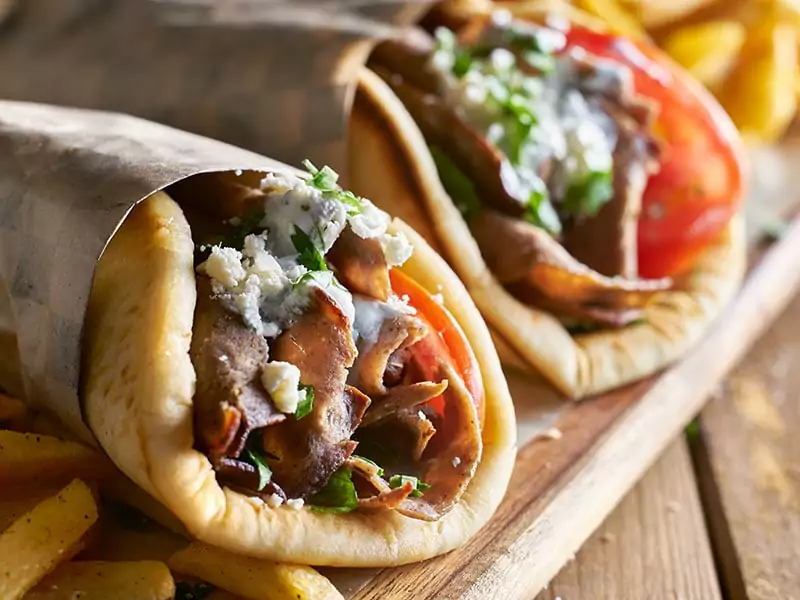 21 Side Dishes Of Gyros That You Shouldn't Miss
You can add more flavors to your gyro meal in so many ways. To complement the taste of this scrumptious food with "G" as the first letter, you can pair it with the following 21 side dishes.
Dipping Sauces To Serve With Gyros
Tzatziki Sauce
Skordalia (Greek Garlic and Potato Dip)
Roasted Red Pepper Hummus
Ful Medames (Egyptian Fava Beans)
Salads To Serve With Gyros
Greek Salad
Tabouleh (Tabouli Salad)
Grilled Zucchini Salad
Mediterranean Bean Salad
Roasted Broccoli Salad
Fried Dishes To Serve With Gyros
Greek Fries
Sweet Potatoes Fries
Fried Feta
Greek Fried Zucchini Chips
Greek Tomato Fritters
Soup And Stew To Serve With Gyros
Greek Tomato Orzo Soup
Bamies (Greek Okra Stew)
Other Tasty Dishes To Serve With Gyros
Gigantes (Greek Lima Beans)
Briam (Greek Roasted Vegetables)
Greek Lemon Potatoes
Drinks To Serve With Gyros
Furmint
Xinomavro
Continue reading to know how they match perfectly with gyros!
4 Amazing Dipping Sauce That Intensify Gyros's Flavor
You cannot enjoy gyros without dipping sauce! These 4 sauce recipes have their own distinctive flavors. Choose your favorites and dip your gyros in!
The tzatziki sauce is a must-try recipe when you want to find a greasy flavor to eat along with gyros. In fact, it is undoubtedly the most popular option, even in Mediterranean ideas for vegetarian diets. So there are plenty of recipes that you can choose from.
The two main ingredients are yogurt and cucumbers, plus some lemon juice, salt, olive oil, and some herbs. Tzatziki sauce does not have a strong taste. It is creamy and a bit salty.
Squeeze cucumbers and add in yogurt, olive oil, salt, and other ingredients. After that, you will have a healthy gyros side dish. Make sure you drain cucumber carefully to remove moisture. Chilled tzatziki tastes good, too. You can chill it for at most 2 days.
Don't hesitate to try a new and delicious Tzatziki sauce recipe now! Watch this video to know more:
If you are a garlic lover, you need to try skordalia, a delicious dish originating from Greek cuisine. Garlic, potatoes, olive oil, and citrus make a unique garlicky dipping sauce. It is less popular than tzatziki sauce, but it is tasty in its own way.
Mash potatoes using a spoon instead of a food processor. Prepare the garlic and almond paste and combine them with mashed potatoes and some olive oil. Mix them well and sprinkle green onion, parsley, and lemon zest.
To save time, especially when you make skordalia to serve with gyros for breakfast, make the dip the night before and refrigerate. Just do not add garnish.
Need another skordalia recipe? Get it in this excellent video!
Everyone will probably fall in love with this smooth, creamy, and slightly spicy hummus. You just need some red bell peppers, tahini, chickpeas, garlic, and lemon juice.
The red bell peppers add a slightly spicy flavor to the hummus. And it makes a perfect spicy companion with gyros.
This dish is particularly easy to make. Roast the peppers, make the creamy hummus with lemon juice, and tahini. Dip gyros into it and enjoy the most flavorful meal.
Considering how delicious this dish tastes, there's no need to concern yourself with whether hummus can go off. Even if you make this dish in a large batch, everyone will be so captivated with the hummus that they'll finish it within a blink of an eye.
Let's take a tour of Egypt! Ful medames is stewed fava beans added with cumin, olive oil, lemon, garlic sauce, and chili peppers. This is one of the most popular dishes in Egypt and is often served with pita breads such as gyros.
Ful medames are particularly simple to cook. Boil and mash fava beans. Make the sauce from hot peppers, garlic, and lemon juice. Pour the sauce on mashed fava beans, and add in toppings like chopped tomatoes, parsley, and hot peppers.
You may wonder whether this is a spicy dish because of the hot peppers. But no, it is just slightly spicy. Other than Egypt, Ful Medames is also a staple dish to try in Sudan. In this country, Ful Medames is a breakfast dish that usually goes with bread and boiled eggs.
5 Salads That Add More Green To Your Gyro Meals
Salads are healthy and tasty. A meal without salads is not a Greek meal. Try to cook these vegetable dishes and serve them with gyros!
This is a very popular choice when it comes to Greek-themed starters in general or gyro side dishes. Greek salad with gyros makes a tasty and refreshing Greek-style meal. It is a recipe that every fan of gyros must know.
A Greek salad is made of cucumbers, tomatoes, onions, green bell peppers, and feta cheese. These 7 simple ingredients mixed together creates a tangy and flavourful taste. It is especially suitable for summer dishes.
It takes only two steps and around 15 minutes to make a Greek salad. If you are a beginner in Greek cuisine, you will love this recipe.
Watch this video to know more:
If you love Mediterranean dishes, you must try to make tabouleh and eat along with your favorite gyros.
What is special about tabouleh is that it is very refreshing and healthy. Bulgur and parsley are the two most important ingredients that make it so tasty and special. No wonder why tabouleh is such a beloved food in Iraqi, Lebanese, and many other Middle Eastern countries.
To make an authentic tabbouleh dish, choose the top fine grain bulgur. You should not cook it as rice, just soak it in water.
This is another Mediterranean-style dish for summertime. Although zucchinis are available in many varieties, not many people know this. In fact, zucchini is often underrated. However, its high content of antioxidants will benefit your health. It also tastes delicious, especially when being grilled.
Even though zucchini is sometimes considered flavorless, it tastes good when combined with the right ingredients. In grilled zucchini salads, you will enjoy a distinctive salty taste from grilled zucchini.
Do you love beans and gyros? If you do, this colorful salad will not disappoint you. The crunchy taste of cucumber, bell peppers, and various types of beans will definitely give you an amazing time.
The dressing, made of extra virgin oil, red wine vinegar, french garlic, and some Italian herbs, is a perfect combination with the beans and vegetables.
This salad is well-suited for bringing outside since it can be refrigerated for a few days. In case you need a quick but healthy meal at work, Mediterranean bean salad with gyros is a great option.
Broccoli is everyone's favorite vegetable to prepare side dishes for any meal. It is so green and healthy.
And gyros itself lack some green. So, roasted broccoli salad is one of the best complements. This dish contains both raw broccoli and roasted broccoli, plus some almonds, cranberries, and lemon slices.
A crunchy, crispy, sweet, and tangy salad? Why not? It is such a beautiful and tasty combination. What else could you ask for?
If you are a fan of broccoli and gyros, give it a try! I am sure that you will love it as much as I am.
5 Crispy Fried Dishes That Are Best Served With Gyros
Do you love fries? If you do, you should think about serving these 5 fries with gyros. The crispy flavor is the one that gyros lack. Make it up with these dishes!
We all know French fries. But do you know about Greek fries? This dish is loaded with a handful of familiar ingredients. They are potatoes, tomatoes, feta cheese, some herbs, and of course, olive oil.
Like other fries, Greek fries taste crispy outside and soft inside, which is perfect for serving with gyros and dipping sauce, such as tzatziki sauce.
Slice the potatoes, soak, season, bake, and add topping to them. The complete Greek fries dish has a tangy, salty, and spicy flavor.
Check out this new and amazing Greek fries recipe today!
Another Greek fries to go with gyros is sweet potato fries. If you don't like the salty and spicy taste of Greek fries, you can choose this one. It is both sweet and salty, creating a balanced flavor in every bite.
You need only a few ingredients, namely sweet potatoes, olive oil, cornstarch, sea salt, and some seasonings of your choice.
The procedure cannot be easier. Cut the potatoes, season them, and bake until they are crispy. And enjoy them with gyros and tzatziki sauce.
Have you tried feta cheese yet? If not, do you ever wonder about the taste of fate cheese or its texture? Fried feta is a quick and tasty side dish for gyros! And you cannot resist its crunchiness and salty taste.
In fact, feta cheese is different from other types of cheese. It will not melt when being heated. Because of this, fried feta is both crispy and soft, which is completely crumbly. Olive oil, lemon, and peppers make the dish taste sweet, salty, and lemony.
Fried feta, gyros, and tzatziki sauce perfectly serve as a summer dish for you. You only need around 10 minutes to cook. Don't hesitate to give it a try!
This is a very crispy and crunchy dish that is popularly served as an appetizer for Greek meals, and gyros are no exception. You will love each zucchini strip that you taste.
To make Greek fried zucchini chips, you just need to cut this fruit that begins with Z into strips, salt them, coat them with flour and fry them.
Don't forget to serve your gyros meal with a glass of wine. And eat Greek fried zucchini chips while they are still hot. Otherwise, they are not crispy anymore.
You will imagine a summertime in Greece while eating domatokeftedes. This dish is crispy and very delicious. Surprisingly, it requires just a few ingredients. The tasty flavor is created from a combination of ripe tomatoes, herbs such as mint and parsley, and feta cheese.
Domatokeftedes come in golden brown crispy pieces. To make the best domatokeftedes, choose the freshest tomatoes. Do not choose those that are neither too juicy nor not juicy at all.
Gyros, Domatokeftedes, and tzatziki sauce make a fulfilling summer Greek meal.
2 Mouthwatering Soup And Stew To Eat Along With Gyros
If you eat gyros on a cold night, some soup and stew will warm you up. Consider these recipes to get some ideas for the night to come.
I haven't suggested you a soup recipe, have I? If you want a hot dish to eat with gyros on a cold night, this Greek tomato orzo soup will warm your stomach, bringing you a cozy night.
You just need several ingredients to cook this mouthwatering soup. They are olive oil, onion, orzo, tomatoes, and some seasonings.
This soup is also extremely easy to make. Sauté onion with olive oil, add orzo, and then tomatoes and seasonings. Simmer until orzo is tender and add toppings. You can also freeze this orzo soup if you don't want to serve it immediately.
If you want a healthy and nutritious dish to serve with gyros, try bamies. This Greek dish is an excellent choice. Okra, potatoes, and tomatoes are the main ingredients.
Heat the potatoes and other vegetables until they become tender, add in tomato paste, and sauté. Next, pour wine and add tomatoes, okra, salt, peppers, and other ingredients.
You may worry about the slimy texture of okra. Luckily, there is a way to remove the sliminess. After cutting off the stems, soak okra in vinegar for 30 minutes. Then fry it until you see some brown areas.
Gyros Tastes Much Better Thanks To These 3 Dishes
I have another 3 Greek dishes for you to serve with gyros. If you haven't found your favorite side dishes, you will probably find them here.
This Mediterranean dish for winter is super tasty and easy to make. It also pairs well with gyros. Gigantes are limas beans, they are called this way because of their large size, among other types of beans.
The creaminess of limas beans combined with the tanginess of tomato sauce creates a distinctive sweet flavor. Other ingredients such as olive oil, garlic, onion, and oregano add more flavor to the dish.
You need just a few steps for this dish. Boil and drain limas beans, bake them with other ingredients, and garnish with some parsley.
Have you ever heard of briam? It is a Greek dish made from roasted vegetables, mostly zucchini, potatoes, tomatoes, red onions, and garnished with fresh garlic, oregano, and parsley.
Cut the vegetables into thin slices. Arrange them around a baking pan, pour diced tomatoes in the middle, and roast them. Then, you will have a delicious roasted vegetable dish to serve with gyros.
Briam is also easy to store. You can refrigerate and freeze them for later uses. Given how easy and convenient this dish is, you should try it now!
If you want a lemony flavor for your gyros meal, I suggest you try Greek lemon potatoes. It is a traditional Greek dish that serves as a perfect side dish for everything, including gyros.
You should choose Maris Piper. It is the most starchy variety and will make the dish much more delicious.
What is special about Greek lemon potatoes is its sauce, made from lemon juice, garlic, oregano, and semolina. Its special sour taste will make every bite an unforgettable one.
If you want to use mashed potatoes to make this dish, check out this recipe!
2 Drinks That Will Make You Tipsy With Gyros
A Greek meal cannot be completed without drinks, does it? I will introduce you to 2 drinks that you should definitely consider serving with gyros. Believe me! They will make your experience with gyros even more amazing.
20. Furmint
Furmint is a white dry originated from Hungary. When drinking it, you will have an aromatic and spicy taste, like peach, passion fruit, and pineapple combined together.
Cinnamon, nutmeg, and clove in furmint perfectly complement the flavor of herbs like oregano and rosemary, creating a flavourful taste.
This wine is best served with spicy lamb and chicken gyros, and fresh tzatziki sauce. I think this meal is best suited for a cozy dinner.
21. Xinomavro
If you go to a Greek restaurant and order gyros, the waiter would suggest you serve them with this traditional Greek red wine – xinomavro.
It has a spicy, smokey, and earthy flavor that intensifies the delicious taste of gyros, especially the meat.
Choose wine made from this tasty food with "X" as the first letter if you want a true Greek experience!
What Are Your Favorite Side Dishes Of Gyros?
Choosing what to serve with gyros is no more a difficult task. You have a lot of wonderful options to choose from. From now on, don't worry about not having the appropriate flavor to eat alongside gyros.
No matter which type of gyros you want to eat, you will be able to find a perfect companion. From salads, sauces to drinks, you can freely pick your favorite vegetables and Greek wines to make a proper Greek meal.
Have you decided what to serve with gyros tonight? Do you have other side dish suggestions? If you tried these recipes, how did they taste? I am very curious about your experience. Please let me know your opinions in the comment section.
Nutrition Facts
5 servings per container
---
Amount Per ServingCalories213
% Daily Value *
Total Fat 16.9g

25

%
Cholesterol 27mg

9

%
Sodium 492mg

21

%
Potassium 416mg

12

%
Total Carbohydrate 11.1g

4

%

Dietary Fiber 2.8g

8

%
Sugars 6.3g

Protein 6.1g

12

%
---
* The % Daily Value tells you how much a nutrient in a serving of food contributes to a daily diet. 2,000 calories a day is used for general nutrition advice.