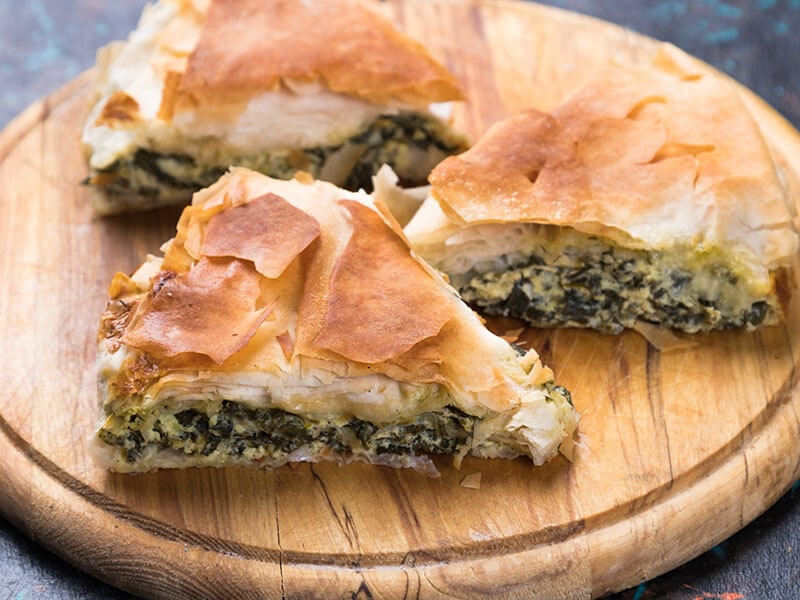 According to legend, Greek street food was first made and sold to the poor. However, as urbanization progressed, wealthier classes still desired to devour the delicious local snacks from food trucks, street pushcarts, and the neighborhood market.
Greece is known to be a hub for almost every well-versed traveler. Although Greek street food is cheaper than before, the quality of these delicacies remains the same. So no need to invest too much in eating costs; the street snacks below will keep you full and satisfied!
If you are ready to learn more about the unique cuisine of this country, don't waste another second and take a look at the handy food list below!
Meat and Fish-Based Dishes
Let's start this article strong with these meat-based and fish-based dishes. As you already know, protein is one of the prominent nutrients to eat every day. So if you need something to fill you up and keep your body energized, here are the most notable ones:
1. Souvlaki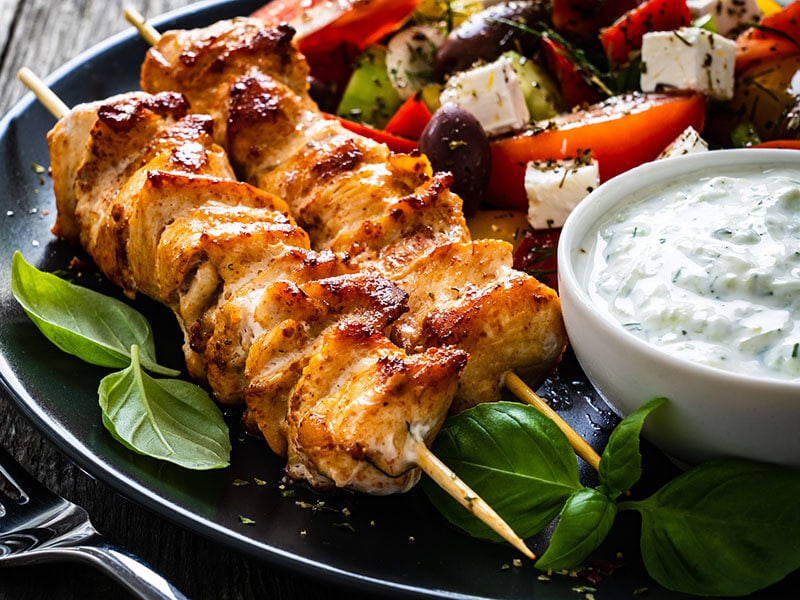 Souvlakia, also known as Kalamaki, are little chunks of pork threaded on a small wooden skewer (the "Souvla"). Some vendors use chicken, beef, and lamb as alternatives.
This Greek fast food is typically eaten straight off the skewer while hot. Some will serve it in Pitta bread with sliced tomatoes, onions, lemon sauce, and a side of French fries.
Although the origin of this dish is lost in the mists of time, Souvlaki has proven to be one of the all-time favorite Greek dishes. The first street vendors selling this flavorful dish were in Constantinople. Nowadays, you can easily find it anywhere in Greece.
Trace the footsteps of these avid travelers to know more about Souvlaki!
2. Dolmades
(Stuffed Grape Leaves)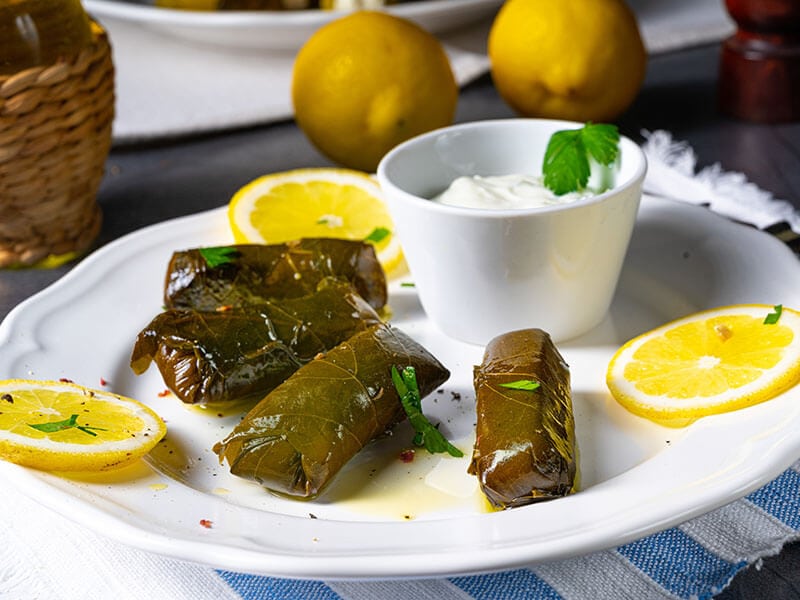 While the origin of Dolmades is still under debate, most Middle Easterners believe this dish has been around since the 17th century. Nowadays, Dolmades is a famous street snack that steals many tourists' hearts.
The name of this dish derives from the Turkish word "dolma" (meaning "something stuffed"). This name perfectly describes how Middle Easterners use almost every type of veggie to make this stuffed dish.
In Greece, the locals often use grape or vine leaves to make Dolmades and serve it with Greek yogurt and a bit of lemon juice.
This dish is rich in fiber, vitamin K and vitamin A, making it one of the most delectable yet nutritious dishes in this country. A trip to Greece won't be complete without these yummy Dolmades, so be sure to grab some while you can!
3. Kreatopita
(Meat Pie)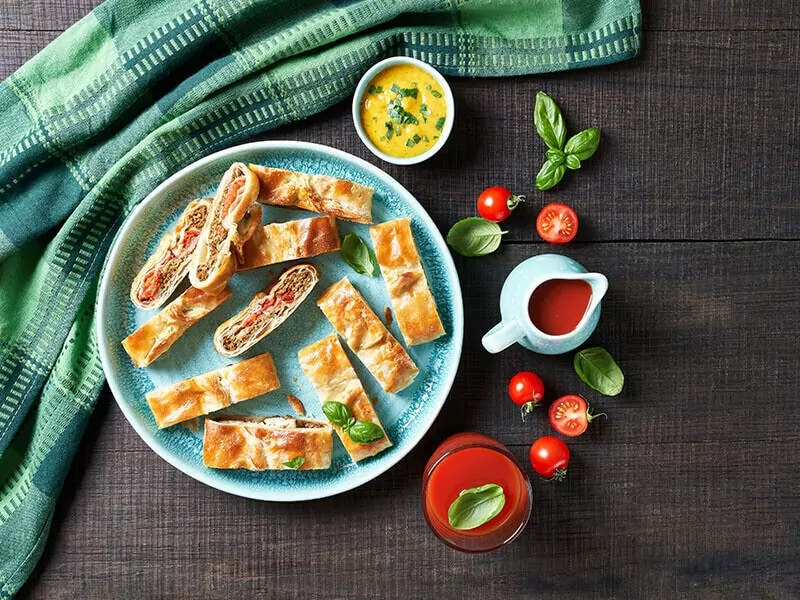 With a flaky phyllo layer and delicious ground meat, onions, and feta cheese filling, this traditional Greek pie is a dish that you cannot skip.
The locals often serve this savory pie in the Epirus region instead of the national dessert pie during Greek New Year.
Depending on the location, Kreatopita comes in various shapes and fillings. Nevertheless, whatever variety you choose, they may all be eaten as a main course, snack, or quick street food.
4. Kokoretsi
(Lamb or Goat Intestines Wrapped Around Offal)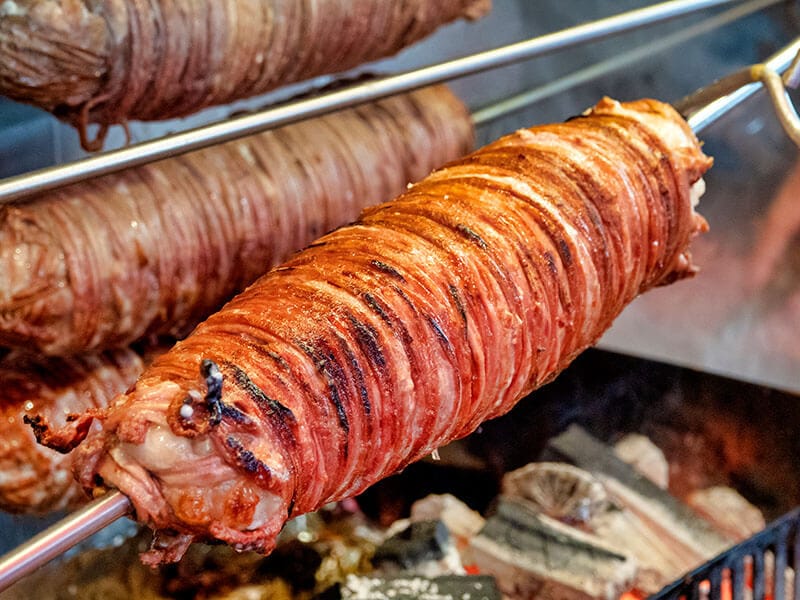 The next dish I want to introduce you to is one of the most sought-after Greek Easter delicacies: Kokoresti! This dish is usually saved for a special occasion. However, you can also find it in some Greek taverns year-round.
This dish consists of lamb or goat intestines wrapped around seasoned offal. The local vendors will stick the intestines on a skewer and cook them on an open fire. Some said they use white apple cider vinegar to remove the odd smell of the offals.
The idea of grilled intestines might make some foreign travelers shiver, but in the end, its unbelievably delicious taste changed their minds. Plus, this dish is an excellent source of nutrients and protein.
5. Gyros
(Meat Sandwich or Wrap)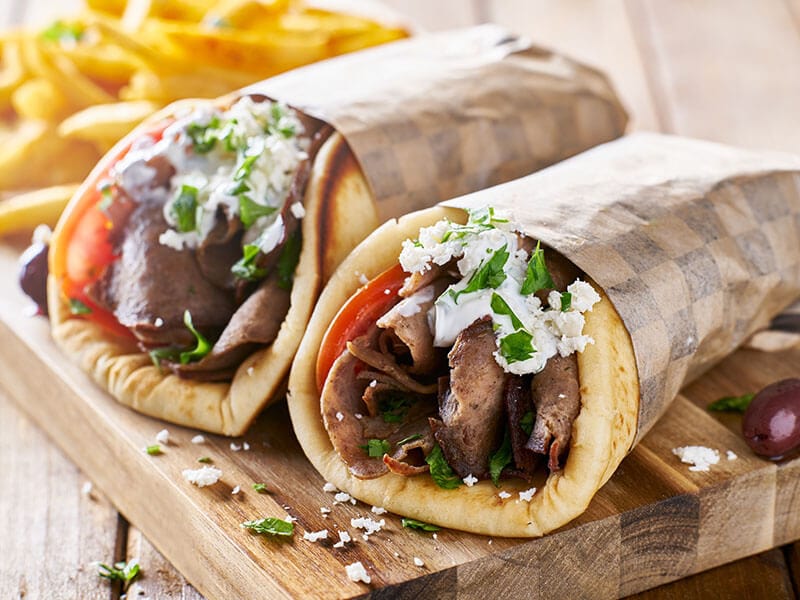 Gyro is considered the poster girl of Greek street foods. This dish arrived in Greece after the immigration of Armenians from Asia Minor (present-day Turkey). Its popularity increased rapidly from that point on, and it became a global hit.
While other countries prefer beef and lamb, Greek people are very loyal to pork or chicken. It's traditionally served in a lightly toasted pitta with sliced tomatoes, chopped onions, and topped with tzatziki sauce.
This dish is so well-loved that there is even a National Gyros Day. This day is celebrated on the first day of September every year.
6. Biftekia – Greek Burgers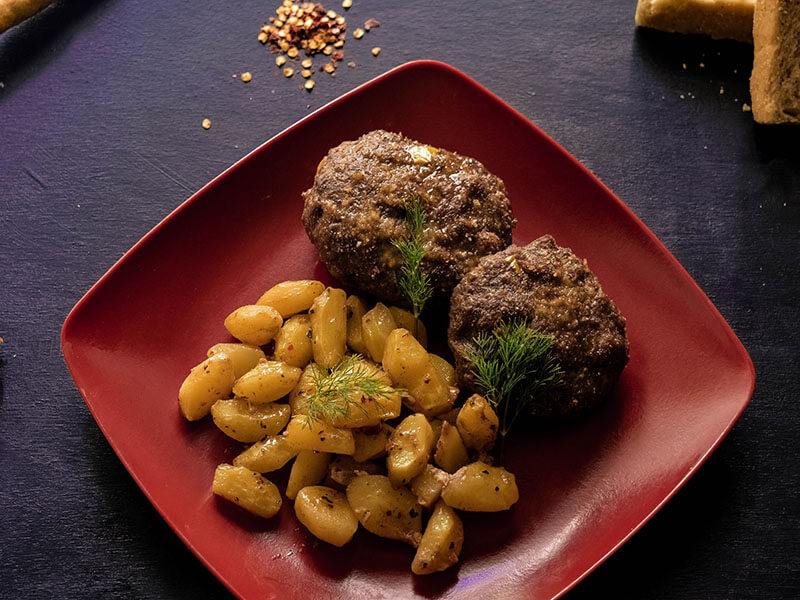 Although burger is a famous American dish, the Greeks couldn't get enough of this tasty dish. So they invented Biftekia, an authentic Greek version of the worldwide favorite American burger.
Biftekia, unlike its American cousin, calls for aromatic herbs like mint and parsley. These herbs are a must since they make the flavor of the meat patties one of a kind.
As one might imagine, these flavorful grilled patties are usually served on buns with fries. The locals love to enjoy this dish with Tzatziki (Greek garlic yogurt dip), boiled Horta (greens), or salad.
7. Skepasti
(Greek-Style Quesadilla)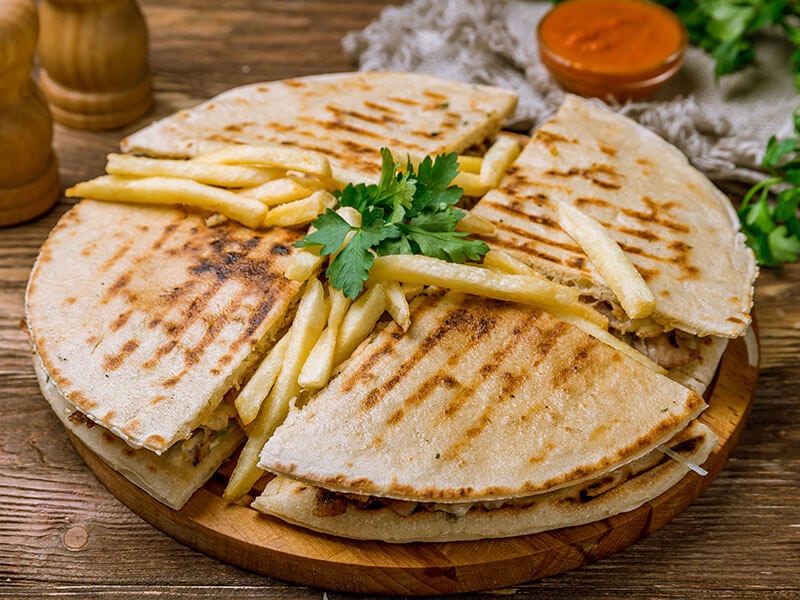 Here is the Greek take on the worldwide famous Mexican street food – Quesadilla. This distinctive Greek sandwich consists of a grilled Pita stuffed with meat, vegetables, sauces, and cheese.
Although pork and chicken are popular fillings, you can use your favorite kind of meat. Place your fillings of choice between 2 Pitta bread and cook until the cheese inside melts completely. And done, you got yourself a super hearty and delicious meal!
Skepasti is one of the most well-loved street snacks in this country. On the other hand, it also makes an excellent lunch or dinner.
8. Greek Hot Dog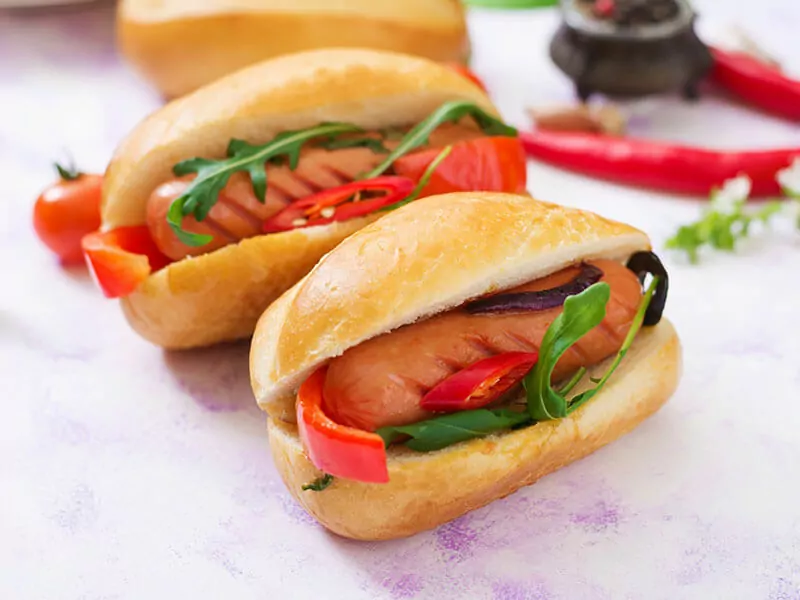 This is another fascinating hot dog invention for all the hot dog lovers out there! Greek Hot Dogs are beef hot dogs wrapped in bread with Tzatziki sauce and vegetables, giving them the appearance of Gyros.
You can find these tasty hot dogs around every street in this little Mediterranean country. This may not be a particularly adventurous dish, but who can say no to an international classic?
If you plan to go to Athens, you should check out Johnnie hotdog. According to the locals, this franchise serves the best hot dogs in the capital city of Greece.
9. Fish In A Cone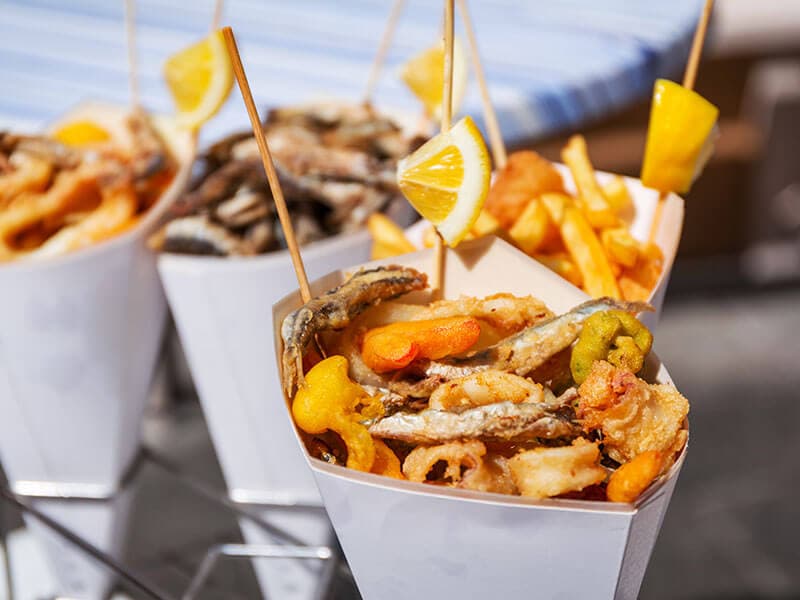 The moment you set foot on Greek land, you will understand why this country has so many fish and other seafood embraced by its culinary culture. Being surrounded by the sea, fresh fish can be found practically anywhere, even in the heart of a bustling city.
"Fish in the Cone" is a relatively new addition to Athens' street food options, but its novelty doesn't stop it from becoming a huge hit. This on-the-go seafood includes fresh fried fish in a paper cone in a true "fish and chips" form.
This tasty snack usually comes with half a lemon so remember to drizzle its juice on the fish to make it extra succulent. You can eat the fish whole, no need to debone it.
Even though it's a takeaway, the quality of the food is no joke. This dish is also an excellent alternative for those who want to stay away from meat for a while.
Veggie-Based Dishes 
If you're feeling snacky but still want to align your health goals, here are some healthy veggie-based options for you. Take a look and note down your favorite dishes!
(Greek Eggplant Casserole)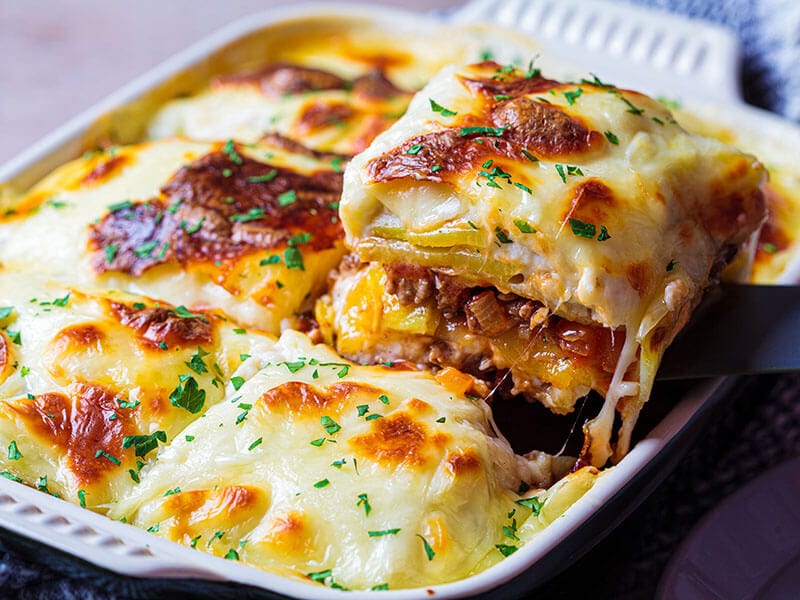 Despite being called street food, Moussaka is also a wonderful dish for a family occasion. This dish is a traditional Greek casserole with a layer of pan-fried eggplants, a layer of ground lamb, onions, garlic, spices, and a layer of béchamel sauce.
This recipe was developed by Nikolaos Tselementes, a French-trained Greek chef, in the 1920s. Greek Moussaka is also the most well-known version in Europe and the Americas.
This dish is so popular that every Greek family will have their own signature version of Moussaka. Overall, it is indeed the ultimate comfort food of this country.
11. Spanakopita
(Greek Spinach Pie)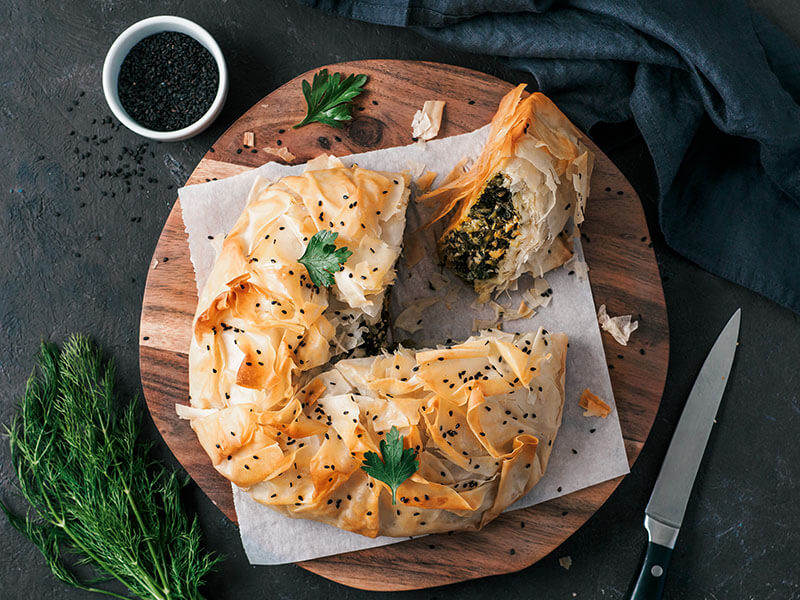 If I had to rank the most outstanding food inventions in Greece, Spanakopita would be at the top. This Greek savory spinach pie is juicy, exotic tasting; definitely a crowd-pleaser!
The name of this dish is also used in southern Greece to refer to cheese variations. During religious fasts in Greece, people also make a version of this dish without cheese and eggs.
Spanakopita may be found on the menus of many restaurants and hotels abroad. Plus, it's a well-loved dish in Cyprus. In other words, you don't need to come to Greece to try this dish. However, nothing can beat the original taste of the authentic Greek Spanakopita.
12. Horiatiki
(Greek Village Salad)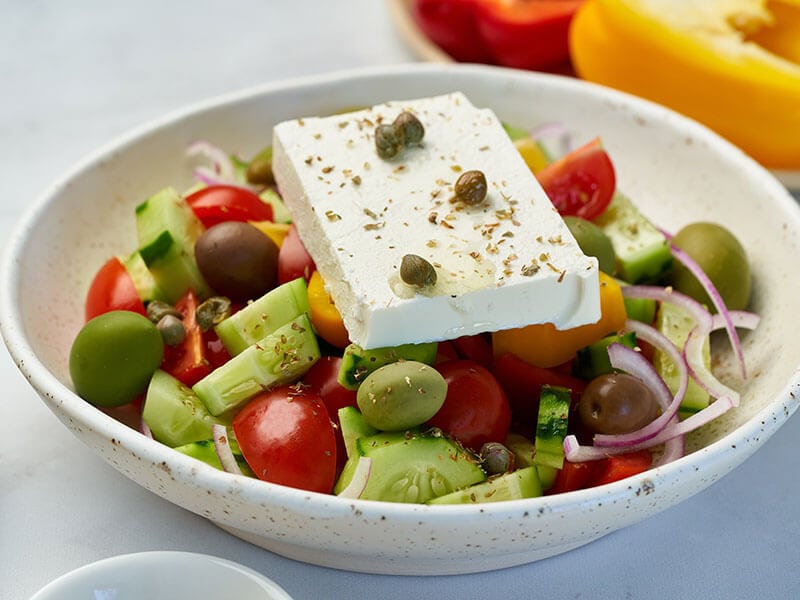 It will be a massive loss if you don't try this classic Greek feta salad during your trip. Horiatiki is the best illustration of how the Greeks can take the most basic ingredients and turn them into a mouthwatering delicacy with little effort.
This salad is one of the cornerstones of Greek cuisine, and it's both tasty and easy to make. Because the name of this dish derives from the Greek word for "villager", most foreigners call it "village salad". Horiatiki is also typically thought of as a farmer's breakfast or lunch.
A plate of colorful and aromatic Horiatiki salad will freshen up your entire trip.
13. Revithokeftedes
(Chickpea Fritters)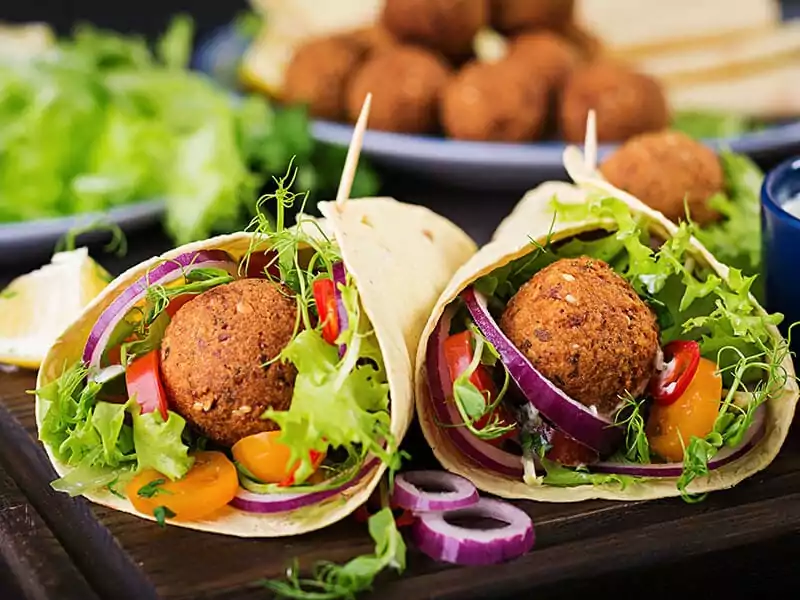 Fluffy on the inside and crunchy on the outside, Revithokeftedes is a super family-friendly vegetarian dish from Greece that even kids can't resist.
Though Arabs may have carried chickpeas to Greece during the Ottoman era, the Cycladic island of Sifnos is most likely the current home of chickpeas and Greek Falafel.
Since meat is scarce, the Sifnos locals' diet often includes chickpeas and other veggies on this tiny and impoverished island. Therefore, authentic Revithokeftedes only contain chickpeas, potatoes, and herbs.
These deep-fried chickpea balls are not only flavorful but also healthy. Chickpeas are high in protein and fiber, which are suitable for the growth and development of your body. So if you want your kids to grow up big and strong, make sure to order some Falafel for them every now and then.
14. Dakos
(Cretan Salad)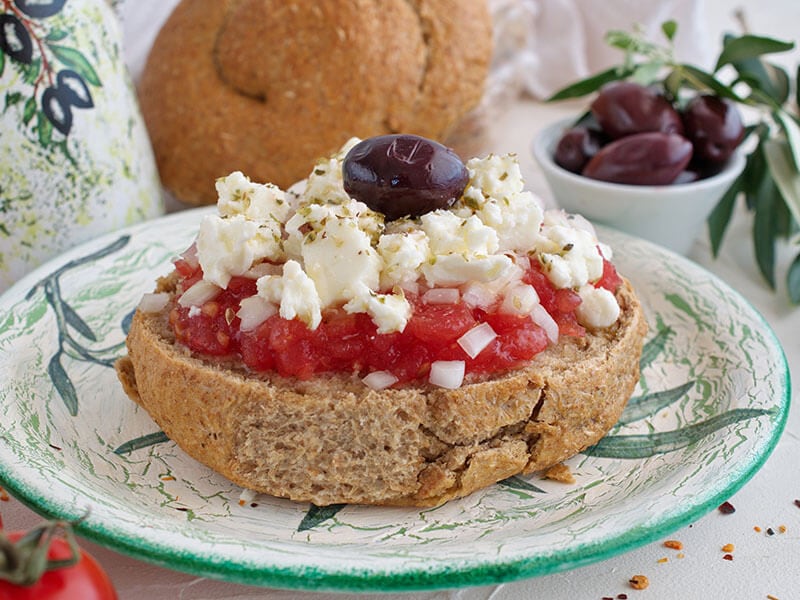 Dakos is a classic Cretan meze meal made of dried bread, diced tomatoes, crumbled Cretan soft cheese, and olive oil. It has a simple yet unforgettable taste that can surely satisfy your craving.
Dakos, also known as Koukouvagia, originated at a pub in Rethymnon in the 1950s. At first, Dakos were served as a drinking snack. Now, this dish also makes an excellent light lunch or an appetizer, similar to the Italian Bruschetta.
15. Kolokithokeftedes
(Greek Zucchini Fritters)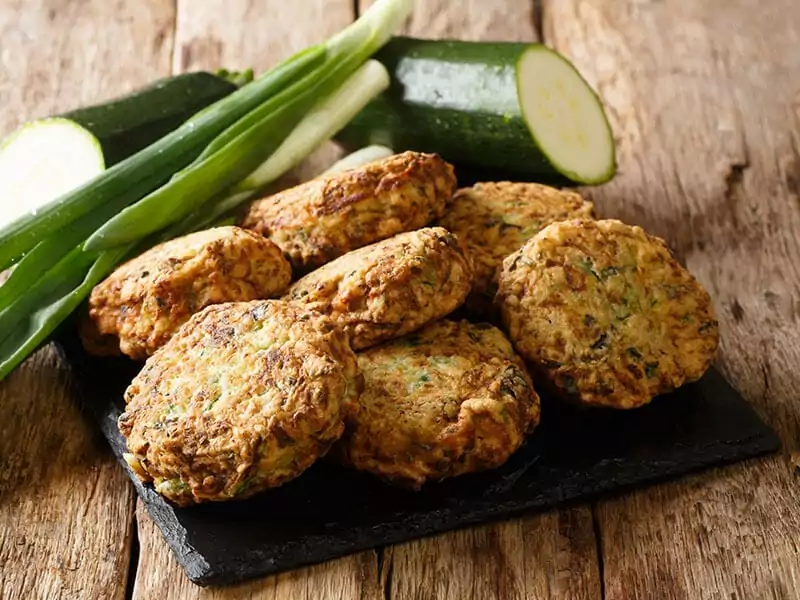 Kolokithokefte is a national hit that originated on the island of Crete and is now available throughout Greece. These tasty fritters make an excellent dish to pair with a refreshing Greek drink on a night out.
The term "keftedes" means meatballs, while "kolokithia" means zucchini. As a result, the direct translation of the full name Kolokithokeftedes is "zucchini meatballs".
To make this dish, the locals combine fried zucchinis, feta cheese, and a sprinkling of fresh herbs like dill and mint. The veggie combo tastes just like summer in Greece!
Carb Dishes
Need to get ready for a self-guided walking trip tomorrow? These Greek carb options will give you the energy your body requires. Give this section a read and search for these convenient and tasty snacks during your trip to this country.
16. Koulouri or Simit
(Greek Sesame Bagel)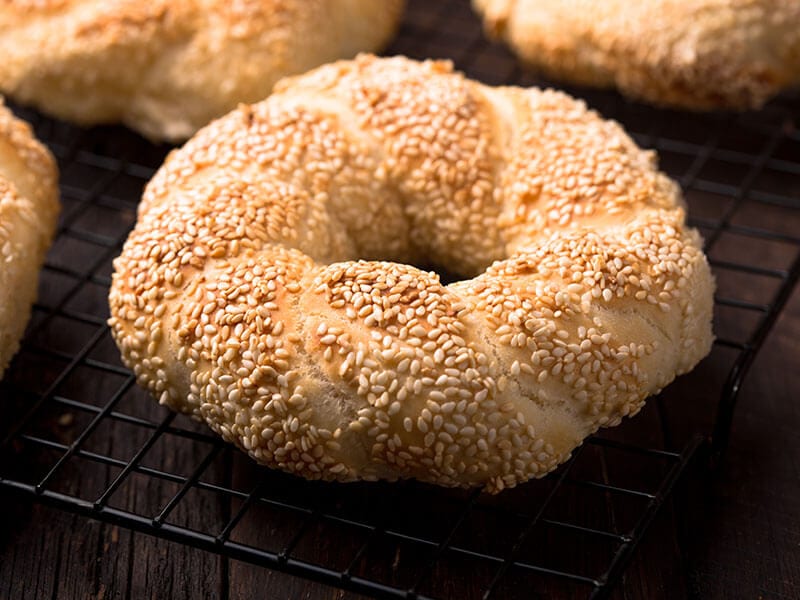 According to archival records, this tasty bagel has been made in Istanbul since 1525. Nowadays, Koulouri and its variations have become one of the go-to snacks for people across the Ottoman Empire.
Koulouri is available everywhere, from street vendors to bakeries. This well-known Greek side dish can be paired with sweet or savory fillings depending on your preference.   
Koulouri is undoubtedly an indispensable tradition in this country. Children eat it during school breaks, and adults consume it on their way or after work; no one can resist this fluffy yet crispy bagel!
17. Pitta Bread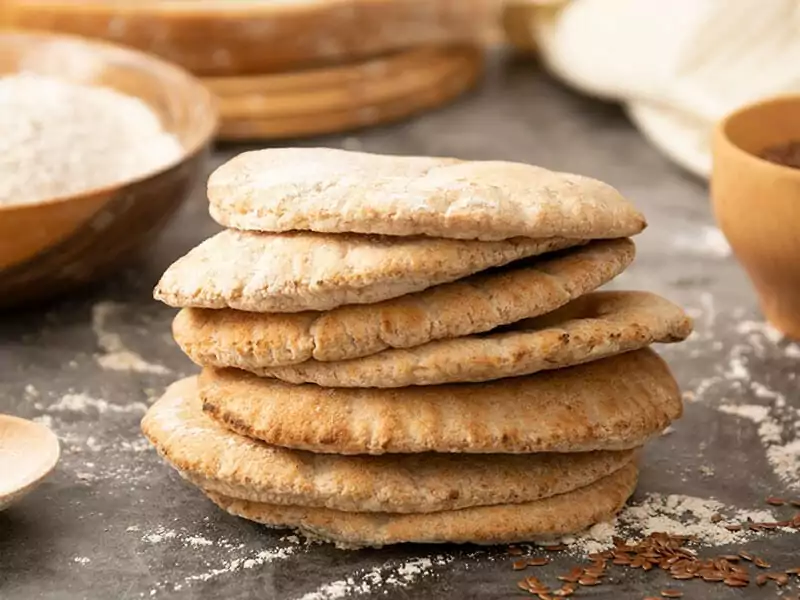 With its roots in the Middle East, Pitta or Pita is indeed a staple food that you must try at least once. This classic Greek bread might look simple at first, but it can be an effortless touch to transform your lunches and dinners entirely.
When people talk about Pitta bread in Greece, you usually think about the thick, pocketless version. However, there is also a thinner version called Araviki Pita, also known as Khubz-style Pita.
This beloved delicacy in Greek cuisine is a perfect pair for Souvlaki (the grilled meat dish I mentioned earlier). You can also eat it with olive oil, salads, roasted meat, or by itself.
Pitta bread has its origins in Middle Eastern ancient flatbreads. Legend has it that this type of flatbread was made and eaten 4000 years ago. Despite that, it is still a kitchen mainstay in many countries across Europe.
18. Pinerli or Peinirli
(Boat Shaped Greek Pizza)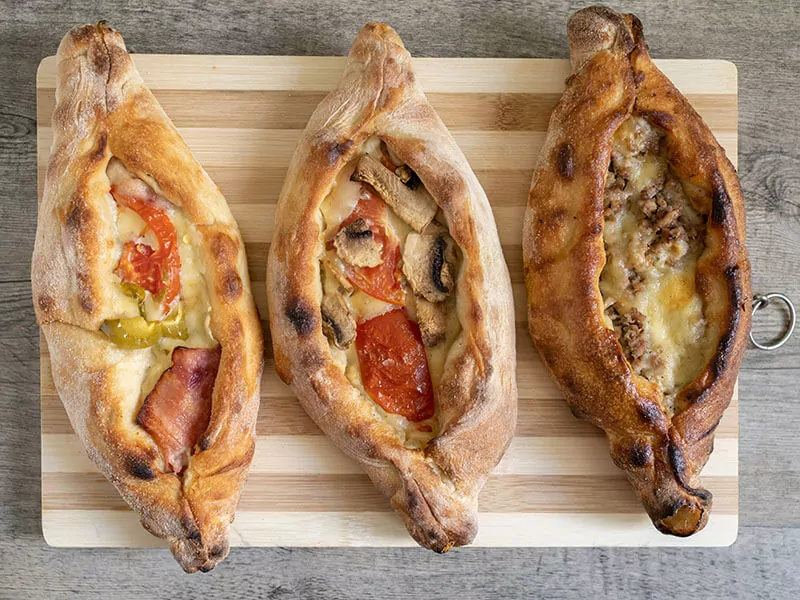 Now, this is magnificent! Pinerli, or Peinirli is a classic boat-shaped pizza brought by Greeks who resided near the Black Sea over 100 years ago. This traditional Greek pizza recipe is a twist on the renowned Italian pizza or calzone.
This dish has two types; one has cheese covering the entire surface of the filling, and one only contains cheese as part of the filling (usually one-third).
Pinerli is traditionally made with no tomato sauce and Kasseri (a salty, stringy, and soft-textured Greek cheese). Like a regular pizza, there is a wide variety of toppings that you can put on top to make it even more mouthwatering. So go ahead and be creative!
Cheese
Let's be honest; cheese makes everything better! Therefore, I'm here to satisfy all of the cheese fans out there with a whole section for snacks made with tasty Greek cheese. Let's dive right in!
19. Tiropita
(Cheese Pie With Feta)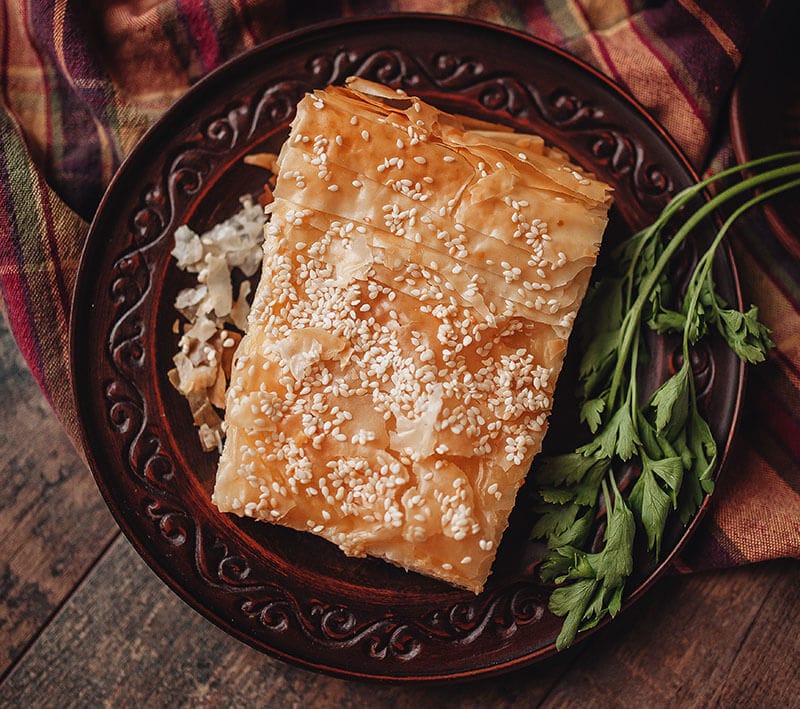 Want to find a lip-smacking snack to restore your energy? Tiropita is here to save your day! This Greek pastry is made out of a creamy cheese filling surrounded by blankets of crispy phyllo. Try it, and I'm sure it won't be a let-down.
Developed by the Turks and migrated to Anatolia in the late Middle Ages afterward, Tiropita can be served as an individual pan-sized pie or rolled into an individual triangular serving.
This dish is quite similar to the Spanakopita I listed above. Although Tiropita might not be as popular as its cousin, this savory cheese-based pie has a lot of local fans.
20. Saganaki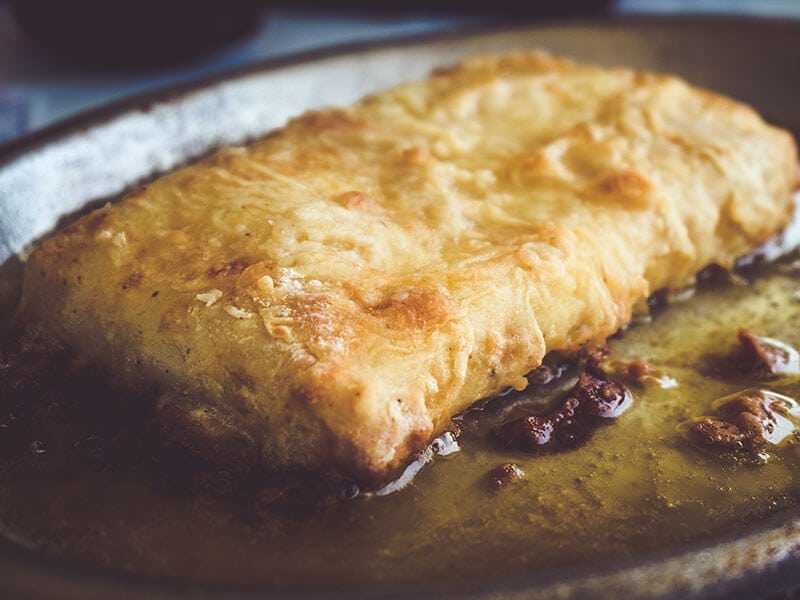 Who can say no to fried cheese? In Greece, people love to eat Saganaki cheese, which is a local cheese made with cow milk, goat milk, sheep milk, or a combination. Once fried, it has a crunchy exterior and a warm, melty center.
The Parthenon restaurant in Chicago's Greektown is said to have invented flaming Saganaki in 1968. This cheese is usually available in certain stores across the country, so be sure to grab some while you can.
21. Kalitsounia
(Cheese Pie)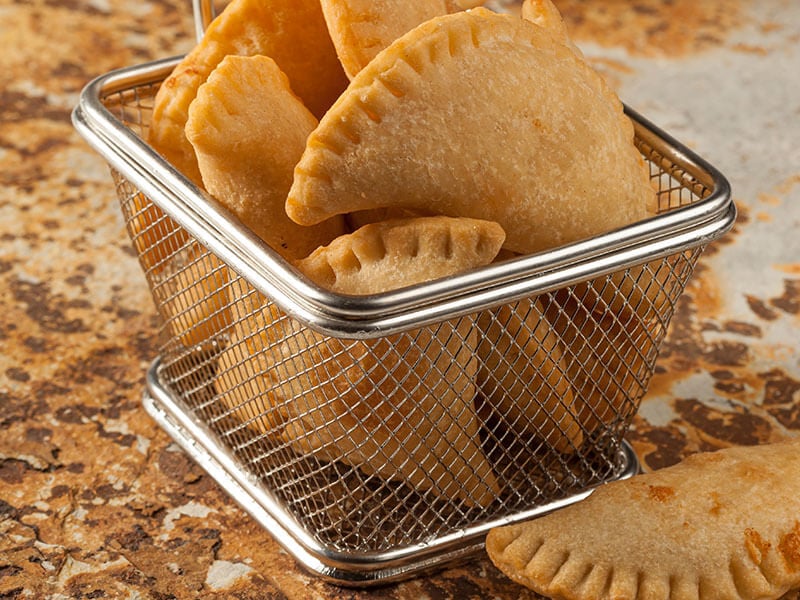 Sadly, this will be the last option in this article for cheese lovers. Kalitsounia, a Greek cheese pie, is incredibly soft and super addictive.
These delectable small cheesy pastries used to be a Christmas tradition from the Greek island of Crete, but now it is available all year round.
Mizithra, a fresh cheese made from cow's milk, is used as a filling for this dish. However, some locals use Italian mascarpone or ricotta as substitutes. Besides cheese, people also add cinnamon for the sweet version of Kalitsounia and spinach for savory pies.
Sweet Snacks
Besides the tasty savory snacks, this country also offers tons of delicious Greek sweet snacks. So if you're in the mood for something sugary, take a look at these guilty pleasures below.
22. Loukoumades or Lokma
(Greek Donuts With Honey And Walnuts)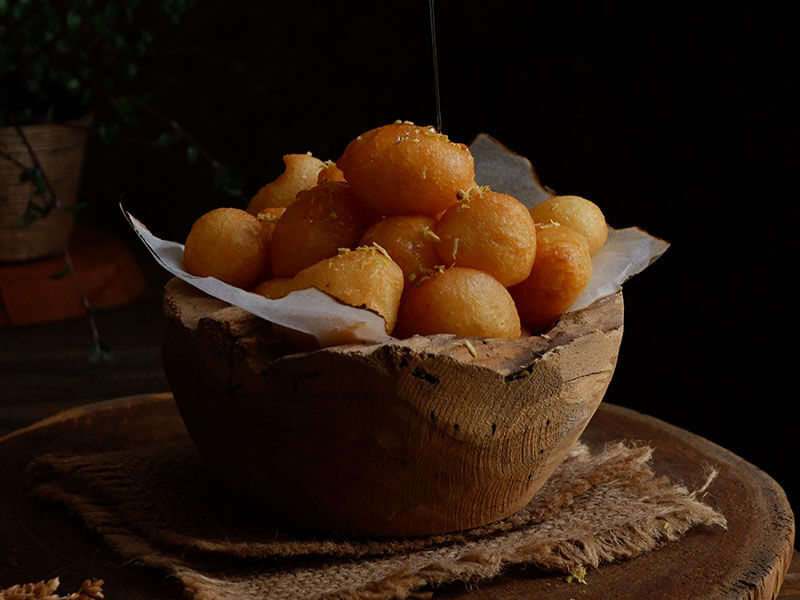 Loukoumades are fluffy sweet donuts that are deep-fried to crispy and golden perfection. These Greek donuts will be soaked with honey and garnished with chopped nuts to make them even more irresistible.
This dish made its first appearance in cookery books in the 13th century. Even the legendary One Thousand and One Nights has once mentioned this wonderful after-dinner treat. The Greek name of this dish is derived from the Arabic word luqma, which means "morsel" or "mouthful".
23. Bougatsa
(Greek Custard Pie With Phyllo)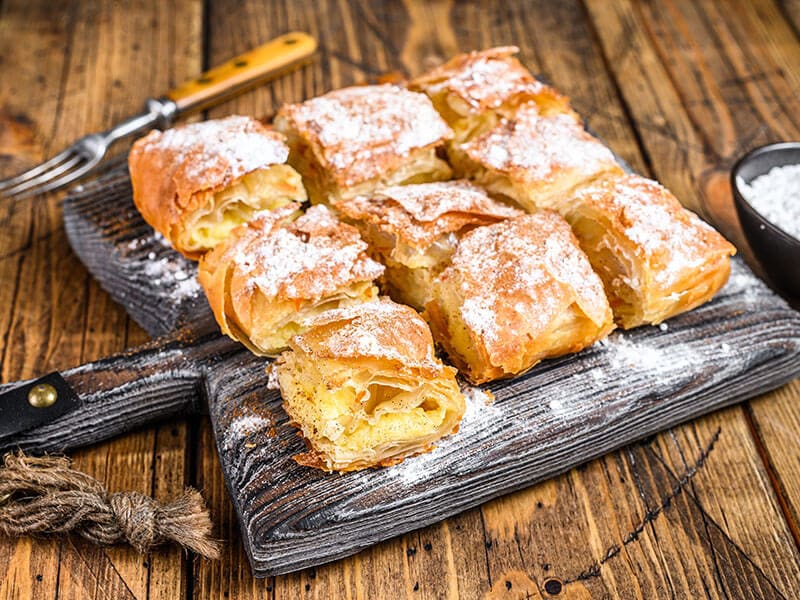 Another traditional Greek dish that should be on your bucket list is Bougatsa. Although this is a typical dessert, the locals also enjoy this delectable treat as a daily meal with a cup of coffee to complete their morning ritual.
Originated in the city of Serres, this signature Mediterranean sweet treat can now be found almost everywhere in Greece. Bougatsa has always been an essential part of Greek cuisine despite non-stop changes for years.
Bougatsa is also a versatile player with various sweet or savory fillings like semolina, cheese, and minced meat. With just a single bite, you will understand why this dish has become a must-have for foodie travelers.
24. Baklava
(Layered Pastry)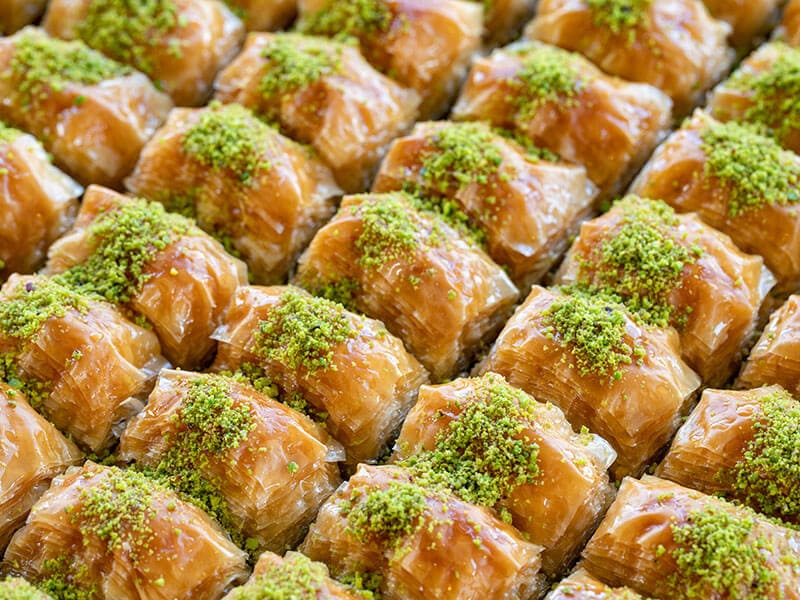 There are numerous theories about the history of Baklava. Most historians believe it originated in ancient Greece, where the Gastrin (a dessert that looks like Baklava) was created. However, some might argue that this dish originated in Turkey.
This delectable European dessert comes in various shapes and sizes, depending on where it comes from. Some baklava is sweet, while others are more heavily spiced with cloves and cinnamon. Its nut filling also varies by country.
In Greece, this pastry is usually made with 33 layers, indicating the years that Jesus Christ has lived on Earth.
25. Melomakarona
(Greek Honey Cookies)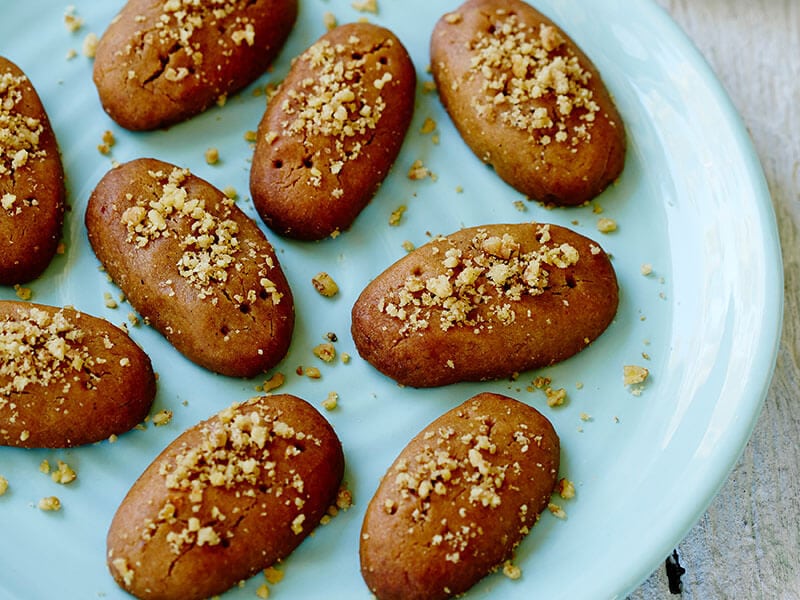 These delightful Christmas food and sweet treats from Greece are packed with incredible flavors. These biscuits are cooked and then dipped in honey syrup, resulting in a soft, delicate, and crumbly texture. This dish is so fun and easy to bake; no wonder why the Greeks find it so addicting.
Melomakarona is said to have originated from the ancient and medieval Makaria, which were consumed at funerals. Nowadays, the addition of honey leads to Melomakarona, which is derived from the Greek word for honey, "meli" and "makaria".
Often served during the Christmas holiday, Melomakarona is a delightful Greek cookie treat to share with family and friends. Remember to pair it with coffee to make the experience more complete.
26. Diples
(Greek Pastry With Honey and Cinnamon)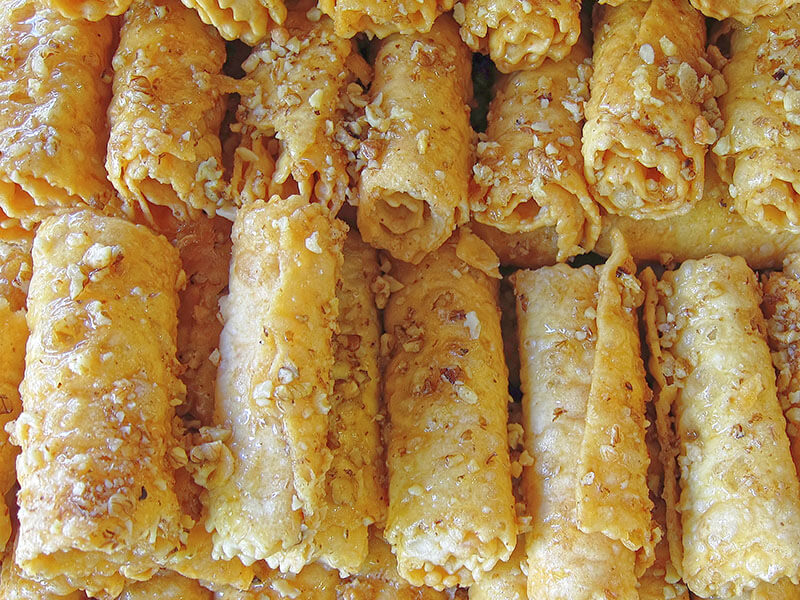 Here is another oh-so-delicious guilty pleasure that you must check out. To make some classic Diples, people will roll the dough into thin sheets, deep fry them while folding, and serve with a splash of honey. The pastry is then dusted with finely crushed nuts and cinnamon.
Long ago, homemakers in poor villages needed to find a way to make food by using what they had on hand. As eggs, flour and nuts were available in every household, they combined these ingredients to make a simple yet filling dish. That was how Diples was born.
This traditional "THEE-ples" receives its name from the Greek word for "fold". Numerous varieties of this dish may be found all over the world. Diples also come in various forms, the most popular of which are bow ties and spirals.
Learning About Greek Cuisine Culture Won't Be A Problem Anymore!
There you go, folks, 26 Greek street foods that perfectly characterize the diversity of this culture. These street foods are not only delicious, but they are also unique and nutritious.
It's hard to explain everything about the cuisine culture of this country, so be sure to experience it yourself during your next vacation.
I hope this article has successfully aroused your appetite. Now that you have reached the end of this post, please leave a like and share it with your friends and family if you enjoy reading it.
Don't hesitate to leave a comment down below if I missed your favorite street snack. Thanks for reading and bye for now!