These Greek Christmas foods and desserts recipes are so good that you will want to make them all the time. From breakfast to lunch or even dinner, these delectable treats also provide you with good ideas.
Christmas brings special traditions and wonderful delights. Therefore, if you want to find more options for this holiday or just want to discover more about Greek cuisine, stay tuned and keep on reading the list below for more.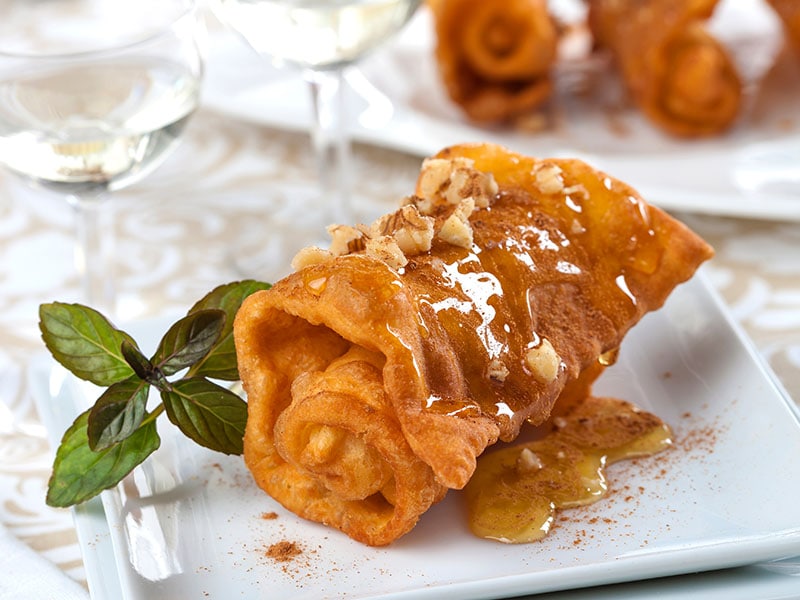 Enjoy Your Christmas Holidays With These Wonderful Greek Specialties
Do you need some interesting proposals to brighten up your holiday? Are delicious and visually satisfying dishes always what you are looking for? If the answer is a "yes", let's walk through the information below to get an adequate answer.
Total time: 4 hours 30 minutes (including 3 hours 30 minutes of rising time).
Let's start the list today with the classic Christmas Eve treat, Lalagia, or Greek fried dough strips. This delight is popular in the Peloponnese, a region located in the south of Greece. Lalagia is fried donuts with a crispy exterior and a soft interior.
This treat is often savory and served with feta cheese, and olives. However, there is also a sweet variation of Lalagia. Therefore, you can freely choose to make savory donuts or sweet ones, depending on your preference.
There is not too much difference between these two versions of Lalagia. You just need to add more cinnamon and dust them with more powdered sugar for sweet donuts.
It's ok if you want to eat Lalagia on their own, but I recommend you pair them with the typical cheeses of Greece, such as feta cheese, or a cup of coffee. This blend will give you a new and interesting experience.
To make Lalagia for your next Christmas holiday, check this quick and easy tutorial.
Total time: 45 minutes.
If you have a big passion for cookies, you shouldn't miss Kourambiethes. This type of cookie appears to contain just a few simple ingredients such as creamy butter, brandy, and flour. It is garnished with layers of powdered sugar.
If you love sweet things, you can replace brandy with orange juice to omit the alcoholic beverage in this recipe. This doesn't negatively affect the quality of your cookies, but the taste will change a little bit. Remember to consider carefully before doing this.
These holiday delights are soft, buttery, and crumbly. They go perfectly with a cup of coffee or a nice glass of milk. Don't miss this wonderful combination or you will regret it.
Total time: 1 hour 10 minutes.
If you are looking for an authentic Greek dish for desserts, Baklava is here for you. Known for its sweet taste and flaky texture, thanks to the inclusion of layers of phyllo, Baklava is a perfect choice for you.
Although this recipe uses a lot of ingredients, it's not too difficult to prepare at all. First of all, you need to chop the nuts you have prepared and mix them with cinnamon.
After that, place sheets of phyllo on the bottom and sprinkle the nut mixture to make sure that they are spread evenly on the phyllo sheets. Repeat these steps until you use up all the nut mixture.
Remember to brush the phyllo sheets with butter because butter not only adds a rich flavor to your results but also helps the sheets stay together. This golden brown Baklava will make you want to try it more and more.
Total time: 3 hours 30 minutes.
A beautiful crust with a unique flavor is what you can describe Christopsomo, or "Christ's Bread", which is considered a tradition in many Orthodox homes. People believe that great care for this Greek-style bread will ensure the well-being of the new year.
Because of these significant meanings, you will often see the cross decorated on the surface of Christopsomo. In addition to ingredients commonly used in bread making, anise seeds play a key role in this recipe.
They add a licorice flavor to this bread. Moreover, the combination of anise with chopped walnuts is important in keeping the best texture for Christopsomo. It is sweet, buttery, and soft, with a rich and distinctive flavor that can make it addictive.
Total time: 35 minutes.
Your Christmas season would not be perfect without Melomakarona, also called Finikia, one of the most loved cookies in Greece. With the nutty flavor of walnuts, this eggs-shaped Greek dessert is a perfect option for the Christmas Holidays.
The syrup plays an important role in boosting the flavor of Melomakarona. It is a nice combination of honey with a sweet scent, cinnamon, and cloves. You should make sure your cookies soak the syrup in.
Moreover, semolina is also the essence of this cookie delicacy with no butter. It helps your baked goods retain more honey syrup. The results are cookies that are soft enough on the inside but still crispy on the outside.
Follow this guide: You will have luscious Greek honey cookies to enjoy right away.
Total time: 40 minutes.
If you like cakes that don't require too many ingredients but are still delicious and nutritious, go for Amygdalota, also called Greek almond cookies. A portion of Amygdalota only uses some simple ingredients like flour, egg whites, almonds, and other things.
These cookies turn golden brown after baking and have an attractive and appealing exterior. You will feel its crunchiness at the first bite, but the toughness inside will score a big win with you.
You can serve these cookies with melted dark or semi-sweet chocolate on the bottom. A cup of coffee or tea is also a good choice to accompany these wonderful baked goods.
Total time: 1 hour 30 minutes.
Diples are another specialty of the Peloponnese that is very popular during Christmas time. It takes its name from the word "fold" in Greek. That reflects how to make these pastries.
Remember to make the syrup for these pastries as they can't get the best taste without it. You just need to boil all the ingredients such as honey, sugar, and lemon juice until the sugar is completely melted.
With a cylindrical shape, they are simply thin sheets of dough that are folded and dipped in fragrant honey and topped with cinnamon and ground walnuts. A touch of orange and lemon juice adds an amazingly fruity flavor to this recipe.
Total time: 5 hours.
Galopoula Gemisti is a must for a Christmas party in Cyprus. Although Cyprus is not a part of Greece, the two cultures have a close relationship.
The Greek Cyprus majority in Cyprus and the ethnic Greek population of Greece share similar cultural, religious, and linguistic characteristics. Therefore, Galopoula Gemisti can be considered a Greek treat.
This recipe appears to contain turkey as the main ingredient and some other veggies such as onions, potatoes, and cinnamon to boost the flavor of this delicious dish.
Your roasted turkey will be golden and succulent with an aromatic flavor from herbs. You can enjoy this Christmas favorite with Tzatziki (Greek cucumber yogurt sauce) to refresh your taste.
Total time: 1 hour.
Braised Fennel With Chestnuts And Shallots is a popular dish in Greece, especially during Christmas time. This recipe consists of frozen chestnuts, shallots, fennel bulbs, and other things.
Known as a popular Greek wintertime delicacy, chestnuts give a buttery flavor to this dish. On the other hand, a touch of shallots helps your dish be sweeter with a hint of sharpness.
This nice combination results in a tasty option that is suitable for a Christmas table. Don't miss out on this recipe because I ensure that you will love it.
Total time: 35 minutes.
A search through the collection of Greek Christmas specialties will reveal this exquisite dish. It's not only popular at Christmas but is also consumed throughout the year.
Through its name, you can easily guess lemon and chicken are its principal ingredients. The way to cook this classic Greece-themed soup is also as simple as other soups.
Let's start with boiling the rice and some other spices you have prepared until the rice is cooked before adding your chicken in. The next step is to make a mixture of lemon juice, eggs, and yolks in a blender.
Finally, you just need to pour this mixture into the pot and add some seasonings to suit your soup to your appetite. This hearty dish will be slightly silky-textured with a tangy and creamy flavor. You can serve it with a little oil to enhance your experience.
There is nothing better than enjoying hearty Avgolemono at Christmas. Let's follow this instruction right now.
Total time: 1 hour.
Fluffy and syrupy, this luscious Greek walnut cake scented with a sweet and woody flavor of cinnamon deserves to be a good option for your desserts.
If you have never tried Karidopita before, give it a chance because this cake will amaze your taste. Instead of flour, this recipe uses breadcrumbs to keep its texture moist and light. Moreover, a hint of cognac adds a citrus flavor to this cake.
Serve Karidopita with vanilla, strawberry ice cream, or any of your favorite ice cream to make this cake more enjoyable. And now, your Christmas dessert is complete, and I hope you will have a memorable experience.
Total time: 2 hours.
Try a bowl of warm Hoirino me Selino to soothe your soul in the cold Christmas weather. Pork is an indispensable ingredient during Christmas time in Greece, and Hoirino me Selino is a popular delight using this versatile meat.
This recipe appears to contain some simple ingredients such as pork, eggs, celery, lemon, etc. Although celery is not a popular ingredient, it gives this wonderful treat a mild and earthy taste and helps the textures and flavors of other ingredients work well together.
You can enjoy Hoirino me Selino as the main course. Crusty bread, fresh tossed salad, or any of your favorite cheese will be a good accompaniment for this delicacy. Don't miss out!
Total time: 1 hour 50 minutes.
Spanakopita, known as Greek spinach pie, is a traditional Greek culinary delight used during the Christmas holiday. Covered with flaky phyllo sheet layers, these pies are savory with a creamy taste derived from feta cheese filling.
You should use fresh spinach to get the flavor of this favorite street food from Greece at its peak. Frozen spinach is also acceptable, but you have to make sure that it is defrosted completely.
You can store Spanakopita in the refrigerator for later use. This won't negatively affect its taste. It's up to your preference if you want to serve this wonderful recipe as a favorite Greece-made dish for appetizers or as a side dish.
You can enhance your experience by pairing it with a warm soup or salad for a complete meal.
Total time: 2 hours 30 minutes (plus 1-4 hours of marinating or overnight).
Greek roasted lamb is always a Christmas staple that will make you want to try more and more. The quality of this dish depends on the lamb as well as the ways you use other marinade ingredients such as garlic, honey, butter, olive oil, etc.
All you need to do for this wonderful treat is to place your lamb in an airtight container and prepare a delicious marinade for it. After that, you should wait about 2-4 hours for all the flavors and spices to penetrate the lamb.
The final step is to roast the lamb. Remember to make sure that your roasted meat is tender and deeply golden in color. You can serve this robust-flavored dish with potatoes or lemon wedges to please your taste.
Total time: 1 hour.
What can be a better option for desserts than a crisp portion of this delicious Greek pie with cinnamon goodness and buttery layers of phyllo sheets?
Because of its deliciousness and attractiveness, Galatopita is also loved by a lot of people at Christmas. This recipe is also very easy to make.
Let's start with making the filling by heating the mixture of milk, butter, vanilla, and sugar and adding the beaten eggs. Next, you need to prepare the phyllo sheets and pour your mixture between and over them.
The final step is to add some of your favorite toppings and bake your pie. These creamy and sweet baked goods go perfectly with powdered sugar, a sprinkle of cinnamon, or a cup of coffee. This is really an amazingly mouth-watering combination.
You will get to know how to make some tasty Greek milk pies through this tutorial.
Total time: 1 hour 40 minutes.
Lahanodolmades, also called Greek stuffed cabbage rolls, is indispensable comfort food on a Christmas table. Is the hearty filling made of rice and beef covered with a tender cabbage layer interesting enough to stimulate your taste buds?
After preparing the cabbages, let's continue to make the stuffing for them. Combine beef, rice, egg whites, and some other ingredients and mix them well. Next, you need to stuff the cabbages with your prepared filling and cook them.
While cooking your cabbage rolls, you should prepare the thick lemon sauce to enhance your dish's flavor. The aroma of herby filling blended with the lemony sauce makes this delight a wonderful choice for your next Christmas.
Total time: 1 hour 30 minutes.
If you are a fan of chocolate, you shouldn't miss this wonderful no-bake chocolate biscuit cake. Known as Kormos or Mosaiko, it is very easy to make but more delicious than you think.
First of all, you need to create a mixture of creamy butter, sugar, and vanilla, and then add the alcoholic beverage of your choice to this mixture.
If following this guide, you should use Tia Maria liqueur, a coffee liqueur originating from Jamaica, which adds a sweet and bitter flavor to your cakes. If you don't have this type of liqueur, I also recommend you use cognac or orange juice instead.
The next step is to add walnuts to the mixture. After that, you need to place this combination in the cling film and store them in the fridge. Your results will be soft, creamy, and possess a hint of citrus fruits.
Let's serve it with vanilla ice cream or homemade Greek beverages such as Greek coffee to suit your appetite better.
I will show you the easiest way to make Kormos. Click here right now!
Total time: 1 hour.
Let's continue today's interesting list with one of the most luscious specialties of Crete, Skaltsounia, also called Cretan cheese pastry. This is a nice combination of aromatic walnuts, flour, and breadcrumbs, with sweet-tart apples as the filling.
This pastry is usually crescent-shaped. Your wonderful baked goods will be crunchy on the outside yet soft enough on the inside.
If you are looking for an ideal Greek dish for a vegetarian diet, don't hesitate to consider this delicious treat. Pairing Skaltsounia with a cup of tea will make it more addictive.
Total time: 2 hours.
Packed with rich, chocolaty flavor, Kariokes, or Greek walnut-filled chocolates, are a good option for the Christmas holiday. These delicious treats are shaped like crescents and filled with walnuts with a fairly mild flavor.
It's very straightforward to make these Karokes. You just need to combine walnuts, biscuits, melted butter, brandy, and some other ingredients until the mixture is completely combined. Next, you should shape them into a log and place them in the refrigerator.
The final step is to dip your results into the melted chocolate. With each bite of these chocolates, you can experience the lovely sweet, soft, and creamy features of Kariokes.
Total time: 25 minutes.
Another perfect option for Christmas that you shouldn't ignore is Troufakia, also known as walnut and biscuit chocolate truffles. Troufakia is one of the easiest truffle candies covered by chocolate sprinkles you can make.
The nice combination of chopped walnuts and crushed biscuits gives these candies a perfect texture. A hint of brandy is a good flavor booster in this recipe. It helps your chocolate truffles have a sweet and fruity taste. Don't miss these crispy treats.
Total time: From 50 minutes to 1 hour 25 minutes.
If you are looking for an ideal Greek treat for breakfast, Milopita is made for you. To have a delectable Milopita, you just need to prepare some simple ingredients such as eggs, flour, cinnamon, and apples.
Scented with the aroma of cinnamon, these crispy pies are slightly sweet thanks to the inclusion of apples and the creamy flavor of Greek-style yogurt. This makes it highly addictive and becomes your favorite delights at Christmas.
The accompaniments for Milopita are unlimited, but I highly recommend you take advantage of a sprinkle of powdered cinnamon or a drizzle of warm honey. This is a perfect match for your dessert.
Don't miss this Milopita-making guide! These pies will satisfy you.
Total time: 1 hour 30 minutes.
Lamb and pork are indispensable ingredients in the Christmas season for Greek people. This delicious Greek-style roast with honey sauce is a perfect example. Using pork as the main ingredient, this recipe is characterized by its tender texture.
The plant-based ingredients for roast pork can range from any kind of fruits and herbs. However, I suggest you utilize the perfect blends of orange and lemon.
This combination will give a juicy taste to this recipe and help your dish get the best taste. Moreover, the inclusion of rosemary also adds a depth of flavor to your pork.
Total time: 25 minutes.
Wait a minute, don't confuse this Spanakopita Dip with Greek Spinach Pies that I have introduced to you above. Although they require nearly the same ingredients, this dip still has its own features.
This dip has all the taste of Greek Spinach Pie, but it's creamier thanks to some added cheeses. First of all, you need to saute the spinach with leeks and shallot until your spinach is wilted. After that, combine this mixture with lemon juice and feta cheese.
The final step is to bake the mixture until it turns bubbly and golden brown. Your warm and yummy dip is ready to serve.
The accompaniments for this recipe are very diverse. You can enjoy it with crackers, different types of veggies, or even pita chips for better taste.
Total time: 2 hours 35 minutes.
Known for its citrus flavor, Revani is one of the most delightful dishes in Greece, especially at Christmas. An interesting fact about this cake is that it not only uses ordinary flour but also semolina.
Semolina is a type of flour made from durum wheat, but it is a good bit coarser than regular flour. However, the combination of semolina with other ingredients will help your cake possess a moist and fluffy texture.
Lemon juice and orange zest also play a key role in boosting the refreshing flavor of this recipe. Why don't you try Revani to find out yourself?
Follow this instruction, and your Revani will be ready to serve within a few minutes.
Total time: 55 minutes.
If you haven't tried the sweet treats of Byzantine culinary cuisine, don't miss this opportunity because you will be surprised by this delicious cheesecake.
Melopita is a classic pie of Sifnos, which is known as the best island in Greece for foods and drinks. This pie is not only beautiful outside but it's also truly delicious.
All you need to do is to mix all the ingredients, including eggs, honey, vanilla, ricotta cheese, etc., and whisk until you get the texture of this combination completely smooth.
Finally, just bake them and wait for your baked goods. Melopita at its best quality will give you a light and fluffy texture with an amazingly creamy flavor from the cheese. I also recommend you use lemon zest to add a depth of flavor to this delight.
Total time: 20 minutes.
Thank me if you are a cheese lover as this is my next cheese recommendation for you. Tirokroketes are an indispensable dish during the holidays and are also one of the most widespread treats in Greece.
This is a nice combination of 3 different types of cheese. While feta cheese is rich and slightly salty, Gouda cheese, which has a smooth-textured interior of pale ivory color, adds a nutty and tangy flavor to this recipe.
But you can't get the full-flavored dish without the third cheese: Parmesan cheese, an Italian hard, granular cheese. This helps your cheese balls be fruitier and nuttier in taste. If you are practicing a vegetarian diet, these golden balls are also a good choice for you.
Total time: 45 minutes.
Feta And Leek Phyllo Bites recipe is the last idea for a Christmas table that I want to introduce to you. This is also a dish made from phyllo with a twist in its filling, which includes sauteed leek and chopped mint.
Therefore, they will come out with a shiny golden appearance and a crispy crust. Never forget to add salt when processing your filling since it will ensure you experience a favorable taste afterward.
After stuffing the fillings inside the thin phyllo dough, remember to lightly coat the shell with a thin layer of butter. This step helps your food to become crispier and fragrant after baking inside the oven of 400 degrees F (or 200 degrees C). Finally, enjoy it with some chopped mint.
Authentic Greek Foods And Desserts For Your Next Christmas Feast
The foods and desserts favored by the Greeks at Christmas partly reflect their concept and attitude toward this great holiday. The care, meticulousness, and deep meanings hidden behind these dishes are worthy of your discovery.
I hope that you will love these recipes. Please share these delicacies with your friends and the people around you to spread this useful knowledge.
If you have any questions or sharing about this post, feel free to leave a comment and let me know how you made these delights and served them. Thank you, and have a nice day.
Nutrition Facts
20 servings per container
---
Amount Per ServingCalories176
% Daily Value *
Total Fat 11.5g

17

%
Cholesterol 35mg

12

%
Sodium 2mg

1

%
Potassium 45mg

2

%
Total Carbohydrate 16.4g

6

%

Dietary Fiber 0.8g

0

%
Sugars 6.1g

Protein 2.3g

4

%
---
Calcium

16

%
Iron

1

%
Vitamin D

1

%
* The % Daily Value tells you how much a nutrient in a serving of food contributes to a daily diet. 2,000 calories a day is used for general nutrition advice.