Montenegro, a hidden gem nestled in the Balkans, boasts a rich culinary heritage that mirrors its diverse landscapes and history. From the sun-kissed Adriatic coast to the rugged mountainous terrain, Montenegrin cuisine offers a delightful array of flavors that captivate both locals and tourists alike.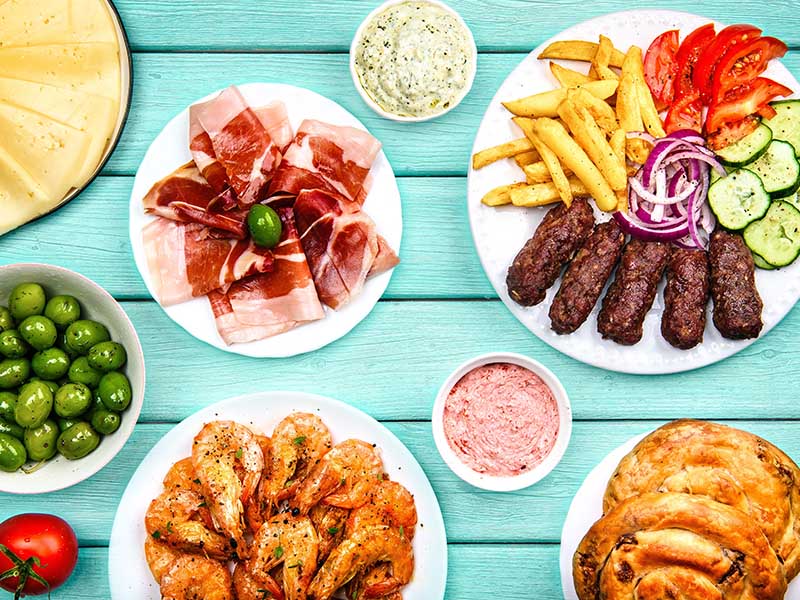 Dive into this guide to discover the 23 most popular Montenegrin dishes that epitomize the nation's gastronomic treasures.
1. Cevapi – Minced Meat Sausage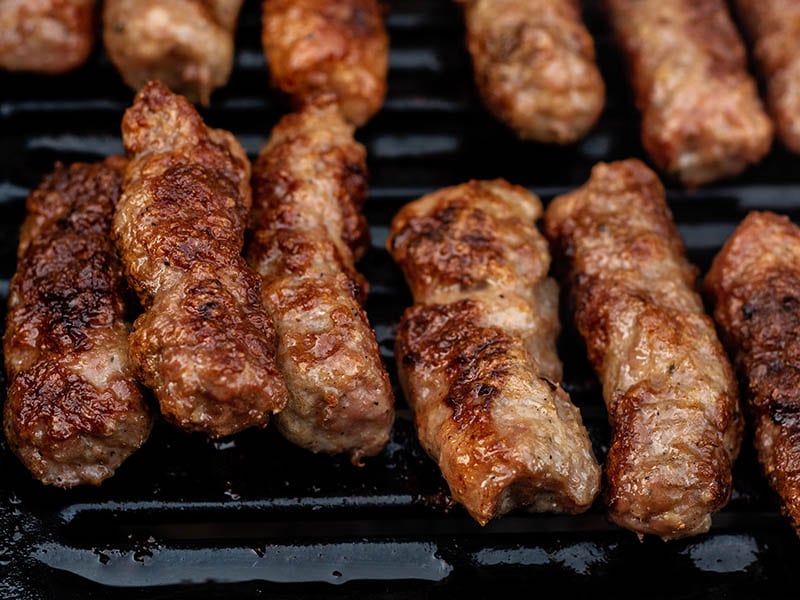 If you are looking for an appealing Montenegrin dinner, you will not be able to resist the deliciousness of Cevapi. This traditional food made from minced meat is popular in southeast Europe. Also, it is an iconic food of Bosnian and Serbian cuisine.
In Montenegro, it is loved by many tourists and natives. It was born in the Balkans region during the Ottoman period. Many people think it is pretty similar to Kofte Kebab. Restaurants often serve ten pieces of it with flatbread, onions, cream, and Ajvar (relish).
You can find two or more meat like beef, veal, pork, and lamb in this recipe. Among these meat types, pork is the least common ingredient. The typical smoky flavor of grilled meat will especially impress you.
2. Brav U Mlijeku – Lamb in Milk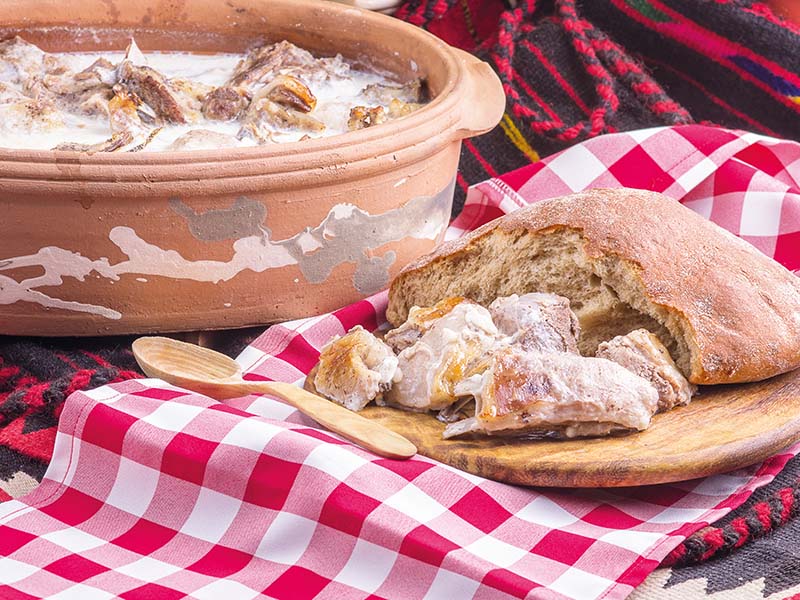 In Montenegro and Southeast European countries, lamb is an essential food and appears commonly on special celebrations. When cooked in milk, lambs will become tender and decrease the smell. These pieces of meat will melt in your mouth right away.
Montenegrins often cook this food in a pot named "sack". The pot with the shape of a bell is a crucial element that creates the softness of the meat. In addition, you will find carrots, potatoes, and some other veggies in this recipe.
3. Sarma – Stuffed Cabbage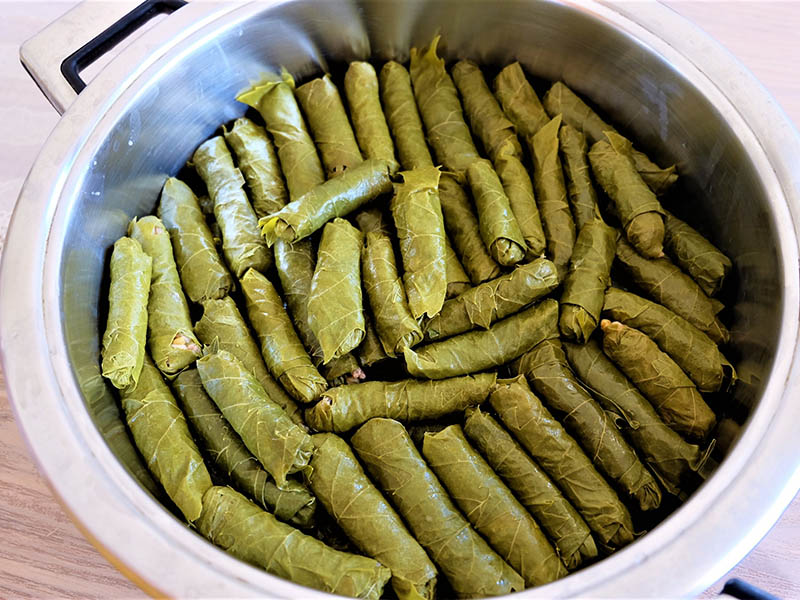 I believe you will be addicted while enjoying Sarma. It is a famous stuffed food in Southeast Europe and the Middle East. The chef will use grape leaves, cabbage, kale, or chard leaves to wrap minced meat and rice.
Its name means "wrapped" in Turkish". This food is influenced by Central European cuisine and Austrian food culture. It was introduced in Croatia in the 16th century and spread to Montenegro and other Southeast countries.
Thanks to the rich flavor of Sarma, it is a popular choice to eat on cold winter days in Montenegro. In particular, it is an indispensable part of slavas season.
4. Cicvara – Cornmeal Porridge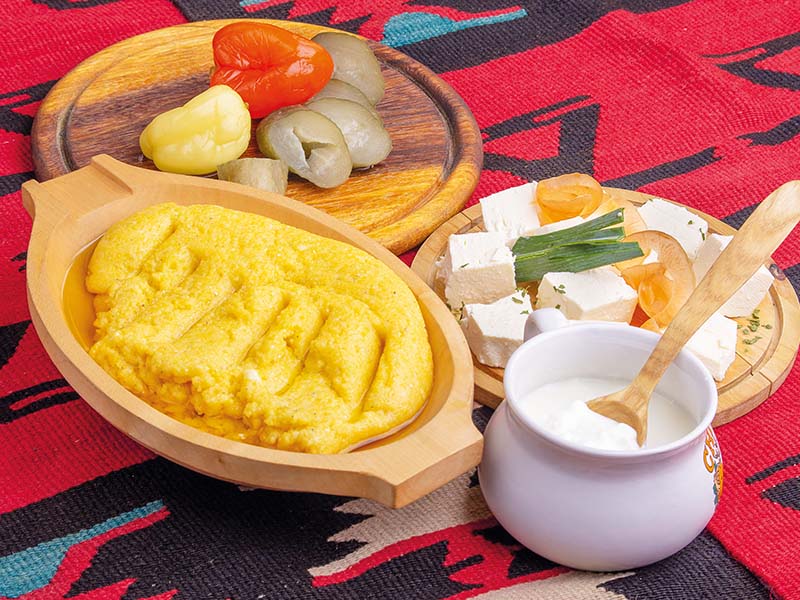 Cicvara is a famous food of Montenegrin cuisine. It originated from ancient times in the Balkans region. The first records about it existed in monastic books. Initially, the first version was made from wheat or oat flour instead of corn.
After Columbus's Voyage, corn appeared in Montenegro and became the primary ingredient in Cicvara. Besides cornflour, cheese, milk, and kaymak are other vital components. The Montenegrins often eat it for breakfast.
Cheese plays an essential role in bringing the appealing flavor and the charming aroma of the food. It will have a stronger and more delicious flavor when using old cheese.
5. Kacamak – Maize Porridge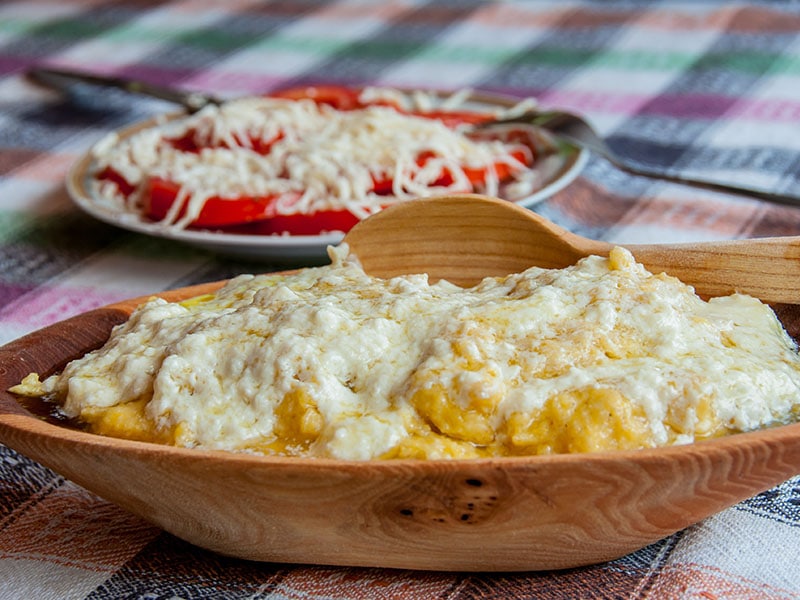 If you are looking for yummy food to fill into a Montenegrin lunch list, Kacamak is a suitable choice you should not neglect. Also, you can enjoy it at dinner as an appetizer or main dish. Northern Montenegro is the home of this appealing food.
After Peter I Petrovic Njegos carried potatoes from Russia in 1786, this food was born later. Corn, potatoes, milk, and cheese have been combined to make this food. Initially, it was food for poor people who did not have enough food to eat.
However, it has become a popular choice at restaurants today. You will be impressed with its thick texture and enchanting flavor. It is the favorite choice of farmers when working on a field the whole day because of its high calories.
6. Njegusi Prosciutto – Dried Meat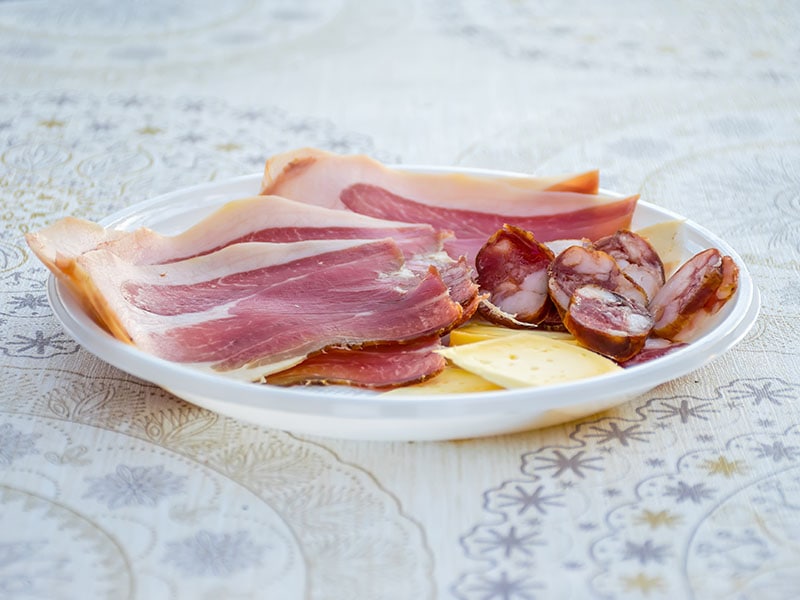 Njegusi Prosciutto is a food associated with Montenegro's long culture and tradition. Njegusi is the hometown of this famous food. It is a village near Lovcen mountain and 900 meters high above sea level.
This dry-cured ham recipe is similar to the Prosciutto Crudo – a staple dish in Italy. The characteristic flavor and aroma of the meat will make you fall in love. It is considered the result of a combination of mountain and sea air and beech wood in the drying process.
Homeowners often serve this food for guests in Montenegro since it shows respect and hospitality. The Montenegrins often enjoy it with Njegusi cheese and sausages. In particular, the unique wind will significantly impact the flavor of the meat.
7. Musaka – Meat and Vegetable Lasagna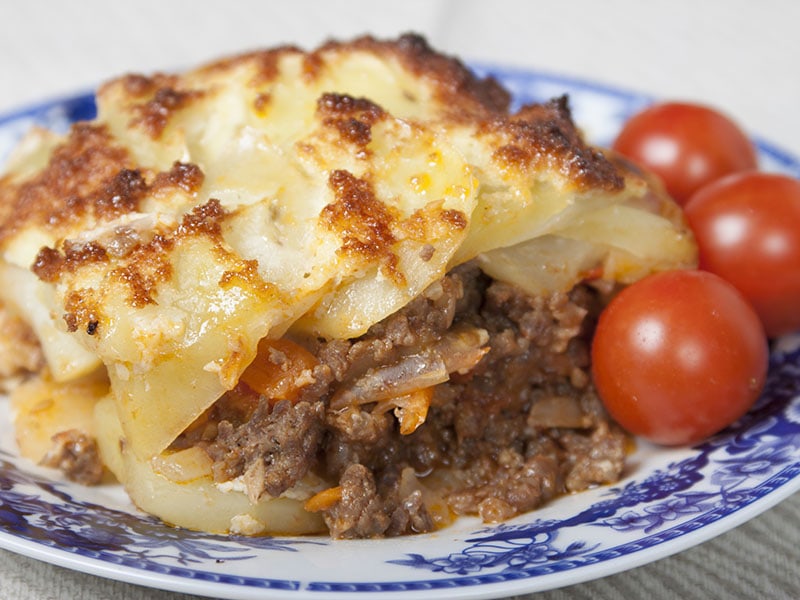 Musaka is an excellent dish with potato or eggplant as the primary ingredients. Moreover, you will find the rich taste of ground meat in this food. This recipe is standard in the Middle East, Southeast Europe, and Montenegro.
It comes from Greek cuisine. A Greek chef named Nikolaos Tselements prepared the modern Musaka version in the 1920s, and it is the most cooked version today. Montenegrins will use potatoes to replace eggplant when preparing this food
8. Buzara – Seafood in Wine Sauce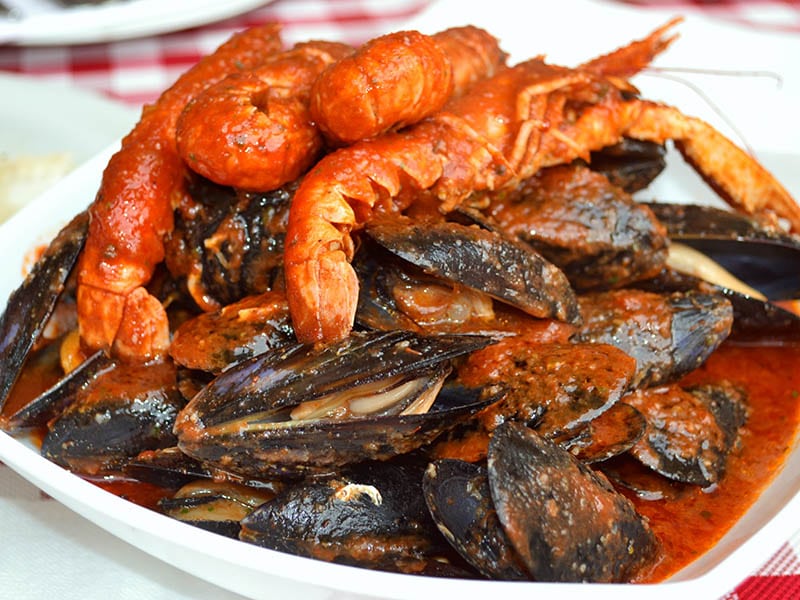 Are you a fan of seafood? If yes, it is a pity if you miss Buzara. This food is associated with many generations of Montenegrins in Boka Bay, Dalmatia, and other areas of the Adriatic. Also, it is considered a specialty of coastal regions cuisine in Montenegro.
When you come to coastal restaurants in this country, you can come across many variations of Buzara on the menus. You can select the Shrimp Buzara with the distinctive taste of tomato juice, parsley, red wine, and olive oil.
If you love mussels, White Buzara will be a compatible choice for you. You will have a chance to try the naturally sweet taste of fresh mussels. Moreover, garlic and bubbling white wine will enhance its flavor.
9. Čorbast Pasulj – White Bean Soup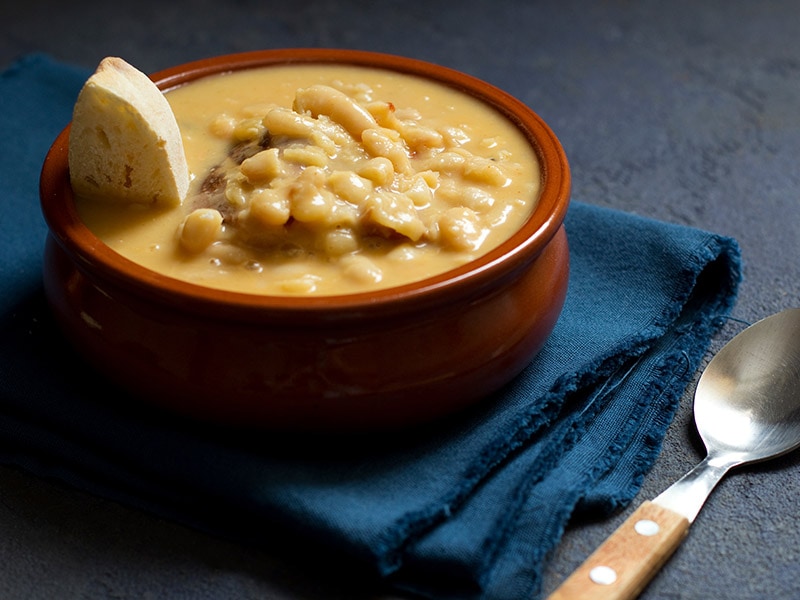 If you come to Montenegro in the winter, Čorbast Pasulj is an incredible food to warm your body up. It is an invention of Serbian cuisine and is common in Montenegro and other European countries. The dish share some similarities with French cassoulet and Portuguese feijoada.
In Montenegro, chefs often use white or pinto beans to cook this delicious soup. Furthermore, the appearance of salami, smoked ribs, sausage, ham hock, and veggies will make it tastier. It is great to enjoy another version with baked beans (Prebranac).
10. Fresh Trout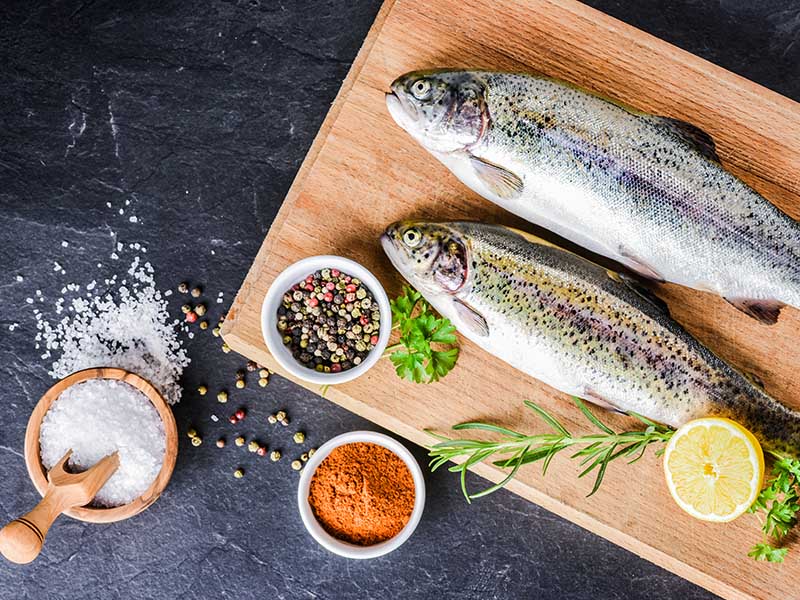 Fresh trout is a gift from rivers and lakes in Montenegro. The chef has produced many great recipes from trout. Commonly, you can catch the whole grilled trout on the restaurant menu. In addition, fresh trout is a good choice for fried dishes.
It plays an essential role in Montenegrin cuisine. Lake Skadar provides a large amount of trout for restaurants in Montenegro. Besides trout, this lake is also home to other great seafood, such as carp and eel.
11. Palačinka – Pancake with Jam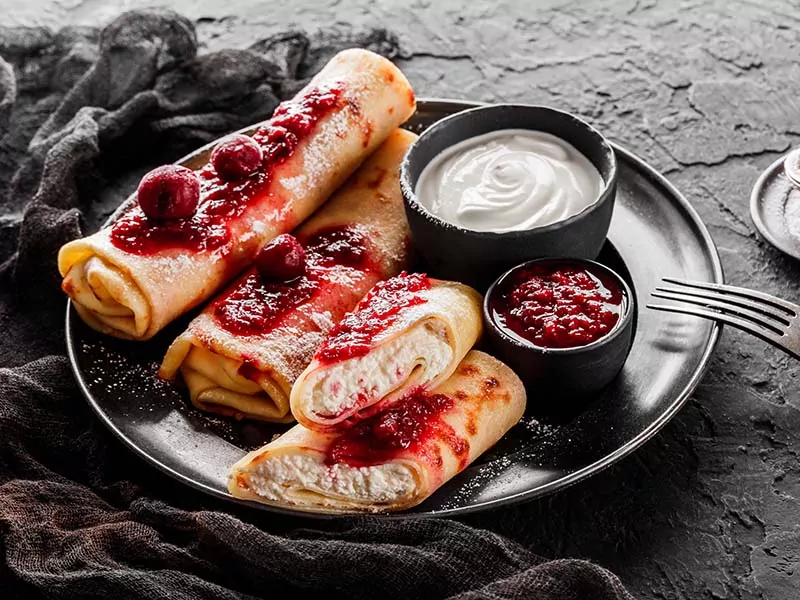 Crepes With Jam is considered a prominent Montenegrin dessert. Although it does not have its origin in this country, it is widely loved here. Crepe is an invention of the Greco-Roman World. Crepe is also known as Palačinka.
Palačinka has existed since ancient times. In 350 BCE, Archestratos and Antiphanes – two ancient Greek poets, mentioned a dish named Plakous. De agri cultura, a book written by Cato the Elder around 160 BC, also included a dedicated recipe for Placenta.
The term Palačinka stems from the word Placenta, which, in turn, comes from Plakous. Despite the name changes, Patschinke, Placenta, or Plakous all refer to a kind of thin or layered flatbread that's very crepe-like.
The feature that brings the attraction of this dessert is the jam. The flavor of different fruits will enhance the taste of crepes. You can easily find the stalls selling this incredible dessert on the streets of Montenegro.
12. Baklava – Phyllo Pastry Filled with Chopped Nuts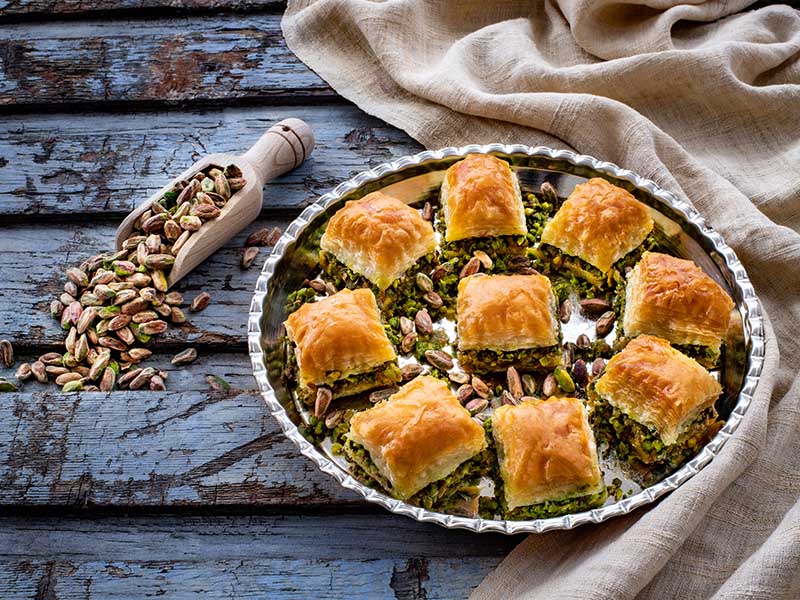 Referring to Montenegrin desserts, it is impossible not to mention Baklava. The sweet pastry with many layers will not let you down. Chopped nuts will bring up the flavor of this delicate dessert. Its sweetness comes from syrup or honey.
This recipe existed from the Ottoman Empire. Turkish and Greeks still argue about the origin of Baklava. Besides Montenegro, it is a famous dish in Iran, Central Asia, and Arab countries. Every year, November 17th is selected as National Baklava Day.
13. Heljdija – Buckwheat Pie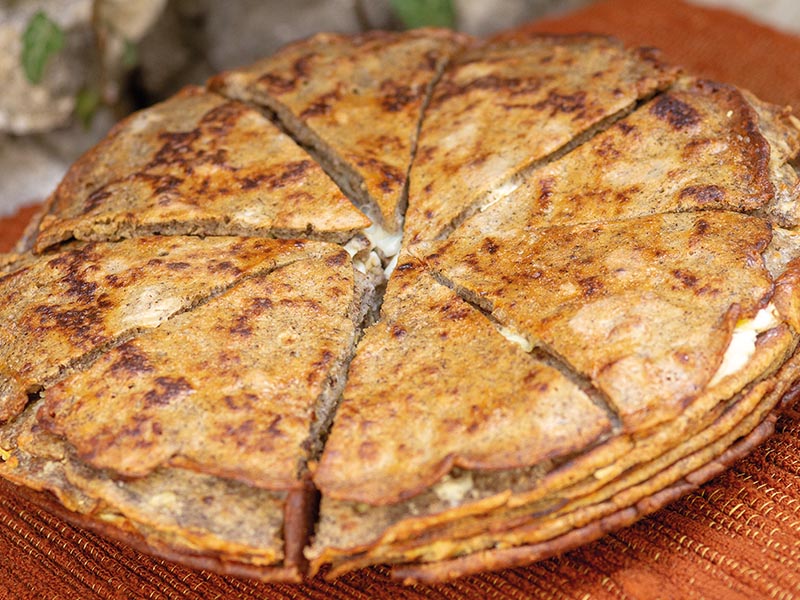 Heljidia or Buckwheat pie is one of the traditional desserts of Montenegrin cuisine. It is a kind of multilayer pie. It is a harmonious combination of buckwheat, cheese, kaymak, milk, and sour cream. In addition, the cheese layers will bring fat to it.
When baking pies, the chef will put the layers up on a pan and add the cheese filling in the middle. The way to bake Helidija is pretty similar to how you do with pancakes. Restaurants often prepare the ingredients first and put them in the oven to bake when guests order.
14. Perast Cake – Almond Cake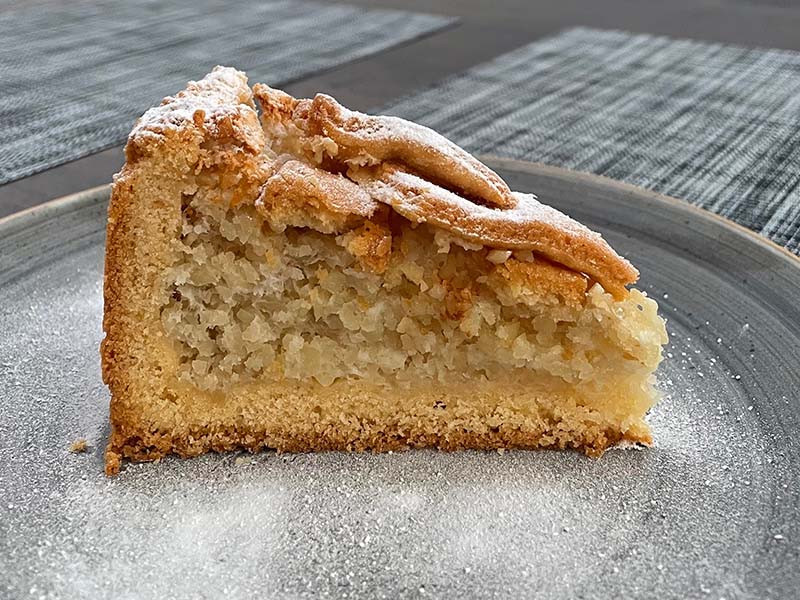 If Kotor has a famous Krempita dessert, the Perast town of Montenegro has Perast Cake. This sweet recipe is a gift for sailors when going to the sea. Traditionally, the wives in the Perast region will make this food for their husbands to eat on the sea.
Almond flour is an indispensable ingredient in this sweet food. Furthermore, you won't be able to forget the characteristic flavor of lemon zest and brandy. It is a perfect option to refresh your taste buds after eating seafood dishes.
15. Krempita – Custard Pie with Flaky Pastry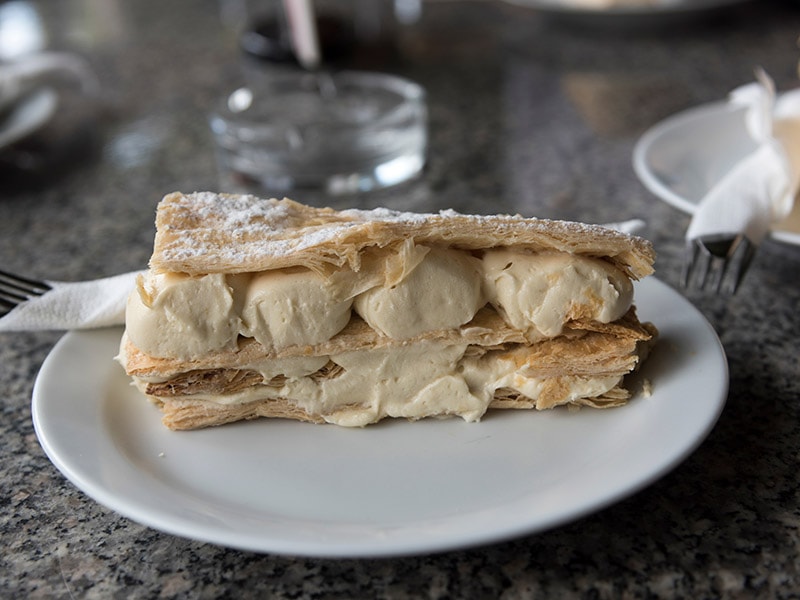 If you travel to the beautiful Kotor Bay of Montenegro, you have to try Krempita right away. This recipe has been popular in Montenegro for centuries. It is said to be derived from a French cake named Mille-Feuille.
Every year, there is a festival dedicated to Krempita in Kotor in June, and this tradition began in 2015. Unlike other Krempita versions, Montenegro's version has 3 layers of dough and 2 layers of cream with a gentle and enchanting sweet taste.
16. Rakija – Fruit Spirit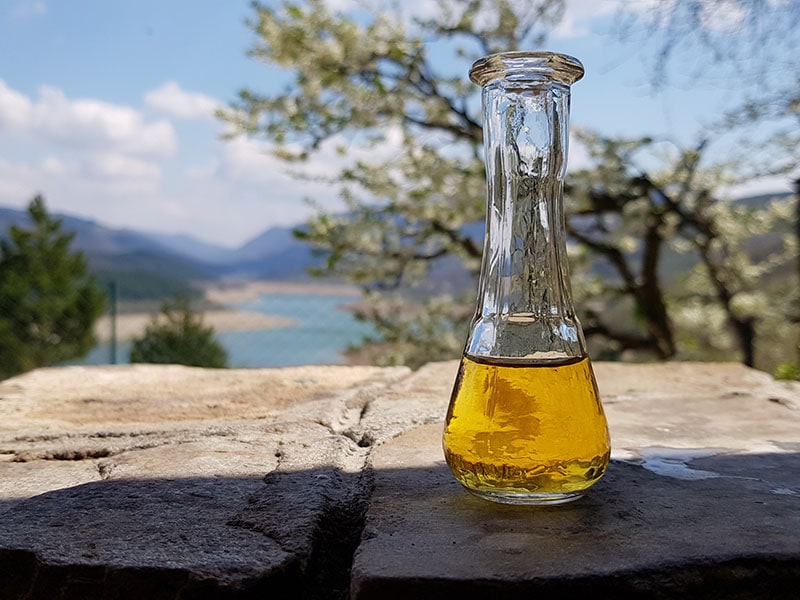 The Montenegrins believe that a glass of Rakija will energize their new day. It is a typical alcoholic drink in Montenegro and the countries in the Balkans region. Commercial Rakija has 40% alcohol, and the domestic version will be more assertive with 50 to 70%.
Montenegrins will use plums, apricots, cherry, pear, or prunes to make this traditional drink. It is usually served with tiny glasses for guests when visiting home in Montenegro. There is a Rakija fest every year for visitors to try various types of Rakija.
Vranac grape is a fruit that is often used to make this spirit. This famous version is called Loza or Lozavaca.
17. Montenegrin Beer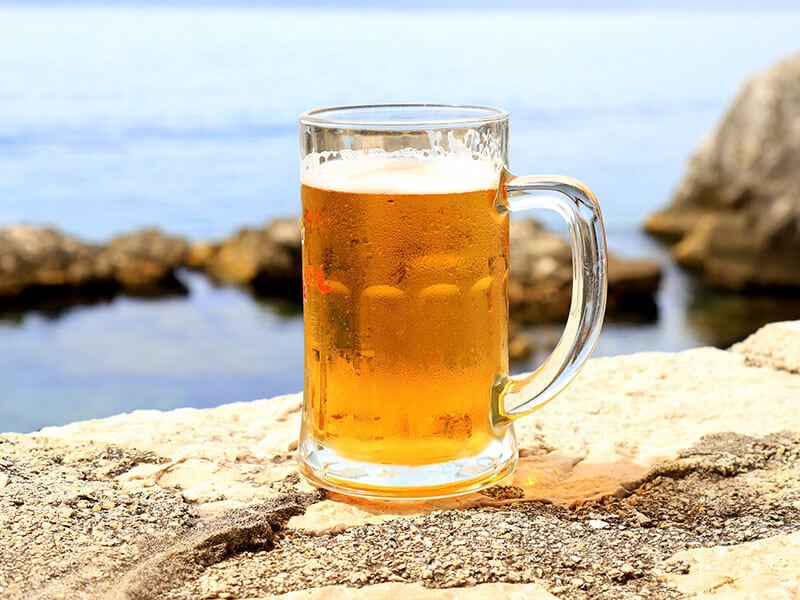 Nowadays, beer is a drink that many people choose at parties. If you travel to Montenegro, you must try Niksicko beer. It was born in Niksic when Vuko Krivokapic founded the Onogost Brewery in 1896.
Water, hops, yeast, and barley malt are indispensable components to make a fragrant and excellent beer. You can find beer bottles with a capacity of 500 ml, 250 ml, and 300 ml sold in Montenegro. When you come to restaurants or bars, they will serve you 500 ml or 330 ml bottles.
18. Burek – Stuffed Bread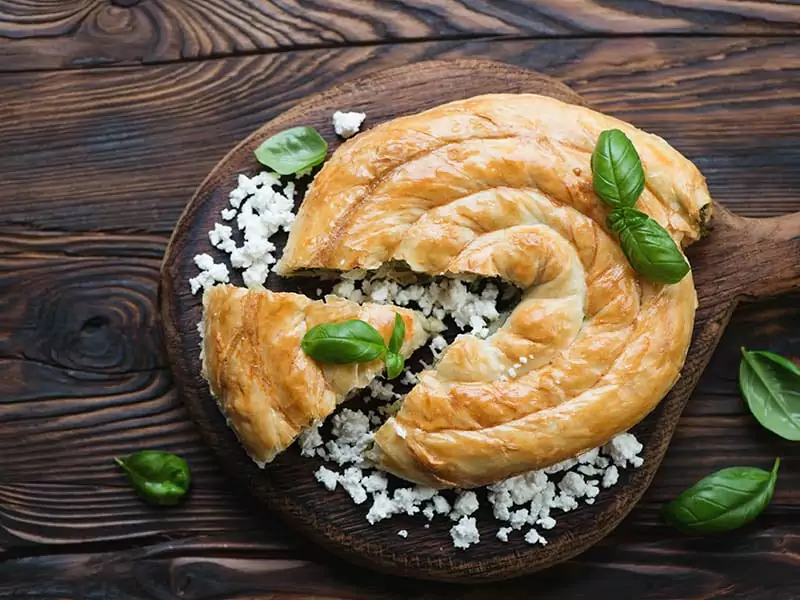 Burek is an indispensable Montenegrin breakfast in the travel books of many visitors. It is a kind of pastry with various types of filling depending on the geographic region. Common types of filling are meat, cheese, vegetables, or sweet versions.
This recipe originated in Turkey and Persia. A Turkish baker from Istanbul named Mehmed Oglu brought it to Montenegro and countries in Southeast Europe. There are many controversies about its name since it is said that different fillings will have various names.
You can enjoy Burek with many types of fillings in Montenegro because Montenegrins accept all definitions about types of Burek. It acts as a delicacy for breakfast or a mid-day snack in this nation.
19. Priganice – Fritters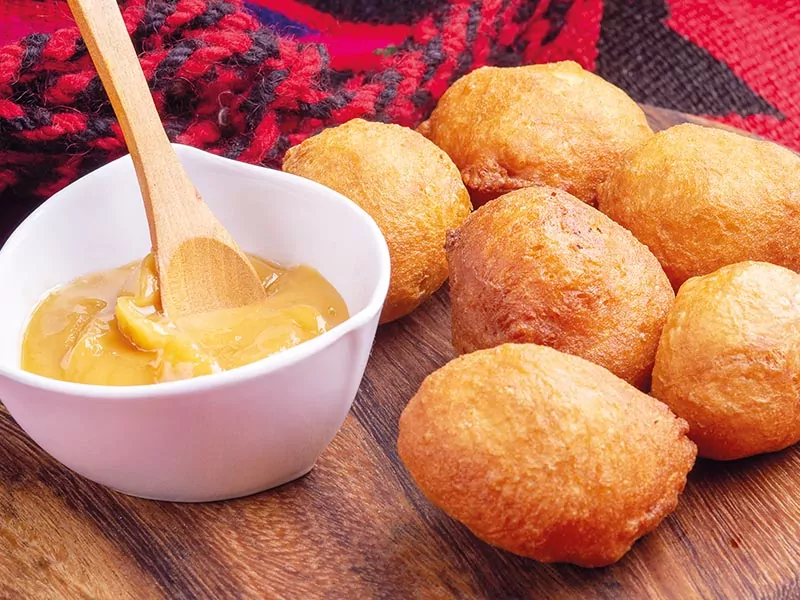 Priganice is a fantastic snack I want to suggest for you. These fried dough balls will leave an unforgettable impression on your mind. In Montenegro, it is considered a kind of salty doughnut.
The restaurant often serves cheese, smoked meat, kaymak, or vegetables. Bakers regularly supplement different spices into the dough before baking it. If you want to enjoy Priganice with the best taste, you should go to the mountain villages in Montenegro.
20. Ajvar – Pepper Mousse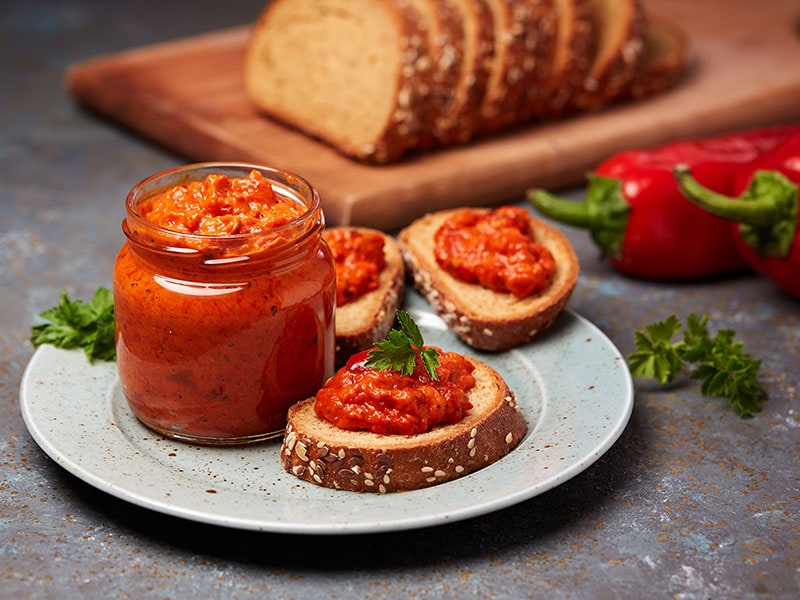 Ajvar is an indispensable part of the Montenegrins' meals. They will pick ripe red peppers in the fall to make it. Serbia, North Macedonia, and Slovenia are still arguing over who created Ajvar. Its name was taken from Havyar in Turkish from the Ottoman Empire.
After World War II, it became a preferred food across Yugoslavia and spread to Southeast European countries. It has a variation with tomato and eggplant, or you can enjoy another variation containing green bell peppers and oregano.
21. Octopus Salad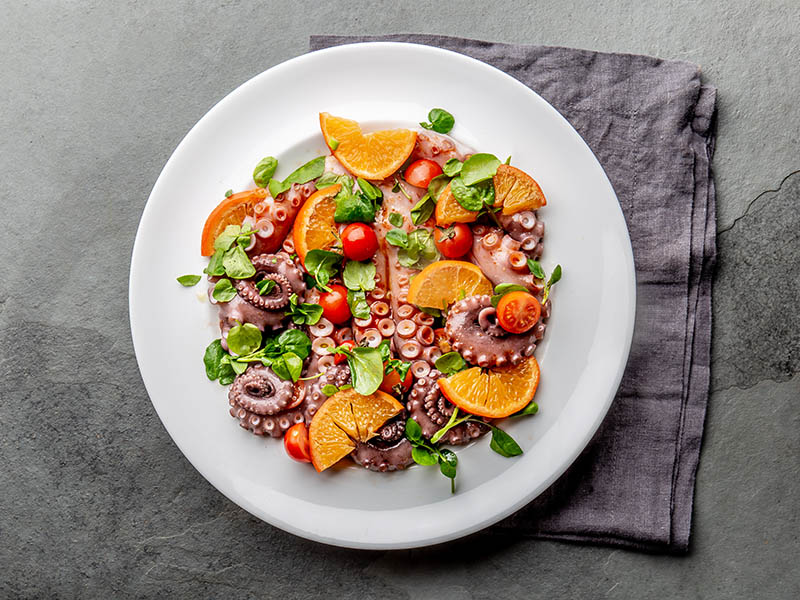 Most tourists who come to Montenegro want to try fresh and appealing Octopus salad. Octopus for making this food are mainly caught from the Adriatic Sea. For centuries, it has been associated with people in the Dalmatian region and Kotor Bay.
And, they consider it as traditional food. To make it, the chef will fry sliced octopus with parsley and garlic. The appearance of red onions and potatoes will bring freshness to the food. Vinegar and olive oil are the indispensable flavors in this recipe.
22. Prljo – Cheese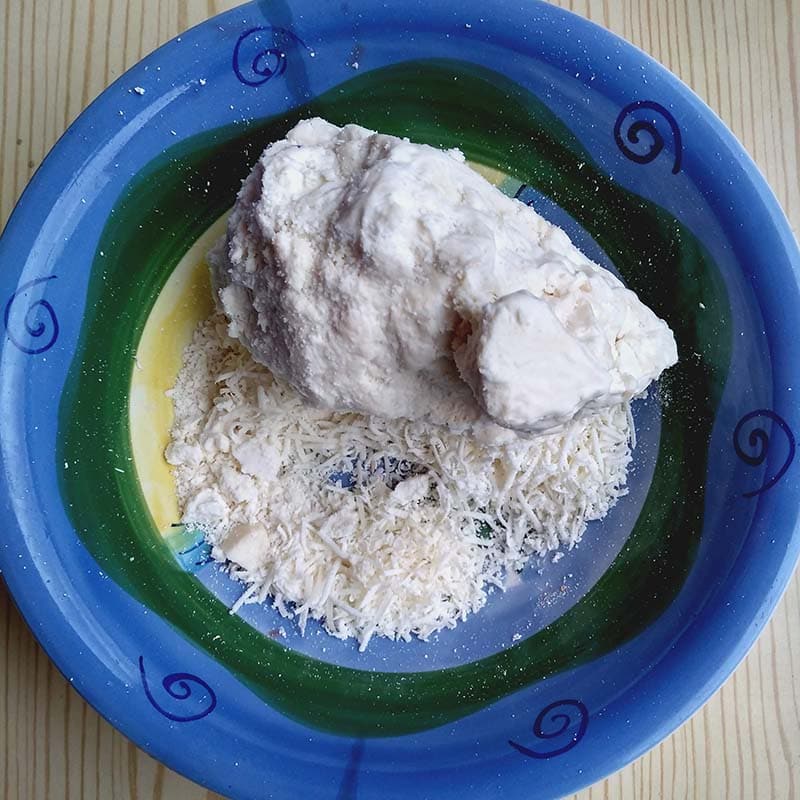 When referring to the famous cheese variant of Montenegrin cuisine, it is impossible not to mention the Prljo. It has a hard texture and a typical salty flavor. In particular, its low-fat content will be suitable for those who are trying to lose weight.
Montenegrins obtained it after removing whey from boiled milk. The Cheese will be placed in a sheepskin if processed in a traditional style. It is a great option to eat with cold cuts and bread to satisfy your taste buds.
23. Pljevaljski Sir – Cow's Milk Cheese
If you are looking for a cheese to bring on meals, you should not skip Pljevaljski Sir. It is a staple food of Montenegrin cuisine. Cow's milk is an essential material that creates this white cheese.
Its rich flavor and creamy texture will make your heart flutter. More impressively, it has a distinctive flavor thanks to fermentation in wooden barrels. Montenegrins often enjoy cheese after about 15 days of incubation.
When you take part in the event Dani Pjevaljskog Sira, you will have the opportunity to enjoy this cheese with the best flavor since many producers from the Pljevalja region appear here.
---
It Is Time To Discover!
I hope that my article has helped you understand more about the culinary background of this country. It will be a great experience to go to Montenegro and enjoy these fantastic foods first hand!
Do not rush to leave this article. Please leave a like and share this post with the people around you. Do not hesitate to share your feelings and questions after reading it, and I will try to respond to all. Thanks for reading!