When you arrive in Turkey, the irresistible aromas of its delicious cuisine will immediately tantalize your senses. Going on a culinary adventure through this mesmerizing land is sure to be a captivating experience.
However, given the vast variety and richness of Turkish dishes, you might be wondering which delicacies to indulge in first. Don't worry, I'm here to help guide you on this gastronomic journey.
In the following passage, I'll present a handpicked selection of the most iconic Turkish delights. This way, you can easily discover your personal favorites and enjoy them as you explore the wonders of Turkey. So, let's dive into the alluring world of Turkish cuisine together!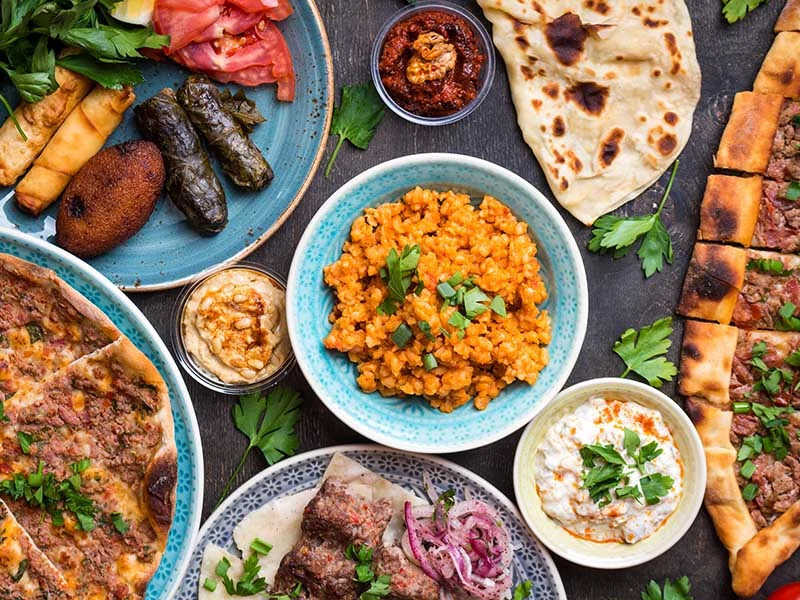 Overview of Turkish Cuisine
In this section, I will provide an overview of Turkish cuisine, providing a glimpse into the delicious and diverse world of this remarkable cuisine. From traditional breakfast dishes to desserts, let's explore the flavors and ingredients that define the culinary heritage of Turkey.
Brief History of Turkish Cuisine
Turkish cuisine has a rich and diverse history that dates back to the times of the Ottoman Empire. This empire, which lasted from the 14th to the early 20th century, was a melting pot of different cultures, traditions, and culinary influences.
The Ottoman Empire encompassed vast territories, including modern-day Turkey, parts of Eastern Europe, the Middle East, and North Africa.
The royal court in Istanbul was known for its elaborate banquets and innovative dishes, which trickled down to the general population over time.
Turkish cuisine has also been influenced by the nomadic Central Asian Turkic tribes, who brought with them simple yet hearty dishes that could be prepared on the move.
Influence of Various Cultures and Regions
The geographical location of Turkey, at the crossroads of Europe and Asia, has played a significant role in shaping its cuisine. Throughout its history, Turkey has been a hub of trade and cultural exchange, resulting in a rich tapestry of flavors and ingredients.
For example, the Mediterranean influence is visible in the use of olive oil and fresh vegetables, while the Middle Eastern influence is seen in the use of spices, herbs, and dried fruits.
The Balkan and Caucasian regions have also left their mark on Turkish cuisine, introducing dishes like börek and dolma.
Additionally, the diverse climate and terrain within Turkey itself have led to regional variations in dishes and ingredients, with coastal areas focusing on seafood, while inland areas emphasize grains, legumes, and meats.
Importance of Fresh and Local Ingredients
Turkish cuisine places a strong emphasis on the use of fresh, seasonal, and locally sourced ingredients. This is a result of the country's fertile lands, which produce a wide variety of fruits, vegetables, nuts, and herbs.
Traditional Turkish markets, or "pazar," are a testament to this emphasis, as they showcase an array of colorful and fresh produce. Turkish cooks are known to prefer simple and natural ingredients, allowing the flavors to speak for themselves.
In many dishes, the ingredients are minimally processed, with an emphasis on grilling, roasting, or slow cooking to bring out their natural flavors. This respect for fresh and local ingredients is an integral part of Turkish cuisine and contributes to its unique and vibrant flavors.
Turkish Appetizers or Side Dishes
Renowned for its eclectic array of dishes, Turkey's culinary landscape boasts an impressive selection of appetizers. Allow me to guide you through the most exquisite options, ensuring you discover new additions to your list of favorites.
1. Mücver (Turkish Zucchini Fritters)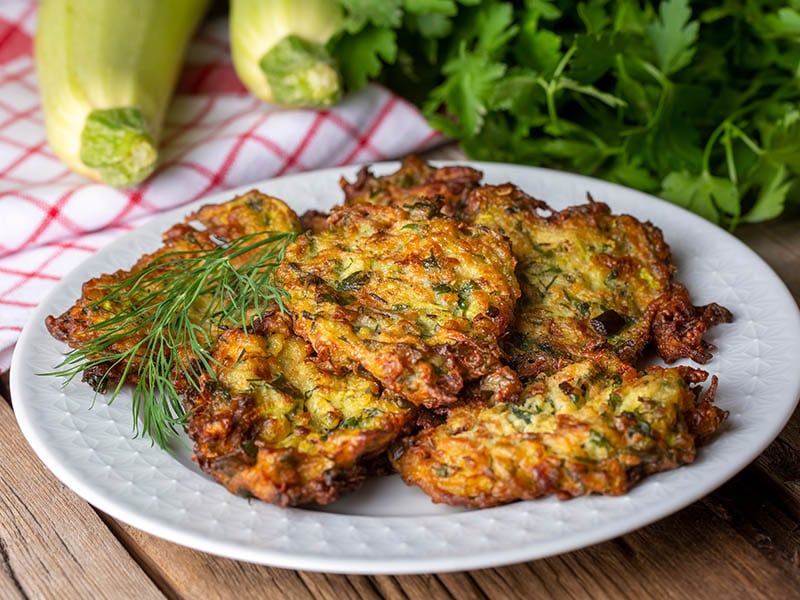 Mücver is a cherished appetizer hailing from Turkey's rich culinary heritage. With its roots in Ottoman cuisine, this dish was once known as "Mücmer" before being affectionately renamed "Mücver" by the Turkish people.
You will be captivated by its extraordinary flavor as you savor each bite alongside yogurt or a yogurt-based sauce. Crafted from a blend of grated zucchini, eggs, onion, flour, and herbs, this vegetable pancake-like creation bears a striking resemblance to Jewish latkes and potato pancakes from various cultures.
The secret to its crispy perfection lies in frying the batter until it achieves a golden brown hue on both sides. Served with a fresh leafy salad, crusty bread, or garlic-infused yogurt, Mücver will satisfy your palate with its unique taste and texture.
The remarkable versatility of this appetizer also allows for enjoyment as a chilled snack, providing a scrumptious and gratifying sampling of Turkish cuisine.
2. Sigara Böreği (Fried Feta Rolls)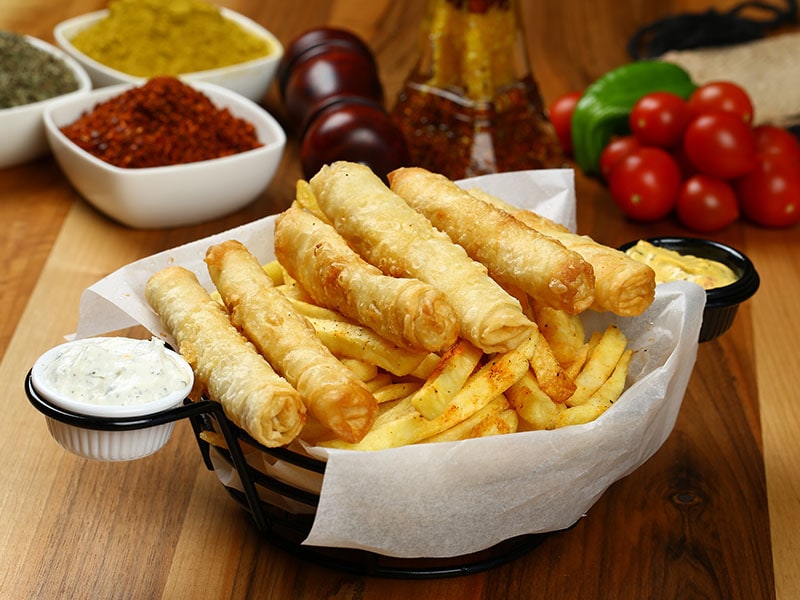 Sigara Böreği is a delectable deep-fried pastry whose origins are shrouded in mystery. With roots tracing back to either Persian or Turkish cuisine, some believe it was crafted by Turkish people in Central Asia before the 17th century, while others attribute its creation to the Ottoman court.
Sigara Böreği is also known as crispy Turkish cheese rolls or cigarette börek. It features a delicate, thin phyllo dough encasing a delightful herby cheese filling.
These scrumptious pastries make for a perfect meze (appetizer) or snack, and can even be prepared in advance for added convenience.
To create these scrumptious treats, Turkish artisans craft thin, triangular-shaped dough pockets, which are generously stuffed with feta cheese and parsley.
The pockets are then rolled up and fried to crispy, golden perfection. Like its fellow börek varieties, Sigara Böreği is a popular street food staple, and can be found in numerous specialized börek shops and eateries across Turkey.
3. Haydari (Yogurt Sauce)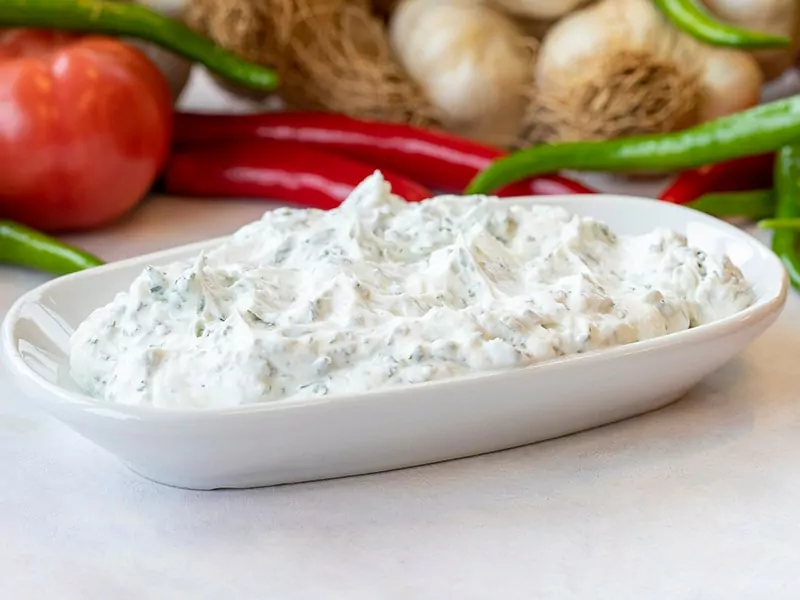 Haydari is a thick and delicious yogurt dish that elevates your appetizers to a whole new level! This luscious meze hails from a land shrouded in enigma, with its roots believed to be traced back to the Bekaa plain in modern-day Lebanon.
Haydari sets itself apart from its close cousin, cacık, by boasting a rich and creamy texture without the addition of cucumbers, while using strained yogurt or labne as its base.
Haydari features bold and piquant profile as it weaves an irresistible tapestry of salty, acidic, and tangy flavors that awaken your taste buds. With a consistency thicker than cacık, Haydari beckons you to enjoy its decadent allure.
Its versatility makes it the perfect appetizer for any occasion – from casual get-togethers to grand wedding parties. Crafted from natural yogurt and seasoned with an enticing medley of dried herbs, garlic, and cucumber, Haydari is a perfect symphony of taste and texture.
To fully appreciate its thick, velvety richness and zesty character, we recommend serving this scrumptious concoction chilled, with an array of accompaniments such as pita bread, vegetables, or meat kebabs.
4. Çöp Şiş (Shish Kebab)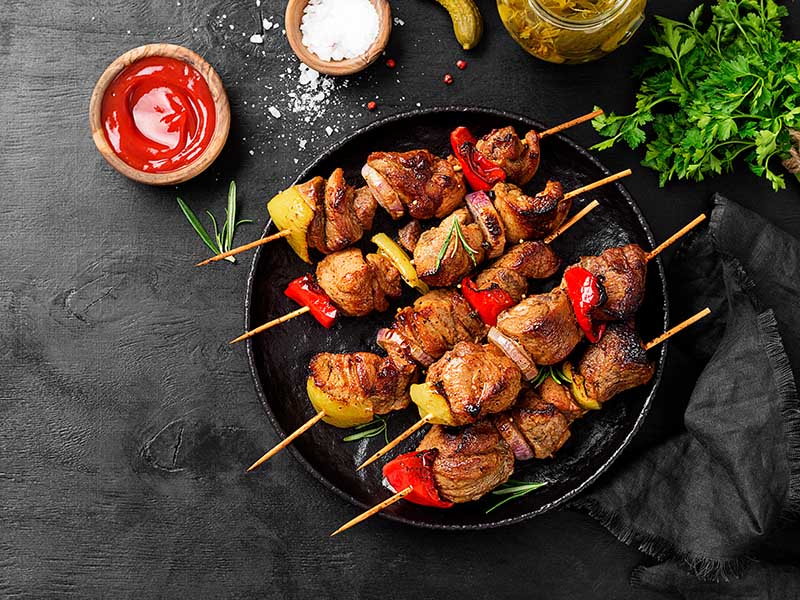 Kebab is a favorite food of Turkish people and also a typical Middle Eastern delicacy. A fusion of history and gastronomic tradition, this enticing shish kebab variation has even found its way into the esteemed verses of Homer's Odyssey!
The intriguing beginnings of Çöp Şiş hark back to the resourceful Turkish soldiers who, during their conquest of Anatolia, would skewer lamb meat on their swords and grill it over a roaring fire.
Today, this irresistible dish has transformed to showcase tender lamb cubes marinated with piquant garlic, crisp onions, juicy bell peppers, and a touch of umami-rich soy sauce.
Embracing its humble origins, Çöp Şiş is typically prepared on wooden skewers as opposed to iron ones, imparting a delicate smoky essence to the tender lamb.
To further elevate the flavor profile, each piece of meat is meticulously marinated in a symphony of garlic, tomato, black pepper, oregano, and olive oil, then expertly grilled to perfection over an ocak or open flame.
Çöp Şiş boasts the perfect marriage of flavors as it is traditionally accompanied by a vibrant medley of grilled peppers and onions. To truly delight your senses, consider encasing the succulent lamb and vivacious vegetables in pillowy, warm bread.
5. Mercimek Köftesi (Lentil and Bulgur Patties)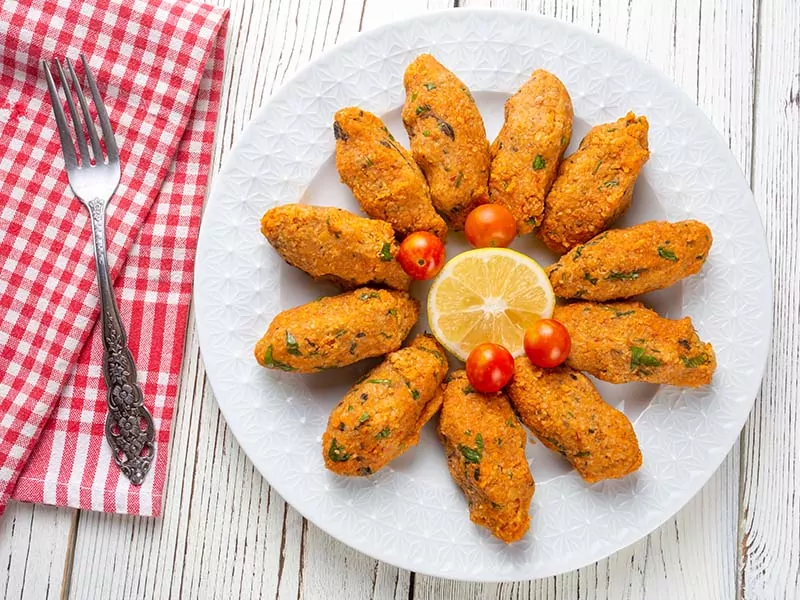 Mercimek Köftesi brings the vibrant flavors of Turkey to your table in the form of exquisite patties. The origins of this treat may be shrouded in mystery, but there's no doubt that Mercimek Köftesi has captured the hearts of food enthusiasts everywhere.
These patties are skillfully crafted by cooking lentils and bulgur together. The medley is then enriched with the inviting aroma of onions, the tang of tomato paste, and a symphony of spices.
Traditionally served cold, Mercimek Köftesi makes for a sublime appetizer or a captivating side dish in any authentic Turkish meal.
To elevate your dining experience, pair these scrumptious patties with crisp lettuce and a squeeze of fresh lemon juice, which only serves to amplify their mouthwatering appeal.
6. Yaprak Sarma/Dolma (Stuffed Grape Leaves)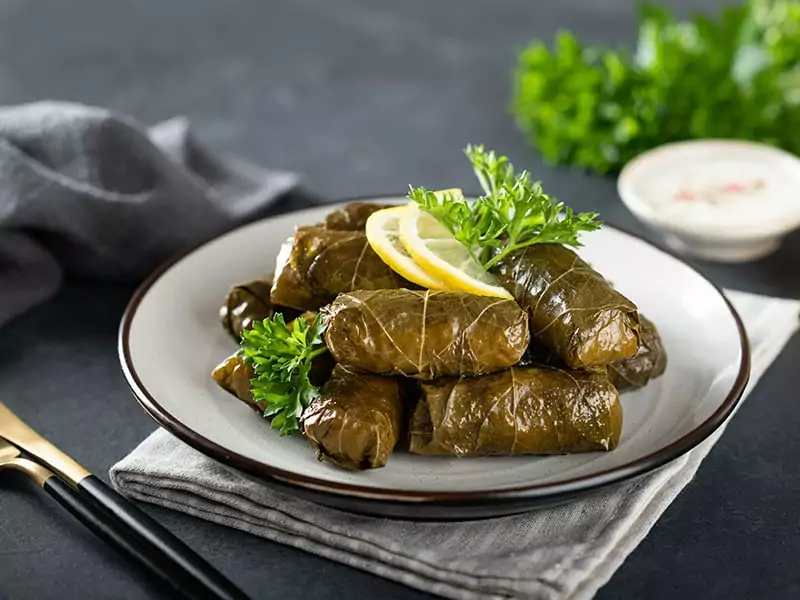 In Turkish, Dolma means "something stuffed". This dish belongs to Ottoman cuisine and is also a signature food in Lebanon. 
This culinary gem, which hails from the 17th century, showcases the depth and diversity of Turkish cuisine while making a name for itself in the Balkan countries as well.
This dish features either grape or cabbage leaves meticulously rolled and filled with an array of ingredients, such as vegetables, rice, seafood, or offal, creating a truly nutritious and satisfying experience.
With Dolma, versatility is key. Savor it warm or cold, relishing in its adaptability to suit your cravings at any time of day. Traditionally, this scrumptious delight is served as a main dish or as part of a mouthwatering meze platter.
For those who prefer a non-vegetarian twist, the popular version of Dolma boasts a spiced minced meat filling that is sure to satisfy even the most discerning of palates.
To enhance the Dolma experience, it is customarily served with a refreshing dollop of yogurt, a sprinkle of oregano, and a drizzle of red pepper powder-infused oil.
7. Bulgur Pilavı (Bulgur Pilaf)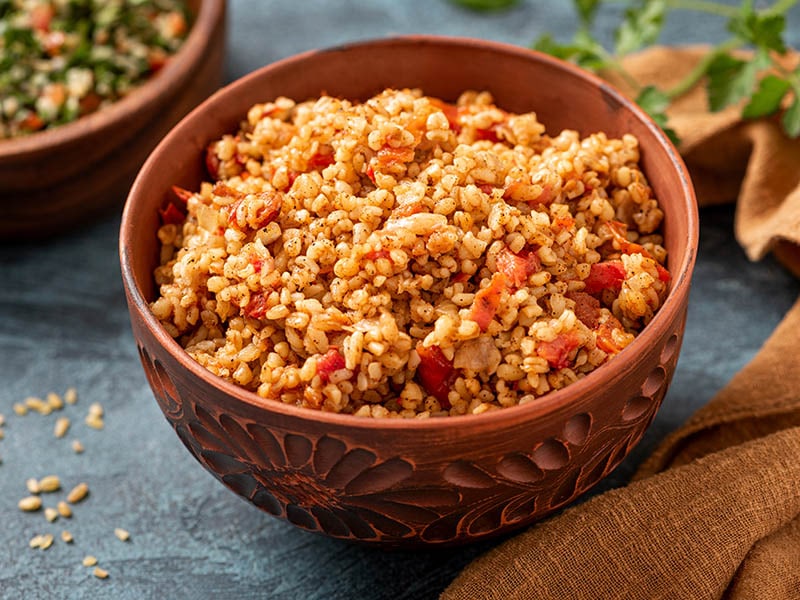 Bulgur Pilaf is a time-honored classic hailing from the rich culinary tapestry of Turkey. With roots in Anatolia, a region of modern-day Turkey, bulgur has long been cherished as a staple ingredient, lending its distinct character to the beloved pilaf.
This dish is traditionally enjoyed as a hearty lunch in Turkish households, showcasing the warmth and hospitality of the country's cuisine.
To create this satisfying meal, whole wheat is parboiled, dried under the sun, and ground into a coarse consistency, capturing the essence of centuries-old techniques.
Bulgur Pilaf comes to life as the coarse bulgur is expertly combined with an array of vegetables, savory broth, and a symphony of spices.
To elevate this masterpiece, it is adorned with a vibrant medley of toppings, such as red onion, crunchy almonds, creamy feta cheese, and fragrant parsley.
Not only does Bulgur Pilaf hold a special place in Turkish cuisine, but it has also captured the hearts of food enthusiasts across the Middle East and Mediterranean, showcasing the versatility and allure of this treasured dish.
8. Şakşuka (Vegetable Meze)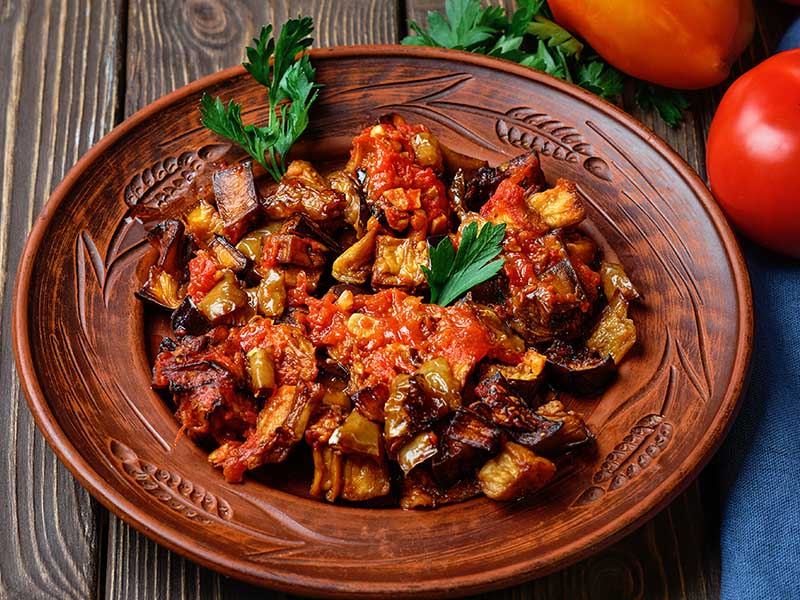 Şakşuka is a typical appetizer and side dish in Turkish cuisine and neighboring countries, such as the cuisine of Yemen, Libya, and Tunisia.
At the heart of this dish lies an array of sautéed vegetables, such as eggplants, zucchini, tomatoes, and bell peppers, all simmered to perfection in the finest olive oil. Aromatic garlic and herbs are masterfully incorporated to enhance the already mesmerizing flavors, making Şakşuka a must-try for any food connoisseur.
Frequently found gracing the tables of local restaurants, Şakşuka proudly accompanies Raki, Turkey's beloved anise-flavored spirit. In the region of Balıkesir, this versatile dish adopts a unique twist, featuring green tomatoes and sometimes potatoes and peppers as well.
While sharing a common etymology with North African shakshouka, the Turkish Şakşuka stands apart as a vegan dish, boasting no eggs in its recipe.
For those seeking a similar experience with a Turkish flair, Menemen provides an enticing alternative, reminiscent of shakshouka but without the fiery harissa.
9. Bazlama (Flatbread)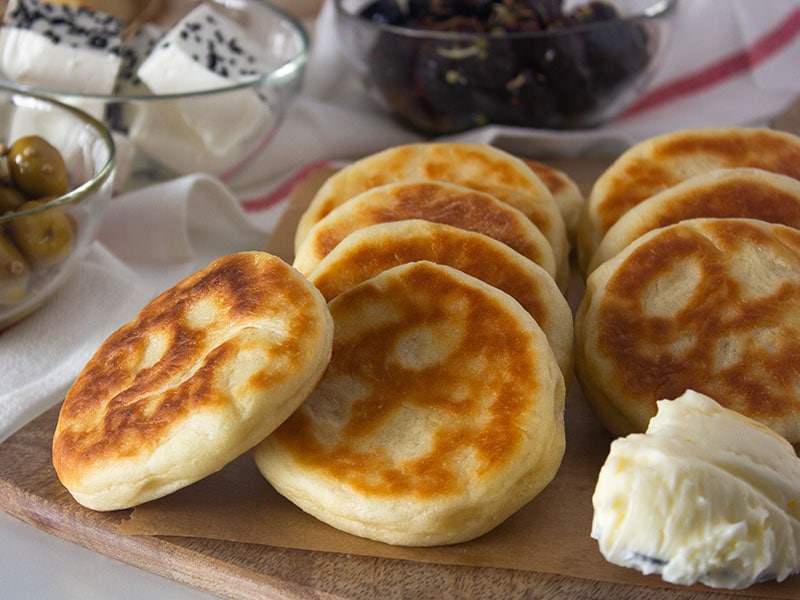 Bazlama is a delightful, circular flatbread hailing from the heart of Turkish cuisine. With an average thickness of about 0.8 inches and diameters spanning from 4 to 10 inches, this leavened bread has been cherished by locals for centuries.
When traveling through the charming villages of Turkey, you're bound to come across this scrumptious flatbread, freshly baked in traditional rock ovens.
Bazlama boasts an impressive shelf life, remaining fresh and tasty for up to a week! This longevity is attributed to its simple yet wholesome ingredients: yeast, flour, salt, and water.
The recipe's origins can be traced back to ancient Egypt, but it has since been embraced and adapted by the Turkish people, creating a unique and mouthwatering version of their own.
The rich and satisfying taste of this admired flatbread is meticulously crafted with wheat flour, water, salt, and yeast. The dough is meticulously mixed and left to ferment for two to three hours before being divided into 7- to 9-ounce portions.
Each piece is then carefully rounded and flattened to achieve the desired thickness, finally being baked to perfection on a piping-hot surface. Don't forget to flip it, ensuring both sides are evenly cooked!
To truly experience the essence of Bazlama, enjoy it warm alongside a crisp salad and tangy pickled vegetables. The bread's freshness may vary from several hours to a few days, depending on storage conditions, so be sure to indulge while it's still at its peak!
10. Gözleme/Közleme (Stuffed Flatbread)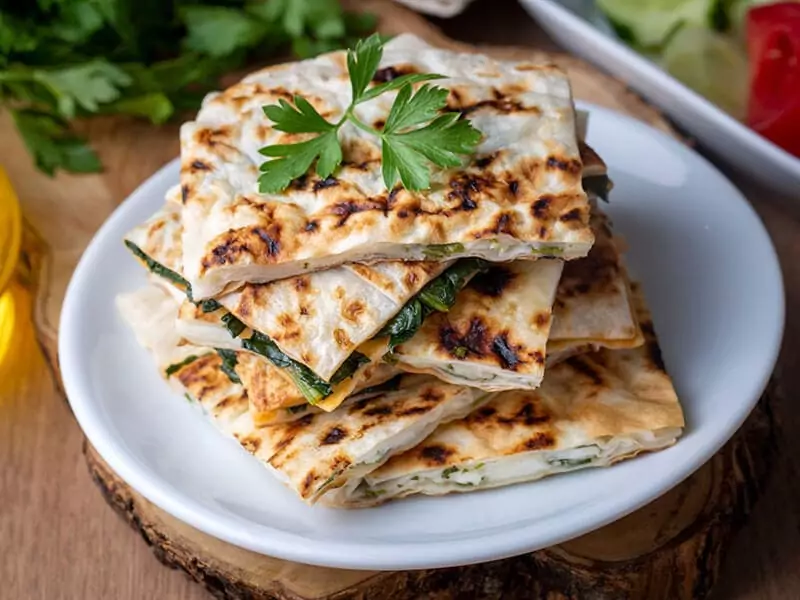 Delve into the enticing world of Gözleme, a scrumptious Turkish stuffed turnover whose very name, derived from the Turkish word "közleme," meaning "to grill/cook on the embers," hints at the delicious flavors within.
With a history that dates back to 1477, as recorded in the Persian-Turkish dictionary Lügat-i Halîmî and in Evliya Çelebi's Seyahatnâme, this mouthwatering dish has stood the test of time.
Gözleme's dough shares similarities with its cousin, bazlama, yet distinguishes itself with a light brush of butter or oil, adding an extra layer of flavor to the already delectable creation. But the true charm of Gözleme lies in its versatile fillings, which are as diverse as the regions and preferences of those who enjoy them.
The possibilities are truly endless, ranging from succulent meats, colorful vegetables, earthy mushrooms, and hearty tubers to rich cheeses, fluffy eggs, fragrant seasonal herbs, and aromatic spices.
Turkish Main Dishes
Brace yourselves, as these Turkey's renowned main dishes will surely leave you spellbound. Grab a tasty treat to munch on while you read, lest your appetite gets the better of you!
A fulfilling and nutritious Turkish meal cannot be completed without some protein sources. Luckily, Turkish cuisine has plenty of delicate meat and fish dishes that are incredibly tasty.
11. Kahvalti (Turkish Breakfast)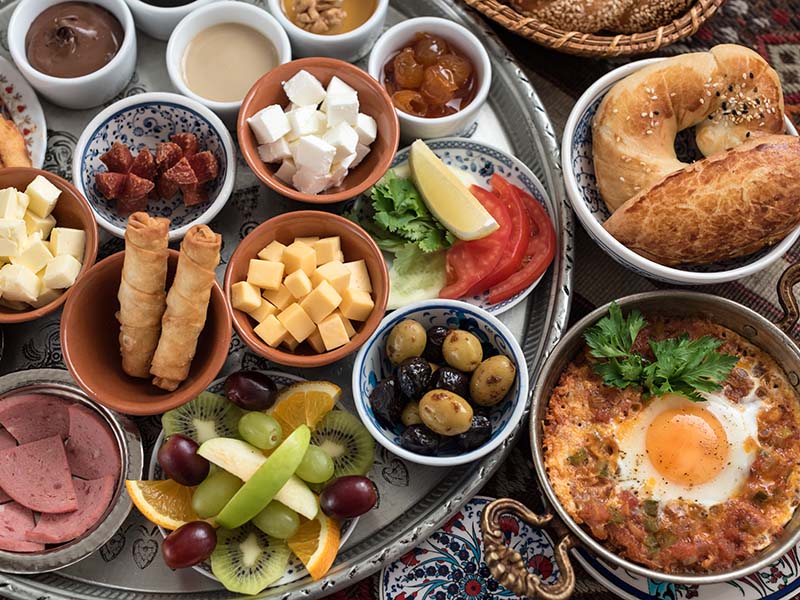 Kahvalti is a quintessential symbol of Turkey's rich culture, which brings the heartwarming tradition of a Turkish breakfast to your table.
Kahvalti, literally translating to "the food you eat before coffee," is an enchanting culinary experience featuring an enticing array of bite-sized delights.
This gastronomic adventure traces its roots back to the time of the Ottoman Empire when people savored breakfast while socializing with friends and family.
Far more than just a dish, Kahvalti is a complete meal, best enjoyed over a leisurely conversation and a comforting cup of tea. This mouthwatering spread typically showcases an assortment of pastries, cheese, dipping sauces, bread, cucumber, tomatoes, cured meats, jam, and honey.
With such a generous and satisfying meal at hand, you'll have ample time to connect and share stories with your loved ones. The beauty of Kahvalti lies not only in its scrumptious flavors but also in a unique way it embodies the essence of Turkish hospitality.
Every element of this traditional breakfast encourages conversation and togetherness, making it a cherished mealtime ritual.
Travelers are stunned by the beautiful social tradition behind Kahvalti.
12. İnegöl Köfte (Meatballs)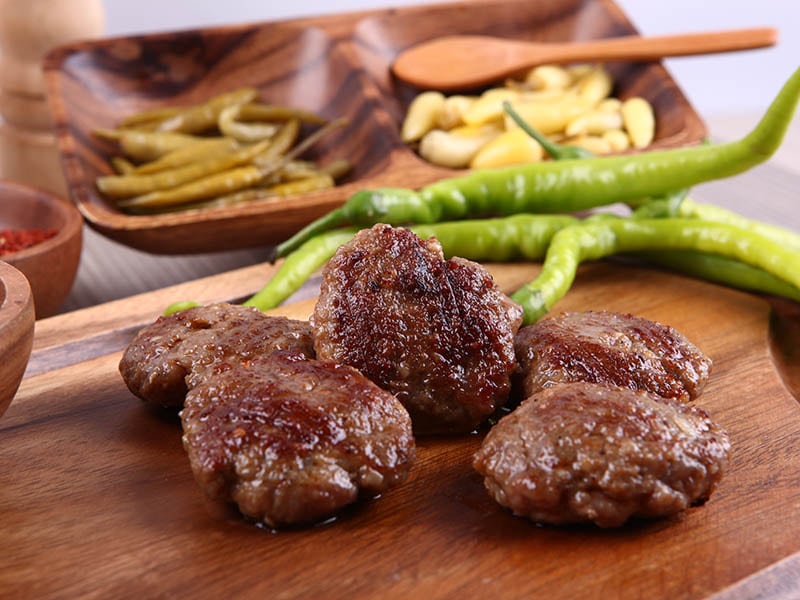 Behold İnegöl Köfte, a dish proudly representing its namesake, the city of İnegöl in Bursa, Turkey.
This unique meatball recipe can be traced back to the 17th century, when an innovative man named Mustafa Efendi began shaping meat into balls, chilling them for 1-2 days, grilling, and selling them along the bustling Ankara-Bursa road.
A distinguishing feature of these succulent meatballs is their simplicity. Remarkably, no seasoning is used in the preparation, apart from salt. This purity of flavor not only showcases the quality of the meat but also makes İnegöl Köfte a tasty treat for all ages, including children.
Fast forward to the present day, and İnegöl Köfte has become a signature dish of Bursa, still enjoyed by countless visitors and locals.
The original spot where Mustafa Efendi first sold these irresistible meatballs remains in operation, now a family-run business that has preserved the authentic taste of this iconic dish.
Regardless of how you choose to cook İnegöl Köfte – on a sizzling BBQ, in a cozy oven, or atop a trusty skillet – these soft and juicy meatballs are sure to impress.
13. Kuzu Tandir (Roasted Lamb)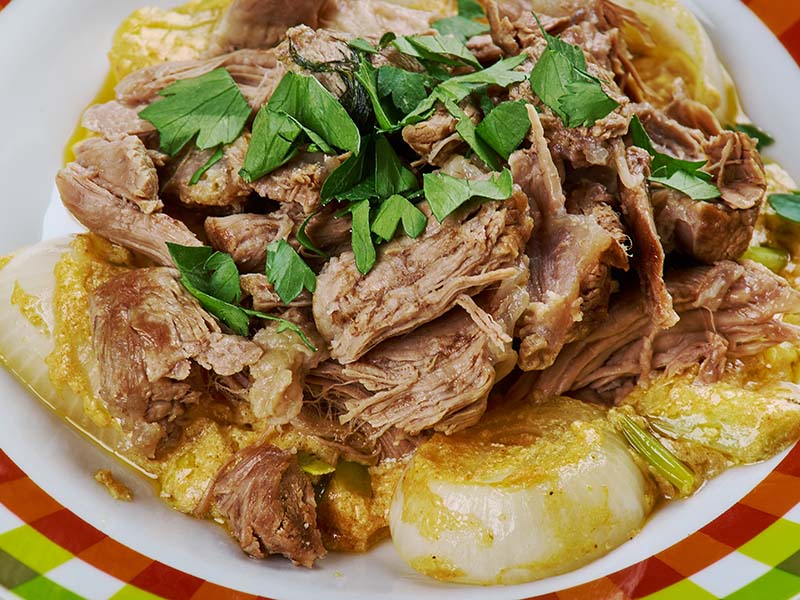 Feast your senses on Kuzu Tandir, a lamb dish deeply rooted in Turkish history and culinary traditions.
The name itself is a testament to its origins: "Kuzu" translates to "lamb" in Turkish, while "Tandir" refers to an ancient cooking method devised by the Seljuk Turks.
This exquisite dish hails from the Akşehir region, and its irresistible flavors have made it particularly popular in Istanbul.
Kuzu Tandir is a gastronomic experience that showcases the art of slow-cooking. The lamb is prepared with onions, tomatoes, potatoes, and peppers, then cooked for hours in a specially built oven situated above a hole in the ground.
In traditional settings, the lamb is hung above hot coals, imbuing it with a delectable smoky aroma. As you savor each tender, mouth-melting morsel, you'll be enveloped by the comforting scents that emanate from this sumptuous dish.
To truly appreciate Kuzu Tandir in all its glory, be sure to pair it with bread, an essential companion that complements the dish beautifully. Whether served with raw onions or enjoyed just as it is, Kuzu Tandir stands as a testament to the rich culinary heritage of Turkey.
14. Hamsili Pilav (Pan Fried Hamsi)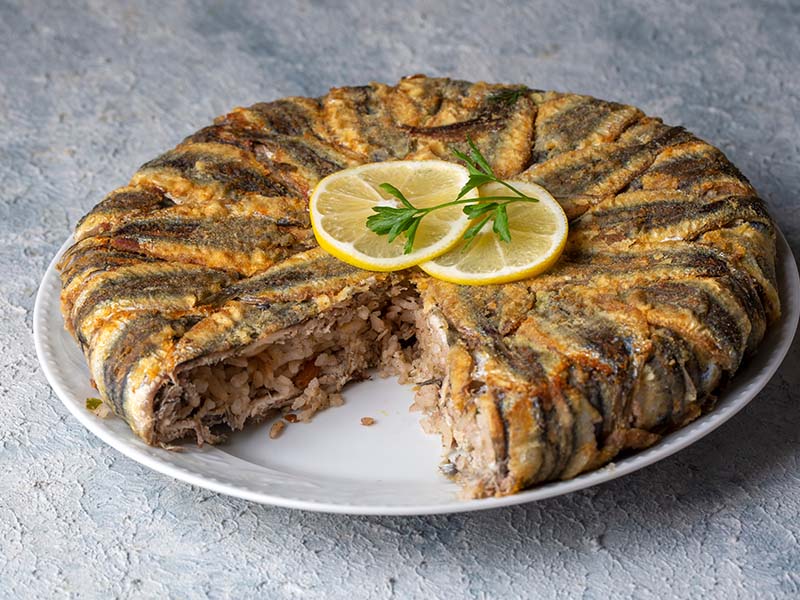 You will be dazzled by Hamsili Pilav, an exquisite dish that seamlessly combines beauty and flavor in a stunning culinary creation. This pilav pie, adorned with a coating of anchovies, is a true testament to the innovative spirit of the Laz people, who hail from northeastern Turkey.
The artistry behind Hamsili Pilav is a marvel to behold. The process begins with a butter-coated baking pan, which is meticulously lined with anchovies.
Next, the prepared pilav is carefully placed atop this delicate layer. After baking, the pan is inverted to reveal a strikingly shaped Hamsili Pilav. This splendid Turkish winter dish perfectly celebrates the season of fresh anchovies, which are paired harmoniously with baked rice.
15. Hünkar Beğendi (The Sultan's Delight)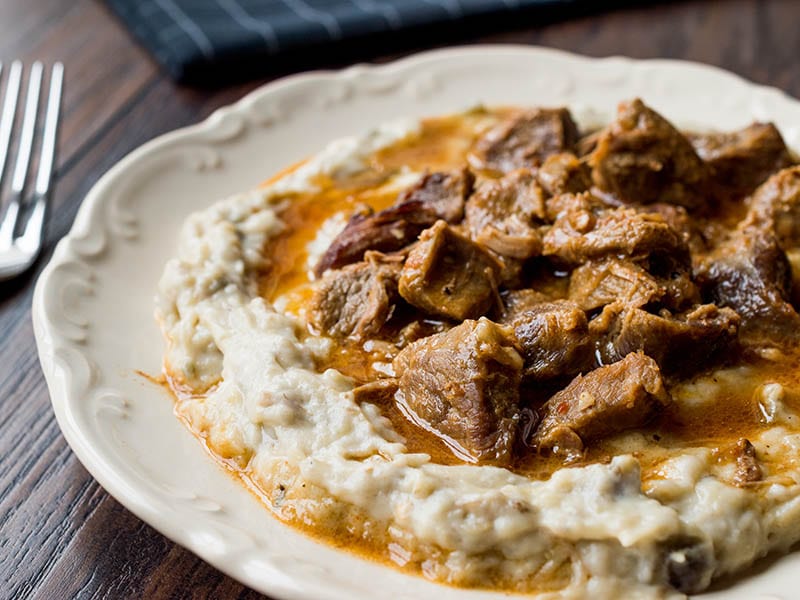 Hunkar Begendi is a luxurious dish steeped in compelling chronicles and savory flavors. This creamy concoction is lovingly crafted from eggplants, milk, and butter, and then elegantly crowned with a succulent layer of sautéed lamb.
Hunkar Begendi's intriguing history is a subject of debate, with some attributing its origins to the tragic love story between Sultan Abdülaziz and Empress Eugénie, wife of Napoleon III.
While the veracity of this tale remains uncertain, one thing is clear: Hunkar Begendi has its roots firmly planted in the opulent world of the Ottoman Empire. The dish's regal connection further cements its status as a beloved favorite among royalty.
Today, Hunkar Begendi's allure has expanded beyond its original lamb pairing, with the sumptuous aubergine puree, known as Beğendi, now accompanying a variety of meats and dishes.
16. Börek/Burek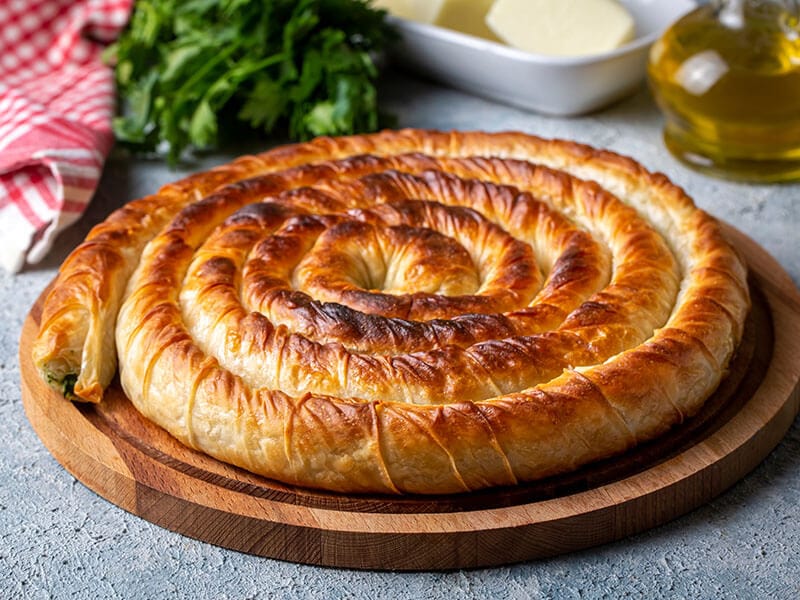 Let me introduce the next Turkish delicacy that you should not miss: the tasty Turkish pastry known as Börek. The scrumptious layers of phyllo sheets are interwoven with a tangy yogurt sauce and brimming with a mouthwatering fusion of cheese and herbs.
Known in English as "borek," this pastry's origins trace back to Turkish börek, while the name "burek" is commonly used in countries of the former Yugoslavia. With countless variations, this enticing treat goes by many names: byrek in Albania, boureki in Greece, byurek in Bulgaria, Bourek and brick Annabi in Algeria, and brik in Tunisia.
Perfect as a snack, it's sure to elevate any breakfast or brunch spread. Börek's allure lies in its crisp, rich texture, achieved by layering ultra-thin dough, a savory egg mixture, and a medley of enticing fillings.
As versatile as it is delicious, borek presents itself in an array of shapes and sizes, from slender cigarette-shaped rolls to generous, bountiful trays.
---
As the sun sets on a day of exploration, nothing soothes the soul quite like a heartwarming bowl of Turkish soups and stews, crafted to bring you the perfect culinary embrace to conclude your adventures.
17. Kuru Fasulye (White Bean Stew)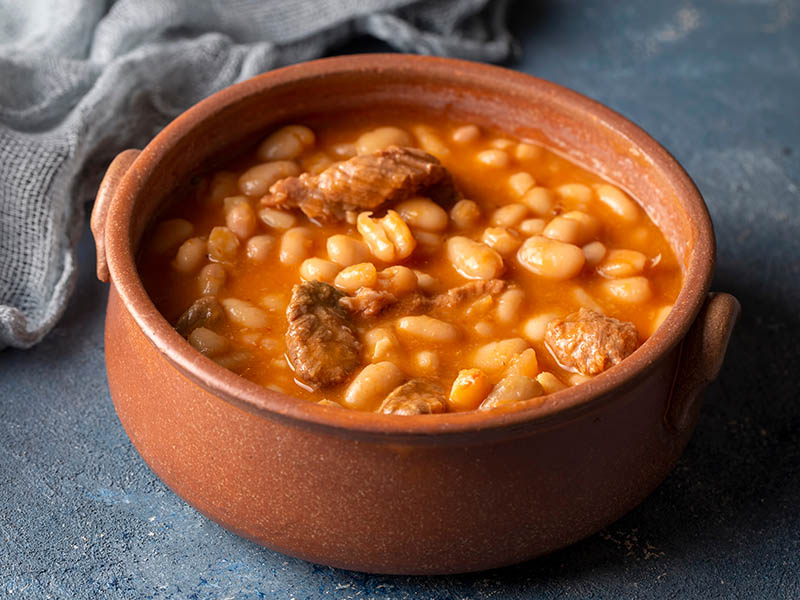 Kuru Fasulye is another must-try dish of Turkey, which is also famous in the exotic Albanian cuisine with another name – Jani Me Fasule.
Derived from the Greek words "Fasulye" and "Kuru," meaning "known vegetables" and "dried" respectively, this creation showcases the humble white bean as its star ingredient.
A proud testament to its Ottoman heritage, Kuru Fasulye dates back to the 18th century and is now lovingly regarded as Turkey's national dish. Prepared by simmering white beans in a rich tomato paste, this savory stew offers warmth and comfort all year round.
Kuru Fasulye's versatility is further showcased by its various accompaniments, typically served with rice or bulgur and occasionally enhanced with vegetables or meat, such as pastirma. The dish's popularity extends to Greek cuisine, where it is known as fasolada.
It can be the ultimate comfort food on a chilly winter night. You can also enjoy its robust flavors during warmer months.
18. Ezogelin Çorbası (Red Lentil, Bulgur, and Mint Soup)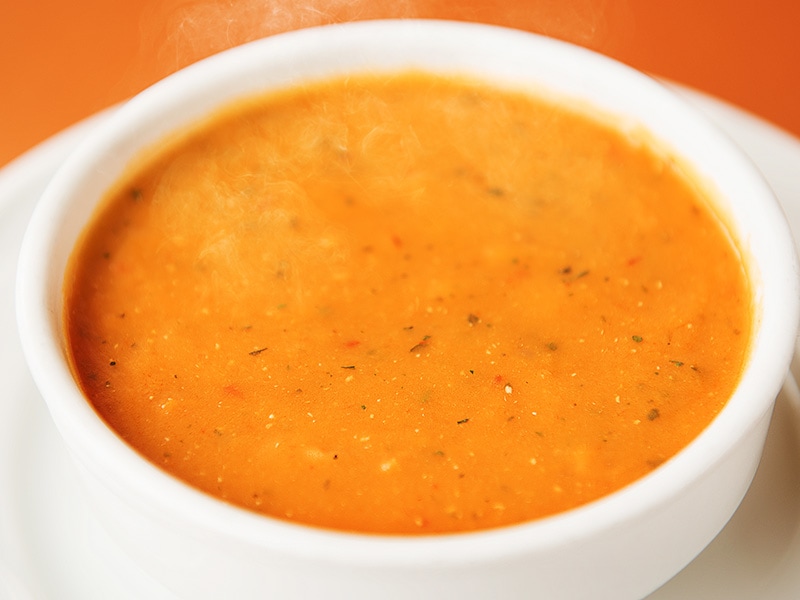 Ezogelin soup is a classic Turkish recipe that is steeped in emotional history. The story behind this dish revolves around a beautiful woman named Ezo from the 20th century, who faced many challenges in her love life, despite her numerous admirers.
Ezo crafted the soup using only a few available ingredients in her storecupboard, determined to win her mother-in-law's affection. Her life was marked by an unfaithful first husband and a strained relationship during her second marriage.
This tasty soup, born from Ezo's perseverance, now symbolizes the strength and resilience needed to overcome life's challenges.
Today, it is served to brides as a nourishing reminder of the obstacles they may encounter and the importance of facing their future with courage and grace. Savor the flavors of this classic Turkish winter dish, and let its poignant story warm your heart as you enjoy every spoonful.
Turkish Street Foods
Every country has some signature street foods, and so is Turkey. Check out the most delicious Turkish street foods, so you know what to look for when in this country.
19. Döner Kebab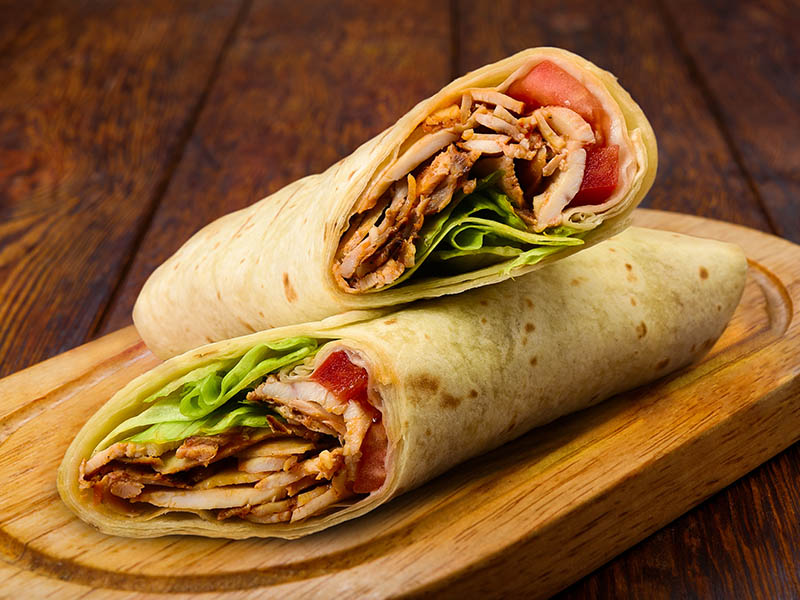 Döner Kebab is not only a Turkish specialty, but it is also a very popular street food in Germany. This is because it was invented in Berlin by a Turkish worker named Kadir Nurman in 1972.
He worked in the printing industry and realized that workers could hardly find any food for lunch. So he decided to make skewered meat cubes and wrap them in a kind bread called durum. He sold the first Döner Kebab in the West of Berlin, and it soon became a phenomenon.
The contemporary rendition of Döner Kebab features a delightful combination of chicken, lamb, or beef accompanied by an array of vegetables. Highly popular in Istanbul, this quintessential Turkish dish is an absolute must-try for food enthusiasts.
The history of Döner Kebab is still a mystery. Let's find out more about it!
20. Tantuni (Meat Wrap)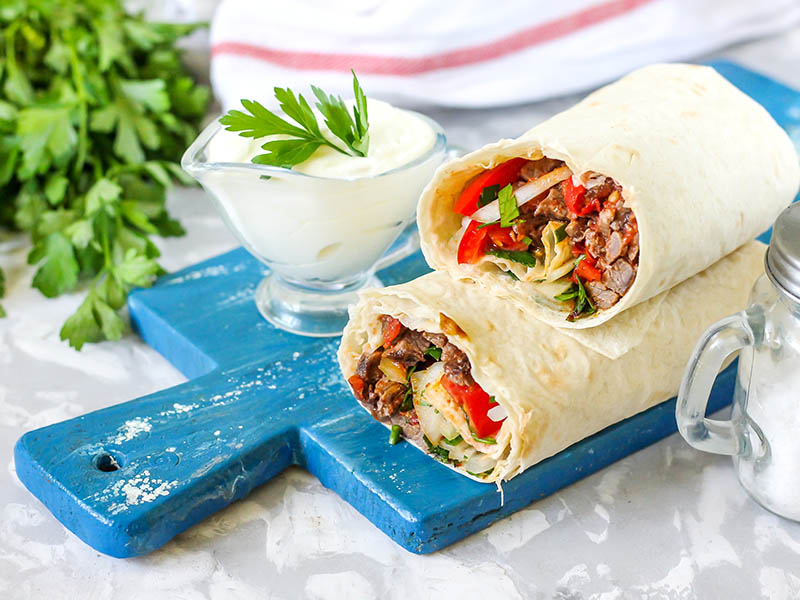 If you have a taste for spicy food, then this dish starting with a T is a must-try. Tantuni is the mouthwatering street food sensation from the sun-kissed shores of Mersin, a charming city nestled along the Mediterranean coast of Southern Turkey.
This dish has swiftly risen through the ranks to become Mersin's most iconic culinary delight, even surpassing the fame of the beloved Döner Kebab.
Tantuni's scrumptious rolls are filled with tender lamb or succulent beef, accompanied by a medley of fresh vegetables. To elevate the flavor, these rolls are seasoned with fiery chili powder or peppers, all wrapped up in a soft, warm tortilla.
The spicy kick is sure to take your taste buds on a thrilling ride, but beware, as it might just set your mouth aflame!
In the fast-paced world of modern dining, Tantuni stands out as a healthier and more traditional alternative to the ubiquitous hamburger and pizza.
Its rich, authentic taste and satisfying textures make it an irresistible choice for anyone seeking a fresh, flavorsome alternative to conventional fast food.
To complete this exquisite culinary experience, Tantuni is traditionally served with a refreshing ayran, a cool and creamy yogurt-based drink, and a side of tangy pickled pepper.
21. Dondurma (Ice Cream)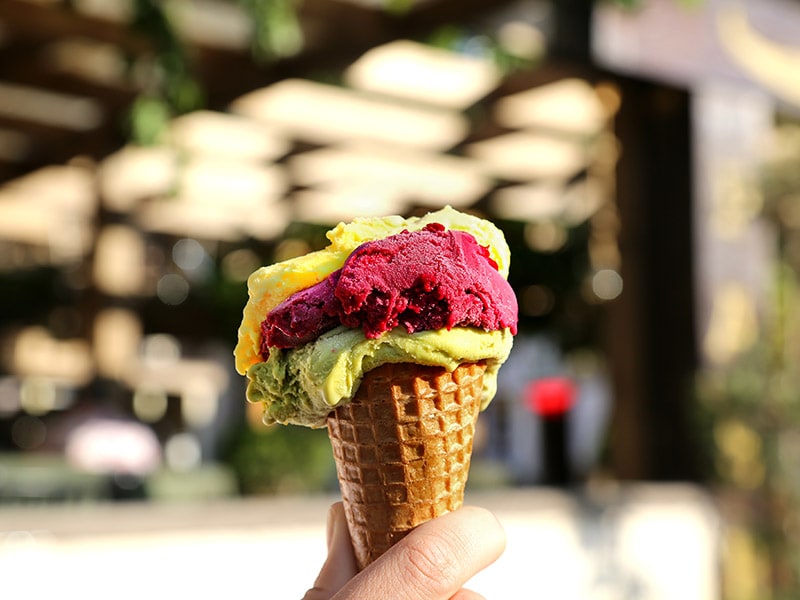 Imagine a summer in Turkey without indulging in ice cream – unthinkable, right? The Turkish people have a special fondness for a unique ice cream known as "Dondurma," which dates back to the 1850s.
What sets Dondurma apart from your average scoop? For starters, it defies gravity – it doesn't drip like ordinary ice cream and can even be enjoyed while held upside down! This mesmerizing quality is all thanks to the magic ingredient, salep flour.
To enjoy this yummy treat, head to the vibrant streets where you'll find Dondurma at carts and storefronts, skillfully served up by vendors using long-handled paddles.
But beware, these playful sellers are known for their antics! They might just try to bamboozle you by flipping the ice cream stick downward, taking advantage of Dondurma's gravity-defying properties.
22. Lahmacun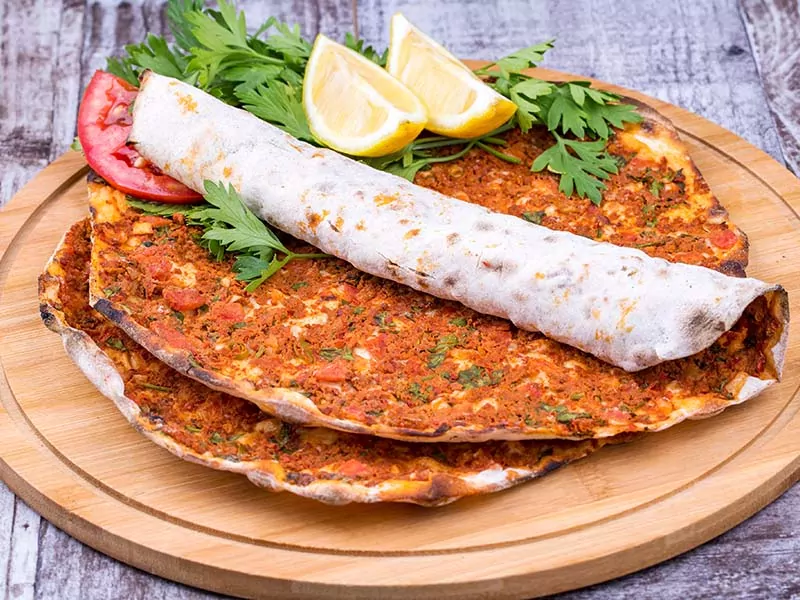 With a name that literally translates to "meat with dough," this Middle Eastern gem, also known as Turkish, Armenian, or Kurdish pizza, is the perfect blend of crispy, delicate dough topped with delectable minced meat.
No longer just the domain of Italy, pizza has found a new home in Turkey. This dish boasts a beautifully thin dough that's crispy to perfection, ready to be rolled up and savored with each bite.
Tracing Lahmacun's complex history is no easy task, as its origins remain shrouded in mystery.
One thing is certain, however – its name has roots in the Arabic term "laḥm ˁacīn," which aptly means "meat and kneaded dough." This enticing combination has stood the test of time, solidifying Lahmacun's status as a cherished culinary treasure.
23. Midye Dolma (Stuffed Mussels)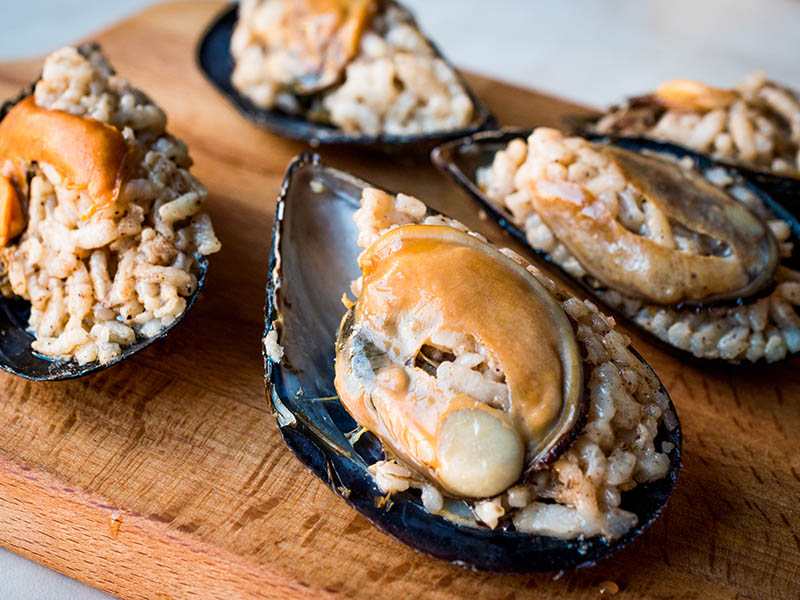 Strolling through the vibrant streets of Turkey, suddenly, your senses are awakened by the enticing aroma of a local delicacy.
Hailing from Armenian roots, this mouthwatering treat has been a part of Turkish cuisine since the 19th century, when an Istanbulite woman adopted the culinary method.
Fast forward to the present day, and Midye Dolma has carved a special place in the food culture of Turkey's coastal regions, particularly İzmir, Istanbul, and Bodrum.
These mussels, generously stuffed with seasoned rice, are perfect for those late-night cravings, making them a popular after-hour food choice.
Just picture it: the sun sets, and the street vendors with their small carts come to life, transforming the bustling coastlines into a haven for seafood lovers.
However, don't let the street vendor charm fool you – Midye Dolma has made its way into the hearts of restaurant chefs too. From casual eateries to the most upscale establishments, these stuffed mussels have earned their spot on menus all across the country.
24. Çiğ Köfte/Chee Kofta (Meatballs)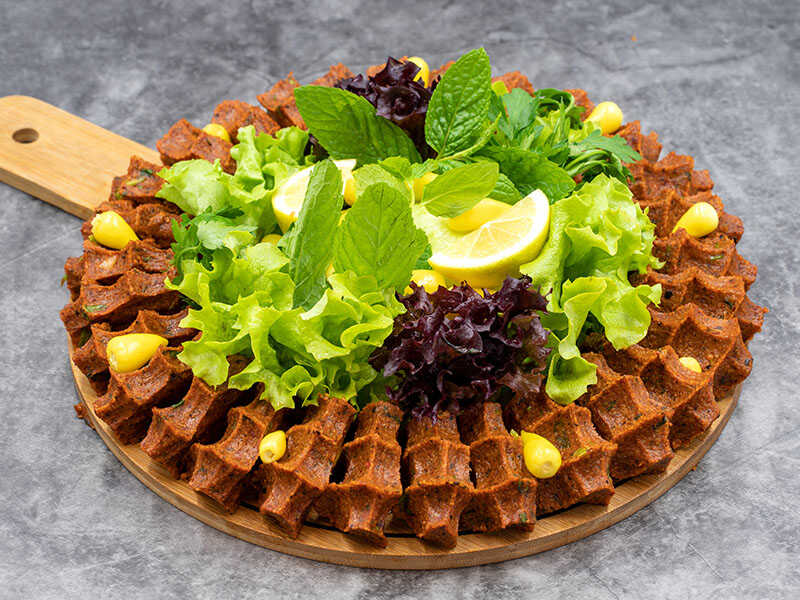 Çiğ Köfte is a kofta dish cherished in both Turkish and Armenian cuisines. Hailing from the southeastern region of Anatolia in Edessa, this tasty treat is often enjoyed as a delightful appetizer or meze and shares close ties with kibbeh nayyeh from Lebanese cuisine.
While traditionally prepared with raw meat, Çiğ Köfte has evolved to include vegetarian and vegan variations, such as those made with bulgur or featuring scrambled eggs, as seen in the local Urfa version.
A true culinary gem of Şanlıurfa province, this popular street food has captured hearts across Turkey and can be found enticing taste buds in Diyarbakır province. For an exceptional taste sensation, wrap your Çiğ Köfte in a crisp lettuce leaf and complement the fiery flavors with a generous helping of cooling ayran.
As a nod to modern hygiene standards, fast-food versions of this beloved dish in Turkey are typically vegan by law, substituting minced raw meat with a wholesome blend of ground walnuts, hazelnuts, and potatoes.
25. Kumpir (Stuffed Baked Potatoes)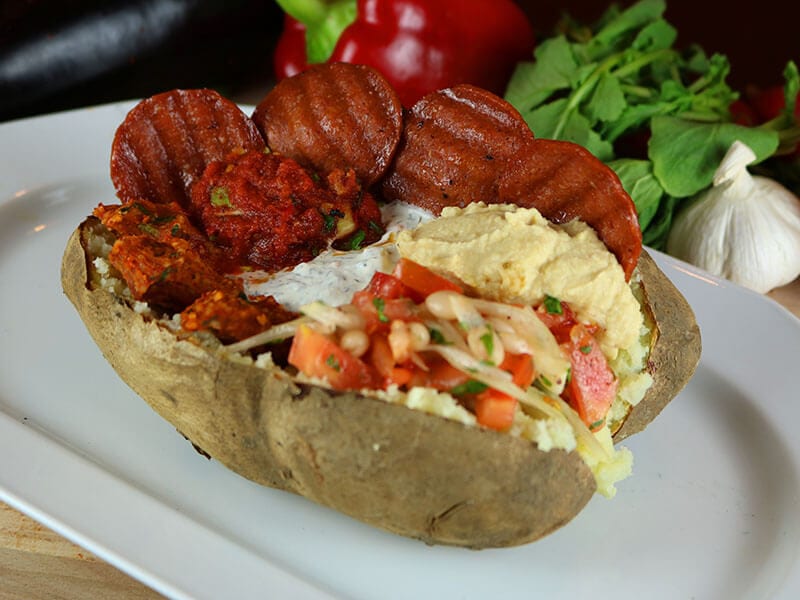 Kumpir is a dish brimming with character and bursting with flavor. Originally introduced to Turkey from the former country of Yugoslavia, Kumpir has since been lovingly embraced and adapted to Turkey's rich culinary culture.
Today, this baked potato with assorted fillings has become a beloved fast food staple across the nation. At its core, Kumpir features potatoes wrapped in foil and expertly baked in special ovens.
Upon reaching perfection, the potatoes are sliced open, revealing a canvas ready for a medley of flavors. The insides are then blended with unsalted butter and kaşar cheese, creating a creamy, irresistible base.
But the true magic of Kumpir lies in its infinite customizability. Traditional toppings include mayonnaise, ketchup, pickles, sweetcorn, sausage slices, carrots, mushrooms, and Russian salad.
Visit some cafés of Ortaköy, Istanbul, and you'll find Kumpir dishes that entice tourists with an even greater array of ingredients. While still honoring its Yugoslavian roots with the name "khumpir," Turkey's unique spin on the dish, with its vast assortment of fillings, has undoubtedly made Kumpir a true Turkish delight.
26. Mantı (Ravioli/Dumplings)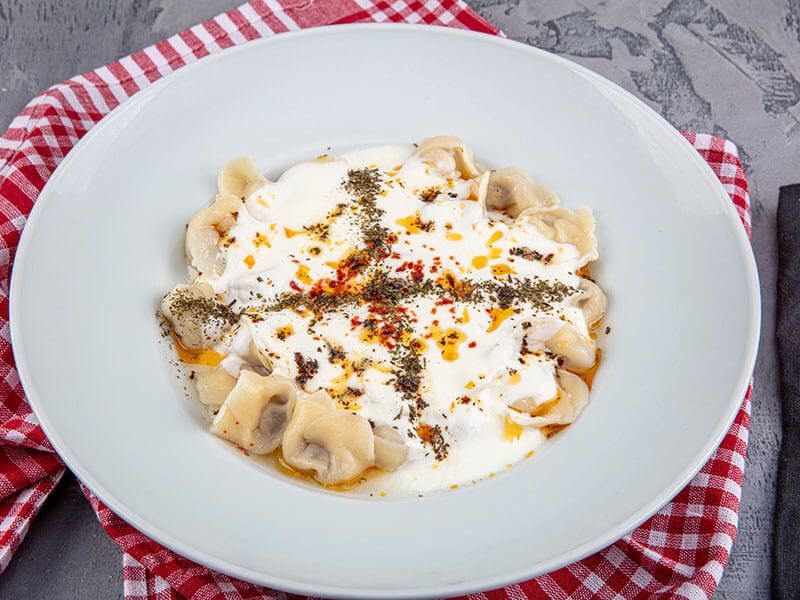 Manti is a traditional Turkish delight that far surpasses any comparison to mere ravioli with yogurt. As a dish with roots in Cilician Armenia, Manti's arrival in Anatolia came as a result of the cultural interactions between Armenians and Mongols during the 13th century.
This yummy dumpling evolved into its modern form as migrating Turkic-speaking peoples and nomadic Mongols, who knew it as Tatar böregi, carried it with them.
Today, Manti has taken its place as a must-try treasure in Turkish cuisine. These parcels are typically served adorned with yogurt and garlic, then sprinkled with red pepper powder, melted butter, ground sumac, and dried mint.
A standout variant of Manti is the Kayseri mantısı, which hails from the Central Anatolian city of Kayseri. These tiny morsels are dressed with yogurt, melted butter infused with spearmint or Aleppo pepper, and a dusting of dry mint and Aleppo pepper flakes.
While Manti traditionally boasts various meat fillings, such as quail, chicken, or goose, you might also encounter boş mantı, which lacks filling entirely. Turkish cuisine further showcases its love for dumplings with creations like hingel and Tatar böreği, which are typically larger than their Kayseri mantısı counterparts.
27. Pogača (Cheese Buns)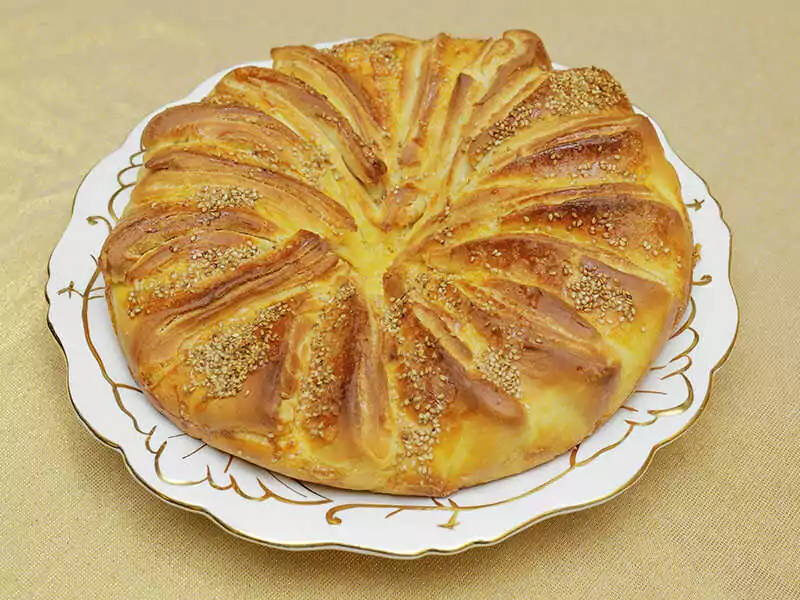 Welcome to the world of Pogača, a delightful bread reminiscent of focaccia, traditionally baked in the ashes of a fireplace before evolving to the modern oven. A staple in Turkish cuisine, poğaça tempts the taste buds with an array of fillings, from beyaz peynir (white cheese) to black olives, potatoes, onions, or even ground beef.
As popular as its cousin borek, Pogača boasts a variety of fillings such as feta cheese, kasar cheese, potatoes, or olives, catering to every palate.
Of course, purists can also find it without any filling at all. Pogača's ubiquity in Turkish pastry shops and bakeries makes it a go-to breakfast choice for those on the move, often accompanied by the equally beloved simit.
Students, too, can enjoy Pogača, with school canteens offering these scrumptious pastries alongside simit and a cup of tea for a quick, satisfying breakfast right before class. In the realm of Pogača, you'll find a versatile, savory pastry that brings a touch of traditional Turkish warmth to your mornings.
Turkish Desserts
If you are looking for the most famous Turkish desserts, this section will provide you with plenty of choices. Stay tuned and choose your favorite sweet treat to enjoy in Turkey.
28. Tavuk Göğsü (Chicken Breast Pudding)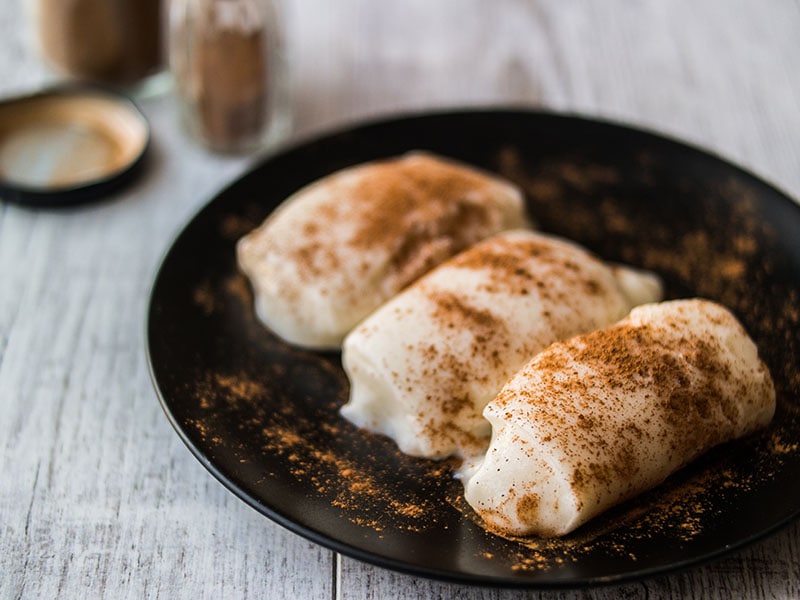 Back to the vibrant Ottoman Empire, a famished Turkish sultan struck by a midnight craving gives life to Tavuk Göğsü. This milk pudding with chicken, graced the sultan's table and soon became a cherished treat. Today, this dessert continues to win hearts in Turkey and beyond.
Tavuk Göğsü presents itself as a familiar and elegant dessert, resembling a classic cinnamon-topped pudding. However, it's the dessert's secret twist that sets it apart – a gentle chicken flavor, teasing your taste buds and elevating this unique fusion of ingredients.
To create the traditional Tavuk Göğsü, you'll find a blend of shredded white chicken breast meat, milk, sugar, and cracked rice, coming together to form a rich and thick pudding.
The key to its silky texture lies in the meticulous preparation of the chicken, which is boiled and delicately separated into fine fibers or pounded to perfection. The pudding is then infused with aromatic cinnamon and often molded into an eye-catching presentation.
29. Mozaik Pasta (Chocolate Cake)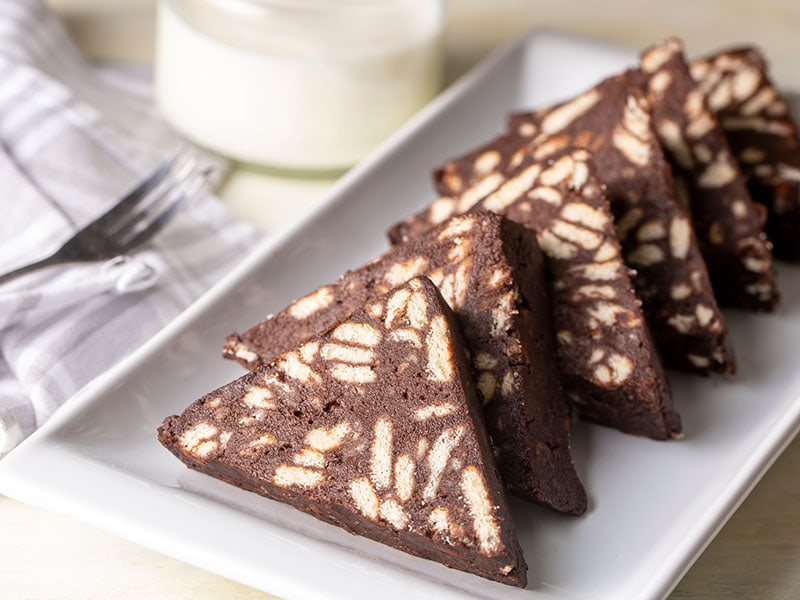 In Turkey, the mere mention of chocolate instantly conjures up images of Mozaik Pasta, a dessert that has captured the hearts of the nation. With roots in Italy and Portugal, the journey of this treat to Turkish shores remains shrouded in mystery.
Mozaik Pasta is a medley of cocoa, butter, eggs, and broken biscuits, blending harmoniously to create a dessert that defies classification. With its semi-hard texture, Mozaik Pasta straddles the line between cake and candy, teasing the senses with a taste that is both familiar and novel.
As you savor each bite of Mozaik Pasta, you'll find yourself immersed in a symphony of flavors, where the rich cocoa melds with the creaminess of butter, the delicate aroma of eggs, and the crunchy delight of broken biscuits.
30. Kazan Dibi (Burned Milk Pudding)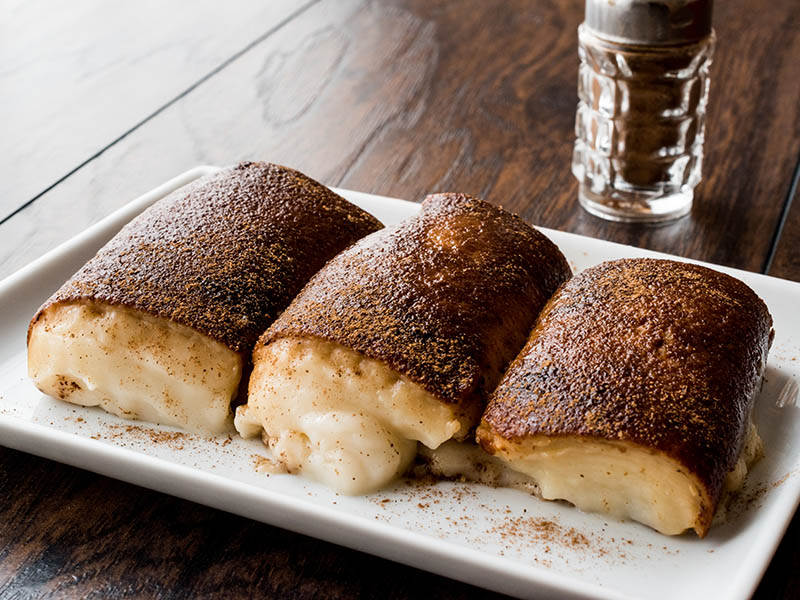 Kazan dibi is a not only tasty but also carries deep-rooted significance in Turkish tradition. Typically savored during the Muslim holy month of Ramadan, this exquisite dessert has been around since its origins in 11th-century Istanbul.
The name "Kazan dibi" might pique your curiosity, as it sounds rather unusual. In Turkish, it translates to "the very bottom of the pan," revealing the secret behind this dessert's distinctive creation.
A tale lies at the heart of Kazan dibi's origin, involving a baker who accidentally burned a milk pudding. Instead of discarding the charred concoction, the baker embraced the serendipitous mistake, discovering that the burnt sugar added a unique, slightly bitter taste that elevated the pudding to new heights.
Kazan dibi's remarkable flavor profile is a testament to the baker's ingenuity, as the bitterness of the caramelized sugar harmonizes with the sweetness of the creamy pudding, creating an unparalleled taste sensation.
This dessert serves as a reminder that beauty can be found in the most unexpected places – even at the very bottom of the pan.
31. Lokum (Turkish Delights)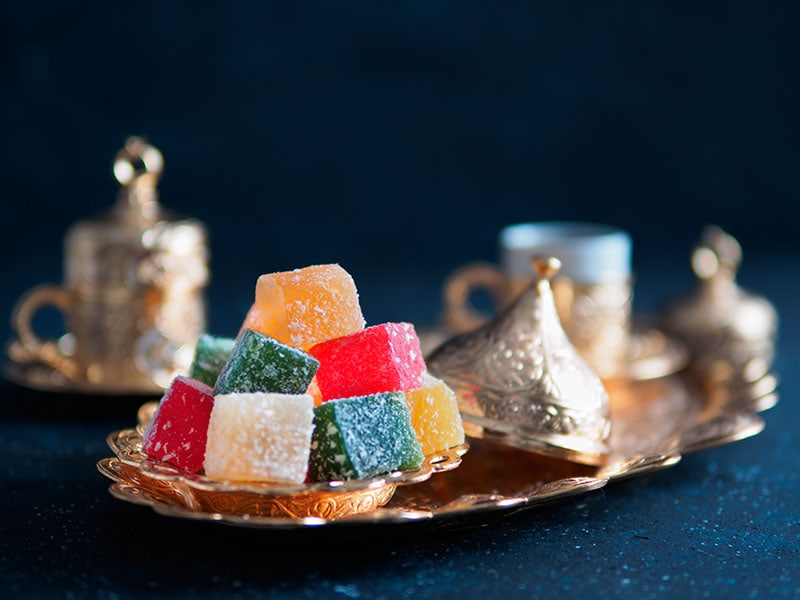 If you are a real lover of confectionery, you should never miss Lokum, a Turkish delicacy that is also a favorite food in Macedonia and has stolen the heart of many travelers around the world.
Dating back to the 18th century, these confections will take your taste buds on a mesmerizing journey. Each piece is a bite-sized cube of pure joy, artfully crafted with a soft, squishy texture reminiscent of gumdrops.
As you savor each morsel, you'll discover a hidden treasure: chopped pistachios nestled within the candy. These captivating cubes come in a vibrant array of colors, each representing a unique flavor waiting to be explored.
From street vendors to specialty stores, these scrumptious gems can be found throughout Turkey and Iran (Persia). They make the perfect addition to your daily cup of coffee or tea, creating a harmonious blend of sweet and savory that will leave you craving more.
Lokum, as it's traditionally known, is not only a tasty treat for yourself, but also an ideal gift to share with your loved ones.
Each piece is thoughtfully coated with a generous layer of powdered sugar and cornstarch, adding an exquisite finishing touch to the already irresistible candy.
Let's take a tour to the place of birth of Lokum.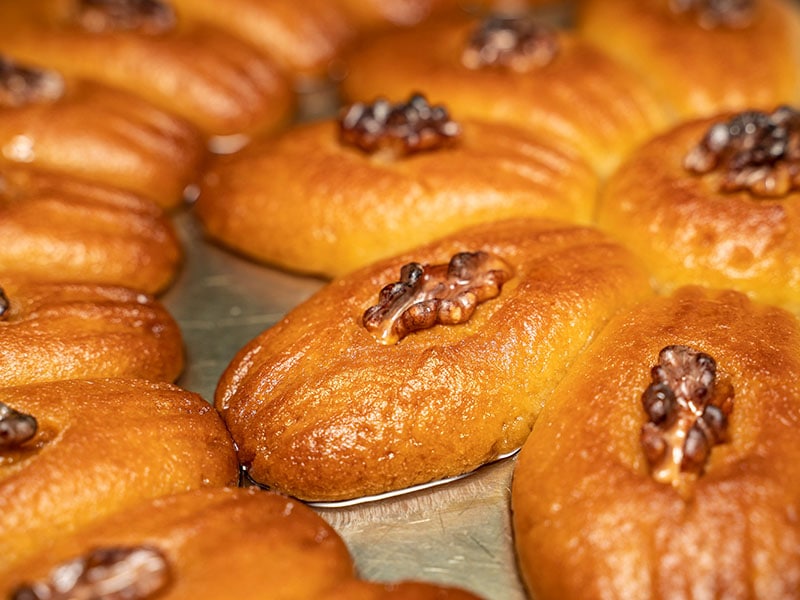 If you are finding a sweet treat to enjoy after dinner, then Şekerpare will be the best choice. It is so popular that you will see it in Turkish households, bakeries, and restaurants.
Şekerpare features golden-brown dough with a hole in the middle filled with lemon syrup. Its name means "a piece of sugar," which indicates how sweet and lovely it is. Turkish people love Şekerpare, and you will also not be able to resist it.
Traditionally, people enjoy Şekerpare with Turkish coffee and tea. It is served at family parties and religious festivals such as Şeker Bayrami, which celebrates the end of Ramadan. People also serve it on Kurban Bayrami.
33. Baklava (Layered Pastry with Chopped Nuts)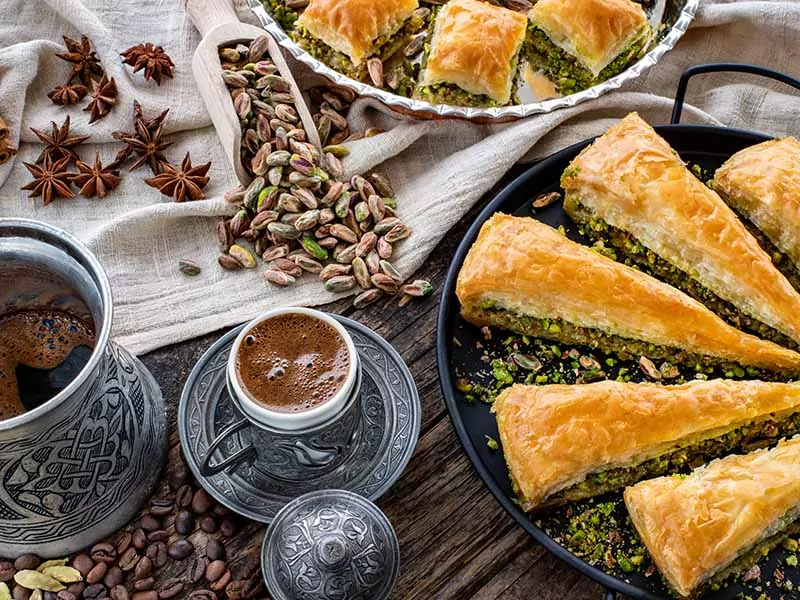 Baklava – a well-loved sweet in the Middle Eastern, is a beautiful phyllo dough filled and topped with pistachios, hazelnuts, and walnuts. People sweeten it with a syrup made from honey or sugar, water, and lemon juice. 
It has a nutty and sugary flavor that few can refuse. Serve it cold to get its best refreshing and sweet taste.
The history of this wonderful dessert is still under debate. Some said that it originated from the Central Asia region of Turkey when the Ottoman Empire ruled the country, while others posit that it came during the Assyrian Empire.
What sets Turkish baklava apart from other desserts is its distinctive use of a special syrup. While other sweets rely on honey for sweetness and flavor, this dessert's syrup is made by combining sugar, water, and a small amount of lemon juice. This syrup contributes a unique flavor profile and also prevents the sugar from crystallizing, resulting in a smooth and velvety texture.
34. Ekmek Kadayıfı (Bread Pudding)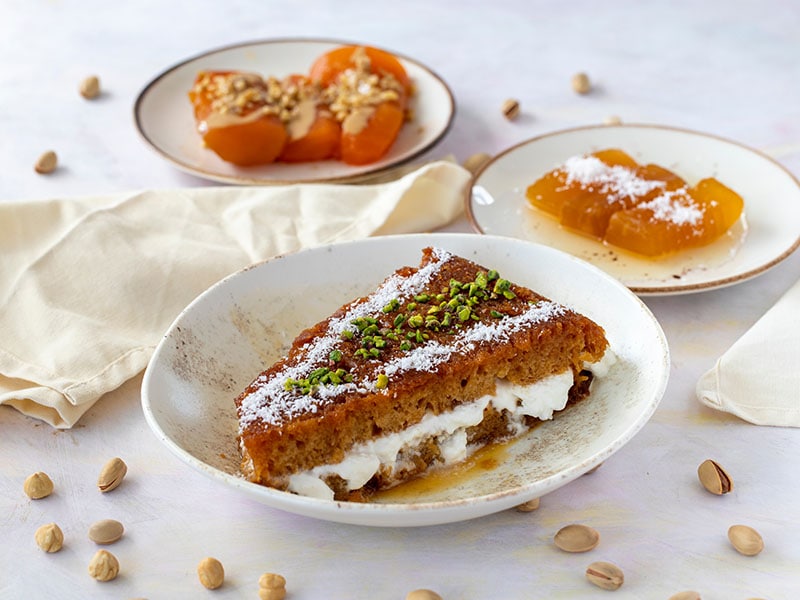 Hailing from the picturesque city of Afyonkarahisar, this regional specialty has roots that reach back to the magnificent era of the Ottoman Empire. Now, it's a beloved dessert that graces tables at restaurants across the nation.
Ekmek Kadayıfı is an exquisite medley of flavors and textures, featuring a generous slice of bread lavished with crushed nuts and a luscious layer of cream.
But the real magic happens when it's drenched in a zesty lemon syrup, transforming the dish into a harmonious blend of sweet and tangy notes. Served with kaymak, a velvety clotted cream, it's a match made in culinary heaven.
A true testament to Turkish ingenuity, Ekmek Kadayıfı evolved from the practical need to repurpose stale or day-old bread. Today, it's a popular choice for modern home cooks searching for a simpler alternative to labor-intensive desserts like baklava.
But this scrumptious delight isn't just for any ordinary day; it holds a special place in the hearts of Turks during religious celebrations. Ekmek Kadayıfı takes center stage during the festive Şeker Bayramı, marking the end of Ramadan, the Islamic holy month of fasting.
It's a sought-after treat at iftar meals, allowing families to break their fasts with a touch of sweetness and tradition.
35. Katmer (Pancakes with Pistachios and Clotted Cream)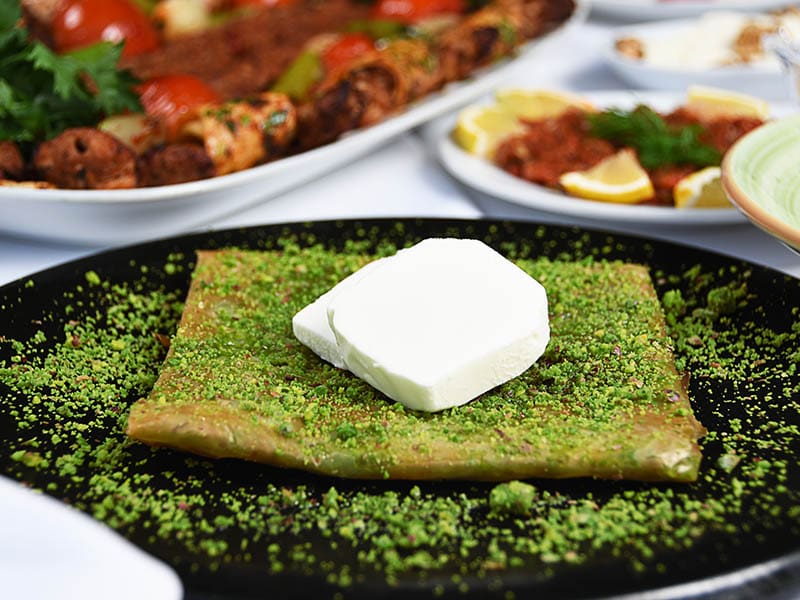 Katmer is a Turkish delicacy that's been delighting taste buds since the 11th century! First crafted in the vibrant city of Gaziantep, this heavenly treat has evolved through the centuries, becoming a true symbol of Turkish culinary heritage.
At first glance, you might mistake Katmer for its cousin, Baklava, with shared layers of delicate phyllo dough and tempting toppings of clotted cream.
But don't be fooled! Katmer stands out with its ethereal, paper-thin dough and an irresistibly crispy texture that earns it the affectionate nickname of "pancake." As if that wasn't enough, this scrumptious confection boasts a generous sprinkling of ground pistachios, adding crunch to every bite.
But Katmer isn't just a tasty dessert; it also holds a cherished place in Turkish culture. As a time-honored tradition, newlywed couples share a plate of this sweet delight on their first morning together, symbolizing their hope for love as rich and satisfying as the flavors of Katmer itself.
36. Sütlaç (Rice Pudding)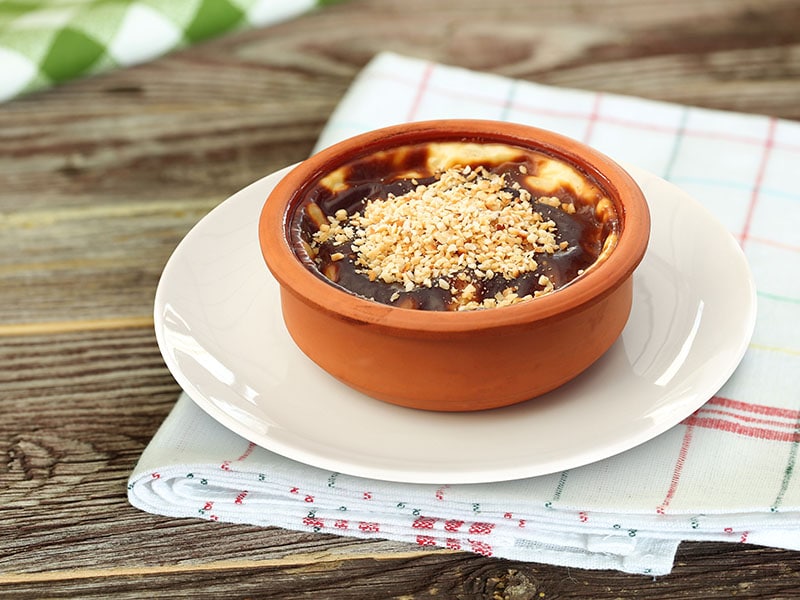 Sütlaç is a Turkish treasure that has been soothing souls and satisfying cravings for over four centuries.
Initially crafted as a comforting remedy for those with stomach ailments, this heavenly dessert boasts a wholesome blend of nutritious ingredients: milk, rice, and sugar.
With milk taking center stage in this centuries-old creation, Sütlaç envelops your taste buds in a velvety embrace, delivering a creamy texture and rich flavor that'll leave you craving more.
This enchanting dish is versatile, too; enjoy it chilled on a warm afternoon or delight in a steaming bowl on a cozy night in.
Sütlaç's seamless blend of simplicity and indulgence has stood the test of time, making it an enduring favorite among dessert lovers.
37. Kaymak (Turkish Cream)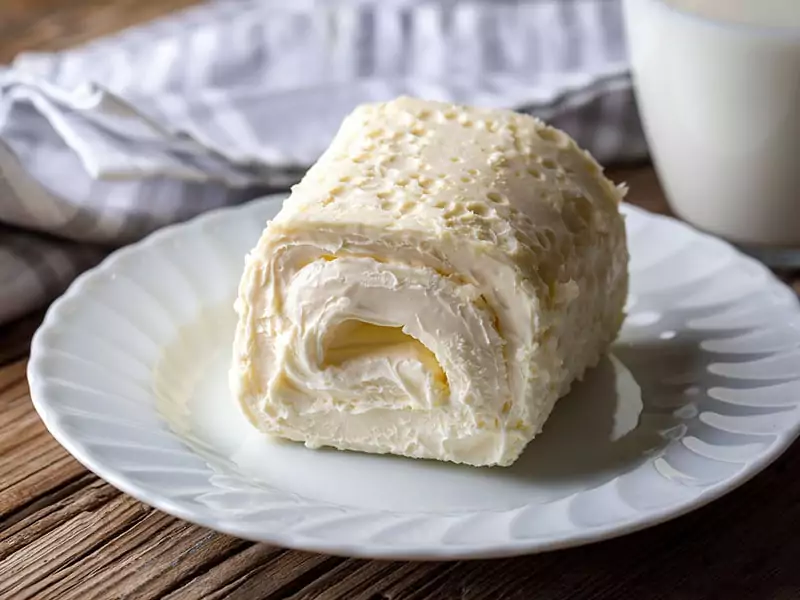 This scrumptious gem hails from the Central Asia region of Turkey, where it first graced tables during the illustrious Ottoman Empire.
Crafted with meticulous care, Kaymak is made by collecting the milk of goats, cows, and water buffaloes, skillfully boiling it, and allowing it to cool. The result is a luscious and velvety treat that's simply irresistible. In fact, it's so rich and creamy that words alone can hardly do it justice.
The true beauty of Kaymak lies in its versatility. Whether you're looking to elevate your breakfast, create an unforgettable appetizer, or add a touch of decadence to your dessert, Kaymak has you covered.
It takes pride of place in the traditional Turkish breakfast, adding a touch of sophistication to your morning routine. But that's not all; Kaymak's sumptuous charm also lends itself perfectly to an array of Turkish desserts, such as baklava.
Try it with fruit preserves, honey, or as a tantalizing filling in pancakes, and you'll soon understand why it's won the hearts of food lovers for generations.
38. Kunefe (Sweet Cheese Pastry)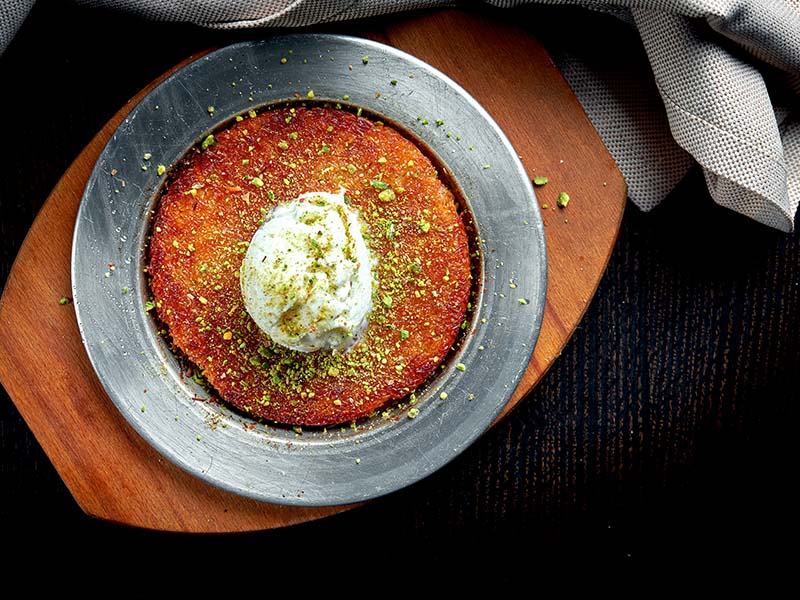 With roots in Palestinian cuisine, this divine dessert first emerged among the Arabic people in the 10th century AD, before capturing the hearts of food lovers across Turkey and beyond.
The secret to Kunefe's allure lies in its exquisite composition. Kunefe features a combination of delicate wire kadayıf, sandwiching a layer of gooey melted cheese, and is served warm, garnished with either pistachio or walnut.
This stunning combination of flavors and textures creates an irresistible visual feast that's impossible to resist.
But Kunefe is more than just a pretty face. Best enjoyed piping hot, its heavenly blend of sweet, cheesy, and warm sensations is a symphony for the senses.
To add even more depth and variety to this delectable treat, different types of pastry can be used in its preparation, depending on the region it hails from.
You must know the 8 most famous varieties of Kunefe.
Turkish Drinks
Finally, let's get to the drinks. Besides the foods, Turkey's drink list is diverse and tasty, ranging from alcoholic to non-alcoholic ones. Let me show you what they are!
39. Turkish Tea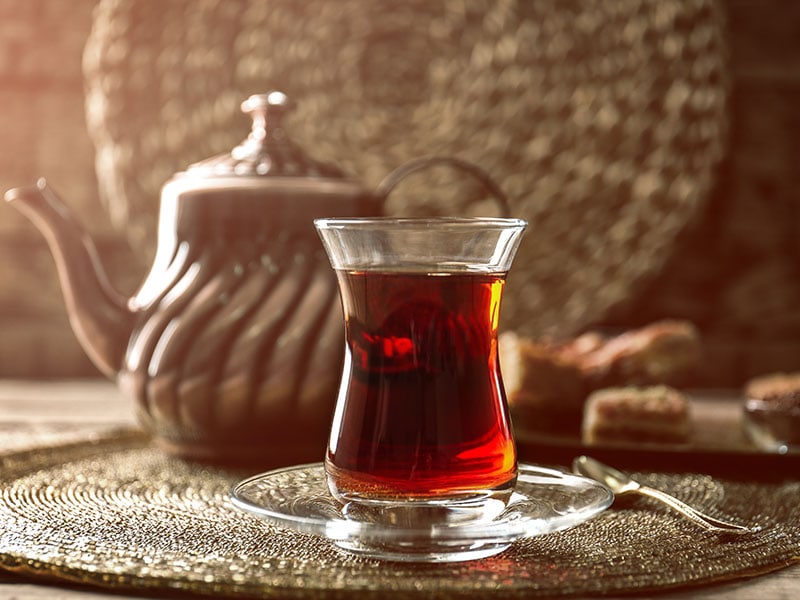 Turkish tea is an ancient elixir that has been warming hearts and nourishing souls since the 15th century. Introduced to the country by Silk Road traders, this beverage initially served as a medicinal marvel before evolving into Turkey's most cherished drink.
Turkish tea's bewitching allure is evident in the nation's impressive consumption, which leads the world in per capita intake. This beloved beverage is also an indispensable component of conversations, social events, and gatherings.
Among the most popular varieties, apple tea, yarrow tea, and sage tea stand out for their delightful flavors and impressive health benefits. Savoring these exquisite teas is not only a sensory delight but also an investment in your well-being.
What's more, Turkish tea boasts a purity that's second to none. Cultivated without the use of pesticides, this cherished drink is a true testament to the country's commitment to quality and sustainability.
40. Turkish Coffee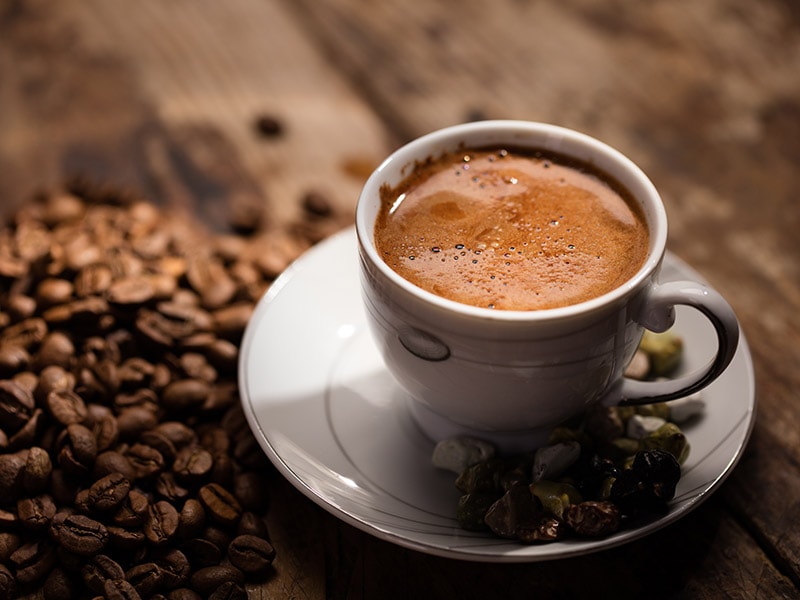 Turkish coffee is more than just a beverage; it's a cherished tradition and a symbol of friendship. The moment you take a sip of this bold, aromatic delight, you'll understand the allure of its rich and bitter flavor profile.
The secret lies in the unique preparation method, which involves grinding the beans to a fine powder and brewing them in a special pot called a cezve or ibrik.
The mixture is then heated until it becomes frothy, just before reaching the boiling point, resulting in a distinctively dark, strong, and bitter coffee topped with a thick layer of foam.
In Turkey, coffee is deeply ingrained in the culture, signifying respect and camaraderie. Declining an offered cup of Turkish coffee is virtually unheard of, as it represents the warmth of human connection.
Furthermore, the coffee grounds have been known to unveil the mysteries of one's future through the art of fortune-telling. While this practice may vary across different regions, the importance of Turkish coffee in fostering connections and upholding tradition remains a constant throughout the nation.
41. Salep (Hot Milk Drink)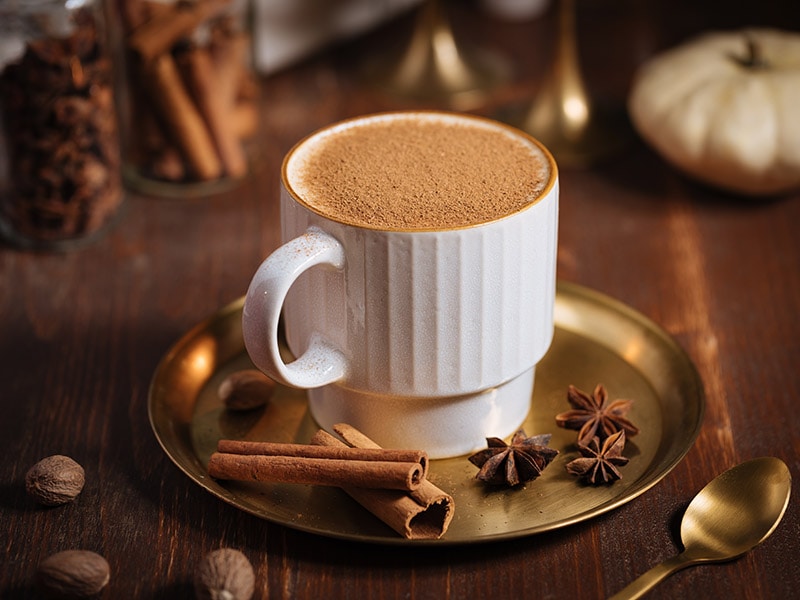 In the 8th century, when Turkish authorities banned alcoholic beverages, people made Salep. They created a warm and rich drink by adding cinnamon into hot milk. Have you ever enjoyed a drink that is made from orchids? If you haven't, then Salep is a must-try.
To create Salep, the orchid tubers are harvested, cleaned, dried, and ground into a fine powder before being blended with milk and sugar. A final flourish of cinnamon crowns this warm, aromatic delight.
Salep holds a special place in Turkish culture as a quintessential winter beverage, renowned for its soothing warmth and earthy flavors. Whether it's your first encounter or a cherished favorite, a steaming cup of Salep is sure to bring comfort and contentment to anyone.
42. Ayran (Yogurt Drink)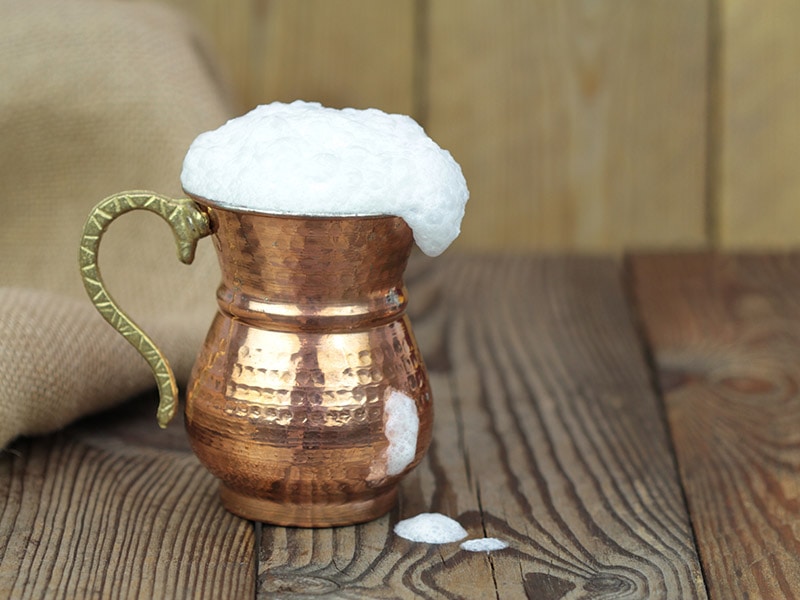 Let me introduce the national drink of Turkey! It's Ayran, a yogurt-based drink that will help you beat the heat of summer. You can also find them on Greek's beverage menu, which contains yogurt, water, and some salt. It is not only refreshing but also healthy. There is no sugar at all.
The history of Ayran is still under debate. Many believe that it came from Central Asia in 1000 BC. They posit that the Göktürks invented it. Nowadays, Ayran is the most popular drink to quench thirst. Try it on a hot summer day in Turkey, and you will be over the moon.
43. Tursu Suyu (Pickle Juice)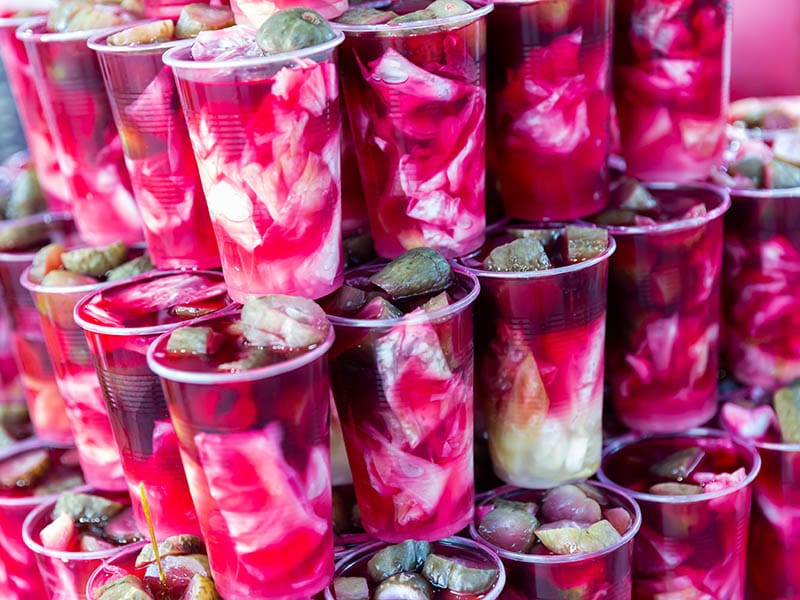 Strolling through the bustling streets of Turkey in the summertime, you're bound to notice the delightful pink-hued drinks in plastic cups. Tursu Suyu is a flavorful beverage crafted from an assortment of pickled vegetables including cabbage, beets, cucumbers, and carrots.
While the origins of Tursu Suyu in Turkey remain shrouded in mystery, there's no denying its zesty, tangy, and subtly salty flavor that never fails to invigorate those who try it.
Perfectly complementing the vibrant street food scene, Tursu Suyu is a beloved accompaniment to sandwiches and other on-the-go delicacies.
44. Boza (Turkish Fermented Drink)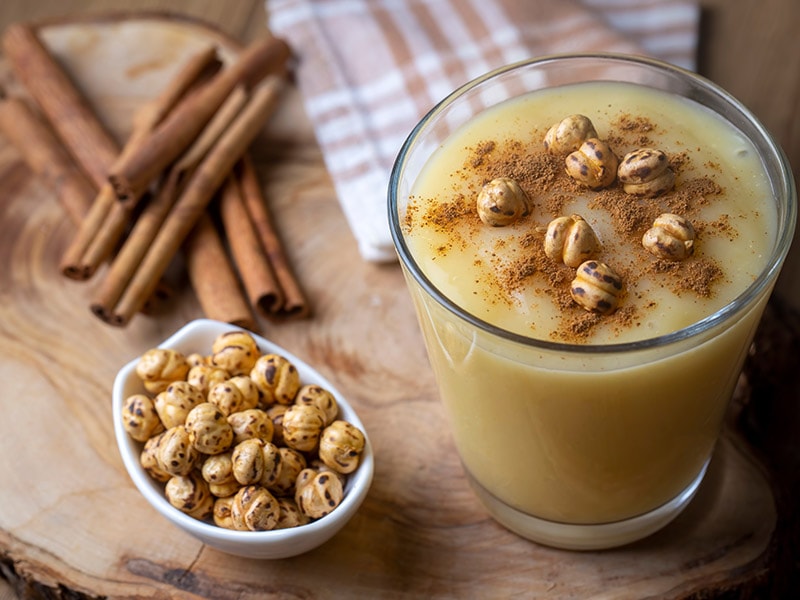 Nothing can beat a cozy comforting cup of Boza on a chilly winter night in Turkey. This traditional beverage has warmed the hearts of locals for centuries.
Crafted from fermented wheat and embellished with a touch of cinnamon and a sprinkle of toasted peanuts, Boza is the quintessential winter delight.
But don't let the cold weather keep you from indulging in this treat year-round; a refreshing, chilled Boza serves as the perfect summer thirst-quencher too.
Dating back to the 10th century BC, Boza has a storied history in Turkish culture, and its name still sparks debate among enthusiasts. The prevailing theory suggests that the name "Boza" is derived from "buze," the Persian word for millet.
Regardless of its etymology, Boza remains a timeless favorite, seamlessly transitioning from season to season with its versatile charm.
45. Rakı (Grapes and Aniseed Drink)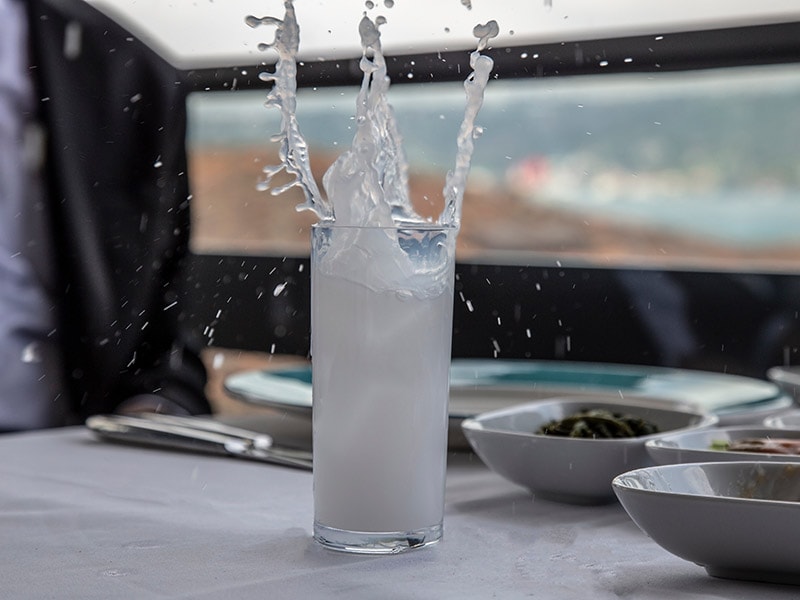 Born in the heart of Anatolia over 300 years ago, during the reign of the Ottoman Empire, Raki is crafted from twice-distilled grapes and aniseed, resulting in a potent and licorice-like flavor that transports you to a world of celebration.
Indeed, no Turkish gathering is complete without Raki; from birthday parties to promotions and weddings, this iconic beverage is a staple at any festive occasion.
To savor Raki like a true Turk, serve it chilled with cold water or pour water or ice cubes directly into the glass, transforming its appearance to a milky hue reminiscent of absinthe's louche, affectionately dubbed "Lion's Milk."
Raki's flavors are further elevated when paired with meze, seafood, and other traditional Turkish delicacies like fresh beyaz peynir, arugula, melon, and kebab.
And don't forget the customary cup of şalgam while indulging in a kebab feast! Raki also takes center stage at the pre-dinner rakı sofrası, where friends and family come together to share food, laughter, and memories.
FAQs
In my Turkish cuisine FAQs section, you will uncover the diverse flavors, ingredients, and cultural aspects that shape this delightful culinary tradition.
---
Make Your Culinary Experience In Turkey Remarkable
These enticing Turkish dishes will undoubtedly leave you craving more. If Turkey is your current destination, seize the opportunity to relish these scrumptious treats! Thoughtful planning will guarantee that you experience the full range of delicious dishes during your stay.
If this article has captured your imagination, kindly share it on social media, allowing others to uncover the culinary treasures of Turkey.
Additionally, I would be delighted to read about your encounters with these appetizing foods in the comments section. Thank you for accompanying me on this flavorful odyssey!