If you haven't tried Macedonian foods yet, you are missing an important delight of life. Those delicious dishes can easily conquer your taste, just like how the most renowned Macedonian son, Alexander the Great, tamed the ancient world.
Nowadays, many people identify the name "Macedonia", mainly with the Republic of North Macedonia. But as a region, the term encompasses six Balkan countries. So you're going to find a lot of similarities between Macedonian cuisine and its neighbors.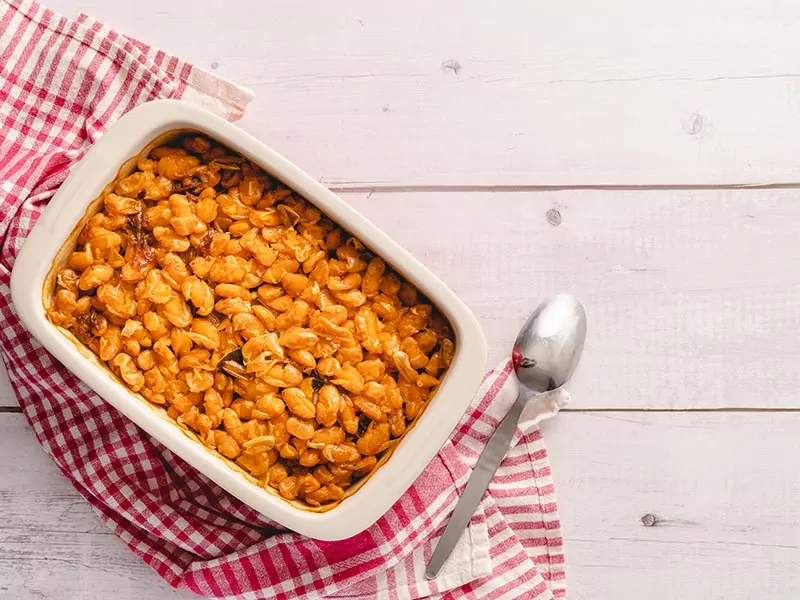 Whenever you're ready, join me in this journey to discover the culinary treasure of the land of Macedonia where history is alive in every breath. Just remember that "Macedonian" in this post means belonging to the country of North Macedonia.
1. Kifli – Stuffed Bread Rolls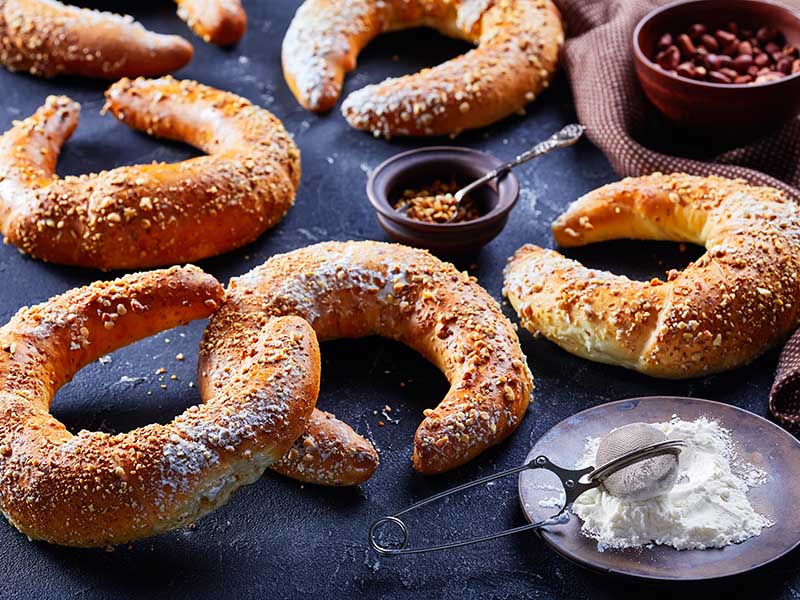 At first look, it appears like a croissant. But closer inspection will reveal a different identity: Kifli, or "crescent" in Hungarian. Popular in many parts of Europe, it also has a considerable following in North Macedonia.
The bread roll is prepared from yeast dough, filled with feta cheese, and sprinkled with sesame seeds. Good Kifli should be fluffy, flaky, and buttery. Kifli as a side dish may not have cheese, while some recipes incorporate sweet jams or chocolate to turn the roll into a snack or dessert.
Chewing a piece of soft, sweet Kifli is a great pleasure. The pastry probably started as an offering to the goddess of the moon, hence the crescent shape. Many people even think that it is the inspiration for the much-hyped croissant.
2. Pindjur – Roasted Vegetable Spread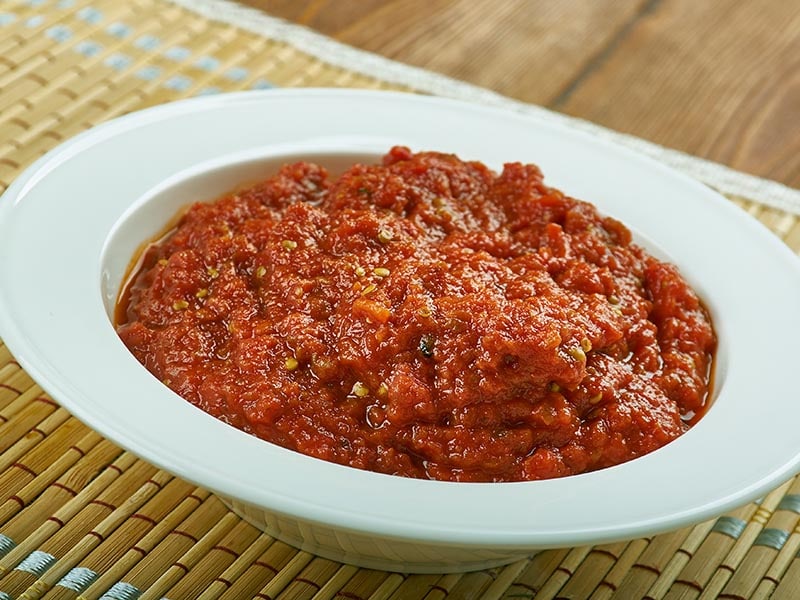 You can improve your food with the lively and creamy Pindjur. It is a summer spread people make from various kinds of roasted vegetables. Many dishes from Balkan countries, including North Macedonia, can't be complete without it.
The making of Pindjur starts with roasting or grilling vegetables for hours. Common choices include tomatoes, red peppers, chili peppers, and eggplants. The next step is to cook them with olive oil and salt into a vividly bright orange paste.
Pindjur is a perfect accompaniment to go with cheese, bread, potatoes, or other starchy food to create a great Macedonian breakfast dish. It is an important part of Macedonian cuisine.
3. Malidzano – Eggplant Spread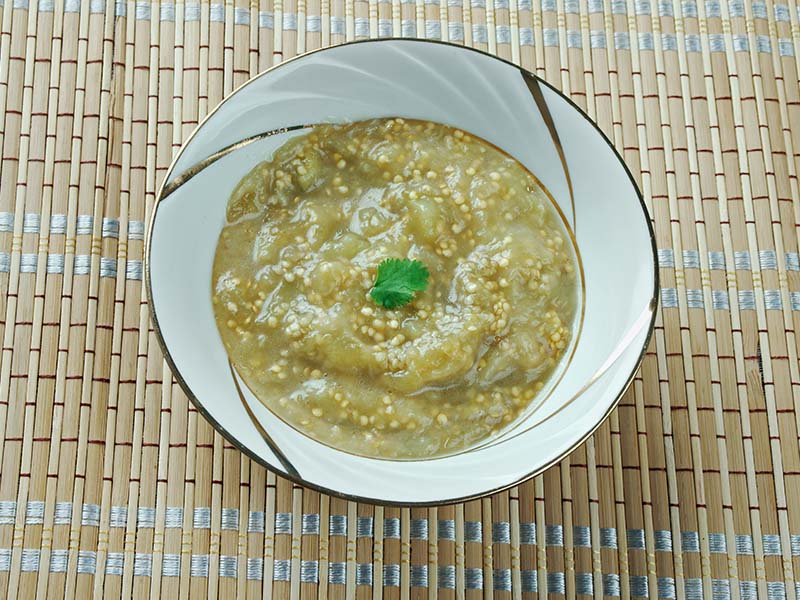 Here is another great paste from Macedonia. Unlike Pindjur, it is based entirely on pureed eggplants. That's how it got the name of Malidzano, which is derived from the Italian word "melanzane" for eggplant.
People prepare Malidzano in the same way as they do with Pindjur. The only difference lies in the ingredients: eggplants are the main star, but some bell peppers also play the supporting role. Malidzano can have a red or green hue, depending on the color of the peppers.
4. Ajvar – Roasted Red Pepper Spread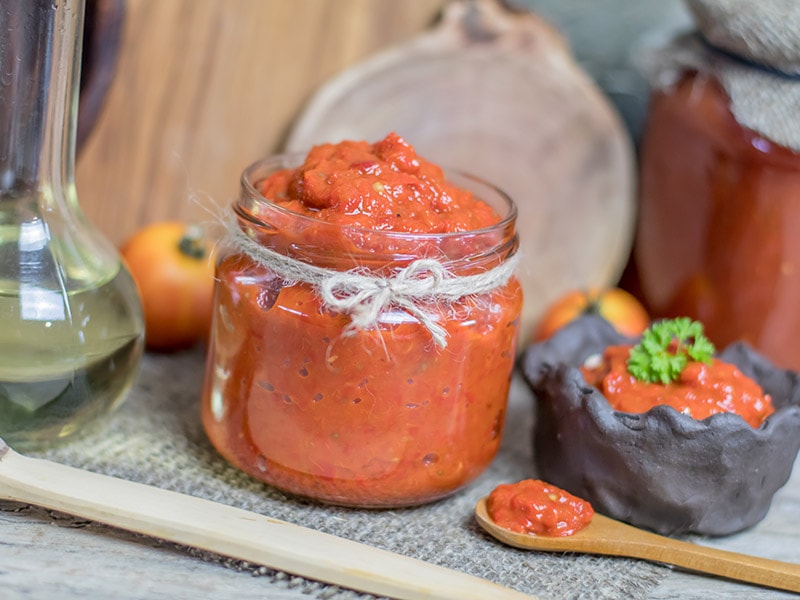 If you need an even stronger paste, allow me to introduce you to Ajvar. It is a Balkan paste consisting of minced, baked red peppers, and tomatoes. The spread has a brilliant cherry red color and a spicy taste that will awaken your appetite.
Apart from Macedonia, the paste is also an irreplaceable part of Serbian and Montenegrin cuisine.
Alone, it doesn't count much. However, combined with bread and white cheese, it will taste simply like magic and transform a simple meal into a feast. Ajvar takes a long time to prepare, but you can buy it from stores and supermarkets in North Macedonia.
After the pepper harvest, between late summer and early autumn, many Macedonian families gather to prepare homemade Ajvar. That's why locals sometimes refer to this period as the Ajvar season.
You will be surprised to know that the name Ajvar possibly originated from a Turkish word for "caviar". Apparently, the spread started as a substitute for the expensive sturgeon caviar.
5. Turshija – Pickled Vegetables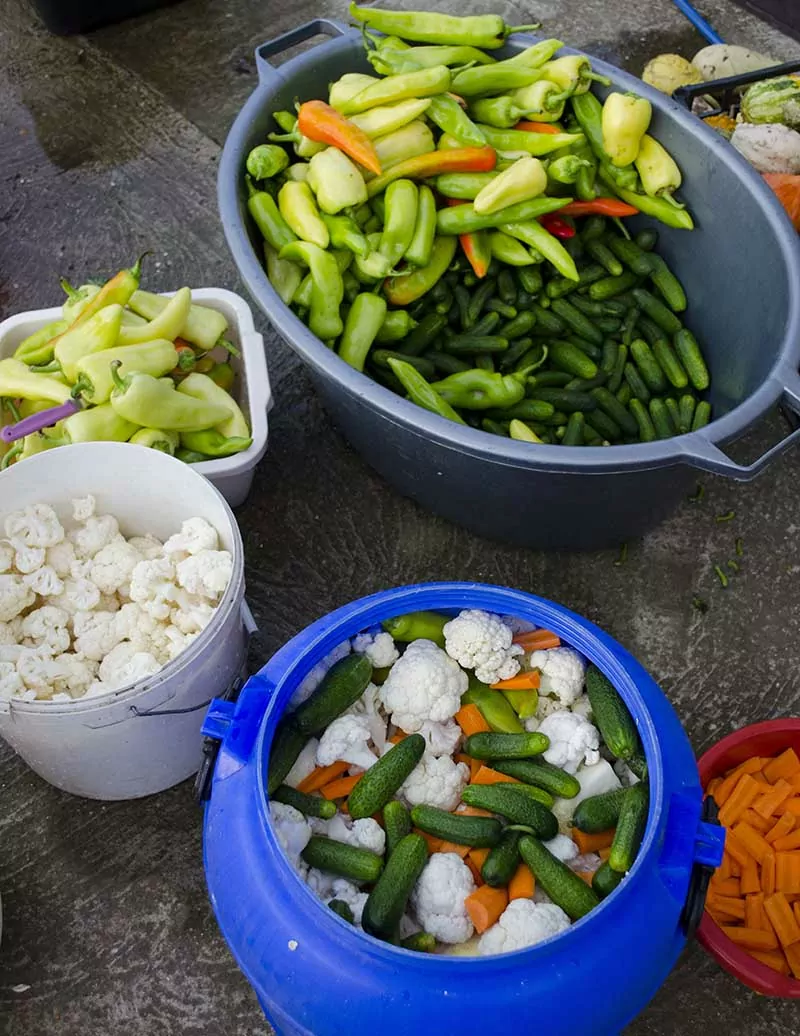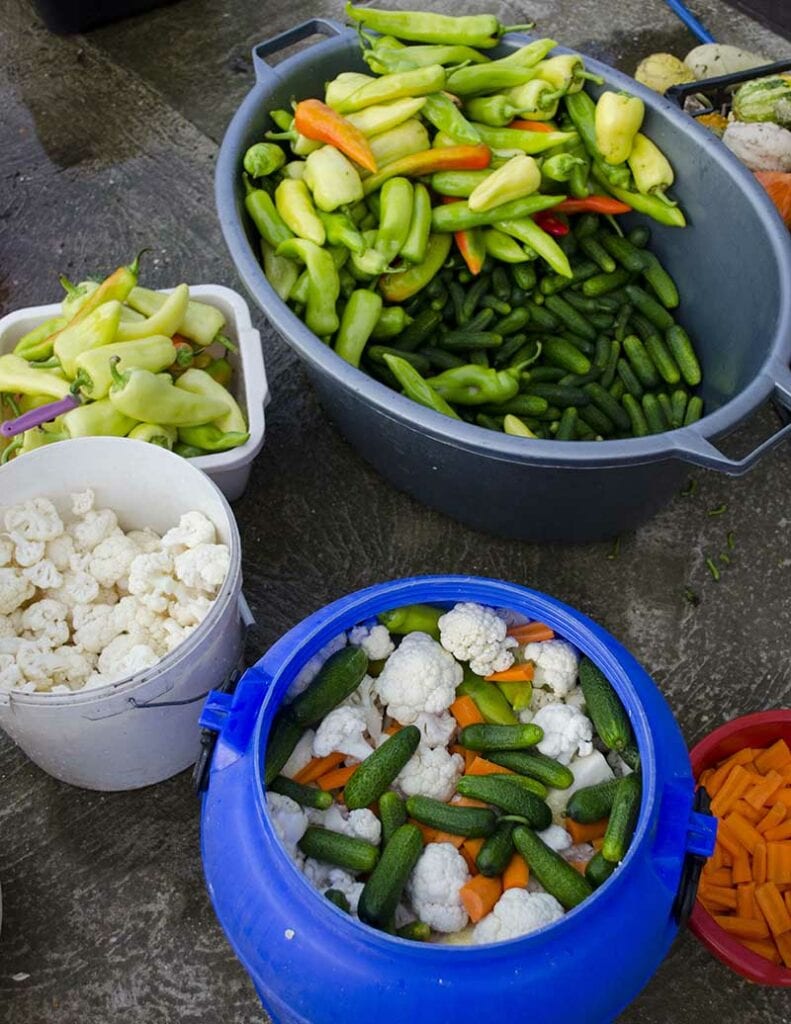 In North Macedonia, it is very mild in spring and autumn but can turn very chilly in winter. So when vegetables are abundant, local people have to foresight to preserve vegetables for the cold season. The result of such preparation is Turshija (or Torshi), the local word for pickled veggies.
There is a long list of candidates for Turshija. Most notable examples are carrots, eggplants, peppers, and cabbage. They are kept in a glass and drenched in a mixture of herbs, salt, and vinegar for some time before being served with Sarma, salads, bacon, or other rich foods.
6. Tarator – Cold Soup with Yogurt and Cucumbers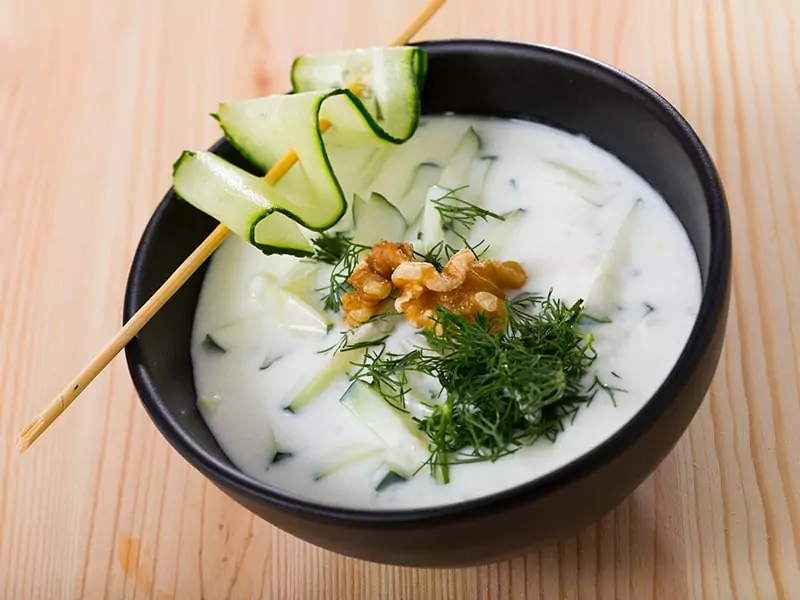 A good thing about good food is its unselfishness. A mouth-watering dish of one country can be an important part of another's cuisine as well. That is the case with Tarator, a Bulgarian cold soup with a huge Balkan, not least Macedonian, audience.
Moreover, Tarator is also a famous food in Albania. But overall, this soup is in high demand in summer. When the weather becomes irritatingly hot, locals will cook a pot of creamy Tarator with yogurt, cucumber cubes, walnuts, and spices.
But there is a simpler variety that uses vinegar and water in place of yogurt. It can be a sensible choice if you want to cut down on fat. Anyhow, serve Tarator cold with ice, and the soup will banish the heat to your doorstep.
7. Sarma – Stuffed Cabbage/Grape Leaf Roll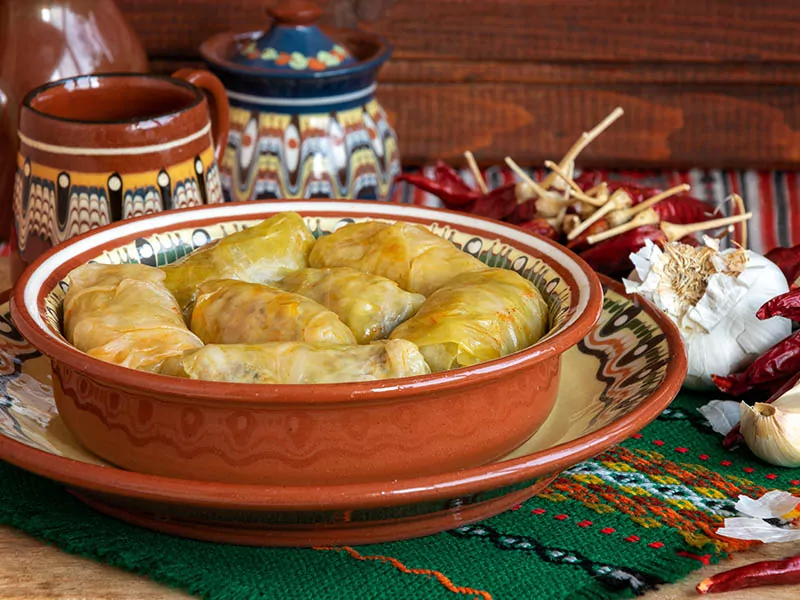 For many centuries, the Balkans were under the rule of the Islamic Ottoman Empire. Today, more than a quarter of the North Macedonian population is Muslim. Another legacy is the fusion of exotic Eastern dishes into the southeastern European country's cuisine, such as Sarma.
One of the most delicious Macedonian foods, Sarma, is a contribution from the Middle East. Its name is a Turkish word meaning "wrapped". It is a baked dish of cabbage or grape leaves stuffed with minced meat, seasoned rice, and spices.
Sarma has many regional variations. As such, you'll come across this dish in other countries besides Macedonia. For example, it's a sin not to give this dish a try when exploring the cuisine of Bosnia, Serbia, Turkey, Romania, or Bulgaria.
Sarma is a delicious and nutrient-packed dish for any meal of the day. However, people usually reserve it for special occasions and holidays, such as the holy month of Ramadan. The good news is that you don't have to be a Muslim to experience the heavenly taste of Sarma.
8. Shopska Salad – Chopped Salad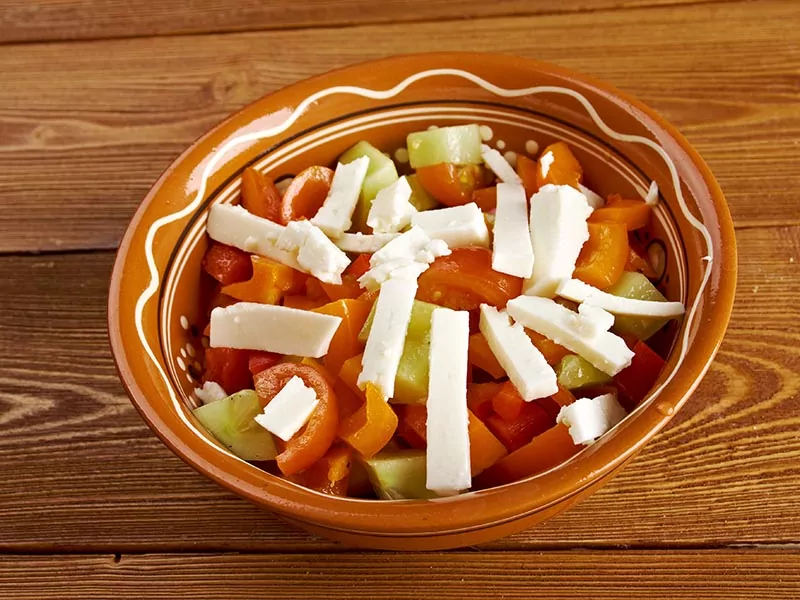 If you want to enjoy delicious-tasting vegetables, I will recommend Macedonian Shopska Salad, another culinary contribution from the Bulgarian neighbor. In fact, it is Bulgaria's national dish. But if you want to lose weight, think twice because the salad is rather high in calories.
The main ingredients for the salad are tomatoes, cucumbers, onions, peppers, and herbs. They are chopped, salted, dressed with sunflower oil, and finally coated with a thick layer of local cheese. Though an appetizer, Shopska Salad is so rich it can keep you full for a whole day.
North Macedonia enjoys an abundance of vegetables in the summertime, which explains its people's affinity with the salad. Tasting it is a must if you want to experience Macedonian cuisine at its freshest. You can mimic the local custom of eating the salad with some fruit spirit Rakija.
9. Kačamak – Corn Porridge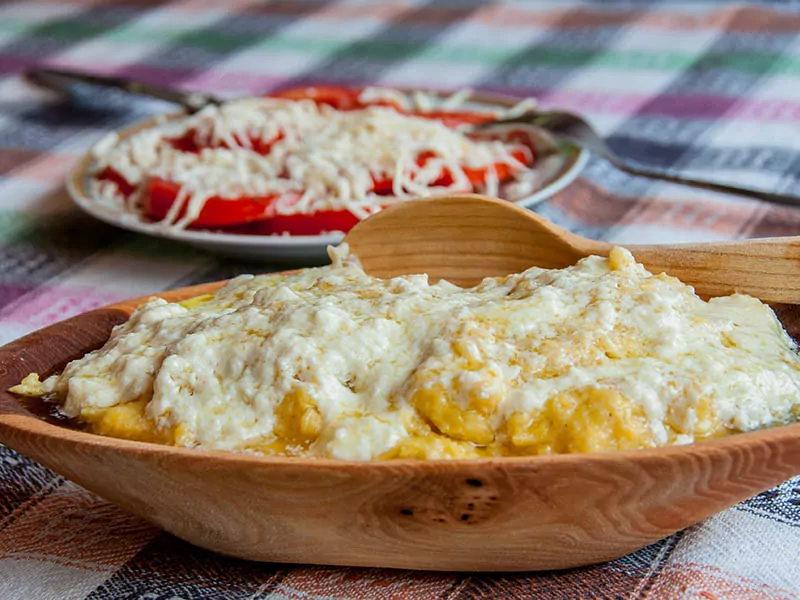 This is a dish of corn porridge with many variations across Balkan and Western Asian countries. It is known as Bakrdan in North Macedonia. The name "Kačamak" starts from a Turkish word meaning "escapade", possibly referring to its original function as a poor man's food in winter.
People make Kačamak by mashing boiled cornmeal with milk, cheese, or potatoes. There is nothing fancy about it, yet Kačamak is a nice, hearty dish with meat, bacon, or sour cream. It is a shining example of how simplicity is the mother of deliciousness.
10. Tavče Gravče – Traditional Macedonian Bean Stew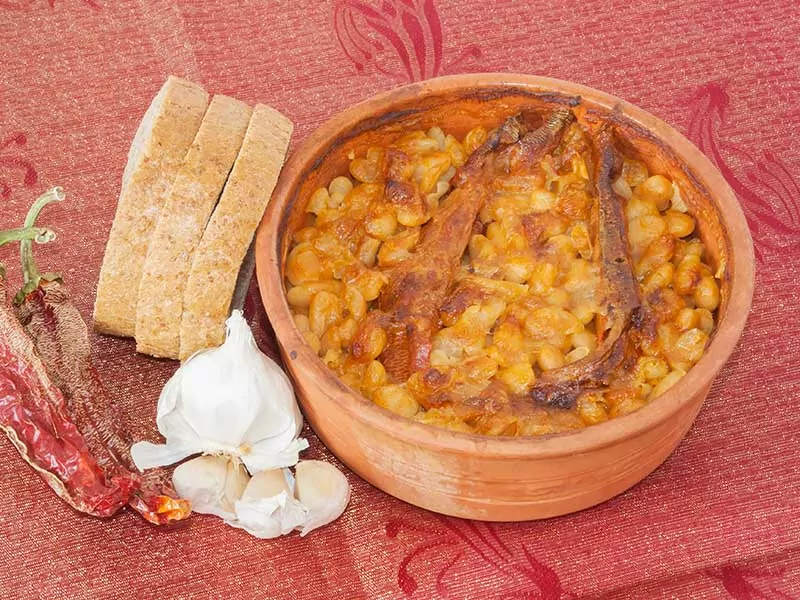 It would be a crime to describe Macedonian cuisine without mentioning the national dish: Tavče Gravče, literally "beans on a Tava (skillet)". Locals always cook and serve it in a traditional earthenware pot, a practice probably dating back to the Ottoman days.
Cooking this iconic dish is ridiculously easy, albeit a little time-consuming. It involves simmering some white beans in water over low heat for several hours. People will later season the beans and bake them until tender.
Tavče Gravče is a rich and hearty dish that almost all North Macedonians are familiar with, whether in the country or overseas. The plate is a vegetarian recipe, but there is nothing wrong with adding meat or bacon for more nutrients. It is a custom to serve the stew for Friday lunch.
11. Ohrid Trout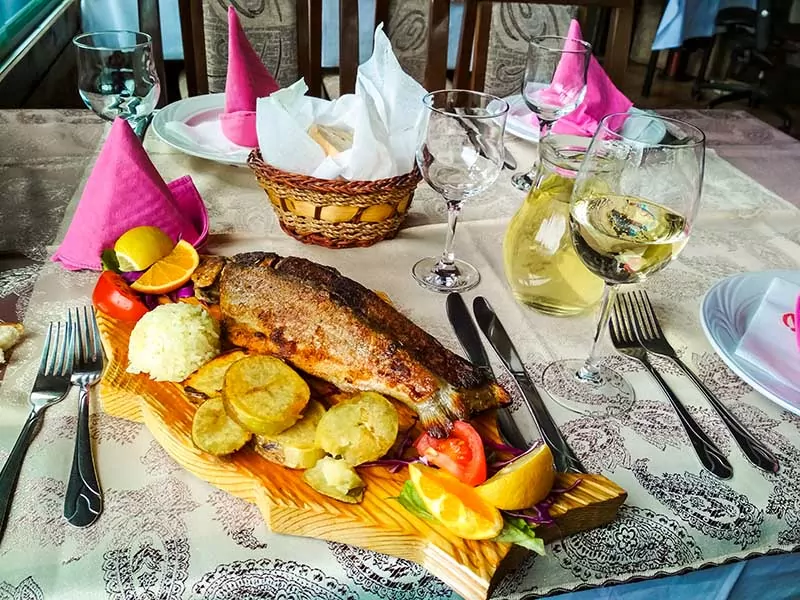 North Macedonia and Albania share many things: the Albanian language, the picturesque Lake Ohrid, and the precious Ohrid trout that lives in it. The fish is a shared delicacy in the two countries' cuisine.
Ohrid trout can range from 25-60 cm in length and reach 15 kg in weight. People describe its taste as a cross between normal trout and salmon. The dominant forms of cooking the fish are roasting, baking, stuffing it with eggs, or cooking it in a soup.
The trout used to be present in North Macedonian coinage, indicating the country's love for their fish. You will be tempted to try it when visiting the country, but remember that it is a rather costly specialty.
12. Chomlek – Balkan Beef Stew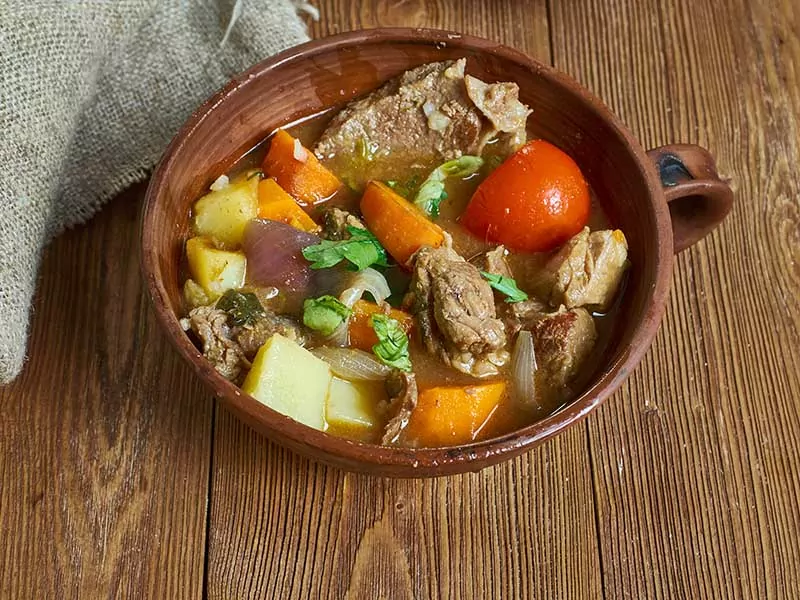 While this is a borrowed dish, North Macedonians deserve credit for improvising and adapting it to local conditions. "Chomlek" is a Turkish word referring to a clay pot, the only suitable cooking vessel for this nourishing stew.
Like other classic stews, preparing Chomlek is a straightforward but time-consuming process. The best meat to cook is veal (young beef) that people simmer with onions, garlic, and wine. Don't forget to season the meat with a liberal amount of spices for an appetite-whetting flavor.
Chomlek can take several hours of stewing to be ready. For your hard work, you will enjoy the rich reward of an unbelievably savory dish. Premier Chomlek is available across the country, but you should head southwest to the Pelagonia region to taste numerous varieties of the stew.
13. Polneti Piperki – Stuffed Peppers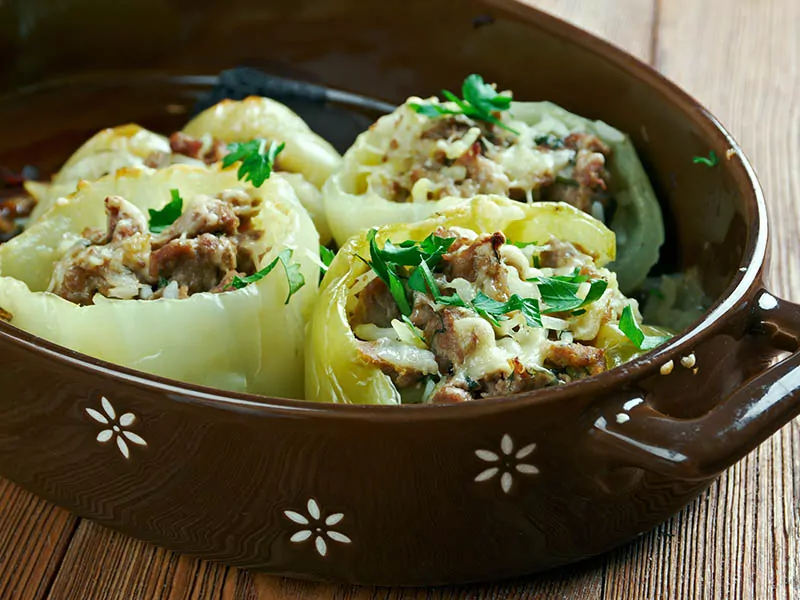 In North Macedonia, peppers started as an alien plant from the New World. But they now represent one of the country's vital crops with a yearly output of around 70,000 tons. A testament to the popularity of peppers is a wonderful dish made from them, Polneti Piperki.
Its exact translation is "stuffed peppers", so you know what it's all about. The locals pick up the freshest bell peppers (both red and green) and remove their tops as well as insides. The next step is to stuff them with a mixture of minced meat and rice and bake them in the oven.
Polneti Piperki must be served hot with bread or potatoes. It makes a fiber-rich, vitamin-packed dish full of flavor and vigor. If you aren't satisfied with the sweet and mild taste of roasted bell peppers, feel free to add Paprika for extra spiciness.
14. Selsko Meso – Pork and Mushroom Stew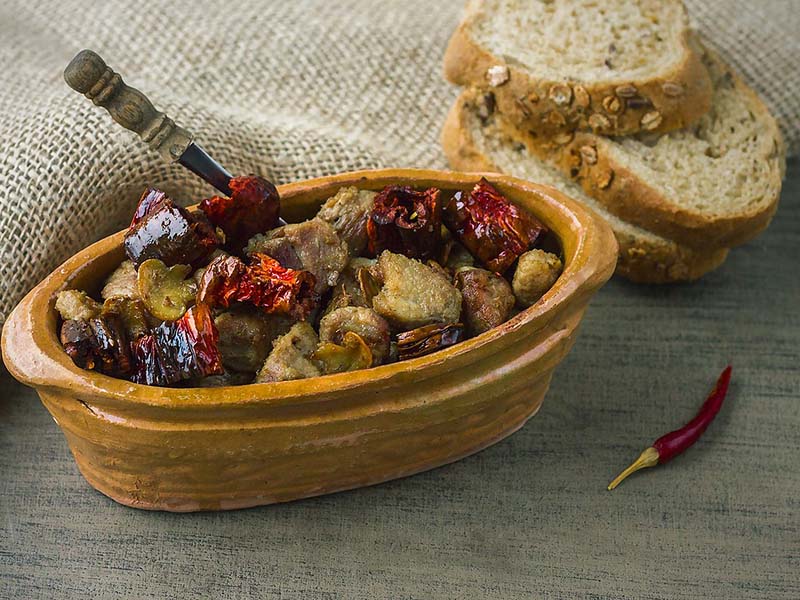 If you are a mushroom lover looking for a terrific Macedonian lunch dish, I suggest you try Selsko Meso. It is a tasty stew of mushrooms, onions, and pork or beef. Of course, the dish takes a long time to prepare, but you can effortlessly locate it at any restaurant in the country.
Selsko Meso means "village meat" in Macedonian. As far as the best guess goes, the name refers to the rustic root of the dish. In the past, people cooked it in an earthenware pot with anything they could get their hands on, imparting much flexibility to the recipe.
Today, the staple ingredients of the stew are meat, mushrooms, onions, and carrots. You can find different variations, but they will be all delicious and heart-warming.
15. Turlitava – Meat and Vegetable Dish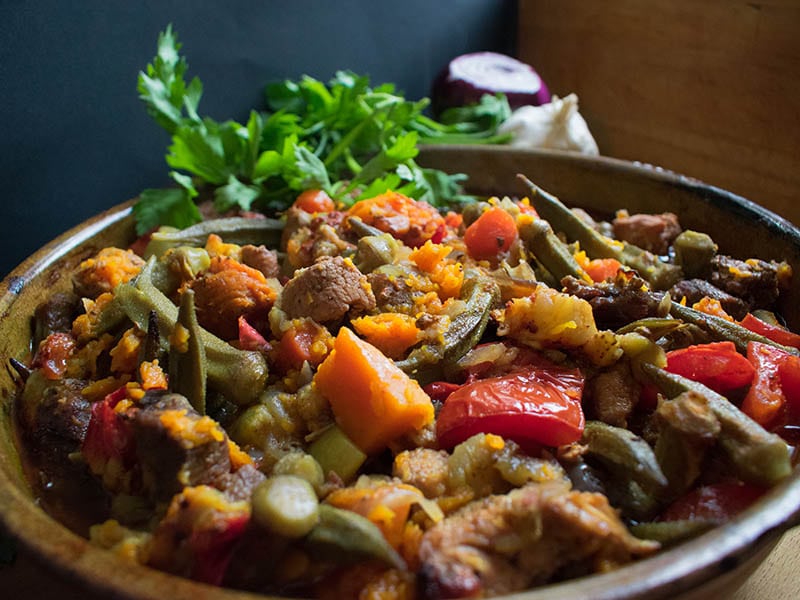 Supposing you're home after a long day and want something tasty to fill your empty stomach, I suggest you try Turlitava. It is one of the most delicious Macedonian dinner recipes The recipe is of Turkish root with the name meaning "mixed in a Tava (a type of pottery dish)".
That is a good description of Turlitava. People mix beef or pork chops with chunks of various vegetables (eggplants, tomatoes, peppers, to name a few). Everything is fried together before being baked and served in a Tava.
Turlitava is a colorful and nutritious combination of the best foods that Mother Nature has to offer. If you are a vegan, simply leave out the meat, and you will have a tempting dish to satisfy your hunger.
16. Pastrmajlija – Pizza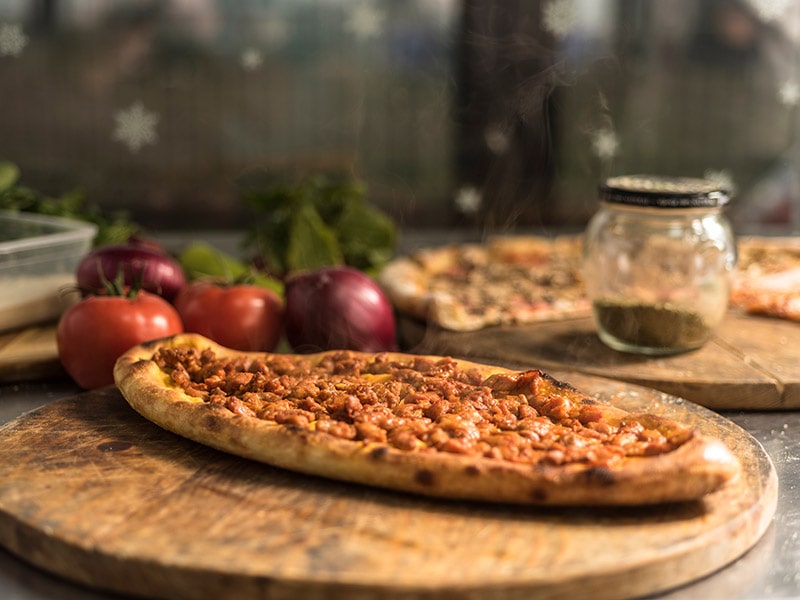 If Italians have pizza, North Macedonians pride themselves on their Pastrmajlija. The name means "salted lamb" in Macedonian, an apt reference to the main ingredient of the pie. It is another valuable contribution from Turkish cuisine with inspiration from a similar Eastern dish.
Pastrmajlija comprises two things: the thick, boat-shaped dough part and the topping of numerous sliced cured lamb or pork cubes. In some regions, people substitute lamb for pork fat, ham, or chicken.
This bread pie is a popular comfort food choice in the cold months. For more warmth, people usually serve it with pickled veggies, especially pickled peppers. The city of Štip, the largest one in the eastern part of the country, even hosts an annual Pastrmajlija festival in autumn.
17. Kebapi – Grilled Minced Meat Sausages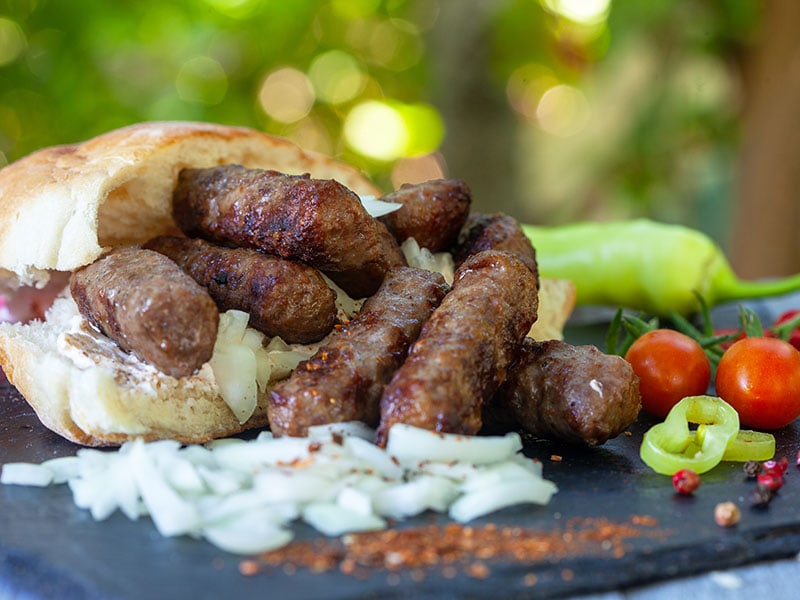 If you are an ardent fan of Balkan cuisine, you are certainly no stranger to the iconic Ćevapi. This dish of grilled minced meat is present in North Macedonia too, but locals call it Kebapi in their mother tongue. The name may differ, but the scrumptiousness may not.
The main ingredients of Kebapi are ground beef and/or mutton, onions, and spices. The meat is formed into phallic shapes and shortly refrigerated before being grilled on all sides. Kebapi is much smaller than normal sausages, but one bite will reveal that it is much, much tastier.
Kebapi owes its creation to the time when the Ottomans ruled the Balkans. The name itself is probably a derivation from the renowned Kebab. Anyhow, the combo of Kebapi, flatbread, and local cream is a common sight at Macedonian restaurants as well as big celebrations.
Kebapi is also an essential component of many Macedonian summer barbecues and picnics. It is the glue that cements the bonds between friends and family members in the Balkan sunshine.
18. Musaka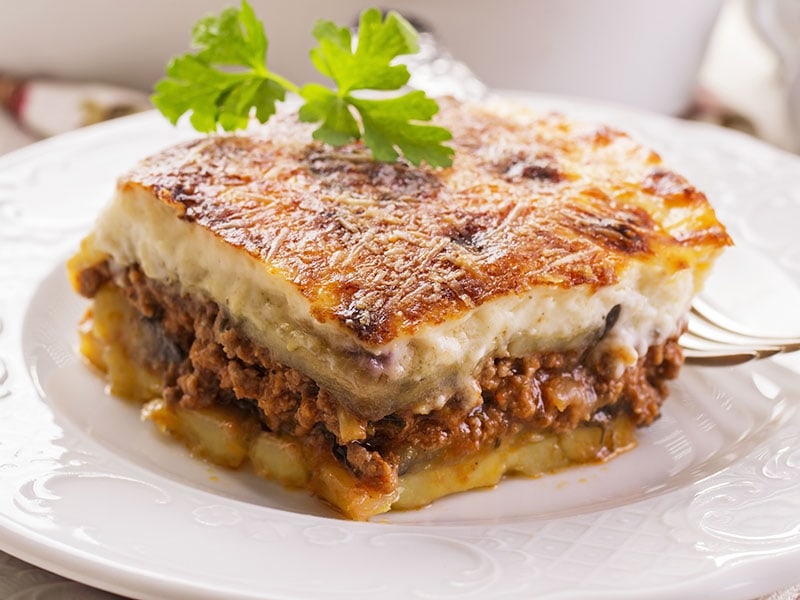 There has been a close relationship between Macedonia and Greece. In fact, the southern part of the Macedonian region is part of Greek territory. Unsurprisingly, Greek culinary culture has a strong influence on Macedonian one, a fact that Musaka, the local name for Moussaka, demonstrates.
Moussaka is a riveting recipe that an influential Greek cook invented in the 1920s with the ingredients originally brought by the Arabs. The potato dish lost no time to find its way to the heart of Balkan cuisine under the name of Musaka.
It has been a culinary mainstay ever since. Apart from Macedonia, Musaka is also an adored dish in Montenegro.
In essence, this simple baked dish consists of layers of sliced potatoes, ground meat, and sauteed eggplants. The richness and savory flavor of Musaka makes the dish a popular choice for local people when they need delectable comfort foods.
Take a look at this detailed tutorial on cooking Moussaka the Macedonian way.
19. Palačinke – Balkan Pancake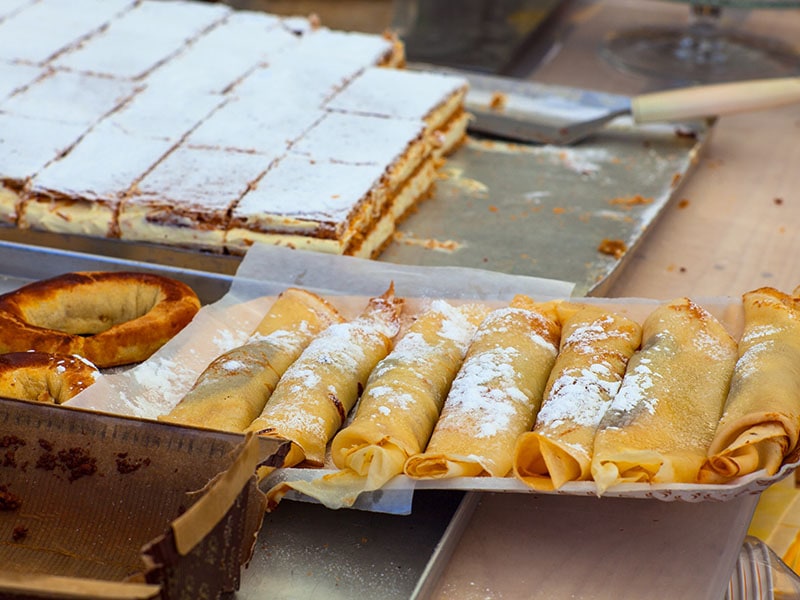 While not a distinctly Macedonian pastry, Palačinke (also known as Palatschinke) is a delightful treat you should try when visiting the country. It is a crepe-like, versatile dish that North Macedonians love dearly.
In addition to Macedonia, it's also a beloved dessert in Croatia, Czech, Bulgaria and other Slavic countries.
Palačinke is made from basic baking stuff: flour, eggs, milk, and sugar. If you plan to eat it as a side dish, exclude the sweet ingredients. But in case you want to enjoy it as a snack or dessert, it's a good idea to add some chocolate, cheese, or fruit jam filling to the pancake.
20. Maznik – Pastry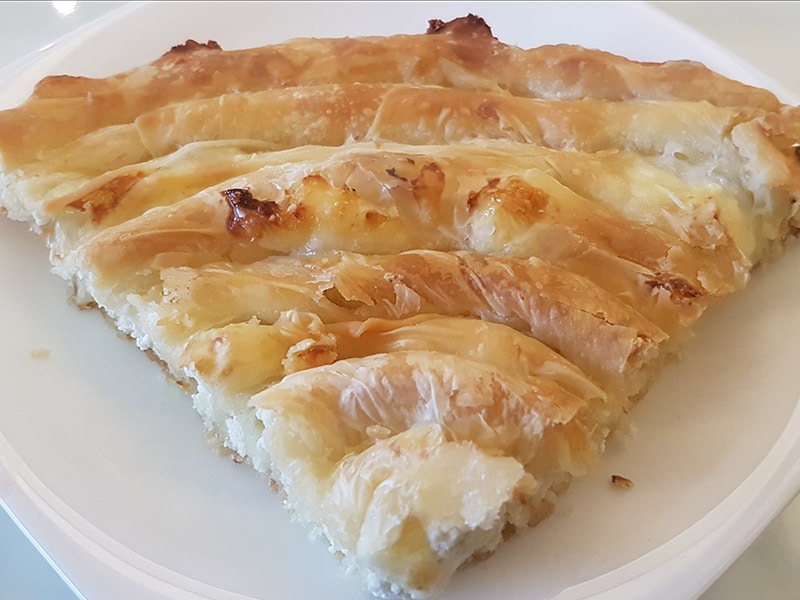 Maznik is a traditional Macedonian dessert that almost every native has enjoyed. A spiral-shaped pastry, Maznik has an attractive appearance, a pleasantly flaky texture, and an unbearably toothsome taste.
The key to making Maznik successfully is to skillfully knead the dough into an almost transparent, paper-thin shape. Then, rolling it by the edge and bending it in a swirl form will complete the process.
Before shaping it into a swirl, you can insert a filling of cheese, spinach, meat, or none at all. Finally, bake it until golden, and a delicious-smelling loaf of Maznik is yours to savor.
Tasty Maznik should have a crispy top covering a soft inside. One trick to achieve this quality is to brush the pastry's top with oil and water before baking and cover it with a wet towel after baking.
21. Sutlijaš – Rice Pudding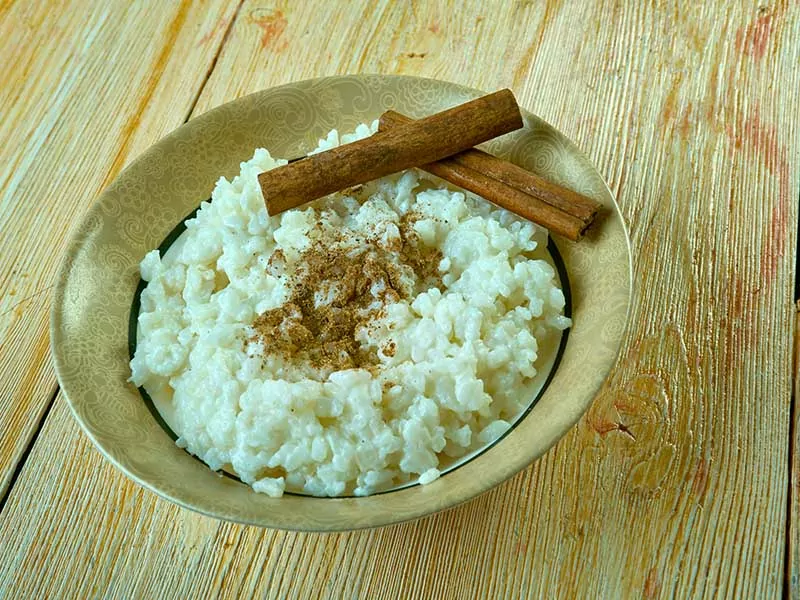 This delectable treat is an example of the palpable Ottoman influence on Macedonian cuisine. Sutlijaš stems from a similar Turkish pudding called Sutlaç, which means something like "milky food". It is a popular dessert in the Balkans, sometimes under the other name of Sutlijash.
Sutlijaš is made from a thickened mixture of milk, rice, and cinnamon sticks. The last one is a local adaptation because classic Sutlaç derives its fragrance from rosewater which is rare in the Balkans. But the result is still a cup (or bowl) of pudding waiting to arouse your taste buds.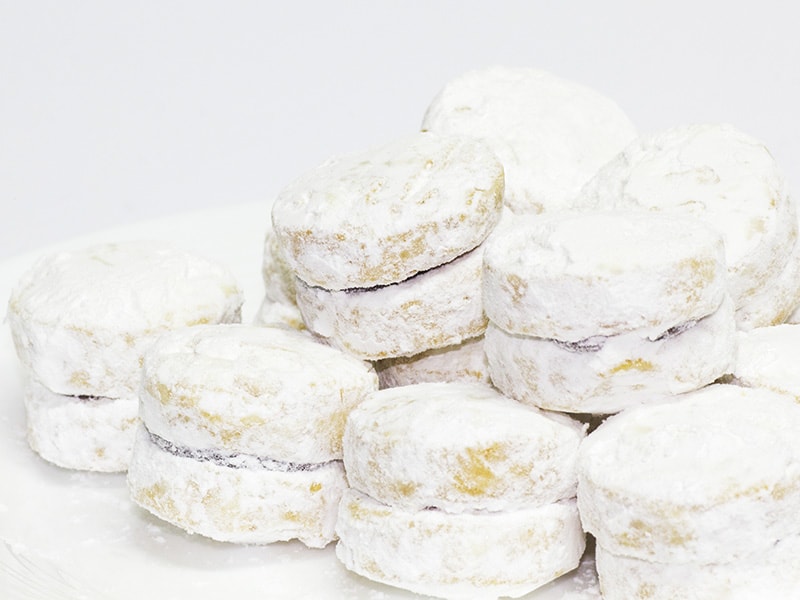 Vanilici (or Gurabii), literally "mini vanilla cookie", is a wonderful delight in the wide Balkan world, especially in North Macedonia. Those milky-white, moon-shaped cookies will be a nice decoration for your dinner table.
The long-time recipe has passed down many generations. It usually involves mixing flour, vanilla sugar, yogurt, and other baking ingredients with chopped walnuts. After dividing the dough into small balls, people bake them in the oven and rub them in powdered sugar.
The Macedonian way to relish those fragrant cookies is to serve them with fruit jams and confectioners' sugar. They are a nice local dessert that you shouldn't miss out on.
23. Mekici – Fried Dough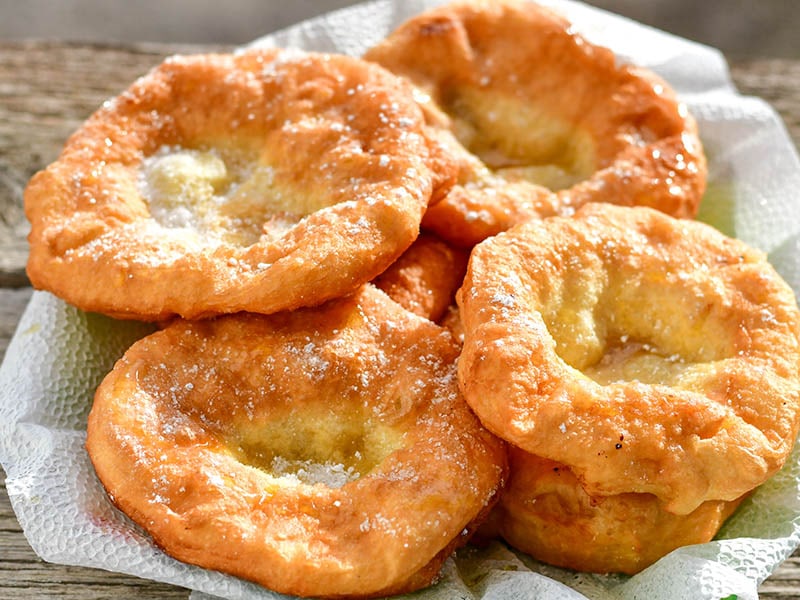 It is a lovely Macedonian custom that a grandmother welcomes her newborn grandchild by frying some traditional doughnuts for the babe. The dish is called Mekici in North Macedonia and Mekitsa or Mekica in neighboring countries.
What distinguishes Mekici from other types of fried dough is its tangy yogurt filling. Munch on a crisp doughnut with some fruit jam or sour cream, and you will experience the fantastic fatty flavor that it has to offer.
Mekici is a Bulgarian invention, but it has come to mean a lot in Macedonian culture. Nowadays, homemade Mekici is rarer as people tend to buy it from bakeries or restaurants. But the message of love and care for the little ones remains the same.
24. Kozinjak – Easter Bread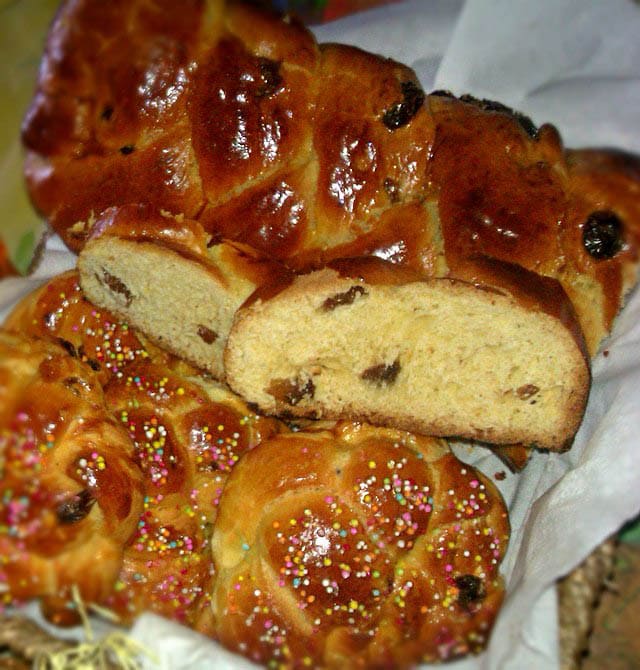 Religious holidays, such as Easter and Christmas, are important occasions in North Macedonia. This calls for a lavish dessert known as Kozinjak (or Milibrod). It is a sweet, fluffy, and soft bread that somewhat resembles the hot cross buns.
Macedonians prepare Kozinjak by mixing the yeast-leavened dough with lemon zest and rum-soaked dried fruits. Next, they stuff it with poppy seeds and fruit jams before baking it. A coating of powdered sugar and sesame seeds will complete this tasty sweet.
25. Zelnik – Cabbage-Stuffed Filo Pie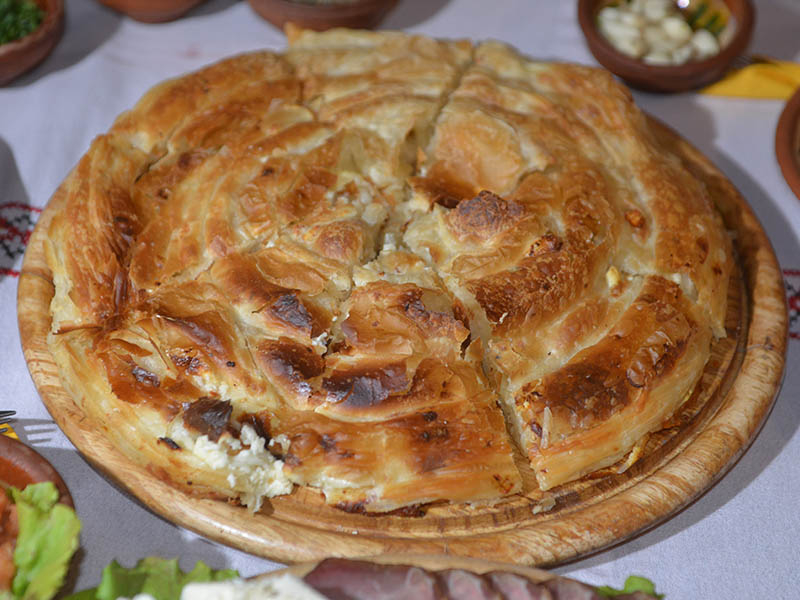 Who doesn't love the flaky texture and buttery flavor of filo (or phyllo)? The people of North Macedonia have a way to enhance this type of dough even further. They create a mouth-watering filo pie called Zelnik.
It is a Bulgarian word for "cabbage", so you can make a safe guess about the main ingredient of the dish. The filling of Zelnik consists of brined cabbage (or spinach), cheese, minced meat, and rice.
Hot, golden, swirl-shaped Zelnik paired with yogurt or sour cream is popular at many parties and celebrations. It is also a common street food item that you can buy when wandering through the stunningly beautiful streets of the country.
26. Burek – Stuffed Filo Pie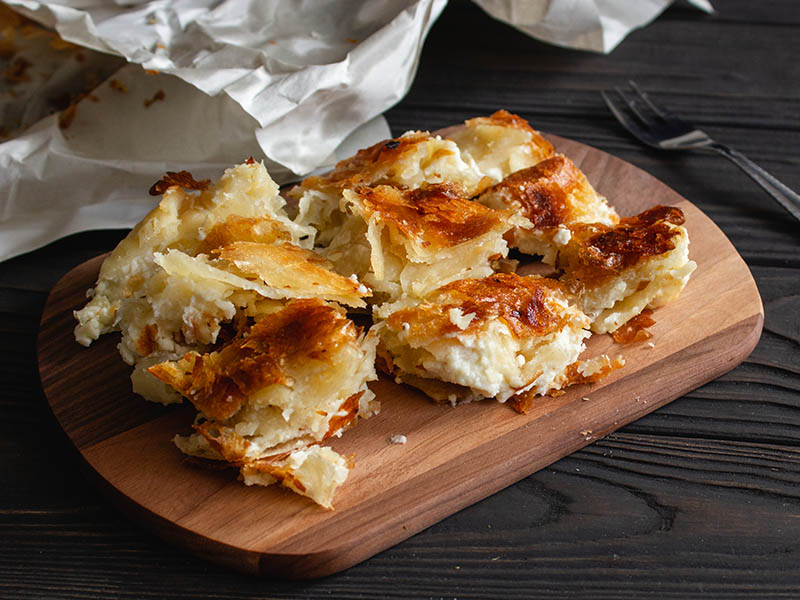 You will be forgiven for mistaking Burek for Zelnik, or vice versa. It is a common fault with many people. But while the two types of pastry have many things in common, Burek (or Börek) possesses many unique features.
For one thing, Burek doesn't usually include cabbage, spinach, or leek; its main filling options are meat and cheese. For another thing, the crust and layers of Burek are thicker than Zelnik.
In addition, Zelnik is a Macedonian creation, while Burek belongs to Turkish cuisine. But that doesn't stop Balkan people, including North Macedonians, from enjoying the pie as a savory snack or a tasty dessert to conclude a meal.
27. Baklava – Filo Pastry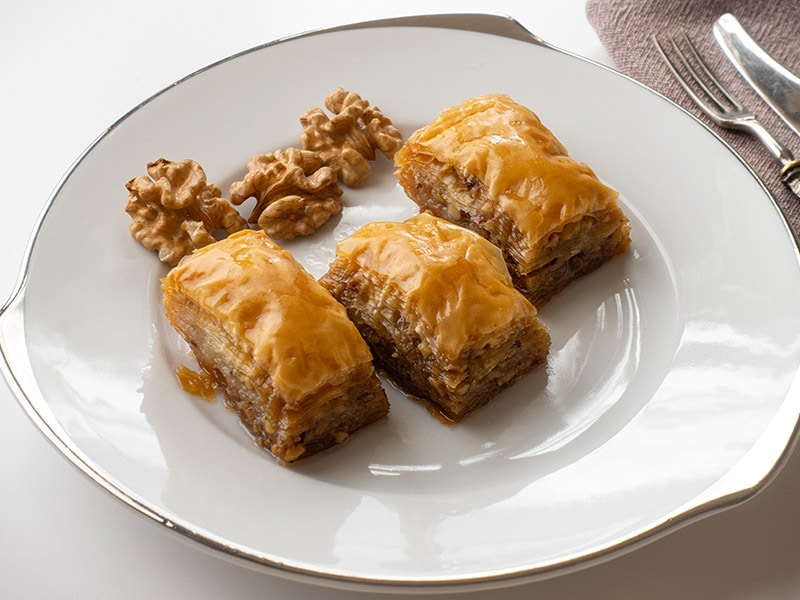 Ottoman legacy leaves another filo-based treat in Macedonian culinary repertoire. This one is Baklava, a type of layered pastry dessert. It used to be a superstar in the world of sweets when the Ottoman Empire existed.
Now, it is the star of Macedonian desserts. The dessert consists of alternating layers of filo dough and chopped nuts (usually walnuts). People improve its flavor by soaking Baklava in aromatic syrup of honey and rosewater after baking it.
You can find Baklava in many Balkan and Middle Eastern countries, but the Macedonian version will still leave a lasting impression. The pastry's origin is disputed, but let's just enjoy its sweetness and buttery taste and forget everything else.
28. Tikvarnik – Pumpkin Cake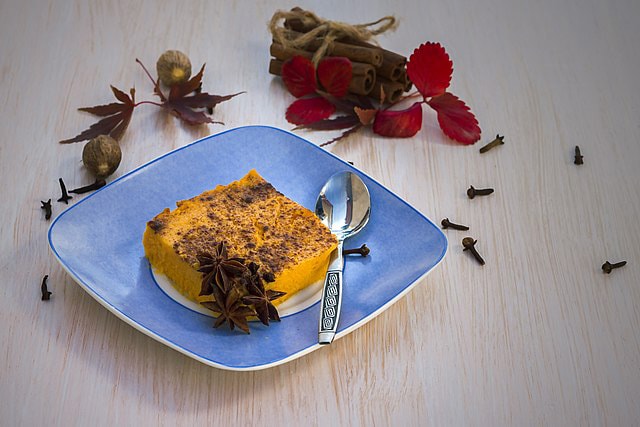 You may mistake this for the more famous yet similar-sounding Hungarian version called Tikvenik. But Tikvarnik is a delicious Macedonian pumpkin treat that you can't forget after savoring it. The cake is a favorite recipe in late autumn when gardens are laden with fruit.
Tikvarnik doesn't take much effort to prepare. All you need to do is boil pumpkin flesh and mash it with eggs, sugar, and milk. When the mixture is all smooth, bake it until golden, and you have transformed the juicy pumpkin into a mouth-watering cake!
The fruit is sweet and creamy in itself, but you can serve Tikvarnik with some sour cream for extra enjoyment. Or you can cut back on the amount of sugar for a healthier snack.
29. Lokum – Turkish Delight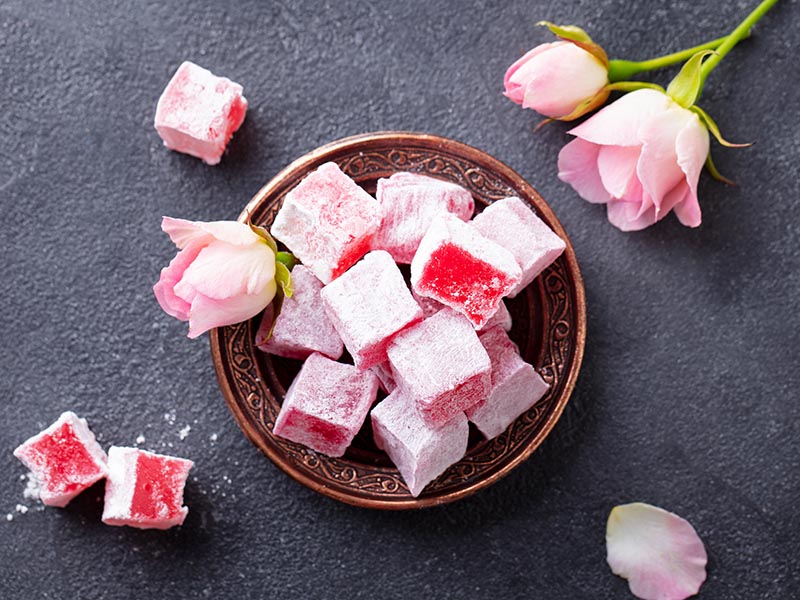 Centuries ago, an ingenious Turkish confectioner in Istanbul invented a colorful and tasty sweet that soon took the Ottoman Empire by storm. Lokum, the name of that sweet, quickly gained international recognition. But people chose to call it Turkish delight rather than its original name.
North Macedonians have been hopelessly in love with this Turkish delicacy from its early days. They greatly adore the sweets made from starch and sugar and flavored with fragrant lemon, rosewater, and the like. Chopped hazelnuts or walnuts are present in premier varieties of Lokum, too.
In North Macedonia, Lokum is a superb candy to go with morning coffee or tea. It is no overstatement to say that the sweet and subtle aroma of Lokum is a source of culinary pleasure.
30. Rakija – Fruit Brandy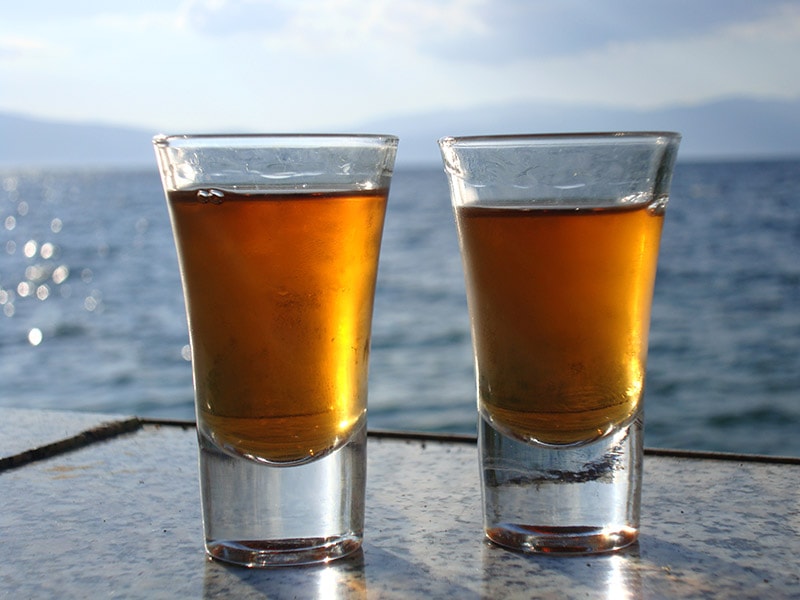 If you are of age, you've got to try the beloved Macedonian beverage, Rakija. The fruit brandy is all the rage across the Balkans, especially in North Macedonia, where many families brew homemade spirits.
Rakija is usually made from the fermentation of local yellow or white grapes. People usually add spices, such as anise, to the stuff for a more aromatic product. The Tikveš plain in central North Macedonia usually produces the most sought-after Rakija.
North Macedonians usually drink brandy before or after lunch and dinner, especially when it is cold outside. A common way of serving Rakija is to warm it up with some sugar and drink it when enjoying an appetizer.
Besides being a heart-warming, refreshing drink, Rakija can also have medical applications. Many locals believe that consumption of brandy will provide pain relief and protection from trivial illnesses. But it is a strong drink with 40% to 60% alcoholic content, so enjoy it moderately.
31. Skopsko – Macedonian Beer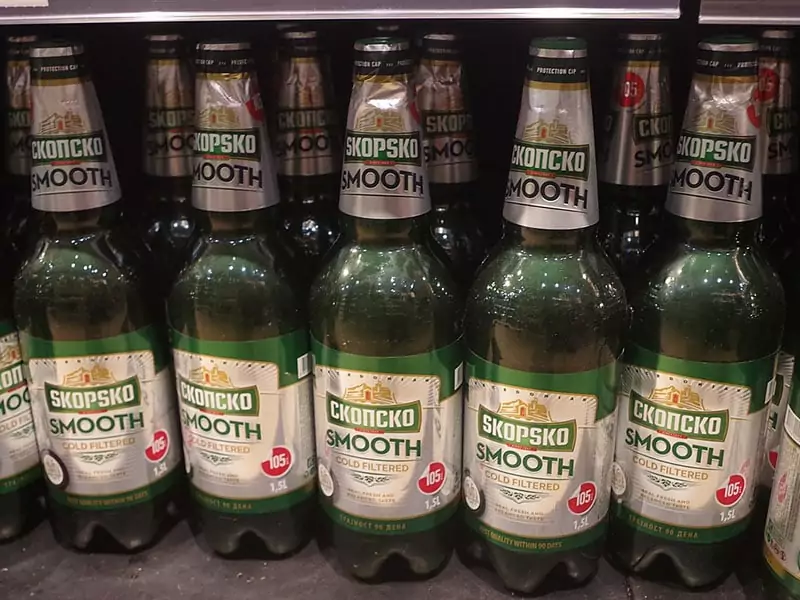 Beer is another prevalent type of grownup juice in North Macedonia (though nowhere as popular as Rakija). People usually brew their golden-hued beer from water and malted barley, with the addition of hops for a pleasantly bitter flavor.
The most famous beer brand in the country is the light Skopsko beer (Скопско in Macedonian). Created in 1922, it accounts for more than half of the country's beer market. If you order a beer here, chances are that you will get a Skopsko.
But you don't have to limit your choice to that one. In the Old Bazaar, a well-liked tourist destination in the capital city Skopje, you can enjoy all kinds of local craft beers.
32. Tikveš – Macedonian Wine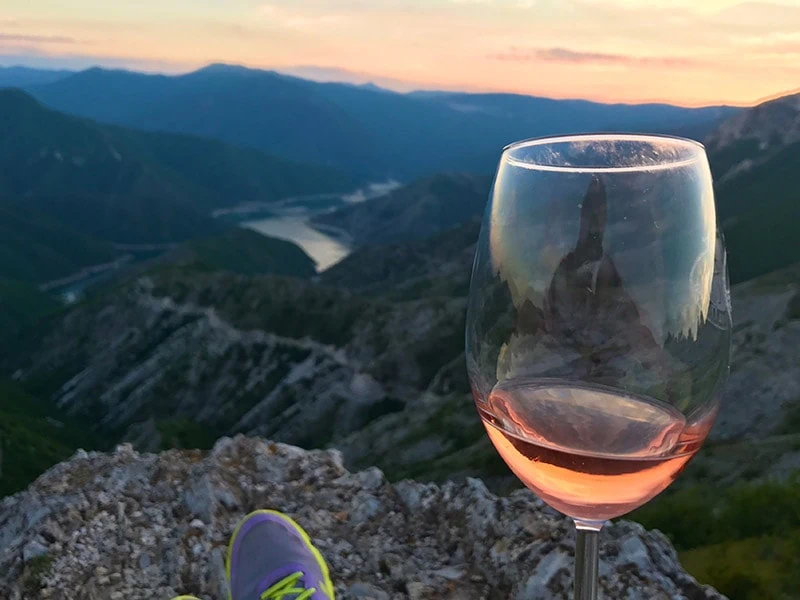 When you think about the most famous wine-producing countries, France, Italy, and Spain are the names most likely to come to your mind. North Macedonia is probably not on your list. However, this tiny country has some of the best samples that you can find.
North Macedonia is blessed with 300 sunny days per year and a mixture of Mediterranean and Continental climates. Therefore, local grapes are of premier tastiness and juiciness. Coupled with its history of thousands of years of winemaking, the country can produce excellent wine.
The best place to find fine wine in North Macedonia is its fertile Tikveš plain. The most common types of wine are the strong Vranec (red wine brewed from Prokupe grape) and sweet Smederevka (white wine made from Rkatsiteli grape).
If you visit the region in September, you can partake in the annual wine festival Tikveski Grozdober with all kinds of wine-related festivities. Taking a trip to local wineries and sipping fresh wine is fine, too.
33. Turkish Coffee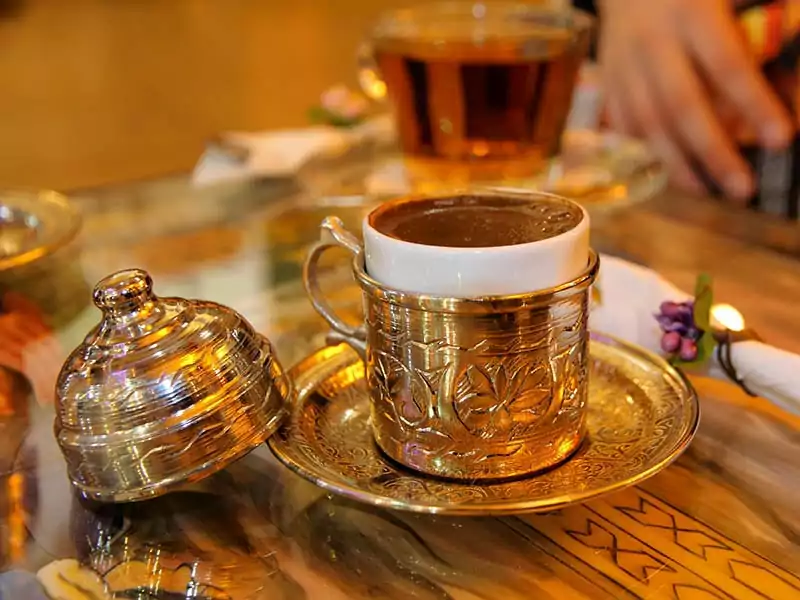 Whether it is true or not that coffee arrived in Europe after the Ottoman siege of Vienna in 1683, the fact is that Turkish coffee is immensely popular in the continent now. North Macedonia is no exception with many people starting their day with a warm cup of caffeine-packed coffee.
The preferred type of coffee in the country is the fine, powdered Arabica beans. People serve it hot in a special pot called dzezve, a special feature of the Turkish way. Sugar isn't necessary, so spoons aren't in use, either.
Macedonians usually socialize with each other over a cup of this Turkey-originated drink. It is a rule that coffee must be foamy or it is of low quality. There is also a fun activity in which people do some fortune-telling from the coffee remains in the cup.
34. Macedonian Tea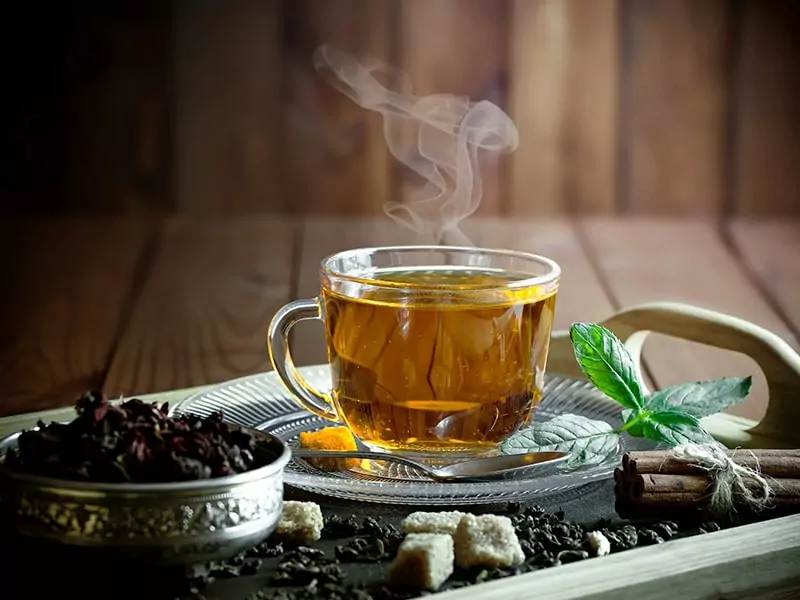 Herbal tea is an exotic Macedonian beverage that you should try whenever possible. The local version makes use of numerous indigenous herbs growing in the plentiful sunshine that the country basks in. The tea is both refreshing and beneficial to health.
One variety that you are most likely to come across is the one prepared from Mountain Tea. It is an annual herb whose scientific name is Sideritis Scardica. It is a renowned traditional medicine with many health benefits, such as flu remedy, infection fighter, immunity boost, etc.
The plant is widespread across the Balkans, from Serbia to Greece. To use it, you simply have to boil the leaves and flowers (both fresh and dried forms are acceptable) in water for 5 to 10 minutes and enjoy.
---
Why Don't You Discover Macedonian Foods Now?
A long time ago, a great Macedonian man brought his empire to the pinnacle of its renown. Sadly, present-day North Macedonia is something of obscurity to international travelers. But its diverse cuisine is a hidden gem waiting for you to discover.
Macedonian dishes were born in a land steeped in memories of prominent civilizations. They combine influences from various cultures into a unique identity evocative of the blessed, breathtaking land the country lies in. Have a taste of it, and you will be in heaven.
If you feel this post is worth your time, it would give me considerable encouragement for you to leave your comment. Allow me to hear your thoughts and experiences. And don't forget to share this article with your friends and loved ones. Thank you, and have a good day!