There's a captivating allure about Kebapche (Кебапче) – Grilled Meat Kebabs, a popular Bulgarian dish that embodies a nation's rich culinary culture. A taste of these juicy, cumin-spiced kebabs will be an experience you won't forget.
Often accompanied by a fresh Bulgarian salad, these grilled meat kebabs offer not only a beautiful blend of flavors but also a glimpse into the warm, welcoming spirit of Bulgaria. Whether grilled on a pan or on a barbecue, Kebapche is a delicacy that keeps you reaching for more.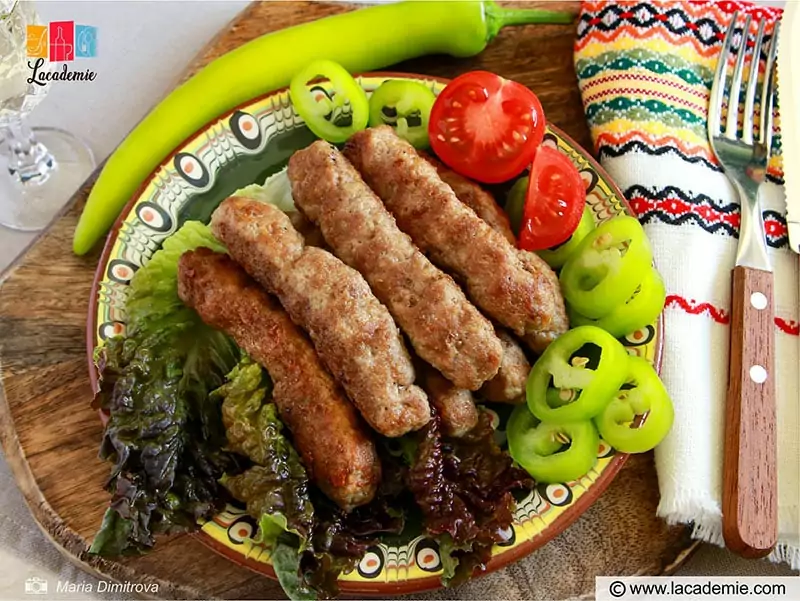 Let's Learn More About Kebapche
Let's dive a little deeper into the realm of Bulgarian cuisine, specifically the well-known Kebapche.
Interestingly, the name "Kebapche" has an endearing origin, being derived from the word "kebab" with the addition of "-che", a Bulgarian neutral suffix meaning "little." So, essentially, Kebapche translates to "little kebab".
Kebapche is essentially grilled minced meat, combined with a punchy trio of spices – black pepper, cumin, and salt. This results in a rich, flavorful kebab that is both juicy on the inside and charred on the outside.
As for their shape, well, think of an elongated cylinder, somewhat akin to a hot dog. You'll usually find a mix of pork and beef in there, although some variations are exclusively pork.
How you enjoy Kebapche can vary, but a plate of French fries is one of the most beloved additions. And not just any chips, but ones generously sprinkled with sirene, a fresh white cheese reminiscent of feta.
Add a bit of Lyutenitsa for dipping – it's a wonderful Bulgarian relish made primarily from red peppers and tomatoes – and you've got yourself an incredible meal.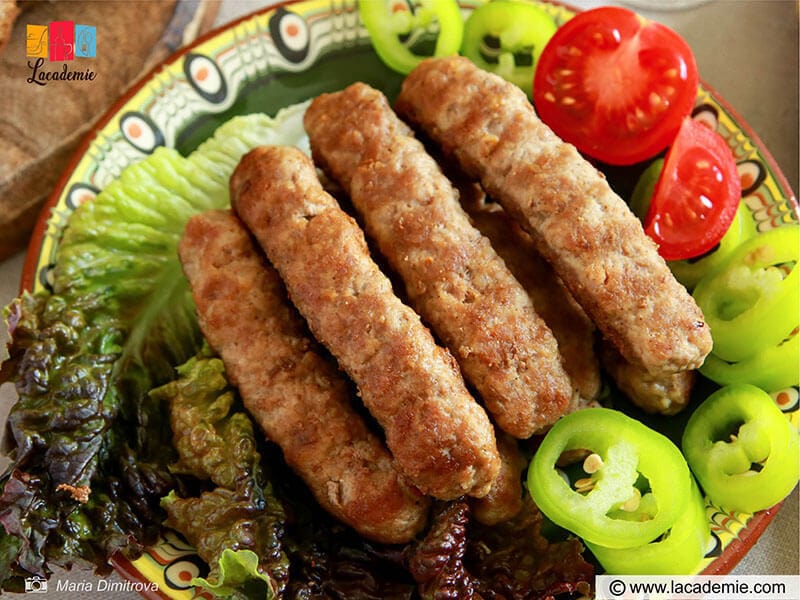 Tools
Grill pan: This will be the main stage where your Kebapche transforms from seasoned minced meat into delectable grilled meat kebabs.
Kitchen tongs: These are your best friend when it comes to turning the Kebapche during the cooking process, ensuring an even, mouthwatering grill on all sides.
Large bowl: You'll require this for thoroughly mixing the minced meat and spices, creating that flavorful blend that is the heart of Kebapche.
Wooden board: This will serve as your work surface for shaping the spiced minced meat into those distinctive elongated cylinders ready for grilling.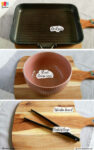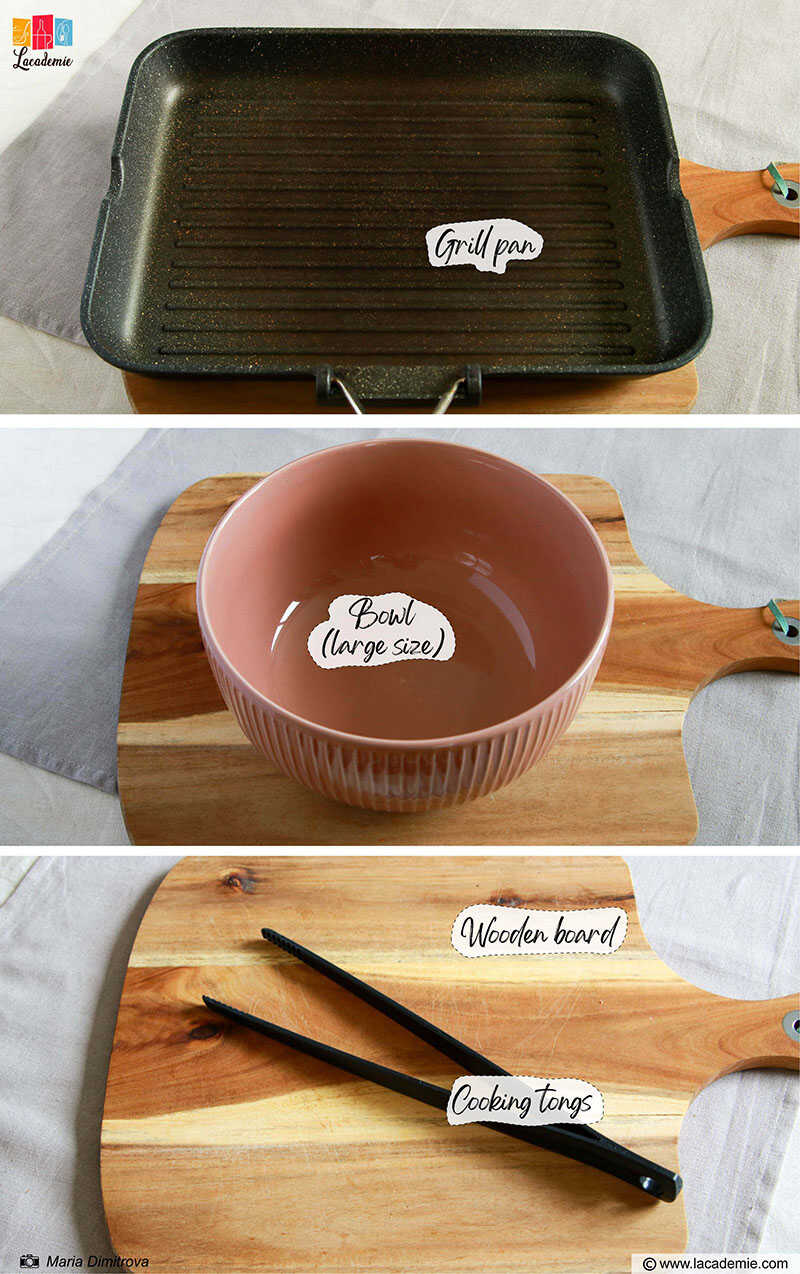 Ingredients
Minced Meat: Preferably, you should go for minced pork or a mix of pork and beef. In Bulgaria, pork is typically used, so to get that authentic taste, opting for minced pork is advised.
If you're preparing your own meat, pork shoulder and pork breast are prime cuts to consider, with a target fat content of around 30%.
Cumin: This spice is paramount for this recipe, infusing the Kebapche with a unique taste. Be sure to use finely ground cumin for the best impact.
Black Pepper: This is another essential spice that adds depth and a tantalizing aroma to your Kebapche. It's best to use finely ground black pepper.
Salt: Regular fine salt works perfectly for seasoning your Kebapche, helping to enhance its overall flavor.
Water: You'll need roughly 2/3 cup of water to mix with the minced meat, which helps create an emulsion with the meat's fat and collagen.
Once mixed and left to chill in the fridge for a full day, this emulsion helps to keep the fat from leaking out during cooking, resulting in juicy, flavor-packed Kebapche.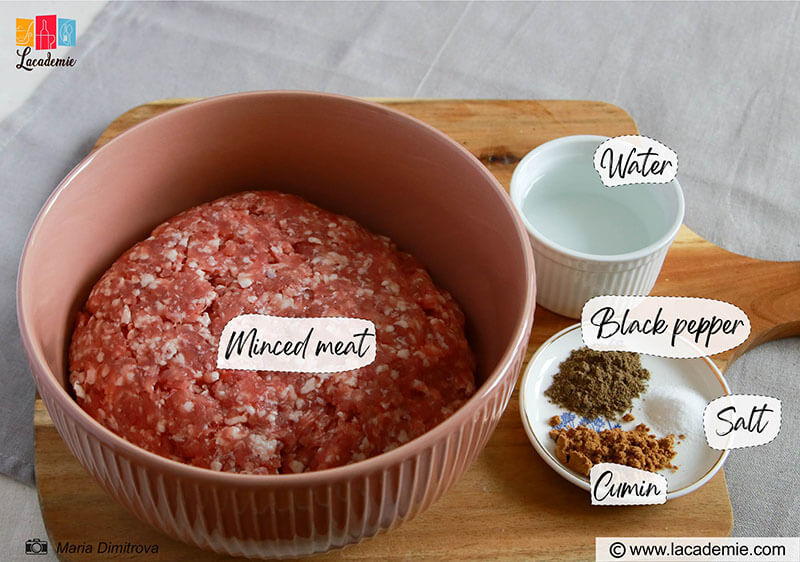 Directions
Step 1: Mix The Ingredients
Begin your Kebapche adventure by thoroughly blending your minced meat, spices, and about 2/3 cup of water in a large bowl. Mix the mixture well.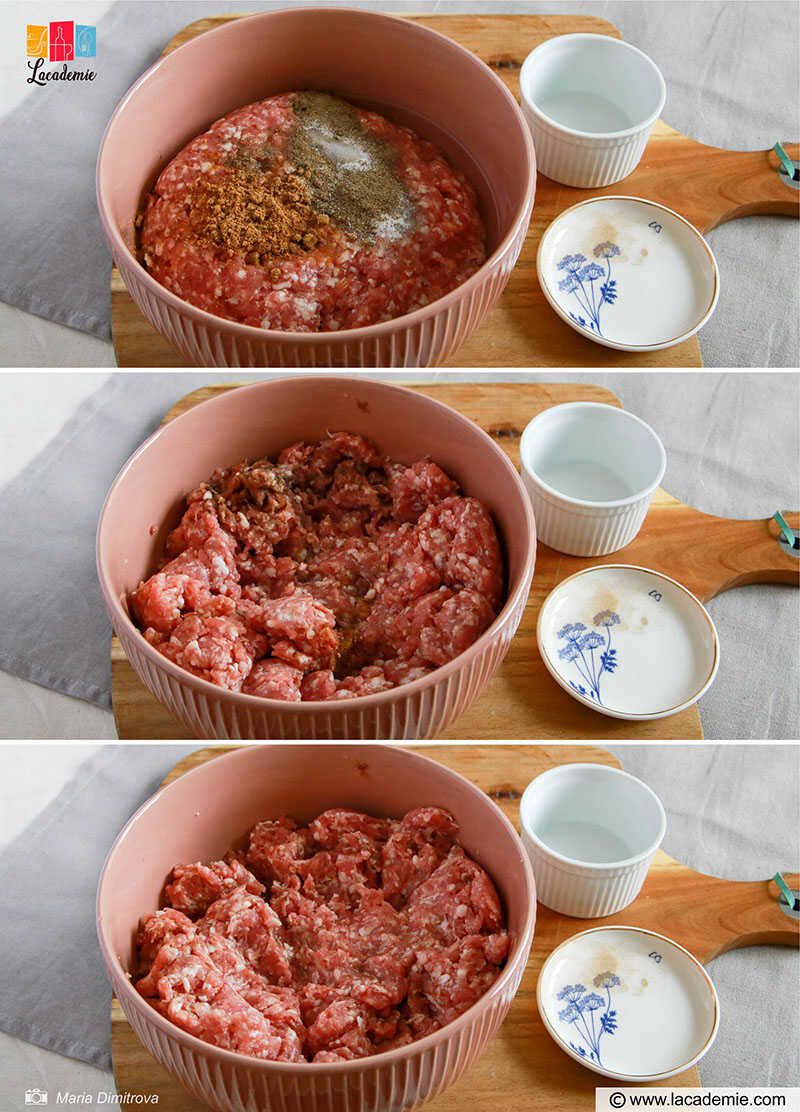 Step 2: Rest The Mixture
After you've fully kneaded the mixture, let it sit in the refrigerator for roughly 24 hours. This essential step allows an emulsion to form, keeping the fat nicely contained within your Kebapche during cooking.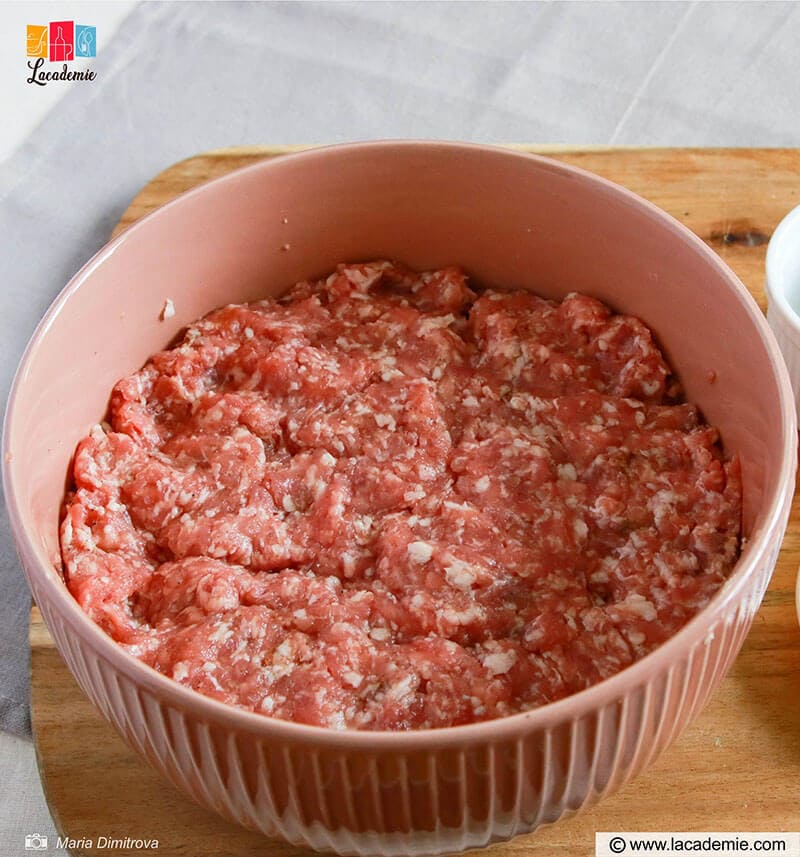 Step 3: Shape The Kebapche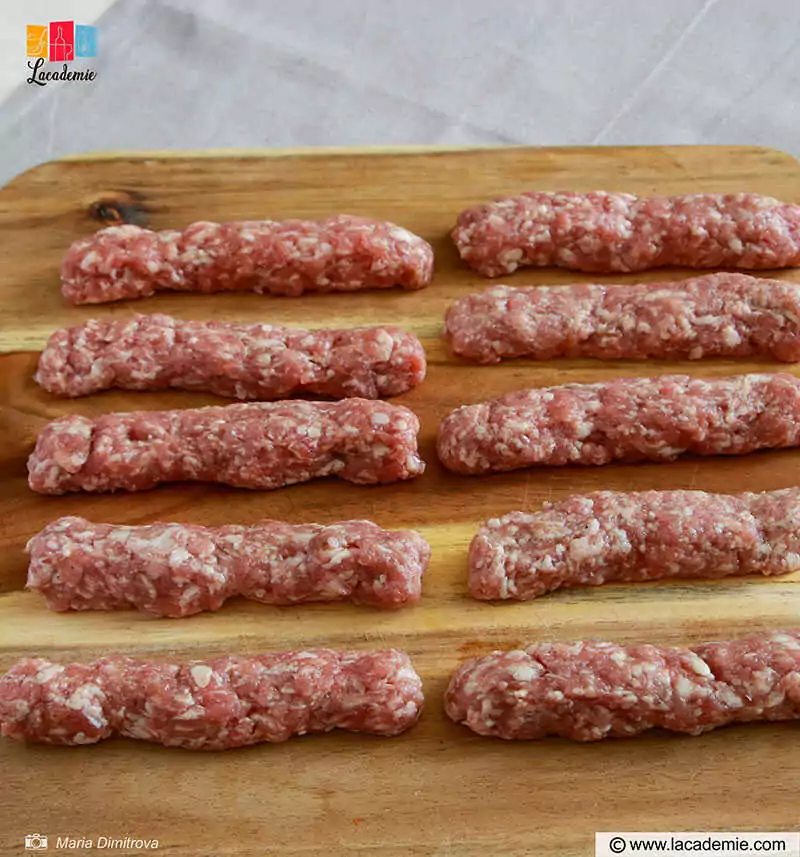 Once the resting period is over, it's time to form your Kebapche. Grab portions of the meat mixture and mold them into the signature elongated cylindrical shapes on a wooden board. Aim to make each Kebapche around 6 inches long.
Step 4: Grill The Kebapche
Next, heat your grill pan over medium-high heat. Place the formed Kebapche onto the hot grill pan, using cooking tongs to rotate them gently in one direction 3 or 4 times. This will ensure they cook evenly. You should allow each side to grill for approximately 2-3 minutes.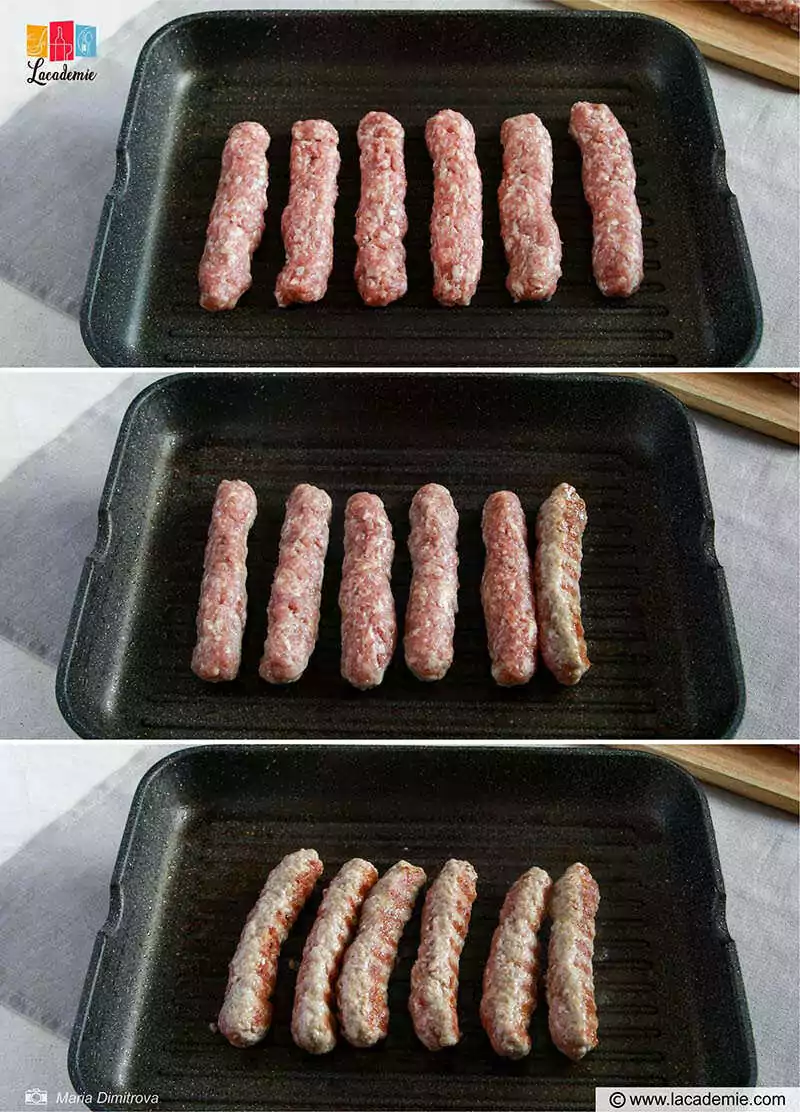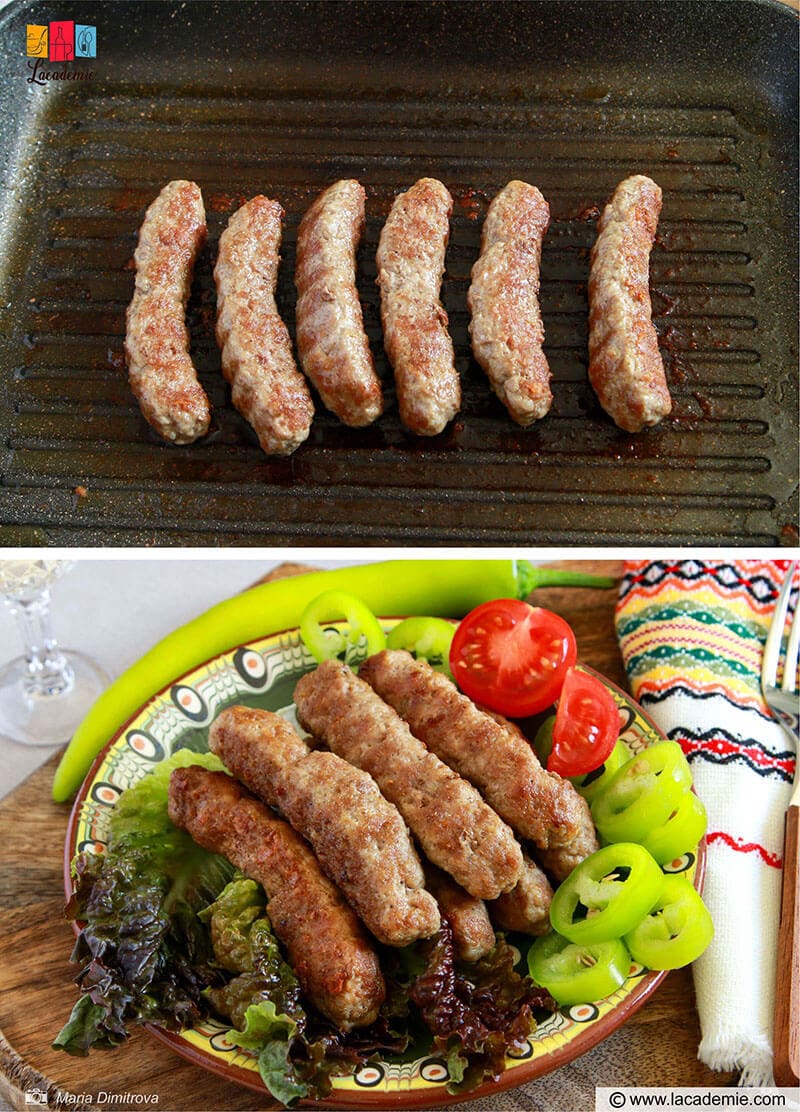 Step 5: Serve Your Kebapche
Finally, when your Kebapche have reached a beautiful golden brown perfection, it's time to serve them up hot!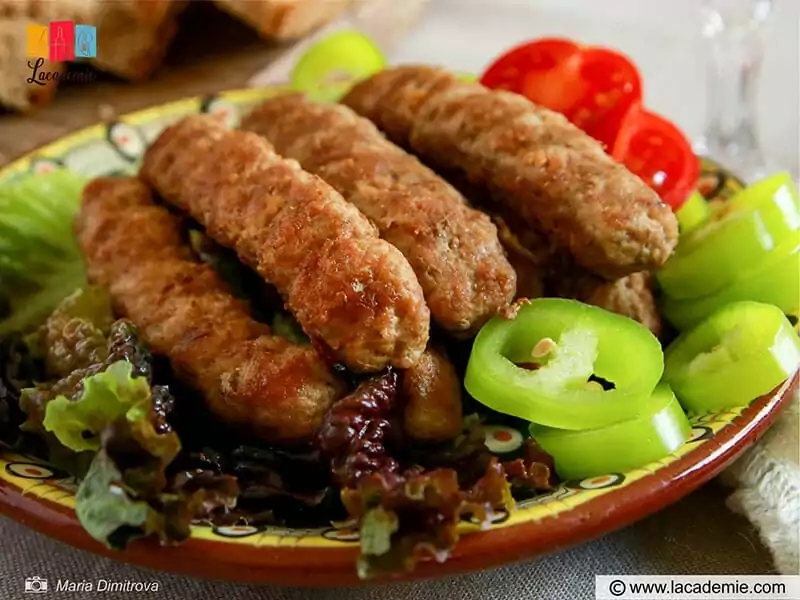 Accompany your Kebapche with a side of traditional Bulgarian vegetables such as fresh tomatoes, peppers, cucumbers, lettuce, and onions to fully savor this dish. Enjoy your authentic Bulgarian Kebapche experience!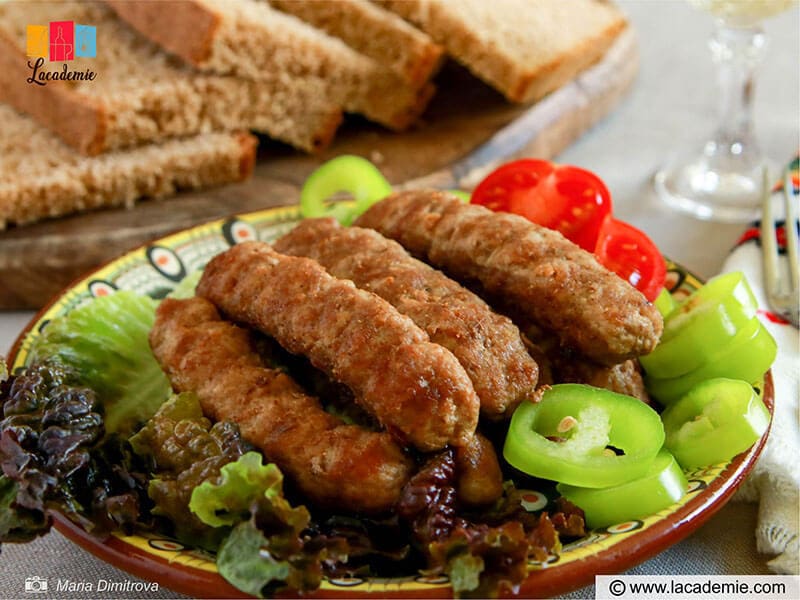 Tips And Tricks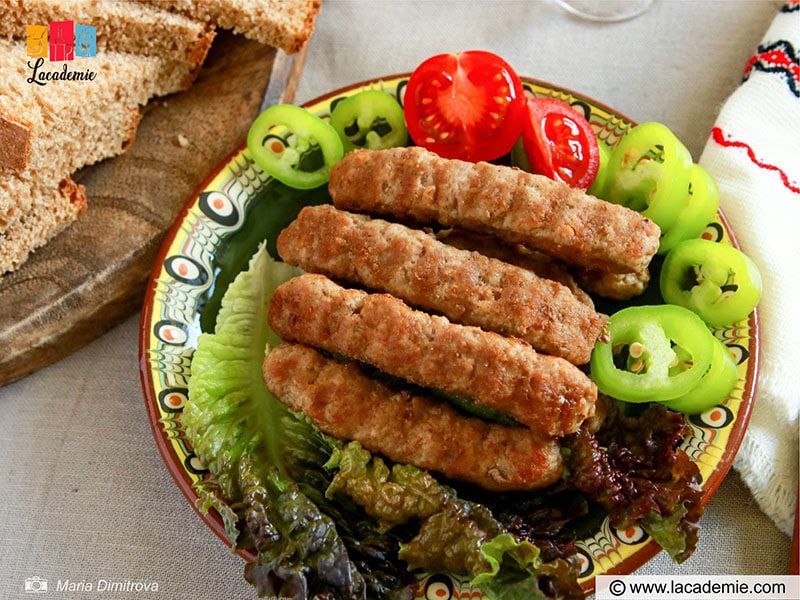 The quality of your minced meat can greatly affect the taste of your Kebapche. Choose fresh, high-quality pork or beef for the best results.
For a deeper flavor, try grinding your cumin and black pepper fresh rather than using pre-ground spices.
Allowing your meat mixture to rest in the refrigerator for 24 hours is crucial for creating an emulsion that will keep the fat inside your Kebapche during cooking. Don't skip this step.
Be gentle when forming your Kebapche. You want them to stay intact during grilling but not be so tightly packed that they become tough.
It's important to heat your grill pan to medium-high heat before placing your Kebapche on it. If the pan isn't hot enough, your Kebapche could stick to it and be torn apart.
When grilling your Kebapche, remember to turn them gently and consistently for even cooking. Over-handling can cause them to fall apart.
Don't be afraid to experiment with the amount and types of spices you use in your Kebapche. Everyone's taste is different, and part of the fun of cooking is making a dish of your own!
Side Dishes To Enjoy With Kebapche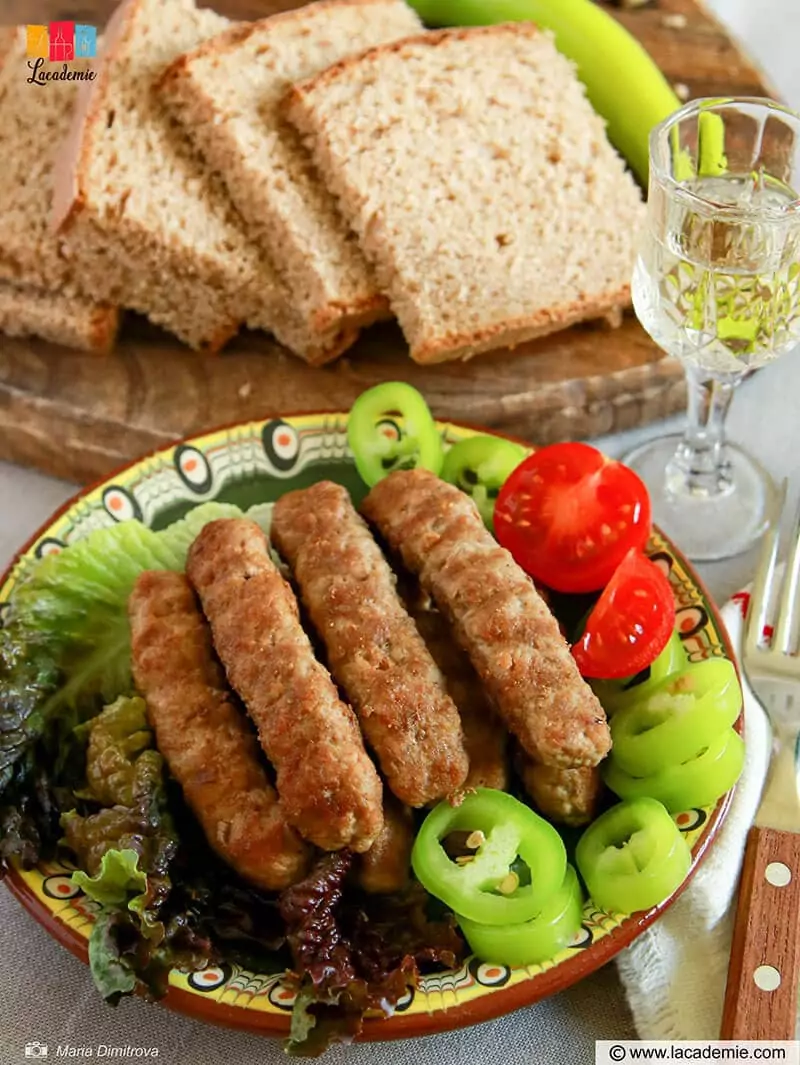 Shopska Salad: This is a traditional Bulgarian salad made from tomatoes, cucumbers, onions, peppers, and Bulgarian sirene cheese. It's a refreshing counterpart to the hearty Kebapche.
French Fries: Also known as chips in some regions, these crispy, salty potato sticks are a beloved companion to Kebapche, often served topped with grated sirene cheese.
Lyutenitsa: A flavorful Bulgarian relish made from peppers, aubergines, carrots, garlic, and tomatoes. It is often enjoyed as a dip or spread and complements the savory Kebapche beautifully.
Bulgarian Yogurt (Bulgarsko kiselo mlyako): A tangy, creamy yogurt that helps balance the rich flavors of the Kebapche. People can enjoy it as a side dish or as a topping.
Grilled Vegetables: Grilled peppers, eggplants, and zucchini are wonderful side dishes that enhance the grilled flavors of Kebapche.
Bread: Whether it's a slice of rustic bread or a traditional Bulgarian pitka, bread is always a good side to mop up the flavorful juices left behind by the Kebapche.
How To Store Your Kebapche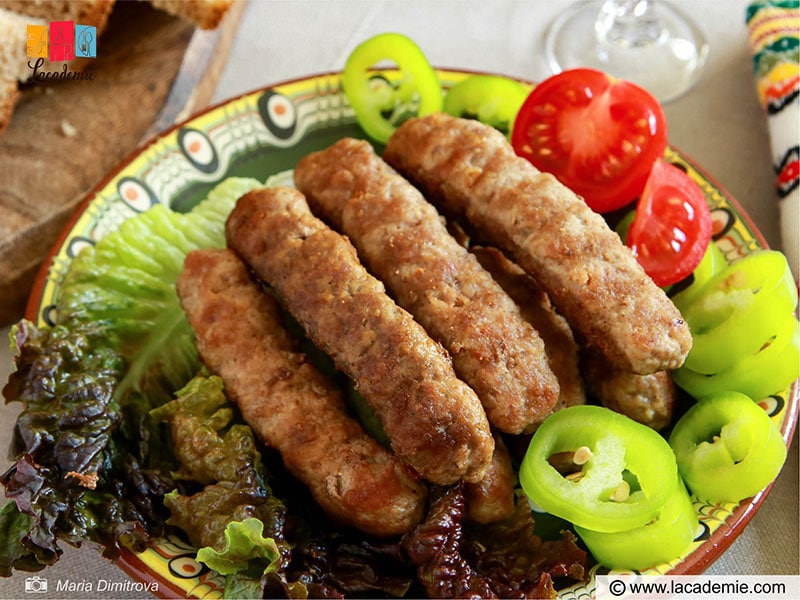 If you've made a large batch of Kebapche and you have leftovers, you can simply place them in airtight containers and store them in the refrigerator. They should stay good for about 3 to 4 days.
If you've made a large batch of Kebapche and you have leftovers, you can simply place them in airtight containers, then store them in the fridge. They should stay good for about 3 to 4 days.
When you're ready to eat them again, reheat them gently in a pan or in the oven until they're warmed through.
They can be frozen for up to 3 months. To enjoy, defrost them in the refrigerator overnight and then reheat.
If you've prepared your Kebapche mix but don't plan on cooking all of it right away, you can refrigerate this mixture for about 2 days.
You can also form the Kebapche and freeze them on a baking sheet. Once they're frozen, transfer them into a freezer bag or container. This way, you can cook them straight from frozen whenever you want!
Note-Worthy Variations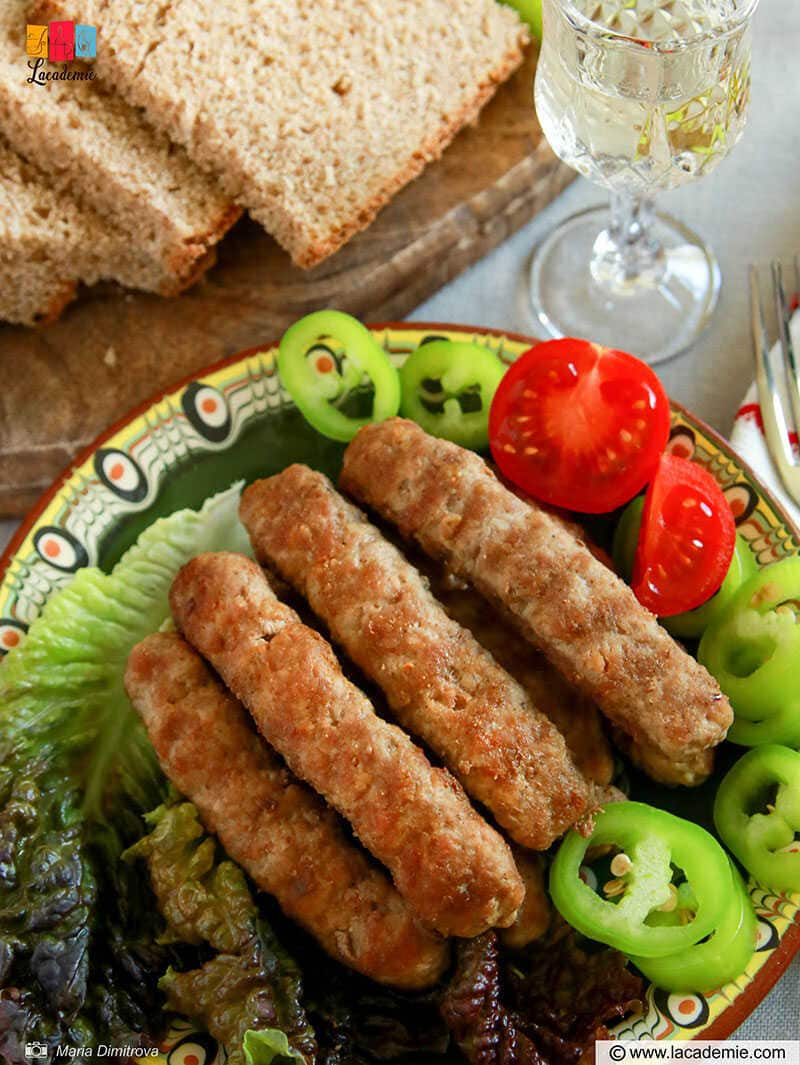 Different Meats: Try using lamb for a more Middle Eastern twist, or chicken for a lighter version. You could even try a vegetarian version using plant-based mince.
Additions To The Meat Mix: The standard recipe calls for cumin, salt, and pepper, but why stop there? You could add finely chopped onions or garlic to the meat mix for extra flavor. Some people also like to add a bit of finely chopped parsley or other fresh herbs.
Stuffed Kebapche: For a surprise in every bite, you could try stuffing your Kebapche. This could be cheese that will melt as the Kebapche cooks, or perhaps a small pickled pepper for a burst of tangy flavor.
Spicy Kebapche: If you like your food with a kick, add some heat to your Kebapche. You could mix some crushed chili flakes into the meat, or serve the finished Kebapche with a spicy sauce.
You Don't Want To Miss These Bulgarian Dishes
FAQs
Grill Meat In Bulgarian Style!
A shining beacon of Bulgaria's culinary landscape, this dish magically transforms modest ingredients into a taste sensation that's hard to forget. I invite you to dive into this culinary adventure and discover the joys of making Kebapche at home.
If you found this article intriguing, do like and share it with your fellow food enthusiasts. If you've tried your hand at Kebapche or savored it on Bulgarian soil, I'd love to hear your experiences, feedback, or suggestions in the comments below!
Nutrition Facts
8 servings per container
---
Amount Per ServingCalories210
% Daily Value *
Total Fat 11.5g

17

%
Sodium 293mg

13

%
Potassium 24mg

1

%
Total Carbohydrate 0.9g

0

%
Protein 24g

48

%
---
* The % Daily Value tells you how much a nutrient in a serving of food contributes to a daily diet. 2,000 calories a day is used for general nutrition advice.