Spanish desserts have a long history, and it is said that these sweet treats were born since the arrival of the Romans. With such lovely tastes, Spanish desserts have captivated millions of food connoisseurs worldwide, and this number is still growing by leaps and bounds.
Surprisingly, Spanish desserts are heavily influenced by the Arabs. Ingredients like rice, honey, and almonds are commonly seen in these sweet courses; however, creativity in gastronomy has no boundaries, so don't be afraid to make some minor tweaks to suit your preferences.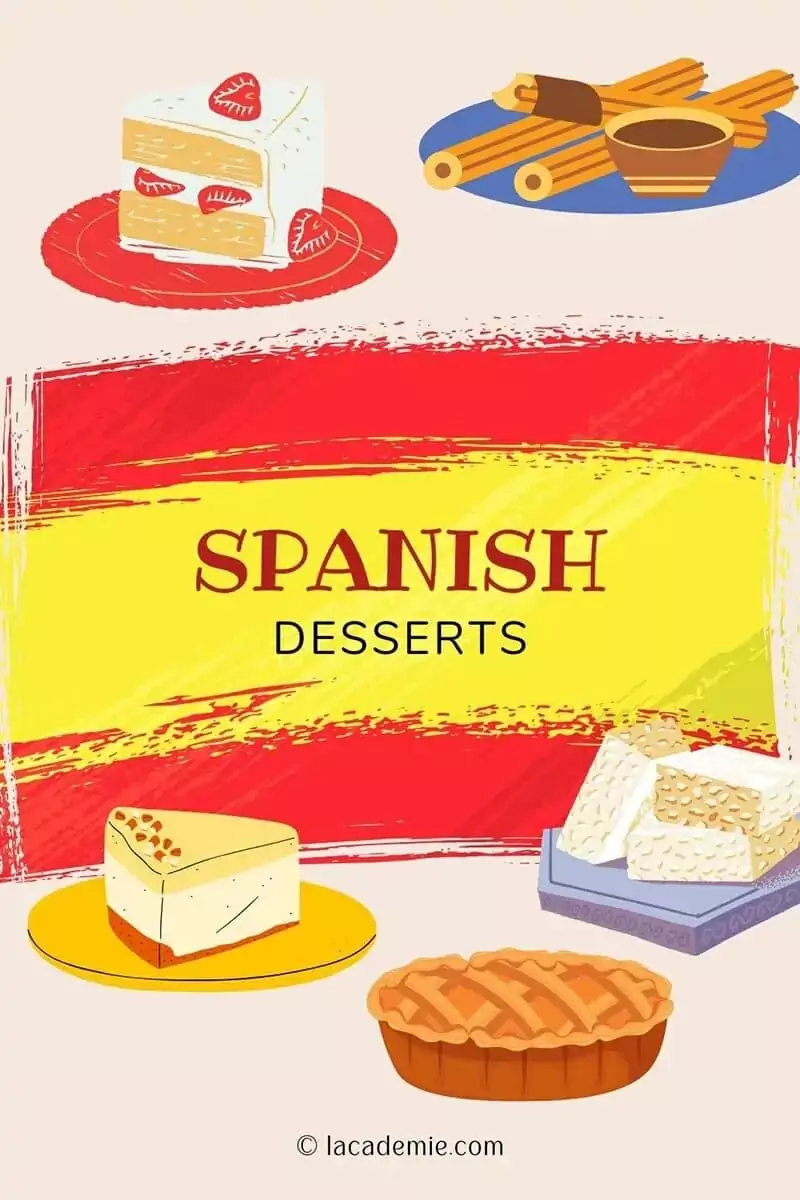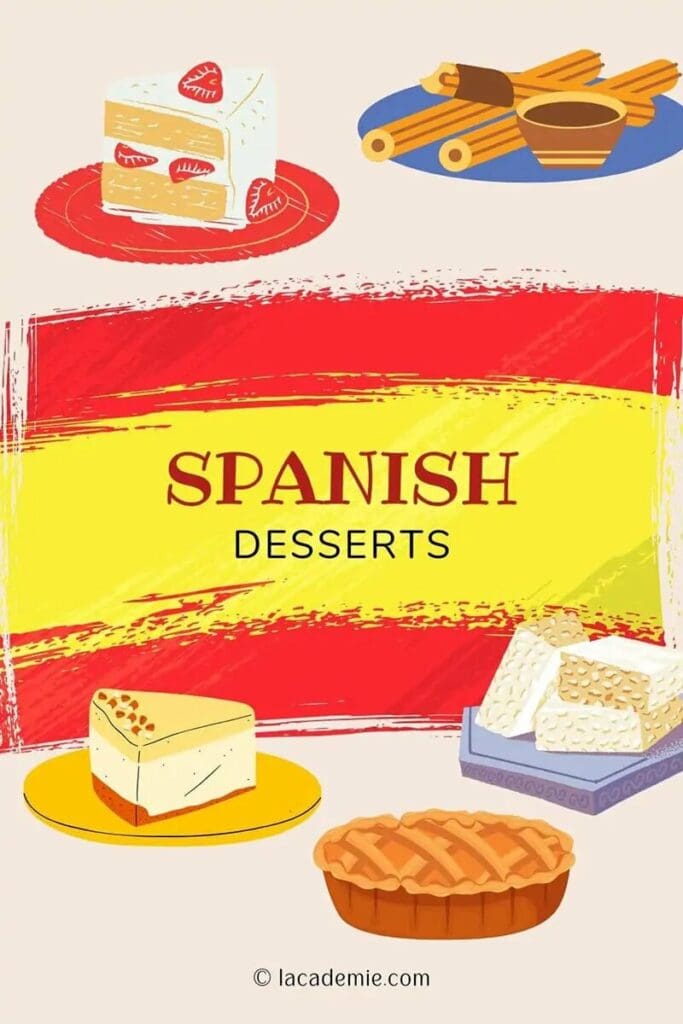 You gotta admit that Spanish cuisine is full of delicious dishes. Any side dishes originating from Spanish cuisine is an absolute flavor bomb, and Spanish foods for first courses are equally amazing. So when it comes to Spanish desserts, you can definitely expect them to be tasty as well.
Spain has countless pastry (pastel in Spanish) desserts, and it's hard to tell them apart if you are not an expert. But don't worry, below are some top-notch choices that I have saved for you:
Tarta de Santiago (Spanish Almond Cake)
Tarta de Queso (Spanish Cheesecake)
Torrijas
Miguelitos
Frisuelos (Spanish Crepes)
Pantxineta
Goxua
Roscos Fritos
Tres Leches Cake
Pastissets
Panelletes
Mantecados (Traditional Spanish Crumble Cakes)
Polvorones
Churros
Carquinyolis
Almendrados
Borrachuelos
Turrón
Yemas de Santa Teresa
Marzipan
Membrillo (Quince Paste)
Crema Catalana
Leche frita (Fried Milk)
Flan
Arroz con Leche (Spanish Rice Pudding)
Leche Merengada
Mel I Mató
Fartons
Natilla (Spanish Custard)
Alfajor
1. Tarta De Santiago (Spanish Almond Cake)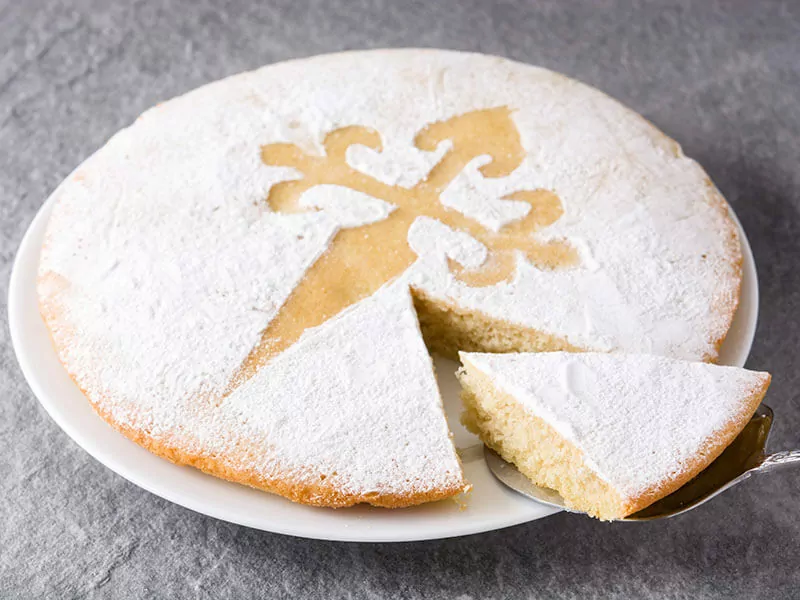 Tarta de Santiago is one of the most popular delicacies in Spain, so you can expect to see them on any menu. Originating in Galicia in the Middle Ages, the cake has been engraved in people's minds with its delicate flavor and the St. James Cross decoration using icing sugar.
The cake's name refers to "Cake of Saint James," a traditional Spanish dessert known for its round shape. Commonly, it has a puff pastry or shortcrust pastry base. Plus, the cake must contain at least 33% almonds to be considered a genuine Tarta de Santiago.
The iconic cross design on the cake, representing the Cross of Saint James, began appearing in 1924 and has become a defining characteristic of this delicious dessert. Typically dusted with powdered sugar, the Tarta de Santiago is often flavored with sweet wine, lemon zest, or grape marc, giving it a unique and irresistible taste.
2. Tarta De Queso (Basque Cheesecake)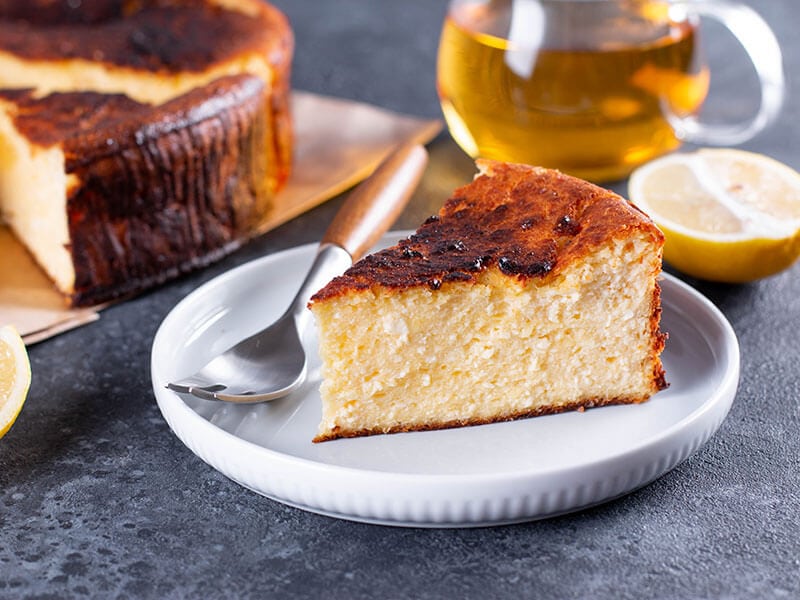 Also known as burned Basque cheesecake, the cake looks as if it has been left in the oven for way too long! However, beneath that caramelized top layer lies a beautiful custard with a melt-in-your-mouth texture.
The Basque Burnt Cheesecake debuted in Spanish cuisine in the 1990s by Santiago Rivera, a member of La Viña restaurant in Basque Country. Rivera took inspiration from the popular New York-style American cheesecake but gave it a unique twist by creating a distinct crackling burnt caramel surface.
Unlike traditional cheesecakes, the Basque Burnt Cheesecake has no crust, making it stand out. Its edges are soft and fluffy, which adds to its appeal and creates an unforgettable dessert experience.
3. Torrijas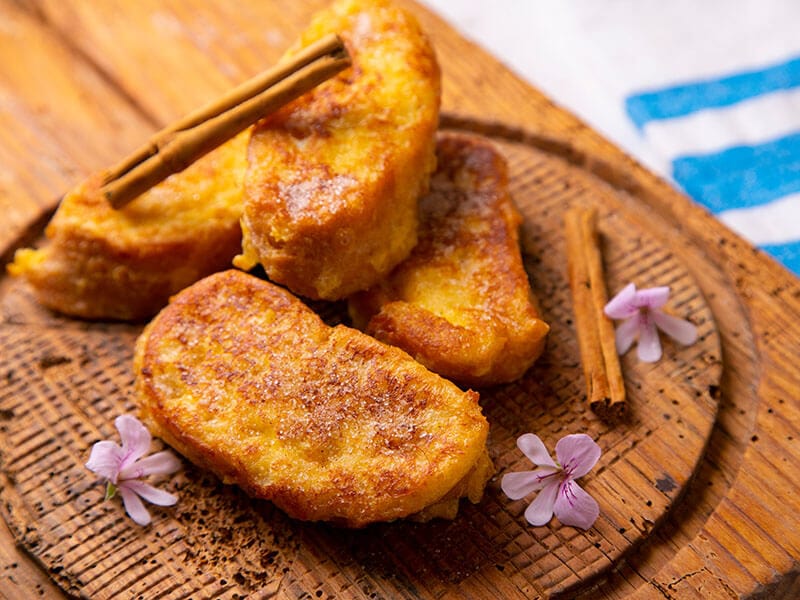 Torrijas is a no-fail dessert made with stale French toast with a touch of Spanish culinary dishes. The stale bread slices are dunk in milk, wine, and eggs, pan-fried and served with cinnamon or honey on top.
These fried bread toasts are a traditional Spanish dessert typically enjoyed during Lent, Holy Week, and Easter. Their origin dates back 2,000 years ago, with the Romans being the first to cook this delicious treat.
By soaking bread before pan-frying, Torrijas achieve a crispy outer layer while the inside remains smooth like bread pudding. In Spain, the dish was first mentioned in 1496 by the composer Juan del Encina. Aside from Spain, Torrijas is also popular in Brazil and Portugal, with the name Rabanadas.
4. Miguelitos (Cream Filled Puff Pastry)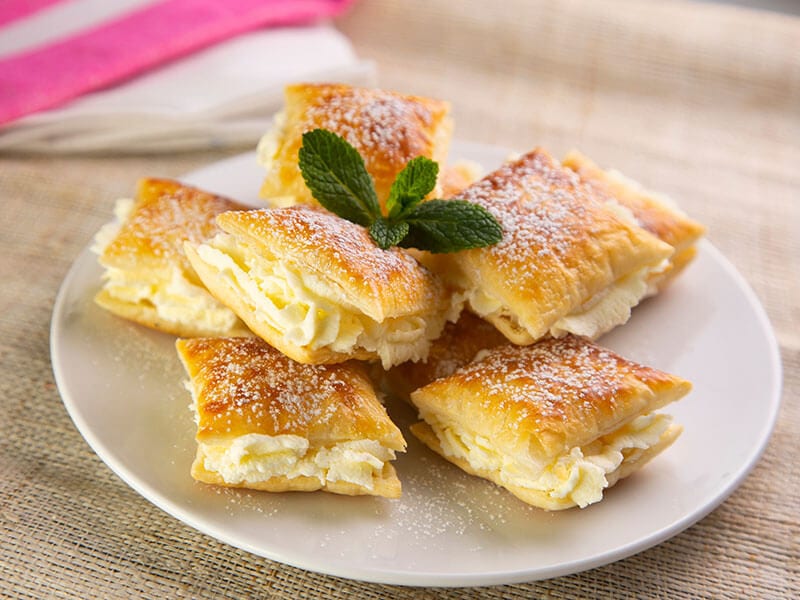 Miguelitos are a type of treat usually referred to as a cake. People often served them in tapas-style, bite-sized pieces. The dessert originated from La Roda, a city in the Castilla–La Mancha community, and was created by Manuel Blanco after he settled in the city in the 1960s.
The filling of Miguelitos is custard-like and can vary with flavors such as chocolate, vanilla, or white chocolate. In addition, the golden brown and flaky crust is a signature of these little treats. Also, Miguelitos are perfect for serving, either hot or cold.
A traditional way of serving Miguelitos in La Roda includes enjoying them with Café con leche. The dessert is typically dusted with powdered sugar before serving.
5. Frisuelos (Spanish Crepes)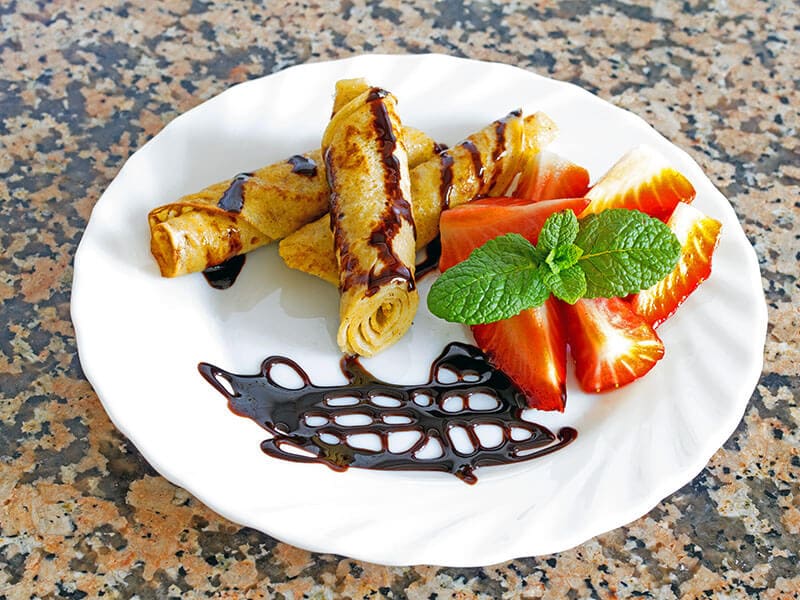 In Spain, Frisuelos, or Frixuelos, are usually served at the end of the meal, but you can have these delectable crepes at the beginning of the day if you want. Frisuelos are usually folded and filled with rice pudding, custard, cream, fruits, or chocolate pudding.
Frisuelos are a popular treat typically enjoyed during the Antroxu carnival and Las Comadres celebrations in Asturias, Spain. Interestingly, there is a cowboy version of Frisuelos found in the southwestern Asturian area of Cangas del Narcea.
To achieve crepe's signature paper-thin thickness, you might need a good non-stick pan for making crepes. However, a better option would be a specialized crepe maker, which can ensure that anyone of any skill level can successfully make delicious crepes for themselves.
6. Pantxineta (Basque Tart)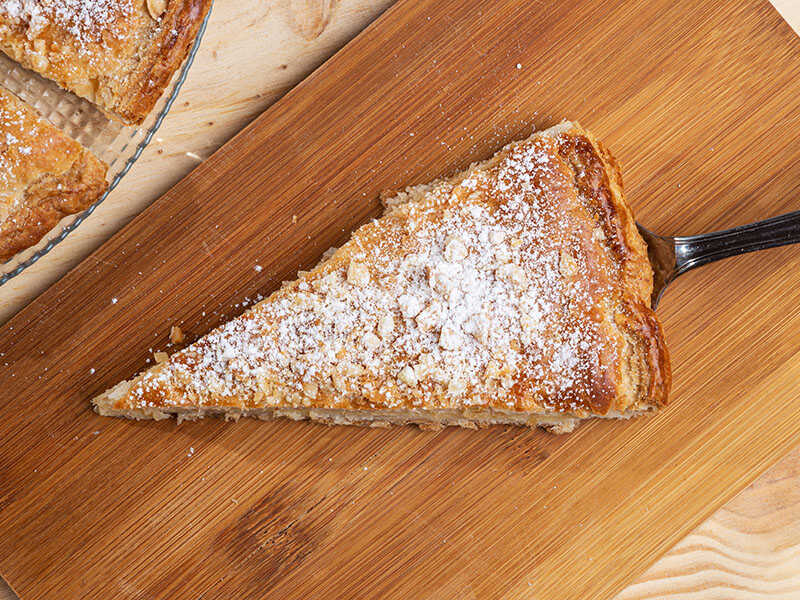 With pleasant, nutty attributes, almonds are used widely in many Spanish dessert recipes, including Pantxineta. This fluffy dessert is a combination of many crunchy pastry layers and a smooth cream filling that makes your mouth water every time you see it.
Pantxineta is a scrumptious Basque treasure from the picturesque San Sebastian city. Crafted by the House of Otaegui in the early 20th century, this delectable dessert pays homage to the classic French frangipane tart.
Take a bite and savor the flaky puff pastry encasing a rich, velvety custard cream. Plus, the treat has a generous sprinkling of almonds and a dusting of icing sugar, adding a delightful profile.
7. Goxua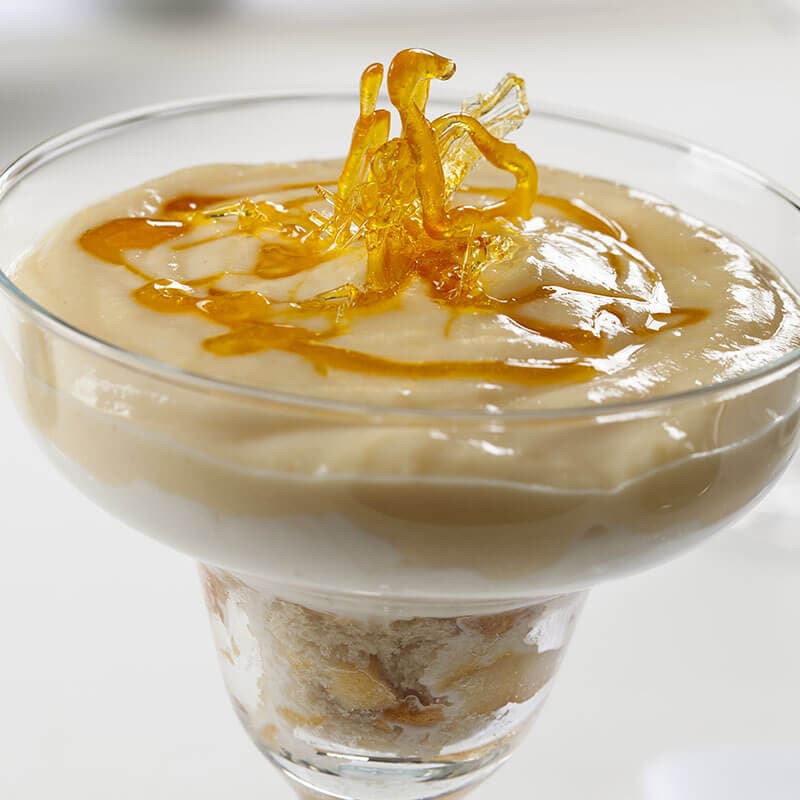 Whenever I see Goxua, a dish that originates from Basque, I can't help but feel a strong craving for it. Goxua means "sweet" in Basque, and you can guess how it tastes already.
The dessert is believed to be masterfully created by Chef Luis Lopez de Sosoaga in 1977. However, many argue that this tantalizing treat draws inspiration from the famous Crema Catalana, a custard treat of Catalan cuisine.
Goxua comprises layers of whipped cream, tender ladyfingers, and custard cream. In Northern Basque, people add jam for a new twist to the recipe, adding a burst of fruity goodness. Usually, Goxua can appear as a large cake or in charming individual clay pots.
8. Roscos Fritos (Fried Donut)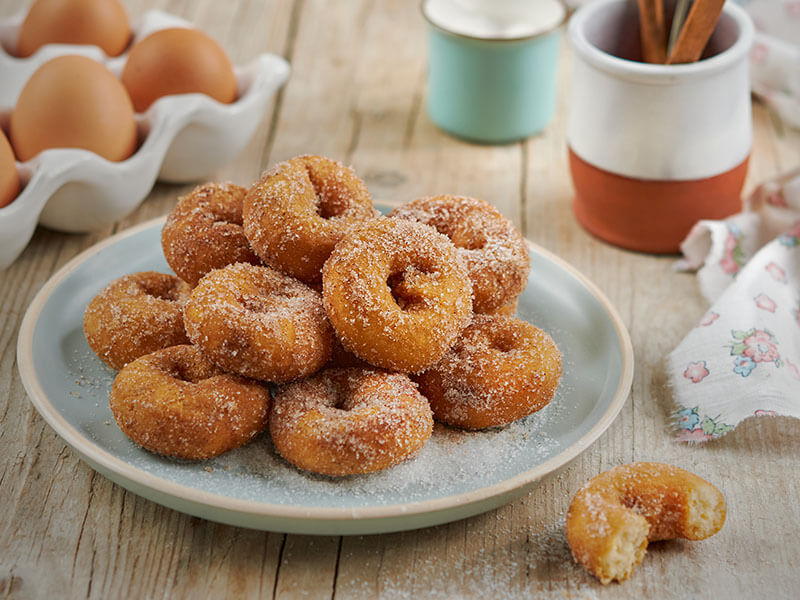 Yes, these sugary treats are like brothers to donuts, but they are far cousins with a slight difference in texture and taste. Roscos Fritos are deep-fried, so they are a bit fluffy, and the flavor ranges from sweet to saccharine, depending on how you like them.
These Roscos Fritos are a traditional Spanish dessert from the Andalusia region. They offer a sweeter twist on conventional donuts, guaranteed to tantalize your taste buds. Plus, Roscos Fritos are a cherished part of Easter festivities, often enjoyed as a snack or dessert.
9. Tres Leches Cake (Three Milk Bread/Cake)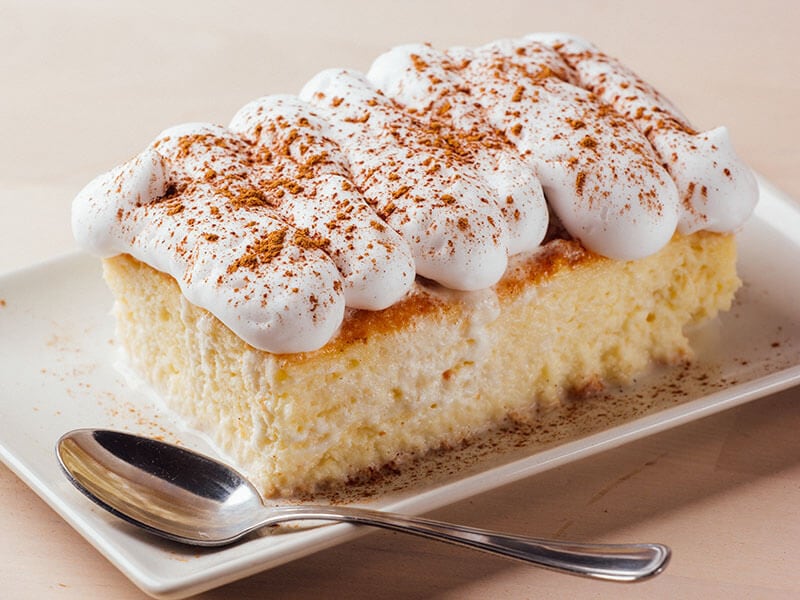 It's not an exaggeration to say that the Spanish adaptation of this milky dessert from Mexico is a roaring success. The cake is made with three different types of milk (evaporated milk, whole milk, and condensed milk).
Tres Leches Cake (three milk bread in English), also known as Torta de Tres Leches, is a luscious dessert that traces back to 19th-century Nicaragua. Despite its enticingly soggy texture, Tres Leches Cake remains light and airy, making it the perfect dessert to satisfy your sweet cravings.
10. Pastissets (Fried Pastry)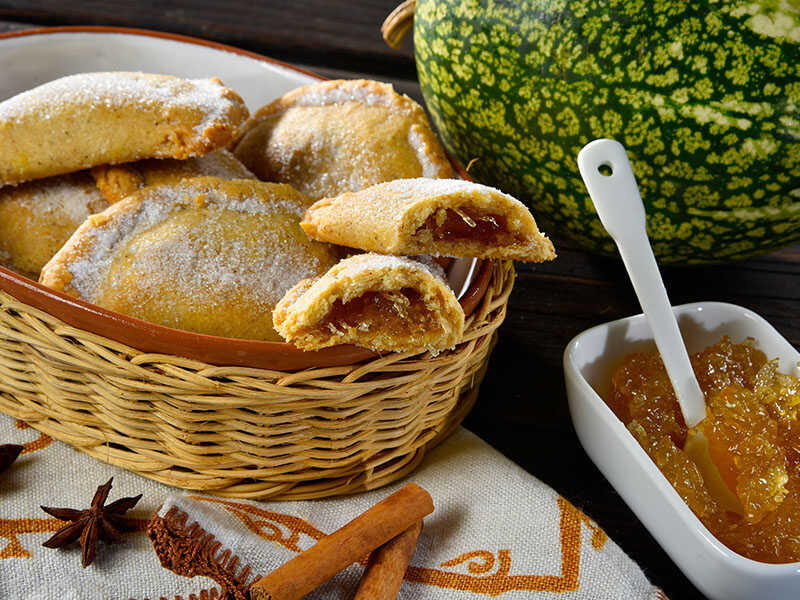 Pastisset is another type of Christmas pastry with wonderful flavors that you can't resist. The sweet rendition of the Empanada is filled with Dulce de Banito, a paste made from white potato.
In addition, Pastissets are usually served with a lot of icing sugar. In Mallorca, they have a version of the treat called Rubiol.
Interestingly, there's another version that tempts your taste buds with Cabell d'àngel jam, a heavenly pumpkin-based jam. For those seeking a nutty twist, almond-filled Pastissets offer a rich, satisfying experience, while the Mató cheese variation introduces a creamy, luscious element.
11. Panelletes (Little Bread)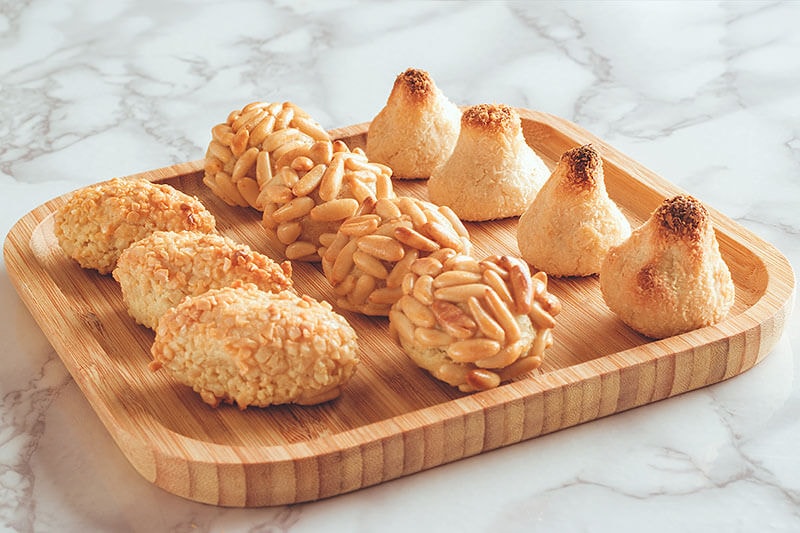 On All Saints Day, Panelletes, or Castanyada, are served with Moscatel to honor the dead spirits. These flavor bombs look small, but they are packed with many flavors. They are usually embezzled with pine nuts, but there are other coating options such as cocoa powder, coconut flakes, or candied cherries.
Interestingly, Panelletes date back to the 18th century. Once served as blessed food during religious celebrations, these delicious pastries have been everyone's favorite treat. They are often accompanied by a glass of sweet wine for better enjoyment.
These bite-sized treats come in various shapes, with the most common being round. Commonly, the most popular Panelletes version is adorned with a generous layer of pine nuts, adding an irresistible crunch. In Sevilla, southern Spain, these delightful confections are known as Empiñonados.
12. Mantecados (Traditional Spanish Crumble Cakes)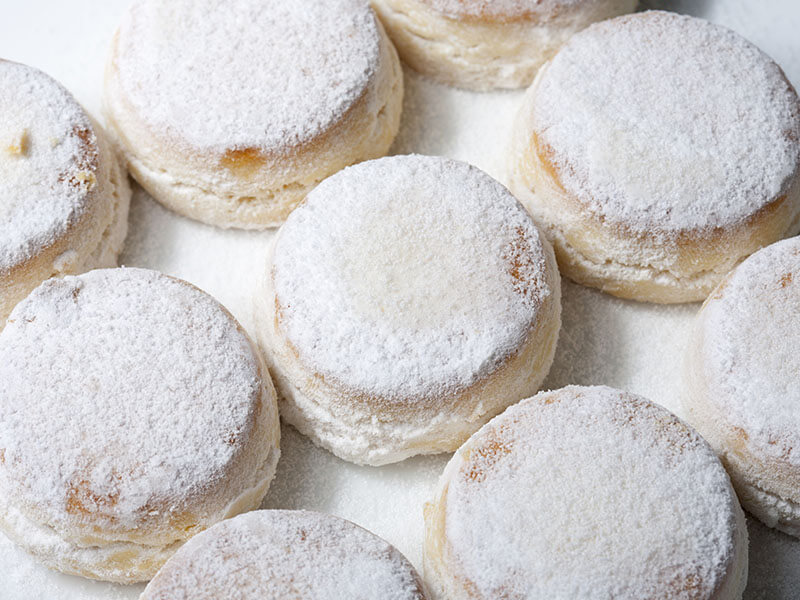 The holidays are here, and so are mantecados. These Christmas shortbread cookies have a delightful taste with a crumbly texture. Traditional Mantecados are not very flavorful, but you can find many varieties nowadays, from lemon, cocoa to coconut.
In Spain, Mantecados is a delightful variation of the Polvorón. These delectable Spanish sweets differ from their Polvorón counterparts, as they don't feature nuts on top. Regarding shape, Mantecados are round, whereas Polvorón is oval.
These mouthwatering treats have found a place in the hearts of people in the Philippines as well. Their unique version of Mantecados incorporates butter and powdered milk instead of lard and powdered sugar.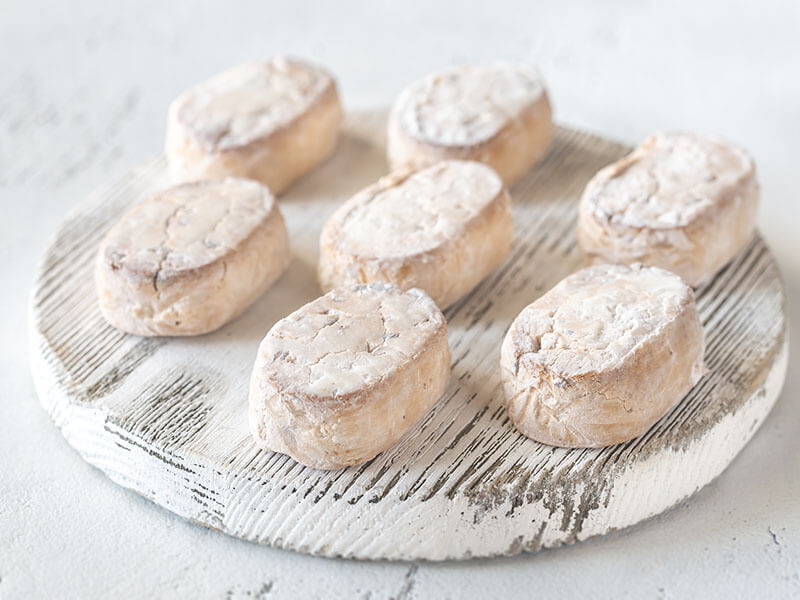 Let's not forget Polvorones when you talk about Mantecados – these two are inseparable. Overall, Polvorones are pretty similar to Mantecados except that they have a toasty feel because of almonds. You can swap in pecans or other nuts if desired.
As one of the Andalusian delights, Polvorones are often served as a tasty dish during Christmas and New Year celebrations. With various flavors to choose from, such as lemon, chocolate, and almond, there's a Polvorón for everyone's taste buds.
Furthermore, their soft texture and sugar-dusted exterior make them a tempting indulgence.
14. Churros (Fried Dough Sticks)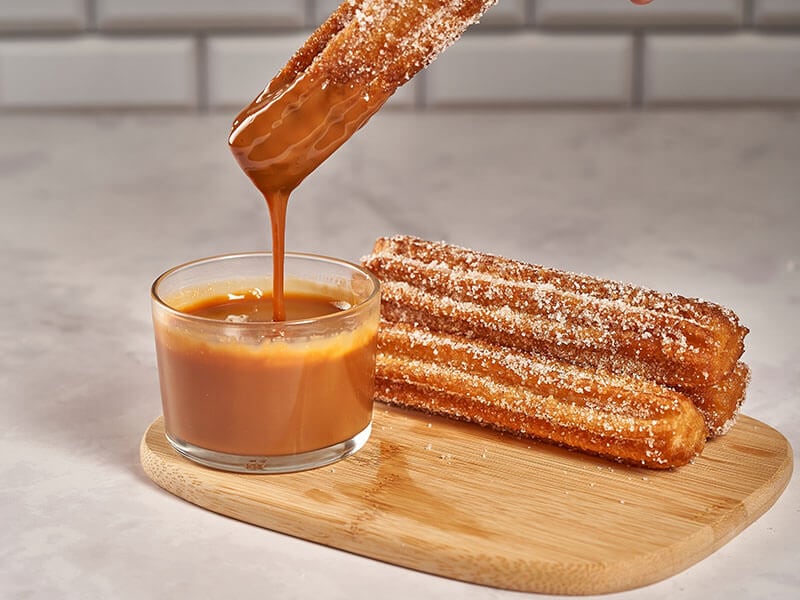 If you have never heard of Churros, you must have been living under a rock. Although these mouth-watering pastries are a Spanish invention, they have become a crowd-favorite street food in Brazil and other Latin American countries.
Churros are usually crafted from choux pastry dough! People commonly pipe the dough directly into sizzling oil to achieve their iconic shape, creating a crispy, golden exterior. You might even come across delightful knotted Churros in Spain, adding a twist to the traditional treat.
The most popular version is Churros con chocolate, with its luscious coating of rich chocolate that no one can resist. You can relish Churros as a decadent breakfast indulgence, dipping them into milk, Dulce de Leche, or coffee for an unforgettable taste sensation.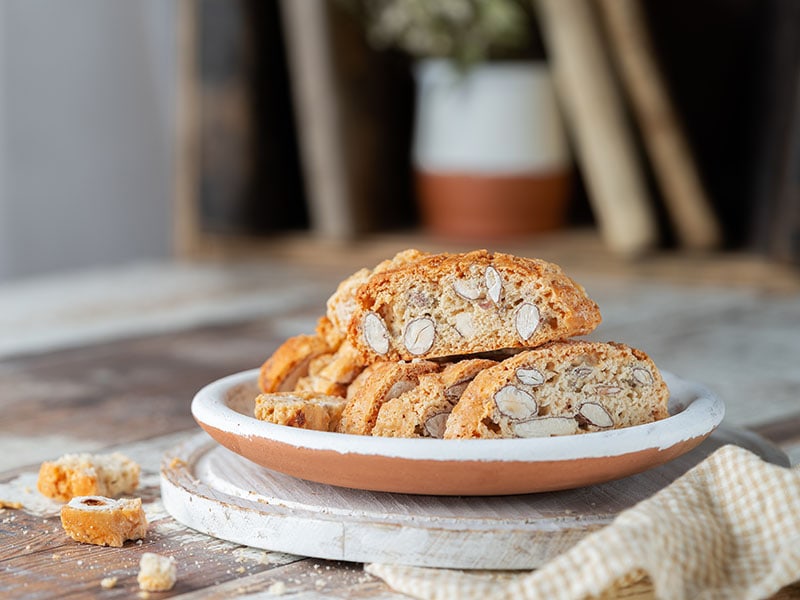 Unlike its hard-to-pronounce name, this dessert goes easy on your palate and leaves an unforgettable mouthfeel. Carquinyolis are mainly served during winter with a sweet wine called Vi Dolç.
Carquinyolis come from the Catalonia region. These elegant sweet cookies are characterized by their dry, crisp texture and the alluring almonds embedded between layers.
Renowned in locations such as Caldes de Montbui, L'Espluga de Francolí, Vic, and Cardedeu, Carquinyolis boasts a diverse range of variations, each featuring different types of nuts to cater to a wide array of discerning palates.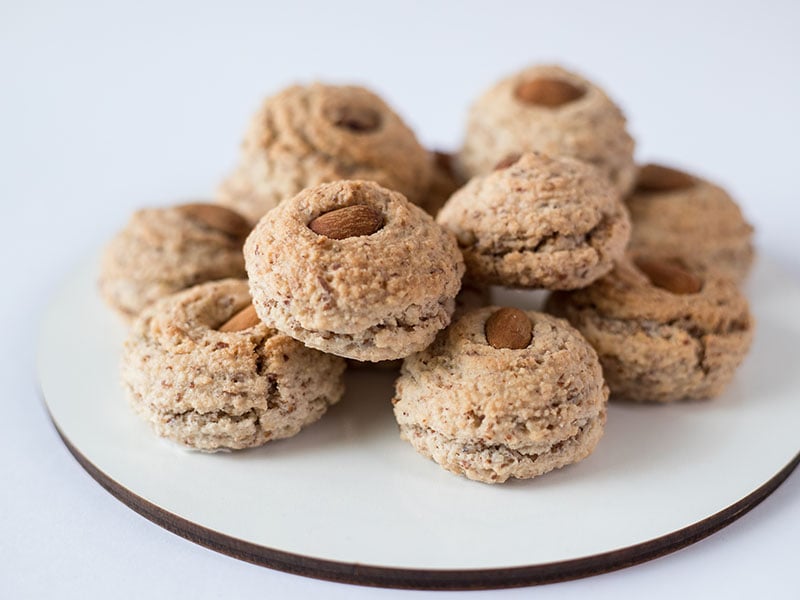 Almendrados is another Catalan cookie dessert that teams up with almonds. With just a few simple ingredients, you can quickly rustle up some appetizing Almendrados for dessert or teatime.
The dessert is a delectable delight tracing its origins to the 15th century. Skillfully created using a blend of ground almond flour, fragrant lemon zest, and eggs, these cookies are cherished in culinary history.
The essence of their unique character lies in the air-drying process of the dough for a full day before baking. People usually place each cookie with an almond nut for a signature crunch in every bite.
Traditionally enjoyed as a festive snack or dessert during Christmas, Almendrados represent the festive time.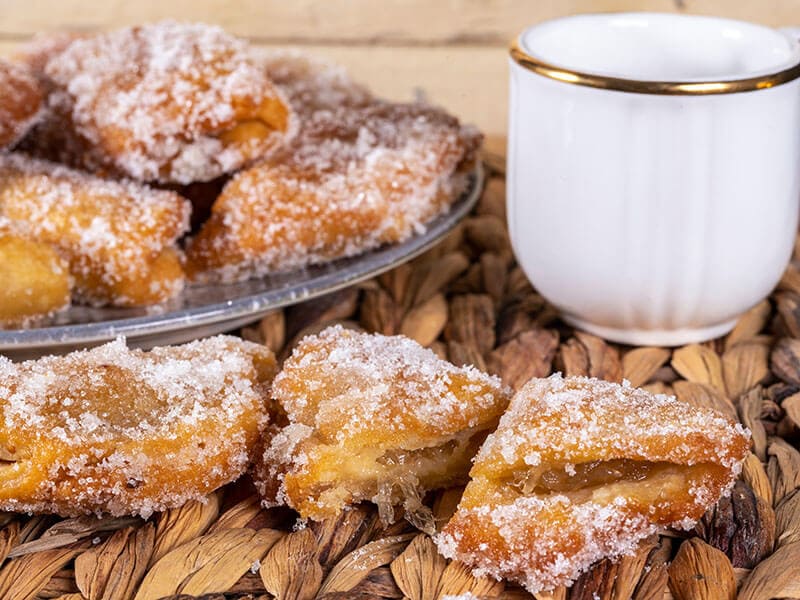 Borrachuelos is a traditional dessert served in Gibraltar during the festive season. The thin, softish dough is deep-fried until it's puffed and turned golden brown. Enjoy these lip-smacking treats with icing sugar or syrup.
As for its origin, the delightful confection originated from the Málaga region. The name itself, derived from the Spanish word "borracho," meaning "drunk," reflects the tradition of using a similarly named wine to prepare these cookies.
With a tantalizing filling of sweet potato, Cola del Ángel (angel hair), or pumpkin, Borrachuelos evoke the festive spirit that permeates the carnival season, Christmas, and Easter.
18. Turrón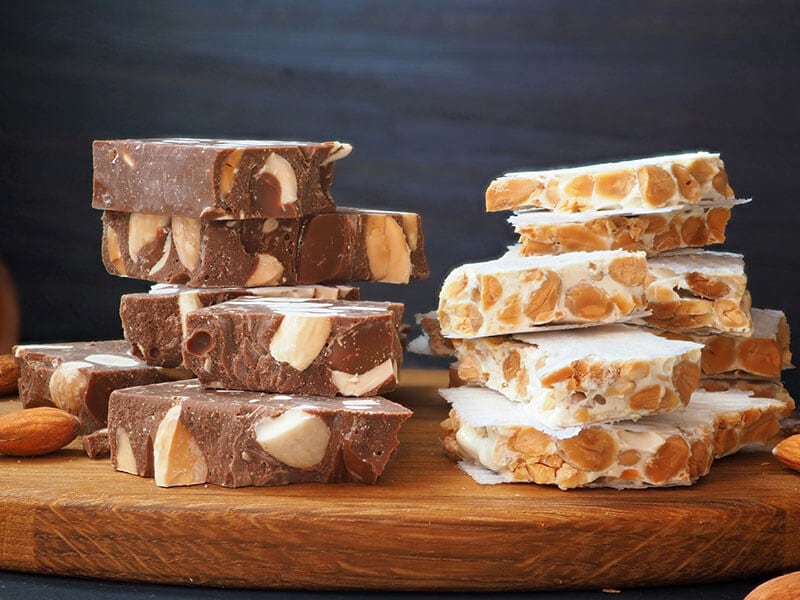 Turrón is one of my personal favorites. It is light, soft but can also be a bit hard and brittle, whereas the flavor is loaded with the sweet goodness of almonds and honey. These nougats are genuinely finger-licking good!
The candy is a delectable nougat treat hailing from southwestern Europe, known as Torrone in other regions. First debuting in the 15th century in Jijona/Xixona, Turrón has since become a beloved confection, appearing on festive tables during the Christmas season.
Commonly, Turrón offers two variations with the soft, melt-in-your-mouth Turrón de Jijona or the crunchy, satisfying Turrón de Alicante.
Served in either rectangular bars or large round cakes (for storage), this delicious dessert has crossed borders, winning the hearts of sweet-toothed enthusiasts in Spain, Portugal, and Italy alike.
19. Yemas De Santa Teresa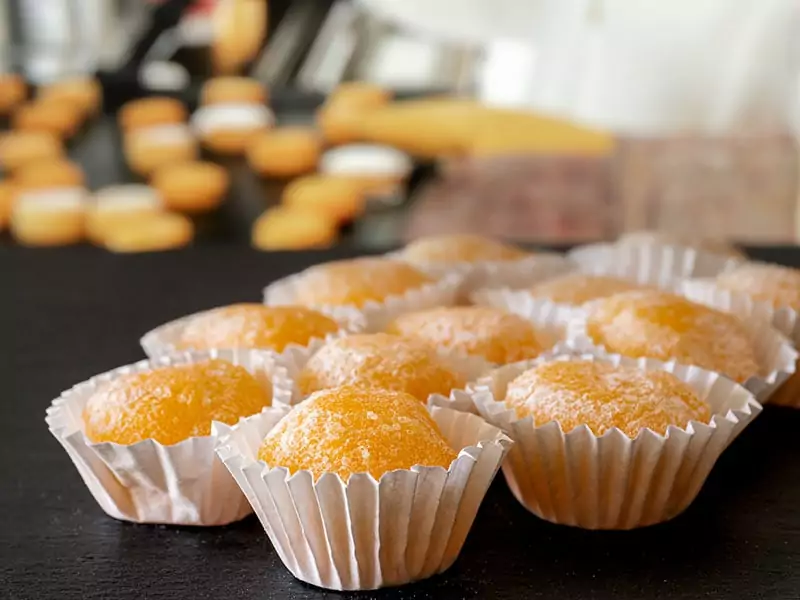 Yemas de Santa Teresa is a traditional bite-sized treat made with egg yolks, coated with sugar, and wrapped in tartlet papers. They are usually sold as edible souvenirs, and you can find them anywhere on the crowded streets of Ávila.
This Spanish confection is named after the renowned Saint Teresa of Ávila, with the term "yema" translating to "egg yolk" in Spanish, hinting at its main ingredient. Celebrated on October 15th, Saint Teresa's feast day, these sweets pay homage to the saint's birthplace in the Ávila province.
These charming little orange balls or pyramids usually come with confectioners' sugar and are elegantly presented on white confectionery paper. You can savor the lovely combination of flavors with the syrup mixture infused with cinnamon and lemon juice.
20. Marzipan (Almond Paste)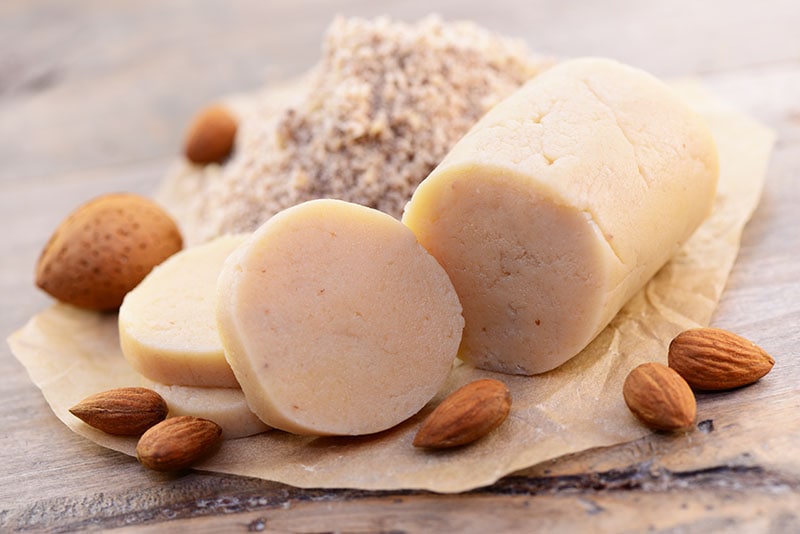 Another confection primarily crafted from sugar, almond meal, and honey is Marzipan. Known as Mazapán in Spain, this delightful treat roots back to the historic city of Toledo, where it first emerged in 1512.
As a testament to its authenticity, Marzipan in Toledo boasts a Protected Geographical Indication (PGI) status, requiring a composition of at least 50% almonds to be considered genuine Mazapán.
The artistry of Spanish cuisine is evident in the various regions producing Marzipan with many captivating animal shapes. As a quintessential Christmas dessert, Marzipan is celebrated for its soft, creamy texture, adorned with a delicate white hue.
Its nutty, peanut-like flavor is unmistakable and irresistible, with some versions featuring a luxurious filling of rich egg yolks with sugar as a distinctively Spanish touch.
21. Membrillo (Quince Paste)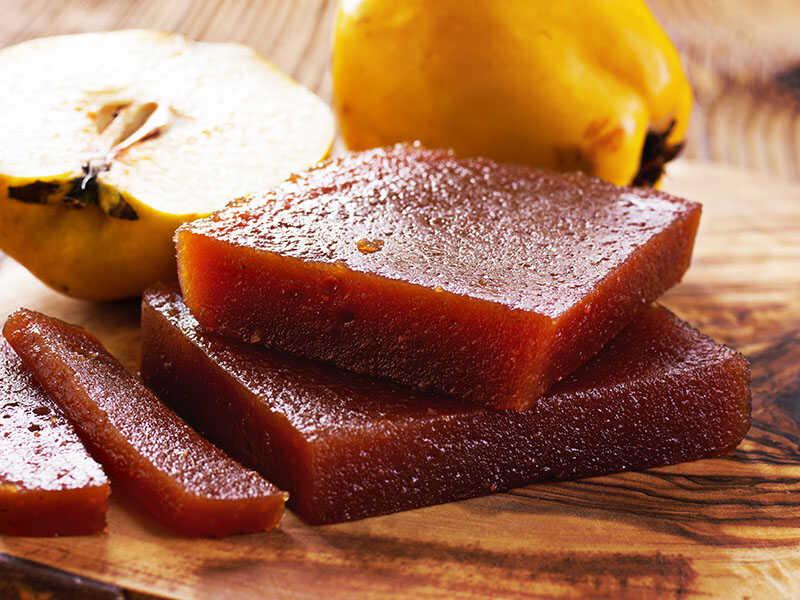 Quince is a marriage between an apple and a pear; thus, the fruit has an astringent taste and is usually made into preserves or jellies. When it comes to the list of fruits and vegetables beginning with "Q", I'd say that quince is among the candidates with the best taste.
Membrillo is one of the by-products of quince, which showcases an attractive red color and a jelly-like texture that gently melts on your tongue. In addition, Membrillo offers a sweet taste with a hint of tanginess. Also goes by the name quince cheese, this exotic treat is a popular pick in the Mediterranean.
In Spanish, this vibrant dessert is also known as Ate or Dulce de Membrillo. Originating from ancient Rome in the late 4th century, this quince paste first appeared in a cookbook. Usually, people sell Membrillo in blocks or squares.
22. Crema Catalana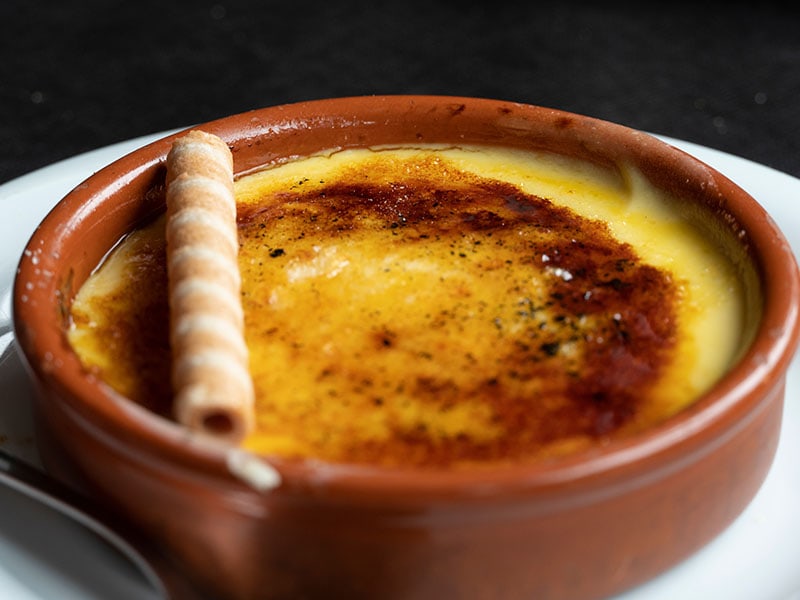 Often humorously known as "poor man's creme brulee," crema catalana deserves more recognition from foodies around the world. It's much easier to make than its French counterpart.
Crema Catalana, also affectionately known as "burnt cream," is a divine dessert that traces its roots to Catalonia. While it may share similarities with the French Crème Brûlée, Creme Catalana stands out with its unique blend of orange and lemon zest, replacing the traditional vanilla.
Moreover, it's crafted with milk instead of cream, providing a lighter yet equally tasty experience. One defining feature of this delectable treat is its crunchy caramel crust, just waiting to be cracked open with a spoon, revealing the velvety custard beneath.
In the past, a hot iron rod was the tool of choice for creating this caramelized crust; however, modern chefs now rely on handheld blowtorches for precision and ease. Pair this mouthwatering dessert with a steaming cup of coffee or a flavorful Spanish dessert wine.
23. Leche Frita (Fried Milk)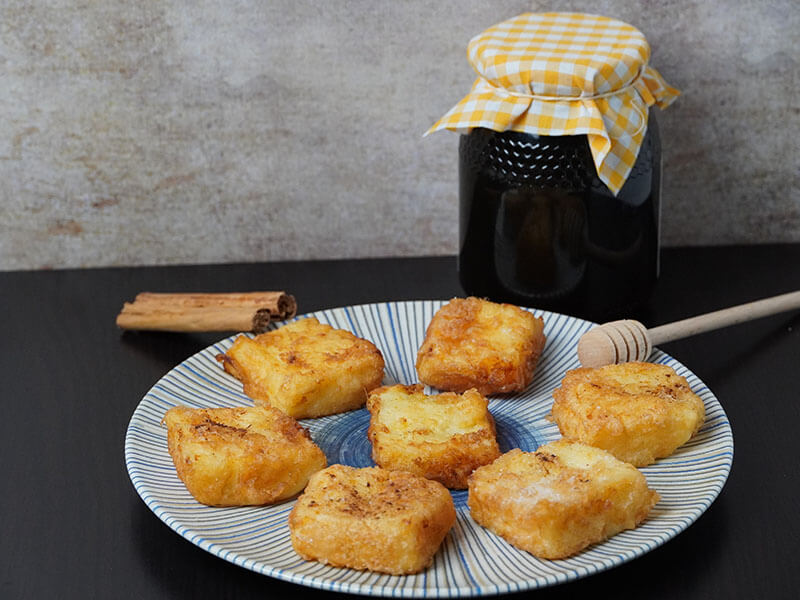 Of course, you can fry milk – cooking has no limit when it comes to creativity, after all. Leche frita will set your standards higher because you won't come across something else like it.
Leche Frita has captured the hearts and taste buds of those in the northern regions of Spain, with many believing its origins lie within the Province of Palencia. Its name, which translates to "fried milk," offers a hint at the unique preparation process.
The magic of Leche Frita begins by cooking flour, sugar, and milk together until the mixture is thick enough to form a block. Once the block can hold its shape, people cut it into squares and fry them to perfection, resulting in a crispy exterior and a warm, creamy center.
A dusting of cinnamon powder or a sprinkling of glaze sugar is added to elevate the dish further, providing a touch of sweetness and a hint of spice. Ideally, you want a scoop of ice cream over Leche Frita for an impeccable experience.
24. Flan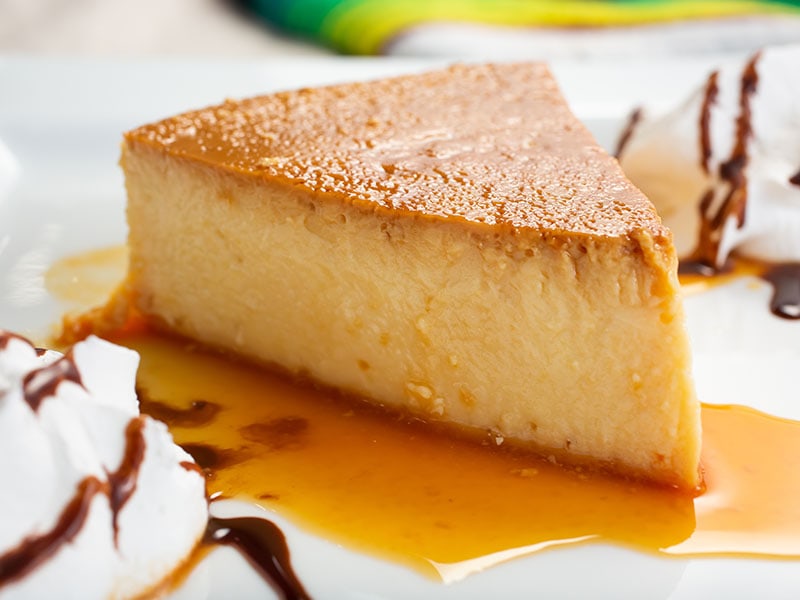 After a slap-up meal, all I need is something simple and delicate like this flan. I love flan more than just for its elegant taste – I mean, would you look at that texture? It's smooth and a bit bouncy, to the extent that you don't want to scoop it and ruin that beautiful look.
Originating in France during the mid-19th century, flan has since gained immense popularity in Spanish-speaking countries. This smooth, velvety treat has won the hearts of many with its creamy texture and indulgent flavor.
In Spain, a close cousin of flan is known as Natillas de Leche, which shares a remarkably similar consistency and taste. The infusion of cinnamon sets Spanish flan (flan de caramelo) apart, adding a touch of warmth and spice to the dish.
25. Arroz Con Leche (Spanish Rice Pudding)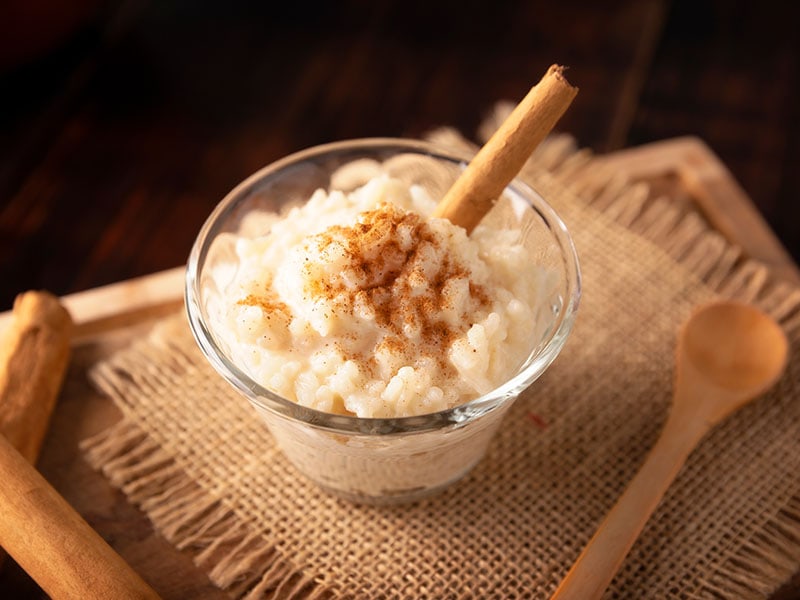 I want to share this one with you so bad because this rice pudding is to die for! It is a delicacy that entertains millions of households in Spain with its signature rich and creamy flavor. Plus, it's also a well-loved dessert in El Salvador, Chile, and other Latin American nations.
The delightful dessert combines rice, milk, and a sweetener to create a simple yet satisfying treat. Sometimes, people adorn Arroz con Leche with nuts, raisins, and cinnamon, adding a touch of flavor to the creamy base.
The Spanish version of Arroz con Leche often incorporates orange or lemon zest, giving it a refreshing citrus twist that perfectly complements the mild sweetness. The dessert also boasts a pure white color with its thick, lumpy rice texture.
26. Leche Merengada (Spanish Milkshake)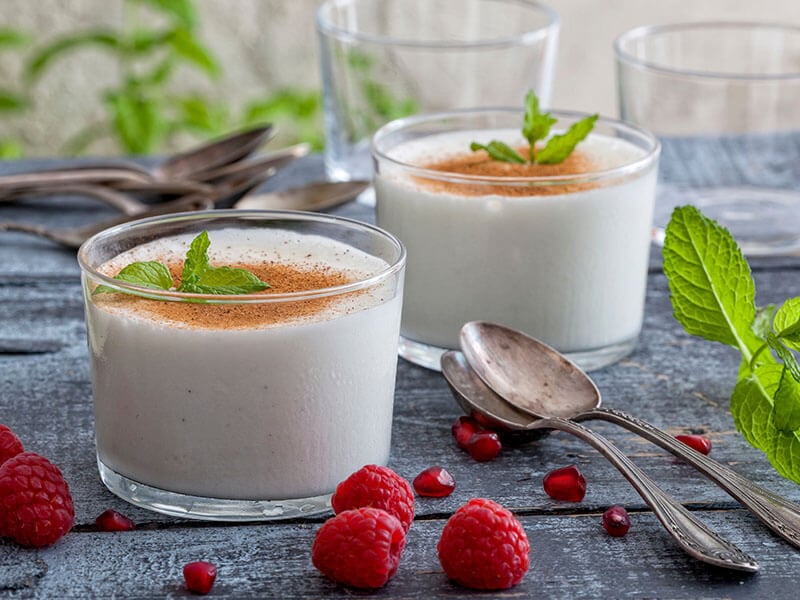 Leche Merengada bridges the delicious divide between a milkshake and ice cream, but there's more to love about this amazing Spanish drink/dessert besides the unique texture. The milk is done to a turn, while cinnamon and lemon zest add a fun pop of flavor to this refreshing beverage.
The concoction is usually a blend from a base of milk and egg, sweetened with sugar and infused with cinnamon flavor. This scrumptious beverage, often considered a milkshake due to the presence of eggs, can be enjoyed as a snack or a restorative energy drink.
Typically, people serve it at a very cold temperature, Leche Merengada boasts a frozen texture that bears a striking resemblance to snow along with its pure white color.
27. Mel I Mató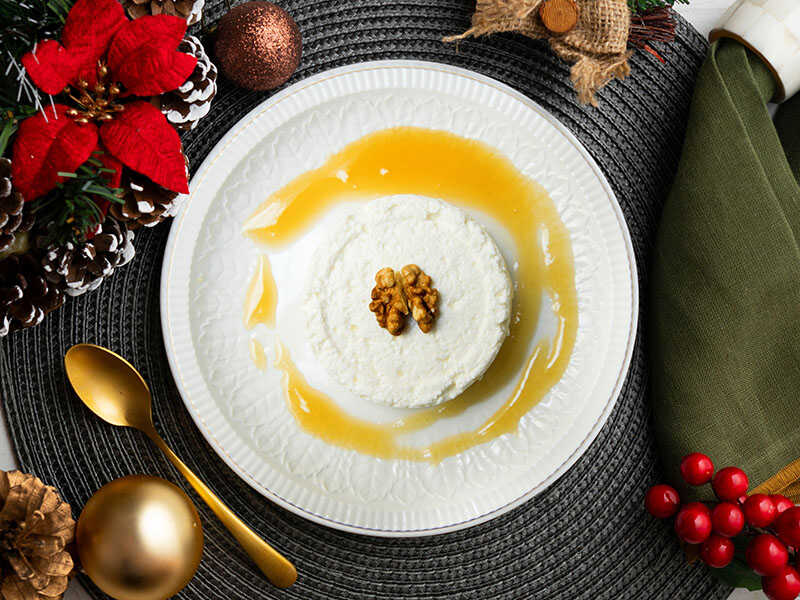 I can see that you are hesitating – yes, it's a bit bizarre, but this dessert is worth trying. Mel I Mató is an odd combination between native goat cheese (mató) and honey, but the result is a surprising mildness that lingers in your mouth for hours.
This Catalan creamy treat combines the sweetness of honey with the silkiness of mató cheese, creating a mouthwatering delight. Commonly, the mató cheese used in this dessert is known for its creamier and lighter texture than other goat cheeses.
Mel I Mató is mainly available in Catalan households and restaurants. Plus, people often accompany it with nuts, jam, or fresh fruits to enhance its rich flavors and textures.
28. Fartons (Valencia Sweet Bread)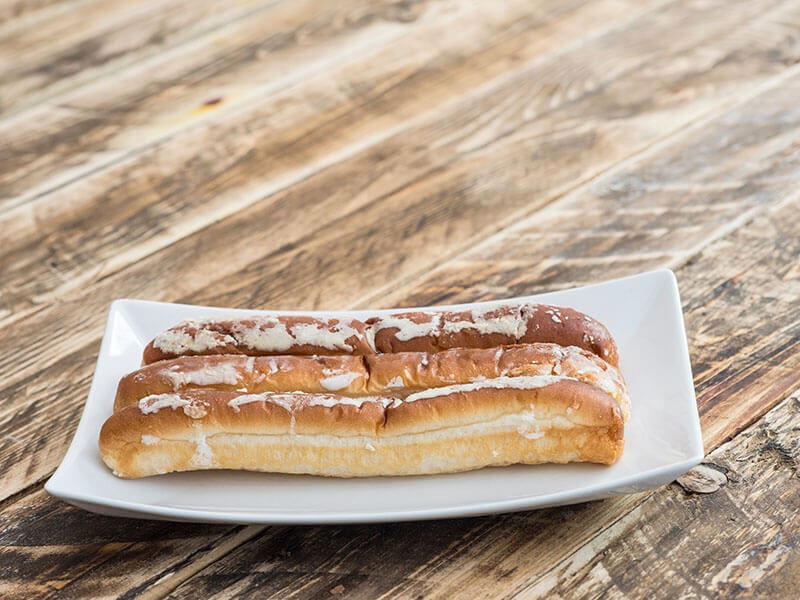 The Valencians are proud of their Fartons, and it's understandable. Farton is a stick-shaped bread made with yeast, flour, eggs, water or milk, and granulated sugar. It's simple and delicious, and it will whet your appetite. I swear the truth and nothing but the truth.
Originating from Alboraia, a town in Valencia, Fartons is a delightful Spanish bread designed specifically to complement the popular plant-based drink, Orxata or Horchata. Invented in the 1960s, the elongated shape of Fartons makes it easy to reach the bottom of a Horchata glass.
As time went on, people in the 1990s created a new variant called Flaky Fartons. This frozen version featured a different dough, giving it a unique texture compared to the original Farton.
29. Natilla (Spanish Custard)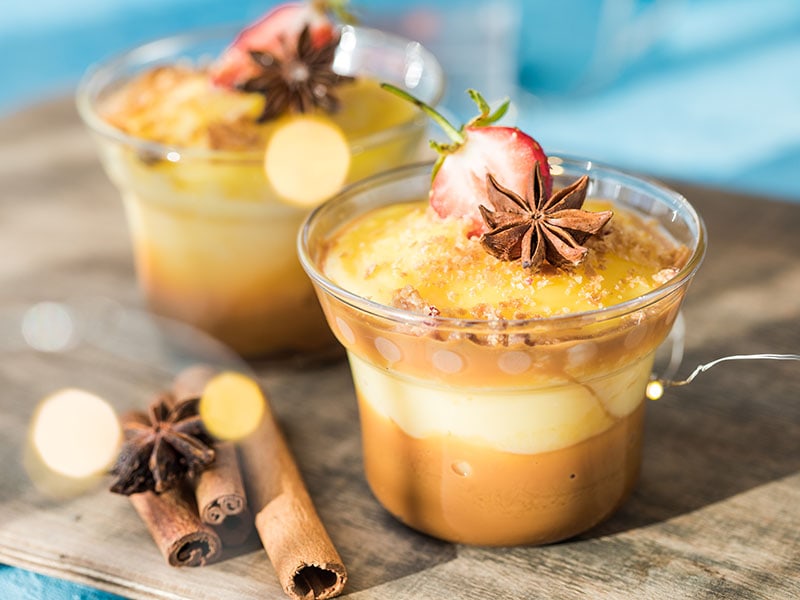 I'd like to invite you to try Natilla, a creamy custard made with milk, sugar, eggs, vanilla, and cinnamon. This delicious food with "N" as the starter is likened to crema catalana without the sugar topping, but that doesn't make it any less tasty.
Interestingly, Natilla is a term that generally encompasses a variety of Spanish custards. In Spain, making Natilla involves carefully boiling a milk mixture while gradually adding eggs. This results in a unique consistency that separates Natilla from the traditional custard.
While custard typically has a soft, solid texture, Natilla boasts a more slushy consistency. However, what it lacks in firmness, it more than makes up for with its rich, indulgent taste.
Unlike many other Spanish desserts, Natilla does not include a layer of caramel at the bottom, setting it apart in flavor as well.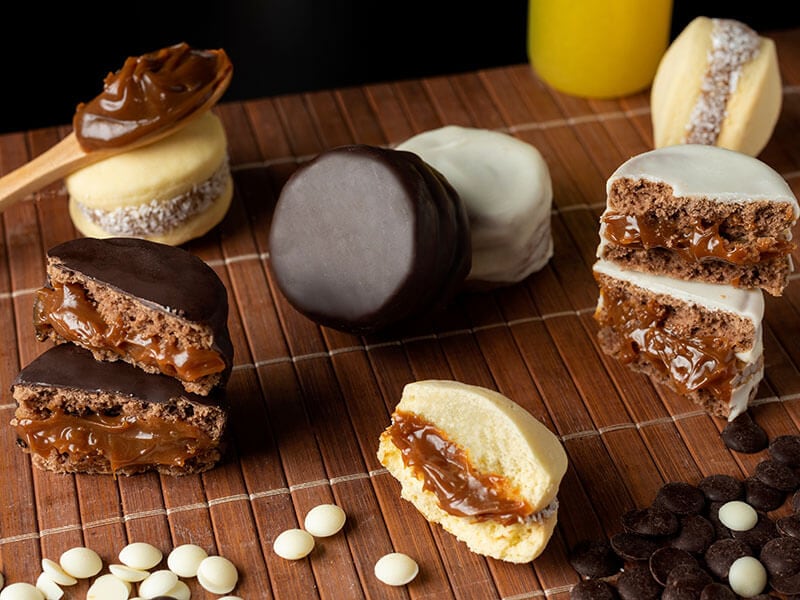 Alfajor, a delightful confection made from honey, nuts, and flour, is enjoyed in South American countries and European nations like France and Spain. Known as the Andalusian counterpart of the Castilian Alajú.
Commonly, Alfajor goes by the name Alajú in Cuenca, where figs are incorporated into the recipe during Christmas. Interestingly, the traditional Spanish Alfajor is produced in Medina Sidonia, where this scrumptious treat is available all year round.
In addition to its cookie form, Alfajor comes in a cylindrical shape, filled with Dulce de Leche (caramelized milk), adding another layer of deliciousness to this delightful confection.
Presentation and Serving of Spanish Desserts
Presentation plays a significant role in the overall enjoyment of sweet treats. The aesthetic appeal and attention to detail in the arrangement and decoration of the desserts not only enhance their visual attraction but also elevate the dining experience.
In Spanish cuisine, desserts are often served in beautifully designed plates or bowls that complement the colors and textures of the dishes. For instance, churros are typically arranged in a spiral or crisscross pattern with a small cup of thick chocolate for dipping.
Crema Catalana, Spain's version of crème brûlée, is served in individual ramekins with a caramelized sugar crust on top. The contrast between the golden-brown, slightly cracked surface and the smooth, creamy custard beneath are essential to the dessert's presentation.
Tarta de Santiago, a traditional almond cake, is often adorned with powdered sugar in the shape of the St. James Cross, reflecting its historical and religious significance.
When serving Spanish desserts, they are often paired with beverages that complement their flavors. Coffee is a popular dessert choice, especially Café con Leche or Cortado.
Sharing desserts is an important aspect of Spanish culture, as it fosters a sense of community and togetherness. It is not uncommon to see families and friends passing around plates of sweets at gatherings, allowing everyone to sample and enjoy a variety of flavors.
FAQs
After an extravagant trip through the amazing Spanish treats, you may still have a few questions that reside inside your head. Let this section satisfy your curiosity with some of the most frequently asked questions.
Relish Authentic Spanish Desserts Right At Home!
With these mouth-watering Spanish desserts, there's no need to travel miles to Spain – all you need are a few steps to the kitchen! Whatever you are planning to make, I'm sure the result will turn out fruitfully. Grab your kitchen tools and turn on the oven right now!
I hope you had a ball learning about these traditional Spanish desserts. Do you want to share your results or a few tips you have learned while you're making these treats? Go ahead and write your comments below. I'm looking forward to reading them all!
Nutrition Facts
8 servings per container
---
Amount Per ServingCalories175
% Daily Value *
Total Fat 5.5g

8

%
Cholesterol 82mg

28

%
Sodium 33mg

2

%
Potassium 31mg

1

%
Total Carbohydrate 28.7g

10

%

Dietary Fiber 0.8g

0

%
Sugars 25.2g

Protein 4.3g

8

%
---
* The % Daily Value tells you how much a nutrient in a serving of food contributes to a daily diet. 2,000 calories a day is used for general nutrition advice.