Spanish drinks are a common sight at many exciting parties. Their burning sweetness, fiery flavors, and alluring aromas can easily improve the moods of any party-goers. At least, that's what alcoholic beverages are capable of.
However, it will be a grave mistake to dismiss the power of Spanish non-alcoholic drinks. Whether they are coffee, dairy products, or something else, you will find them all worthwhile for your enjoyment. Why don't you scroll down to learn more about them?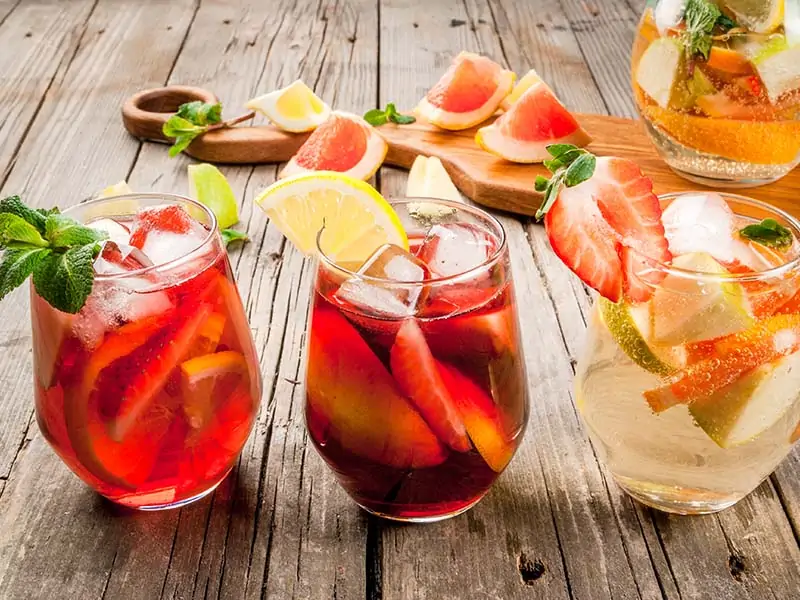 Spanish Wines
What to order alongside delectable Spanish foods? Let's learn some Spanish words useful for this matter: "bebida" for "drink", "cerveza" for "beer", and, last but not least,  "vino" for "wine". Spanish wine is awesome and will charm you with every drop.
1. Cava
Alcoholic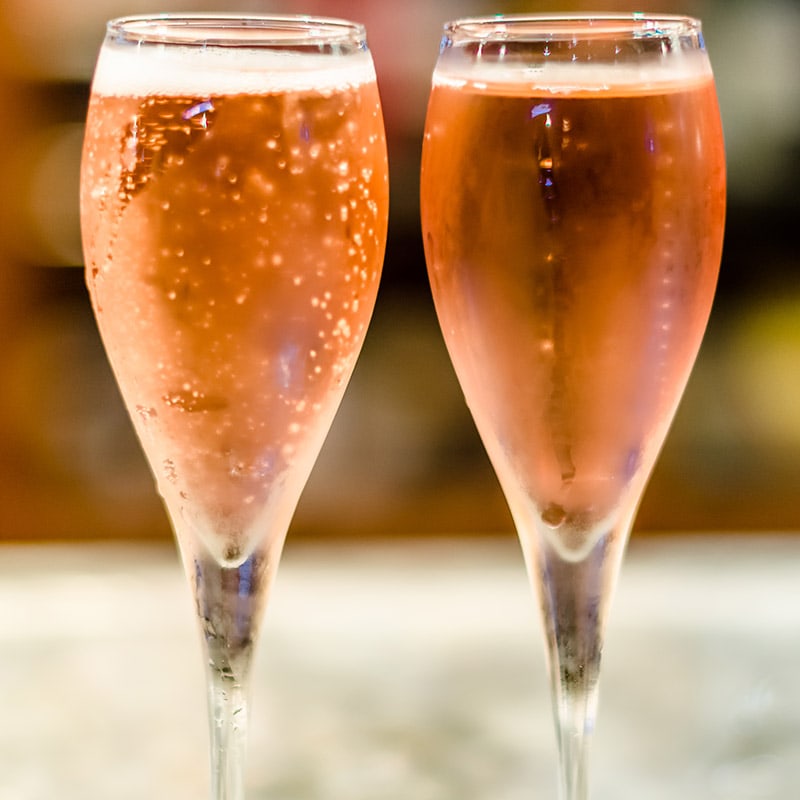 Cava is an elegant sparkling wine that strongly resembles champagne. That is no surprise, considering its history. In the mid-19th century, a winemaker from Catalonia visited the renowned Champagne region in France and came up with the idea of copying its production method.
Spanish winemakers aged the first batches of cava in caves, hence its name. However, the name "cava" only came into use in 1970.
Before that time, the common name for the wine was Spanish champagne, a term that doesn't do justice to its complex fruity flavor found nowhere else.
Today, cava is one of the most popular sparkling wines in Spain, a specialty protected by the government. It may be white (made from the green-skinned grape chardonnay) or rose (produced from the red wine grape pinot noir).
As with champagne, you should serve cava chilled. This sweet drink with subtle notes of citrus goes well with a large number of appetizers and main dishes, such as Spanish cheese and smoked salmon. It is also the main ingredient for various Spanish cocktails.
Where to find: Cava is available at most restaurants and liquor stores in Spain. However, Catalonia is the principal cava-growing region of the country, so you may want to go there for the best choices.
Give yourself a crash course in Spain's famous cava here.
2. Ratafía
Alcoholic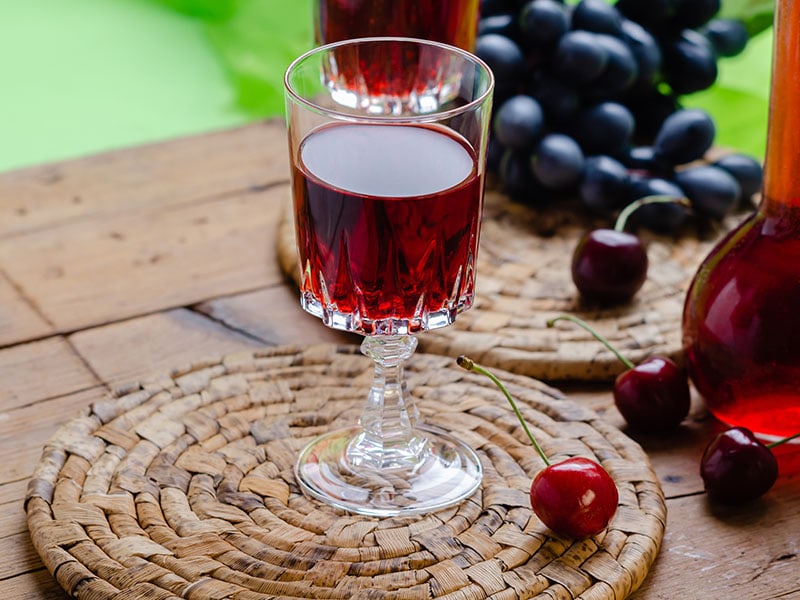 Mediterranean countries share a lot of heavenly drinks. So it is no wonder that ratafía, a sweet alcoholic beverage of Italian origin, acquires a massive fanbase in Spain. It appeared in Italy around the 11th century and became a protected Spanish drink in 1989.
Ratafía is basically a mix of alcohol (like brandy), spices, herbs, and macerated fruits (usually green walnuts). Different Spanish regions have their own recipes, but they all create an incredibly sweet and aromatic wine that will give your nose a real treat.
Due to the inclusion of spices and herbs, ratafía is packed with health benefits. In the past, the Spanish people consumed it for medical purposes, usually pain relief. Today, ratafía is what many drinkers go for an aperitif or nightcap.
One thing to remember, though, is that besides denoting the fruity wine, Ratafía also comes with different meanings. It can signify a fruit juice-based liquor or a type of biscuit that you can drink the Ratafía wine with.
Where to find: anywhere in Spain, though ratafía from Catalan is the most famous.
3. Vermouth
Alcoholic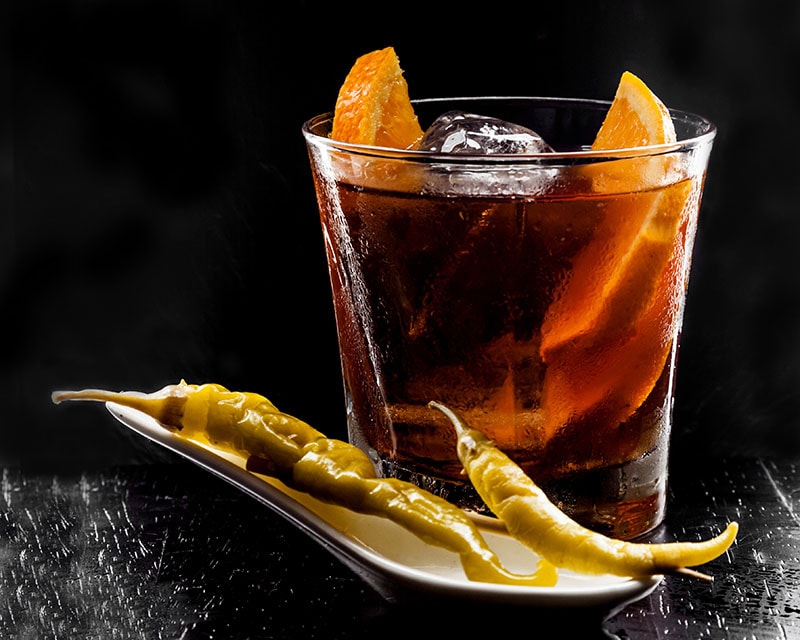 Here is another foreign contribution that Spanish wine lovers can't live without. Vermouth first appeared in ancient Greece around the 5th century BCE, and then its modern recipes arose in 18th-century Italy. By the 19th century, Catalonians were drinking vermouth regularly.
By definition, vermouth is a fragrant wine that people add herbs and spices to before aging them in barrels. The Spanish version is often laden with herbs and, as a result, much more aromatic than what you find in other countries, such as Italy or France.
Vermouth is a versatile wine. It can go with countless delicious European recipes in general and classic Spanish foods in particular. Feel free to make your meals more jolly with a glass of vermouth by your side.
Traditional vermouth mainly comes in two types: sweet and dry. Nowadays, however, you will be spoiled for choices. For aperitifs, there are various varieties of vermouth in Spain with all kinds of flavors and colors: crisp, sweet, acidic, rose, etc. Make your pick!
Where to find: pubs, bars, and restaurants throughout Spain. Given the history of vermouth in the country, Catalonia, especially Barcelona, deserves your priority.
4. Orujo
Alcoholic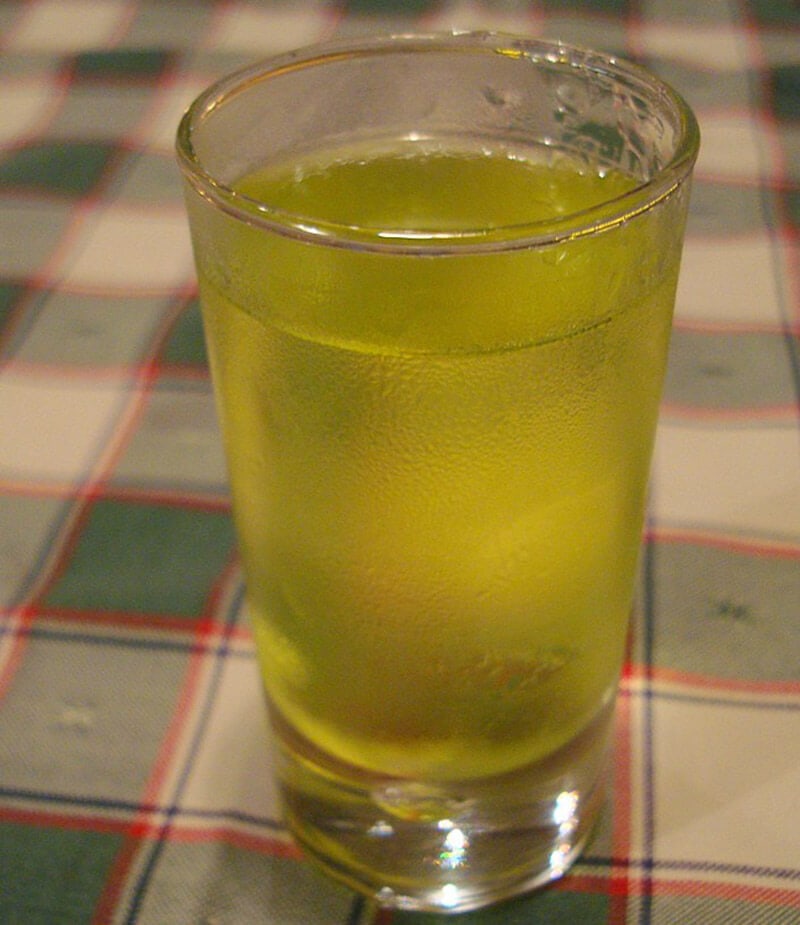 If you have lunch at a decent Spanish restaurant, the chances are that you can enjoy orujo on the house. When you visit a Spanish family, especially in Galicia in the northwestern region, the host will probably offer orujo after the meal. Obviously, this spirit is vital to Spanish drinking culture.
Orujo is a pomace brandy, meaning that it is brewed from the residue of wine production. Centuries ago, people in northern Spain invented this sour and sweet drink as an ingenious way to deal with the pulpy fibrous waste they created after pressing grapes.
In a way, orujo is pretty similar to grappa – a famous brandy in the Italian beverage world.
To make orujo, winemakers ferment the orujos (grape residue), sometimes with herbs, before distilling it. While the ingredient doesn't sound ideal, the finishing product will fill your mouth with a fruity and fragrant taste.
Where to find: while you can order it from liquor stores and restaurants in many parts of Spain, the autonomous community Galicia is an interesting destination.
5. Sherry
Alcoholic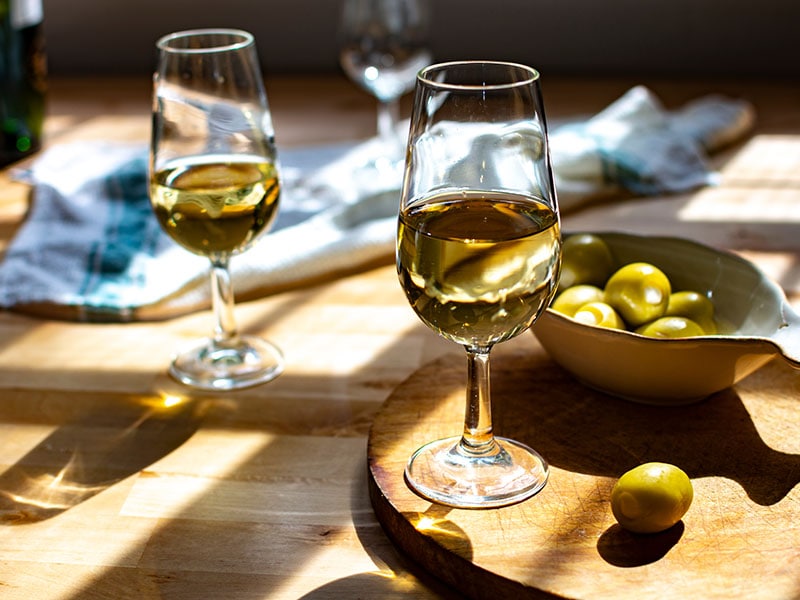 Winemaking has been an important industry in Spain for a long time, brought to the country around 1100 BCE. Centuries later, locals utilized the distillation technique to create different types of fortified wine (wine added with brandy), including sherry.
At its core, it is an aged white wine made from grapes that people cultivate near the city of Jerez de la Frontera in Cádiz, a province in southwestern Spain. In fact, the name "sherry" is derived from the anglicized form of Jerez, which, in turn, comes from the Arabic name Sherīsh.
Anyway, the grapes for sherry are subject to a rigorous process of crushing and fermenting. The resulting white wine will be fortified with extra alcohol before being left to age with yeast. This will create high-quality sherry with a strong, sweet, and dry wine with a pale straw color.
Sherry is like the informal national drink since local inhabitants pair it with many tasty Spanish desserts or main dishes. It gained international renown in a rather uncanny way.
After the British defeated the Spanish in 1587, they brought barrels of sherry back as loot. They soon discovered that they could defy the Spanish Empire but not its traditional wine, and fell hopelessly in love with it. That helped sherry become one of Spain's most important exports.
Where to find: Many bars, pubs, shops, and restaurants sell sherry in Spain, but it is exclusively produced in a region known as the Sherry Triangle in the province of Cádiz.
Spanish Cocktails
One thing that Spain will never run out of is the innumerable mixed beverages born out of local ingenuity. Trying these refreshing cocktails packed with Spanish culture is a must if you wish to comprehend the Spanish soul and spirit.
6. Clara
Alcoholic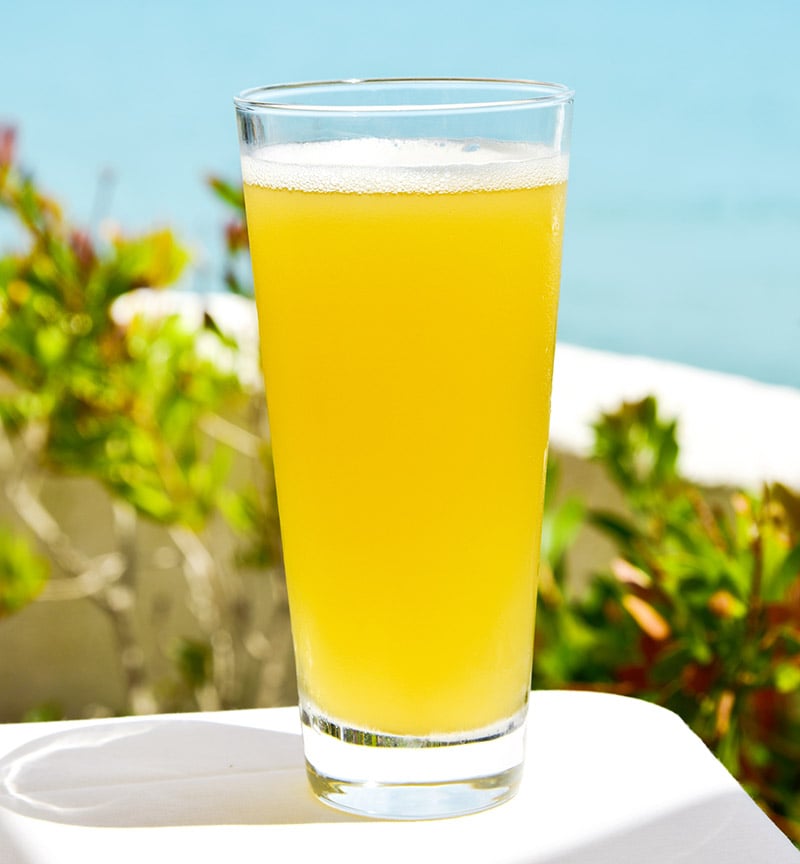 On a humid summer day, what do the Spanish people drink to cool themselves? For the grownups who want a feel-good but not too intoxicating drink, one of the most prevalent choices is the refreshing clara (or shandy).
It is a blend of Spanish beer and lemonade or lemon-flavored tonic water. You can mix those two ingredients according to your preference, but the usual ratio is 2:1. It is a wonderful delight to drink this fragrant, bittersweet liquid from the long neck of a porron (a distinct Spanish pitcher).
Clara started from a humble town just outside Munich (Germany). Local bar owners mixed lemonade with the famous German beer with lemonade to cater to flocks of thirsty cyclists. They had no idea that their temporary fix would become trendy in the far south.
Where to find: in pubs and bars throughout Spain.
7. Sangria
Alcoholic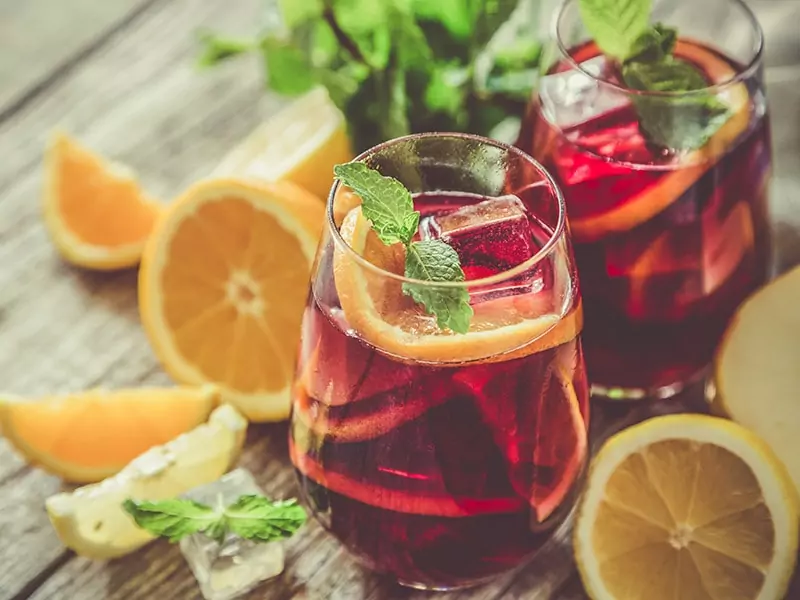 The list of sublime Spanish drinks can't be complete with sangria. Something sweet to go with tapas (festive Spanish appetizers)? A vibrant treat to light up your table? This iconic cocktail is perfect for these roles and more.
In essence, Sangria is an alcoholic beverage consisting of red wine, chopped fruits (preferably tropical ones), and occasionally spices like ginger. Each region of Spain has its own pool of fresh fruits, thus coming up with different Sangria recipes. 
Besides this classic version, other types of sangria replace red wine with something else. For example, sangria blanca (white sangria) uses white wine, while the kid-friendly ponche de sangria substitutes wine with a soft drink.
Although sangria is like Spain's national cocktail, its origin is kind of hazy. One theory says that it stemmed from a drink called sangaree in West Indies, a former British colony. However, that doesn't agree with the long history of fruit-added alcoholic beverages in the Iberian Peninsula.
Leaving the mystery aside, you can focus on how alluring this drink is. Literally "bloodletting", sangria has a lusty ruby appearance that can stimulate anyone into gulping it greedily. Then, the fruity fragrance and sweet plus tangy deliciousness will unfailingly get you hooked on it.
Where to find: just stop by any restaurant, cafe, or hotel in Spain. You can't escape the omnipresent sight of sangria.
8. Agua de Valencia
Alcoholic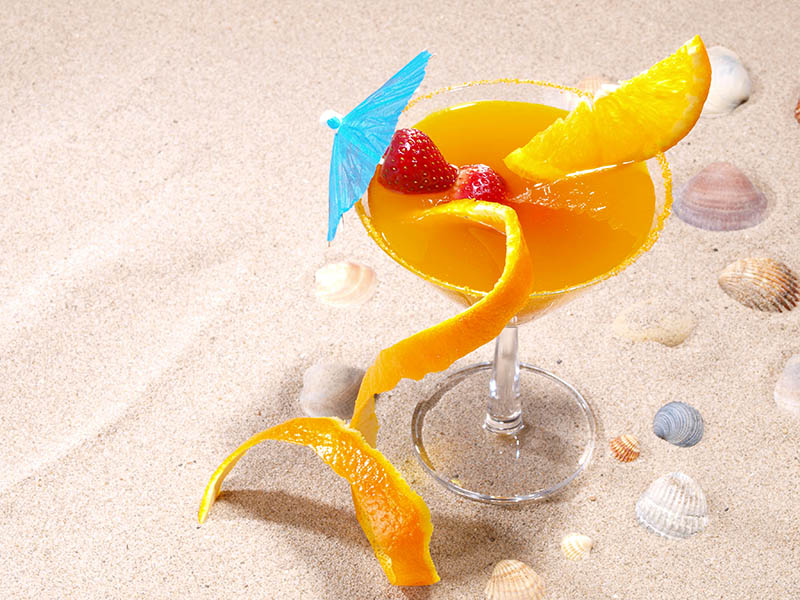 As indicated by its name, "Valencian water", Agua de Valencia is a signature Spanish drink from the coastal city of València. A local bar devised the cocktail in 1959, but its brainchild remained an obscure specialty until coming into massive popularity around the 1970s.
Looking at its long road to fame, one might wonder whether the delay is down to its simplicity. People whip up agua de Valencia by merely mixing together orange juice, cava, and other spirits in a pitcher. The next thing to do is to pour the blend over ice.
If so, perhaps it is the simplicity itself that has kept the drink in huge demand over the decades. Travelers visiting València can't walk away from the cocktail's fruity freshness and its elegant essential oil-packed aroma. Neither can you.
Where to find: for the best experience, pubs, bars, and restaurants in Valencia are always at your service.
9. Tinto de Verano
Alcoholic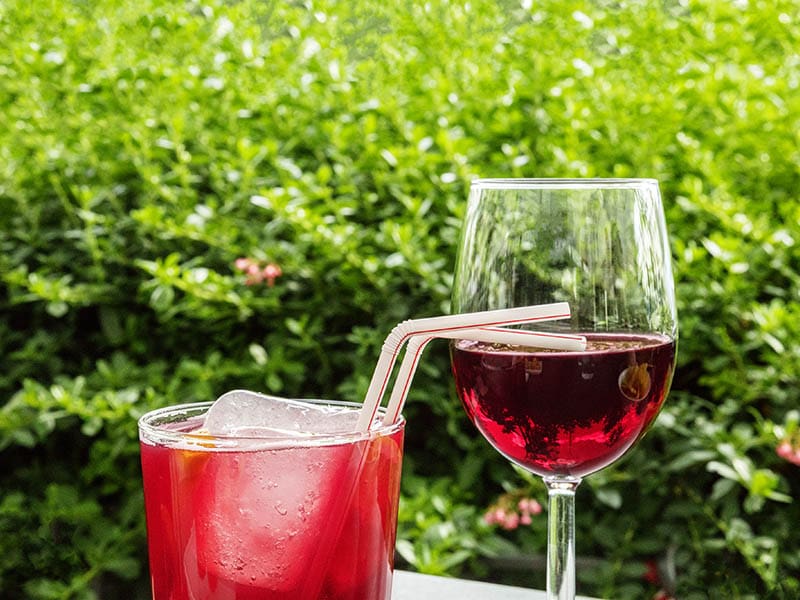 Once you've heard the name tinto de verano, literally "summer red wine", it is difficult to get that rhyming, delightful sound out of your head. Especially when the roasting heat of the Spanish summer keeps making you wish for the cool delight that cocktail can offer.
The drink is incredibly easy to contrive. One part lime-flavored soda and one part red wine, mix those two together with ice, and you will willingly die for its cold, sweet goodness. Feel free to change the ratio according to what you like.
Allegedly, tinto de verano first appeared in the city of Cordoba, southern Spain, around the mid-20th century. Its first customers included guitarists and singers. In many aspects, it is a simpler, more intimate version of sangria that you can leisurely enjoy on hot days.
Where to find: cafes, restaurants, and bars across Spain.
10. Kalimotxo
Alcoholic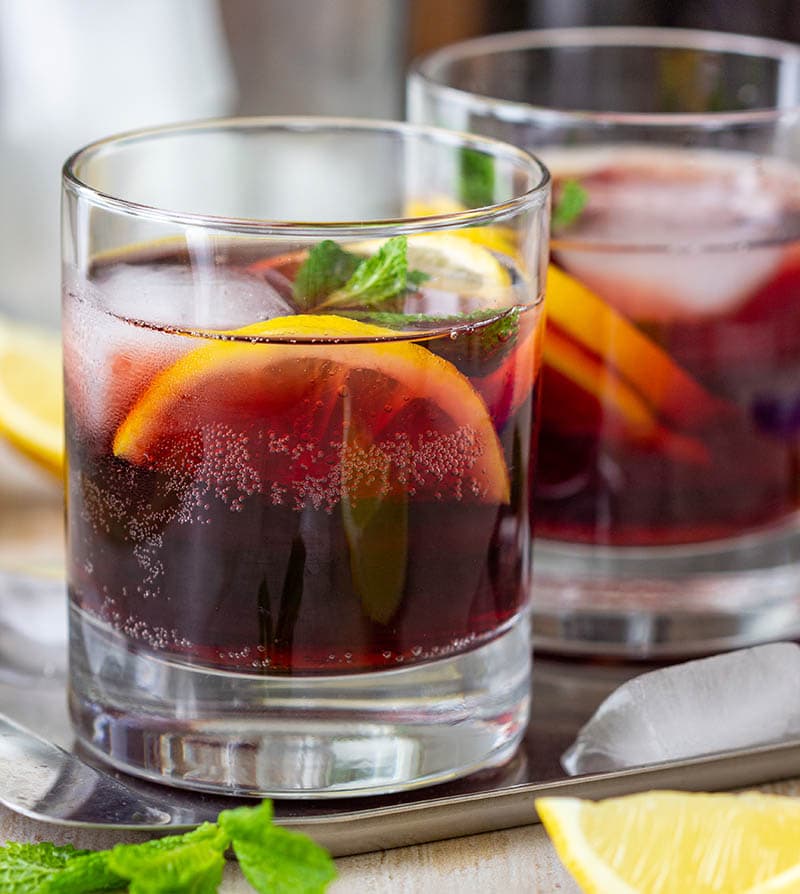 According to a famous anecdote, around the 1970s, in the autonomous Basque region, the organizers of a local festival had to deal with a large amount of old, stinky red wines. They chose to mix it with sweet Coca-Cola to mask the unpleasant taste. The result was a roaring success.
That's how the mixed beverage Kalimotxo was reborn. The idea for the drink had appeared in early 20th-century Spain. But it wasn't until the incident this half- wine, half-soft drink captured the public imagination. The common Spanish name for the beverage is calimocho.
The name of this syrupy drink accompanied by a wine aftertaste also has a fascinating story behind it. In its Basque name Kalimotxo, the suffix -motxo means "ugly". That can either refer to the drink's blackish appearance or the situation that made it famous.
Where to find: pubs and bars in Spain, especially in the Basque region.
11. Queimada
Alcoholic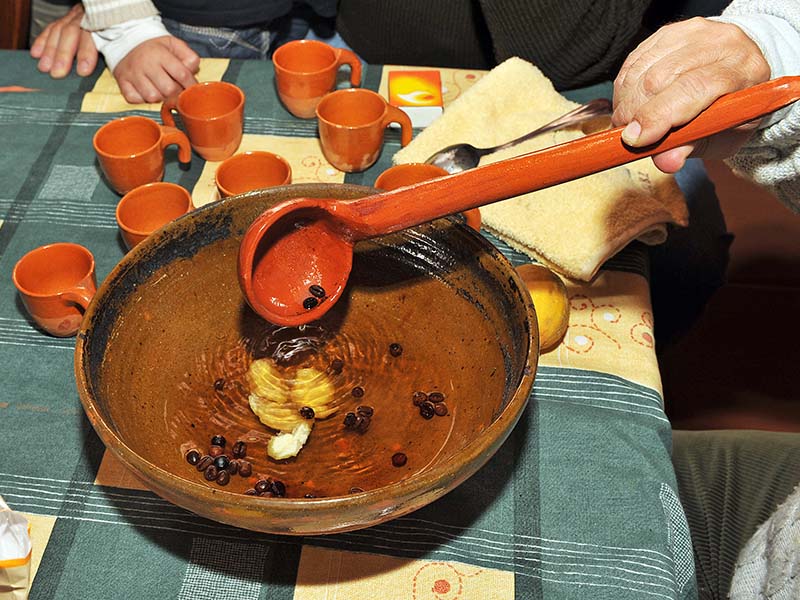 What do you usually drink on Halloween? If you don't have an interesting answer, let's make a trip to Galicia and experience authentic Galician food culture with this drink.
Around the Samhain (Celtic New Year's Eve), on which Halloween is based, locals usually concoct a mysterious-looking liquor called Queimada.
The ingredients for this drink are pretty basic, just orujo, coffee beans, sugar, and aromatic herbs. What sets it apart is that before drinking it, you have to light it up in fire as well as say an incantation to ward off evil spirits.
Due to such rituals, many people think that it stems from an ancient Celtic tradition. However, there is a conflicting theory attributing the creation of Queimada to the mid-20th century.
Whatever the truth may be, drinking this strong and savory wine on a pitch-black night and before a dancing fire is surely memorable.
Where to find: You should head to Galicia for a complete Queimada experience.
12. Asiático
Alcoholic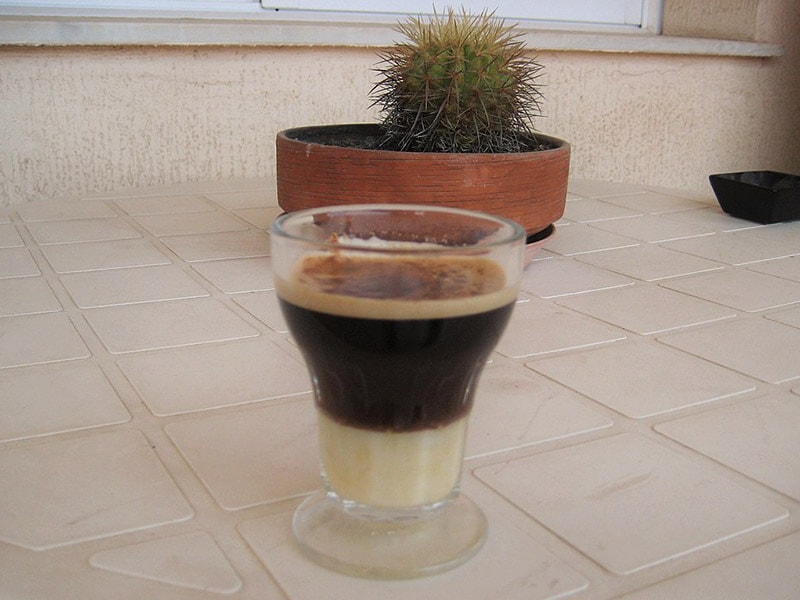 Coffee with brandy, why not? Around the 1940s, fishermen from the city of Cartagena, southeastern Spain, created this wonderful coffee-based cocktail as a way to keep them warm during the fishing trip. But it's unclear why they settled on the name Asiático ("Asian").
A cup of Asiático always has separate layers of reddish-brown brandy, black coffee, and white condensed milk. Don't forget to hold it in a large, transparent glass to see how faultlessly those layers touch but not mix with each other.
To improve the flavor of the cocktail, you can add cinnamon or lemon rinds to it. The fattiness of milk plus coffee, along with the fiery power of brandy, will shelter you from the cold sea winds.
Where to find: you can buy it from various cafes and restaurants in Spain, not least in Cartagena.
13. Rebujito
Alcoholic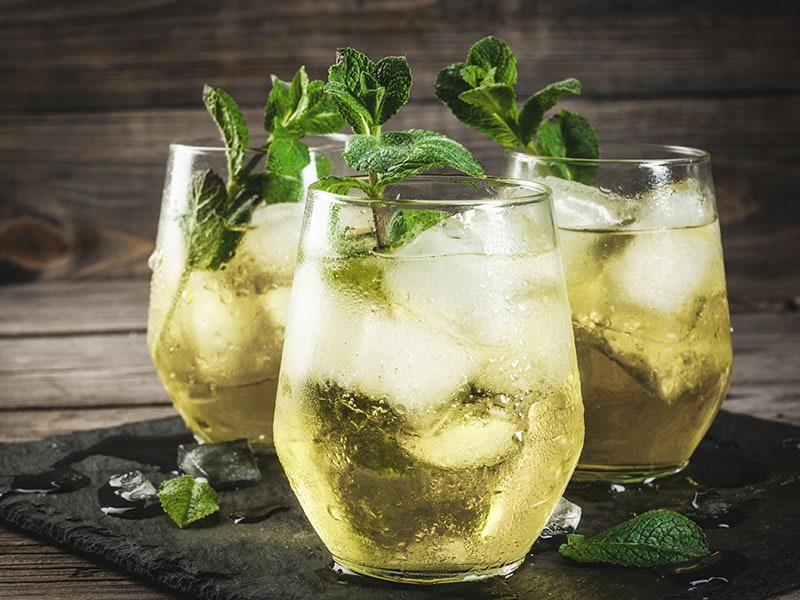 If the Basque Country boasts Kalimotxo, the autonomous Andalusian region is proud to possess rebujito. It is a favorite festival drink for celebrations during spring and summer. The recipe may vary from one place to the next, so there is always room for exploration.
The name starts from the Spanish word meaning "mix", so you can guess how to prepare the drink. Making rebujito involves mixing only sherry with lemon-lime soda and, perhaps, some mint leaves. Rebujito illustrates that a killer drink doesn't have to be complicated.
When you want to get more out of sherry, it is a good idea to turn to this light and refreshing delight. Its subtle sweetness and citrus fragrance will provide you with a fantastic relief from the hot weather.
Where to find: Rebujito is easy to make at home. But you can head to pubs and cafes in Spain, especially in Andalusia, to try it.
14. Zurracapote
Alcoholic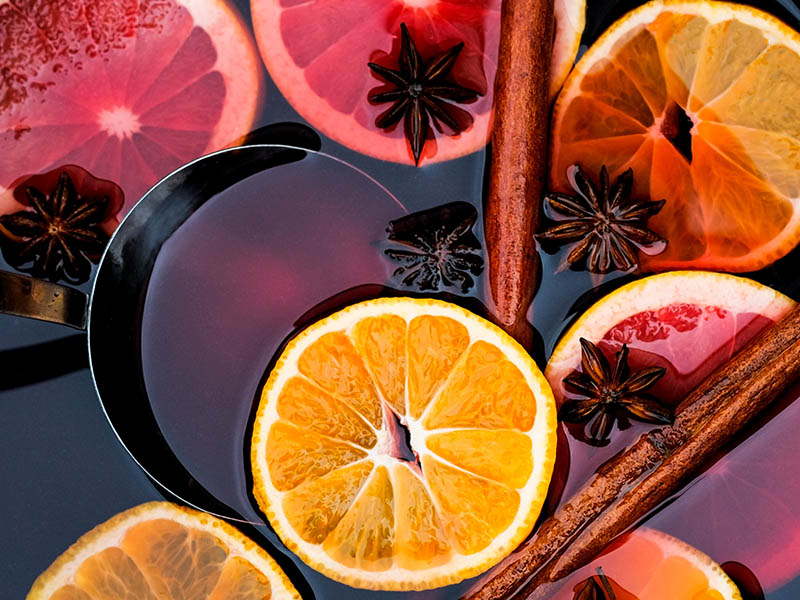 While it's difficult to get tired of sangria, you will eventually look for something else. So imagine a different take on that classic cocktail, but instead of fresh fruits, you add dried fruits, fruit juices, and spices. That is the definition of Zurracapote.
A perfect accompaniment to numerous Spanish recipes, this amazing cocktail is the result of many culinary competitions in the province of La Rioja, northern Spain. Although it lacks the liveliness of fresh fruits, this cocktail is full of refined savoriness born out of careful preparation.
Do you know what the best thing about Zurracapote is? It is extremely versatile. The list of fruits that can go into the recipe is endless, so don't be afraid to add your favorite fruits. And the drink always tastes great whether you sip it chilled or at room temperature.
Where to find: While Zurracapote first appeared in La Rioja, you will have no problem buying it from cafes, bars, and pubs in other parts of Spain.
Alcoholic
If you are wondering whether the Spanish people use anise in their drinks, the answer is a big yes. The most obvious example is this after-dinner cocktail sol y sombra. It is a combination of brandy, anisette (anise-flavored liquor), and ice.
Surprisingly, there is a connection between the name of this drink and Spain's famous bullfights. In those places, a sol y sombra (sun and shade) ticket refers to a seat that is half-shaded and partly exposed to the sun.
As for the drink, it figuratively describes the dark color of brandy (sombra) and the light hue of anise (sol). They combine perfectly into this beautiful beverage.
Where to find: pubs, bars, and restaurants in Spain.
16. Sidra
Alcoholic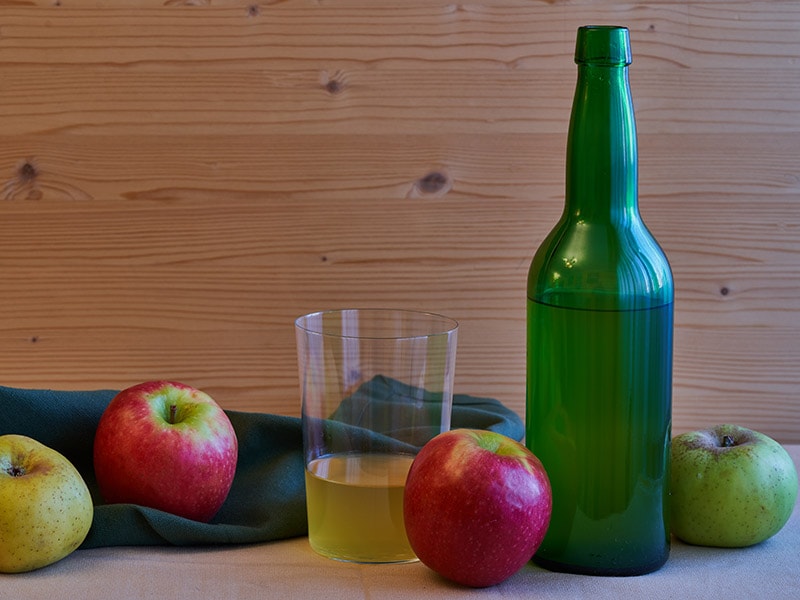 Since "sidra" is the Spanish word for "cider", you know what this beverage is all about. It is the apple juice that people ferment in wooden barrels. But not just any apple: True sidra is made from the low-sugar apple grown in the Asturias and Basque regions in northern Spain.
Since Roman times, local inhabitants have been ardent lovers of sidra. This dry and sweet drink, mingled with fresh tartness, holds a magical appeal that is hard to resist. Spanish people are picky about it, too: out of 200 native apple varieties, only one-tenth of them can go into sidra.
Where to find: in pubs, bars, and restaurants across Spain, especially in the apple-growing region in the north.
Spanish Non-Alcoholic Drinks
In case you are a fan of Agua de Jamaica or Coquito, you won't find them here because the former is a Mexican drink and the latter Puerto Rican. However, Spain has a wide array of sweet and tangy drinks that will give you a whale of a time.
17. La Casera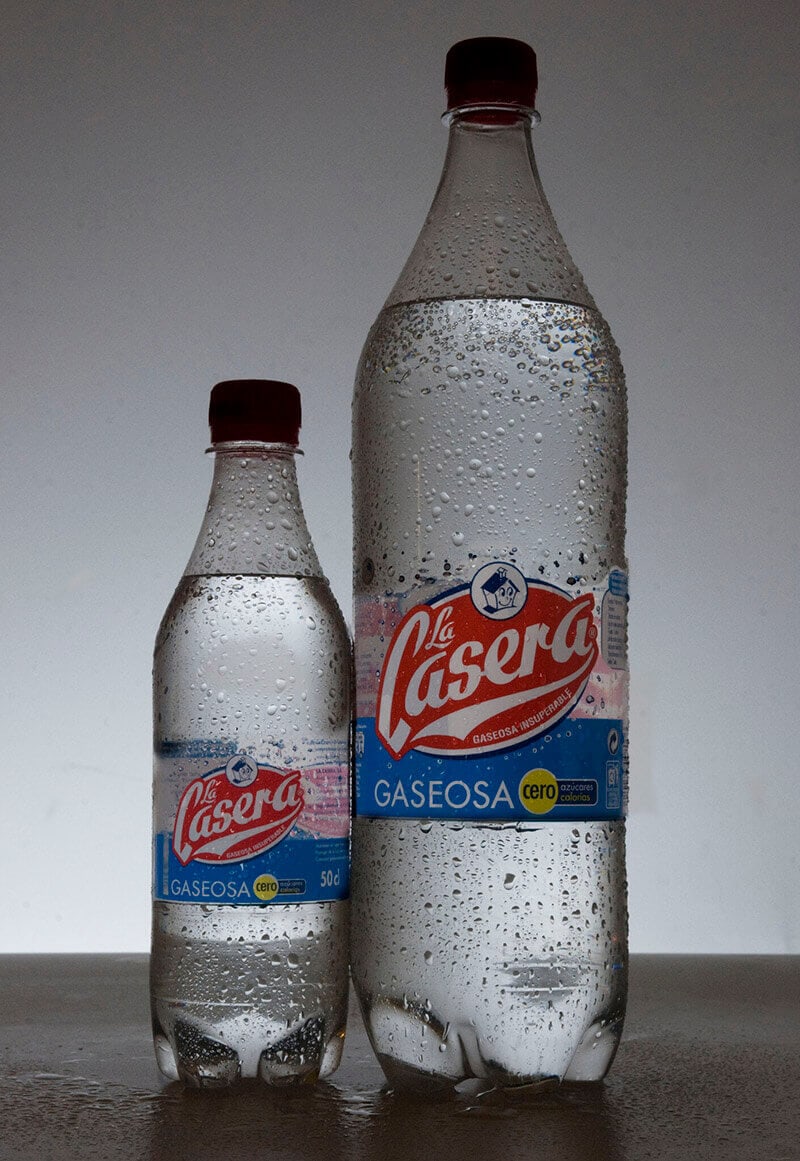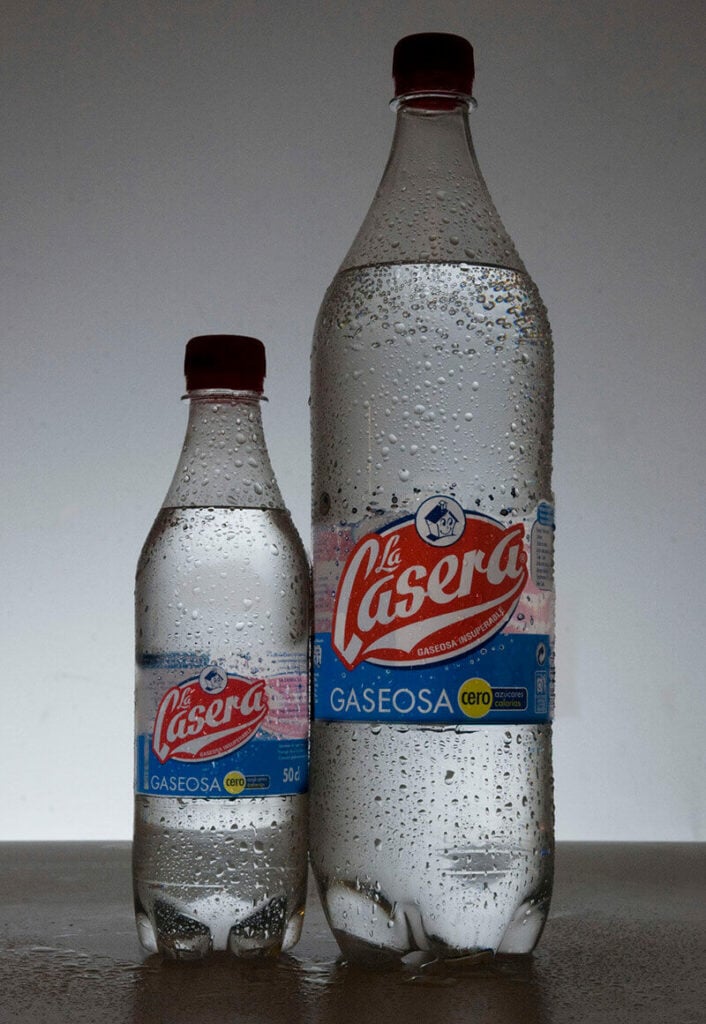 If you want to whip up a shot of sangria or rebujito, which kind of soda water are you going to use? Instead of the widespread American brands, why not use a Spanish one? How about something popular like La Casera?
It is a fizzy soda brand that was established in 1949 in Madrid. The drink is so well-liked that its name is now a generic term to refer to all kinds of soda. La Casera comes in multiple colors and fruity flavors, such as apple and citrus. It usually contains a small amount of real fruit juice.
Where to find: in restaurants, convenience stores, and supermarkets throughout Spain.
18. Granizado de Limón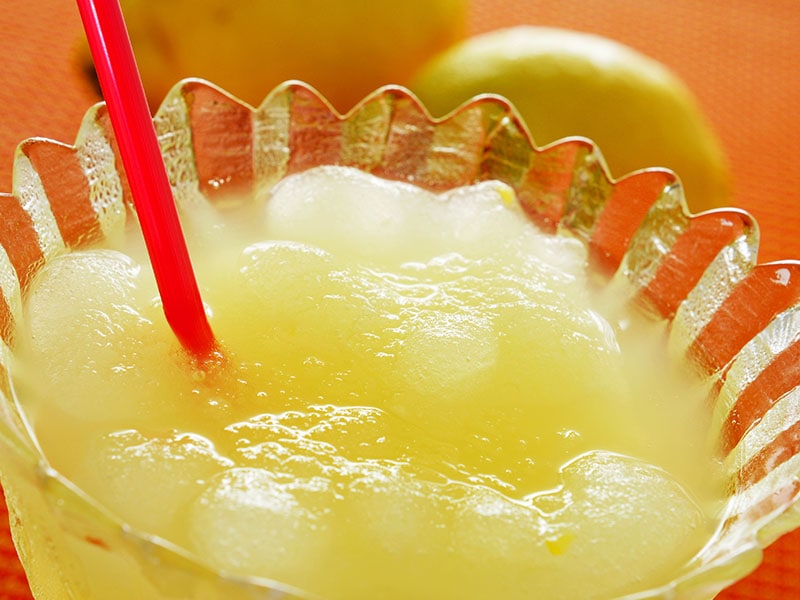 Many parts of Spain have more than 300 sunny days per year. While sunbathing is no problem in the country, getting away from its sweltering climate is. If you want to find a kid-friendly relief from the hot weather, try granizado de limón.
This fancy name translates into English as "lemon granita". This colorful, pleasantly tangy delight is made from a pureed mixture of lemon, water, and sugar. Just buy some for you and the younglings, and the Spanish hotness will no longer be a menace.
Where to find: in cafes, restaurants, ice cream parlors all over Spain.
19. Leche Merengada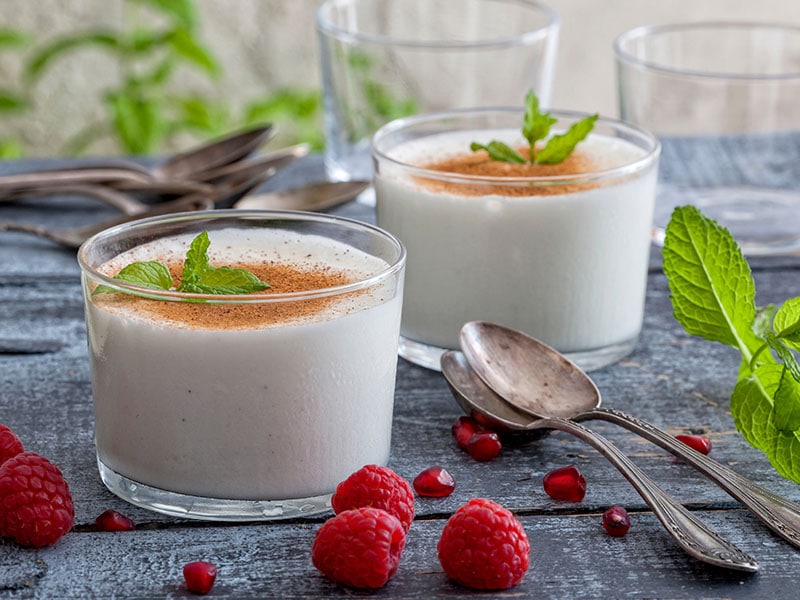 In a famous Spanish children's song "Tengo una vaca lechera" ("I Have a Milk Cow"), the main character praises a cow that gives sweet leche merengada. That illustrates how this snowy Spanish drink for kids is an integral part of the country's cuisine.
It is a kind of meringue, a dessert mainly made from heated milk, sugar, lemon zest, and cinnamon. Doting mothers or fathers will mix everything with whipped egg white and freeze the mixture to give their kids a milkshake-like dessert.
Leche merengada has a thick consistency and a sweet, creamy flavor with spicy notes of cinnamon. Pinpointing exactly where this drink originated is tricky. The only thing you need to know is that the entirety of Spain loves it, especially in the summertime.
Where to find: in ice cream parlors, canteens, restaurants in Spain. Many families prepare it at home, too.
20. Chocolate Caliente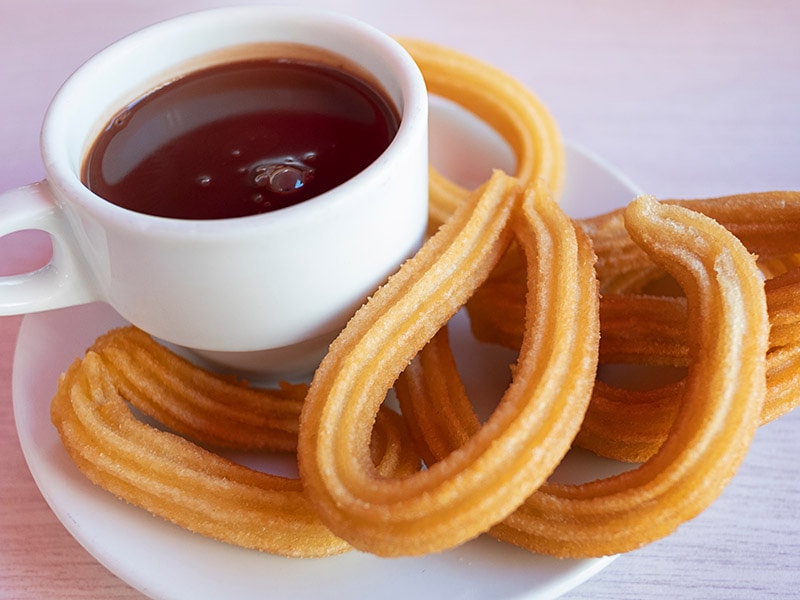 Since Spain was the first European country to discover America, it naturally pioneered the cultivation of New World crops in the Old World. So cacao went from a Mayan delicacy into the chocolate caliente (hot chocolate) that the Spanish can't stop craving.
Spanish-style hot chocolate is always creamy and decadent. It can come in multiple forms to cater to everyone's taste. Milk-added chocolate is deadly sweet, while dark and bittersweet hot chocolate with a smaller amount of sweeteners is also available.
Make sure that you enjoy the drink with churro, a Portuguese dessert that is well-liked in Spain (although some say that it is of Spanish origin). In Spain, there is a special establishment called chocolateria where you can savor all kinds of hot chocolate as well as cookies to go with them.
Where to find: in chocolaterias, cafes, and restaurants in Spain. Large cities always offer more varieties of chocolate caliente.
21. Horchata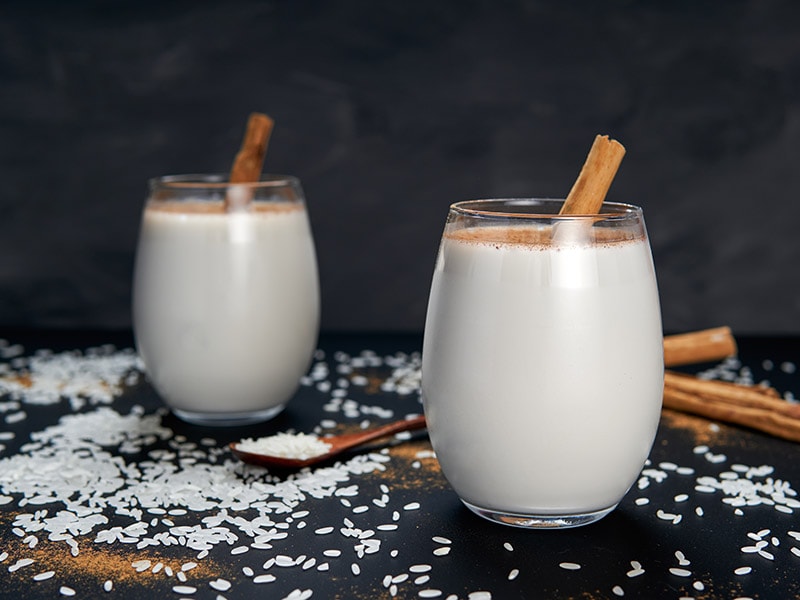 Have you ever heard of tiger nuts? They aren't nuts at all but the nutrient-rich tubers of the hazelnut sedge, a plant widely cultivated in Spain. They are the main ingredient for an inviting Spanish drink you can't find anywhere else: horchata.
Actually, there is horchata in America or parts of Africa, too. But only in Spain do the locals prepare it by mixing ground tiger nuts with white sugar and spices before refrigerating the stuff. When it reaches a cold, creamy quality, you will have a strongly scented, sweet drink to enjoy.
Like other refreshing Spanish delights, Horchata is more than sufficient to banish the summer heat out of your house. Although the earthly flavor of tiger nuts may wrinkle some noses on the first try, it will grow on you once you open your heart to it.
Horchata is a common sight across Spain. But it is particularly ubiquitous in Valencia, the first place in the country that Muslims introduced the hazelnut sedge plant long ago. There is even a type of shop specializing in the drink; it is called a horchatería.
Where to find: in horchaterías and cafes in Spain, especially in Valencia. The people from this coastal region call horchata by the name orxata de xufa.
22. Café Bombón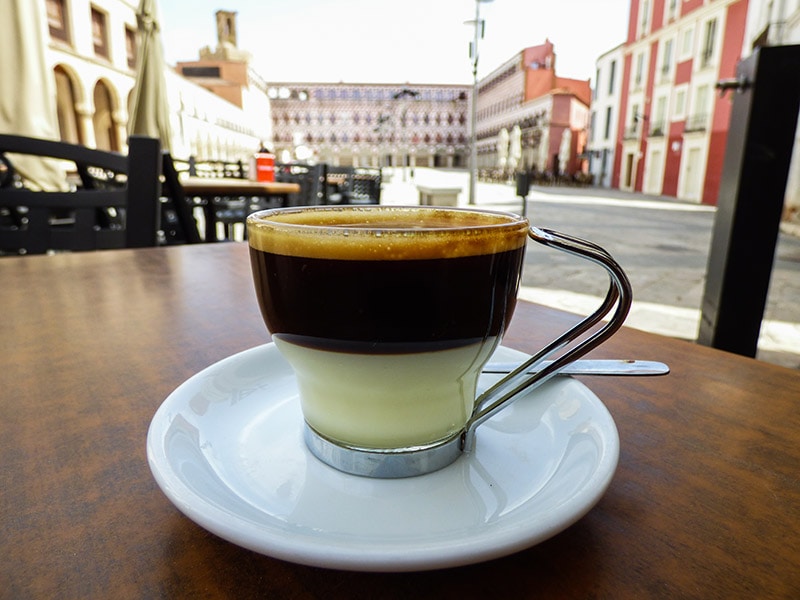 This is another delicious contribution from Valencia. Café bombón is a heavenly-tasting combination of white condensed milk at the bottom and coffee, usually espresso, at the top. Those two ingredients usually follow a 1:1 ratio.
While that may sound like Asiático, café bombón doesn't contain any drop of alcohol (although people sometimes replace milk with sweet spirits). In addition, Asiático doesn't utilize the same milk – coffee proportion as this type of coffee. One more thing, Café Bombón is Valencian.
Where to find: restaurants and coffee houses in Valencia are good places to start.
23. Cortado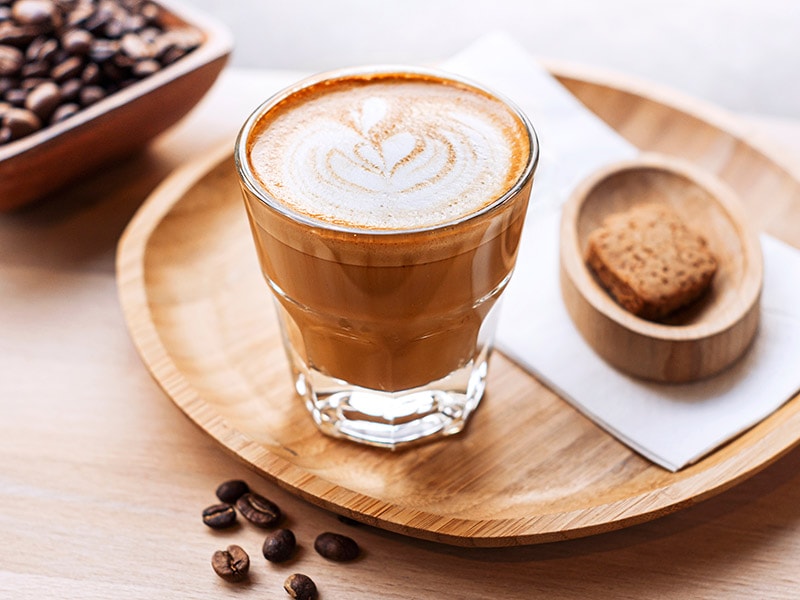 Here is one more mouth-watering blend of espresso and milk. Instead of condensed milk, this drink includes warm steamed milk that nicely counterbalances the acidity of the coffee. When you take a sip, your taste buds will relax at the touch of its silky texture and rich creaminess.
There is little reliable information on how cortado came about. The universally accepted facts are that it first appeared in the Basque Country, and its name stems from a Spanish word meaning "to cut", which refers to the mixing of the milk and the espresso.
Cortado is full of international renown. Not only a Spanish pleasure, but it's also a pompous Portuguese drink and a Latin American delight. There is also a well-known variety called Gibraltar from California.
Where to find: While the Basque Country is believed to be the birthplace of this drink, you can easily order it from cafes and restaurants in other parts of Spain.
---
So Much To Enjoy With Spanish Drinks?
Do you know that more than 99% of all public tap water in Spain is safe to drink? But with so many delicious wines, cocktails, and sweet desserts begging for your attention, why bother with it?
As you can see, Spanish drinks are refreshing and particularly adept at taking the summer heat off your body. Therefore, adding them to your parties, or even daily meals, is a natural decision that you should take.
If you like this post, don't forget to give it a like. Feel free to share the article with other people as well as share your thoughts with me in the experience. Many thanks and have a good day! Adiós!