Nowadays, Croatian foods are receiving more and more attention from many people globally who want to learn about its culinary beauties.
Croatian cuisine combines long-standing traditions with significant influences from Italian, Hungarian, Turkish cuisines, and some others. After all, a distinct culinary culture has emerged and flourished through time.
Through this humble article, I will offer you various exquisite Croatian delicacies. From hearty meat, seafood dishes to mellow desserts, you can find all you need right here. No more beating around the bush, refer to the below sections now!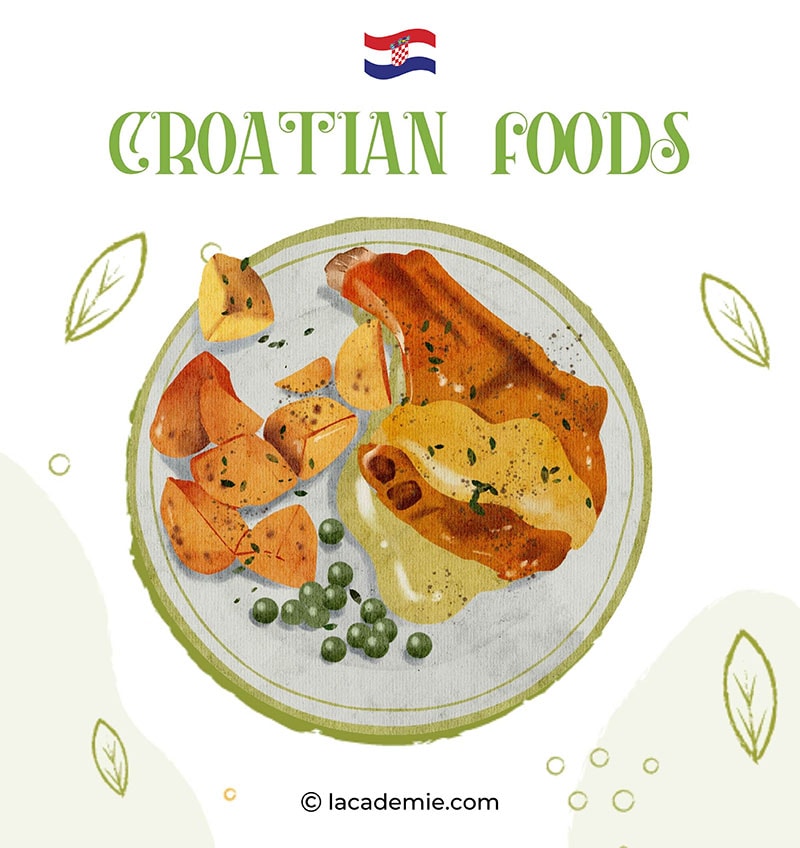 Croatian Meat Dishes
One notable thing about Croatian cuisine is it can be divided into various distinctive fields. For example, continental and coastal cuisine or meaty and seafood dishes. Therefore, I will introduce you one by one, and let's start this list with the exquisite meaty dishes!
1. Krčki Pršut (Krk's Prosciutto)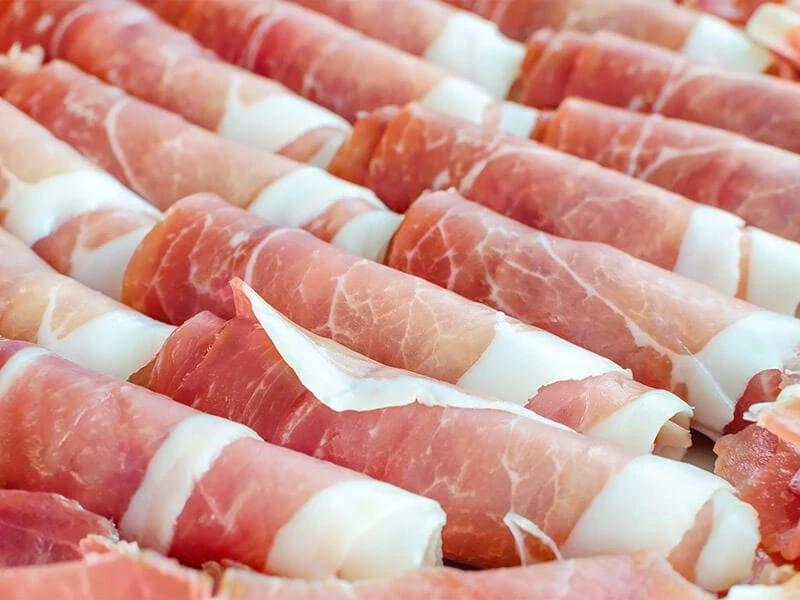 Pršut (which equals "Prosciutto" in Croatian) is a staple cured ham in Croatian cuisine, and they apply distinctive curing to create this delicacy. Besides the with-skin or without-skin feature, the curing method affects the food's flavors more.
Rather than using dry or wet curing, in Krk, they make their ham with the combination curing so that their Krčki Pršut tastes hugely distinguished.
The prosciutto is not smoked until dry like some other ones; Krk people prefer to utilize the natural condition of Adriatic for this food.
The unique "salted" Bora seasonal wind and the extreme sunlight help this specific prosciutto dry naturally and accentuate the delicate flavors of the meat.
A brief introduction about Krk's Prosciutto you might ask for is here!
2. Istrian Pršut (Istrian Dry-Cured Ham/Prosciutto)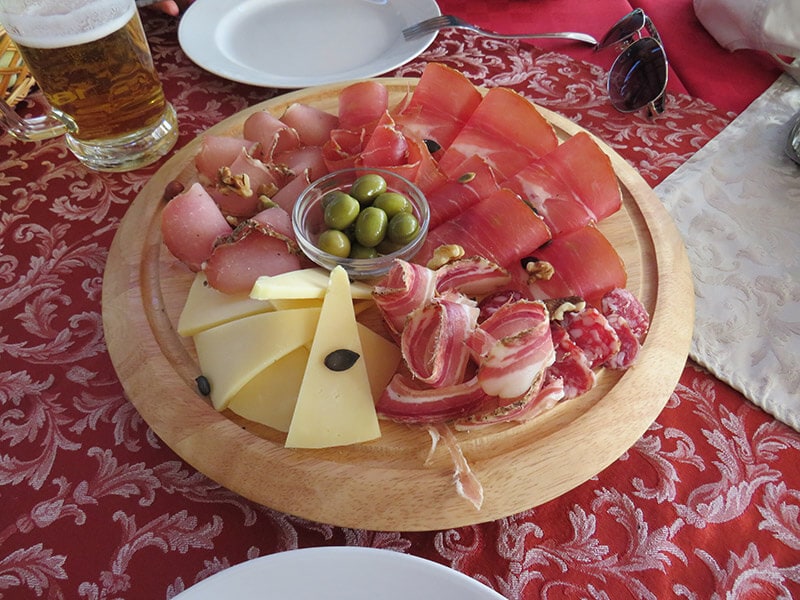 Unlike the previous Krčki Pršut, this Istrian Pršut is a cured ham without the skin. And this dish has appeared, existed, and developed in Croatia since ancient times.
The meat used for Istrian pršut is the meat from the thighs of pigs raised following strict nutritional standards. After carefully selecting meat, Istrian will begin processing steps such as salting and removing fat and skin before going to the final stage of natural drying.
This drying step allows a premium mold to grow and cover the surface of the meat and enhance the flavor of the dish. The aging period might last for 12 months or longer (up to 18 months) until the treat is ready to go on the dinner table.
Istrian Pršut tastes best if you serve it in cold cuts (a portion of thin slices of deli meats and cheeses) or appetizers.
3. Pašticada (Braised Beef)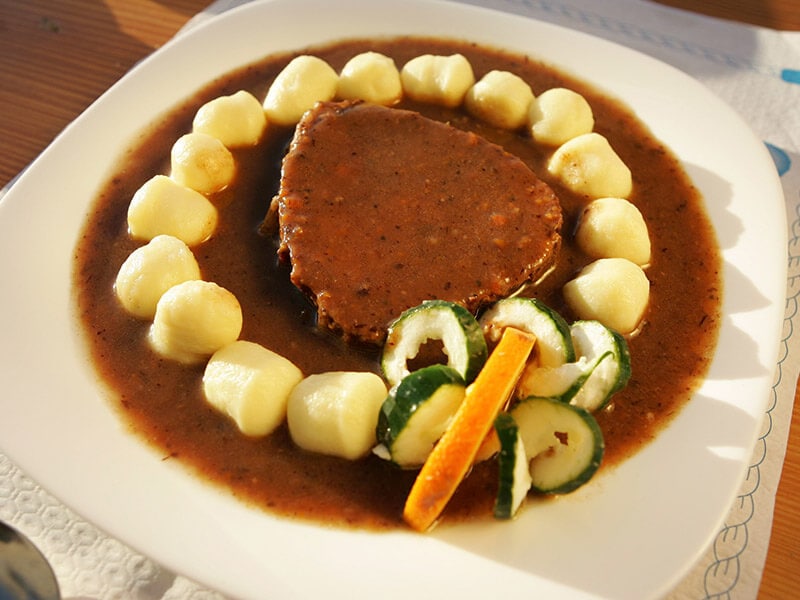 This beef stew with special sweet-sour sauce is a famous dish of Dalmatia. To make a perfect bowl of Pašticada, the cooks need to have some specific skills since the food requires a long and meticulous processing process.
Pašticada can be a ubiquitous Croatian dinner dish with gnocchi, classic soft dumplings renowned in general European cuisines. They can also serve it with several kinds of handmade pasta for special events like weddings.
Don't forget to pair it with a delicious Croatian beverage to enhance your culinary experience. I recommend Pošip – a type of indigenous grape wine, or Dingač – Croatian famous red wine.
About the origin of this dish, although the story behind it is still unclear, they say that it first appeared in the 15th century. The starting place was the former Ragusa city (now known as Dubrovnik) in southern Croatia.
4. Janjetina Ispod Peke (Lamb Stew)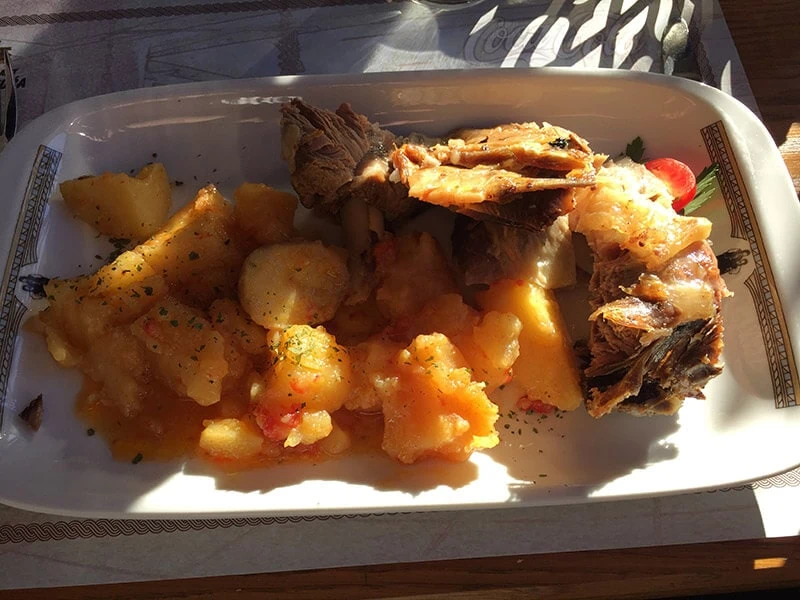 This dish came from Croatia's Dalmatia and is famous in Istria nowadays. Croatians will simply cook the dish with lamb and vegetables, olive oil, and white wine to make the meat simmer faster.
This dish is cooked in a traditional Croatian pot called a peka (in Dalmatia) or čripnja (in Istria) for many hours. A good Janjetina Ispod Peke will have tender meat.
In Croatia, they eat Janjetina Ispod Peke with Kruh Ispod Peke (a type of bread), green vegetables, and a refreshing beer.
5. Zagrebački Odrezak (Zagreb Steak)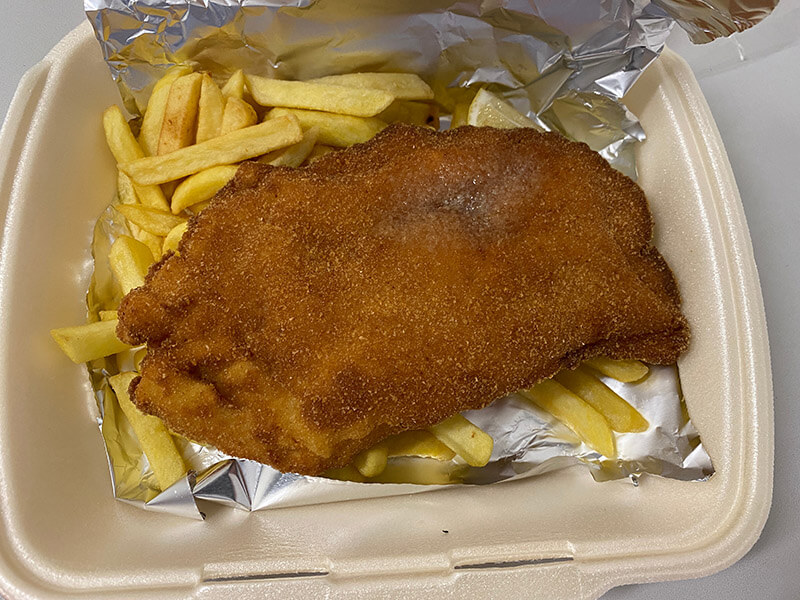 This dish looks like a deep-fried ham, but its idea is entirely different. Instead of just deli meat, as you might think, Zagreb Schnitzel (Zagrebački Odrezak), a specialty of Zagreb (Croatia's capital), is made from premium veal.
The veal meat will be thinly sliced and rolled with ham and cheese, then rolled in eggs, flour, and deep-fried. This dish has to be fried directly on hot oil so as not to soak up the oil, causing it to feel greasy and greasy.
Today, to make the dish closer to everyday life, they have replaced the veal with cheaper (but still delicious) cuts of meat like chicken or pork. Croatians will eat this dish with sour things like lemon to create a sense of relief.
And do not confuse this dish with the Swiss's Cordon Bleu, although they look pretty similar. In fact, the processing methods of these foods are quite different.
6. Istarska Jota (Istrian Stew)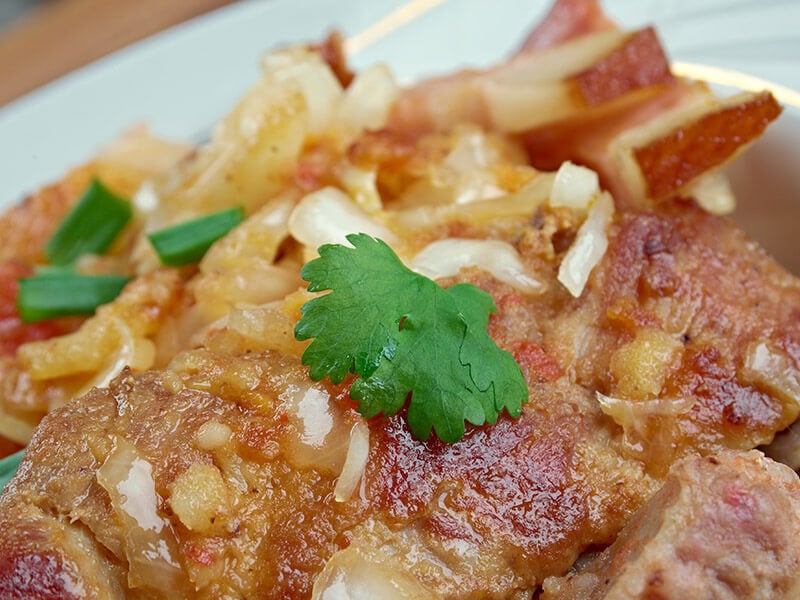 Istarska Jota is exceptionally famous in Istria and several other regions in northwestern Croatia. One notable thing about this dish is it is also called Jota in Italy and Slovenia's cuisine. Then you might find this dish in these countries too.
This stew is said to have originated in ancient times in the Friuli area. Friuli locates in the valley of the River Torre and the mountains on the border of Carnia and Slavia Veneta.
The name of this dish is not entirely from Croatian, but it is named after a word of Celtic origin. The Istarska Jota dish embodies the cuisine of the Mediterranean and Central Europe, including pickles, onions, garlic, olive oil, and bacon.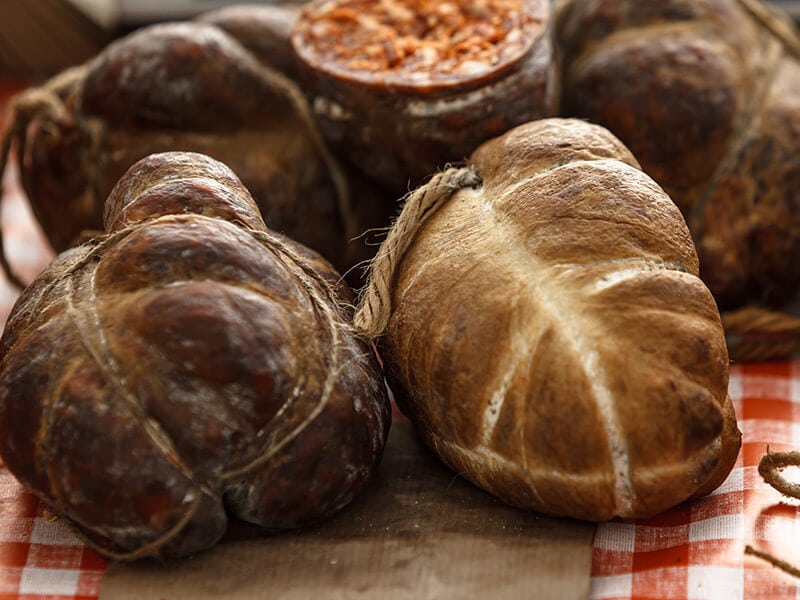 A meat category cannot be completed without sausages. My first sausages suggestion for you today is this Baranjski Kulen or the premium cured meat sausages of Baranja, Croatia.
Baranja is well-known as heaven for agriculture, and in this land, they provide the Croatian market with the best quality pork. With the influence of their neighbor, Hungarian cuisine, they created a particular type of sausages with a more intense spiciness.
These specific sausages need no less than 9 months to be matured. They will collect and smoke/dry them before serving. They will sometimes cover this Kulen in ashes to have drier variations.
Thanks to the meticulously producing process, the specialty is loved for its exotic spicy and smoky flavors that you can not easily find elsewhere. If you have some Baranjski Kulen on hand, all you need to do now is prepare bread, cheese, and some good wine. Enjoy!
8. Odojak Na Ražnju (Roasted Suckling Pig On A Spit)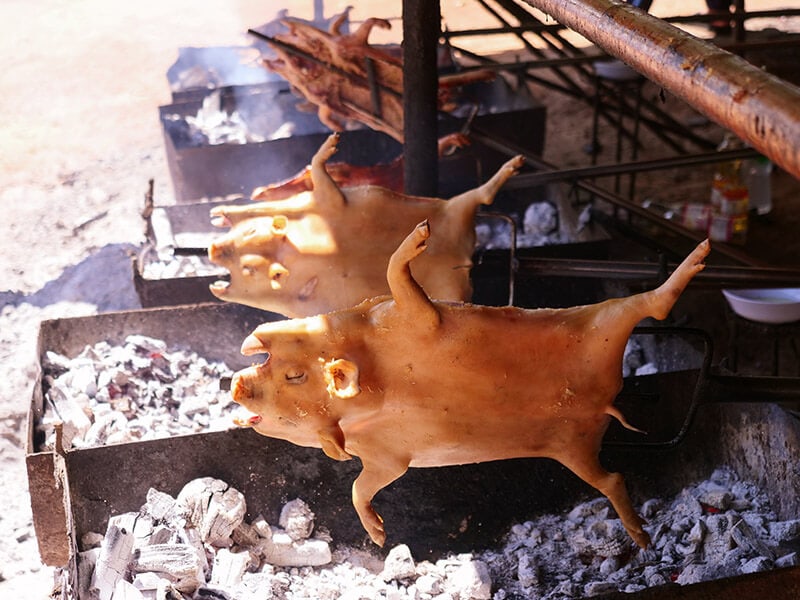 Suckling pig, also known as a young pig, or piglet, is believed to provide a much milky hint in their meat. And, roasting them on a spit is the best way to cook this specialty.
There is no clear information about this Croatian treat, yet, I can assure you that it is flavorsome. A perfect Odojak Na Ražnju will offer you extremely crisp skin with delicate pork meat flavors.
The juicy and mellow taste you can sense when eating the food 100% comes from the high-quality pork (because there are almost no condiments or marinade before processing). These features make this pork dish go perfectly with roasted potatoes and crispy bread.
Since Odojak Na Ražnju takes relatively much time to be cooked (about 3.5 to 5.5 hours, relying on the pig's size), Croatians prepare this food more often on special occasions or to treat important guests.
9. Krvavica (Pork Blood Sausages)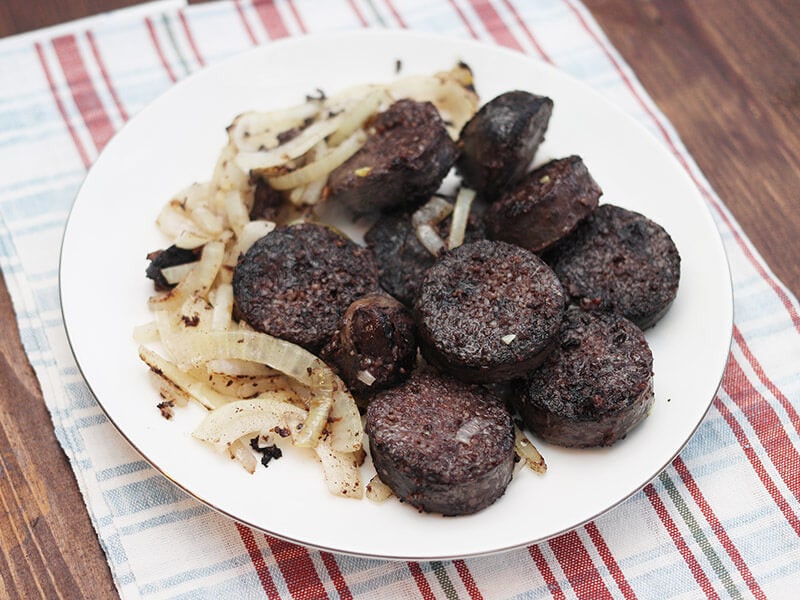 Blood sausages are not an odd food since many other recipes for this treat are from other countries such as America, France, or Portuguese. Then what makes the Croatian Krvavica special?
Krvavica is famous in the Zagorje and Slavonija-Baranja regions, but it is also prevalent in every other area of Croatia. The special point in these Croatian pork blood sausages is the ingredients.
Besides pork skin, offal, and blood, Croatians use buckwheat, cornflour, or barley instead of ordinary oats/oatmeal. People in Croatia love enjoying Krvavica in winter with some boiled potatoes, stir-fried onions, or something fresh such as cabbage salad.
Croatian Seafood Dishes
Fresh seafood is a crucial component of Croatian seaside gastronomy. Therefore, many seafood dishes appear on many household recipes and restaurant menus, and I can assure you about the ingredients' freshness. These recommendations are worth waiting for.
10. Brodet/Brudet (Dalmatian Seafood Stew)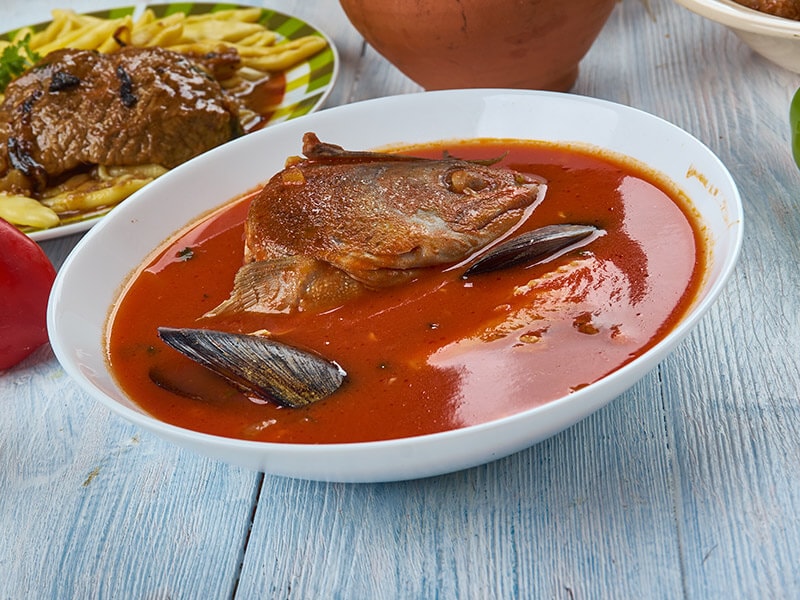 This is a seafood stew with a vibrant flavor because it requires at least 3 types of seafood in the ingredients. Some most popular variations consist of shellfish such as clams, oysters, and crustaceans like shrimp and crab.
Brodet/Brudet is renowned worldwide as a unique stew of Dalmatia, Kvarner, and Istria, and those places are also this treat's homelands.
The secret behind the uniqueness of this Croatian recipe is the way they process it. All the components, from the fish, seafood, spices, vegetables, and wines (or vinegar), are cooked in only one pot.
Depending on the households, they might have different ways to process the treat. Yet, one thing for sure is they will opt for crispy toasted bread or some corn porridge (polenta) to serve with this hearty main course.
11. Neretvanski Brudet (Neretva Frogs and Eels Stew)
It is time to know more about the Brudet variations in different regions of Croatia! Thanks to the learning, merging, and developing process, almost every area in Croatia has its version of Brudet. One of the most popular ones is the Neretva style.
Instead of using fish or shellfish like the original versions from Dalmatia, Istria, or Kvarner, in Neretva, they use frogs and eels as the main ingredients in this delicacy. One reason is these types of proteins are frequently used in this area.
Furthermore, you should remember that this Neretvanski Brudet is a bit spicier than some other kinds. Therefore, serving it with a glass of tasty white wine will help milden the spicy down smoothly. If you're feeling up to trying this treat, why not do it now?
12. Pijani Šaran (Drunk Carp)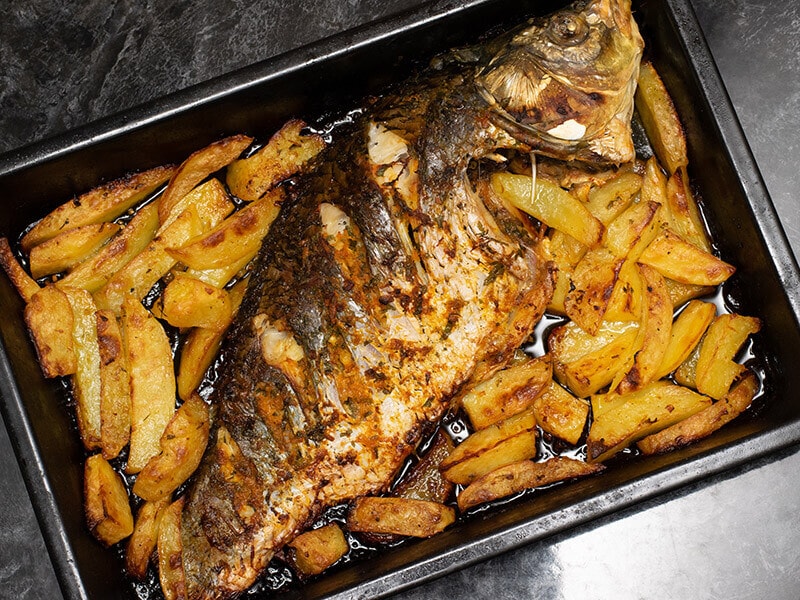 Carp is a well-known freshwater fish, and people might hesitate a bit because of its signature odors. Don't worry; the fish will come to your plate steaming, juicy, and absolutely fragrant after the meticulous preparation steps.
They call it Drunken Carp because of the wine in the ingredients list of this dish. The trick they make when processing the fish for this Zagorje-originated food is salting and using various pungent condiments, herbs, and spices.
When eating, Croatian will love eating it with baked potatoes (for a starchy, bland base), lemon slices, and parsley.
13. Gradele (Grill Fish)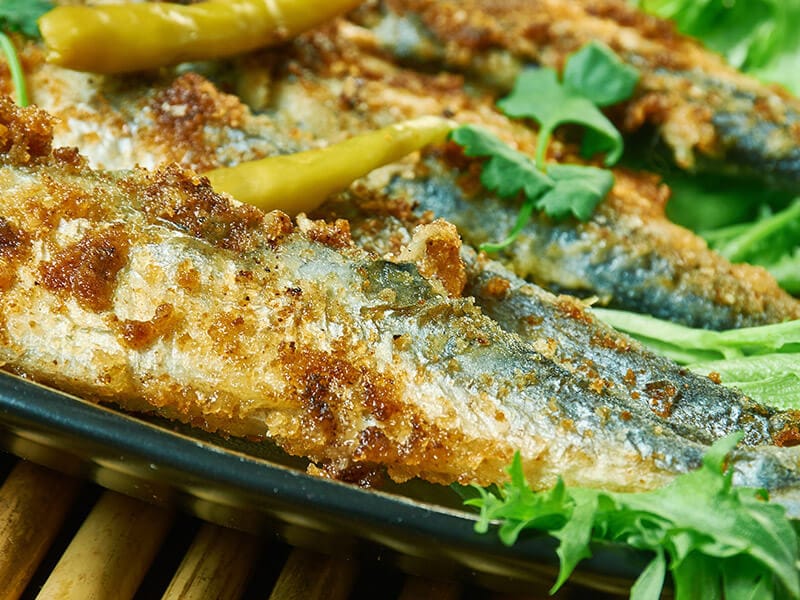 Gradele, besides all the fish stews, is also one of the most favorite treats for people who live in the coastal area of Croatia. The word "gradele" actually mentions the metal grate that people usually use to grill their fish.
There is no restriction in the use of the fish, so they will grill various types of fish at a time with the most basic preparation process (such as keeping the head and cleaning the intestine of the seafood).
One interesting fact about this preparation step is the chef will use the rosemary branch (that dipped in olive oil) to brush the fish.
Gradele is a suitable dish for summer when seafood is abundant and not too cold. People can gather by the beach and enjoy delicious grilled fish with boiled potatoes, parsley, garlic, swiss chard, and good wine.
14. Slane Srdele (Salted Sardines)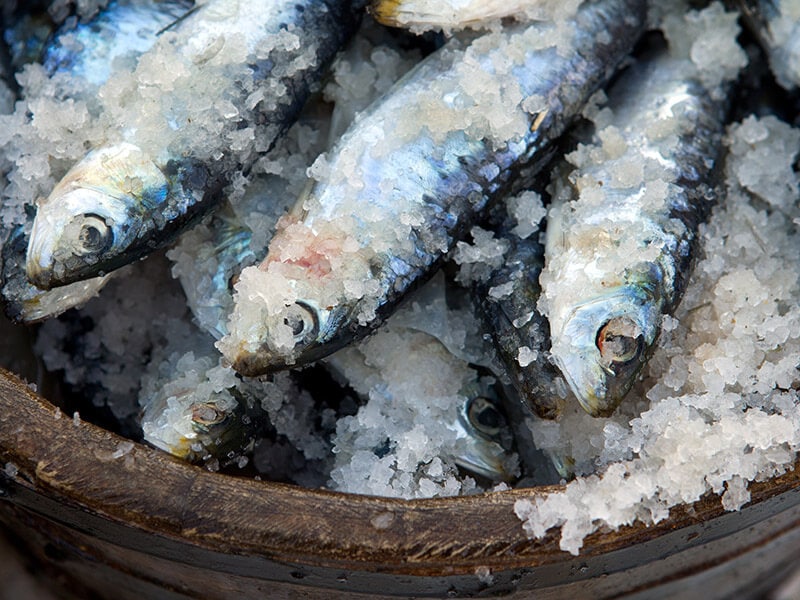 This treat is a seasonal specialty since it will be served more frequently from May to August in Dalmatia, Croatia. The formula to create the dish is quite simple, and all they use is the coarse sea salt to souse the fresh fish and prepare the sardines.
The salt will be put on layer by layer together with the sardines into one barrel or old tin. This process will intensify the flavor of sardines and lengthen its lifespan. After a time, the fat and water from the fish will release, and they might use that for another purpose.
The whole delicacy, Slane Srdele, needs at least 3 months to be done and ready to be served. One note is the fish part will be extremely salty, so you won't want to eat it alone without any companion.
15. Šaran U Rašljama (Grilled Carp In A Divining Rod)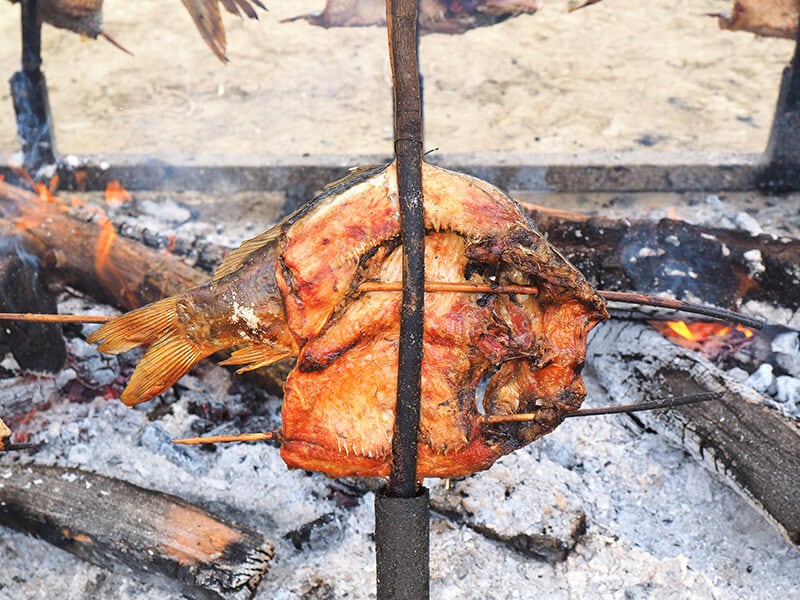 "Šaran U Rašljama" means "Carp In Forks", and the name of this dish does tell a lot about the way they make it. I promise you this Baranja's specialty will not disappoint you with its tempting smoky wood scent and slightly hot taste from ground red paprika.
When eating this treat, the sellers will usually provide you with some other fresh and pungent veggies such as spring onions or some salads. Don't forget a glass of good wine; the overall taste of the whole treat will be more toothsome.
How simple they make Šaran U Rašljama will amaze you.
16. Gregada (Fish Stew With Potato)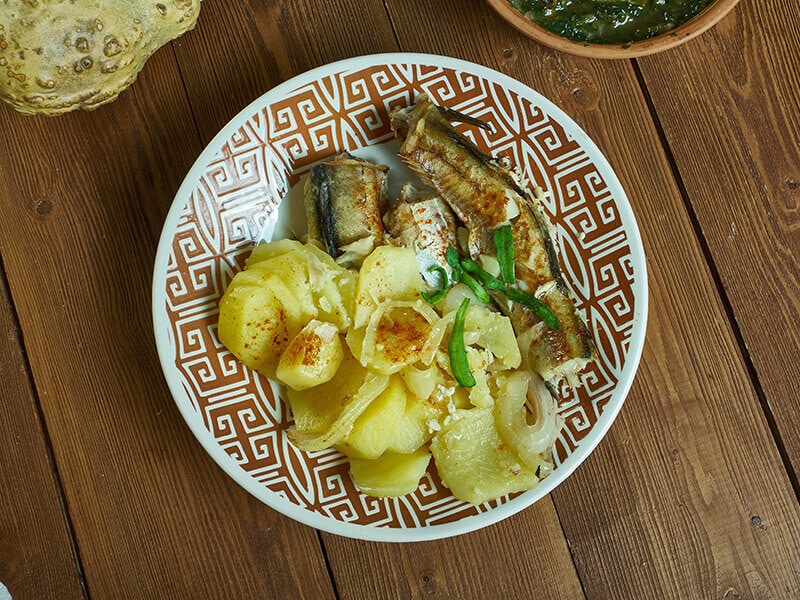 Gregada is one of the oldest ways to cook fish in Dalmatia, and the dish is now a specialty in Hvar island ( a part of Split-Dalmatia County). Greek settlers were the ones to bring this dish to this land more than 2000 years ago, in circa 380 BCE.
The original version required only saltwater fish, while the Croatia variations include several veggies and herbs, especially potatoes, celery, parsley, and some wine, to decrease the fishy notes.
Since there are bunches of components, Gregada is hearty enough for fishermen's everyday meals (especially lunches).
Among all of the fish, Croatians love using salted anchovies, capers, grouper, monkfish, or pandora fish the most. Those types of fish offer a distinguished taste that can straightforwardly please your taste buds after a long cooking time.
When cooking this Gregada, they will not stir the ingredients to avoid breaking the shape of the fish chunks. Instead, they will shake the pot.
Explore the right way to create Gregada that no one tells you.
17. Dagnje Na Buzaru (Mussels Stew)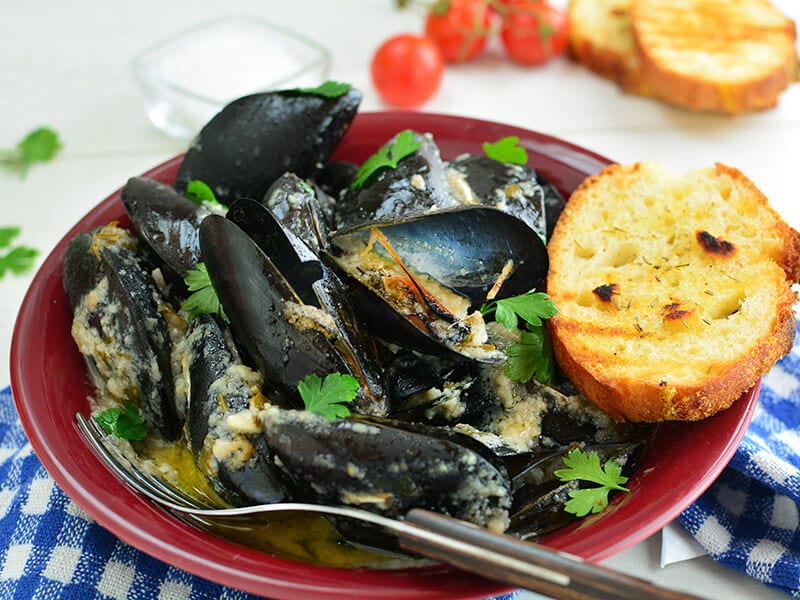 Now, let's turn to a seafood treat that calls for mussels! You can also find Dagnje Na Buzaru as Školjke Na Buzaru, another name of the Croatian Mussels dish in some other regions.
In the Croatian language, "buzara" means "stew" and "dagnje" means "mussels", so the name partly shows the food's main component. They prefer using the whole mussels, and Croatian people will cook it with the other ingredients in the same pot.
This Dagnje Na Buzaru might look a bit similar to the French's traditional steamed mussels treat, Moules Marinières. But there is one significant difference: the Croatian Mussels Stew has no butter/heavy cream, but some are in Moules Marinières.
Eating the food with bread and some other breadcrumbs to balance the texture and feel for the food. A few slices of lemon/lime will help you a lot in upgrading Dagnje Na Buzaru's taste to another level.
18. Perkelt Od Soma (Catfish Stew)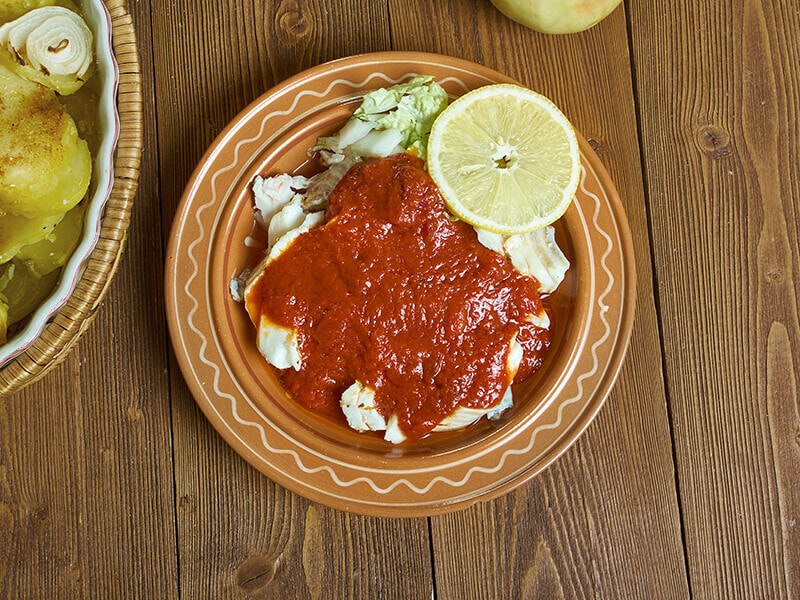 Pörkölt Stew – a well-known Hungarian dish, inspires Perkelt Od Soma, and it is a staple in the Slavonija and Baranja regions of Croatia. With the catfish's white, succulent meat flesh and appealing aroma of garlic, aromatic spices of paprika, Perkelt Od Soma is worth craving for.
Croatians prefer using it with some noodles, crispy bacon bits, and sprinkled cheese to serve the treat. The dish is versatile, so it has many ways with a starchy, balancing base.
You can ask the sellers for some suggestions at their stores; they will be pleased to assist you. If you cannot eat too spicy food, you can ask for the milder option.
Croatian Breads and Sandwiches
Croatian cuisine is so popular with its bread, and you will be amazed by the number of bakeries opening in the city. Bread is served with almost everything, and a Croatian cannot go a day without a piece of bread.
19. Šunka U Kruhu (Ham In Bread)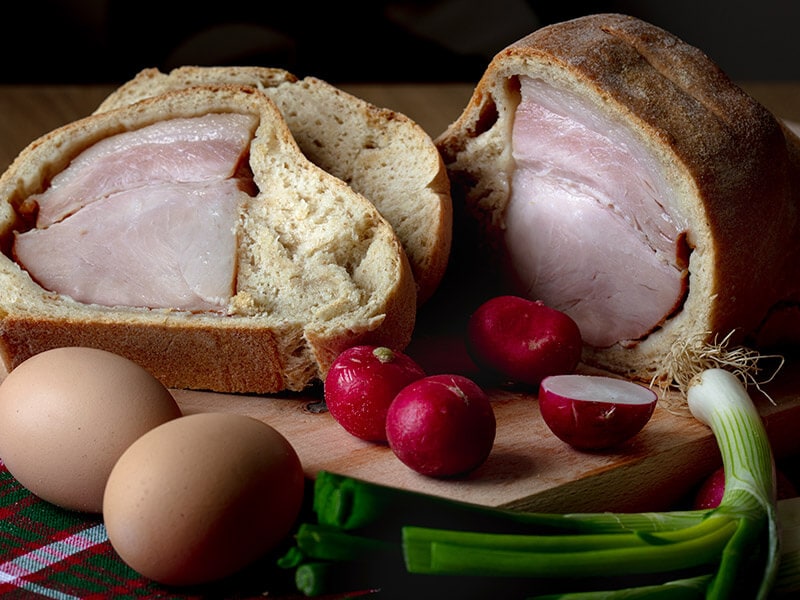 If you ask me about the most favorite Easter food in Croatia, I will immediately think of this hearty ham-filled bread dish. Serving this treat beside fresh scallions and horseradish sauce will enhance the refreshing taste and create a beautiful harmony in this dish.
Croatians love bread, so that they can eat this dish anytime in a day. You can have it as a Croatian-style breakfast on Easter Day's morning or simply as a hearty treat for dinner. Any of them will work perfectly.
I promise you this dish will not cause a greasy feeling when eating many of them because it offers many robust flavors (smokey, spicy, pungency, or meaty) in each bite.
20. Kruh Ispod Peke (Bread Baked Under The Lid)
Although bread is a staple in European cuisine, it will be hard for you to find this way of making baked bread elsewhere, except for Croatia. To make this special Kruh Ispod Peke, they will bake it under a peka ( meaning "lid" in Croatian).
They will place the wood fire embers on the lid covering the dough and gradually let the heat cook their bread.
The dough recipe for this bread is simple and requires only basic ingredients such as lukewarm water, salt, flour, and yeast. The bakers need to knead the dough with their own hands to measure its stickiness since this bread's dough should be stickier than usual.
A perfect crusty Kruh Ispod Peke might take about 45 minutes to an hour to bake. By tapping the bread, the bakers will know exactly if the food is done or not.
21. Bučnica (Pumpkin Strudel)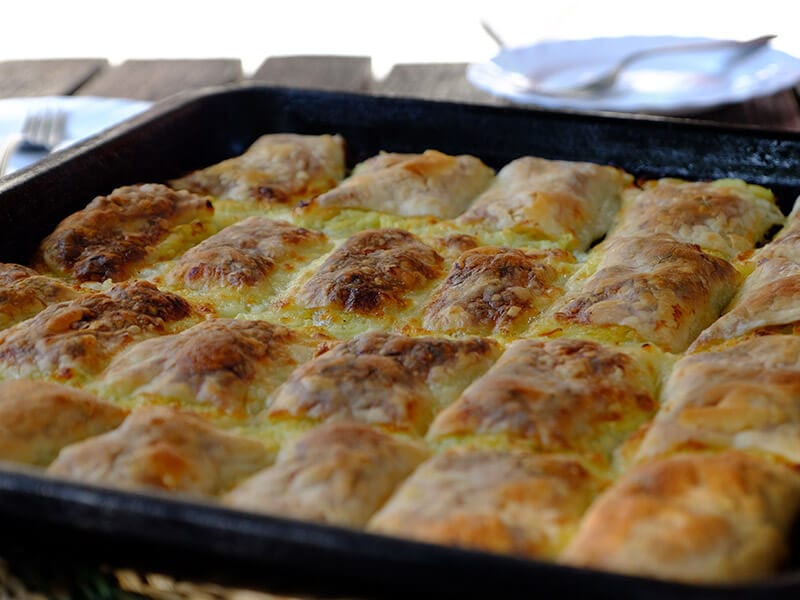 The word "Bučnica" means pumpkin in Croatian and this specific bread will generally include young pumpkin mash as the filling.
Therefore, the strudel is perfect to be made in summer. It is because summer is when there are many young and fresh pumpkins for the treat.
Bučnica should be well-baked and has a crispy crust. The addition of fresh cheese, butter, eggs, and sour cream is a great enhancement for the flavor of this strudel dish.
To make its taste even better with a hint of refreshing sourness, I suggest a dollop of sour cream topping. Trust me; you will definitely love this tip.
22. Pinca/Sirnica (Traditional Croatian Easter Bread)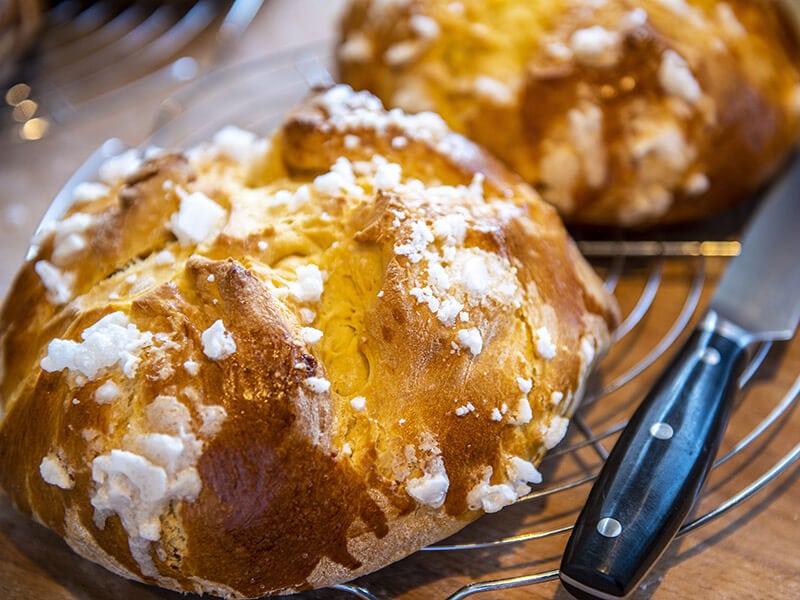 Pinca is a traditional bread of Croatia which originated from a delightful Venetian Republic dish and used to be seen as a food for wealthy people.
It is considered a festive treat, especially for Easter Day and Croatians will bring it to the church on the Holy Saturday (they believe that will help to bring the good blessing).
Don't worry, you can buy this bread in almost all the supermarkets, patisseries or bakeries in Croatia, every day of the year, not just Easter. It is now affordable for everyone and is too good to be used on only one occasion!
A Pinca loaf will have an appealing amber-brown exterior with a cross symbol and delightful citrusy fragrance. You should notice here that you can find the Pinca tag almost everywhere to look for this bread, but you should find Jajara ib Zagorje and Sirnica in Dalmatia.
Don't miss this guide to know more about Pinca!
23. Popara (Croatian Bread Mash)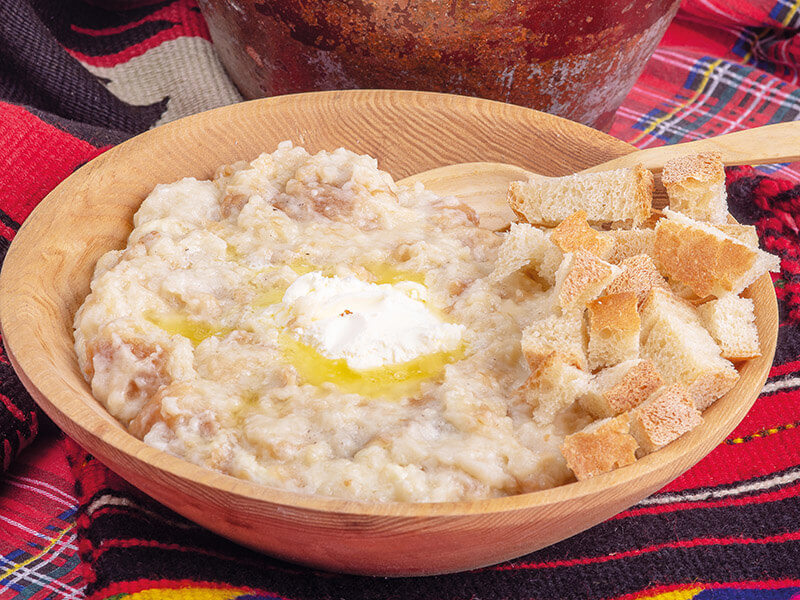 Popara is a bread dish with Balkan roots, so there is not only one version from Croatia, but there are many other variations from other countries. In Croatia, you can find the best Popara in Vukovar-Srijem County.
The first idea to create the treat was to use up all the leftover bread and make a filling dish for a whole family. Since it is made out of sudden, there is no specific recipe for this food.
Two primary things to make the dish are diced (torn) pieces of bread and some kinds of liquid to soften the main component. There are many options for you to choose from water, milk, or tea.
Lard or butter and vegetable oil are sometimes added to increase the food's flavors.
24. Mlinci (Traditional Croatian Noodle/Pasta)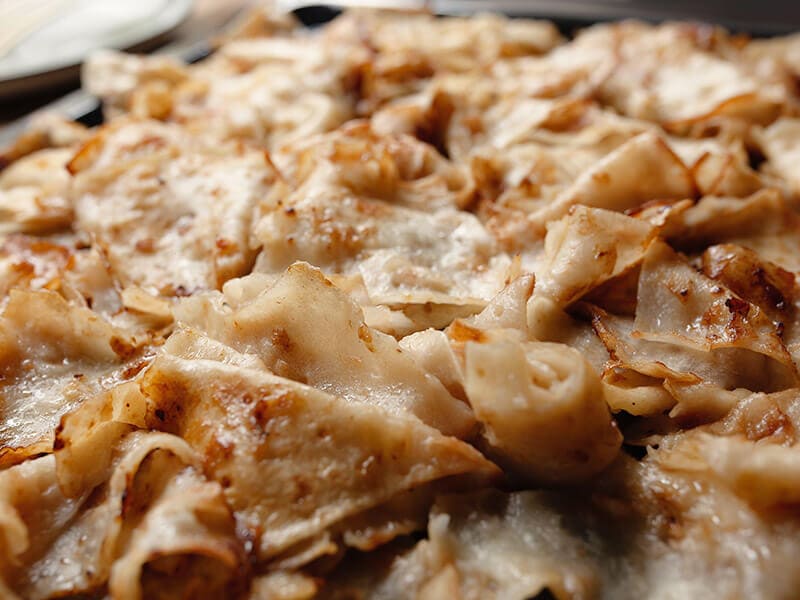 Mlinci is a type of baked noodles that appears a lot in the exquisite cuisine of Slovenia and Croatia. The way to make this dish will surely amaze with only a few component like wheat flour, water, or optional lard/eggs.
Croatians won't use Mlinci as the regular flatbread; it has to be baked until crispy twice before pairing with meat drippings or other dish such as roasted turkey. The Mlinci is also a great partner for roasted meaty foods on a Christmas lunch table.
In the Vojvodina of Croatia, they eat Mlinci with lamb or chicken filet and sour cream sauce. There are many other ways to enjoy this delicacy, and you might want to discover it yourself.
You won't regret learning more about Mlinci through this guide.
Croatian Risotto and Pasta Dishes
Starch is an indispensable ingredient for a nutritious meal of any culinary culture. Therefore, I will introduce some typical rice and noodle dishes representing Croatian cuisine.
25. Crni Rižot (Black Risotto)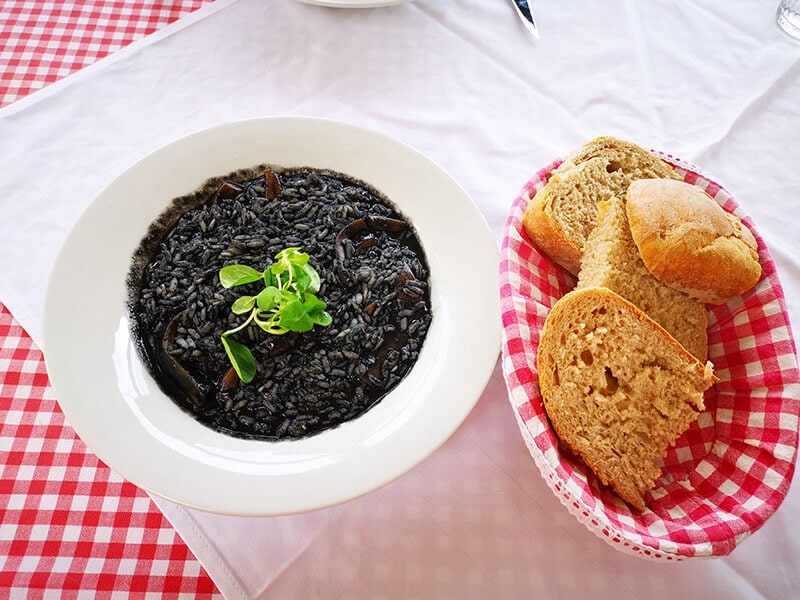 My first rice dish suggestion for an authentic Croatian lunch is Crni Rižot or Black Risotto. It will be an exciting experience to eat Risotto, and then your lips have a black tint from the squid/cuttlefish ink. This Black Risotto is a unique dish in Croatian cuisine.
To enjoy this black Risotto to its fullest, I recommend serving it with a sprinkle of parmesan cheese. Look for a good bottle of Croatian wine like Dalmatia Pošip or Plavac Mali to enhance the allurement of the treat.
Outside Croatian, Black Risotto is also an adored dish in the Italian city of Venice. In the Italian language, it's called Risotto Al Nero Di Seppia.
Once wandering around the restaurants in Croatian coastal areas, you can always see this dish appear on the menu.
If you want to know more about Crni Rižot's taste, this review will help!
26. Krpice Sa Zeljem (Pasta With Cabbage)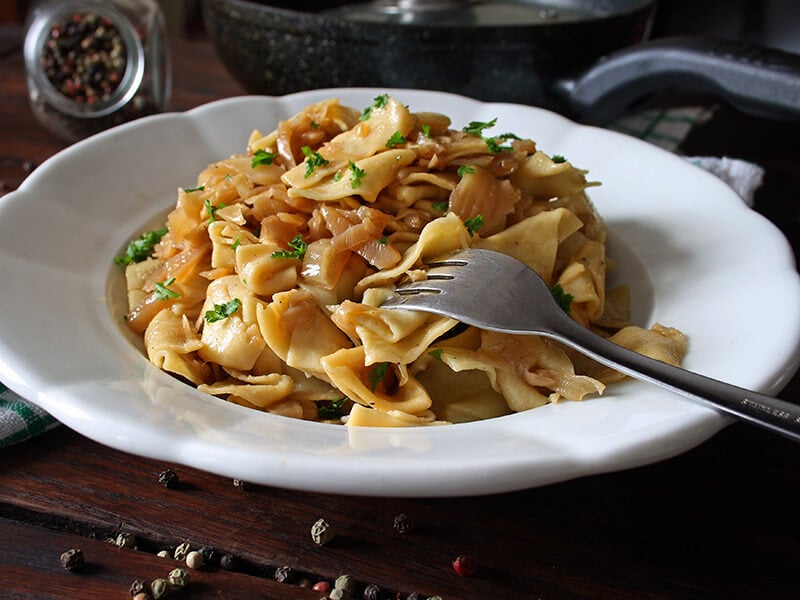 Krpice Sa Zeljem is not an authentic Croatian treat, it originated from Austro-Hungarian cuisine but is long-favored by Croatian people.
This dish has made its mark on those born and raised in Zagorje, Medimurje, and Zagreb County since it is a regular meal in their school canteens and even the nursery.
If you don't like spicy food, Krpice Sa Zeljem will be your next favorite meal because it simply has sweet fried cabbage, a peppery note from black pepper, and thick pasta. You can also find the gourmet variation of this food with an addition of sausage bít or bacon. How tasty!
27. Fuži (Istrian Pasta)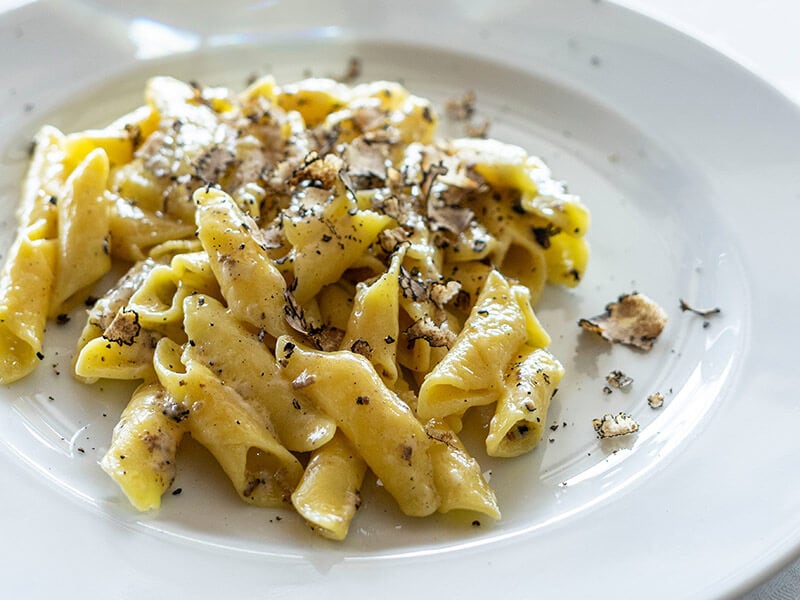 You should never miss this Istrian good food, Fuži, which has a long history in Croatia and Slovenia. Fuži has been created thanks to some notable Italian cuisine influences.
The chef will flatten the fresh pasta dough and cut it diagonally to produce diamond-shaped pieces. The handmade pasta will pair with meat-based sauces made of beef/veal, rich broth, tomato paste, onions, and white wine.
Some most popular accompaniments of this Croatian Fuži are usually wild asparagus, mushrooms, or black or white truffles. You can have the best Fuži plate in spring or summer since the famous expensive truffles are in season.
I guarantee you this guide is the best introduction to Istrian Pasta you can find.
Croatian Sweets and Desserts
When talking about a delectable culinary scene, it is impossible not to mention sweet dishes. What's more, the incredible desserts of Croatia are a harmonious mix of all kinds of culinary, cultural influences in Central Europe. Take a deeper look now!
28. Neretvanska Mandarina (Neretva Mandarin)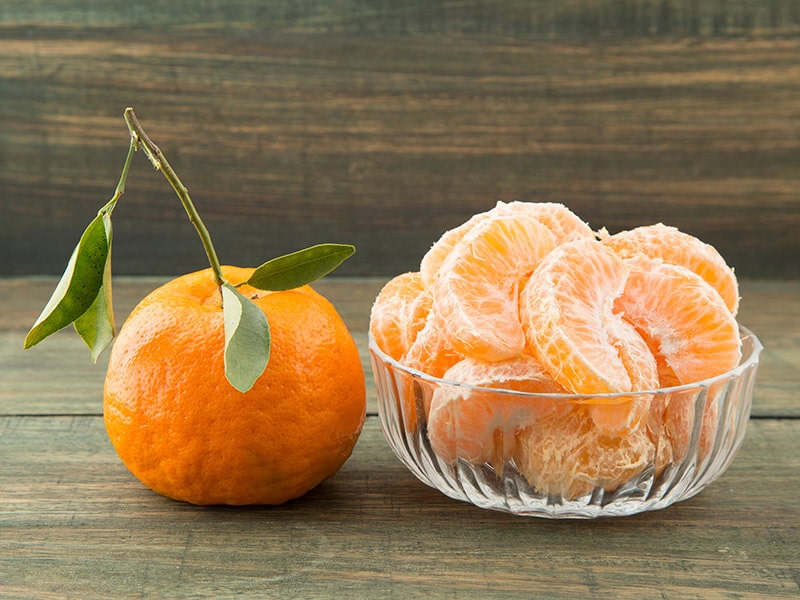 Neretva Mandarins are a tasty variety of citrus unique to Croatia. They have a tangerine-like appearance and are slightly less acidic than orange. This segmented citrus is easily peeled and widely loved across Croatia.
Among other specialties of the Neretva river valley, such as fish, frogs, and fruits such as watermelons, lemons, people love Neretvanska Mandarina more.
The mellowy mandarins originating from Japan are highly sought when they are in season (from late summer to early autumn). Visitors can visit the Neretvanska Mandarina farm from September to November each year as that is the time these fruits start to ripe.
It is said that the ratio between sugar and acid in these fruits is 7:1. That is the main reason why the Neretva Mandarins offer such a lovely balance between tartness, sourness, and sweetness.
The mandarin orchards in this area are almost less than 100 years old, but they have made this hybrid tangerine an undeniable specialty in this land.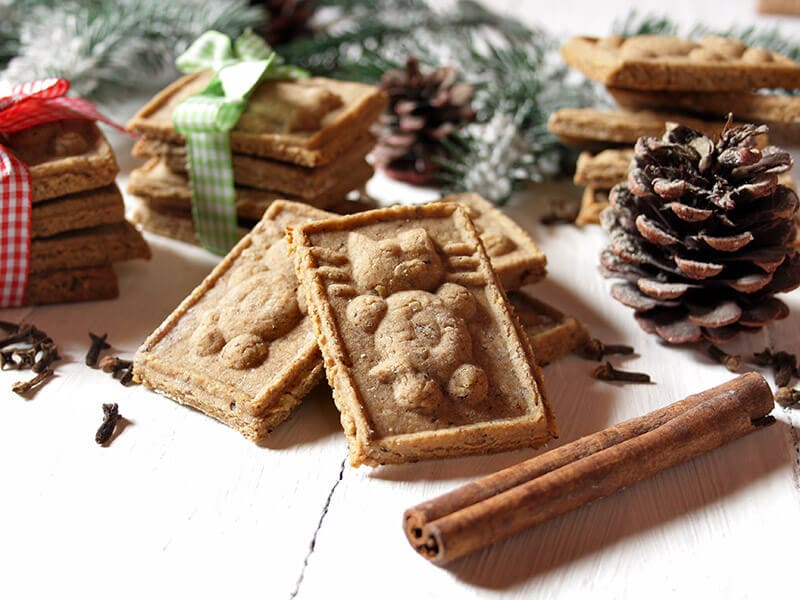 The origin of these traditional Croatian biscuits, Paprenjaci, remains unclear since there are various controversies between its appearing period. One thing for sure is the treat appeared between the 13th and 16th centuries in the ancient Croatia land.
The components of this Paprenjaci are pretty simple since it needs only flour, walnuts with aromatic spices, or black pepper and honey as a condiment. The treat used to be a special Christmas/winter delicacy, but now, you can easily have it throughout the year.
Paprenjaci has many shapes, sizes, symbols, and even ingredients. For instance, those from Hvar island and Zagreb don't include pepper; they will use some spices instead.
30. Kroštule (Sweet Pastry Knots)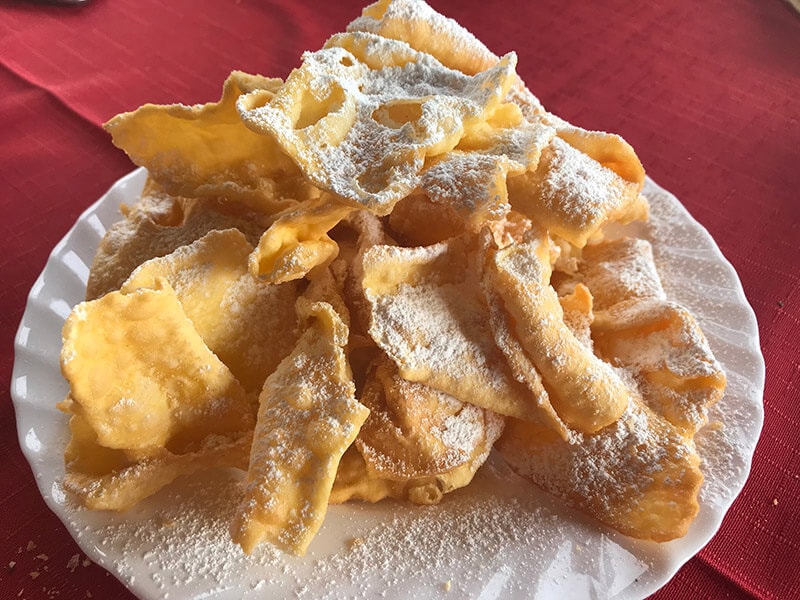 With its origin in Istria and Dalmatia, I assure you that this Kroštule is an authentic Croatian dessert. Its name might be known as "Sweet Pastry Knots" in English, yet I think its shape is flatter.
Kroštule's name is derived from an old Latin word "crustulum," meaning "Roman mini pancake", a familiar dish of soldiers during the war. And indeed, its shape might also remind you of deep-fried pancakes.
This sweet made with sugar, eggs, and flour is very popular on traditional Croatian holidays. If you have the opportunity to visit a local family during Easter, Christmas, or Carnival festivals, you can see the women in the house preparing this delicious dessert.
31. Medjimurje Gibanica (Medjimurian Layer Cake)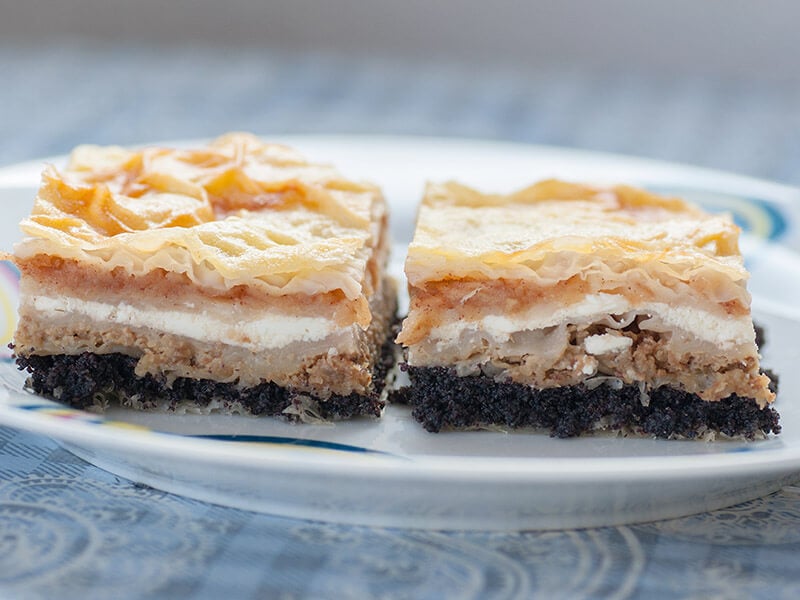 Međimurska is a small, crowded county in the northernmost part of Croatia, and it is the motherland of this exquisite Medjimurian Layer Cake.
The cake consists of many layers of thin phyllo dough (with cow's milk cheese, ground walnuts, poppy seeds, rum, or some fresh notes from grated apples).
Between those layers are some fillings, and the chef will cover the top with egg, melted butter, or just a scoop of sour cream.
You can eat Međimurska Gibanica in any condition; hot or cold will still be fine. One fact about this cake is it contains massive calories, so if you want to have it as dessert after a full-course meal, you should only have a small piece.
If you ask me about a specialty that you can buy as a gift for your loved ones, I will recommend this Rafioli. The stories behind the origin of this Trogir's specialty are varied, and I will tell you the most recommended one.
In the land of the old Trogir, there was a tower and a beautiful woman captured in it. They believed that her last name was Rafioli. While waiting for her release, she created crescent moon cakes with delectable fillings to pass the time.
When she was rescued many years later by a noble family from Trogir, she spent the rest of her life baking cakes for them. Due to their historical roots, these Rafioli cakes are made using only a few simple components, such as flour and almonds.
Each family in the Trogir or Dalmatia area has its own method of making this cake to make its highlight. This also lends to the irresistible diversity.
33. Rapska Torta (Rab Cake)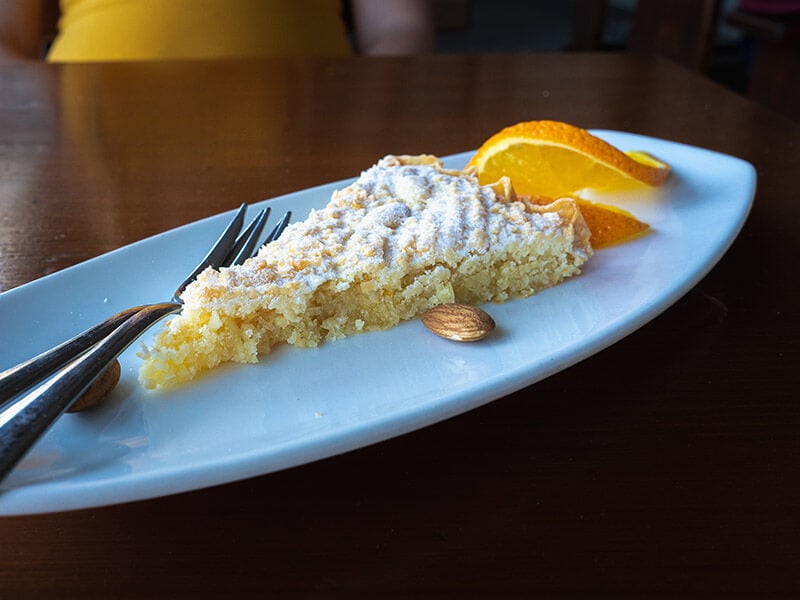 There are quite a few records of this dish being served to Pope Alexander III when he took refuge in the Croatian islands because of a strong storm in 1777. However, that is not when Croatians created this dish.
This Rapska Torta was created 300 years before 1777, about the 1400s. At that time, this dish was served in the noble families of Croatia.
Two hundred years later, the recipe for this dish passed into the hands of the nuns of St. Anthony's Monastery, and they modified it so they could serve it to the Benedictines of St. Andrew. From there, the first recipe of this dish was born.
There are also other variations on the cake's origin, but we cannot know for sure until it is more officially announced.
The point of success for this dish is the distinctive flavor from citrus fruit and Maraschino liqueur. Since it's usually only served on special occasions like local baptisms and weddings, you should try it when you get the chance.
34. Smokvenjak (Fig Cake)
Smokvenjak requires only figs and lozovača (grape liqueur); it is also known as "ancient energy bar". The first fig "energy bar" was created in the Kornati archipelago of Croatia, northern Dalmatia.
Nowadays, when the treat has become more famous, there are many other varieties, and they add some different types of nuts for more nutrition and tastes. Some of those are walnuts, fennels, and almonds.
35. Imotska Torta (Almond Lattice Cake)
To be honest, this Imotska Torta is not a recipe that can be successful on the first try, so you should appreciate every chance to taste the original version in Croatia. The delicacy is also known as an imperial cake since it has an appealing look and exquisite taste.
Imotska Torta is a traditional cake from a small town called Imotski in Croatia. Although there are many other methods to make this luxury-looking tart, the classic Almond Lattice Cake is totally distinguished.
One significant note comes from the loaded amount of almonds. The prosecco filling of the dish needs to be juicy when serving; therefore, this Imotska Torta is a dried cake, not a baked cake. What an exotic cake!
Other Croatian Dishes
How about some other foods that cannot be categorized in the same place as those above suggestions? I will mention them here!
36. Paški Sir (Croatian Pag Cheese)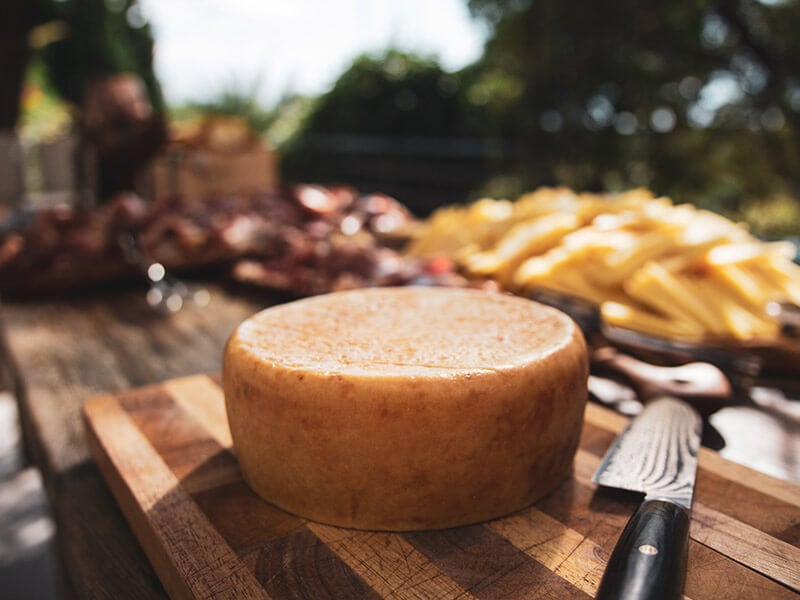 Cheeses are an indispensable part of every European culinary culture, and the story goes the same with Croatia. Believe me; there is nothing better than Pag cheese when it comes to Croatian cheeses.
The name of the cheese is after the island where it first came from, Pag island of Croatia. Sheep milk is the main ingredient for this hard cheese, and people found the first record in Alberto Fortis' writing in the late 17th century.
Gradually, in the 20th century, life in the village of Pag has developed, and people have their facilities to produce Pag cheese. Now, the treat is a well-known specialty globally and creates a massive income for the whole village.
People love both aged (aging for up to a year) or young (aging for two weeks or few months) because both of them offer lovely flavors.
The aged one tastes like Pecorino Romano and is served in a triangle shape, with sweet fruit jams, anchovies or else). Meanwhile, the young Pag Cheese will be softer, taste like Manchego (with saltiness and herby tastes) and is used for pasta or risotto topping.
37. Sir I Vrhnje (Cottage Cheese With Sour Cream)
There are many Croatian treats made of sour cream and cheese, then how about mixing these two components into one plate? Even the name of this dish describes what it is made from ( "sir" meaning cottage cheese while "vrhnje" meaning sour cream).
Yet, to lift the flavors of the whole treat, they will add in some minced garlic, smoked paprika powder, salt, black pepper. Those spicy, hot condiments will surely help you have a better taste experience.
Croatians usually have Sir I Vrhnje for a light and refreshing appetizer or a quick, milky breakfast. Some homemade sausages, sliced caramelized onions, or bacon with crispy bread will also make sense.
38. Fritaja Sa Šparogama (Frittata With Asparagus)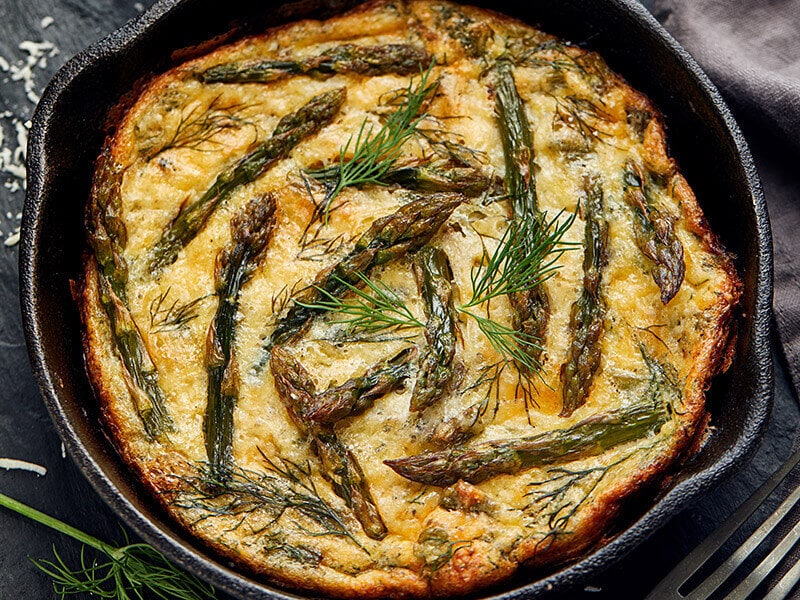 Although the dish calls for nothing complicated, it is a signature recipe that can stand for Istria.
Asparagus is considered the queen of Istria vegetables. Its slightly bitter taste will make you think of rocks, minerals, Istrian pines, the smell of the sea, and aromatic herbs.
The key to a decent frittata is to avoid overcooking the eggs. As a result, the frittata has to be soft and pliable. My tip for you is to serve your Fritaja Sa Šparogama with some homemade bread and grated goat cheese.
39. Soparnik (Kale Pie)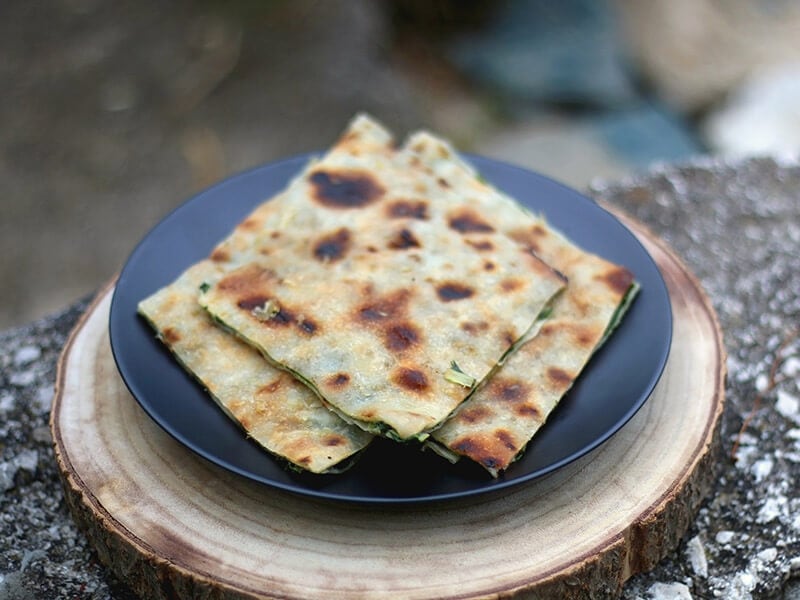 Soparnik is a traditional pan-fried vegetarian dish that is easy to eat and perhaps one of the simplest to prepare among Croatia's vast array of elaborately formulated specialties. The food is believed to appear in the Osmanii period (15th to 19th century).
It might look like a pizza with the bottom crust and require no tray to keep the shape, yet, it also looks like a pie since there is always a topped layer of dough. Therefore, no matter what kind of food it is, Soparnik is palatable.
The dough is well kneaded with olive oil and salt, then topped with a filling of spinach, garlic, and parsley. They will bake the Soparnik on a hearth-heated rock. In Croatia, Soparnik is considered one of the most beloved baby foods.
This treat is widely loved by Croatians so that the citizens of 2005 and also added into the intangible cultural heritage list of the Croatian Ministry of Culture.
In Rugi Rat, they organize a Soparnik festival in July every year ( for 10 years recently) and you can find various homemade Soparnik there. If you have the chance to visit Dalmatia in July, you should definitely visit this festival.
Look more at how they make a Soparnik now!
40. Maneštra Od Bobići (Istrian Minestrone With Fried Pork)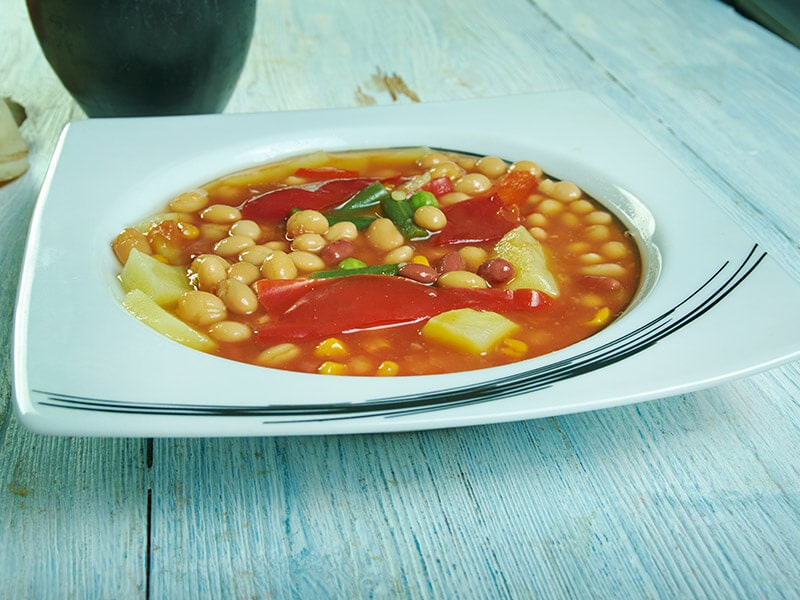 Minestrone is not an authentic Istrian delicacy, yet, Istrian people in particular and Croatian people craze for its deliciousness.
The soup originated in Italy from the 2nd century BC when Rome conquered this country. The idea of creating this soup is when the peasants decided to collect the leftovers from their meals, pair those things with some veggies, and form a luscious recipe.
People also call Minestrone "poor man's soup" since the uses of ingredients vary. Because of that, there is no official recipe for this food. In Croatia, people call Minestrone Bobići, and they process it with potatoes, kidney beans, corn, and some fried pork.
Maneštra Od Bobići is hearty enough so you can make it into your entire meal with some sourdough bread for a bland base.
41. Zapečeni Štrukli (Traditional Croatian Baked Strukli)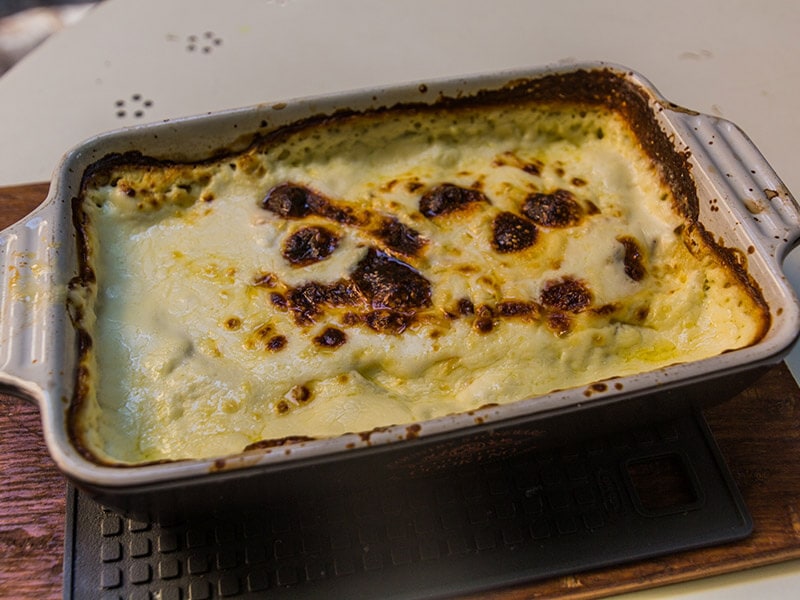 "Zapečeni" in the name of this dish means "bake" while "Štrukli" is a specialty of a region in the North of Croatia, Hrvatsko Zagorje. This treat is a nationally-favored of Croatia, and Croatia's Ministry of Culture added Štrukli to Croatia's intangible cultural heritage list.
Zagorski Štrukli (or Štruklji) includes rolled pieces of thin dough and some kinds of tasteful fillings. They will boil or bake to cook it after that, yet, the preferable way is to put all the pieces neatly in a tray, top the food with clotted cream, and bake.
The most favorite fillings of this treat are the mixture of eggs, some cottage cheese with a milky and sour taste. If you are a huge fan of cheese, you shouldn't ignore this dish.
This is the most satisfying introduction to making Zapečeni Štrukli!
42. Zagorska Juha S Vrganjima (Zagorje Boletus Soup)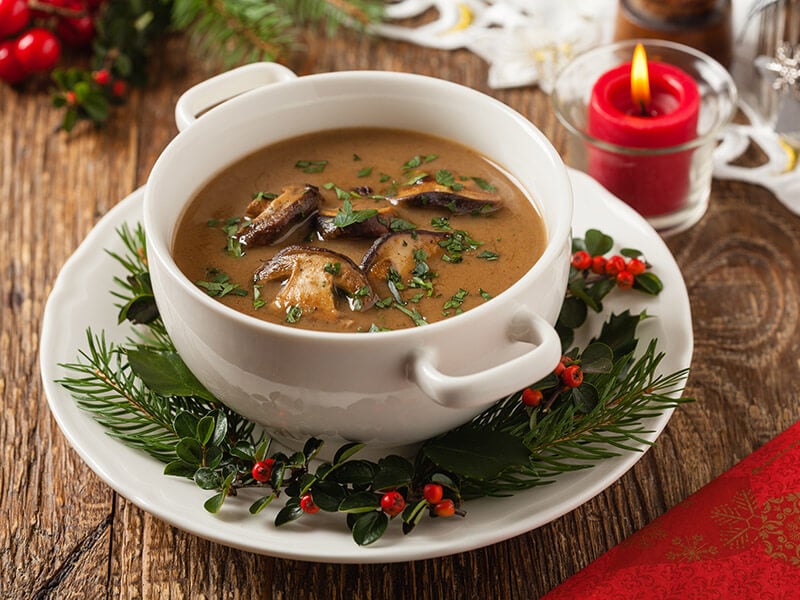 An ideal party/feast in Zagorje will always have this palatable Zagorska Juha S Vrganjima (or Zagorje Boletus Soup). It is because they believe that the treat will help with hangovers thanks to its warm and hearty features.
This Zagorje specialty consists of boletus mushrooms, onions, garlic, sour cream, white wine with various flavoring condiments to taste. The main protein will be the cured meat products which are varied in Croatia.
Every household has their own signature recipe for this food, and they usually serve this treat with a round shaped bread. The combination of saucy stew and crispy, warm bread will never go wrong, especially for relaxed days in autumn or winter.
---
It Is Time To Eat Some Good Food!
There are many things you can learn more about Croatian cuisine, and my suggestions today will just help you to begin your culinary journey. Today's suggested dishes are surely flavorsome, so don't worry and give it a go whenever you have time.
Croatian dishes are now prevalent globally, so that you might have encountered some of them at the restaurants/shops in your neighborhood already.
Then if you have any comments or reviews about my recommendations, feel free to leave your thoughts below. Loving is sharing.