Venice, the City of Canals, is not only a visual and architectural marvel but also a culinary treasure trove. Nestled in the heart of Italy's lagoon-rich region, Venetian cuisine is an exquisite blend of seafood, traditional spices, and local produce.
As you wander through its winding alleys and across its famed bridges, you're bound to be lured by the aromas of age-old recipes.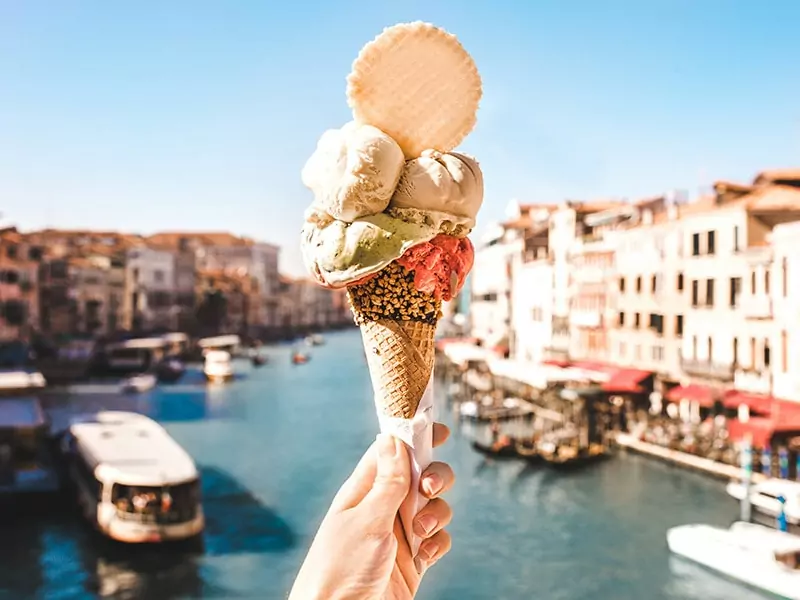 Join us as we embark on a gastronomic voyage, unveiling the 16 must-try dishes that define the very essence of Venetian flavors.
1. Cicchetti – Small Bites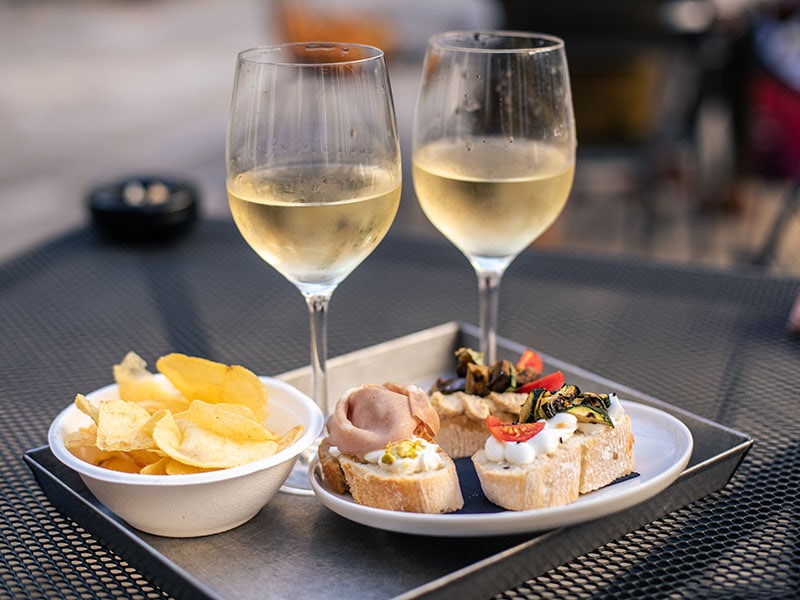 If you consider yourself a fan of Spanish cuisine, this dish will be the perfect choice for you! Cicchetti is like the Venetian version of Tapas, which is the name for small appetizers in Spain.
The name Cicchetti can be translated to "small bites", which describe this "dish" perfectly. The Venetians often eat 6 to 8 of these for a fulfilling meal. They can also eat a few as a quick afternoon snack or enjoy them in a fancy restaurant with a glass of champagne.
It is mainly made by topping small slices of bread with various toppings, from salami to cheese and cremated fish. But sometimes, it is made of chicken wings, potato wedges, or even meatballs.
2. Venetian Cheese and Salami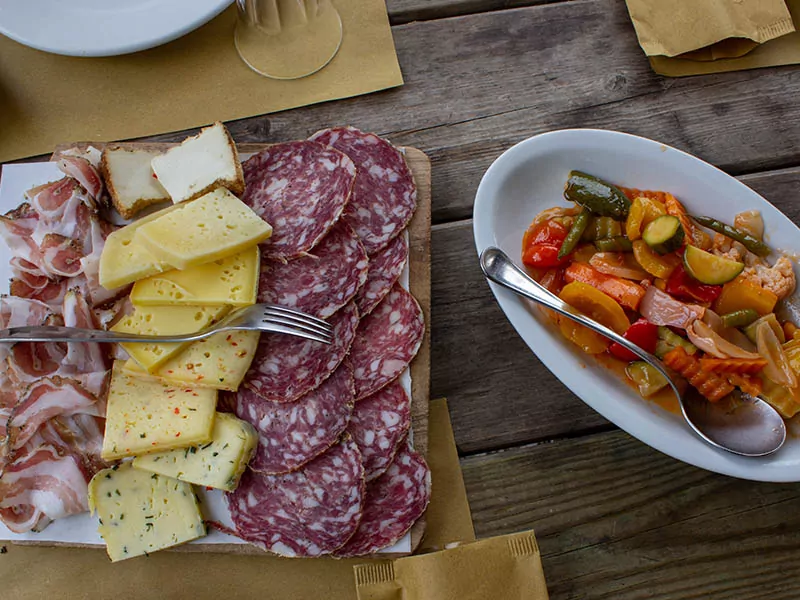 This dish will remind many people of a charcuterie board – one of the most well-known delicacies in France. Although this dish is not as fancy and extravagant as the charcuterie board, it can still showcase Veneto's best local flavors.
This board is filled with different types of thinly sliced salami and small wedges of cheese that can be enjoyed together.
It usually features two types of salami called Nostrano and Sopressa. Both are made from pork, throat fat, cinnamon, garlic and are locally produced in suburban regions of Veneto.
On the other hand, the cheese in this board includes Montasio, an authentic cheese type of Venice, and Asiago, which is also the name of the town that produces this cheese. The cheese varies in flavor depending on aging time.
You can easily order this dish in restaurants around Veneto as a way to get yourself introduced to the authentic tastes of this town.
3. Tramezzino – Tea Sandwich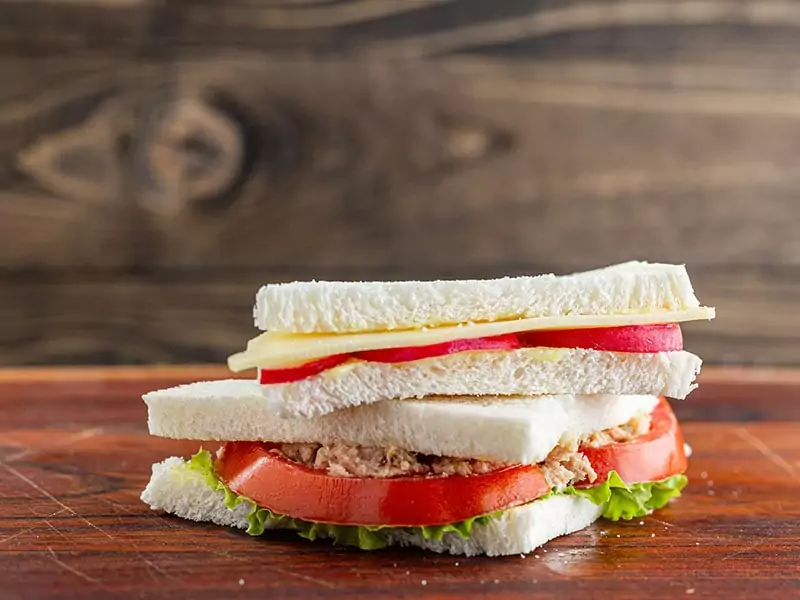 Tramezzino is a simple triangular sandwich made with crustless white bread stuffed with mayonnaise, vegetables, boiled egg, tuna salad, and meat.
The locals love to pack these yummy and convenient sandwiches for lunch or eat them as a simple afternoon snack. This dish is also a perfect on-the-go snack for tourists when they stroll around the city.
Tramezzino greatly resembles the British sandwich bites served in afternoon high tea. This is totally understandable since this dish was invented in 1925 as a substitute for English tea sandwiches.
Regardless of the non-Venetian origin, the dish is still well-loved by locals and tourists alike, as the humidity in Venice helps keep the bread soft. Some even said they are more delicious and satisfying than the British version.
4. Baccalà Mantecato – Whipped Salt Cod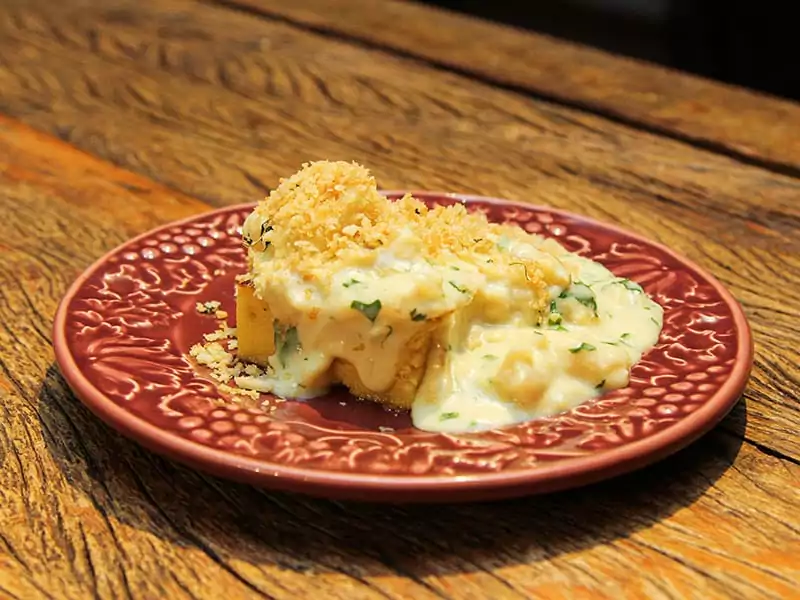 Thanks to the evolution of the lagoon, Venetian cuisine has been influenced by the rich taste of the sea. Because of that reason, this unique whipped salt cod spread plays a vital role in the Venetian cuisine culture.
Salt cod was first introduced in the 15th century by a Venetian merchant named Pietro Querini. In 1432, he was shipwrecked on a Norwegian island and learned how to salt cod from local fishers.
Once he came back, he brought this stockfish with him and popularized it in Venice. After a few centuries (the 18th century, to be exact), Baccalà Mantecato was created and became an overnight "rising star".
To make this iconic dish, the locals poach the codfish in water or milk, break it in the bowl and whip it with olive oil until it becomes smooth and fluffy like mousse. The Venetians usually serve this dish during Christmas as a family dish.
5. Sarde In Saor – Sweet and Sour Sardines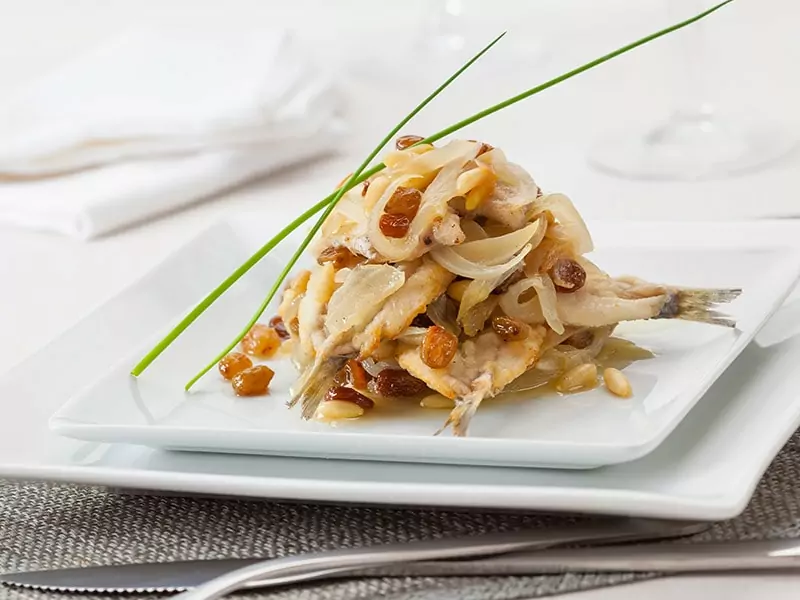 Sarde in Saor is an exceptional Italian starter made by frying and marinating the sardines caught right in the lagoon. This dish was created back in the day to preserve the fish, but it became one of Venice's most well-loved delicacies.
Venetians usually add onions, vinegar, and raisins to heighten the flavor of this fish. These are all accessible and cheap ingredients that the working class of Venice could purchase back in the day, but they can help elevate this dish to a restaurant-worthy delight.
6. Polenta E Schie – Polenta with Shrimps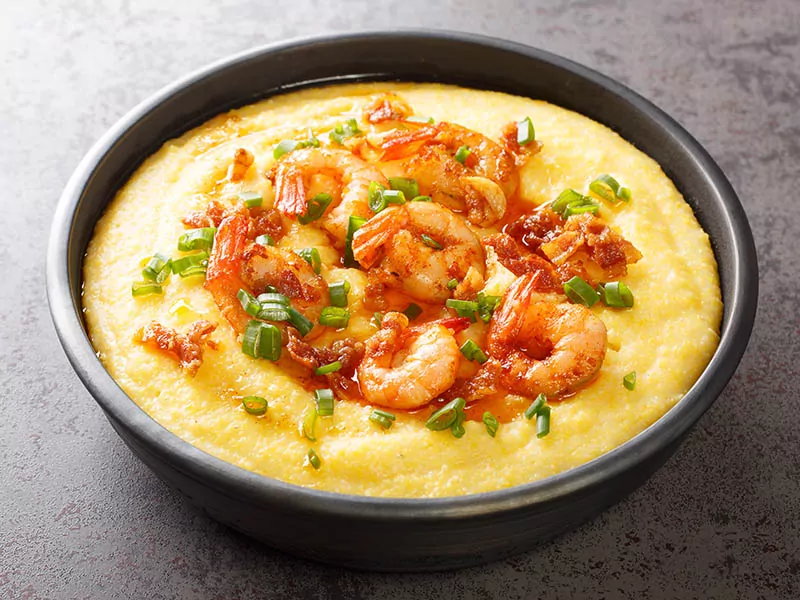 Polenta is a super versatile boiled cornmeal dish. This Italian classic can be served alongside many meat-based and fish-based dishes, including Polenta e Schie.
Originated as a dish for the poor, Polenta e Schie completely turned the tables and became a lavish dish in fancy restaurants. The price of this dish mainly depends on the Schie, the tiny gray shrimps in the Venetian lagoon. These days, Schie can cost up to 40 euros per kilo.
Due to the seasonal characteristic of this dish, Polenta e Schie is usually served during the winter months. So if you plan on visiting Venice in the summer, you might not get the chance to try this dish.
7. Bigoli In Salsa – Pasta with Anchovies Sauce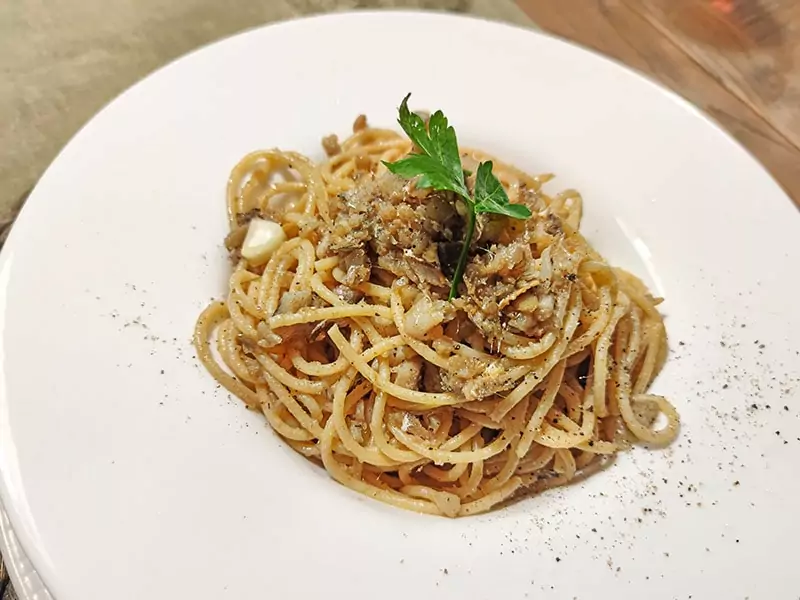 Picture yourself indulging in a plate of pasta with a glass of white wine while enjoying the picturesque canal view in Venice; wouldn't that be the highlight of your trip?
It's true; pasta is one of the best dishes in Italy. And every region in this country has its own spin on this signature dish, including Venice and its Bigoli in Salsa.
Bigoli in Salsa is made of whole-wheat Bigoli pasta, onion, and salt-cured fish. While anchovies are the main ingredient nowadays, the locals used sardines in the past.
This dish was prevalent among the peasants, especially on Good Friday or Christmas Eve. Due to the lack of ingredients, people can only choose onion and sardines. Over the years, it has become one of the city's most well-loved and ubiquitous dishes.
8. Spaghetti Al Nero Di Seppia – Squid Ink Pasta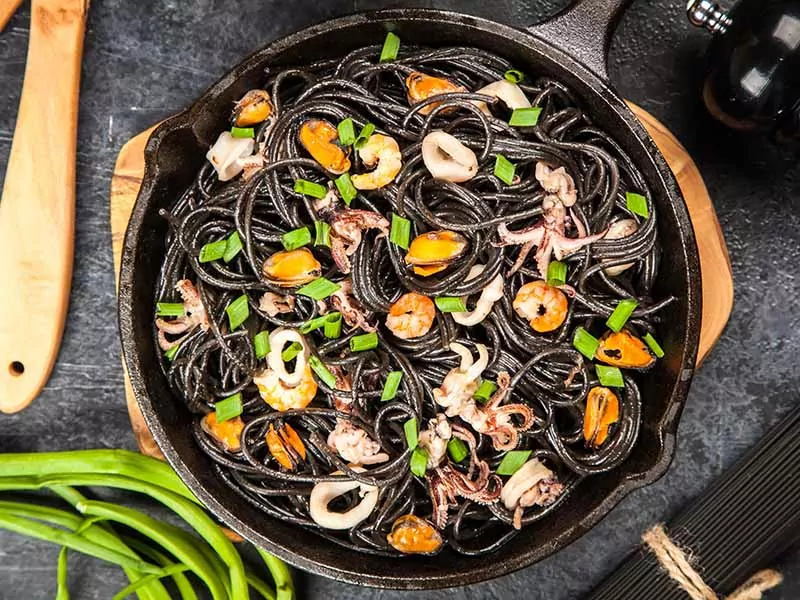 If you're a foodie, Spaghetti al Nero di Seppia will be the choice that you can't miss on your bucket list.
The black color made from squid ink not only makes the dish look more interesting, but it also gives the noodles a unique earthy flavor that everyone loves.
Some might find this black pasta dish intimidating but just try it once. After a single bite, I can guarantee you will get hooked by this Venetian dinner's rustic and sweet seafood flavor!
9. Risotto Al Nero Di Seppia – Squid Ink Risotto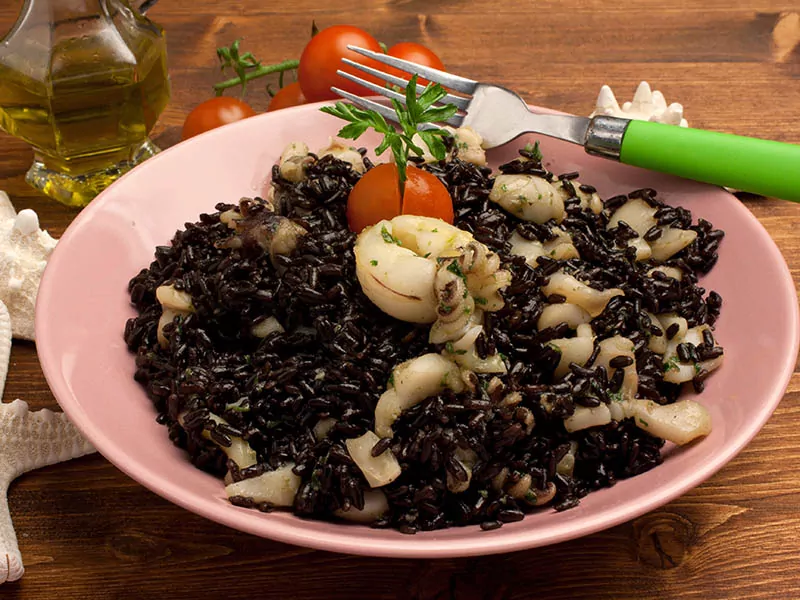 Rice is a major crop in the Veneto region, and this seafood-based risotto knows how to use it well. The rice is cooked with broth until it reaches a creamy consistency. The squid ink may give the rice an unusual jet-black appearance, but its flavor can win over the most skeptical visitors.
Although the dish's origin is still under debate, you can easily find it at any eatery around the city. If you want to make this dish at home, do not put any cheese into it. However, extra black pepper is always recommended.
10. Risi E Bisi – Rice with Peas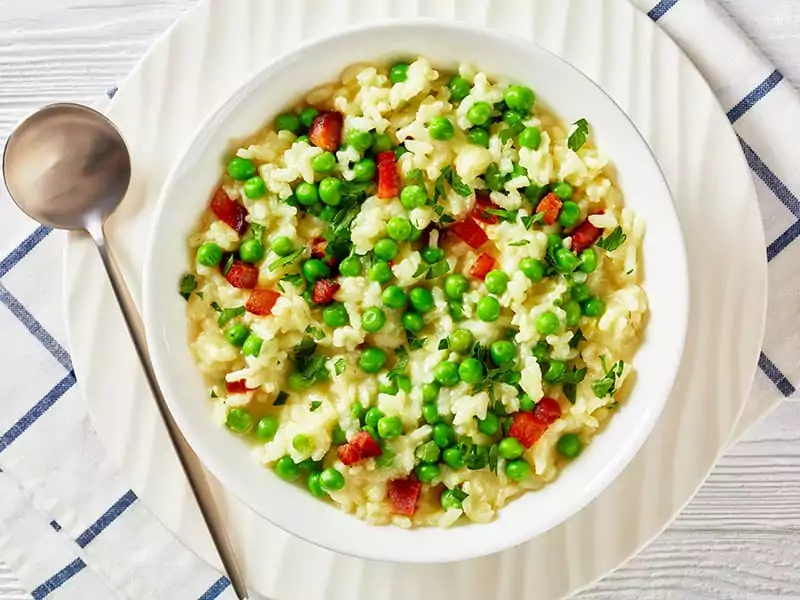 Risi e Bisi is another rice-based must-have in this lovely city. This delicacy was historically presented as an offering to the Doge of Venice from the peasantry.
The Doge used to stand in front of the Doge's Palace, holding a plate of Risi e Bisi, and salute his subjects. This dish quickly became an important dish for the townspeople to consume on April 25, St. Mark's Day.
Risi e Bisi contains nano rice, pancetta, butter, and, shockingly, pea-shell broth. Its consistency is a cross between a soup and a risotto.
When you see fresh peas on the stalls at the Rialto markets (usually in the middle to late spring), you know it's time to try this dish at a local trattoria. According to some locals, Risi E Bisi should only be made with peas from Chioggia (a beach village in the South of Venice).
This dish is so delicious that even kids can get addicted to it. So if you want to add a new breeze of Venice into your daily diet, remember to jot down this recipe.
11. Fritto Misto – Fried Mixed Seafood and Vegetables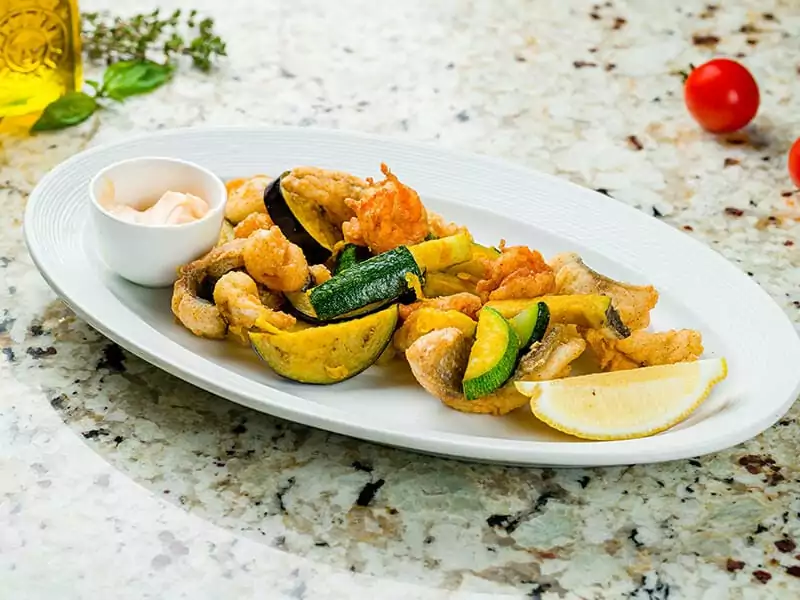 Fritto Misto, meaning "mixed fry" in Italian, contains a wide variety of fried food, from meats to vegetables. The spectacular Italian street treat made its way to Venice, and the people here have made some changes and turned it into something that all Venetians enjoy.
As fishing plays such an essential role in the Venetian economy, seafood dishes are incredibly common in the city. That is why the Venetian version of Fritto Misto is made entirely out of fried fish and seafood.
To make this dish, fish, cuttlefish, sardines, squid tentacles, and shrimps are battered and deep-fried until they become golden brown and crunchy. You can eat Fritto Misto as it is or enhance the flavor with lemon juice.
This yummy Venetian dish is usually served as an impressive main course. However, some local vendors serve it in a paper cone so you can snack on it during the tour around the city.
12. Fegato Alla Veneziana – Venetian-Style Liver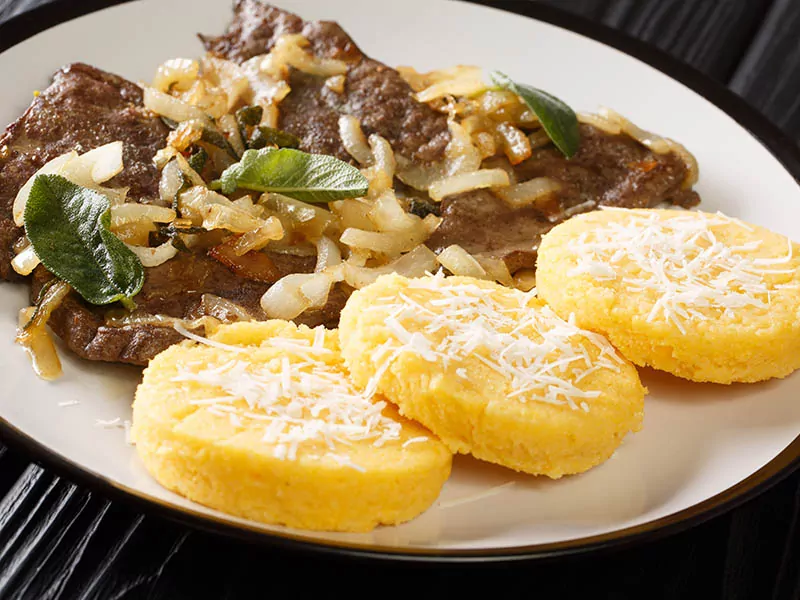 Fegato alla Veneziana is an authentic Venetian dish created in ancient Rome. But despite its origin, this dish is extremely famous in Venetian cuisine.
This Venetian-style liver is cooked with onions to eliminate the strong taste of the liver and balance out the dish with the onions' natural sweetness. The locals also add butter, oil, and parsley to the mix.
In ancient Rome, figs were used instead of onions, but they served the same purpose. Fegato alla Veneziana is best served hot with fried polentas.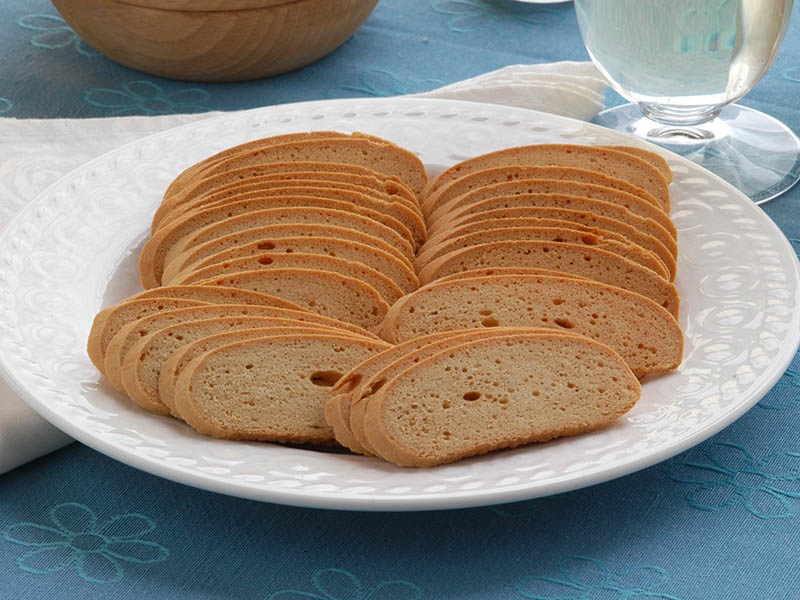 Back in the day, fishing was one of the driving forces behind the Venetian economy. Sailors used to engage in long voyages that lasted weeks, and they were in desperate need of long-lasting food. Baicoli, or "ship biscuit", was created to cater to that demand.
Baicoli is basically a dry biscuit that requires quite some time to cook. The baker must knead the dough, let it rise twice, and bake it two times in a row to draw out all the moisture in the bíscuit. This will help them last longer and help the sailors get through the long days at sea.
The locals usually dip this biscuit in some kind of liquid before eating it. It can be cream, dessert wines, or even coffee.
14. Fritole – Carnival Fritters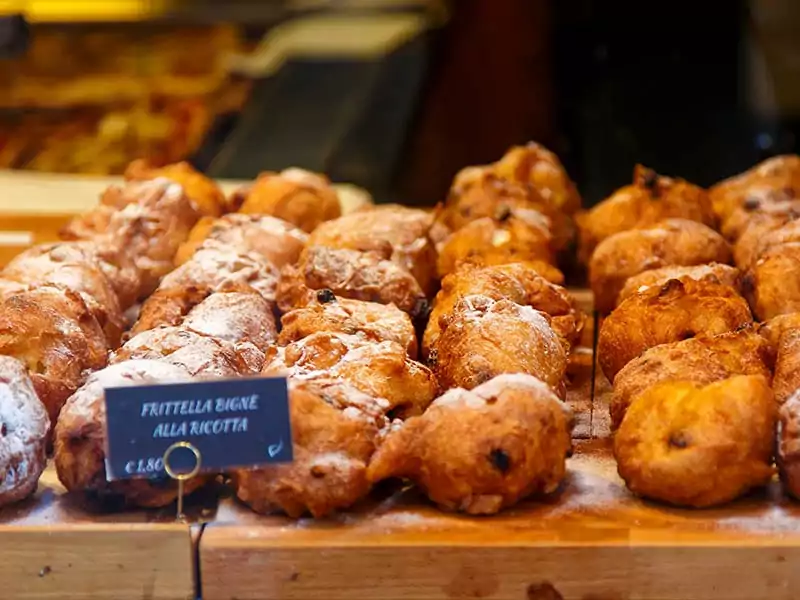 To experience a culture to the fullest, you need to step out of the beaten path for tourists and immerse yourself in the rich local culture. And joining the Carnevale (Carnival) and enjoying the local treats are the best ways to enjoy Venice.
One of the dishes you can't miss at a Venetian festival is Fritole, a traditional sweet pastry fritter. It is made from a thick batter mixture with pine nuts and raisins. The locals will shape the dough into small balls, and deep fry them to perfection.
Children or adults, no one can resist this sugary goodness! This dessert is usually eaten as part of the festivities before Lent.
15. Sfogliatine Glassate – Puff Pastry Glazed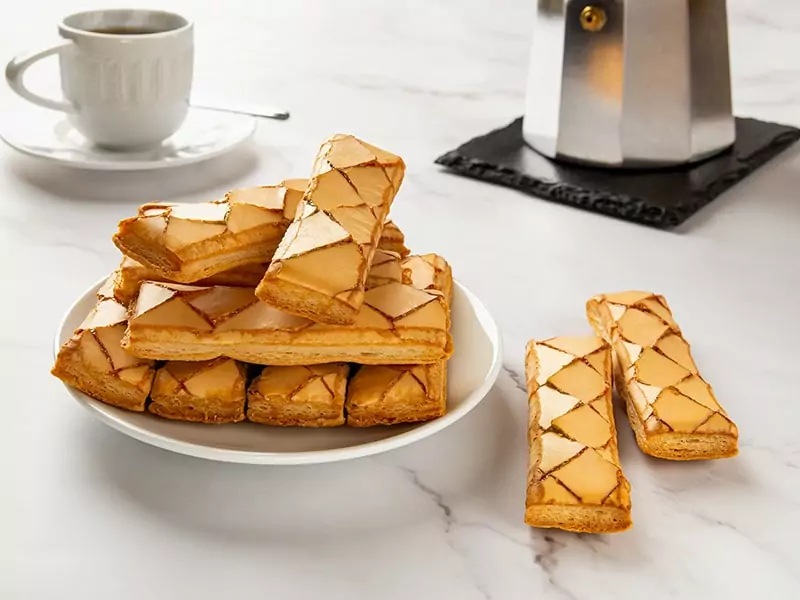 Sfogliatine is a typical Venetian breakfast dish originated in Treviso province. The name Sfogliatine is actually a combination of the Italian words for "sheets" and "frosted", which perfectly describe how it is made.
This sweet treat is an extremely light pastry made with paper-thin layers of crust filled with cream. Crumbly, creamy, and delicious, everything about this sweet treat is perfect!
Sfogliatine is something that all Venetians will proudly introduce you to when talking about their cuisine. You can easily find these biscuits in any local bakery or supermarket across the country.
16. Bussolà – Easter Biscuit of Burano Island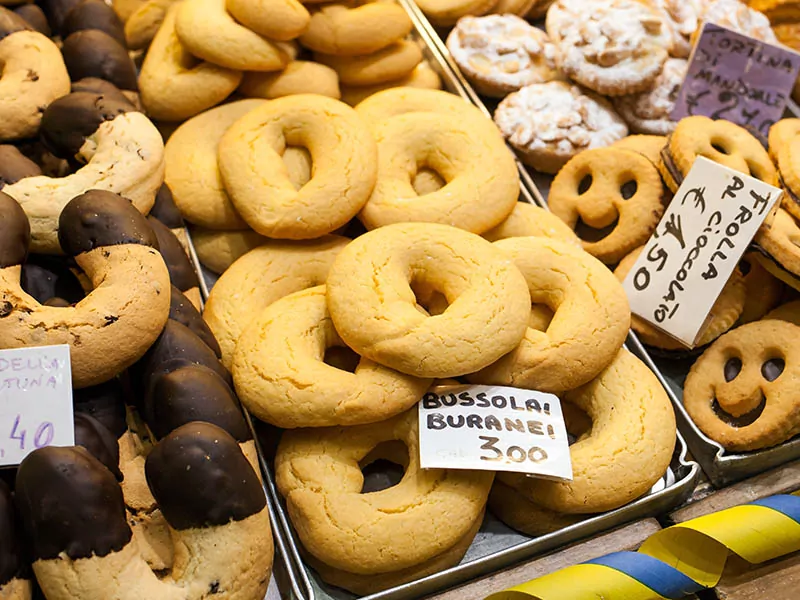 Originated on the island of Burano, only a boat ride away from Venice, Buranelli is a simple golden cookie that is greatly enjoyed all around Venice.
The two shapes of Buranelli are called differently. The one with a hole in the middle is called Bussolà, which comes from the word buso (meaning "hole" in Italian). On the other hand, the S-shaped one is called Essi.
Although they look different, these tasty biscuits are both enjoyed after dinner with coffee or other desserts. The locals can make this at home or directly buy them in bakeries nearby.
---
What Did You Learn?
As you can see, the Venetians take pride in their cuisine. And why wouldn't they? After all, their traditional foods are not only delicious, but they also reflect the culture and history of this city.
After reading this post, I hope that you will be inspired to travel to this lovely city and sample these delectable dishes yourself. Remember to send this link to your friends to encourage them to learn more about Venetian cuisine.
Also, if you like this post, please leave a like to show your support. I'd be more than happy to answer any further questions you may have, so don't hesitate to leave them down below. Thank you so much for reading, and have a wonderful day!