You will be amazed by the number of different types of sandwiches worldwide. Each region offers an excellent sandwich recipe with an impressive flavor. When you become bored with the packaged products bought at local supermarkets, refer to this list for more exciting options.
The diverse fillings for sandwiches will please your palate. Almost any ingredient you can think of can be present in the sandwich recipes that this article offers. Sit back and embark on this epic journey to discover all the surprisingly delicious sandwich dishes out there!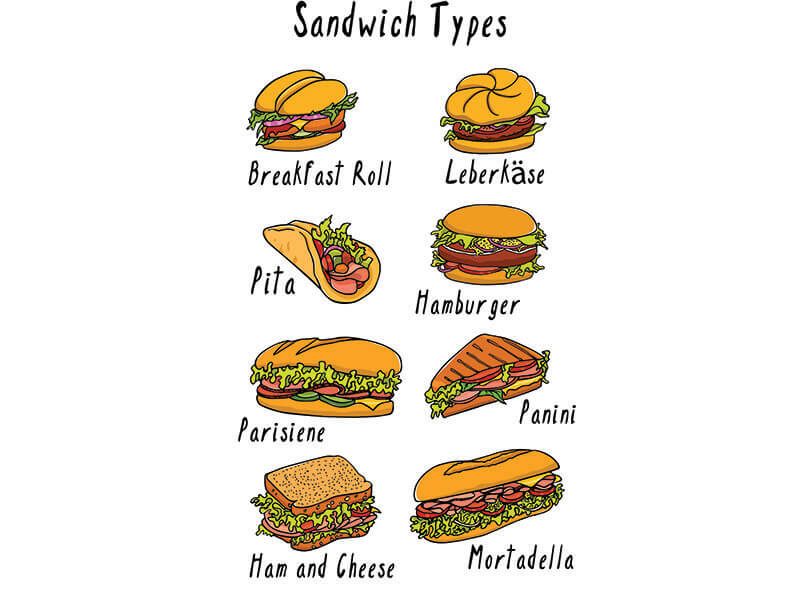 Let' Learn Some Common Sandwiches' Classifications
Before diving into the best types of sandwiches, you should check out all the sandwiches' classifications. Let's go!
Closed Cold Sandwich: Two slices of bread or two halves of the roll (can be roasted or baked) with a cold filling. The surface often has a spread to enrich the taste.
Open Cold Sandwich: is a slice of bread with fillings arranged with other garnishing ingredients on top. This type of sandwich is the larger version of canapés.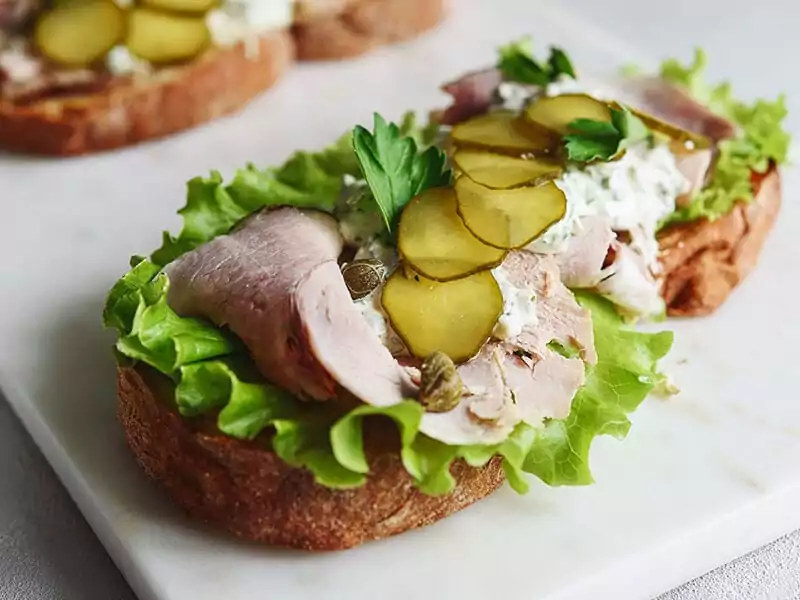 Closed Hot Sandwich: The appearance is similar to Closed Cold Sandwich, but the filling and entire sandwich must remain hot. You can add a hot sauce to complement the sandwich flavor.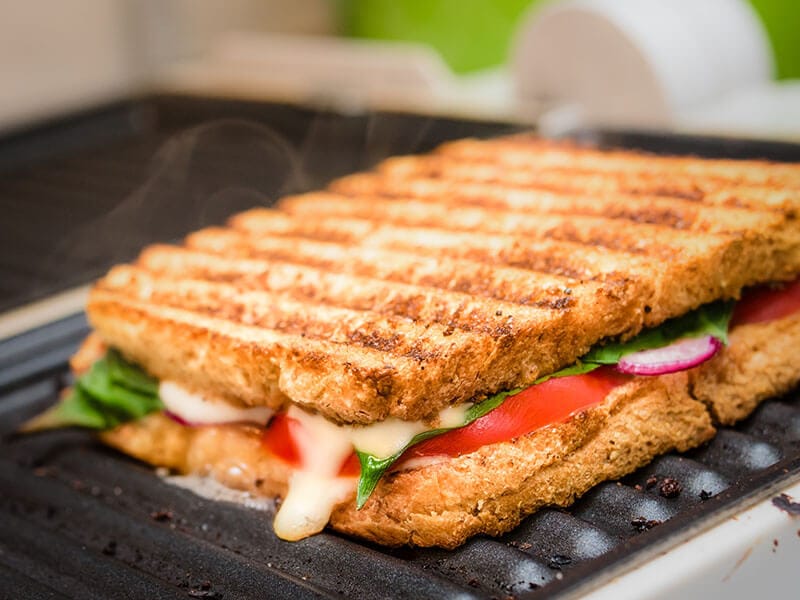 Open Hot Sandwich: Similar to Open Cold Sandwich but with a filling. People often heat the sand until hot before serving for the best flavor.
36 Sandwiches That You Should Try At Least Once
Once you know all the classifications of sandwiches, it's time to hop on this expedition. Don't forget to note down special types of sandwiches that you want to try..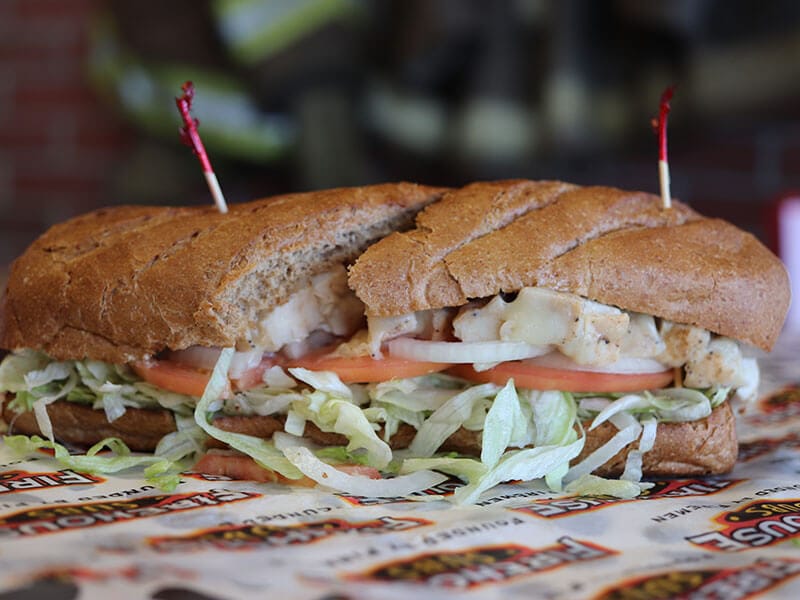 If you want to try a delicious Sandwich dish, a Submarine sandwich is an excellent choice for you. This sandwich has a cylindrical-shaped bread roll split lengthwise and filled with either hot or cold fillings.
The sandwich has many names in different regions. In North America, people often call it 'Sub', while in Western Pennsylvania and Philadelphia metropolitan region, the sandwich is called 'Hoagie'.
Other names are Italian sandwich (in Maine), Grinder (in New England), or Hero (in New York City). Americans often stuff this submarine sandwich with deli meats and cheese, while Italians use cured ham and cheese for the filling.
The term 'Sub' has become popular with the growth of franchise chain restaurants (like Subway, Firehouse Subs, or Mr. Sub) in the 20th century. It's a must-try fast food dish when you travel to the US or Europe.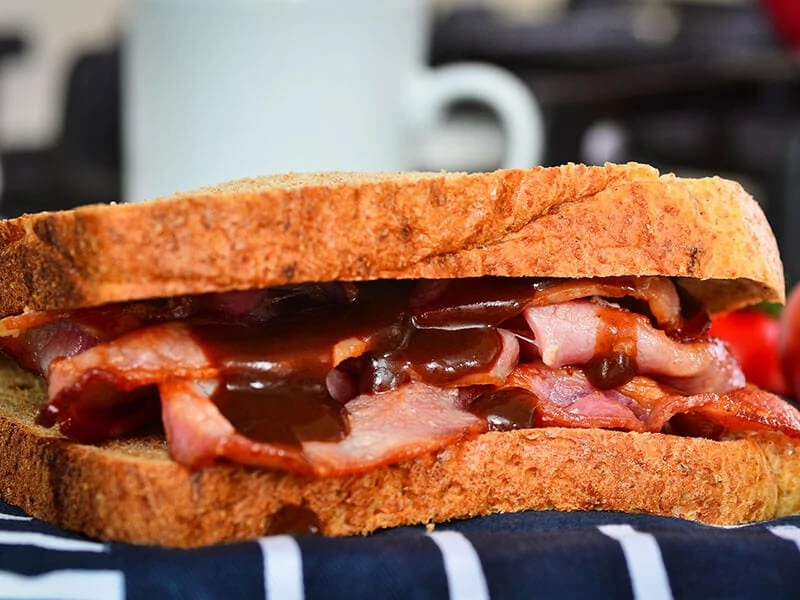 Bacon sandwich is a mouthwatering specialty from Irish cuisine. This sandwich is famous in other countries like Ulster, New Zealand (known as bacon butty or bacon sarnie), or some regions in Great Britain. In Australia, people call it 'bacon sandi'.
This is a hot sandwich with cooked bacon and spread butter (optional). People often pair the sandwich with brown sauce or ketchup for more flavor. Some recipes use toasted bread slices, while others use bread rolls (like hamburgers).
When traveling to the Republic of Ireland or the UK, you will frequently see bacon sandwiches sold in many cafes or delis. This type of sandwich with bacon is also an effective choice to cure a hangover.
The best bacon sandwich should be made with medium-fat bacon fried until perfect crispiness and paired with thick white bread slices.
This bacon sandwich will make your mouth water for sure.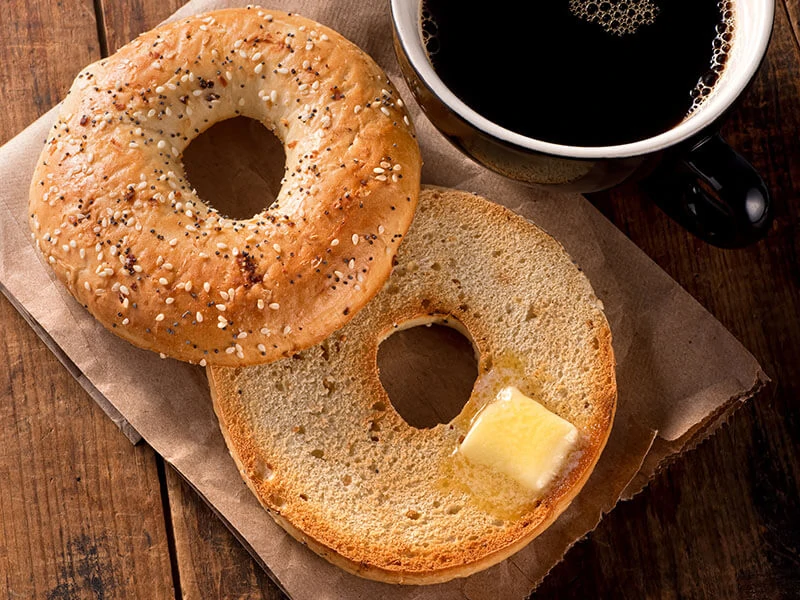 Let's move to Israel and enjoy this tasty Bagel toast. This sandwich is a typical meal in Israel that people often eat as a yummy snack. Local people will toast the bagel and pair it with veggies and cheese. You can use a panini press or a sandwich toaster to grill it.
If you want a perfect sandwich side dish, a combination of sesame seeds, sumac, and herbs (known as za'atar) is an excellent choice for you. Yellow cheese, tomatoes, Tzfatit, feta, or chili sauce are common filling choices.
You might find bagel toast in coffee houses or cafes in Israel. Try this treat for your family; I bet they will love it.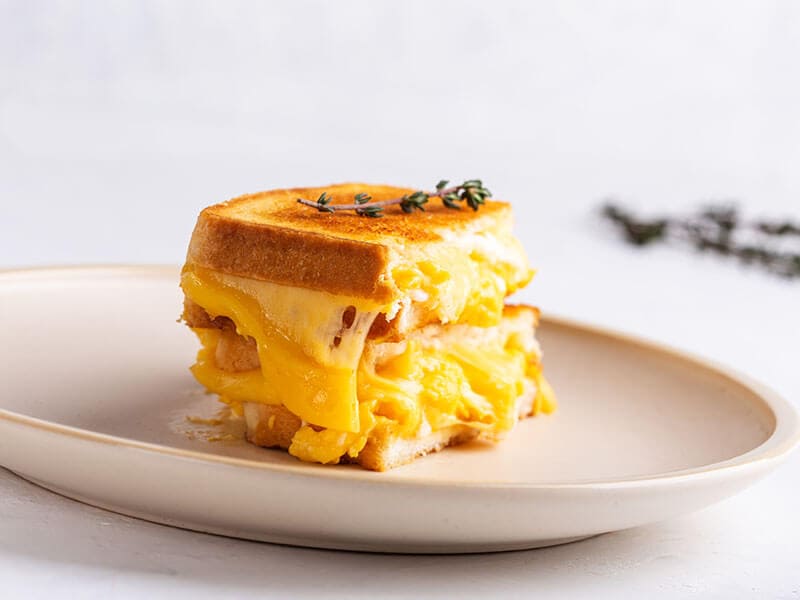 This fast food was first introduced during World War II. However, only after McDonald's franchisee in California ( Santa Barbara) started serving it in the 1970s did the egg sandwich become popular.
This sandwich is a wonderful dish with cooked egg filling. You can scramble or fry the egg to make a rich filling. Chefs often boil and slice the egg to create egg salad filling. This version is often called an 'egg salad sandwich'.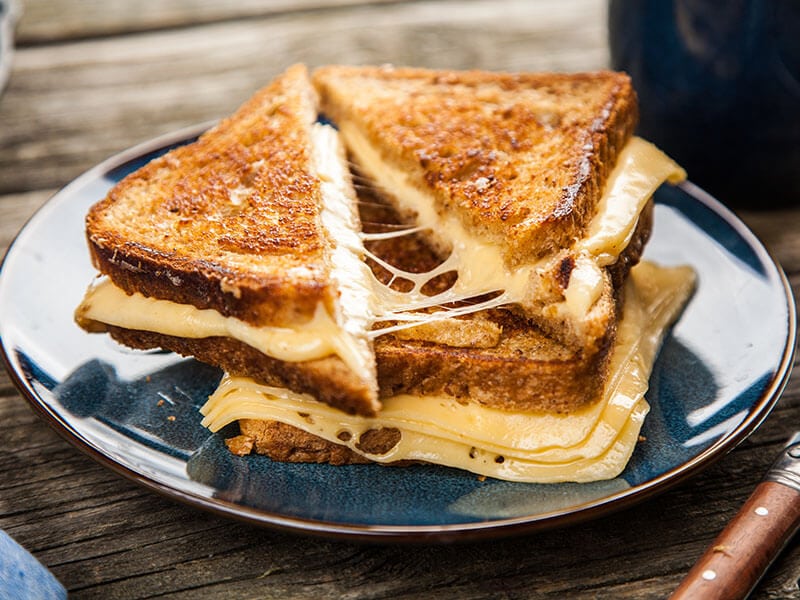 This tasty kind of bread has the most excellent creaminess from the cheese. It is a fantastic sandwich to light up your breakfast with melting cheese. This sandwich is also called cheese toastie or toasted sandwich.
It is a hot sandwich with slices of cheese sandwiched in crispy warm bread. Chefs often heat the sandwich with a sandwich toaster or a frying pan until perfectly golden. You will also taste a touch of butter.
Grilled cheese sandwich can be a delectable griddle dish with a light smoky aroma. People usually enjoy the sandwich for lunch or as a snack and pair it with French fries, salad, or soup (especially tomato soup).
Is it easy to make a grilled cheese sandwich? Let's find out!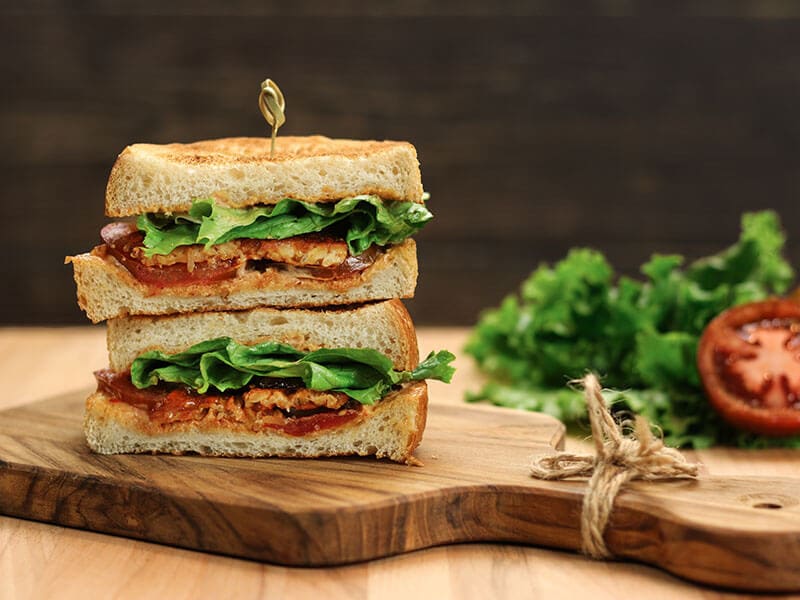 BLT will be one of the tastiest sandwiches you have ever tried. The name of this sandwich was created from the first letters of its main ingredients: bacon, lettuce, and tomato. Other components like tofu and veggies will enrich this dish.
If you wonder what to pair with yummy BLT sandwiches, any kind of dressing (such as mayonnaise) will satisfy your taste. You can toast the bread and use either wholemeal or white bread to add a twist in flavor.
One of the most famous BLT variants is the club sandwich. This is a two-layered sandwich that you can choose chicken or turkey for the filling. BLT is insanely famous in summer when tomatoes are in season.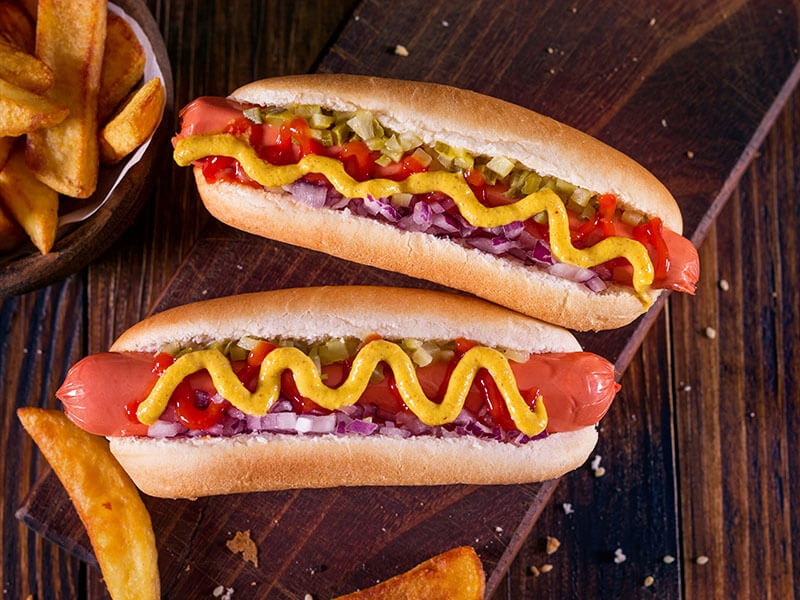 Hailing from Germany, hot dogs are grilled or steamed sausage stuffed in a partially sliced or slit bun. Sometimes, the term hot dog indicates just the sausage.
The most famous types of sausage used are Wieners from Vienna or Frankfurters from Germany. There are many ways to enrich a hot dog. You can add mayonnaise, mustard, or cheese sauce for an exploding experience.
Jalapeños, sauerkraut, and onions are typical garnishing ingredients for a tasty hot dog. Pigs in a blanket and corn dogs are some popular variants of hot dogs you should try.
This fast food is extremely famous in America and often associated with baseball. The preparation of hot dogs varies in each region, with the New York and Chicago variants as the most popular ones.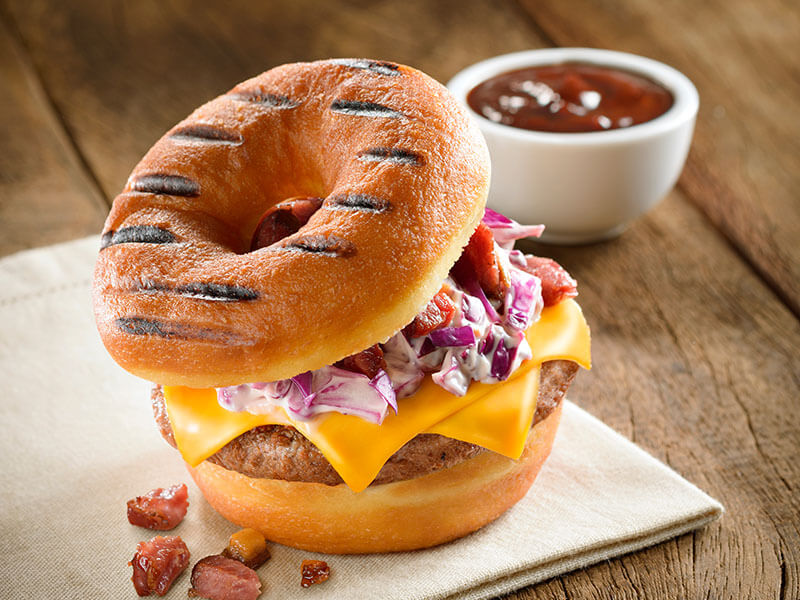 This round-shaped Luther burger is the best choice to treat your friends. Some people call it a doughnut burger. Many Americans love this combo of melty cheese and meaty bacon.
The bread often has a tasty glaze layer for a shiny appearance and delicate taste. If you have leftover bread, you should choose the most excellent reusable bag for sandwiches (Best Reusable Sandwich Bags) to store it. It is a great meal to surprise your family.
The stored bread can turn into a delicious leftover bread dish since its soft and airy texture still remains at its best. The name of this burger comes from a famous singer named Luther Vandross, while its birthplace is a suburban bar named Mulligan's in Georgia.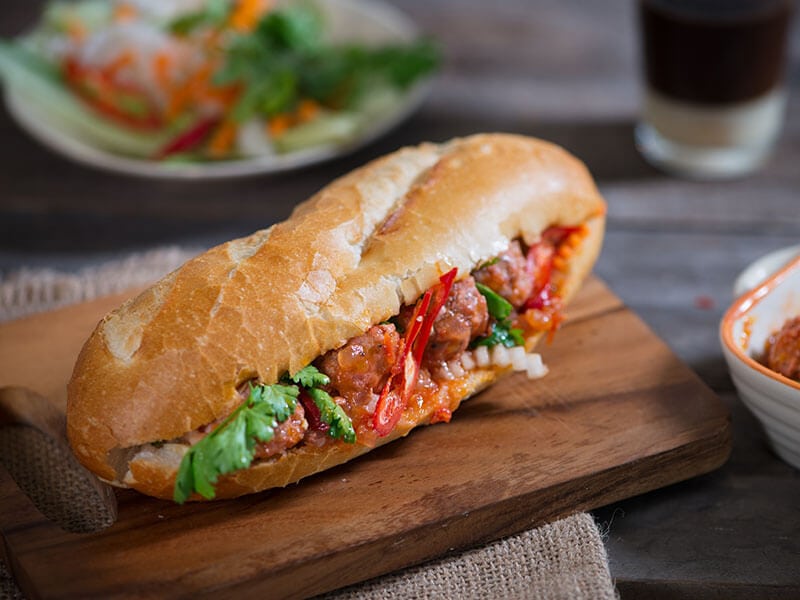 When visiting Vietnam, it will be a mistake if you don't try Banh Mi. This short baguette has an incredibly crispy and thin outer layer and an airy interior. Local people often stuff this iconic sandwich bread variety with savory ingredients and aromatic herbs.
You can enjoy Banh Mi plain as a staple food. You will find pâté, pork sausage, cucumber, and pickled carrots forming the sophisticated flavor in every bite.
When the French introduced baguettes to Vietnam in the mid-19th century, locals gradually changed them to suit their tastes. They modified the bread and added stuffings, creating the present-day version of Banh Mi.
The famous Banh Mi Saigon is the popular variant in Ho Chi Minh City. It is an amazing street food that you can find in almost any corner of Vietnam. Outside of Vietnam, you will find this treat in most Asian bakeries.
Take a small bite of Bánh Mì and enjoy all the sophisticated flavors.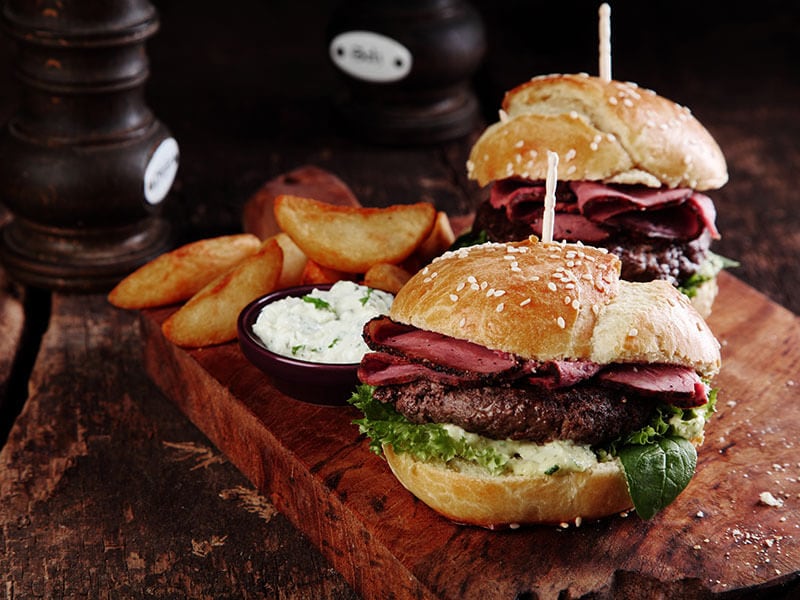 If you love the juicy and savory flavor of a well-done steak, this burger, which first appeared in the US in 1934, will be a great option for you. Beefsteak is the common meat used for making this burger, but other meat types are sometimes used.
Each restaurant in different regions creates a unique recipe to pair steak burgers with various toppings and beautiful flavors. You can order the doneness level for your steak.
Other meat choices are pork and lamb (usually chopped or ground). People often use a whole steak instead of ground meat in Australia.
You can pair this burger with tomato, onion, and lettuce. Other topping choices are bacon, mushroom, and cheese. Steakburger is popular in many franchised restaurants in America like Burger King or Steak 'n Shake.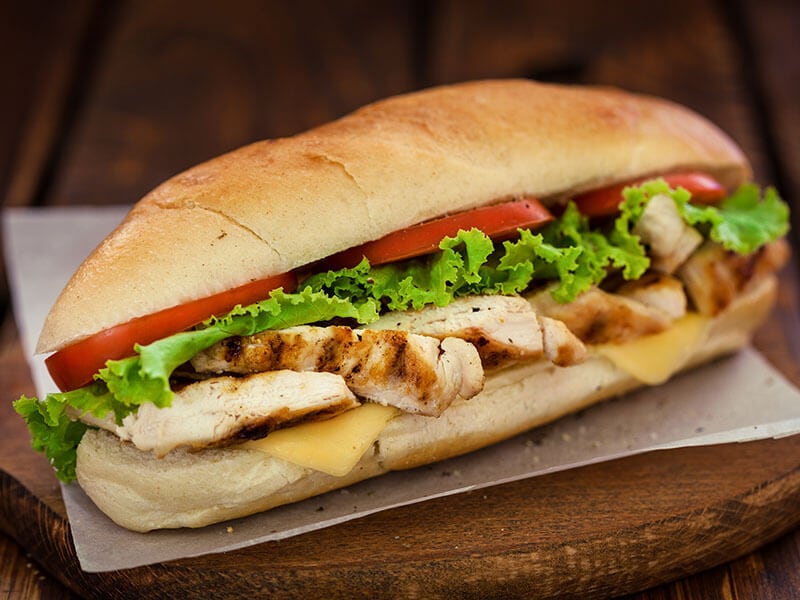 This tasty sandwich has the wonderful meaty flavor of boneless chicken without the skin. The meat is often cut from the breast or thigh for an incredibly soft texture. Variants like chicken on a bun, Chickwich, or chicken salad are also delectable.
You can use slices of bread or a roll (or bun) to bring a twist of flavor to your sandwich. In Australia and New Zealand, chicken breast stuffed in a bun is not considered a sandwich. People in these countries often used 'burger' to indicate this dish.
Chefs often fry, roast, or boil the chicken meat, then serve it hot or cold. People often make this sandwich with bread, patty or chicken filet, and toppingsin North America. Wrapped and open-faced variants are also an ideal option for you.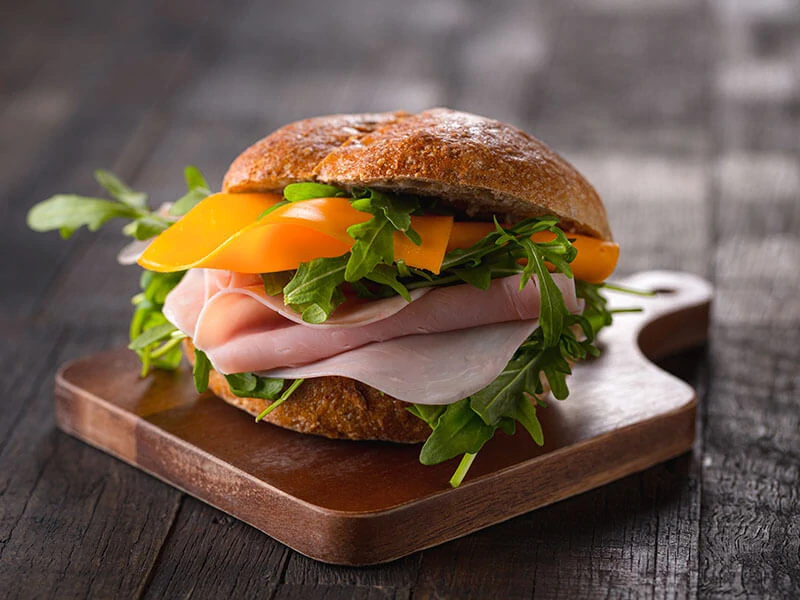 This ham sandwich will amaze you with its bold ham flavor. Ham sandwich is a creation from English cuisine with the meaty character of ham.
This closed-faced sandwich was first created in 1850 and became one of the most famous street foods in the UK. Local chefs often pair the treat with eggs and make a tasty ham-and-cheese with an amazingly creamy and eggy taste.
Veggies like pickle slices, onion, lettuce, and tomato with mustard (or mayonnaise) create a perfect meal for you. You can savor this sandwich for a quick breakfast or lunch. Ham sandwiches also have prominent variants in France, Brazil, and Cuba.
One fun fact is that the longest ham sandwich was created by Nico Jimenez, a butcher in Pamplona (Spain), in 2009.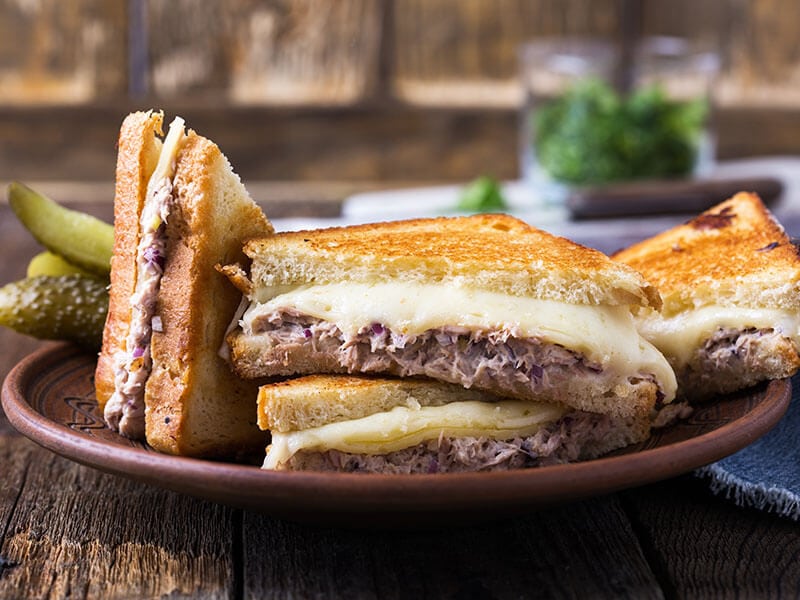 This hot sandwich will indulge your palate with the creamy taste of cheese. Cheese is sometimes grated and stuffed in the sandwich along with meat or vegetables. Chefs will heat the sandwich until it has a wonderful melting cheese.
You will find people serve this sandwich as a closed-face or an opened-face one. Tuna salad (tuna and mayonnaise) is the most common filling for making melt sandwiches. This version is called tuna melt.
Ground beef patty (patty melt), chicken, and turkey are typical filling choices for a melt sandwich. In America, patty melt has appeared in many traditional restaurants since the 1940s.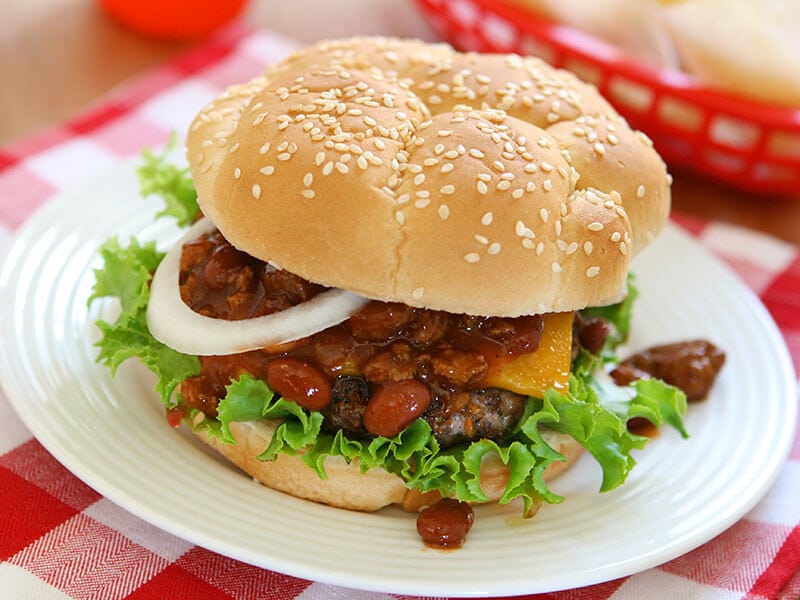 Thomas M. "Ptomaine Tommy" DeForest, a founder of Ptomaine Tommy's restaurant in Los Angeles, created this chili burger in the 1920s. People sometimes call it chili size or size after the "hamburger size" ladle he used to move the chili.
Chefs often serve this burger open-faced and topped with chili con carne. Occasionally, chili con carne will be displayed on the side of the burger. Garnishing ingredients like tomatoes, cheese, and onions will boost the entire dish's flavor.
The top prominent variant of chili burger is Carolina burger with chopped onions, mustard, and coleslaw. Many famous restaurants in Carolina offer the best chili burgers.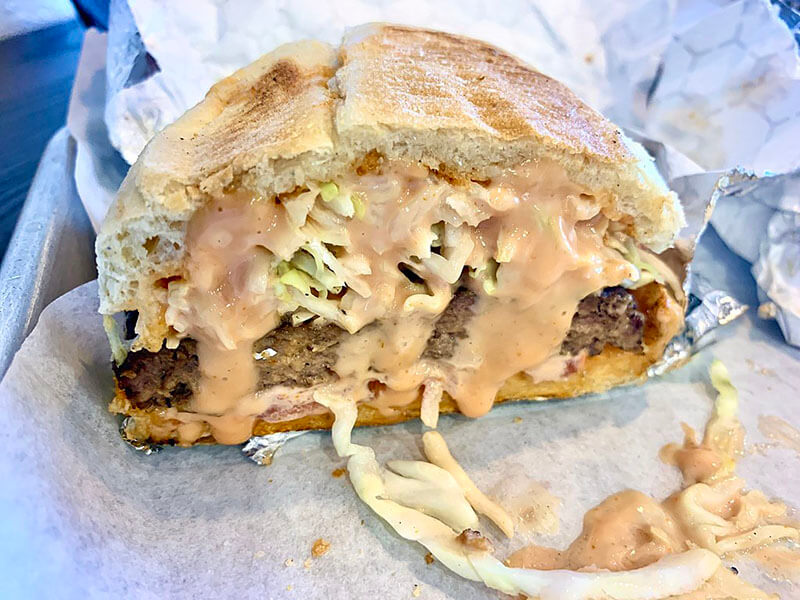 Chimichurri is properly one of the most wonderful sandwiches with a sophisticated flavor from sliced ground pork or beef. This burger is a prominent treat in the Dominican Republic, and people often call it "Dominican burger" or "Chimi burger".
People believe that this burger is a creation of an Argentinian cook named Juan Abrales. He made this burger when staying in Dominica in the 1970s.
Local chefs often grill and serve the filling on water bread (also known as pan de agua). Add some chopped cabbage to garnish this lovely burger. Sometimes, a cold and thick sauce called 'Salsa golf' is added to enrich the sandwich.
Street vendors across the Dominican Republic sell this burger with their signature sauce, so you experience will vary from one region to the next. The burger is popular worldwide, especially in the US.
Let's try Chimichurri right in the middle of Dominican streets.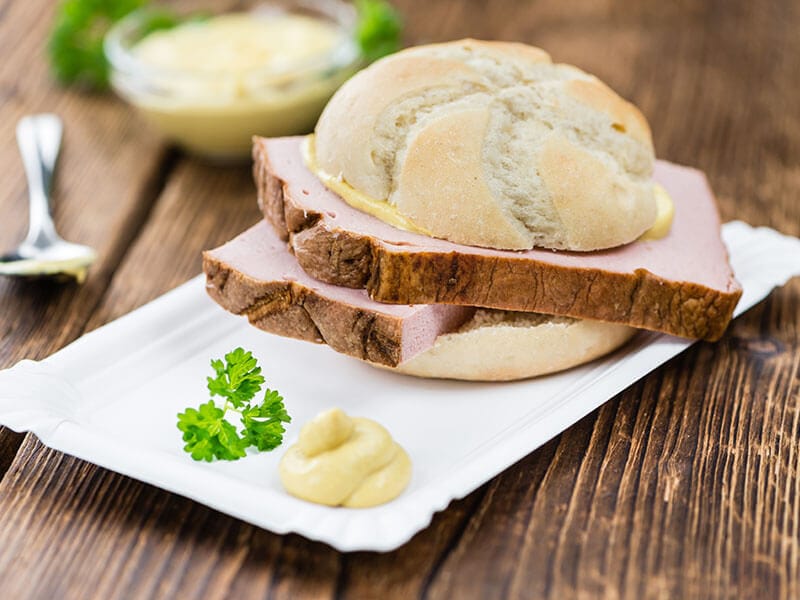 In the European region, especially in Germany, Austria, and Switzerland, there is a fat-rich meatloaf resembling a bologna sausage. People usually slice this meatloaf and pair it with crispy bread slices.
Leberkäse consists of bacon, pork, and corned beef ground finely and baked in a bread pan until perfect with a golden-brown crust. Turkey and horse meat with minced chili pepper or cheese are some common ingredients in other variants.
Käseleberkäse and Paprika-Leberkäse are other common versions of Leberkäse that you need to try.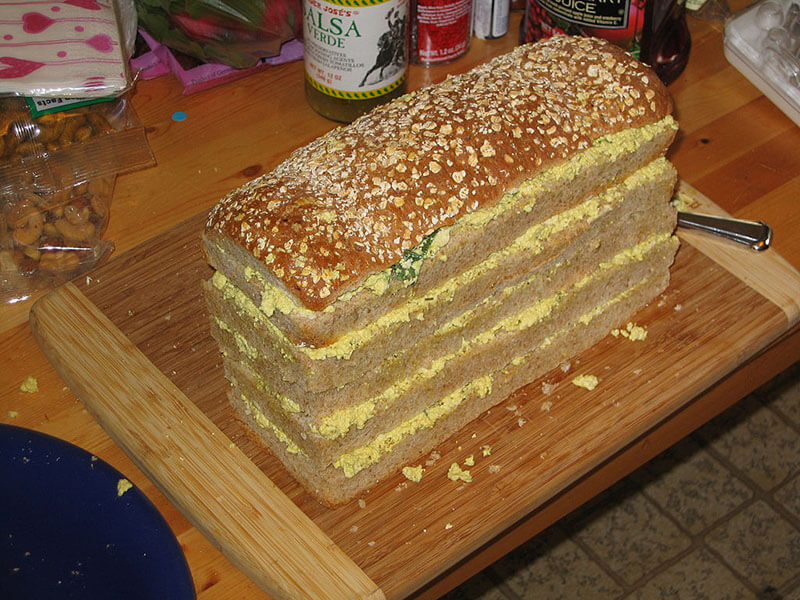 Want a tasty entrée for your upcoming party? This sandwich loaf is a brilliant idea. It has a mesmerizing appearance resembling a sweet cake. In America, this treat was a hit around the mid-20th century.
Chefs will cut the bread horizontally and add fillings like ham, egg, tuna, and chicken salad. The outcome is a beautifully layered sandwich loaf waiting to spice up your party.
You can use white bread or whole wheat bread to make this sandwich. People often garnish the dish with parsley, olives, carrot curls, and grapes. You can enjoy the loaf using a fork.
In the US and Mexico border, you will find people serving this loaf with garnishing ingredients like cherries, pineapple, and pecans; people call it 'Sandwhichon'.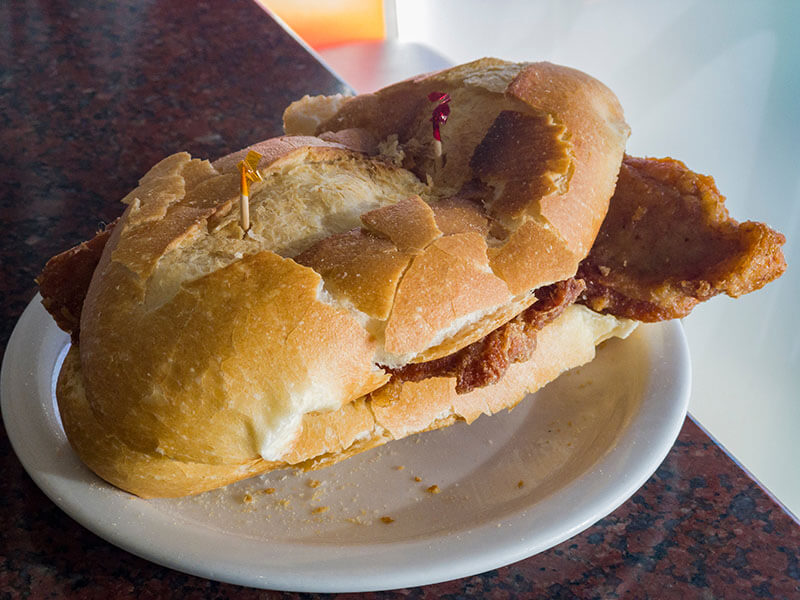 In Macau (China), local people will greet you with a special sandwich with a delicate soft bun called 'Pork Chop Bun'. This is a Macau specialty inspired by Bifana, a pork sandwich from Portugal. People also refer to it as a Macanese hamburger.
The bun is a piggy bun with a crispy outer layer and an airy interior. The bun is often toasted slightly and buttered to pair with bone-in pork chops. Some variants use a deep-fried marinated pork chop for this dish.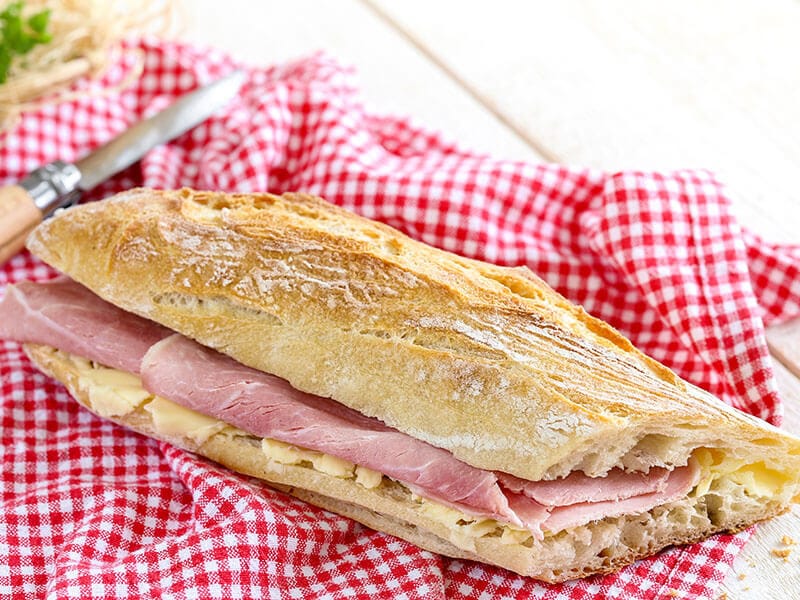 Jambon-Beurre (sometimes called Parisian) is a long sandwich from France traditionally made from half a split baguette with fillings like cooked and sliced pork ham, butter, and pickles. Jambon-Beurre is perfect for lunch with a deep and savory flavor.
Parisien is a delightful idea for a picnic morning meal. This is a typical meal choice of French workers when they enjoy their lunch at the cafes.
The American variant has fries added to form a tasty meal. Tomatoes, lettuce, and cheese also appear in some common variants.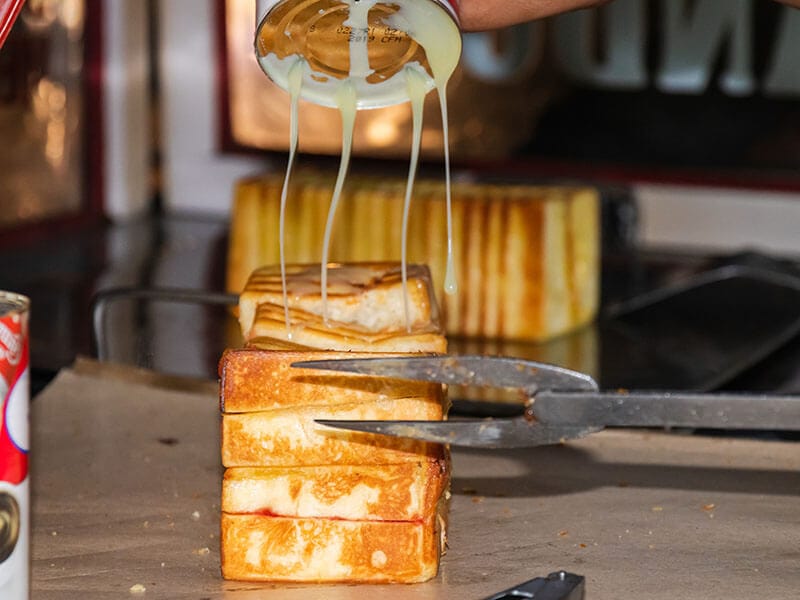 Let's fly to Maritime Southeast Asia to try this beautiful Roti Bakar. This is a dazzling sandwich with grilled white bread for flawless crispiness. Roti Bakar is a yummy breakfast and tea-time snack widely loved in Indonesia, Brunei, and Malaysia.
Traditionally, the bread is grilled or toasted on a heat source (charcoal). In modern days, with the help of technology, this traditional method is no longer in common use.
Local people often pair the Roti Bakar with kaya, peanut butter, margarine, and sugar. It is a famous street food in Indonesia. In Malaysia, people often pair it with kaya and cold butter to enjoy with coffee beverages or local tea.
The way street food vendors prepare Roti Bakar is so amazing!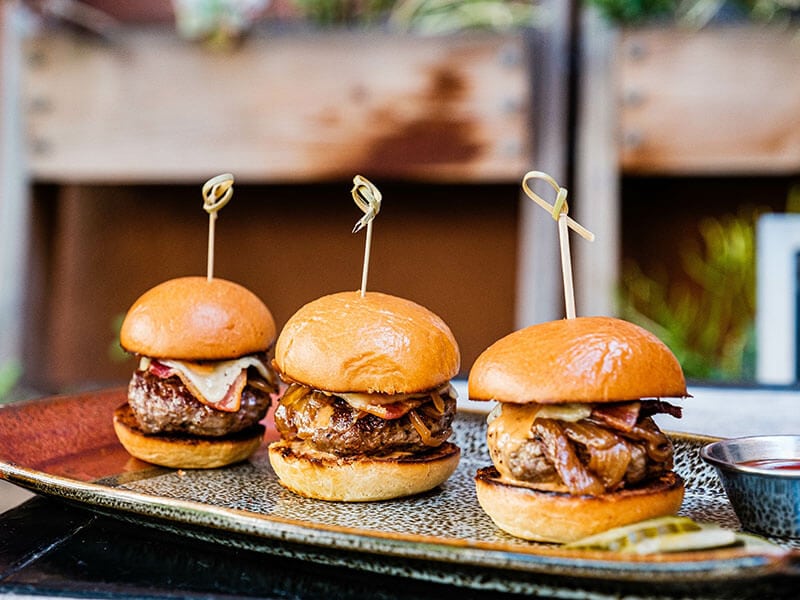 This small sandwich dish is a brilliant choice if you dislike big burgers. People sometimes call it a mini burger. It is around 5 cm across in size. You can find it as an entrée or appetizer in America and Europe.
Historically, the term 'Slider' is used to indicate onion-steamed small burgers in a famous American restaurant, White Castle. Then, other restaurants started using this name for their small sandwich that has a slider roll.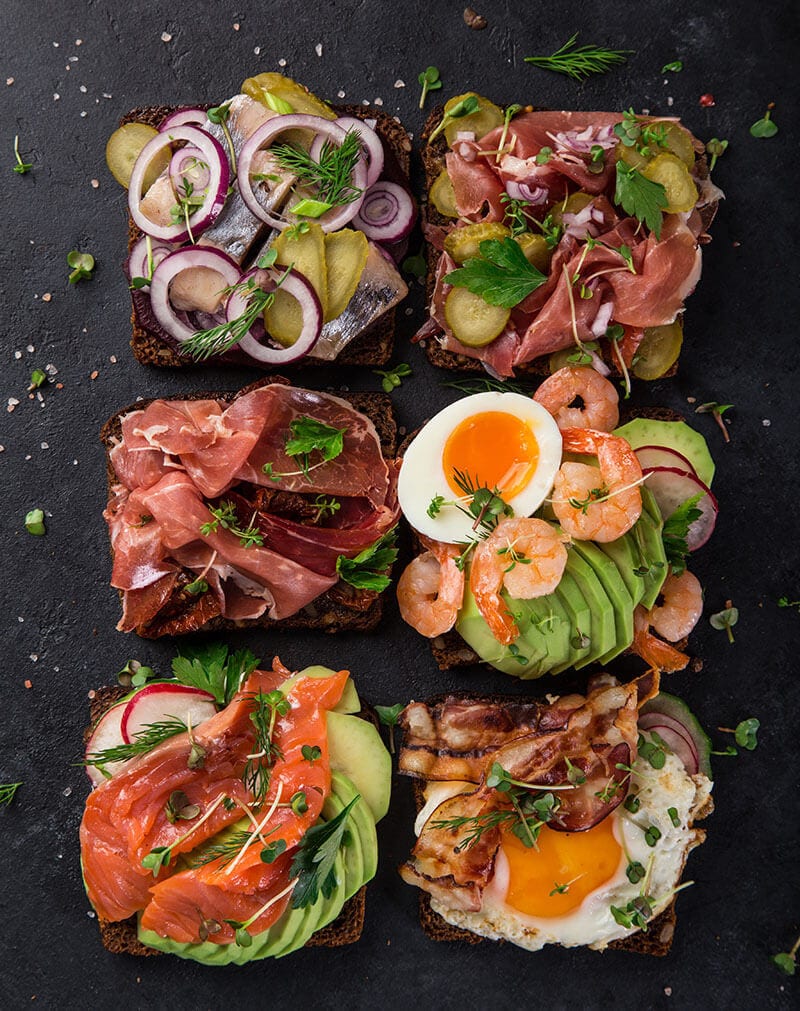 Smørrebrød is a Norwegian-Danish open-faced sandwich often made from buttered rye bread. Smørrebrød means 'butter and bread' in English, which indicates the basic feature of this sandwich.
The rye bread (also known as rugbrød) has a dark color with a dense texture that is often topped with cold cuts, meat, or fish slices. Spreads, garnish, and cheese are typical choices to bring more flavor to Smørrebrød.
It is a crucial dish on the Scandinavian table with many ways to play with the toppings. Here are some traditional variants of Smørrebrød you should try: Dyrlægens Natmad (with salted beef and meat stock), egg and prawn combo, and salmon Smørrebrød.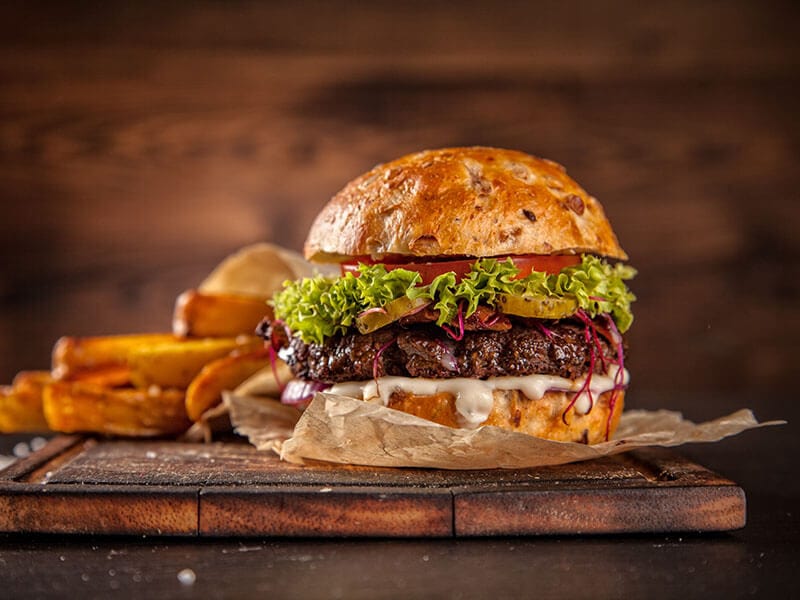 A hamburger or burger is a flawless sandwich with a patty of ground meat sandwiched between two slices of soft buns or bread rolls. Other fillings, such as lettuce, cheese, tomato, pickles, onion, or chilis, will enrich your burger.
People often use mustard, ketchup, mayonnaise, and relish to flavor the burger. The buns often have sesame seeds for a gentle aroma. Hamburger is properly the top famous fast food that you can find in any diners or fast-food restaurants.
Beef, chicken, and cheese will twist your burger with a different flavor. Hamburger is an international dish that each nation has developed its own regional variant.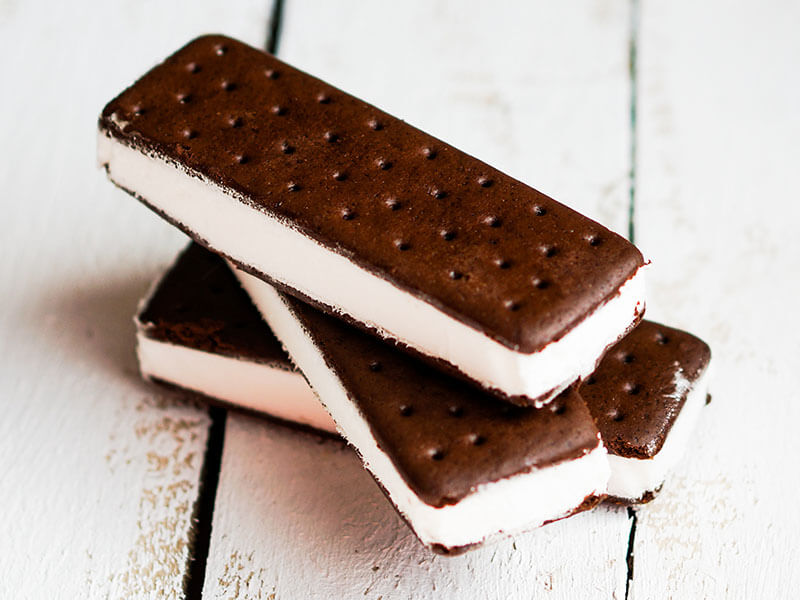 Have you never heard of a sweet sandwich for dessert? Ice cream sandwiches offer a charming cold touch from ice cream sandwiched in two soft cookies, biscuits, or wafers.
This type of sandwich has tons of variants around the world. In Australia, people use two wafers with a small block of paper-wrapped ice cream. In the UK, two rectangular wafer biscuits are often used to hold the ice cream.
You can see this video to know more: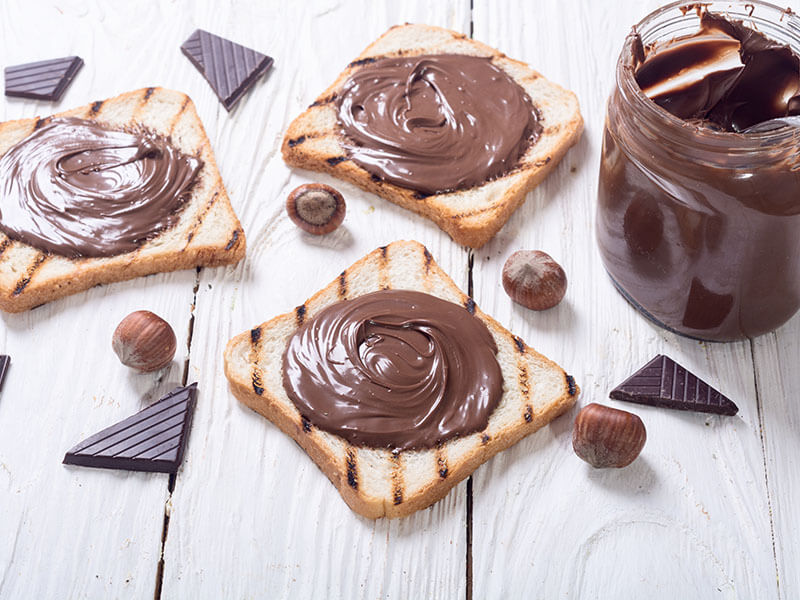 Speaking of sweet sandwiches, it would be wrong not to mention chocolate sandwiches. This is a dessert with a bold and rich flavor from chocolate that you can not miss.
You can use whole wheat bread to pair with cashews, raisins, pistachios, or mix all the mentioned dry fruits.Butter and chocolate chips are melted to produce a wonderful mouth feel. Chocolate sandwiches are a brilliant choice for your kids' after-school snacks or light meals.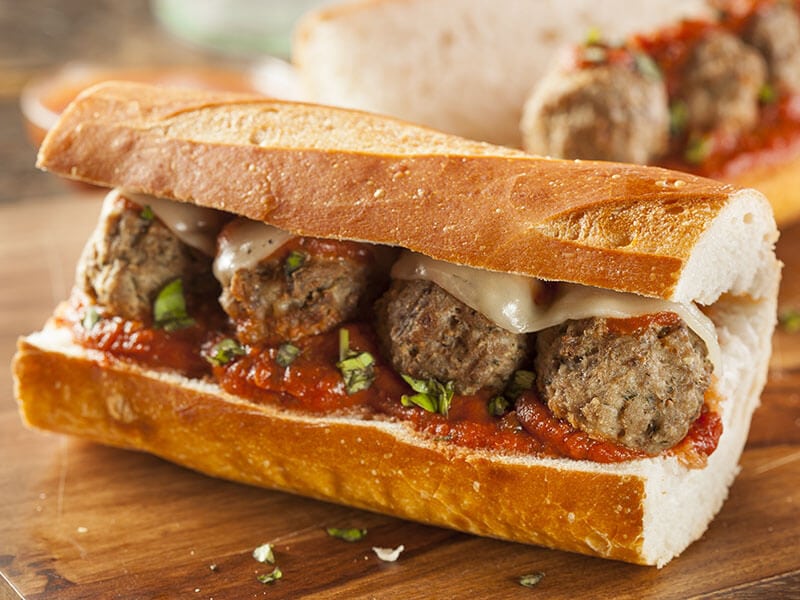 Sandwiches stuffed with juicy and savory meatballs are a popular dish on the menu of many Italian restaurants in America. They mix the best of both worlds into a delectable treat you can't say no to.
Marinara sauce or tomato sauce complements the plain taste of bread, which can be baguette, Italian bread, or bread rolls. Some recipes also have cheese like mozzarella or provolone to boost the creaminess level.
This sandwich is a great dish to utilize your leftover meatball. Occasionally, meatball sandwiches will be available as submarine sandwiches. Butter, green pepper, and garlic are nice ingredients to enrich this sandwich.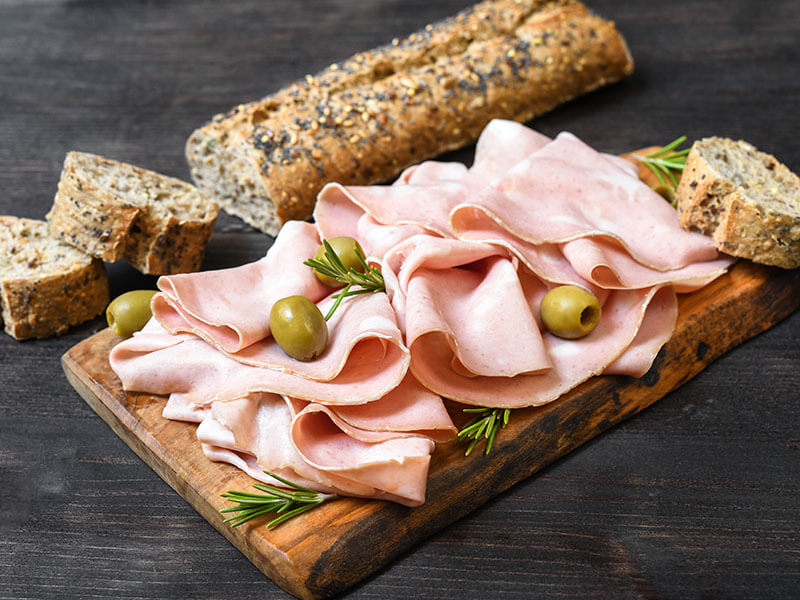 Mortadella sandwich is a unique sandwich with slices of large Italian sausage known as Mortadella. This recipe is also popular in South America, which has a sizable Italian population. Traditionally, people use half a pound of Mortadella to fill this sandwich.
Mortadella sandwich is a mouthwatering Italian meal for breakfast. Its main ingredient, Mortadella, is made of heat-cured pork (finely hashed or ground) and black pepper grains. Modern recipes add myrtle berries and pistachios to create a beautiful taste for the sausage.
Other ingredients are mayonnaise, Dijon mustard, and Provolone cheese to spice up the entire sandwich.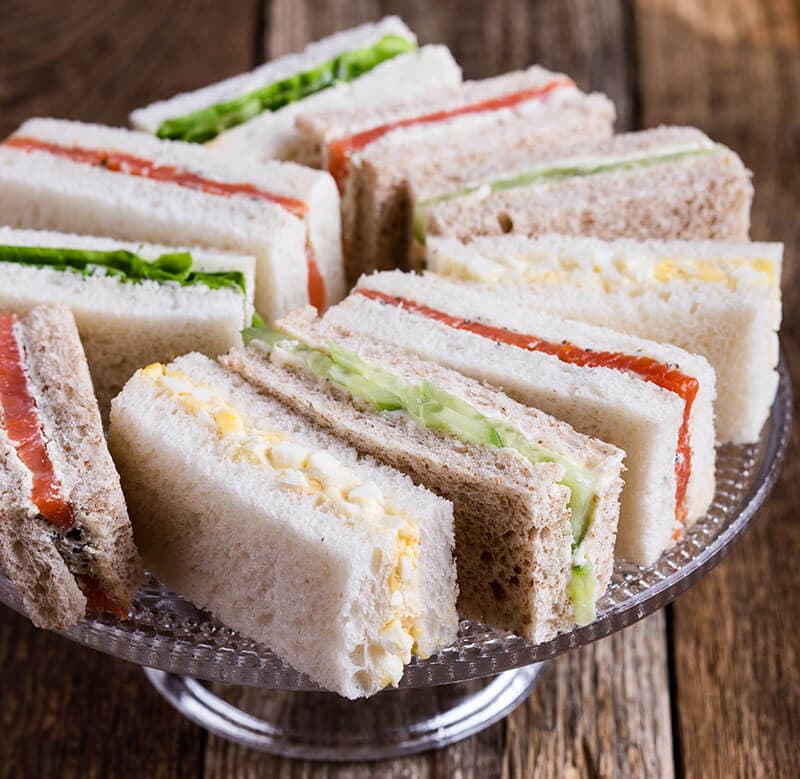 The fancy culinary culture of the UK offers you this charming tea sandwich. It is also called a finger sandwich since it is quite small. This type of sandwich is often served at afternoon tea time to 'warm up' your stomach before the main meal.
Tea sandwiches have tons of different forms, and you can finish them in just two or three bites. Usually, this sandwich is available as a triangular half-sandwich that is quite thin and long. Chefs can use a cookie cutter to form other shapes for this sandwich.
Traditionally, tea sandwiches have a white color that is buttered and thinly sliced. People often remove the hard bread crust before serving. Rye, sourdough, or wheat bread are typical choices in modern-day recipes.
The fillings are often mellow, like cream cheese, mayonnaise, butter, or veggies. Smoked salmon, fruit jam, and egg salad are other tea sandwich fillings.
Let's make these tea sandwiches and enjoy your fancy tea time.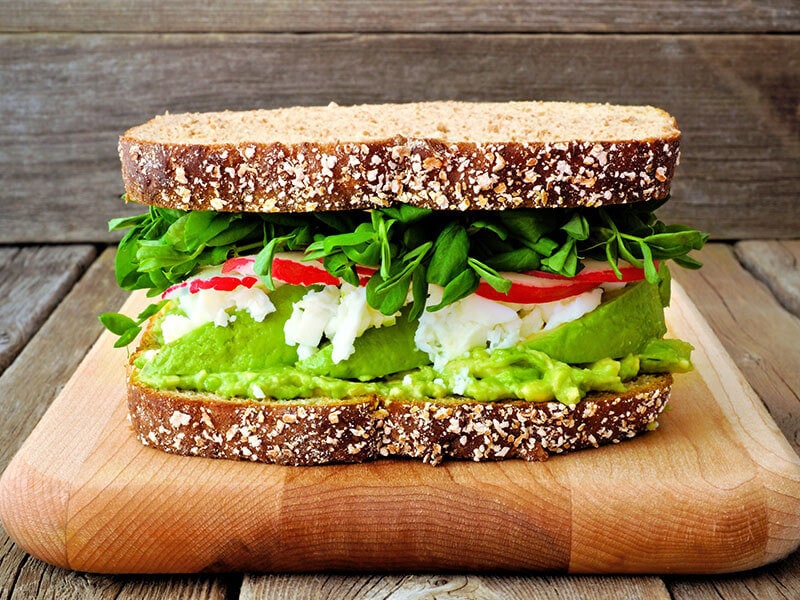 This sandwich is a vegetarian sandwich full of 'green' ingredients. Basically, you can use any kind of your favorite veggies for this sandwich. You can choose to toast the bread for a crispy texture or enjoy it without toasting.
In India, vegetable sandwiches are a popular street food enjoyed among local citizens. Meanwhile, UK people love another variant called 'Cucumber sandwich'.
Mumbai vegetable sandwich or Bombay vegetable sandwich is a Western-style bread most local citizens enjoy as street food. You might find a variant full of color called 'rainbow vegetable sandwich' with tons of colorful veggies layered in the sandwich.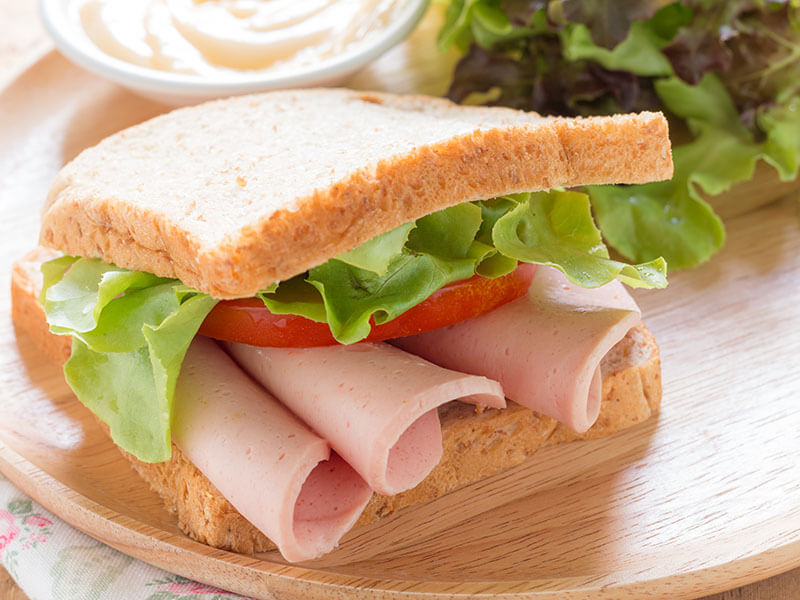 In Canada and the US, you will find a one-of-a-kind sandwich made from sliced Bologna (an Italian sausage). Local people sandwich these meaty slices between two white bread slices with tasty condiments like ketchup, mustard, and mayonnaise.
Bologna sandwich is a specialty in many states of America. It has different names in each region too. 'Jumbo Sammich' is the name in Pennsylvania, while 'Lonsdale ham' sandwich is used in Tennessee.
Some recipes also fry Bologna before stuffing and garnish some tomatoes, pickles, slices of cheese, and onions.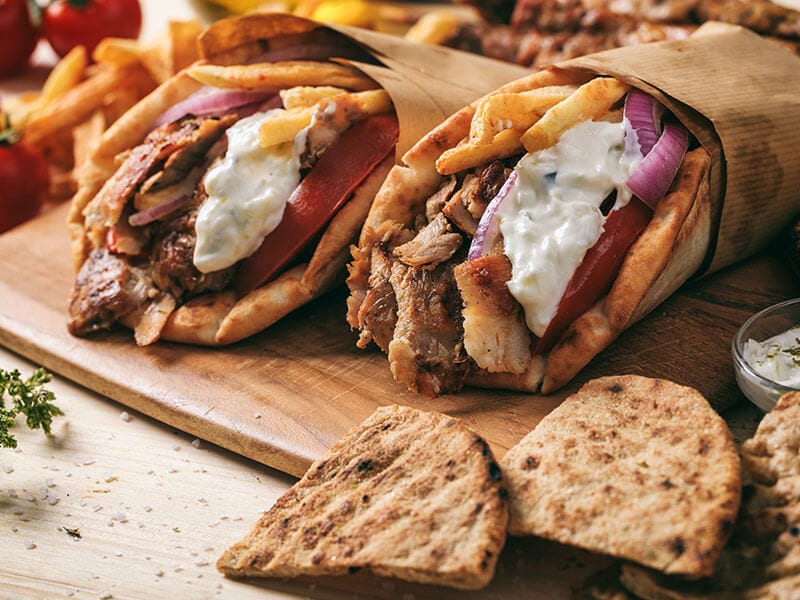 Now, it's time to explore Greek cuisine! Pita Gyro (also known as Gyros or Gyro) is a specialty with meat grilled in a vertical rotisserie before being thinly sliced and stuffed (or wrapped) using Pita (a round flatbread).
The meat used in Greece is often pork or chicken, while other countries sometimes use lamb or beef. Other stuffing ingredients are Tzatziki (a Southeast European dip), tomatoes, onions, and fried potatoes.
Gyros wrapped sandwiches have been a prominent fast food since the 1970s in Athens and US cities like New York and Chicago. Traditionally, the pita will be grilled and oiled to use as a wrapper. Ketchup and mustard are also brilliant condiments for this dish.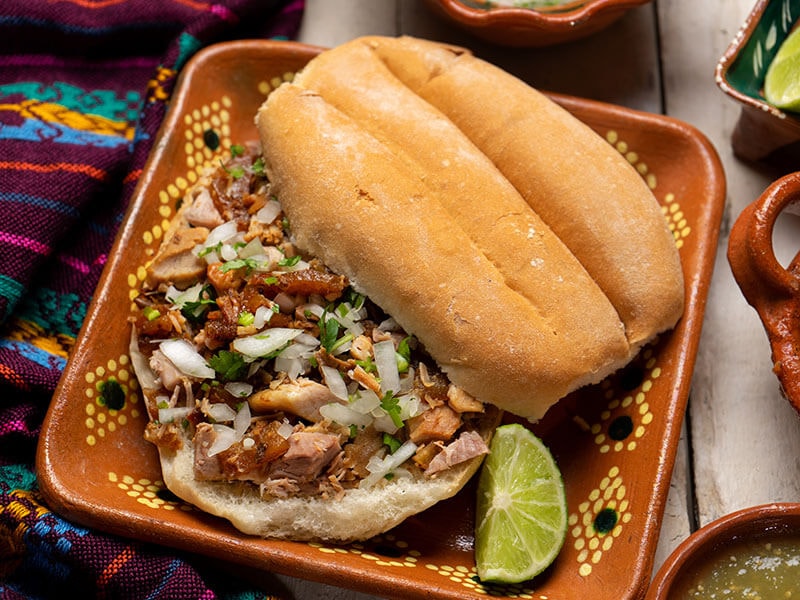 Torta is a term used to indicate many dishes. But in Mexico, it is a sandwich with two types of sandwich rolls: Bolillo (looks like a small baguette) and Telera (a flatbread with an oblong shape).
You can grill or toast the sandwich and enjoy it cold or hot, depending on your preference. In Northern Mexico, the dish is called 'Lonche' because it is inspired by the word 'Lunch'. And Torta is a perfect treat for a midday meal.
Local people often pair the sandwich with tomatoes, poblanos or jalapeños, and avocados for garnishing. There are many variants of Torta, and each variant will bring an exciting experience for foodies.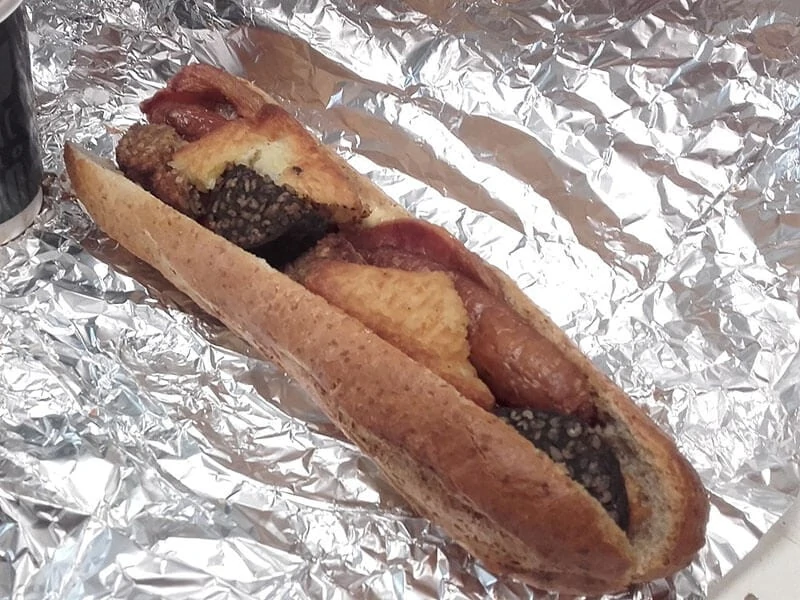 Welcome to Ireland! This country has a traditional fried sandwich for breakfast that you should not miss. Breakfast roll is a stuffed bread roll commonly served in supermarkets, casual eateries, and convenience shops in Ireland.
The bread is often a bread roll or baguette with fillings like butter, mushrooms, tomatoes, sausage, and bacon. Brown sauce or tomato sauce is a typical condiment to spice up this sandwich.
You can choose between three types of bread rolls: a chunky dinner roll, a demi-baguette, and a submarine-type roll. Many people like demi-baguettes because they have the most suitable size.
Breakfast roll is so famous that there is a song about the sandwich called 'Jumbo Breakfast Roll' by Pat Shortt, an Irish comedian.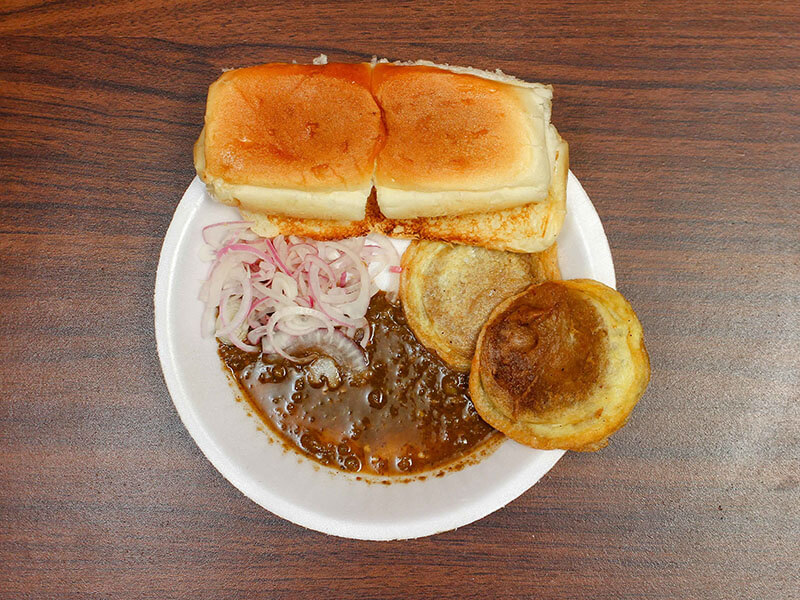 Let's discover a native sandwich in Indian and Pakistan, Bun Kebab. The sandwich is popular in metro cities like Lahore and Karachi. Indians (especially Indian Muslims) enjoy the dish as street food or Ramadan religious dish used late at night.
You can find Bun Kebab anywhere from side street vendors, fast food restaurants to even roadside stalls.
A fried variant of Bun Kebab called 'Anday Wala burger' is famous in Lahore. People also call it 'bun plaster' as it is packed with a paste-like interior covered by a soft pasty.
Local people serve Bun Kebab as a snack or a main course with onions, spicy patty, and chutney filling. This treat can be a vegetarian dish with many variants throughout the country.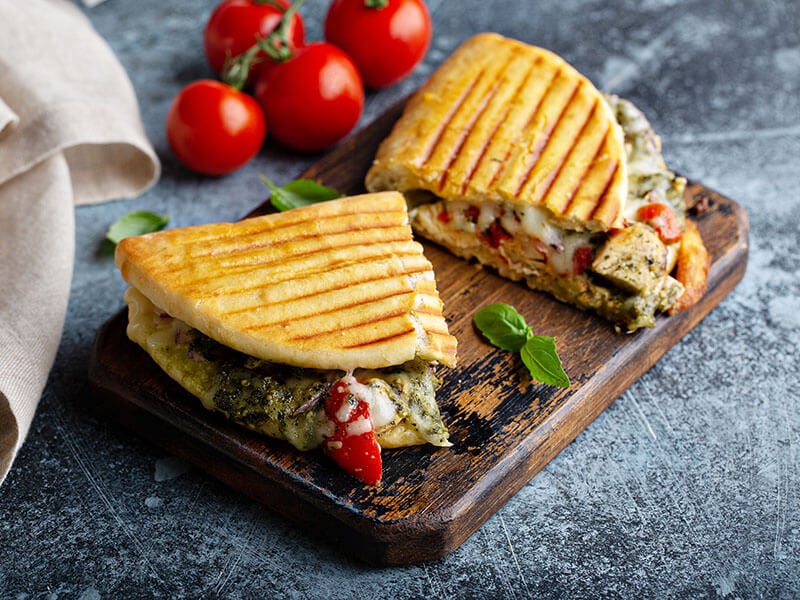 You should choose the most excellent sandwich maker to make this delicious Panini. This sandwich is also called Panino (means 'bread roll' in English). It is a hot sandwich from Italy, often made from Michetta, Rosetta, or Ciabatta.
People often grill or toast the sandwich to form a beautiful burned cover. Chefs often cut the bread horizontally and stuff fillings like veggies, Mortadella, salami, cheese, and ham. Pressing it using a sandwich toaster is a common way to warm it before serving.
In most English-speaking countries, the term Panini refers to a grilled sandwich made from any kind of bread.
Enjoy a Panini in the middle of Italian streets; why not?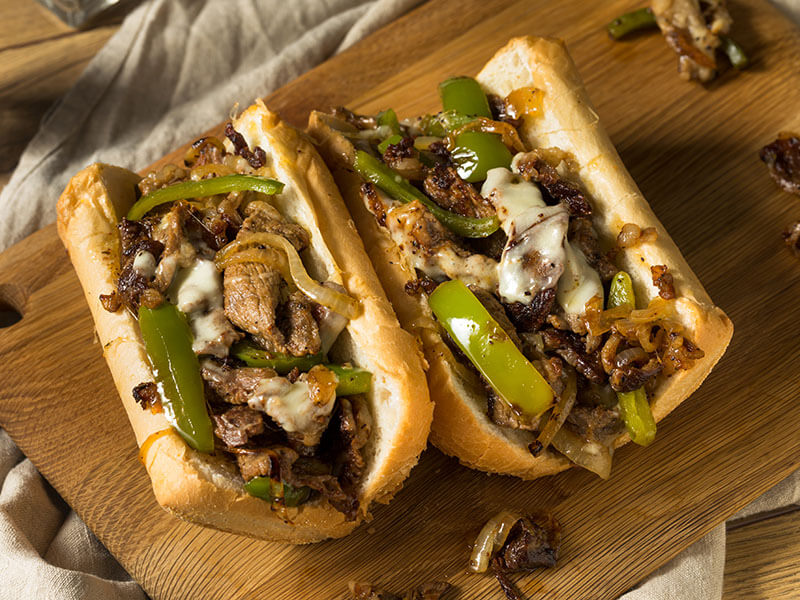 Cheesesteak sandwich is a US culinary masterpiece created in the early 20th century. People in Philadelphia (Pennsylvania) combined onions, cheese, and frizzled beef with small bread, and this tasty specialty was born.
The sandwich has many names, like Philly cheesesteak and Philadelphia cheesesteak, which are tributes to its birthplace. This sandwich is the best meal to use up your leftover steak. The beef steak isthinly sliced and paired with melted cheeses inside a long hoagie roll.
Although meat, bread, and cheese are the primary ingredients, some variants also use chicken, mushroom, and even pizza steak to make this dish. There is also a vegan version with soy-based cheese and mushrooms that can fit your 'green' diet.
Such A Tasty Creation For The World Culinary Culture!
Sandwich is an amazing treat that I can not imagine how the world would be without it. The best part of having a sandwich is that you get to pair any type of ingredients to match your preference. You might create a famous sandwich recipe yourself.
What is your favorite sandwich choice? Let me know in the comment section. Thank you for your contribution. Don't forget to share this post with your friends and subscribe to this site for more fascinating information.