Eating sandwiches on their own seems to be quite boring, so you need to make some side dishes for your savory sandwiches. The pairings will bring you balanced food flavor as well as great eating experiences.
In addition, no matter how delicious your sandwiches are, just eating them can't provide you and your family members a full meal. Thus, some additional dishes to serve with sandwiches will allow you to enjoy a true meal with a blend of flavors and necessarily nutritious values.
Hence, in this post, I would like to recommend to you the enjoyable side dishes that can go well with your sandwiches. The offered dishes will not take you much time to prepare, but you will surely fall in love with them!
Let's Check Out Dishes Pairing Well With Sandwiches!
Here are wonderfully tasty sides that can be served with your savory sandwiches.
Salads
Marinated Vegetable Salad
Strawberry Spinach Salad
Potato Salad
Mediterranean Couscous Salad
Napa Cabbage Slaw
Granny Smith Apple Slaw
Coleslaw
Bean Salad
Macaroni Salad
Fruit Salad
Soups
Crockpot Potato Soup
Classic Tomato Soup
Tomato Bisque
Chili Soup
Matzo Ball Soup
Creamy Butternut Squash Soup
Baked Beans
Chips and Fries
Crispy Onion Rings
Baked Garlic Fries
Truffled Popcorn
Chickpea Fries
Sweet Potato Fries
Veggie Chips
23 Worthy Side Dishes For Sandwiches
You will have various sides that can work well with veggies, grilled cheese, BBQ sandwiches, or just simply some pieces of bread. Now, let's see!
Salads
So refreshing, convenient, and simple to prepare. What is better than delicious salads?
If you do not have much time to prepare the complicated side dishes for your sandwiches, then vegetable salad will be your quick and simple option.
You can check your fridge and take out your favorite vegetables necessary for the recipe, such as cherry tomatoes, cucumbers, bell peppers, carrots, and cauliflower florets.
The rest is to make a sweet-sour homemade dressing to pour into the vegetable mixture. The salad not only comes with a bright and beautiful look but it is also super savory.
The strawberry spinach salad is a distinctly light and bright salad with the mixing of various addictive ingredients, including fresh strawberries, baby spinach leaves, creamy feta, and toasted pecans.
It is dressed with a beautiful honey balsamic poppy seed sauce, which will bring you a new salad dressing favorite.
In addition, the creamy, refreshing, and nutty salad is so suitable for being served at home parties when you do not exactly know what ingredients your guests love. With the strawberry spinach salad, they can enjoy either spinach or strawberries.
Creamy potato salad will rock your world when it is served with your BBQ chicken sandwiches. The creaminess and slight sweetness of the starchy salad will mix perfectly with the tangy flavor of the bread.
In addition, it will not take you much time and cooking ability to prepare this salad. So, what is better than this?
The ingredients you need for the salad mixture are potatoes, eggs, and veggies. The creamy and mellow mayo sauce is a special note to make the salad meet your desired flavor.
Here will be a promisingly beautiful salad to eat with hummus veggie sandwiches. This is a plant-based recipe, so it will be vegan-friendly. In the salad, the couscous will be cooked on the stovetop until it becomes tender.
After that, it is mixed well with garbanzo beans, vegetables, herbs, and feta before a dressing made of lemon juice, vinegar, lemon zest, and seasonings is poured into the salad.
The nutty couscous soaking up the lemon sauce and being folded in tons of chopped vegetables will bring you the most balanced and pleasant salad flavor.
Now, you can take out some napa cabbage and carrots from your fridge to prepare one of the simplest salads that can be served as a side of your ham and cheese sandwiches.
The shredded cabbage and carrots are tossed with the sesame soy dressing, which brings you the full salad flavor in each gentle bite.
This salad recipe is great for late weeknights when you want a quick side to eat with your favorite sandwiches.
The granny smith apple slaw is an elegant blend of sweet Granny Smith apples, shredded cabbage, and carrots. The salad mixture will be dressed with a light and refreshing yogurt sauce.
This is a delightful side for pulled pork sandwiches. The fresh and bright salad will neutralize the richness and appetizing flavor of your meal.
Say "Hi" with big fans of hot ham and cheese sandwiches; this coleslaw recipe is right for you to enjoy with your favorite. Coleslaw is not outdated over time due to its deliciousness and simplicity. It is a perfect side of any fast foods and BBQ dishes.
The creaminess, slight sweetness, and colorful looking of coleslaw make it super attractive on the food table.
For the best serving, you should prepare the coleslaw in advance and then let it chill in your fridge for 1 to 2 hours before you take it out to eat with your sandwiches. Even when eating the coleslaw on its own, you will not go wrong with it!
The bean salad contains various kinds of beans ranging from chickpeas to black beans. Therefore, you can make use of the canned baked beans from your favorite brands or the available home-cooked ones for the salad making. It's flexible.
After blending with chopped cucumbers and herbs, the bean mixture will be tossed in a nice dressing of vinegar, olive oil, red wine, mustard, and seasonings.
Stir it up, and you will have a yummy salad to eat with grilled portobello sandwiches. So easy and savory!
The macaroni salad comes with a balanced matching of creamy mac and cheese with refreshing vegetables.
The slightly sweet and super creamy salad sauce will wonderfully pair with the sweetness of your ham sandwiches. It's time to wow your family members with this stunning pairing!
Adding some colorful fruit salad to your meal will work well on attracting your kids. In addition, a big bowl of different kinds of fruit drizzled with citrus honey dressing will be a treat for everyone.
Soups
Fragrant soups packed with tons of nutrients will be the top-choice side dishes of sandwiches.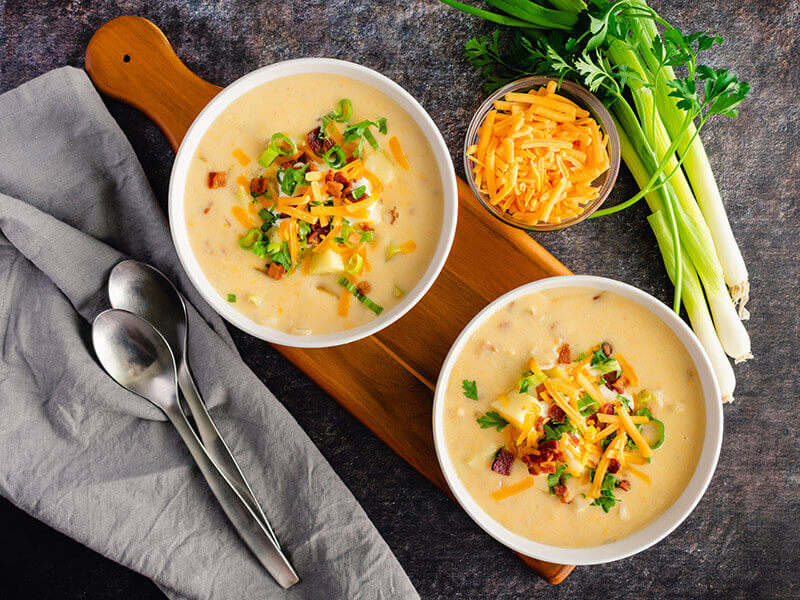 If you are seeking something hearty and tender to pair with your luscious melted cheese sandwich, you will never go wrong with this creamy soup! This recipe will be a big hit for both young and older adults.
All ingredients, from dairy products to gold potatoes, are mixed finely in this starchy soup. So, surprise your family members on cold days with some hot potato soup served with your favorite sandwiches!
The combination of tomato soup and cheesy sandwich is the best-ever pairing of all time. This is simple but extremely delicious with only three main ingredients, including onion, butter, and tomato.
In this soup recipe, all the ingredients will be simmered to achieve a slightly thick consistency so that you can dip pieces of bread into it.
The rich and velvety flavor of tomato soup folding with your tempting sandwich is a worthy treat you should try once in your life!
You may look at this recipe and think, "Isn't it the same as the previous?". Well, that happens with many people, but bisque and soup have many differences. In short, this tomato bisque is an upgraded version of traditional tomato soup.
The additional heavy cream or coconut milk makes the tomato bisque super creamy and silky smooth. To make the perfect texture of the dish, you should make use of canned potatoes with premium quality in this recipe. This way, the flavor is just like fresh tomatoes.
The sweet and tangy tomato bisque is a great match of ham and cheese sandwiches that come with a rich and tasty flavor. If you are still in doubt about this, just prepare this combo for your family members to try, and they will surely love it!
Do you need a recipe to warm up with your grilled cheese sandwiches in winter? That's easy! You can try this simple but super hearty chili soup.
In this recipe, chili powder will be simmered with tomato sauce, beef, spices, and seasonings until it becomes a slightly thickened texture.
If you want extra creaminess, you can top the soup with some shredded cheddar cheese and sour cream. Taking a bite of a sandwich dipped in chili sauce will bring you to heaven!
Truth to be told, sometimes when I'm too tired or too lazy, I'd grab a few cans of scrumptious pre-made chili instead of making this dish from scratch. And just by adding shredded cheddar cheese and sour cream, I'd have a lip-smacking side dish that takes little time to prepare.
Finding a side to complement the creaminess of your rich sandwiches, right? Matzo ball soup will be your perfect option. The chicken broth will help neutralize your flavorful sandwiches and make them wonderfully tasty in your mouth.
The special note of this recipe is its delicious dumplings that are made of matzah meal, chicken fat, and eggs.
The ball-shaped dumplings soak up in super wholesome chicken soup during the cooking process, which makes the balls yummier!
It's time to transform nutritious butter squash into a super sweet and creamy soup to eat with your turkey club sandwiches. Beside the recipe provided in this article, you can also cook delicious butternut squash soup in a crockpot.
Despite its deliciousness, it is a simple soup recipe in which squash, veggies, apple, stock, garlic, and seasonings are cooked until they become softer.
After that, the cooked mixture is mixed with coconut milk and then blended finely for desired consistency. The creamy soup will be served with a topping of sauteed bacon mixture that brings additional smoky and fruity flavor.
Baked beans are a common and versatile side of various foods, including sandwiches. Its appealing flavor with sweetness, deliciousness, and smokiness make it never outdated.
It is a beautiful side dish of your BBQ sandwiches at home meals or backyard parties when you want to double the smoky and savory flavor of your bread.
How About Chips and Fries?
If you have children, you can consider making some chips and fries for them to eat with sandwiches. They will surely love this!
It is no doubt that crispy onion rings are always the big hit of any fast food lover. The crispiness of rings makes it a fun appetizer for different main courses.
When it is combined with juicy and smoky sandwiches, the slightly sweet and tangy flavor of onion matches well with the sandwiches' luscious taste.
The onion rings are coated with a layer of batter, which will create the perfect crispiness packed in each onion ring.
Baked garlic fries are a convenient version of traditional french fries. You do not have to stand in front of the stovetop to deep-fry potato sticks, which takes a lot of effort and sometimes creates an oil mess in your kitchen.
If you want to avoid this, you can make potato fries with an oven. All you need to do is just toss the potatoes in seasonings and spices before baking them in the oven.
The seasoned baked fries will be a perfect side of any meaty and cheesy sandwiches.
Truffled popcorn is an ideal snack in movie time, and the interesting news is that you can consume it as a yummy side of your appetizing sandwiches.
The bland popcorns are folded in sugar, butter, truffle oil, seasonings, and spices before it is served. Thanks to this, your popcorn will have a distinct taste of truffles, along with an enticing fragrance from spices as well as a tender sweetness from the sugar.
The flavorful and slightly buttery popcorn will not overpower your sandwich's flavor. Instead, it will help highlight the deliciousness of your meal.
If you want to make some potato fries as a side dish for your BLT sandwiches but unfortunately you run out of fresh potatoes, do not worry! Just check out your pantry to find some chickpea flour that is a great substitute for starchy potatoes.
To do this, chickpea batter will be cut into sticks like potato sticks before being fried in your air fryer. The results will be perfect with chickpea fries crispy on the outside while soft and rich on the inside.
Dipping a fried chickpea stick in a tangy sauce and putting it in your mouth will surely blow your mind!
It is a great idea to pair some salty-sweet and crunchy sweet potato fries with your favorite grilled cheese sandwiches. Compared with potato fries, the sweet potato version is much sweeter.
Hence, it will be a great treat for sweetness lovers. If you want some spiciness, you can sprinkle some chili powder on the baked sweet potatoes batch.
If not, some salt and spices are good enough for flavorful sweet potato fries. Such a simple baking recipe, so just try it, and you will be surprised with the perfect result!
Colorful chips are so attractive to children, and they are also a great pairing of sandwiches.
The crunchy chips do not contain much cooking oil and can be made from a variety of vegetables you have on hand, such as beetroot, zucchini, carrot, sweet potatoes, and other favorite veggies.
Sometimes, eating fresh vegetables is just like forcing you to pick a green leaf from trees and chew it immediately.
However, veggie chips will make a big difference with the flavorsome taste loaded in each piece of chip, and you will be sure to love it!
The Best Sides Are Ones Satisfying Your Taste!
You have different options for what to eat with sandwiches, but not all the offered alternatives can meet your food taste well.
Therefore, you should consider cooking dishes bringing the favorite flavors to you and your family members. For example, although chili soup is an addictive treat for most adults, it is not recommended for children due to its spiciness.
In addition, I suggest you utilize the available ingredients to prepare sides for sandwiches. For instance, you do not have to strictly follow the salad recipes, especially veggie ingredients.
Instead, just take out your favorite vegetables and fruits from your fridge and then be creative to transform them into your desired salads. Because cooking is an interesting adventure, no fixed recipes are required here.
Last but not least, if you have any ideas and experiences in cooking side dishes for sandwiches, please feel free to leave your words in the comment section below.
When finding my post useful, just like or share it with everyone! Thanks for reading, and have a nice day!
Nutrition Facts
8 servings per container
---
Amount Per ServingCalories216
% Daily Value *
Total Fat 12.2g

19

%
Cholesterol 34mg

12

%
Sodium 495mg

21

%
Potassium 543mg

16

%
Total Carbohydrate 23g

8

%

Dietary Fiber 3.3g

12

%
Sugars 2.5g

Protein 4.9g

8

%
---
* The % Daily Value tells you how much a nutrient in a serving of food contributes to a daily diet. 2,000 calories a day is used for general nutrition advice.