Burger vs. sandwich sounds pretty hard when you have to choose between the two. Both are two pieces of bread with meat and vegetables in between, so what is the difference?
This article will unravel all the mysteries surrounding the differences between sandwiches and burgers. Next time you encounter these two items, you will know what features separate these iconic dishes.
Their origin, variation, recipe, and in-depth information are all covered in this post. Let this article answer everything for you.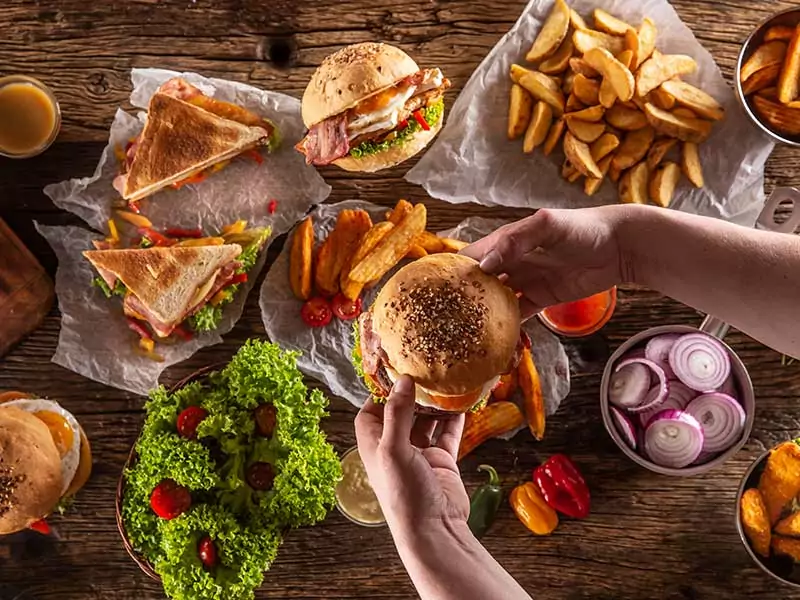 Everything About Burger Bet You Might Not Know
A burger is a typical dish in the United States. They often use burgers in picnics and family gatherings. People cook meat on a barbecue grill and enjoy it hot together.
Gradually, the appeal of the burger spread more and more. People use them as a favorite daily main dish. It has become fast food for busy people, especially office workers, students, etc. It is so popular, but not many people know what it is.
History Of The First Burger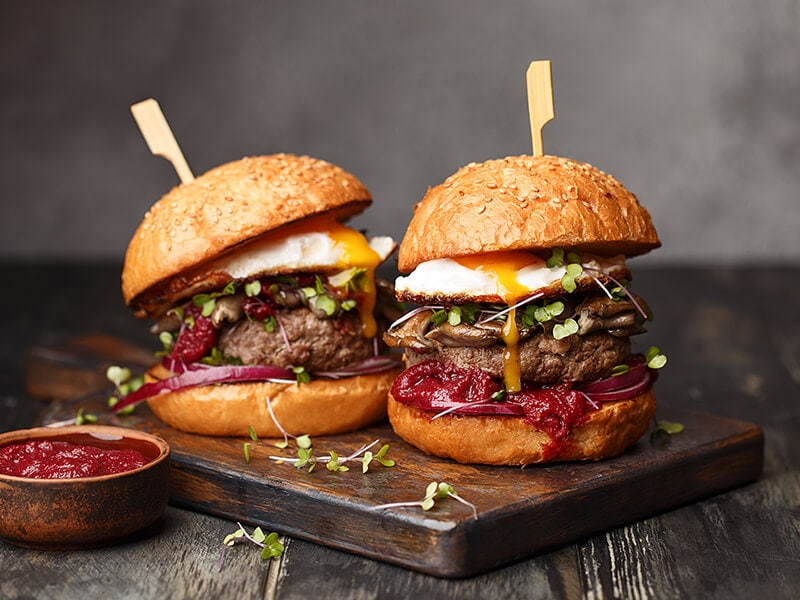 According to a legend from the 13th century, when the Mongols invaded old Moscow, they stocked up on shredded beef or lamb. The Russians took it to make their dish called Steak Tartare – the first version of a burger.
Commercialization allowed for the introduction of this meal to the port city of Hamburg, Germany, where it became later known as Hamburg Steak (the name is similar to hamburger today).
However, another, more reliable piece of evidence emerged. Charlie Nagreen invented the burgers in 1885. He sold a dish of two slices of bread with a meatball inside at a fair in Seymour.
The Unique Feature Of Burgers
A burger is a food consisting of a filling placed inside a bun. Its filling is almost a piece of patty fried or grilled, most commonly made from beef.
Furthermore, burgers frequently come with layers of other ingredients such as lettuce, onions, cheese, tomatoes, and more. To enhance the taste, people also add condiments such as ketchup, chili sauce, mustard, mayonnaise, or other sauces to enhance the taste.
Check out this short video for a step-by-step guide to preparing a simple burger.
Well-Known Types Of Burger
Burger, in one form or another, makes many people fall in love with it. They may be typical dishes but are incredibly popular in most countries.
In addition to the standard builds, burgers have many adaptations. Below are some types of burgers that are popular in the world
Cheeseburger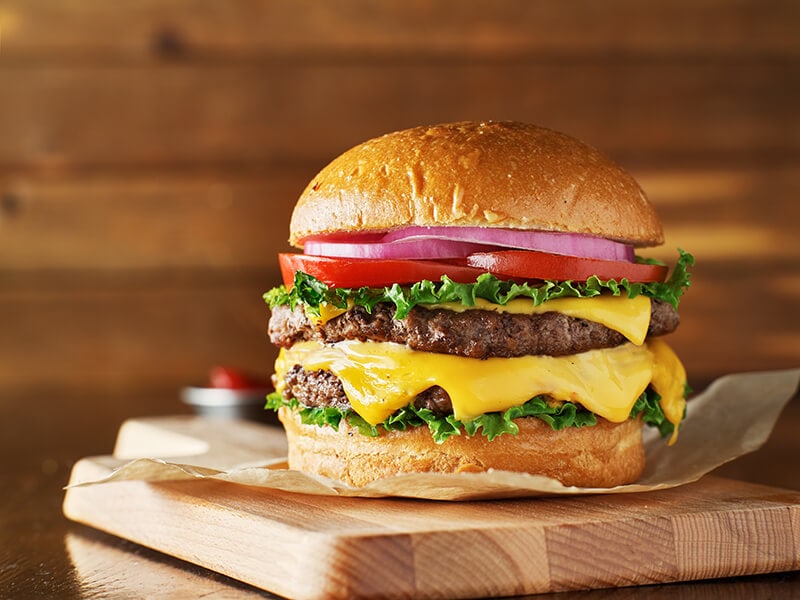 A cheeseburger is simply a regular hamburger topped with cheese. American, Cheddar, Mozzarella, and Swiss cheese are the most commonly used ones.
In 1928, a 16-year-old kid named Lionel Clark Sternberger put a slice of American cheese on a sizzling piece of meat to melt it. This led to the invention of the cheeseburger.
Australian Burger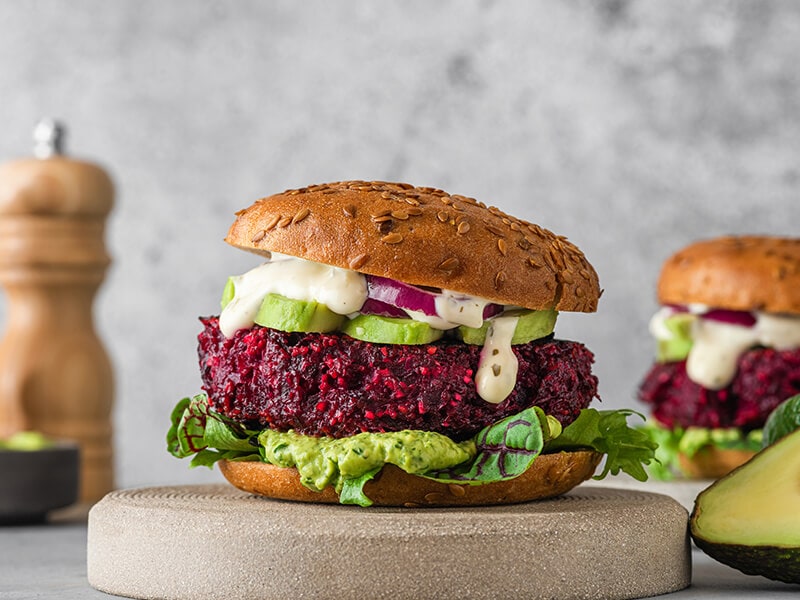 In theory, the difference between the Australian Burger and other burgers is the presence of beetroot in the ingredients. The Australian Burger was high-presented in the 1940s in almost every restaurant, cafe, bar, or pub in Australia.
This version with beetroot was well-known for more than 20 years until American burger brands exploded onto the scene.
Frita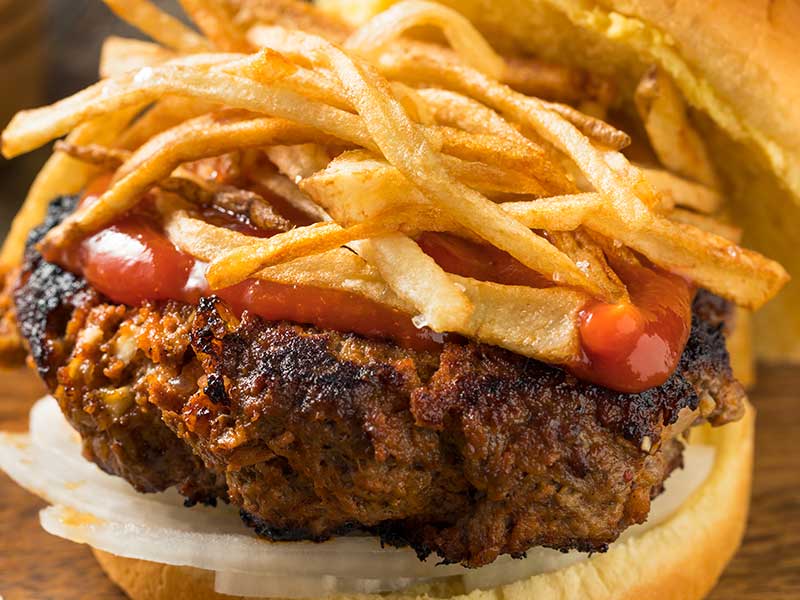 Frita Cubana, or Frita, is a burger named after the country of Cuba. The recipe includes a beef patty, red onion, sometimes chorizo, topped with spicy tomato sauce, and salted fries between a soft burger bun.
There is no official confirmation on when Frita appeared, but people speculate it was in Havana between the 1930s and 1950s. Originally, people sold in street stalls and quickly became popular.
Rice Burger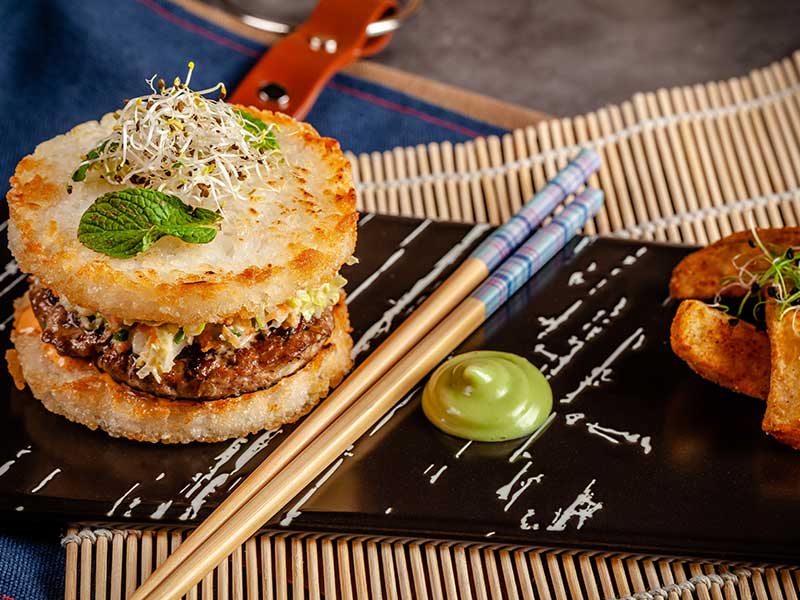 Originating from Japan – an Asian country that uses rice in daily meals, it is understandable that they have modified this burger. Instead of wheat, this Japanese dish uses plain rice, eggs, and cornmeal to produce buns.
Japanese chefs stuff the above mixture, compress, and shape it like a patty. These rice cakes become harder after frying or baking to ensure that all the fillings inside do not fall out.
What Is A Sandwich In The Food World?
Sandwich is a favorite dish because of its simplicity yet delicious taste. People eat it all the time for breakfast, lunch, or dinner. In addition, the sandwich can also be taken to work, school, or picnic, thanks to its convenience feature.
If you are a busy person and do not have time to prepare food? Do not worry because sandwiches are available at many convenience stores and supermarkets. However, have you ever questioned its origin?
Sandwich Throughout Their History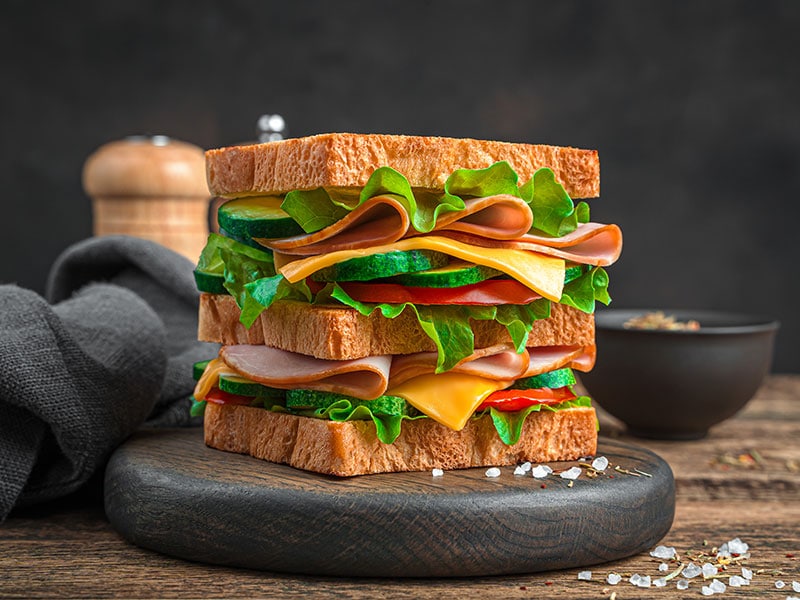 Like burgers, sandwiches have a long history. The idea of the sandwich has been around since about 100 BC during Passover by a Jew. However, the standard shape of today's sandwiches began to appear in Europe in the 18th century.
The first time this dish got the name Sandwich was in 1726, based on the name of Count John Montague Sandwich. During a gamble, he did not want to stop, so he asked the waiter to make something to eat.
That dish consisted of meat, cheese, vegetables, and sauce put between two slices of bread. It perfectly matched the shape of a typical sandwich now. Since then, the name sandwich has become popular.
Sandwich Characteristics
If you do some research, you can see that the definition of a sandwich is easier than a burger. A sandwich is a dish with slices of meat, cheese, or vegetables centered by two or more slices of bread.
Therefore, people often unleash their creativity with the filling of this cake. As for the meat, they can customize between ready-made varieties like ham and smoked sausage; fish like tuna, salmon, etc.
You can choose from various vegetables and cheeses to suit your preferences. In addition, the optional ingredients for the inside can be plain or mixed butter, ketchup, mustard, mayonnaise, cheese, or anchovies.
Since it is pretty simple to make, you can apply many recipes to make healthy sandwiches during your busy lunches.
Common Types Of Sandwich
Because of its popularity, sandwiches through each location also have many different variations. Depending on the ingredients, each type of cake has its unique flavor
BLT Sandwich
On the top of the sandwich, it is impossible not to mention the BLT Sandwich – the most loved sandwich in the UK in 2008. Although its origin is still in question, someone believes that this is the revolution of bacon burgers from Victorian times in England.
BLT represents bacon, lettuce, and tomato – the key part of the filling, served with mayonnaise. It sounds simple, but the taste of the BLT burger may surprise you.
You can discover how to make BLT Sandwich, a simple dish that has made the UK go crazy, and try it at home!
Mexican Mollete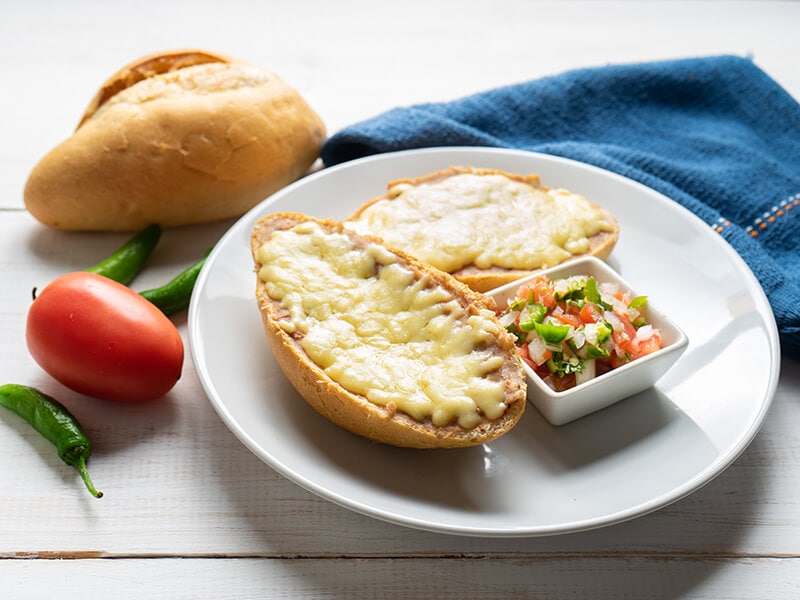 Mollete is the common name for authentic Spanish and Mexican sandwiches. Unlike the white, round Spanish bread served with simple olive oil and raw garlic, the Mexican Mollete is much richer.
People here make a half bolillo bread roll lined with refried beans, cheese, and salsa from tomatoes, onions, and jalapeño or serrano peppers. It is why Molletes are in the shape of an open-faced sandwich.
Francesinha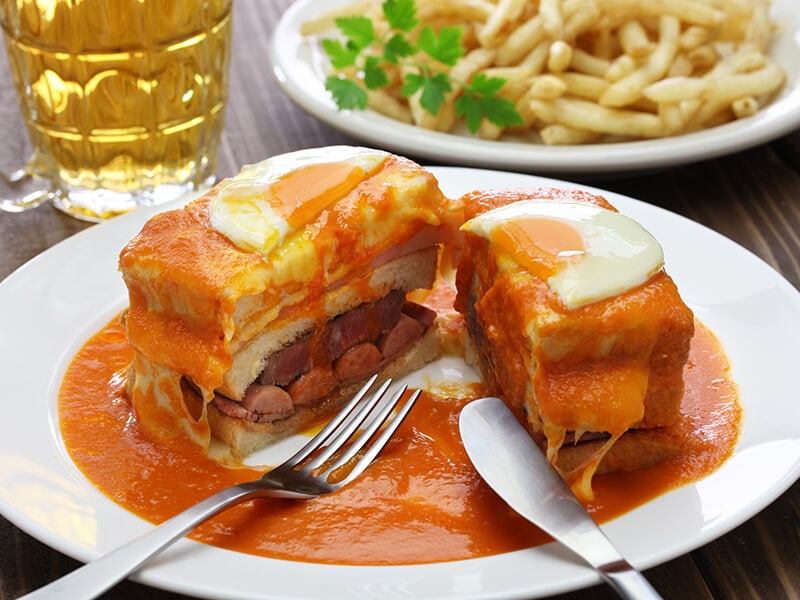 Francesinha does not have the convenience feature as others. The illustrious French Croque-monsieur – a legendary Portuguese favorite sandwich, is the inspiration for Francesinha.
A unique Portuguese sandwich, the Francesinha has various ingredients, including toast, red meat, linguiça, fresh sausage, and ham. When done, it's drizzled with beer-infused tomato sauce and melted cheese.
Choripán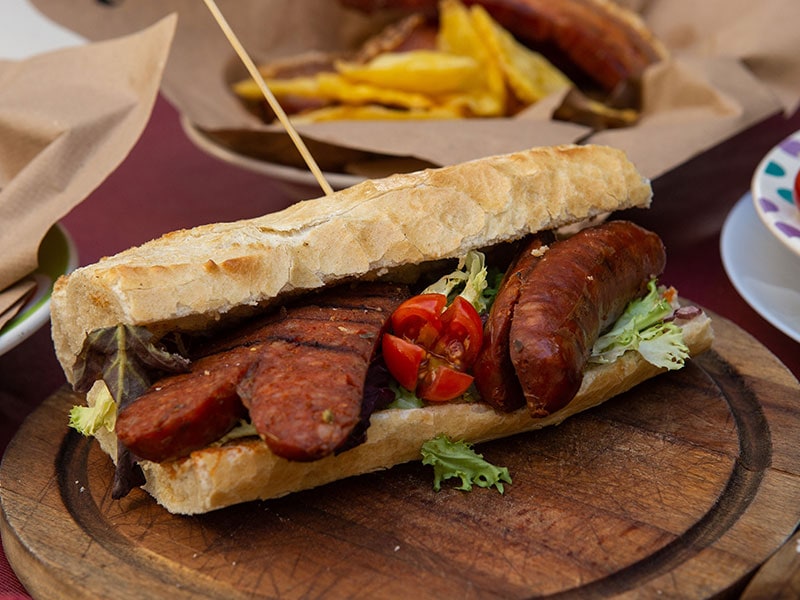 Choripán is top Argentinian street food. People serve Choripán with chimichurri sauce, which is spicy and fresh. Its name comes from the words chorizo and pan.
Chorizo is a sausage made with pork and paprika. People grill and stuff it in a long crispy bread like baguette or francés. So it takes on a different shape than a traditional round burger.
Are Burgers A Subcategory Of Sandwiches?
There have been numerous debates surrounding the answer to this question. I would like to answer Yes.
On the one hand, a sandwich refers to food with a filling and two slices of bread. Furthermore, burger recipes require a specific round bun (kind of bread) with a filling, cheese, and garnish. In short, a sandwich is a word that can cover a burger.
On the other hand, a burger has the criteria of a standard sandwich (since both have the same concept). However, a burger cannot refer to a sandwich because there are many distinct ingredients and points in a burger.
At first glance, you can also see that the burger bun is round. In addition, they have many different points that this article discusses in detail in the next section.
Questions surrounding burgers and sandwiches always attract the curiosity of many foodies.
Summary Of The Differences Between Burger And Sandwich
For a more general overview, I have outlined the prominent differences between burgers and sandwiches with the hope that you can comprehend this tricky puzzle.
Element
Burger
Sandwich
Origin
Later (in 1885)
Sooner (in 1726)
Bread's type
A bun
Sliced bread
Shape
Round
mostly square
(sometimes rectangle or triangle)
Filling
A cooked meat patty
(optional vegetables, cheese or sauce)
almost everything
(cooked, uncooked or prepared)
Cooking
Consumed when cooked and warmed
Can be consumed cold
Nutritional value
Oily and has high protein
Balance
Popularity
More popular as fast food
As homemade food
Origin
As mentioned, the history and development of burgers and sandwiches are different. According to the most reliable sources, the burger first originated in 1885 in America.
However, before that, in 1726, the sandwich had its name in England. Moreover, the first and current versions of these two are also not identical.
Bread's Type
People choose bread as the two outermost layers for both burgers and sandwiches. So this is not a reliable gauge? The difference lies in the type of bread used.
To make a sandwich, you simply cut any ready-made loaf into slices. A loaf can be optionally divided into many. Its ingredients only include flour, dry yeast, and water. Also, the sandwich is usually white, sometimes almost golden, due to grilling.
Burger's bun is well-rounded, and one burger uses one bun. In addition, to make the buns, you need all-purpose flour, dry yeast, cooking oil, eggs, sugar, and a little salt. As for it, due to the well-baked outer, it has a beautiful golden brown color.
Shape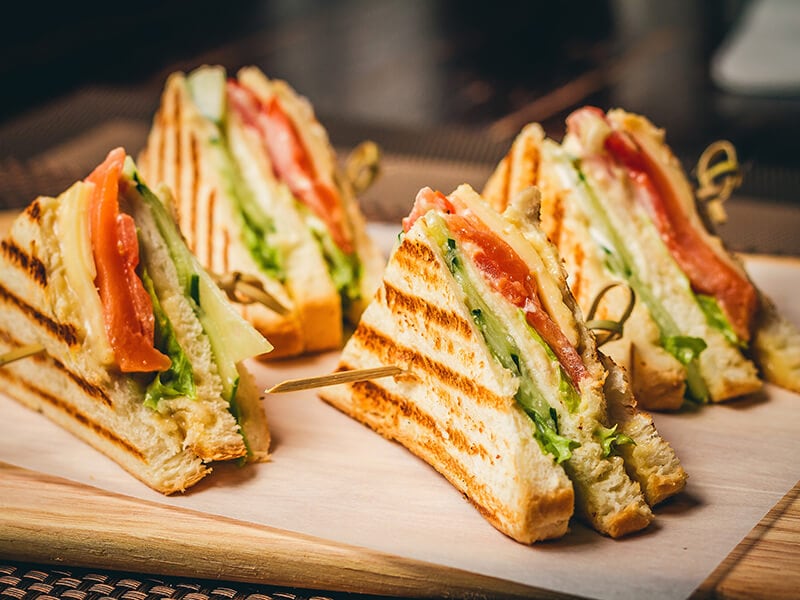 Referring to burgers, people may think of an eye-catching round stack of buns. It's popular with a uniformly round shape that lets you see all the plump and gooey filling inside.
For sandwiches, a loaf divides into square slices. However, they can also be a rectangle or triangle cut in half from the square version above.
Over time and space, both burgers and sandwiches have changed a lot. Currently, in the US they have created more than 60 types of sandwiches, so they are difficult to compare.
Filling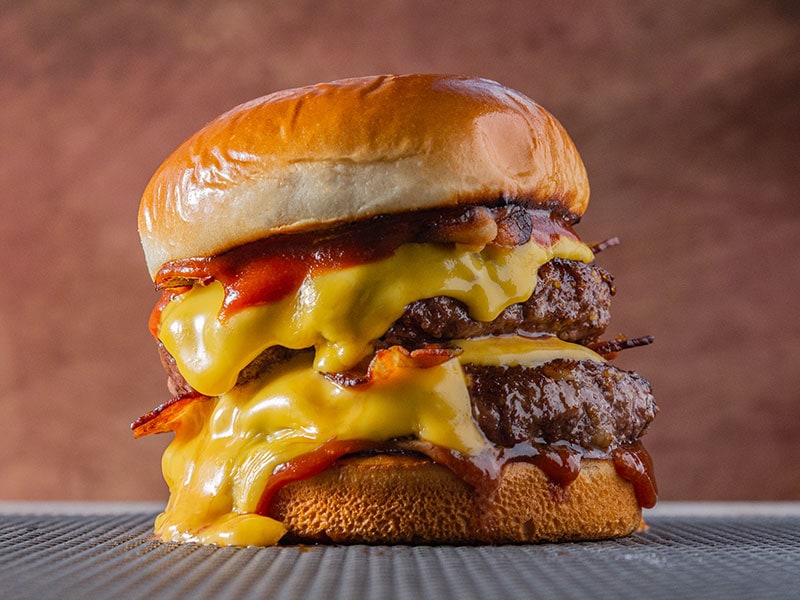 The filling plays an important role in differentiating the two. From the beginning, sandwiches have always been described as really simple. On the other hand, burger fillings are more diverse than sandwiches. But sometimes, it is not true.
The burger filling has cooked meat with fresh vegetables and assorted garnishes. You can change the proteins, vegetables, and sauce to make the burger taste completely different.
When making sandwiches, you can choose toppings without any strings attached. It serves flexibly as a sweet or savory sandwich.
You might have a strawberry jam sandwich or a cheddar topped with ham and tomatoes. Moreover, toasting to enjoy hot or served cold with a prepared filling are two favorite choices.
Cooking
The big contrast is the way you prepare and serve these meals. The preparation of burgers and sandwiches is quite different. Since the required ingredient is a hot pork patty, the burger is the most delicious when it's hot.
People usually eat a hamburger as soon as possible. It is quite hot at this point, so that is why the cheese and sauce in the filling melt. Moreover, with the thick multi-layered structure stacked, people should eat the burger on the spot.
Most of the time, you use pre-prepared ingredients like sausages, bacon, or canned tuna for your sandwiches. By preparing and storing it in the refrigerator in advance, you can conveniently use a sandwich when hungry. People serve them even when they are cold.
A healthy breakfast of egg mayo sandwich will take you less than three minutes.
Nutritional Value
Have you ever wondered why many doctors advise us not to eat burgers but rarely mention sandwiches? Simply because they are considered unhealthy fast food.
Of course, there is certainly a difference in nutritional composition, but for me, the level of health is still unsatisfactory. Because both of them contain large amounts of carbohydrates, sodium, and fats.
In addition, the ingredients chosen in the filling, which determine the healthiness, are customizable. So this is not a good comparison in general. Above all, you can still check out a few notable substances between a standard burger and a sandwich.
| Nutritional value (100 grams) | Burger | Sandwich |
| --- | --- | --- |
| Calories | 305 kcal | 304 kcal |
| Sodium | 430 mg | 698 mg |
| Fat | 13.13 g | 14.56 g |
Calories
Typically, a simple burger with buns, a patty, and a little sauce in the middle has around 305 kcal in 100 grams. The difference ranges from 250 to more than 700 calories. Because there is a change in the type of meat, the sauce, and the number of toppings.
If one serving size of the sandwich is 100 grams with a single slice of ham and cheese and mayonnaise, it would normally contain about 304 calories.
The calorie range in a sandwich is from 160 to more than 500 if you choose mashed beans, salmon, and chicken breast instead of full-fat beef and pork.
Sodium
Per 100 g, a burger contains 430 mg of sodium, less than a sandwich at 698 mg. Sodium or Natri is abundant in refined salt. For humans, it helps regulate kidney activity, keeping blood pressure stable.
However, over absorption can cause serious problems such as kidney stones, osteoporosis, or stomach cancer. That's why scientists recommend that we only consume 6 g of salt per day.
Fat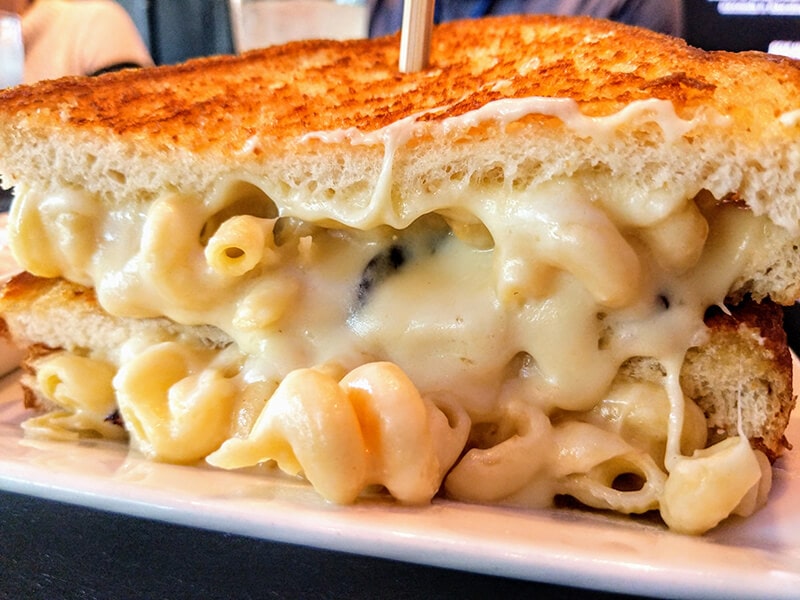 Fat is one of the leading criteria to judge whether a dish is healthy or harmful. Both types produce worrying numbers.
If you eat 100 g each, you're almost absorbing 13 to 15 g of fat. Meanwhile, according to recommendations, an adult who consumes 2,200 calories per day should only eat about 73 g of fat.
You cannot just eat 100 g of sandwiches in an entire day. So, eating a lot of hamburgers and sandwiches is not necessarily a good idea. Below is a summary of all the general comparisons for the nutritional value of both popular dishes.
Popularity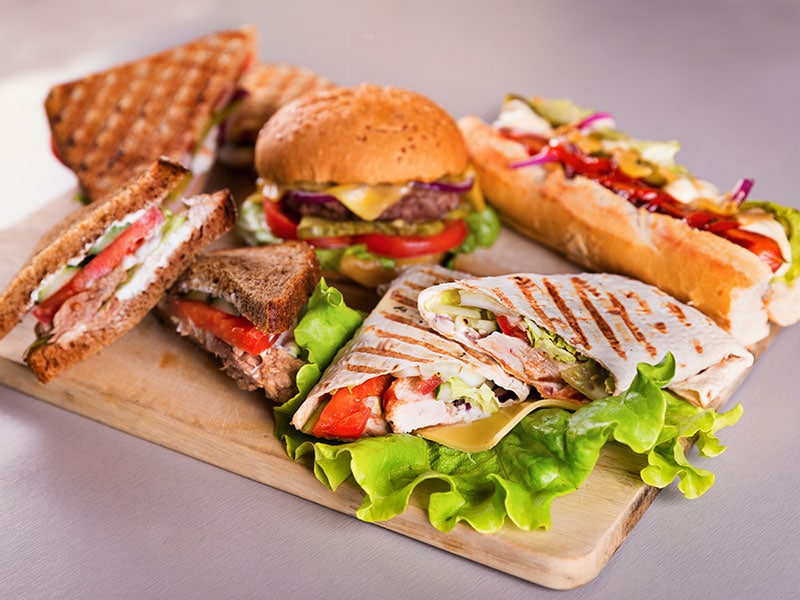 Both are the most popular dishes in the US and worldwide. After looking at the total web searches over the past five years, burgers have more interest from people as a fast food item, while sandwiches usually stand as a homemade dish.
However, this cannot say too much. Burgers may attract curiosity and win the favor of many people, but when choosing breakfast, you still stop by the store and grab a sandwich for its convenience.
Top Tips To Make Your Burger And Sandwich Healthier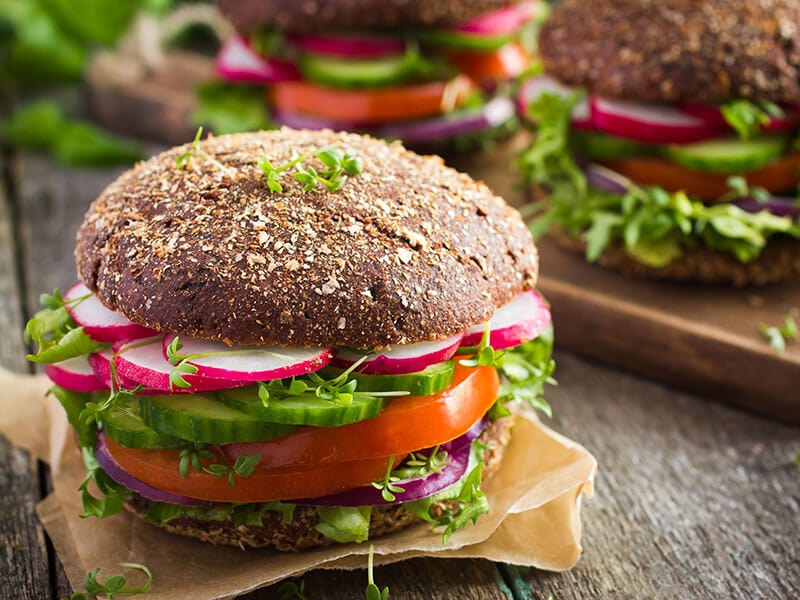 The most effective way is to make them at home. Most burgers and sandwiches are not as healthy as you prepare them yourself.
Technically, both of these dishes do not require elaborate preparation or spending too much time.
Homemade dishes: Adjust to the healthy ingredients or reduce the seasoning amount.
Bread: Minimize the calories with the open-faced version. You can consider changing to whole wheat bread, oat bread, or salad.
Filling: Choose protein sources from poultry, fish, and beans.
Vegetables: Use avocado slices instead of cheese.
Avoid: ready-to-eat ingredients, greasy elements, and rich sauces.
Ideal Burgers And Sandwiches For Home Cooking
Burgers or sandwiches have an indescribably delicious taste. You can change your daily menu with these fast and attractive recipes below.
The famous beef burger that is considered the origin of all burgers today never disappoints you. If you think it's hard to do, it's not. All the ingredients that make it up are easy to find, and you need just over 30 minutes to make a serving for 8 people.
A delicious beef sandwich is a delicious lightly browned or oven-roasted meatloaf surrounded by fresh tomatoes, vegetables, and onions. You can choose between hundreds of sauces and cheeses to spice it up.
If you are a vegetarian, never skip this simple recipe. The dish can be a lunch or dinner for your whole family. Chickpeas have many health benefits. It provides a large amount of protein for vegetarians to offset the protein from meat.
The smooth texture of the filling is due to the chickpeas being cooked soft, pureed, and slug on the stove with little oats to create stickiness. To make it more interesting to eat, many people have added crunchy roasted nuts to the filling.
With sandwiches, your creativity is limitless. You can use any food for its filling. The most basic is that people use deep-fried bacon.
Its bottom layer can be roasted turkey with sauce and variations when replacing the cheese layer with beautiful slices of green butter. You can also mash the avocado with a little lemon juice to balance out the taste. A light sour, and fatty sandwich was born.
Referring to sandwiches, people often think of pork, beef, chicken, or sausage but forget that salmon or tuna are also worthy candidates. Let this Tuna Salad Sandwich take your breath away from the usual sandwich series.
The secret to making this dish delicious, convenient, and healthy is that you should use canned tuna in oil. Then drain all the oil in the fish, add some mayo or chili lime, and mash the mixture. You can add another sauce or not.
Mayonnaise is not only the perfect dressing for sandwiches, but it also makes their filling smooth and creamy.
FAQs
All information about burgers and sandwiches are mentioned in this article. If you still have questions, go through these frequently asked questions to gain new knowledge.
Burger And Sandwich Are Worth Trying Once In Your Life
Hopefully, the above information has broadened your understanding of the two dishes. The history, recipes, and the main ingredients of both burgers and sandwiches are so many things that you may not be able to identify.
You can either re-read it and make a final judgment. Follow the suggestions I provide, and you will find a delicious burger or sandwich for dinner. Plus, you may treat them to these mentioned recipes at every family gathering.
Both the burger and the sandwich deserve you to try at least once. If you still have questions or simply know the top place selling these two dishes, comment and share this post to enjoy with your friends.