"Italian sandwiches" are a must-try if you and your friends want to have a serious conversation about this toothsome dish with two pieces of bread. Italy might not be the hometown of the food, but anything you have in modern sandwiches originated in this nation.
Cheese, legendary cured ham Prosciutto Crudo, meatballs, and more sandwich inner partners were born in Italy. Therefore, Italy has all the rights to be part of this conversation.
I understand that you are still skeptical about this topic, so allow me to show myself off with this list of the best 12 Italian recipes for sandwiches.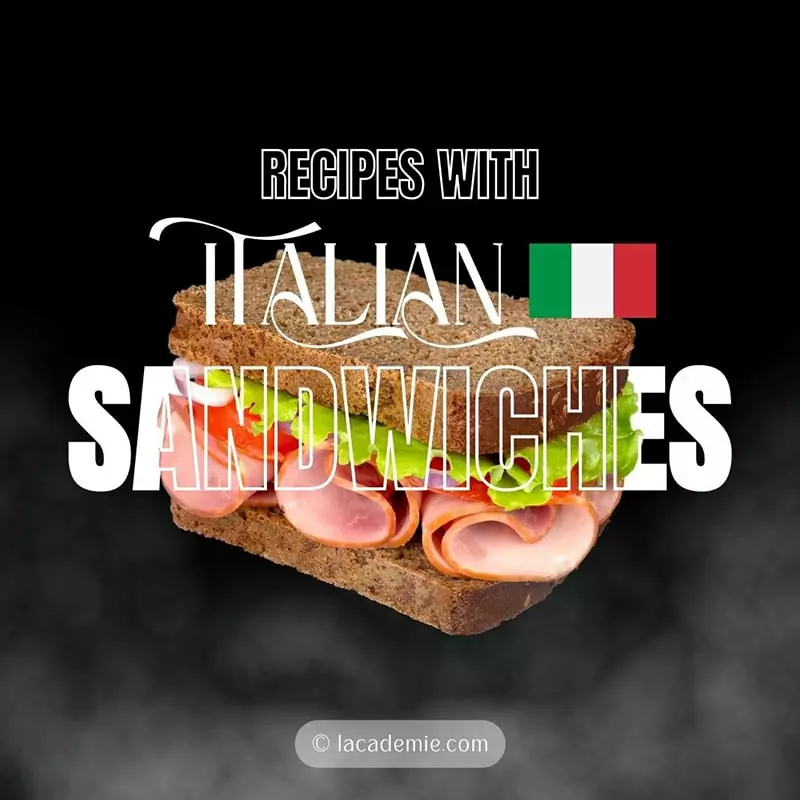 Discover The Secret Between Italian Sandwiches
Firstly, let me get this straight! I'll take the most well-known definition of sandwiches and use that as a guideline for the whole post. Therefore, you won't have to feel confused with some of my choices on this list.
"Hotdogs and hamburgers are not sandwiches." It's a myth! They are. And "two or more slices of bread or a split roll having stuffing in-between" is this post's motto. Now, without further ado, let's jump into the first Italian sandwich recipe.
Total time: 10 minutes.
The submarine sandwich, or sub sandwich for short, is an invention by the Italian-American community in the late 19th century. The fame of this dish is so much that people come up with all sorts of names for it.
Sandwich, overall, doesn't have a set recipe, and you can go all out with anything you have in your kitchen. A sandwich is composed of three main parts: the bread, the fillings, and the spread/accompaniment.
However, to get a standard sub sandwich, your filling has to include protein sources like sliced salami or ham, vegetables like tomato and cabbage, and cheese like Provolone (Italian semi-hard cheese). With bread, it's best to get an Italian loaf, like a hoagie roll.
The spread of the sandwich is a combination of many condiments, which are mayonnaise, wine vinegar, olive oil, and some more spices. Also, an addition of herbal contribution, like dried oregano, is a must to complete your sub sandwich.
The sandwich takes you about 10 minutes to make, and you don't even have to touch the oven. But to achieve the best flavor, you really need to get all the top-notch ingredients. It asks you to put a lot of effort into preparation, but it's really worth it when you take a bite.
If you are a fan of Italian food, the submarine sandwich is a must-know recipe.
Total time: 40 minutes.
In Italian, "panini" means "small bread" or "bread roll". A famous appearance of the Panini is a sandwich with grilling marks. The Italians often call a Panini sandwich with the name "Panini Imbottito", but calling it "Panino" also implies the same dish.
This recipe for Panini sandwich combines a lot of highlights in Italian cuisine. First is the existence of Fontina cheese in the recipe. This semi-soft cheese from Italy is well-known for its sharp flavor, which is good for making the melted cheese layer of Panini.
Another worth mentioning element is Chimichurri sauce for the spread of the Panini sandwich. What you need to do is blend herbs, chili pepper flakes, red wine vinegar, and other condiments before seasoning your slices of bread with that sauce.
With the tender fajita steak, herbal sweet-and-sour sauce, creamy cheese, and crunchy grilled bread, your lunch can't taste any more delicious. I bet that you already salivate all over the place with the thought of making this amazing masterpiece.
Total time: 25 minutes.
Have you ever had spring rolls? This pinwheel sandwich is a version of Asian spring rolls but with flattened bread or tortillas (Mexican cornbread) as the substitute for rice papers.
Originally, this dish came from England, but Italians, with their exuberant cuisine, cannot let this idea slip through.
In this recipe, you will need to prepare quite a lot of Italian ingredients, but they are not inaccessible at all. Pepperoni and salami are both intrinsically the traditional meats from Italian cuisine. Meanwhile, Mozzarella is the buffalo's milk cheese from Southern Italy.
However, Italian dressing is an invention of Italian-American cuisine. Its tangy and spicy flavor is super suitable for complementing your sandwiches. About the bread, for the sake of the roll, tortilla is preferable due to its flexibility.
Total time: 1 hour and 35 minutes.
Being a part of the world-renowned Italian gastronomy makes people believe that Puccia is a kind of fancy pastry. However, the bread is humble, and you can combine it with almost everything to make a good sandwich out of it.
This Puglian bread only takes you an hour to make. What you need to do is combine flour, water, salt, yeast, and olive oil in a bowl and make dough from that mix. After separating that dough into your desired portion, you let the dough rest and rise for around an hour.
Also, in this recipe, there is a flavor contribution of Chipotle Aioli. Chipotle is the name of a well-known type of chili pepper in Mexico. The addition of spicy condiments from the Mesoamerican cuisine to the refreshing Italian nature is a collaboration that you should try out.
The filling is also simple, with only three elements: Prosciutto, tomato, and Mozzarella. Top the sandwich with a pinch of arugula, and your lunch should be ready.
Total time: 20 minutes.
A fan of Italian cuisine will immediately add "salad" right after mentioning "Caprese". However, in this recipe, allow me to introduce you to a whole new territory of Caprese cuisine: the Caprese sandwich.
Actually, a Caprese sandwich is just bread stuffed with Caprese salad. Therefore, if you like the cheesy taste of this salad, I'm sure you would like this sandwich a lot as well.
The ingredients of this recipe include Mozzarella, sliced tomato, and Pesto sauce. The bread is a loaf of Ciabatta cut in halves. This Italy-originated bread is notorious for its high gluten content flour, so if you have gluten sensitivity, it is a must to replace it with another bread type.
This simple bread contains a mix of flavors: tanginess from tomatoes and Pesto sauce, smoky creaminess from melted Mozzarella, and savoriness from Ciabatta bread. For a lunch like this, it is a good recommendation to prepare a cup of fruit juice.
Total time: 40 minutes.
Prosciutto is the dry-cured ham from Italy. In fact, whenever people talk about the Italian most famous meat product, they have to mention Prosciutto. The flavor is often described as salty but also delicately sweet. With this taste, you can't ask for more in your sandwich.
In Italian, Prosciutto indicates any ham, which includes both types: dry-cured meat and cooked meat. However, to English speakers, Prosciutto usually means dry-cured pork.
Anyway, Prosciutto often consists of the brownish back legs of boars or pigs, which are made tender and fragrant with herbal and spice aroma.
This recipe is to complement the deliciousness of Prosciutto since the meat is the main character of the filling. It's simple but extremely succulent. What you need are tomatoes, arugula, Mozzarella, and olive oil. You also need to make Pesto for the Ciabatta bread.
Pesto sauce is a herbal sauce from the Liguria region of Italy. Typically, to make this sauce, you need to blend herbs, condiments, Parmesan, and olive oil. The sauce is good for sandwich spread, salad dressing, or dipping sauce.
Total time: 35 minutes.
Legend has it that meatballs were born back in the ancient Roma era (753 B.C. – A.D. 476). The original version was just lamb balls with saffron and garlic. Pretty simple, wasn't it? But this recipe is never old, and today, you will learn how to fill a sandwich with meatballs.
In this specific recipe, the meatballs are composed of ground beef, breadcrumbs, cheese, eggs, and some other types of herbs. For each sandwich, you might need around five balls.
A typical meatball sub has Marinara sauce as its spread. This sauce is one of the most basic Italian culinary delights that you need to know. You can either buy processed Marinara sauce in the supermarket or make it on your own with tomatoes and other ingredients.
This Italian meatballs sub can be your family's next favorite lunch.
Total time: 15 minutes.
Life is hard. Sometimes, we taste too much bitterness from life that we forget to sweeten it. Therefore, it is a must to learn at least one sweet sandwich recipe, and none can be more appropriate than a Nutella sandwich.
Nutella is a global brand of hazelnut cocoa brand, and it was created in Italy in 1963. You probably have a Nutella sandwich for your lunch like a classic peanut and jelly sandwich. But with this recipe, you will learn how to make a legit Nutella sandwich.
What you need in this recipe, besides a jar of Nutella, are white bread, butter, Brie cheese, sliced pear, and figs. Even though Brie has a French origin, its buttery and fruity taste is very suitable for this sandwich.
The first step is to spread a layer of butter on bread slides and put it on a hot skillet (butter face down). Then, you put all the ingredients on the bread following this order: Nutella (on both bread slides), Brie, thinly sliced pears, and figs.
The mixture of so many kinds of sweetness in this sandwich can give you a minute of euphoria. And a cup of milk to go with this sandwich can make this combo a memorable breakfast you should try once in your life.
Total time: 1 hour and 35 minutes.
Tortillas are very familiar, but do you know that Italians also have their own flatbread? The bread is called Piadina, whose origin is from the Emilia-Romagna region of Italy. The bread is simply made from wheat flour, water, and salt.
Just like with tortillas, you can incorporate it into a delicious sandwich with Italian-themed ingredients like Ricotta cheese, olive oil, Mozzarella, and Prosciutto. Finally, put the cherry on top by adding lemon juice as well as arugula to give the dish more flavor and greenery.
This sandwich is delicious with all of the tastes that you can expect from a standard sandwich. And if you want more heat in it, you can add Sriracha or any kind of hot sauce that you like.
Total time: 1 hour.
Lampredotto is a cow's stomach-based specialty of the artistic city of Italy – Florence. Just like its hometown, this dish will not disappoint you if you want a quick but elegant feast. And to make this recipe, you need to follow this procedure.
Besides being the name of the sandwich, Lampredotto is also what the Florentines call a traditional dish made from the cow's tripe. Usually, this part is very chewy. Therefore, to have a tasty Lampredotto, you need to boil the stomach in a special broth.
This broth is composed of onions, tomatoes, carrots, peppercorns, and celery. You need to simmer the tripe in the water for at least 40 minutes until it starts to get softer.
Another must-have element of this recipe is the Salsa Verde, which is a spicy sauce. To make this sauce, you just have to blend the vegetables, herbs, and anchovies with lime juice and olive oil until it becomes a green paste.
The bread in this recipe is not specified, so you can use any kind of bread that you want. What you need to do at this point is to split the bread and stuff all the ingredients in. The combination of spicy sauce and pungent Lampredotto is much better than you can imagine.
Total time: 25 minutes.
Italian hotdog is a proud child of New Jersey's Italian-American cuisine. The recipe was invented by a restaurant owner named Jimmy Buff and his wife. And until now, this recipe is still one of the must-try dishes once you visit New Jersey.
Since the hot dog is basically a type of sandwich, there are three main elements: the spread, the buns, and the filling. In this recipe, you need to buy hot dog buns, which are very easy to find in any grocery store. And the spread on your buns is the garlic herb butter.
The filling, however, is the star of this stage. Besides the sausage, other ingredients are the stir-fried ground beef with Marinara sauce. To prepare this flavorful addition, you need to saute the beef with onions and peppers before adding the Marinara.
After spreading the butter on your buns, you microwave it quickly for the crunch. Then, you add the dog, pour the beef sauce on top, and sprinkle the cheese. The final step is baking your hot dog for another 10 minutes. Now, your Italian spicy and salty hot dog is ready.
Total time: 10 minutes.
I have to leave this one last due to how amazing this can taste, and this recipe is probably the most Italian sandwich on this list. Muffuletta is a local bread from the Sicilian region. Italian-American cuisine took this bread and invented its famous Muffuletta sandwich.
The layer of roasted sesame seed on top of the bread is the hallmark of Muffuletta. However, there's no detail about which bread you should use in this recipe. Personally, I like to keep the traditional recipe, but it's hard to find the right type, so you can replace it with Ciabatta.
The filling includes ham, salami, mortadella (Italian sausage made of ground heat-cured pork), cheese, and herbal components. The spread is more flavorful with the contribution of red wine vinegar, oil, roasted peppers, and other condiments.
This recipe is time-saving, while the flavor of a whole sandwich is amazing. The cured meat proportion in this sandwich shows you how Italian meat can taste superb.
Let's learn how to make an authentic Muffuletta with this instruction.
Have You Decided Which Sandwich To Make Today?
Italian cuisine is always so versatile but not unapproachable at all. This list has shown you the simplicity and elegance of just the sandwich territory. With just two pieces of bread, necessary ingredients, and small effort, conquering your lunch with sandwiches is easy.
It is such a fun trip learning about these 12 sandwich recipes from Italy. What do you think? Does the list suffice your craving for sandwiches? Let me know by commenting below. It would be my pleasure to read your experiences and thoughts.
Also, if you find it's worth your time to read this post, I'm sure it's nice to share it with your friends too. Anyway, time to wrap up the post with a sandwich lunch. Until next time, take care!
Nutrition Facts
4 servings per container
---
Amount Per ServingCalories253
% Daily Value *
Total Fat 16g

25

%
Cholesterol 38mg

13

%
Sodium 928mg

39

%
Potassium 104mg

3

%
Total Carbohydrate 14.1g

5

%

Dietary Fiber 1g

4

%
Sugars 1.4g

Protein 13.4g

26

%
---
* The % Daily Value tells you how much a nutrient in a serving of food contributes to a daily diet. 2,000 calories a day is used for general nutrition advice.