Many people recommend you to eat Greek yogurt every day, but has anyone answered you this question: Can you freeze Greek yogurt? Maybe for the longer use or just because you happen to buy too much. Whatever the reasons are, an answer is crucial.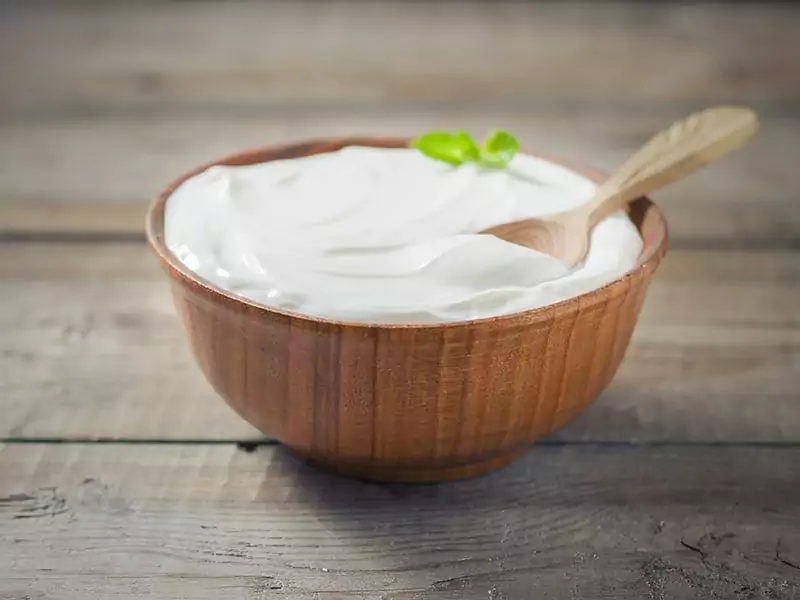 Can I Freeze Greek Yogurt?
What if you don't have a well-built Greek yogurt maker but still want to have Greek yogurt readily available whenever you want? Can you freeze Greek yogurt then?
Yes, definitely yes! In fact, this is a suggested way to preserve Greek yogurt longer. And here are the shelf life of a Greek yogurt container in the freezer:
Sealed Package: A tightly sealed container of Greek yogurt can last up to 2 months in the freezer.
Opened Package: A Greek yogurt container that has been opened can only survive for only 1 month.
Besides the storage life, I will talk more about how to freeze Greek yogurt properly and how freezing can affect your yogurt.
Keep on reading for more details and information.
What Is Greek Yogurt?
Despite its name, Greek yogurt, or strained yogurt, is actually not a recipe originating from Greek. This name is one part of the marketing campaign for this product. Greek yogurt has a thicker and creamier texture than regular ones as it is drained of all the whey and other liquid.(1)
At the same time, Greek yogurt still retains the sour flavor. Compared to the standard yogurt, this has a lower lactose content yet higher protein amount. It also possesses various nutrients, such as calcium, vitamins, zinc, and calcium. (2)
Thus, it's recommended to consume Greek yogurt regularly. There are many Greek yogurt-based dishes for you to enjoy, from beverages like smoothies to soups, casseroles, dips, etc.
"But can I enjoy this yogurt on a gluten-free diet?" you might ask. Well, you don't have to worry since most kinds of yogurt (Greek yogurt included) are free of gluten.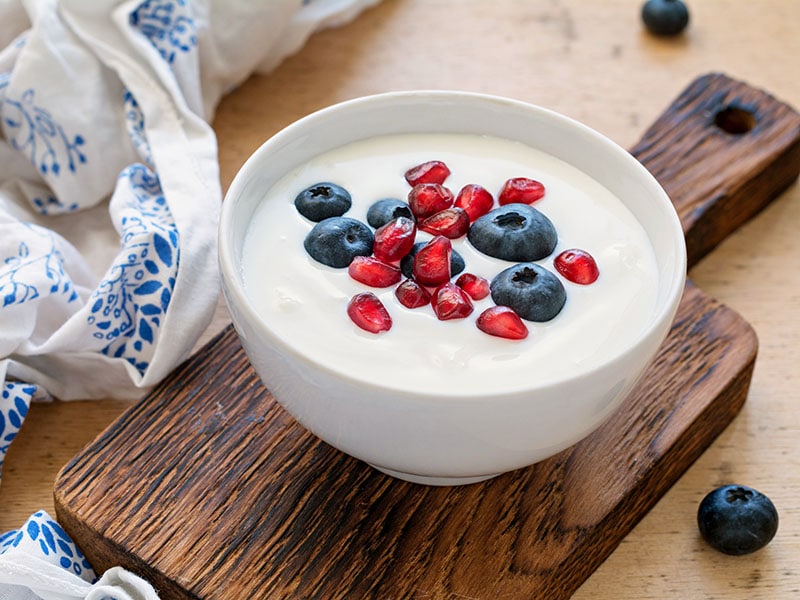 Have you ever thought of making a cheesecake with Greek yogurt? Watch this video to find out!
What Effects Does Freezing Have On Greek Yogurt?
Freezing is a common way to preserve yogurt, especially Greek yogurt. However, keep in mind that, after being frozen, the texture of Greek yogurt will change significantly.
Frozen Greek yogurt will lose some of its thickness and taste somewhat grainy and watery as the water and the milk get separate. Because of this reason, many people don't really prefer thawed Greek yogurt, though the taste doesn't change much.
If you are one of them, you can blend frozen Greek yogurt in the smoothies instead, as the texture will no longer be a problem. Stirring it a couple of times before using it may reduce the watering texture.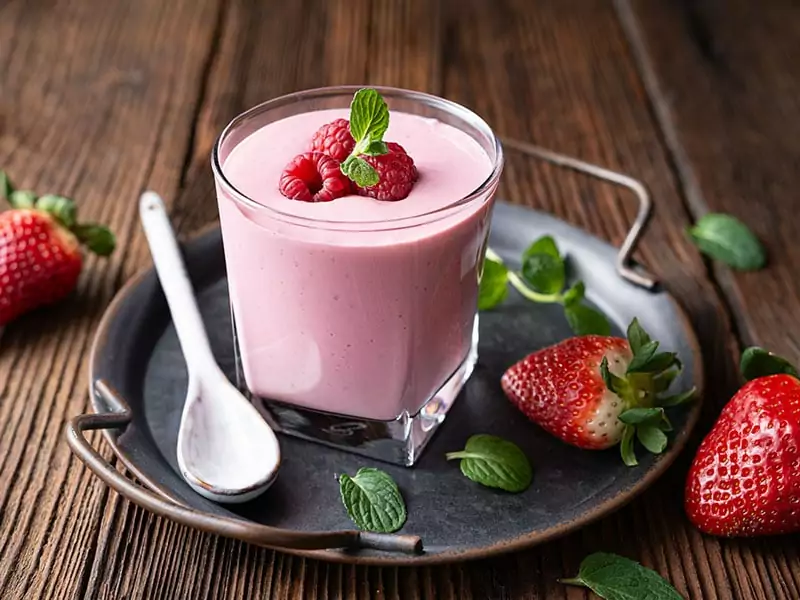 In case you still wonder about freezing Greek yogurt or not, you can try a cup in advance. Freeze it for a few days, then pull out and try it yourself. If you are comfortable with the texture changes, you can freeze the yogurt in bulk now.
One more thing, frozen Greek yogurt doesn't lose any nutritional value even. Most of the bacteria become dormant at freezing temperatures and will reactive when you thaw the yogurt. (3) That's why eating frozen Greek yogurt will bring you the same health benefits, just like fresh ones.
Now, it's sure that there is no harm to yogurt when being frozen. Let's take a look at how to freeze it properly.
2 Methods To Freeze Greek Yogurt
You wouldn't want to freeze Greek yogurt in its package as it will expand in the freezer. Here are 2 simple options for you to make perfect frozen Greek yogurt.
Using Airtight Containers
This, by far, is the most common and practical way to store food. And it applies to Greek yogurt as well. Choose containers with smaller sizes than original yogurt packages. This way, you can divide your yogurt into various portions, making it easier to defrost afterward.
And do the containers have to be airtight? Yes, they do. It's because this feature will protect Greek yogurt from the odor of other foods and the freezer. You can label these containers with yogurt's expiration date to remind yourself.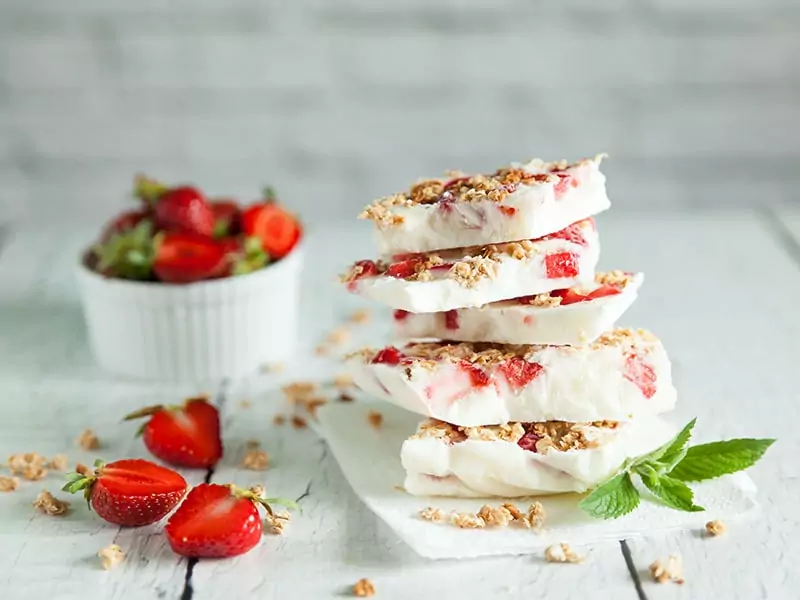 Use An Ice Cube Tray
This option is an ideal one if you want to use frozen Greek yogurt for smoothies alone. Pour the yogurt into your ice cube tray and freeze it. When all the cubes are frozen, put them in a freezer-proof bag to store in the freezer.
This bag will prevent them from absorbing different smells and getting too frosty. You can just take some cubes out and add them to a good green smoothie blender with the smoothie when needed. This method may require more time and effort than the former, but the result is worth it!
You can use plastic wrap as an addition to these two options. Wrapping layers of cling film outside the containers or freezer bag can ensure better quality.
See this idea they have with frozen Greek yogurt! Why don't you try one?
How Long Does Greek Yogurt Last In The Freezer?
When stored in the fridge, Greek yogurt can last for roughly 1 or 2 weeks. However, they can last much longer with a freezer, though it depends on the package condition.
If you put your yogurt in an airtight container or tightly sealed freezer bag, its storage life can increase up to 2 months. In contrast, Greek yogurt in an opened package only survives for about a month.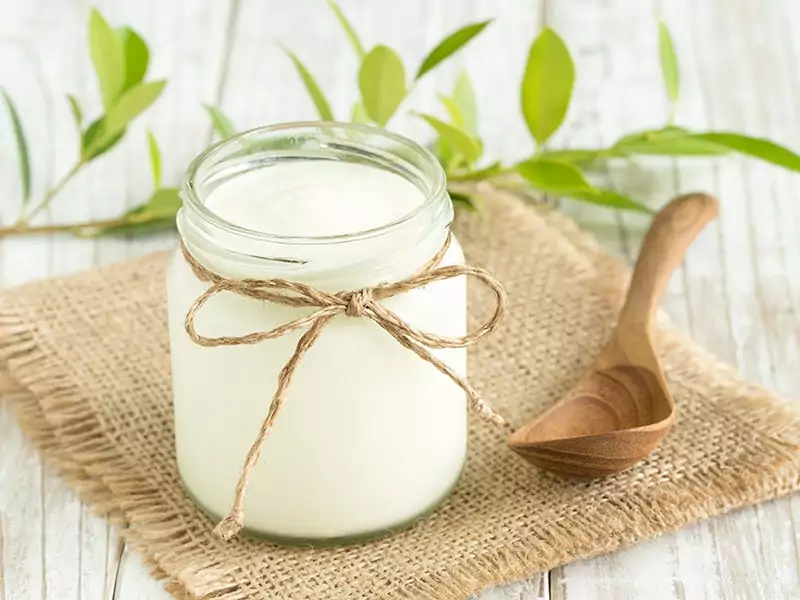 However, I recommend eating your yogurt as soon as possible. The longer you freeze it, the more likely it is to get freezer burn.
How To Thaw Frozen Greek Yogurt
The best way to defrost frozen Greek yogurt is to put it in the fridge overnight. Or just a couple of hours inside the refrigerator is enough. This way, your yogurt won't get too warm and become spoiled.
But if you don't have enough time, you can just dip the freezer bag in a water bowl. Make sure the bag's still tightly sealed. Or else water can get in and ruin all the yogurt.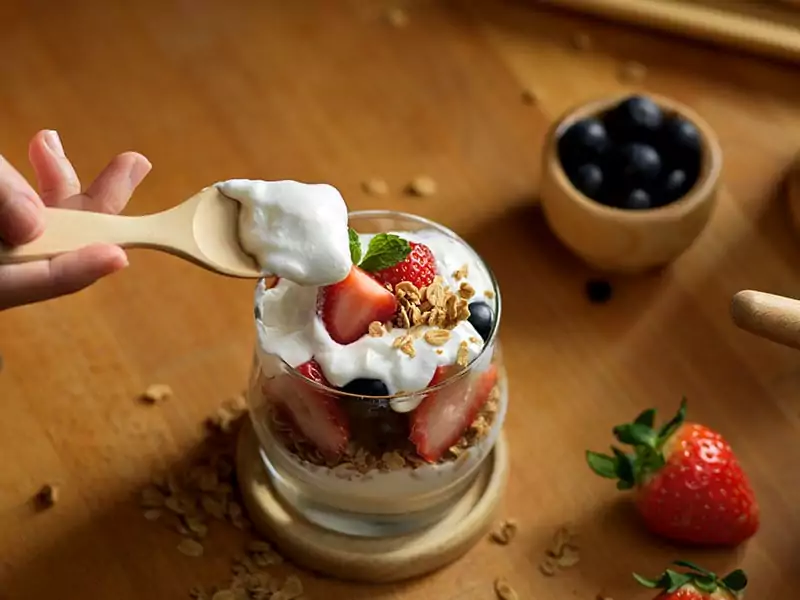 As I've stated above, thawed Greek yogurt cannot be as thick and creamy as before. So, remember to stir it thoroughly before consuming it. Also, make sure you refrigerate the leftover Greek yogurt within 2 hours after defrosting so it won't get ruined.
Frequently Asked Questions About Greek Yogurt
Regarding Greek yogurt, I bet you still have several problems left, even after reading all the information above. So, in this part, I will answer some of the most common questions.
Further Advice
Even with freezing, you still need to remember some tips to preserve your Greek yogurt as best as possible:
Seal the container after use: This way, the lid will protect your yogurt from bacteria and odors from the outside.
Do not eat directly from the container: Transfer Greek yogurt from the package to another bowl to enjoy it. Or else, you may ruin the bacteria inside.
Store it in the freezer's body, not the door: If you place Greek yogurt containers in the freezer's door, the temperature change will ruin your yogurt easier when you open and close it.
I hope you now have reached a specific answer about whether to freeze Greek yogurt with all this information. Share all your concerns or ideas about this topic in the comment section below. And if you find this article helpful, don't forget to share it with your mates!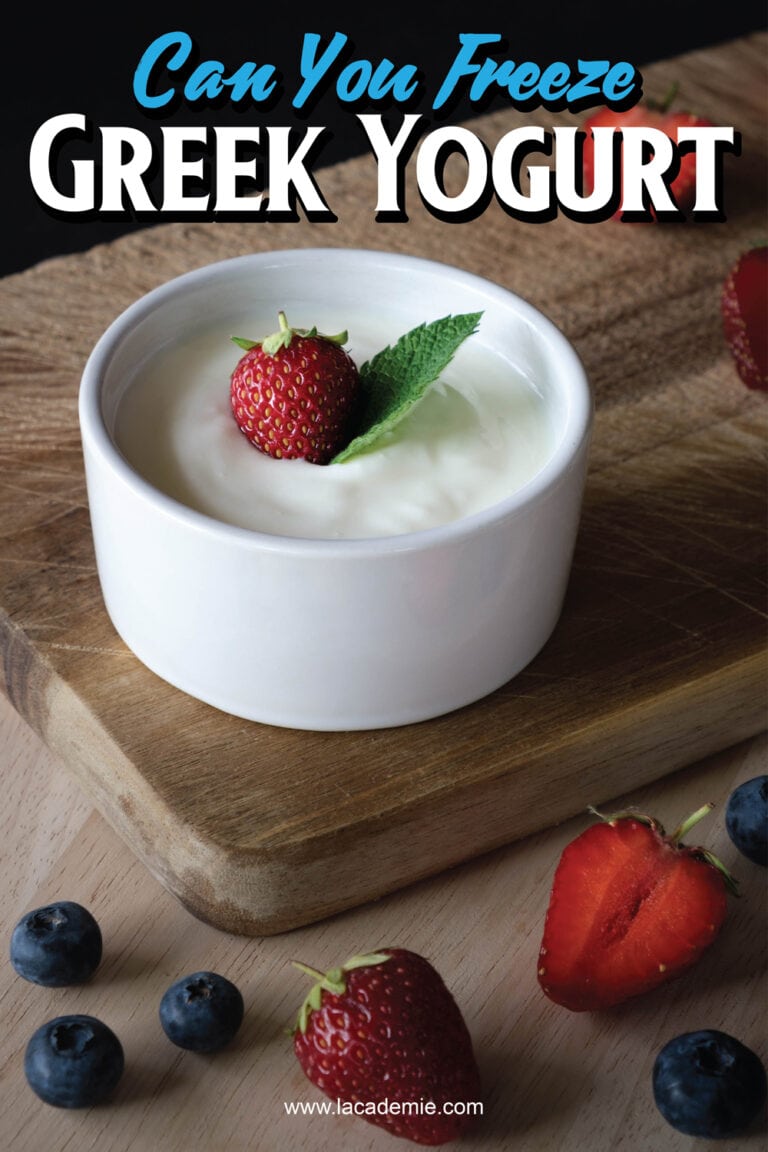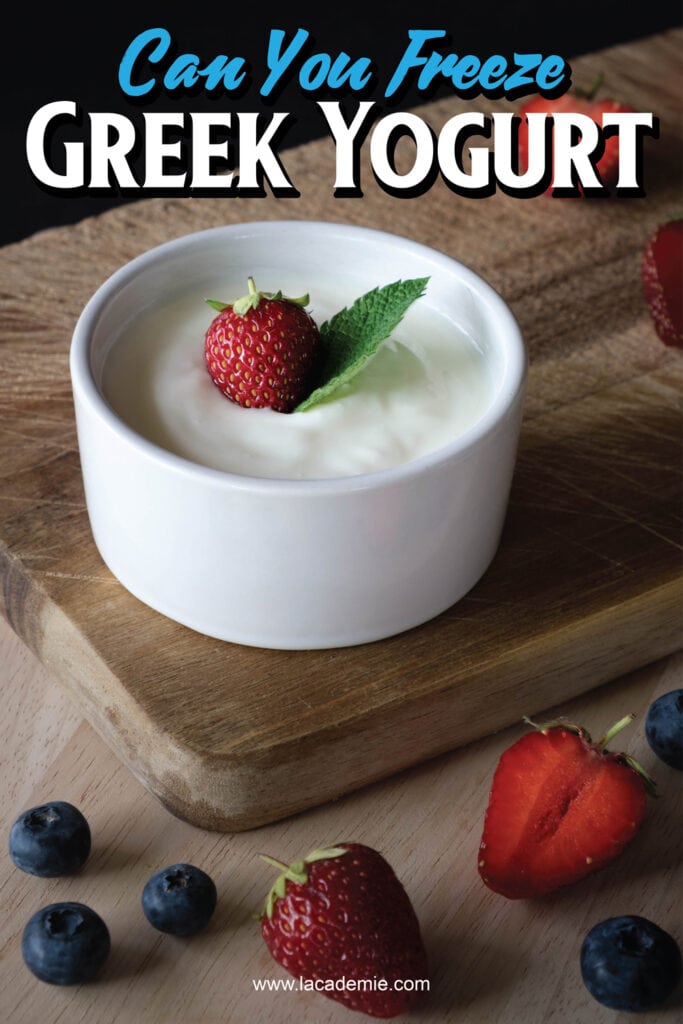 References
1. En.wikipedia.org. 2021. Strained yogurt – Wikipedia.
2. Healthline. 2021. Greek Yogurt vs. Regular Yogurt: What's the Difference?
3. Food Safety and Inspection Service. 2021. Freezing and Food Safety.