Different types of Italian bread will charm you with the most sophisticated flavor. Each type comes from a different region of Italy with a distinct characteristic. From the North to the South, the land to the islands, Italian bread will treat you well.
Whether you want a sweet or a savory flavor, the following delectable versions of bread can satisfy you. Don't wait any longer; keep scrolling down and join this savory expedition.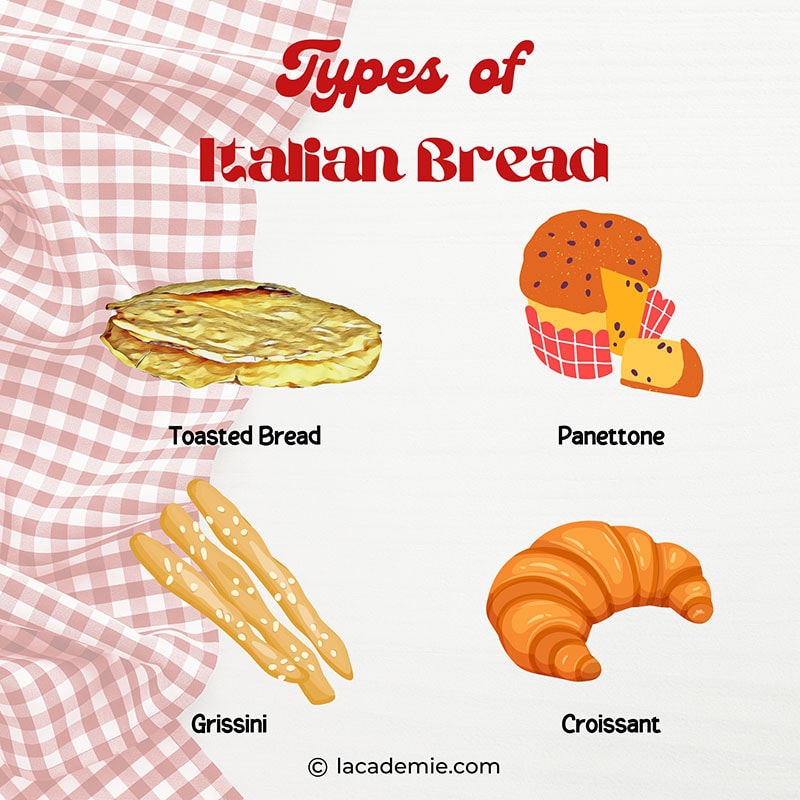 Island Region of Italy
Italy is a beautiful country with marvelous islands. The culinary cuisine from these islands kicks your taste buds with a delicate flavor.
Types Of Bread 
Appearance
Texture/Flavor
Pagnotta Del Dittaino
Round shape (from 500-1100g) with pale yellow color
Crusty and nice aroma
Vastedda
Can be formed into a round loaf or donut shape
Slightly crumbly 
Pane Rustico
Porous appearance with yellowish-brown crust

Come in large sizes
Airy and slightly chewy
Buccellato
Have ring shape 
Dense
Brioche Col Tuppo
Oval-shaped with a small ball on top (called tuppo)
Sweet and complex 
Sfincione Siciliano (Sicilian Style Pizza)
Rectangular or round shape with thick crust 
Light and a bit chewy
Pane Carasau (Toasted Bread)
Flatbread with paper-thin shape
Crispy
Moddizzosu
Round shape
Airy and soft
Civraxiu
Round, crusty with white-ish yellow interior
Tender
Pane Guttiau
Thin flatbread
Crispy and dry
Cudduruni
Focaccia-style bread. Edges look like a rope
Crispy edge and airy inside
1. Pagnotta Del Dittaino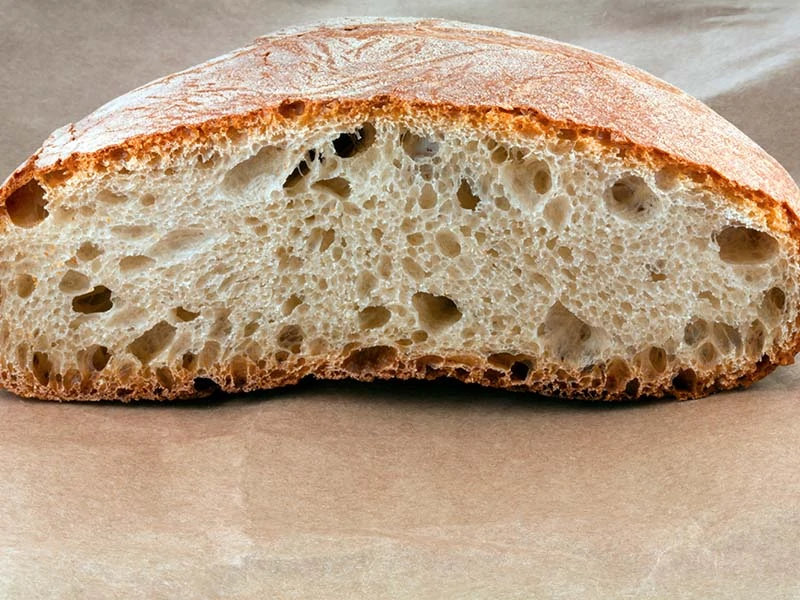 Hey! Let's start with this dazzling dish from Italy! Pagnotta Del Dittaino is a traditional rustic sourdough bread in Enna and Catania (Sicilian provinces). The bread can stay fresh for up to a week thanks to the durum wheat cultivated in the Dittaino River.
Pagnotta Del Dittaino has a beautiful round shape with a weight of around 500 to 1100g. The baked bread has a pale yellow with a lovely aroma.
Local people often serve the bread with Sicilian charcuterie and cheeses. You will also see the bread as an ingredient to prepare Bruschettas.
2. Vastedda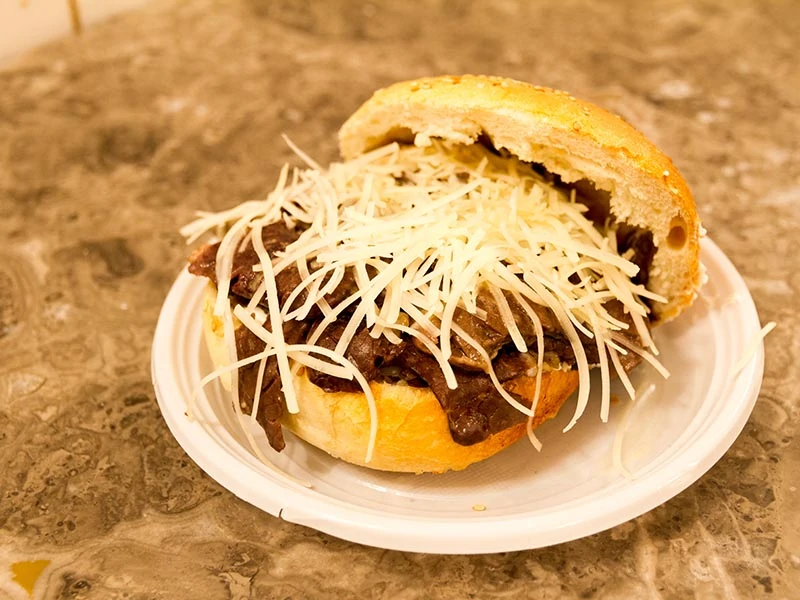 On the peaceful island of Sicily, there is a lovely bread that you will like, Vastedda. The bread is a crucial part of many tasty recipes here. For example, the famous Italian sandwich with veal spleen filling called "Pani câ Meusa".
Its traditional shape is a round loaf of bread, but in Ramacca (Catania), local people make it like a normal loaf or donut shape.
Cheeses like caciocavallo and ricotta are a good pairing with Vastedda. In the Metropolitan city of Palermo, local people have created a fried Vastedda with an incredibly crispy texture called Vastedda fritta.
Vastedda fritta is a traditional food listed in Italian agricultural and food products by the Italian Ministry of Agricultural, Food, and Forestry. The word Vastedda or Vastella also means a famous cheese in Sicily.
3. Pane Rustico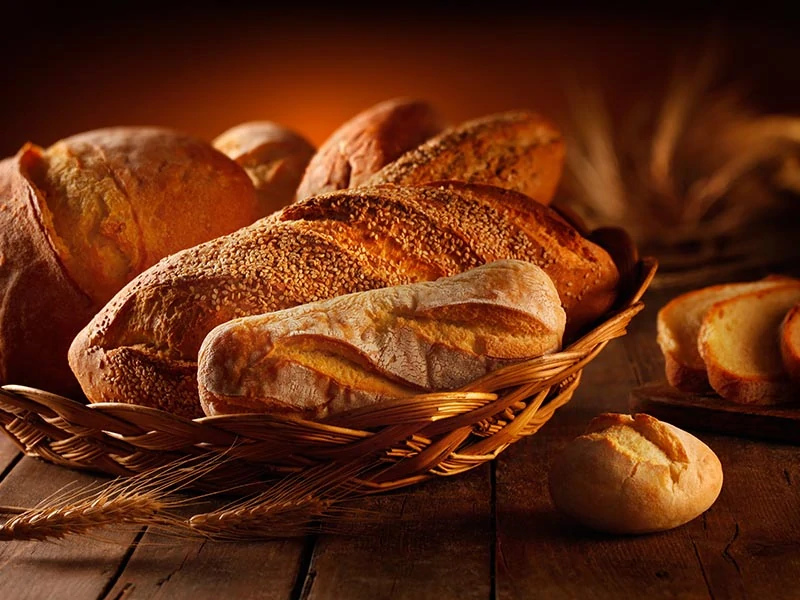 I can't wait to introduce you to this delightful Italian specialty. Pane Rustico has a porous appearance and an airy texture best suited with a hearty soup or stew. Some recipes have a slight note of alcohol as the bread after the yeast fermentation.
People often make it in a large size with a yellowish-brown crust. The texture can be a bit chewy depending on the ingredient used in making it. You might find local people baking the cake in the wood-fired brick oven.
The bread is also famous in neighboring regions like Naples. You have to try the bread when visiting Italy. You won't regret your decision.
4. Buccellato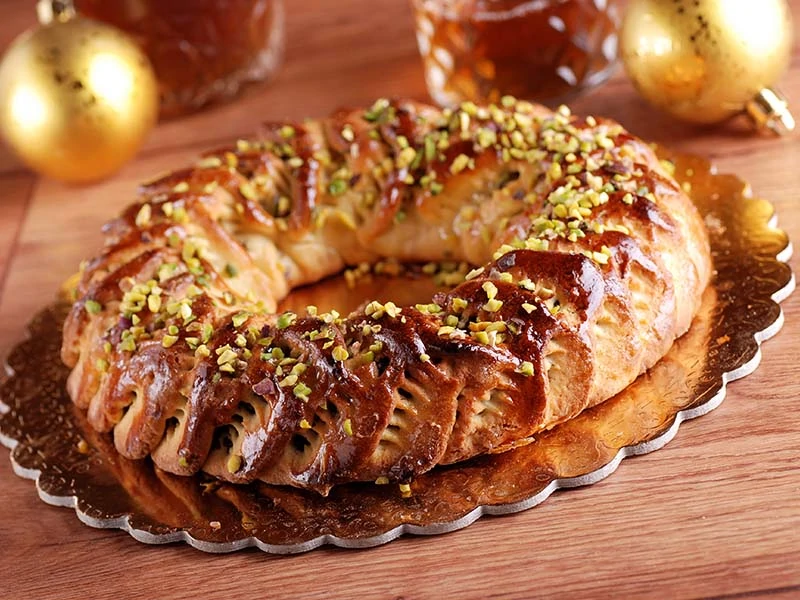 Yummy! You need to try this mesmerizing specialty in Sicily. This ring cake will be a heat in your upcoming party and allure all the members with its spectacular sweetness. Traditional Buccellato has figs and nuts that are perfect for Christmas in Sicily.
Almonds, walnuts, and hazelnuts are some popular choices for Buccellato. Candied fruits will keep the taste of Buccellato exciting. Sometimes, local citizens also add coffee and sweet wines for the cake.
This outstanding Italian sweet course also has a smaller version resembling a cookie called "Buccellati". Garnish the dessert with some crushed pistachios and fruits to beautify it.
Sicilian people often make Buccellato for the holiday season and celebrate family members' achievements. Buccellato used to be a traditional gift for wealthy fortune and prosperity. The bread is a proof showing the influence of Arab cuisine on Sicily.
5. Brioche Col Tuppo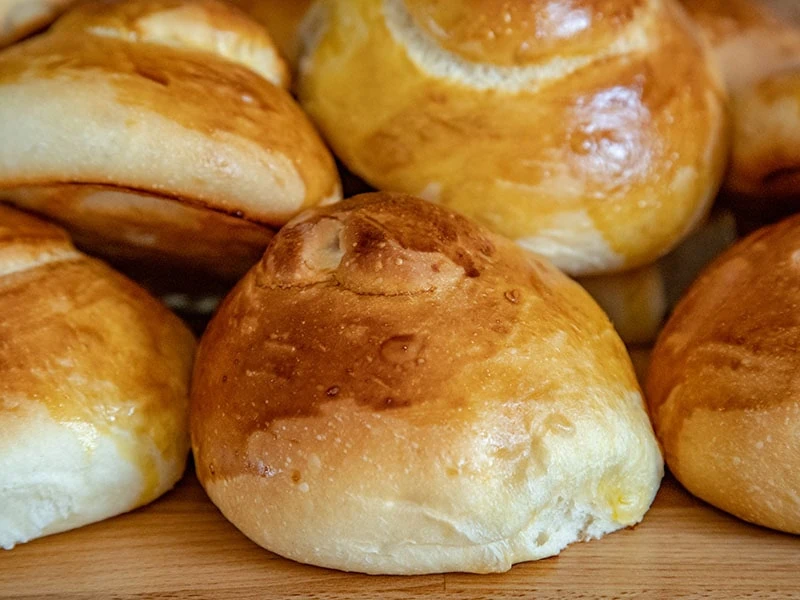 Brioche Col Tuppo, another kind of sweet bread, is an excellent street dish from Sicily famous throughout Italy. Brioche Col Tuppo means "the bun on top" in English as the bread has a little pastry on top of the main bread called "Tuppo".
Customary, people will enjoy the Tuppo first and then the rest of the bread. The bread has a complex flavor from butter, honey, milk, and eggs. Some recipes add saffron, orange or lemon rind, or apples to twist the bread flavor.
Split Brioche Col Tuppo in half and stuff Gelato to it to enjoy the one-of-a-kind taste. People also pair it with pistachio, lemon, and strawberry Granita.
6. Sfincione Siciliano (Sicilian Style Pizza)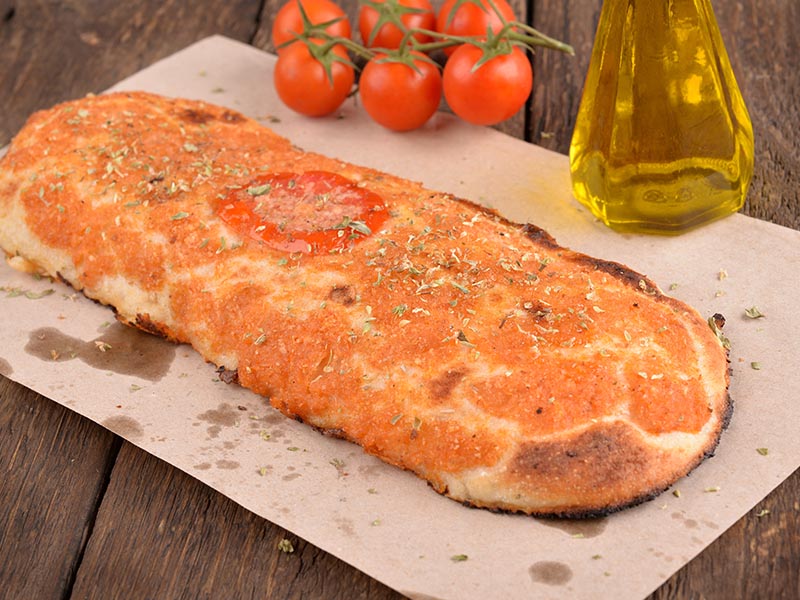 Italy is a nation of different types of Pizza and Sfincione is a delicacy of Sicilian culinary culture. People also call this pizza "Sfincione" or Focaccia pizza with toppings. This pizza became famous in western Sicily during the mid-19th century.
Sfincione pizza has a thicker crust with a rectangular or round shape. The toppings are often anchovies, onions, tomatoes, and herbs. The key flavor is the scent of strong cheese like toma and caciocavallo. Some versions exclude the cheese for a mellow taste.
In Sicily, Sfincione has different variants in each region. The top popular variants are in Palermo, Messina, Siracusa, Catania, and even the U.S has their own version of Sicilian Sfincione.
7. Pane Carasau (Toasted Bread)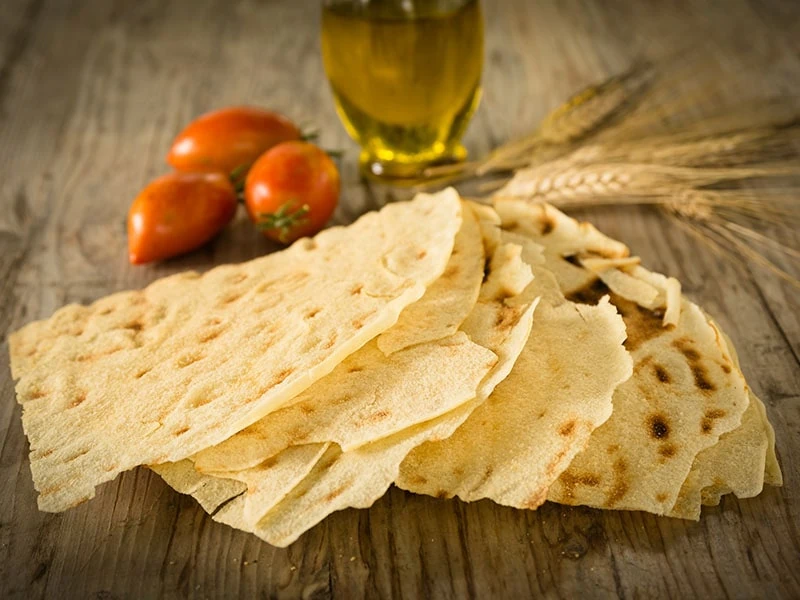 In the exquisite cuisine of Sardinia island, there is a flatbread with an incredible paper-thin shape and crispy texture. Pane Carasau is a creation of shepherds who need bread with a long shelf life as they are usually far away from home.
This bread can stay for months in a dry condition. The flat appearance of this bread looks like a tasty kind of Indian bread named "Roti". You can enjoy Pane Carasau wet (paired with wine, sauce, or water) or dry, depending on your preference.
In Italy, people often call the bread "Carta da Musica", which means "sheet music" in English. Local people say that the bread is so thin that you can read a music sheet through it. The sound of chewing or breaking the bread also reminds people of a unique song.
8. Moddizzosu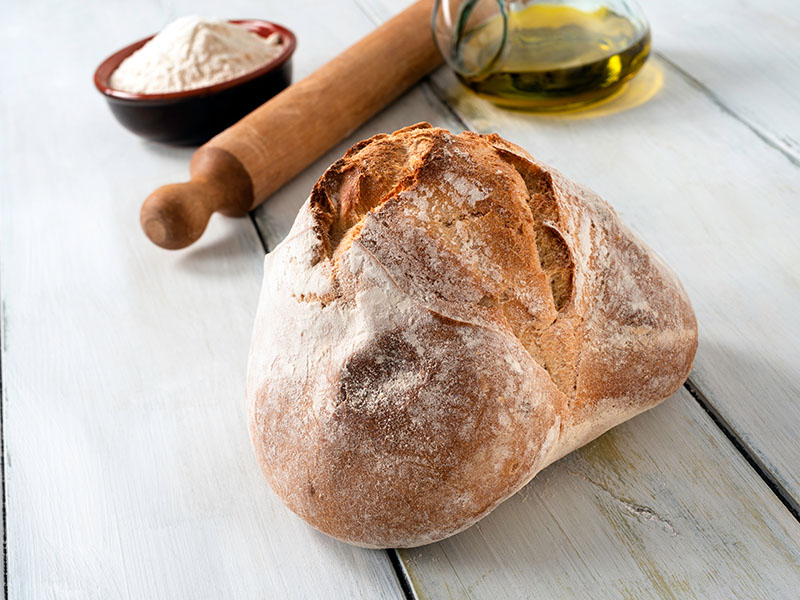 Let me introduce you to this Barbagia di Seulo (Sardinia) area's cuisine, Moddizzosu. The bread has a round appearance with a soft and airy texture. This is a quick and easy bread that you can store for months in the freezer and thaw to enjoy.
At room temperature, the bread can last up to 10 days. Moddizzosu is available in two sizes with different weights: Su Catargiu (roughly 800 grams) and Sa Civargedda (around 400 grams).
People often pair Moddizzosu with cheese or salami, but you can eat it plain. This bread is a perfect choice to match a strong kick of wine. Potatoes and fried pork fat are some common options to boost the creaminess.
This product is so popular that it inspires many craftsmanship and architecture. In fact, many houses have a separate area only for baking, and some towns even have a communal oven.
9. Civraxiu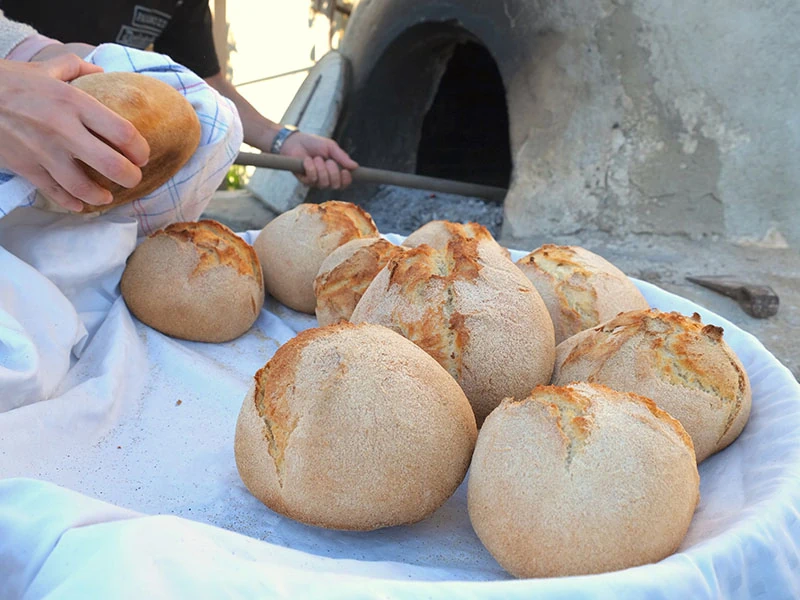 This round and crusty bread from Sardina will mesmerize your palate. Civraxiu is a beautiful creation made from semolina and regular flour, yeast, and water. The white-ish yellow interior will treat your mouth with a tender texture when you cut the bread.
This is an ideal appetizer in Italy when served warm. To enrich the bread, you can dip this Civraxiu in olive oil or roasted meat drippings. You will also find Civraxiu in Bruschettas with other tasty ingredients.
Traditionally, Civraxiu is made in the early morning and wrapped in cloth. People often preserve the bread in cellars for a beautiful taste.
10. Pane Guttiau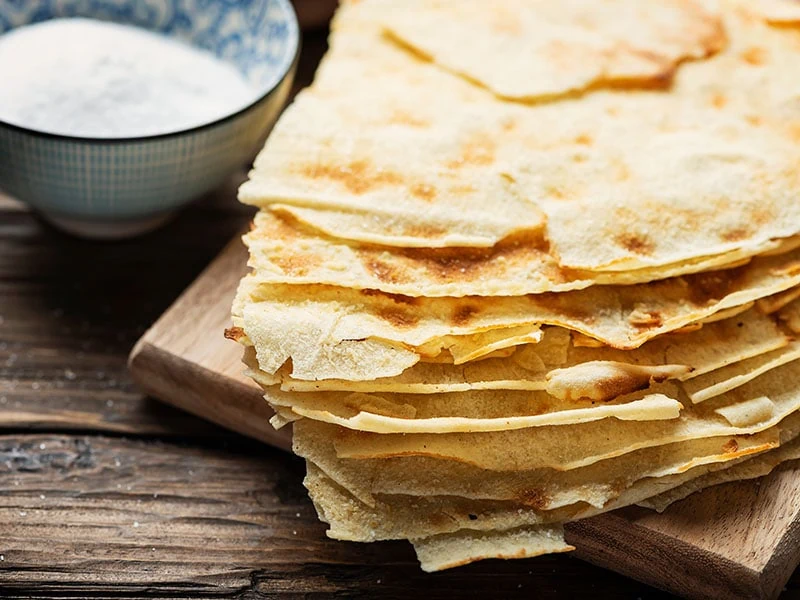 Pane Guttiau is a cousin of the delicate Pane Carasau in Sardinia. This Pane Guttiau is a thinner flatbread compared to Pane Carasau. Similar to its cousin, Pane Guttiau was a crispy choice for local shepherds in their long journey on the pastures.
As the bread is dry, it can stay at its best quality for a year. To make this bread, people will bake the thin dough until perfection with crispiness. Coat the bread with olive oil and some salt, and you have a dazzling snack for a day.
You can complement this bread with cheese and salami for an outstanding meal.
11. Cudduruni
Cudduruni is a treat inspired by the famous Italian Focaccia. The bread's hometown is Lentini, Syracuse – a city in Sicily. Beer yeast and wheat flour are often the main ingredients forming the crispy edge and airy interior.
Cudduruni edges often have an appearance resembling a rope. You can top this treat with onions fillings, cheese (from sheep milk), or olive oil.
The treat has its crispy cover, thanks to the heat from the wood-fired oven. Other ingredients like mortadella, sausages, and prosciutto appear in some variant recipes.
In Northern Italy
Cities and towns in Northern Italy have a mesmerizing antique vibe, and the bread here reflects a sophisticated feature in Italian cuisine. Keep reading to find out!
Types Of Bread 
Appearance
Texture/Flavor
Ciabatta
Elongated and broad
Dense crumb and crispier edges

Light and spongy crumb
Panettone
Dome-like shape
Has citrus flavor 
Grissini (Crispy Italian Breadsticks)
Breadsticks that can be long or short
Soft
Focaccia
Has a pizza shape
Has the fragrant aroma of herbs

Crisp crust and a soft crumb
Tigella Or Crescentina
Round shape 
Soft
Piadina
Thin flatbread 
Soft and fluffy texture 
Coppia Ferrarese Or Ciopa
Looks similar to two joined croissant
Hard and extremely crumbly crust and soft interior 
Runditt
Flatbread with a white color
Thin structure
Pandoro
Eight-pointed star frustum
Sweet and airy
Farinata Di Ceci (Chickpea Flatbread)
Golden flatbread
Nutty
Gubana
Has different layers twisted in the interior
Rich and nutty
Pandolce
Round shape
Complex flavor with crumbly texture
Michetta Or Rosetta
Various shapes
Has hollow interior 
Colomba Di Pasqua
Has the shape of a dove
Soft and sweet
12. Ciabatta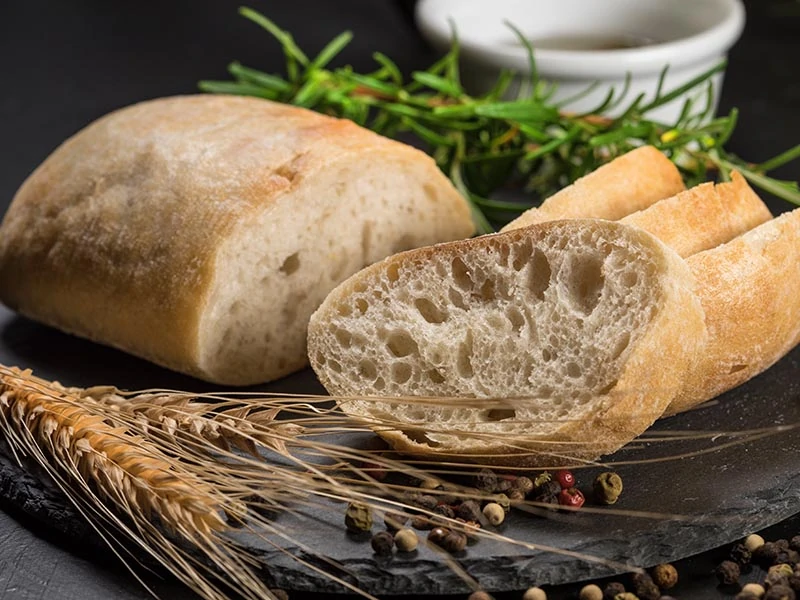 The crusty outer layer of Ciabatta and its airy interior will allure your heart. Ciabatta is a wonderful treat created in 1982 from Rovigo, Veneto. The bread has a porous interior made from a wet dough distinctive from most other bread.
The original recipe of this delicacy is vegan-friendly, so if you're asking whether bread can be vegan, this is your answer.
You can toast some slices of Ciabatta to make Panini; this name is often used outside of Italy. There are many variants of Ciabatta in Umbria, Tuscany, and Marche, with dense crumb and crispier edges. People also add marjoram to perfume the bread in Rome.
Ciabatta has a light and spongy crumb that is a little wet and chewy. You can pair it with olive oil or dip the bread with any sauce or soup. Slices of Ciabatta are a great choice to make Italian sandwiches. You should give it a try!
13. Panettone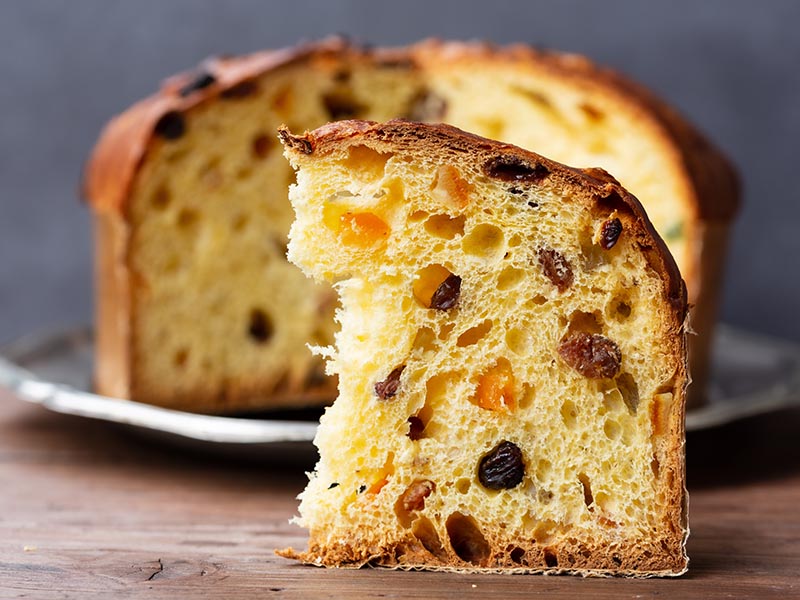 Isn't it amazing to enjoy this mouth-watering sweet course from Italy? Panettone has a dome-like shape extending from a cylindrical base and is around 15 cm high. The dessert has a citrus flavor from lemon zest or candied orange.
Cut the cake vertically and pair it with a glass of sweet wine (like Moscato d'Asti) or other hot beverages with a sweet flavor. You might find people match Panettone with a special cream made from alcohol, cheese, and eggs called "Crema Di Mascarpone".
Panettone is a treat from Milan originating from the Roman Empire when they used honey to sweeten a leavened cake. It's now a famous bread worldwide and is believed to be the inspiration for the Chilean signature dish Pan De Pascua.
Panettone is an ideal choice of bread to make on Christmas and treat your friends.
14. Grissini (Crispy Italian Breadsticks)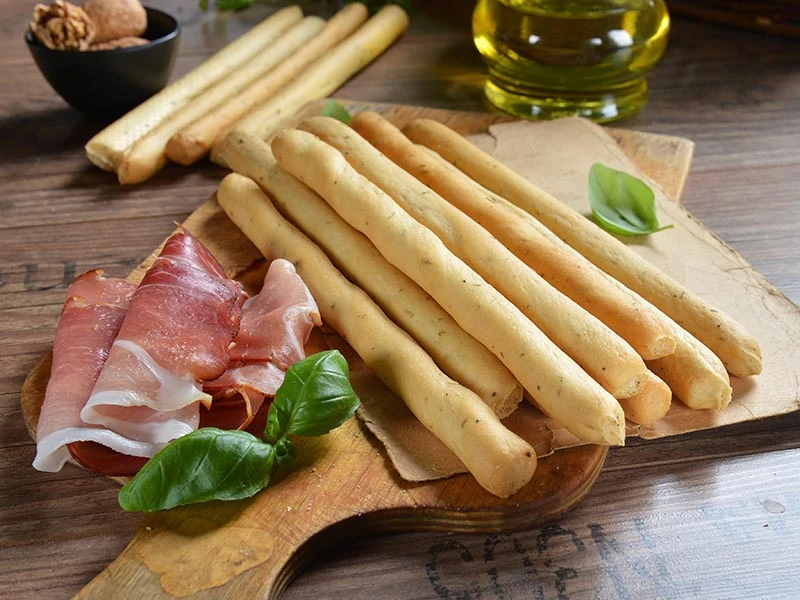 Although Grissini is insanely famous in France, its origin is in Torino, Italy. The bread first appeared in a bakery in 1679 in Lanzo Torinese. This thin masterpiece is famous in Asian, Australian, and American regions too.
Grissini is a small, thin bread with chili sauce, pate, and meat filling. The bread is so soft that it will melt in your mouth immediately. It's a perfect snack full of olive flavor for dipping with sauce or soup.
This bread is just like pizza crust. You can bake it from pizza dough purchased from any grocery store near you. The length of this bread can be long or short, depending on your preference. A glass of cocktail and wine will complement Grissini splendidly.
15. Focaccia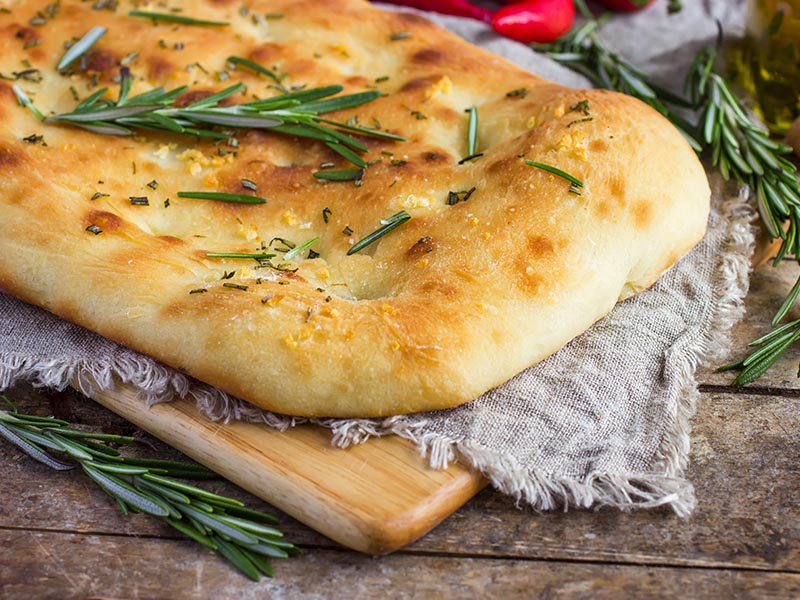 Italy has different kinds of dishes that will wow your family. Focaccia is a unique bread perfumed with a fragrant aroma of herbs. Traditionally, you find a beautiful scent from rosemary or garlic.
Focaccia is an oven-baked flatbread that resembles the shape of a pizza. Therefore, people call this bread "Pizza Bianca", which means "white pizza". The bread has a crisp crust and a soft crumb that you will love.
The bread is a delectable side dish from Italy, or you can enjoy it as sandwich bread. Some variants of Focaccia have ham or sauce coasting. In Genoa, local citizens also dip the bread in milk or cappuccino for breakfast.
16. Tigella or Crescentina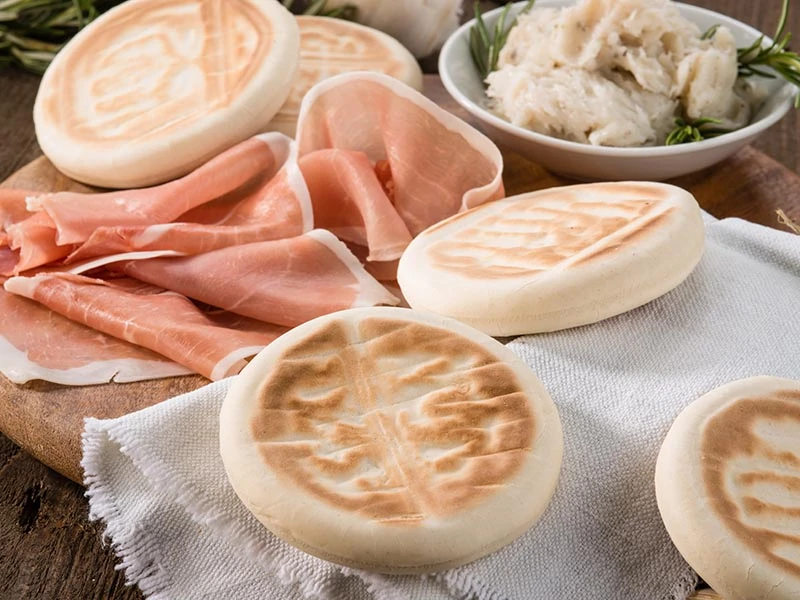 Tigella (also known as Crescentina) is a fried soft bread from Modena (Emilia-Romagna, Northern Italy). Customarily, People flavor Tigella with a spread made from pork lard and herbs called "Cunza".
This is a wonderful Italian street specialty that you can find in any traditional or casual restaurant. The bread is a Traditional Agribusiness Product recognized by the Ministry of Agriculture in Italy.
Local citizens fry Tigella in a unique pan known as "Tigelliera" on a gas cooker. Pair the bread with cheese, cold cuts, or sweet spreads to boost the bread flavor.
17. Piadina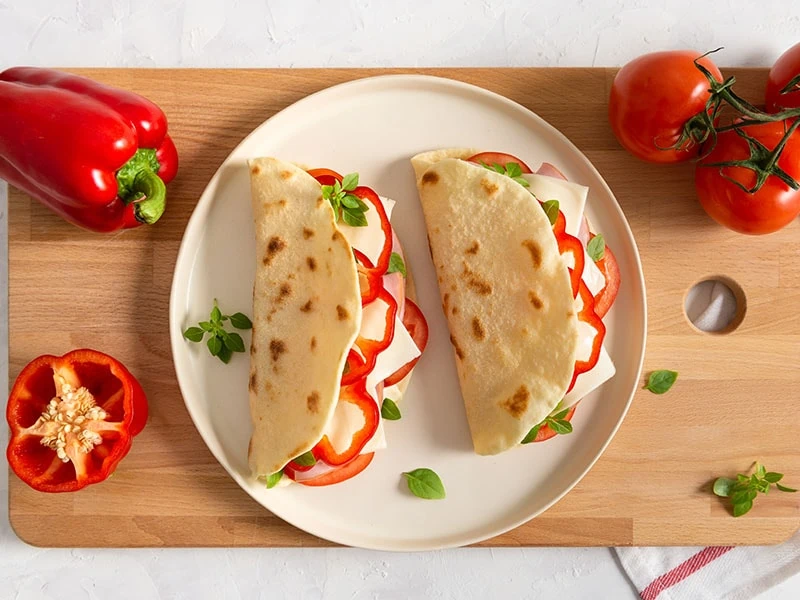 In Romagna, there is a dazzling flatbread made from white flour with a crispy edge called Piadina. Bakers often fold the bread with different fillings like veggies, cheese, or meat. Flavorful prosciutto is a nice choice to highlight this bread.
This bread was a common choice for poor people as it could feed a family. And they only need to make the bread for only once a week. Traditionally, people bake Piadina on a terracotta dish known as "Teggia".
In the present day, a flat pan or a griddle are also common choices for cooking Piadina. The bread is pliable, so you can fold different fillings in it.
18. Coppia Ferrarese or Ciopa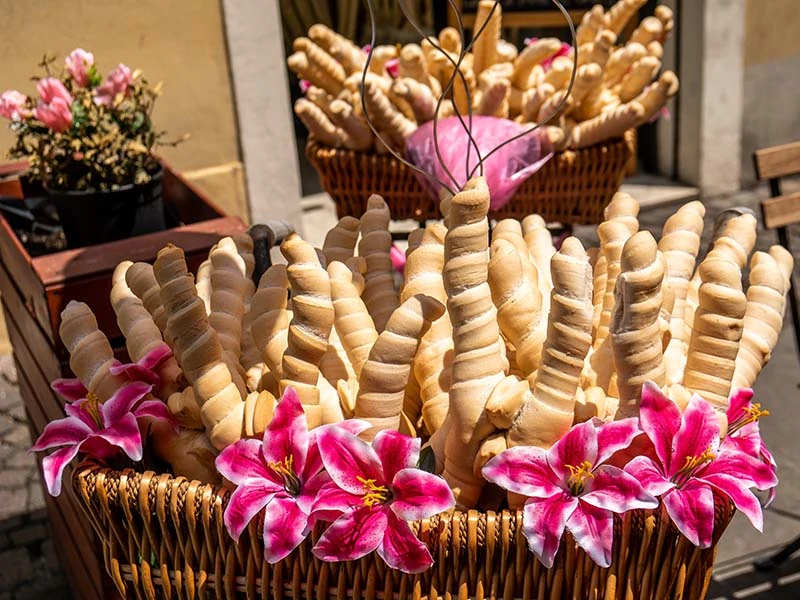 Let me treat you to this outstanding bread from Ferrara, Italy. The bread was invented around the 13th century and has been protected by the PGI (protected geographical indication) since 2001. Its twisted shape will make your upcoming party explode.
Coppia has a hard and extremely crumbly crust, while the interior is amazingly soft. You will find this bread looks like two joined croissants. The curls of Alfonso d'Este's wife – Lucrezia Borgia, are the inspiration for this bread.
Ferrara cured meats, eel broth, and fish soups are typical choices to pair with Coppia. People also use it for making Panata – a traditional dish of Ferrarese.
19. Runditt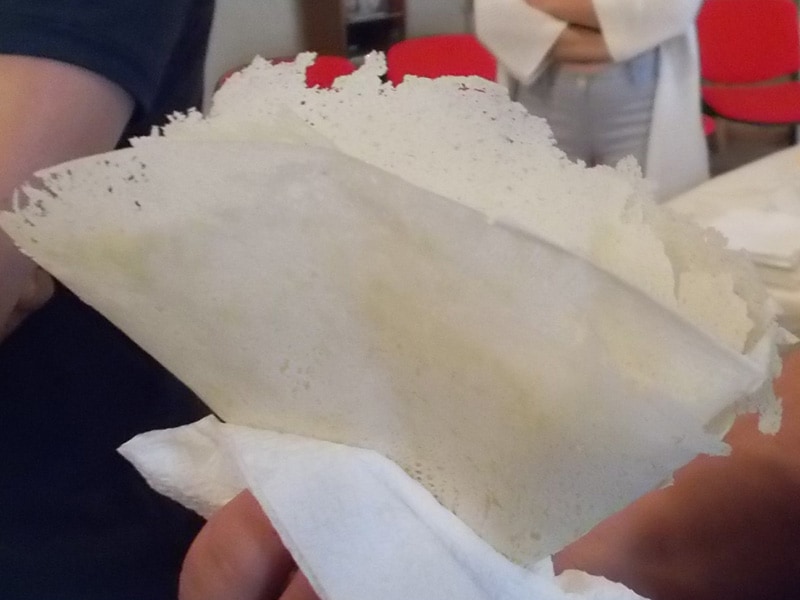 Runditt is a splendid white color bread with an incredibly thin structure. It is a sheet of pastry made for special occasions like All Saints Day, the Feast of St. Blaise, and carnivals. The bread has its origin in Piedmont hundreds of years ago.
The baker will heat the griddle before cooking the Runditt batter. When the bread is done, you can spread butter and sprinkle some salt. Runditt should be enjoyed hot for the best quality.
20. Pandoro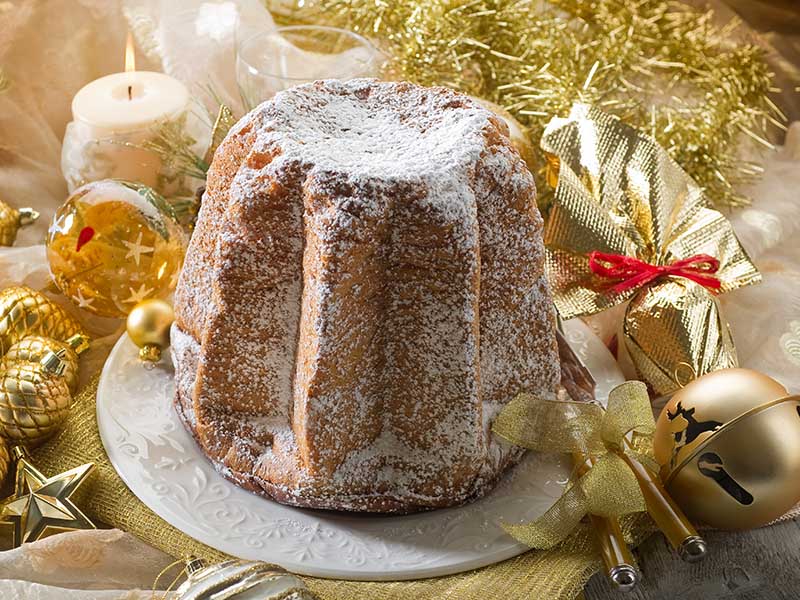 Want sweet bread for your Christmas party? With its delicate sweetness, Pandoro from Veneto will amaze all your friends and family members. The traditional shape of Pandoro is an eight-pointed star frustum.
The amazing airy structure of Pandoro is perfect for celebrating your Christmas or New Year party. People often coast a thin layer of vanilla-scented icing sugar for this dessert. This way, Pandoro resembles the Italian Alps full of snow.
Most Italians prefer buying commercial Pandoro in the local baker or the supermarket as making the bread requires time and skillful technique. You can ask for chocolate cream or Lemon liqueur (Limoncello) to pair with Pandoro.
21. Farinata Di Ceci (Chickpea Flatbread)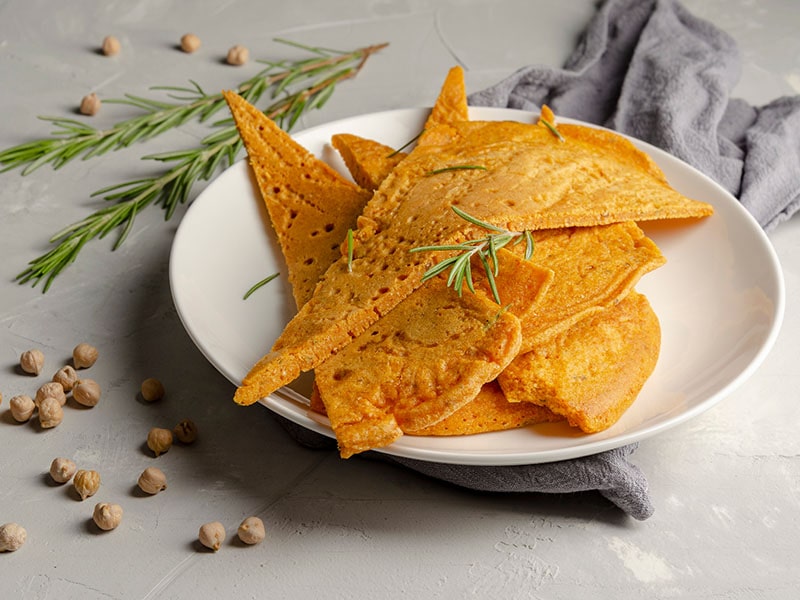 Farinata Di Ceci is a tasty flatbread with a nutty flavor from chickpea in the Liguria region. The flatbread is oven-baked until well-done. People usually serve this bread as a starter in most pizzerias.
Farinata Di Ceci has tons of variance across the country. The Tuscany and Genoa versions might be the most famous. The version in France called "Socca" is also a prominent variant often served in a large size (larger than a meter in diameter).
If you have any leftovers from Farinata Di Ceci, you should heat them in the oven because it tastes better when warm.
22. Gubana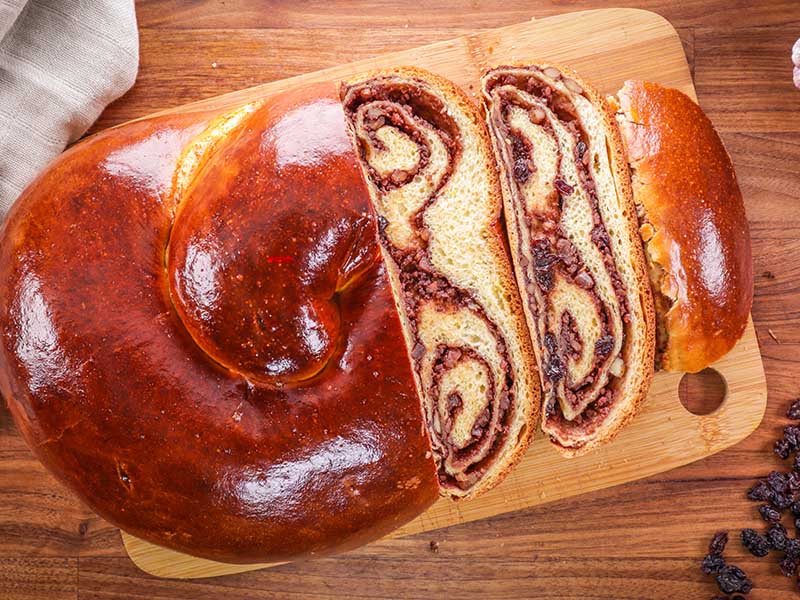 Gubana is a sweet Italian bread often served on traditional holidays in the Northern region (especially Udine). Gubana has its rich and nutty taste from different types of nuts. Raisins, cookies, and wine are common choices to enrich the flavor.
You can sweeten the cake with honey or candied Cedro and twist the taste with a strong kick from rum. Gubana is a flawless choice to bring out the festive atmosphere for your party. The cake is also a traditional choice for Christmas and Easter.
When you cut the bread, you will see different layers twisted in the interior. This brings an impressive look for the bread.
23. Pandolce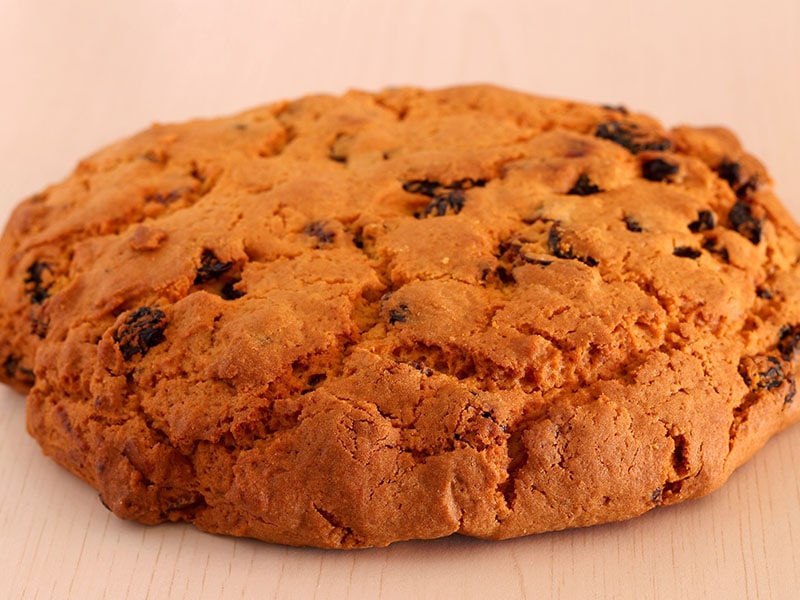 Let's grab the most excellent bread pans and make this enchanting Pandolce. This cake is customary, especially in Genoa, often served at Christmas, New Year, or other celebrations.
The cake has numerous raisins with fennel seeds and orange blossom water. You can fill the taste of honey, candied fruit, and pine nuts to form a party of flavors and texture in every bite.
Pandolce has two major versions: one is high with sourdough or brewer's yeast, the other is Antica Genova with a low height and a crumbly texture. Both types share a round shape that is cut to form an open triangle look.
24. Michetta or Rosetta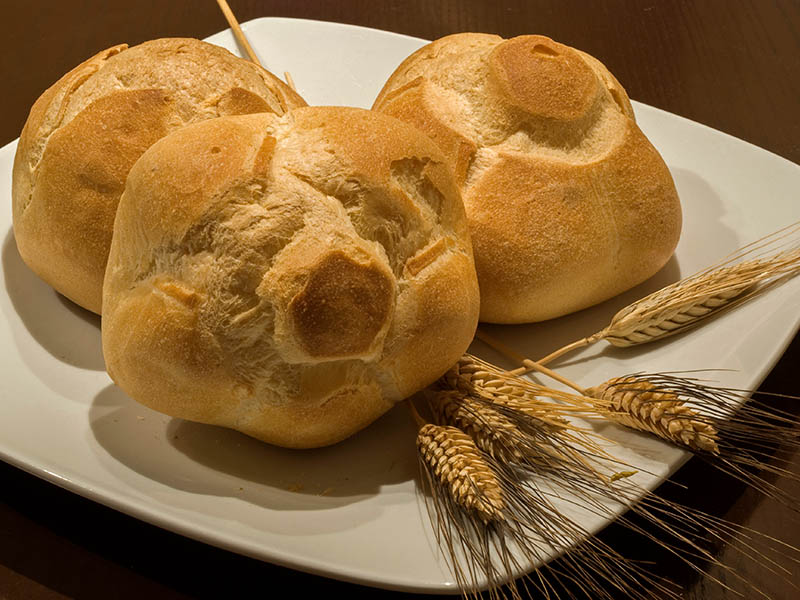 Bread in Italy has various unique shapes, and Michetta is one of the tastiest bread with a bulged shape. It is white bread with a hollow interior that will melt inside your mouth. The bread is a gastronomic symbol of Milan you should not miss.
Michetta is an excellent choice for making sandwiches with mozzarella, prosciutto, or mortadella fillings. This bread is a variant of the Austrian Kaisersemmel, which has traveled to Italy (Milan) since the 1800s.
This bread has high water content, so it often lasts for only one day. Michetta also has a famous version in Lombardy.
25. Colomba Di Pasqua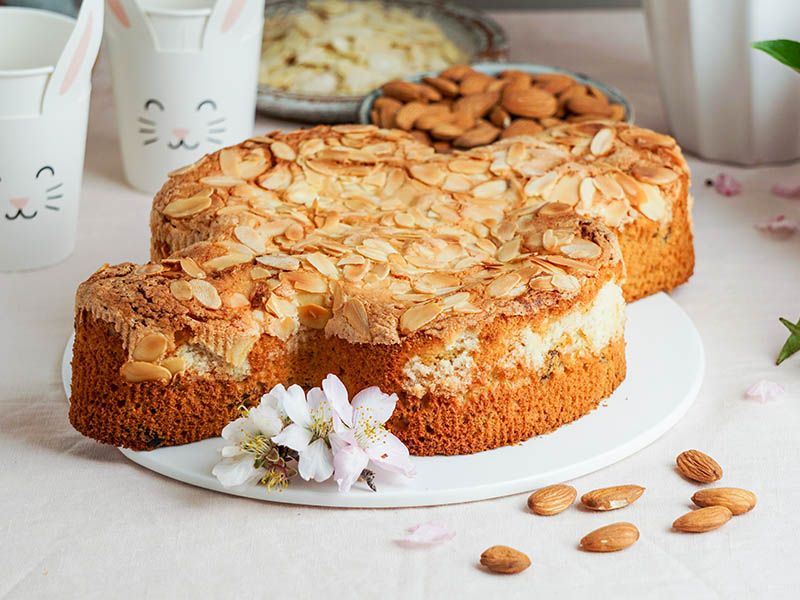 Here is another idea for your Easter dessert! Colomba Di Pasqua is a customary Easter bread in Italy with plenty of nuts and dry fruits. This soft bread is often sweetened with candied peel with a tasty glaze and sliced almonds on top.
Traditionally, the bread has the shape of a dove, which is called "Colomba" in Italy. The bread doesn't have any raisins in its recipe.
The layer of pearl sugar even boosts the sweetness of the cake onto another level. Some versions add vanilla extract or chocolate to flavor this bread. The bread is considered an Easter version of Panettone commercialized by Angelo Motta (a Milanese businessman).
Italian Central Region.
Yum! These loaves of bread from central Italy will charm your soul. I'm sure your family will love them!
| Types Of Bread  | Appearance | Texture/Flavor |
| --- | --- | --- |
| Schiacciata | Thin flatbread  | Crunchy |
| Pane Toscano Or Pane Sciocco | White bread  | Crispy crust with airy and soft crumbs |
| Biscotti Or Cantucci | Oblong-shaped | Nutty and crunchy |
| Ciriola | Small with a golden breastplate | Spongu interior |
| Ciambella Sorana | Ring-shaped | Cripsy cover |
| Filone | Looks like other typical Sicilian bread, but not thin and long like baguette | Airy crumb ad crisp crust, Has a complex bitterness in flavor |
| Crescia | Round-shaped flatbread  | Creamy and flaky |
| Scarpaccia | Flatbread  | Sweet and savory |
| Bozza Pratese | Has round loaf appearance with golden crust | Saltless and soft |
26. Schiacciata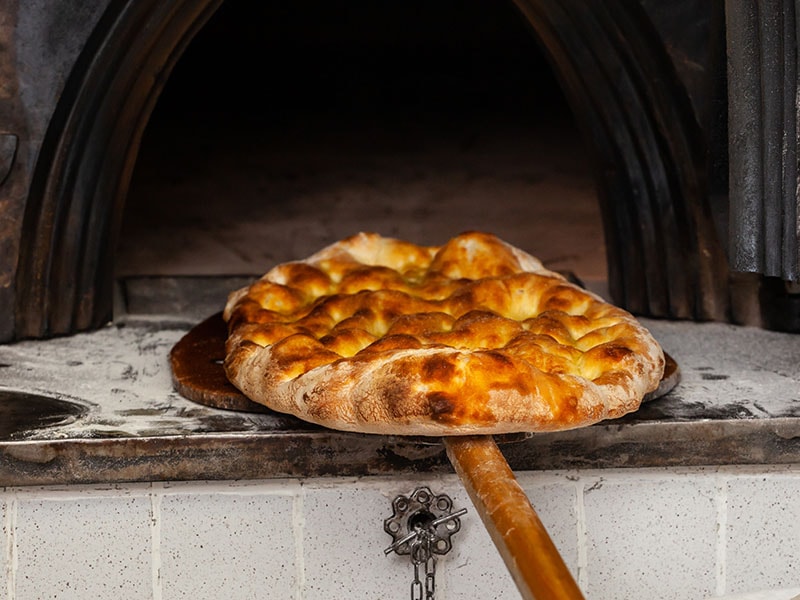 Don't forget to try this delectable street specialty from Italy! Schiacciata is a Tuscan flatbread that you can find in every bakery in this city. The bread dough can be soft and slightly oil or bathed in olive oil, depending on your desire.
This bread is like a cousin of Focaccia that could be baked on a baking stone. You can order the bread thin and crunchy if you like a melt-in-a-mouth texture. Schiacciata is a nice choice for your kids' snacks at school.
Wrap the bread loosely, and you can keep it for days. Some people often enjoy Schiacciata cool as the flavor fits their preference.
27. Pane Toscano or Pane Sciocco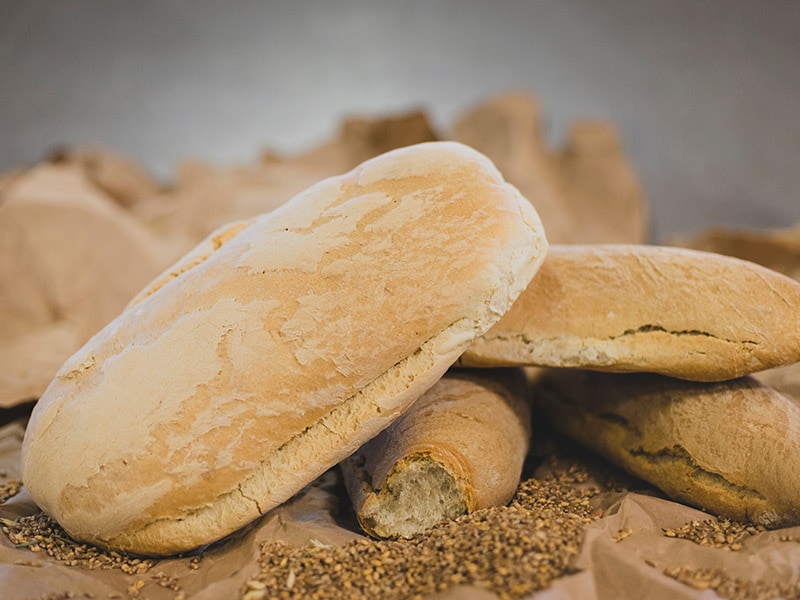 Another tasty dish from Tuscany is on the way! Pane Toscano is a simple bread that you can make yourself right at home. The bread is saltless bread with a crispy crust and airy crumbs.
This bread doesn't include salt because, in the past, the bakers didn't want to pay taxes related to salt. Pane Sciocco has two meanings: one is "without salt", and the other is "stupid" in English.
Pan Toscano can highlight your Bruschetta, sauces, or soups with a mellow taste. Bakers often dust the bread with semolina flour for an astonishing appearance. You can match the bread with sausages, cheese, or ham and enjoy the meal.
28. Biscotti or Cantucci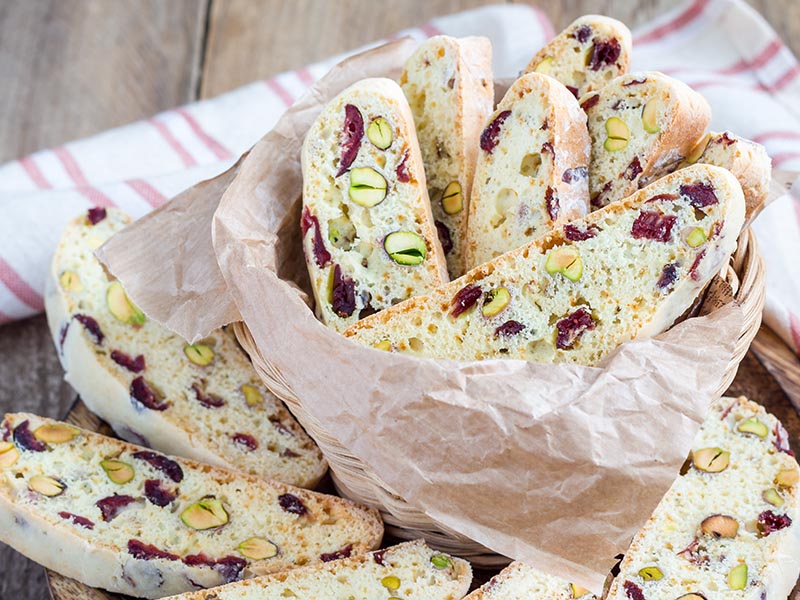 In the town of Prato (Tuscany), there was born a tiny and cute bread recipe with an enchanting nutty flavor. The bread is crispy and crunchy with a dry body perfect for dipping in coffee and tea. People often bake the bread twice to gain its charming crispiness.
These slices of bread are considered healthy as they are packed with nutrients. Local people often enjoy Biscotti as an after-dinner dessert with a touch of Vin santo (a type of Tuscan wine). Cappuccinos and lattes are excellent drinks for this lovely treat.
This bread is so popular that each country has adjusted the ingredients to match the local citizens' tastes.
29. Ciriola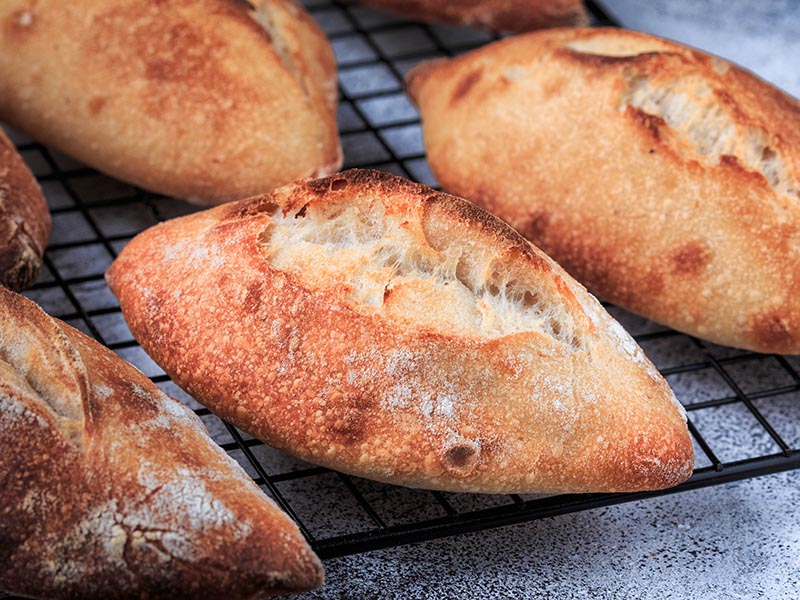 Introducing one of the best specialties in Lazio, Ciriola. This bread is small with a golden breastplate and spongy interior. People often serve Ciriola with Porchetta. However, meat and salumi are nice companions for this bread.
Some people say that the name of Ciriola is derived from a type of eel in the Tiber River named "Ciriole". When Ciriola is fresh, you can use it to make a Panino. Or you can make a Crostini (croutons) when the bread dries the next day.
The bread was a staple food for soldiers and many people during wartime as its price was low, and it only took a short duration to make.
30. Ciambella Sorana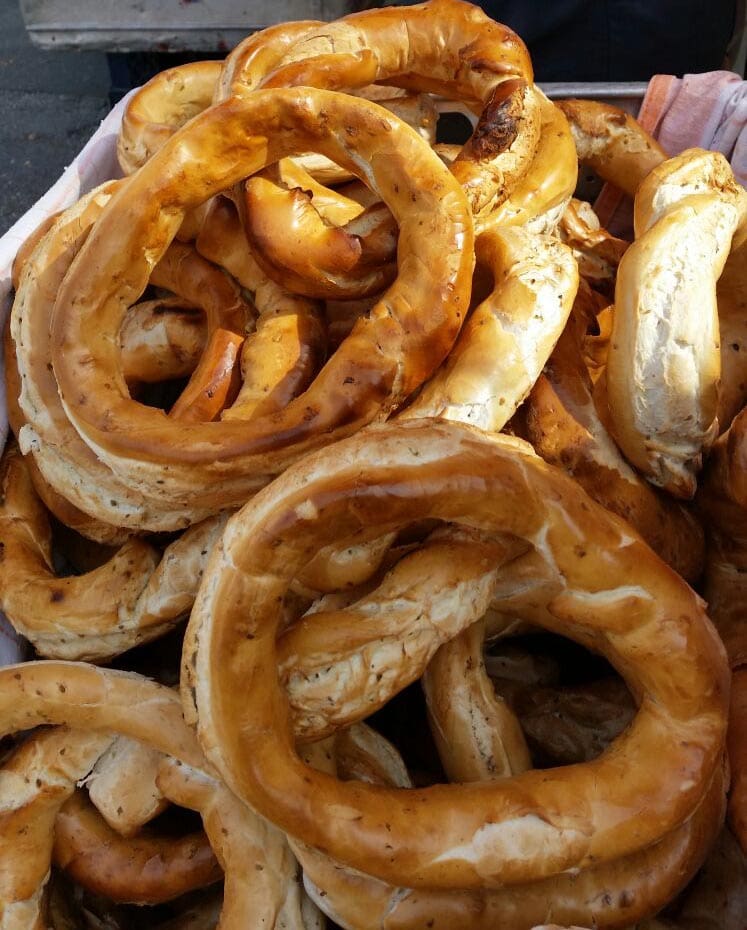 Let's finish this list with an impressive ring-shaped pastry from Italy, Ciambella. It is a classic choice for dinner, often paired with arugula salad. The cake has a crispy cover that you can dip in the salad dressing for more flavor.
Ciambella Sorana can be a tasty snack choice created in the city of Sora (Lazio, Italy). People often pair it with bacon, pepperoni, or cheese. People twist the dough to form the signature appearance for this snack.
This bread has a long shelf life and is often available at a low price. Its soft interior will be a lovely treat for your kids.
31. Filone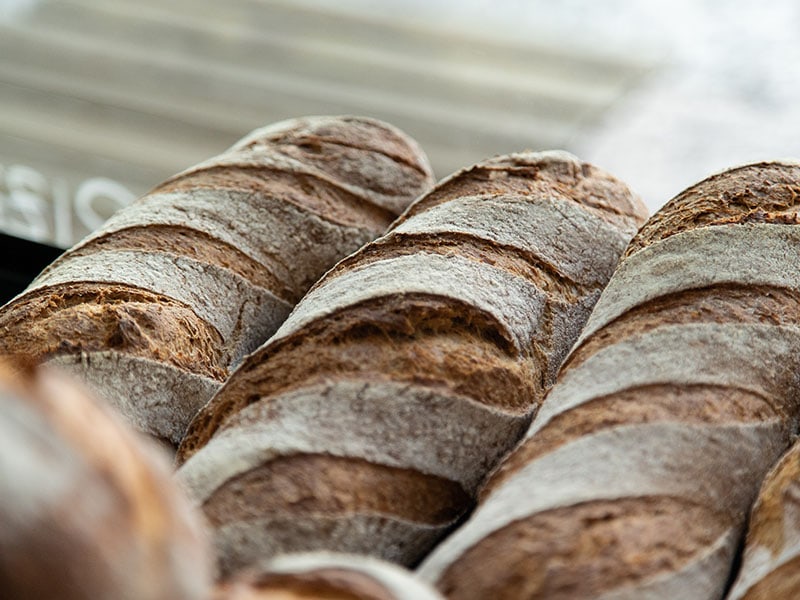 In Tuscany, there is a bread similar to the French baguette called "Filone". The shape of Filone is not long and thin like the baguette, but the crisp crust and the airy crumb will suit your taste.
It is a sourdough bread that is flawless to dip in olive oil or paired with a tasty sauce. As the bread is well-baked with a dark crust, you can feel a note of complex bitterness in each bite.
Filone is relatively dry, so you can keep it for days after baking. People also turn it into sandwiches or Crostini.
32. Crescia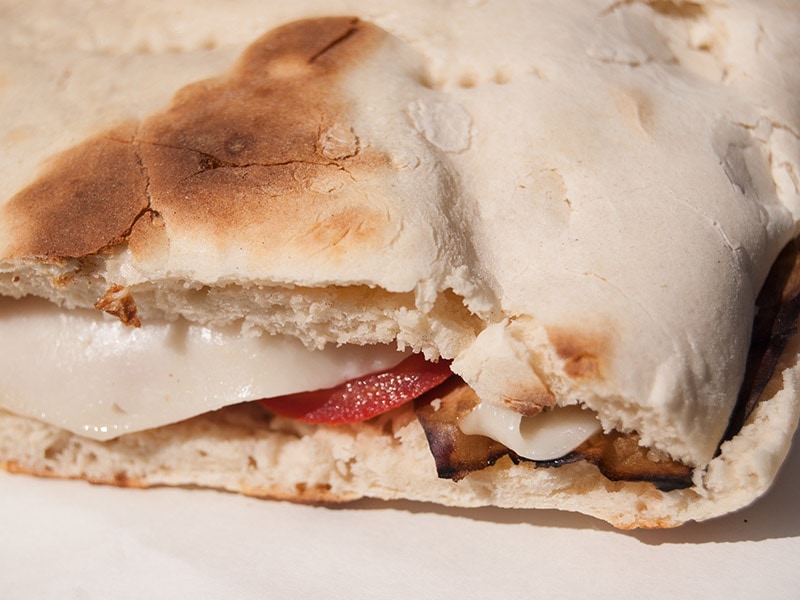 Crescia is a flaky bread in Marche, Umbria (Tuscany) that you will lose your head over. This is a sweet bread traditionally served on Easter days. You can pair Crescia with Easter ham for dinner or make a tasty ham sandwich.
As the bread is flaky, people often complement it with a touch of creaminess from cheese like Parmesan cheese. You will see people make it into a huge loaf and slice it when serving. You should butter the bread to create some moisture before enjoying it.
33. Scarpaccia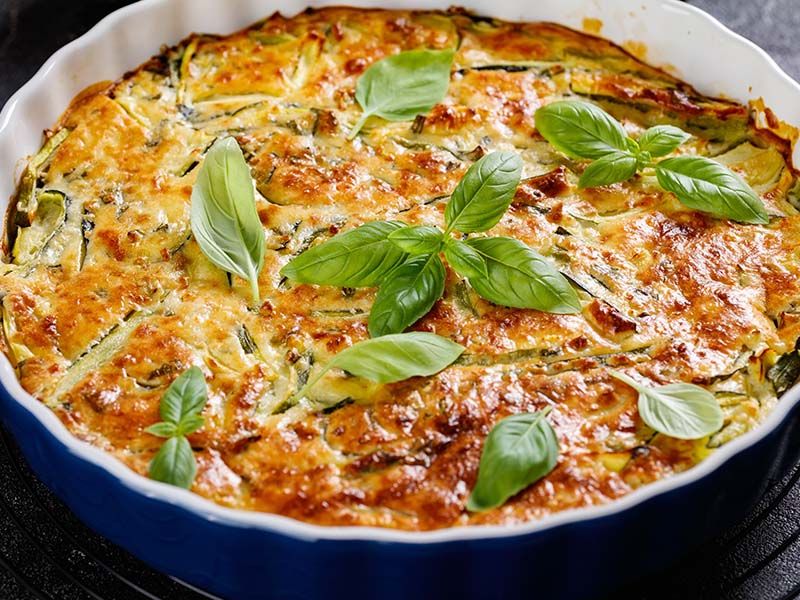 Scarpaccia is a real treat from the central region of Italy. It is a flatbread with a beautiful combination of savory and sweet flavors. Its main ingredient is zucchini, which will bring a unique experience while enjoying the bread.
Sometimes, zucchini flowers, milk, and vanilla powder are used to form an enchanting aroma for Scarpaccia. The bread is a culinary masterpiece from Viareggio that will melt every foodie that takes the first bite.
Scarpaccia's name means an old shoe as its body is thin, resembling the image of the shoe. This is a great treat for pairing with a refreshing salad to serve in brunch or main course.
Scarpaccia was a creation of retired sailors during the zucchini season. They made the bread out of their organic vegetables from their garden.
34. Bozza Pratese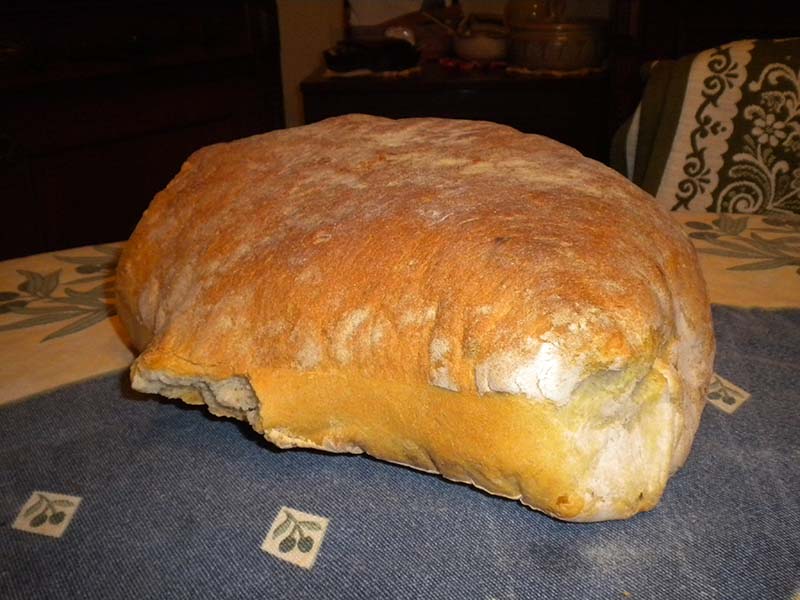 Bozza Pratese is tasty bread from Prato (Tuscany) that doesn't contain any salt. You can use the bread for any meal during the day. Match it with meat, veggies, or fish to highlight the bread flavor.
When the Bozza Pratese is a bit old, you can turn it into "Pappa Con Il Pomodoro" – a tomato soup that will melt your heart. Bake this bread for your family and enjoy the fascinating experience from it.
The South Region
Let's move to the South Italian bread and enjoy all the specialties here:
| Types Of Bread  | Appearance | Texture/Flavor |
| --- | --- | --- |
| Friselle | Looks like bagels | Hard and crunchy |
| Casatiello | Ring-shaped | Sweet or savory |
| Cornetto (Italian Croissants) | Similar to the shape of Cornetto with golden brown exterior | Soft and less buttery |
| Panigaccio Or Panigacci | Disk-like shape | Thin with crunchy texture when cooked |
| Tortano | Ring-shaped | Savory |
| Strazzata | Circular form | Dense |
| Pane di Altamura | Has a round-ball shape  | Thiick and crispy crust and an airy interior |
35. Friselle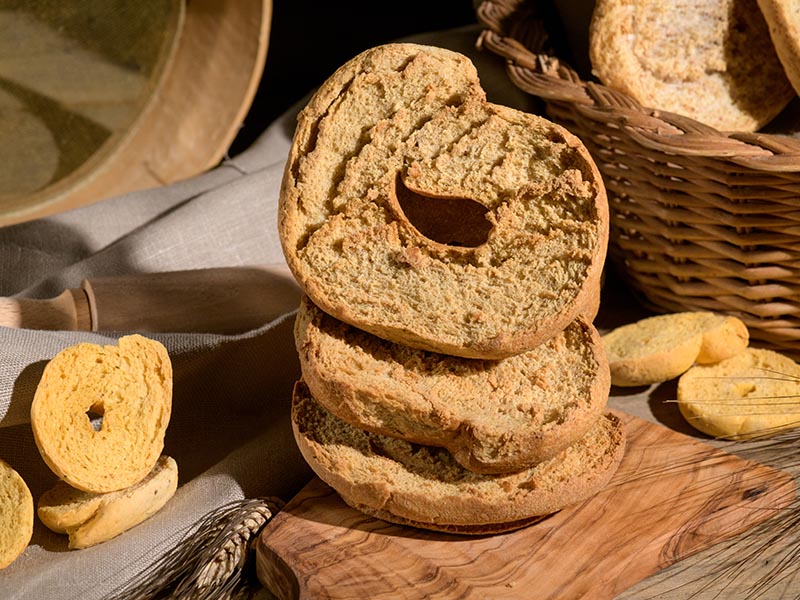 This rounded bread from Puglia can be an astonishing appetizer or snack that you can enjoy on the go. Friselle is a double-baked bread that you can top with a tomato topping and olive oil to enjoy.
Dunk the bread in your favorite cream soup or pair it with a Panzanella salad for a lovely meal. You can replace your morning toast with this Friselle and jam to start your day.
Friselle is hard and crunchy, and you can find a mini version in the local bakery in a small package. The bread has a long shelf-life and is easy to store too.
36. Casatiello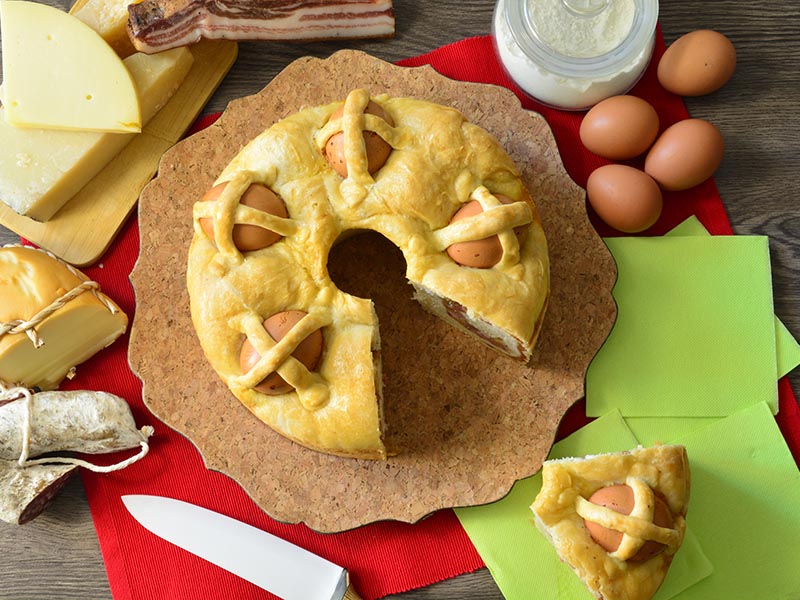 Surprise your friends with this mouth-watering Casatiello from Naples. The bread has a signature ring shape stuffed with either savory or sweet fillings. It is a leavened bread traditionally served at Easter.
Some basic ingredients forming the signature character of Casatiello are cheese, eggs, black pepper, and lard. The sweet version in Campania is made of brewer's yeast with white icing and colored sprinkles (Diavulilli).
Casatiello is often a savory pastry, so if you want to try a sweet version, you must clarify with the sellers.
37. Cornetto (Italian Croissants)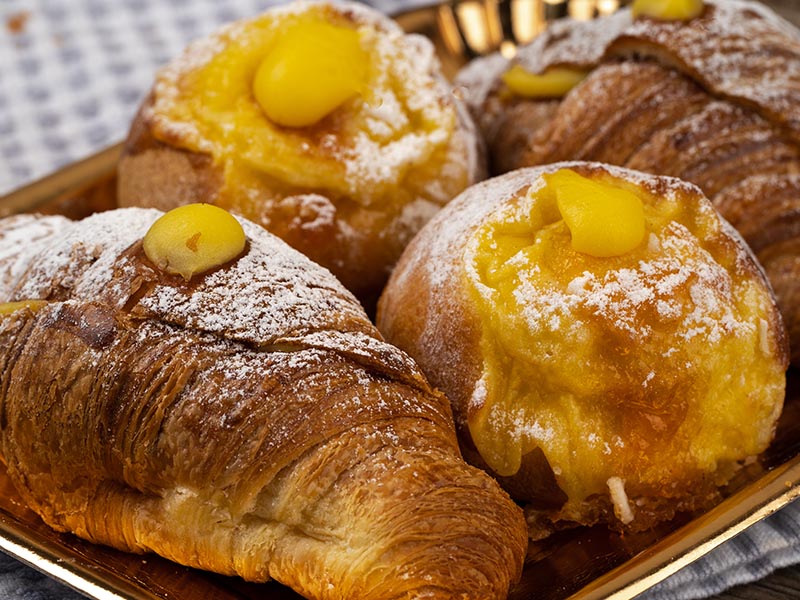 Don't you know that there is a kind of French bread resembling the shape of this Cornetto? Croissant is actually a variant of Austrian Kipferl (the same origin as this Italian croissant). Cornetto is softer with less butter added to the recipe.
Cornetto has its golden brown outer layer from brushed egg yolk. Its most common fillings might be Crema Pasticcera (custard), chocolate cream, or apricot jam. The bread is often dusted with powdered sugar.
The bread is a magnificent breakfast choice when paired with espresso or cappuccino. While the Southern regions use the name Cornetto, the Northern areas use "Brioche" to indicate the bread.
38. Panigaccio or Panigacci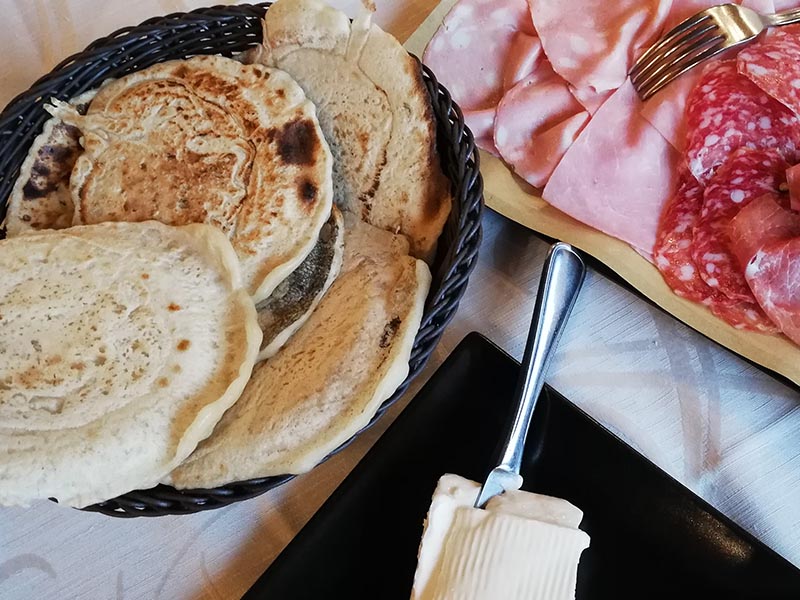 With a disk-like shape of around 15cm in diameter, Panigaccio from Podenzana will charm your food lover's soul with the most sophisticated sweetness. Normally, local people will enjoy the bread with grated cheese and olive oil.
However, you can pair it with salumi and cheese for an exciting meal. Bakers use Testi (tiny terracotta plates) to bake the bread on an open fire. Serve the bread as a tasty appetizer that can give an excellent sweet and savory taste.
39. Tortano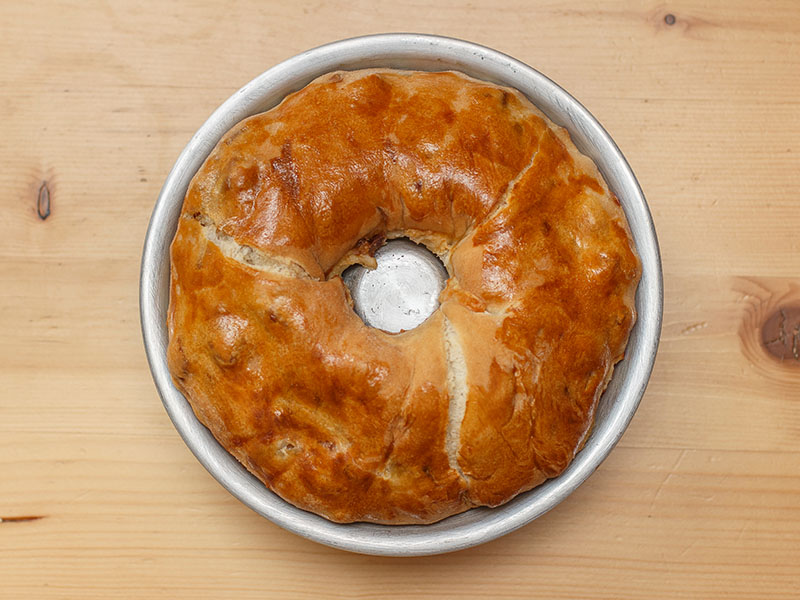 Similar to Casatiello, Tortano is also a ring-shaped Easter cake in Naples. However, Tortano eggs are hard-boiled and cut into small pieces, while Casatiello doesn't.
You can enjoy Tortano alone or pair it with various dishes. The bread is customarily stuffed with eggs, pork cracklings, ham, and cheese. A big Tortano ring can feed the whole family at an enchanting table.
40. Strazzata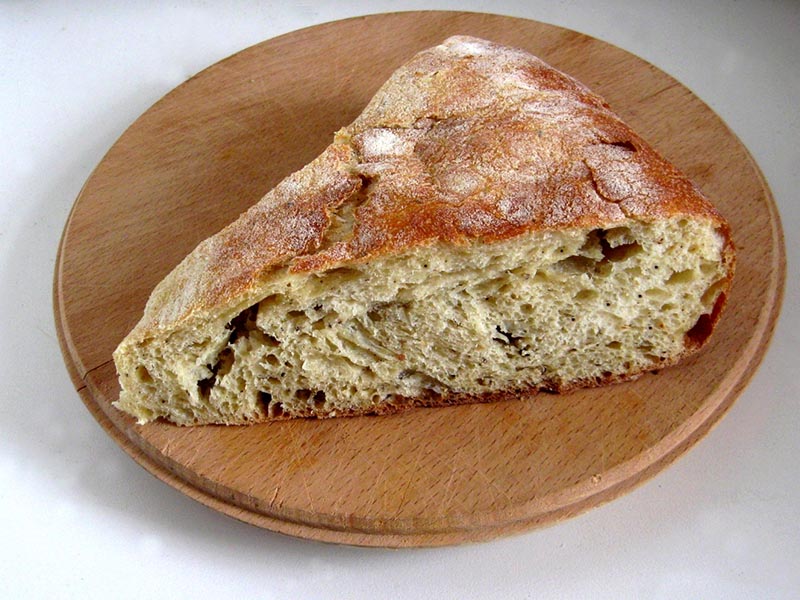 In Avigliano (Basilicata), you will be welcomed with a delectable cousin of the Italian Focaccia. Strazzata has a package of savory ingredients like black pepper, oregano, flour, and yeast.
It was a common bread served at weddings and feasts. People often mix it with wine, cheese, ham, or veggies on these special occasions. People will drink more wine if more pepper is added to make Strazzata.
The name Strazzata is inspired by the traditional way people enjoy bread. They tear the bread by hand, and the word "Strazzat" indicates this action. A special festival in Avigliano (August) called "Sagra Della Strazzata" has this bread as a staple food.
41. Pane di Altamura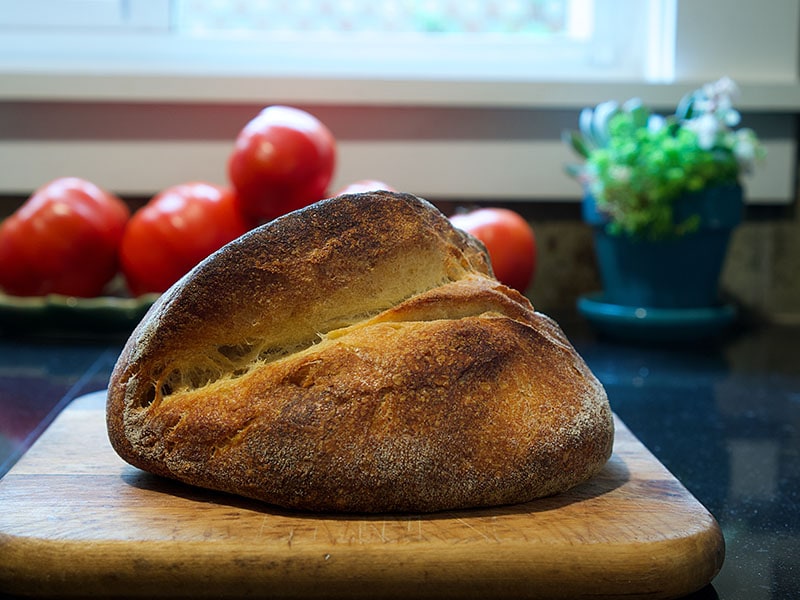 If you love durum wheat semolina, Pan Di Altamura is a must-try. The bread is a signature dish of Altamura (South East Italy) with a thick and crispy crust and an airy interior. The bread has been under the protection of Protected designation of origin (PDO) since 2003.
Therefore, if any baker wants to use the term Pane di Altamura, they have to go through all PDO benchmarks to make sure that they use the right ingredients and methods.
The bread dough is shaped into a round ball, and the baker will cut the top to form four distinct peaks after baking in a wood-burning brick oven. The name of this shape is "priest's hat" (u Cappidde De Prèvete in Italian).
Another shape is a crossed-over large knot called "u Skuanète", which means "overlapped bread".