Have you ever tried Bosnian foods? To many people, the name of Bosnia and Herzegovina may conjure a sense of mystery and adventure. In reality, the country has an extremely rich history, rivaled only by the wealth of its cuisine.
Bosnian cuisine represents the past, the present, and possibly the future of the land. With more than mere culinary merits, Bosnian foods will take you through various nuances of flavor and pleasure. Keep on reading to discover the cooking highlights of the pretty "Heart Shaped Land".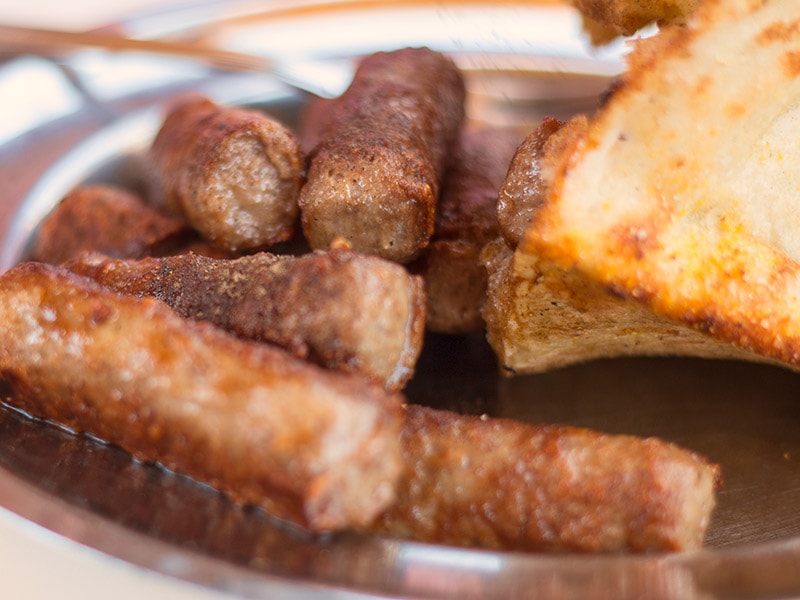 Bread and Vegetable Dishes
If you have any notion of Bosnian cuisine as relying on fatty, greasy meat dishes, this section will change your opinion. Let's have a look at some examples of how Bosnians put bread and vegetables to great culinary use.
1. Buranija – Bean Stew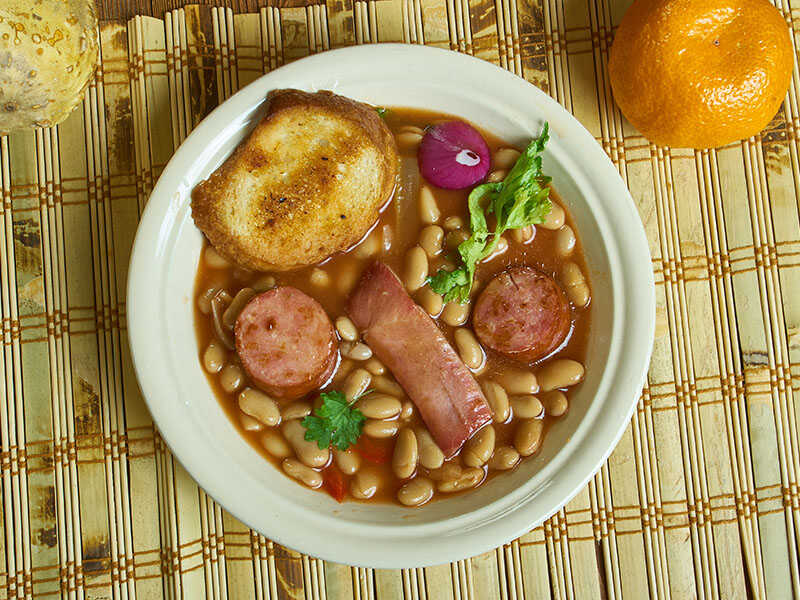 If you're looking for a simple yet flavorful and healthy dish, Buranija is your wish come true. It is a stew cooked from Romano beans (or flat beans) which is a type of green beans. That is the origin of its name: "Buranija" means something like "green beans" in local languages.
It is easy but rather time-consuming to make Buranija. The preparation involves stewing Romano beans with meat (optional), onions, tomatoes, garlic, carrots, etc., and spices for hours. When they are tender and delicious-smelling, you will have a superb soup to enjoy with bread.
2. Somun – Bosnian Flatbread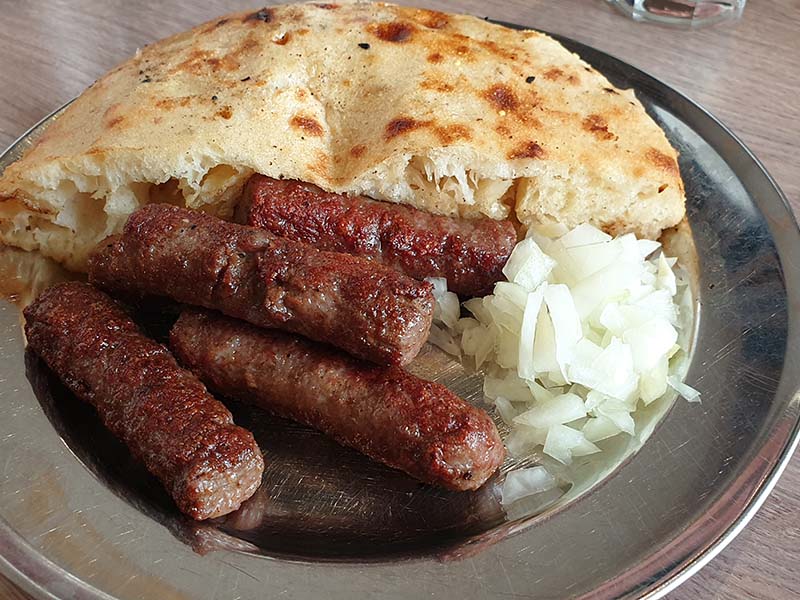 Bosnia and Herzegovina, which people informally refer to as Bosnia, is a Balkan country with a complicated past. For centuries, it was under the rule of the notorious Ottoman Empire. Like many contemporary Turkish dishes, Somun found its way into Bosnian cuisine.
It is a type of Balkan leavened flatbread that is slightly fluffy and made from water, flour, and yeast. Many people find it similar to pita bread, another yeast-raised flatbread that is more popular in other regions such as the Middle East or the Mediterranean.
While Somun initially belonged to the invaders, Bosnians have no difficulty incorporating it into their recipes. Interestingly, its main use is to go with cevapi, a distinct type of sausage that many consider to be Bosnian's national dish. 
3. Lepinja – Bosnian Flatbread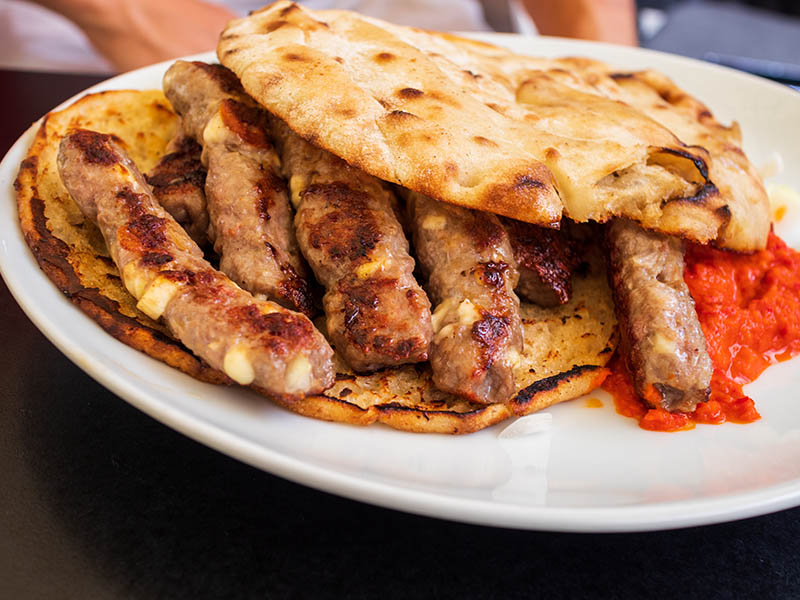 Lepinja is another type of prevalent bread in Bosnia. It is very similar to Somun in terms of shape and use, so quite a lot of foreign tourists have difficulties telling them apart. However, local people rarely encounter the same mishap.
The making of Lepinja follows roughly the same process as that of Somun. But it is easier to get right, so a lot of people tend to make Lepinja at home. Meanwhile, Somun involves more elaborate preparations so Bosnians usually buy it from bakeries instead.
4. Tarhana – Sour Dough Soup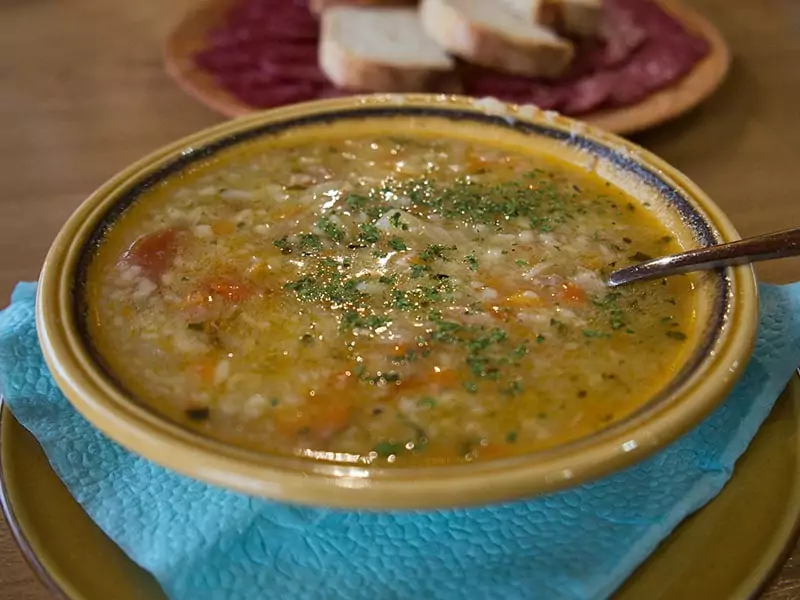 Sweet soup, salty soup, fatty soup, and the likes are so familiar. What do you think about a pot of sour Tarhana soup from the Balkans? Not everybody can stand it, but there is no better way to expand your culinary horizons than trying new things.
The main ingredients of Tarhana include ground meat, peppers, tomatoes, onions, spices, seasonings, etc. But the two key things that define Tarhana are yogurt and fermented dough. They give the soup its distinct and much-liked rich and tangy taste that Bosnians love so much.
Tarhana makes a wonderful Bosnian breakfast food. But it is suitable for other meals as well. Originating from Turkey, Tarhana is another relic of Ottoman dominion that local people turn to their advantage. 
5. Prebranac – Baked Beans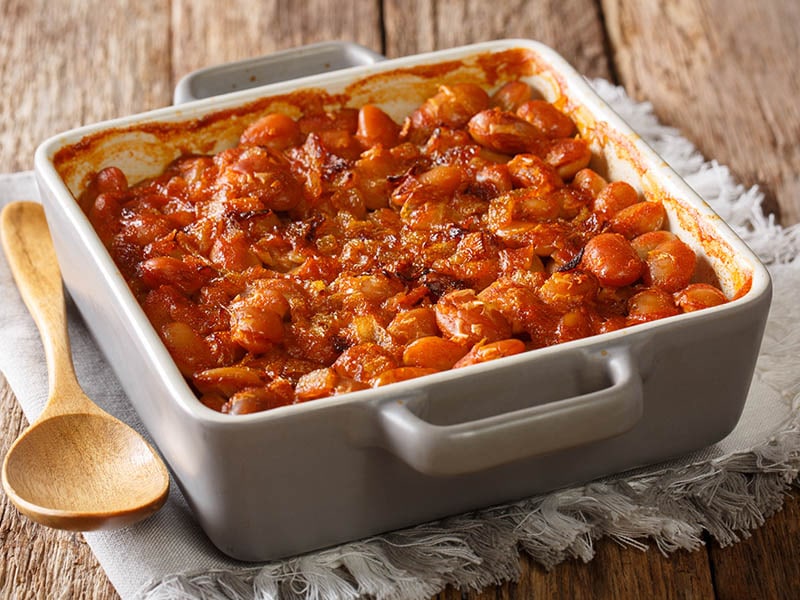 Beans are a vital food to Balkan cuisine. In the past, local farmers survived winter partly thanks to Prebranac, an inexpensive dish of white beans and caramelized onions. Although many people call it Serbian bean soup, it is also a Bosnian staple food.
True to its simple and rustic roots, Prebranac doesn't take much to prepare. Boiled beans are baked with sauteed onions and herbs for flavoring; that's what it's all about.
Serve the dish with bread, and you will have a scrumptious and nutritious meal. It can last for a long time at room temperature. Long deceased Balkan peasants would be proud if they knew how much posterity cherishes their cooking invention.
6. Djuveč – Vegetable with Rice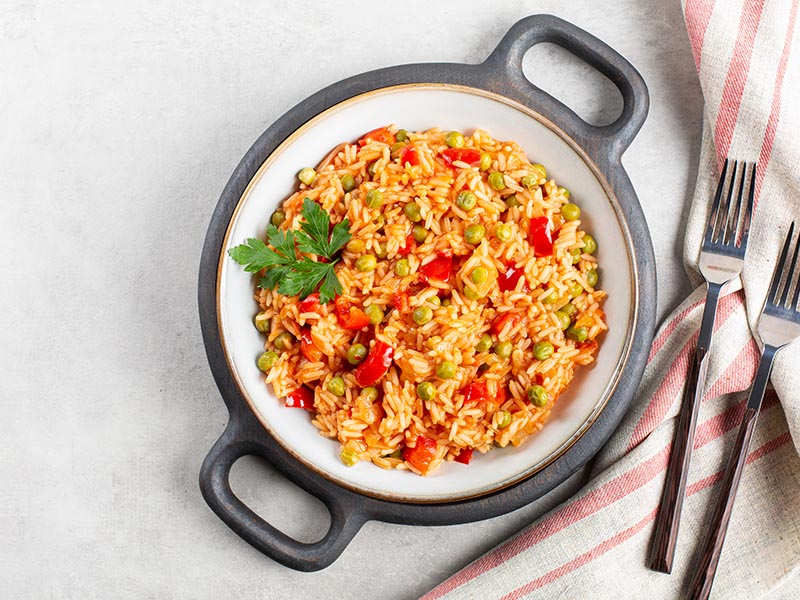 This is a popular casserole-like dish whose name was derived from "güveç", a Turkish word meaning "earthen pot". Like other dishes, it originated from Turkey and gained acceptance in Bosnia when the country was an eyalet (something like an Ottoman province).
A variety of vegetables are the main ingredients of this stew. Peas, tomatoes, peppers, onions, carrots, etc., are cooked and served with herbs and spices in a güveç. An equally well-liked version is Djuveč rice which adds a large portion of aromatic rice to the stew.
Djuveč is a great vegan Bosnian recipe suitable for all meals. But there is nothing wrong with adding chicken, lamb, or pork (the last one isn't really popular because many Bosnians are Muslims) to the dish to increase its nutritional value.
Dishes From Meat
Bosnians have a host of mouth-watering dishes made from beef, chicken, mutton, pork, etc. Actually, as 50% of Bosnians practice Islam, pork is less popular than other types of meat. Anyway, you won't be disappointed by these savory dishes.
7. Ćevapi – Bosnian Grilled Sausage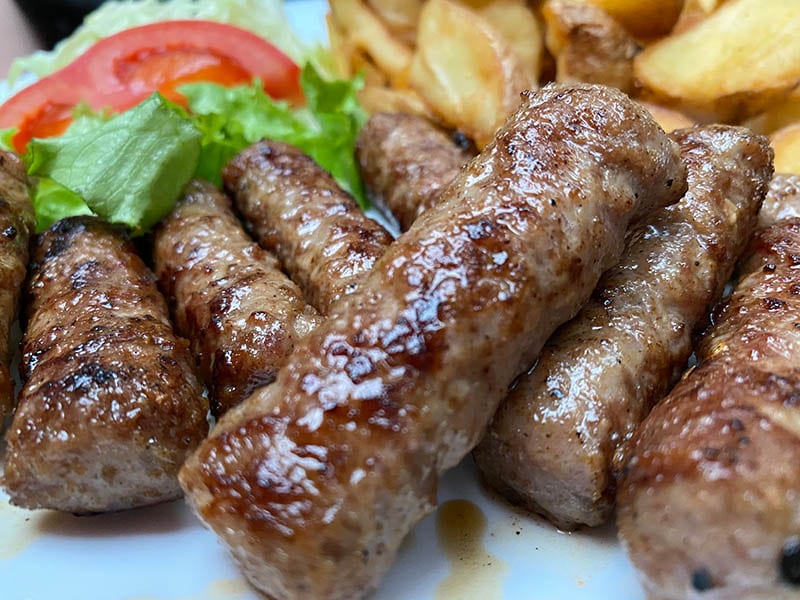 It would be the gravest offense of all to describe Bosnian cuisine without mentioning its hallmark dish, Ćevapi. While Bosnia is a diverse country, its people universally agree that Ćevapi represents the highest culinary merit. In fact, it is the national dish of many Balkan nations.
Drawing its name from the famous Turkish Kebab, Ćevapi is a mix of grilled minced beef and/ or mutton. It is seasoned with spices and shaped into short phallic shapes. It can be eaten alone, but the most popular combo is Ćevapi, Somun, Kajmak (local cream cheese), and raw onions.
Different regions of Bosnia have their own ways of preparing Ćevapi. In Banja Luka, Serbia's second-largest city, its Ćevapi variety has four sausages connected together. Meanwhile, Travik-style Ćevapi is brushed with a meaty broth before being grilled.
8. Begova Corba – Bosnian Chicken Soup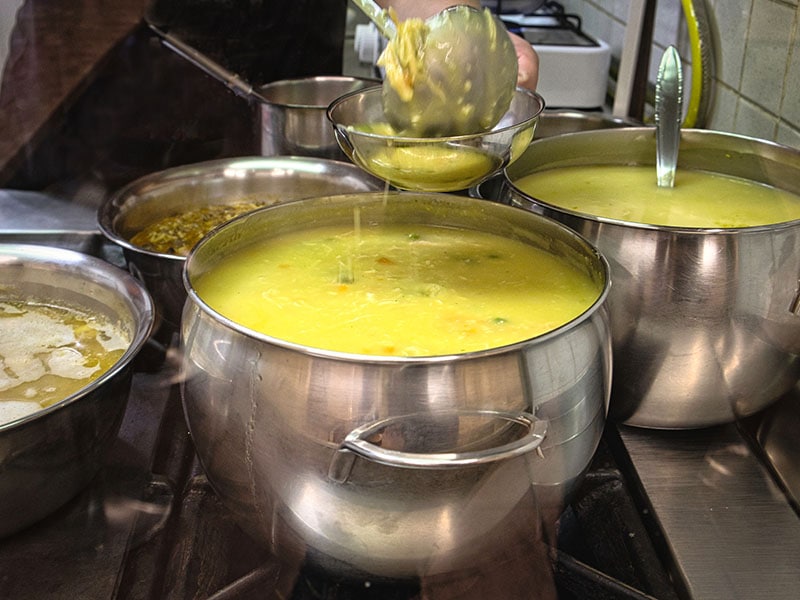 Winter is chilly in the Bosnian capital city Sarajevo. A popular way many use to keep the cold at bay is to enjoy Begova Corba, a delicious and nutritious soup.
Begova Corba consists of chicken, spices, carrots, celery, celery, potatoes, okra, and many other vegetables. Bosnians cook the stew slowly over low heat and serve it in a clay bowl with sour cream for extra sweetness and creaminess.
The dish started as an invention of the Turkish invaders. Its name means "Bey's soup", with Bey referring to the title for an Ottoman governor in charge of a province or district. But it is now a source of comfort for many Bosnians during winter and holidays.
9. Rostilj – Bosnian Mixed Barbecue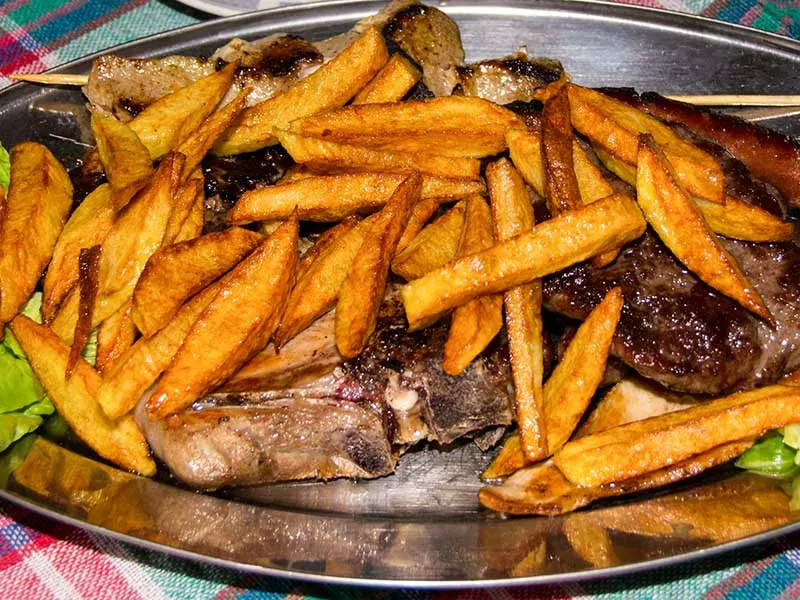 You would be surprised to know how Bosnians love their Rostilj, a type of local mixed grilled meat. Restaurants upon restaurants in the country offer juicy, spicy Rostilj that beg guests to sink their teeth into its richness.
A plate of Rostilj usually contains ćevapi (a must-have), beef steaks, grilled chicken or lamb, a portion of salad or pickled vegetables, and French fries. Exactly how the meat is cooked and seasoned with spices is a secret, but with savory Rostilj temptingly at hand, who cares? 
10. Klepe – Bosnian Dumplings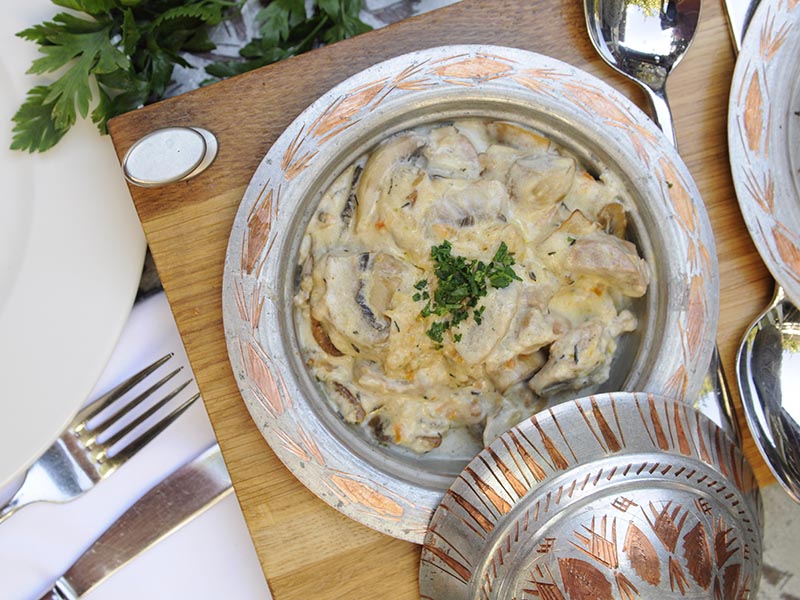 This is a distinct type of dumpling very popular in Bosnia. What makes it different from the rest of the world is the liberal use of sour cream. Enjoying fatty, meaty Klepe when it is steaming hot is a great pleasure.
Klepe is made from flour, eggs, salt, ground meat, and cheese. The choice of meat includes chicken, beef, and mutton, although there are vegan versions that substitute meat for vegetables like spinach. Klepe is shaped like Italian ravioli and steamed or cooked in an oven.
Klepe is an amazingly delightful Bosnian lunch recipe. The true way is to serve Klepe with a rich sauce consisting of cream, spices, and butter. There are many kinds of dumplings all over the world, but few are as creamy and fatty as this one.
11. Bosanski Lonac – Bosnian Pot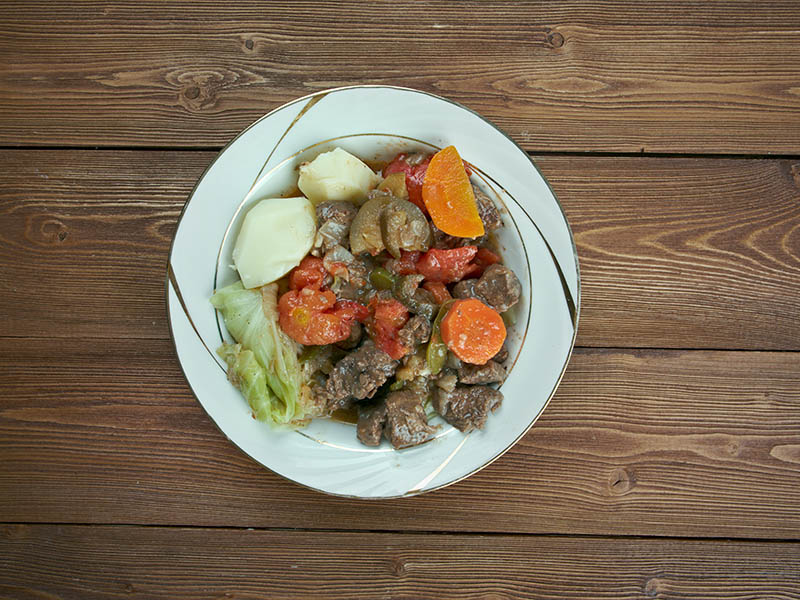 What you should know about Bosanski Lonac, literally "Bosnian Pot", is that it is a national dish of the country. It is one of the Bosnian dishes that don't receive influence from foreign oppressors. The stew has been a cornerstone of Bosnian cuisine for centuries.
Bosanski Lonac consists of alternating tiers of chunked meat (usually beef) and roughly cut vegetables (tomatoes, cabbages, carrots, or whatever is available). People cook them slowly with herbs and spices until tender and serve with bread or rice to bring out its fatty, savory nature.
The amount of meat and value of vegetables in the pot is a sign of status: rich Bosnians add more meat and use higher-priced greens.
Traditional Bosanski Lonac is prepared in an earthen or ceramic pot over a fire pit, but since both are hard to come by, there is room for improvisation.
12. Pljeskavica – Grilled Meat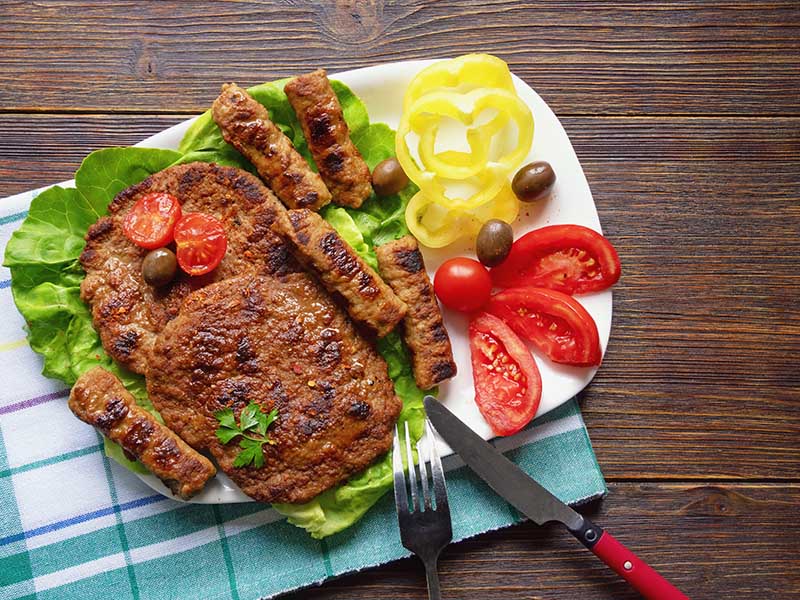 Balkan countries have many things in common, such as the love for Pljeskavica, which is a type of grilled dish. Despite being one of Serbia's national dishes, it is hugely popular in Bosnia as well.
A type of Pljeskavica resembles a hamburger, with a spiced meat patty (beef, pork, and lamb) sandwiched between two slices of local flatbread and served with onions, salads, and sauces. Another way is to do away with flatbread and serve the patty on a plate with fries or potatoes.
Pljeskavica comes from a word meaning "to clap the hands". You might be surprised to hear this, but that's how people shape the meat patty.
13. Börek – Minced Meat Pastry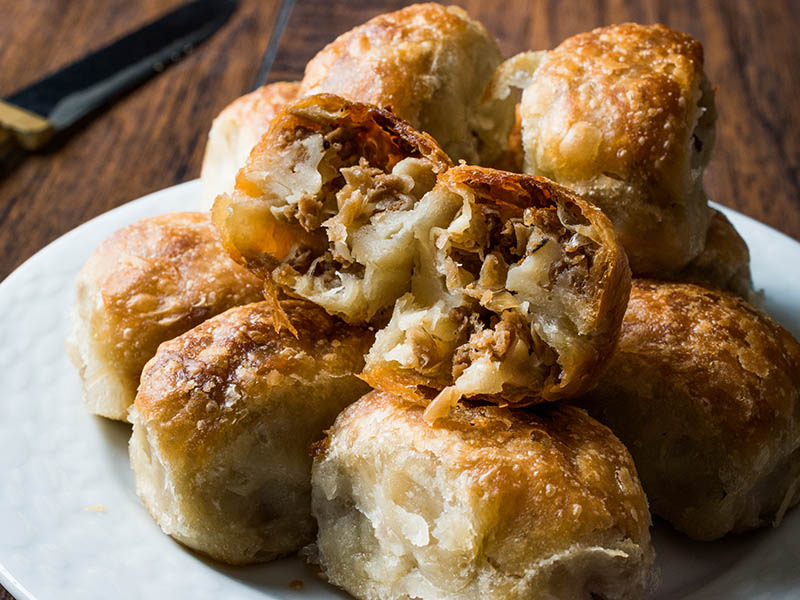 Thanks to its mighty Ottoman precursor, Turkish cuisine leaves an indelible mark on many cultures, including Bosnia. Any list of popular Bosnian snacks with Turkish roots is incomplete without Börek (or Burek), a type of pastry made from minced meat.
Exploring the street food scene in Bosnian cities, you might have a chance to watch Börek vendors at work. They masterfully roll out a flaky dough and fill it evenly with fresh ingredients (meat, cheese, vegetables, spices, etc.). Then, they roll the stuffed dough and bake it.
Though it is a popular Bosnian street food, you can go to many restaurants to enjoy fatty and delicious Börek. In addition, this treat is extremely popular in Montenegro and Bulgaria with various fillings.
There is a type of Börek-like meat-less pastry called Pita whose main ingredient is usually cheese. Don't confuse one with another.
14. Suho Meso – Bosnian Dried Meat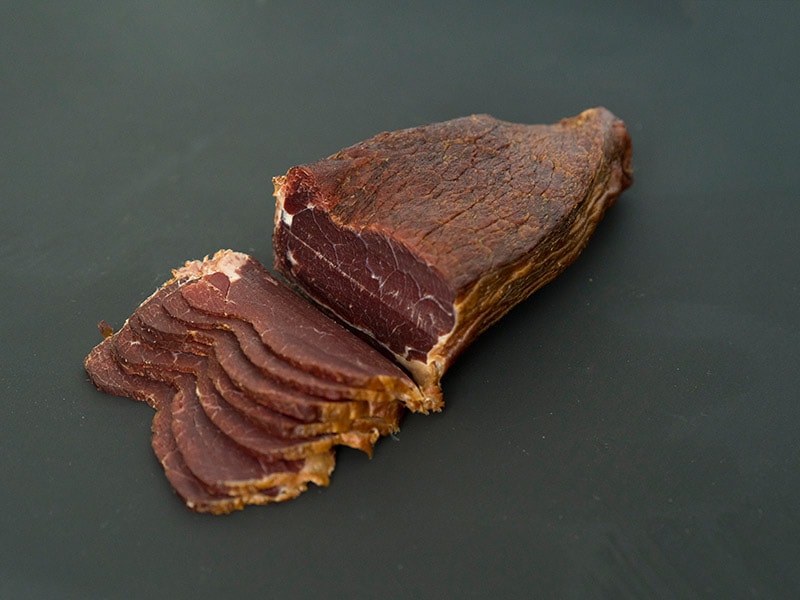 Humans have cured meat to improve the flavor and shelf life since ancient times. Home to many sites of very early human settlements, Balkan countries consequently have a long history with their Suho Meso, which means "dried meat". And Bosnia is no exception.
Bosnians prepare Suho Meso by salting chunks of pork or beef before drying and smoking them in winter. The resulting product is a meatily sweet and savory delicacy that goes well with starchy foods or vegetables. But chewing Suho Meso with a beer is wonderful, too.
15. Sarma – Stuffed Grape/ Cabbage Leaves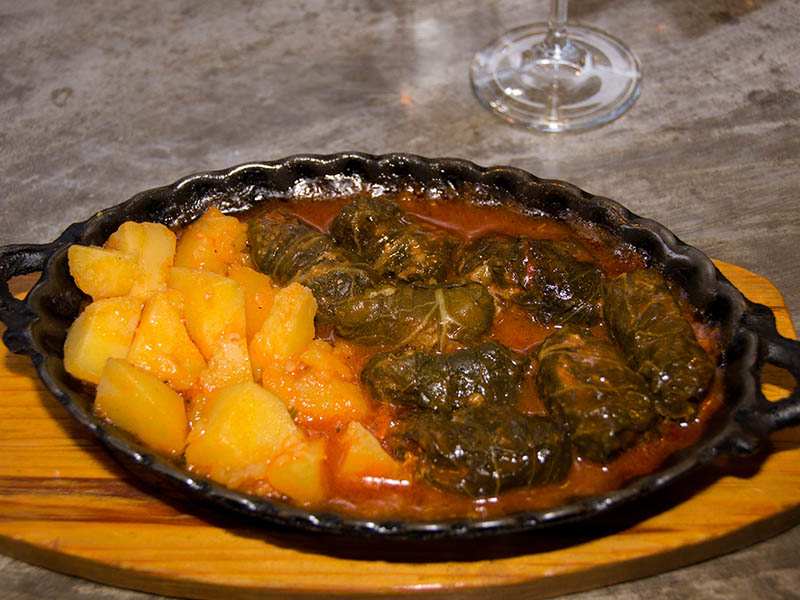 A legacy of Ottoman rule in Bosnia is the largely peaceful Islamization of the country. Nowadays, about half the population identifies themselves as Muslim and, consequently, observes Ramadan. During the holy month, one of their favorite dishes is Sarma.
To know Sarma, you need to understand Dolma. It is a mouth-watering dish that involves stuffing vegetables (peppers, eggplants, etc.) with a filling of rice or minced beef. Dolma is an incredibly popular dish in Uzbekistan, Israel, Turkey, and many other Middle Eastern countries.
Sarma follows the same principle, but it wraps fillings with cabbage or grape leaves instead.
Sarma is extremely popular in the Islam world, especially during Ramadan. It is a convenient Bosnian dinner recipe that provides people with enough energy after a day of fasting. Sarma and Dolma are similar to each other in many ways, but the former is a little easier to prepare.
16. Sogan Dolma – Stuffed Onions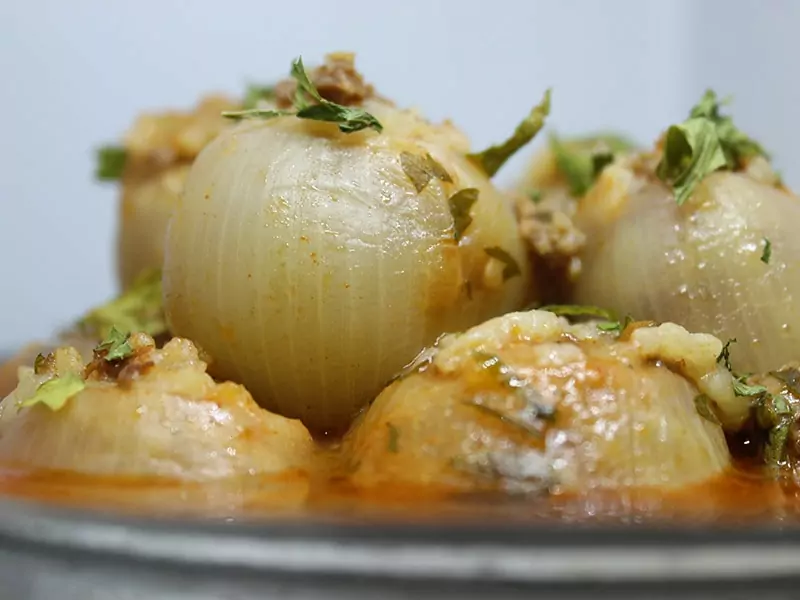 Sogan Dolma is an awesome version of Dolma that features stuffed onions. While many types of vegetables can be used as the vessel for this dish, you have to agree that none is as strongly -scented as the complicated onion. Therefore, Sogan Dolma is quite an impressive variety.
As onions comprise many layers, it takes care and skill to successfully fill halved onions with a mixture of ground beef, rice, tomato sauce, and spices. When they are done, they will be baked for around 2 hours before being served with sour cream and salad.
Sweet Snacks and Desserts
Bosnian may not strike you as a land of candies and cookies. But in reality, it kind of is. Let's have a taste of them and see how they can bring more sweetness to your life.
17. Baklava – Filo Pastry Dessert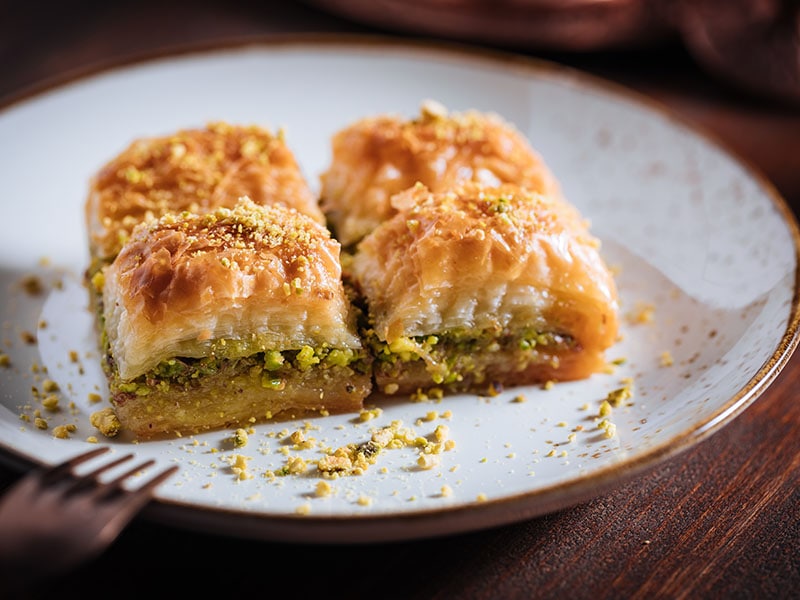 Baklava isn't a unique Bosnian dessert. It is popular in many regions formerly under Ottoman rule, from the Levant to Central Asia. However, you would be wrong not to realize that the Bosnian variety is very different and highly scrumptious.
The main ingredient of Baklava is filo (or phyllo), a very thin unleavened dough. A Baklava consists of many paper-thin sheets of filo filled with chopped walnuts. People usually sweeten it with sugar syrup or sometimes honey.
If you want something unique, there is a distinct Bosnian diamond-shaped version that is called ružice or đul-pita. Bosnians love to enjoy it with their equally famous Bosnian coffee. 
18. Ustipci – Fried Dough Balls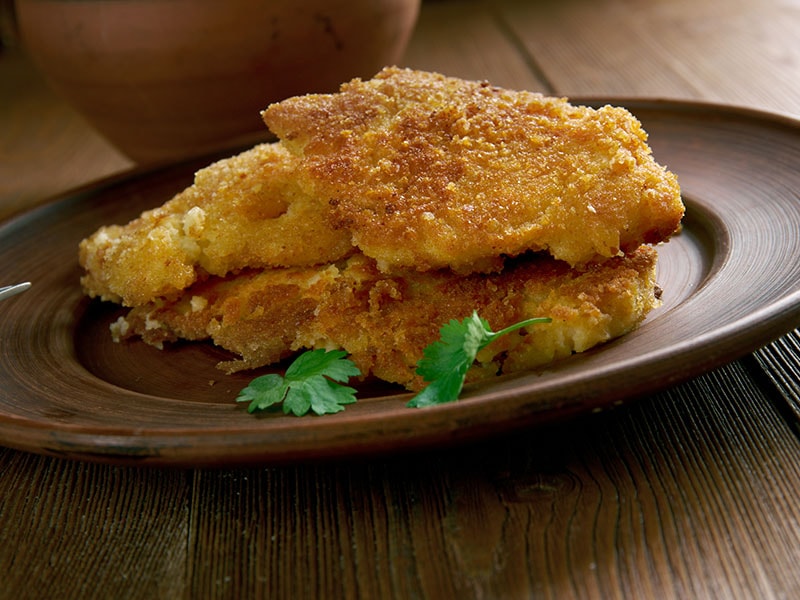 Many street vendors and bakeries in the Balkans sell Ustipci (or Peksimeti in Bosnia) as their prime product. It is a type of crisp and tasty dessert that you should taste to experience the Bosnian spirit at its sweetest.
People prepare Ustipci by deep-frying yeast-raised dough balls in oil and sprinkling them with snow-white icing sugar. You should follow the proper Bosnian way of serving them with fruit jam and sour cream. 
19. Tufahija – Boiled Apple With Cream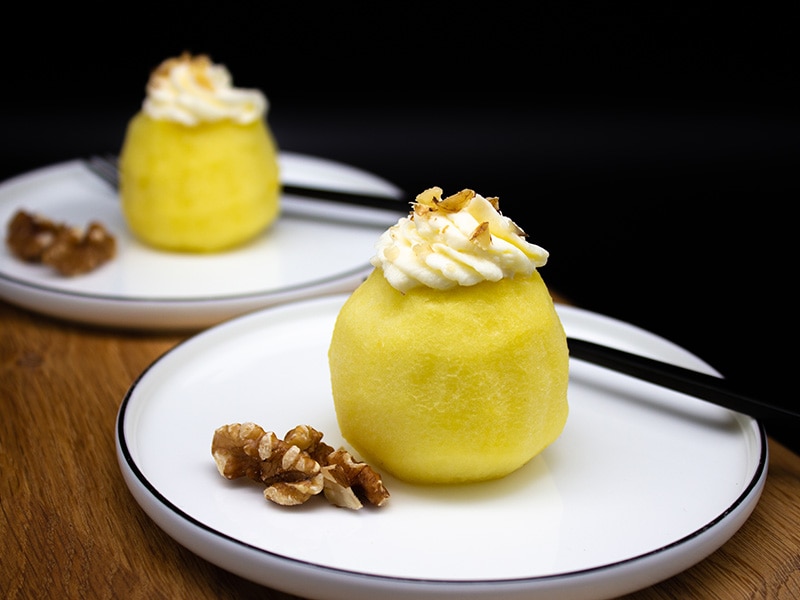 If only all the Ottoman legacies were as sweet as Tufahija, their well-known apple-based dessert whose name means "apple" in Turkish. It is one of the most beloved Bosnian desserts that you should nibble alongside famous Bosnian strong, bitter coffee.
Tufahija is made by boiling apples in sugar water and stuffing them with walnuts. The last step is to serve them in a large glass and top with whipped cream. Golden green apples with a white topping inside a transparent glass make an appealing addition to your dinner table.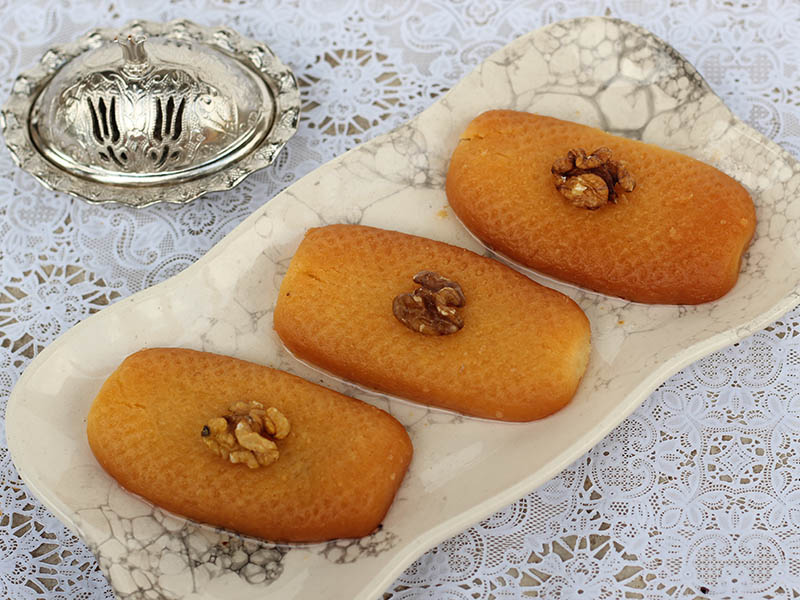 This is another sweet treat to go with Bosnian coffee. Hurmašica is a type of Ottoman-brought syrup-drenched cookie that Bosnians usually prepare for important religious holidays. But you can easily find it at cafes and bakeries on normal days.
The first step of making Hurmašica is to prepare the dough of flour, butter, sugar, and eggs. It is then divided into small logs, which are pressed on a grater to give them their distinct alligator skin-like appearance.
Lastly, bake and douse them with lemon-flavored sugar syrup. The cookies are fluffy and spongy, so they will absorb every bit of the syrup, acquiring a deeply sweet and pleasant taste.
21. Jabukovača – Bosnian Apple Pie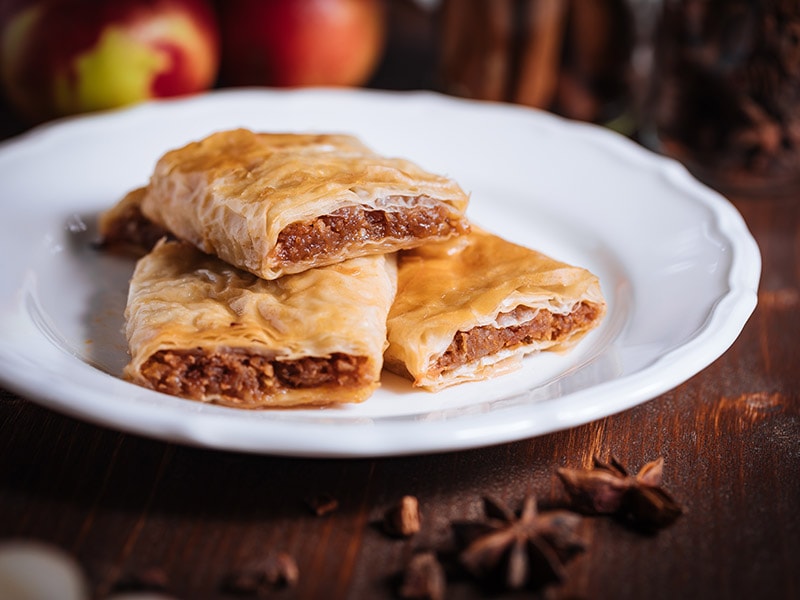 The iconic American sweet treat apple pie is so famous and ubiquitous, why don't you try the Bosnian version, Jabukovača, instead? Actually, it's not the kind of pie you would expect. Jabukovača is more like another version of Baklava.
To be more exact, Bosnians make Jabukovača in the same way as they do Baklava. The difference is that they add chopped apples to the filling, giving the pie a sweet, fruity aroma. A honey and lemon juice garnish also distinguishes and perfects Jabukovača even more.
22. Bosnian Kadayıf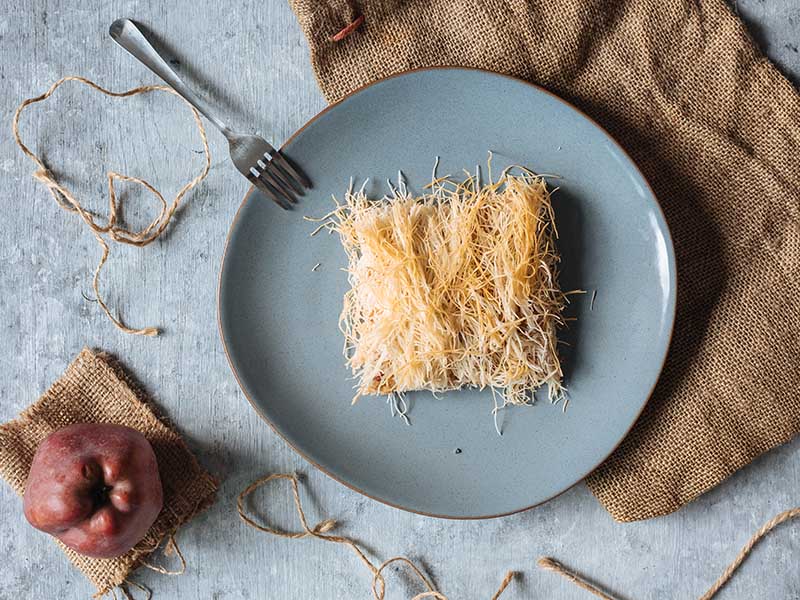 Kadayıf (or Kadaif) is a type of finely shredded filo dough used in many Middle Eastern desserts. It is an especially popular dessert in Armenia and Turkey. After the Ottomans brought it to Bosnia centuries ago, local people lost no time in incorporating it into their cuisine.
Bosnian Kadayıf consists of two layers of Kadayif threads and a rich filling of chopped walnuts in between. Sometimes, it is just one single Kadayif thread topped with walnuts.
But both versions have to be baked and enriched with a thick sugar syrup, possibly flavored with lemon, cinnamon, or cloves. Have some Kadayıf with coffee, and you will feel that they bring a nice "Arabian Nights" touch to the Bosnian repertoire of desserts.
23. Bosanska Kahva – Bosnian Coffee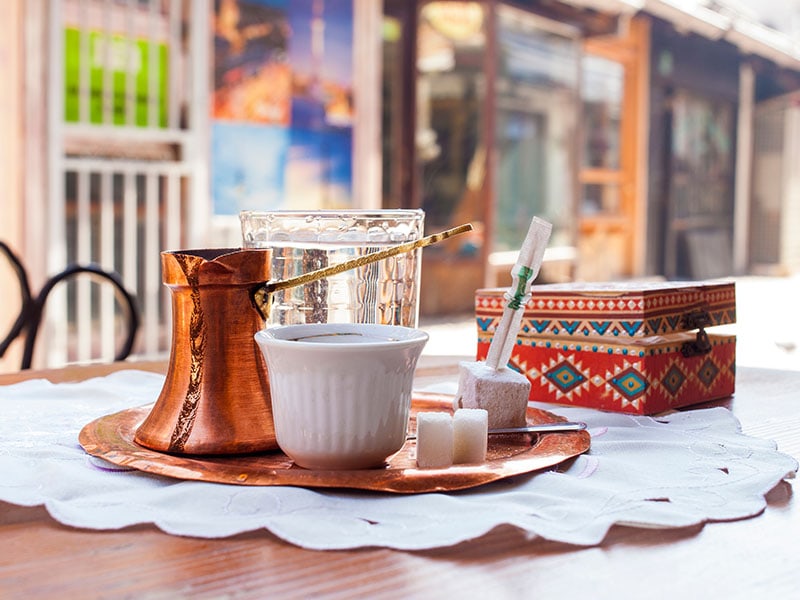 You probably know the famed anecdote of how the Ottomans accidentally brought coffee to Europe when they besieged Vienna in 1683. How much truth the story contains is a matter of debate. But nobody can deny that the Turks exposed Bosnia to the temptation of coffee.
Bosnians love to savor the drink made from roasted coffee beans. They have a special metal pot with a long handle to heat coffee known as džezva. A complete Bosnian coffee set includes a džezva, a ceramic cup (fildžan ), and a craftily etched bronze tray or plate.
The best way to prepare Bosnian coffee is to brew it with a džezva, serve it in a fildžan, and sweeten it with a sugar cube or two. The wide array of Bosnian desserts is ready to enhance your coffee delight.
---
Tasting Bosnian Foods Is Believing
The Balkans might be small in size, but they have more than once changed the course of history. Let their impressively delicious foods change your life. In particular, Bosnian cuisine possesses the wealth and depth that will awe you and your friends into ecstatic delight.
Located at the center where the West and the East meet, Bosnia has amazing dishes that represent the best of both worlds. Recreate them at home or go there and experience yourself whenever you have the chance. You will never be disappointed by their richness and diversity.
Like and share this post if you find it useful. Let's spread the word about the virtues of Bosnian cuisine. If you have anything to comment on, please don't hesitate to do so. Thank you, and have a good day!