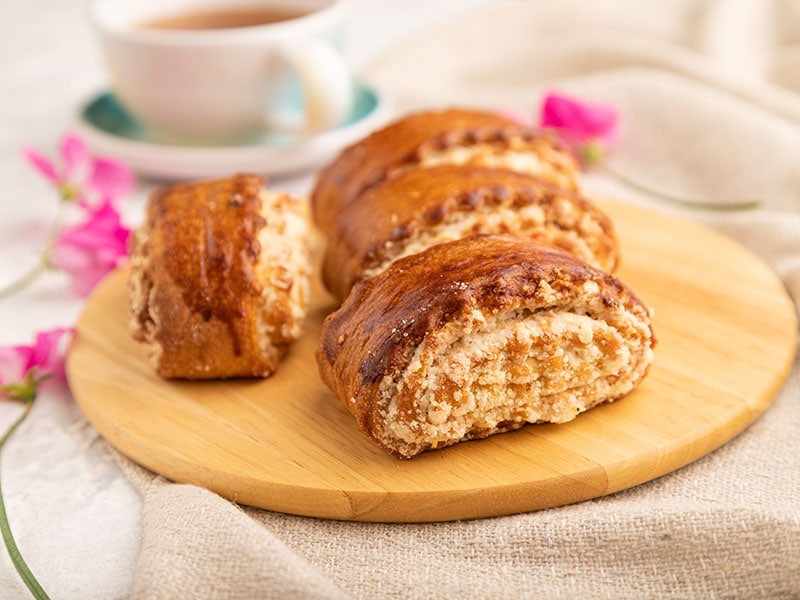 Desserts are unlimited, and it's the same in Armenia with 20 tastiest Armenian desserts of all time waiting for you. Having a great chance to discover one of the oldest cuisines globally, a variety of colors, textures, sizes, and shapes will impress you.
Armenia is situated in Eurasia, the South Caucasus, right at the crossroads of Eastern Europe and Western Asia. The cuisine represents the geography and history of Armenians, along with Levantine and European influences.
Armenian sweet treats are hard to fulfill without the herb flavors; you can easily find honey, rose water, blossom orange water, and more in the recipes. Do you feel motivated to head to the Caucasus region and learn how to make sweets like Armenians? Are you ready?
Diversify Your Satisfy With 8 Armenian Bread & Pastries
Bread and pastries are the highlights of any Armenian meal. Even when the Armenian says "let's eat" (hats untenk), it means "let's eat bread," which makes clear the necessaries. However, Armenia has no unique pastry, ranging from crispy flatbread packed with greens or squat hats to bubbly lavash strips. It's a lot more, come closer with me!
Yeah, I spelled it correctly: call this delectable dessert Paklava, with "P." Paklava is not difficult to make, trust me!
Let's discuss this dessert across nations a little bit. The sweetness is the primary distinction between Armenian Paklava and the Baklava in Greek food culture. While the Greeks used honey, the Armenians utilized the sugar syrups that infused spices.
This honey-sweetened treat is filled with chopped nuts, prepared with phyllo dough then coated with honey. It's essential to brush every phyllo dough layer with butter. You can make it more fantastic by drizzling the remaining butter over the whole dish after you finish layering.
Most Armenians choose cinnamon sticks; they sometimes flavor syrup with whole cloves. The cinnamon in the filling is adequate; no need for syrup. What do you think?
Right here, you will know the secrets of reaching the best foamy stage of eggs. Go ahead with your electric whisk, my cake master!
Nothing better than hot, straight-from-the-oven bread. Here's a way to bake it ideally using the wok's backside. You can serve it as a snack, appetizer, or pairing with soup.
You can wrap hot Lavash around a barbecue or sandwich it with cheese or herb blends, and they are a great candidate for cleaning up meal leftovers. It's easy to become brittle and dry if you don't use it immediately. However, that's okay; you can store it for a long time and later rehydrate with water.
The honey can help to caramelize quickly since it involves a lot of sugar. Sometimes you want a little brown, you can get milk to utilize the milk's proteins. For tenderizing, feel free to mix a batch of cornstarch and oil – the elements present in many standard types of Lavash.
Matnakash is translated as "drawn with fingers." Let me explain here, the long, oblong, golden brown cake puffs up, and you'll mark the top lines as clearly as four graceful fingers are drawn across the surface.
To create these typical shapes, before stretching the oval bread and placing them in the oven, you should press a grid into the dough's center by hand. Try, and you will see the effects!
To reach the perfect golden-brown or unique golden color, cover the surface with sweetened tea flavor before baking. From generation to generation, it's still the top-ranking staple. Matnakash is my first touch of Armenian gastronomy that I will never forget.
You will know why the dough should be rested for about 20 minutes, then add salt. A genuinely remarkable texture is coming!
This wonderful type of bread is a crispy and sweet Armenian sweet treat. Some people may recognize it as Khobz bi–tahini, sesame paste bread, or tahini roll. You are covered with sesame paste, sugar, and sometimes cinnamon layers.
Instead of rolling up the circle ends to make a rope, you can surround from the center the fillings. You need to roll gently to double the length, then stretch and later cut the rope into 4-6 equal lengths. It's simple, go ahead!
This dessert is normally a vegan option. Depending on your mood, you can make the bread as large or small as you like. If you enjoy the moisture and softness, you just need to loosen up a bit. And if you want to eat crispy, roll the dough longer and tighter.
It can be shaped into a long braided loaf, braids with three dough strands representing the Holy Trinity, knotted or curled in rolls.
Also, It's a buttery-rich bread flavored with an irresistible spice known as "mahlab" or "mahleb." You should grind mahlab in a spice grinder to use its fine powder.
To ensure appropriate friction, lightly dust the dough outside and your hands with flour when forming ropes, but reduce extra flour on the kitchen counter.
If you double wrap, the bread freezes better. Just wrap wax paper firmly around the loaves for the initial layer, fit it by molding, and then wrap one more foil outside. It's pretty simple.
Oiling the bowl, and the dough is much more necessary than you might think. Forming the bread is one of the best to expect, isn't it?
These Armenian delights are airy, delicate, and soft like baking pillows. The honey and tahini add a nutty flavor and subtle sweetness. Even though you're not a crazy fan of Tahini, you could also explore the quantity. They're addictive, and the best part is that they're made using olive oil instead of butter, honey but not sugar.
Armenian cuisine is well-known for using cured sausages, spices, and red peppers. One of the most fabulous additions to this Middle Eastern meal is tahinli, these crispy sesame buns.
Sesame bread rolls are a famous dessert throughout the Middle East; the spirals are nearly as big as plates, but I prefer them to dinner rolls.
Get a flaky roll with such a peanut butter flavor, and soon you'll realize why I adore them. They surely disappear in seconds, whether toasted for breakfast or dipped in delicious beet soup.
One of the Armenian favorites with coffee or tea is this cookie-coffee cake. Sweet pastry with many shapes, with butter, crispy sweet, rolled inside streusel or walnut filling.
Practically, this sweet is like Gata, and sometimes when talking about the two deserts, people use Nazook and Gata interchangeably. They're both nutty, buttery, and charming. The clear signal is often the way they appear.
The pastry filling has a crumbly texture. A lovely contrast to the soft, light layers! Walnuts aren't typically used in Nazook, but if you like, add them. You can customize it up with raisins and cinnamon to make it festive for the vacations.
Nazook is excellent when they are served straight from the oven. Moreover, you can quickly reheat them with a microwave or toaster oven to bring them back to heaven. Or, freeze them and just defrost a few for sipping.
Let's not forget this perfect instruction from a cook in Australia. Of course, you can adjust the quantity of butter and sugar in the feeling. Make it your own!
Katah, a traditional bread cooked in Armenian American communities, you can call it an "Armenian croissant." It's tender, flaky, and dripping with butter.
It's custom to stretch the dough by pulling the fingers underneath. First you soak the thin layer into warm butter, next you fold the dough several times and stretch. These actions reflect more than the butter-layered pastry itself, and it's a memory to remember.
A tip for you is that there is no need to reheat the butter again. Simply cover and place the melted butter in the refrigerator. Just take it out when you start kneading. Surely it works!
When the cookies don't retain their shape, an Armenian baker advised me to add some flour to hold in form, but be careful if too much, you will have nothing but flour flavored cookies. The confectioner's sugar and butter give the cookies a beautiful softness.
There's a lot more about the tricks and trips, especially when you're on the most fantastic journey of Armenian cookies ever! So, fasten your seat belt and fly to the crunchy world with me!
If you're hunting for something special for Christmas, these Khourabia are for everyone. The melt-in-your-mouth cookies are light and brittle, and they're unbelievably buttery. They are delectably delicious!
If you prepare the clarified butter, place it in the fridge for 30 to 60 minutes or until thick. Then, using a stand mixer, thoroughly blend the butter and sugar.
Some Kourabia is sprinkled or made with colored dough, they are usually round like a ball, or you can roll medium-sized ropes into curls.
Depending on the weather, humidity, and climate, you may need to add another tablespoon of flour and stir it in. When you feel that the dough is quite soft, place it in the fridge for several minutes.
The true passion is not about how much baking soda you add in. It's about the way you shape your shortbread cookies. What does your Khourabia look like?
Have you ever heard about Popoques? This bite-sized dessert, Armenian meaning "nut," the two buttery shells sandwiches walnut cream.
The walnut-shaped shell is soft and not too sweet, similar to a waffle cone. Inside is a surprise for you, the smoothest filling ever! My buddy has a unique filling recipe with a cup of dulce de leche, 2 ounces butter, and 4 ounces cream. Amazing.
Go for ice cream or chocolate ganache as a base as a substitute. You can make the ice cream cookies by adding the walnut ice creams inside. It's addictive, my baby!
You will get many different answers; they call this cookie Simit/Khalkha/Kekhke. One thing in common is that anyone loves these cracker cookies!
These crisp Khalkhas are delightful and rich, whether served as an afternoon snack or morning tea. It also freezes nicely; just make an entire batch when you aren't feeding a crowd. It will last, and you'll appreciate me for sure!
You can sprinkle caraway, poppy, or other seeds over the cookies' top. If it's hard to find mahlab, simply switch to cardamom powder. You could also replace fennel powder. Be free.
Easter is coming, and you will see Chorek on the table of Armenians. Nevertheless, this is also a perfect time to make Zadigi Kahke. You can turn this famous cookie for Easter crispy or chewy.
Delicious while keeping in a jar. It's better to mix the dough with a stand mixer with a paddle tool, slightly whip together the remaining ingredients of the cookie mix, ½ cup farina, and 1 ½ cup flour. Knead the dough by hand while you add the ingredients little by little. You can get one teaspoon of black sesame.
When forming ribbons, braids, circles, or loops, you need to roll the balls into long strands carefully. I have a habit of brushing each cookie with melted butter then placing it into the baking sheet. For a better look, you can add white sesame seeds, peanuts, or any nuts for your reference.
4 Armenian Cakes To Celebrate Any Special Occasion
Armenian cuisine has a wide variety of cookies, bread, pastries, and cakes in Armenia are distinctive. Do you love exploring luxuriant cakes around Western Asia and Eastern Europe? Below are Armenian cakes that you and your family shouldn't miss; just bake and enjoy them.
Based on the area, Gata is created with the puff, yeast, or unleavened dough and adding flour, powdered sugar, and butter.
Many housewives prefer a thin filling layer, but you can easily double the filling. The basic filling is butter, sugar, flour, and sometimes some chopped walnuts. Be cautious since the filling could break and ooze out the top.
Keep the dough at room temperature for 30 minutes to ferment, then check and keep it in the fridge for four hours. You can also consider leaving overnight. At the first try, go for a simple criss-cross pattern around the outer edge with pleats and shape the top with the fork tips.
One last note about the temperature. Remember to preheat your oven about 375°F, bring the Gata in and bake for 30 minutes until you see the golden shade on the surface. When it comes to end, the perfect inside heat is as close as 200°F.
I'm anxious to share this baking recipe. The way you knead the dough will reflect your love for Armenian cuisine. Give it a try!
Finally, the delicious aroma of the Meshgengouz Gargantag backs to the stage. It smells delightfully with brown sugar and nutmeg, and you can't stop yourself from tasting it.
The soft and airy interior is topped with walnuts, and the crust is crispy and dense with brown sugar that always reminds me of butter cookies. This treat is terrific but not overly sweet.
Created an eggless version by replacing the egg with vinegar and milk. Plus, you can top the cake with your favorite crunchy nuts.
You don't need your stand mixer and just need a springform pan, so the convenience offers you three bowls to clean then. Believe me! Several dirty bowls are well worth it!
You can find a lot of Trchni Kat Tort at Armenian home parties; it's super tasty, tender, and soft. A Ganache glaze wraps up the treat, and you will expect nothing more!
Let's talk about the original version of the bird's milk cake! It's made the other way with gelatin jelly, a thick coating of vanilla mousse over a thin layer of sponge cake.
While everybody does have many chances to taste the bird's milk cake, you could be the first one that got the Armenian recipes and made it for your family and friends. Just practice.
This delicious Nutella dessert, like a Beignet, is typically coated with powdered sugar and filled with custard. The kids constantly ask how the Nutella slipped in without leaving any hole when they see these donuts.
From the first time, I was delighted to know that Nutella is added to the donut before frying, and you don't need to pump it in like other donuts. Don't throw away the dough scrapes; you'll need them to make more extra pieces.
The first most important factor is the oil temperature. The Ponchik will be raw, burnt on the outside, or overcooked if the oil is too hot. The dough will be greasy and mostly absorb oil if it's not hot enough. Pay attention, my dear!
Check this instruction; remember to pull the circle's center thicker to wrap the Nutella filling. The surrounding edges could be thinner.
Other Hunting Desserts In Your Armenian Festive Table
The primary flavor of the Armenian sweets is nutty and sounds like festivals. I've always thought of Armenian foods as antiques, crucial to the culture.
Good for you; I'm in a welcoming spirit. No more hassle; join me to know more about the peek staples that you won't be able to leave!
Honey enhances the natural sweetness. Traditionally, the pumpkin is cooked with melted butter. It's substantial, nutritious, and tasty. You will wish nothing but Ghapama pairs well with aromatic tea in the fall.
Instead of pumpkin, Ghapama could be prepared with winter squash, like acorn squash. You make Ghapama by cutting a hole in the top of a pumpkin to remove the seeds and strands. I usually choose a pumpkin for around 3 pounds.
You should be careful with sugar because there are already apricot skins, raisins, and dried cranberries in the filling. Cut it like a cake or open the cap, then scoop out the Ghapama with a piece of pumpkin. The basic recipe calls for dates or dried prunes, and the nuts are almonds and walnuts.
The honey or sugar is the key ingredient in this recipe; add-in or cut down the honey or sugar to taste. When finished, it's beautiful from the very first cut, isn't it?
The Gatnabour is not difficult to prepare; it takes more than 3 hours. You'll regret it a lot if you consider this pudding too long!
In Armenia, this rice pudding would be best to cook all the liquid until absorbed, but the rice doesn't stick to the bottom or scorch. Rice would be slight 'al dente.' It's the perfect snack food, whether for breakfast or dessert.
It is eaten on occasions such as Ascension Day and the feast of transfiguration. Try to use good quality local milk, walnuts, and homemade jam or cinnamon. The difference will surprise you!
Anush Abour, also known as traditional "sweet porridge" for New Year and Christmas in Armenia, is a pudding made from dried fruits, nuts, and wheat berries. Almost all the recipes I know have apricots, golden raisins, and almonds. You can choose to add honey or not.
This dish has two essential decorations; the first, you arrange all the almonds on top in a star shape. Another traditional way is that the women will write the number of the new year with almonds.
One method I use to keep the pudding's pearly white color is to cook the other ingredients separately from the fruits and just add in when they've cooled. The longer it's left, the thicker the pudding will be. Before serving, pour some simple syrups like the one you use for paklava to soften it up. Bon appétit!
Don't use phyllo sheets; use shredded phyllo dough. This classic Middle Eastern recipe contains spiced syrup, cloves, and a filling of ricotta cheese. When you look at this dish, you might think it's wheat or coconut flakes, but actually, it's a crumb-like phyllo flour. I'm in love with the flavorful vanilla filling.
Pour the syrup over the Kadayif as soon as it comes out of the oven. Sometimes to make sure the syrup gets all over the place, I poke holes across the top of the cake so it's better absorbed.
While market recipes use a Middle Eastern custard called Ashta, some chefs use chewy, stringy cheese for the filling. And it's best served hot, hurry up!
I go for ricotta cheese, which adds richness without much effort. You can consider full-fat ricotta prepared from whole milk. Find out more about the cotta cheese option here!
Armenian Sweet Delights – Bursting Aromatic & Flavorsome
Have you ever tried these delightful Armenian treats? So, to fuel your undying love of Armenian desserts, take a trip to this beautiful country with a backpack filled with cake stories and recipes.
There is nothing out of reach, you can randomly pick any Armenian recipe above and create signature staples. I'm sure you will lead the Armenia trend right the moment you share this post with your friends and family. They're eager to know more about the goodies as well as how to make them.
Plus, they can acknowledge that the wars in regions of Armenia have made many adults grow up in different countries across the Near and Middle East. It's also why cooking methods for famous dishes and the language differ. Anything that I miss? Comment down there for me, my dear!
Nutrition Facts
8 servings per container
---
Amount Per ServingCalories480
% Daily Value *
Total Fat 23.6g

36

%
Cholesterol 69mg

23

%
Sodium 195mg

9

%
Potassium 281mg

9

%
Total Carbohydrate 62.6g

21

%

Dietary Fiber 1.5g

4

%
Sugars 36.9g

Protein 7.1g

15

%
---
Calcium

139

%
Iron

2

%
Vitamin D

2

%
* The % Daily Value tells you how much a nutrient in a serving of food contributes to a daily diet. 2,000 calories a day is used for general nutrition advice.