How can you drink sugarcane juice in Vietnam like a local? The answer is right here! Read this article right away or save it to your device for later, and you will have a useful guide on what Vietnamese sugarcane juice tastes like, where to try it, local customs, dos and don'ts, and more.
Such information will be a great help to your trip to Vietnam, as sugarcane juice is one of the best Vietnamese beverages, and trying it is a must. Are you ready to discover the secret to staying cool in the tropical heat?
How Do Vietnamese People Buy Sugarcane Juice?
First thing first: sugarcane juice is a misleading name, according to the FDA (1). Vietnamese people call it "nước mía" (nuoc mia), which can be loosely translated as "sugarcane drink". But I will still refer to the drink by this name for the sake of simplicity.
Sugarcane juice is one of the most beloved drinks in Vietnam, and people always serve it with ice. Because of its cooling properties, it is sold in every corner of Vietnam, especially on hot and muggy days. However, winter is a challenging time to find this beverage in the Northern region.
The main providers of this non-alcoholic drink in Vietnam are street vendors and roadside stalls. It is common for locals to stop by, buy a cup of sugarcane juice, and ride on. Most places specialize in sugarcane juice, but some sell it alongside other cooling drinks.
You can also find this drink in cafes, bar juices, and, sometimes, restaurants. However, most Vietnamese people consider freshly pressed sugarcane juice as a cheap drink to enjoy on the go, so consuming it in a formal setting may seem overkill.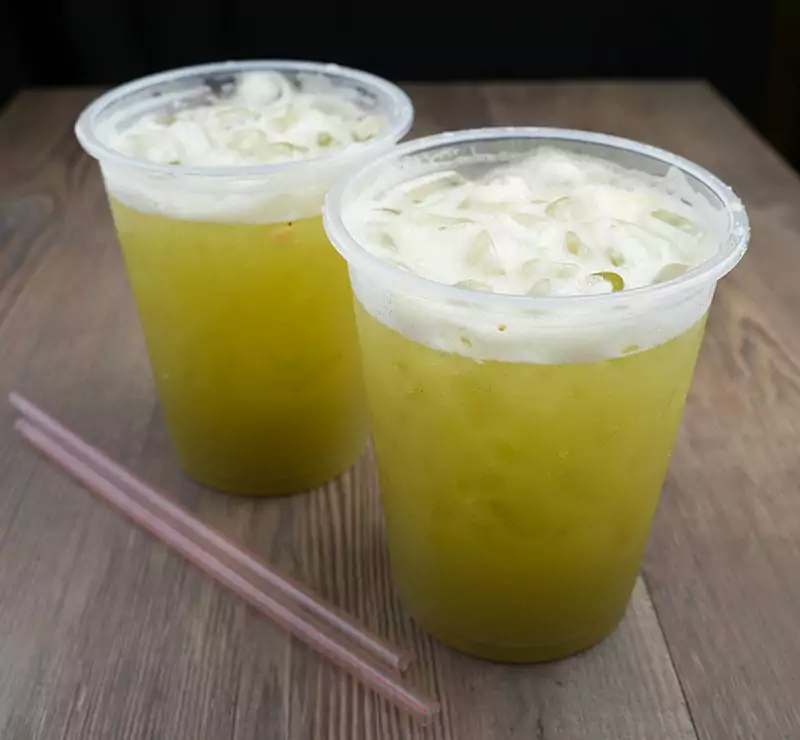 A Closer Look At Vietnamese Sugarcane Juice
Vietnam is one of the world's major sugarcane producers, with many cultivars grown throughout the country. Therefore, the characteristics of its juice can change from place to place.
However, Vietnamese sugarcane juice usually boasts a brilliant golden hue blended with some dark green color. Its color will gradually become more brownish because of oxidation.
The drink should also be opaque: clear-looking sugarcane juice is often heavily diluted and less flavorful. Another hallmark of good sugarcane juice in Vietnam is the white foam on top, which only appears in freshly made drinks. The thicker it is, the more delectable the juice is.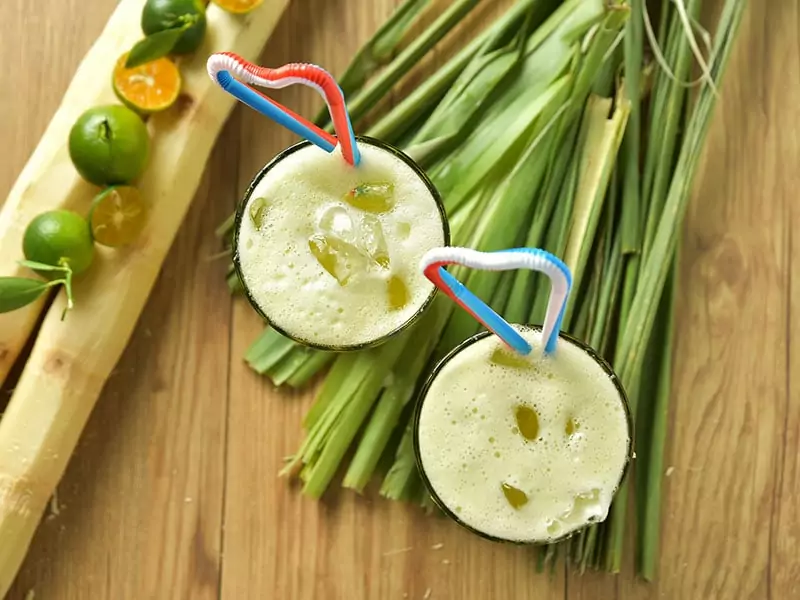 Vietnamese Sugarcane Juice: A Dance Of Flavors
The typical taste of sugarcane juice in Vietnam is a deep sweetness with some grassy undertones and faint flavors of green fruits. Though it is naturally sweet, some street vendors may add extra white sugar.
While pure sugarcane juice is a very popular form in Vietnam, locals usually flavor it with other ingredients. The traditional choices are kumquat juice and salt. These things will give the juice the added delight of tanginess and spiciness.
The combo of sugarcane juice and kumquat juice is extremely famous in Northern Vietnam. In fact, locals love it so much that other varieties have no room to compete.
If you want a richer drink with a more diverse taste, many Vietnamese vendors are happy to offer you sugarcane juice made with roasted peanuts, jelly, mung beans, or coconut milk. These creative variations are more plentiful in Southern Vietnam than in other regions.
Fresh fruits are other favorite toppings for local sugarcane juice. Common options are jackfruits and pineapples. But adventurous foodies can try creamy durian-blended sugarcane juice, an exotic delicacy all the rage in the Southern region.
Anyway, Hanoi, Ho Chi Minh City, and My Tho (Tien Giang Province) are some places full of amazing sugarcane-based drinks you can try in Vietnam.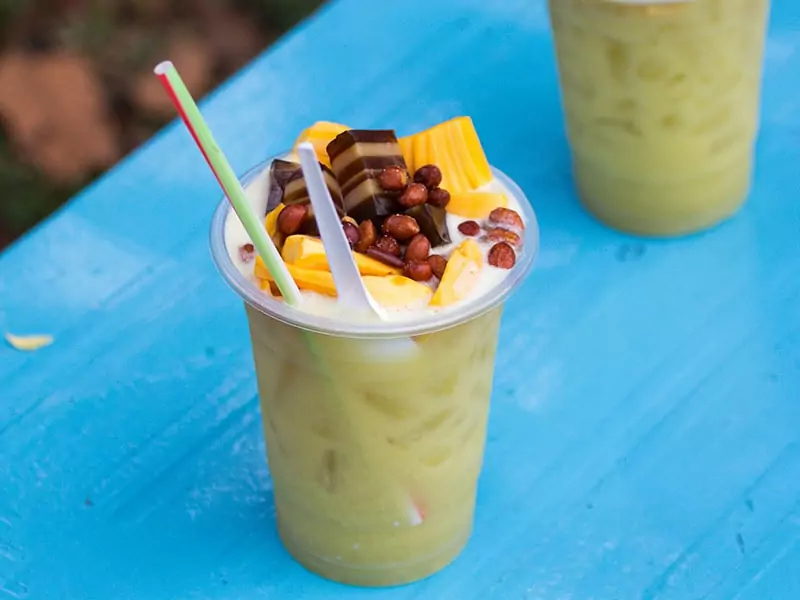 The Making Of Vietnamese Sugarcane Juice In Vietnam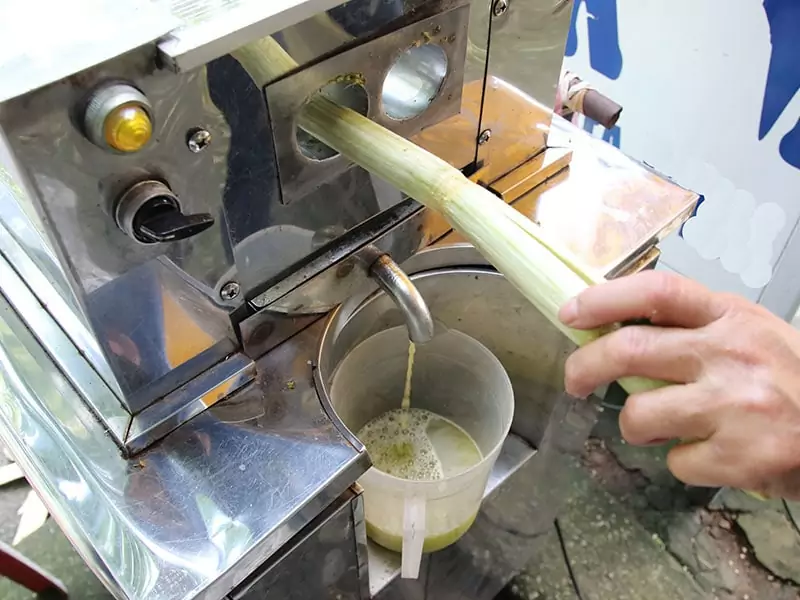 Sugarcane juice vendors are a common sight on countless Vietnamese streets. They usually sit next to their portable sugarcane juice press, waiting for potential customers. The machines have hand-cranked or electric engines, though the former is obsolete and rarely seen now.
When someone orders a serving of sugarcane juice, the vendor will put peeled sugarcane batons into the machine and operate it. The sugarcane will be crushed between the rollers a few times until all the juice is squeezed out.
Kumquats are pressed along with the sugarcane if desired. The final step is to pour the juice into a cup filled with ice. The sugarcane pulpy remains will then be moved to a box that lies behind or in front of the sugarcane juice press.
In cafes and restaurants, sugarcane juice is prepared in advance, then refrigerated until served. Understandably, many people find its flavor inferior to the freshly made version sold on the sidewalk.
Right now, you must be wondering: "Can I make Vietnamese-style sugarcane juice at home?". The answer is yes, but you will have to make a big investment since the best way to make authentic Vietnamese sugarcane juice is to use a sugarcane juice press.
All you have to do is to extract the juice from fresh sugarcane, add kumquat juice or flavorings of your choice, and serve over ice.
Alternatively, you can cut sugarcane batons into small pieces, then grind them into a coarse mass in a good food processor. Finally, squeeze the juice out of it with your hands.
Let's discover how Vietnamese vendors produce sugarcane juice on order.
Top Reasons For The Popularity Of Sugarcane Juice
Many Vietnamese people love sugarcane juice for no reason. But since you may be new to this wonderful treat, learning about its merits will help you drink it more enjoyably.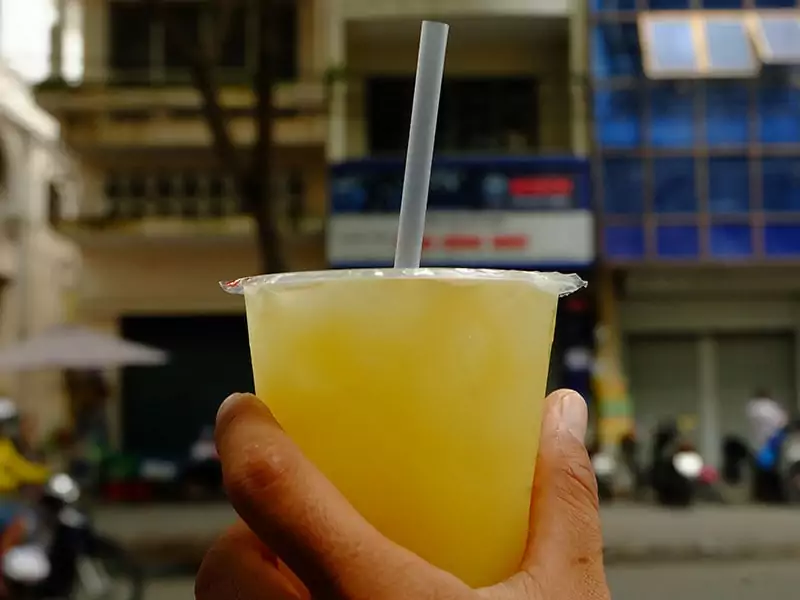 Health Benefits
Sugarcane juice has minimal amounts of fats, sodium, and cholesterol. By contrast, it is a treasure trove of vitamin C, fiber, antioxidants, and minerals (such as potassium, zin, calcium, and magnesium).
As a result, this drink has great antiseptic and anti-inflammatory properties (2). It is particularly good for your liver, kidneys, and digestive system. Sugarcane juice can also alleviate skin conditions (like acne) and give you a radiant look!
On a side note, the beverage is very high in sugar and calories. While it can give you a quick energy boost, people with diabetes should think twice about drinking it.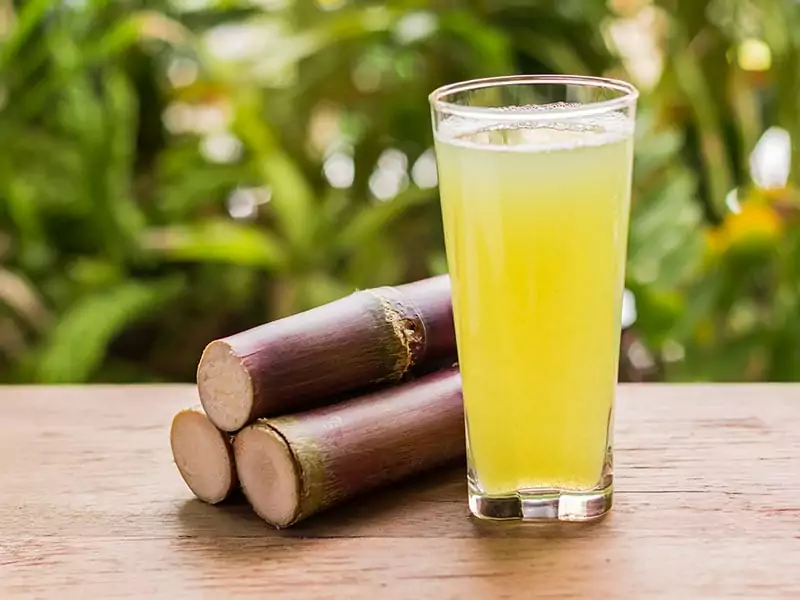 Amazing Taste And Refreshing Quality
The combo of grassy sweetness and ice results in a tantalizing drink for a hot summer day. When the ice melts and thins out the juice a bit, you will have an even tastier drink with a mellow flavor to die for. Also, the factor of freshness also increases the appeal of sugarcane juice.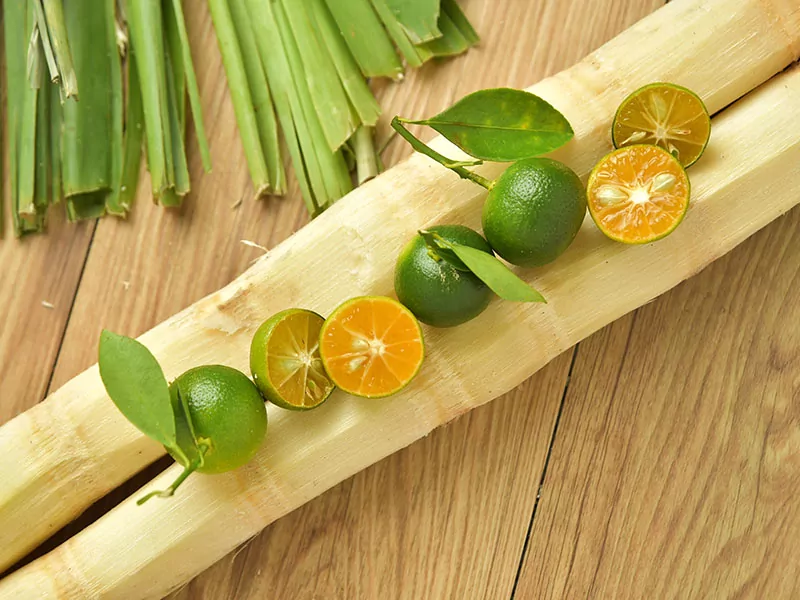 Low Price
Sugarcane juice is among the most affordable Vietnamese drinks. For the same price you pay for a cup of to-go coffee or Cà phê sữa đá (Vietnamese iced coffee with condensed milk), you can get a serving of sugarcane juice twice or three times as big.
The fact that sugarcane juice rarely appears in high-end restaurants and cafes also contributes to its reputation as a cheap drink for everyone.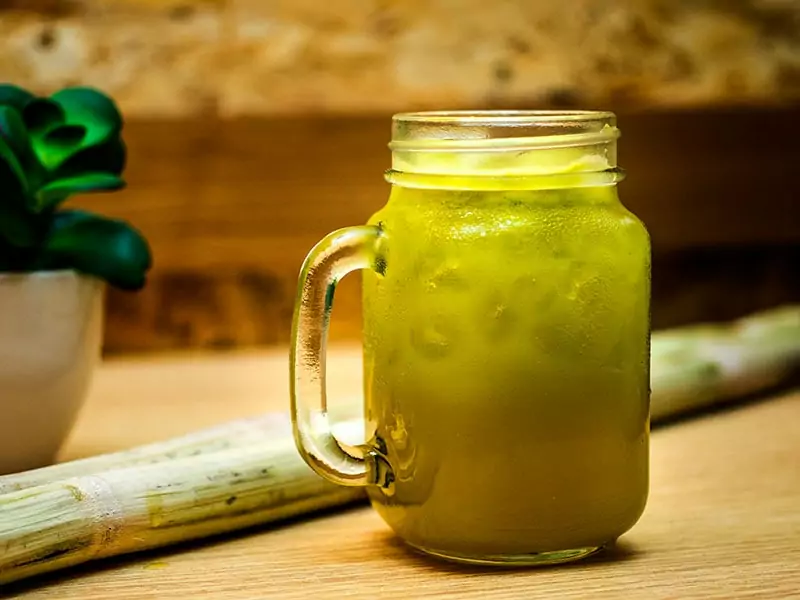 Availability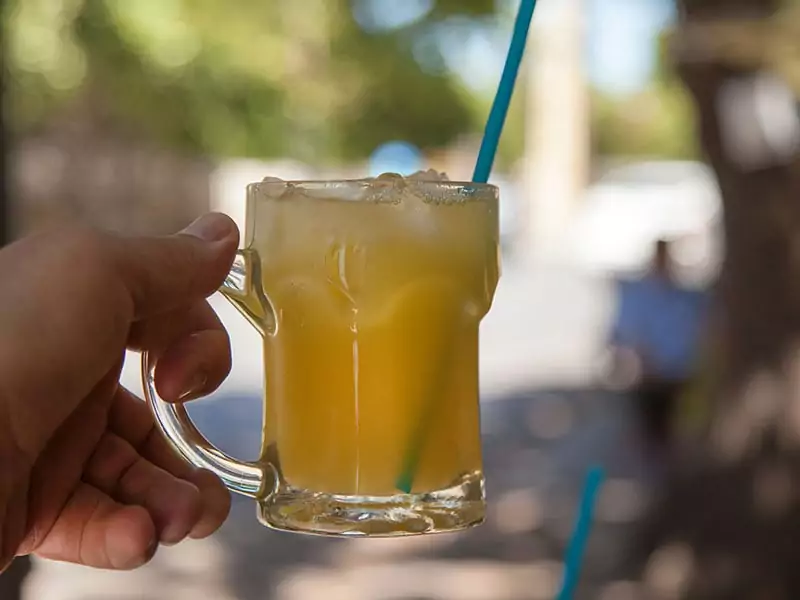 Whether you travel in the North or the South, in the countryside or a large metropolis, you can always have a high chance of running into a sugarcane juice vendor just around the corner. The drink is truly a ubiquitous street food item in Vietnam.
Therefore, when you don't know what to drink today, just follow along a busy street, and you will likely end up at a sugarcane juice stall ready to delight your taste buds!
In addition, Vietnam's major routes are often dotted with places selling this drink for travelers. When you follow them to discover the beauty of the country, a great sugarcane juice stand may be there to greet you as well!
Ben Thanh Market in Ho Chi Minh City is one of the best places to enjoy authentic Vietnamese sugarcane juice.
Suitability For Vietnamese Snacks
Vietnamese people don't often pair sugarcane juice with other foods. However, it's a good idea to enjoy many toothsome Vietnamese snacks. Some examples are Banh mi, Bánh xèo (savory Vietnamese crepes), or Bánh tráng trộn (Vietnamese rice paper salad).
Still, not all Vietnamese recipes can go with this drink. After all, sugarcane juice is full of, well, sugary goodness, so accompanying it with hearty main dishes may take away your appetite.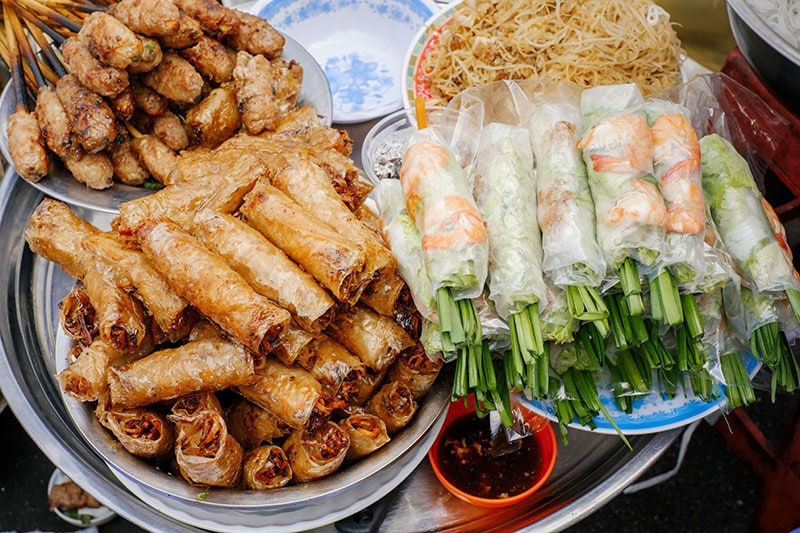 Buy Superb Sugarcane Juice With These Useful Tips
Vietnamese sugarcane is utterly delicious, but it isn't without risks. Below are important things to remember before treating yourself to the natural sweetness of sugarcane from the fields of Vietnam.
Choose Your Sugarcane Juice Cane Carefully
Many sugarcane juice stalls have poor hygiene conditions. While vendors prepare the drink before you, the ice may be made from unsafe water, or the sugarcane has stayed outside past the recommended time.
Therefore, only buy from reliable providers with clean facilities. A lot of stalls advertise themselves as selling "super clean sugarcane juice" ("nước mía siêu sạch"), but that isn't necessarily the case. It's also a good idea not to consume too much juice in a short time.
Be Careful With Tartness
If your sugarcane juice has a sour taste, it may be made from immature sugarcane. A more sinister reason is that your drink has gone bad. In case it also has a brownish color, you should discard the beverage at once.
Bring Your Own Bottle To Produce Plastic Waste
Sugarcane juice in Vietnam is sold in plastic cups complete with plastic straws. People with environmental concerns can bring their cups and bottles to contain the juice.
Drink Sugarcane Juice At The Right Time
Drinking a glass of ice-cold sugarcane juice in the heat isn't a good thing to do since there is a risk of sending your body into a state of shock. Wait until you get to someplace with cooler temperatures to enjoy your drink.
In addition, Vietnamese people think that sugarcane juice shouldn't be drunk at night or in the early morning, or you may get an upset stomach. However, since there is a large number of nighttime sugarcane juice stands in Vietnam, that rule is difficult to obey.
Order Sugarcane Juice With Less Or No Sugar
Though not many vendors add sugar to this kind of drink, it never hurts to be careful. If you don't like kumquat juice or extra ingredients, inform your vendor in advance.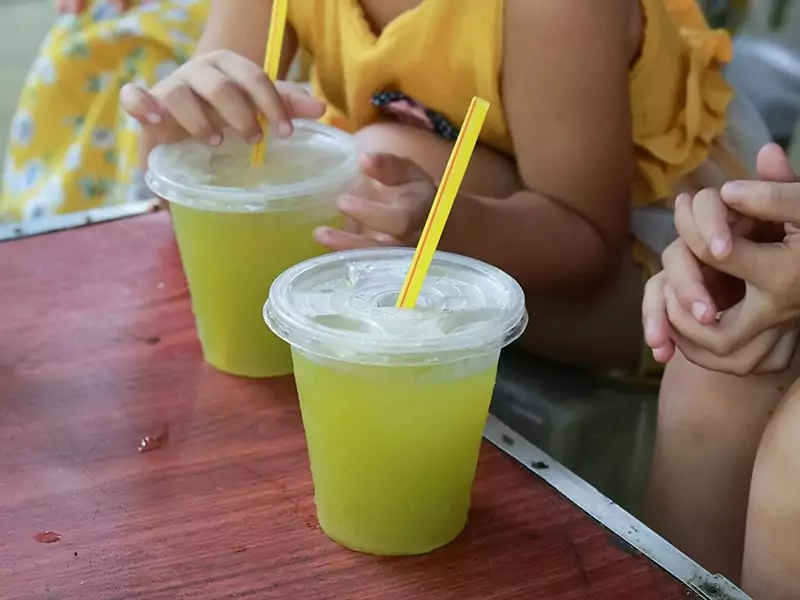 FAQs
I hope this post has covered everything you need to know about enjoying sugarcane juice in Vietnam. But if you still have a few doubts about this matter, check out this section.
Sip On The Sweetness Of Vietnam With Sugarcane Juice
While you can find sugarcane juice in many countries around the world, Vietnam is a paradise to enjoy this drink. Besides the unrivaled freshness of the classic version, you can experience exotic variations that will exceed your wildest expectations!
Follow the tips mentioned in this post, and your days in Vietnam will be as sweet as the sugarcane juice you're slurping! Don't forget to share this article with your friends. If you have any questions, feel free to write them down in the comment section. Bye, and see you soon!
References
Ingredients Declared as Evaporated Cane Juice: Guidance for Industry. Center for Food Safety and Applied Nutrition, US Food and Drug Administration. 1 May 2016.
Sugarcane drinks: Types, health benefits, and more (no date) WebMD. WebMD.