What does sugarcane juice taste like? The answer may seem self-explanatory: it's sugar, so isn't it sugary? Well, my friend, the answer is much more complicated than that. You may know about cane sugar or molasses, but these products don't retain much original flavor.
Scroll down, and you will realize how diverse real sugarcane juice is. It's time to learn valuable tips about how to enjoy this drink properly and why you should do so. You can also discover interesting facts about it, like, sugarcane juice isn't really juice!
All You Need To Know About Sugarcane Plants
I have a trick question for you: is sugarcane a fruit or a vegetable? The answer is neither: people classify this plant as a tropical perennial grass. Its sucrose-rich stalks can reach 6 to 24 feet in height and have sword-shaped leaves.(1)
Sugarcane was supposedly first domesticated in New Guinea, from which it spread all over the world. It became a good source of sweeteners, but sugar was a rare and expensive delicacy most of the time.
Europeans brought it to the New World in the early 16th century and turned Latin America into a major sugar-producing region. Sugar was transported back to Europe, providing an abundance of sugar at a more affordable price.
That was good news for everyone except for sugarcane plantation workers. They were mainly indigenous or enslaved people who had to endure horrific conditions.
Today, sugarcane is a vital crop for many countries, especially those in tropical regions like Southeast Asia, Latin America, and the Indian subcontinent. Some leading producers are outside those regions, like China, Australia, and the US.
The main application of sugarcane is for making sugar. But peeled raw sugarcane stalks are a popular snack in many Southeast Asian countries. Locals (with strong teeth, obviously) love to chew raw sugarcane to extract the sweet juice from it and spit out the fibrous pulp afterward.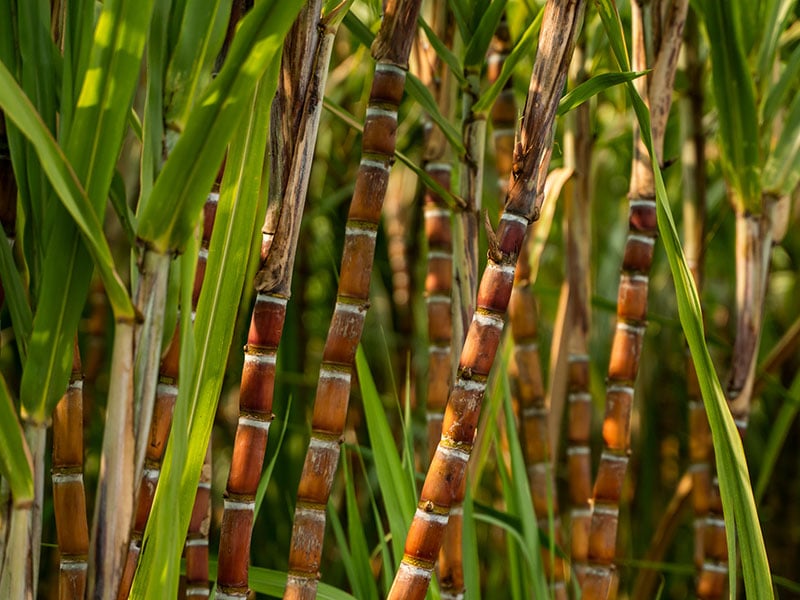 An Overview Of Sugarcane Juice
Here's the thing: sugarcane juice isn't juice if you live in the US. The FDA rules out that term to avoid confusion with fruit or vegetable juices. But it is still popular in daily use. Here is more good-to-know information about sugarcane juice.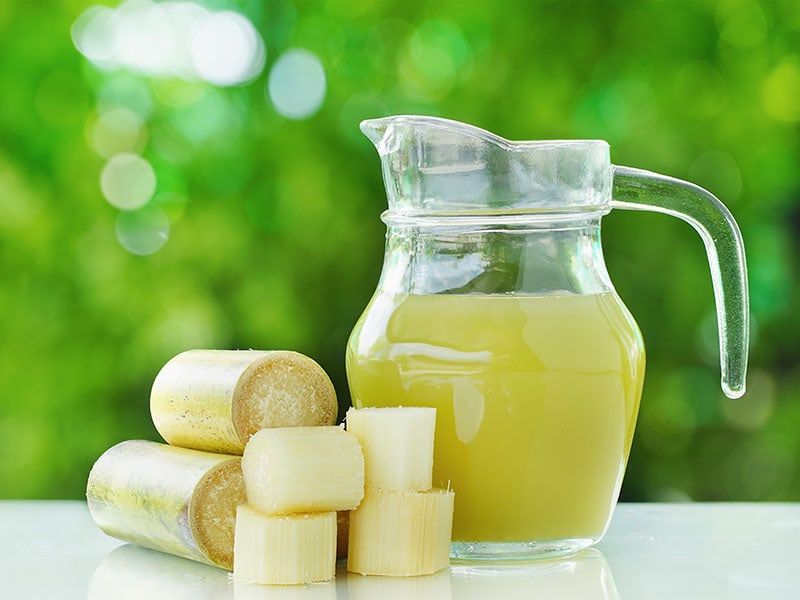 Popularity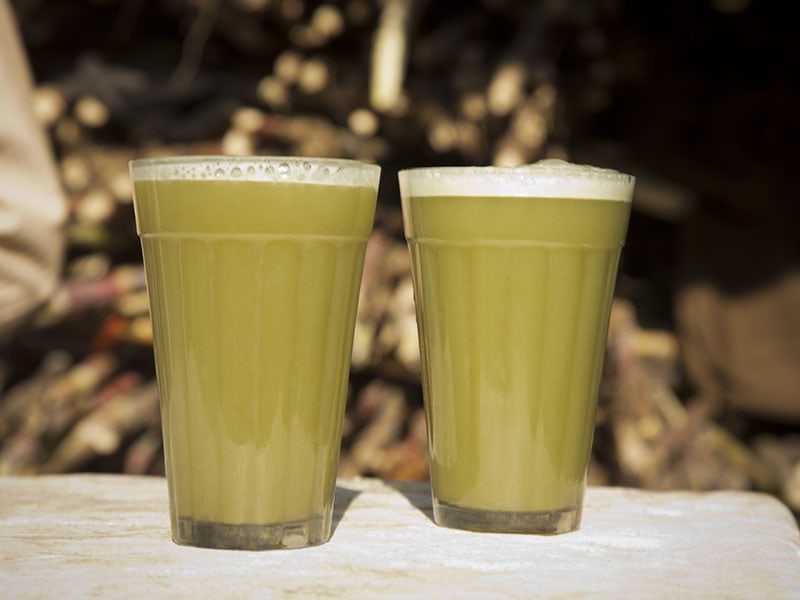 The drink is enormously famous in every tropical country that can grow sugarcane. Iced sugarcane juice is a must-try drink in Vietnam, Indonesia, Brazil, India, and so on. Street vendors always prepare it fresh with a portable press before customers.
Meanwhile, some people in Egypt and Madagascar like to ferment it to get a delicious tang. Even so, freshly pressed sugarcane juice, served with ice and extra ingredients (like orange juice), is often the most popular form. But canned and bottled products are also interesting choices.
Street sugarcane juice stalls are everywhere in the countries mentioned above, but they are a rare sight in Western countries. You can visit Asian or Latin American restaurants and juice bars: sugarcane-based drinks may be on the menu. Note that they may not be freshly made.
As for fresh sugarcane, you can try farmer's markets or Asian and Latin grocery stores. Processed sugarcane juice is easier to find: big supermarkets or online retailers often offer them.
Let's discover how people around the world enjoy sugarcane juice.
How Do People Prepare Sugarcane Juice?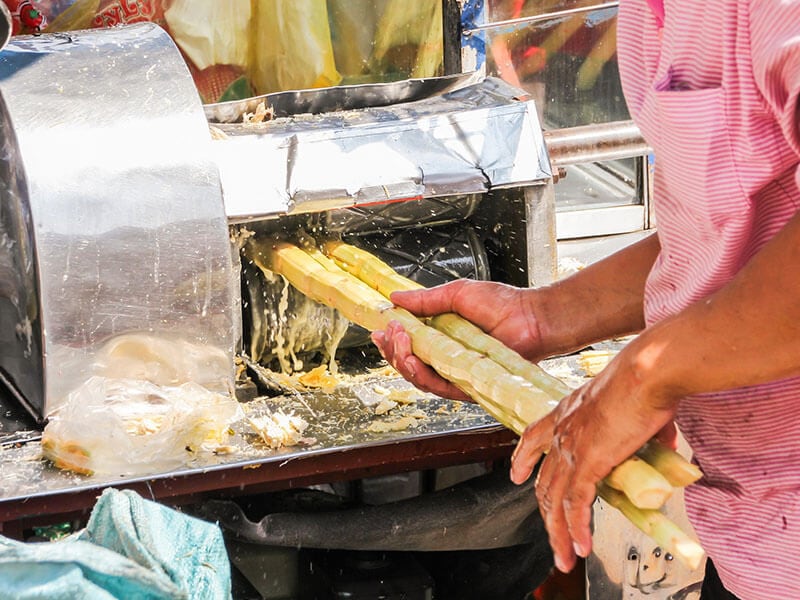 Street sugarcane juice vendors always stay next to their sugarcane juice presses that often run on electric engines. If you want to make this drink at home, you should buy such a machine for optimal effectiveness.
The process begins with feeding peeled sugarcane stalks into the press and starting the machine. The mechanical rollers will completely crush the stalks to squeeze out their juice. This step has to be repeated a few times to extract every drop of juice in them.
If people want to flavor sugarcane juice with other juices, they usually press them along with the sugarcane. The final step is to pour the finished product into a cup or glass, preferably over ice, and enjoy.
Another way to prepare homemade sugarcane juice is to use a heavy-duty food processor, but you need to cut the sugarcane stalks into small pieces first. Run the machine to crush the sugarcane pieces into a coarse-textured mass, which you squeeze with your hands.
The juice can contain small fibrous bits of sugarcane, so filtering it with a fine-mesh strainer is necessary. This method doesn't require as much investment as the last one, but it doesn't allow you to extract the entire juice content, either. Besides, it may shorten your blender's lifespan.
The sugarcane pulpy remains (called bagasse) have many uses. You can turn it into a plant fertilizer, a biofuel, or a building material.
Do you know the best way to make sugarcane juice with a blender? Find out here!
The Making Of Cane Sugar
Sugarcane juice is the main ingredient for sugar production, but how is sugar made? Are the initial steps like producing sugarcane juice for drinking? Yes, but the juice extraction takes place on a much bigger scale with industrial equipment.
Sugarcane juice will then be clarified with chemicals before being boiled for hours. This process will remove major impurities and concentrate the sugar content. After that, a thick syrup will emerge.
The next step is to crystalize the syrup by evaporating it with crystal seeds (made of glycerin and sucrose suspended in alcohol). That will create sugar crystals that are still stuck in syrup.
Therefore, everything has to be run through a centrifuge to separate the syrup into damp sugar crystals and molasses. Known as raw sugar or unprocessed sugar, the former can be dried and granulated to use right away. It can also undergo further refining to create white sugar.
Molasses is less sweet than white sugar but thicker and more nutritious than its refined counterpart. Brown sugar is a mixture of refined sugar and molasses.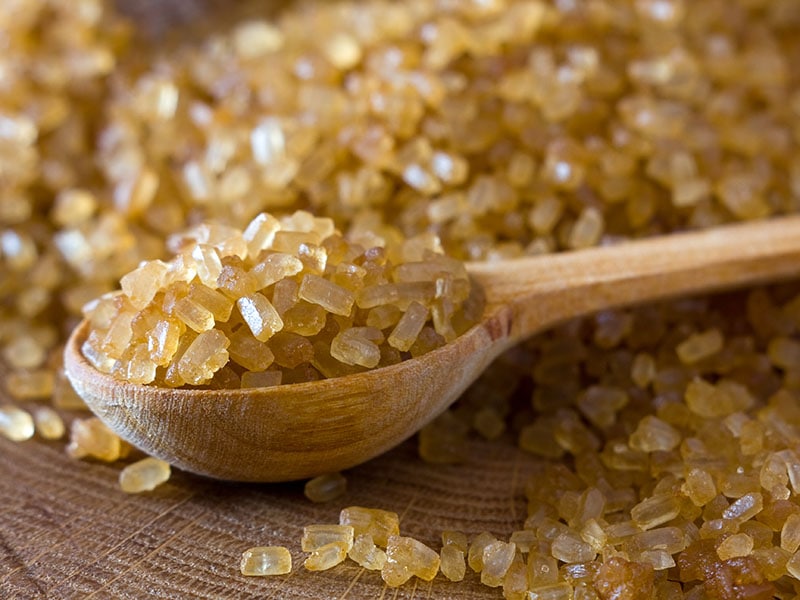 Understanding The Flavor Of Sugarcane Juice And Other Characteristics
Fresh sugarcane juice has a refreshing taste that can keep you going even in brutally hot weather. This section will tell you more about it. You will also broaden your knowledge of what excellent sugarcane juice should look and smell like.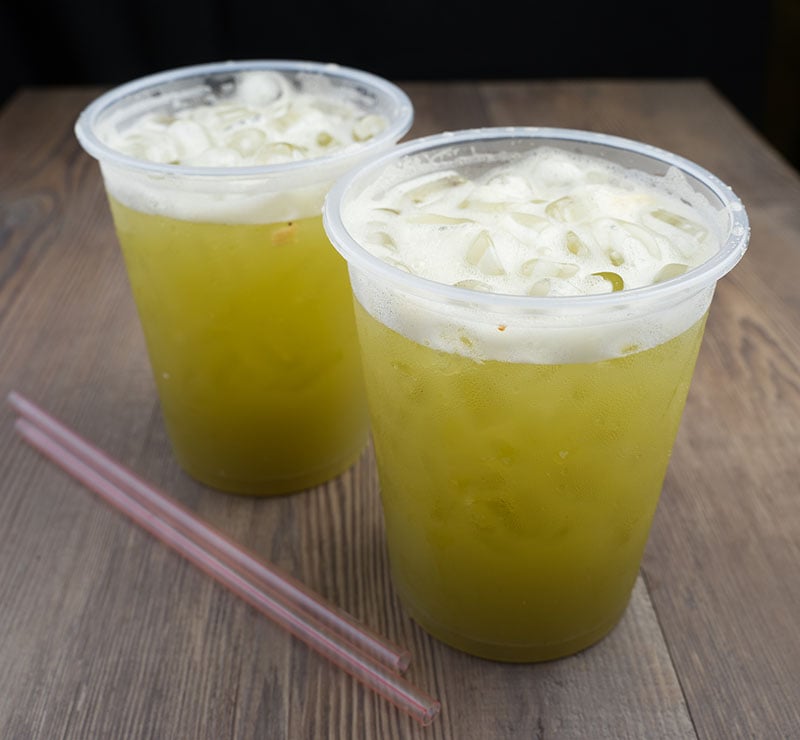 | Characteristic | Fresh Sugarcane Juice | Bad Sugarcane Juice |
| --- | --- | --- |
| Flavor | Intense sweetness with grassy aroma and mild aftertaste; Iced sugar cane juice is less sweet | Very tart and sour; Fermented smell |
| Appearance | Cloudy liquid with thick to medium head of white foam; bright yellow with dark green shades | Dark colors: brown to pale black |
| Mix with other ingredients | Can add salt or lime juice for extra tanginess/saltiness | Tartness may intensify, not recommended |
| Shelf life | Best consumed immediately or within 24 hours if refrigerated | Unsafe for consumption if left at room temperature for more than 2 - 3 hours |
| Potential health risks | None, unless mixed with harmful ingredients | Stomach-related problems, dizziness, headaches, and more |
Fresh Sugarcane Juice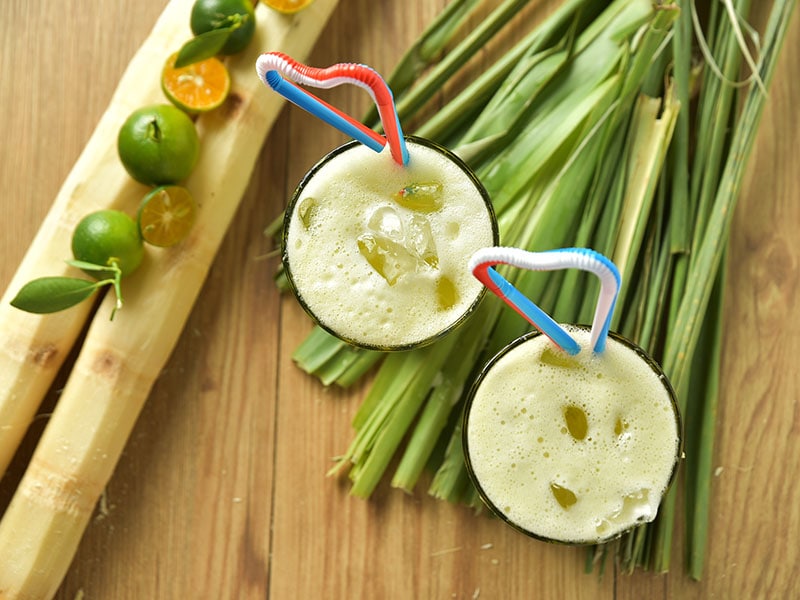 The dominant flavor of sugarcane juice is an intense sweetness that will impress your palate instantly. That goodness also comes with subtle grassy aromas and a mild aftertaste.
In the case of iced sugarcane juice, the ice will eventually melt and make the juice less sweet. You can take advantage of this if you don't like overly sweet drinks. If you mix sugarcane juice with salt, lime juice, or other things, expect extra saltiness or tanginess.
To better understand the flavor, think of a cup of fresh apple juice but minus any tartness. Do you remember the pleasantly sweet, sharp scent wafting from your newly mown lawn? Combine the two things together, and you will have a good idea of what sugarcane juice is like.
I should also describe the look of fresh sugarcane juice. The good stuff must be a cloudy liquid with a thick to medium head of white foam. The bubbles tend to disappear quickly, so they are characteristic of freshly pressed sugarcane juice: premade and canned products can't have them.
In terms of color, fresh sugarcane juice usually comes in a bright yellow hue tinged with some dark green shades. A drink with pale or transparent liquid is often diluted with water.
This is how people in Cambodia produce sugarcane juice.
Bad Sugarcane Juice
Is sugarcane juice supposed to be sour? If you're talking about properly squeezed juice with no added ingredients, then no. Sugarcane juice is all about sweetness. But there are two reasons that this drink may have a sharp taste.
The first one is that it's made from young sugarcane stalks. In that case, its sour taste is no cause for alarm. But another reason is that your sugarcane juice has gone bad.
This drink has a very high sugar content, which is excellent for microbial activities. Therefore, it doesn't take long for harmful organisms to multiply in your sugarcane juice, rendering it unsafe.
In hot weather, pure sugarcane juice will start souring about 15 – 30 minutes after the extraction. It can last 2 hours before getting spoiled. Iced sugarcane juice is harder to go bad, but you shouldn't keep it at room temperature for more than a few hours.
In some countries, locals intentionally let sugarcane juice ferment to get more flavors and nutrients. But if you don't control the process carefully (or don't mean for it to happen), that may result in serious consequences: stomach-related problems, dizziness, headaches, and more.
Accompanying the tart taste is the darkening color. When exposed to the air, the enzymes in sugarcane juice will make it become brown very quickly. Your drink may become completely brown or even pale black after 1 hour (without ice) or several hours (with ice).
You can slow down both the fermentation and the oxidation by refrigerating your sugarcane juice right after squeezing it. However, the storage time shouldn't exceed 24 hours.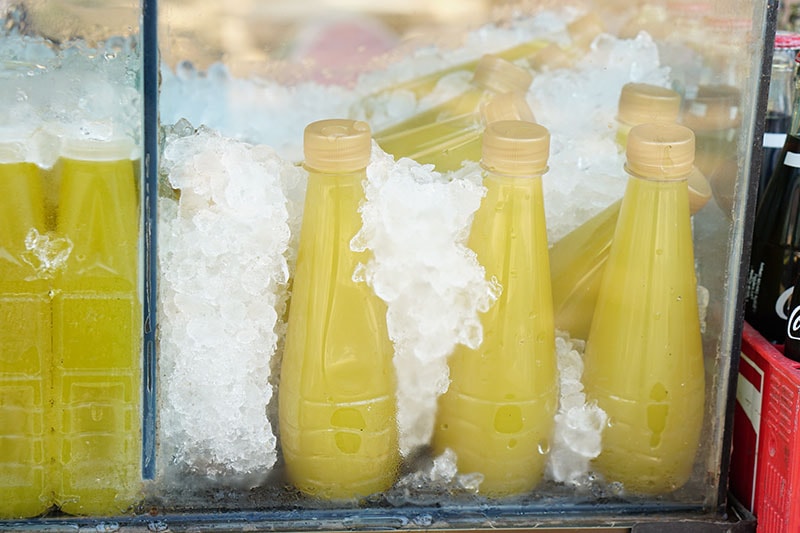 Is Sugarcane Juice Good For You?
The answer is an unequivocal yes. Thanks to its impressive nutritional profile, sugarcane juice is the holy grail for anyone in search of healthy drinks. However, you need to know a few things to consume it safely.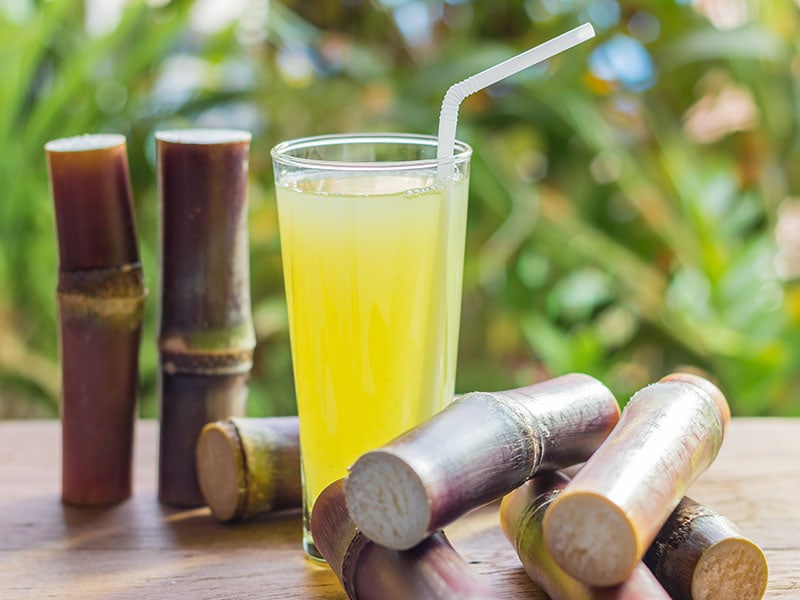 Health Benefits
Sugarcane juice is much more nutritious than raw sugar and molasses, which have gone through much processing. It has an ample source of vitamins, minerals, and antioxidants. That's why you will receive many health benefits from it.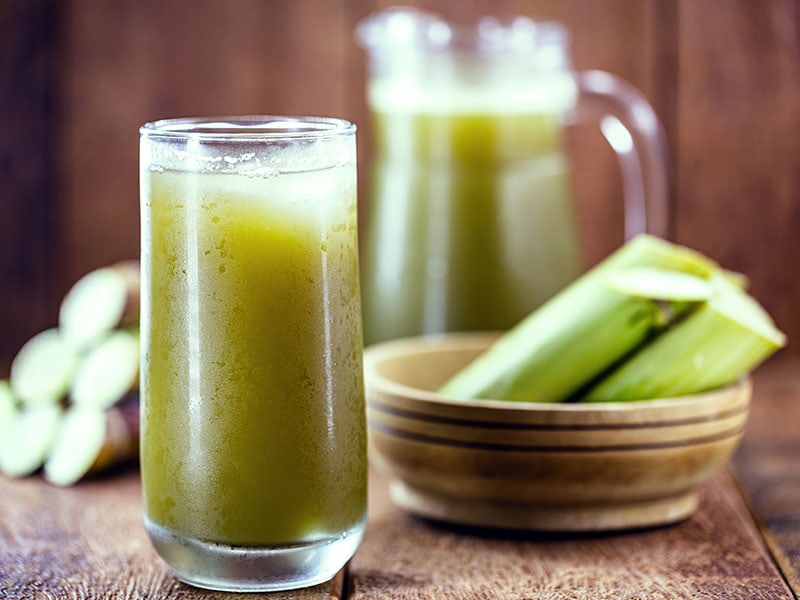 Quick Energy Boost
1 cup (240 ml) of fresh sugarcane juice can provide you with 183 calories and 50 grams of sugar (2). Therefore, don't hesitate to gulp down this beverage to restore your energy quickly.
Besides, it is safe to drink sugarcane juice on an empty stomach. Though rich in carbs, this drink has a low glycemic index, which means it won't raise your blood sugar quickly or dangerously.
Keeping Your Overall Health In Good Shape
Sugarcane juice has an alkaline nature because it boasts a wide variety of minerals: phosphorus, zinc, magnesium, calcium, potassium, etc.
One benefit of that trait is that the drink can keep your body's pH levels in check and prevent many illnesses related to metabolic disorders, such as allergies and cancer. Sugarcane juice maintains your body's electrolyte balance as well.
Antioxidant-Filled Beverage
Thanks to its wealth of those disease-fighting substances, sugarcane juice can help you lower the risk of various chronic conditions: cancer (again), heart diseases, asthma, liver infections, etc.
Good Choice For Sports Drinks
Because sugarcane juice is so high in sugar and minerals, you can enjoy it after workouts to replace your lost body fluids. It will give you a full and invigorating feeling.
A "Green" Beverage
Fresh sugarcane-derived drinks are low-sodium, low-cholesterol, and fat-free, yet very rich in fiber. Compared to various processed beverages you usually buy, they are absolutely healthier.
Good For Kidneys
One of the most widely praised merits of sugarcane juice is its ability to keep kidneys up and running. Regular consumption of this drink will help you avoid problems like kidney stones.
Skin Health Improvement
Any drink with plenty of vitamins and antioxidants is a godsend for skin care, and sugarcane juice is no exception. It is particularly effective at preventing or reducing skin infections and skin issues like acne and blemishes.
Body Heat Reduction
This sweet beverage doesn't need ice to be a cooling treat. Its refreshing taste is enough to chase the heat away already! The large amount of much-needed nutrients in it is another added delight.
Here is a recap of the most significant health benefits you can gain from sugarcane juice.
Disadvantages
The strength of sugarcane juice is also its weakness: the huge sugar content. Anyone who seeks to reduce their calorie intake or follow a keto diet will find this drink quite off-putting.
Besides, sugarcane juice contains policosanol, a blood-thinning substance that makes it harder to form clots. Therefore, people suffering from blood clotting disorders should give sugarcane juice a wide berth.
Also, the high amount of sucrose makes sugarcane juice an extremely perishable drink. Refrigerating or adding ice to it is a must, as the drink is easy to go bad at room temperature. That can decrease its convenience somewhat.
If you purchase sugarcane juice from street vendors, watch out for these additional dangers: foodborne diseases, microbial hazards, or cross-contamination. Be extra wary with ice: they can be made from unsafe water. Make sure to choose only providers with good sanitation.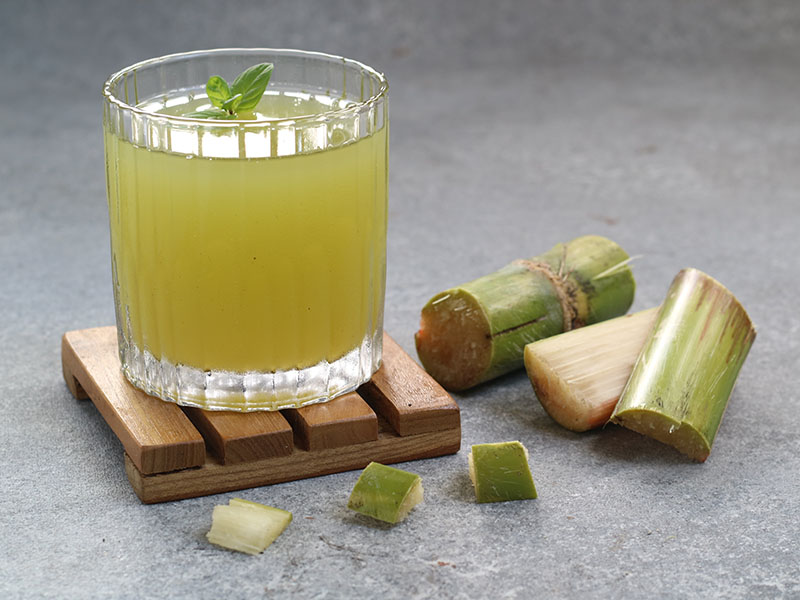 What Are The Best Tips For Drinking Sugarcane Juice?
While sugarcane juice is very beneficial for health, it isn't suitable for excessive consumption. Healthy adults shouldn't drink more than 3 – 4 cups (250 ml) per week, but people who frequently take part in physical activities can increase their sugarcane juice intake accordingly.
When you buy sugarcane juice from a street stall for the first time, consume it in small sips to see if it is safe.
Like ice water, iced sugarcane juice must not be drunk when you're out in the heat. Otherwise, the temperature mismatch may cause serious problems, like sending your body into shock. You should drink something warmer or go somewhere cooler first.
It's time for a more pressing question: Who shouldn't drink sugarcane juice? Don't enjoy this drink if you have obesity, diabetes, and blood clotting disorders.
However, sugarcane juice offers some great benefits even for obese people and diabetes patients, as mentioned above. In case they still want to enjoy this drink, it's best to do so in very small amounts.
Let's come to another matter: Who should limit sugarcane juice consumption? The answer is young children and expecting mothers. While it's safe for non-diabetic pregnant mothers to enjoy sugarcane juice, consuming it too much can increase the risk of gestational diabetes.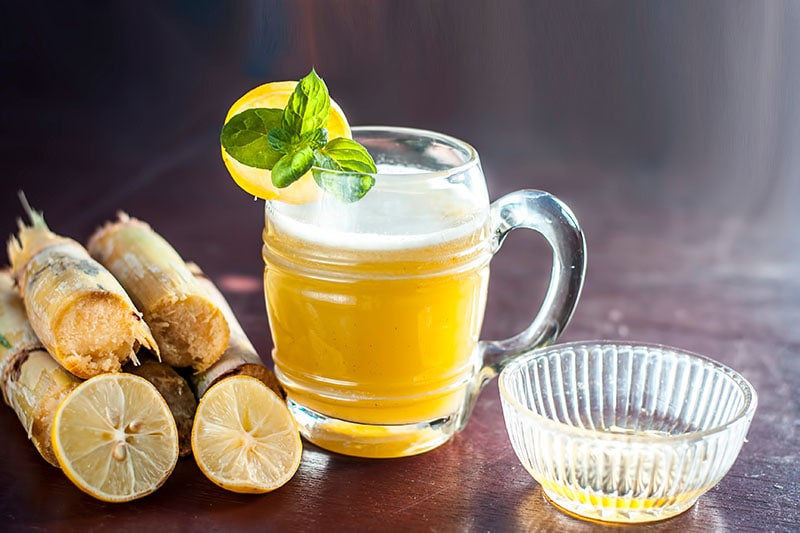 FAQs
This section will give you more useful facts about sugarcane juice. Check it out now to complete your understanding of this unrivaled summer drink!
Juice Up Your Day With Sugarcane Juice!
You have just uncovered the secret behind the taste of sugarcane juice, its health benefits, and how to make it at home. So what do you think about adding it to your list of must-try drinks? Say hello to its cooling sensation, and bid farewell to the terrible summer heat!
If you want your friends to know about the special qualities of sugarcane juice as well, don't forget to show this post to them. And don't hesitate to share other useful tips on how to make and enjoy this drink. Thank you, and have a good day!
References
Sugarcane (2023) Wikipedia. Wikimedia Foundation.
Danahy, A. (2020) Is sugarcane juice good or bad for diabetes?, Healthline. Healthline Media.