You probably know about Pho, but have you ever tasted chicken Pho before? While traditional Pho consists of beef broth and various cuts of beef, this version revolves around chicken. You will be surprised at how this change of protein impacts the flavor and cooking technique of this delicacy.
Starting as a mere substitute for the traditional version, chicken Pho has grown to be a popular Asian chicken dish in its own right with a dedicated fanbase. Let's learn how to cook it if you want to reinvent the classic Pho recipe and surprise your family and friends with this fantastic dish.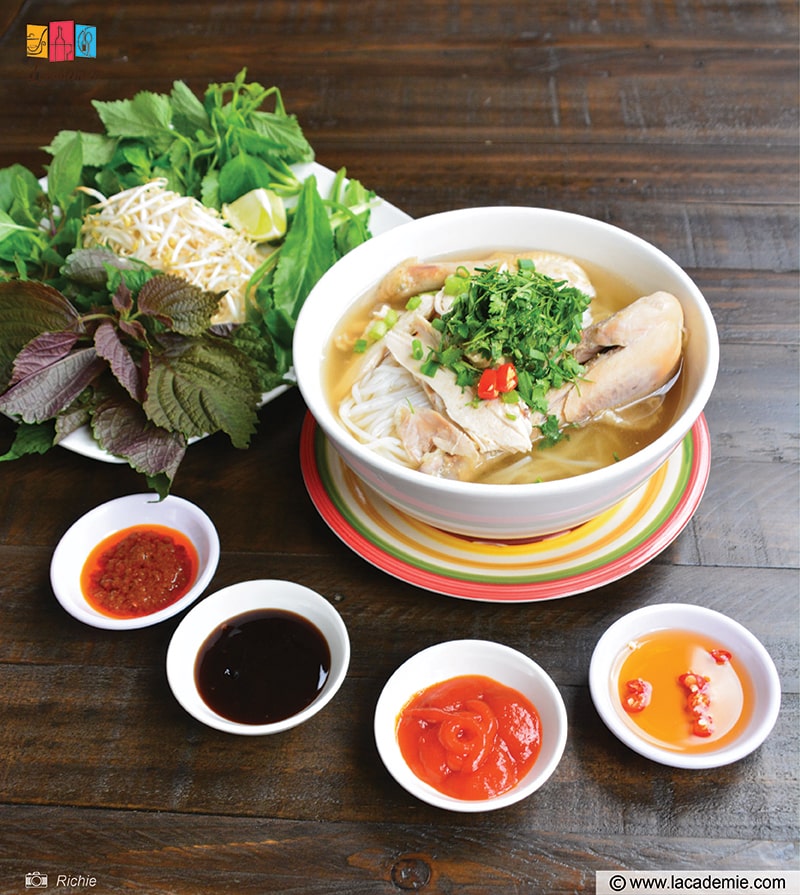 A Brief Overview of Pho Chicken
Pho is a Vietnamese noodle soup staple that first appeared in the early 20th century in northern Vietnam. The exact details surrounding its birth are a source of controversy. But right from the start, it was already a mouth-watering combo of thick noodles, savory beef, and flavorful broth.
However, beef wasn't always available in Vietnam in those days due to many reasons. So in 1939, people experimented with making Pho from chicken to mixed reception. Many so-called Pho addicts detested it and claimed that its flavor was so mild and inferior to the classic beefy version.
Not everybody shared that view, though, and the undying popularity of chicken Pho is the most convincing proof. The rich, somewhat sweet meatiness of chicken, plus its elastic firmness, is a breath of fresh air that many generations of Vietnamese foodies have fallen in love with.
Moreover, you can make the Pho from scratch, or use leftovers, such as the meat from steamed chicken with coarse salt, or baked chicken, cooked with chicken broth seasoned with Pho condiments.
But the best one must be the make-from-scratch version. And this recipe is now in your hand. You're about to find out what charms it has to rival the ubiquitous beef Pho. Let's cook it and make a comparison yourself.
Tools
Perhaps all the following tools are already in your possession, but it won't hurt to take a quick look to be sure.
Chopping board and knives: for processing the ingredients.
Small bowls: for containing the condiments.
Soup ladle: for handling the chicken and stirring the broth.
Slotted spoon: for handling the chicken.
Filter bag: for keeping the spices in place during the broth-making process. Rather than add spices directly to the broth, putting them in a filter bag allows the essence of the spice to seep into the broth without changing the color of the broth.
Besides, you can remove the spices from the broth more easily if you put them in a filter bag.
Stock pot: for cooking the broth. It should be big enough to hold a whole chicken.
Skillet: for roasting the spices that will be put into the filter bag.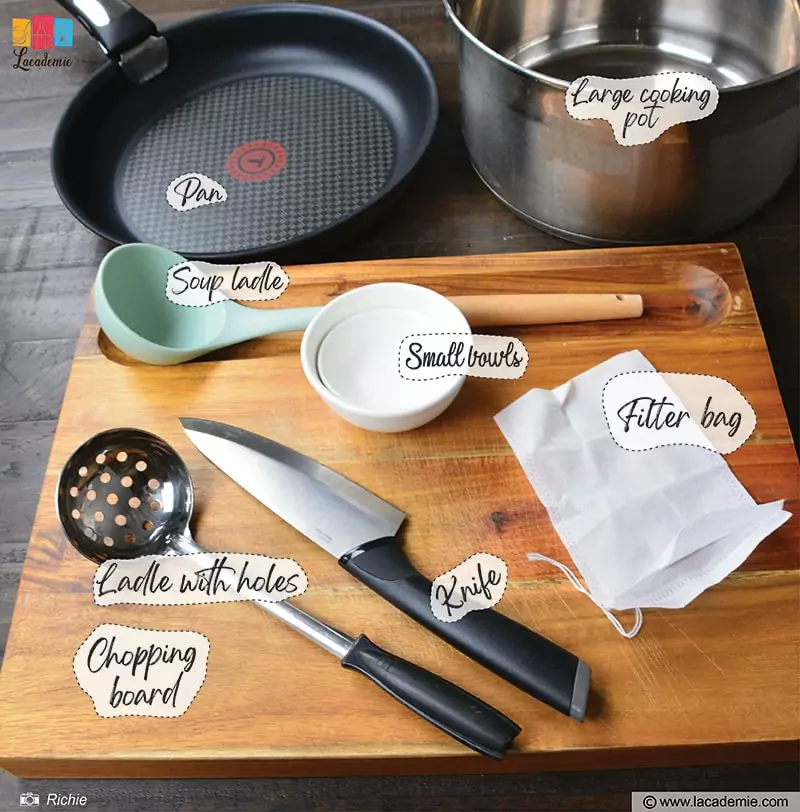 Ingredients
Gathering the necessary spices guarantees a large part of your cooking success. You can visit an Asian store/ gourmet store or go online to find all of them.
Chicken: This dish is well known for having chewy, elastic bits of shredded chicken that pleases anyone's teeth. Therefore, go for a free-range chicken to make authentic chicken Pho. In contrast, commercially raised chickens have overly soft muscles that can result in mushy meat.
Pho noodles: Though I prefer noodles with small strands, you can choose any brand you like.
Brown rock sugar: Its sweetness is "purer" than that of white granulated sugar. You can replace it with white rock sugar.
Sugarcane: another ingredient that contributes sweetness to the broth. It also helps get rid of the poultry smell from chicken.
Seasoning: salt, soup powder, etc.
Spices for the filter bag: fennel, coriander seeds, allspice, cloves, dried onions, black cardamom, cinnamon sticks, star anise, and dried ginger.
Other spices: onions, ginger, shallots, fresh chili, lime leaves, etc.
Herb garnishes: coriander, scallion, saw leaves, bean sprouts, perilla, Vietnamese balm, sweet basil, etc.
Accompanying sauces: Hoisin sauce (sweet), chili sauce (spicy), Vietnamese fish sauce (salty), sate sauce, etc. Choose the condiment that suits your preferences, though chicken Pho is fantastic to enjoy on its own.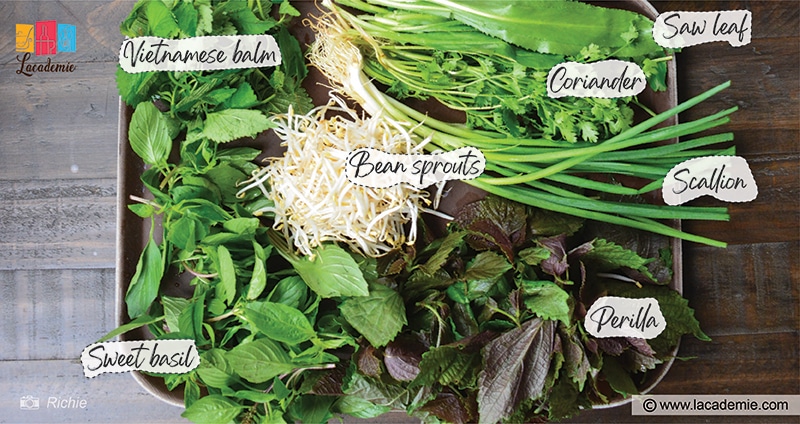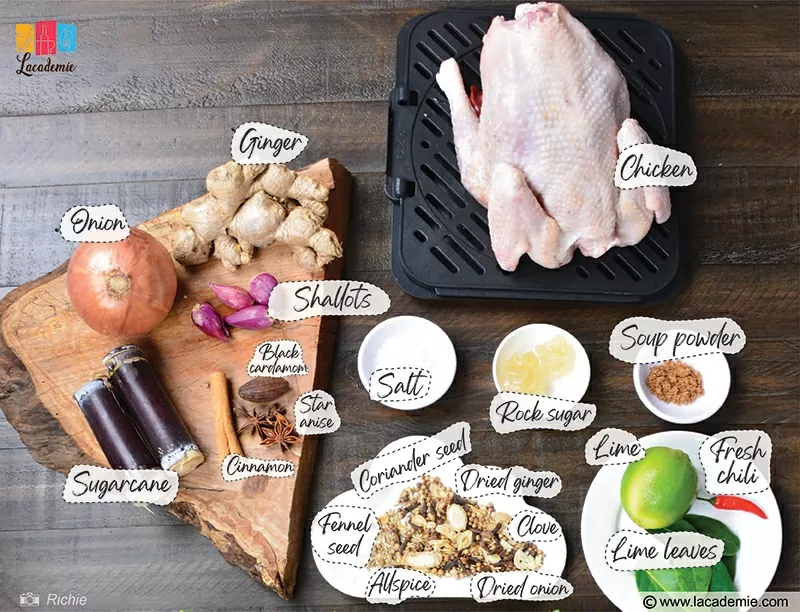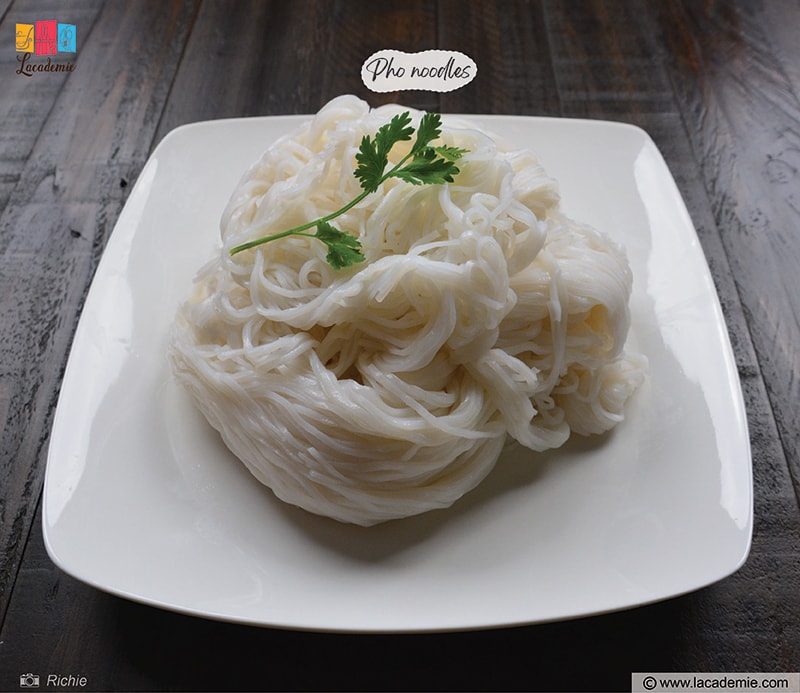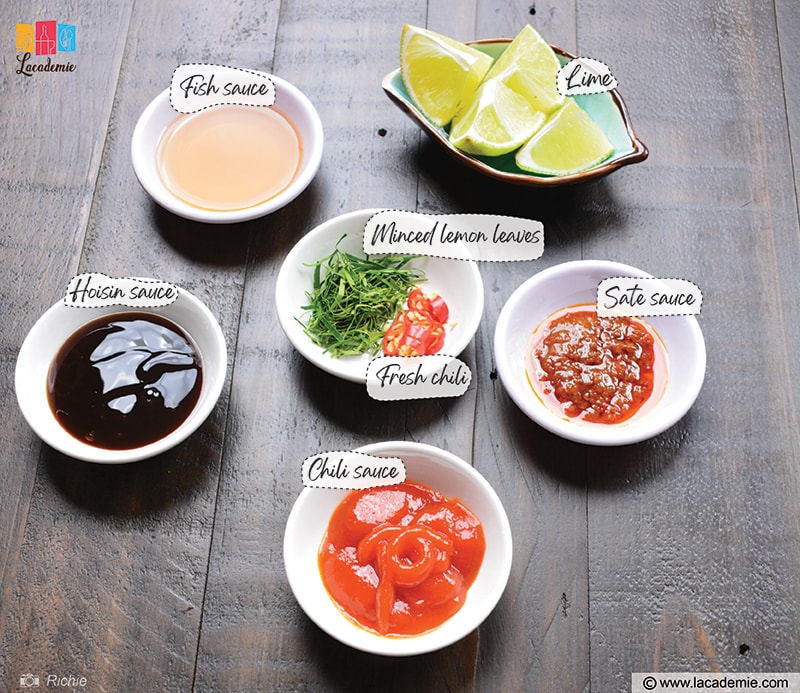 Pho Chicken Instructions
Unlike beef Pho, which requires hours of simmering beef bones for hours on end, this version takes much less time to cook. Let's dive right into how to cook it.
Step 1: Prepare The Ingredients
Cut off the roots of coriander and scallion. Finely chop coriander, fresh chili, scallion, and lime leaves. Set the roots aside, and keep a few whole lime leaves for making the broth later.
Halve the shallots. Cut the lime into wedges. Score the husk of the sugarcane stalks, then chop them into thin sticks.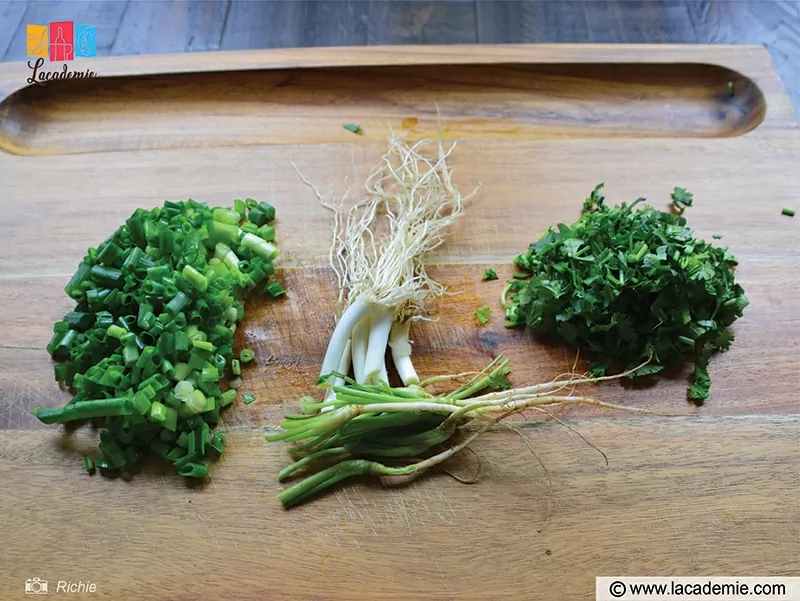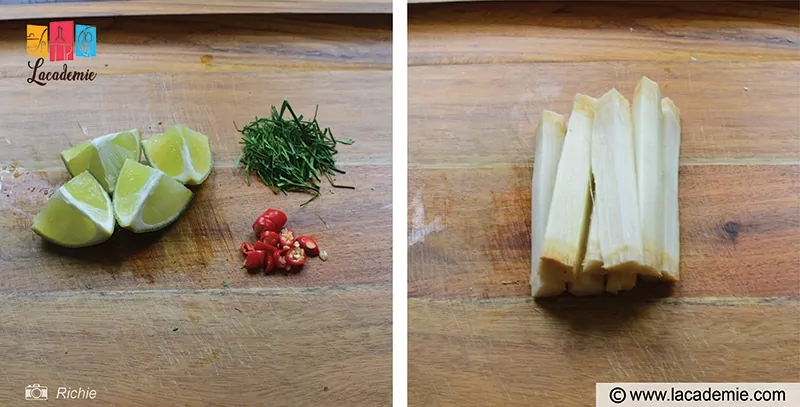 Step 2: Cook The Chicken
Bake onions, shallots, and ginger in the oven for 15 minutes. Doing so helps intensify the flavor of these aromatic ingredients.
Put the stockpot on the stovetop. Add the chicken along with 4 liters of water to it (make sure that the chicken is completely submerged). Add the baked ingredients and 2 teaspoons of salt to the pot.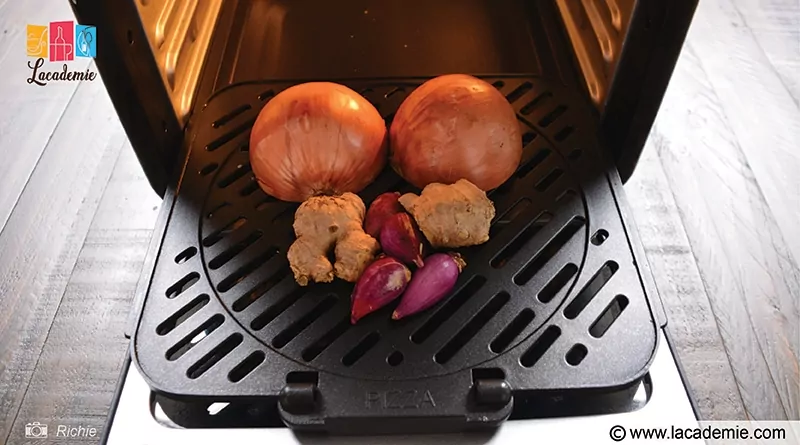 Simmer the chicken on medium heat for 30 – 40 minutes. Constantly skim off the foam during the process to keep the broth clear.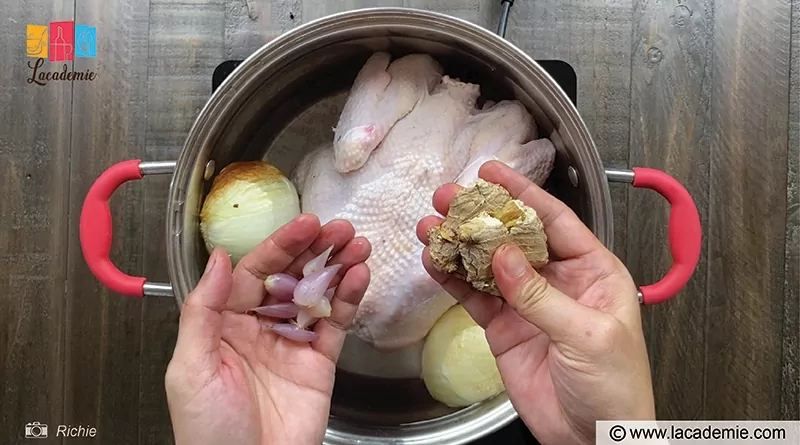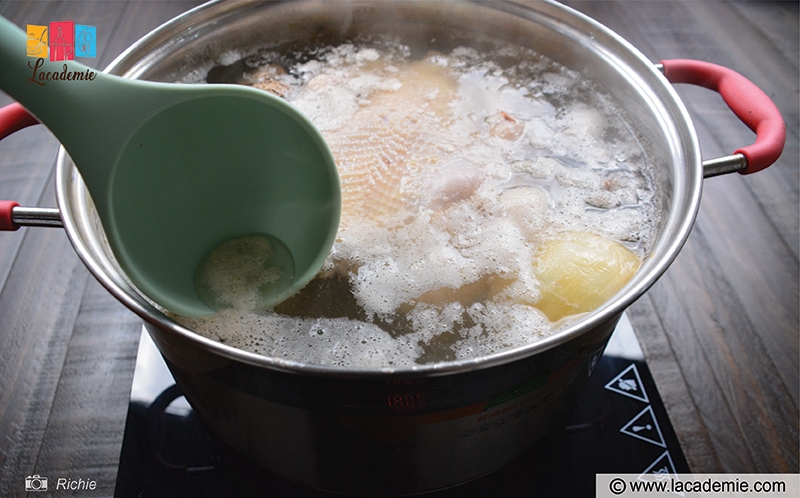 Place a skillet on the stovetop. Add fennel, coriander seeds, allspice, cloves, dried onions, black cardamom, cinnamon sticks, star anise, dried ginger, and the roots you saved earlier. Roast on high heat until fragrant and set aside. When the mixture cools down, stuff it into a filter bag.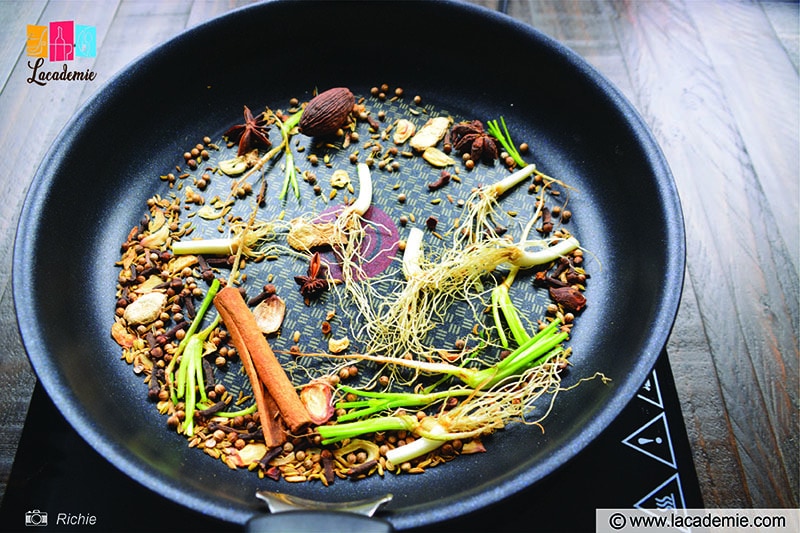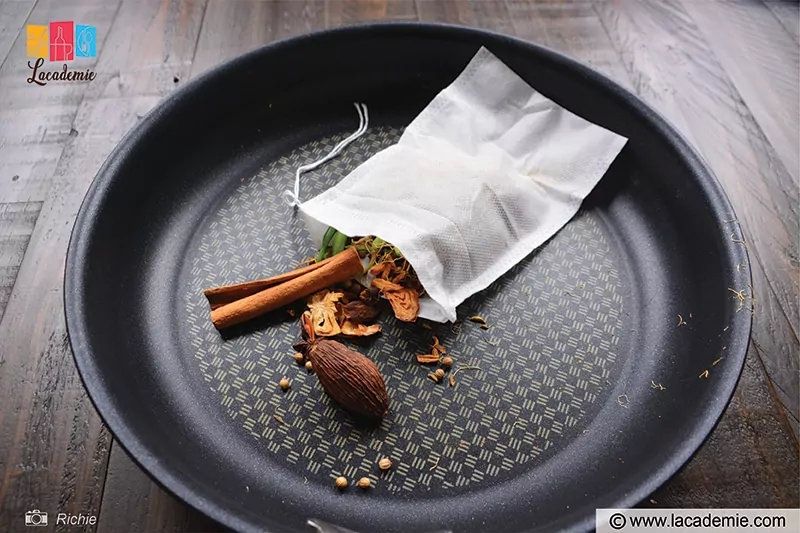 Step 3: Prepare The Broth
Remove the cooked chicken from the pot. Add the spice bags, sugarcane sticks, lime leaves, brown rock sugar, and salt to the pot. Simmer on low heat.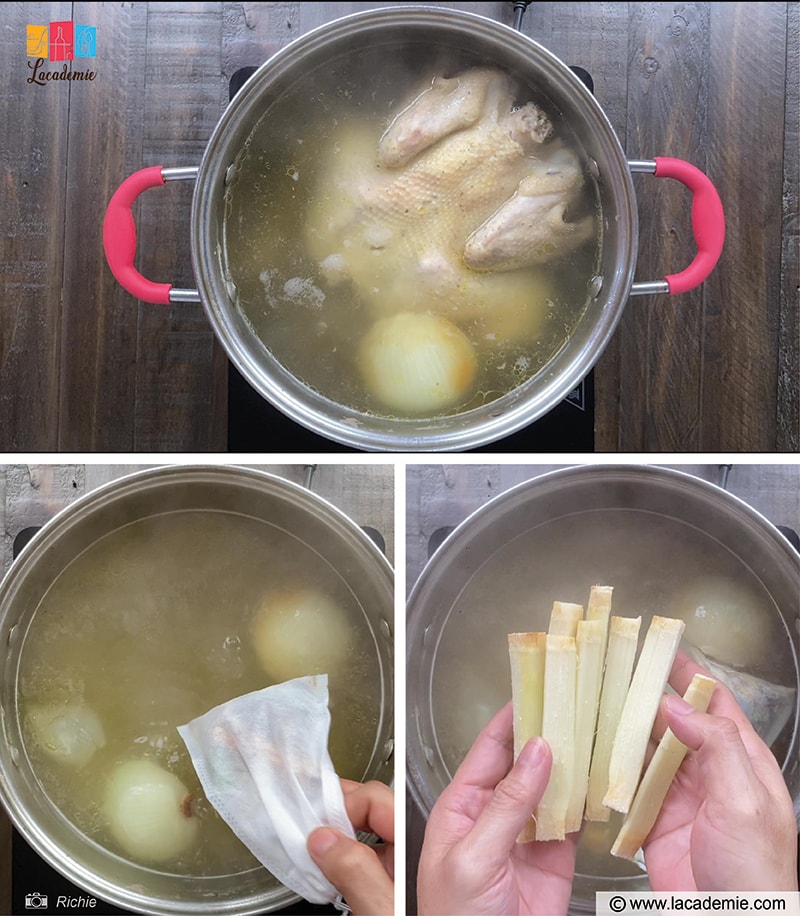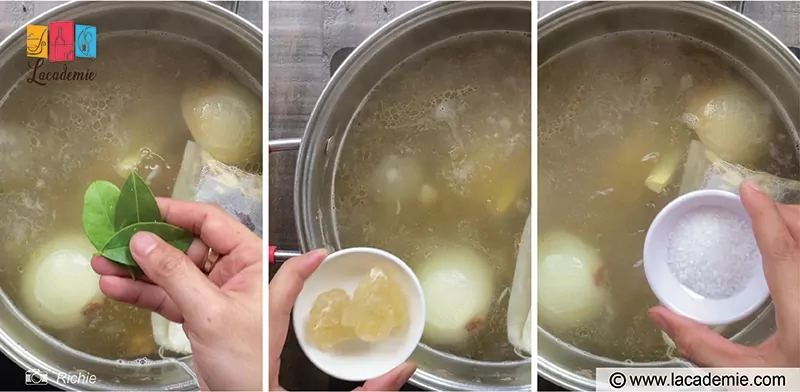 Peel the meat off the chicken and cut the flesh into bite-sized pieces, but keep the wings and drumsticks intact.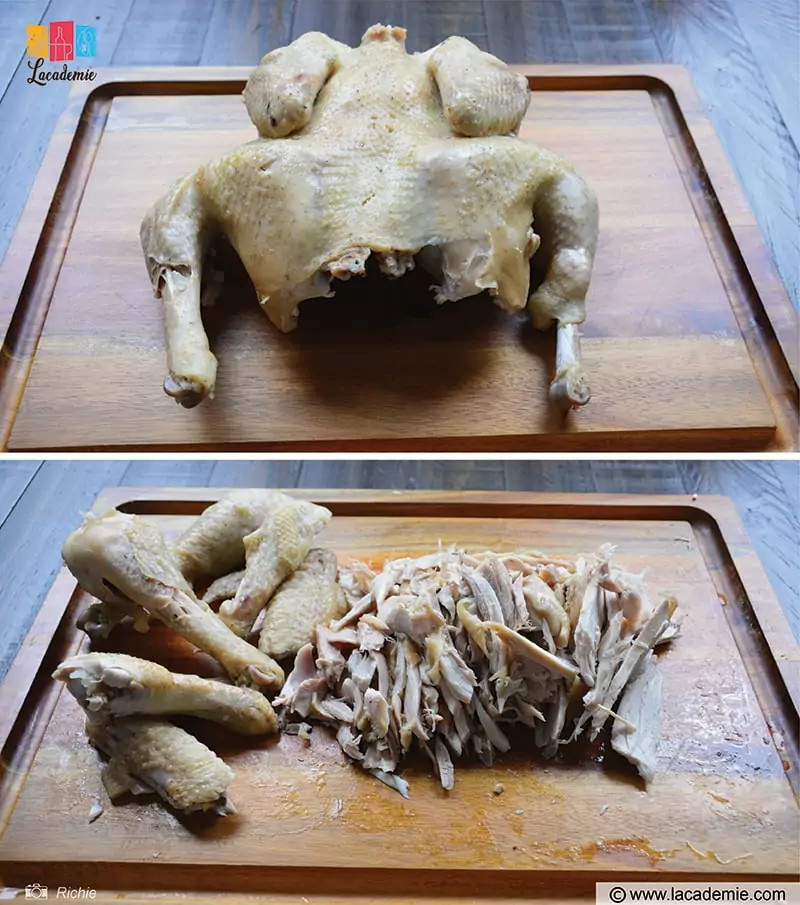 Move the chicken bones to the simmering pot, plus some seasoning to taste. Cook on low heat for 10 – 15 minutes. Be careful not to let the broth evaporate away.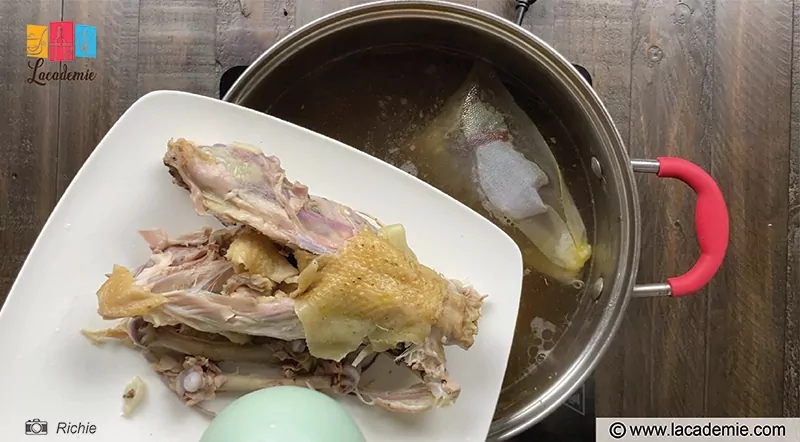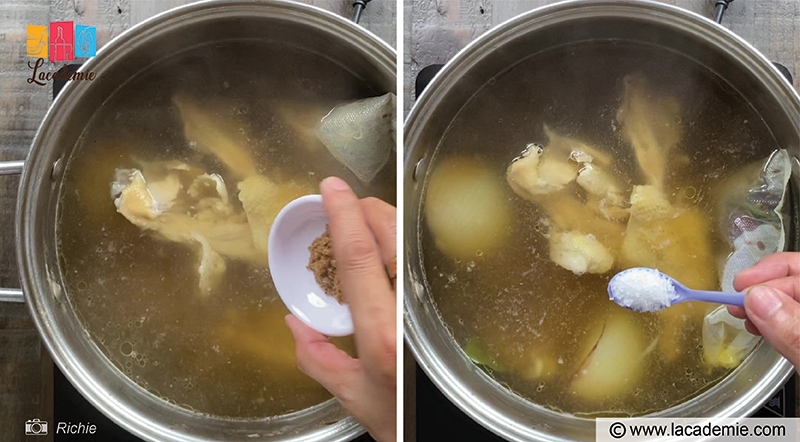 Step 4: Prepare The Pho Noodles
Parboil Pho noodles in hot water for 15 – 20 seconds. Add some vegetable oil to the water to keep the strands from sticking to each other. While you can skip the parboiling step and enjoy the noodles straight away, I recommend doing it to keep them warm and improve your experience.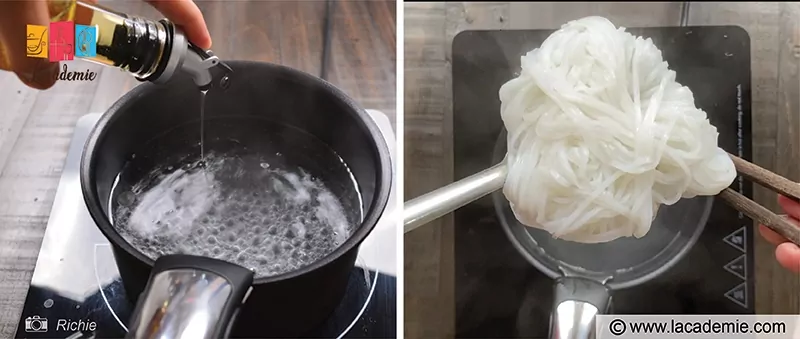 Step 5: Assemble Chicken Pho
Remove the solids from the broth pot.
Arrange the herb garnishes and dipping sauces on separate plates.
Spoon some Pho noodles into your bowl. Place chicken slices, wings, and drumsticks on top. Pour the broth until it covers the noodles. Drizzle some chopped aromatics over it (add fresh chili and pepper if possible) and enjoy!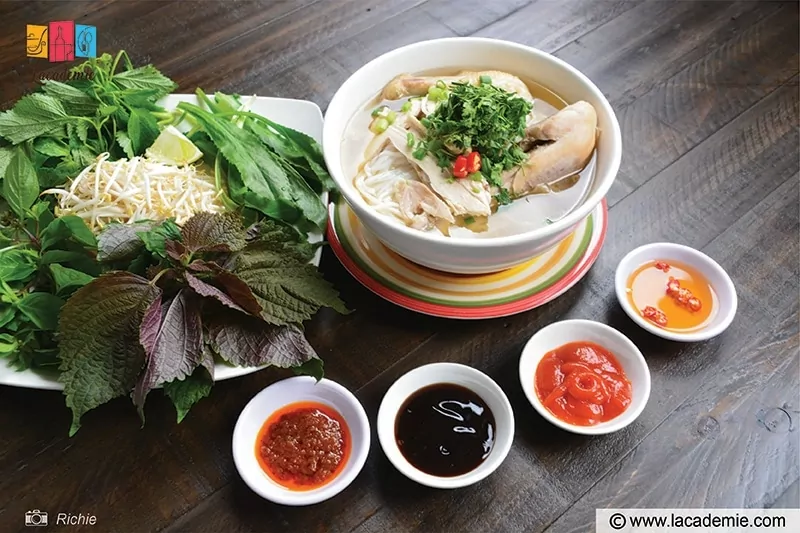 Notes:
Keep the broth transparent by cooking it uncovered. Putting the spices in the filter bag also helps.
Simmer the spice bag and the chicken at different times. Otherwise, the intense flavors of the spices will overwhelm the savory sweetness of chicken.
Don't cook the spice bag for too long, or it will impart an extremely strong taste to the broth that many people may find unsuitable.
Storage
Pho broth can last up to 5 – 6 days in the fridge, while the noodles and chicken can stay in good condition for half that time. That is to say, you have to store them separately in air-tight containers.
If you already mix the broth with the noodles, try to finish the dish as soon as 2 days. In terms of freezing, you can keep the chicken and noodles for 3 months and the broth for half a year in the freezer.
Refresh Your Palate With Chicken Pho
According to popular belief, chicken contains less cholesterol and saturated fats than beef. Therefore, you can switch to chicken Pho to pursue a healthier diet. Or you can simply do so to take a break from the traditional taste and enjoy a whole set of different flavors.
What do you think about this recipe? Is it equal to or even better than beef Pho in your opinion? Tell me what you think in the comment section. If you want to share any tips or experiences, be my guest. But first, please introduce this post to your friends who may relish a new type of Pho.
Nutrition Facts
4 servings per container
---
Amount Per ServingCalories642
% Daily Value *
Total Fat 34.6g

53

%
Cholesterol 169mg

57

%
Sodium 663mg

28

%
Potassium 129mg

4

%
Total Carbohydrate 36.6g

12

%

Dietary Fiber 5.2g

20

%
Sugars 1.5g

Protein 44.3g

88

%
---
* The % Daily Value tells you how much a nutrient in a serving of food contributes to a daily diet. 2,000 calories a day is used for general nutrition advice.