If the definition of "Indian sandwich recipes" is strange to you, you should know that this rich gastronomy is not all about curries and Chai tea. The idea of stuffing bread slices with various ingredients is not only famous globally but also in India.
Local people do create multiple ways to make this kind of food reflect their fascinating cuisine. Whether you are a vegetarian, vegan, or meat lover, you can still find a scrumptious sandwich idea that meets your requirements today. Scroll down now!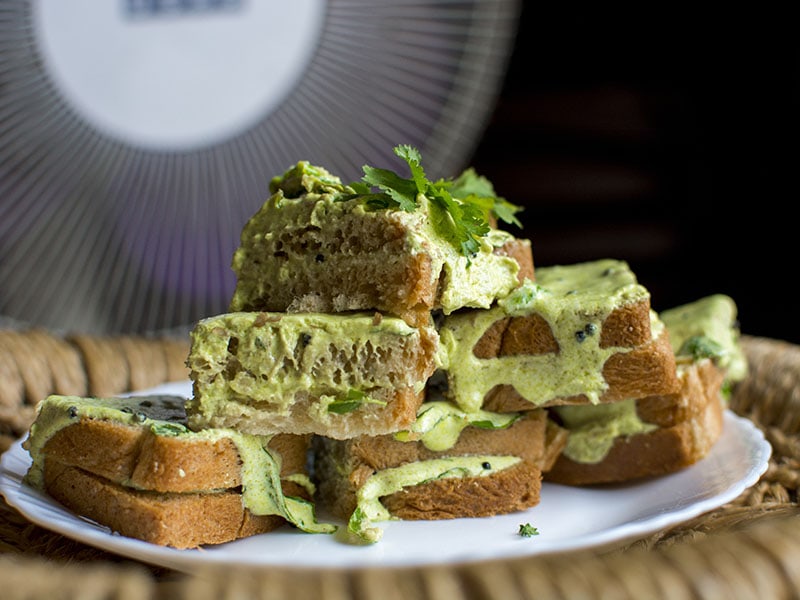 22 Most Irresistible Indian-Infused Sandwich Ideas For You!
Sandwiches never fail to act as a perfect light meal or a quick snack, so there is no reason not to widen your sandwich recipe options. If you have never researched Indian-style sandwiches, it is time to look at my recommendations below!
Total time: Up to 25 minutes.
The sandwich gets its name because it is pretty famous as an Indian street specialty, specifically in Mumbai. The most common way to make this sandwich is to combine green chutney with Masala mix and crusty bread.
The chutney often includes mint, coriander leaves, and lime juice for additional sourness (which helps to reduce the greasy feeling). Besides, mashed potatoes (aloo) are optional inside the Masala mix, so you can omit them if you prefer a lighter sandwich.
Going together with this sandwich recipe, veggies like tomatoes, cucumbers, and onions are the must-have since their prominent intense, and refreshing taste offers a balanced effect. Imagine having a portion of this dish with a cup of Chai makes me drool already.
Total time: Around 20 minutes.
The term "aloo" in the name of this delicious Indian food means "potatoes" (which is also the main ingredient). The potatoes should be processed into mashed potatoes (aloo sabzi) and spread evenly on the bread slices with some cheese topped (optional).
You can put in the cheese or not; however, this component can lend the dish a lovely creaminess. Since each piece of the crispy toasted sandwich is filled with melting cheese, even children love this treat. For condiments, I recommend tomato sauce or chutneys.
The unique tangy bases of these sides are great assistance for the Aloo Toast sandwich's delectableness. Packing this treat for your family's breakfast or a light meal, I promise they will appreciate your efforts.
Total time: At most 45 minutes (including the time to make chutney).
This Bombay grilled sandwich is the following recommendation for Indian breakfast sandwiches. Freshly sliced tomatoes are the true highlight of this dish, as the citrusy and herbal notes from this component can accentuate the base of butter and chutney.
You can make this treat fussier and filling with additional cheese and a special sandwich's Chaat Masala (providing a lovely tartness with a layer of sweetness). This flavor profile combined with the butter-infused toasted bread creates an exquisite bite.
Total time: Around 25 minutes.
Corn is always one of my favorite vegetables since it often lends exciting notes to whatever dishes calling for it. This time, my recipe for you utilizes corn and spinach, a superfood loaded with nutrients, so that you can expect this sandwich to be healthy.
Besides the mildly acidic and sweet taste of cooked spinach and corn, you can also sense a layer of creaminess from the dairy products required (milk/cheese). While you can omit the milk, you should use the cheese, and I highly recommend Paneer (Indian cottage cheese).
The neutral cheesiness from this ingredient matches well with other veggies, forming a balanced profile for the sandwich. Furthermore, if you love a slight spice kick to make your food more memorable, try adding chili flakes/powder. It will be an excellent move.
Roll up your sleeves and make corn and spinach sandwiches now!
Total time: About 45 minutes (to try making tea sandwiches with all 3 fillings).
The "tea" in the name of this sandwich doesn't mean this dish calls for any tea component. Instead, it is the tea parties where this kind of small sandwich is typically served. Because of that, the idea to form this delight is to make it as light/simple as possible.
Therefore, the fillings for an Indian-inspired tea sandwich are regular salads or basically cream cheese. I love using cucumber and some cilantro-mint chutney for this tasty Indian delicacy since it is the easiest to make and is the most refreshing in terms of flavor.
What about you? Which one do you like, with egg salad fillings or those with a slightly tangy and creamy taste (from cream cheese)? If it is too hard to choose, you should try them all to know.
Total time: Up to 2 hours 20 minutes (including at least 2 hours to soak the moong dals).
India is the heaven of Asian-style vegetarian delight, and lentils (dals) are the most crucial ingredient as local people use them a lot in their foods. It might be because lentils are varied in type, and each offers distinguished flavors.
You can expect a light beany and vegetal background inside this portion of moong dal (or split green/yellow lentils) toast. To diversify the flavors of this delight, you can use vegetables (of choices, such as cabbages, carrots, or onions).
Because this Indian dish is compatible with the air fryer, it is undoubtedly convenient for you to prepare this toast recipe for any time you want of the day. Who can resist a light snack/meal that is gluten-free and oil-free?
Total time: Up to 30 minutes.
Existing in various top-tier Indian cookbooks, this vegetarian-friendly avocado chutney sandwich might astound you from the first bite. Nutty, greatly buttery, and with a hint of bitterness, a piece of avocado will never overwhelm other flavors in a dish.
Actually, it can beautifully promote a beautiful harmony for the whole food. In this sandwich, the richness of this butter fruit lifts the layers of lemon juice, coriander leaves, green chili, and onions.
Chopped tomatoes also go well with the mashed avocado mix spreading, so you can consider having it for more tanginess/tartness and richer nutrient content. This sandwich recipe will be satisfying enough for your next snack time, so don't miss it!
Total time: Up to 40 minutes.
Out of ideas to make a meal-prep lunch box already? Try assembling some of these Paneer sandwiches, then. About Paneer, it is a kind of buffalo/cow milk-based cottage cheese that is authentic to Indian cuisine.
Paneer generally offers a firmer texture with a mildly rich taste, making the crusty bread slices exterior a great partner. Although white bread is the best component for this dish, you can still opt for multigrain or whole wheat bread for a healthier variation.
The options are unlimited for the vegetables going into the sandwich's filling. You can choose from bell peppers, onions, tomatoes, or grated carrots based on your preferences. This part of the food increases the nutrition profile of this delight and lends a tasty flavor.
The easiest Paneer sandwich tutorial to follow is here!
Total time: About 10 minutes.
After spreading a bit of butter/ghee on the surface of your chili cheese sandwiches and pan-frying them, you can quickly smell a tempting fragrance gradually filling up the air.
Coriander-mint chutney is also the suggested flavor base in this recipe, as they are pretty easy to eat. The subtle sweetness and cool sensation from mints and the citrusy/floral notes from coriander do their role well here.
Don't worry much about the carbohydrates you'll consume from this kids' special treat. You can change the regular white bread into brown/multigrain variations. The taste might change a bit, but it is a beneficial change. Now, grab some tomato sauce and take a bite.
Total time: Around 15 minutes.
Mentioning Dahi, you might immediately think of an Indian sweet treat, but I will show you how to make a heartier dish from the curd. Loaded with vegetables and spices (like pepper or mustard seeds, optional), your first Dahi sandwich bite's quality is ensured.
The curd used for this Dahi sandwich should be thick/dense, so I suggest using a muslin cloth to drain the excess water before getting back to the other steps. My tip for you to have a better sandwich is to put the drained/thick Dahi into a fridge for a while.
The vegetables mixed with Dahi can be anything you like. I recommend tomatoes, bell peppers, and chopped green chilies, but you can refer to other options that meet your preferences. Easy peasy, isn't it?
Total time: Up to 30 minutes.
Don't be confused; you are not going to make a cheese-filled chutney. Instead, you'll learn to make an Indian-infused sandwich filled with toothsome chutney and cheese. The cheese types are unlimited; you can pick the one you love most, mozzarella or cheddar.
The secret to making the qualified cheese chutney sandwich is to create a portion of chutneys beforehand and keep it cooking for over a night. Even though there are many chutney recipes, I personally think cilantro or coriander-based ones are the best.
However, that is not everything about these scrumptious sandwiches. You can consider adding Masala mixes (Chaat or Garam), mango powder (amchur), or mayo if you wish. Sounds interesting!
Looking at the melting cheese stuffed inside a cheese chutney sandwich makes my mouth water.
Total time: From 30 minutes to 1 hour.
Having its origin in Kutch (a Western district in India) and often served as street food in Mumbai, this Kutchi Dabeli is a prevalent light treat in India.
People who spent their childhood in the local schools might have a memory of vendors selling this tasty Indian snack at the school front. Kutchi Dabeli doesn't call for regular sandwich bread; it calls for Indian dinner buns or pav.
Traditionally, you need to utilize mashed potatoes and mix them with other spices and roasted nuts to make the filling. However, you can still use plantains to replace potatoes.
Chutneys are essential to lend a more exotic feeling to the overall taste, and there are also a lot of recipes for these condiments. For instance, you can choose from garlic, tamarind, or dates chutneys. All are worth trying once.
Making a portion of Kutchi Dabeli has never been this simple.
Total time: Around 10 minutes.
Just as its name tells, this Indian-style sandwich includes carrots and beetroot. The lovely purple fillings of this delight come mainly from the natural colors of these root veggies. Rich in folate, iron, and vitamin C are some nutrients you can get from this delight.
The idea to make the food is to mix the grated carrots/ beetroots with mayonnaise (egg or eggless for vegan) or cream cheese. With a small highlight of black peppers above the creamy base, this humble sandwich indeed lends a satisfying feeling to the eaters.
You won't need to serve this food hot; beetroot carrot sandwiches can be cold and still taste super tasty. In case you want to have this dish available in your own home all the time, consider stocking the root veggies required.
Some dairy products like hung curd (alternative for cream cheese/mayonnaise) are easy to preserve, so you won't have any trouble storing them, too.
Total time: Around 10 minutes.
It will never go wrong when matching eggs with bread. They are basically the signature combination, but this South Indian's favorite, Bread Omelet, delivers a more robust note from their country's spices.
You need to beat the eggs with several spices like chili, black pepper, and some turmeric powder to make the food. You might have known that turmeric offers a significant benefit in helping the digestive system. Based on that, this dish is not only tasty but is also good for health.
Since this recipe takes almost no time to make and is relatively light for a single portion, you can have a piece of it as a late-night snack without feeling too full. In case you prefer an even healthier version, change ordinary white bread to brown bread.
Are you in the mood for an egg-y sandwich? Try this Bread Omelet now!
Total time: Up to 45 minutes.
Chicken is a typical kind of meat used in various Indian foods and today's one of the most suggested Indian chicken recipes is this Tandoori Chicken sandwich. The name of this chicken dish comes from the fact that people often cook it in a tandoor oven.
In this case, Tandoori Chicken refers to the way to marinate the protein with yogurt and some other tandoori's signature spices. I highly suggest you go for chicken breast as this part will be meatier and leaner, providing a more scrumptious effect when gnawing.
For the bread base, you can select ones that you love, and I often use multigrain buns for my diet. Don't neglect the lime juice drizzling onto your sandwiches when serving. The humble citrusy notes do their work well in harmonizing every flavor layer in your mouth.
Total time: From 10 minutes (make with leftover chicken) to 1 hour (make from scratch).
Chicken Tikka Masala is no longer a weird name with the foodies since this dish now has global recognition. The chicken part mentioned is toothsome itself, but pairing it with vegetables (like lettuces or onion slices) does offer a specific term of goodness.
To assemble a portion of the chicken Tikka sandwich, you can choose to make it from scratch without spending much time. The freshly cooked chicken, coated with a coat of pungent spices mix, surely gives you the best taste experience.
This recipe is also a great way to use your leftover chicken and create an Indian-inspired lunch for the next day. To be honest, I love the aromatic scent of the fresh herbs inside the dish; it boosts the flavor of this sandwich to another level.
Trust me, the best chicken Tikka sandwich is done just like this!
Total time: Up to 45 minutes.
Have leftover chicken from last night's curries? Go for this suggestion and make some palatable sandwiches for your breakfast or office lunch. Whether it is butter chicken curry (Murgh Makhani) or other regular curried chicken, they can all go into a sandwich.
Making your sandwiches from freshly cooked chicken curry is also great; it will surely taste better than the leftovers. However, it might take more time. Therefore, you can consider precooking a batch of chicken curry recipes you love and freezing for later use.
For the starch base, you can choose Naan (an authentic Indian bread) or buns instead of regular Amish bread. A mild sourness from plain yogurt or Raita (an irresistible Indian salad with yogurt base) is crucial; it helps better boost the food's harmony.
Total time: About 25 minutes.
How about tossing your curried chicken into a green salad and making it a sandwich filling? Now, don't do the layering steps like the previous chicken curry sandwich. Instead, grab your chicken and mix it well with mayonnaise/yogurt, honey powder, and aromatic herbs.
Leafy greens such as arugula or romaine are options; you can omit them if you are not a fan of raw vegetables. Curry powder, peppers, and other types of spices/condiments support your chicken salad filling beautifully. I'm sure you won't be able to stop after the first bite.
As you know, the salad is often wet, and it might give too much excess moisture to thin slices of regular Amish bread. Therefore, I suggest you go for bagels, hamburger buns, or something more traditional like Naan.
Total time: Up to 30 minutes.
A mayonnaise sandwich is a quick and easy-to-eat light meal that you can do within a short amount of time. The ingredients for these sandwiches are only grated carrots and cabbages (red/white) and additional fresh herbs.
Chili or salt is also essential to add depth to the mayonnaise mixed fillings. Furthermore, some people might hate cabbages. Then, this Indian-style cabbage delight is an indirect way to help you include more of these healthy veggies in your diet.
This recipe of mayonnaise sandwiches offers the best quality right after making; therefore, you should consume your treat when it is still fresh. Here, my tip is to use generous, thick slices of Amish bread, preventing the wet fillings from softening the starch bases.
Have a couple of minutes to spare? Let's learn how to make veg mayonnaise sandwiches!
Total time: Around 10 minutes or less.
As a country with typical tropical weather, India is ideal for developing agriculture, and their native-Indian fruits are also varied. Besides making desserts or mellowy Indian-style drinks, you can make them into various sandwiches.
Everything you need here is only fresh fruits, such as mangoes, papaya, pineapple, or bananas. You can also opt for other tropical fruits you love since creativity is not limited when assembling this dish.
Fruit jams will be the main spreading in this case, and you can adjust it based on your preference. You can also choose to grill the sandwiches or serve them cold. If you are in a hurry, making it cold/non-grilled is more convenient.
Total time: Up to 40 minutes.
Perfectly served for parties and tea-time snacks, these finger-licking-good sandwich slices are effortless to make and are too addictive to devour. Veg Club sandwich also requires prevalent plant-based components like grated carrots, cabbages, lettuce, or tomatoes.
You might have seen this combination exists in some previously mentioned sandwiches, so the bonus point to accentuate this Veg Club sandwich lies in the spiced vegan mayo. You can opt for the real mayo if you are not vegan and want something richer than the vegan one.
In case you are not used to eating raw cabbage, you can blanch the vegetable a bit before assembling your delight. Free to make twists, cooking is all about learning and creating, isn't it?
Total time: Up to 35 minutes.
Semolina is a high protein and fiber-rich flour having a nutty/sweet flavor. When mixing these ingredients with curd and finely chopped/grated components (carrots, tomatoes, etc.), you can form a delicious Rava/Sooji Masala mixture in a snap.
This recipe consists of capsicums, and this kind of vegetable is not spicy as you might think. They are actually slightly sweet and have a refreshing taste together with a lovely crunchiness in texture. These features match pretty well with fresh onions and other veggies.
The crusty toast slices indeed act as a perfect base for this sandwich. You can serve this delight like a single toast instead of a whole sandwich (including 2 slices of bread) if you are only about to have a snack.
Make These Indian Sandwiches For Your Next Breakfast ASAP!
Hungry yet? It is time to make some Indian-infused sandwiches in your own kitchen. In case you have no idea which recipe to try initially, I highly recommend something a bit easier to make, like fruit sandwiches or Dahi sandwiches.
Please notify me if you have some other food ideas to diversify my article, and please take the time to share this information with your community. I'm eager to hear your and your loved ones' opinions about these recipes. Thanks in advance!
Nutrition Facts
2 servings per container
---
Amount Per ServingCalories343
% Daily Value *
Total Fat 5.4g

8

%
Cholesterol 8mg

3

%
Sodium 342mg

15

%
Potassium 1383mg

40

%
Total Carbohydrate 64.1g

22

%

Dietary Fiber 11.1g

44

%
Sugars 13g

Protein 12.7g

24

%
---
Calcium

124

%
Iron

3

%
Vitamin D

10

%
* The % Daily Value tells you how much a nutrient in a serving of food contributes to a daily diet. 2,000 calories a day is used for general nutrition advice.