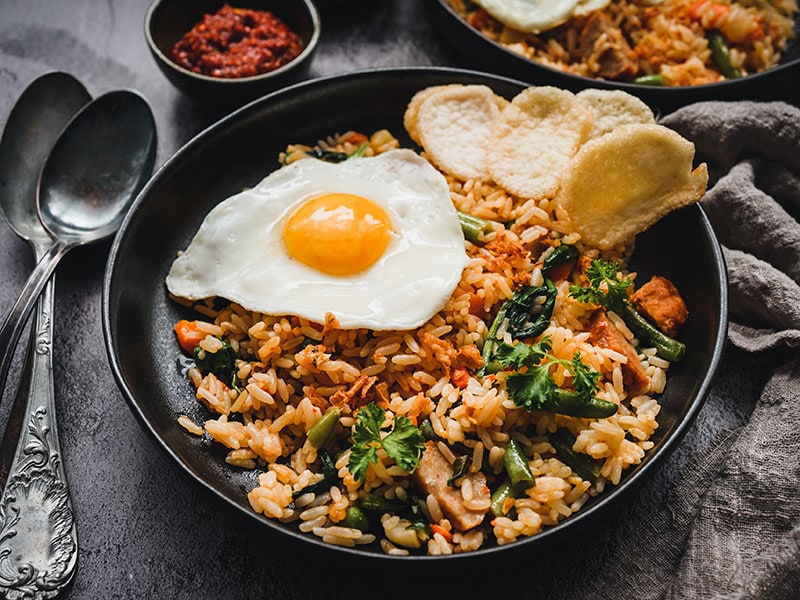 Indonesian recipes are a great way to branch out of your culinary comfort zone. They are not only familiar in some ways but also offer a unique range of flavors you have never tasted before. If you're getting bored of your everyday meal and want something new, consider these dishes.
Packed with fresh spices and herbs, Indonesian cuisine is all about intensifying the natural flavors of a dish. The food is mostly savory and spicy with an earthy aroma you will surely love. Read this list to find out all about the dishes that give this country such an amazing culinary reputation.
Top 23 Indonesian Recipes You Should Definitely Try Out
Even though Indonesian cuisine is quite versatile, it mainly uses familiar foods and simple cooking methods. This list is categorized based on the main ingredients, so you can easily choose which one you want to make: vegetables, chicken, fish, meat, and other ingredients.
Indonesian Recipes With Vegetables
Sayur Asem (Indonesian Vegetable Tamarind Soup)
Gado Gado (Indonesian Salad With Peanut Sauce)
Gulai Daun Singkong (Cassava Leaves Curry)
Bakwan Sayur (Vegetable Fritter)
Sambal Terasi (Indonesian Shrimp Paste Sambal)
Indonesian Recipes With Chicken
Ayam Taliwang (Indonesian Grilled Chicken)
Sate Ayam (Chicken Satay)
Soto Ayam (Chicken Noodle Soup)
Indonesian Ginger Chicken
Ayam Rica Rica (Manadonese Spicy Chicken)
Indonesian Recipes With Fish
Ikan Bakar (Indonesian Grilled Fish)
Siomay Bandung (Bandung Steamed Dumplings)
Pecel Lele (Deep Fried Catfish)
Indonesian Recipes With Pork & Beef
Nasi Rawon (Indonesian Black Beef Soup)
Babi Guling (Balinese Roast Pork)
Mee Bakso (Indonesian Meatball and Noodle Soup)
Rendang (Indonesian Slow-Cooked Beef Curry)
Indonesian Recipes With Other Ingredients
Nasi Goreng (Indonesian Fried Rice)
Pisang Goreng (Indonesian Fried Banana)
Tempeh
Mie Goreng (Indonesian Fried Noodles)
Martabak Manis (Indonesian Sweet Pancakes)
Bika Ambon (Indonesian Honeycomb Cake)
5 Different Ways To Eat Vegetables With These Indonesian Recipes
The Indonesians sure know how to make eating vegetables seem fun. Here are five recipes featuring various ways you can bring veggies into your daily meal.
Tamarinds are fruit pods native to Asia and North Africa that have a unique sweet-sour flavor. This popular Indonesian soup is made by cooking various vegetables in a tamarind broth, giving it a distinctive mixture of sweet, sour, spicy, and earthy flavors.
Although tamarind is essential for this dish, when you can't get your hands on this ingredient, it's acceptable to find something else to use instead of tamarind paste. You can consider mixing Worcester sauce with brown sugar, tomato paste, and lemon juice for a tamarind substitute.
This flavorful soup is incredibly versatile. It works great as an appetizer or side dish to serve with fried chicken or fish dishes. As the main course, it pairs great with rice, tempeh, or tofu.
This bright and colorful salad makes eating veggies seem so much more fun and exciting. The secret is all in the sweet and savory peanut sauce, which instantly transforms anything it is paired with.
This recipe typically includes spinach, various types of tofu, bean sprouts, and cucumber. However, you can always make it your own by adding your favorite vegetables and even seafood like shrimp or fish.
Making Gado Gado has never been easier with these simple instructions by this video:
Cassava is a South American plant whose leaves are used in many different recipes. You can see it in Caribbean cassava bread, Enyucado from Colombia, or a famous dish from Jamaica – bammy bread. Honestly, once you start paying attention, you'll see cassava everywhere.
Why is cassava so popular in various cuisines? This is because of its subtle earthy, and nutty taste with a light hint of sweetness, ideal for pairing with any strongly flavored ingredient.
Using cassava leaves as the main ingredients is many Indonesians' favorite way to make curry. The light flavor they carry leaves the dish with a faint aroma that's very enjoyable and not at all overwhelming. If you love curry, this is a recipe you should definitely check out.
These golden deep-fried vegetables are very well-loved in Indonesia. You can find them sold by street food vendors all over the country. Their popularity is no surprise, considering how delicious and addicting they are.
These fritters are best enjoyed when they have just left the frying pan fully warm and crispy. They are mostly eaten with something spicy and savory, like peanut sauce or chili sauce. However, you can also pair them with a tangy yogurt sauce for some brand-new flavors.
Sambal Terasi is the Indonesian version of the widely popular chili paste sambal. It is made by crushing red or green chilies with garlic, onions, shrimp paste, tomatoes, and basic seasonings. This one is a lot tangier and sweeter than the other variants, thanks to the added tomatoes.
This classic chili shrimp paste is essential in many traditional Indonesian recipes. It is ideal for enhancing the overall taste of these dishes and give them an irresistibly bright flavor. If you're searching for a quick way to renew your daily foods, give this condiment a try.
Top 5 Mouth-Watering Indonesian Recipes With Chicken
Chicken is a very well-loved ingredient in many Indonesian dishes. With each of these recipes, they are given brand-new flavors. If you want a good meal with savory and tender chicken, be sure to check them out.
Spicy food lovers should not miss out on this delicious recipe. The chicken pieces are cooked in chilies, aromatic herbs, and spices then grilled to absolute perfection. This gives them an incredibly tender and juicy texture while tasting heavenly good.
Since the chicken itself is so flavorful, you can totally eat it on its own. Just squeeze a little lemon over it, then bite straight into the chewy and fiery pieces. Many also like to eat it with some rice and vegetables for a more diverse main course.
In-depth tutorial for how you can make Ayam Bakar at home. Watch this video:
Don't confuse Indonesian chicken satay with a dish of the same name from Malaysian cuisine. Although they share a similar main ingredient, chicken satay from these two countries both have distinctive features that make them stand out.
Indonesian satay are marinated meat skewers that are grilled until they are lightly charred. The pieces of meat are very flavorful and rich with a surprisingly tender texture. You can find this mouth-watering dish everywhere on the streets of Indonesia.
The one thing that you cannot eat chicken satay without is a creamy sauce. The most classic choice is peanut sauce garnished with lime to give it a tangy and zesty taste. Served side by side, they are a pair of food that will leave you craving for more long after you have finished.
Asian cuisine is home to some of the best chicken noodle soup recipes. This Indonesian version is infused with coconut milk, turmeric, and aromatic herbs that will warm you up instantly.
This soup is packed with complex flavors from the various herbs and spices used in the cooking process. It's so good and filling that a simple steamy bowl is enough to keep you full for a whole meal.
When serving this soup on a cold day, you should pair it alongside hot and fragrant turmeric tea, this will definitely keep you warm and cozy. Mix some ginger root and cinnamon with the tea, and I assure you that ice cold days will be as pleasant as a spring afternoon.
Soto Ayam is made easily with this detailed instruction:
Even though it may look complicated, you can actually put this delicious dish of chicken together in just thirty minutes. Drenched in a sweet and sticky honey-ginger sauce, the meat is perfectly tender with an intense flavor. After marinating, you only need to put it in the oven to roast.
This simple yet addicting recipe is an ideal choice for all your busy nights. Whether it's a simple dinner with the family or a crowded celebration, it is guaranteed to steal everybody's hearts with its perfect harmony of flavors.
Rica Rica is a fiery Indonesian sauce made from a mixture of red and green pepper, bird's eye chili, ginger, garlic, lemongrass, and some seasonings. The most common way to use it is to stir-fry with chicken to get a boldly spicy main course.
This dish is a dream come true for those who love spicy food. The sauce is not just spicy but also carries a unique fragrance from all the aromatic vegetables. Fortunately, the level of spiciness can be adjusted, so you can make it suitable for your level of tolerance.
Check Out These 3 Authentic Indonesian Recipes With Fish
These recipes are not only quite straightforward to make but also incredibly delicious and unlike anything you have eaten before. See how you can make fish exciting with some basic cooking methods and fresh spices.
Grilling fish using charcoal is very common in Indonesia, especially in Balinese islands' cuisine. It produces an intensely smoky flavor and a slightly charred layer that makes the texture a lot more entertaining to eat. However, if you don't have the materials, the stove will do just fine.
The recipe for this dish can vary from region to region; the main difference is mostly in the spices. Some places like to eat the fish spicy and hot while others prefer a more savory taste. Depending on your personal preference, you can choose the herbs and seasonings accordingly.
These dumplings are partially inspired by the Chinese sui mai. However, instead of pork, their filling is usually a type of fish called mackerel. They are also eaten with the traditional sweet and savory peanut sauce that appears in most Indonesian dishes.
True to their cuisine, these fish dumplings are quite strong in flavor and chewy in texture. In addition to the fish, they are also stuffed with crunchy vegetables, tofu, and hard-boiled eggs. This makes them very filling and ideal for you to eat as a light meal.
Pecel Lele is an inexpensive and delicious delicacy loved by many Indonesians. It is simply catfish marinated and deep-fried until it is crispy and savory, served alongside some raw vegetables.
Even though the recipe calls for catfish, you can also replace it with any other type of fish that you like. The cooking method and seasonings are quite flexible, so they will go well with all kinds of varieties.
4 Indonesian Recipes With Pork & Beef To Enjoy With Your Friends And Family
Your meal will be so much more exciting and exotic with these dishes. They can take a little bit of effort, but it's incredibly worthwhile considering how delicious and filling they are.
Nasi Rawon is a tender soup featuring chewy beef cuts, aromatic herbs, and spices. It has a unique dark brown color and nutty flavor that comes from the keluak nut. This type of nut is not common overseas, but you can still find it in the dry spices section of Asian markets.
Gluten-free and dairy-free, this soup can be enjoyed by anybody. It has a distinctively rich and bold flavor that pairs well with other savory Asian dishes. You can also have it as a main dish with steamed rice and fried vegetables.
Babi Guling can be found in most Indonesians' formal gatherings and celebratory feasts. It is made by stuffing the pig with spicy seasonings and herbs then roasting until it is ready to eat.
This dish will become the centerpiece of any meal it appears in. The outer skin is deliciously crispy, yet the meat is very juicy and tender. Thanks to the herbs and spices, it carries a balanced salty and savory taste with an earthy note that will have your guests completely mesmerized.
Bakso is Indonesian meatballs that you can quickly make in just a couple of minutes. They can be served in multiple ways, but many prefer to cook them with a light vegetable broth and egg noodles.
This simple dish is a quick cure for you on cold rainy days. Packed with healthy vegetables and seasoned with ginger, it holds all the warmth and comfort you could ever need. Meanwhile, the meatballs combined with the noodles will keep you full and satisfied for an entire evening.
Are you looking for an authentic dish with complex flavors and rich texture? Give Rendang a try if the answer is yes. This Indonesian beef curry takes a while to blend together, but I think every minute is totally worth it because of its flavorful taste.
Due to being slow-cooked, the meat in Rendang is very tender and caramelized. The curry itself is quite sweet and aromatic, thanks to the coconut milk it is infused with. Enjoy it with a bowl of steamed or fried rice, and you can have a heart-warming main course ready to go.
Here's how you can make Rendang in the most authentic way. Watch this video:
6 Classic Indonesian Recipes With Other Ingredients You Can Easily Make
These dishes are adored by Indonesians everywhere, and for good reasons. They are so simple yet so unbelievably good. You can put them together in just a few steps and have a tasty treat that will brighten your whole day.
Almost every country in Asia has its own version of fried rice. Nasi Goreng is distinguishable by its use of kecap manis, an Indonesian sweet soy sauce. This sauce gives the rice a unique caramelized flavor with a savory undertone.
Considered the national dish of Indonesia, you can find this golden fried rice everywhere when you visit this country. From household kitchens to fancy restaurants, there's always a special version of this delicious rice for you to try out.
Whip up a quick plate of Nasi Goreng with some familiar ingredients. Watch this video:
True to its name, this tasty Indonesian street food is just simply ripe bananas covered in batter and deep-fried. Despite the simplicity, this dish is unbelievably addicting. 
These bananas are crispy on the outside but deeply sweet and smooth on the inside, making it impossible for you to stop eating them.
These banana fritters are good enough on their own. However, you can also eat them with sticky rice covered in coconut milk. Many restaurants like to serve them as a fancy dessert alongside some vanilla or chocolate ice cream.
Tempeh is made by fermenting soybeans then compressing them into flat blocks. Much like tofu, it is also used as a meat replacement in many vegan recipes. However, while tofu is flavorless and soft, tempeh carries a mild earthy taste with a firm and chewy texture.
Making tempeh is a lot easier than you might think. It requires several basic ingredients, and the fermenting process only takes from two to three days. Make it right at home and discover a brand new way to bring some nutrients to your daily meals.
Make Tempeh right at home following these detailed guides:
This easy and authentic Indonesian recipe is perfect for all your busy weeknight dinners. Mie Goreng is a traditional and well-loved noodle dish that is famous for its signature sweet and savory sauce.
Besides the sauce, there's no fixed way to make this dish. You can adjust it to your likings as much as you want. Some common toppings are prawns, eggs, chicken, and vegetables. There's also a vegan option which is using tempeh in place of the meat products instead.
Another beloved street food recipe, Martabak Manis is the Indonesian take on pancakes. It has a very dense and fluffy texture but is completely light on the inside. It also has a savory version, which is a bit more crispy and chewy.
This sweet pancake is often filled with melted chocolate. However, you can also use other sweet sauces like Nutella, maple syrup, or sprinkle cheddar cheese in between the layers. The topping options are limitless with this sweet treat.
This delicious cake gets the name from its inner texture, which is bouncy and airy with small holes interiorly. Made mainly with coconut milk and egg yolks, it holds a sweet and creamy taste that is similar to egg custard.
In addition to the traditional flavor, this luscious dessert from Indonesia also comes in other varieties such as pandan, banana, and durian. Filled with these tropical flavors, this cake is the perfect choice for when you want something light and fruity for tea time.
Discover Brand New Ways To Make Food!
Indonesian cuisine is an excellent reflection of its cultural diversity. The more you learn about their food, the more you will be surprised by its complexity. Their ability to combine natural ingredients to create a dish with rich flavors will blow your mind away each time.
Even though the cooking methods are quite familiar for the most part, making these recipes will help you explore the depths of great Asian dishes. Don't be afraid to step out of your comfort zones and give these dishes a try. Let me know all about how everything turned out.