Enjoying top-notch Balinese foods is a wonderful experience. It is one of the few delights that can rival the pleasure of sunbathing on Balinese beaches. Local restaurants and food carts are always more than happy to prove that truth to you.
Since Bali is part of Indonesia, its dishes inherit a share of glory from one of the world's most culinarily diverse countries. Be prepared for the tropical vigor that will ensnare your heart and stomach in this journey to the heart of Balinese cuisine.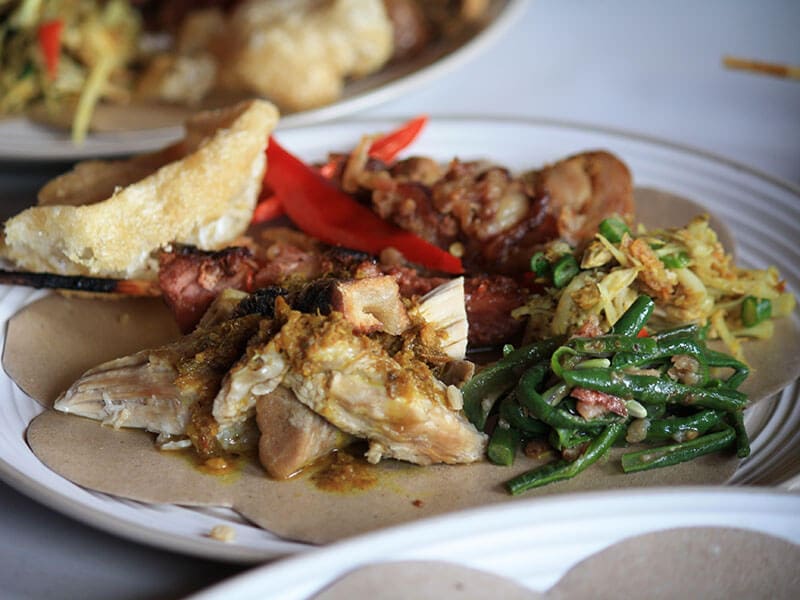 Brief Overview of Balinese Cuisine
Balinese cuisine is a rich and diverse culinary tradition originating from the island of Bali, Indonesia. Known for its bold flavors, aromatic spices, and unique cooking techniques, Balinese food reflects the island's vibrant culture and lush tropical environment.
The cuisine incorporates a variety of ingredients, including rice, vegetables, meats, and seafood, often combined with a wide array of herbs and spices to create an unforgettable culinary experience.
Influence of Culture, Geography, and History On Balinese Foods
The unique flavors of Balinese cuisine are heavily influenced by the island's culture, geography, and history. As a part of the Indonesian archipelago, Bali has been exposed to various cultural influences, including Indian, Chinese, and Dutch, resulting in a diverse culinary landscape.
Bali's fertile volcanic soil and tropical climate provide an abundance of fresh ingredients, while the island's history of trade and migration has introduced new spices and cooking techniques that have shaped its cuisine over time.
Key Ingredients and Spices 
Balinese cuisine is known for its extensive use of fresh herbs, spices, and seasonings. Some key ingredients include lemongrass, galangal, turmeric, ginger, garlic, shallots, and kaffir lime leaves.
The iconic Balinese spice paste, known as "bumbu," is a blend of these ingredients and is used as a base for many dishes.
1. Jukut Urab – Vegetable Salad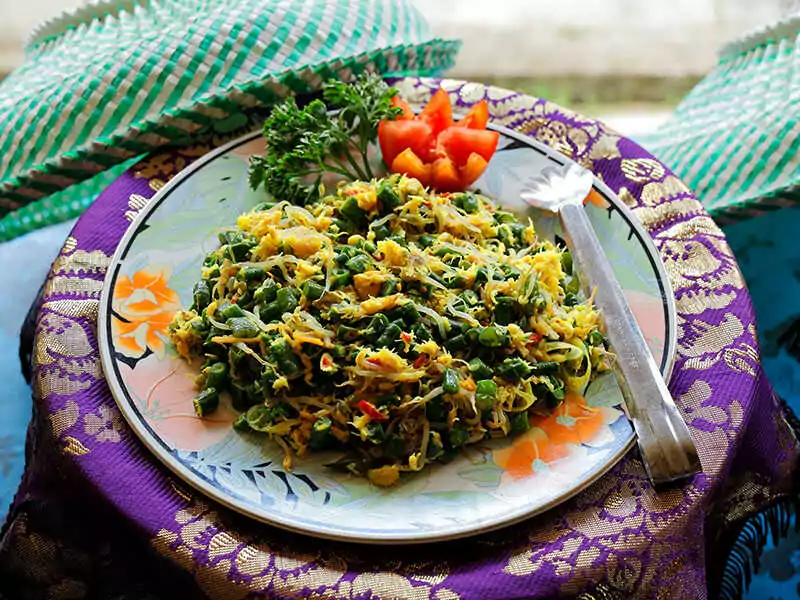 Many signature Balinese dishes stem from universal Indonesian dishes that the local population refashions to suit their preferences. For example, Urab (or Urap) is a traditional Javanese dish of steamed veggies, which the Balinese islanders change into Jukut Urab.
Jukut Urab is also known by different names, such as urab sayur or urap urap. The principal vegetables for this salad are spinach, carrot, and bean sprouts.
Another essential ingredient is oil-rich grated coconut soaked in spices. Like all good Indonesian dishes, Jukut Urab requires a liberal quantity of potent spices, especially chili pepper and lime juice.
People usually enjoy Jukut Urab as a side dish with rice or meat. But there is nothing wrong with relishing this fresh and colorful combination of vitamin-rich, flavor-packed veggies on its own. Nevertheless, beware that it's quite spicy.
2. Serombotan – Vegetable and Bean Salad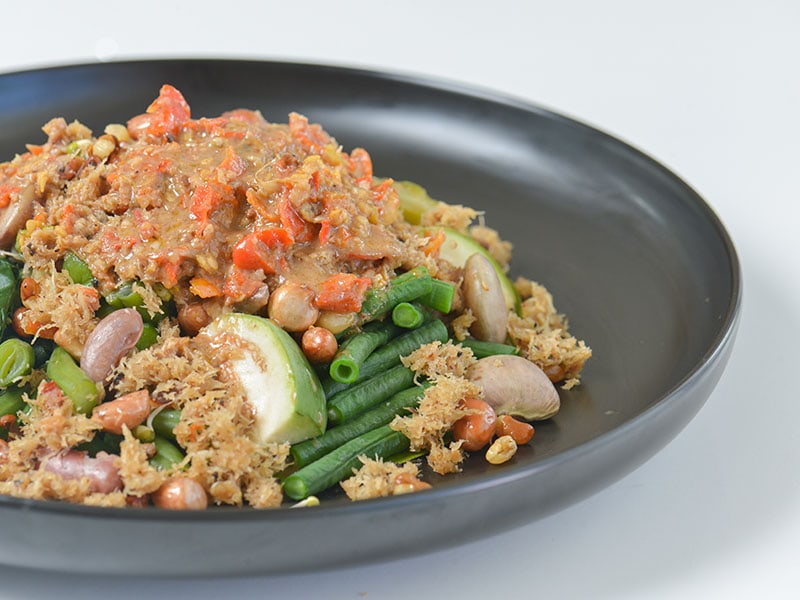 Klungkung is the smallest regency in Bali (a regency is an Indonesian administrative division directly under a province). But it makes a mighty culinary contribution in the form of Serombotan, a dish of various boiled vegetables.
The list of veggies that can go into Serombotan includes bean sprouts, eggplants, spinach, etc. They are slightly boiled until crispy and cut into small pieces to serve. People enhance their flavor with slices of bitter green banana and nutty peanuts.
However, what makes or breaks Serombotan is its accompanying spicy sambal (Indonesian sauces). There are usually three varieties to choose from: the roasted coconut-based one, the peanut-based one, and the Unyah sere limo sambal made from shrimp paste and orange juice.
3. Bulung Kuah Pindang – Seaweed and Fish Broth Salad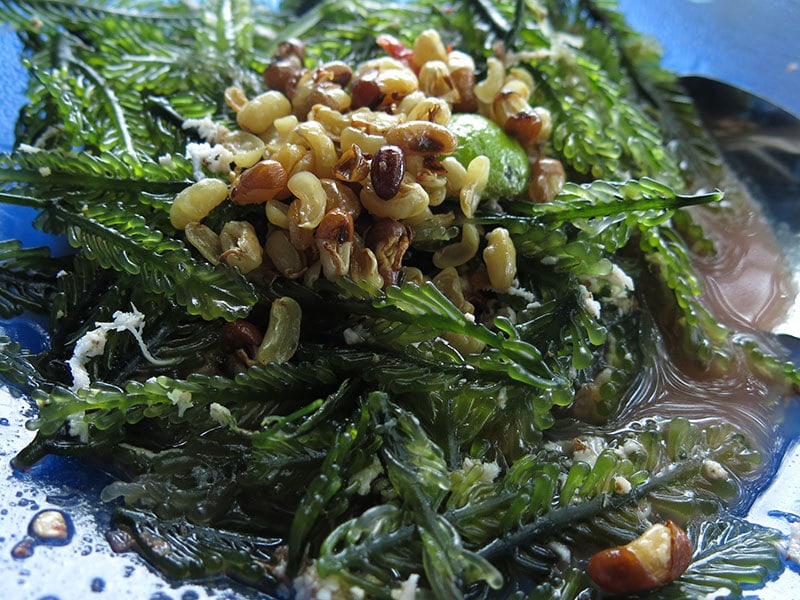 Which food can be more evocative of the vast blue seas than briny sea fish and umami-packed seaweed? When you visit the gorgeous Indonesian island, don't forget to try Bulung Kuah Pindang, a wonderful seaweed salad that flawlessly demonstrates the oceanic identity of Bali.
On the island, there are two main types of seaweeds: the small red-brown Pinusan and the large green Kotoni. Both can be boiled in freshwater and served with Pindang, which is a type of broth people make from boiling various kinds of fish in briny and acidic water.
"Bulung" means "seaweed" in the Balinese language, hence the name of the dish. Before the tourism boom, seaweed farming was a cornerstone of the Balinese economy. It went into decline until the locals discovered that ravenous tourists love seaweed dishes like this salad.
4. Nasi Campur Bali – Steamed Rice with Assorted Dishes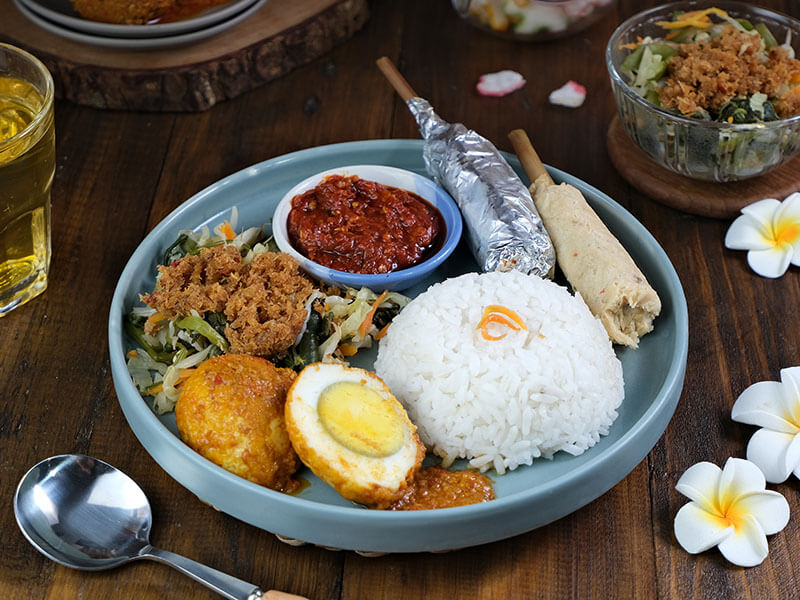 Meaning "mixed rice" in Indonesian, Nasi Campur (or Nasi Bali ) is far from being a single dish. It is more like a number of various ways to pair steamed rice with small portions of other dishes from the local menu. There are no two servings alike.
Some of the most well-liked Nasi Campur Bali variants include pork-based side dishes (babi) and chicken-based ones (ayam). In addition, many local restaurants offer steamed rice with grilled tuna, fried tofu, or vegetable curries, among other things, on top.
Most Indonesian regions have their own version of Nasi Campur, so what's so special about the one in Bali? The first thing is the island's hype, followed by Balinese intense spice mix in every dish.
Another factor is the Nasi Campur Babi variety with the world-renowned suckling pig Babi Guling. This is one of the culinary delights you can only find in Bali.
A halal alternative is also accessible, featuring ayam betutu, sate lilit, and eggs as delicious accompaniments to the rice.
It is always a joy to have Nasi Campur Bali in the heart of Bali.
5. Nasi Goreng – Stir-Fried Rice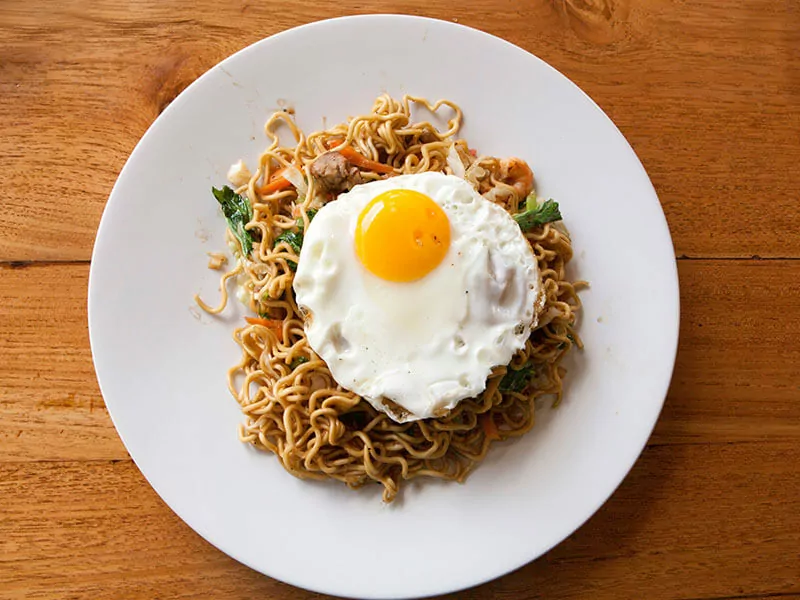 "Nasi" means "rice" and "Goreng" is an Indonesian word for "fried food". You can easily speculate what this dish contains. But it will be more difficult to truly know how mouth-watering Balinese stir-fried rice can be until you taste it first-hand.
Elsewhere in Indonesia, Nasi Goreng is usually cooked from leftover rice. But since Balinese people usually cater to international travelers, this isn't the norm. Instead, locals stir-fry aromatic rice with green peas, meat, seafood, and Kecap Manis (sweet soy sauce).
Apart from being one of the five national dishes of Indonesia, Nasi Goreng is also a beloved dish in Malaysia, Singapore, and Brunei.
A bowl of premier Bali-style Nasi Goreng can't go without toothsome toppings. The delicious-smelling and meaty-tasting rice become even more tempting with tangy sliced tomatoes, crispy Krupuk (crackers), or saliva-stimulating pickles on top.
6. Nasi Ayam – Aromatic Chicken Rice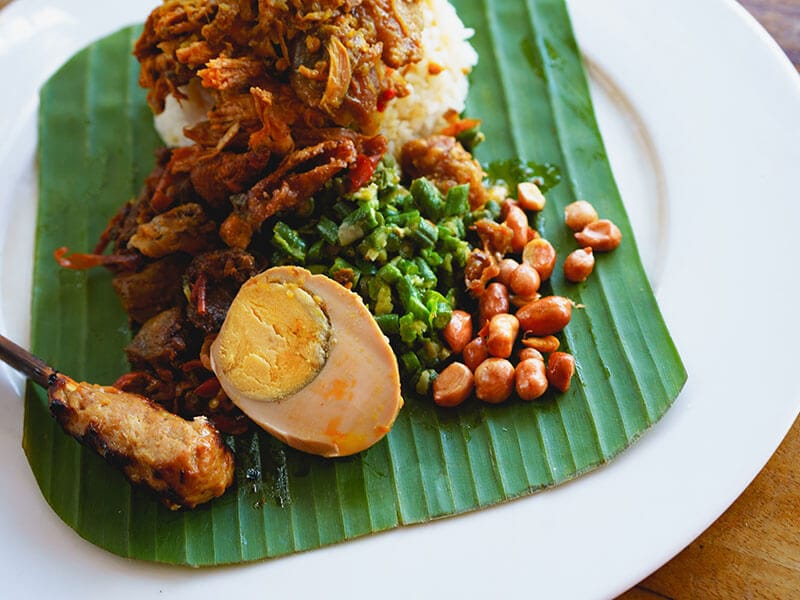 On a verdant green banana leaf, a small bowl of pearl-white rice occupies the center. Strips of shredded chicken stand by its side, teeming with a fragrant, spicy smell that makes your mouth water non-stop. Add creamy eggs and roasted peanuts, and you have a picture of Nasi Ayam.
Although no one can say with confidence when this dish became an integral part of Indonesian cuisine, its superior status is beyond dispute. The Balinese people present a spicier take on this classic recipe, which can be overwhelming to some but imaginably delicious to the rest.
For an easy Balinese breakfast with Nasi Ayam, you can stop by any restaurant, food stall, or warung (Indonesian family-owned businesses). The vendors are friendly and ready to tone down the spices if you want to.
Here is an inside look into how locals prepare Nasi Ayam in Bali.
7. Babi Guling – Roasted Suckling Pig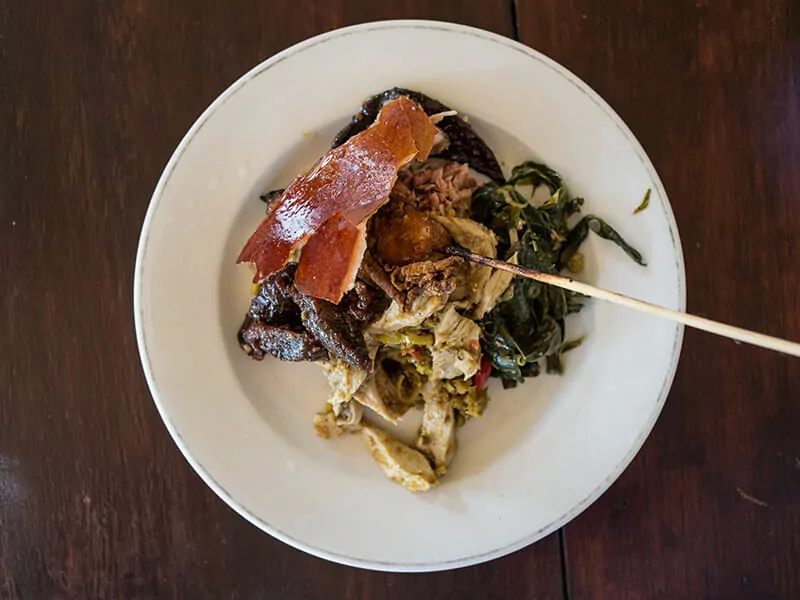 It will be an unforgivable waste of your Bali trip if you fail to have a taste of Babi Guling. It is the famous roasted suckling pig dish that will please even the pickiest meat-eaters. Its name is literally "turning pig", referring to the exciting way to cook it.
The making of Babi Guling starts with preparing a baby pig whose flesh is more tender and succulent than normal pork. The islanders will stuff it with a chili-based spice blend after rubbing its skin with turmeric so that it will acquire an attractive amber color after roasting.
The next step is to roast the whole suckling pig over an open fire. After it has been spit-roasted to perfection, people will remove the crisp skin and divide the juicy flesh into multiple portions. Each serving of Babi Guling comes with a piece of skin, meat, spicy sauces, rice, and fresh veggies.
Traditionally, the roast suckling pig is a special treat for formal gatherings and cultural ceremonies. However, thanks to the local embrace of tourism, you will have no difficulty finding it at multiple warungs and restaurants on the island.
8. Bebek Betutu – Roast Duck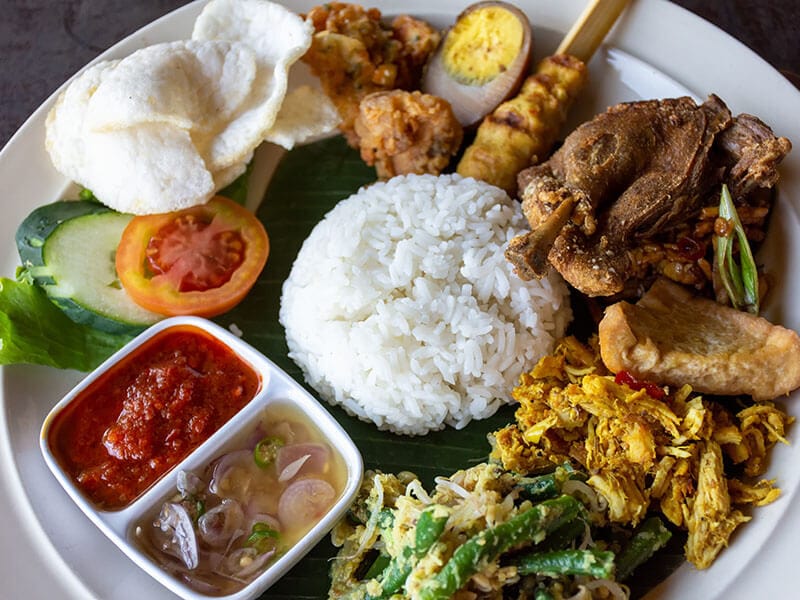 In case Babi Guling isn't enough for you, here is another roasted meat dish. The famed Bebek Betutu from Bali is a mouth-watering preparation of duck ("Bebek") and an exotic sauteed spice mixture ("Betutu") from turmeric, ginger, wild ginger, candlenuts, etc.
To prepare Bebek Betutu, locals brush the skin of a fat duck with the spicy paste. Next, they skewered it with a bamboo pit and roasted it with a coal fire. When the duck turns an orange color and is full of drizzling fat, it is ready to serve with peppery sambals, fried peanuts, or veggies.
Depending on where you travel in Bali, you will encounter slightly different variations of Bebek Betutu. The people of Klungkung stuff their duck with Bebutu, while inhabitants from the southeastern part of Bali prepare it with a plantain leaf wrapping.
9. Lawar – Traditional Meat Dish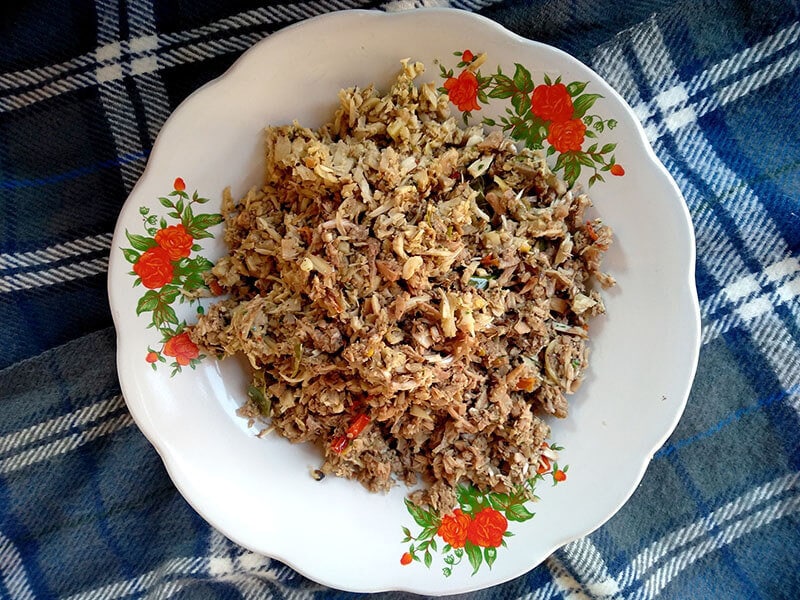 Lawar is one of the most nourishing Balinese lunch dishes you can find. One reason is the large variety of meat and veggies in the dish. Another factor behind its protein-rich profile is its use of fresh pork blood.
The standard version consists of green beans, leafy greens, palm sugar, and grated coconut. Cooks stir-fry them in coconut oil and usually add beaten eggs along with minced meat for a richer flavor. But the most exciting addition is fresh animal blood which improves cohesion.
If you're not a fan of blood, don't worry as Lawar exists in many forms. You can ask for the white Lawar (Lawar Putih), which has no blood in contrast to the red Lawar (Lawar Merah). Also, the white variety usually substitutes meat with young jackfruit, giving it a vegan appeal.
10. Satay Lilit – Grilled Minced Meat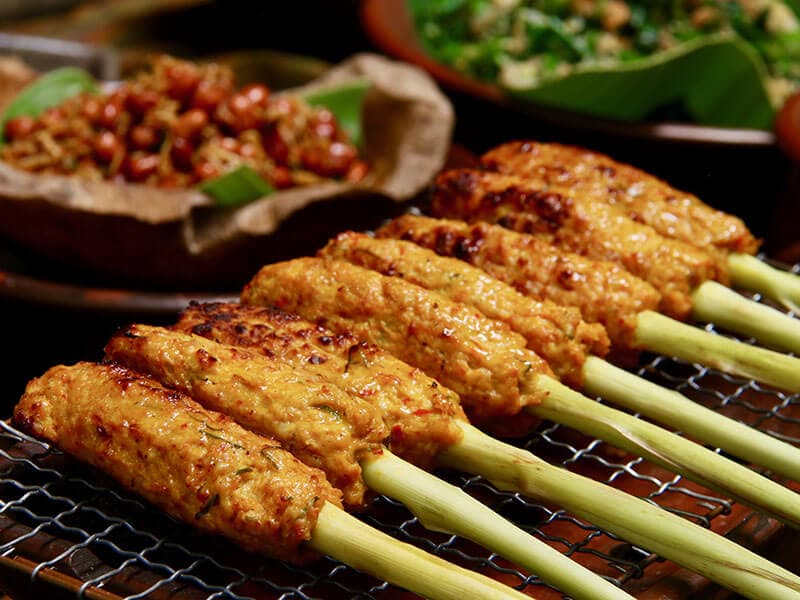 The Indonesian government recognizes six national dishes, one of which is the addictive grilled dish Satay (or Sate). Its huge popularity spawns numerous variants across the vast territory of Indonesia. Many are scrumptious, but few can rival the fame of the Balinese version Satay Lilit.
Traditional Satay is prepared by skewering chunks of fresh meat with bamboo sticks and grilling them right away. Satay Lilit is more elaborate in the making. First, Balinese cooks mix meat mince (pork, chicken, beef, or even turtle) finely with fatty coconut milk and spices.
Next comes the step that gives Satay Lilit (literally "wrapped Satay") its name. People wrap layer after layer of minced meat around bamboo or lemongrass sticks before grilling them over charcoal. Satay Lilit is so richly flavored that you can eat it without any condiment.
11. Tum Bali – Steamed Meat in Banana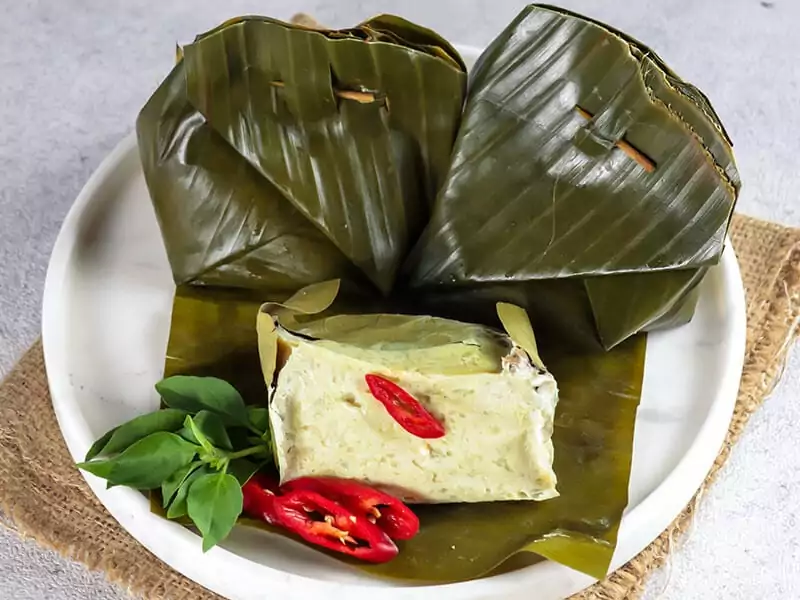 "Tum" is a generic term for any Indonesian food that people wrap tightly in banana leaves before cooking it. Anyone seeking a healthy way to consume meat will find their prayers answered with Tum. They will likewise consider its Balinese version particularly appetizing.
There are a few Tum variants to choose from: the most common one is Tum Ayam (chicken), followed by Tum Sapi (beef) and Tum Babi (pork). Preparation of them all starts with mincing the meat carefully and lightly sauteing it with coconut milk and spices, especially chili pepper.
The now-aromatic meat is later wrapped and sealed in a banana leaf package before going to the pot. When it comes out steaming hot, you can remove the leafy wrapping and savor the flavorful cooked meat right away. There is no need for accompanying sauces.
12. Be Siap Sambal Matah – Shredded Chicken with Spicy Sauces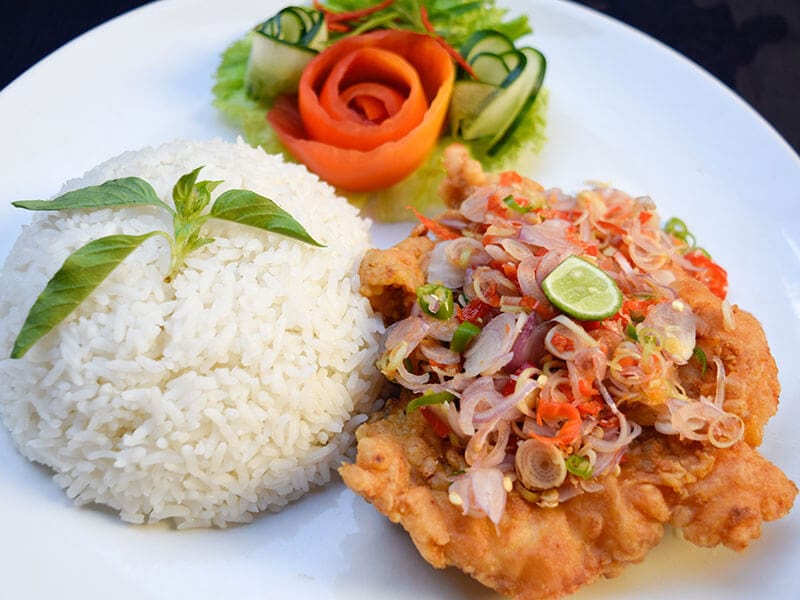 What distinguishes this Balinese chicken dish from a world of meaty wonders out there? The answer comes from its core ingredient: not the chicken, but Sambal Matah ("raw sambal") consisting mostly of lemongrass, kaffir lime, shrimp paste, and coconut oil.
While the term "Be Siap" refers to shredded chicken, Sambal Matah goes perfectly with all kinds of chicken preparation. Anyway, just arrange everything together and enjoy how wonderfully the untamed, uninhibited taste of raw spices mixes with the tender sweetness of the chicken.
Be Siap Sambal Matah is one of the dishes to go with steamed rice in the Nasi Campur Bali collection. According to some Balinese inhabitants, their island is the only place in Indonesia where you can find it.
13. Ikan Bakar – Charcoal-Grilled Fish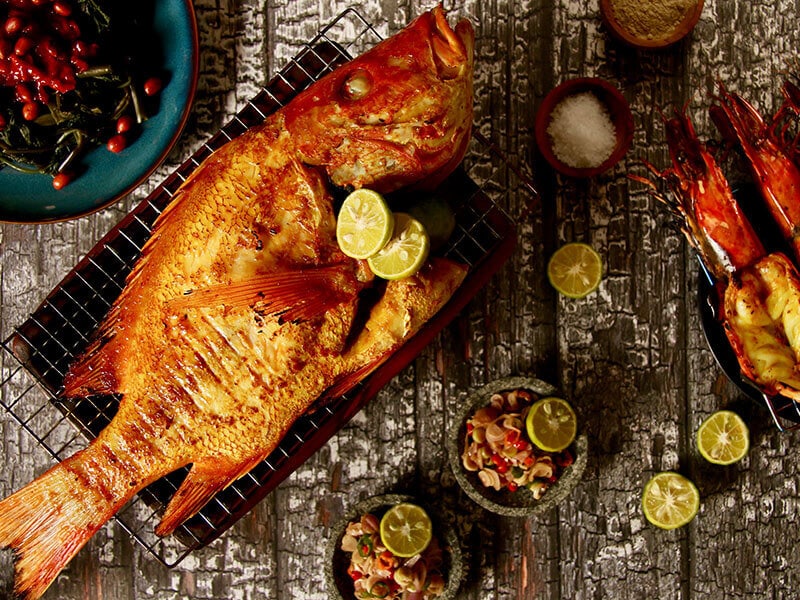 It would be weird to describe the yummy foods of an island without talking about fish. Balinese markets are overflowing with all kinds of tasty fish, such as tuna, mackerel, or Mahi Mahi. Quickly make a good bargain to have the ingredient for Ikan Bakar (literally "burned dish").
Preparing this straightforward Balinese dinner dish doesn't take much time. All you need to do is to carefully grill your favorite dish over a charcoal fire until it emits a smoky aroma, and its juicy flesh is impossible to resist. Spicy chili sauces are the most suitable thing to accompany it.
Roasting Ikan Bakar is more than cooking; it's also a bonding activity with your friends and loved ones. But if you don't want to get your hands dirty, countess warungs in Bali are more than happy to provide you with delicious grilled fish.
14. Sudang Lepet – Salted Fish
Succulent grilled fish is a finger-licking delight, but dried fish will make an equally deserving place in your menu. The towns of Singaraja and Buleleng in northern Bali contribute such a culinary delight with the name of Sudang Lepet.
II is a time-consuming process to prepare this treat. First, local inhabitants have to sun-dry salted sea fish until they are completely moistureless, which can take days to complete. The next step is to grill them over a low fire before smashing them into a flattened shape.
While Sudang Lepet is suitable to be eaten right away, most people prefer to fry the salted fish again. The combo of those crispy, sea-tasting fishes, lime juice, spicy sambal, and rice will ignite an explosion of all kinds of flavors in your mouth.
15. Laklak – Traditional Pancake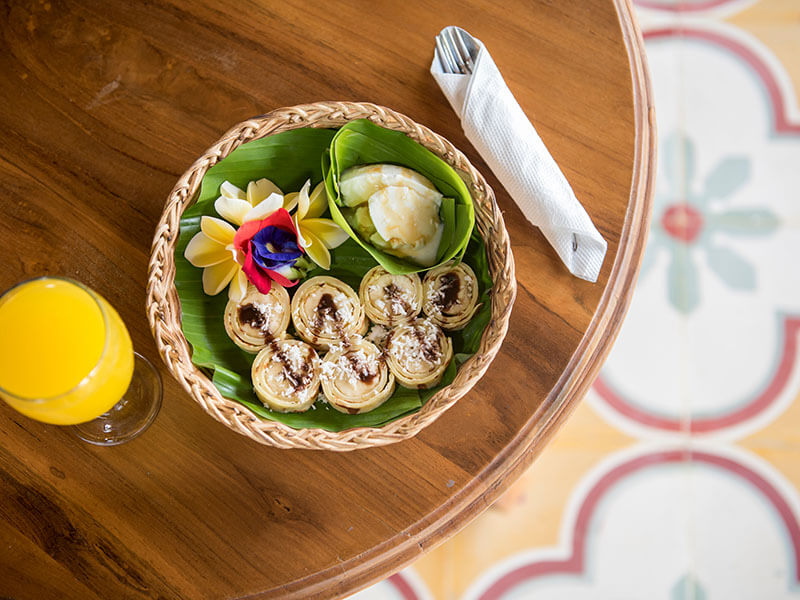 Everybody knows that breakfast is the most important meal of the day. But have you ever experienced the sickly sensation that you don't want to eat anything after getting up? If so, the traditional Balinese pancake Laklak will provide you with effective relief.
A look will tell you Laklak has a beautiful emerald color derived from suji leaf extract. A sniff will reveal its fatty coconut aroma as well as a grassy scent of local herbs. A bite will show you its appetite-whetting savory flavor hidden beneath its smooth and soft exterior of rice flour.
Nobody knows for sure when Laklak first appeared. But generations of Balinese people have eaten it with brown sugar and shredded coconut as a delightful breakfast snack, and they adore it. How about you?
16. Tempeh Manis – Fermented Soybean Snack
Tempeh (or Tempe) is a traditional Indonesian food from fermented soybeans that the Javanese people invented centuries ago. Its exceptional nutritional value, earthly flavor, and crunchy texture earn this dish a place on the Balinese menu.
Out of many ways to cook this cake-like delight, Tempeh Manis (meaning "sweet Tempeh" in Indonesian) is arguably the most popular one. It represents a combination of Tempeh with Kecap Manis, a sweet soy sauce enriched with spices.
But Tempeh Manis calls for more than just those two things. The Balinese people have to cook a tangy and peppery chili-tomato which they saute the chewy Tempeh with. The resulting protein-packed vegan delight is perfect for steamed rice.
17. Nasi Jinggo – Banana Leaf-Wrapped Steamed Rice Dish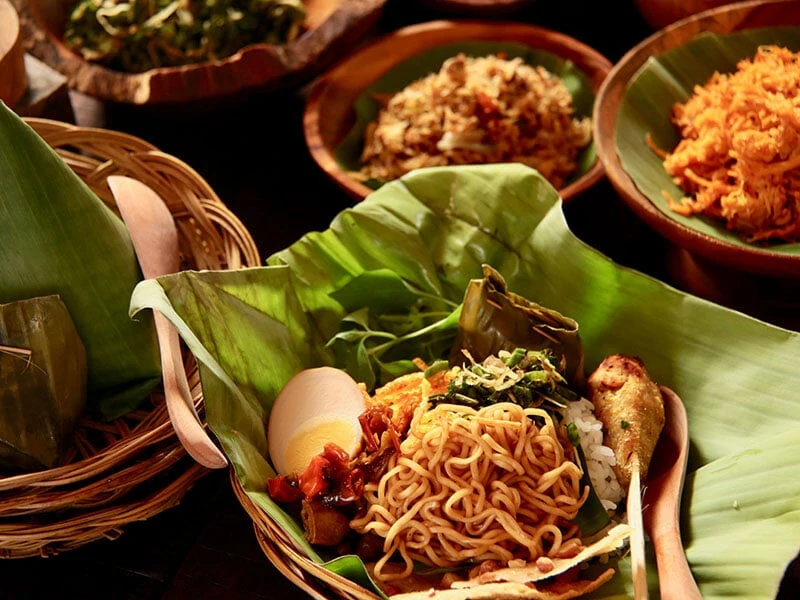 A stroll through the busy streets of Bali will send you reeling with a gigantic collection of Indonesian street foods. If you close your eyes and take an item at random, the chances are that your hands will land on Nasi Jinggo, an extremely prevalent rich-based treat.
It might be small in size, but the intensity of its flavor is mighty. Street vendors bestow this quality on their goods by infusing white rice with savory sambal and wrapping it with other side dishes in banana leaves.
When you unravel a Nasi Jinggo, you may find anything from Tempeh and roasted peanuts to shredded chicken or grated coconut. Also, the rice doesn't have to be white, it can be turmeric- or saffron-imbued yellow rice.
Nasi Jinggo arrived in the Balinese street food scene in the 1980s. Its inventors were a married couple who sold the new dish near the Kumbasari Market in Denpasar, Bali's capital. Starting as a late-night snack, it soon became popular for every meal in every part of Indonesia.
18. Rujak – Spicy Fruit Salad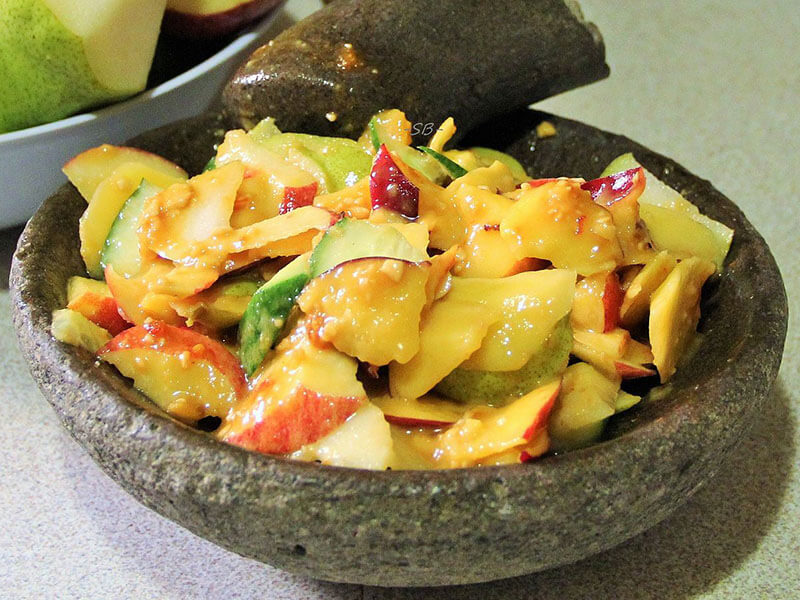 Are you ready for powerful Balinese spices to purge your menu of blandness and convert your appetite to the true taste? If you pray for a divine Balinese dessert to deliver you from the vulgar, greasy, cholesterol-filled snacks, let Rujak answer your call.
In essence, Rujak is a fruit salad whipped up from a wide repertoire of tropical goodness that Bali can offer. From pineapples and green mangos to surprising picks such as sweet cucumbers and yam beans, you can have it all.
Everything is finely diced and mixed with salty shrimp paste, tongue-burning chilly sauce, and soothing palm sugar. Sometimes, people crush the fruits and the condiments in a stone bowl called kobek for a better infusion of flavor.
The combination of this trinity and fresh, tangy fruits creates a flavorful, superb snack. It will make you cry, both from its spiciness and deliciousness.
19. Es Daluman – Jelly Drink
On a balmy day, you are taking a walk along Bali's stunning beaches and letting the sea breezes caress your cheeks when the winds bring to your notice a delicious milky smell from a nearby green and white drink. What is it, you ask? The answer is usually Es Daluman.
It is a traditional drink that the Balinese people created in times long forgotten. There are usually three things in a cup of Es Daluma. They are cubes of green grass jelly, snowy, fatty coconut milk, and delicious golden palm sugar (which you can ask the vendor to omit).
Iced Es Daluman with a mint leaf garnish is simply a must-have treat when you visit Bali. It is a sublime Balinese delight as ubiquitous as Balinese sunlight itself.
20. Bubur Sumsum – Traditional Rice Pudding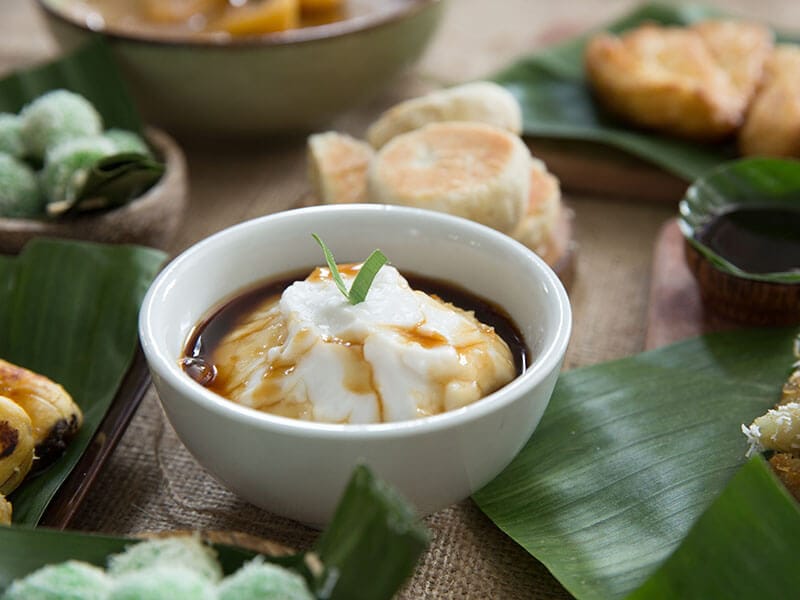 Many Balinese people have fond childhood memories of purchasing this snack from traveling vendors. Even when today's Bali is vastly different from what it was before, the street cries of "Bubur Sumsum…Bubur Sumsum" still play out in the dreams of countless locals.
As a tourist, you can visit any food cart or roadside stall on the island. It essentially consists of two parts: coconut milk – rice flour mixture sweetened with palm sugar and Biji Salak (sweet potato dumplings).
An exciting activity for international travelers is to enroll in Bubur Sumsum cooking classes. That is necessary because while the rice pudding looks easy, it is tricky to get right. But if you only care about enjoying its pleasantly sweet and tasty flavor, forget everything and keep relishing it.
21. Batun Bedil – Sticky Rice Snack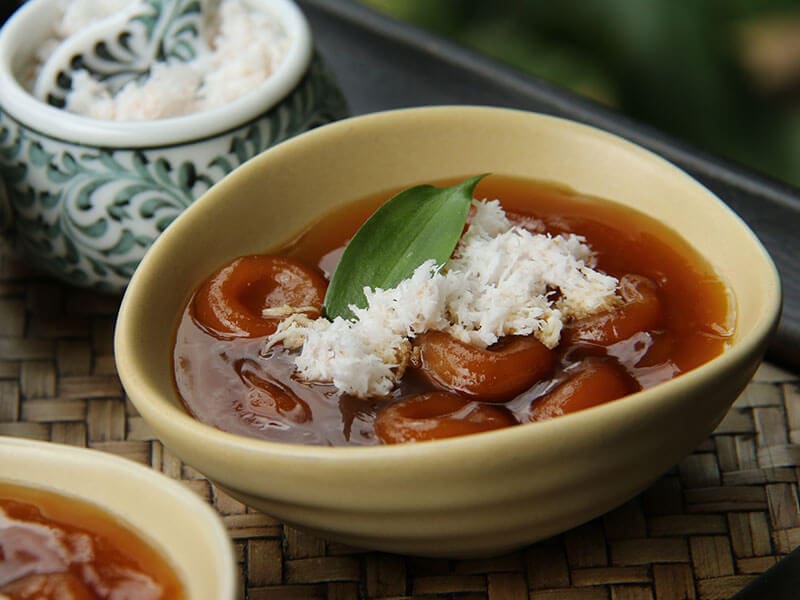 Usually, an unrefined sweetener with few added chemicals, brown sugar is beneficial to your health. Also, it gives your food a beautiful and natural amber color. The Balinese islanders make use of the latter quality to create chewy disc-shaped rice balls called Batun Bedil.
Locals whip them up from a dough of sticky rice flour and cassava starch. When the balls are ready, they will be cooked in a sweet, caramel-like sauce of coconut milk, brown sugar, rice flour, and pandan leaves (a tropical fragrant plant).
Batun Bedil bears some similarities to the famous Indonesian sweet dish Candil. The biggest difference lies in the shape of the balls. A bowl of Batun Bedil is inexpensive yet capable of keeping you full for hours, so don't eat it so close to the main meal.
Dining Etiquette and Customs in Bali
Explore the rich tapestry of dining etiquette and customs in Bali, as I unveil the cultural nuances and essential guidelines to ensure a truly authentic and respectful Balinese dining experience.
Typical Eating Habits and Meal Times
In Bali, people typically eat three main meals a day: breakfast, lunch, and dinner. Breakfast is usually a lighter meal consisting of rice, vegetables, or fruit, while lunch and dinner are more substantial and may include meat or fish dishes. Snacks and desserts are also enjoyed throughout the day.
Rice is a staple food in Bali, enjoyed in most meals. The Balinese diet primarily consists of pork, chicken, seafood, and vegetables, with beef consumption being infrequent or nonexistent due to Hindu dietary restrictions. Adherence to this limitation is particularly prevalent among the Brahmin and Kshatriya castes.
Traditional Eating Utensils
Balinese people traditionally use their right hand as the primary eating utensil, as it is considered clean and respectful. However, in more urban areas and restaurants, cutlery such as spoons and forks may be provided. Chopsticks are not commonly used in Balinese cuisine.
Rituals and Ceremonies Involving Food
Food plays a significant role in Balinese culture, with various rituals and ceremonies involving the preparation and consumption of food.
In Balinese culture, individuals place offerings before temples as a means to appease the deities. These offerings, known as "Canang sari," are small palm-leaf baskets filled with an array of vibrant items such as fruits, flowers, leaves, and nuts, each carrying its own symbolic significance.
Influences of Tourism And Globalization On Balinese Foods
Are you ready to uncover the impact of tourism and globalization on Balinese cuisine? I am about to examine the evolving culinary landscape and the ways in which outside influences have shaped the island's food traditions and offerings.
Introduction Of International Cuisines
Tourism and globalization have brought a variety of international cuisines to Bali, catering to the diverse tastes of visitors from around the world. Restaurants serving Western, Chinese, Japanese, and other global cuisines can be found across the island, particularly in popular tourist areas.
Fusion Dishes Inspired By Balinese Flavors
The blending of international flavors with traditional Balinese ingredients and techniques has given rise to a variety of fusion dishes. This culinary experimentation has led to innovative creations that showcase the versatility of Balinese cuisine while appealing to a broader audience.
Preservation of Traditional Balinese Recipes and Culinary Techniques
Despite the influx of foreign influences, there remains a strong emphasis on preserving traditional Balinese recipes and culinary techniques. Locals and chefs alike continue to celebrate the island's rich culinary heritage by practicing age-old cooking methods and passing down traditional recipes to future generations.
This commitment to preservation ensures that the authentic flavors of Balinese cuisine remain a vital part of the island's culture and identity.
Initiatives such as cooking schools, food festivals, and local culinary tours also help promote and preserve traditional Balinese food culture, allowing both locals and visitors to appreciate and learn about the unique cuisine.
FAQs
It's time to discover the enticing world of Balinese cuisine with our frequently asked questions section.
---
Divine Foods From A Tropical Paradise
Bali is endowed with many good things: mild weather, stunning beaches, lush greenery, fertile land, etc. By one way or another, those attractions manifest themselves in Balinese cuisine, giving birth to numerous delectable dishes difficult to devour all in one short visit.
Any piece of Babi Guling is as rich as Balinese good earth, while a plate of Nasi Goreng bears the sweetness of the land's iconic rice paddies. And every bite of Rujak will fill your stomach with the steamy vitality that Balinese cuisine inspires in those fortunate enough to experience it.
If you like this post, please share it with your friends, as well as tell me your thoughts and experiences in the comment section. This is the end of this Balinese food tour but only the beginning of another soon-to-come journey. Until the next time!