It would be a crying shame if you did not hear about these Jamaican recipes at least once. With exquisite flavors reminiscent of the sun-kissed tropics, they are the top tier in my favorite list, and you'll find yourself making them time after time.
Jamaican cuisine has a long and winding history, and it's the result of several modifications and improvisations of dishes brought to the island by the inhabitants. It is well-known for the use of root vegetables and an intricate blend of piquant spices.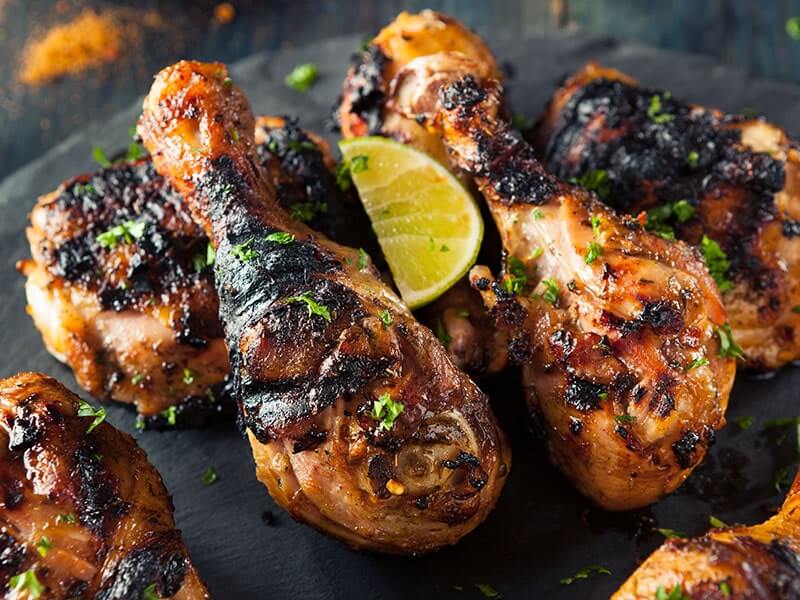 22 Delectable Jamaican Recipes To Boost Your Spirits
With incredible taste, these Jamaican dishes are certain to lift up your spirits, turning sad faces upside down. Check out the list below and be amazed! From hearty stew, lip-smacking desserts to refreshing drinks, there's more than what you need.
Jamaican Main Dish Recipes
Ackee and Saltfish
Jamaican Oxtail Stew
Jamaican Hot Pepper Shrimp
Jamaican Curry Goat
Jamaican Beef Patties
Jamaican-Style Chickpea Curry
Jerk Chicken
Jamaican Side Dish Recipes
Jamaican Steamed Cabbage
Jamaican Callaloo
Jamaican Rice and Peas
Sticky Sweet Fried Plantains
Jamaican Gungo Peas Soup
Jamaican Fried Dumplings
Bammy (Cassava Bread)
Jamaican Dessert Recipes
Jamaican Cornmeal Porridge
Jamaican Rum Cake
Vegan Jamaican Sweet Potato Pudding
Gizzada (Sweet Coconut Tart)
Jamaican Beverage Recipes
Jamaican Sorrel Punch
Jamaican Hot Chocolate Tea
Jamaican Carrot Juice
Other Jamaican Recipe
Jamaican Jerk Marinade
Are you set for a trip to Jamaica? Let's go!
Jamaican Main Dishes That Take You To The Sunny Island
Jamaica is the third-largest island in the Caribbean Sea. The country is famous for stretchy beaches, majestic waterfalls, and the legend Bob Marley brought reggae to the world. But do you know that it has some of the best main dishes in the world, too?
Ackee and saltfish is Jamaica's national dish, and it is commonly made for breakfast, brunch, or whenever you crave. The colorful plating will give you the impression that the dish requires a lot of hard work, but it turns out you only need less than an hour.
If you have never heard of or tried ackee, add it to your bucket list. The taste is mild, somewhat savory, which tempers the sharpness of saltfish (dried and salted cod) and is perfect against other herbs and spices. It is genuinely out of this world.
Breakfast has never been this good with ackee and saltfish. Watch this video to know more:
Most people claim that the nicest cut of beef is either sirloin or ribeye, yet Jamaicans believe that the oxtail is the cream of the crop. It is criminally underrated, which is kind of ironic since it is exorbitant in many eateries. Indeed, a high price comes with top quality.
The oxtail is densely nutritious, and when cooked properly, it is surprisingly tender and full of flavors. For the optimal result, it is simmered in a rich broth for hours and spiced with fresh herbs and seasonings.
These fiery pepper shrimps are everywhere in Jamaica, from street vendors to fancy restaurants. They compel your attention with vibrant red color, but little do you know that it's a friendly warning: these shrimps are about to make your heart race with excitement.
And how do they do that? They receive a wild punch from scotch bonnet peppers, twenty or thirty times hotter than jalapenos. If that's too much for you, get rid of the seeds. Serve the shrimps as they are, over a bed of rice, or next to a side of vegetables.
Spicy eaters, if you are up for another challenge, sit down and take your time enjoying this amazing curry goat. Curry is an integral part of Jamaican cuisine, but most people are astonished to learn that it was the Indian workers who brought the dish to the island.
Unlike their antecedents, Jamaican curry favors goat meat, which has a sweet, gamey taste. The dish is built on a combination of potatoes, carrots, onions, and a bevy of fresh herbs and seasonings that lend unbeatable flavors to the meat and the sauce.
If I were asked to rate these patties on a scale from 1 to 10, they deserve a 100. Also known as "sunshine patties" in Jamaica for their spellbinding golden crust. However, it's what on the inside that makes them stand out from their variants.
To make this dish, you first need to prepare the ground beef by breaking it down to get rid of the moisture. Next, stir in the onions, garlic, scotch bonnet peppers, and parsley for a pop of flavor. Finally, use your skillful hands to fill the mixture into each rolled dough and bake.
A mashup between chana masala (Indian curry) with a touch of the tropics, this aromatic, utterly delicious curry is sure to please even the pickiest guests. There are endless variations of chickpea curry, yet this one remains one of the best, in my opinion.
With this recipe, your Friday evening meal has never been quicker. Various spices and seasonings are used to elevate the taste, from garlic, ginger to curry powder and paprika. Stir in the coconut milk and let the mixture simmer until you get that creamy consistency.
Loving chicken has never been a bad decision. Adaptable, flavorful, and loaded with lots of nutrients, chicken is the star in many Jamaican recipes. Don't get the word "jerk" wrong, as it refers to a native cooking style involving marinating the meat with unique spice.
The Jamaicans have every reason to be proud of their creation. With every bite you take, the bold flavors will burst into your mouth, leaving a sharp mouthfeel that urges you to grab another one.
There are hundreds of dishes to go with this jerk chicken. But most of the time, people would pair it with white rice or salad to tone down the piquancy.
Jerk chicken is too hot to handle, but you cannot resist it. You should see the video below:
Complete Your Meal With These Tasty Jamaican Sides
When it comes to side dishes, some people set the bars too low. They seem to devote most of their time and effort to the main course instead. Nonetheless, the Jamaicans believe that everything on the table is just as important as each other.
When talking about cabbage for side dishes, coleslaw immediately pops up in my head. Well, not anymore ever since I came across this Jamaican steamed cabbage recipe. It's also a quick and effortless Jamaican appetizer, pretty much what you need for a last-minute situation.
In this perfect Jamaican vegetarian recipe, the crunchy vegetable teams up with carrots once again, joined by the scotch bonnet and red bell peppers for a color and flavor contrast. Onion and garlic are sauteed to yield their alluring fragrances before being steamed to tender with other ingredients.
Callaloo is a leafy vegetable that is sometimes mistaken for spinach because of its appearances. However, the stems on spinach are relatively thin, and its taste is a far cry from the Jamaican counterpart.
Since it has a slightly bitter taste with earthy undertones, callaloo is preferably cooked with onion, tomatoes, and scotch bonnet peppers. Fancier options are shrimps and saltfish, and it makes a wonderful soup with dumplings, too, which is a staple of the Caribbean.
Callaloo is also a must-try dish in Trinidad and Tobago cuisine as well. It's not an exaggeration to say that this country in the southeast Caribbean considers callaloo as one of the most iconic foods there. Some might even say that this is an "informal national dish of the country".
The Jamaicans take great care of their meals, which means even the accompaniments have to be on point. This rice side dish is the example, and you'll love how it takes kindly to almost anything on the table.
The kidney beans are brought to a boil and perfumed with onion, garlic, and thyme. With a kick from scotch bonnet peppers and ginger, your palate will experience some thrills, but coconut milk will dampen the heat with its sweet and nutty nuances.
Sometimes, a delicacy does not call for much artful plating or complicated techniques – just plantains are enough. When ripe, they are sweet like bananas, and they taste best when baked or fried.
First, coat the plantain slices with brown sugar. Next, place them on the pan and drizzle the syrup-vanilla mixture all over. Cook until they start caramelizing at the bottom. Since plantains are inherently sweet, you can also fry them without the sweeteners.
Fried plantains are not famous in Jamaica alone. In fact, these are famous dishes in Saint Lucia and other regions of the Caribbean. So don't underestimate these seemingly simple treats.
Enjoy these lovely sweet fried plantains as a side or a snack. See the video below to know:
Made with gungo peas, or pigeon peas, the hearty soup is perfect whenever the temperature drops without warning. The Jamaican holiday favorite takes you only half an hour to cook, which is sometimes all you have for a busy weeknight.
It tastes rich and pleasantly sweet thanks to an array of ground provisions that have been simmered to perfection. Coconut milk adds an extra layer of creaminess to the broth, and mix-in options are more than welcome, such as dumplings, cassava, or green banana.
In the past, these dumplings are also called "journey cakes," and they are associated with the era of slavery. Plantation workers would pack these dumplings for lunch when they embark on long journeys.
Making these bite-sized balls is pretty straightforward. All you need is baking powder and a few more pantry ingredients to get you ready. They are mainly paired with other dishes for a full-bodied meal, from jerk dishes to ackee and saltfish.
Bammy is a traditional flatbread made from cassava. It is typically served with callaloo or escovitch, but more and more people enjoy it as a snack nowadays thanks to the effort of the United Nations and the Jamaican government to revive its manufacturing in 1990.
Before frying, it is recommended to soak bammy in coconut or cow milk. It is ready when you see both sides turn golden brown. If it's a bit too bland for your preference, add a tablespoon of butter or margarine and a mashed clove of garlic.
Quick And Easy Jamaican Desserts You Must Try
Making desserts should not be a project, and the following sweet treats from Jamaica seem to grasp the idea better than anything. If you don't want to pour sweat in the kitchen, lean on the spices and liquor – they will help you enhance the taste to the extremes.
Humble as it looks, this breakfast porridge is the next big thing in your kitchen. As you walk down the streets in Jamaica, you will find this healthy treat being sold almost everywhere. Sure enough, it catches the attention of any curious sweet tooth.
Thick and extra creamy, you can't help but tuck in right away, even when it's hot. To avoid lumps, make sure that you mix the cornmeal with cold water before cooking and stir well. Top with luscious berries or nuts if desired.
Jamaica isn't the only Caribbean country that loves cornmeal porridge. In fact, this is also a beloved food in Haiti, a country to the east of Jamaica. Featuring cinnamon and nutmeg, the Haitian version of cornmeal porridge is certainly a decadent treat to the palates.
Also known as black cake, the Caribbean-originating dessert with a mysterious look is believed to be an adaptation of the steamed fruit pudding brought by the British settlers. Years later, the Jamaicans made some minor tweaks to the dish with local produce and liquor.
The cake features dried mixed fruit, vanilla, almond essence and is infused with warm cinnamon and nutmeg. Besides rum, a splash of red wine is also added, giving the cake a fluffy, ultra-moist texture that makes every celebration more memorable than ever.
Deck your holiday dinner with this amazing Jamaican rum cake. You should see the video below:
It's a tradition to serve this pudding on Sunday in Jamaica, but I believe you will love to have it every day since it is hugely satisfying. Although the dessert can be easily done in the oven, the Jamaicans still prepare it on a coal pot.
Sweet potatoes are pureed until smooth. Coconut milk is added to the mixture, followed by other flavorings: sugar, vanilla, and a pinch of sea salt. Although spices are not strictly required, it's worth a try. You'll be amazed by how well they complement the final taste.
In the 1500s, the Portuguese Jews brought a tasty gift to the beautiful island. It was initially called guisada, but soon the word morphs into gizzada, which is the name for this delectable miniature dessert made with coconut.
Gizzada starts with a pinch-me-round crust that turns flaky and golden brown when done to a turn. The filling is a blend of coconut, brown sugar, nutmeg, cinnamon, and allspice. Ginger is optional. With layers of soothing sweetness, gizzada tastes like pure heaven.
Jamaican Drink Recipes That Costs You No Time
Busy bees, below are several beverage choices from Jamaica that will quench your thirst immediately. They taste like sunshine and deep seas, ensuring that you are in the most relaxing state of mind even when you are up to your neck.
Provided your friends are coming over for a holiday party, you need to think beyond just eggnog and hot chocolate. How about a bowl of sorrel punch from sunny Jamaica? They are going to have a few too many.
The punch is made with dried hibiscus flowers, hence the vivid dark red color. It's tangy and slightly boozy, with warm undertones of ginger and cinnamon.
If you can't bear the tartness, some high-standard Manuka honey may help. Or else, you can just balance it up with simple syrup. Cheers!
A cross between tea and hot chocolate sounds exactly like what you need to keep your eyes open all day. The robust beverage is typically served at the beginning of the day, but it is also there for you whenever you need some comfort.
The chocolate balls used in this drink are entirely natural. The seeds are removed from cocoa pods, dried under the sun for days, and can be eaten raw. It's a tad smoky and heavy, so round the taste with almond, coconut, or condensed milk.
Packed with a variety of nutrients, carrot is a powerhouse ingredient that you want to incorporate into many dishes and even drinks. This refreshing juice, developed by the Jamaicans, is made with carrots and stout, which adds interest to every slurp you take.
Traditionally, Dragon Stout is used, but feel free to swap it with any stout you can find (Guinness is a great substitution). Nutmeg adds a hint of spice to the taste, while vanilla and condensed milk ensure that it goes easy on your tongue.
Let's get a little tipsy with this spectacular Jamaican carrot juice.
An Extra Jamaican Recipe That Has Become A Global Hit
Can you guess what it is? That's right, it's the Jamaican jerk marinade, which can be traced back to the Maroons over 2500 years ago.
This jerk marinade is the king of allspice blends and sauces in the world. I dare you to change my mind. Packed with bold flavors and heat, any food it touches turns to a gastronomical delight.
Despite my exaggerated wordings, the marinade is not too difficult to make. Scotch bonnet peppers are present to provide intense heat along with other piquant seasonings. The spicy eaters will either give up or come back for more of this flavorful marinade.
The Dog Days Of Summer Are Not That Bad, After All
Forget the heatwave and mosquito bites; these Jamaican recipes are here to brighten up your summer vacation (or staycation). Whether it's a plate of jerk chicken or just a glass of sorrel punch, it's the summer fling of your dreams.
I hope you have enjoyed the virtual trip to Jamaica and learned more about their fantastic delicacies. What are you waiting for? Put on the apron and head to the kitchen! As always, I'm here waiting for your recreations and in the comments. Good luck!
Nutrition Facts
6 servings per container
---
Amount Per ServingCalories605
% Daily Value *
Total Fat 42.6g

66

%
Cholesterol 184mg

62

%
Sodium 1506mg

63

%
Potassium 266mg

8

%
Total Carbohydrate 12.8g

5

%

Dietary Fiber 2.6g

11

%
Sugars 4.8g

Protein 42.8g

86

%
---
* The % Daily Value tells you how much a nutrient in a serving of food contributes to a daily diet. 2,000 calories a day is used for general nutrition advice.