It's not important whether or not you are a vegetarian; the fact that you are searching for Jamaican vegetarian recipes already means that you really have good tastes. Thus, I'm absolutely glad to tell you that you've come to the right place for insightful information.
In this article, you will walk through numerous recipes ranging from appetizers to beverages and eventually learn a lot about the indigenous cuisine of Jamaica. I'm confident enough to assure you that the selected recipes are among the most popular and nutritious options.
What's more, you can end up successfully increasing not only your health and well-being but also your liveliness and inner energy after trying Jamaican vegetarian recipes due to a belief in Rastafari that I will later explain in the article. Ready to change your life for the better? Let's go!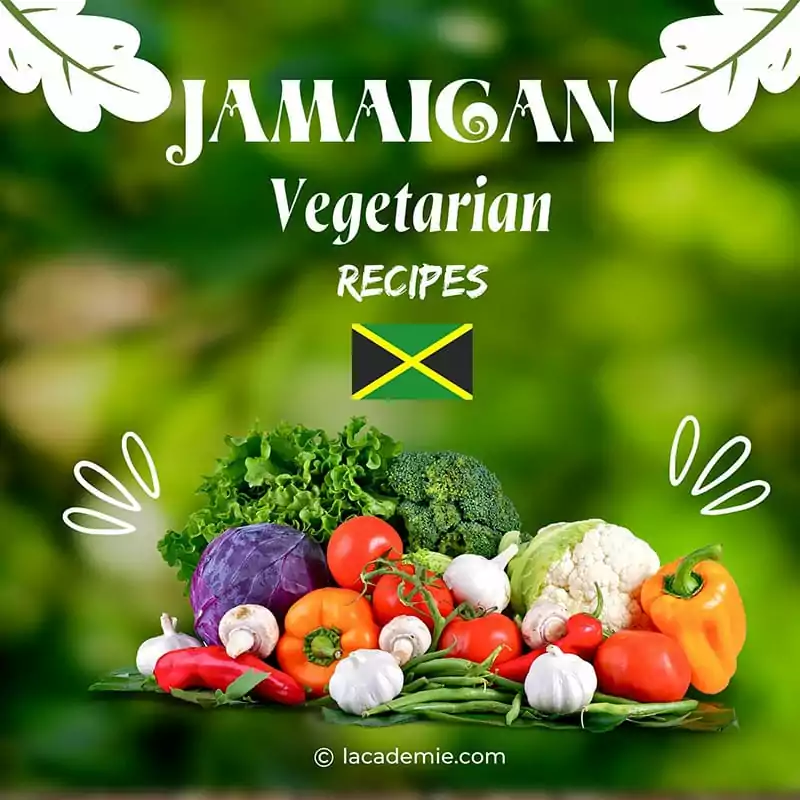 Why Is Jamaican Food Special?
Jamaica, an island country that lies in the Caribbean Sea, is very well-known for its Ital food. That includes all foods that are close to nature and gotten directly from the earth. Furthermore, it's a religious, spiritual, and cultural embracement in Jamaica to become a vegetarian/vegan.
It all comes from the long-held belief of Rastafarian people in Jamaica that eating Ital food can help enhance the life energy inside the human body. Though I'm not totally certain about the spiritual boost, I can assure you that it can enhance your health and well-being.
The country's unique blends of cultures and races also contribute to amazing Jamaican foods. Also, as a tropical island, Jamaica is abundant in nutritious, deliciously ripe fruits and vegetables, which can be used as ingredients for many vegetarian dishes.
Explore 30 Recipes Below To Have A Healthier Life Like A Jamaican Vegetarian
Below are the 30 selected Jamaican vegetarian dishes that can satisfy your taste buds while also benefiting your health. Therefore, you won't be disappointed to start the vegetarian journey by trying Jamaican cuisine. Without dragging any longer, let's jump into the recipes list!
Kick Off With These Amazing Jamaican Appetizers
First, I will kick off with a few featured Jamaican appetizer options. Most of the time, the below dishes can also be served as side dishes at breakfast, lunch, and dinner or as snacks in between the meals.
Total time: 40 minutes
Salad is a dish that can't be forgotten when it comes to appetizers. This Jamaican potato salad will taste even better if you can find the indigenous red potato originating from Jamaica. However, it's also fine if you only have the regular potato found at your local market.
According to this recipe, your salad dish will turn out so creamy and tender but it's completely dairy-free. Before mixing all the ingredients together, remember to peel the potato's skin, slice the potato into small pieces and boil all of them.
Although this is a very simple recipe to prepare, choose your ingredients and seasonings carefully. As long as they are all suitable for vegetarian standards, you can adjust the amount according to your own taste.
This helpful guide will give you specific instructions on making a delicious Jamaican potato salad.
Total time: 20 minutes
Do you have a special interest in all the salsa-related dishes? If that's the case, then Jamaican Jerk Garden Salsa is born for you! You will have a chance to taste jerk salsa–a Jamaican sauce that has jerk seasoning, tomatoes, garlic, and scotch bonnet as the main ingredients.
This recipe also uses common ingredients that you may find in your own garden, hence it has "garden" in its name! I have to put up a warning because Jamaican jerk seasonings are very spicy. If you can't stand the chilliness, you can't taste the deliciousness of this dish.
After finishing the sauce, you can try it with bread, sandwiches, noodles, or any kind of plain food. The sauce tastes good with almost everything and may be stored in the refrigerator for quite a long time.
Total time: 55 minutes
Beef Patty is a very famous traditional dish of Jamaica, and of course, it's normally filled with meat. However, now you have a chance to taste this masterpiece with a healthier version–Jamaican Vegan "Beef" Patty.
To begin with, you must use beefy crumble – a tasty alternative for meat that is made from plant-based and vegan ingredients – for the filling of the patty. In addition, it's best to have Jamaican curry powder, but you can use any available substitute in your kitchen.
The key elements of the dish are the patty and the filling inside. Besides beef crumble, the filling also consists of vegetable broth and seasonings like onion, garlic powder, and thyme. One tip is that you should measure the size of the patties before folding and cutting them into servings.
Total time: 30 minutes
The final option for your appetizer is an American-inspired dish–Jamaican Jerk fries with mango salsa. In this recipe, you should use russet potato and an air fryer to bring out the best and most authentic flavors.
The crispy fries combined with sweet, sour, and spicy salsa are truly appetizing! Together with the preheating step, coconut oil makes the fries really crispy and slightly changes their original flavor.
But don't worry: The dish won't have any coconut flavor. Another special detail of this dish is the mango salsa, which can be less spicy than the original version.
Let's Immerse Yourself In A Variety Of Jamaican Main Dishes!
Does it make your mouth water when you look at the appetizers above and imagine how they will taste? Then you must be so ready for the main dishes to be served! Listed below are my best options for every meal in a day, and some are altered to become vegetarian-friendly.
Total time: 30 minutes
It's believed that when the East Indians came to Jamaica between 1838 and 1917, they also brought their traditional dish: curry. So, are you curious about how Jamaican curry is different from Indian curry?
Basically, Indian curry contains chili powder, while Jamaicans prefer to use fresh pepper. Also, as you can notice, Jamaican curry boasts a more vivid yellow look and a unique aroma because it has a high proportion of turmeric.
While cooking vegan Jamaican curry with tofu and potatoes, you need to keep the heat on medium (or low) for a long period of time so that all the flavors can come out. Besides, you can serve either brown or white rice with this dish.
Need help with cooking this complex Jamaican vegetarian curry recipe? Just follow this tutorial!
Total time: 35 minutes
I know you are surprised by the name: This dish is a combination of jerk seasonings from Jamaica and the famous pizza. However, it may be even more astonishing to know that the sauce you will make in the recipe can go well with any kind of pizza, not just the vegan version.
If you are a newbie to making pizza, remember to preheat the oven and measure the thickness of your pizza's crust accurately. In addition, you can add any vegetables that commonly are used on pizza to this recipe, such as pineapple, red onion, corn, broccoli, and green spinach.
Total time: 1 hour
Do you want to maintain your healthy vegetarian meals but at the same time miss the chicken flavor? Then this recipe is dedicated to you! You will use the BBQ sauce to cook the dish, so be aware of the wonderful delicacy!
What is seitan? Apparently, seitan is among the popular alternatives for meat in vegan dishes. It is made from gluten, the principal protein that appears in many foods that contain wheat.
Thus, you can also call it "wheat meat", and remember that any dish that has seitan is totally not gluten-free.
In addition to the seitan dough, you will need chicken seasonings and chicken bouillon powder to create a true substitute for chicken meat. Thus, this dish is vegetarian but not really vegan-friendly.
You need to finish this video before cooking Jamaican Jerk Seitan Chicken!
Total time: 1 hour 45 minutes
It's said that eating Jamaican stew peas without dumplings is not a complete experience. Therefore, you can also find detailed instructions on how to make gluten-free dumplings in this recipe.
Before taking any step, you have to decide to choose between dried and canned kidney beans. Kidney beans play an essential role in the dish since the beans have a delicate and tenderly sweet flavor. What's more, the red color of kidney beans also compliments the dish.
After you are done with cooking, serve the dish with rice, and just enjoy the flavorful and organic taste of stew peas. One note about the dumplings: You can add cornmeal to them if you want to have a crumbly texture.
Total time: 26 minutes
In this recipe, you will learn how to cook Jamaican jerk tofu, make Jamaican sauce and prepare fresh salsa at home. Apart from the jerk sauce that you have been familiar with, it's important to press tofu correctly to achieve the best form and fluidity.
This is not a difficult recipe if you follow these 5 main steps accurately. First, you have to cut tofu into equal pieces. Then, you will make the jerk tofu marinade by mixing ingredients (jerk spices, maple syrup, soy sauce, and lime juice) and cooling the mixture overnight.
With the salsa and black beans, you will do the same as the jerk tofu marinade, but it's recommended to do this step far ahead of cooking time for the flavors to settle in. After that, you can grill the tofu with a grill pan. Finally, it's time to serve the dish with cooked brown rice.
I suggest you should purchase a tofu press, or if you want to do it with available tools at home, be cautious of how much force and time you put in each time you press tofu. You can follow exactly the instructions, but it's best to make adjustments based on your own circumstances.
This is the best cooking guidance for any newbie to Jamaican jerk tofu!
Total time: 25 minutes
Rice and pigeon peas are one of the most famous and common dishes in Jamaica, if not the most popular. About the ingredients, you have to prepare basmati rice–a type of brown rice that is native to India, canned coconut milk, thyme, etc.
What are pigeon peas? It's a small, round, off-white bean that is native to Africa and can also be called Congo Peas. As a matter of fact, pigeon beans have higher starch content, require a longer cooking time, and are less sweet than normal regular peas.
Generally, you have to cook the rice, peas, and spices in coconut milk and broth until the rice is done and fluffy. Remember that the liquids have to be put in first because they are the base flavor of the dish.
Total time: 30 minutes
Have you ever tried cannellini beans and lentils in your daily meals? These two ingredients are used in many Jamaican dishes, both normal and vegetarian. However, this recipe is not an authentic version; it's based on the original Jamaican Chicken curry.
Besides all the compulsory ingredients, you can actually replace cannellini beans and lentils with chickpeas or kidney beans. The same goes for spinach, but it's recommended that you use vegetables that have a green color as a substitute.
Do you notice what's special about this dish in comparison to all the curry recipes above? Yes, it has coconut milk! The reason is to balance all the spicy seasonings, coconut milk will add a perfectly sweet and tender flavor to curry.
If you want an Ital version recipe for reference, this video is all that you need!
Savory Jamaican Side Dishes That Can Diversify Your Meals
It's not exaggerated to say that Jamaican side dishes are very diverse and easy to combine with different main dishes or even with each other. Furthermore, despite being vegetarian-friendly, I'm confident that all of the side dishes mentioned below are as authentic as possible.
Total time: 20 minutes
Mango coleslaw is a very popular dish in Jamaica. Usually, Jamaicans serve this as an appetizer, but in general, mango coleslaw is also one of the popular Caribbean side dishes.
Different from salad, coleslaw mainly consists of shredded cabbage, though you can also freely add carrots to it. What's special about this recipe is that you will make a summer salad by adding mango, cilantro, honey, lime, etc. to the original version.
First, you have to make the "sauce" of coleslaw by mixing all the liquid ingredients. After that, toss everything that is left together and let them stay in the refrigerator for a little bit of time. Finally, you can just take the bowl out and taste the dish right away!
Though Caribbean Mango Coleslaw is simple to make, it's definitely not a waste to watch this guide!
Total time: 37 minutes
Inspired by the original Jamaican dish, vegan Rasta Pasta is very easy and quick to make when you want to have a snack late at night or an instant vegetable dish at lunch. You are free to choose the type of pasta that you want, but please make sure that it's vegetarian food.
While it's not actually required, you should use vegan shrimp to create base flavors for the pasta. Besides, there are two essential elements in this dish that you may be familiar with: minced garlic and coconut milk.
Eventually, you can taste the unique flavor of this dish, a wonderful blend of Jamaican seasoning, bell peppers, pasta, etc. One fun fact about how rasta pasta got its name is because the dish was originally cooked with tagliatelle pasta which resembles Rastafarian dreadlocks.
Total time: 55 minutes (included 30 minutes of resting time)
Just like many other traditional dishes of Jamaica, Bammy was brought to the island by the immigrants. In this case, it was the Arawak people. Generally, bammy is a bread made from cassava and looks quite like a pancake. This type of bread has a mild, sweet, and nutty flavor.
Bammy can be served at any meal in a day because certainly, it's a perfect and healthy side dish. Do you know that cassava flour helps boost both your brain's functioning and energy? What's more, bammy doesn't have any saturated fat or cholesterol!
This is a very simple recipe, therefore, I don't have any major warning or reminder for you. Hence, if you want your bammy to be more tasteful, you can soak it in coconut milk!
Do you want to make the best Jamaican Bammy ever? This guidance is a must-watch!
Total time: 25 minutes
In reality, dumplings can become a side dish on their own and they will be more astonishing if being fried in vegetable oil. To create the dough for dumplings, you will need plain flour, baking powder, salt, and water. You can add sugar or cornmeal if you want.
According to this recipe, you can make about 6 to 7 pieces of flat or round dumplings, depending on your interest. When you fry the dough, it's best to turn off the heat when the dumplings just turn golden.
Total time: 30 minutes
As one of the traditional Caribbean dishes, steamed cabbage is usually added with Jamaican herbs and seasonings. But do you know why local people prefer steaming to boiling cabbage? Because it will help refrain the freshness and nutrients of the vegetable.
Besides cabbage, you need to prepare quite a lot of ingredients for the dish, including thyme, coconut oil, black pepper, allspice, etc. Normally, the original Jamaican dish has Bonnet pepper, but you can get rid of it if you want.
You are struggling with the classic Jamaican Steamed Cabbage dish? This video will save you the trouble!
Total time: 45 minutes
In my opinion, Jamaican callaloo is probably the most well-known vegetable dish in the island country. Similar to many other traditional specialties, this dish has the main ingredient, callaloo, introduced to the Caribbean by West Africans during the triangular slave trade period.
Basically, callaloo can refer to not only one but actually some indigenous Caribbean leaf vegetables such as taro, dasheen, Xanthosoma, or amaranth. Therefore, you can actually choose more than one type of leaves from the list to cook this recipe.
Before cooking, you have to strip off the inedible parts of the callaloo and rinse the veggie with clean water. After that, soak it in cold water. Additionally, you need to prepare a large frying pan to steam the callaloo with various herbs and spices.
Don't Skip These Must-Try Jamaican Soups!
Soups play important roles in Jamaican cuisine because Jamaicans usually eat soups at breakfast, but they can become a side dish or appetizers, too. The three recipes below are the easiest to make. Also, they are all very green and nutritious.
Total time: 1 hour
Originally, pumpkin soup is a French dish and at a certain time, Jamaicans started applying and slightly altering the original recipe. Interestingly, the pumpkins that are used in this dish are Jamaica's indigenous green-skin native pumpkins.
However, the flesh of Jamaican pumpkin is as orange as the American one, so rest assured that you can use either of those two. In this recipe, there is a wide range of other ingredients such as nutmeg, orange juice, bay leaves, etc. to cook the pumpkins with until they are tender.
I have your back! So don't worry, just watch this guide and cook Jamaican Pumpkin Soup!
Total time: 1 hour
Generally, the ancient vegetable soup dates back to the 5th century, and the Romans are believed to be the first people to have come up with the recipe. Nowadays, each country and each continent has its own native style to cook this dish.
Do you wonder what's special about the Jamaican version? It contains a lot of local spices such as ginger, tamari, or thyme and vegetables like tomatoes, potatoes, onions, etc. Besides, baking soda plays a very important role since it helps neutralize all of the acidity in the dish.
Total time: 1 hour 15 minutes
Though it's different from the original dish due to the lack of meat, you can still enjoy an almost 100% authentic red peas soup thanks to this recipe. Scientifically, red peas can help control the sugar level in the blood, help lose weight since they contain fibers, and promote colon health.
There are five main steps you have to follow: soaking the beans, boiling the beans, adding vegetables plus dumplings to the pot, pouring coconut cream, and, finally, cooking everything together. When you add the vegetables, choose the right time before the heat point of the water.
These Delectable Jamaican Desserts Make Perfect!
It's time for the desserts to be served! By reading through all the recipes below, you will realize that many desserts are native to the Caribbean in general. What's more, you can also learn the original Jamaican names of a few dishes from this list.
Total time: 1 hour 45 minutes
The Jamaican sweet potato–which is also called boniato–is the main ingredient for this pudding recipe. Sweet potato has purple skin and white flesh and comes from Peru. You can mistake Jamaican sweet potatoes for yams in the U.S., so be careful!
However, in this recipe, you will use both of those two types of potatoes together with coconut milk. They create a perfect and smoothly sweet flavor. Besides, there are many Jamaican spices that will later become the topping of the pudding.
Total time: 1 hour 30 minutes
Coconut Drops are a Jamaican dessert that has coconut chunks as the main ingredient. Therefore, it has a chewy texture and can become very sweet if sugar is added.
Hence, you can rest assured that there are also spices in this recipe so they can balance out the overpowering sweetness.
While Coconut Drops are a snack/dessert, people of different ages, from children to the elderly, all enjoy this traditional dish. In general, you won't find any difficulty while making the drops but don't forget to use brown sugar to add the caramel-like flavor to the drops.
After cooking, you can present the drops on a banana leaf like how Jamaicans traditionally do. What's more, it's believed that the banana leaf can somehow add more delicious flavors and unique scents to Coconut Drops which will make them even more mouth-watering.
It's okay if you fail on the first try. Just watch this and make Jamaican Coconut Drops again!
Total time: 55 minutes
In addition to coconut drops, Jamaican Toto is a snack that you can fully enjoy the fresh coconut flavor without being disturbed by any other spices. It's believed that the slaves invented make Toto. Therefore, all the ingredients for the cake are very simple.
Traditionally, Toto is a small coconut cake. However, you can easily use a much larger quantity of ingredients to create a bigger cake. Overall, Toto has an adequately sweet flavor and you can enjoy it as a snack while waiting for the main dishes.
Total time: 30 minutes
Tamarind balls are maybe the most favorite snack for Jamaicans because you can see its presence at many places, ranging from local groceries to international airports. In fact, there are two versions of tamarind balls: the sweet and the spicy.
As you can see in the ingredient list, pepper and green seasonings are optional if you don't want to taste extraordinarily spicy desserts. In fact, this simple dish has a significant benefit for your health. It can moderate the bad cholesterol in the blood and make your heart healthier.
About the origin, the tamarind trees used to be found only in Africa. But in the 16th century, they were brought to Jamaica and the Caribbean region. What's more, tamarinds can also be used in other recipes to make jam, candies, syrups, etc.
You can have a taste of Jamaica just by making tamarind balls with this video at home!
Total time: 1 hour 25 minutes
Because the original dish is not vegetarian-friendly, this recipe is an altered version but still maintains the dense and flavorful characteristics of the Jamaican cornmeal pudding. Besides, this recipe offers you 2 ways of making the pudding: the runny method and the stove version.
Following the runny method, you don't have to cook the pudding; instead, just simply mix all the ingredients together. On the other hand, with the stove version, you cook the mixture until it becomes solid enough to eat.
After baking, you can freeze or store cornmeal pudding in the refrigerator but you have to defrost or make sure that the cake is as cool as the room's temperature before slicing it into pieces and enjoying it. You can also leave the raisin out if you think it'll ruin the overall flavor.
Total time: 2 hours 45 minutes
Jamaican Christmas cake, or Jamaican black rum cake, is not only served at Christmas but also during any holiday season or even at weddings. Despite being a sweet dessert, this cake has rum as one of the main components. Therefore you shouldn't let your children enjoy this dish.
The cake recipe is believed to originate from the plum pudding that the British colonizers brought to the Caribbean in the 18th century. About the taste, the cake doesn't really have an overpowering rum flavor but instead, a delicate vanilla taste.
This is quite a complex recipe to make, so remember to follow the instructions carefully, especially the ingredients and timing for each step. You should have an electric mixer and baking measuring tools to make sure the flavor and texture will come out perfect.
The holiday is approaching but you still haven't succeeded with Jamaican rum cake? Rest assured, this video will help you!
Total time: 1 hour 15 minutes
If you are looking for a cheese-flavored dessert, you can't skip this classic Jamaican bun and cheese. In addition, the combination of different spices and dried fruits also contributes to the outstanding flavor blend of this dish.
As you may notice, the "bun" bread resembles how sandwiches are also cut into slices to be consumed. The reason for that is this dish was inspired by the hot cross brunch of Britain. And what really makes it distinctive is the Jamaican cheese that usually accompanies the bun.
Jamaican cheese is processed cheddar cheese which has a unique salty flavor, orange color, and creamy texture. But don't be worried: by adding all the other ingredients to the mixture of the bun, you can either control or enhance the characteristics of Jamaican cheese.
Total time: 30 minutes
It will be a crime if I list out specialty desserts from Jamaica without mentioning Jamaican banana fritters. I totally save the best for last! Apparently, the dish had its origin in Western Africa and then became popular in all the African continent and the Caribbean.
The ingredients that you have to prepare are very easy to find, especially ripe bananas, sugar, and vanilla extract. However, in many cases, your banana fritters can turn out to be soggy after deep frying. The reason is that you may have used more than the recommended amount of oil.
Even though enjoying the dish right away after being fried is the best option, you can actually store the fritters in the refrigerator for up to 1 week. In addition, as a vegetarian, if you allow yourself to eat eggs, feel free to add them to the dough!
Making Jamaican Banana Fritters will become much easier with this guide.
Are You Thirsty? Here Come The Jamaican Beverages!
In every meal, beverages are the essential components that can't be lacking. Accompanied by the cultural characteristics of Jamaica, the two drinks below will satisfy you with any type and flavor of cuisine that you are enjoying.
Total time: 30 minutes
This is properly the most well-known drink whenever people mention Jamaican beverages – sorrel drink. Interestingly, the name "Sorrel" is what Jamaicans call Roselle–the plant that the drink is made from. This specialty is traditionally served at Christmas.
Therefore, the ingredients are intended to warm people's bodies in winter, including ginger, cinnamon, etc. Be aware if you're not good or allergic to alcohol because Sorrel drink contains loads of rum! However, you can still adjust the amount of rum or even exclude it completely.
Note: If you don't know how to store or deal with sorrel fruits, look it online or ask for advice from the sellers!
Watch this thorough and informative guide on how to make Jamaican Sorrel drinks.
Total time: 45 minutes ( plus 4 hours of fermentation)
Last but not least, I present you with the one and only ginger beer, the traditional soft drink of Jamaica or the Caribbean in general. In case you may be bewildered by the amount of time, it only takes about 45 minutes to prepare the dish and 4 hours for the flavors to settle in.
After you have the ginger roots, clean them with water to make sure that all the dirt comes off. In addition, remember to clean the bottles or whatever container you use for the beer to prevent the flavors from being affected.
Even though the beer has a ginger flavor, it won't be overpowering. Overall, you can taste the sweetness, tender spiciness, and citrus flavors after a few gulps of this drink. What's more, you can let your children try ginger beer because it's a non-alcoholic and carbonated drink!
Do you find the recipe for Caribbean ginger beer difficult to follow? Then take time to learn because practice makes perfect!
Let's Start Eating Vegetarian And Living Healthily By Taking Action!
Even though you may be tired from reading and remembering all the recipes, it will be a waste if you do nothing but daydream about their heavenly deliciousness. You should start with the easiest dish and gradually work your way up to other complicated recipes.
All of the selected dishes above are not only food but also contain hundreds of years of culture, religion, and spirit. Therefore, it's a once-in-a-lifetime experience to enjoy Jamaican (or Caribbean in general) cuisine.
Whether you're a vegetarian or not, the most important thing to consider is that you can gain fresh energy, healthy nutrients, and tremendous liveliness by applying all 30 recipes in this article. Thus, don't hesitate to share this with everyone so they can change their lives like you!
Nutrition Facts
6 servings per container
---
Amount Per ServingCalories64
% Daily Value *
Total Fat 0.4g

0

%
Sodium 66mg

3

%
Potassium 314mg

9

%
Total Carbohydrate 14.9g

5

%

Dietary Fiber 3.3g

12

%
Sugars 7.5g

Protein 2.8g

4

%
---
* The % Daily Value tells you how much a nutrient in a serving of food contributes to a daily diet. 2,000 calories a day is used for general nutrition advice.