How many Jamaican drinks can you tell? If you're like most people, the answer will only revolve around some common boozes. That is a shame because this country boasts other beverages that are diverse, flavorful, and capable of shaking mundanity off your meals or parties.
But that can be a good thing. Imagine what your friends and family members will feel like when you treat them to unfamiliar drinks that turn out to be something they can't live without. Keep on reading to find out what wonders this Caribbean country has to share.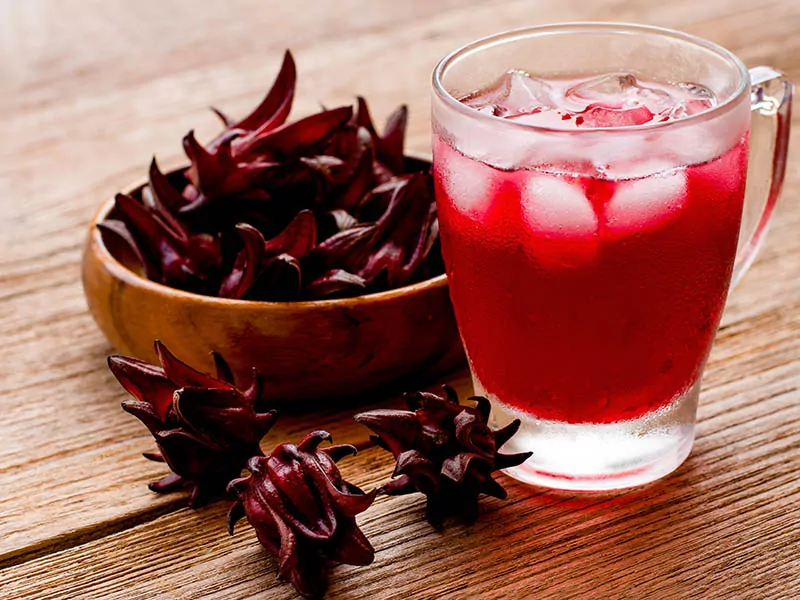 Forget Your Trouble With These Amazing Jamaican Alcoholic Drinks
If I have to describe Jamaican boozes in one word, "rum" will be sufficient. Besides drinking it neat, you can turn it into spectacular alcoholic mixed beverages that stand for the best of the Caribbean.
1. Rum
Alcoholic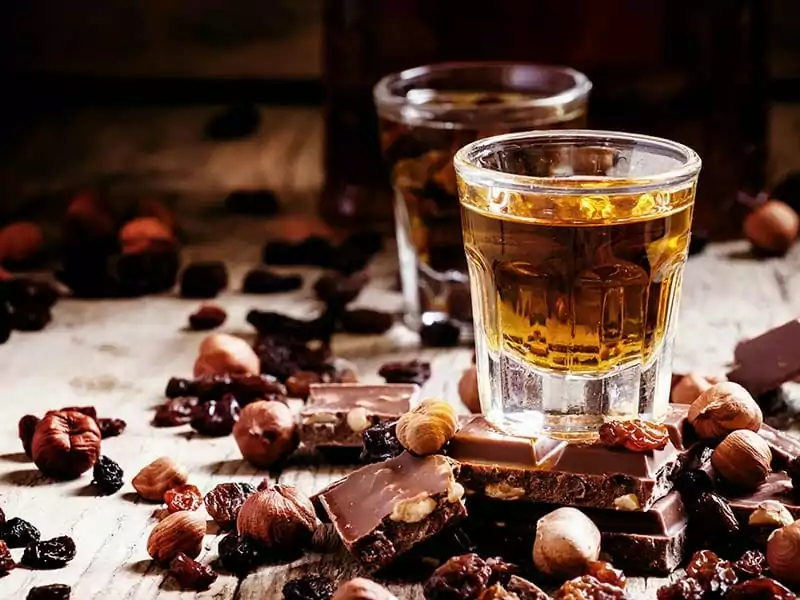 How do you describe the notorious pirates of the Caribbean? If you think of them as a bunch of avid rum lovers, you're not alone. There are various Caribbean rum varieties, but the Jamaican stands out with its full-bodied flavor that few can rival.
The foundation of rum-making in Jamaica started in 1494 when Christopher Columbus introduced sugar cane to the island. Although the birthplace of rum was far-flung Barbados, it was in mid-17th century Jamaica that the rum industry began to thrive.
Early rum production went hand in hand with slavery since enslaved people were the force that kept the business running. The slavery abolishment temporarily reduced Jamaican rum output. Today, the drink is once again available in huge quantities and in as many as 70 countries.
Jamaican rum is renowned for having a robust and fruity flavor accompanied by an intense aroma some people call "funk" or "hogo". Those merits possibly come from Jamaica's unique lime water that sustains its sugar cane as well as the use of natural yeast in rum fermentation.
Jamaican rum is pretty strong since its alcohol content can range from 40% to over 75%. It mostly comes in light colors, though darker, golden types aren't hard to come by. You can drink it neat or mix it with other beverages to create superb cocktails.
Besides normal rum, there is a much stronger variety called overproof rum. It refers to any rum that contains more than 50 % alcohol by volume. People use this type of rum when they crave a stronger-flavored cocktail, especially when creating tropical drinks with citrus juices and syrups.
Where to find: all liquor stores, bars, and restaurants in Jamaica.
Find out how Jamaican rum varies from one bar to another here.
2. Red Stripe Beer
Alcoholic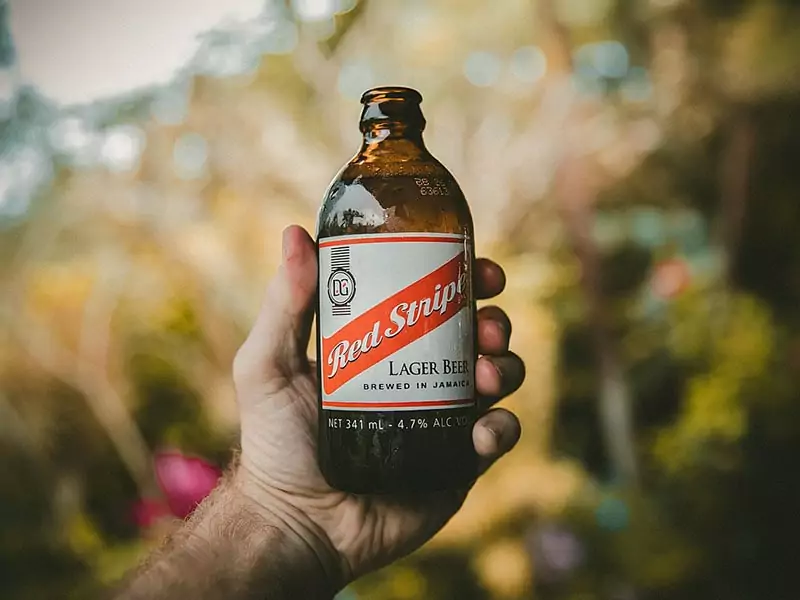 Jamaica's beer scene is incomplete without this brand. First introduced in 1928, Red Stripe Beer was initially an American product before several British investors bought the recipe and moved the production to Jamaica. Now, it is one of the most influential beer brands in the country.
This type of beer is essentially a lager made from malt, hop, water, and cassava starch. With a low alcohol content of just 4.7%, Red Stripe Beer allows you to enjoy its grainy sweetness and an aroma reminiscent of apples. Its soft, lingering aftertaste is another welcoming pleasure.
Where to find: pubs, bars, and liquor stores in Jamaica.
3. Dragon Stout
Alcoholic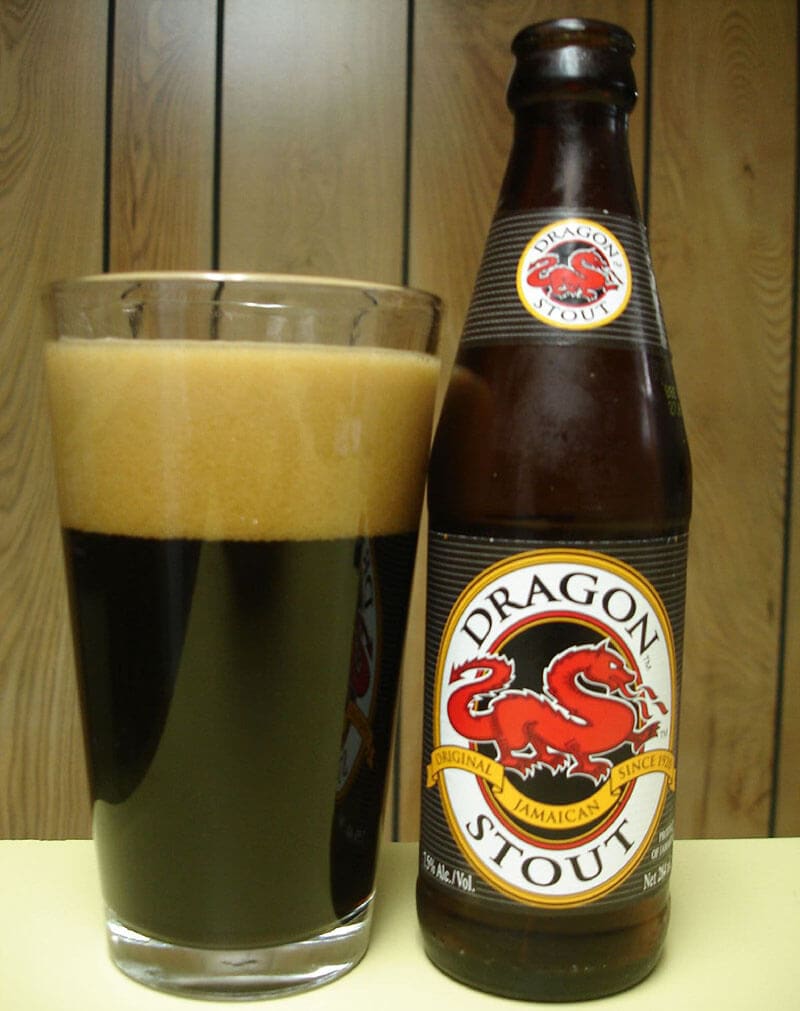 If Red Stripe Beer is too pure and innocent to satisfy your adult needs, say hello to its darker version. Dragon Stout contains almost twice as much alcohol as the more mainstream Red Stripe variety. It is less popular and exclusively produced in Jamaica.
Dragon Stout has a pronounced creamy flavor mingled with a mild sweetness. It derives its dusky brown color from chocolate malt and roasted barley. Dragon Stout is among the Caribbean oldest beer brands, first appearing in the early 20th century.
Where to find: Various Jamaican pubs, restaurants, and liquor stores have this beer for sale.
Alcoholic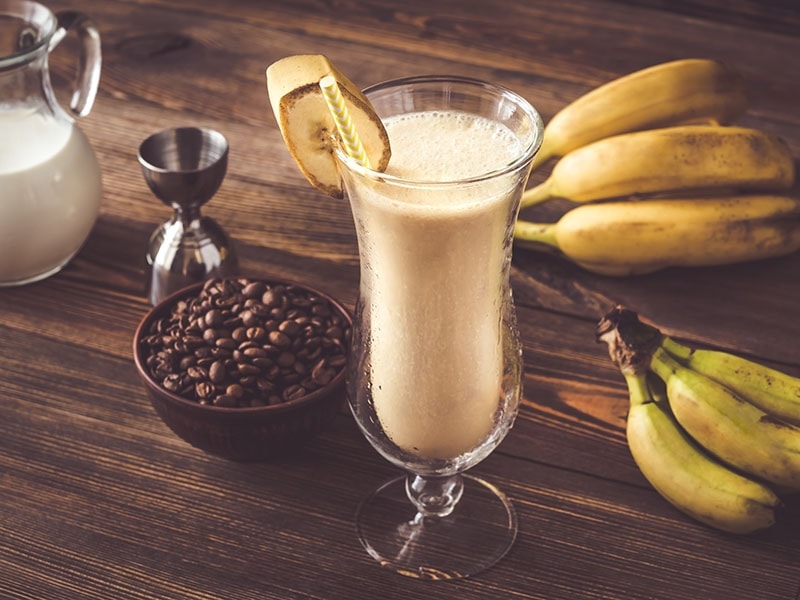 Dirty Banana is one of the best Caribbean drinks you can find in Jamaica. No one knows for sure how or when it got that name which sounds vulgar and, at the same time, quite sensuous. One thing is certain: there is nothing dirty about this sweet, silky, and decadent frozen cocktail delight
This milkshake-like drink will make tasty Jamaican desserts even more irresistible. It consists of white rum, coffee liqueur, banana-flavored liqueur, and heavy cream. To make this drink, you need to puree everything with one ripe banana in a food processor or blender.
Where to find: in any pub, bar, and restaurant on the island.
Alcoholic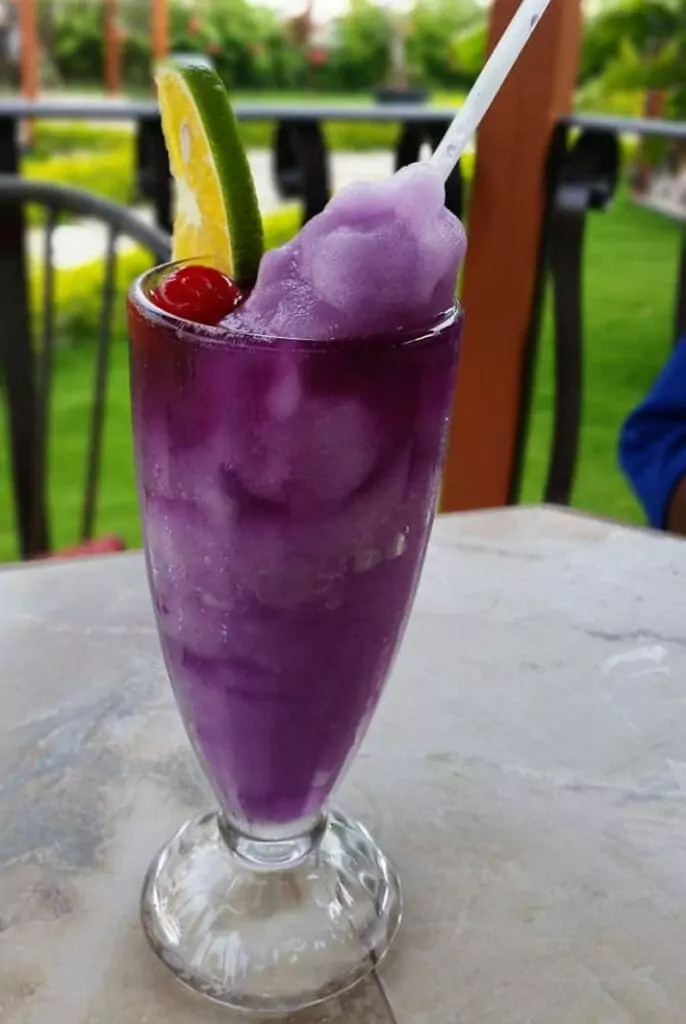 The term "purple rain" usually conveys a negative meaning, from a doomed desire to the end of the world (from Prince's legendary song). But in terms of Caribbean cocktails, the name means a recipe that will help your Instagram or Tik Tok profile shine as it never does before.
This eye-catching cocktail requires vodka, lime juice, blue Curacao, and grenadine syrup. The last two ingredients are the most important ones to create the namesake hue of the drink. But you can add other stuff to adjust the flavor and color of Purple Rain.
Anyway, a cocktail shaker will help you mix all the ingredients more smoothly. When all is done, post your glorious purple drink online, preferably against the white background of a stunning Caribbean beach, and watch your friends become green with envy.
Where to find: in pubs and bars throughout Jamaica. You can also make this cocktail at home.
Alcoholic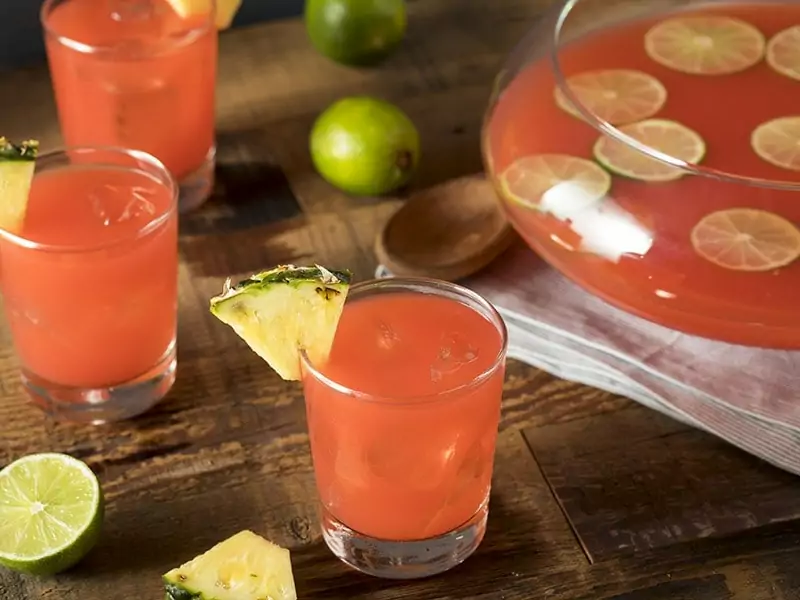 Rum punch is a common sight in the Caribbean. But since Jamaican rum is of exceptional quality, you can reasonably expect rum punch in Jamaica to be out of this world. However, beware that it could be intoxicating, so you should check carefully before tasting it.
Classic Jamaican rum punch follows this recipe: "one of sour, two of sweet, three of strong, four of weak". That means the drink should have one part lime juice, two parts sweetener (like fruit juices), three parts rum, and four parts water or ice.
The most common choices for the "two of sweet" part are pineapple juice and orange juice. For the rum, the coconut-flavored one will produce a more savory taste. For the drink to have its rosy appearance, a small amount of sweet grenadine is necessary.
This cocktail is a flavor-packed dynamite of fruity sweetness and fiery alcohol ready to explode into a rich mouth-feel in your mouth. When you enjoy this sensation, remember to thank the shipmen for the British East India Company who came up with it in the 17th century.
Where to find: in every pub, bar, and restaurant across Jamaica. The more international tourists around, the more likely you can run into it.
Why don't you make a Jamaican rum punch for Christmas? Check out how to do it here.
Alcoholic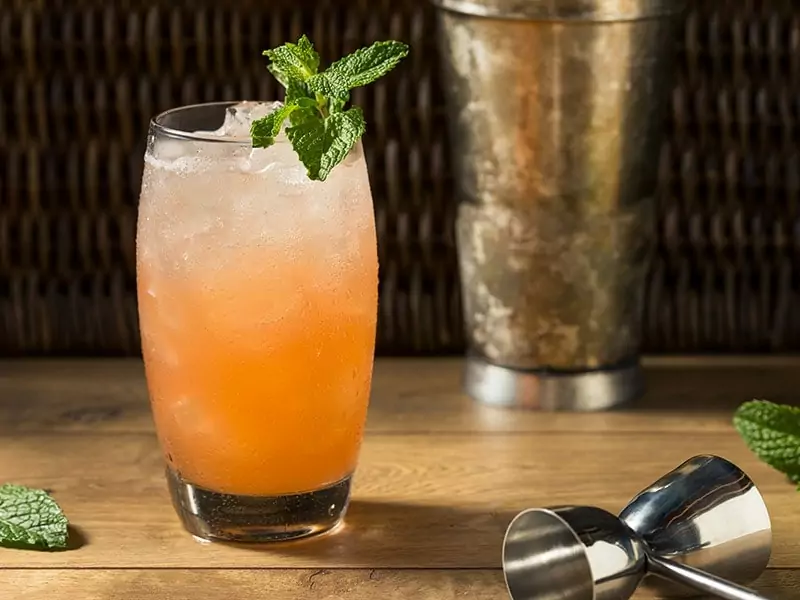 This cocktail is a worthwhile choice if you're looking for new ways to mix together Jamaican rum, lime juice, and sugar syrup. While the official story credits a hotel in South Carolina with creating this cocktail, many people believe that it actually originated in Jamaica.
In 1878, a London published the recipe for Planter's Punch in the form of a poem concluding with declaring it a Jamaican drink. During the latter half of the 20th century and the early 21th century, the cocktail was exceptionally popular in America as part of the Tiki culture.
The Planter's Punch can be seen as an offshoot of Jamaican rum punch in many ways. It is colorful, thirst-quenching, and packed with passionate tropical flavors.
Where to find: in pubs, bars, and drink stands throughout Jamaica.
Alcoholic
This drink belongs to the crawler cocktail (or porch crawlers) family, which consists of beer, liquor, and a sweet drink. Behind the fruity and sugary delight that it offers is a high alcohol content that induces an ecstatic feeling.
The main ingredients of this cocktail are white rum, melon liqueur, and pineapple juice. But an additional dash of ruby grenadine will mix with the bright yellow color of the juice to create a light pink shade for the cocktail. Make sure you enjoy the drink with plenty of ice.
Where to find: Most Jamaican pubs and bars have the Jamaican crawler cocktail for sale.
Alcoholic
How to increase the deliciousness of Jamaican appetizers? The answer is to pair them with an appetizing Jamaican drink, like rum creme. It is the Caribbean and Latin American answer to the world-renowned Irish cream liqueurs like Baileys.
This creamy delight includes Jamaican rum, heavy cream, coffee, coconut extract, among other things. Amber (or golden) rum should be used as it imparts a darker appearance and more potent flavor to the drink. Nevertheless, white rum can work just fine.
All those things should be well blended in a food processor before refrigerating for at least an hour. When you're hungry for it, shake the stuff rigorously before enjoying it with a lot of ice. Its nutty and ecstasy-giving sensation needs some time to savor fully.
Where to find: in pubs, bars, and restaurants from one end of Jamaica to the other.
Alcoholic
In your opinion, what is the most impressive Jamaican holiday drink? I think it is the Caribbean Delight, which local inhabitants usually sip on Good Friday and Easter. It's got a catchy name, an attractive appearance, and a fruity, passionate flavor that will give you a good kick.
To whip up this cocktail, you're going to need coconut rum, vanilla schnapps, vodka, and lime soda. Just combine everything in a highball glass and serve neat. Have one gulp, and you will feel like being teleported to the balmy, coconut palm-lined white beaches of the Caribbean.
Where to find: This cocktail should be on the menu of many Jamaican bars, pubs, and restaurants.
Alcoholic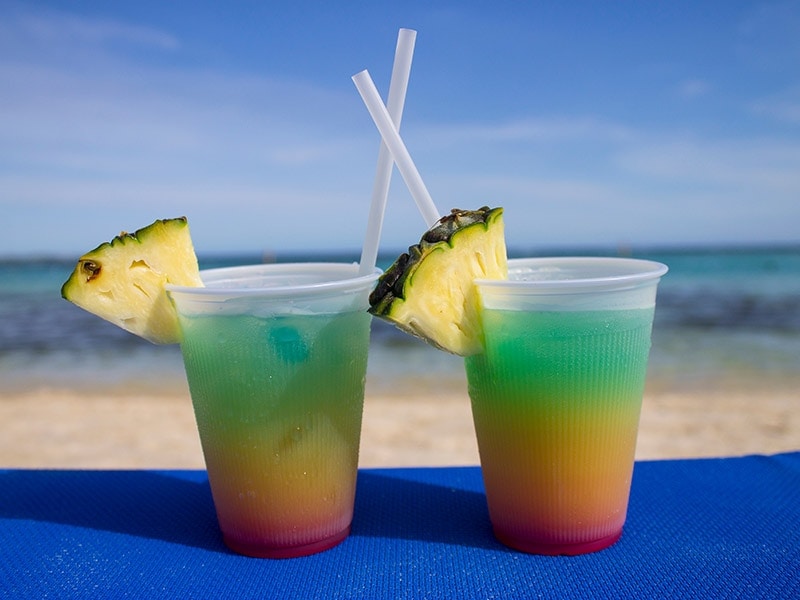 Have you ever listened to reggae? This calm and slow-tempo genre of music originated in Jamaica, with most of the credit going to the legendary musician Bob Marley. In honor of his talent, a delicious and colorful Jamaican cocktail was created in his name in the 1960s.
The visually appealing appearance of this drink comes from three layers of different colors. At the bottom is the red one with dark rum, pureed strawberry, and grenadine, while the middle yellow layer comes with gold rum and pineapple.
The top green layer consists of white rum, melon liqueur, and white juice. This tricolor look is no accident: they are the colors of Rastafarianism, a religious and social movement starting from Jamaica. Rastafarianism strongly influences reggae and Bob Marley, hence the connection.
Where to find: pubs, bars, and restaurants in Jamaica.
Bring the colorful Bob Marley cocktail to your home by following this easy walkthrough.
Alcoholic
Besides rum and Red Stripe Beer, Guinness is one of the most well-liked liquors in Jamaica. Locals have many ways to make this iconic Irish drink suit the taste, one of which is to turn it into a delightful cocktail with milk and spices.
This recipe works well with any type of Guinness, but the most prevalent variety you can find in Jamaica is Guinness Foreign Extra Stout. All you have to do is puree it with milk, vanilla, and ground cinnamon/ nutmeg. Chill the stuff carefully before enjoying its creamy deliciousness.
Where to find: in pubs and bars in Jamaica. You can also whip it up at home.
Alcoholic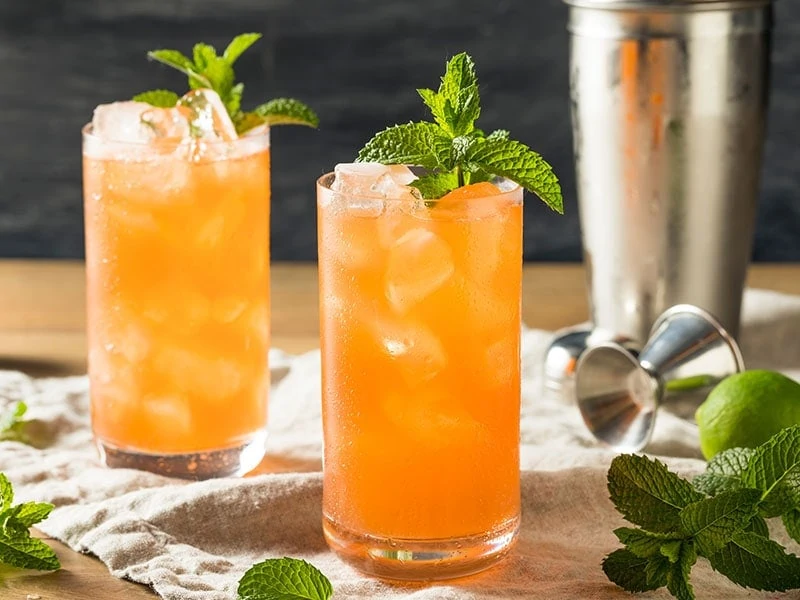 Are you scared by the name of this cocktail? According to a famous anecdote, Donn Beach, the founder of Tiki culture, once concocted this drink to help a whacked-out customer go through a business meeting. That customer later complained that the cocktail made him feel like a zombie.
And so this bizarre name got stuck and became popular. People have never grown tired of the drink despite its nasty association and incredibly high alcohol content. If you're looking for new experiences, make sure to try the Zombie in Jamaica.
In order for Jamaican Zombie to achieve its undead-worthy notoriety, you have to use rum (both light and dark), lime juice, pineapple juice, and grenadine. A few drops of bitters will diversify the flavor even more. Blend all of them together, add some ice, and see what the drink will do to you.
Where to find: in pubs, bars, and restaurants all over Jamaica.
Alcoholic
To improve the scrumptiousness of Jamaican foods, I recommend pairing them with Old Jamaican. It boasts a deep and complex sweetness with light notes of roasted sugarcane thanks to being made from rum aged between 12 and 18 years.
The preparation of this cocktail is quite ordinary. All you have to do is mix aged rum with lime juice, bitters, cane syrup, plus some ice cubes. Be picky about the type of rum you use because it will decide whether your Old Jamaican is superior to other mixed beverages or not.
Where to find: You can head to pubs, bars, or drink stalls in Jamaica to try this cocktail.
15. Tia Maria
Alcoholic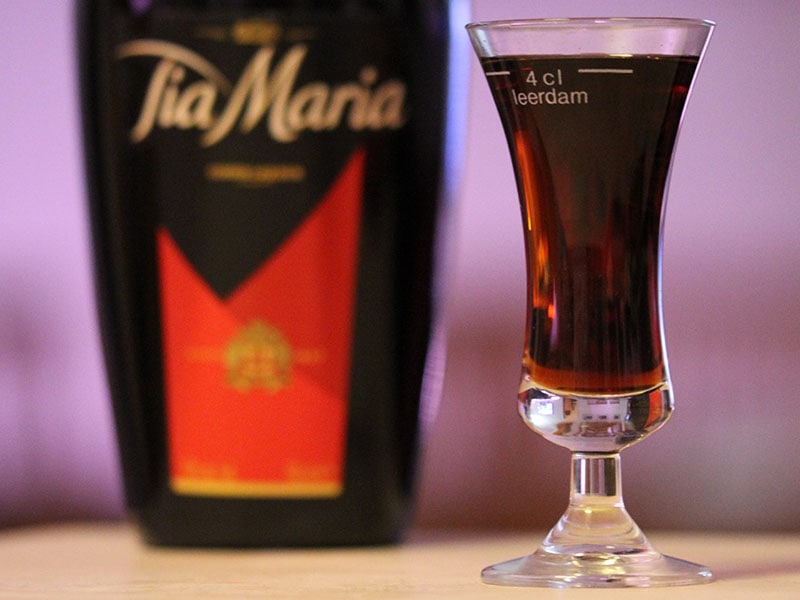 Tia Maria is a coffee liqueur that does full justice to Jamaica's fantastic Blue Mountain coffee and strong-flavored rum. While this liqueur is now produced in Italy, not Jamaica, it can't be complete without coffee beans and rum from half the world away.
A tear-jerking, and probably untrue, origin story says that when the first owner of the recipe was a Spanish girl, she was saved from mortal danger by a female servant named Maria. So she later called the drink "Tia Maria"; "tia" is an affection-expressing Spanish word meaning "aunt".
There are a few ways to serve Tia Maria: with ice, milk, or coffee. However, the most Jamaican way is to use it in the famous cocktail Dirty Banana. The bittersweet taste of the liqueur, mingled with hints of citrus, will give you the most excellent Dirty Banana you can find out there.
Where to find: in liquor stores and restaurants in Jamaica.
These Tasty Jamaican Non-Alcoholic Drinks Will Stagger You
From drinks with juicy Jamaican fruits harvested from green forests to delicacies from the blue sea, you can find them all in this section. However, please note that Jamaicans sometimes add rum or other spirits to these drinks, turning them into alcoholic beverages.
16. Malta
Non-alcoholic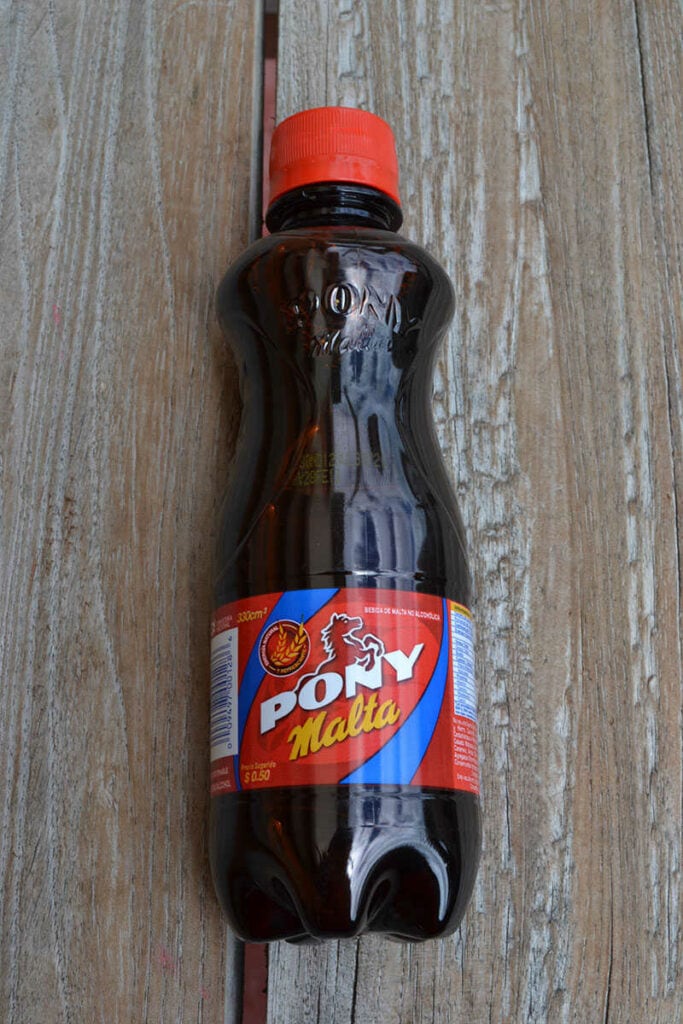 This drink is made from the same ingredients as beer, like barley, hops, and water. It even smells and looks like beer. But it isn't beer or alcohol at all. It's Malta, a well-known, lightly carbonated soft drink popular in the Caribbean. This beverage boasts a rich sweetness of molasses.
Many people describe it as an unfermented beer. Ironically, it allegedly originated in the world's beer superpower, Germany, and achieved its current form in the 1960s. Today, Malta mixed with condensed milk is a prevalent combo in many countries, not least Jamaica.
Where to find: drink stalls, cafes, and supermarkets in Jamaica.
17. Blue Mountain Coffee
Non-alcoholic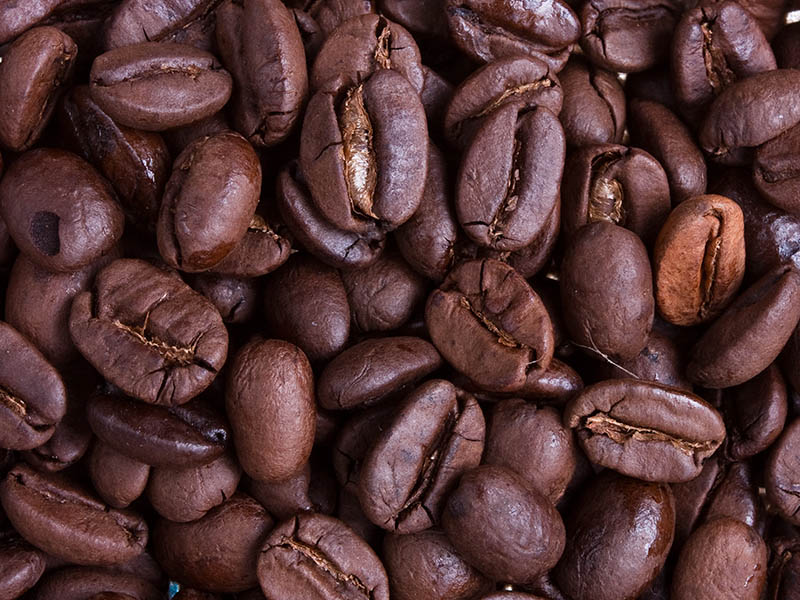 If you're after a fantastic souvenir for your Jamaican tripe, Blue Mountain coffee is an excellent choice. It is one of the most delicious and expensive coffees in the world. You won't smile at its price tag, but your face will undoubtedly beam at the mouth-watering sensation it can offer.
The Blue Mountains region rises to more than 2,000 meters and is blessed with a misty, high-rainfall climate. It is also one of the most fertile regions in the world to grow coffee. Its fruits have a floral fragrance and a rich sweetness mingled with bright acidity.
Another excellent feature of Blue Mountain coffee is its complete lack of bitterness. A cup of this creamy coffee is an ideal way to start your day. But you must be quick when shopping for it: Jamaican only accounts for a tiny 0.1% of the world's coffee production.
Where to find: supermarkets, coffeehouses, and cafes in Jamaica. You can also buy it from stores right in the Blue Mountains area.
Let's dive into the secrets that make Blue Mountain Coffee a treasured specialty.
Alcoholic or non-alcoholic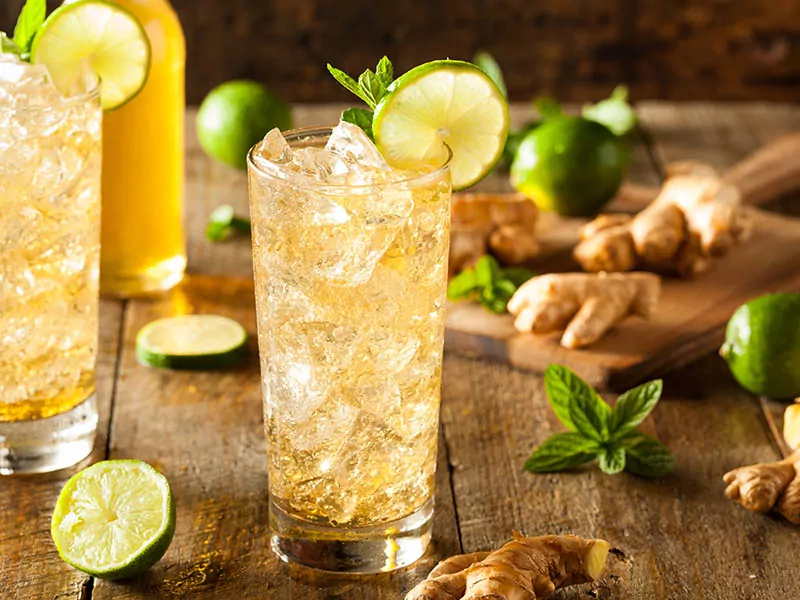 While the name says beer, this is actually a soft drink. It is a sweet and fragrant spice-infused beverage that you can allow the little ones to enjoy to their heart's content. Ginger beer can give many health benefits, such as soothing your stomach or improving heart health.
This fermented drink first appeared in England around the mid-18th century. It was much more alcoholic back then. When Jamaica became a British colony, ginger beer spread to the island and became a mainstay of the local drink menu.
Like in other countries, the alcohol content of the Jamaican version eventually got toned down. However, it isn't strange for locals to add rum to the drink for a more vigorous flavor. So you should ask the vendor about the ingredients carefully before buying the drink for your children.
Where to find: in supermarkets, cafes, drink stalls, and restaurants in Jamaica.
Non-alcoholic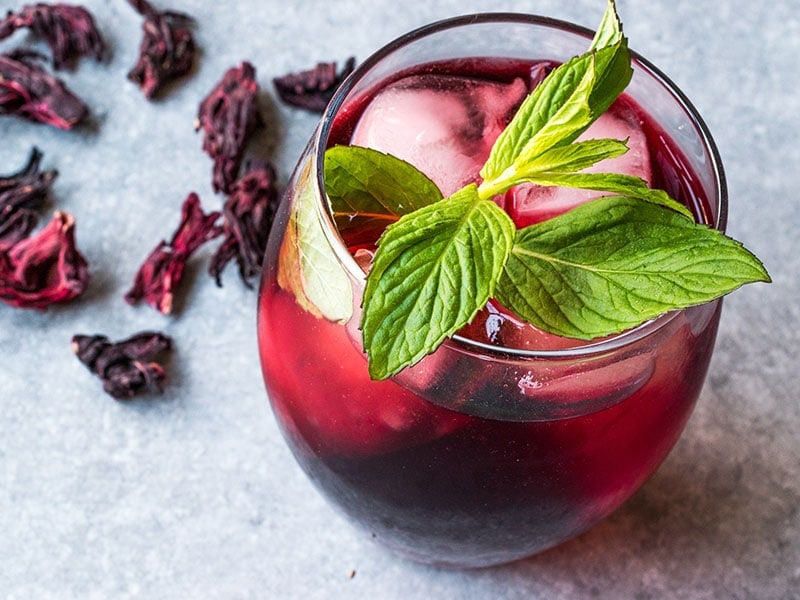 White tea, black tea, or green tea are all typical stuff. Behold the mesmerizing magenta beauty of sorrel tea, a palatable drink that lush Jamaican vegetation is proud to offer! The drink is also a popular beverage in Africa as well as parts of Latin America.
This tea is brewed from the dried buds of the hibiscus flower native to many regions of the world. Other countries have their discrete recipes, but the Jamaican people tend to use sugar, ginger, spices, and lime soda. Plus some ice cubes, the tea can banish the tropical heat away.
In its fresh form, the hibiscus flower is odorless. But its essence creates an extremely citrusy, tangy, and thirst-quenching drink. The name "sorrel" itself stems from an Old French word meaning "sour. It is a must-have drink during holidays, such as Christmas, on the island.
Where to find: cafes, restaurants, and drink stalls in Jamaica.
Ready yourself for the Jamaican-style preparation of sorrel tea.
20. Bush Tea
Non-alcoholic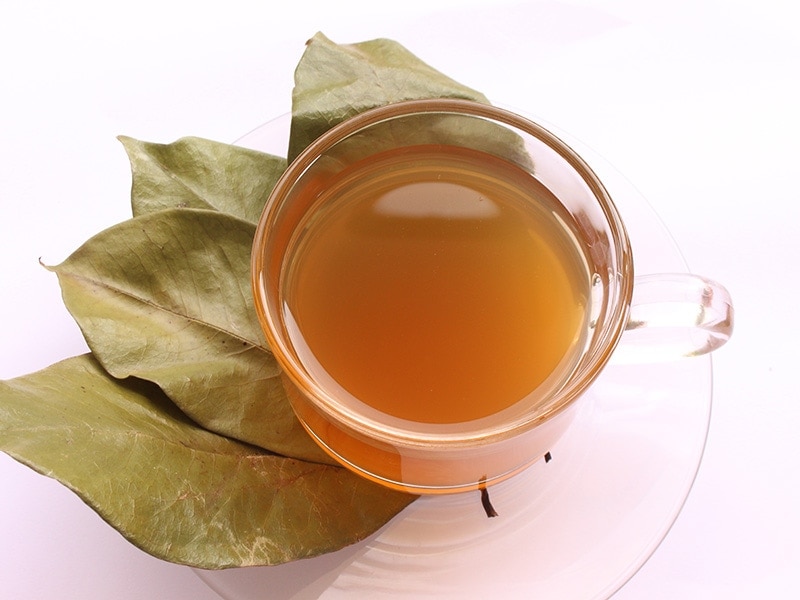 If you think that sorrel tea is the only tea you can enjoy in Jamaica, guess again. Made from local plants, Jamaican bush tea is loaded with health benefits and is adequately powerful to give you great alcohol-free pleasures.
There are five principal types of bush tea in Jamaica: peppermint, fever grass (or lemongrass), dandelion, strawberry-like soursop leaf, and incredibly bitter cerasee. The last two are particularly identifiable with the Caribbean region in general and Jamaica in particular.
Each type of bush tea has their own merit. For example soursop leaf tea is effective against insomnia, while cerasee can calm an upsetting stomach. However, like other medicinal plants, you shouldn't drink too much bush tea over a long time to prevent undesirable side effects.
Where to find: You can buy packaged bush tea from Jamaican stores and supermarkets.
Alcoholic or non-alcoholic
A drink with peanuts, what a fantastic idea! If you don't think so, simply try the Jamaican specialty peanut punch. There are multiple variations of this drink throughout the Caribbean region, but you will find the one in Jamaica quite special.
The making of this protein-packed delight involves blending roasted peanuts with coconut milk and water until smooth. Then, the mixture will be strained and stirred in with condensed milk, vanilla, and nutmeg. The resulting rich, creamy, and sweet drink is ready to serve.
In Jamaica, peanut punch is a popular item at roadside drink stalls or restaurants. But locals tend to add white rum or beer to their goods. If you don't like alcohol, make sure to get your preference across to the vendor.
Since peanut punch is full of energy and protein, a lot of people think that it has aphrodisiacal qualities, meaning that it can arouse sexual desire. That is up to debate, but this peanut-based drink can certainly provide you with a great deal of healthy fats, vitamins, and minerals.
Where to find: cafes, restaurants, and drink stalls all over Jamaica.
22. Ting
Non-alcoholic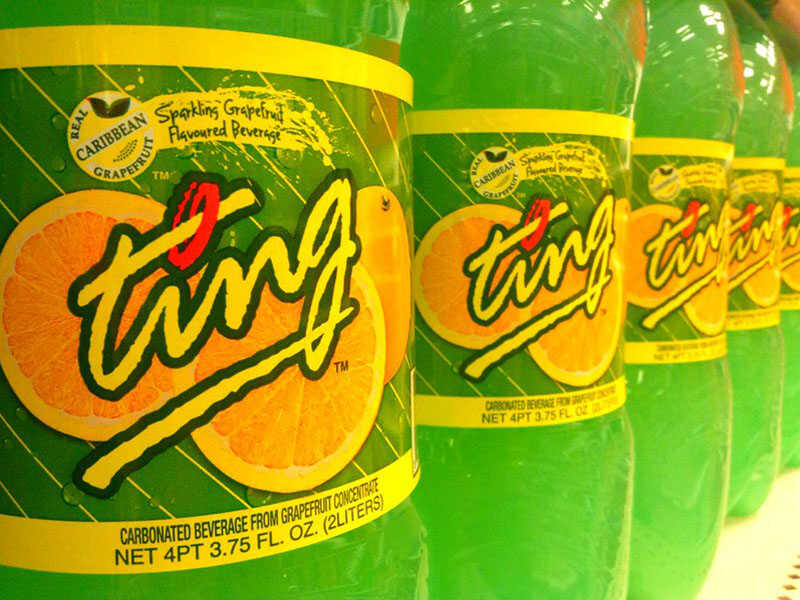 Here is a versatile drink that can accompany any Jamaican recipe. Ting is a well-known carbonated beverage brand that was established in 1976. Its secret to success is its bittersweet Jamaican grapefruit juice that imparts an addictive and refreshing quality to the drink.
Ting is a ubiquitous sight in Jamaica as well as other Caribbean countries. Just think of it as the region's Coca-Cola or, more precisely, a more varied version of Coca-Cola. Besides, it is the key ingredient for a Jamaican cocktail Ting 'n' Sting, which also includes fresh lime and rum.
Where to find: every grocery store, drink stall, and restaurant all over Jamaica.
Alcoholic or non-alcoholic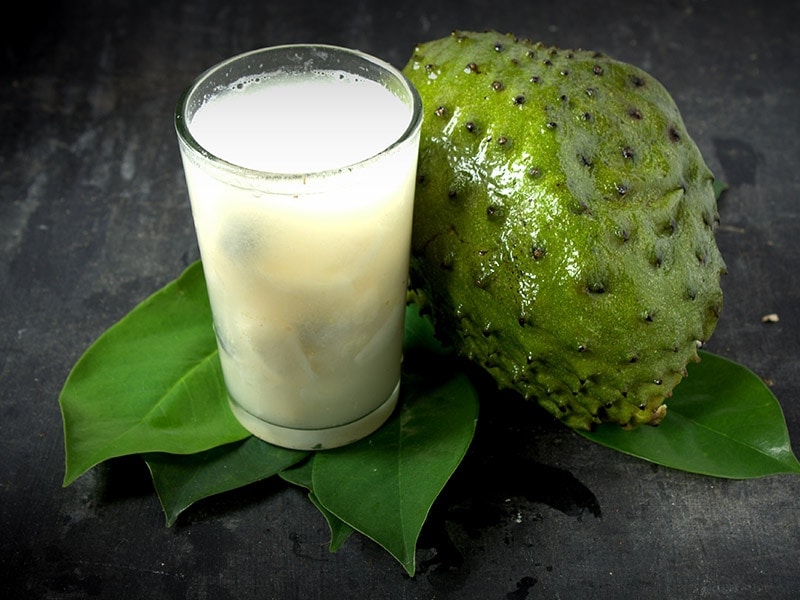 As a tropical country, Jamaica boasts a treasure trove of flavorful, vitamin-packed fruits that can make your mouth water non-stop. One such example is soursop. While its name says sour, its taste is a sweet mix of pineapple and strawberry with some citrusy notes.
A Jamaican way to take full advantage of this tasty fruit is to blend it into a thick juice. You can mix it with lime juice for a sharp-tasting drink or sweeten it with condensed milk, vanilla, and nutmeg. Either way, serve it chilled and delight your taste buds with its sweet, creamy flavor.
Like other Jamaican drinks, soursop juice can be strengthened with white rum. However, the incredible sensation that a cup of cold soursop juice can give you in the sweltering heat is enough to get you drunk with euphoria.
Where to find: in cafes, restaurants, and drink stalls in many parts of Jamaica.
Check out how to turn the spiky soursop into a soft and silky juice here.
Alcoholic or non-alcoholic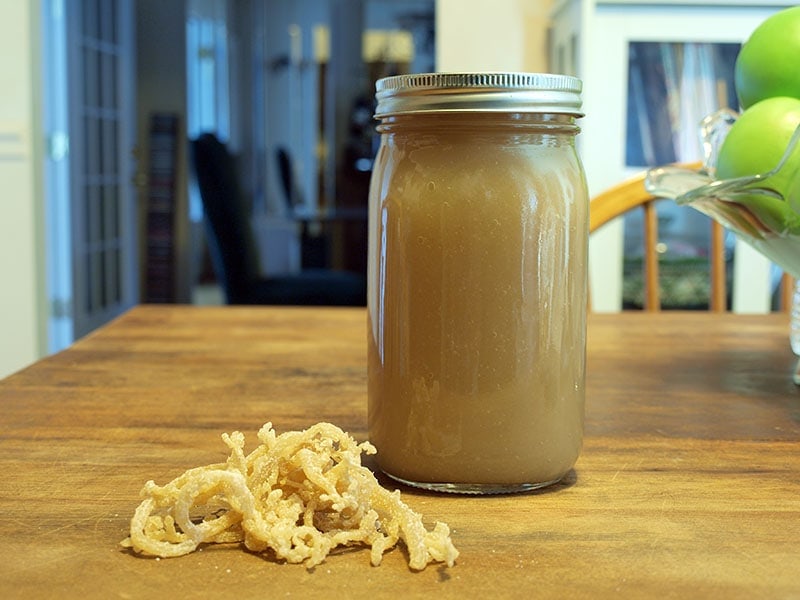 Wait, can you use moss as a drink? In Jamaica, the answer is a big yes. Irish moss, also known as sea moss, is a healthy plant-based source of omega-3 fatty acids, vitamins, and minerals. The moss can lower blood pressure, cholesterol level, heart disease risks, among other things.
Irish moss gets its name because the people of Ireland have a long history of processing the algae for food and beverage. But in Jamaica, the moss is also a native species that grows a lot along the rocky parts. Therefore, it is natural to use the moss to make this cocktail.
The making of this nutrient-loaded drink starts with cleansing the moss and soaking it overnight. The next step is to puree the tender pulp into a thick gel that you have to mix almond milk, vanilla, spices, and maple syrup. Finally, blend this mixture until fully smooth.
You can add alcohol such as rum or whiskey to the drink for a stronger flavor, but that isn't really necessary. Jamaican Irish moss possesses a creamy texture and a rich, sweet flavor mingled with light sea saltiness. If it has carrageenan (seaweed extract), it will be even more delicious.
Where to find: cafes, restaurants, and roadside drink stalls all over Jamaica.
25. Bag Juice
Non-alcoholic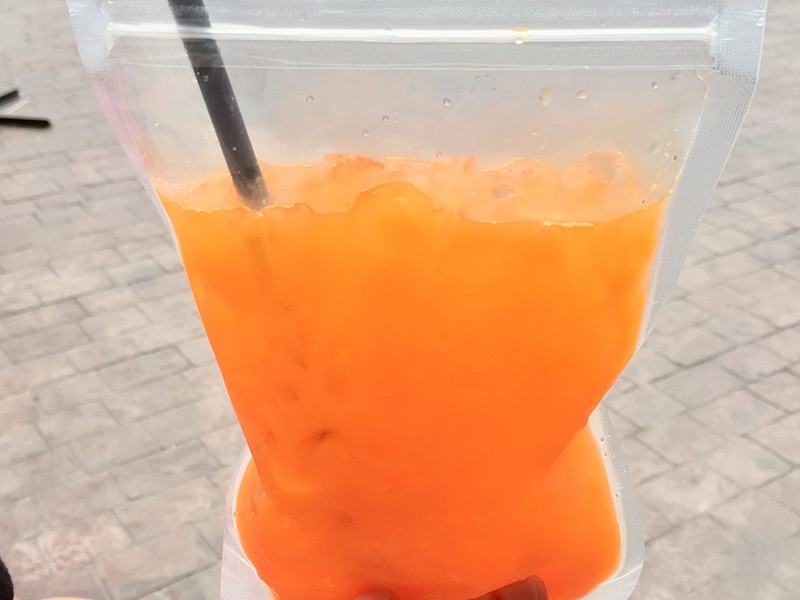 Strolling through the Jamaican's busy streets, you are likely to run into street vendors selling colorful bags with fruit-flavored juice. It is a prevalent Jamaican street food item that you should try at least once to experience life on this island at its sweetest.
It's unclear when this drink first appeared, but I'm sure it has pleased many generations of Jamaican children ever since. Bag juice consists mainly of water and fruity syrup, a sweet combination that comes in many colors.
Many foodies may object to the overly syrupy taste of this drink. But iced bag juice is a highly affordable and thirst-quenching drink. Plenty of Jamaicans can't wait to cut off the plastic corner and sip the liquid to cool off.
Where to find: street vendors and drink stalls throughout Jamaica.
These 3 Jamaican Drink Recipes Are Great For Your Kitchen
Enjoying a refreshing Jamaican beverage under the shade of a green coconut palm by the murmuring sea is a lovely delight. But concocting a Jamaican drink and savoring it in the comfort of your home is no less pleasant. Scroll down to see how to do it.
Making Dirty Banana
This "dirty" pleasure is just a few minutes away. To complete the cocktail, you can save a slice of banana with its skin on for garnish. While you can keep it in the glass of your choice, a hurricane glass will showcase the color of the cocktail better.
Ingredients: rum, coffee liqueur, banana liqueur, a fresh banana, heavy cream, milk, ice, and nutmeg (optional)
Step 1: Put all the ingredients in a blender, except for the coffee liqueur, and puree until smooth.
Step 2: Pour the mix into a glass and add coffee liqueur.
Step 3: Garnish with a banana slice and serve.
Learn to whip up Dirty Banana like a Jamaican with this tutorial.
Making Jamaican Ginger Beer
Surprise your underage children by telling them that they can drink beer before giving them this stuff! You can store your fresh batch of beer in the refrigerator for 7 to 10 days.
Ingredients: peeled fresh ginger, cinnamon sticks, cloves, lime, vanilla extract, maple syrup, and brown rice (optional).
Step 1: Grate or chop up the ginger and blend with water.
Step 2: In a large pot, boil the ginger, cloves, cinnamon stick, and rice in water. Simmer for 5 minutes.
Step 3: Cover the pot and put it in the refrigerator for several hours. If you have the time, let the beer sit for a week to generate a better flavor.
Step 4: Strain off the juice with a cheesecloth or mesh strainer. Add maple syrup and vanilla before serving.
Making Sorrel Tea
Drinking sorrel tea is an essential part of Christmas in Jamaica. You can adopt that delicious practice, too, with this recipe. Even better, you can incorporate the tea into your daily diet for extra health benefits.
Ingredients: dried hibiscus flowers, ginger slices, cinnamon sticks, cloves, grated orange zest, lemon juice, sugar, mint leaves (optional).
Step 1: In a large saucepan, boil the hibiscus flowers, ginger, cinnamon, cloves, and orange zest over medium heat for 5 minutes. Take it off the stove.
Step 2: Stir in with lemon juice and cover the saucepan. Leave it at room temperature for 1 to 2 days.
Step 3: Strain the mixture and add sugar. Serve over ice and garnish with mint leaves.
Love Jamaican Drinks? Join The Club!
Have you got enough Jamaican beverages to expand your drink menu? Whether you're into spicy alcoholic drinks or have a thing for vitamin-rich juices, you will find your wish come true with help from a fairy godmother called Jamaica.
You can parody the good old Caribbean pirates by gulping rum and other related beverages. Or you can concoct some healthy fruit juices that will help you outlive any daredevil buccaneer. If you can visit Jamaica, a bag of premier local coffee will be a worthwhile investment.
Don't forget to give this post a like and share it with your friends. Feel free to leave behind a comment detailing your thoughts or stories worth telling. Thank you very much and see you soon.