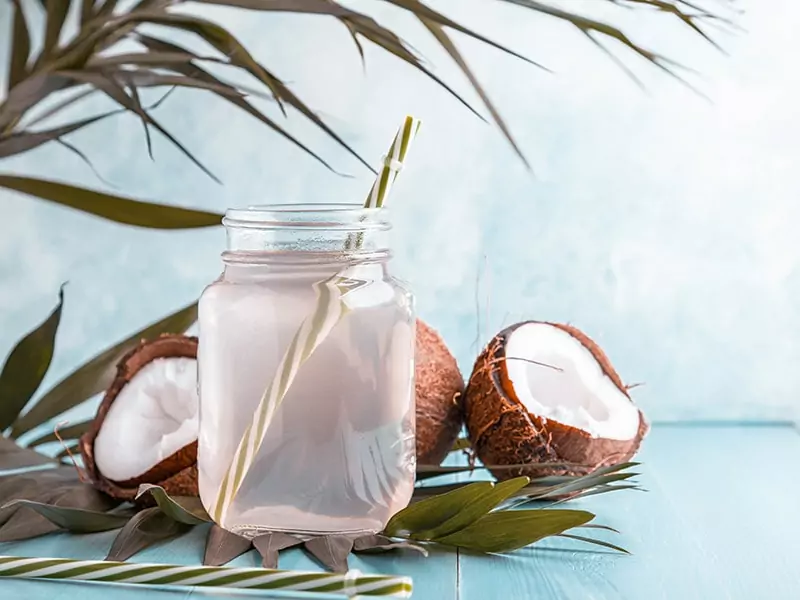 Why is coconut water pink, and what does this color mean? Your coconut water was transparent yesterday, but today it has turned pink! What's going on?
Don't panic! This normal chemical phenomenon occurs in coconut water and many other fruits. This post will detail the process and reasons why your coconut water turns pink.
In addition, I will also give you advice on whether to continue drinking pink coconut water and what to do if you want to avoid the color of coconut water. Find out with me now!
What Is Coconut Water?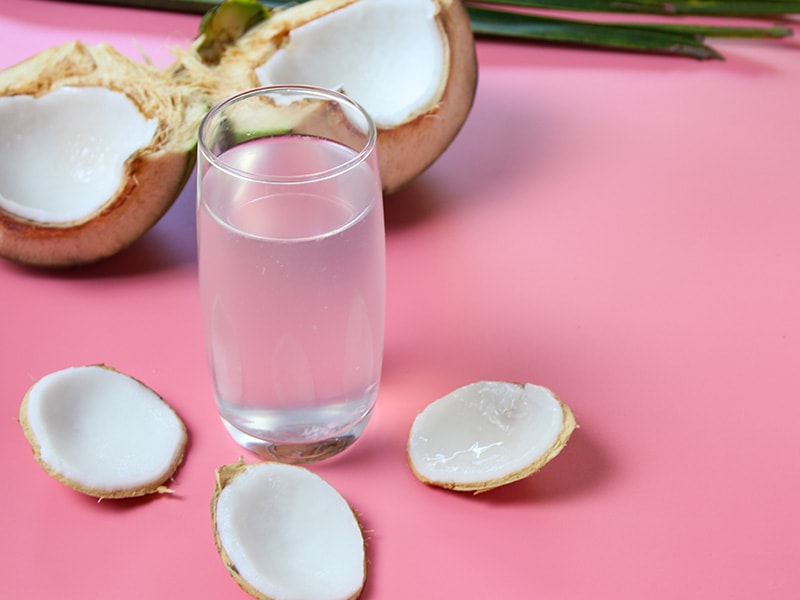 Do you like to drink coconut water? So familiar and popular, coconut water has always been appreciated and won the hearts of many people. Not only pure and natural quality, but coconut also has a sweet and fresh taste. Therefore, coconut water always brings a refreshing feeling.
Coconut water is a wonderful drink from Mother Earth produced naturally inside the coconut, without preservatives, flavors, or colors. Coconut fruit also contains more nutrients than milk and other beverages.
Besides, they also bring many health benefits such as reducing the risk of dehydration, beneficial for the heart and blood pressure (1), nourishing the skin, strengthening the immune system, etc.
Besides regular coconut water, there's also a pressed version. A distinct feature of pressed coconut water is that it contains not only the liquid part but the entire coconut fruit. Therefore, it's slightly different in flavor, texture, and nutritional content.
On hot summer days or after exercising, a cup of cool coconut water will make you feel highly refreshed as you have been given an abundant source of energy and minerals (2).
These health benefits might remind you of an electrolyte drink called Pedialyte. However, the most significant factor that sets coconut water and Pedialyte apart is that one is a gift from nature, while the other is manufactured in a lab.
Unless you need a speedy and effective way to rehydrate your body, mostly due to illness or after vigorous exercise, organic coconut water will beat a Pedialyte bottle any time.
Discover the reasons why you should include coconut water in your diet!
How Is Water Produced Inside The Coconut?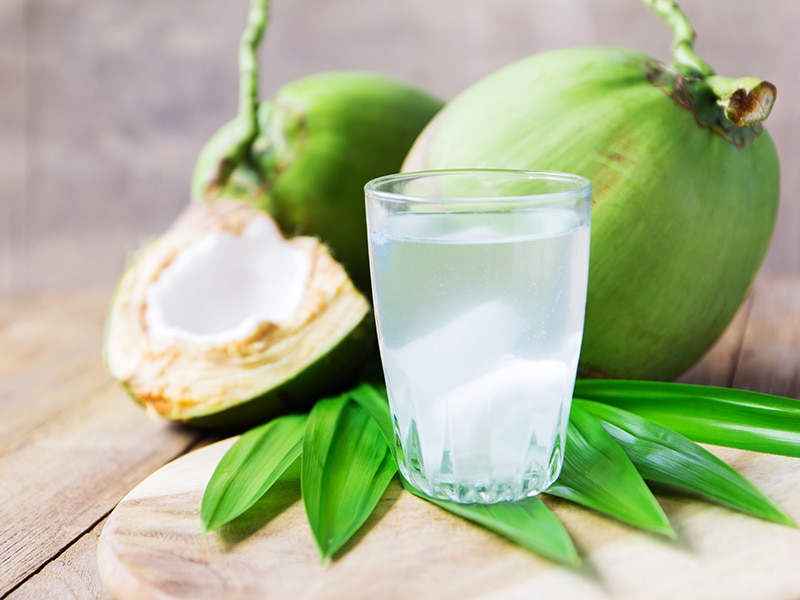 Drinking coconut water has been refreshing for many years, but not everyone knows why this part of water can form inside such a thick and tight coconut.
So have you ever asked where the water in coconut comes from? In fact, coconut tree roots absorb moisture from the soil through osmosis. This water is transported to different parts of the coconut tree, and a small amount of that moisture goes to the coconut fruit.
The liquid that is transported to the coconut is called the endosperm. This endosperm is the food and also the nutrient for the coconut. Gradually the endosperm turns to a creamy tissue state, which is deposited on the inner surface of the coconut.
Over time, this creamy tissue hardens into coconut flesh, leaving the remaining liquid endosperm to form water (3). This is how water forms inside a coconut – a totally natural process.
If you're a fan of coconut products, you certainly have heard of coconut milk, a so-called "cousin" of coconut water. Despite what people might think, coconut water and coconut milk are far from similar, as the former is made by processing coconut meat.
Like any other fruit, drink, and food, coconut water will taste the best and preserve its absolute nutritional value when we consume it right from the fruit. If left for a long time, some biological reactions will cause coconut water to change. One of those reactions is turning pink.
To preserve coconut water as long as possible, keeping its natural appearance, safety and flavor, you must understand the cause, process, and how the pinking process happens. From there, you can learn how to choose coconut water and store it properly.
Come up with the simple truth of coconut water – a nature gift!
Why Is Coconut Water Pink?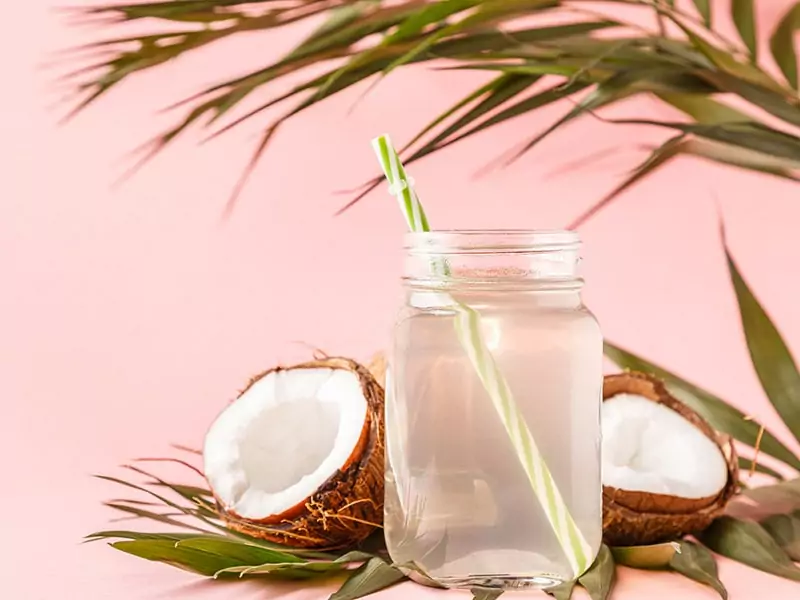 First, all coconut water is transparent white. The pink color of fresh coconut water is caused by the enzyme polyphenol oxidase (PPO) in coconut water. You can imagine this process like mangoes, apples, and avocados turning brown.
Simply put, when the PPO enzyme level is high enough, the coconut water will gradually turn clear pink. Conversely, if the level of the enzyme PPO is low, coconut water will still retain its clear white color.
PPO Level According To Coconut Age
PPO enzyme is abundant in 7-month-old coconut, but 9-10-month-old coconut does not appear pink. Discover the rate of PPO reaction in coconut from 7 to 9 months old in the below chart:
| Reaction Time/Coconut Age | 7 months old | 8 months old | 9 months old |
| --- | --- | --- | --- |
| 60 minutes | 0.002 | 0.001 | 0.001 |
| 120 minutes | 0 | -0.001 | -0.001 |
| 180 minutes | 0.006 | 0.005 | 0 |
| 240 minutes | 0.004 | -0.002 | 0 |
| 300 minutes | 0.004 | 0.002 | 0 |
| 360 minutes | 0.004 | 0 | 0.002 |
| Average | 0.003333 | 0.000833 | 0.000333 |
PPO Level According To Coconut Varieties
PPO enzyme content and reaction rate also vary for different coconut varieties. For example, the Tacunan coconut variety has the lowest PPO enzyme content, while Aromatic Green Dwarf is the highest. See table below:
| Variety of Coconut | Polyphenol Oxidase Reaction Rate |
| --- | --- |
| Aromatic Green Dwarf | 0.011 |
| Coconiño (Green Dwarf) | 0.005 |
| Malayan Yellow Dwarf | 0.0048 |
| Malayan Red Dwarf | 0.0022 |
| Laguna Tall | 0.0018 |
| Pilipog Green Dwarf | 0.0018 |
| Tacunan Green Dwarf | 0.0012 |
PPO Level According To The Environment Factor
The chemical reaction that creates the pink color of coconut water occurs depending on the content of the PPO enzyme, temperature, pH, inhibitor, activator, oxidant, and oxygen.
When exposed to oxygen and sunlight, coconut water will oxidize, turning pink if enough PPO is present. It takes time for the oxidation reaction to turn the coconut water to a clear pink color, usually about 3 to 4 hours when the coconut water is exposed to oxygen.
The pH from 5.0 to 7.0 and the temperature from 25 to 35 C are the most active PPO enzyme conditions. That is why coconut water often turns pink during processing and exposure to light and oxygen. The PPO enzyme is only stable at low temperatures.
Why Are Some Coconut Water Never Pink?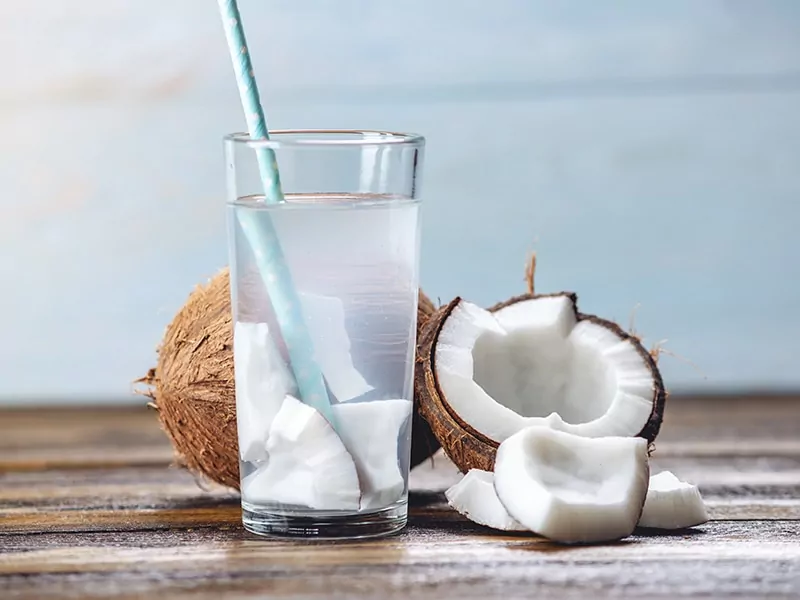 Suppose your coconut water does not turn pink and remains completely clear white. In that case, there are many possible explanations.
The white coconut water can be entirely fresh or has been treated with various methods to maintain its clarity, such as adding chemicals or high heat.
Furthermore, there are some coconuts that remain transparent because not all of them undergo oxidation time. Oxidation occurs when exposed to heat or air, and your coconut water has never experienced this.
In addition, the level of PPO – the cause of the pink color – is different among coconut varieties and coconut ages. Mature coconuts often have less chance of turning pink than young coconuts (green coconuts).
So, if your coconut is mature (more than 9-10 months old) or belongs to a coconut variety with naturally low PPO levels regardless of age, its water probably won't turn pink.
All the above also means coconut water can be natural, whether it is white or pink. When you drink fresh coconut water directly from the coconut, it will definitely have a clear white color.
However, most will be pink if you buy bottled coconut because it has gone through production, shipping, and sorting, which requires some time before it reaches you.
But when you buy coconut water that is not fresh and not pink, then it is highly probable that the manufacturer has used some chemicals to make the coconut water clear again by removing the polyphenols. This proves that the product is not such purity.
Let's see some coconut water reviews to find out which is the best one!
Should You Drink Pink Coconut Water?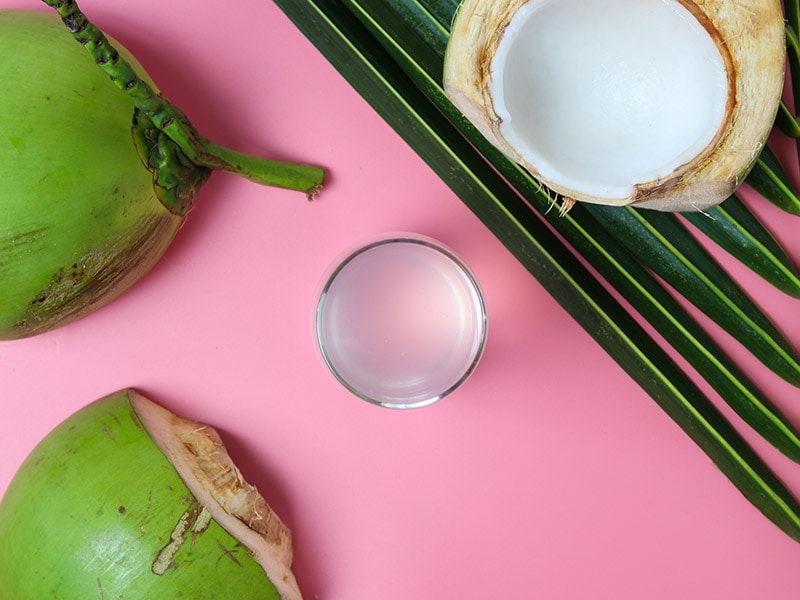 There's nothing wrong with pink coconut water. The taste of your coconut water will mostly be the same; it simply changes color because of oxidation. The longer it stands on the shelf, the shadier the pink color will become.
Pink coconut water even has a higher potassium content and a better taste due to the increased sugar. If you are not so into the plain taste and want to earn more minerals, just drink coconut water when it turns pink!
It would be best if you remembered that coconut water must be as fresh as possible in taste, nutrition, and safety. Over-processing causes commercial coconut water to lose its natural flavor.
That means pink coconut water is sometimes better for you! It can even have a more robust flavor. However, that doesn't mean you should drink old coconut water when it has become too pink! It is best to drink it as soon as it turns light pink within a few days.
Furthermore, not all pink coconut water is natural! Some manufacturers may take advantage of the natural pink color to make customers think their coconut water is excellent and eye-catching. That means they intentionally add a chemical pink color to coconut water!
Therefore, it is best to read the coconut water ingredient list before buying carefully. Authentic coconut water should have only one ingredient, coconut water! Any natural flavoring, natural coloring added, preservatives should not be present. And best of all, drink coconut water straight from the coconut!
Effective Ways To Prevent Coconut Water From Turning Pink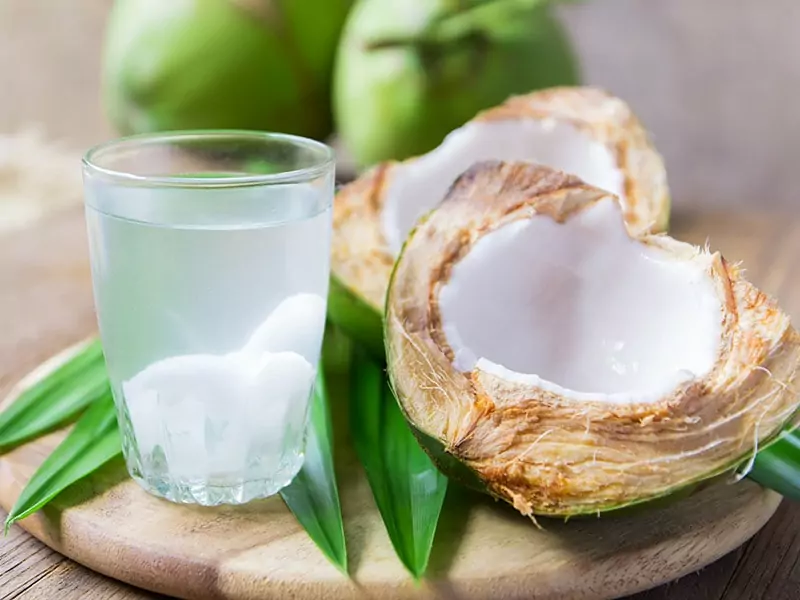 To overcome the pink coloration of coconut water, the manufacturer can add 0.1% ascorbic acid or citric acid to coconut water to inhibit the enzyme activity or use synthetic substances such as soluble or insoluble Polyvinylpolypyrrolidone to inhibit the action of the PPO enzyme.
However, these substances must then be filtered out by intensive filtration methods. This is the standard method that the Food and Agriculture Organization (FAO) has used to produce coconut water.
When at home, you hardly apply this method. So, the simplest things you can do to prevent it from turning pink are:
Refrigerate Your Coconut Water
Put your coconut water in the fridge as soon as possible. It's best as soon as you get the water out of the coconut if you don't drink it right away. Of course, you have to make sure your coconut water is freshly picked from the coconut.
Add Lemon Juice
Another way to prevent coconut water from turning pink is to add some lemon juice or other forms of vitamin C. Vitamin C will act as an antioxidant to prevent the oxidation process in coconut water which turns it pink.
Mix Various Coconut Water
As mentioned above, mature coconut water will no longer turn pink. Therefore, you can try mixing many types of coconut water with different ages. They will help neutralize the PPO level and prevent the discoloration it produces.
Note: You cannot turn pink coconut water back to clear white unless you use some chemicals (of course, they are not good for your health). If it's already pink, you can still drink it, but remember to use it quickly.
Best Ways To Preserve Coconut Water As Long As Possible
There are quite a few methods to preserve coconut water, and each will bring a different effect. The effectiveness of preserving coconut water is shown in the time it can be maintained, the quality and color of the coconut water after the storage time.
How Long Does Coconut Water Remain Fresh?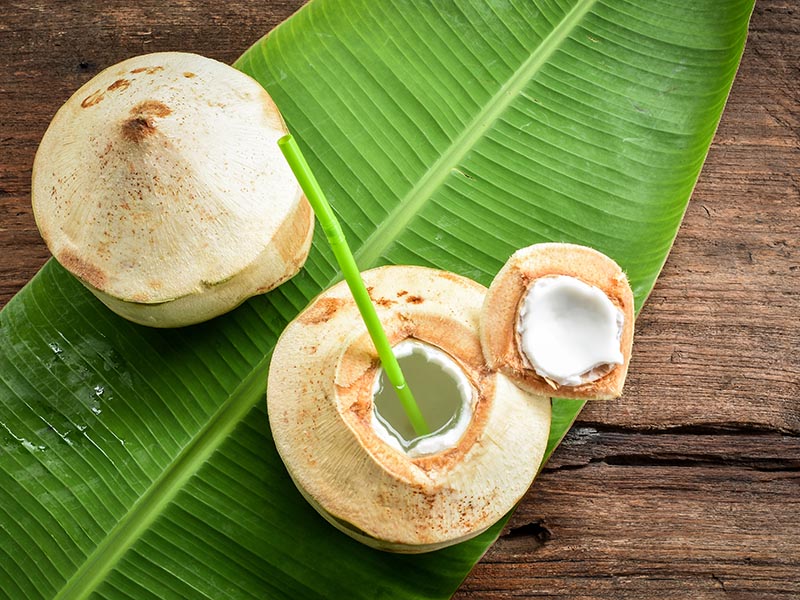 How long coconut water can be preserved is a question many people wonder because if you don't know it, accidentally drinking it will be harmful to your health. Compared to most other fruits, the coconut is the longest-lasting fruit.
Suppose you leave the coconut whole, thanks to the relatively thick shell and hard, fibrous layer inside. In that case, it will be difficult for any bacteria or insects to penetrate and damage the coconut water inside.
However, if you cut the coconut out and only take the coconut water inside, it will spoil quickly. Therefore, if you do not drink immediately, you should leave the coconut whole.
Depending on the different preservation methods, the time to get coconut water without spoiling is also different. Typically, a natural coconut that has just been picked from the tree will be kept for about 3-5 days in a normal environment.
However, if you know how to store it properly, you can keep coconut water for up to 2-3 weeks, or 4-6 weeks, and even 6 months excess the best before date in case of canned coconut.
How To Preserve Coconut Water Suitably?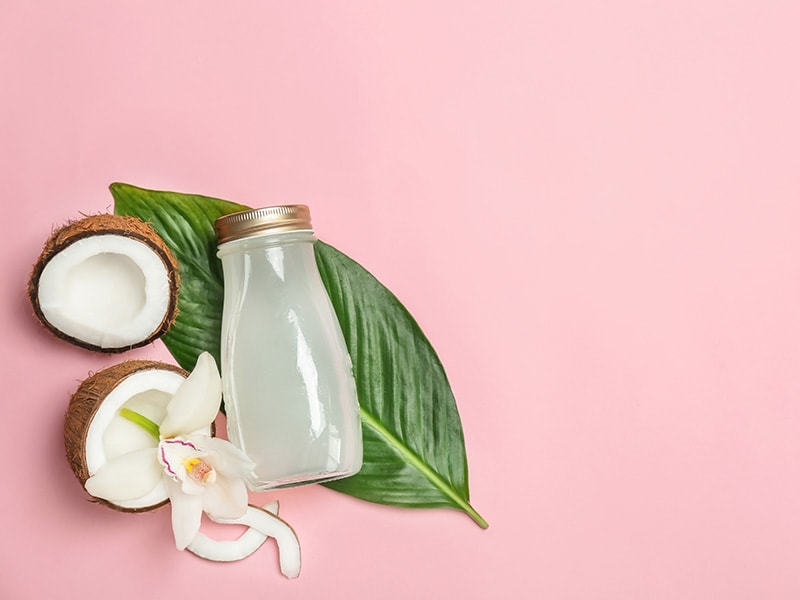 In order to keep coconut water for the longest time and still be delicious and preserve its clear color and nutrients, right here, I will tell you some tips to preserve coconut water.
| Coconut Water Shelf-life | At Room Temperature | In The Fridge | Deep Cooling | Contain Sodium Metabisulfite |
| --- | --- | --- | --- | --- |
| Unopened | 1 week | 2 - 3 weeks | 9 - 12 months | 6 months after best before date |
| Opened | Not Suitable | 3 - 5 days | Not Suitable | 4 - 6 weeks |
Store At Room Temperature
If coconut water is kept tight in the coconut, you can store it at room temperature for 7 days. But if you want to enjoy fresh coconut water, you should drink coconut water right after peeling the coconut.
Store In The Fridge
Storing unopened coconut water in the refrigerator can help you preserve its delicious pure taste for about 2-3 weeks at a temperature of 35 – 40 degrees Fahrenheit. Once you open it, coconut water can remain good for 3 – 5 days in the fridge.
When you put the coconut in the refrigerator, peel off a bit of the hard outer skin so that the coconut water inside the fruit can reach the cold temperature.
Preservation By Deep Cooling Method
With the development of technology, today's coconut water is also preserved by deep cooling at -0.5 degrees Fahrenheit or colder at -30 to -40 degrees Fahrenheit. This way of preserving coconut water can last much longer, up to 9 – 12 months, but the taste also changes.
The preservation method by deep cooling is quite expensive, so coconut water will not be cheap. In addition, this method is not easy to do at home.
Preservation With Sodium Metabisulfite
In addition, coconut water can be kept for 4-6 weeks at a temperature of 40 degrees Fahrenheit for canned coconut water and is often added with some additives such as metabisulfite chemicals.
Sodium Metabisulfite is injected directly into the coconut shell and then wrapped with a protective film outside so that this chemical helps whiten coconut water. Besides, it can also prevent microorganisms from entering coconut water.
Learn how to store your coconuts to ensure they stay fresh as long as possible!
How To Know When Coconut Water Goes Bad?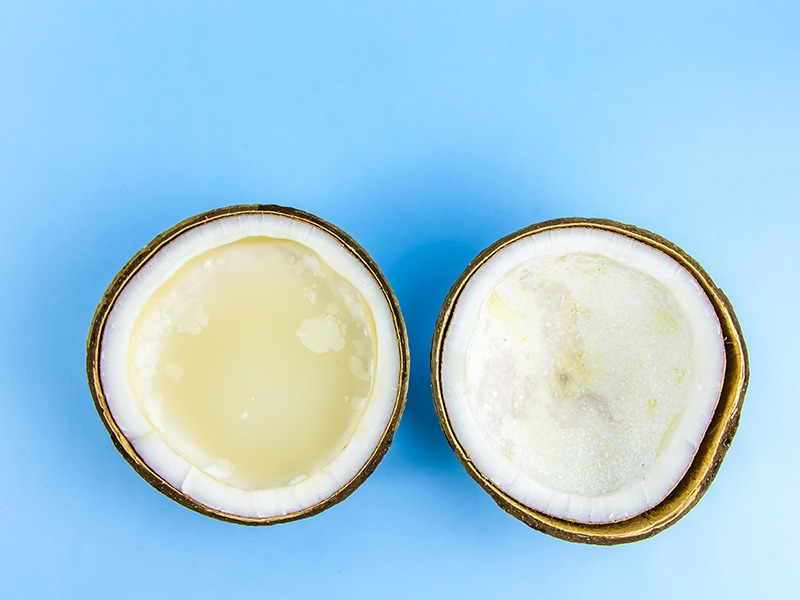 Natural fresh coconut water has a refreshing sweet taste with some nutty hints, in addition to the pleasantly floral aroma. Once you notice the change in its color, consistency, taste, or smell, there is a high risk of going bad.
The Color
It can already be spoiled if your coconut water turns into a too dark or too bright red/pink/brown color. Turning too dark means that the coconut water has been oxidized too long and too intensely, leading to a rancid taste and is not suitable for health.
The Smell
Normal coconut water will have a very light nutty, and floral scent. In case you notice an overpowering bad smell coming from your cup of coconut water, that is not normal, and most likely, it has produced harmful bacteria.
The Consistency
Fresh coconut water has a thin texture like plain water. When the liquid consistency shows signs of being thicker or vicious, there's a high chance you won't be able to drink it anymore.
Carbonation Signs
You can get rid of the coconut water straight away if there is a sign of carbonation. That means white or yellow foam appears in the coconut water.
Taste
If you do not detect the above signs, chances are your coconut water is still acceptable. However, if you are still unsure, you can try it.
If you find a robust sour taste like vinegar (remember distinguishing it from the natural sour taste of young coconut water), it is best to say goodbye to coconut water.
Can Bad Coconut Water Make You Sick?
A few sips of spoiled coconut water probably won't cause you health problems right away since the harmful bacteria now is not strong enough. However, the best advice for you is to get rid of any bad coconut water.
First reason, the taste of spoiled coconut water is extremely terrible. Second, it can cause long-term effects if you keep consuming it, such as abdominal pain and diarrhea. In the case of not storing opened coconut in the refrigerator, you should definitely throw it away.
Something To Note When Drinking Coconut Water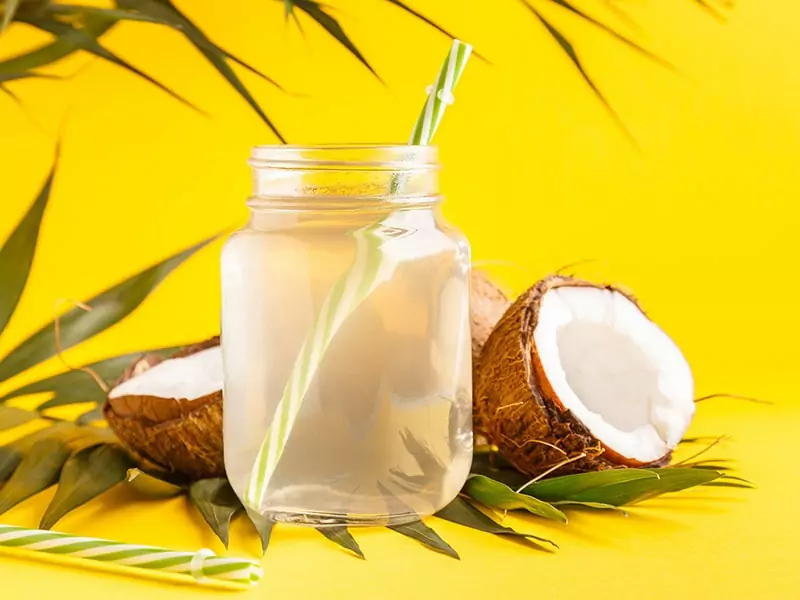 Although coconut water is perfect, you must also note a few things to consume it properly, taking advantage of all its benefits without accidentally harming the body:
Do not overdo it, such as drinking more than 3-4 cups of coconut water a day or consuming a lot continuously for many days.
Do not drink coconut water at night to avoid nocturia or heavy stomach
Avoid drinking a lot after going home from the burning sun because it can cause cold, bloating, fever, etc.
In addition, people who are suffering from these diseases also need to consider and should not use coconut water: yin organs, pregnant women in the first three months, people with hemorrhoids, low blood pressure, rheumatism, etc. If you want to consume it, you need to consult a professional doctor.
Find some good and bad sides of coconut water here!
FAQs
Do you want to find out more interesting information about coconut water? Let's jump into the Q&A below:
Pink Coconut Water Is No Longer A Concern!
Hopefully, through the above sharing, you will have a better understanding of coconut water, why it is pink, and how to preserve it properly. Pink is the natural color of coconut water created by increasing PPO composition. It is still delicious and safe for you to drink.
Therefore, rely on this exciting feature to choose the right fresh and best coconut water for your health. Would you please share this helpful information with your friends and family?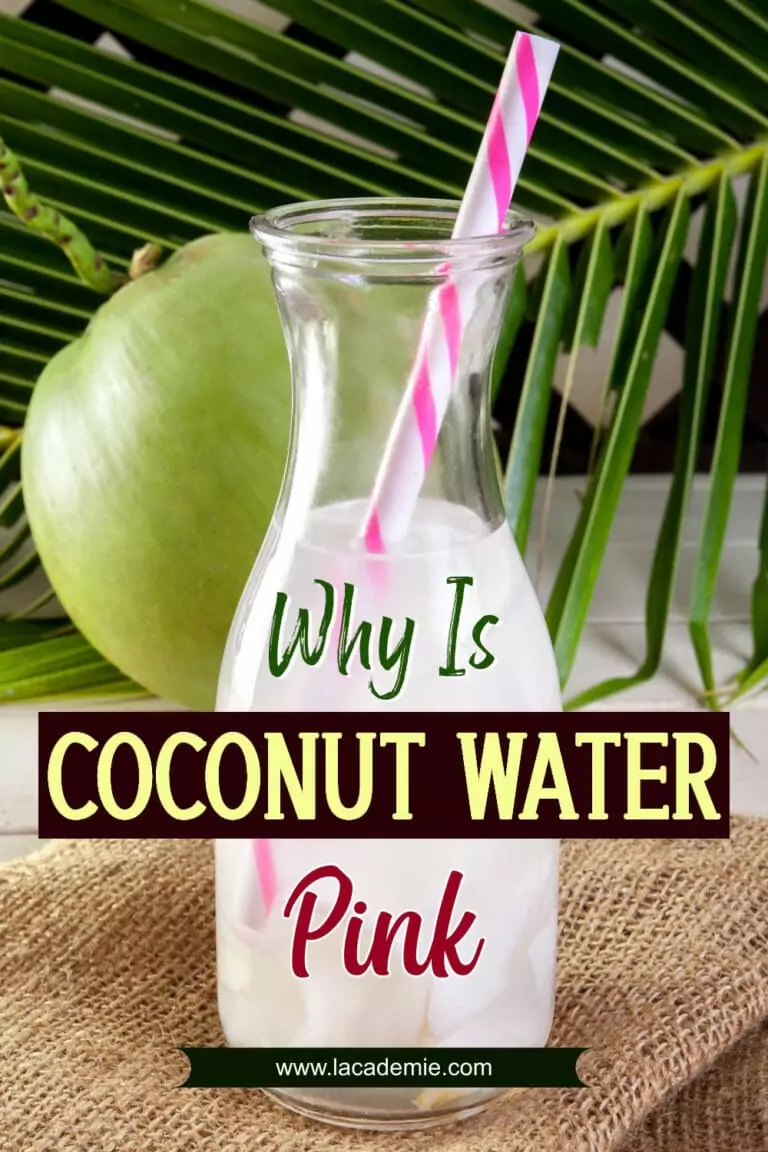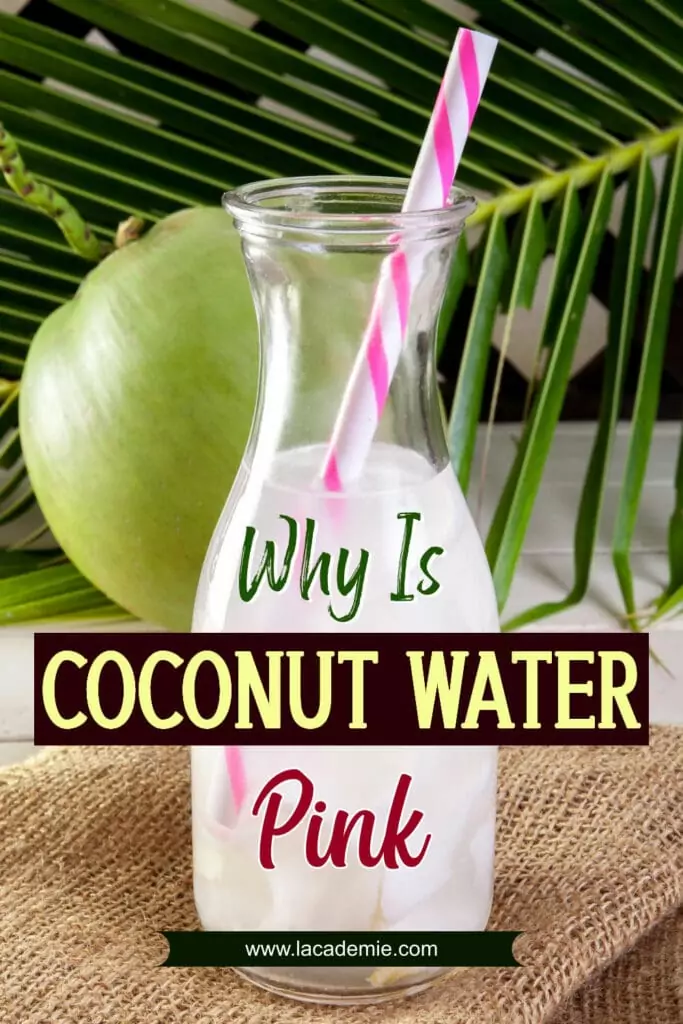 References
T Alleyne, S Roache, C Thomas, A Shirley, 2005. The control of hypertension by use of coconut water and mauby: two tropical food drinks.
Shrimanker, I. and Bhattarai, S., 2021. Electrolytes.
Yong, J. W. H., Ge, L., Ng, Y. F., & Tan, S. N., 2009, December 9. The chemical composition and biological properties of coconut (Cocos nucifera L.) water. Molecules (Basel, Switzerland).